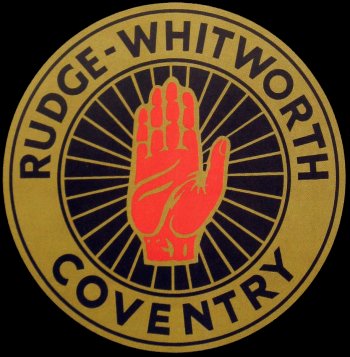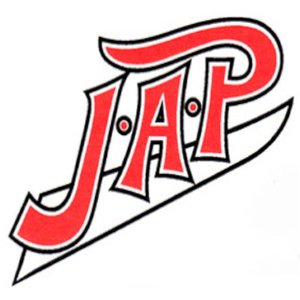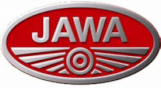 ---
Reg Fearman
Part 6
Geoff Mardon
Malcolm Brown
Colin Tucker
Bluey Scott
Jim Shepherd
Colin McKee
John Skinner
Dave Younghusband
Ian Cartwright
Igor Kalashnik
Meeting Up With
The Speedway Fraternity
Part 1
It is well known that the great speedway family is second to none in the world of sport, writes Reg Fearman. As colleagues, riders, pals, competitors and rivals, those relationships made of days long ago are usually made for life. In this modern world of computers many of us keep in touch on a regular basis. Before this it was a case of the pen and ink and the telephone to keep in touch. The beauty of the computer is that when one of our pals has a problem the news travels fast and one can offer help. Having such a world wide circle of pals that one has met over the years it is refreshing to meet up when the opportunity arises. Many of us in Speedway have been most fortunate to travel doing "our work" and in later life have been able to continue to travel and at times meet up with those friends and pals of yesteryear, some of whom we may only come into contact with on very rare occasions. Nevertheless, those occasions are of great celebration and rejoicing in reminiscing and recalling old times.
I hope you will enjoy the photographs which follow, of some of your friends and favourites, people with whom I have met up with over the years and in more recent years. They will be in no particular order.
---
1953 World Final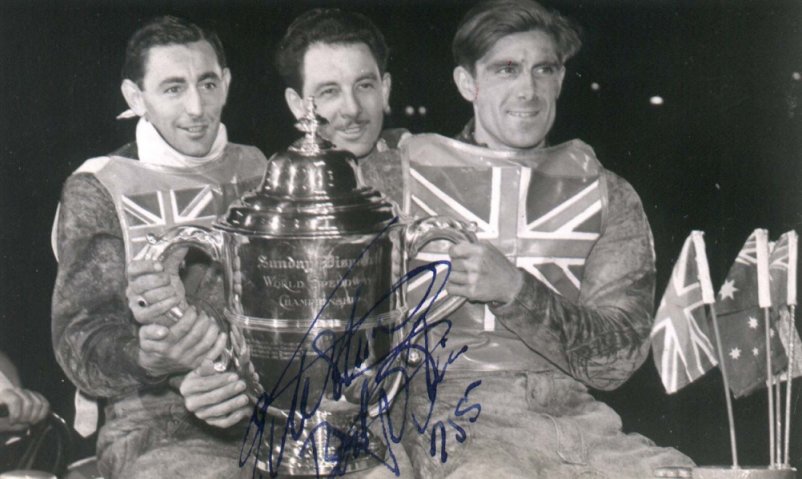 World Champion Freddie Williams (right) with 2nd place Split Waterman (middle) and Geoff Mardon
Geoff Mardon
Geoff and Val have recently been in Europe from their Christchurch, New Zealand home. They were popular guests at the World Speedway Riders' Association Dinner in Coventry and shortly after travelled to France to spend a week with Eileen and me. Val is Ronnie Moore's sister. She and Geoff were married in 1954 when both he and Ronnie were racing for Wimbledon. Geoff started his speedway racing at Aranui Christchurch in 1949, he joined Aldershot in 1951 and qualified for the World Speedway Final at Wembley as second reserve that year. It was the first of four appearances in the World Final, his best placing being third behind Freddie Williams and Split Waterman in 1953. It was his choice that his speedway career was short compared with Ronnie and so many others. Aldershot 1951, Wimbledon 1952 - 1954 and one season at Southampton in 1959, although he won the New Zealand Championship in 1964. Geoff did a lot of car racing at the race circuits in NZ driving Coopers and Maseratis. His hobby and enjoyment is restoring old motorcycles. Both Geoff and Val play golf to a high standard as Eileen and I learned over 18 holes at our local Golf Club !!!
---
Dinner At Ove & Joanna Fundins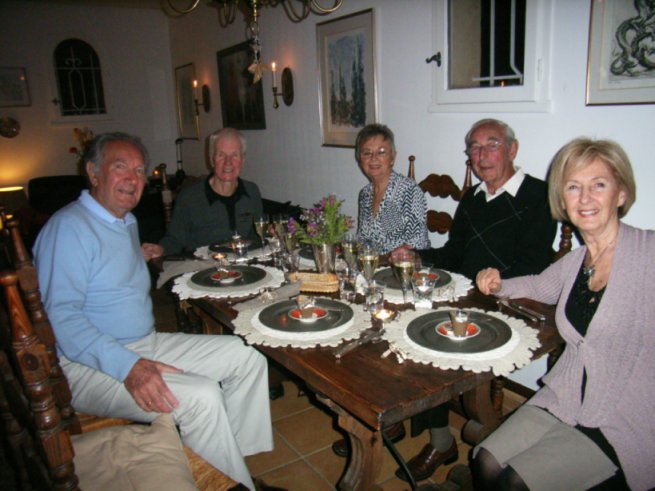 Dinner at Ove and Joanna Fundin - Reg Fearman, Ove Fundin, Val Mardon, Geoff Mardon and Joanna.Fundin
---
Port Grimaud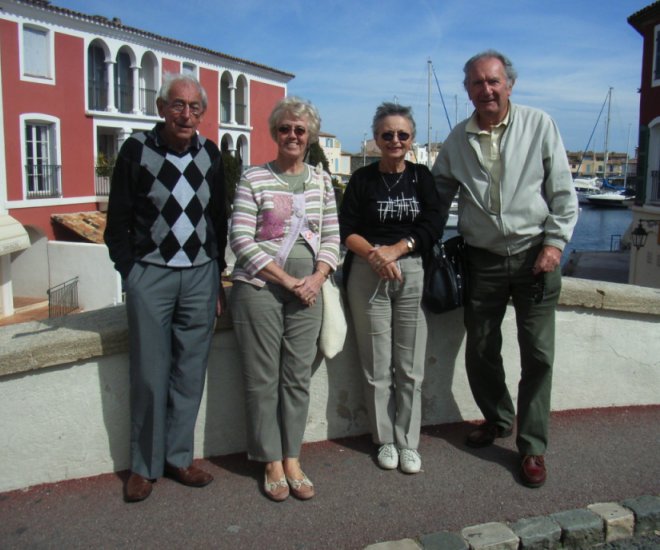 Geoff, Eileen ,Val and Reg at Port Grimaud.
Eileen, Val & Geoff
At Carqueranne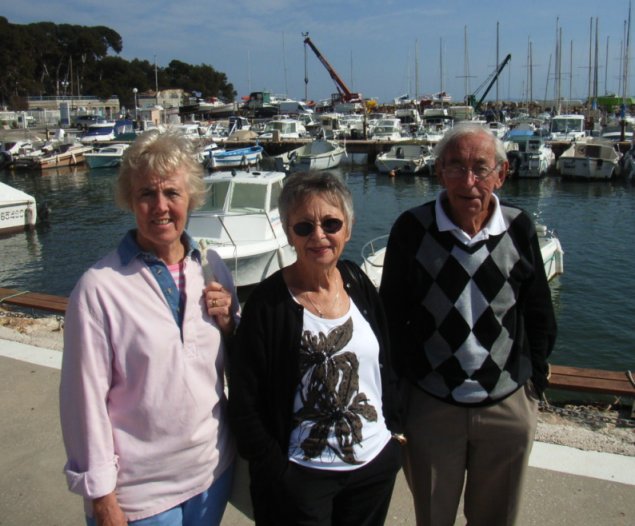 Eileen, Geoff & Val
At Le Rayol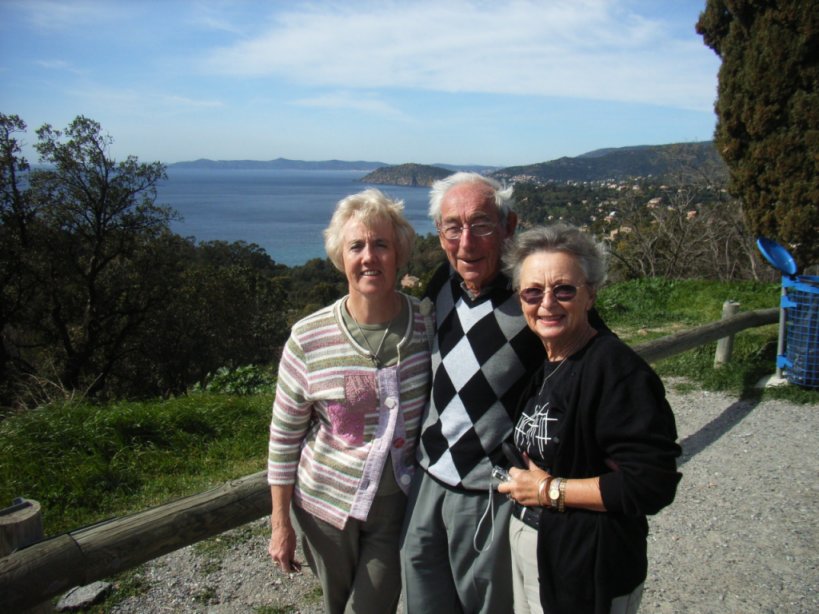 ---
Malcolm Brown
Known in his days at Leicester as the clown prince and joker it was still a great surprise when he turned up at the hotel where Eileen and I were staying in Jupiter, Florida in February 2009, dressed in his full racing kit of Leicester Lions leathers and body colour. We had telephoned a few days before to say that we would be in the area and could meet up at the Jupiter Beach Hotel. We met up during the afternoon and had a drink around the pool. In the evening we met his wife Donna, a New Yorker, and we all made for a Restaurant which Malc recommended almost overlooking Tiger Woods' plantation and mansion. A very pleasant evening with lots of reminiscing. It was the next morning when Malc turned up in his leathers and "ready to sign a contract to race". We all had a good laugh and staged a few photos.
Malcolm started his racing career in 1962 at Rye House and became a member of the Hackney Hawks in 1964. He moved to Leicester Speedway in 1968 and retired from there in 1975. He moved to Rhodesia (Zimbabwe) and promoted the speedway at Bulawayo. He also opened a night club in Bulawayo and had two car dealerships. After Rhodesia was granted Independence, Malc moved back to England in 1982 and opened a night club in St Austell Cornwall. In 1988 he decided to make a final move to Jupiter just north of Miami, Florida. As an accomplished singer he entertained cruise passengers in Miami leaving for Barbados and other tropical destinations.
Malc has appeared in five films including "B.L. Stryker" which was filmed in West Palm Beach and starred Burt Reynolds. More recently he appeared in "Ill Town" as a detective with Michael Rapaport and Isaac Hayes.
Malcolm published a CD a short time ago featuring songs from the Sinatra and Bennett era. Some recordings were done in the Rolling Stones Studio in London and the others in Miami. All sale proceeds go to the WSRA and Speedway Museum. Eileen and I can recommend the easy listening CD. Malc, what a star.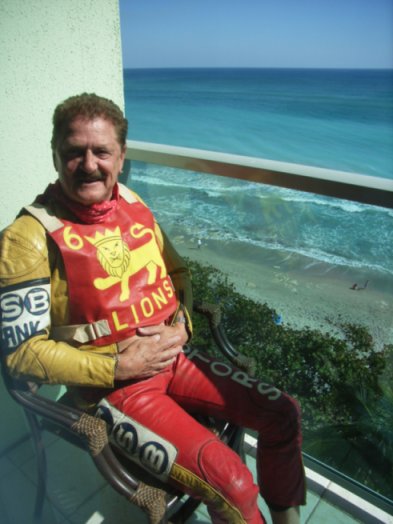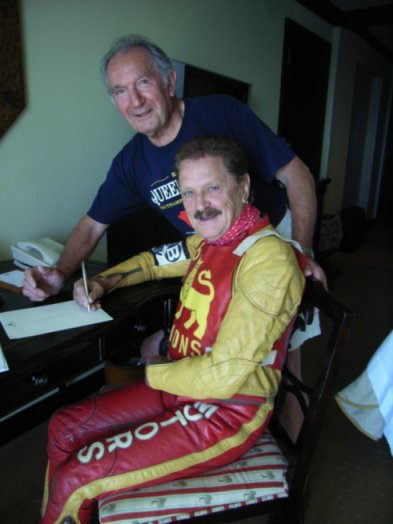 Pictures courtesy of Reg Fearman
Malcolm taking the cooling breeze in his leathers on Reg's hotel balcony and right: Malcolm "signing his contract" for whenever !!.
Jupiter Beach Hotel

Malc, Reg & Eileen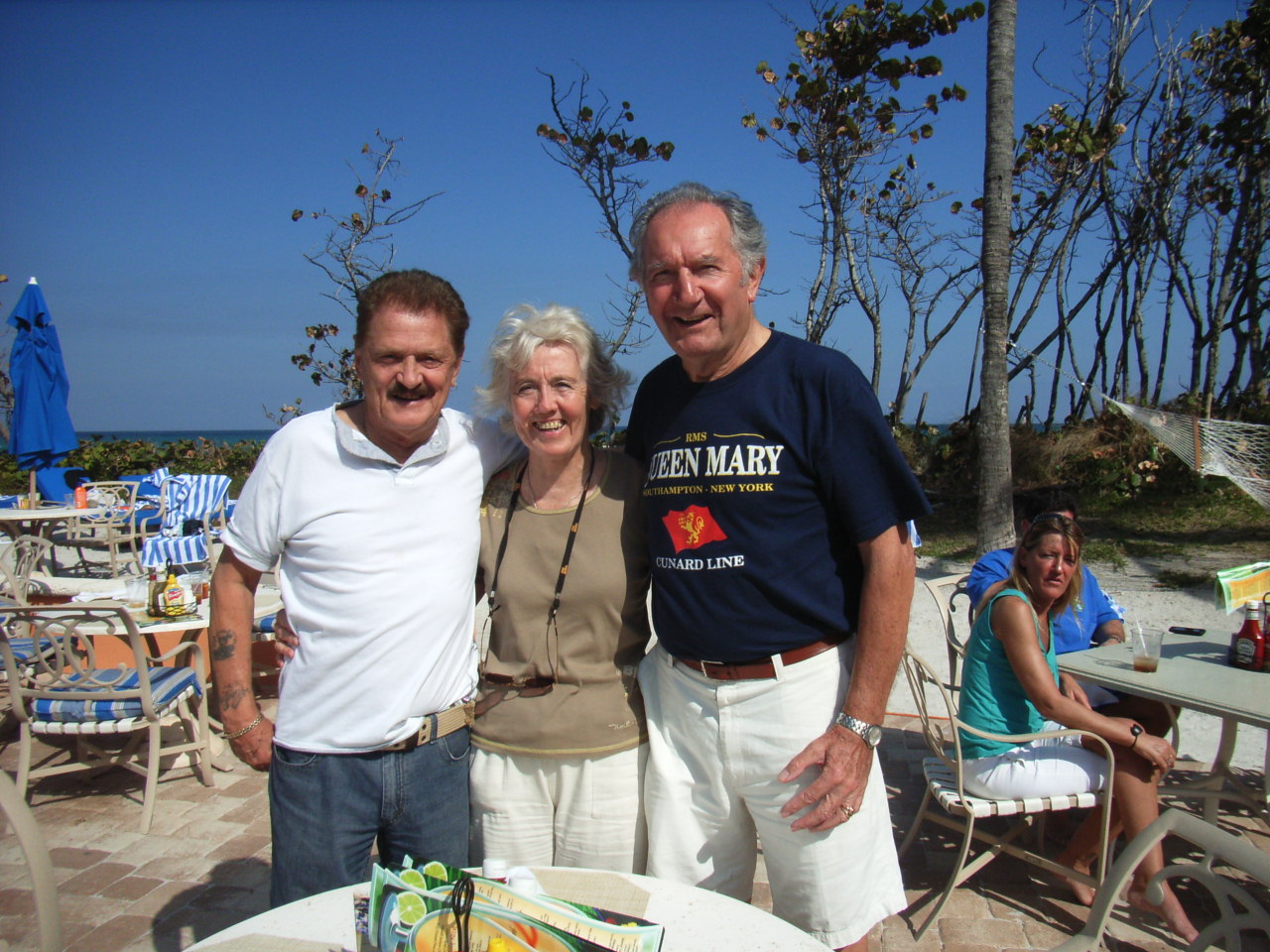 Our first meeting for a long time at the Jupiter Beach Hotel, Malc, Reg and Eileen
Eileen, Reg, Malc & Donna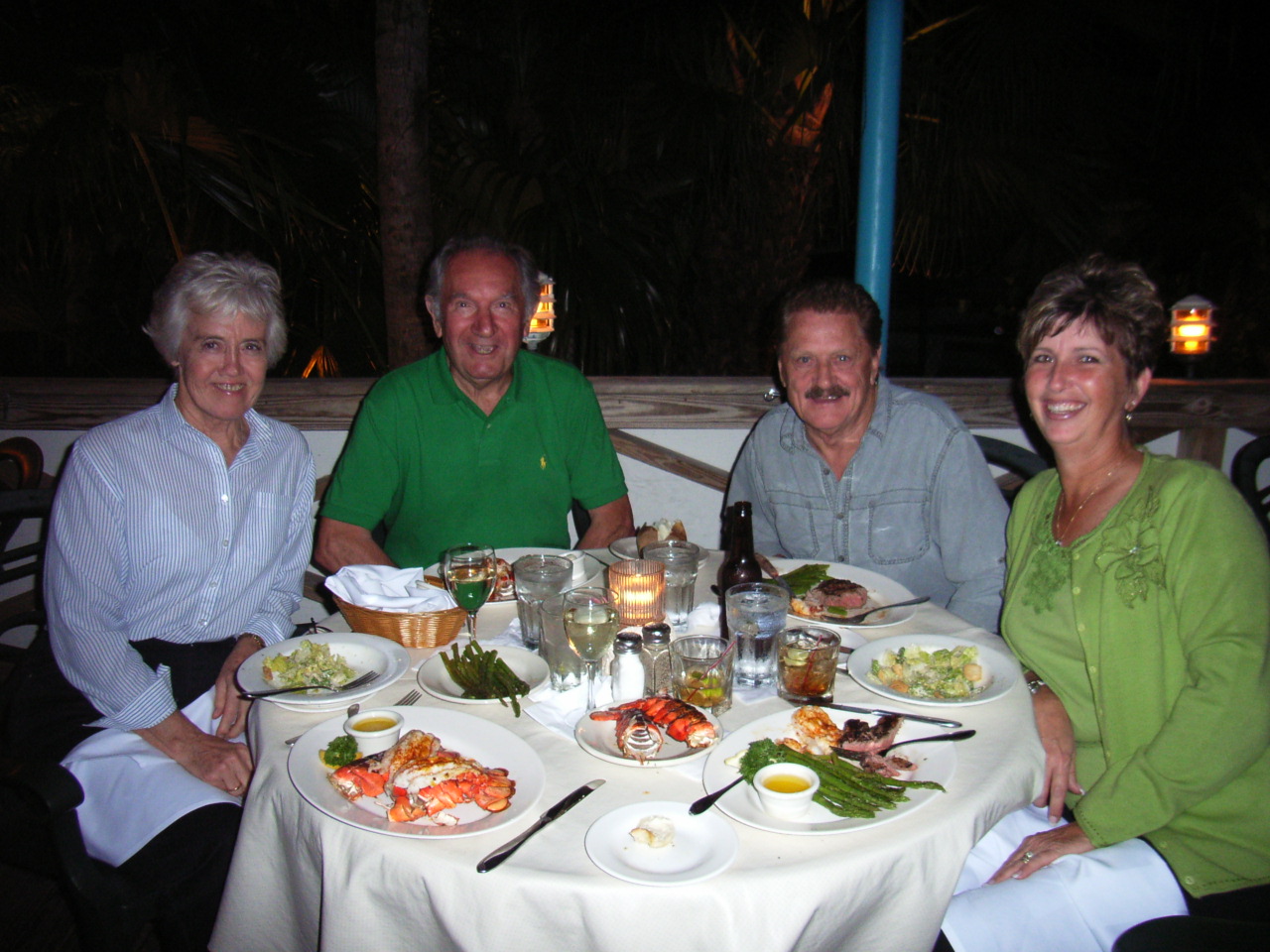 The evening dinner at "Jettys" Restaurant, Eileen, Reg Malc and Donna
---
Colin Tucker
- was born in Auckland in January 1945. He served his apprenticeship as a carpenter and joiner. He came to England to race in 1968 which was the first season of the British Leaue Division l l. It was also the year that five promoters, of which I was one, got together to form Allied Presentations Ltd and to run a track each in that Division (we all had our own Division l tracks).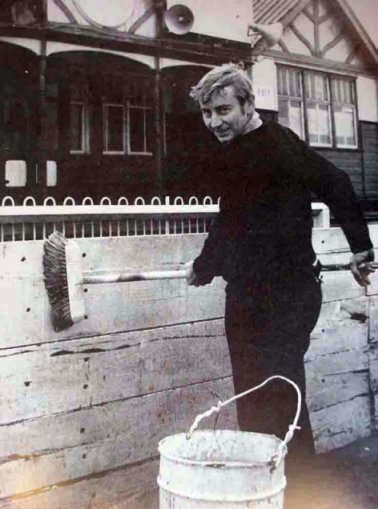 We had obtained permission to stage speedway at the Crewe Cricket ground which was owned by British Rail, formerly the L.M.R.. Speedway had been staged there in the 1930s for a short spell. Colin did little racing in 1968 as he was contracted by A.P.L. to virtually build the Stadium which he did almost single handed. He did manage to win the "Stars Of Tomorrow" meeting at Kings Lynn during that season. British Rail provided thousands of used rail sleepers which were off loaded adjacent to what was to become the home of the "Kings" The name came from the pub on the corner of the street that led down to the track ,"The Kings Arms". Crewe Kings rolled off the tongue. Colin built the boundary fence, turnstile blocks and speedway safety fence all from those sleepers that had been to a saw mill and sawn into planks. He also supervised the laying of the track. The first meeting took place on the 470yard race track on 19th May 1969. It was biggest track in the country at that time and the riders almost disappeared from view when they hit the back straight. Because of its size and the banking on the corners it became known as "The Devils Bowl". Speedway lasted there for some seven seasons. Like many other stadia, it became a developers' paradise and it became a Retail Park. Colin went on to race at Hull 1971 -1972. When he retired from racing he returned to Auckland and built up a large and successful construction business. I'm sure his experiences at Crewe held him in good stead. Eileen and I were delighted when Colin telephoned some time ago to say he was coming to Europe with Jenny and was including a visit to us in France in his itinerary.
Reg & Colin On
The Terrace
At La Londe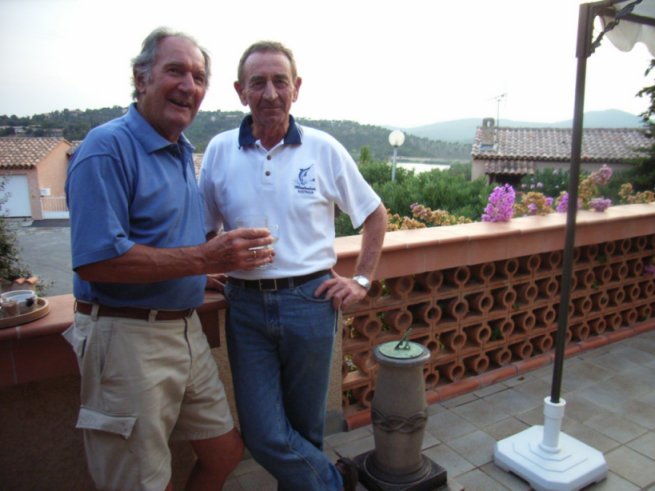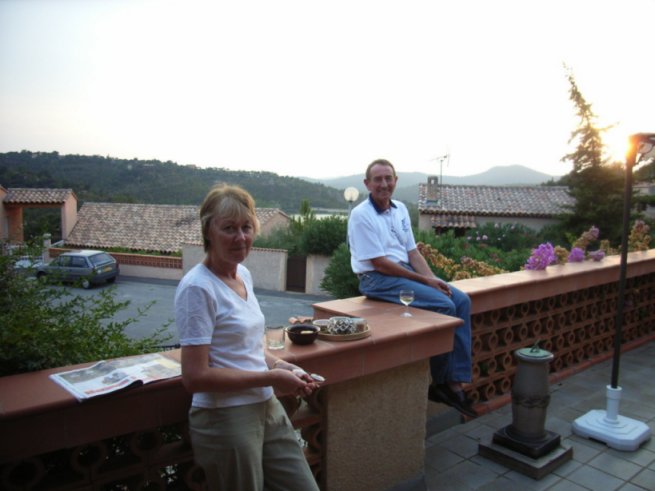 Jenny and Colin with light refreshment
Jenny, Eileen & Colin At La Londe, Our Local Beach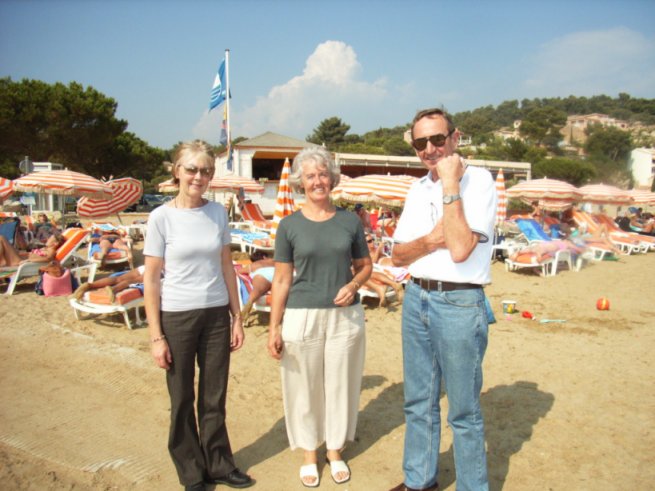 ---
Bluey Scott
Bluey was born just outside Sydney, New South Wales in July 1929. We first met up when he was coming to England for the first time in February 1951 on board the S.S. Oronsay. I was on the way home from the tour of Australia with the well defeated British Lions. Although we have not lived in each others pockets we have been pals ever since. Bluey joined Motherwell that season of 1951 and stayed with them until they closed in 1954. Bluey learned his speedway at Adelaide under the watchful eye of Jack Young, having left home at an early age and hitch hiked to South Australia. Bluey was in good company at Motherwell with the likes of Derek Close, Gordon McGregor, Tommy Miller and Aussies Noel Watson, who was killed in Sydney in 1953, and Keith Gurtner. Motherwell was a big - about 400 yards -- cinder track and very wide. I raced there on several occasions for Stoke Speedway. It was suited to Aussies. With the closure of Motherwell, Bluey transferred first to Southampton and then to Ipswich for the 1955 season. He suffered several injuries and never really showed his best form. Bluey returned to Australia at the end of that season and raced very little in Australia.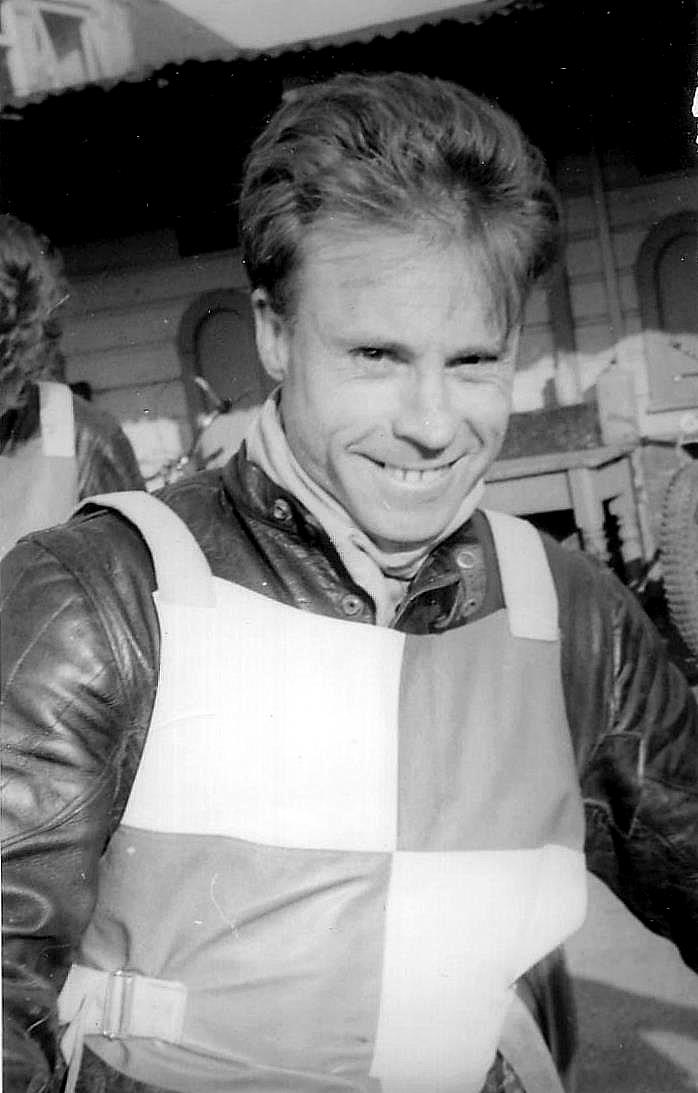 It was in 1963 when Bluey and his wife, Ann - they were married in 1959 - were visiting Ann's Scottish home that Bluey and I made contact and I talked him out of retirement. He came to race for me at Long Eaton in the Provincial League. The injury bug struck again and he suffered broken ribs which kept him out of action for some time. In 1964 he transferred to my Middlesbrough track to captain the team. As Bluey was based in Scotland, it cut his journey time down somewhat from the trip to Long Eaton. In 1965, with the advent of the forming of the British League, the Middlesbrough team transferred complete to Halifax which saw Bluey on the move again to Glasgow Tigers, racing with his former team mate at Long Eaton, Charlie Monk. His last season was 1966. He then retired from British speedway having served it extremely well. Bluey must be the only rider to have raced internationally for Australia, Scotland, Overseas, Great Britain and the Kangaroos. Bluey moved to the other side of the fence for the 1967/68 season and became a promoter with Bob Sharp at Rockhampton in Northern Queensland. The temptation to race again was great and Bluey took part in a number of meetings in various towns in Queensland over the next couple of years. He eventually retired from racing and promoting in 1969 and then started an inter-state furniture removal business which, at times, required him to drive the 2,500 miles across Australia to Broome, which was the boom mining town. West Australia still attracts many workers to the mining fields which are rich in minerals.
Bluey and Ann live in happy retirement at Burleigh Waters on the Gold Coast, Queensland, and have many of their speedway pals as neighbours along the coast. They are very supportive of the Veteran Speedway Riders' Association of Australia and also the speedway meetings which are staged along the coast. Bluey and Ann have stayed with Eileen and me in England before we moved to France and also here in La Londe. We have enjoyed their excellent hospitality when we have stayed with them at different times. It was Bluey and Ann who first identified Elevations Restaurant as a possible venue for Jackie Gates' 80th birthday bash (Page1) and who brought him to the secret party.
1964 Middlesbrough Team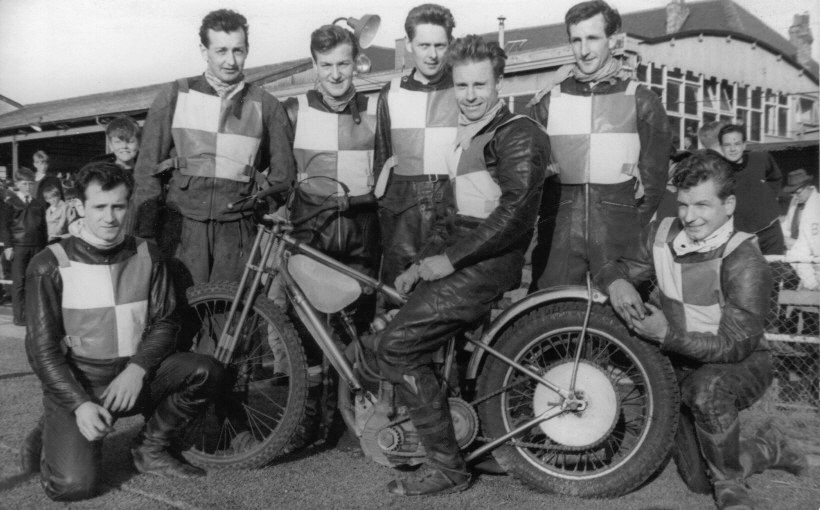 Middlesbrough Speedway Team 1964: Bluey Scott, Captain on the machine.
---
Eileen's Birthday




Elevations

Restaurant
Gold Coast
2nd December 2006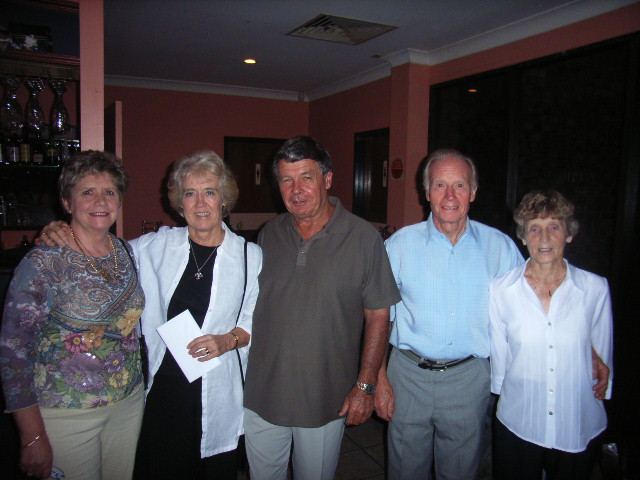 Eileen's Birthday Claire Kentwell, Eileen Fearman, Greg Kentwell, Bluey, Ann Scott. Elevations Restaurant, Gold Coast, 2nd December 2006 -
Bluey Having A Quiet Beer At Home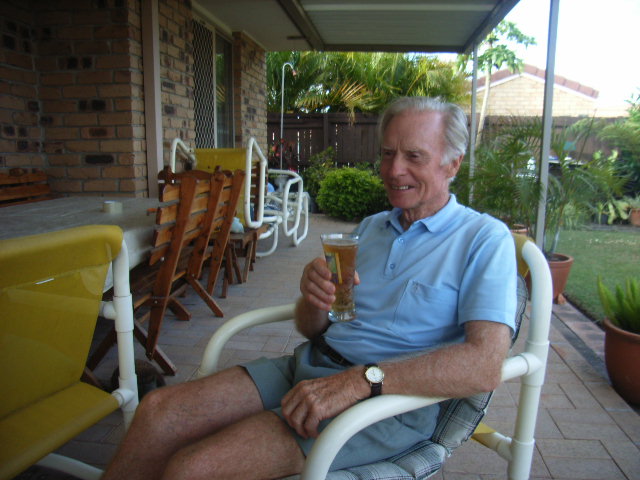 Bluey having a quiet beer at home at Burleigh Waters, Gold Coast Queensland ----2007
2004 Bluey & Anne
At The London Eye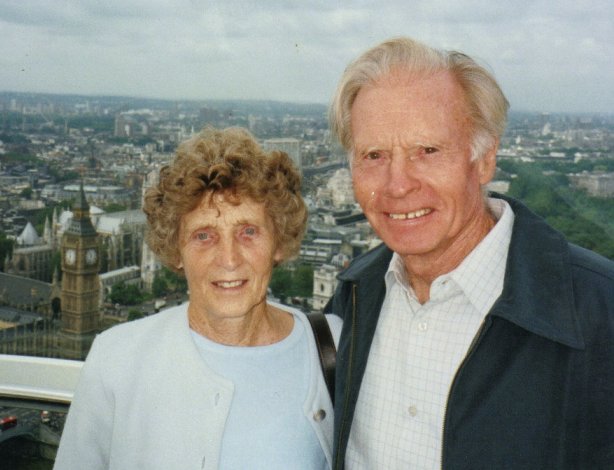 Bluey In St.Tropez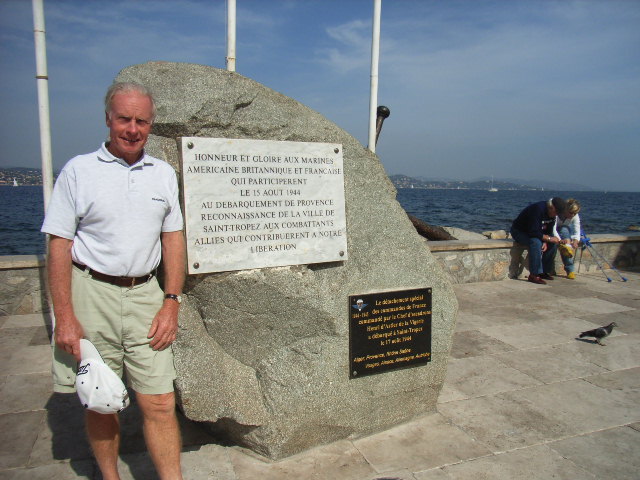 Bluey at the Liberation of St.Tropez, Cote d' Azur Memorial Stone of 15 August 1944 ----2006
---
Jim Shepherd
has more recently been a welcome guest at our home in La Londe along with his wife Judith. We have known each other for a good many years. Eileen and I were very fortunate to spend Christmas day with them and their other guests not so long ago at their Sydney Harbour home.

Jim and Judith work in their own Sydney publishing company which has produced The Phantom comic book since 1948. The Phantom is the longest running comic book series with the same character in the world and is Australia's best selling comic. There have been D.V.Ds. and a film made of The Phantom. A musical was produced in Sweden in 1985. Still in Sweden, there is a Phantom Land at the Theme Park in Eskilstuna.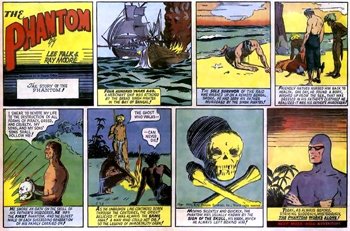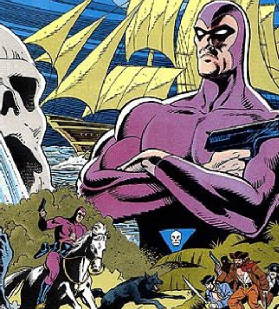 You might ask what has this to do with speedway ? The answer is that Jim has been involved with speedway since 1945 as a journalist, track announcer, T.V. commentator, sponsor and competitor in speedway stock cars and sedans and Formula Vees in road races. He has written nine published books on Australian sporting themes ranging from motor racing to golf, Rugby Union football and general Australian sporting histories.

Jim is the Patron of the Veteran Speedway Riders Association of Australia and a member of the Vintage Speedcar Association of New South Wales. He writes for the V.S.R.A. of Australia magazine an interesting page or two of 'Did You Know' from the Jim Shepherd archives.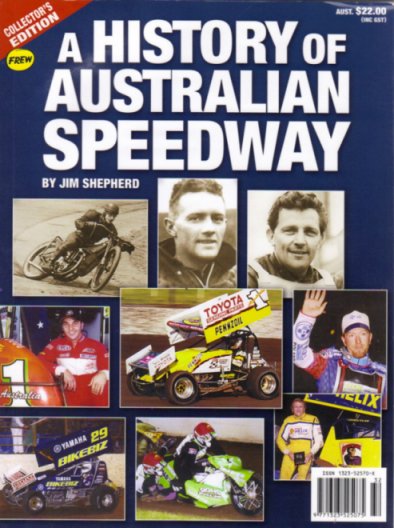 For many years Jim has been researching speedway - two wheels and four - in Australia, a Herculean task. In 2003 he wrote and published A History of Australian Speedway. It is a book of A4 size and some 308 pages with many photographs and is a full and frank insight to speedway racing in Australia from 1901 - yes 1901 when four riders raced their de Dion motorised tricycles around the concrete cycling track which once ringed the Sydney Cricket Ground. In 1902 the S.C.G. track was illuminated by acetylene gas lamps and the stands by electric light. Jim has unearthed papers that report and advertise motorcycle and car racing that far back. One such newspaper advertisement is for the Adelaide Cricket Ground race meeting on October 11, 1902 - Adelaide Oval Motor Carnival. Billed as the First Motor Race in Australia, admission was one shilling with children half price, carriages one shilling and each occupant one shilling. It would seem that speedway racing or dirt track racing, call it what you will, was taking place in Australia before the much-heralded Johnnie Hoskins invented it. One thing is for sure, Johnnie put speedway firmly on the map. It all makes compelling reading. The period from 1948 onwards is covered in a more personal involvement. If you are lucky you may find a copy through your local book shop or able to order it. The number is - ISSN 1323 - 52570 - X.

Reg Fearman
April 2009
---
Reg, Jim & Ove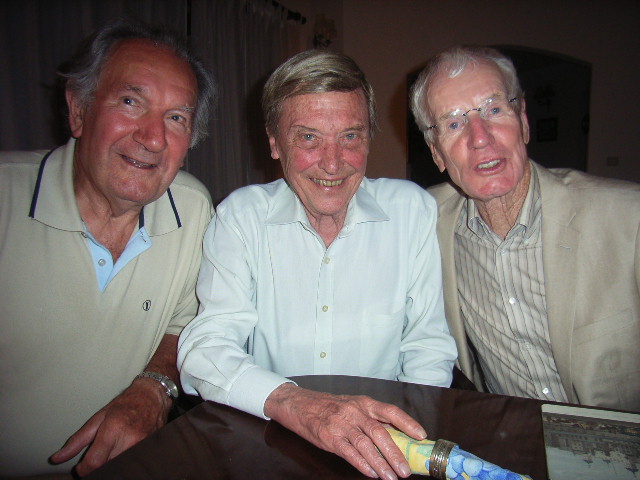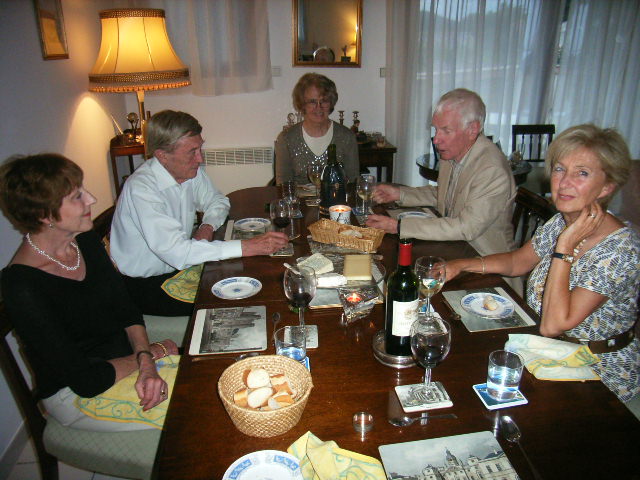 Jim & Judith Shepherd, Eileen Fearman, Ove & Joanna Fundin
Looking At The Paintings Of
St. Tropez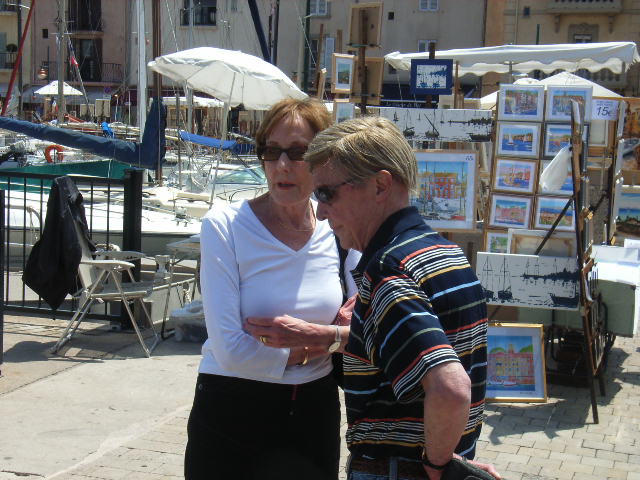 Jim & Judith At The
St. Tropez Memorial Stone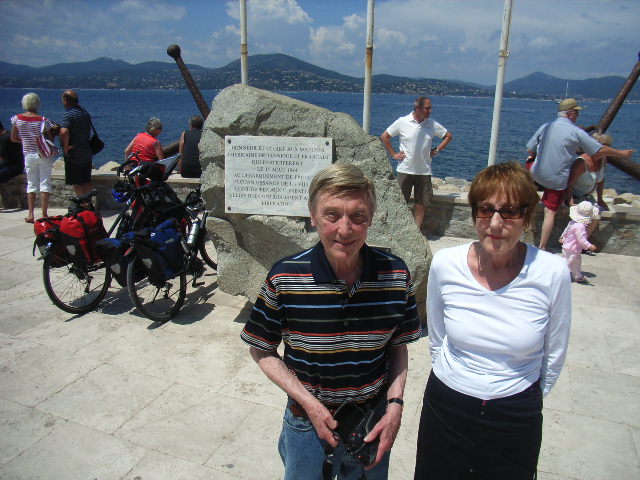 Jim, Judith & Eileen
At Gassin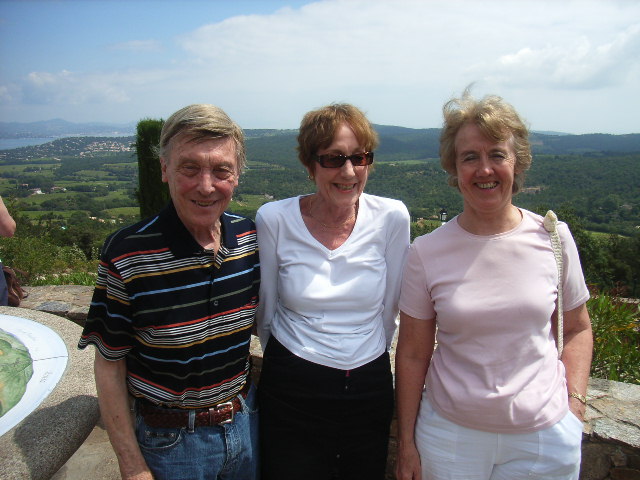 ---
Colin McKee
Colin is one of the unsung heroes of speedway racing, a middle order rider on which every team depends. He raced for me at Halifax for one season in 1970, his attitude to racing was first class and his commitment 100%.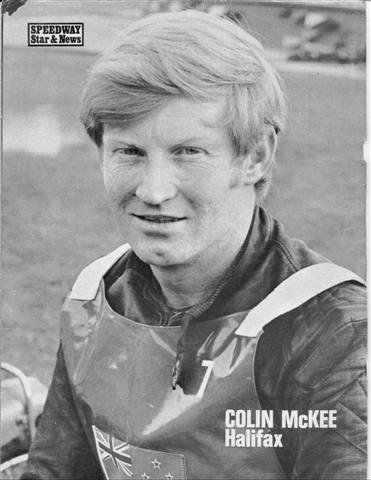 When he left for New Zealand at the end of the 1970 season he didn't tell me that he would not be back for the 1971 season. This must have weighed heavily on his conscience as about fifteen years later he telephoned me from Napier to say that he was sorry that he didn't let me know that he was not returning to England for the 1971 speedway season. I jokingly replied "Colin I hadn't even noticed".
We had a good laugh and have been good pals ever since. In more recent times we have enjoyed the hospitality at each others homes on the opposite side of the world. Our wives also get along really well despite Eileen coming from Liverpool and Trish from London !!!. In 2007 Colin made the trip to Scotland and England,for the respective Speedway Riders Association Dinners. Afterwards he came on to the South of France for a short break. I asked Colin to tell me about his racing career and family so here it is in his own words, accompanied by various photos.
Colin McKee was born in Napier, New Zealand on 7 May 1941.
My racing actually started in New Zealand at the age of 16 when I was road racing and scrambling. I started riding speedway in Napier, New Zealand in 1959. Other tracks I rode at in New Zealand were Palmerston North, Auckland, Rotorua and Masterton.
In 1963, at the age of 21, I first went to England and rode for Hackney. In 1963 I also went to Holland where I rode for New Zealand in the Golden Helmet Series. During this year I also rode for a combined Overseas Team versus England.
During 1964 there was a split in the League. The National League staying within the control of the A.C.U. and the Provincial League breaking away. So I started that season in the National League riding for Oxford and half-way through the season I changed to the Provincial League riding for Sunderland and Wolverhampton.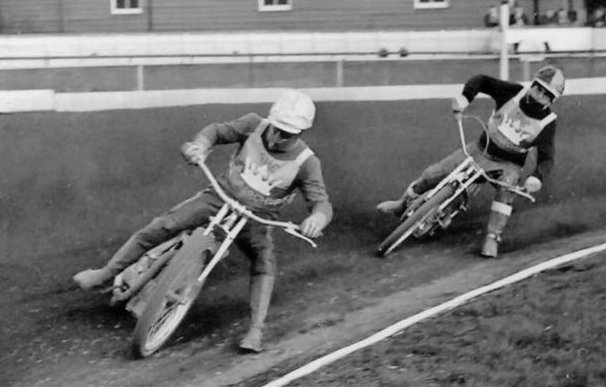 In 1965 I rode for Edinburgh. During this year I also represented Scotland in a number of meetings, riding for Scotland v Russia (at Edinburgh) and Scotland v England (at Newcastle). While riding for Edinburgh this year I still resided in London. During 1965 I went on a trip over to Poland with the rest of the Edinburgh team where we raced about 9 meetings against local teams there. We were, I believe, the first British team to race behind the iron curtain.
Monarch Colin Leading Bill Landells 1965
In 1966 I rode for Poole. The reason I didn't stay with Edinburgh for this year was because the management wanted me to move up to Scotland to live. In April 1966 I was married to Patricia (Trish) in London.
1967 - I was back riding for Hackney. During this year I also came third in the London Riders Championship.
In December 1967 my daughter, Sandra, was born in London.
In February 1968 we left the U.K. to live in New Zealand.
During 1968 and 1969 I continued racing speedway during the New Zealand season at Western Springs, Auckland and Napier.
In 1970 I returned to the U.K. riding for the Halifax Dukes. During this year I twice rode for New Zealand Teams. At the end of 1970 I returned to New Zealand. I went into the garage and car sales business and retired from speedway.
Colin's Family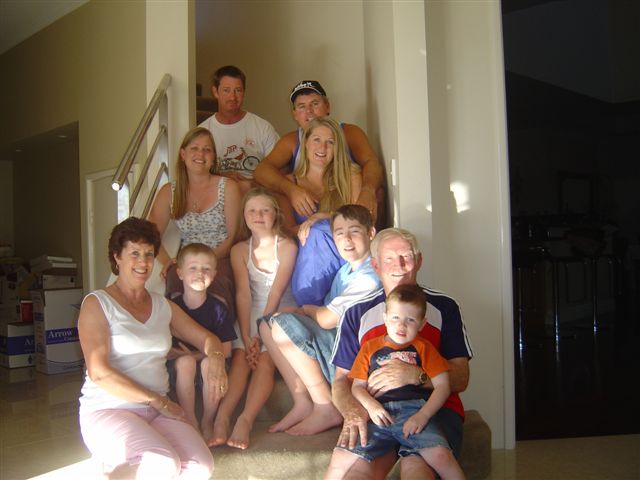 My family consists of my wife Trish, my daughter Sandra, who was born in London and my son Darren, who was born in New Zealand in 1972. Together, we moved over to Perth to live in 1989. Sandra and Darren are both married. We have five grandchildren - 4 boys and 1 girl.
Colin's Vintage Motor Cycles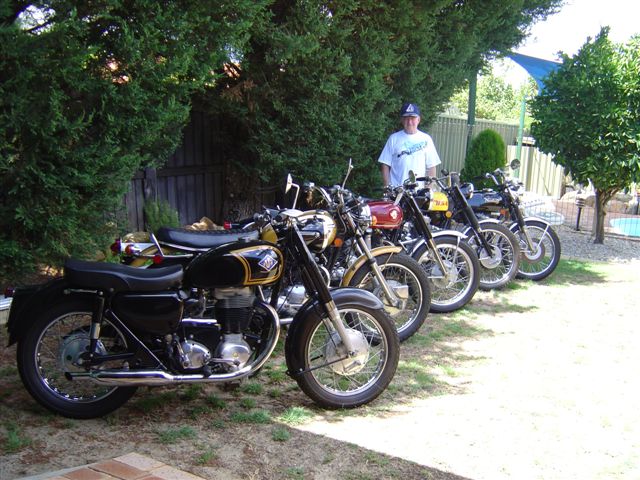 Since living here in Perth I have nine vintage motor cycles, all of which I have restored myself.
Colin's S
peedcars
On The Speedways Of West Australia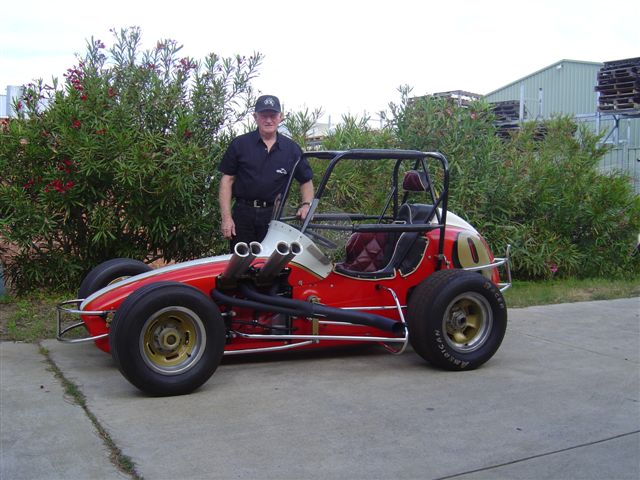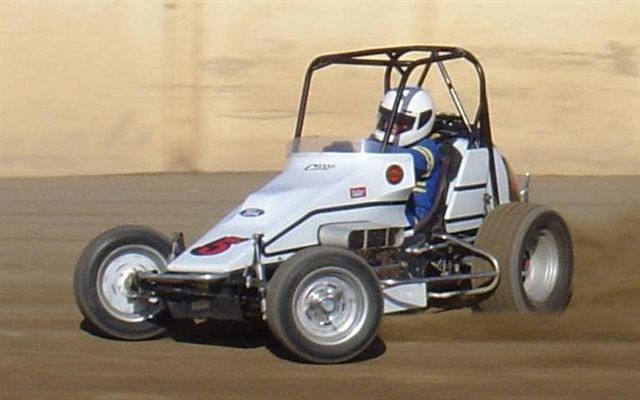 In latter years I have been involved with building and driving speedcars on the speedway in West Australia.
Ove Fundin Shows Colin McKee His Wall Of Fame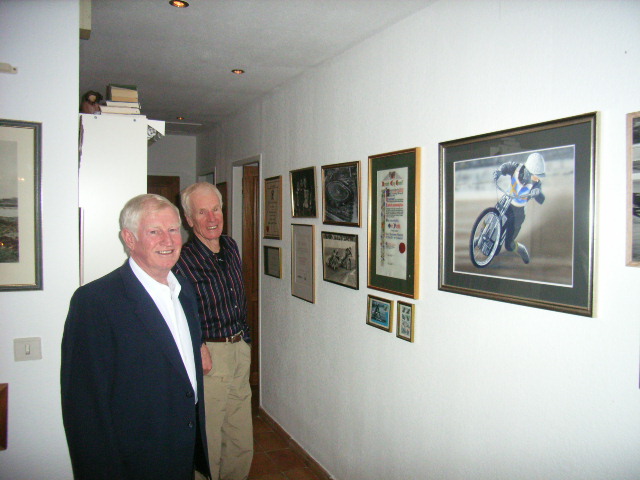 Dinner With The Fundin's, Eileen, Colin, Reg & Joanna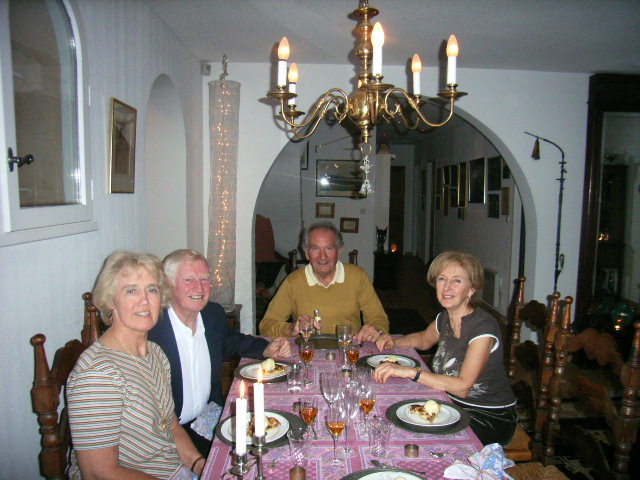 Hackney Hawks 1963
Colin McKee &
Ian Moultray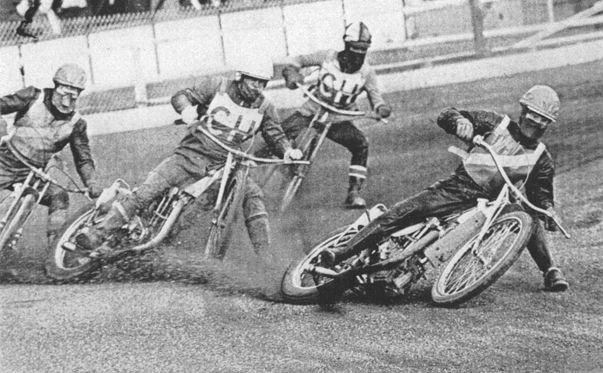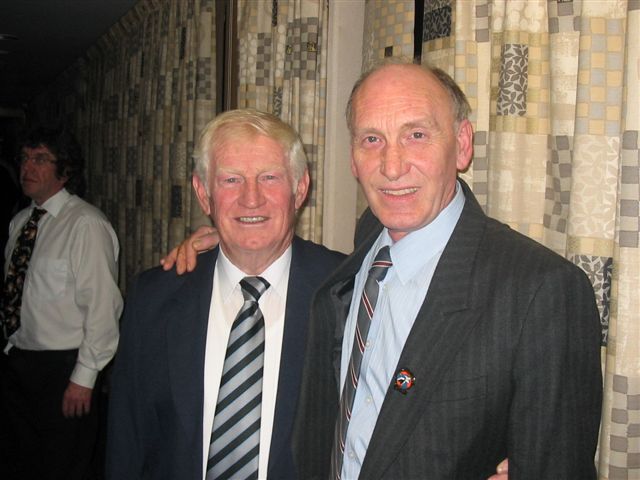 Colin With
Halifax Dukes

1970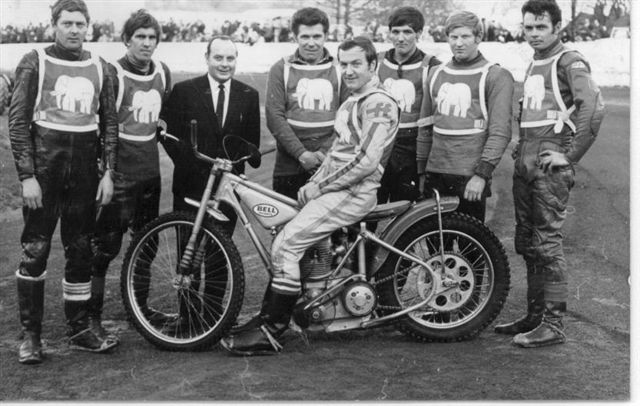 Colin second from right Halifax Dukes 1970
Colin McKee
(Not Wearing Tartan)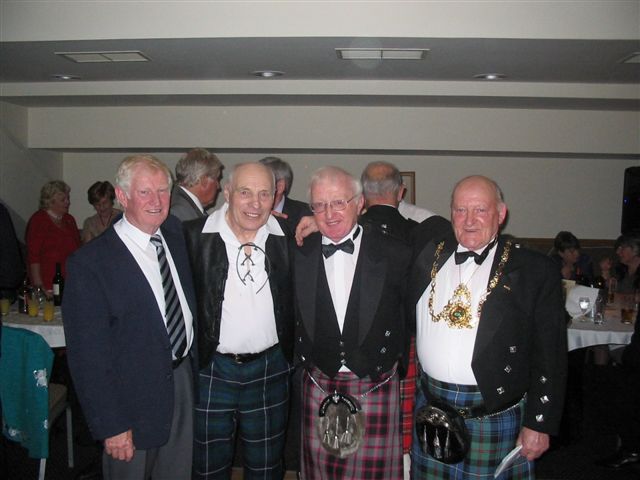 Colin McKee, Doug Templeton, Bert Harkins & Jimmy Tannock Scottish Veterans President
Dinner At The Fundin's Joanna, Ove, Eileen & Colin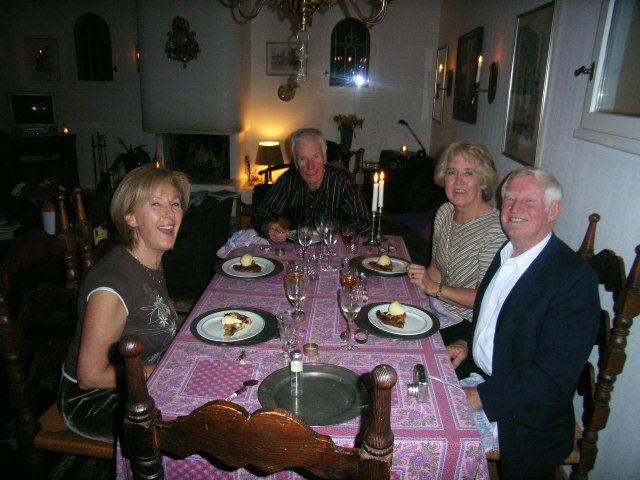 Colin & Eileen Fearman At
St. Tropez
March 2007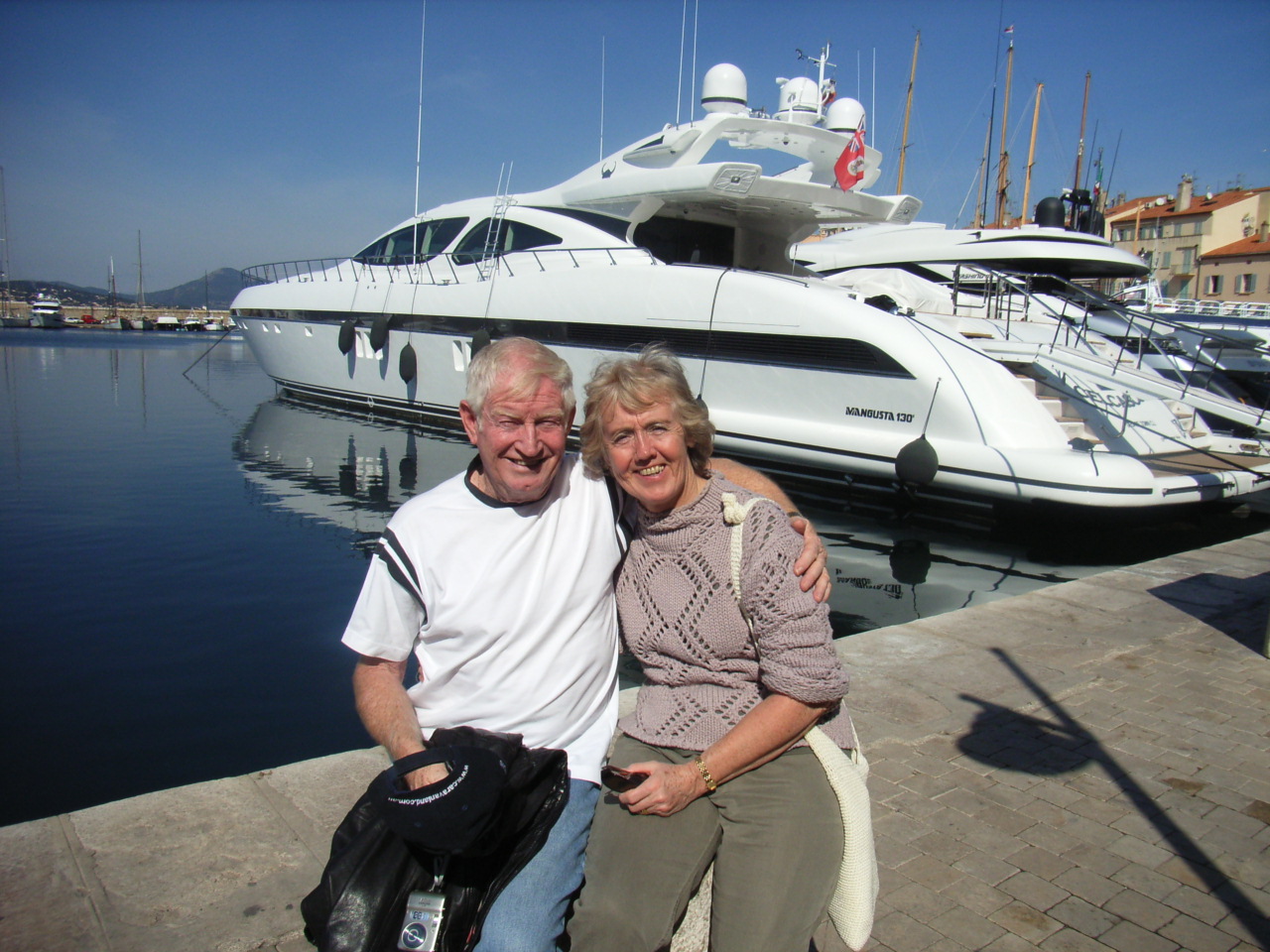 ---
Meeting Up With
The Speedway Fraternity
Meeting up with web master
John Skinner
(born in 1952)
,
Dave Younghusband
(born in 1938) and
Ian Cartwright
(born in 1954) in Tyne and Wear, Durham and Yorkshire.
John & Rhonda Skinner
At the beginning of April Eileen and I were committed to visiting some friends in Scarborough. We decided that we should venture further north to meet the webmaster of
www.defunctspeedway.co.uk
John Skinner and his wife Rhonda. We made the arrangements to meet at a local Newcastle upon Tyne restaurant named "Starters and Puds" for dinner which was close to our hotel. We were not disappointed. The menu contained so many varied dishes that we happily chose a number of "starters" to share between us. John and I discovered that we share a love of shell fish which was also included on the menu.
John Meeting Reg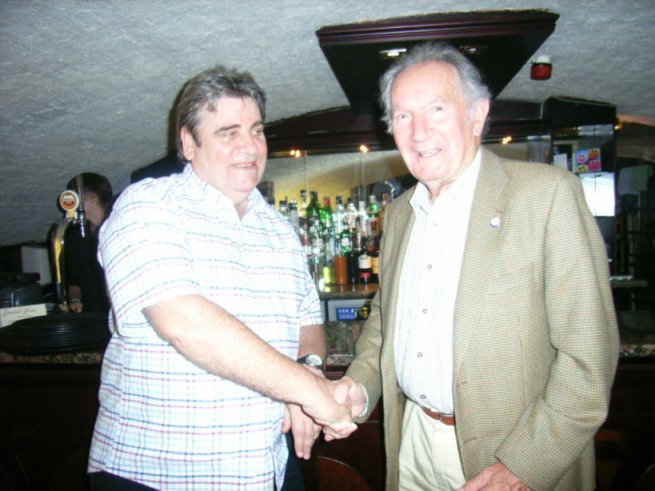 John as one would expect - with two excellent web sites to his name - came over as a very dedicated speedway enthusiast and an ardent "Newcastle Diamonds" supporter from 1961 when Mike Parker and I reopened Brough Park after it had been closed for several years.. His two web sites are a labour of love at which he devotes a lot of his social time. Rhonda is most supportive of John's passion which is just as well considering the amount of effort that goes into not only "defunct" but also
www.newcastlespeedwayhistory.co.uk
Through the two web sites John receives a host of e-mails daily from all around the world, many containing photographs and programmes. Both Ivan Mauger living in Queensland Australia and Dave Gifford living in the South Island of New Zealand keep in touch with John on a regular basis.
During the course of the evening we shared many speedway stories but also learned a little about the City and its daily life. Speedway riders and promoters during the course of a speedway season travel many thousands of miles. The journey usually follows the same pattern - one would drive from home to the town or city stadium, race and then depart for home having seen nothing of that town or city. I can remember so very well when racing in the 1950s driving from London to Glasgow (or some other venue) some 400 miles each way, prepare for racing, race the meeting then drive back to London overnight.
Eileen, John, Rhonda & Reg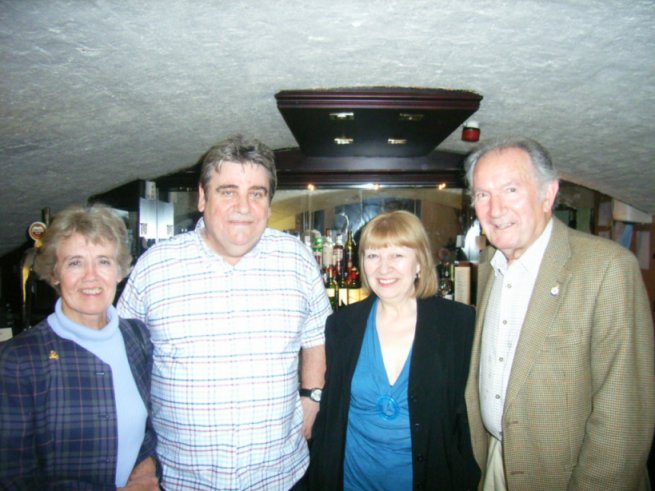 John In A Good Mood!
Our pleasant evening with John and Rhonda came to an end only to quickly. We have promised ourselves a return trip in the near future.
---
Ian & Dave Younghusband
The following day we made our way south to Durham and took the opportunity to visit Durham Cathedral and Castle. What magnificent history and heritage we British have. We walked the lanes of the centre of Durham City and had an enjoyable day before checking into our hotel near Castleside, the home of the Younghusbands.
As arranged, they arrived at our hotel restaurant at 7pm.,
David
, wife Margaret and son Ian. We had not met up for many years. David started his speedway career at Middlesbrough with me and moved with the team when I transferred them to Halifax in 1965 and retired from racing after badly breaking his leg in 1972. We had a most enjoyable evening talking speedway and about the people we had met up with over the intervening years. Ian is tetraplegic and, like many speedway riders, is confined to a wheelchair after a motocross accident some 10 years ago when he was 21 years of age. His banter and sense of humour has to be admired. In fact, the whole family has to be admired for the way in which they have all coped with such a disability. Ian has a special set up on his van with a tail lift to gain him entry and then is able to wheel himself behind the steering wheel. With the special adaptations he is able to drive and be self sufficient and independent in this direction. He frequently travels to Workington and Berwick for the speedway racing. But, let them tell their own stories ......................
Ian writes :
When dad was Team Manager at Newcastle Speedway my brother and I would spend our school holidays at the track riding on our mini-motorbikes while he prepared for the Monday night meeting and my interest in bikes developed from there.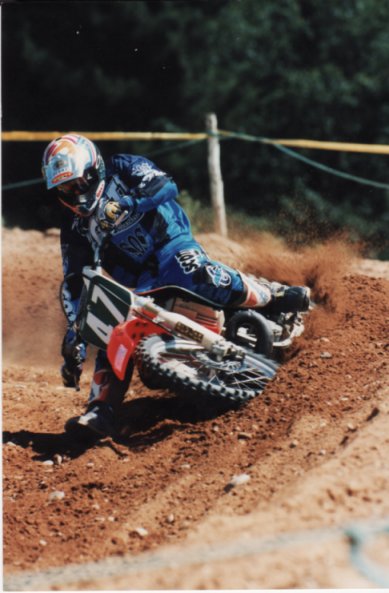 At ten years old I started riding in schoolboy moto-cross events. I loved the cut and thrust of motor-cross and rode in both local and national events throughout the country, normally finishing in the first three. I was North East Schoolboy's Champion on a number of occasions so enjoyed a fair bit of success. I suppose I was lucky I had an advantage over the other kids as my dad had been a professional rider in his own field and was able to pass on his expertise to me (although as you can imagine this could prove to be a pain at times as a lot was expected of me). I moved into the adult classes at sixteen years old and was chosen to represent the North East in a three man team which competed in events around the country.
During this time dad and I still managed to fit in various speedway meetings and I began to take a keen interest in the sport. I did fancy having a go at speedway but as I was training to be an Architectural Technician at Durham County Council my parents said I should concentrate on my career in architecture as speedway was a precarious profession!!
I continued in my job at Durham County Council and rode in adult moto-cross events at weekends. Unfortunately, on what started out to be a normal Sunday outing into Yorkshire to a track I had ridden at many times before, fate stepped in and decided to call a halt to my
active participation in moto-cross events when I took a tumble over a jump, fell head-first into sand and ended up with a broken neck – not a smart move!!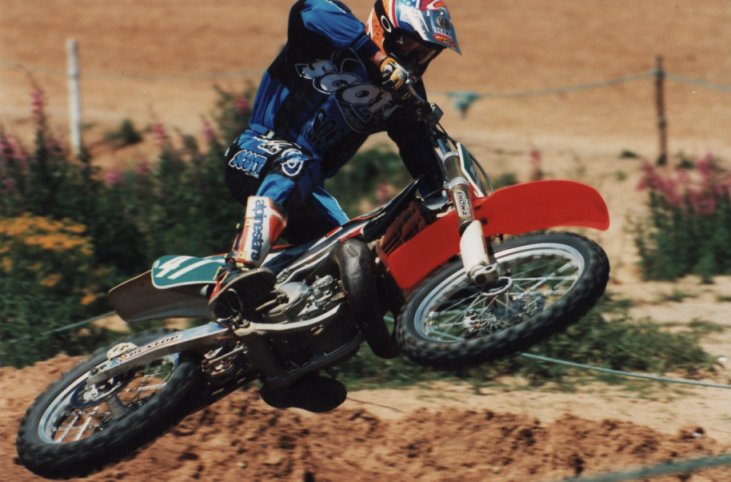 Ian Younghusband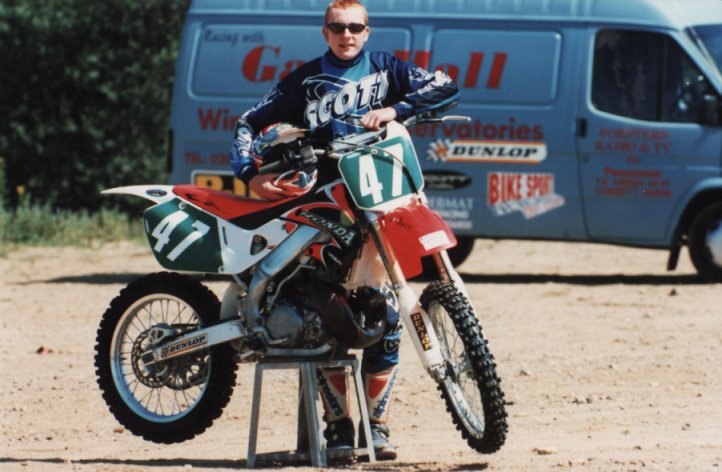 Ian Younghusband
I'm lucky that I still manage to spectate at speedway and motor-cross events and follow the coverage of both sports on TV. I think the camaraderie between true motor-cycling enthusiasts is second to none.
-------------------------------------------------------------------------------------------------------
David writes :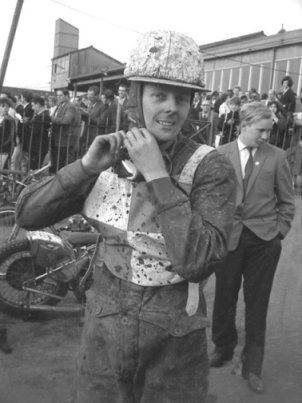 As long as I can remember motor-bikes have played a large part in my life. When I was quite young my parents used to take me to Newcastle Speedway and also to grass track meetings where my dad used to compete – so in all honesty I can't remember a time when bikes haven't been around.
When I was sixteen I started a five year apprenticeship at Consett Iron Company as a Fitter & Turner and after saving my meagre wages purchased my first "trials" bike. I was quite successful at this sport and gained a place in the "Dot" Motorcycle Factory trials team riding for them in the Scot5tish Six Days Trial, the Scott Trial which is reputed to be one of the most gruelling in the trials calendar and many other National events up and down the country. I won the North East Centre Championship on several occasions and also represented the North East Centre in the Inter-Centre Trials Championship which was held in a differed Centre each year.
After finishing my apprenticeship I had to carry out my National Service in the Army which is where I met Rick France. We became close friends and that friendship is still exceptionally strong today. We were both Despatch Rider Instructors at Catterick Camp in Yorkshire and on a Thursday night Rick (who prior to joining the Army rode for Coventry Bees) used to travel up to Middlesbrough Speedway where he rode as a member of the Bears team. I went along and acted as mechanic and the rest is history – I became hooked on Speedway.
After demob I bought a secondhand speedway bike (the money was supposed to buy an engagement ring so you can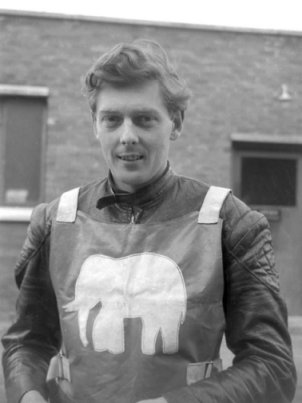 imagine how unpopular I was) and I started to ride in second-half events at Newcastle and Middlesbrough going into the team at Middlesbrough after three months. When Halifax opened in 1965 I moved with the Middlesbrough team to the Shay and became a member of the Halifax Dukes and thoroughly enjoyed my time there. I rode in several Test Matches as a member of the England team and toured Australia and New Zealand with them in l968/69.
Unfortunately my riding career was cut short after a bad accident at Poole in l972 and it took me 18 months to get back to full fitness. However, I was lucky to maintain my interest in the sport, albeit on the other side of the fence, when I joined Newcastle Speedway as Team Manager in l975 under Ian Thomas' promotion. I had a great time managing one of the most successful teams in the National League and after the team had won all of the major trophies going we were invited to a reception at the Mansion House in Newcastle hosted by the Lord Mayor who felt the team's success had really helped promote Newcastle City.
I had a short spell managing Berwick Speedway for the then promoter, Terry Lyndon, who unfortunately did a disappearing act leaving the speedway in the lurch and everyone knows how that ended.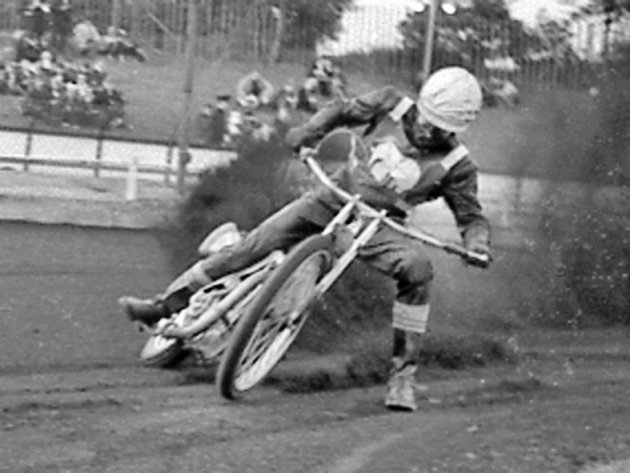 Dave Younghusband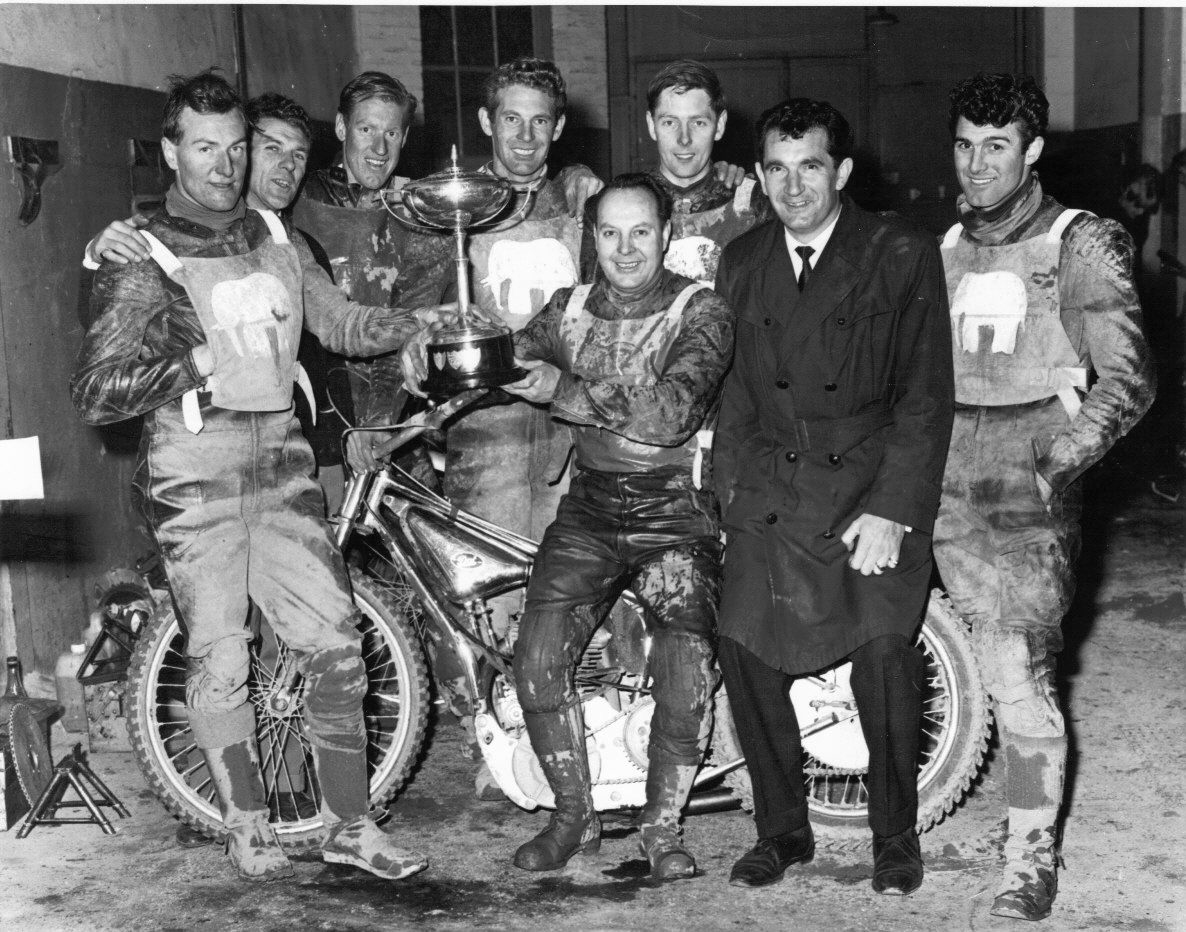 The Dukes 1966 League and KO Cup winners
Motor-cycling is obviously in the Younghusband genes as both of our sons are enthusiasts. Gary, the eldest, is a good trials rider competing in events most weekends and Ian, the youngest, was an excellent moto-crosser until a devastating injury in 1998 which ended his riding career. However this hasn't dampened our enthusiasm and we still attend as many speedway and motor-cross meetings as possible during the season.
I don't think our love of motor-cycling will ever wane.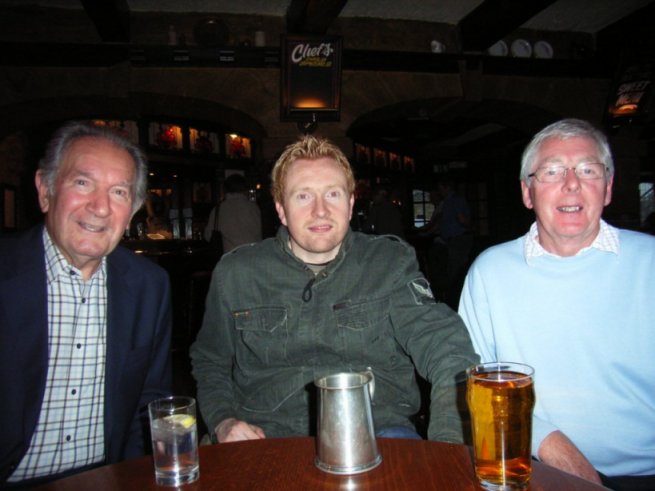 Reg with Ian and Dave Younghusband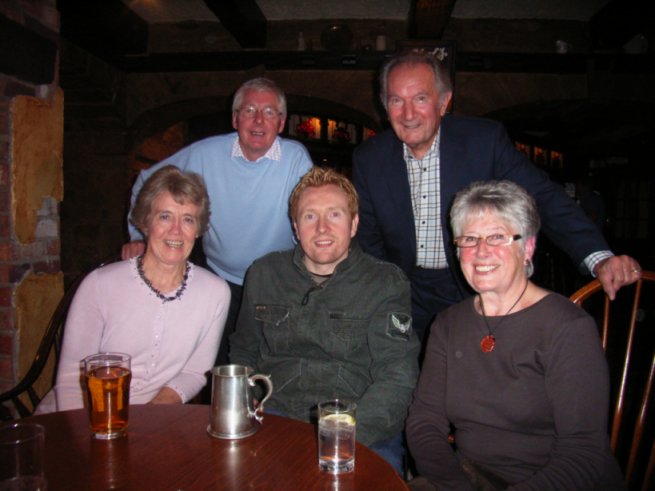 Eileen, Dave, Ian, Reg and Margaret
---
Ian Cartwright
After our wonderful evening with David and Margaret Younghusband and their son Ian we motored down to Thirsk Yorkshire to meet up and stay overnight with some friends we made last year on holiday.
The world is really a small place. We met on the first day of our holiday Steve and Margaret from Thirsk. We enjoyed each other's company as well as some water sports together and a couple of coach trips visiting tourist sites. During our time together we talked about what one did in their working life and when I mentioned speedway it transpired that Ian and Anne Cartwright were their very close friends and in fact they had dinner together just before leaving for holiday.
We made an arrangement that when we - Eileen and I - were travelling North we should get together with them and Ian and Anne - we did just that. We had a great time with Steve, Margaret, Ian and Anne and some of their friends. The Yorkshire hospitality was wonderful.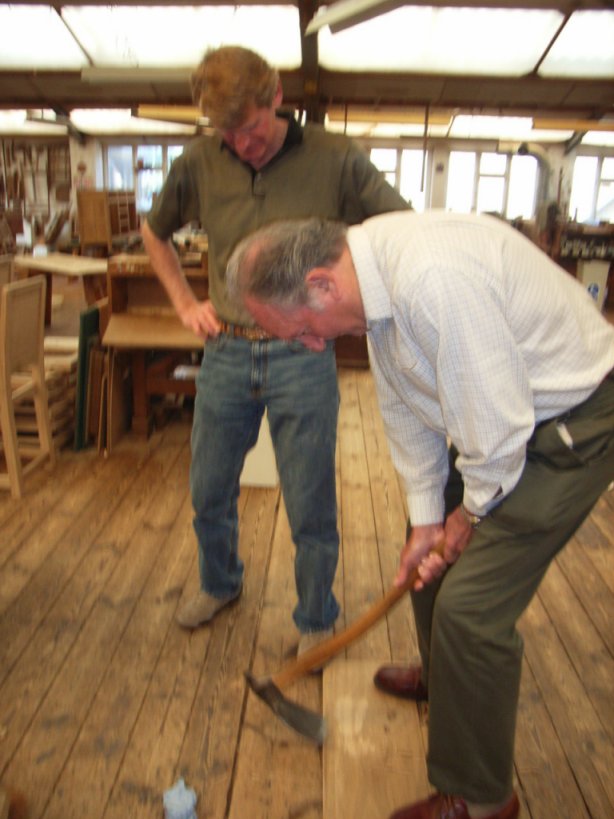 In the afternoon, Ian showed us over the workshop of Robert Thompson, furniture makers for more than 100 years in the village of Kilburn, nestling in the Hambleton Hills to the north of York. Robert Thompson was Ian's Great Grandfather who laid the skill and craft of "The Mouseman of Kilburn".so many years ago. The trade mark of this craft is a mouse carved into the piece of furniture by the craftsman - even today. Pews and lecterns can be found in many churches throught the British Isles, including Westminster Abbey and the famous Roman Catholic Public School - Ampleforth.

The skills of furniture making have not been confined to Britain, as many commissions have come from abroad. You may have guessed by now that the firm has been handed down through the generations and it is the Thompson Cartwright family who are firmly in charge today of the sixty skilled workers making furniture to the standards set by Robert Thompson so long ago. During our visit to the workshop Ian demonstrated to us the use of the apse which is a feature of the finished product. Eileen and I can thoroughly recommend a visit to the village of Kilburn and to the home of "The Mouseman" Public tours are arranged and there is a museum, gift shop and a small restaurant attached to the property.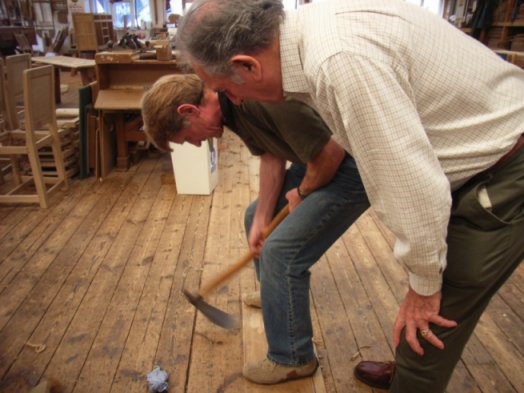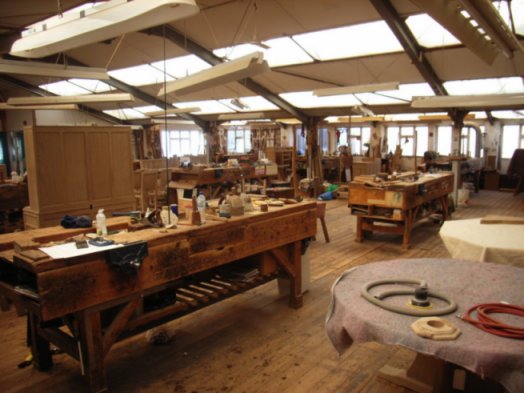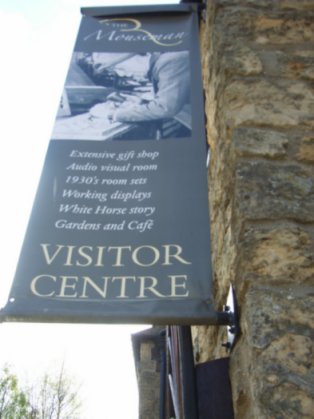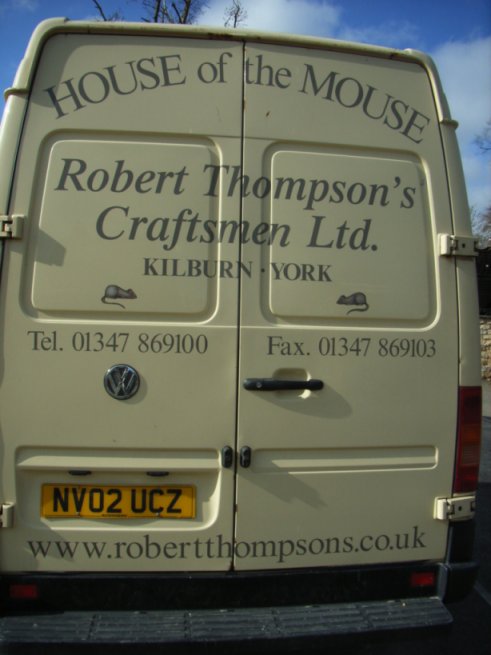 In the evening Steve, Margaret, Ian and Anne took us to a beautiful country pub restaurant where we met up with some of their friends. The company, wine and food was excellent.
Ian of course raced for me at Halifax for the whole of his senior racing career. I remember well at the beginning of one season he said to me that this would be his last season of racing as he had to go into the family joinery business. I had no idea at that time that it was "The Mouseman", nor did I know of such fame throughout the world that the carving of the mouse carried. At one time, Ian was Captain of The Dukes. He was a solid performer who was called up for International duty and toured the Middle East with me in the late 1970s and also did a tour of New Zealand.
Simon the son of Ian and Anne also took to riding speedway in the mid-1990's and raced for Hull and Sheffield before he joined Berwick as Captain in 2005. Like father like son he too was called into the family business
---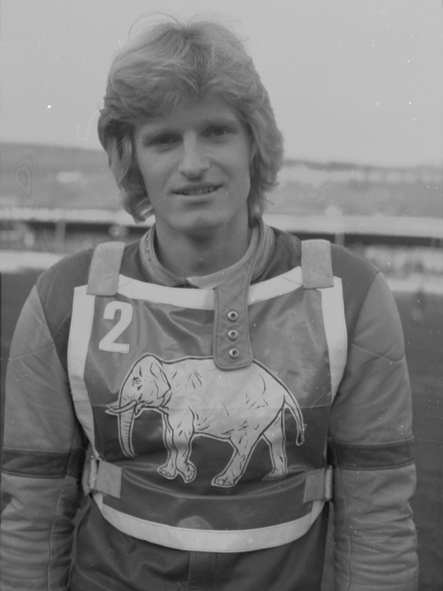 These 3 portraits of Ian are courtesy of John Somerville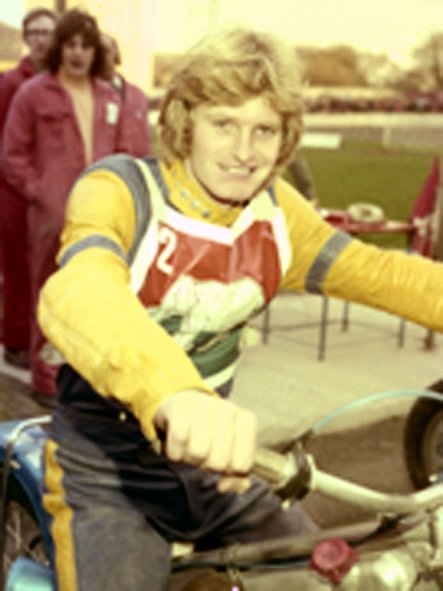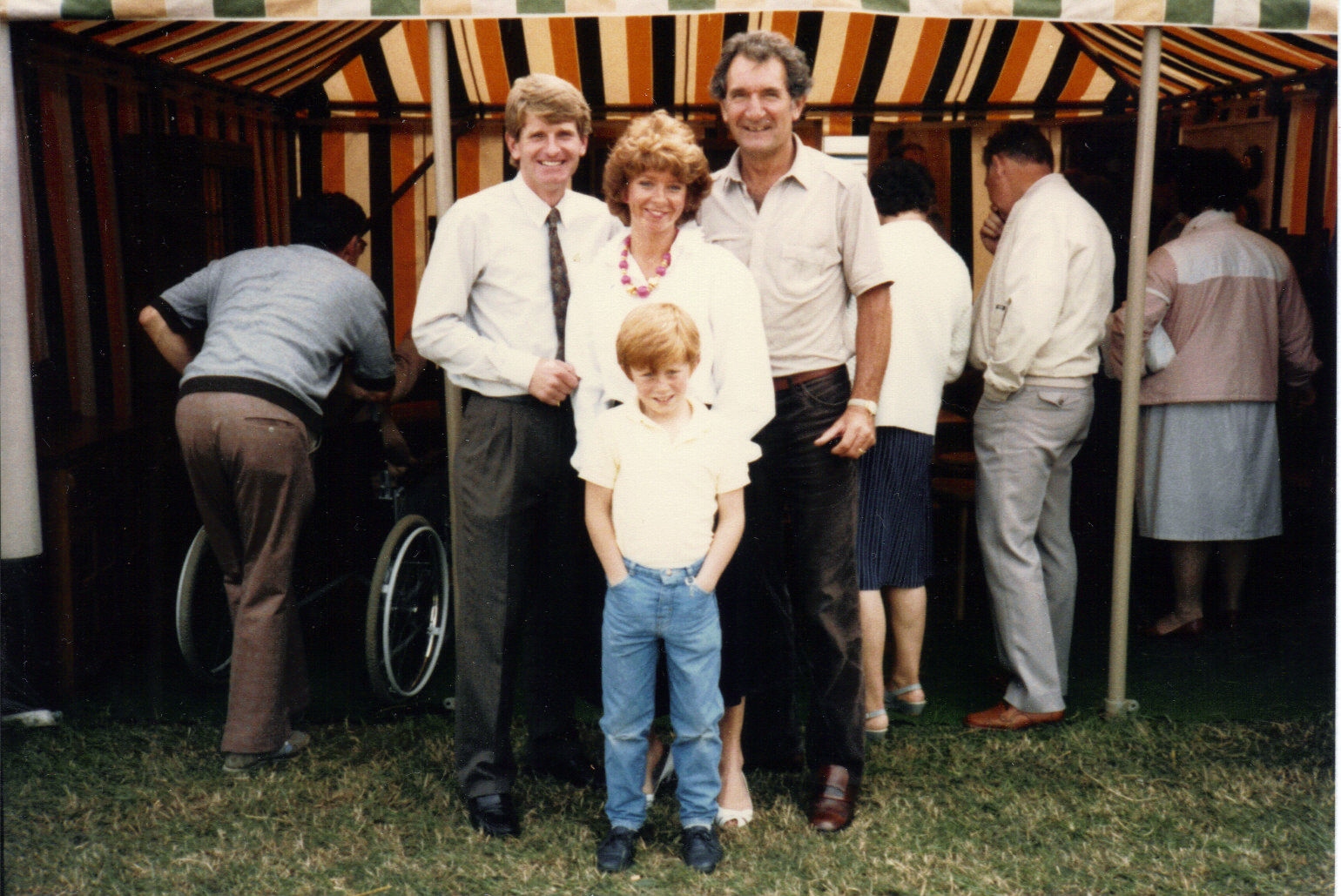 Ian Anne Simon and Reg in the mid 1980s at the New Forest Show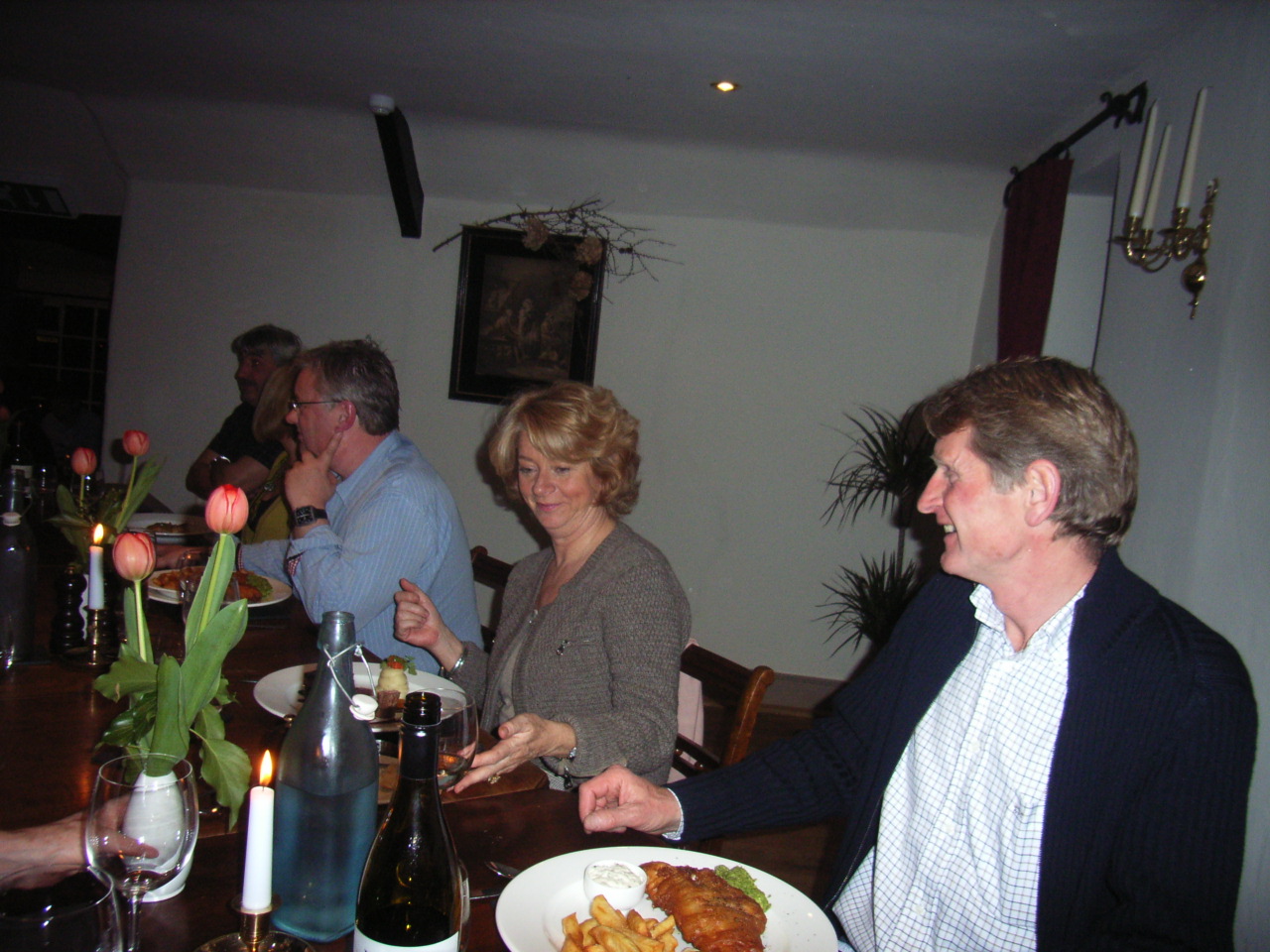 Ian and Anne Cartwright foreground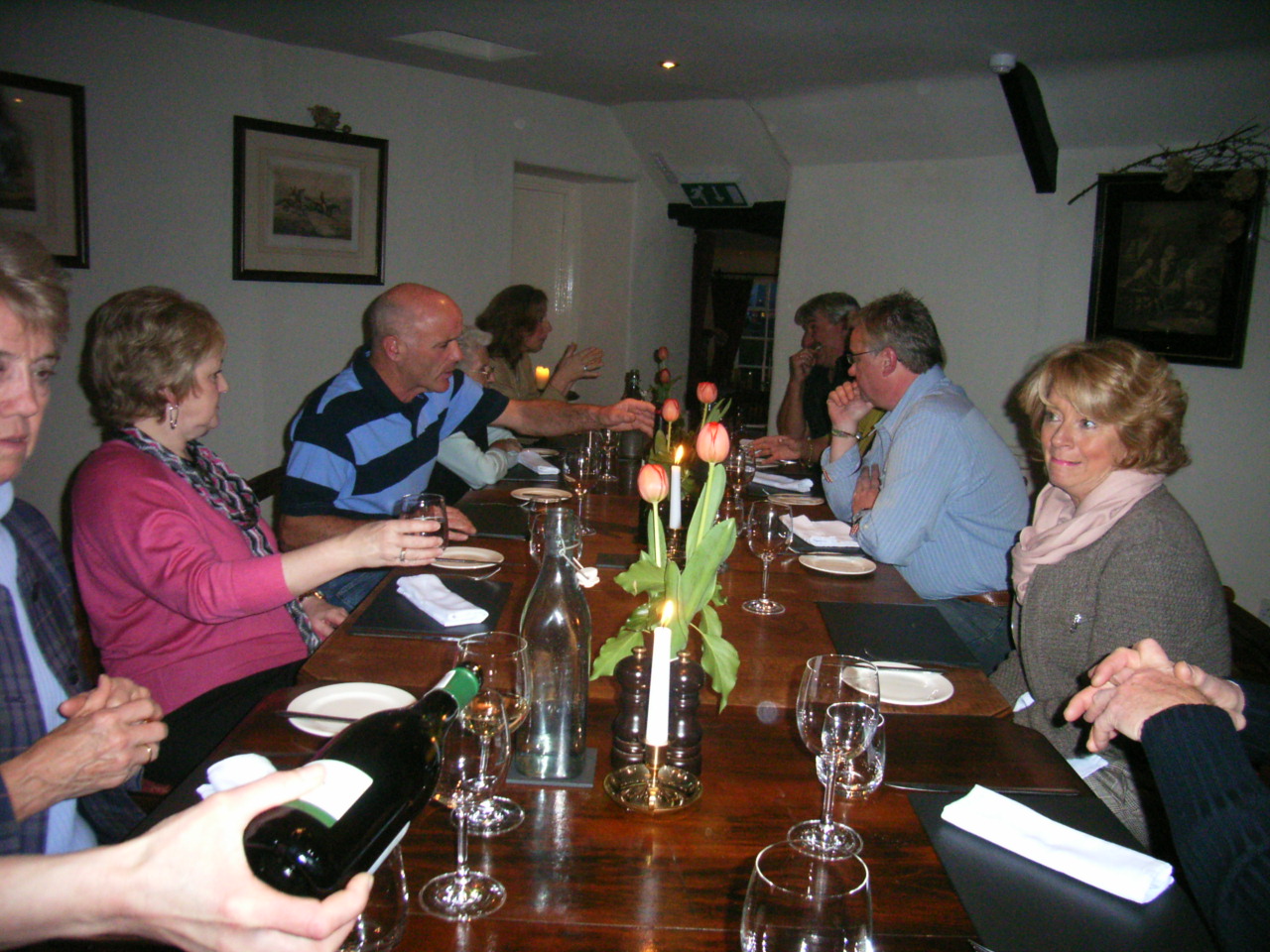 Eileen left and Anne right with some of the friends
---
It is not unusual for us to have friends come to Valcros. Recently we had Igor and Nataly Kalashnik (both speak very good English) from Moldova - they stayed with Ove and Joanna Fundin. From near Taunton came Bill Campbell and Roger Applebloom who stayed with Eileen and me.
Russian's Igor and Nataly Kalashnik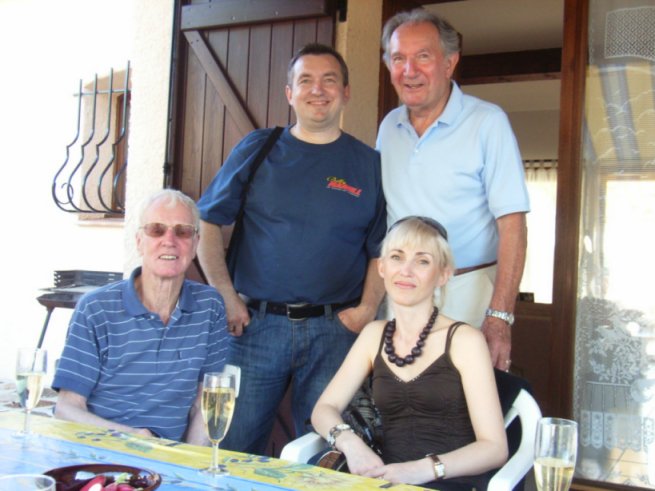 Ove, Igor, Reg and Nataly
It was Igor who first mooted to Ove that it would be nice if Igor Plechanov could be a guest at the Veterans Dinner in March 2003 at Coventry. Ove mentioned it to me and with some telephoning around, enough funds were raised from VSRA members to bring over the two Igors and Plechanov's grandson. See
Reg Fearman part 1.
Igor Kalashnik has had managerial involvement with speedway racing in both Moldova and the Ukraine.
Ove Fundin,
Roger Applebloom, Bill Campbell Reg &
Igor Kalashnik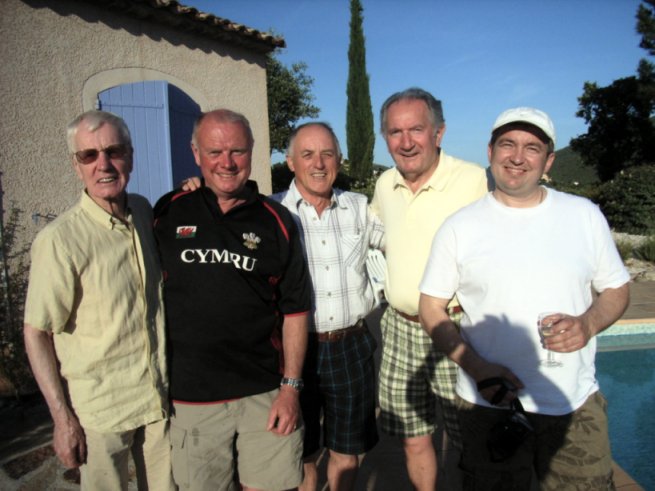 ---
Veterans Bill Campbell &
Olle Nygren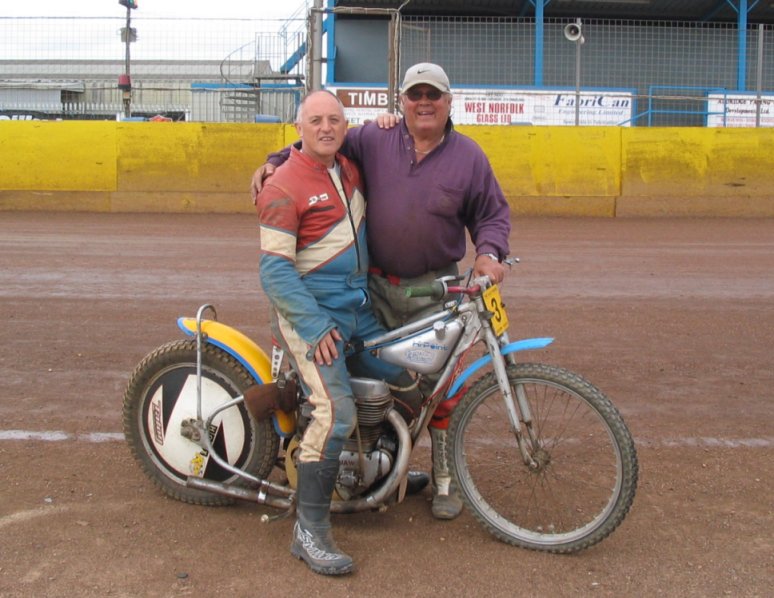 Bill Campbell was George Hunter's pusher on that fatal evening in September 1963 at Old Meadowbank Edinburgh when Peter Craven, twice World Champion, received injuries from which he died two days later.
Bill has spent his working life as a commercial pilot although he had aspirations to become a speedway rider in his teens and early twenties. It was in 2006 that he enrolled in Ole Nygren's "seniors" training school at Kings Lynn. Bill, an accomplished motorcyclist, learned the basic skills of sliding a speedway machine. The photographs tell the story. Bill enjoyed the "school" so much he arranged for a return trip, accompanied by seven of his pilot friends from Titan Airways, a company operating at Stansted. They are a VIP charter company operating Boeing 737s, Boeing 757s and BAE 146 aircraft. The owner Gene Wilson had visions of half his pilots ending up in traction.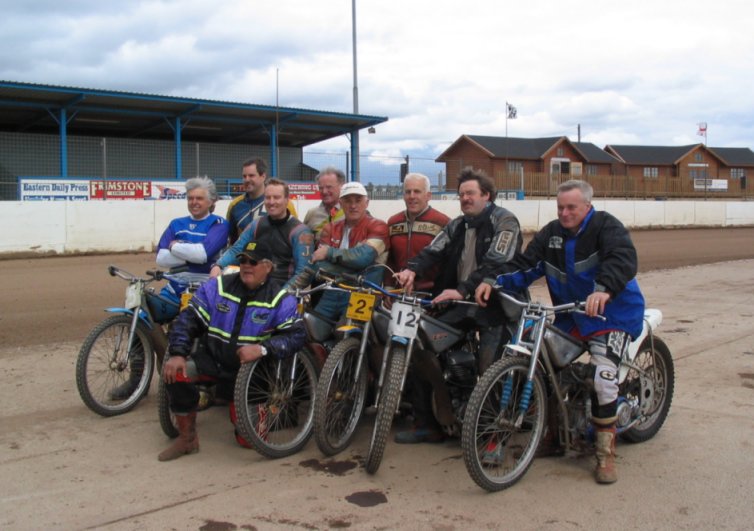 Unfortunately Ole no longer runs the schools in the UK for "mature" men who were "wanabees" In their earlier years.
---
Dinner On The Fearman Terrace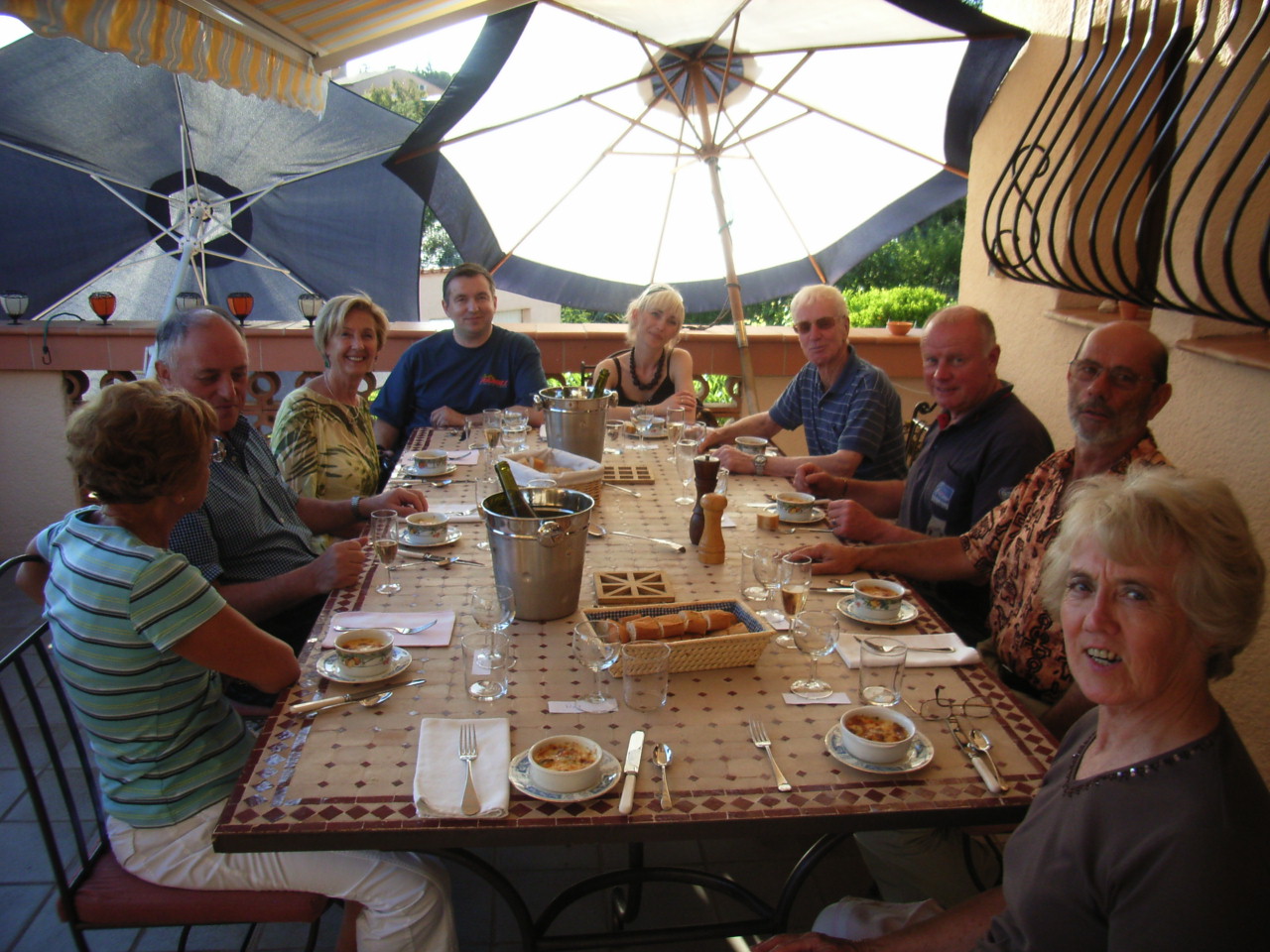 Dinner on the Fearman terrace with extra guests Andre and Dominique our French neighbours
Roger Applebloom
Roger Applebloom, a speedway enthusiast, is a licenced motorcycle instructor with a Teaching School near Taunton. He has a garage which also encompasses a Driving School. Roger has toured all over Europe and beyond by motorcycle. Both Bill and Roger arrived in Valcros on their Harley Davidson motorcycles.
We all enjoyed dinner at the Fundin's and dinner at the Fearman's when much speedway discussion and banter took place.
Here's looking forward to the next time.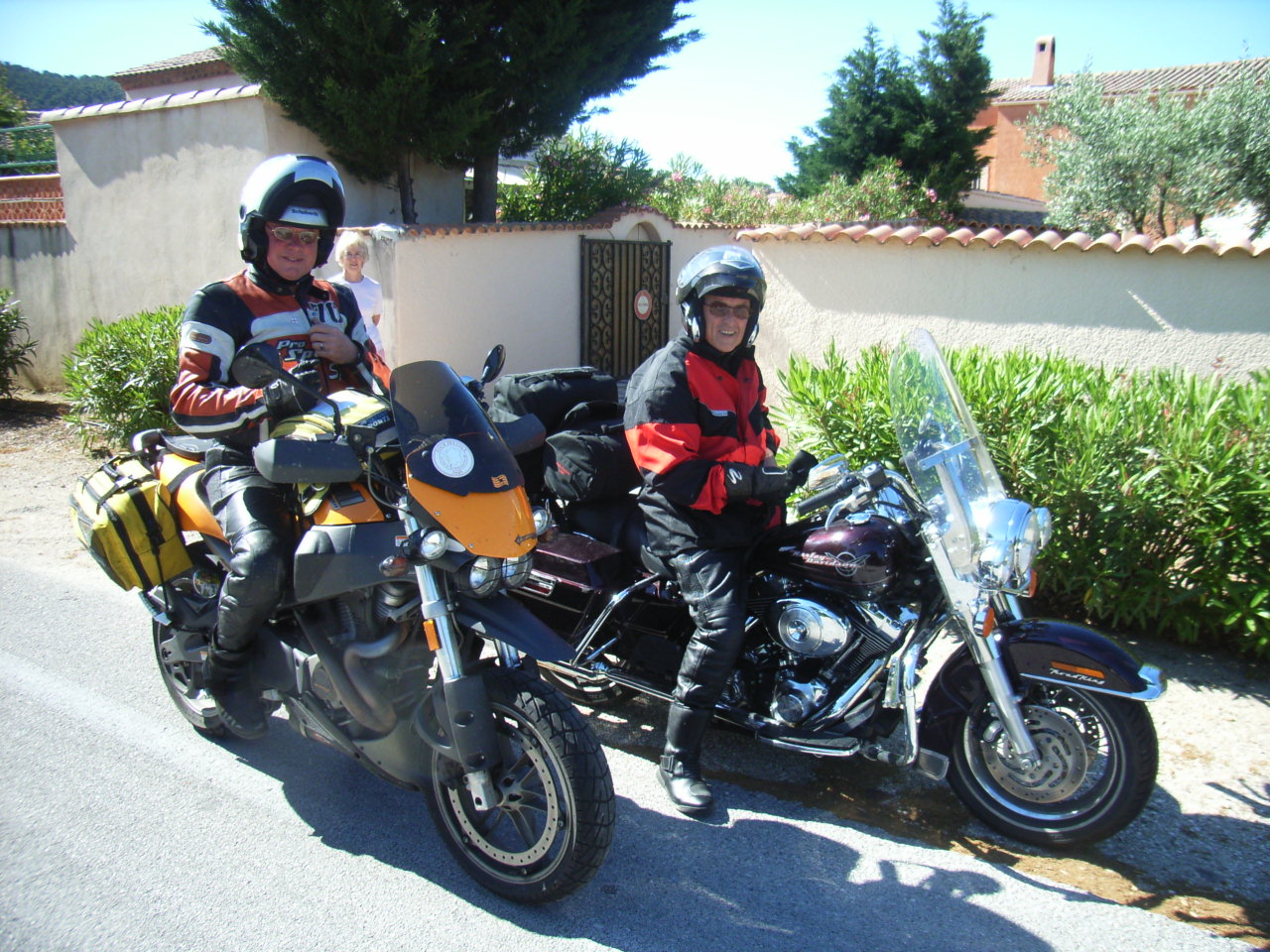 Roger, on the left and Bill prepare to take their leave of Valcros - Eileen in the background
Reg Fearman 7
---
The contents of the site are © and should not be reproduced elsewhere for financial gain. The contributors to this site gave the pictures and information on that understanding. If anyone has any issue or objections to any items on the site please
e-mail
and I will amend or remove the item. Where possible credit has been given to the owner of each item.