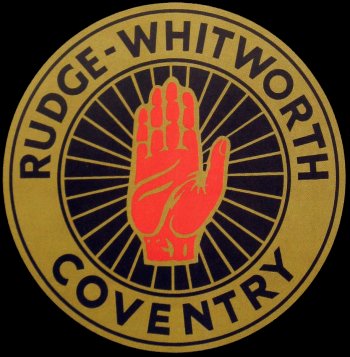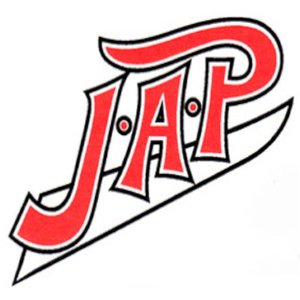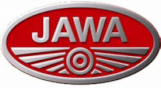 ---
Reg Fearman
Part 4
Veteran_Association_Dinners_&_Events
Joe Owen, Steve Weatherly_and_Joe's Wife.
The_End_of_Another VSRA Annual Dinner
The_Ryder_Cup Or Should That Read The Ex-Rider_Cup!
Veteran Dirt Track Riders' Association
Founded By Peter Arnold
It was in 1957 that Alan Baxter, known to all as Peter Arnold (his pen name), founded the VDTRA with just a few members. It grew very quickly and has had two name changes over the past 52 years. The first change was to the Veteran Speedway Riders' Association and more recently to the World Speedway Riders' Association.
That the objects of the Association be purely social or benevolent in character.
That the influence of the Association never be used for any political, industrial or commercial aims
That the Association shall not at any time interfere in the government of the sport.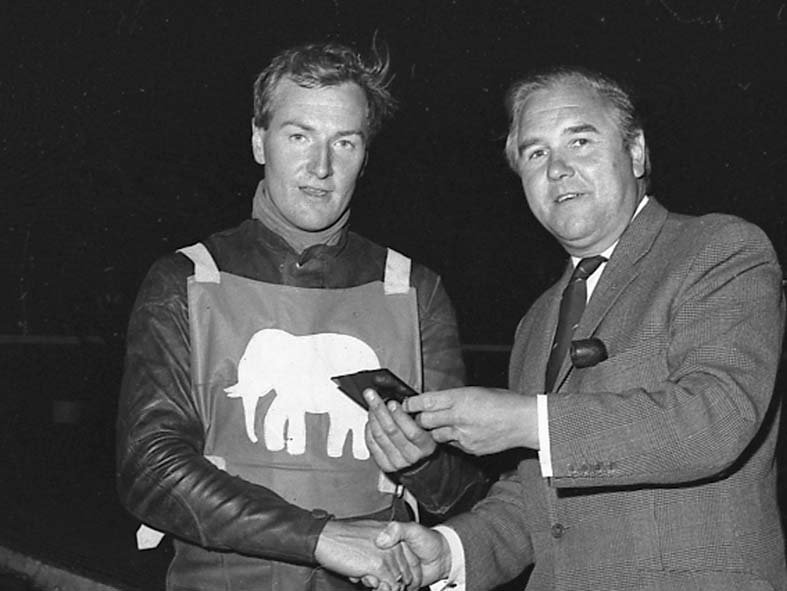 Courtesy of John Somerville: Peter Arnold pictured with 1960's legend Eric Boocock
We have so much to thank Peter for who died so tragically in 1969. Today, and for some time, the Association has grown throughout the UK. There are many reunions staged on a local scale throughout the year and two Golf Tournaments, one usually in the Spring and one in the Autumn known as the "Rider Cup". We have a membership around 600 and some 300 attend our Annual Dinner which is usually held in March. The VSRA of Australia was formed in 1991 and the VSRA of New Zealand in 1979. All three are independent but all have the same Objects. Each Association has its own address and contact book so it is easy for some of us "old boys" to keep in touch, especially in this day and age of the computer.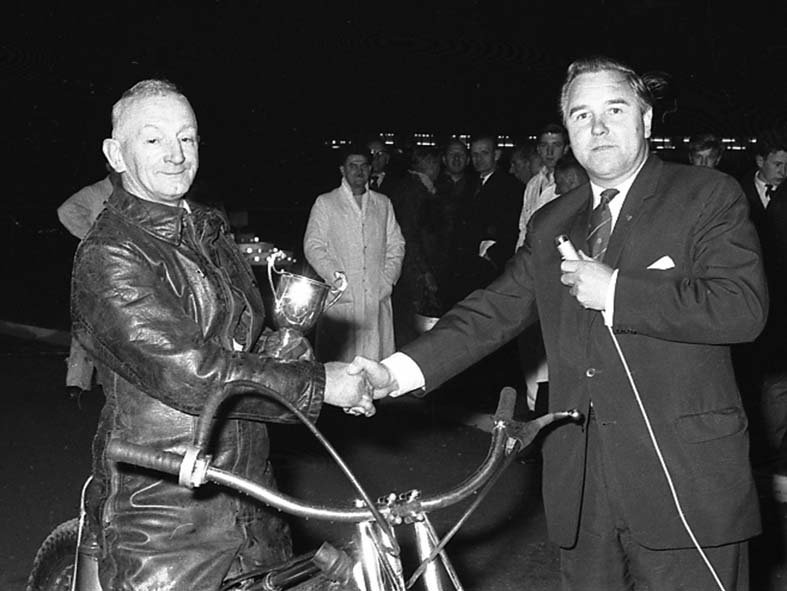 Courtesy of John Somerville: Another British Speedway legend Tommy Allot, receiving a trophy from Peter
Under
Peter's guidance, for many years the Annual Dinner was held at the Rembrandt Hotel in Central London and the Annual General Meeting was held in the afternoon at a pub close to
Wembley
Stadium before the Annual World Individual Championship Final. Those afternoon AGMs were always rowdy affairs with the likes of Bill Kitchen, Jack Barnett, Jack Parker, Wal Phillips, Len Tupling, Bob Lovell, Howdy Byford and Frank Varey as President (1961-1963) trying to keep order. Eventually the Rembrandt closed for refurbishment and the Dinner moved to an hotel in the Midlands. It has been difficult to find a hotel that could accommodate 300 people in one room. The newly built Hotel, the Marriott in Leicester now seems to fit the requirements. Peter Arnold was the Secretary until 1969 followed by Jack Barnett for 10 years, George Greenwood for 2, Vic Gooden for 3 and Ron Hoare for 20 years. The current Secretary is Vic White who took on the job in 2001. The AGM is now held in the hotel in the afternoon before the Dinner.
Peter Arnold was a brilliant journalist, broadcaster and announcer at speedway and other motor race meetings. It was while driving to his home near Northampton from announcing duties at Reading Speedway in August 1969 that he suffered a serious heart attack and crashed the car into an Island and lamp standard. He was taken to hospital and died a couple of days later, from further heart attacks. The day after the accident I visited him in hospital and it appeared that as he was going to be ok. The effects of the crash were minimal. He left a 4 year old son Paul. On many occasions, Paul would travel with Peter to Reading Speedway and it was a blessing he was not on this occasion. The speedway and stock car fraternity set up a Trust Fund for Paul which was to mature when he was 18. Paul was brought up by close relatives on a farm near Andover Hampshire.
There is more tragedy as Peter had lost his wife soon after their son Paul was born. Through road racing he had met a lady Maureen Vinicombe, herself a widow whose husband had been killed road racing. Peter and Maureen were due to be married on the 27th August 1969. Peter's funeral was on the 8th September 1969.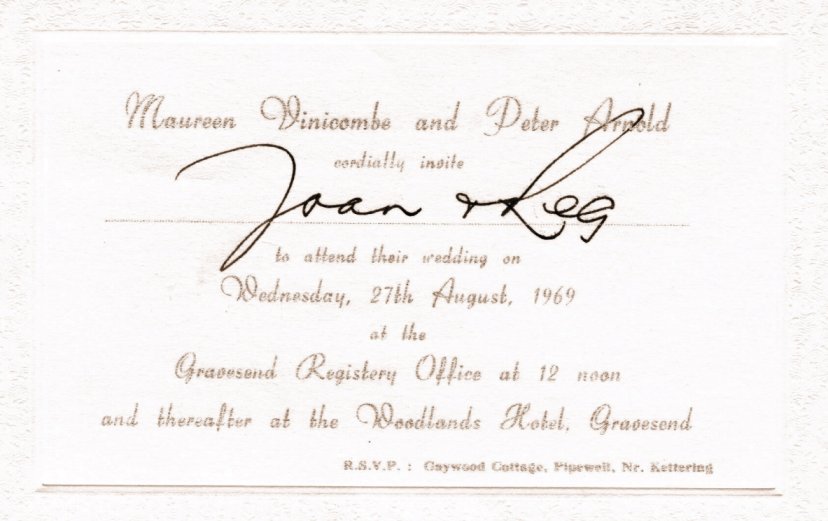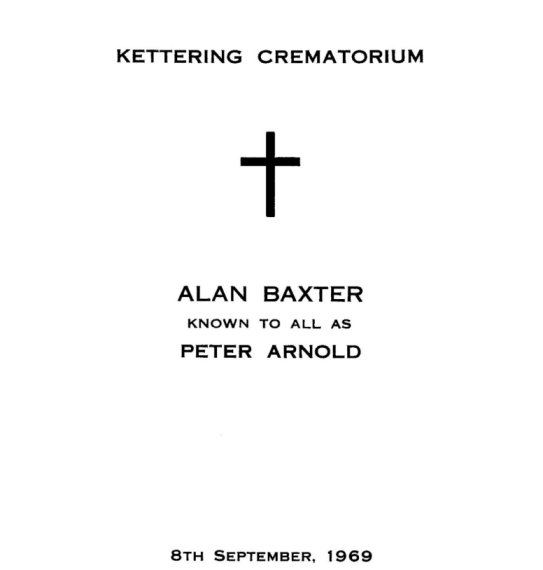 We certainly do have plenty to thank Peter Arnold for - his name like many others of the speedway fraternity
"will liveth for evermore".
Reg Fearman
14th January 2009
---
Veteran Riders Association
Dinners & Events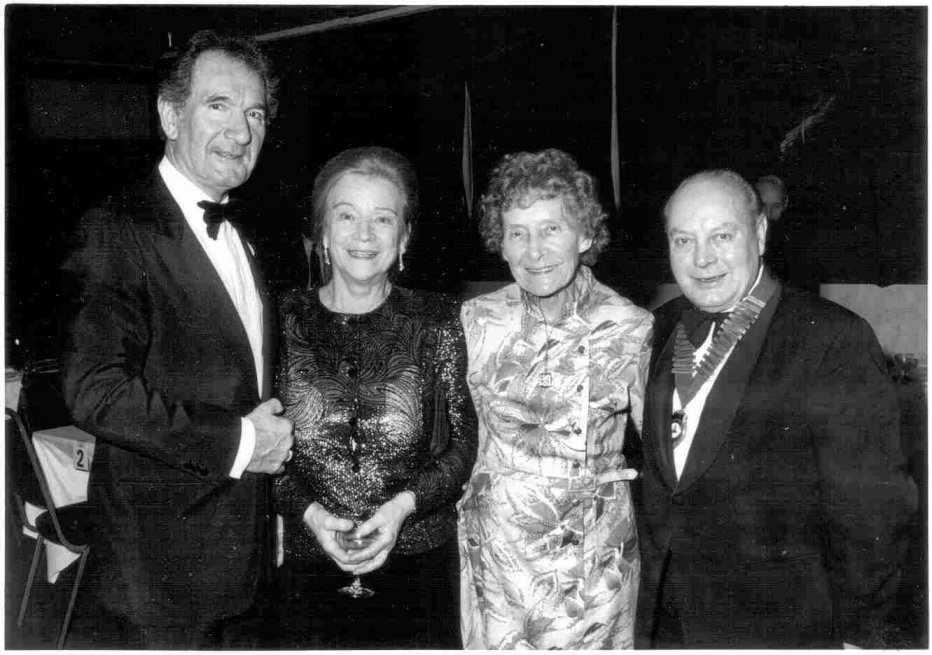 Reg Fearman, Joan Fearman and Reg's Mum with 1990 President Eric Boothroyd
VSRA President 1992 Reg Fearman and wife Joan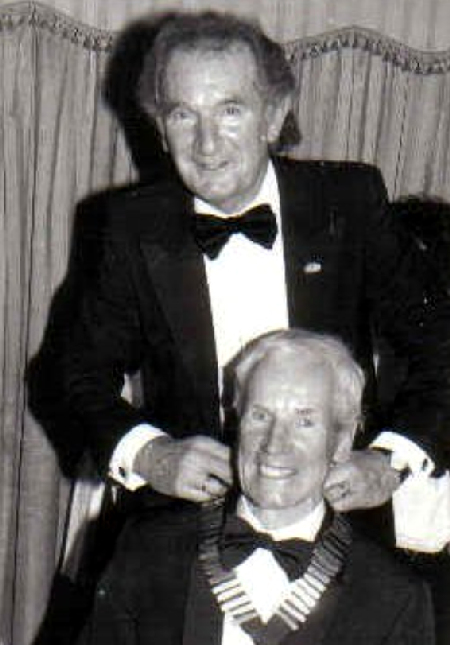 Reg & Ove, VSRA Presidents 1992 & 1993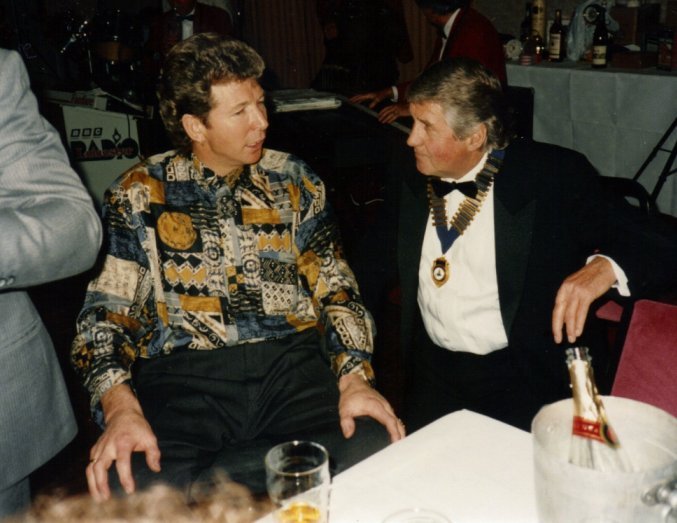 1995 President Barry Briggs with Graham Miles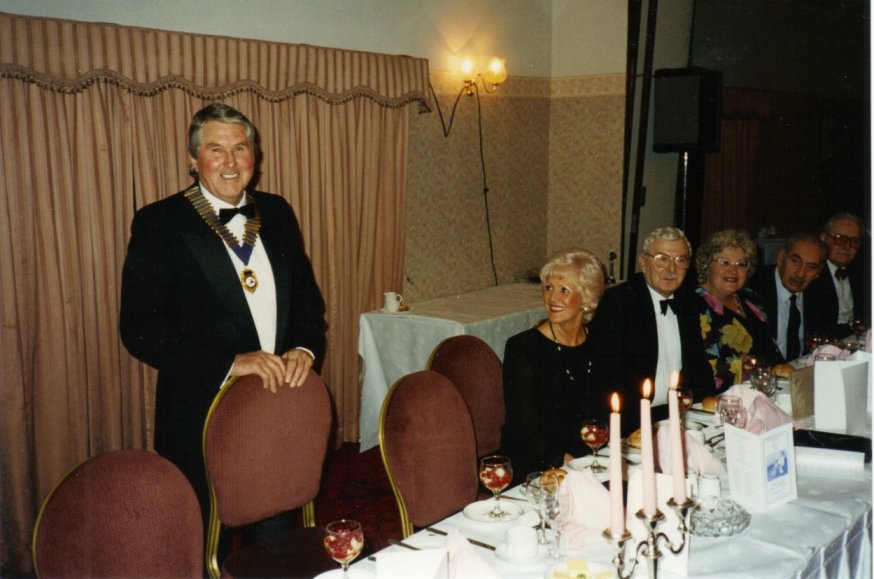 1995 President Barry Briggs, June Briggs, Colin Clarke, Sonia and Archie Windmill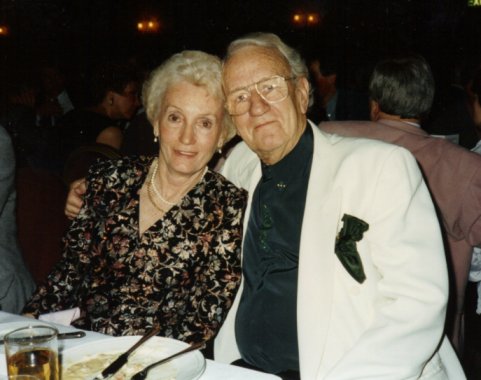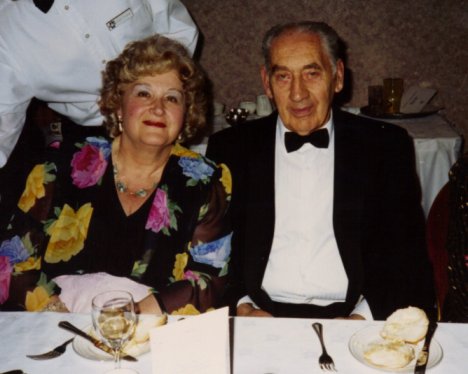 Above left: Alf Weedon & Partner Lynn. Above right: Archie Windmill & Sonia.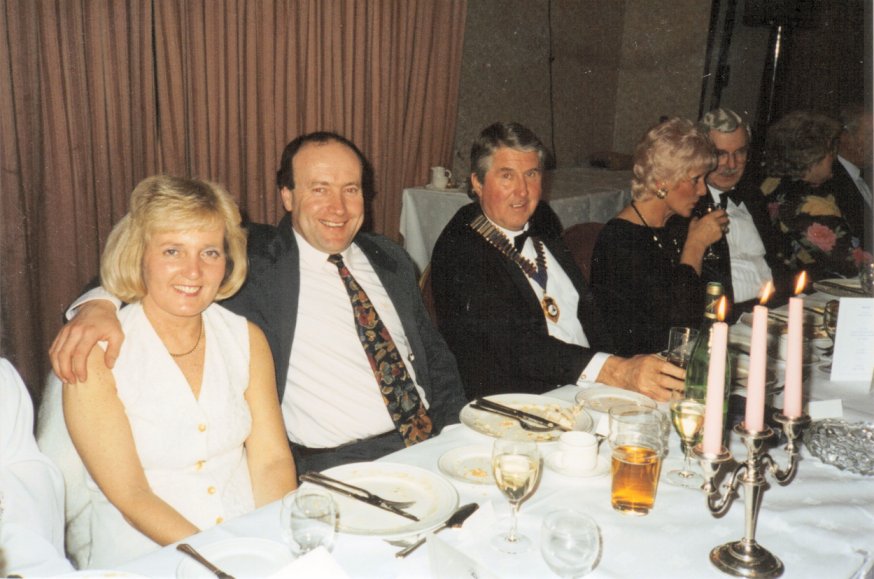 Above: Angie & Peter Collins, President Barry Briggs Barry's wife June & Colin Clarke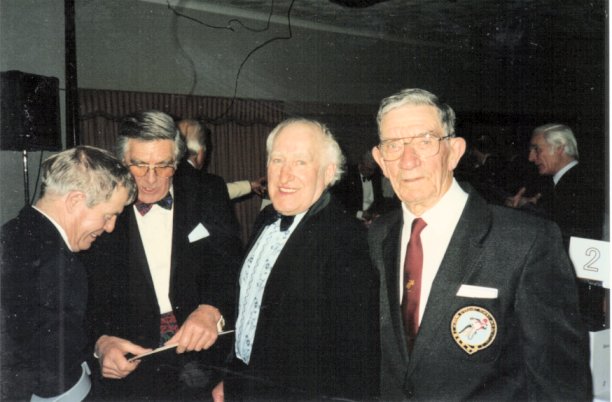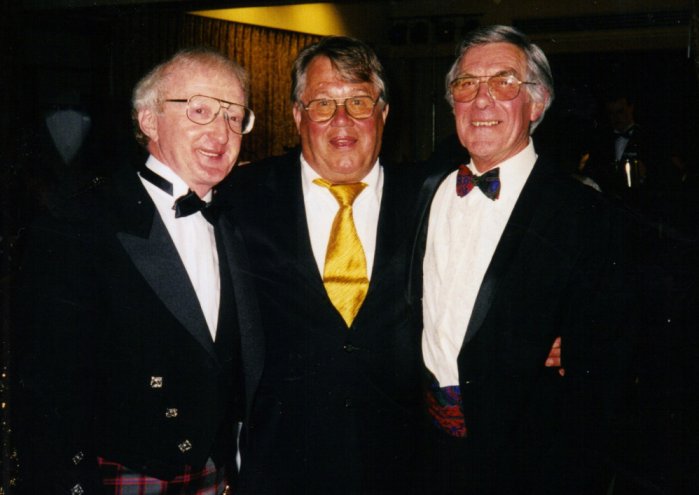 Left: Freddie Williams Howdy Byford and Nobby Stock. Right: Bert Harkins Olle Nygren & Freddie Williams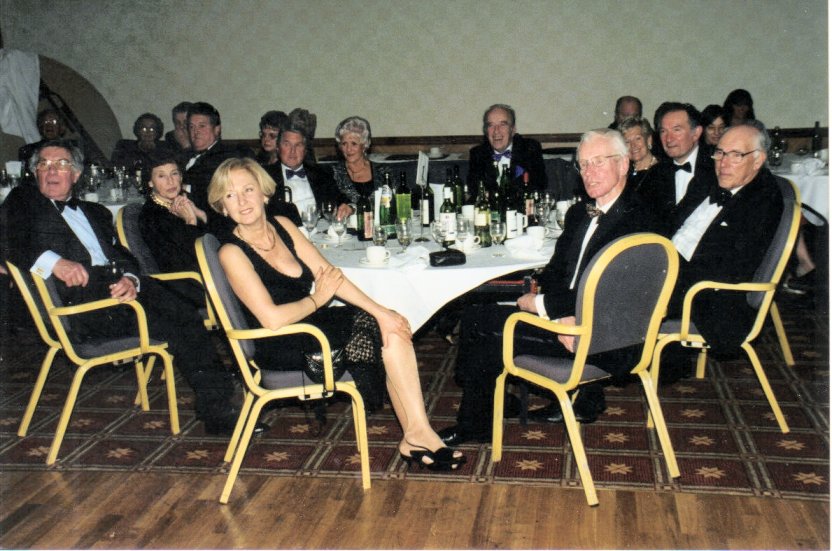 Foreground Freddie & Pat Williams Joanna & Ove Fundin Ian Hoskins Reg Fearman.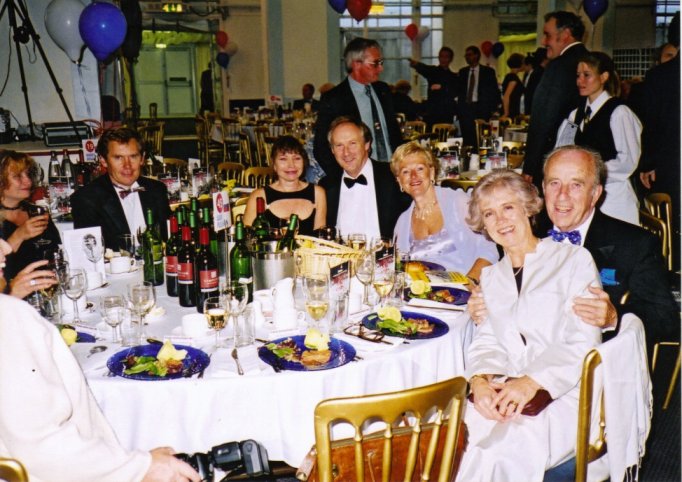 Brenda & Harry Maclean Roni Ferguson & Friend Sheila & Marv Hannam Eileen Fearman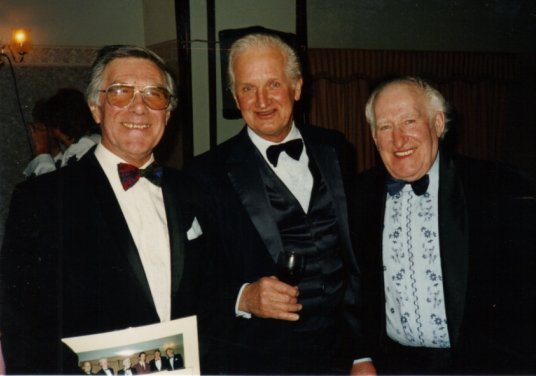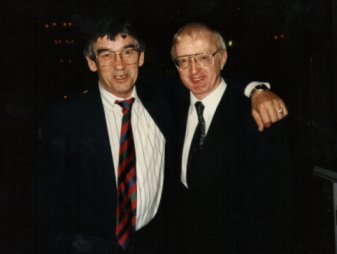 Left: Freddie Williams Huck Fynn Howdy Byford. Right: Scots George Hunter and Bert Harkins.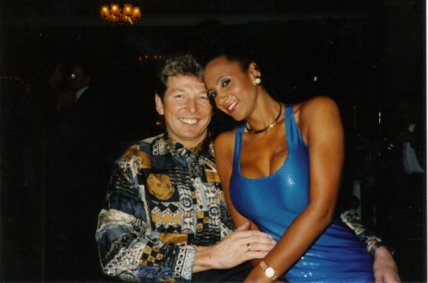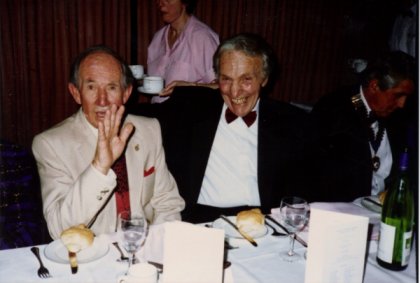 Left: Graham Miles & Partner. Right: Graham Warren & Vic Gooden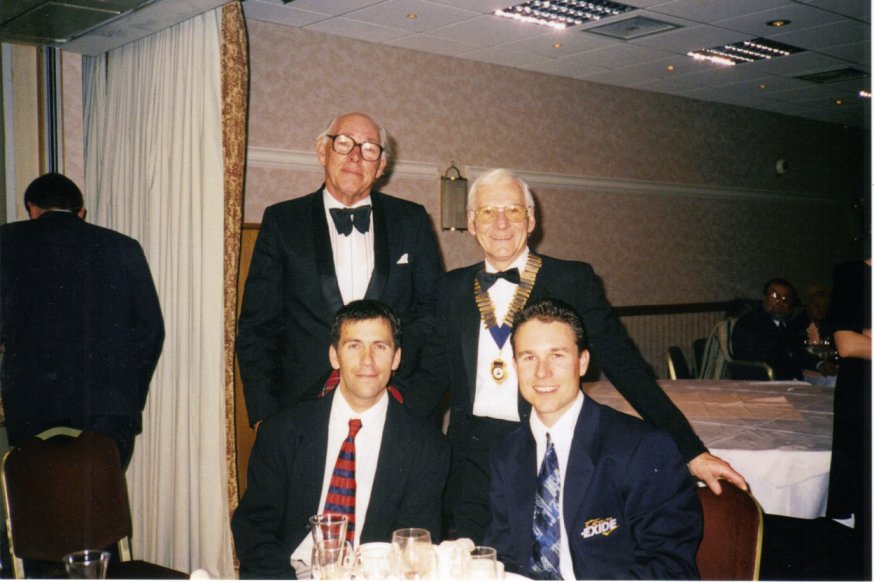 Ian Hoskins, 1998 President Vic White with Greg Hancock &.Billy Hamill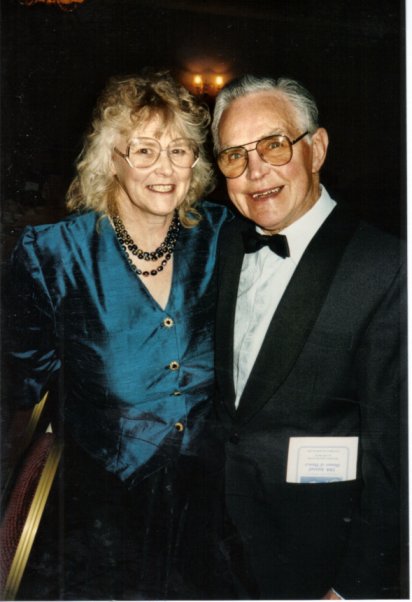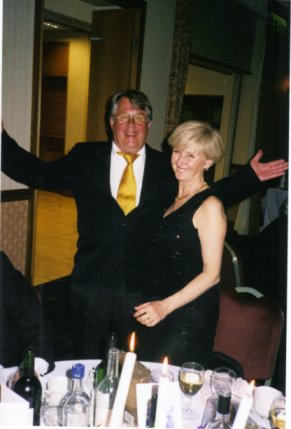 Left: Jeff Lloyd with brother Wally's daughter. Right: Olle Nygren & Joanna Fundin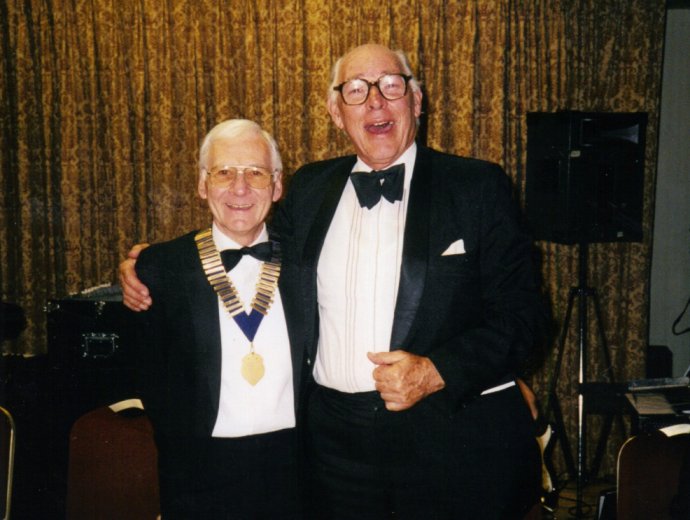 1998 President Vic White & the larger than life Ian Hoskins.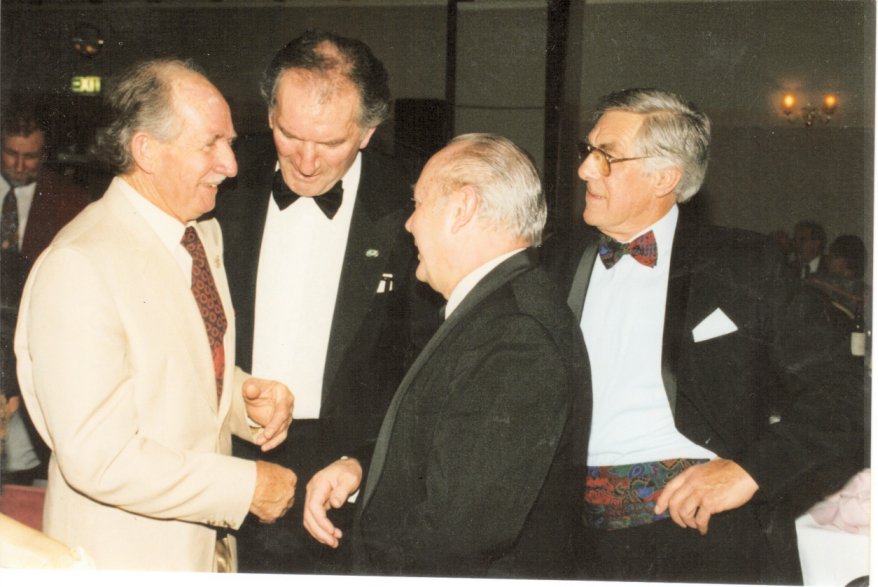 Graham Warren, Reg Fearman, Eric Boothroyd, Freddie Williams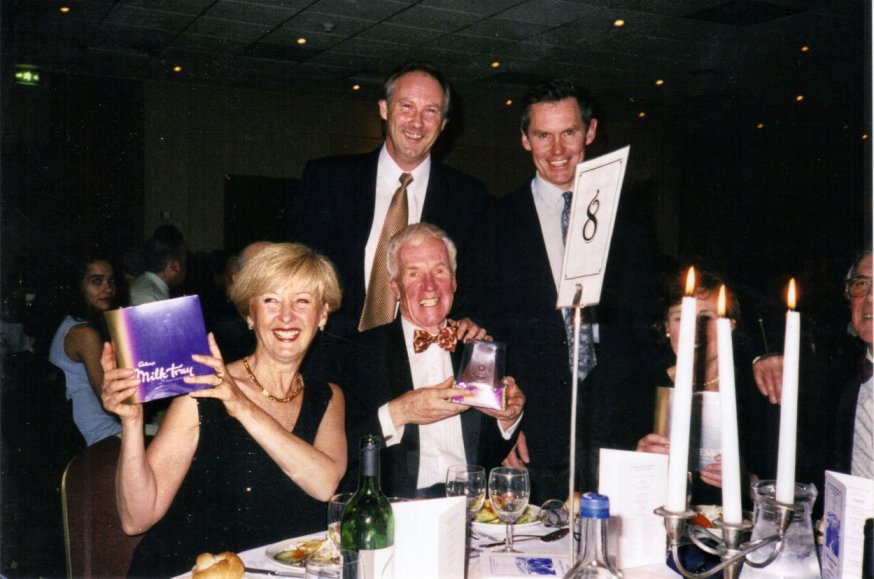 Joanna & Ove Fundin, Roni Ferguson, Harry Maclean.
---
Joe Owen
Steve Weatherly
& Joe's Wife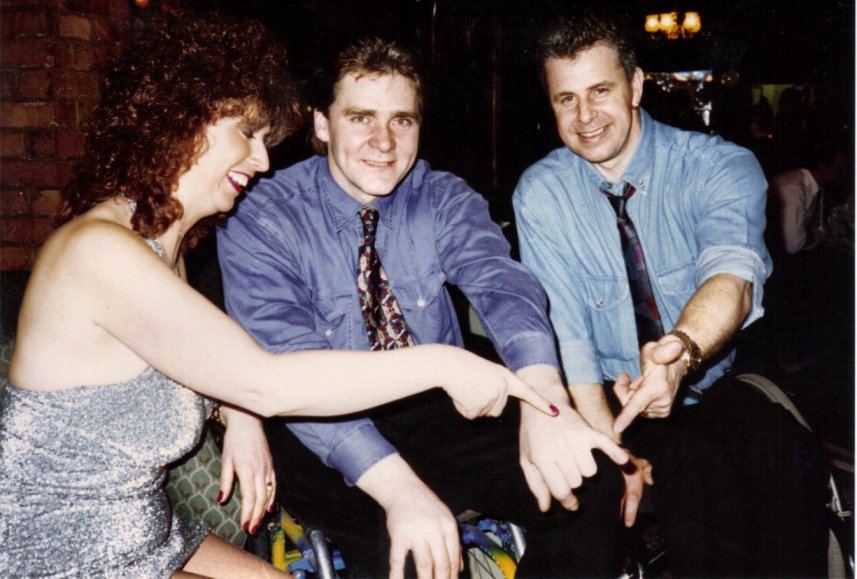 Reg says: Evening John, I'm pleased the photos came through eventually. Joe is a regular at the vets Dinners. But not Tom. I knew Joe quite well and liked him. I took him on the Middle East trip to Cairo, Kuwait and Abu Dhabi. I shall do a piece on that some time for your site. Cheers, Reg Fearman. The interest shown in Joe's little finger was from him being asked about it. Seems he nearly tore it off in a track crash.
John says: Two guys in wheelchairs interested in an injury to Joe's little finger! I am a Newcastle fan and Joe comes second in my list of great Diamonds he is behind Ivan Mauger but ahead of brother Tom, Ole Olsen, Anders Michanek, Nicki Pedersen and Brian Craven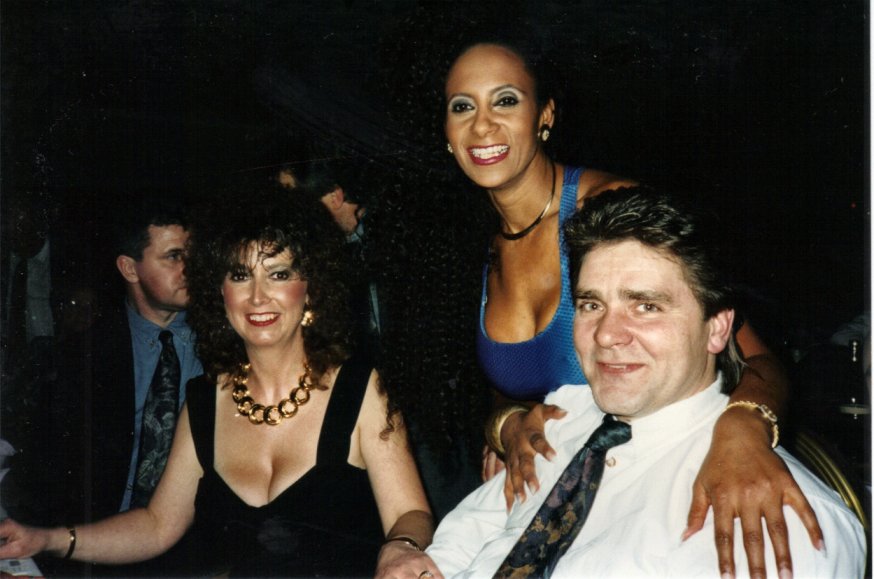 Joe Owen with his partner and Graham Miles partner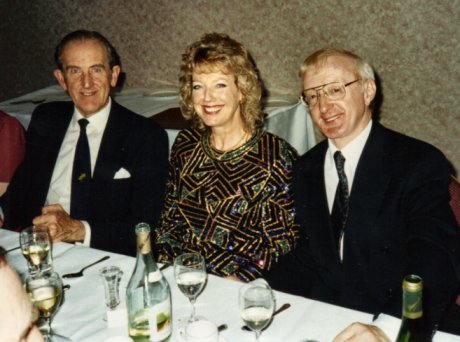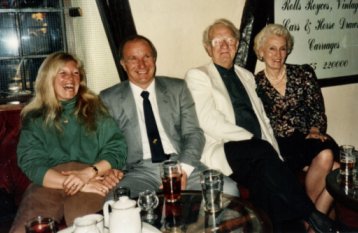 Left: John Scott USA team manager, Edith & Bert Harkins. Right: Lynn & Alan Cowland Alf Weedon and Partner Lynn.
---
June & Barry Briggs


With Jack Hughes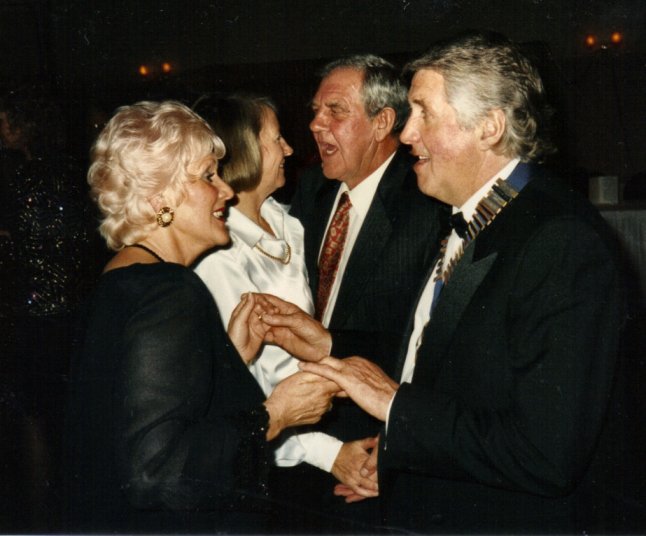 Barry ranks highly in the sports who's who. I didn't see him much as I would have liked. I can remember one great race when Swindon came to Newcastle. Barry was world champion and he lined up against our local rider and second string Mike Watkin. Mike beat the world champ and we all went mad on Tyneside. What a notch on his belt for Mike, I bet he still remembers riding against Barry that night.
---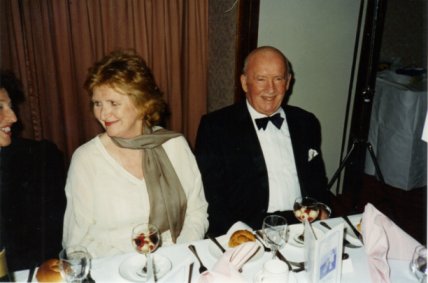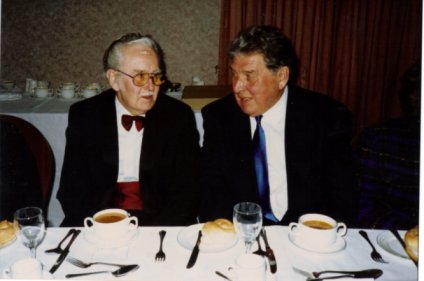 Left: Trevor and Pat Redmond. Right: Ron Howse and Geoff Bennett.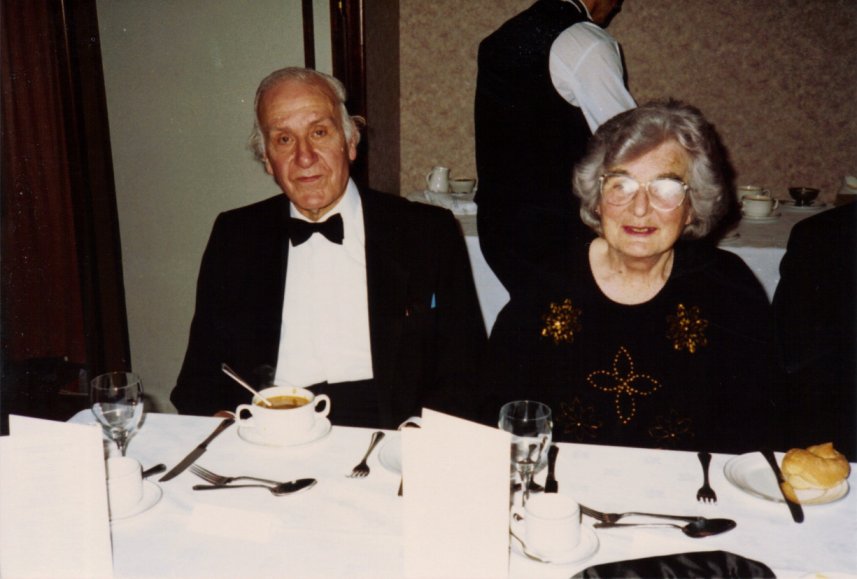 VSRA Secretary 1982 - 2001 Ron Hoare and Wife Maureen.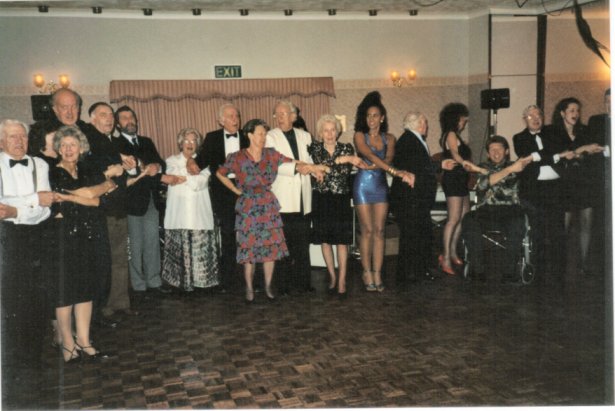 ---
Annual Dinner 1999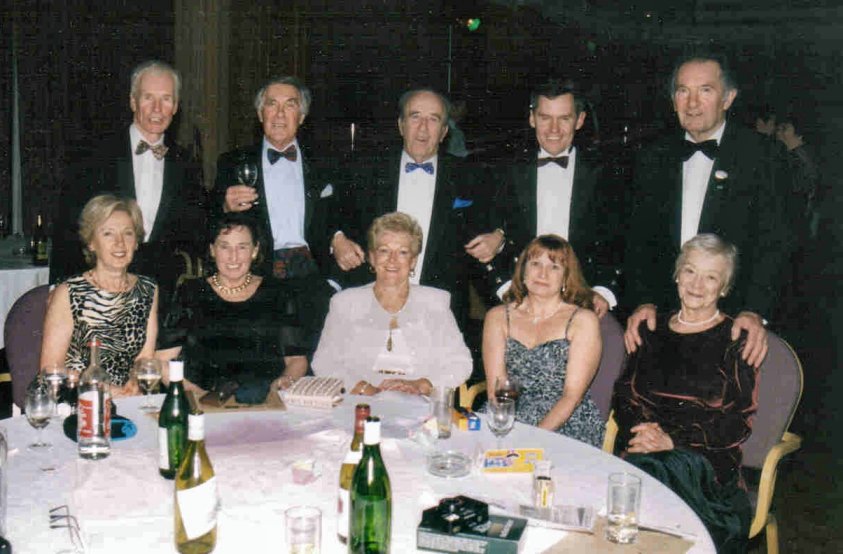 Reg says: Hi John, Here is a very nice photo for the VSRA Dinners and Events page. I hope you can get this one on as it is the last Dinner Joan went to as she died in the August of 1999.
VSRA Dinner 1999 Ove & Joanna Fundin Freddie & Pat Williams Merv & Sheila Hannam Harry & Brenda Maclean Reg & Joan Fearman Cheers Reg.
John says: Reg, Of course I am happy to be able to get this photo on the webpage, I can understand how you feel. John
1999 President
Fred Rogers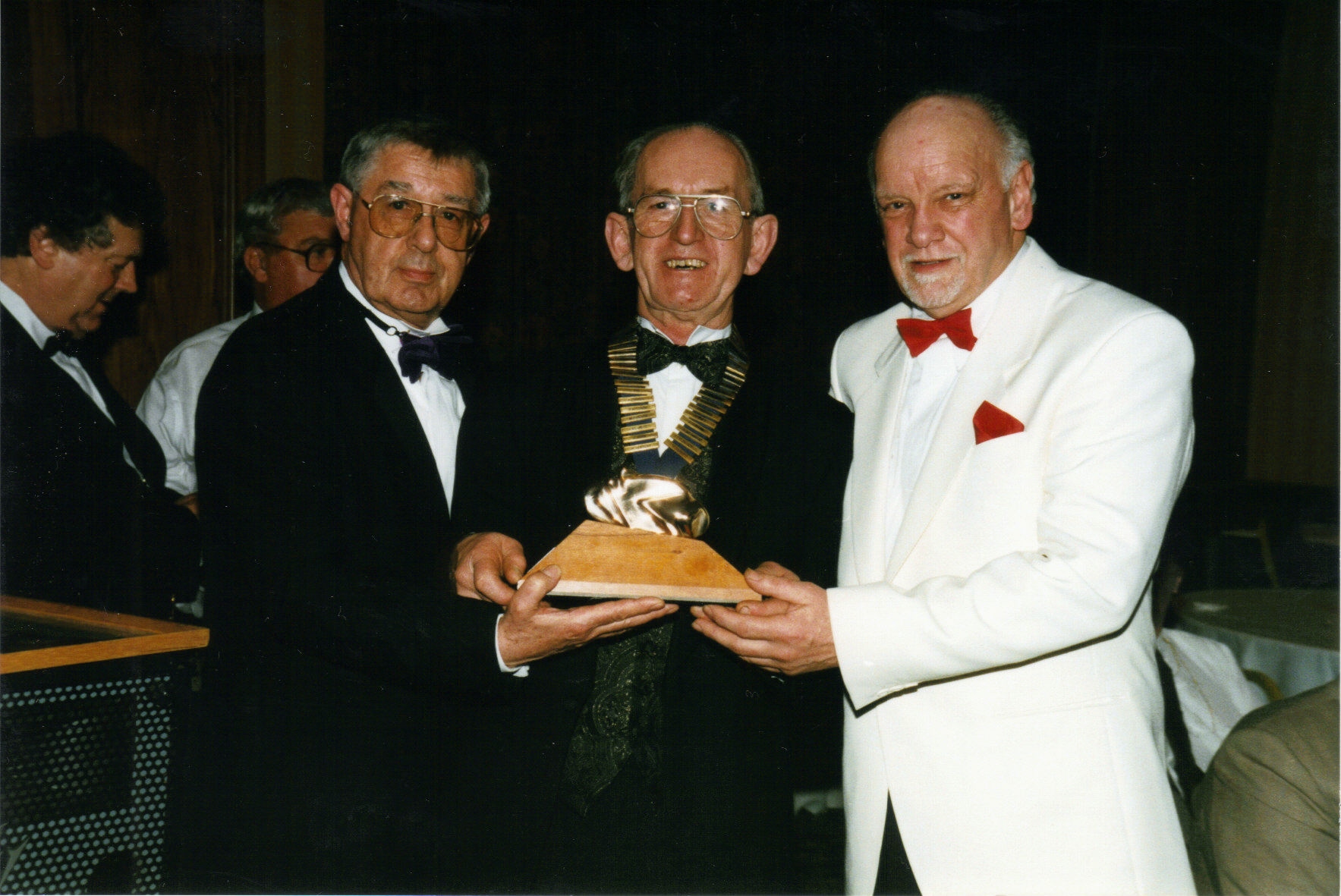 Reg says: 1999 President Fred Rogers receiving the Tom Farndon Casting of him in action - it is on Tom's Gravestone in a Coventry Cemetery. John Chaplin and Peter Lipscombe were the founders of Vintage Magazine. They both supported the VSRA. A number of these were presented over the years to various Presidents - somehow I missed out !!!
---
Archie Windmill

VSRA President 2001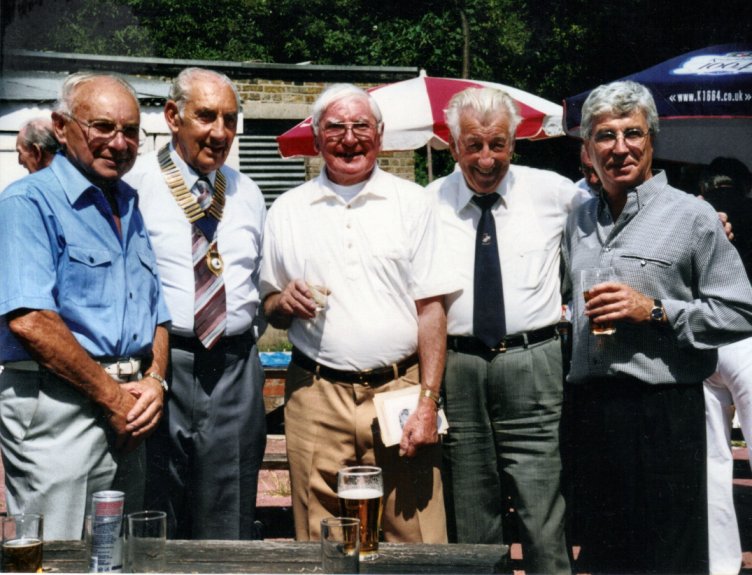 Archie Windmill President 2001, with Vic Ridgeon, Wally Green, Alan Clarke & Dingle Brown.
Archie Windmill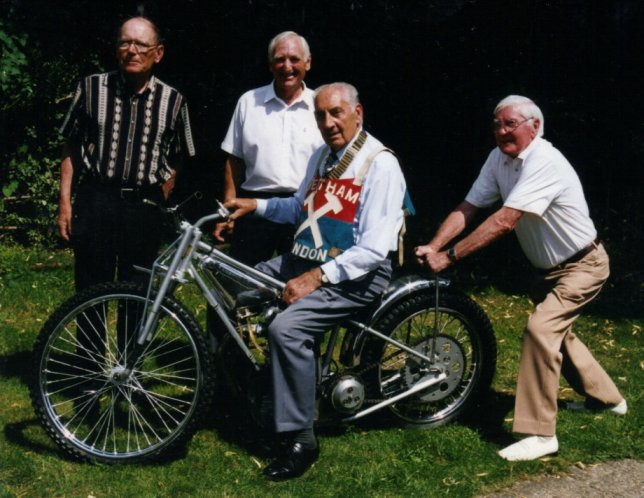 Archie Windmill on bike, Wally Green Pushing, with Alf Hagon & Stan Stevens looking on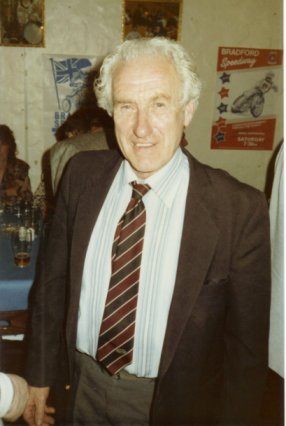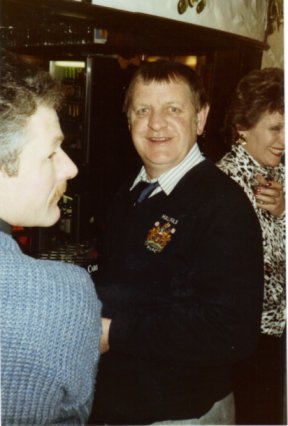 Left Bill Dale and Right Announcer Doug Adams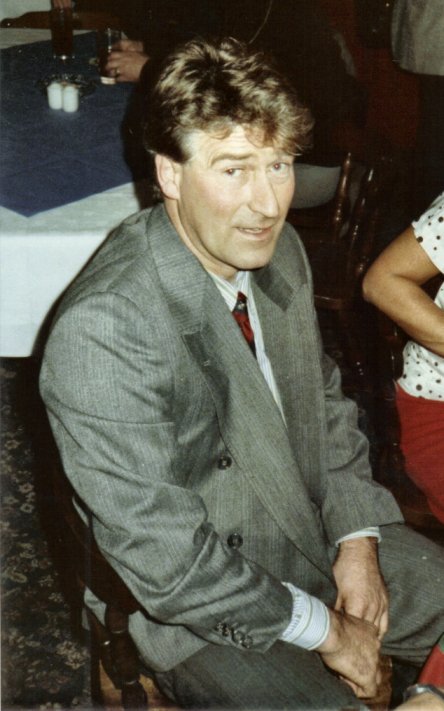 Dave Gatenby
---
Geoff Pymar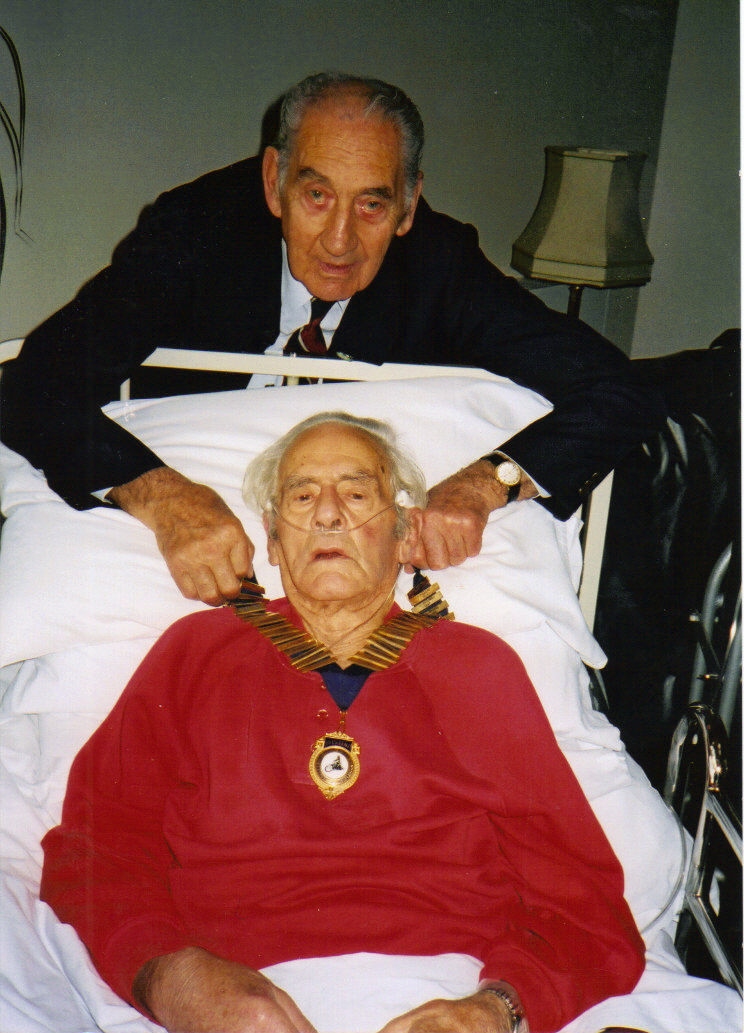 The above is mostly self explanatory. Geoff was due to be sworn in in the March but was not going to live that long so a small band of us to travelled to Norwich to initiate him as President. Tears welled up in his eyes, he said he was so proud. Geoff Pymar President 27 February 2002 Died 02 March 2002 Archie Windmill is shown presenting the chain of office to Geoff at a Norwich Hospice.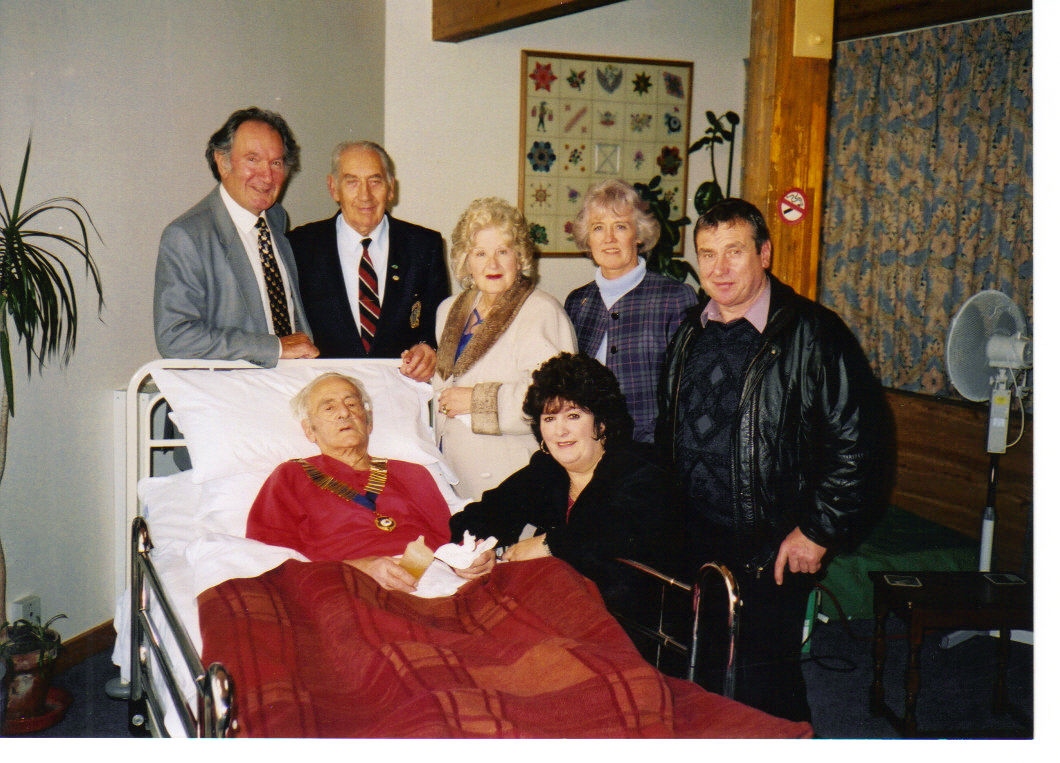 President Geoff Pymar 2002 Reg Fearman Archie Windmill Sonia Eileen Fearman Trevor and Pam Hedge
---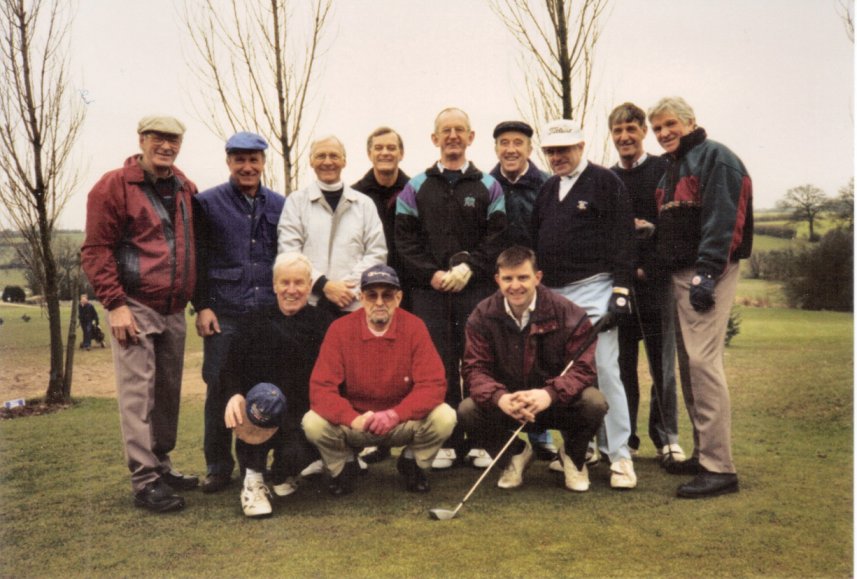 The Rider Cup at John Harrhy's Windmill Hotel and Golf Club. The Rider Cup group are Harry Bastable Alan Cowland Vic White John Hart Fred Rogers Merv Hannam John Harrhy (?) Rick France, Kneeling Ove Fundin Bjorn Knutson Nigel Harrhy.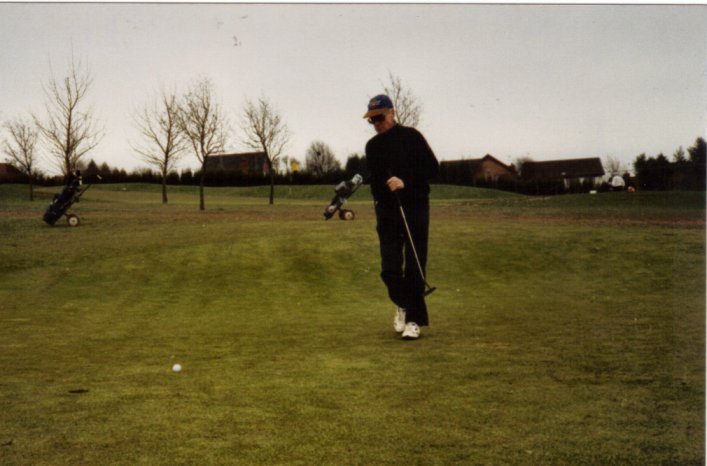 Ove Fundin Looking For The Putt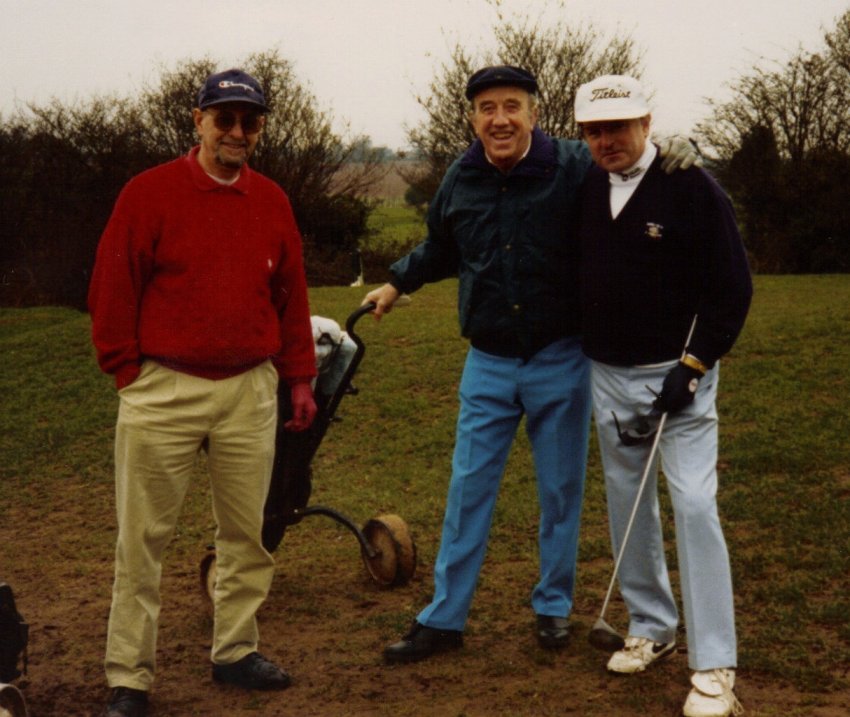 Bjorn Knutson Merv Hannam John Harrhy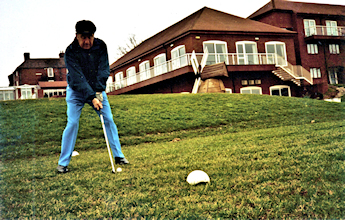 Merv Hannam Tees Off.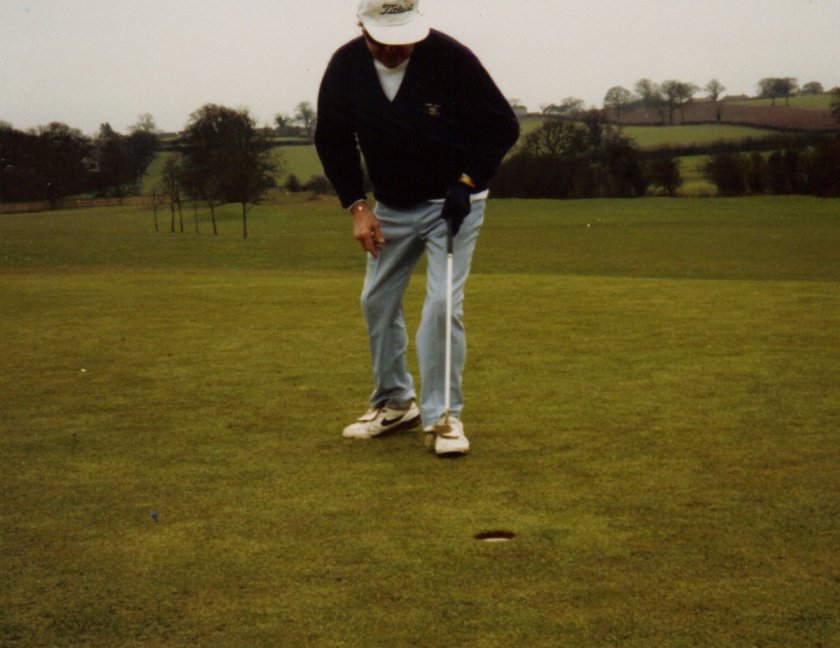 John Harrhy Putts Out.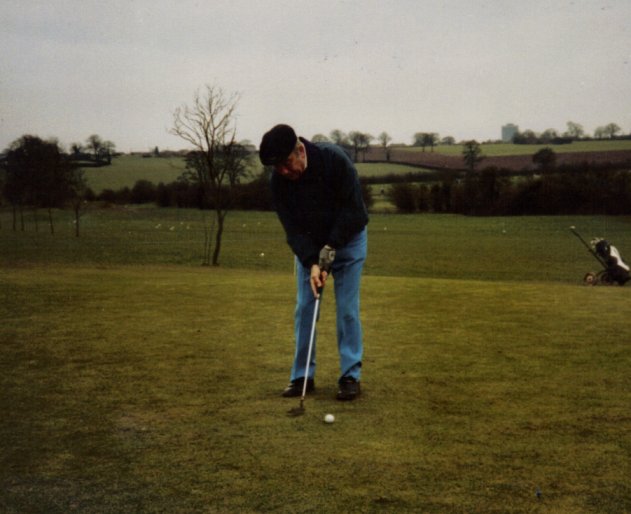 Merv Hannam Putts Out.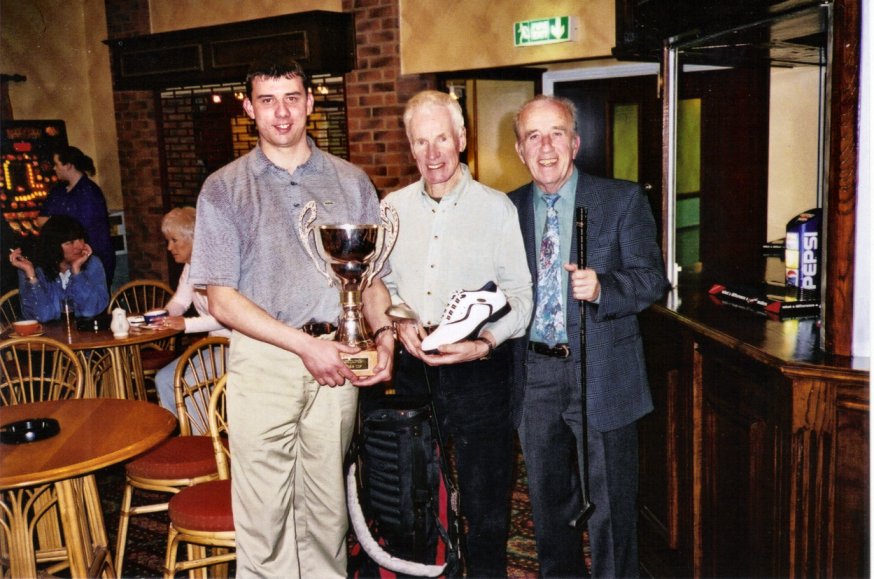 The Winners: Rider Cup 1st Mark Harrhy 2nd Ove Fundin 3rd Merv Hannam.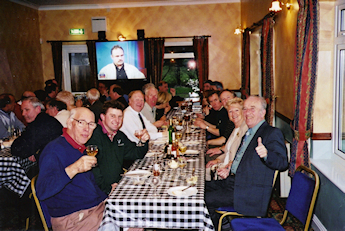 19th Hole Ian Hoskins, Nigel Harrhy, Ronnie Allan, Ove Fundin, Merv Hannam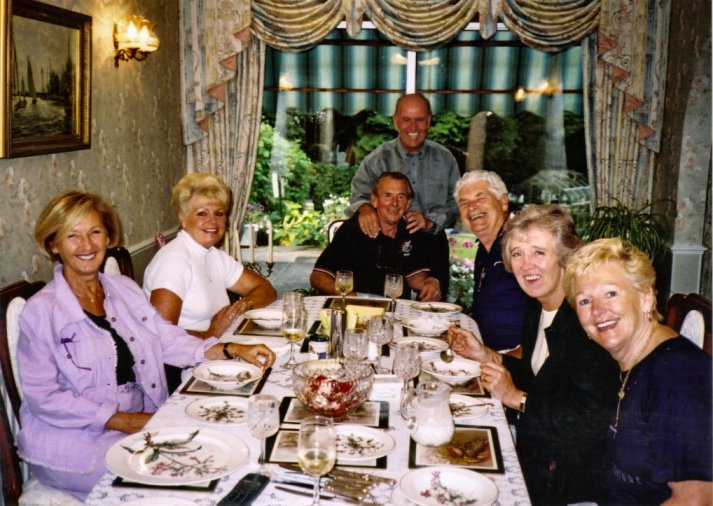 Brian Crutcher Ronnie Moore Alan Quinn Get Together.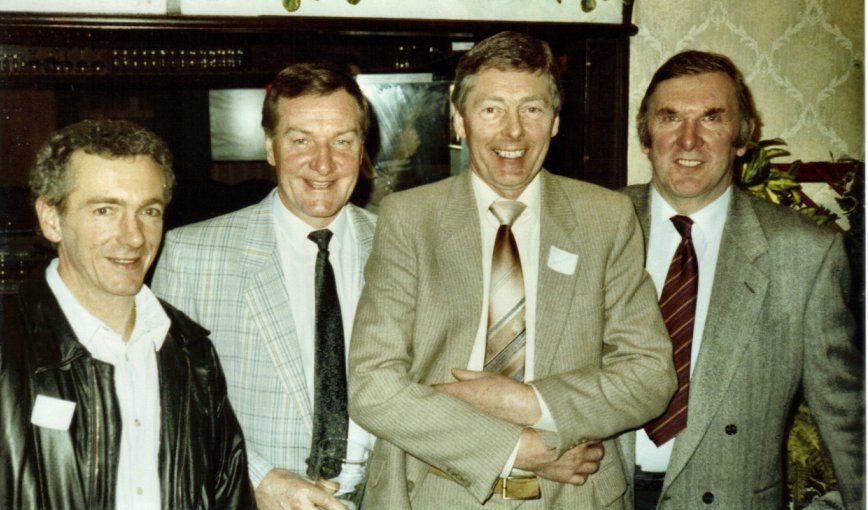 Eric Broadbelt, Eric Boocock, Dave Younghusband & Henry Nelson Sponsor
Eric Boothroyd & Alan Ham, Bradford Speedway Promoters.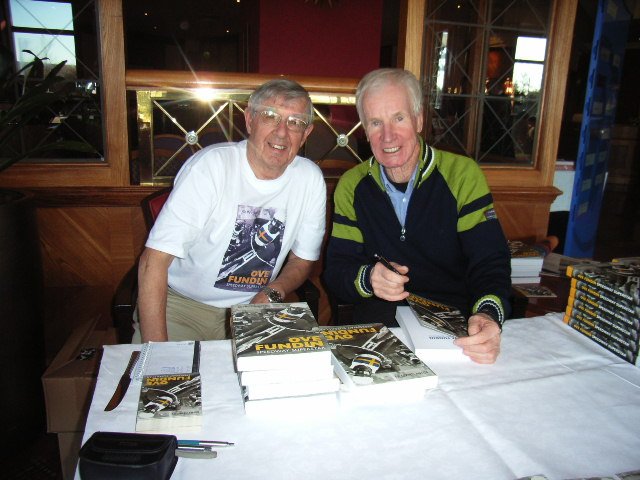 Ove Fundin at the book signing. His book "Ove Fundin" was written by John Chaplin in the white t-shirt in the above photo.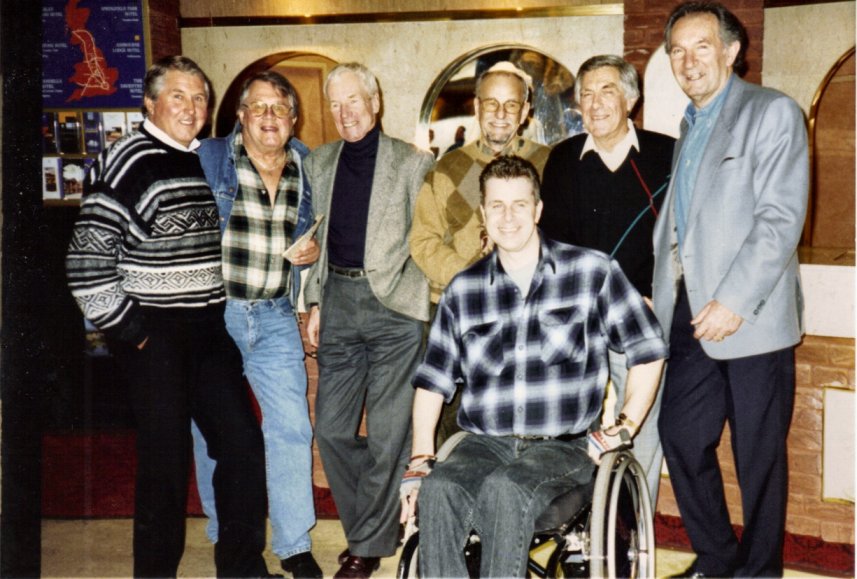 Barry Briggs, Olle Nygren, Ove Fundin, Bjorn Knutsson, Freddie Williams and Reg Fearman with Steve Weatherley in the chair
Reg Fearman part 5
---
The contents of the site are © and should not be reproduced elsewhere for financial gain. The contributors to this site gave the pictures and information on that understanding. If anyone has any issue or objections to any items on the site please
e-mail
and I will amend or remove the item. Where possible credit has been given to the owner of each item.