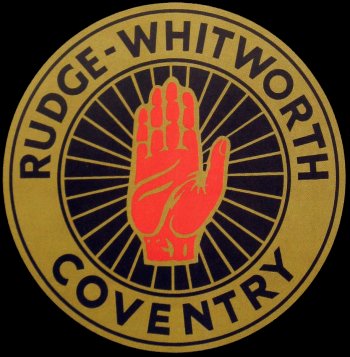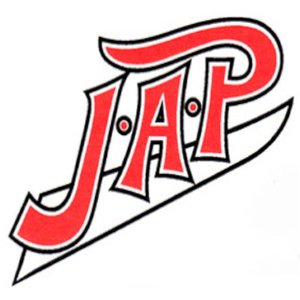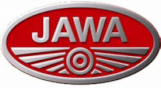 ---
Bob Andrews
NZ Veterans Reunion 2013
World_Best_Pairs_Winners
Bradley Andrews
Bob Andrews is a real character, a "Diamond Geezer", he enjoys himself and is sometimes regarded as "a bit iffy"!! But the guy has been there, got the t shirt and his views are well worth the space on my website. I am ready to unleash some of Bobs stuff on my unsuspecting public. Here is the Bob Andrews page so enjoy!: -

Bob Andrews has been a good supplier of items/info for the website over the years. I have started this webpage to record Bob's information/pics etc. I hope I can get him to fill up the page with his very interesting items and photos, often hilarious!
Robert Thomas Andrews
Born 27th October 1935 Edmonton, London - Not dead yet! last time I heard from Bob in 2015
Bob says: As a youngster I was taken, aged 11½ to Harringay Speedway in 1947. I saw Vic Duggan race and I wanted to be like him. I started riding aged 18 and had 5 sessions at the "old" Rye House track. I paid £5.00 for 20 laps on their bikes. Nearly a different bike each time I went out. This was on Coronation day 2nd June 1953
£5.00 was more than a week's wages to me. Clem Mitchell was in charge at Rye, (He discovered Jack Young), he saw I had a bit of talent. I was quite reasonable at Cycle Speedway. He sent me to Wimbledon for some rides and Wimbledon manager Ronnie Greene signed me up on Clem's recommendation.
I had no bike, so Greene sold me the Wimbledon Track Spare. It was a bike that had belonged to Norman Parker, that he had been using when he had an accident that had put him out of racing. The bike was in tip top condition, it was to cost me £150.00 and I only had £50.00. So my dad had to sign on as guarantor but Greene said he would take the remainder out of any winnings I could make, so at least he gave me some second half rides, at Wimbledon, in the hope he would get his money back from me quite quickly.
I had my first ride after a meeting at Wimbledon, Greene, Ronnie Moore and Barry Briggs and a couple more riders stayed behind to watch the second half of the meeting, I wore a leather coat, a pair of ordinary trousers. And boots but had no steel shoe. One lap round, I had never been on a track so slippery I came off, ripped the "Arse" out of the trousers. There was blood and shale everwhere, the small second half crowd cheered. Greene got me up and said come on get going and have another go. I went round for 4 laps and was able to slide around the corners. So got a pat on the back from Greene.
Ronnie Moore came and said " we are having a practice in the morning, between 7am and finish by 9am. As the greyhound staff would be coming in and everything has to be cleaned up for the dogs" So he asked me about having no leathers, I said I had another pair of trousers at home. Ronnie said " I'll leave my leathers in the dressing room, you can borrow them" So as I lived just over an hour away in North London, I was up early to get to Wimbledon to be dressed in Ronnie's leathers and I had his steel shoe.
They warmed the bike up for me as I had never started one before, Ronnie Greene was on the starting gate and there were three riders there Harry and Wally Wilson (top juniors and Eastbourne riders ) and Dennis Gray who rode for Wimbledon. Greene shouted out to Ted Brine the Team Manager "send the boy over" (me) he told me to get on the bike and he and someone else pushed me but I had never started a bike, at Rye House they done that for you, so after 2 attempts Ted Brine got me off and he started my bike. He said" Go to the start and have a race with the boys" I had never been in with anyone at Rye House, so I said " what do I do at the start?" Ted said "Just Rev up ,and make more noise than the other three, and let the clutch go when the tapes go up?
Well I got over to the "Concrete Start Area" and as Ronnie Greene dropped his arms there was the loudest noise I had ever heard 3 bikes revving their hearts out, I remembered my instructions " make more noise than the other three" So I did, and as I was quite good at cycle speedway my reactions at the starting gate were second to none. As the tapes went up I was away faster than a speeding bullet. I was in to the first bend in front of them, as I was going round I thought I will move out from the white line so they can pass me on the inside, but the adrenalin was pumping that fast I was going the fastest I had ever been and I won that race and Ronnie Moore had filmed it on his cine camera. But I never got to see it as I was quite a shy person "then" so I never asked him to see it.
The last meeting at Wimbledon that season was early Oct. and I had my first second half race it was raining, so the track was very slippery. I was in a race with Ken Holmes and Gil Goldfinch and Harry Wilson I got out fast on a slippery concrete gate just behind Ken Holmes, I tried to go around him and he put me in the fence, I unhooked myself and chased I passed Wilson Then I passed Goldfinch but Holmes was a reserve for Wimbledon and knew how to block me. But after getting second Ronnie Greene had me go out in the centre and talk on the "Mike" he introduced me as Reg Andrews. I had to say my name is Bob. Thanks John for asking me about this, it bought back some great memories.
Ronnie Greene loaned me out to "Little California" in Woking and I rode there on Sundays. I lived in Edmonton, North London about 19 miles away. Wimbledon was my team though. I did one season at California and 11 seasons at Wimbledon. I rode at Wolverhampton for one season. Then I missed a UK season while I was in New Zealand. I came back to the UK and from 1967-1969 rode for Cradley. Then I was "swapped" for Colin Pratt and spent 1970 with Hackney. I came back to Cradley for 1971.
John says: I asked Bob a number of questions. The Q's and A's follow below: -
John asked Bob: Can you remember riding at "my" track: Newcastle's Brough Park, a nationally famous "tricky" circuit and can you remember how well you rode Brough Park?
Bob says: Yes I liked the shape of the track but it had pot holes up the straight where lamp standards used to be, I think. I can't remember my score but I think I did quite well. I remember Ivan Mauger coming up to the start and he never stopped and the ref pushed the button and he was away 20 miles an hour quicker than us. I said to my partner TommySweetman when we were against Ivan "watch him and as he starts to roll, drop your clutch and we can beat him out" Which we did and beat him out and the race was stopped….Unfair start.?? That's were Ivan got most of his points the Ref was a fan of his and Ivan had told him what to do for him I'm Sure. Ha Ha
John says: ok Bob. Ivan was charmed at the starts at Brough but what about his starts at the other tracks in the British League. I won't listen to bad words about my hero Ivan Mauger ha ha!
Bob says: Like I said above I liked the shape of Brough Park and yes there were big bumps but they were there for everyone, you just had to ride it to the best of you ability like any other track. I was quite experienced by then, I'd been in 4 World Finals.
John says: What were your highlights riding for your UK teams?

John Says: You must have made quite a few friends (Or did you only make enemies!!!) from your UK tracks, are you still in touch with any of them (friends), if so who are they.
Bob says: Getting the odd maximum and the comradeship. I made many friends they were the highlights of my career.

I am the Secretary of the Veteran Speedway Riders Assoc. of N.Z. so we have about 150 ex. Riders I send a newsletter to them every 2 months. Barry Briggs is the current President he followed on from Ronnie Moore and before that Ivan Mauger We had a Reunion this passed weekend 13th.—15th. Sept. 2013. I have sent you photos of that.
John says:

Are you married and if so how and where did you meet you wife and do you have children/grandchildren
Bob says: I was married from 1960 to 1972 I have 3 children and they have produced 6 Grandchildren,( 5 girls and one boy ) the boy Bradley is 14 and he is a very talented speedway rider, trained by Ivan Mauger, and he has raced all over N.Z. and in Australia and came over to England to ride last year when only 13 and the eldest granddaughter has produced 2 great grandchildren for me. Both Girls.
John says: How and why did you decide on your last season for in the UK
Bob says: I had been offered a contract for Sheffield and Coatbridge in Scotland but I was in a messy divorce in N.Z. so I was advised to stay here in 1972 and see it out then In 1973 I had a bad accident at Western Springs and broke my Back and pelvis and ankle but I came back to ride a couple of seasons later but I was riding and not racing, so I wasn't the rider I used to be, but I did it because I enjoyed it and when silencers came in I gave it up.
John says: UK Speedway is in the doldrums again with too few tracks in the Elite league and dwindling crowds. Do you have any thoughts about how to give it a shot in the arm
Bob says: Take it back as it used to be, forget averages, let teams have riders the supporters follow and people will come to support them. But if you have different riders every year how are you going to be loyal to them. And all these crazy Jokers and double points It seems you will have to take a lap top with you to meeting just to work out what's happening.
John says: Can you sum up being here in the UK, was it good for you or should you have done something else instead
Bob says: I lived in the UK for 27 years and it was the home of Speedway, I loved it. Then England legalised Homosexuality. I left before they made it compulsory. Ha Ha
---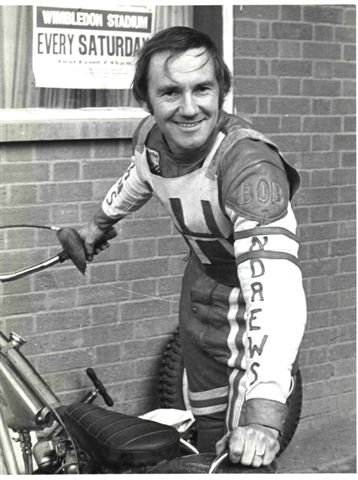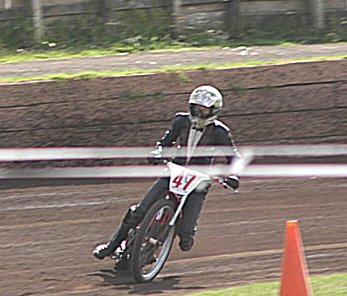 Above left: the unmistakable Bob Andrews at Wimbledon and above right: Bob at 71 yrs of age. Well done Bob for getting it sideways at your age, very good!
---
Bob At Wembley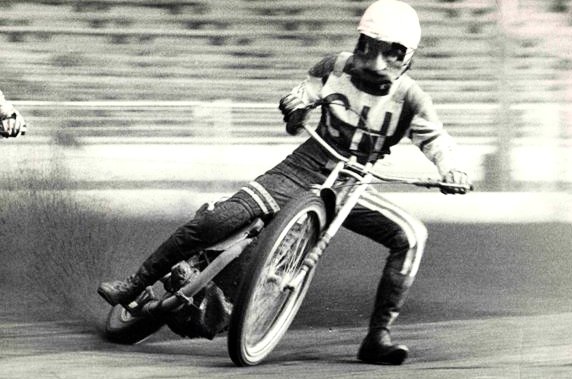 ---
Bob Leading Charlie Monk At Glasgow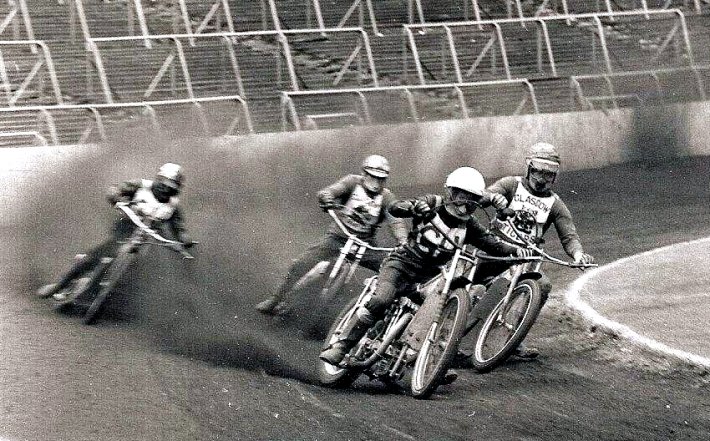 ---
Bob Andrews On The Inside Of Reider Eide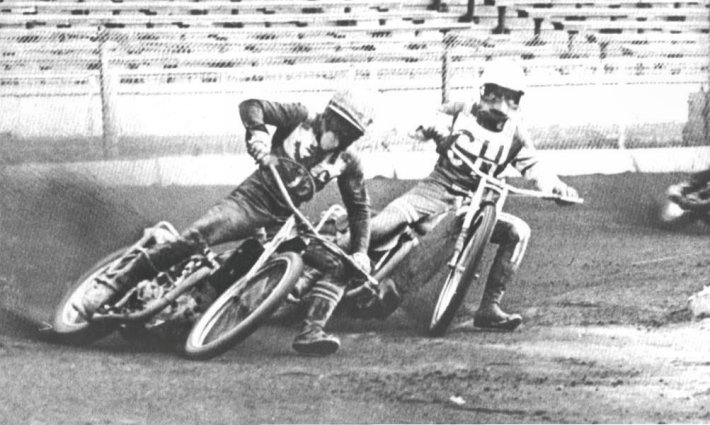 ---
2013 VSRA NZ Reunion
Bob is the Secretary of the Veteran Speedway Riders Assoc. of N.Z. and he has sent me many pics from the latest reunion 2013 at the time of writing this piece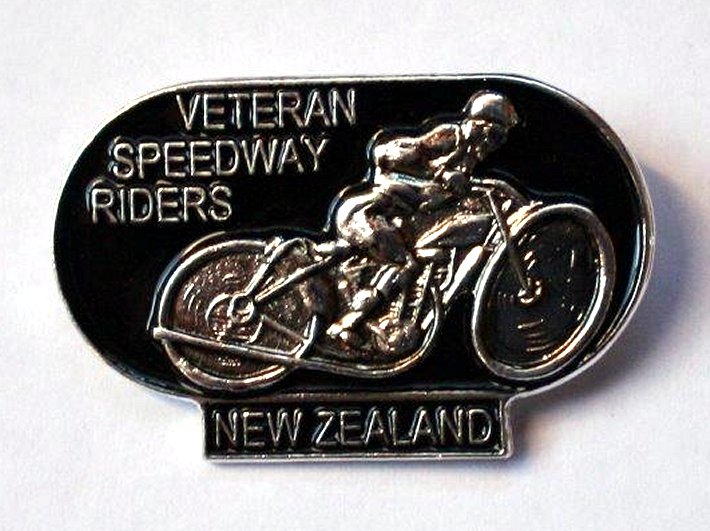 ---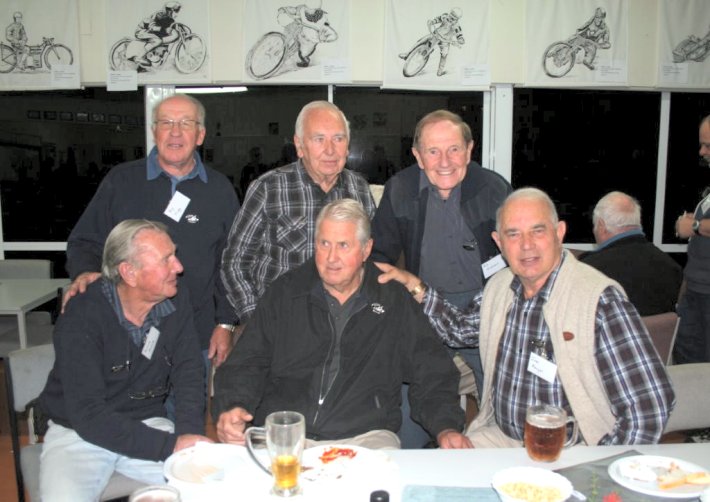 Roy Trigg, Tommy Sweetman, Bob Andrews front Ronnie Moore, Barry Briggs and Ivan Mauger
---
Ian Hoskins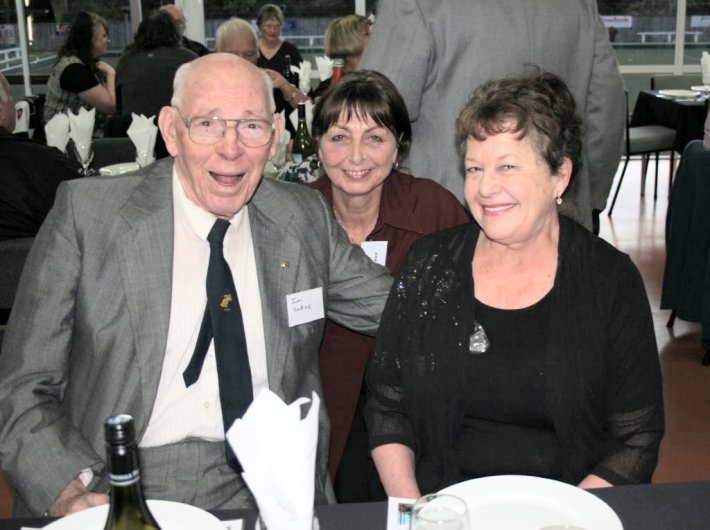 Ian Hoskins 89 Lynda Andrews and Johnnie's cousin. John says: I remember Ian as promoter at Newcastle in 1970
---
Ronnie, Barry & Ivan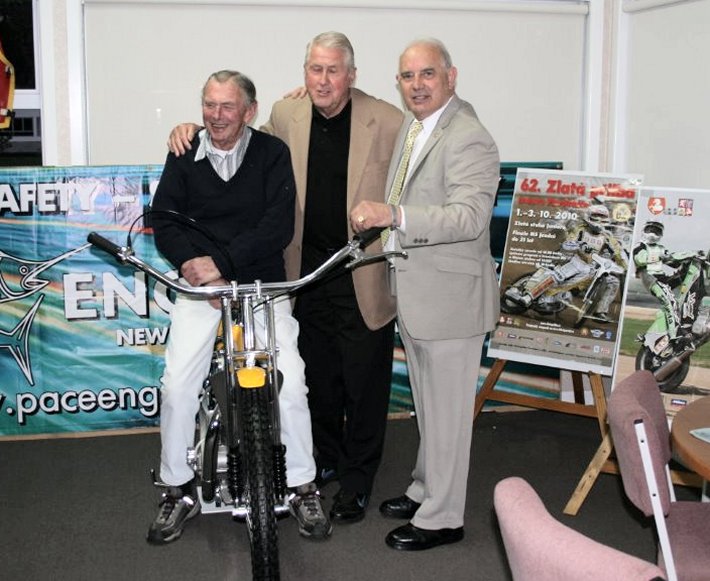 New Zealand's greats! Barry Briggs and Ivan Mauger with the sprightly Ronnie Moore on the bike
---
Roy Trigg &
John Titman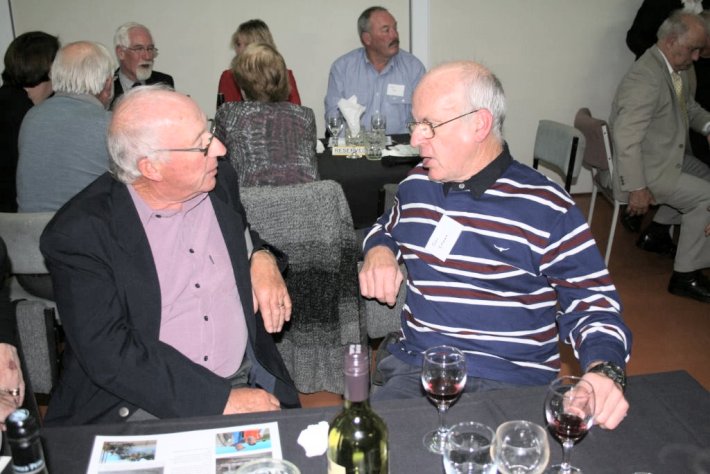 ---
Ivan With His Wife Raye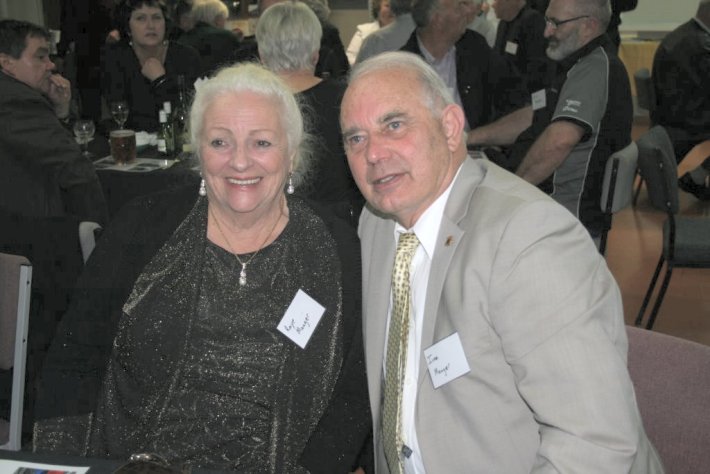 ---
Ronnie Moore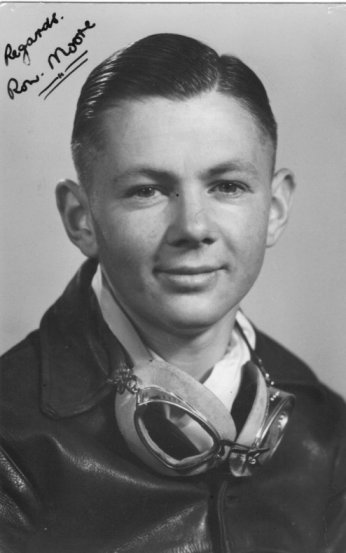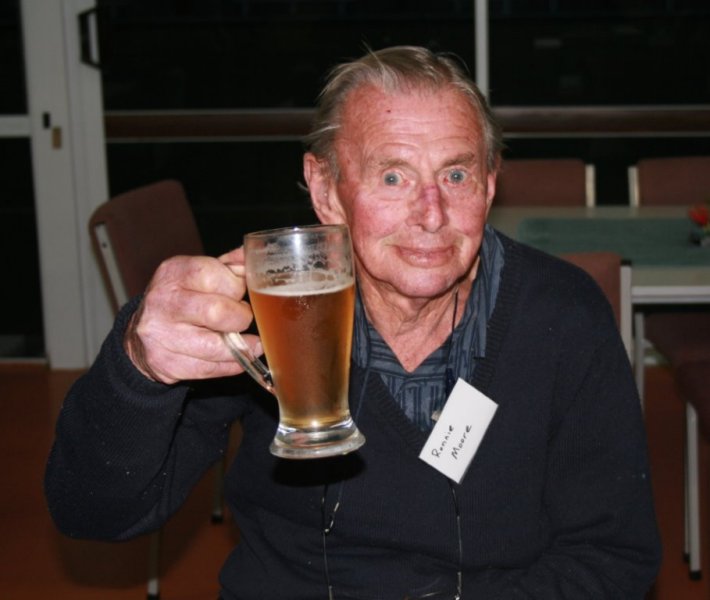 Ronald Leslie Moore MBE (born 8 March 1933) is a former New Zealand international Speedway rider. He twice
won the individual world speedway championship. He won the World Championship in 1954 and again in 1959. The black n white picture of Ronnie was taken in 1949.
---
Ronnie Moore, Bob Andrews & Ivan Mauger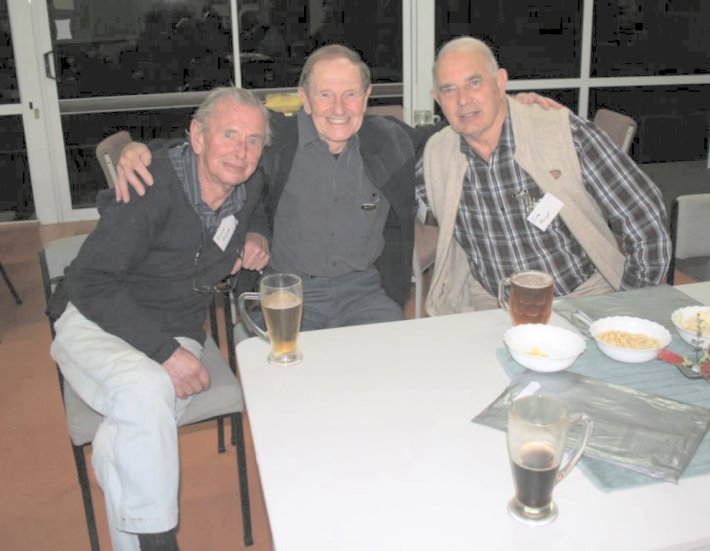 2013 NZ Reunion
---
World Best Pairs Winners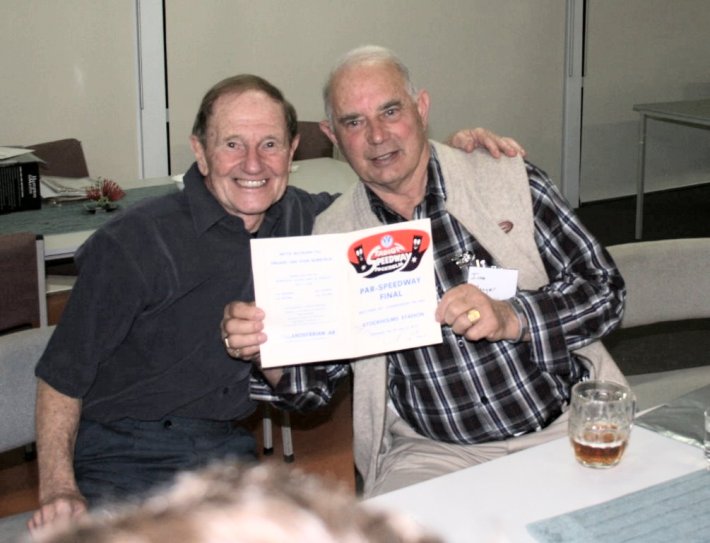 Bob says: Me and Ivan with the programme of our World Best Pairs win.
---
Barry Briggs, Ronnie Moore & Ivan Mauger

(Bob Andrews Was The Camera Man)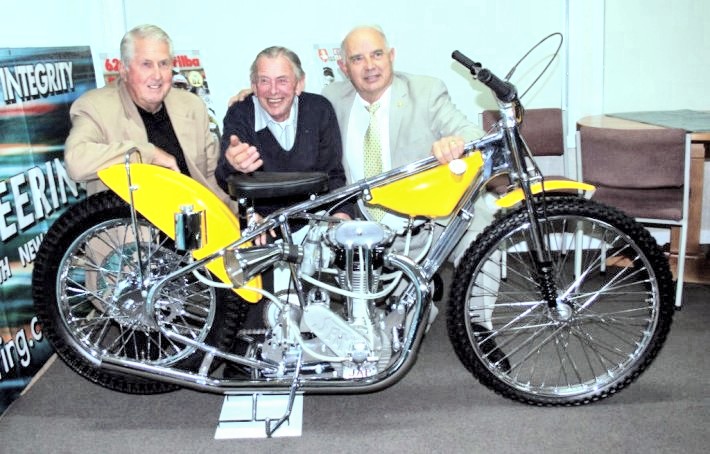 The bike is a beautifully restored Rotrax JAP, surely the most beautiful of all speedways machines. As the pic was taken in New Zealand I will hazard a guess that my mate Giffy is responsible for the refurb. work?
---
Bob & Tommy Sweetman At The 2013 NZ Reunion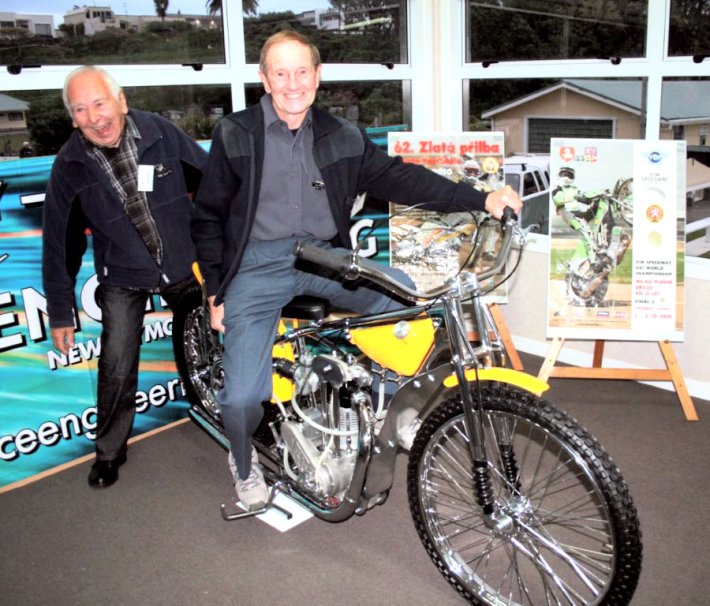 Bob and Tommy Sweetman at the 2013 NZ Reunion. The bike is a fantastically restored JAP. Dave Gifford did the restoration. Giffy has a talent for bringing old bikes back to life in New Zealand.
---
Chris Bailey Colin Tucker & Dave Morton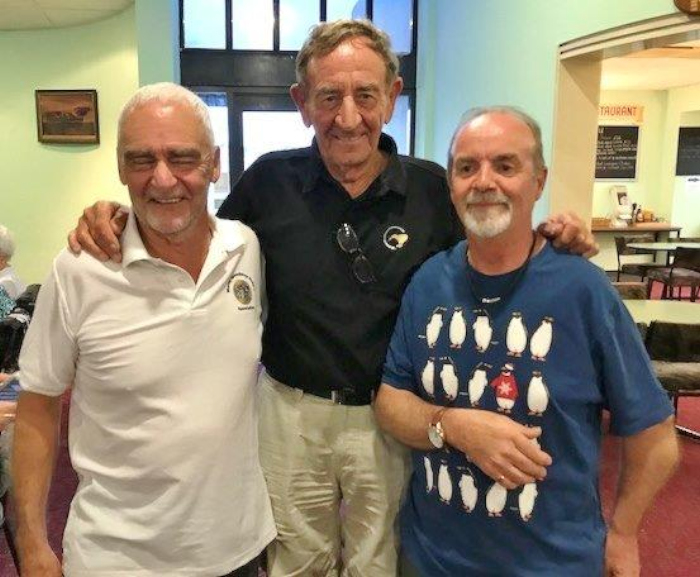 Courtesy of Bob Andrews
Dave Morton & Bob Andrews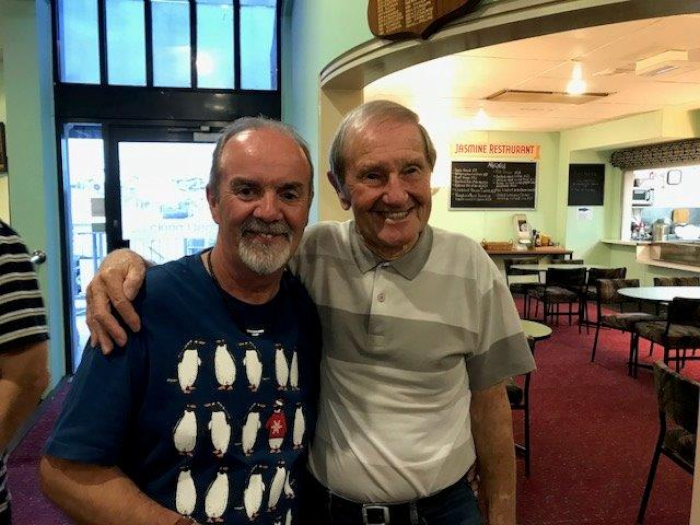 Courtesy of Bob Andrews
Bob says: Hi John, One of your mates visited us a few weeks ago (2018)
John Skinner says: Yes Dave was a Diamond back in 1986 & 1987
---
Bradley Andrews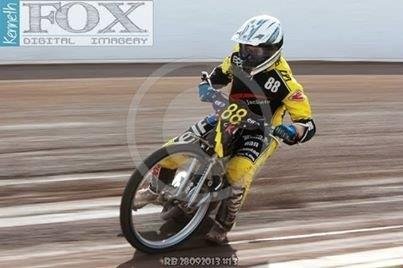 Bradley is Bob's grandson. This picture was taken at Rosebank Speedway in Auckland NZ, on 14th September 2013. Bradley has been riding for a few years and he was still only 14 yrs old when this pic was taken. I hope we in the UK will get to see Brad in the not too distant future. He has his own website so have a look at www.bradleyandrewsracing.co.nz My best wishes go to Bob, Bradley and family. I hope the youngster goes onto great things as a rider. Hey Bob contact my team Newcastle about Brad becoming a diamond!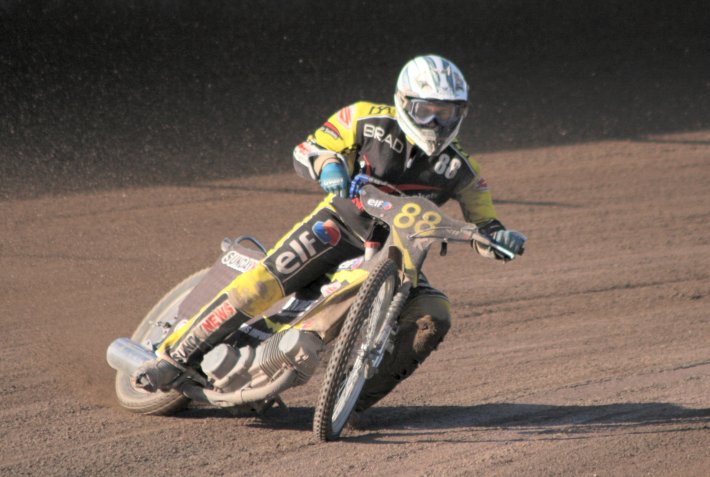 Taken yesterday evening 18th October 2013 ( by me: Bob Andrews) at practice. Bradley (14 years old)
Bradley Andrews
In 2016 A Heathen Too!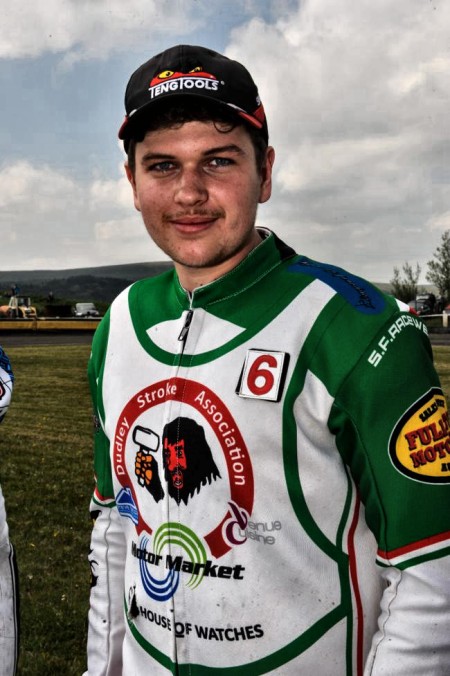 Yes, young Bradley is following in Grandad Bobs tyre tracks in riding for the Heathens although the iconic "CH" is sadly missing from his race wear
My best wishes to Bradley for establishing himself in GB maybe 2017 will be better
---
The contents of the site are © and should not be reproduced elsewhere for financial gain. The contributors to this site gave the pictures and information on that understanding. If anyone has any issue or objections to any items on the site please e-mail and I will amend or remove the item. Where possible credit has been given to the owner of each item.