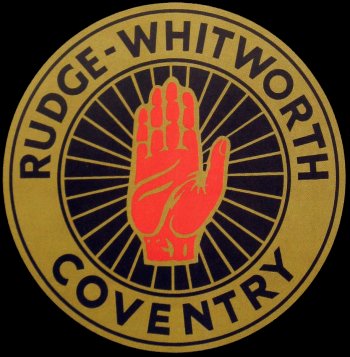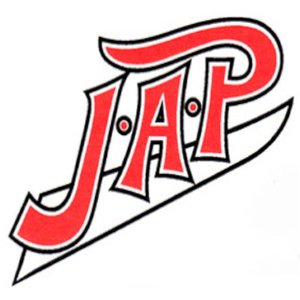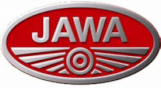 ---
Miscellaneous
Part 2
Tom Farndon
Bike Transportation
Bikes in the Boot
Tynemouth Sands
Rimini Italy
Peter & Pam Oakes
Peter Collins
Geir Øverby, Norway
Miny Waln, Early USA Great
Tyburn Gallows
Irish Speedway
Some Foreign Stadia
Pre War Canadians
Scottish Speedway History
Midget Cars
The Wulfrunians
Cec Warren's 1928 Scrapbook
Fay Taylour
Leg Trailing
Ian Hoskins
Jack Young
Scottish Speedway History
By Jim Henry
SPEEDWAY IN SCOTLAND - This is a very short potted history of Speedway in Scotland.

More information can be found in Speedway in Scotland by Jim Henry and Ian Moultray (now out of print and needing updating.)
Pre

1939/45

War
Glasgow Nelson In 1928, when the sport was known as dirt track racing, there was quite a bit of activity in Scotland. In Glasgow the pioneer venue was Glasgow Nelson which staged a few practice events in March 1928 before the April 9th opener. The Olympic Stadium was an egg-shaped trotting track which staged a further four meetings. The Glasgow Nelson Dirt Track Motor Cycle club also staged a single meeting at White City Greyhound Stadium in 1928 and a few races were staged at White City at a club event later that year.
Glasgow Nelson did stage a few meetings again in 1932.
Celtic Park, home of Glasgow Celtic FC started in late April but only managed 12 meetings before closure towards the end of July. It was operated by Dirt Track Speedways and featured the top stars and emerging Scottish talent.
Carntyne Greyhound Stadium featured two relatively low key events in 1928 and an attempted revival with a much more professional approach in 1930 staged four meetings in 10 days before closure.
The aforementioned White City was a big success in 1929 but crowds fell away in 1930 and by the middle of 1931 it closed due to lack of support. The meetings featured a mix of stars from down south and locals, many of whom did very well. Glasgow had a team which took part in the 1930 and 1931 Northern Leagues.
White City closed down until a revival under Johnny Hoskins in 1939 saw "The Lions" take part in team events but they were excluded from the League set up. The venue staged a few meetings in 1940 before fears of enemy bombing led to closure.
Still in the west the town of Motherwell saw racing at Paragon Speedway in 1930 and an attempt at a more professional operation in 1932 foundered by early June at the latest.
A track was built at Broxburn in West Lothian in 1928 but was refused a license. It staged a couple of laps at a club event in 1929 before the riders crashed and the event was halted.
In Edinburgh Marine Gardens opened in May 1928 and had a further successful year in 1929 before crowds fell away in 1930. The Edinburgh team raced in the Northern League in 1930. A few meetings were held in 1931 but the sport returned in 1938 and 1939 staging challenge fixtures with a team known as the Thistles.
An event was staged in Dunoon in 1932, at Stenhouse Stadium in Edinburgh in 1935 while a couple of meetings were staged at Dam Park in Ayr in 1937.
Post

1939/45

War
Glasgow White City was back just after war ended in 1945 and in 1946 the newly named Tigers raced in the Northern League. The Tigers raced at this second tier level until 1954 when they closed after 2 meetings at home. A few meetings were staged in 1956. Tigers returned in 1964 for Provincial League action and from 1965 to 1968 the Tigers raced in the British League. The stadium was demolished to make way for the M8 motorway.
The Tigers moved to Hampden Park, the giant national stadium, for 1969 – 1972 before spending 1973 – 1977 as the Coatbridge Tigers. They moved mid 1977 to Blantyre Greyhound Stadium which was an egg shaped circuit before moving next door to Craighead Park, Blantyre until 1986. In 1987 they tried to run out of Workington which sadly failed.
A mostly successful 10 year stint for the Tigers which included back to back League and Cup doubles started in 1988 at Shawfield Stadium. The Tigers did not run in 1996 when the track was used by the Scottish Monarchs. The Tigers then moved on to Saracen Park which had been the home of Ashfield Giants. The run down stadium has recently been revamped and is a wee gem compared with its previous condition.
Ashfield Giants raced between 1949 and 1952 at the aforementioned Saracen Park and in 1953 a series of open events were staged.

Between the Giants and the Tigers the stadium was used for greyhound racing.
Edinburgh Monarchs arrived in the Second Division at Old Meadowbank in 1948 and lasted until mid 1954. The Monarchs nurtured Jack Young, an Aussie who won the World Championship in their colours. A few practice events were staged in the late 1950s and a charity meeting in 1959 heralded the new era which saw the revived Monarchs race until 1964 in the Provincial League and from 1965 to 1967 in the British league. The stadium was then pulled down to make way for the new Commonwealth Games Sports Stadium. Despite promises by the local authority – City of Edinburgh – no replacement was found.
After a ten year break speedway returned to Edinburgh's reasonably plush Powderhall Stadium. This era ended at the end of 1995 when Monarchs were evicted and the site now is covered with houses.
Monarchs spent a year in Glasgow before moving to Armadale in 1997. They remain at this, their most successful venue (2015) despite possible moves to new venues near to Armadale and Ingliston on the outskirts of Edinburgh.
A training track was operated at The Gyle in Edinburgh in the late 1960s (now the site of the Mariott Hotel) and bikes were occasionally tested at a trotting track at Craigmillar in the 1950s and 1970s
Motherwell saw practice type events in 1930 at a track called Paragon Speedway. This was located in Airbles Road and was revamped in 1932 staging a least two meetings before, it appears, the site was redeveloped as a greyhound stadium. Unconfirmed reports suggest this was used for practice in the 1940s. Similarly unconfirmed reports have been seen referring to Carntyne in 1947.
A custom built track was established in Milton Road Motherwell and was home to the Lanarkshire Eagles 1950 – 1954. It staged a few meetings in 1958 before the stadium was demolished. In the early 1990s the trotting track staged a few long track events and a smaller circuit in the centre green of the trotting track staged a meeting in 1972.
Practice tracks have existed at Prestongrange (Prestonpans), Briech in West Lothian, Darvel, near Ayr, Bothwell near Glasgow, Calderbank and Dalmaculter (both near Airdrie) and even in the back garden of junior near Milngavie (pronounced Mulguy) near Glasgow. A track is reported to have operated in Helen Street in the Govan area of Glasgow in 1930. Willie Wilson had his own "training track" near Beith and James Grieves used a red ash park at the site of Braehead Shopping complex in the late 70s/ early 80s. Based on chats with Bill McNeill and Ian Milne it is likely that many of the red ash parks in the west of Scotland could have seen some limited activity. Reports exist of the trotting track at Stirling and a track near Cowie being used for training.
Newtongrange's Victoria Park was used for training in the early 1950s and staged junior events in 1970 and 1973.
The Showground at Hamilton was used for one-off events 1947 to 1955 (except 1952). Billed as grass speedway the riders who raced there maintain it was also a red ash circuit.
Scotland's most northerly track was at Central Park, Cowdenbeath. This staged 8 meetings in 1965 and a few training sessions into early 1966.
A small training track near Linlithgow was converted to a slightly longer circuit and a team known as Linlithgow Lightning entered the then British League Division Three in 1994. This wee venue deep in the countryside was sadly closed down when the owner sold his farm and the new owners redeveloped the site for an abattoir.
Speedway spent a short two year stay at St Mirren Park in Paisley which is just west of Glasgow. The Paisley Lions raced with little success in the lower League Division 1975 – 1976 and attempts by fans to save the venue over the winter of 1976/1977 sadly failed.
Coatbridge's Albion Rovers Stadium has been mentioned in passing as it is seen as a temporary home for both Edinburgh Monarchs 1968 – 1969 and Glasgow Tigers 1973 – 1977. This steeply banked track was turned into a dog track but this venture eventually closed too.
Demonstration events have been staged at Dens Park in Dundee and Annfield Park in Stirling and possibly Fir Park, Motherwell.
There have been a number of potential venues which never progressed including Thornton Greyhound Stadium in Fife, Roseberry Park in Glasgow and Whitletts Greyhound Stadium in Ayr.
---
Jack Young
Jack Ellis Young was born 31st January 1925 in Adelaide South Australia. Amongst his achievements he was world champion twice 1951 and '52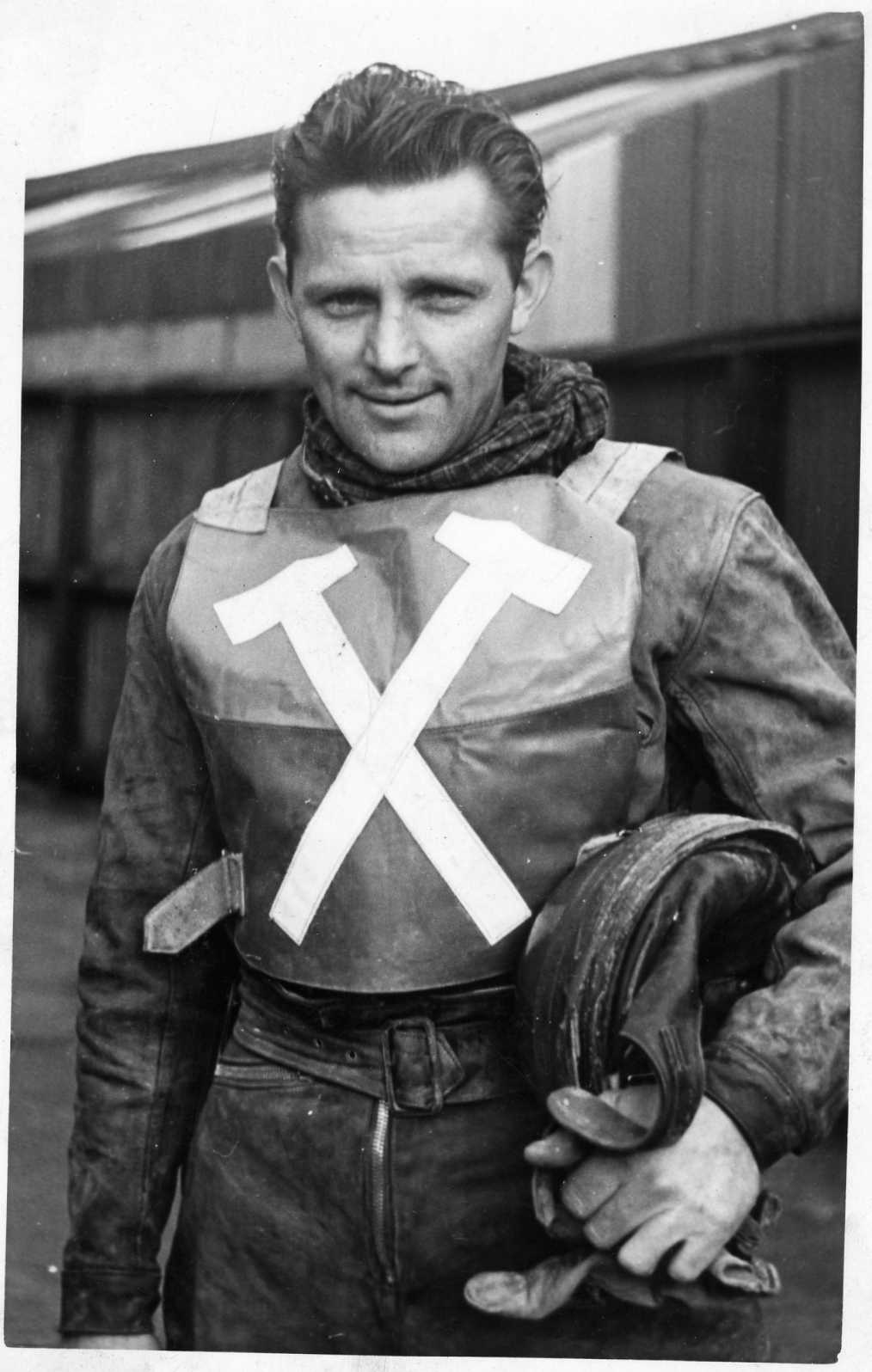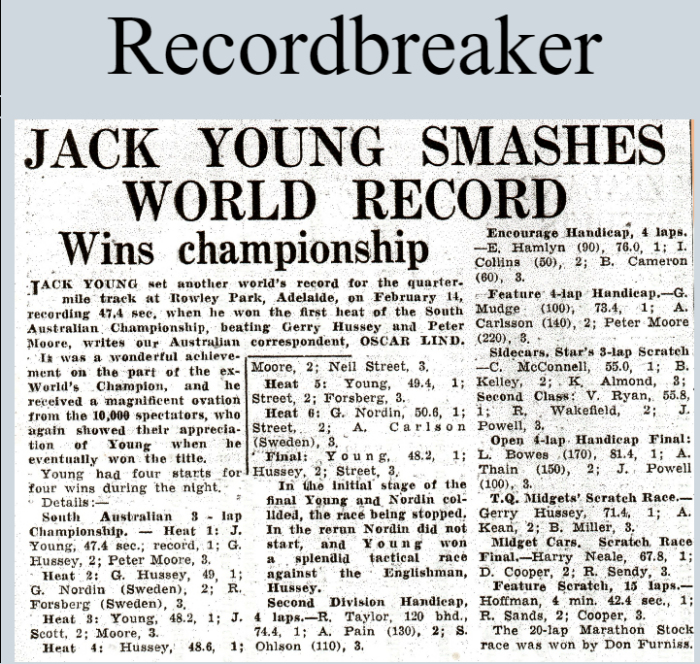 ---
Irish Speedway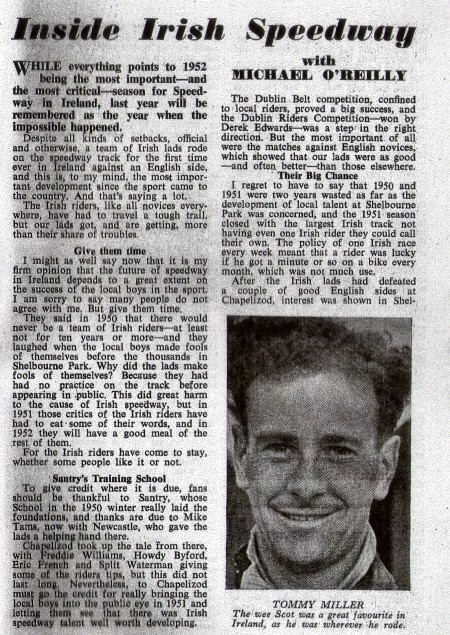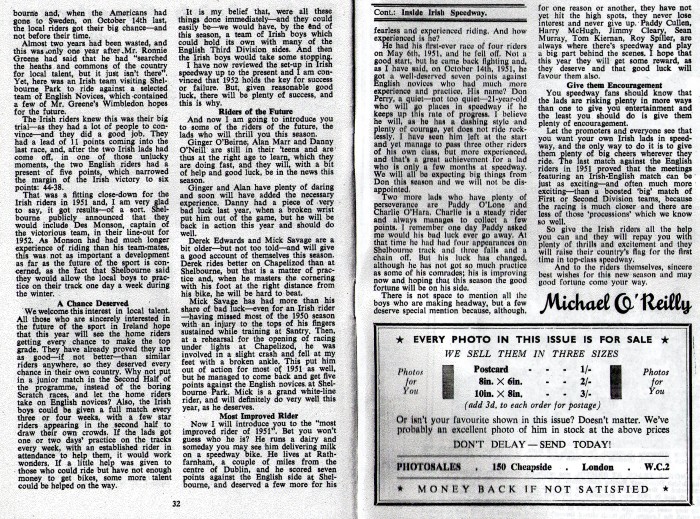 Courtesy of Graham Gleave
---
Leg Trailing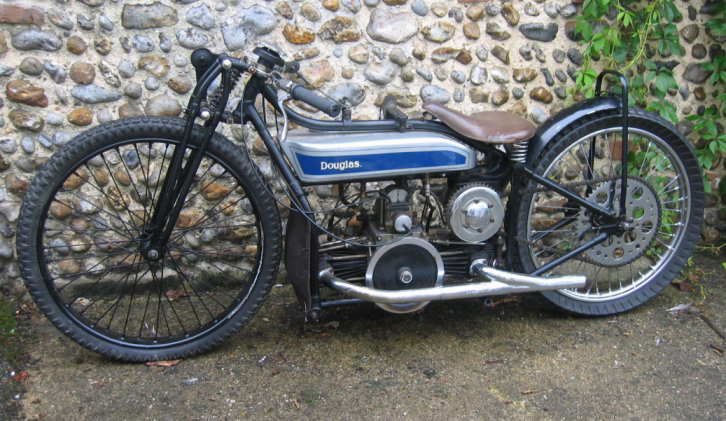 Courtesy of John Spoor
Leg trailing around speedway track bends goes back to the beginning of the sport in the 1920s and is due mainly to the Douglas in use then. You will see from the above picture that the "Flat Twin" Douggie has a larger than average engine slung at the bottom of the frame and a low saddle height. These factors meant the Douglas had an exceptionally long wheelbase and a low centre of gravity. The bike could be leaned over much more than a more

conventional machine and the typical rider would trail his leg. As the years went by and the Douglas had had it's day the more conventional foot forward cornering style came in with the Rudge and JAP to the fore but some riders chose to leg trail. For me there is no finer sight than a leg trailer blasting away around the boards. I have had a look through my photo collection and put a few spectacular leg trailing pics on this page: -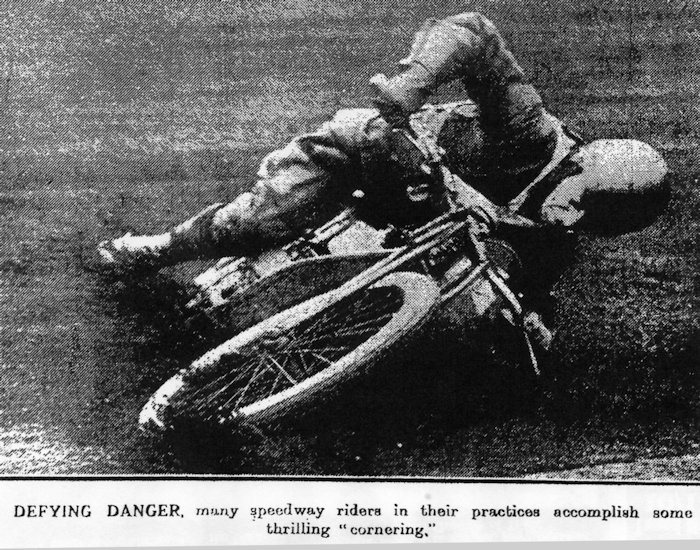 The above pic shows a Douglas rider cornering on the ragged line between keeping on the bike and falling.
Norrie Isbister
Drew McQueen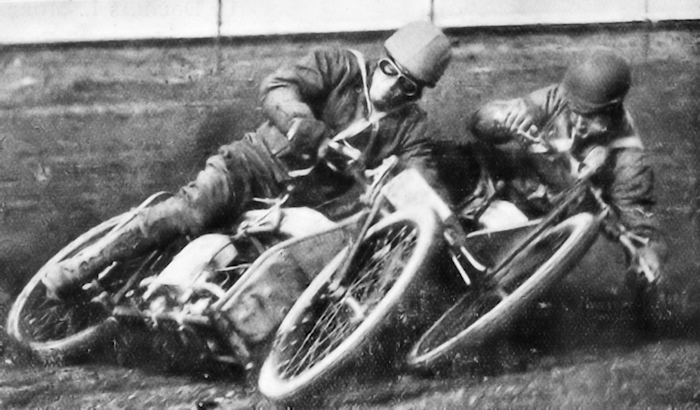 Norrie Isbister Drew McQueen action at WC Glasgow
Sprouts Elder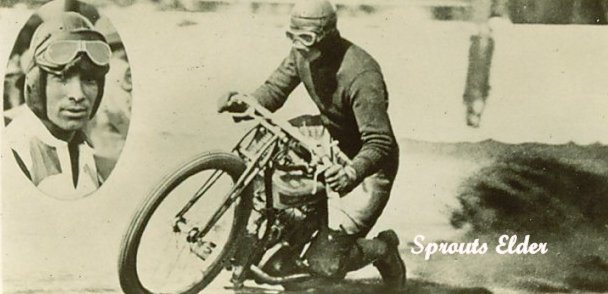 Wal Phillips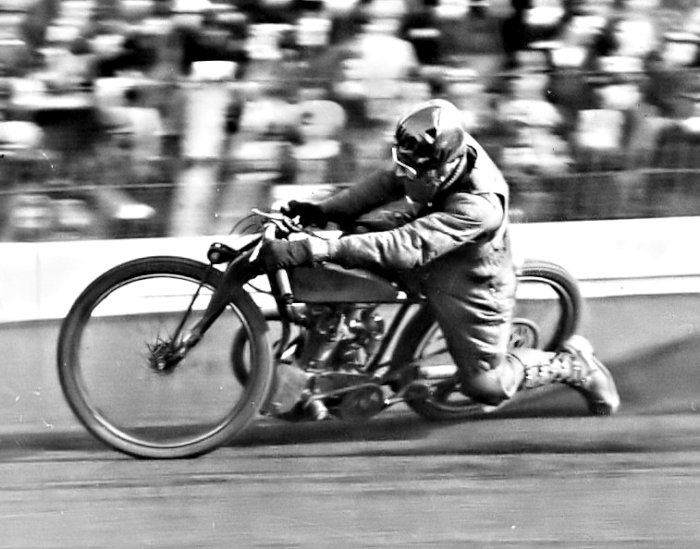 Max Grosskreutz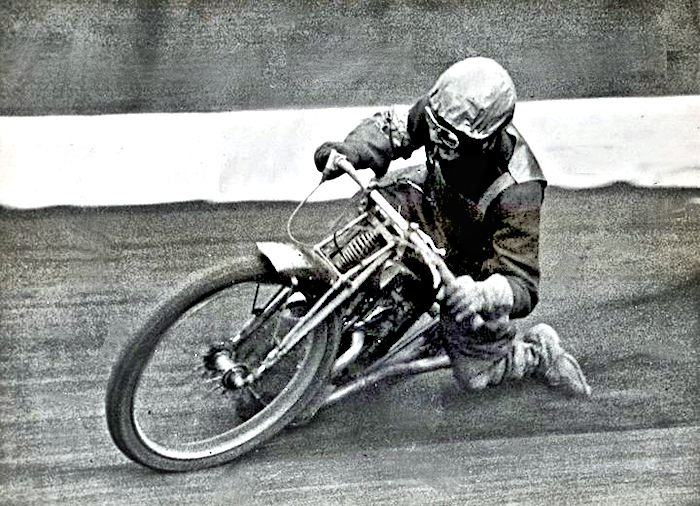 Phil Bishop Roger Frogley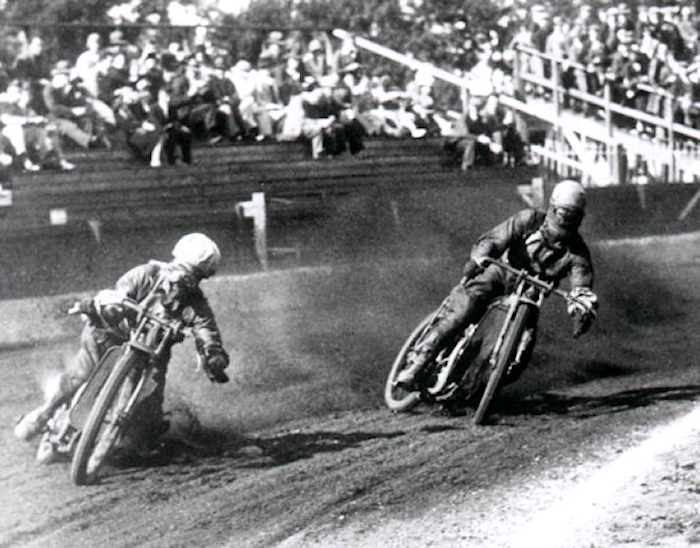 1930s Rider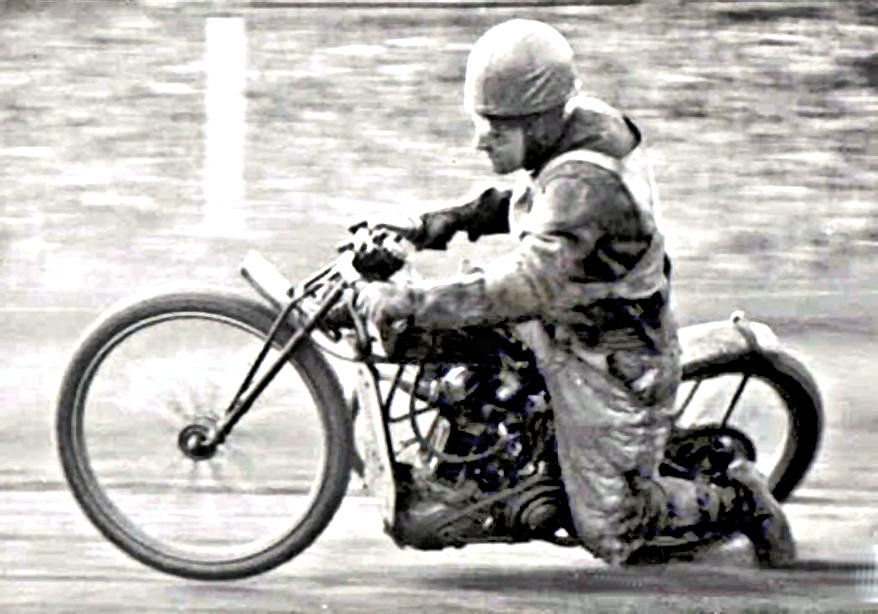 Oliver Hart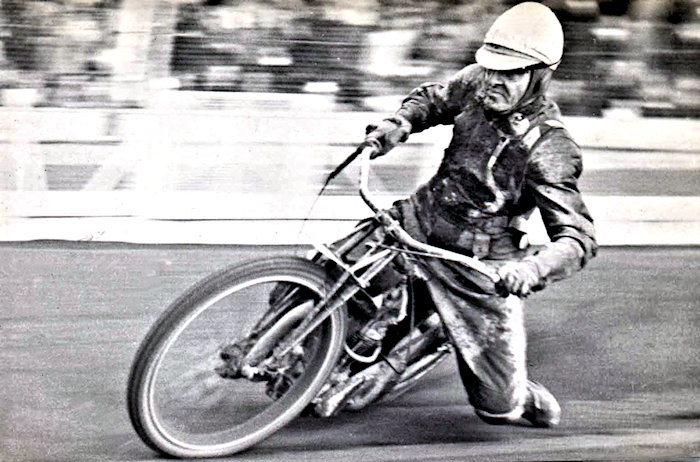 Kid Curtis & Oliver Hart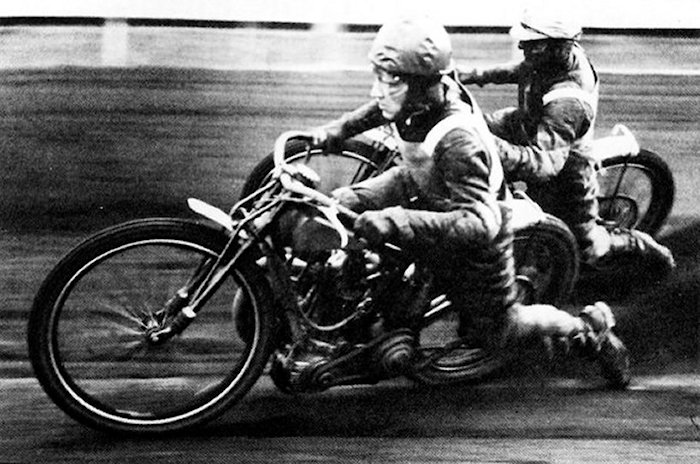 Aub Lawson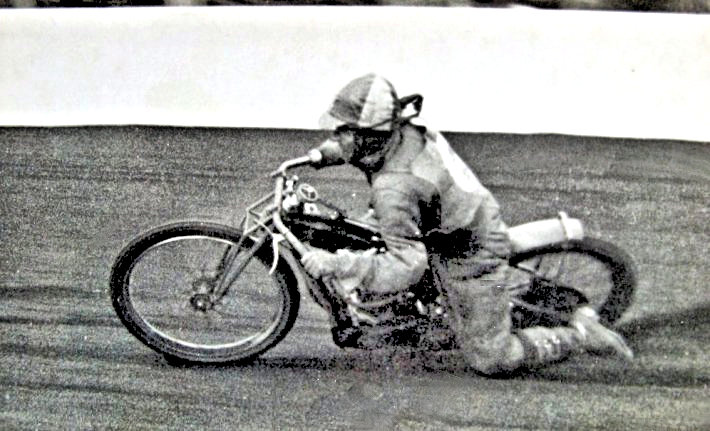 ---
Leningrad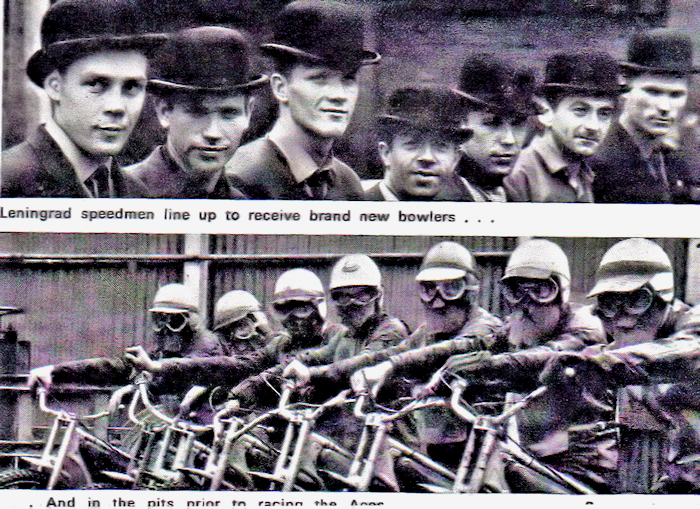 Courtesy of Graham Gleave
Leningrad at Belle Vue 1970
---
Midget Cars
At
Speedway Venues
Promoter Mike Parker and a few other promoters were keen to establish Midget Car racing at speedway venues. This form of oval track racing never caught on. The support was there for speedway but not for the cars which appeared to have been plagued by serious crashes.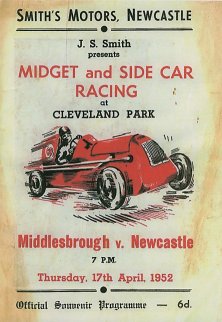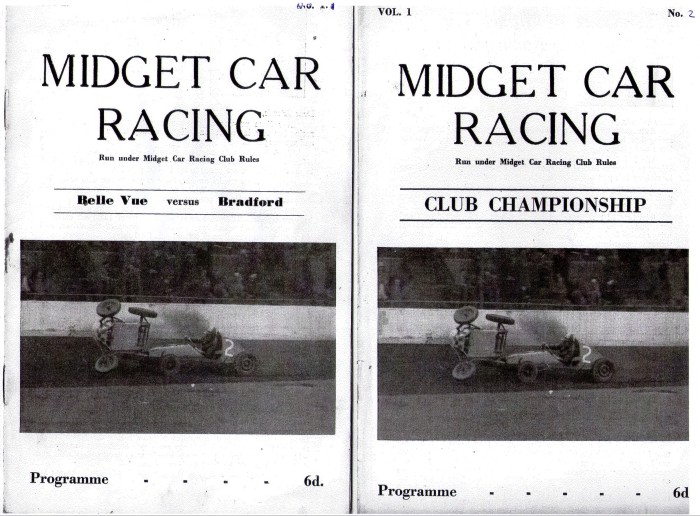 The Parker 500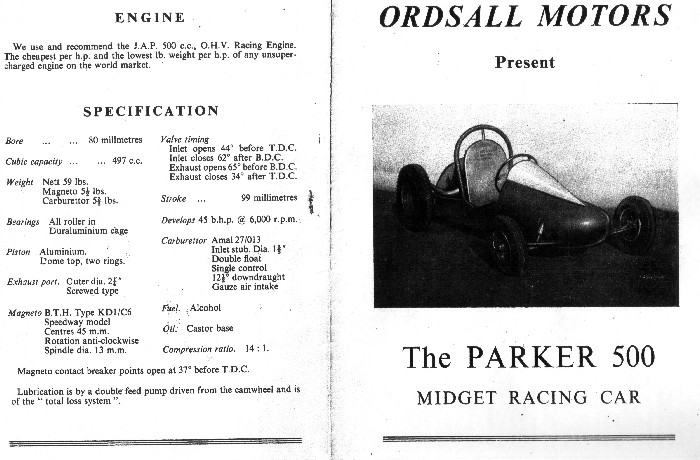 Courtesy of Graham Gleave
Apologies for the "Too Dark" image. I believe this car would have had the 500cc JAP engine mounted inside where the driver sat. He could reach over and touch the engine it was so close. Modern day Health and Safety would have ruled it unsafe I am sure.
The car is the Parker 500c and I presume had something to do with 1960s Newcastle Diamonds Promoter Mike Parker as I know he was involved with Midget Cars before coming to his senses and running Newcastle Speedway
---
Ian Hoskins
Ian is the son of the grandfather of UK speedway. Johnnie Hoskins brought speedway from Australia to the UK in the late 1920s. Ian was very young at the time. He is now 96 years old at the time of writing (May 2021). As a promoter it was clear that Ian was a chip off the old block. Both of the Hoskins men were entrepreneurs.
Reg Fearman says: Good Afternoon John,
I hope you don't mind that I have just printed off several pages of photos relating to Edinburgh Monarchs of Old Meadow Bank. It is my intention to send them to Ian Hoskins who is in a Secure Home in New Plymouth New Zealand. Ian at 96 is suffering from early Dementia, I hope the photos jog his memory and give him something to talk about.
Unfortunately the people at the home know nothing about his long career in speedway, therefore are unable to engage him in conversation.
Now and again Joe Hicks visits him but that is about all from the world of speedway.
Cheers, Reg
John says: Like many fans I can cast my mind back to a time when Ian was my local teams promoter. He ran things at Newcastle's Brough Park in 1970 where he says his best bit of work was in bringing Norwegian Dag Lovaas to British Speedway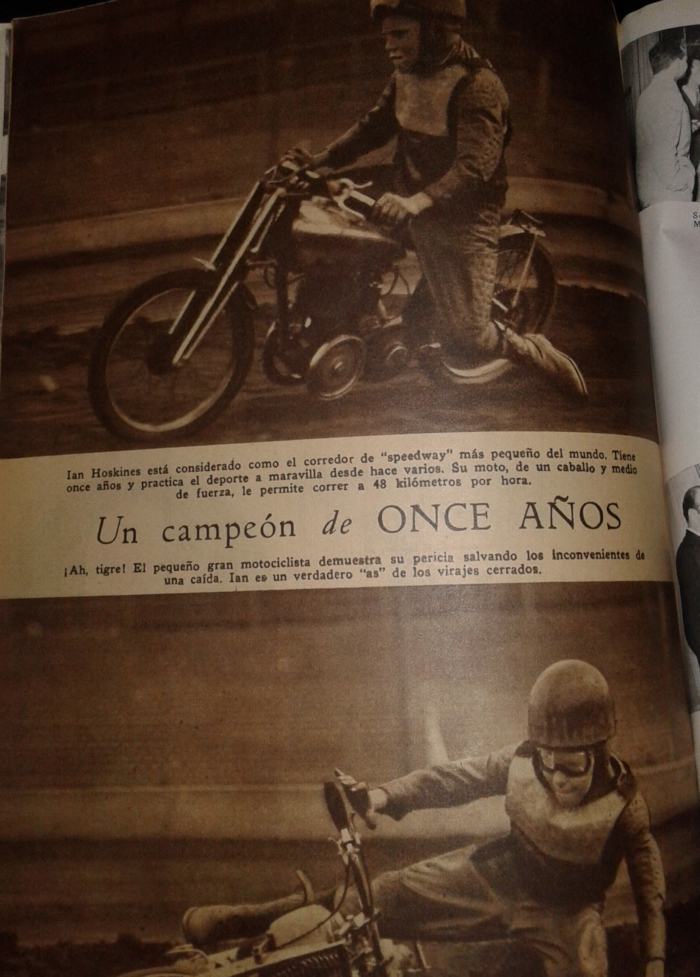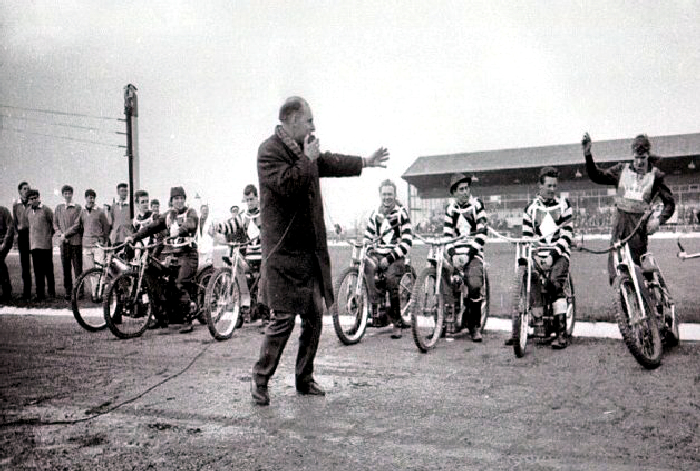 Ian riding in Spain and below introducing his attractive Edinburgh Monarchs to the Brough Park faithful
Ian In More Recent Times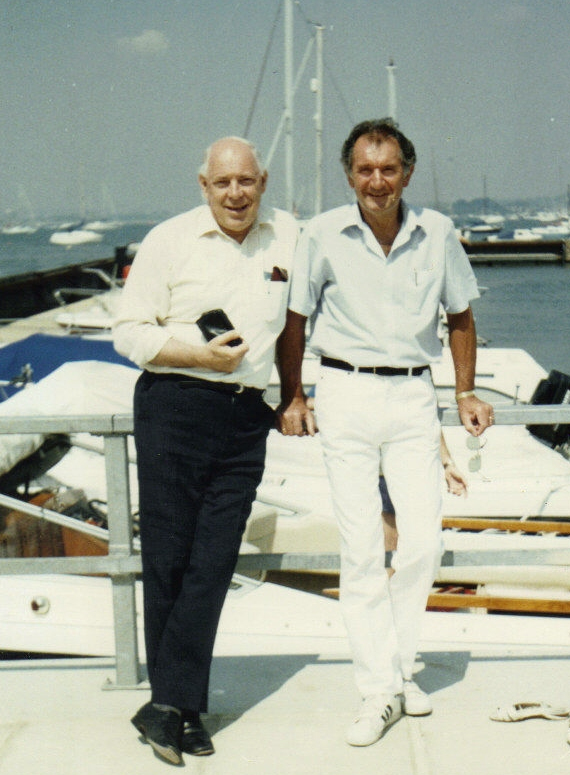 Courtesy of Reg Fearman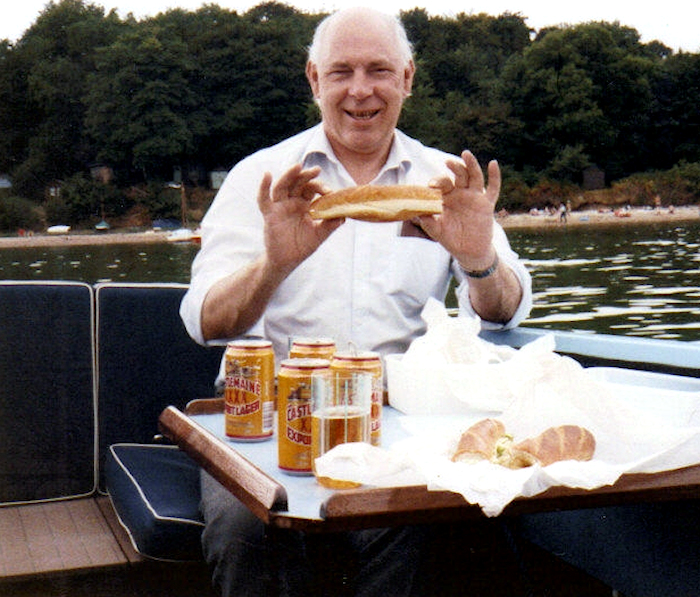 Courtesy of Reg Fearman
It is sad that at 96 Ian has outlived many of his friends and relatives and suffering from dementia his days in the nursing home are quite lonely. I hope Reg's speedway photos package rekindles Ian's memories and he gets to show them around the nursing home
---
Fay Taylour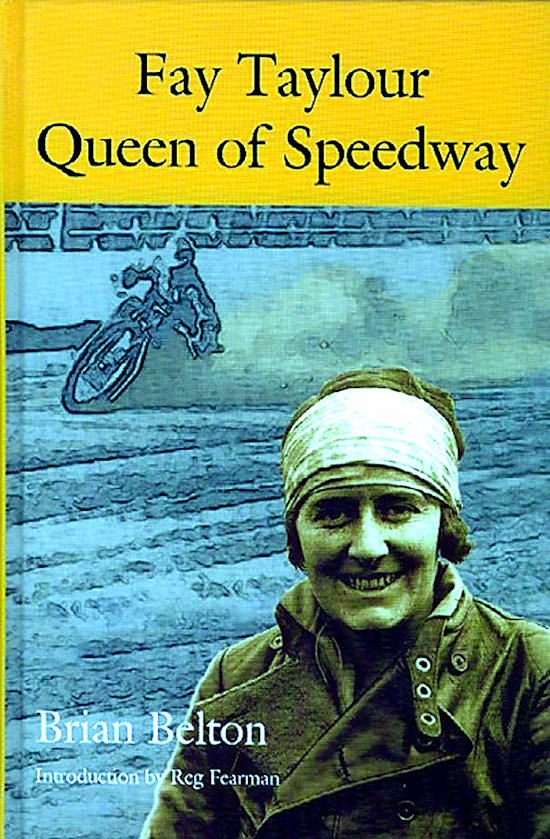 Courtesy of John Spoor
Fay Taylour 1904 - 1983 Died At Blandford In Dorset Aged 79 Born At Birr West Of Dublin
Reg Fearman says: Arguably The Best Female Speedway Rider Of Her Time She Started Riding Motorcycles At An Early Age Riding In Trials And Grass Track With The Coming Of Dirt Track Racing In 1928 She Switched To The Dirt Tracks With Some Success She Was One Of The First From The UK To Arrive In Australia For The 1928 - 1929 Season Fay Joined The Oswald Mosely Fascist Movement In The 1930s She was Arrested And Moved To The Isle Of Man In 1940 Along With Many Others Considered A Danger To Britain In WW11 They Were 'Contained' at Port Erin For The Duration. Fay Taylour Was A Guest Of The VSRA In 1973 At The Annual Dinner At That Time At The Rembrandt Hotel In Knightsbridge London It Was The Second Time That I Met Her In Person. The First When Aged 14 At West Ham 1947 I Asked For Her Autograph.
Melbourne 1928 I Don't Recognise The Machine Looks Like

A Twin I Am Sure Not Hers She Had A Douglas
John says: I think Fay is sitting on a modified Rudge. It is not a twin as these bikes had 2 exhaust ports from a 500cc single cylinder. Rudges had frames that were far too flexible, hence the strengthening struts on the first photo.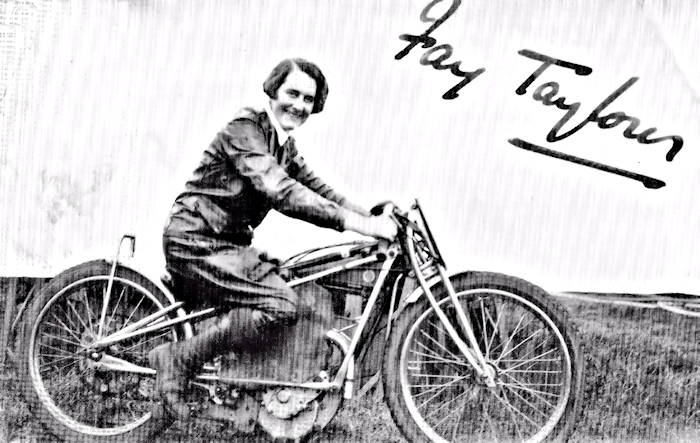 Courtesy of Reg Fearman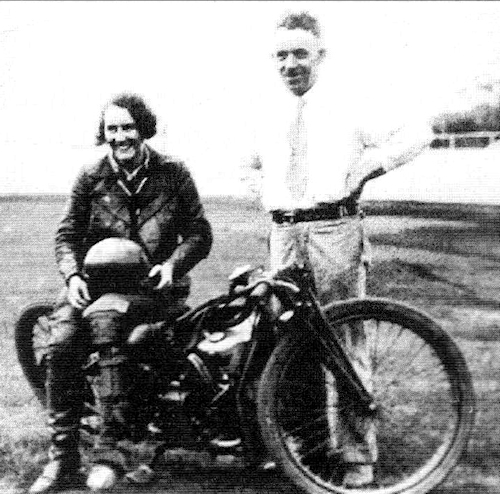 Courtesy of Reg Fearman
Reg says: Western Springs Auckland NZ 1929 More Like It On A Douglas
---
Fay Taylour v Eva Askquith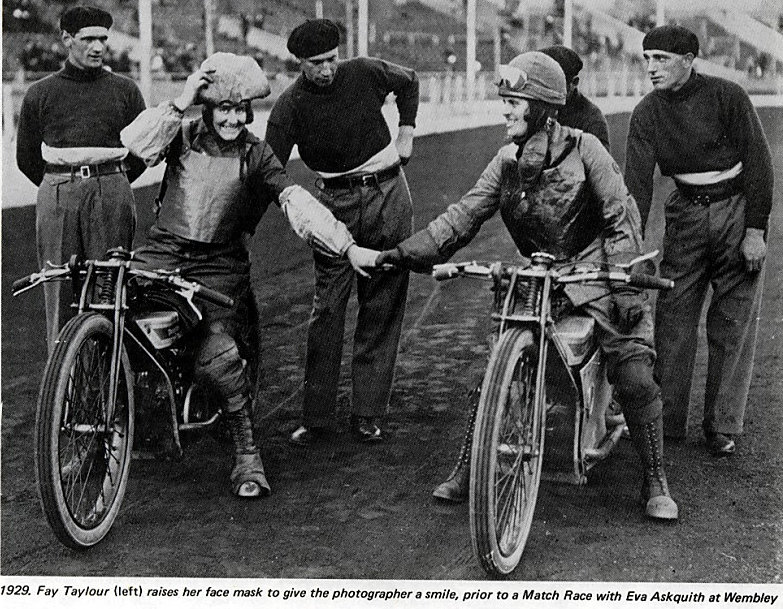 Courtesy of John Spoor
---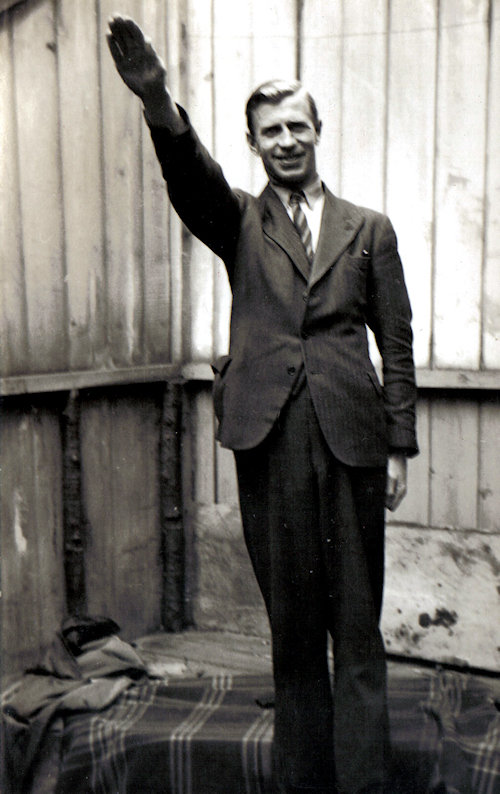 Courtesy of Reg Fearman
John says: Fay's Nazi Friend I Wonder Who he was? He and Fay were Nazis in the 1930s, which made them, "enemies of the state," when WW2 broke out in 1939
Fay's Detention on the
Isle of Man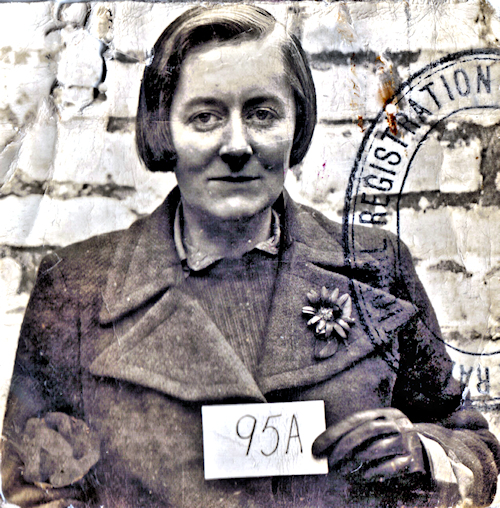 Courtesy of Reg Fearman
Arrested And Eventually Going To The I.O.M. For Detention During WW11
---
Fay Taylour Midget Car Racer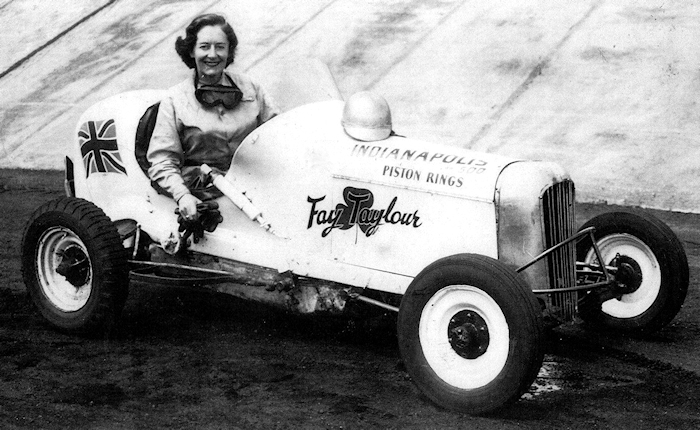 Courtesy of Reg Fearman
Reg says: 2 wheels swapped for 4. Western Springs Auckland New Zealand 1953
---
Fay 'Pin Up'
At Home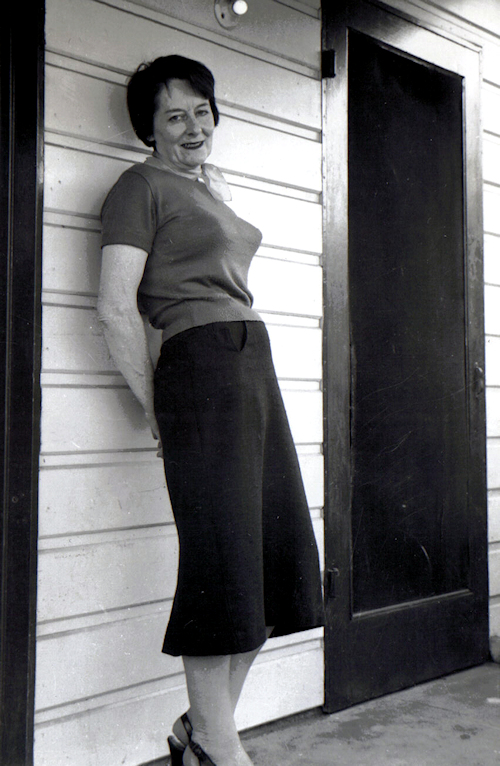 Courtesy of Reg Fearman
Reg says: Fay 'Pin Up' At Home In 1949, Working In The USA Selling Motor Cars.
---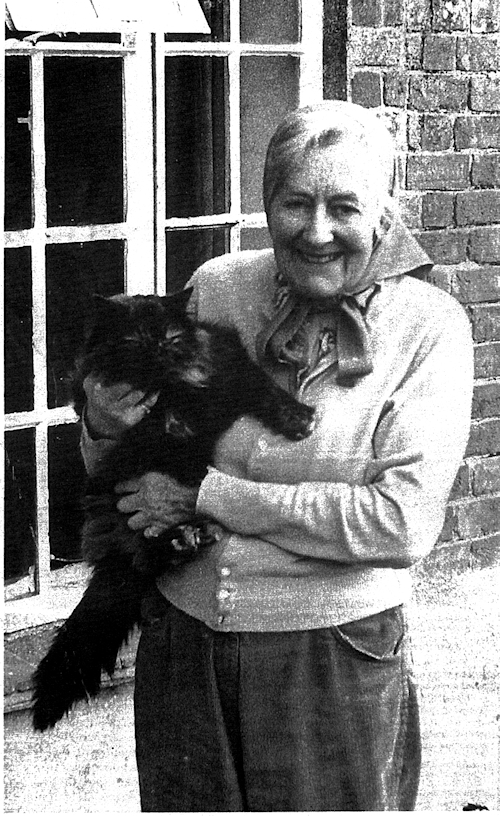 Reg says: This Photo Was Taken In Dorset Shortly Before She Died in 1983 Aged 79 She Had A Full And Most Interesting Life Which Perhaps Could Be The Envy Of Many Aspiring Ladies.
---
Ron Mason RIP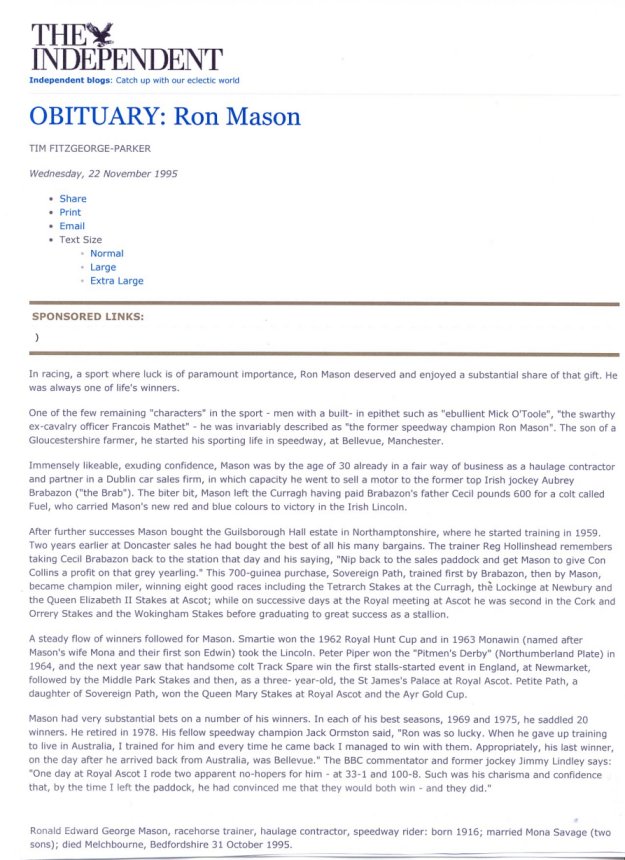 Courtesy of Johnno Allanton New Zealand
---
Wulfrunians!1950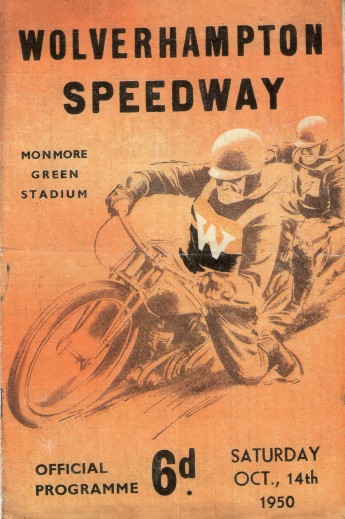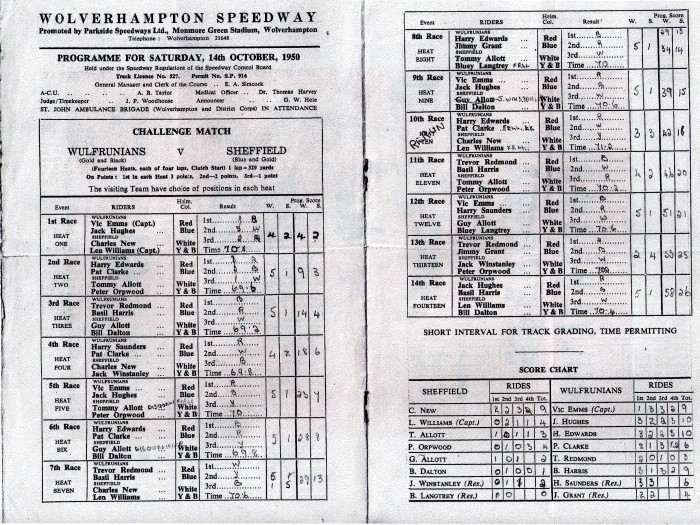 The above programme is from the only meeting of 1950 and is the only time "Wulfrunians" was used as Wolverhampton's nickname. The nickname vies with Liverpool "Chads" Yarmouth "Bloaters" and California "Poppies" as the strangest nicknames in speedway.
---
Tom Farndon RIP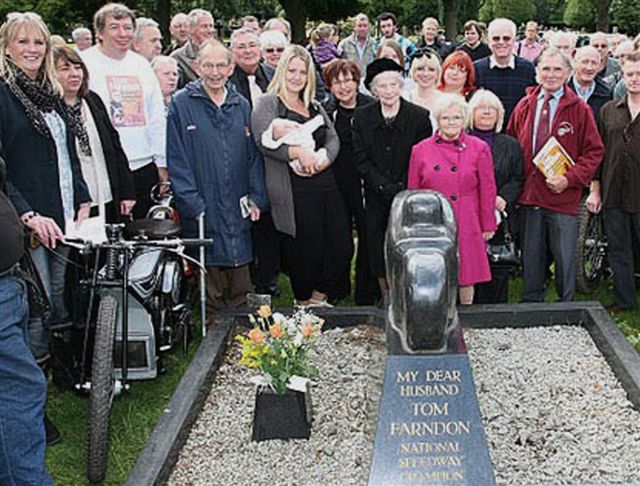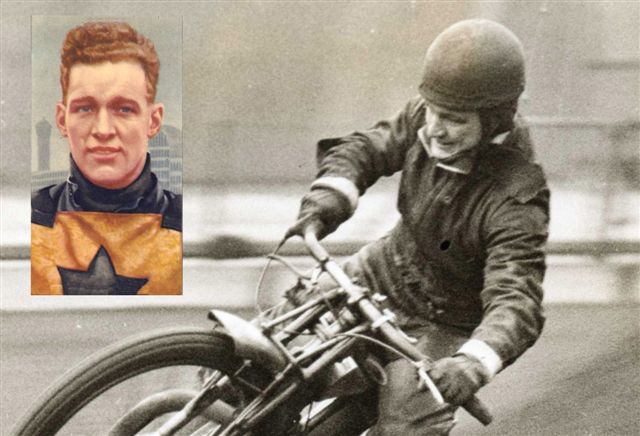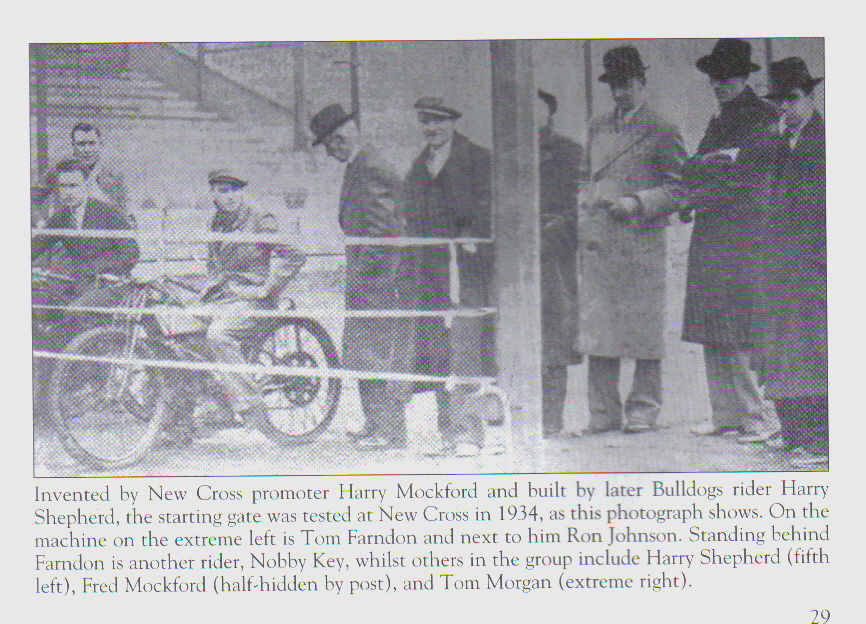 Tom Farndon Remembered
A special ceremony to remember 1934-35 British Champion
Tom Farndon
attracted almost 100 fans and family to his Coventry graveside on August Bank Holiday Monday, the 75th anniversary of his death.
Five generations of the family included the youngest, four-weeks-old Beth, and among the Farndon fans was 92-years-old Winifred Simpson who said:
'He was my hero when I was 17.'
The event was conducted by the Rev Mike Whawell, honorary chaplain to the World Speedway Riders Association and organised by the authors of the new book on Tom Farndon's life, John Chaplin and Norman Jacobs.
Chaplin said:
'The turnout exceeded all our expectations. It was magnificent considering it is three quarters of a century after the tragedy that cut short Tom's outstanding career. He was a huge star - historically one of England's best - in his day, and the occasion was highly emotional, especially for the family.'
Farndon, 24, at the time the undefeated British Champion, was fatally injured in a crash at New Cross on the eve of the 1935 Star Championship Final - then the equivalent of a world final - for which he was favourite.
Ex-riders Col Smith and Mike Lawrence provided bikes - a Langton Excelsior and 1928 Dirt-Track Douglas
(see attached photos).
Tom Farndon (born 11 September 1910 Coventry, England died 30 August 1935) was a Speedway rider who won the Star Riders' Championship in 1933. He set out on the road to speedway stardom in 1928 and within five years had reached celebrity status. His good looks and sheer charisma brought him a huge fan following, particularly among young women, and his incredible talent took him to the pinnacle of the speedway world.
Tom was the British Individual Match Race Champion and was undefeated from 1934 until his death in 1935. Farndon was killed after a crash on 28 August 1935 whilst racing at New Cross Rangers Stadium in a second half scratch race final. He was involved in a collision with team-mate Ron Johnson which hurled him through the air and saw him land head first on the track. Tom died two days later in Miller General Hospital, Greenwich, without regaining consciousness.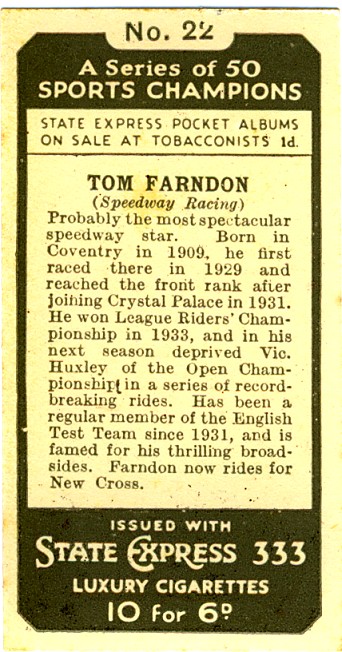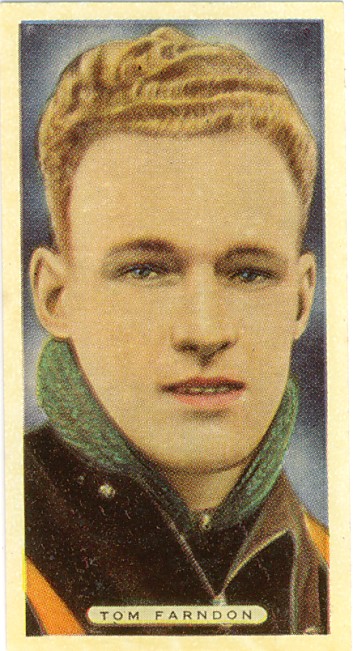 ---
Pre War Canadians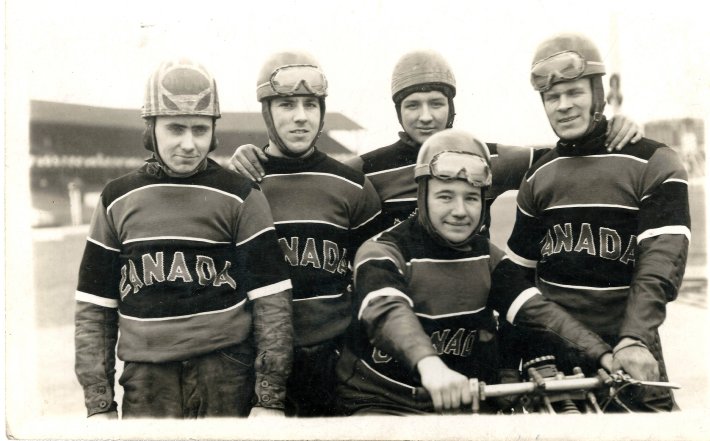 Courtesy of Ian Young
John says: Canada supplied my Newcastle team with a few riders pre war, so looking at this photo I think the riders are George Pepper, Bob Sparks, Bruce Venier, Elwood Stillwell. Not sure of them or of the rider on the bike, can you help please?
John
Col Greenwell says: A bit of an enigma these Canadian pics. A few weeks ago...maybe you can recall, there was a speedway programme on
ebay
which had a picture of Kid Curtis stating he was a Canadian...According to a book by Jim Henry, Kid did ride for the Canadians against Edinburgh on July 19
th
1938.
The names I have for your
pre
war Canadian team are...George Pepper, Robert Spark, Kid Curtis, Bruce Vernier, Elwood
Stilwell
. Interesting eh..!!..as all other old mags etc say Kid is from London, which I would say is correct.
Team Canada
Pre-War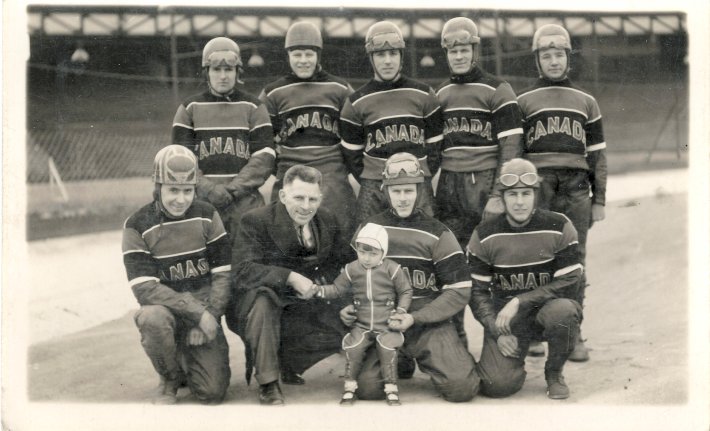 Courtesy of Ian Young
Back row: Goldie Keital, Eddie ?, Bob Sparks, Elwood Stillwell, Bruce Venier front: George Pepper, Johnnie Hoskins Eric Chitty, Jimmy ?
John says: The riders names were written on the back of the photo but 2 of the riders surnames are unreadable So can you help with surnames for Eddie and Jimmy.
John
The presence of George Pepper (also a pilot), makes the photo a pre war one as he lost his life when his plane was shot down or crashed on a training flight I understand, during the 1939-44 war.
Col Greenwell says: bottom right, It's not Jimmy Gibb by any chance is it?
John says: I am told the names are correct except back row far left is Goldie Restall not Keitel. Next to him is Eddie Barker and the rider far right front row, as someone has already pointed out is Jimmy Gibb. Incidentally the little girl is Eric Chitty's daughter, Carol Anne.
Tom Marriott says: Back row L-R Godwin "Goldy" Restall, Eddie "Flash " Barker, Robert "Bob" Sparks, Elwood Stilwell, Bruce Venier. Front row L-R George Pepper, Johnnie Hoskins, Carol Ann Chitty, Eric "Rickey" Chitty, Jimmie Gibbs.
---
August 2010: Steve Magro says: Pam Oakes, wife of speedway journalist and manager Peter Oakes, recently suffered a massive stroke while undergoing major heart surgery. Pam is in a coma at Peterborough District Hospital and Peter is spending as much time as possible at her bedside.
Said Peter: "Unfortunately her chances of surviving this are terrible slim and basically we need a miracle. She is on the High Dependency Unit but has no movement at all, although she is breathing by herself."
Peter, from all of us who know you and Pam our best wishes go out to you both.
At this difficult time you are in our prayers.
This morning Saturday 25th September 2010, I (Reg Fearman), talked with Peter Oakes. Most of you will know that Pamela suffered a major stroke when on the operating table at Papworth Hospital for major heart surgery. She was in a coma for some time and Peter and family were told she probably had only two days left to live. Since that time in mid August she has amazed the specialists by recovering consciousness and gradually making minor improvement. She is talking but has very little movement of her limbs, but is just about able, with help to hold a glass to drink from. Pamela was transferred to Peterborough General Hospital where treatment is taking place for stroke recovery. Peter said that it will be a long road but are thankful the first prognosis was wrong. He said Pamela will be fighting all the way as she has done over these past few weeks.
Reg Fearman says: This morning Saturday 2/10/2010 I talked to Peter Oaks
Pamela:- She has made tremendous strides over these past few weeks. It was eight weeks ago that she suffered the massive stroke when on the operating table for heart surgery. Family and doctors were always talking to her and looking for a sign of movement, that first sign came on 26th August when she was able to push out her tongue. Today in Peterborough the weather was good and Sarah was intending to take Pamela out for a while in a wheelchair. Although Pamela has no movement on her left side she is able to feed herself and take a drink. Staff have also stood her up for a short while with support. Pamela is now on stroke rehabilitation. Such great news after such an awful prognosis.
Good news on Pamela - but she still need our prayers.
Cheers,
Reg
Reg Says: Peter told me :- Pamela continues to make improvement after her major heart operation and stroke twelve weeks ago. It was her birthday yesterday, she Peter and family were able to to have a few hours out of the Hospital. Pam like PeterCollins, is able to stand with support, walking is not yet possible although Pamela is determined to walk again.
Improvement: Peter says: Pam is still making good but very slow progress. She was allowed to come with us to Peterborough's dinner on Saturday night. We could only stay for the meal but she enjoyed herself enormously.
She has an infection at the moment but they are treating it with antibiotics although it will obviously weaken her as far as working in the therapy gym is concerned. They are enormously pleased with her progress and (privately) the chief therapist has recommended she should stay at the City Care Centre for at least another four weeks. That, in itself, is good news because they will only keep people who are making progress and have further progress to make. If they didn't think she would improve then she would be discharged and usually the maximum stay is six weeks. Pam will have been there four weeks on Wednesday. She is getting a lot of her balance back and has been able to stand up in the gym without major assistance. She still needs to be hoisted in and out of bed but we are hoping in the next week or so she can progress to a standing hoist machine which is far more dignified.
---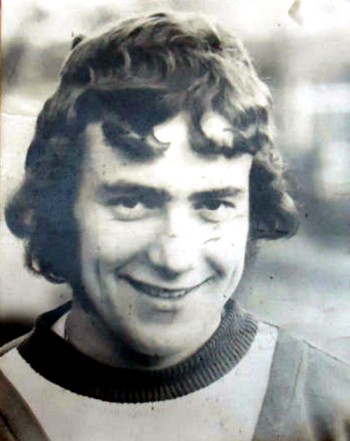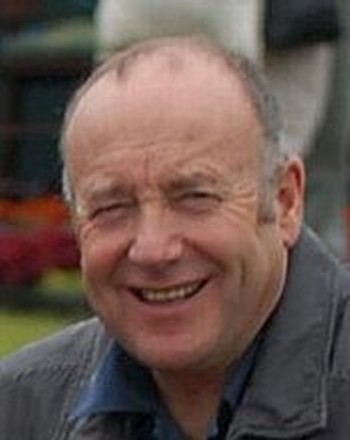 This morning Saturday 25th September 2010, I (Reg Fearman) talked with Angie Collins it is just over two weeks since Peter had an Aneurysm on the right side of his brain and was taken to the Walton Neurological Hospital in Liverpool. Angie says Peter is very weak and tired, he is being fed liquids through a tube to his stomach via his nose. He had an Angiogram on Thursday the results which were satisfactory. Peter has lost some movement on his left side but it is hoped he will make a full recovery given time. He is helped to a bedside chair for a couple of hours each day. Let us not forget our friends who may not be as well as us today
Reg Fearman says: This morning Saturday 2/10/2010 I talked to Angie Collins. Angie told me that Peter was transferred yesterday from the Walton hospital in Liverpool to Warrington which is just a 20 minute drive away. Angie says Peter is very week and lost a lot of weight due to being in bed for three weeks but his speech has completely recovered. She has been told that it takes about four weeks for the blood leakage to disperse. Last week he did have a set back after some examinations and spent the night in intensive care. Peter is in the Warrington hospital for rehabilitation, he phoned Angie at 7am this morning and again at 7.30 am to say he was hungry and had not yet had any breakfast, she said she too had not yet had her breakfast as it was only 7.30am. Angie said she would be cooking one of his favourite dinners and take it in to the hospital later in the day - as she had been doing while he was in Liverpool.
Good news on both Pamela and Peter - but they still need our prayers.
Cheers,
Reg has been in touch again, he says: I talked with Angie today for an update on 56 year old ! P.C. :- She said he was progressing slowly in re-hab and is due to start intensive physiotherapy on Monday. It is five weeks since he had the Cerebral Aneurysm which rendered him almost helpless. Peter has some movement on his left side now but is weak and the brain has to re-learn how to get him mobile. He has recently been transported by Angie and Haley around the hospital confines by wheel chair but is unable at present to 'go it alone'. Keep praying, Reg
John says: Good Luck PC
Reg again contacted Angie and she says: I have this Sunday morning spoken to Angie. She says Peter has been in hospital now for some eight weeks and at present is in the Warrington Hospital's Physio and Re hab unit and doing very well. Angie was taking Peter out today albeit in a wheelchair. P.C. can now stand alone but has support either side for a short walk. His left arm and hand are gaining strength and it is hoped he will be home within a week or so.
Reg Fearman says: Saturday November 6th 2010. Today's news on PC is excellent, he is at home and when I spoke to Angie this morning he was sitting up in bed having breakfast. He came home yesterday - Friday November 5th - Guy Fawkes night for bonfires and fireworks so Angie and family took him to a local 'party, he sat in the van wrapped up for an hour or so. He is able to climb the stairs to bed with some support, Angie says there has been great improvement over the past two weeks. It can only get better.
Cheers,
Reg
14th November 2010: Reg Fearman says: I talked to P.C. at his home in Lymm Cheshire on Saturday evening . He is doing fine and getting stronger every day. He said he had spent half an hour in the garden that afternoon raking leaves - a little physio !!!. The strength has returned to his left side and he can manage everything now without assistance. He would like to thank through me all those who have been concerned about his progress over these last ten weeks. Cheers, Reg
8th December 2010 Reg Fearman says: I talked with P.C. a few hours ago he was in good spirits but said his left arm and the left side of his mouth had not yet returned to normal. He is doing fine and expects to go to Perth for a few weeks in January cheers, Reg
John Says: great news that PC is feeling well enough to travel to Perth. I assume that's Perth in OZ and not Scotland which is under 2 feet of snow as I type!
---
ZZ Top! Nah It's The Leningrad Neva Team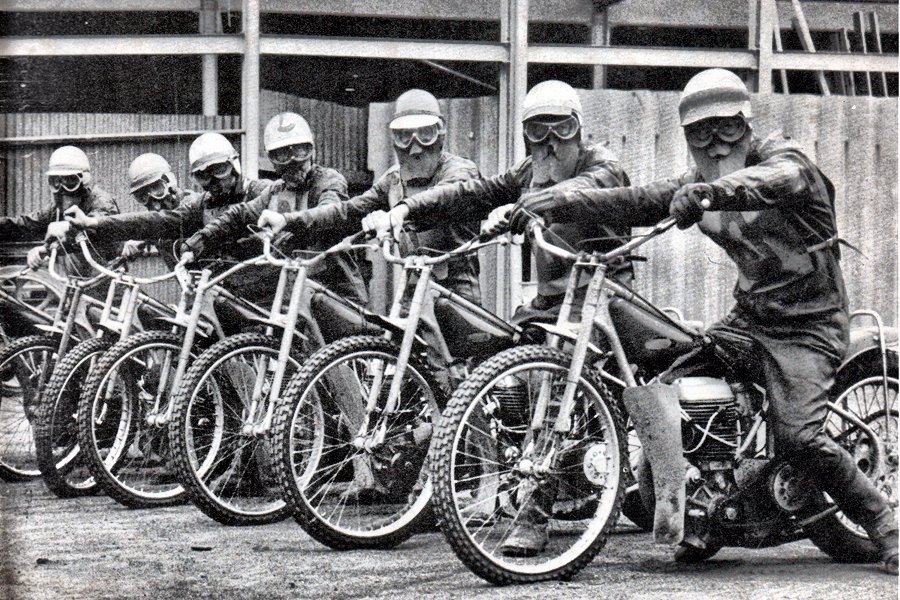 The "Name the Rider" photo to stump you all. They appear to be mounted on identical ESO/Jawa machines making them eastern Europeans. Please email any ideas John
Jim Henry says: It's the Leningrad Neva team - probably the one that visited Belle Vue sometime in the 1960s/1970s is the best I can do. The race jacket motif is the give away.
John says: I asked Dave Gifford for his views on the men and machines in this great photo.
Giffy says: When we first used Jawas in 1968 they had a rear mudguard with a valance on the right side. An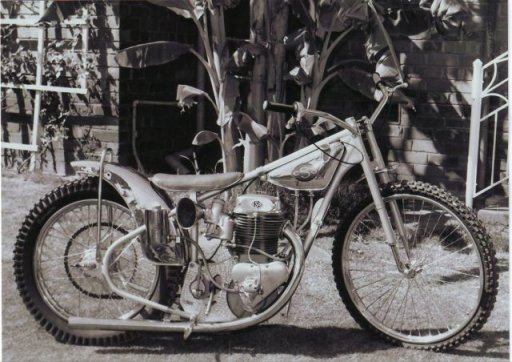 oil tank was mounted on the valance. The rear downtube of the frame diamond was 30 mill same as the other tubes. About 1969 or 70 they did away with the valanced guard and the oil tank and put the oil in the frame and increased the size of the downtube, if you look at most Jawas they have an oil filler cap on the frame above the fuel tank. I have a picture of an Eso which also had an oil tank. I have been told by a reliable source that 80% of the Jawa production went to the Soviet Union. Now if this is the case I have a little bit of doubt about the date of the picture being 1971as there are no filler caps on the frames and I think they would have wrecked all the old type frames by 1971! The bikes also have Lucas magnetos which were used on the earlier model. I do have an early model Jawa awaiting restoration, my next project. Giffy
John says: Maybe the Soviets had older bikes and equipment in 1971? So can anyone name the riders?
Bob Andrews says: The masked men photo was Team Leningrad, taken in 1971 at Belle Vue
Alan Charles says: Here are scans from the match programme which was 1968 not 1971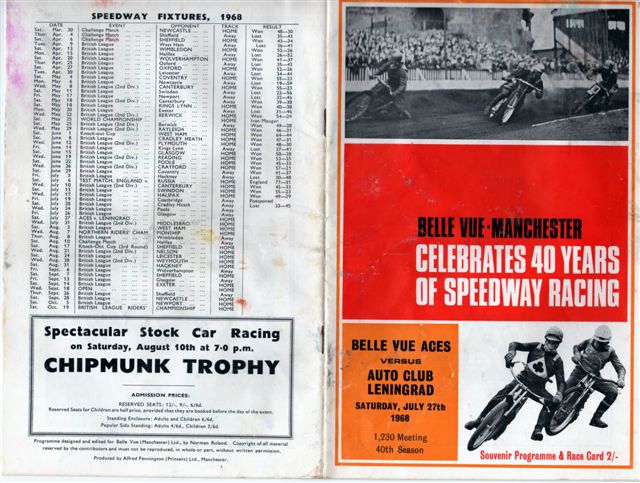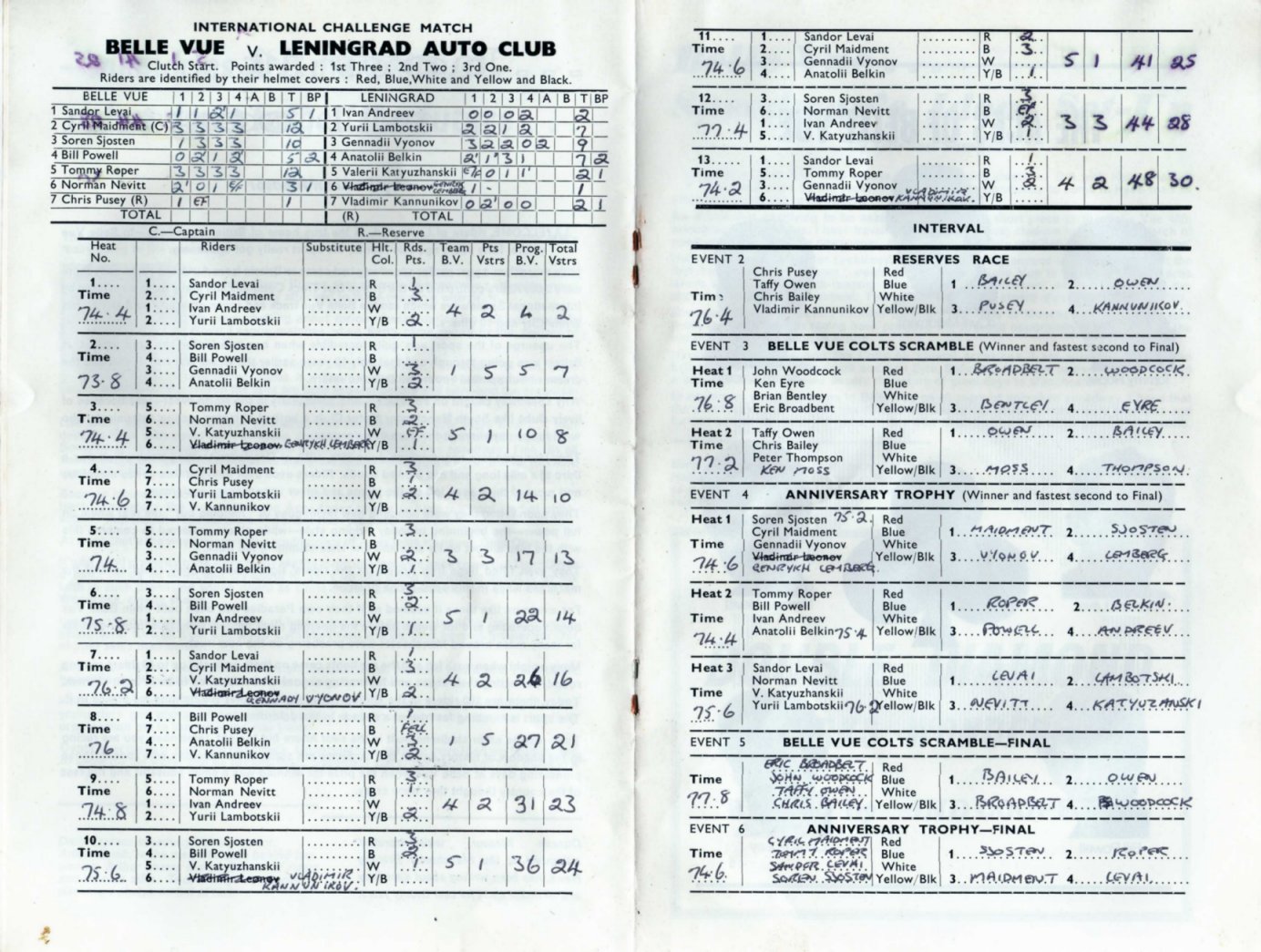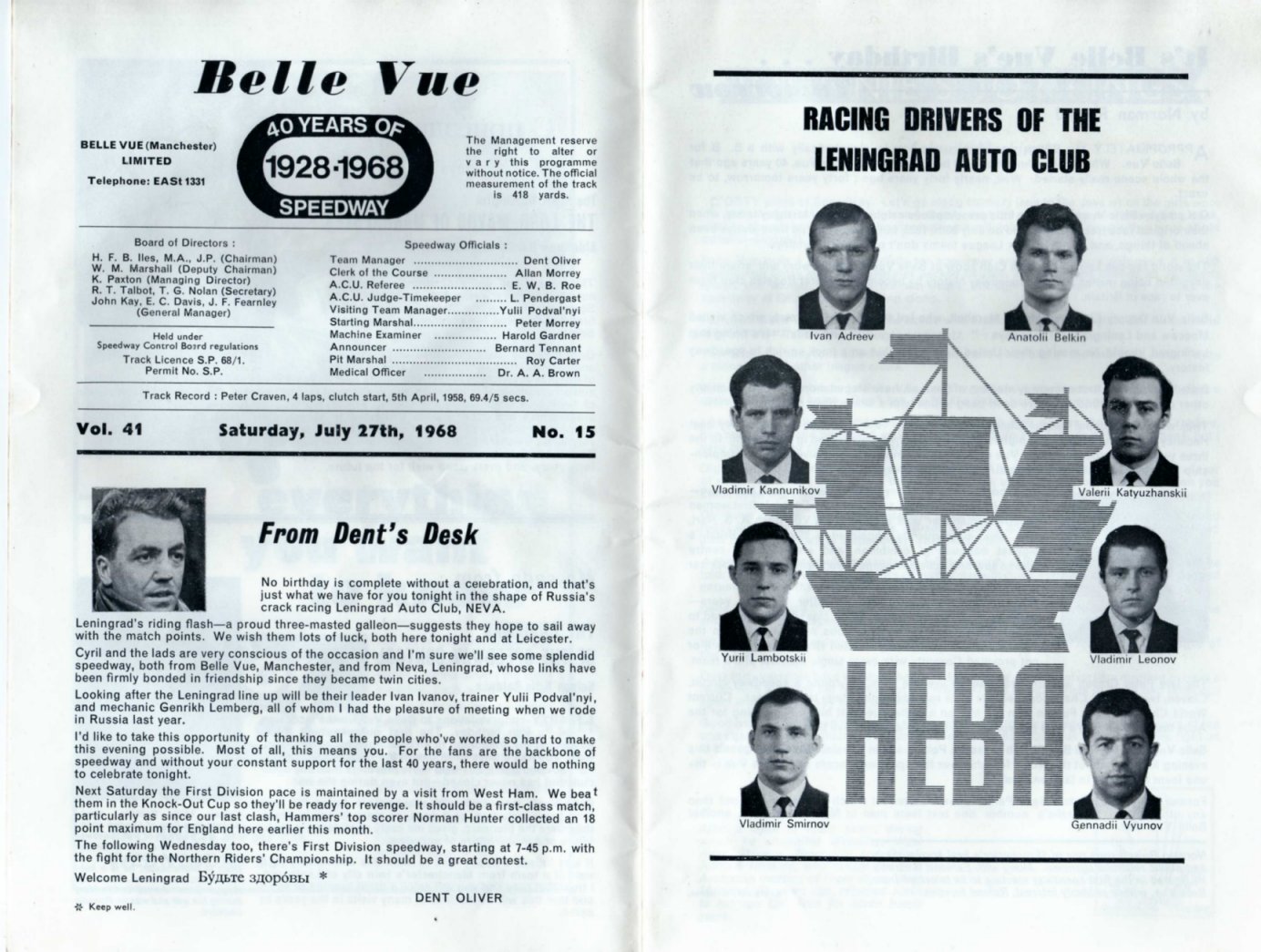 Russian/Eastern Bloc speedway teams visiting the UK in the cold war era were mysterious and great crowd pullers.
---
England v Australia
1947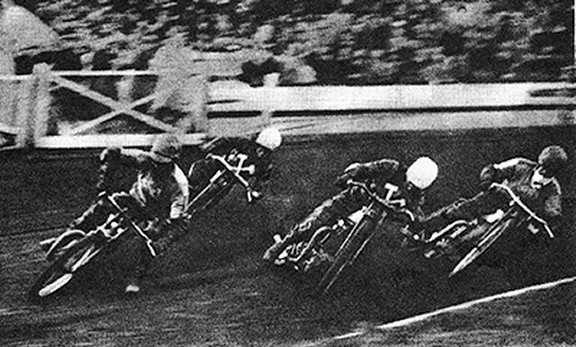 Courtesy of Tony Smith
Tony Smith says: 1947 England v Australia, Max Grosskreutz Aus, Ron Johnson Aus, George Wilks Eng and Alec Statham Eng. England won the match which ended 58 to 50
John says: What a great picture! If you can help Tony with this please send him an email
picture_ed@hotmail.com
Personally I doubt the picture is of England V Australia second test as the two light helmeted riders are wearing West Ham race jackets??? but what do I know? eh!
---
Katowice Poland 1973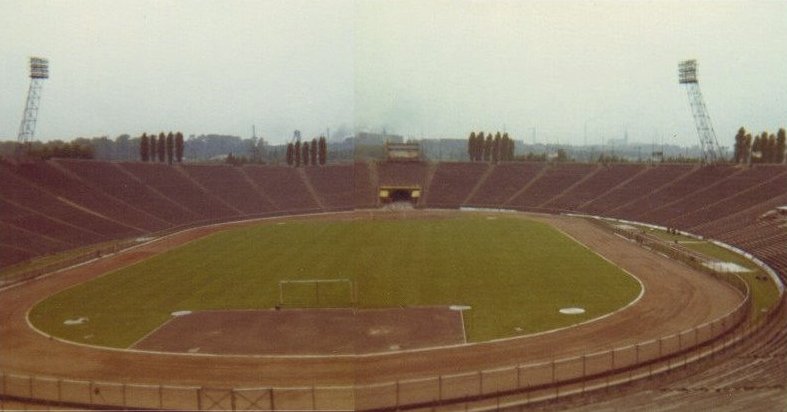 2 Photo's from Reg Fearman turned into a panoramic view by my daughter Helen Skinner
Possibly the greatest speedway venue of the modern age Katowice where the 1973 world final, won by Pole Jerzy Szczakiel was watched by a reported 130,000 fans. The exact figure has long been in dispute with most settling for 120,000. The conspiracy theorists say the crowd was under 100,000 but no one can deny that the Polish venue was totally packed out and the crowd looked bigger that any world final before or after.
---
Speedway Beauty Contest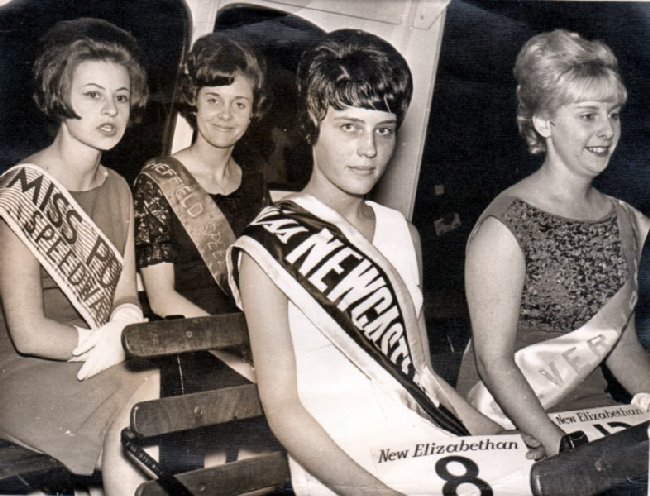 Courtesy of Dave Rowland
John says: Beauty Contests were common place in the years gone by. Now in 2014 they are regarded as demeaning to women. They are no longer part of speedway's social calendar despite the start girls at some tracks and the big televised GP events etc. Speedway teams Beauty Queens are now a thing of the past.
The above picture shows Miss Poole, Miss Sheffield, Miss Wolverhampton and Miss Newcastle. Can you name any of the girls, say what the competition was called and provide the year John
Alan Bristow says: Possible clue is in the number cards; the ballroom at Belle Vue was called the "New Elizabethan Ballroom". Memory is a bit faded now but I have a vague recollection of a "Miss Speedway competition" taking place in the sixties with a contestant from each team. I think the judging took place in the ballroom in the afternoon and the contestants (probably these are the first 4) paraded at the evening speedway meeting. I believe it was done at a PLRC or more probably BLRC meeting
Colin Jewes says: Agree this is Belle Vue. I went to the PLRCs and BLRCs in the '60s, and my recollection is that there wasn't one at the first in 1962 but that they started in '63, or maybe '64. I recall one if not the first in the ballroom following a raining mtg, so did they plan the first for the centre green, revert by force to the ballroom, and thereafter go to the Ballroom, (i.e wouldn't have Elizabethan cards the first time in there, as it was by default.) If so - a lot of there speculation here - , but I'm going for 1964 ! Definitely a PLRC not a BLRC
Bob Bath says: The picture is from 1964-I recall Miss Newcastle winning it- I wonder what happened to all these beautiful girls of 1964-hope they had happy lives and are still with us. Bob Bath
---
Wolverhampton's
Dave Mobley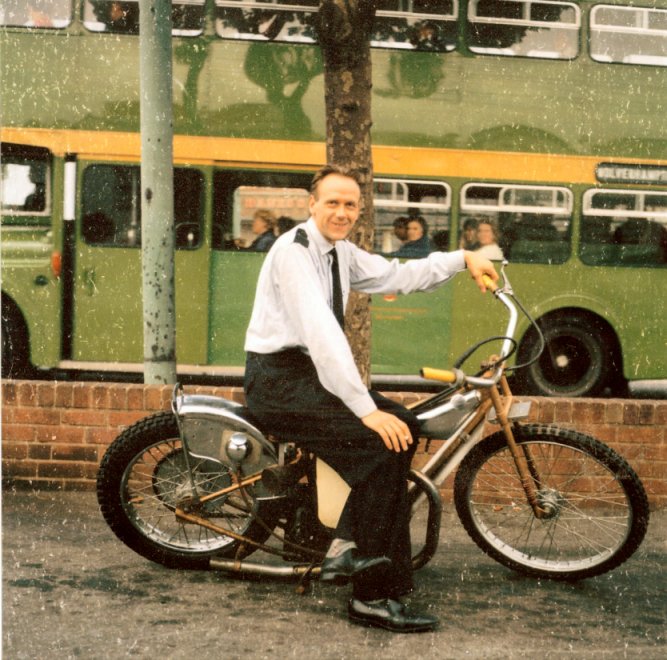 Many thanks indeed for your wonderful speedway web pages. They have brought back many memories of when I was a novice rider in 1964 at Wolverhampton.
I helped Bill Bridgett and Reg Fearman to rebuild the track since its closure for many years. We managed to bring an old tractor back to life and used it to help grade the track.
The bike in the picture was built by me in the bathroom of our flat in Bath Road, Wolverhampton. The brand new JAP engine cost me £100.00 from Alec Jackson in the Harrow Road, London, and I believe I bought the frame from Howard Cole's father at Monmore Green.
I was in the Ambulance Service at the time and not long married and Bill Bridgett was kind enough to give me a few second half rides. However I could not afford to keep the bike and the chap to whom I sold it wrapped it round the safety fence on his first time out.
Should you be interested I can tell you a lot more, but in the meantime could you let me have an email address for Reg Fearman as I am delighted that he is still going strong and I would love to know if he remembers me from all those years ago.
John says: Hi Dave, I would be interested to hear more from you to put on this page. I have forwarded your email onto Reg who may reply direct to you.
---
New Zealander Selwyn Burt RIP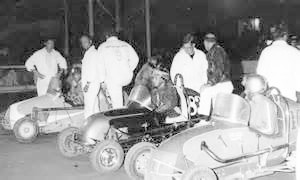 Allan Batt says: Rest In Peace- Selwyn Burt!
Speedway in general lost a great friend when Selwyn Francis Burt passed away on Sunday May 16th 2010. Selwyn, a life member of the Christchurch Speedway Association was one of the founding members back in 1958. He was a noted Solo and TQ racer back at the old Aranui Speedway, riding for Canterbury in teams events alongside English legend Norman Parker and hometown heroes Mick Holland and Barry Briggs, before embarking on a very successful TQ career that saw him win two South Island titles.When Templeton Speedway (now known as Ruapuna) was being built he was one of a small group of enthusiasts that never gave up on the dream, when finance and labour became scarce. Once the track was completed he went back to riding Solos and racing the TQ's each night and again was to the fore winning a South Island Solo Championship and being one of the pacesetters in the TQs.
Selwyn also worked hard in the background providing riders and drivers with machines to race, and parts to keep them going, often without recompense. This was not limited to Christchurch riders and drivers either with many others benefiting from his knowledge and benevolence. His mechanical ability was also highly regarded and sought after, so much so that Selwyn prepared JAP engines from time to time for Ronnie Moore. When Ronnie made his comeback to the UK in the late 60's Selwyn put together an engine for him, shortening the stroke by using a BSA Gold Star con rod. It went well too! Coincidental or not, it was pretty much this configuration that was used in the JAP 4B Up until last summer Selwyn remained a true supporter of Speedway racing taking to the spectator seats at most meetings until the onset of ill health. Space prohibits a comprehensive run down on his contribution to the sport in Canterbury, particularly in the Ellesmere district , and a career in other forms of Motor Cycle racing that saw him win multiple New Zealand titles on Grass Tracks, Hill Climbs and TT Races but it is needless to say that his place as a true Speedway legend is well deserved for a man who sought no accolades yet loved the sport at all levels. Selwyn was extremely proud of the 'Life Time Achievement' Award presented to him by the Canterbury Vintage Speedway Enthusiasts Club in 2006 and mores the pity that his nomination for national recognition was unsuccessful...but to be fair- he was always happy with his lot.
Allan Batt
John says: Selwyn was the brother of, Murray Burt, who rode in England, for the Newcastle Diamonds in the late1960's
---
Dog Tracks In London
Reg Fearman says: At one time there were 33 Greyhound tracks in London, only three remain, Wimbledon Crayford and Romford.
Many of those Greyhound Stadiums also encompassed Speedway Racing over a long period from 1928 - two years after the Greyhound stadiums were built - Wimbledon closed its doors for Speedway Racing in 2003. On that final night the turnstile takings were stolen!!!!. The last of the London speedway tracks. The A to Z says they closed in 2005 but I checked on google and the web site.

Enough from me, it is 35celsius here at 6pm - must go and jump into the pool.
Reg
Enjoy the weather Reg. It's raining here in England! A-Z uses Robert Bamford's "Homes of British Speedway" as a reference and he says Wimbledon closed 2005. Whom am I to disagree, I am just this websites owner and you are Mr Speedway. Oo-er I am disagreeing with one of speedways big noises!
---
Dog Track In
Tahuna NZ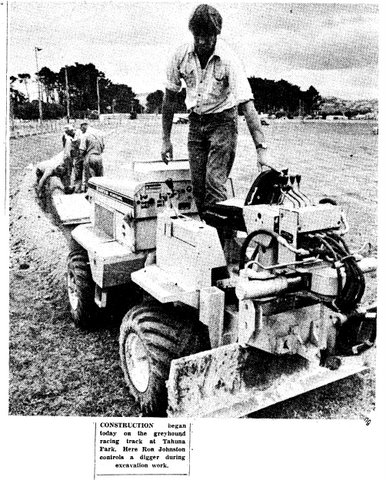 Construction underway at the Greyhound track at Tahuma NZ. Ron Johnston at the controls of one of his earth moving machines.
Ex Belle Vue rider Ron Johnston says: I operated two hydraulic chain diggers for 18 years doing all telecom work in the area on this Photo I was doing a chain trench round Tahuna Speedway track which had been closed down and dog racing took over. The trench was for the Hair for the dogs to chase.
---
A comfortable van big enough to transport the rider and pit crew, at least two bikes and all the spare parts and equipment for use in the pits is what top riders use in 2015. Some even have motorhomes! It wasn't always this way as you will see below: -
The Chiswell Bro's
Model T Ford &
Bike Trailer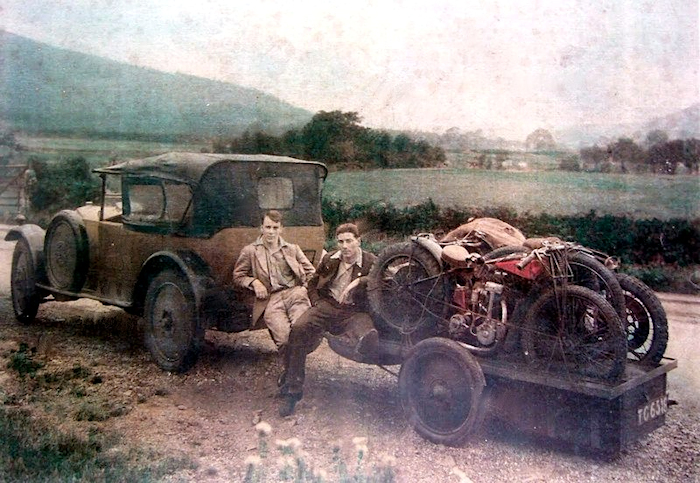 Courtesy of John Spoor
The Chiswell brothers are seen here with a very collectible car of indeterminate make, I captioned it as a Model T Ford but I have doubts as it looks to be larger than Henry Fords supercar. They appear to have 3 bikes on the trailer. I think the bike in view is a Rudge which places the photo at approx 1931
Motorcycle & Sidecar Combination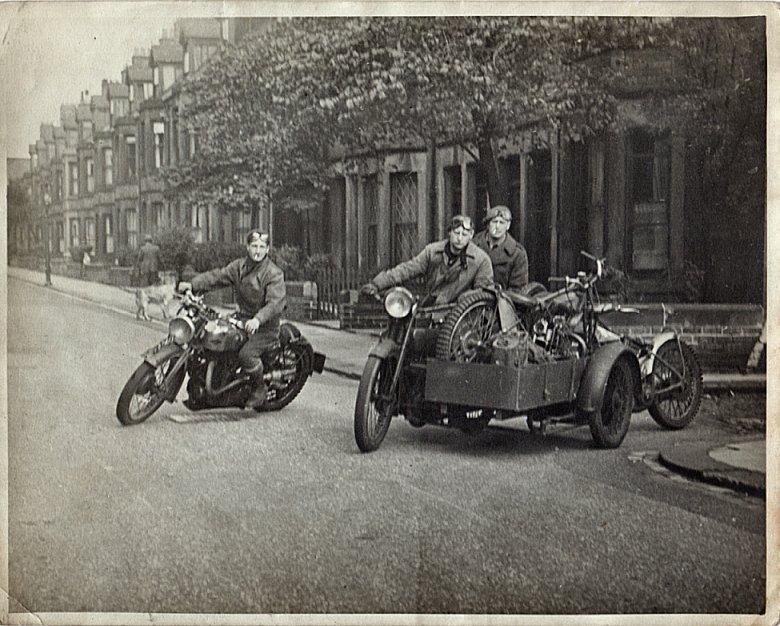 Courtesy of John Hunter via Dave Rowland
Local Newcastle rider John Hunter transporting his bike to Newcastle's Brough Park in 1948: Making the short trip from his home (Wallsend) to Brough Park for an evening's racing. John Hunter is driving his unwieldy looking combo with his mate on the back seat. The guy on the solo on the left was another rider Stuart Robson. The combination was a1923 Harley Davidson. I don't know what the other road bike was. The speedway machine in the sidecar was I am told a Rudge with a JAP engine. The other speedway bike has it's chain removed so the back wheel could revolve freely on the road. It was common to see speedway bikes transported in this fashion before car ownership did away with the motorcycle combination.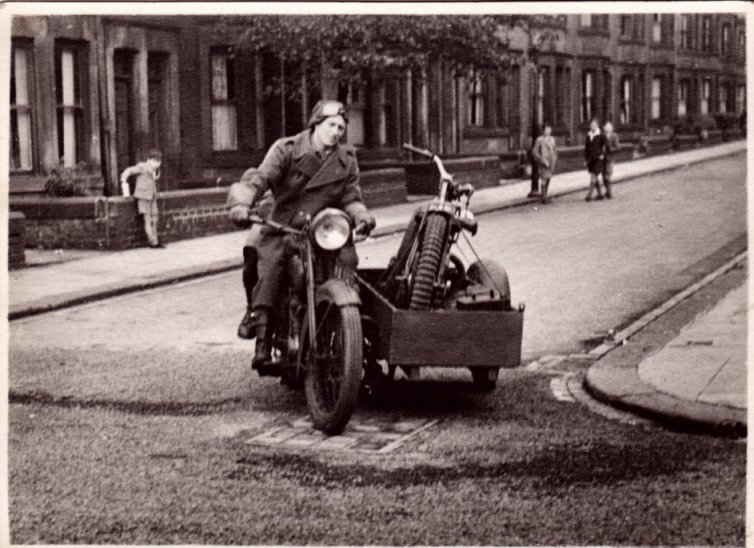 Courtesy of John Hunter via Dave Rowland
Another trip in 1948 this time back from Brough Park speedway to John's home in Wallsend. This time John Hunter is on the back with his brother riding. If you have any 1948 programmes have a look for John's name
---
Transporting A Speedway Bike By Pushing It!
Pushing a speedway bike to a Railway Station & putting it on a train. In years gone by we had railways stations in most areas. Here is an account of Newcastle's John Hunter who travelled this way to practicing riding his speedway bike on the sands at nearby Tynemouth.
---
Tynemouth Sands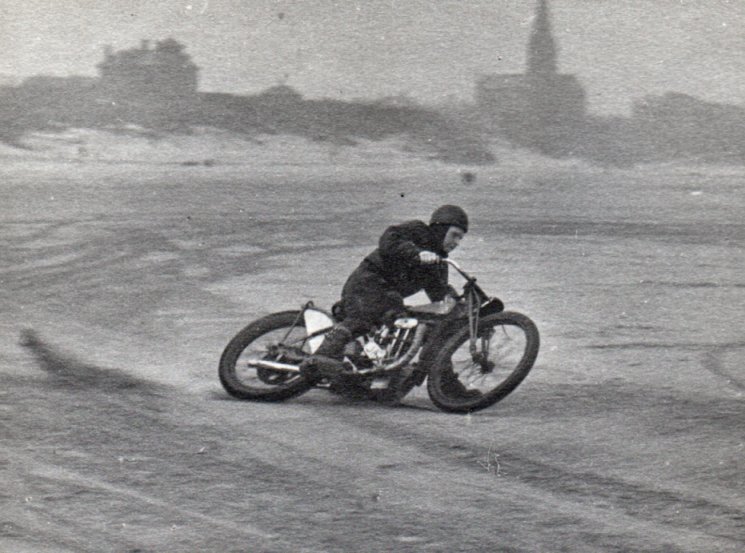 Courtesy of John Hunter via Dave Rowland
In 1948 there was no petrol for pleasure purposes. John Hunter would get up early for a day's practise on the beach, with a difference. He would put his speedway bike on the local coastal route train at his home station, Wallsend and get it off again at Tynemouth, just a few minutes by rail. He would then push the bike down to the Long Sands (Tynemouth Beach). He got in some practise, but only if the tide was out! These photos were taken at about 7.00am when the tide was well out. He would wake everyone up and attract the attention of the local police. The police would stop John, warn him about the frivolous waste of petrol and tell him motorbikes were banned from the sands. John would patiently explain that speedway bikes ran on wood alcohol, not petrol and produce a copy of the beach by-laws showing that there was no ban on bikes using the beach at that time of year. He would then continue his practise session on the beach.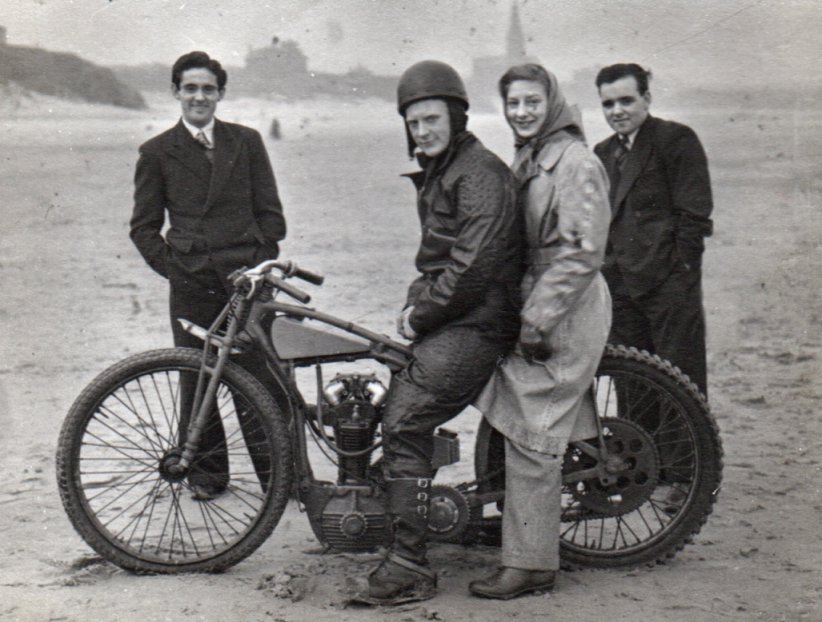 Courtesy of John Hunter via Dave Rowland
1948: John, his sister and two friends pose for this photo during one of the early morning sessions on the beach at Tynemouth. The modern day Tynemouth inhabitants would have a fit if they were woken by speedway bikes at dawn.
---
Geoff Mardon Bike on Running Board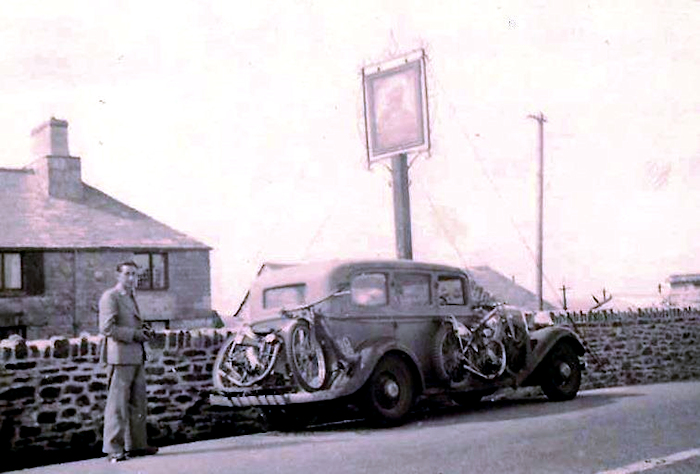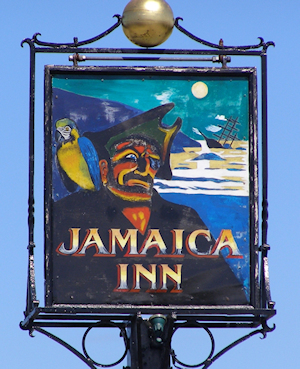 New Zealander Geoff Mardon in the early 1950s. The bike on the car's running board is a novel way of motoring around the UK and would be quicker than towing a bike trailer
---
Reg Trott & His
Small Van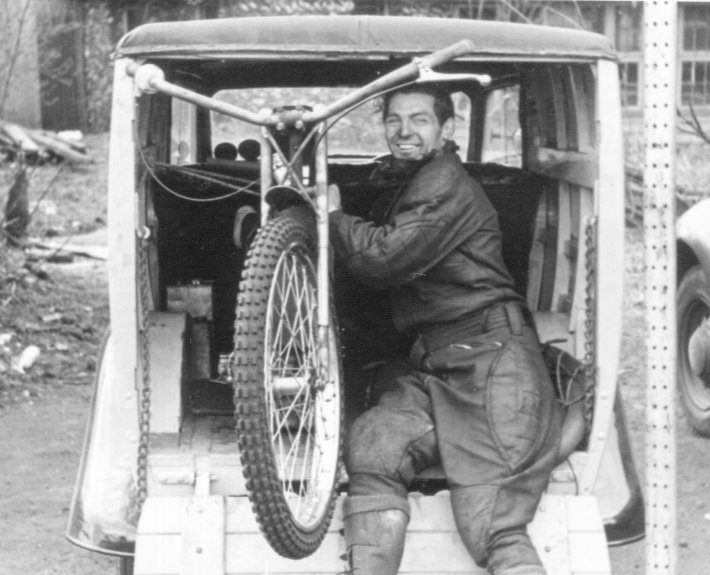 Courtesy of Jim Henry
I like this photo of Reg Trott unloading his bike from his van. I don't know anything about this photo, the year and team Reg was riding for, so help me if you can, any info would be appreciated
John
Bike In The Boot!
Transporting Speedway Bikes In

1968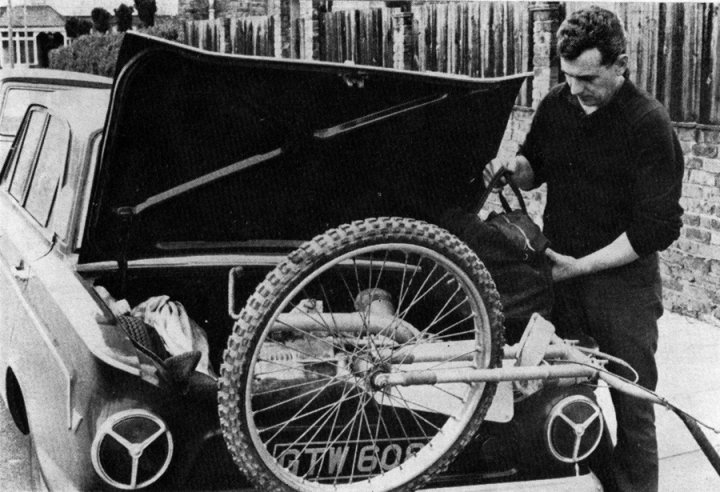 Few riders even in the 1960s had 2 or more bikes, a van and a mechanic. This is Oxford rider Ronnie Genz in 1968 showing how it was done 40 odd years ago. Car fans will note Ronnie's Mark 1 Ford Cortina, now a classic.
John says: Please email pics to me of "modes" of transporting speedway bikes around the country John
---
Norwegian Geir Øverby has been in touch and sent me some of his photos.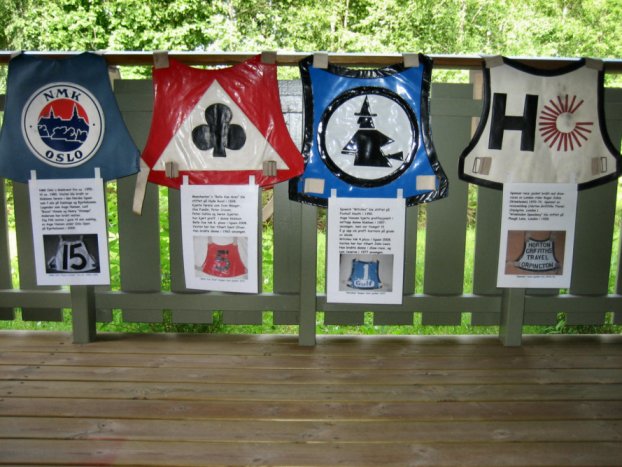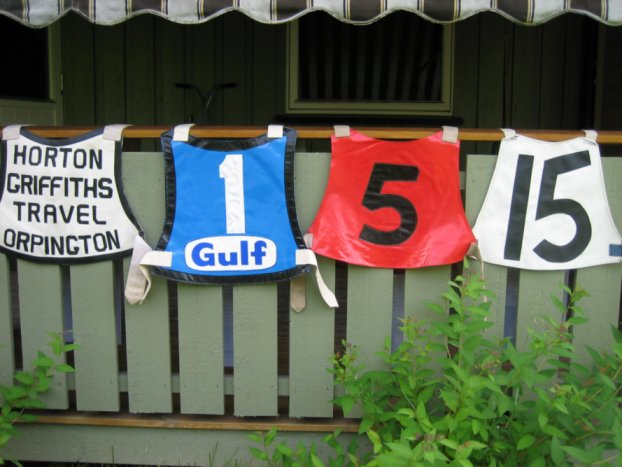 Geir says: Hi John, I "told" you for about a year ago that I would collect the race-jackets. Send you photos and explanation of the four I have obtained on. From left; NMK Oslo`s (Norsk Motor Klubb) race-jacet from ca. 1955-1980. Has been used by legends such as Aage Hansen, Leif "Basse" Hveem, Henry "Stompa" Andersen o.a. I got the jacket from Aage, in gift to my collection on Oslo Open at Bjerkebanen, may 2009. # Belle Vue race-jacket, used of Dent Oliver (please what year? 1960-62??) # Ipswich Witches race-jacket, used of John Louis`(reserve-jacket) in 1977. # Sponsor race-jacket used of Roger Johns about 1970.
My Jawa 890 in home garden.
Aage Hansen was proff. in Witches 1957, but had to give up his proffcareer because knee injury. # Aage was 7 times Norweian Champion 1955-61. Nordic Champion 1957. Uofic. world champion in Oberhausen, Tyskland 1960. Picture from Dælenga Oslo 1954. Aage, and (the dormant English-man) is Ronnie Moore and Jack Young. Next from Denmark 1956, Aage lead before Joel Jansson Sweden, Simo Yllinen Finland and Erik Vincent Denmark. Aage (right) at start, contrymatch Norway/Poland 1956.
I hope this can be of some interest to you and your amazing story page.
Sorry for my poor English , but hope you anderstand som of it.
John says: I have reproduced Geir's email above, without correction. His English is better than most Englishmen's Norwegian. I am only fluent in Geordie myself. More of Geir Øverby's photo's follow below: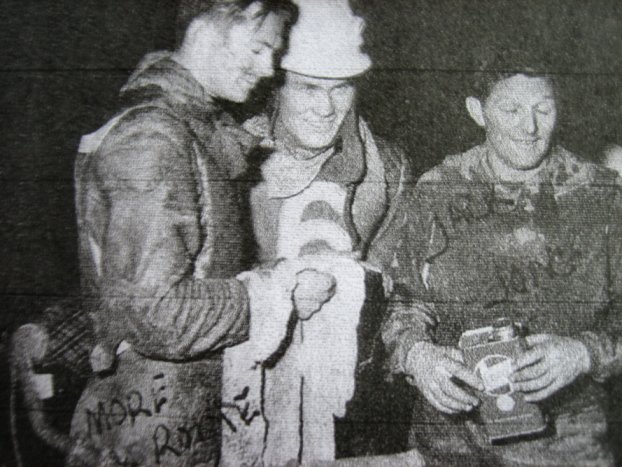 Ronnie Moore, Aage Hansen and Jack Young (with Castrol-pot) at Dælenga, Oslo 1954 Aage won this race.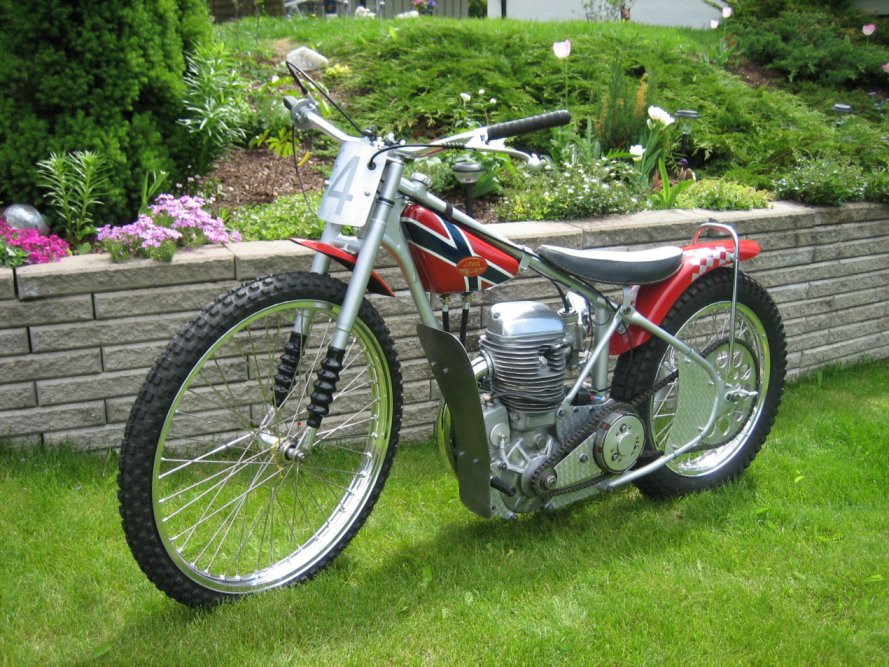 Geir's beautifully restored Jawa 890 photo taken in his back garden.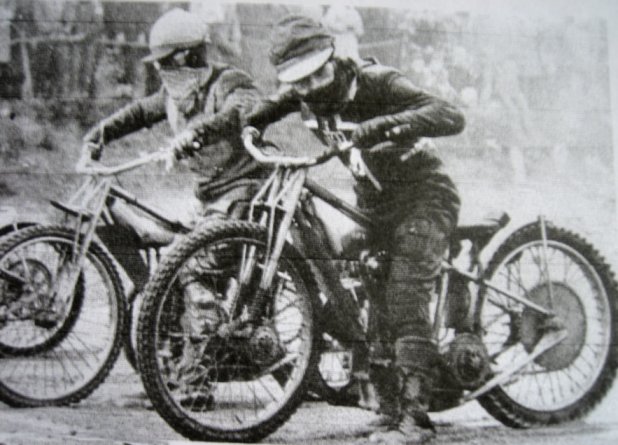 Aage Hansen at start in contrymatch Norway/ Poland, Geitryggen Skien 1956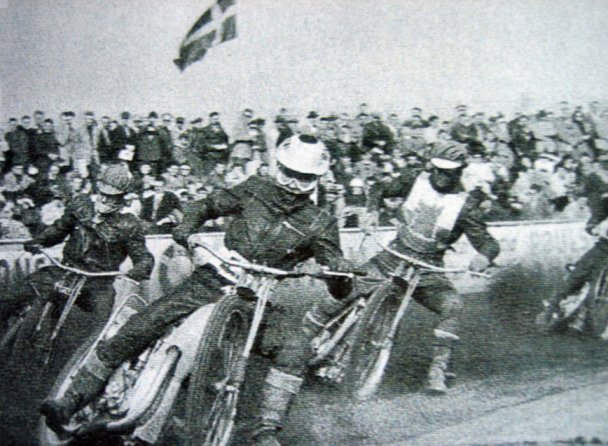 From Sleskov Speedway Arena, Danmark 1956. Aage Hansen leader (and win) before Joel Jansson Sweden,
Simo Yllinen Finland and Erik Vinsent Denmark

John says: My thanks for the above pics and text from Norwegian Geir Øverby
---
National League Select Side v The "Aussies"

1989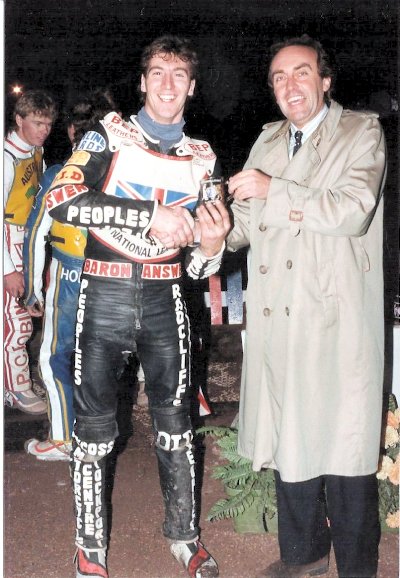 Steve Baker says: Kenny McKinna riding for the British National League Select side against the Aussies 1989. Mick Poole and Craig Hodgson are in the background
John says: Steve's ability of naming riders and officials is second to none, he should go on Mastermind with his specialist subject speedway 1980's onwards . In the above photo he has been able to name the background Aussie rider Craig Hodgson from the "Ho" on his leathers, which is all he had to go on! You are my websites greatest asset Steve, keep it going mate, you have qualified for a special bonus prize of nothing Ha! sorry I have no cash for prizes.
---
Jack Winstanley's Steel Shoe & Helmet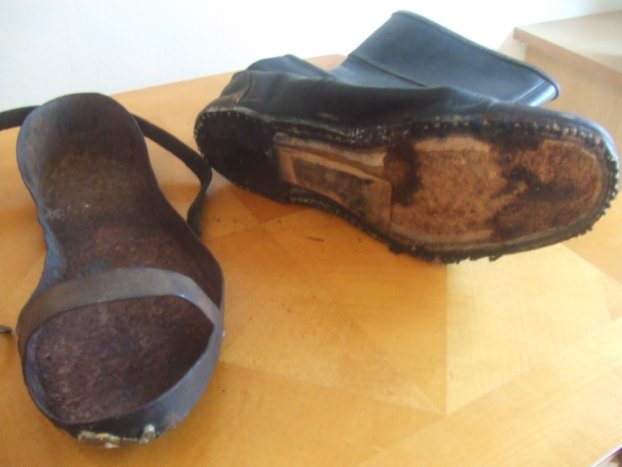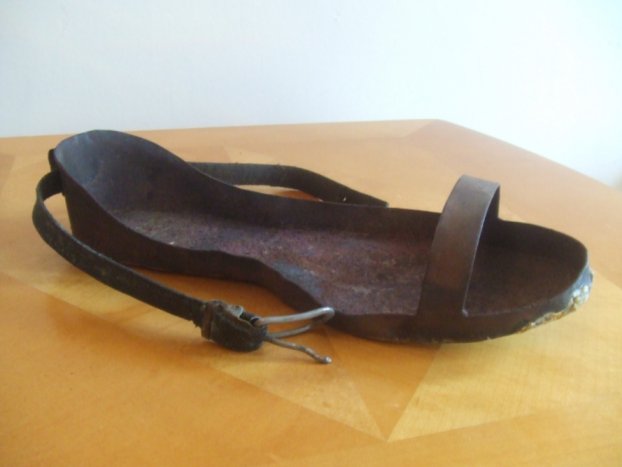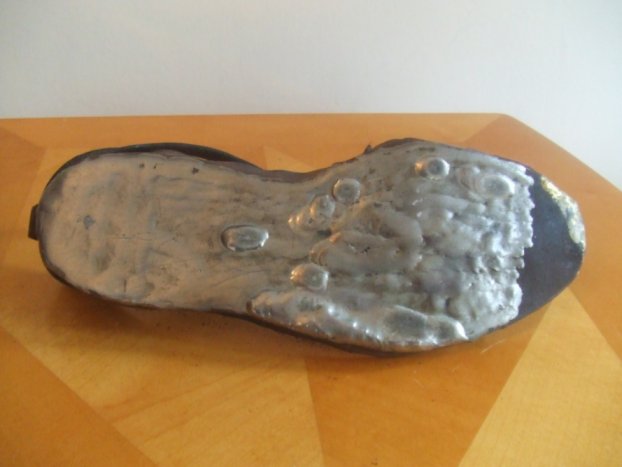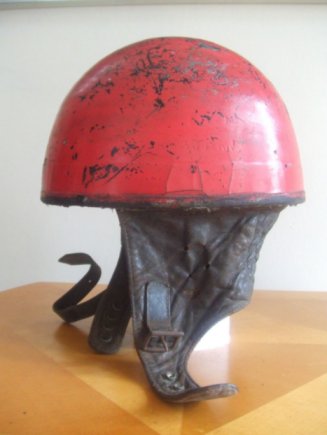 Photographs of Jack Winstanley's steel shoe and helmet were supplied by Jack's son George Winstanley.
George says: the helmet is my dads from his early career I think its the one he used (looking at the pics) from Long Eaton '51. inside the makers name is Compton Sons & Webb ltd, London. I believe they made helmets for the military in WW2 The steel shoe is the last one he used until he retired, late 60,s. It may have been the one he used at Newcastle !? . He used to make his own steel shoes. (notice the sole & heel removed, so it was a better fit).
---
New Zealand Postage Stamps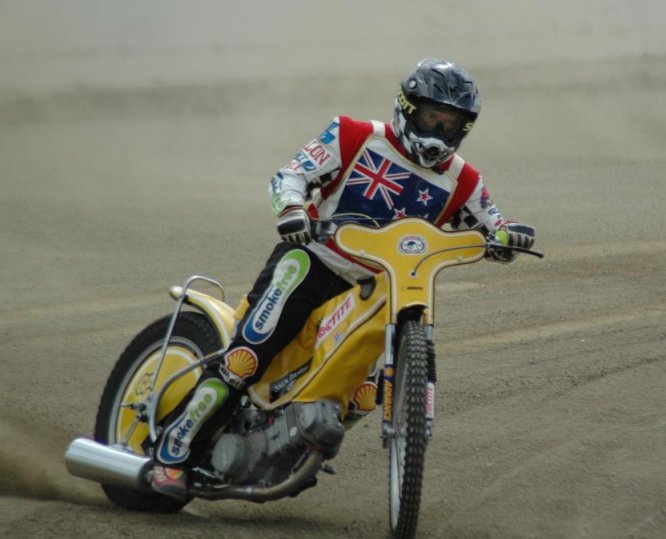 Courtesy of Dave Gifford
2009: The above picture of Ivan Mauger appears on the $1.50 New Zealand postage stamp. The full set is shown below: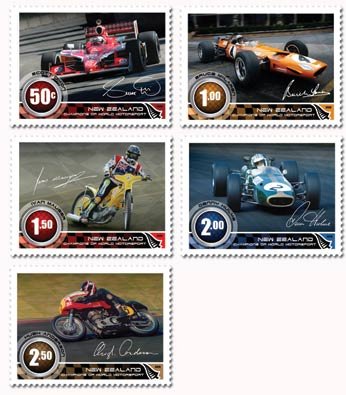 ---
Ivan Mauger
At Redcliffe Longtrack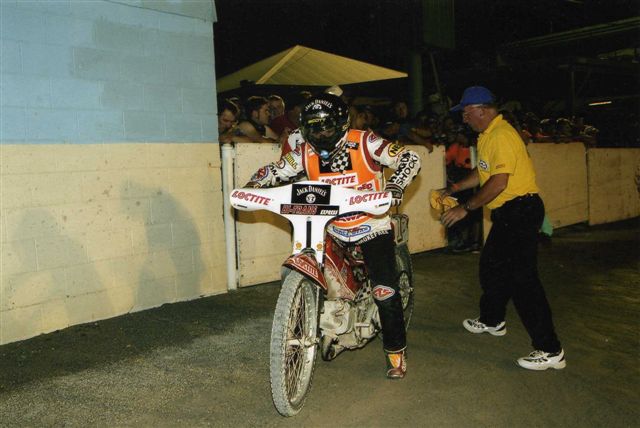 Courtesy John Abel
John Abel helping Ivan Mauger at Redcliffe Longtrack, Brisbane Australia, during the match races with Phil Crump. 2002 -2003?
---
"Nederland v Engeland"At Amsterdam 1954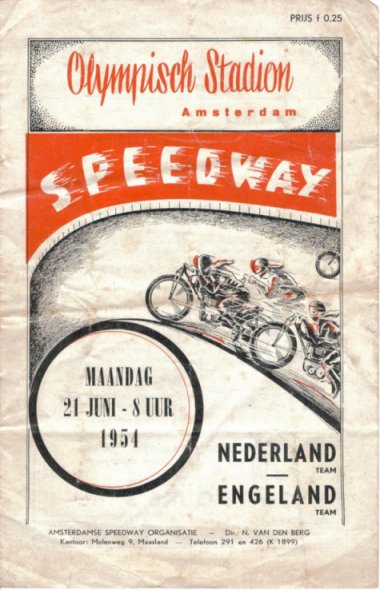 Courtesy of George Winstanley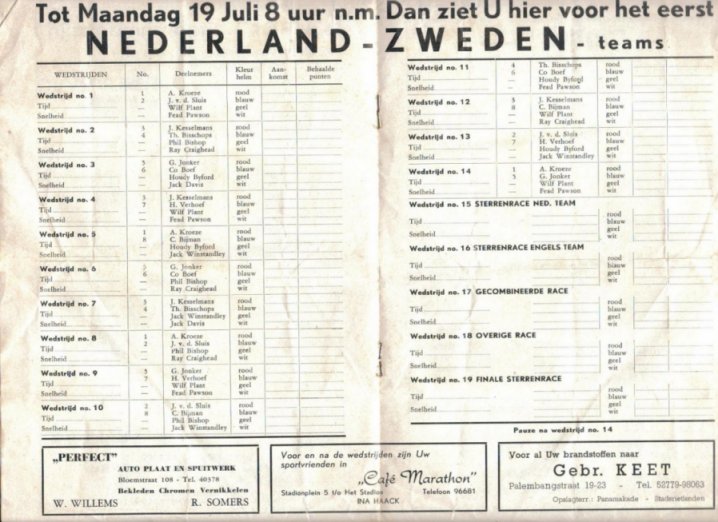 Courtesy of George Winstanley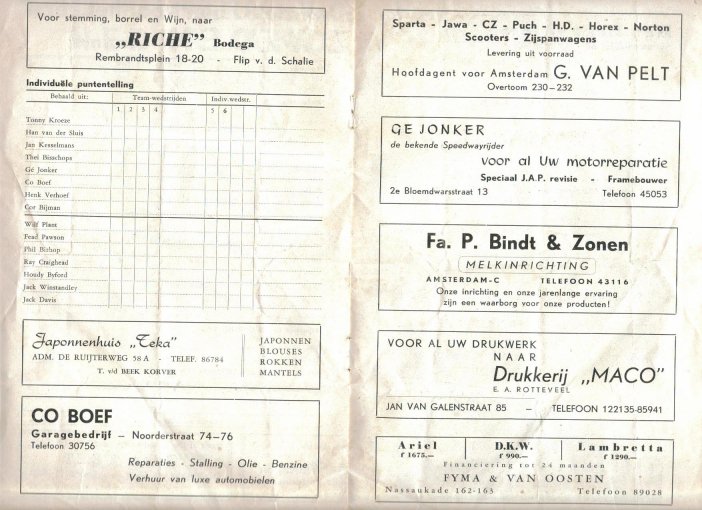 Courtesy of George Winstanley
The Dutch programme with 3 of our riders names misspelled. If anyone has a completed programme please send it to me
---
Mike Parker's
"International Speedway"
1966
Newcastle Diamonds promoter, Mike Parker took a party, mainly of his Newcastle riders and machines to Italy in 1966.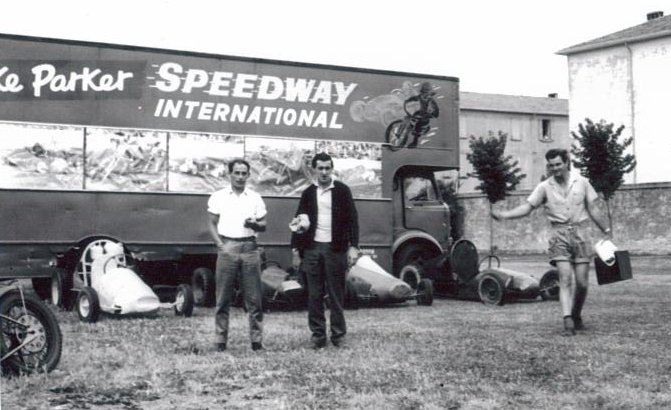 Courtesy of George Winstanley
John says: The "Mike Parker Speedway International" tour truck which appears to be a 1950's removal van. No idea who these 3 are? Either speedway guys or midget car men.
Brenda Robinson says: Left - Milton Caisley, Middle could be Graham Beattie (we think !) and on the right - Alan Paynter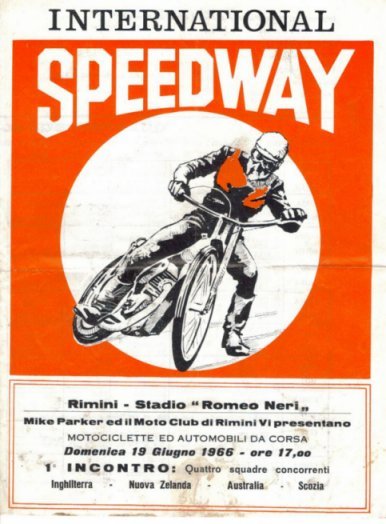 The Italian programme cover from Mike Parkers trip to Rimini 1966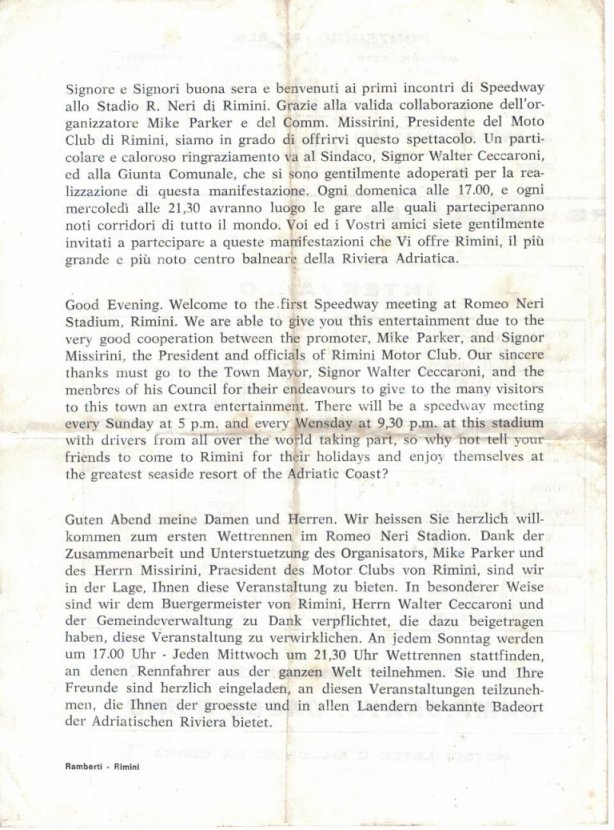 The programme was translated into Italian, English and German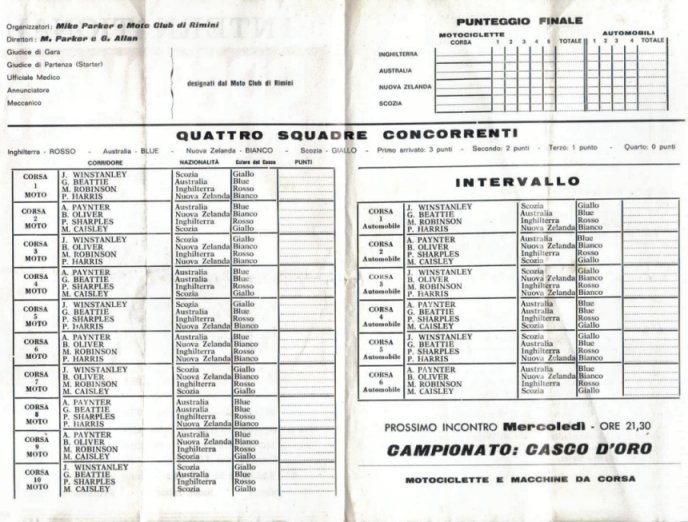 The inside of the programme showing Mike Parker's English riders: Jack Winstanley (Newcastle), Graham Beattie, Maury Robinson (Newcastle), P Harris, Alan Paynter, B Oliver, P Sharples, Milton Caisley (Newcastle).
I think all of these riders had a Newcastle connection. Mike Parker must has taken his lesser light Newcastle Diamonds riders to Italy with 1966 Jack Winstanley as the star.
Hi ! This is Brenda Robinson (Maury's wife) trying to help with the riders in the Rimini pictures on your site: The people mentioned in the programme were not the only ones on that venture - Goog Allan and his Wife Ursula were also there - and so was I ! I was given a free trip in order to help . Maury & I had to take 2 riders with us in our own car - so I was given the "free seat ! Some of us stayed in a B & B & I helped to do some of the publicity & did the lads washing (in a "dolly tub" outside our B & B !!) Alan Paynter took ill & had to have his appendix removed and I had to help the nuns in the hospital to look after him !. It was extremely hard work for all the lads as they had to prepare, grade, water the track - in the heat during the day and distribute publicity leaflets in the evenings. During the meetings they had to be pushers, track marshals, starters etc as well as grading the track and they all had to ride as well as drive the midget cars !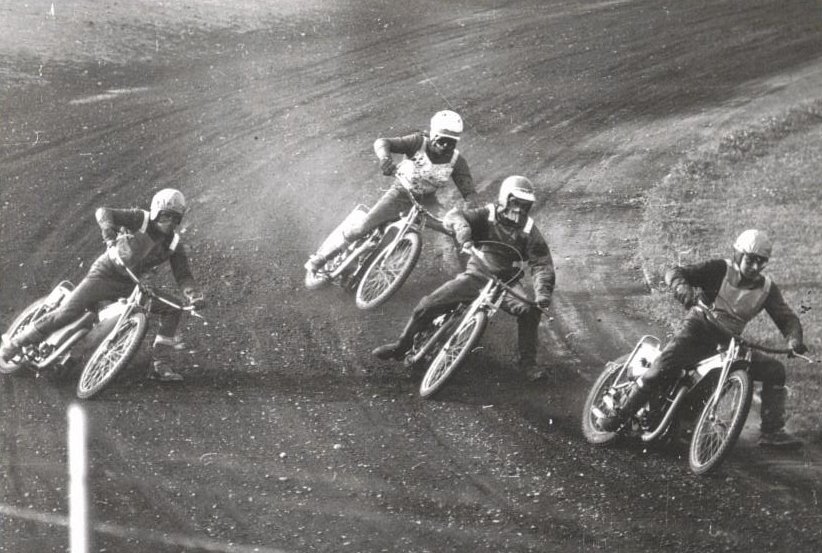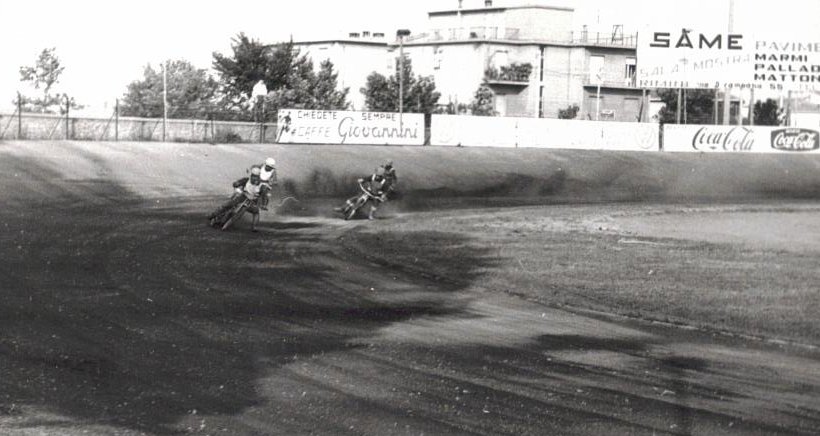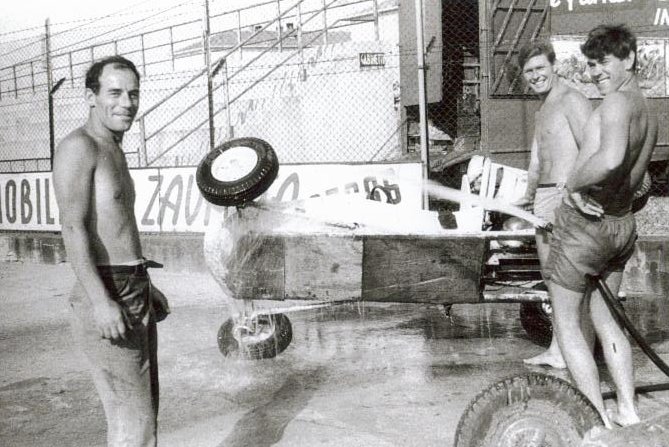 3 of our lads larking about in the Italian sunshine, Maybe all 3 were midget car men and not speedway riders. If you know who they are please email
John
Brenda Robinson says: The 3 riders hosing down the midget car are : Left - Milton Caisley, with the hose - Paul Sharples and Rt. could be P.Harris ?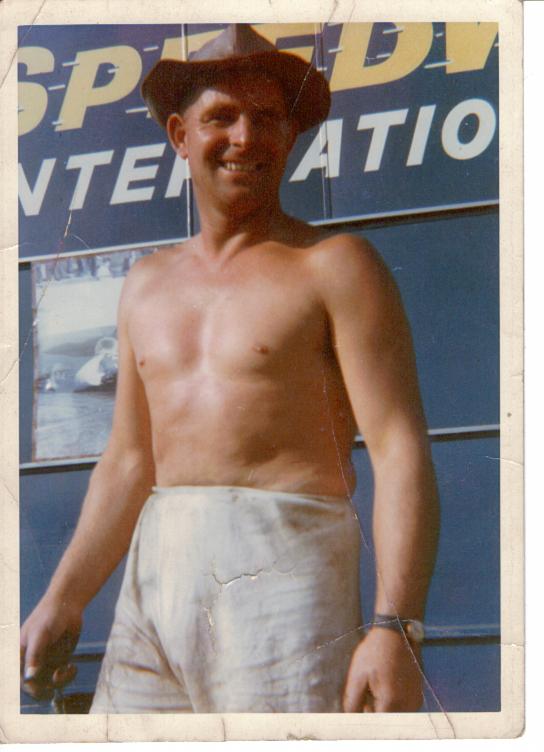 Jack Winstanley enjoying the Rimini sunshine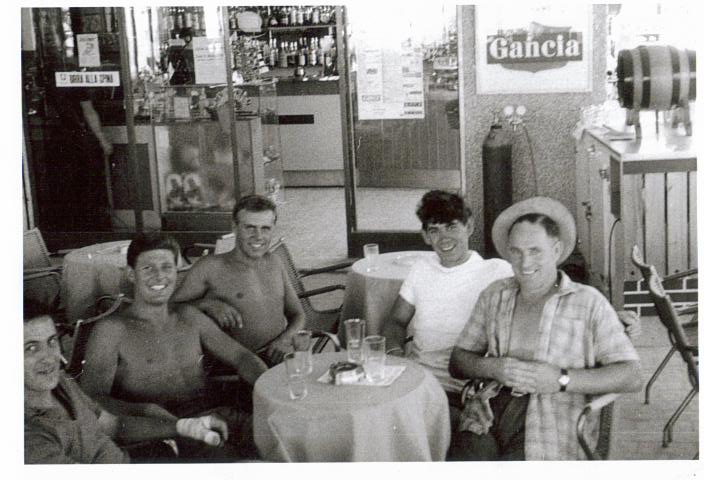 Jack Winstanley right wearing hat. The rest may be Newcastle riders in Rimini
Brenda Robinson says: In the cafe pic - With Jack Winstanley -next to Jack is Paul Sharples, middle Mick Hanley, next to him (possibly P. Harris ?) left of pic - sorry don't know.
Reg Fearman says: The cafe photo with Jack W. wearing the hat. On the extreme left almost hidden is Graham Beattie. I am unable to help with the others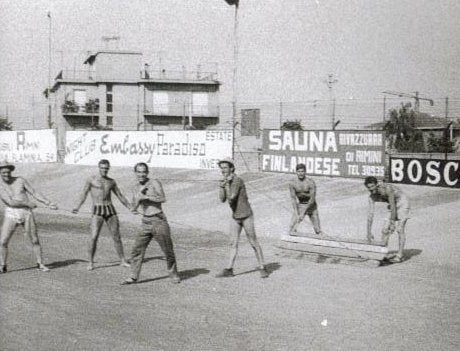 Use a tractor! seems like hard work in the Italian heat. Jack Winstanley on the left.
Brenda Robinson says: The picture. where they are grading the track - far Rt. is Maury Robinson, next to him (? P.Harris) Middle - sorry don't know - 3rd from left is Milton Caisley , 2nd left is Mick Hanley and Jack Winstanley on left (in hat).
Speedway Action At Rimini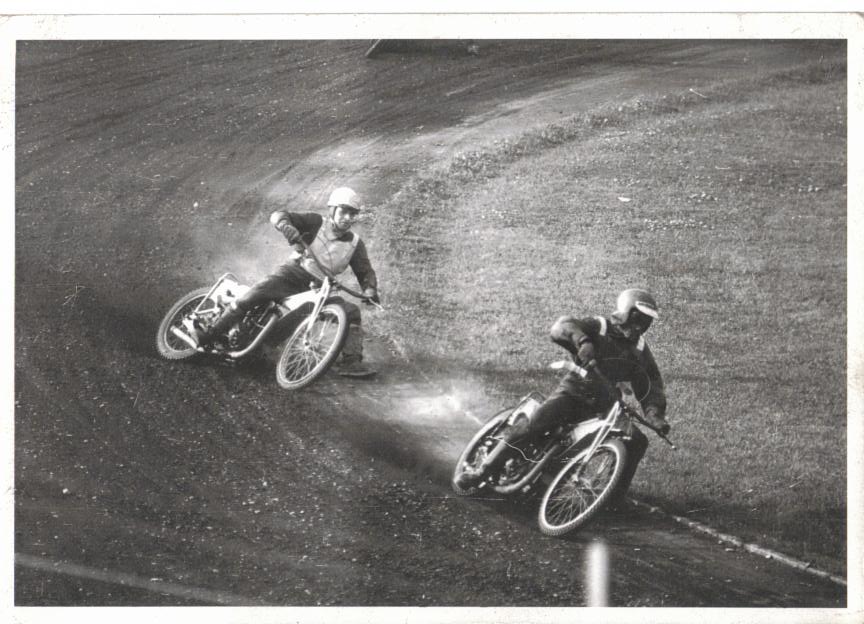 Rimini 1966
John says: The trip looked a bit like a circus or maybe an episode from Auf Weidersen Pet, with boss Mike Parker conspicuous by his absence when the lads were working hard on the track etc. Jack Winstanley had a reputation for getting stuck in to everything he was involved in, he wasn't afraid of hard work.
I wonder what impact the Parker visit to Rimini had on the locals? Did they flock in their thousands to watch the racing?
---
Sweden's
Olle Nygren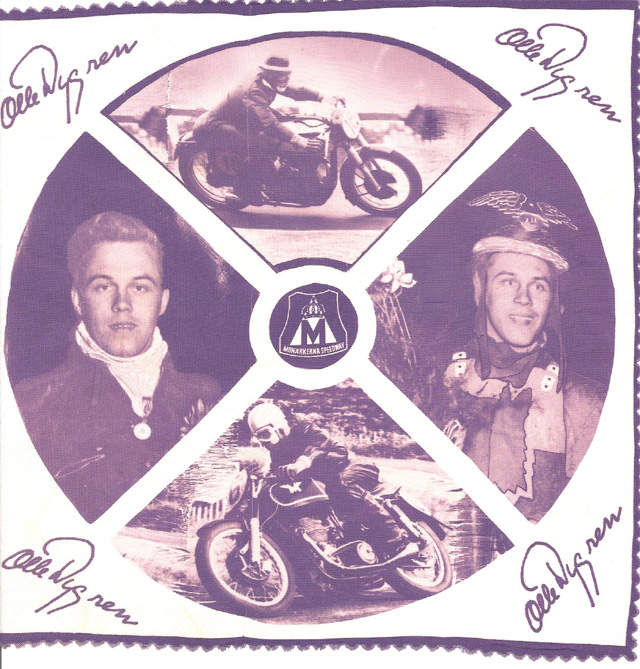 Courtesy of Thomas Sagergrim
Harald-Olof Ingemar (Olle) Nygren (born 11 November 1929 in Stockholm, Sweden) The above picture shows two road bikes was that Olle too?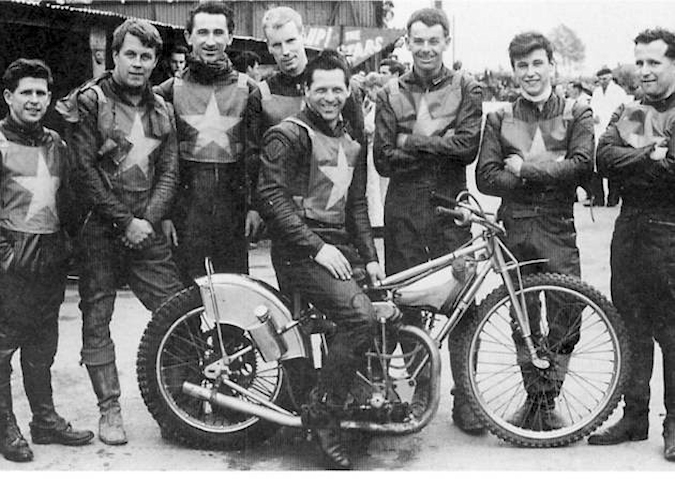 Olle Nygren second from left with the 1960s Norwich team
---
Ken Le Breton
The White Ghost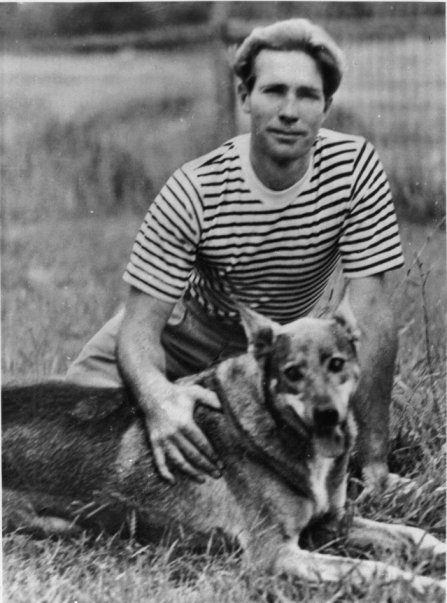 Courtesy of Reg Fearman
Ken Le Breton at home in Sydney, Australia. Ken was fatally injured in an Australian track crash in 1951. Older fans in Newcastle and Glasgow remember the White Ghost.
---
Miny (Minard) Waln
An American Great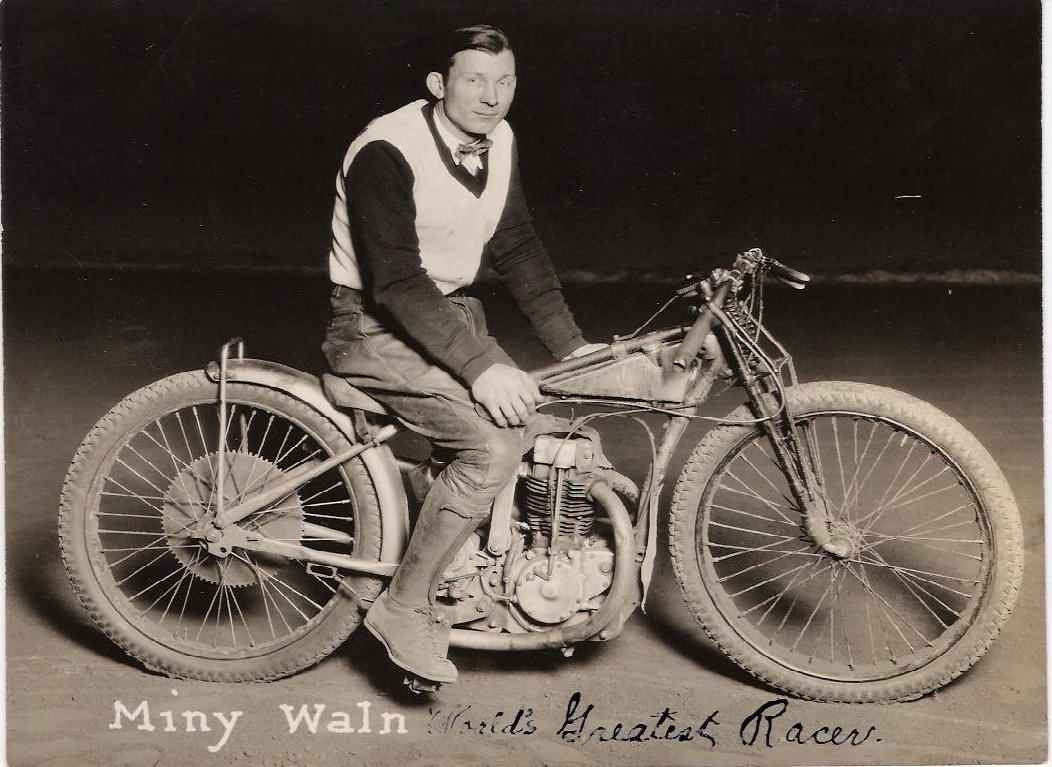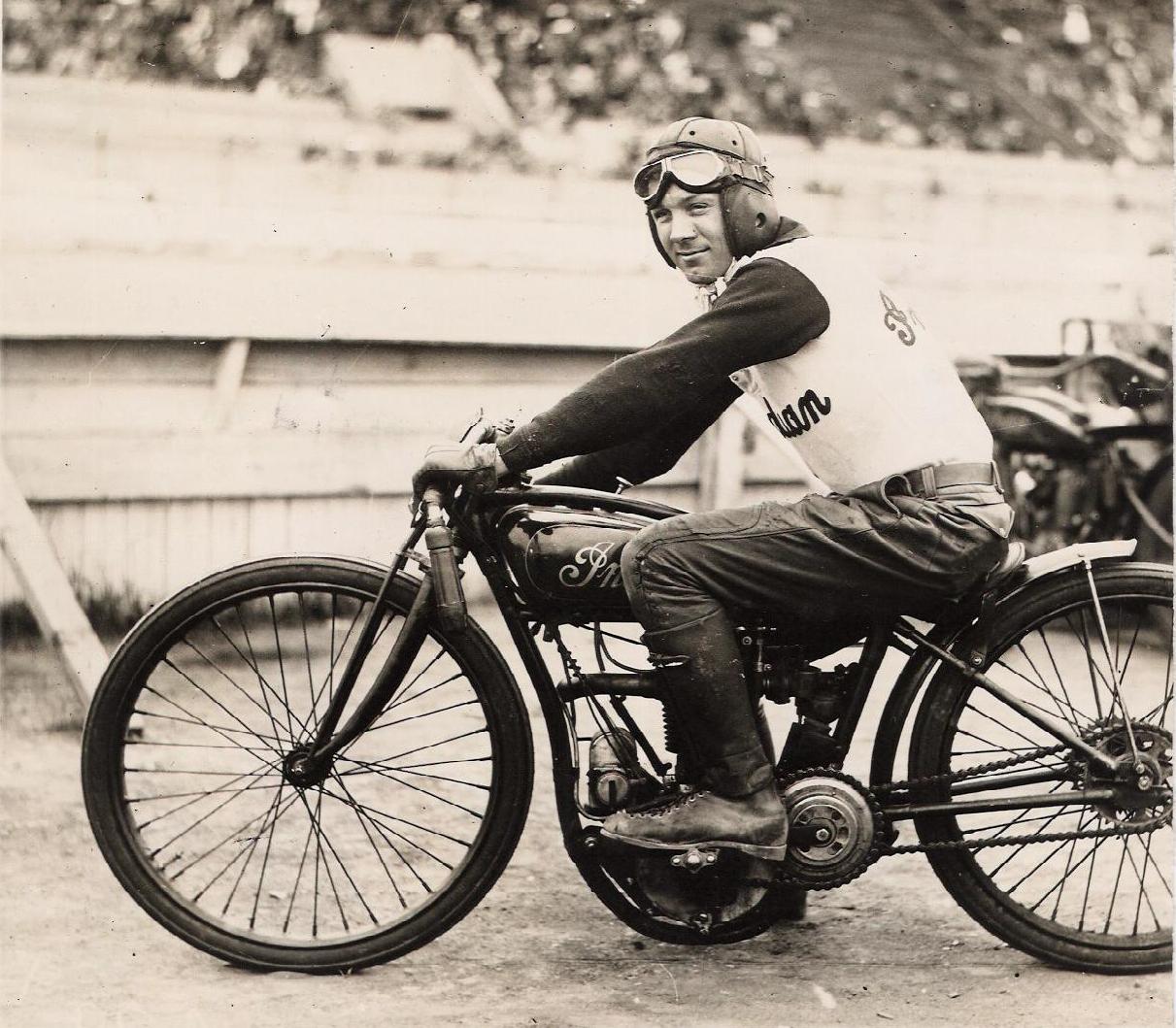 Tribute to an USA great, by Bob Fricker
Minard H. Waln, aka Miny Waln was known the length and breadth of the short track racing world as the "Mighty Mite," was born in Cedar Rapids , Iowa November 20, 1901. Miny spent most of his school and boyhood days on his
family country estate, taking long courses in the art of hunting, fishing, hiking and the like. After finishing school, Waln began travelling and visited Richmond, Virginia during the first world war.
His racing career began in 1918 at the age of 16 and in his first

year racing he took the Iowa State Championship.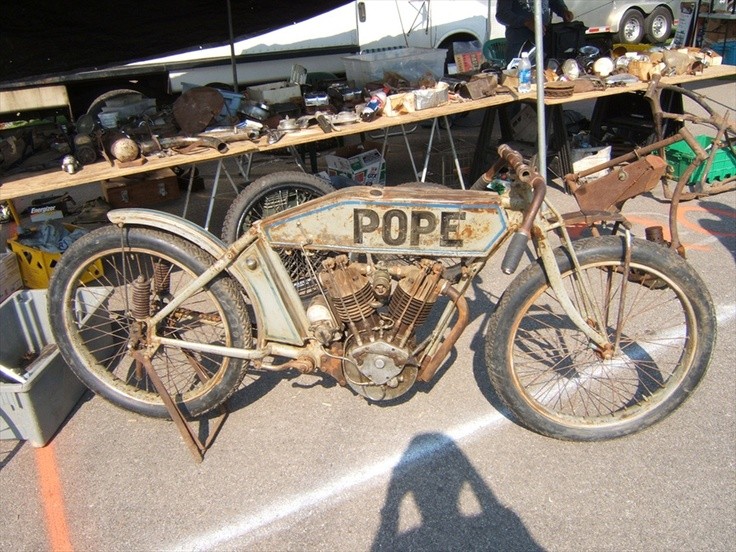 "I rode a Pope at Cedar Rapids my first race" Miny said. John says: Pope motorcycles were around in the early part of the 20th century. This old v twin looks like a dirt bike, maybe Miny rode one like it?
Miny says: "The favorite was a scrappy guy named Peanuts Spurgeon, of Marion , Iowa . He was taking bets he
would lap me. I chased him down to the finish line and almost nosed him out."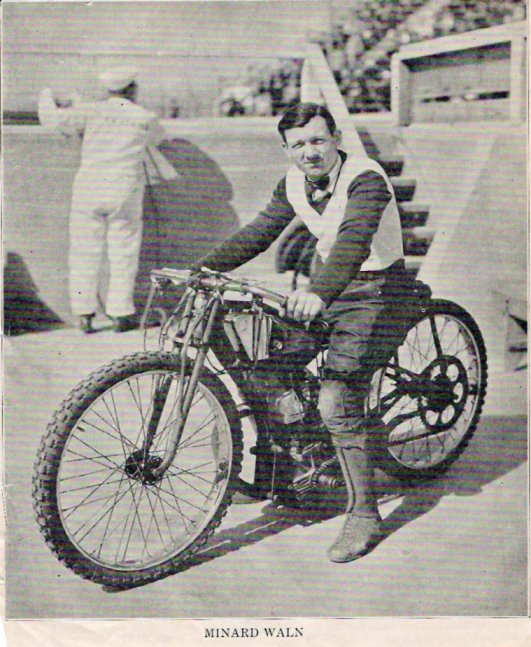 After winning in the American East, he came to Los Angeles , California in 1924 and raced on the 5/8 mile Ascot track along with other venues at The Beverly Hills 1¼ mile *board track, Long Beach, Emeryville, San Diego and numerous other tracks. He rode primarily Indian, JAP, Douglas, Crocker and even threw his leg over a Harley-Davidson Motorcycle during his brilliant racing career.
*John says: Board Tracks were an American phenomenon. Large oval tracks made of wooden boards with steep banking. Board track bikes were more or less the same bikes used in dirt track racing.
The biggest crowd Miny ever appeared before was at Syracuse , New York where 90,000 fans saw him take the
nationals in 1930. Syracuse was then the Indianapolis for bike racing. The major factory teams were there, men like Jim Davis, Joe Petrali, Freddie Ludlow and Andy Hader. Miny had won there in 1929 also, but in front of a smaller than the 90,000 1930 crowd.
In 1931 at the Breakfast Club, was the night when short track racing started in Southern California. Miny, with his experience, was a natural winner over the kids at the new sport. Only Sprouts Elder stood in his way. They ran nip and tuck as top scratch riders for a while, and then Miny took the lead. Sprouts retired and for a couple of years Miny ruled the roost. When the Breakfast Club shut down, Waln retraced his steps to Richmond.Virginia. There he won two national
championships at the Richmond Decoration Day race meet and returned to California shortly thereafter, where he continued to thrill speedway fans.
Waln, was the first USA rider to introduce the British Comerford JAP machine into the United States, he held records at
practically all tracks of the western circuit. Some of the records were Oakland , California 4-lap handicap record,
Fresno , California. 4-lap scratch, Gilmore Stadium, 4-lap handicap, Atlantic Stadium 2-lap, San Diego, California.
1-lap title and Bakersfield Ca., he held the 5 mile record on the big track.
In all Miny held 15 national title medals and was a 3 time USA National Champion from 1930-1932. He retired
from racing speedway in 1938 aged 37.
The late 30's brought Miny onto a different form of racing. He built midget cars and stacked up prize money with Louie Foy behind the wheel of the Dale Drake Special.
He went to work for Lockheed in 1938 where he was in charge of a hydraulic crew for years and then went on to be a supervisor on final assembly and finally a test mechanic.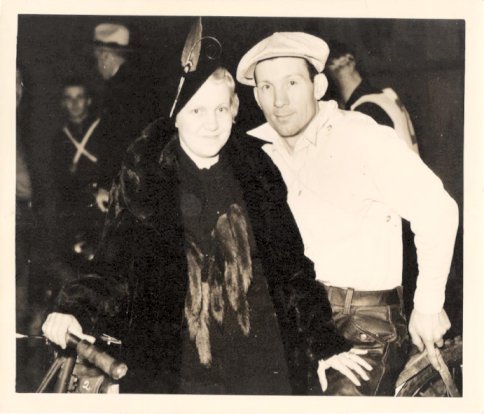 Through out his career his pretty wife Gwynie was ever present at the races. She was immensely popular with the
motorcycle fraternity. The great tragedy of Miny's life was when Gwynie succumbed to a brain tumor in 1963. They had traveled the country and had been inseparable for 37 years.
Joe Walker, of Santa Ana , former Sprouts Elder Mechanic, who watched Waln race for years, observed,

"

Miny was one of the all-time greats. He was such a mild mannered, soft-spoken gentleman, nobody would suspect he was such a tiger in action and tough enough to take such a battering over two decades and quit in one piece."
Miny purchased some land in a small town about 100 miles east of Los Angeles, known as Hemet, California. There he owned property that consisted mainly of apricot orchards. He raised his two daughters and retired, being close to them and his grandchildren. Miny would frequent the local tracks at the time and shared in many reunions, seeing his old friends and fellow racers at tracks that continued to prosper such as Costa Mesa Speedway. Miny passed away in 1991, but I am sure he is riding faster than he ever dreamed. A true legend in his time, he was always looking for a way to do whatever he could to outrun the competition. Godspeed Miny!
Miny Waln
Racing Stateside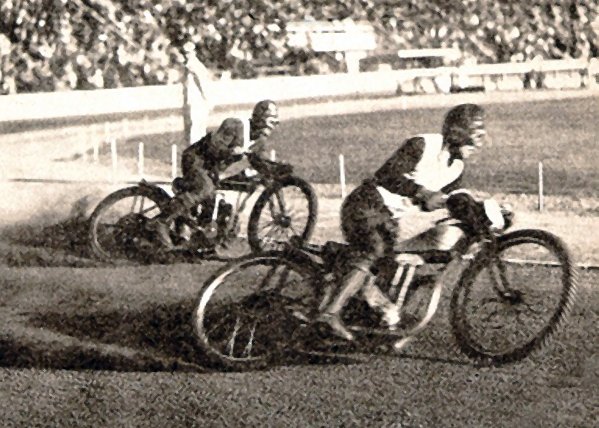 John says: I had this photo on one of my Name The Rider pages for quite a while. This sender of this scan has had the photo for years despite not knowing who the riders are, the track or the year. I would guess it is 1931-1933 and possibly foreign? Please email if you can help John
American Bob Fricker says:

John, would you think foreign as in the USA ? I would almost guess that it appears to be my grandfather Miny Waln by his riding style and the bike (the rider in front). I just posted some pictures from his scrapbook and a few other items on the Jockey Journal website and here is the link. Jockey Journal I have one of his old helmets and an engine from way back. Let me know what you think. Thanks Bob Fricker
---
More American Riders 1934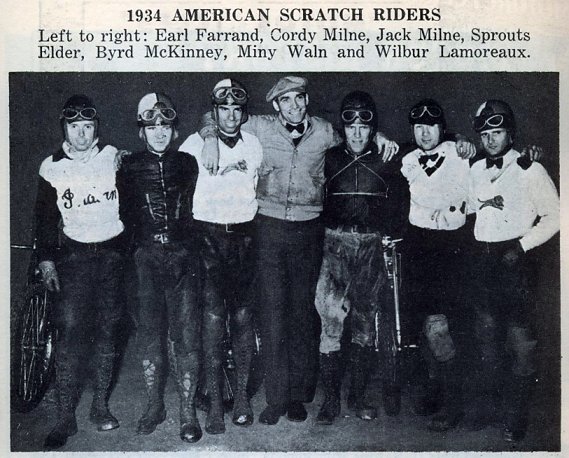 Courtesy of the book: Speedway Motorcycle Racing or Thrilling The Million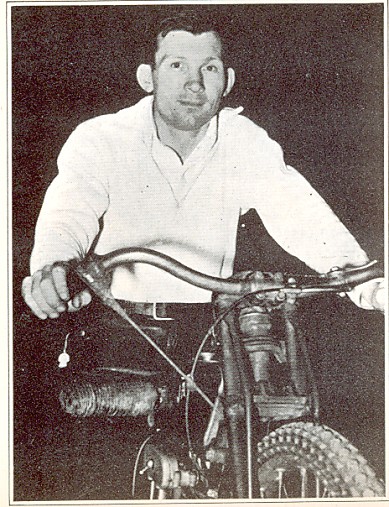 John says: I am always looking for pictures and stories of the early pioneers in the USA or Australia so if you have items please email me John
---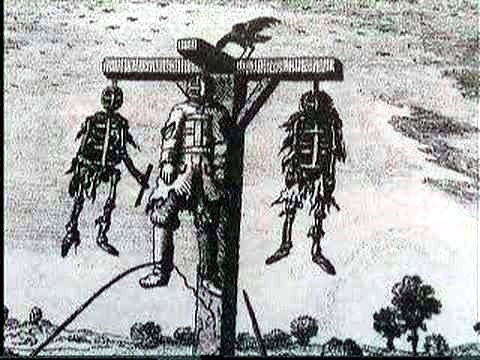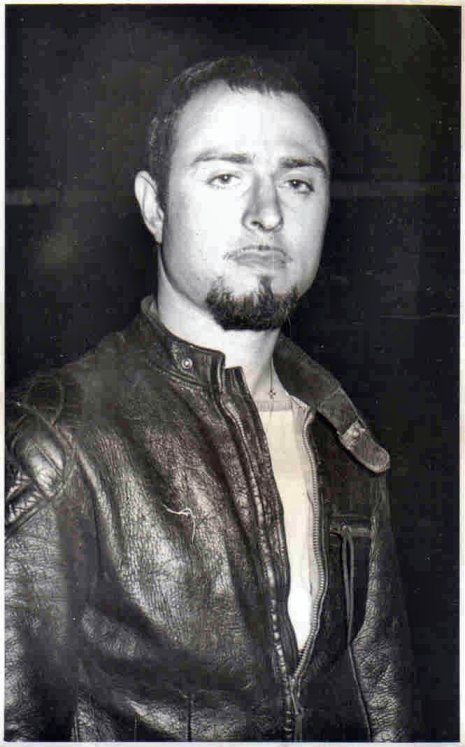 Londoner Raymond Sidney Humphrey aka Tyburn Gallows was born 7th September 1934 and died 1994. Ray changed his name to Tyburn Gallows to catch the promoters attention. It was rumored he was an assistant hangman turned speedway rider. Well changing his name did the trick of getting him noticed as here I am writing this piece about him fifty years on.
Tyburn's talent was obviously in self promotion as he struggled as a rider and never made the grade despite his willingness to travel the country for rides and a team place. It was never on the cards for a world class rider bearing the hangman's name!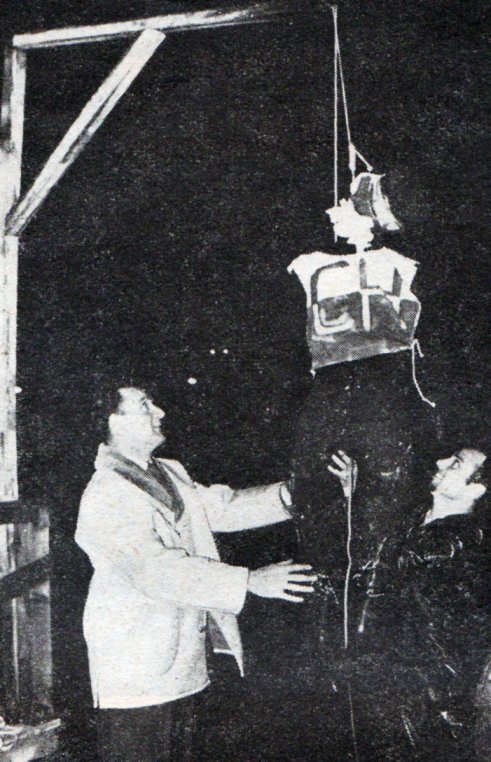 Stoke's Tyburn Gallows hanging an effigy of the rival Cradley team assisted by Reg "hang 'em high" Fearman in 1961
---
Geoff Pymar's Secret Weapon, Ovaltine!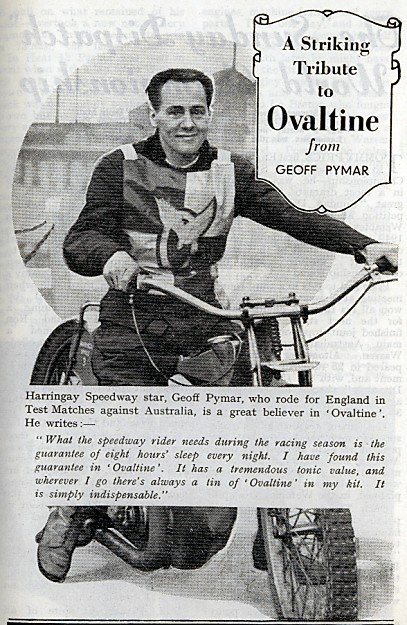 Courtesy of Colin Greenwell
John says: Geoff Pymar had an incredibly long speedway career. Maybe that was thanks to his wonder drug, Ovaltine! I am going out now to buy a tin.
---
Jack Young Advertising Cigs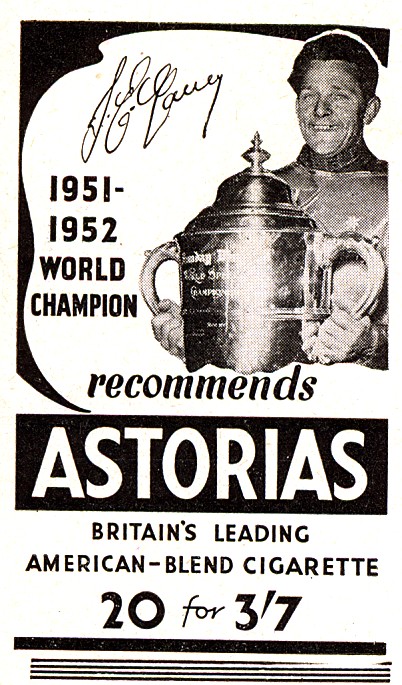 Courtesy Colin Greenwell
---
Some Foreign Stadia
Brisbane Exhibition Ground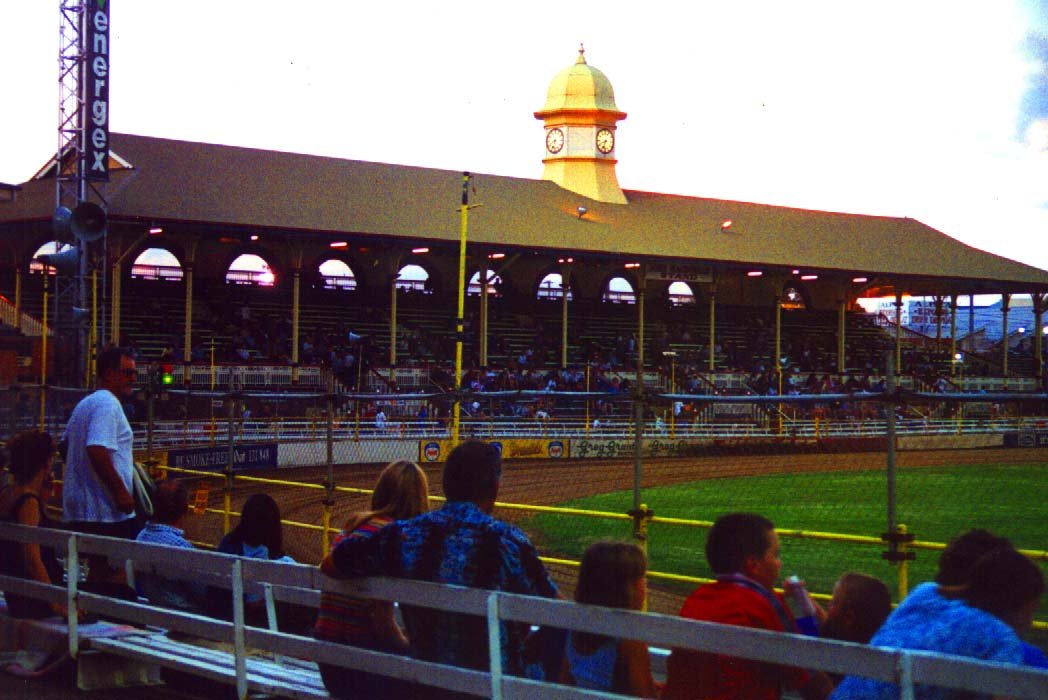 Courtesy of Reg Fearman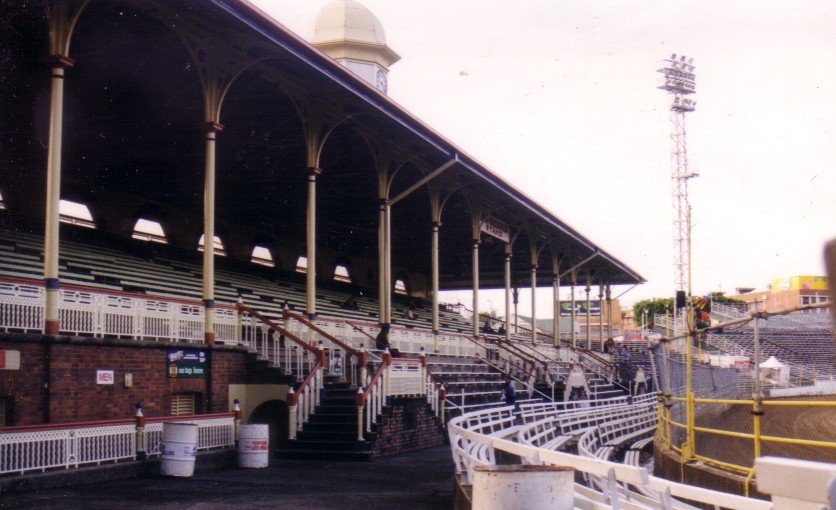 Courtesy of Reg Fearman
Always of interest. Stadiums in other countries. Send me your pics please John
---
Amsterdam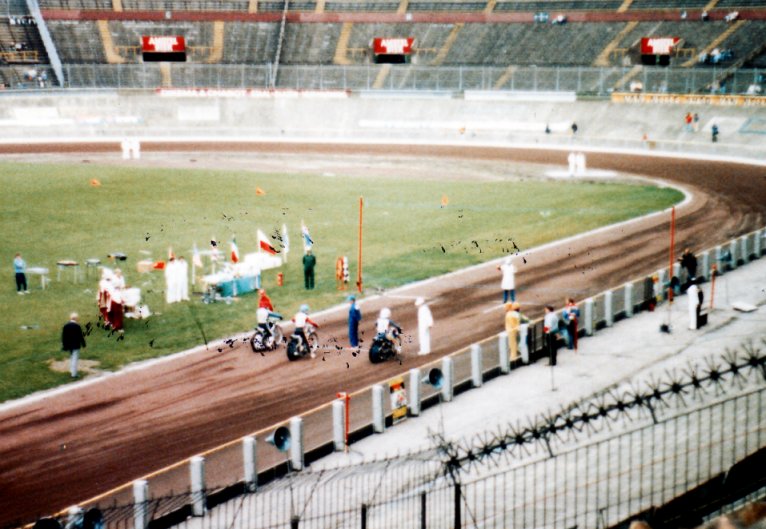 Courtesy Phil Small
---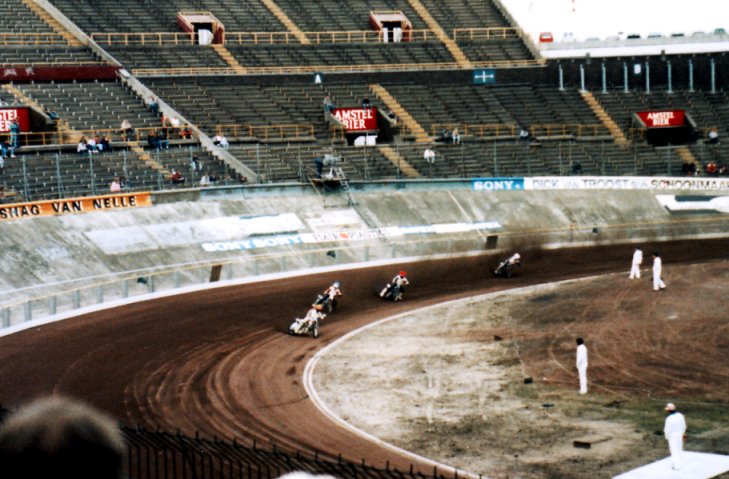 Courtesy Phil Small
---
Waikaraka Park
New Zealand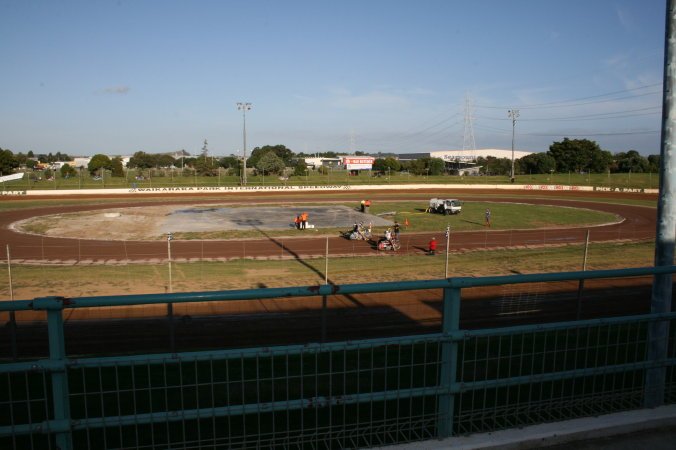 Courtesy of Bob Andrews via Reg Fearman
---
Sydney
Reg Fearman says: SYDNEY AUSTRALIA. The following three photos are of the Grand Prix Stadium I do believe it was called Stadium Australia then, ( they changed the name later ). I was there and took the photos !! Sitting in the Grandstand looking left at the pit bend, the centre and then the first bend. So far it is the only Grand Prix Round staged in Australia of the current promotion. It took place on the 26th October 2002.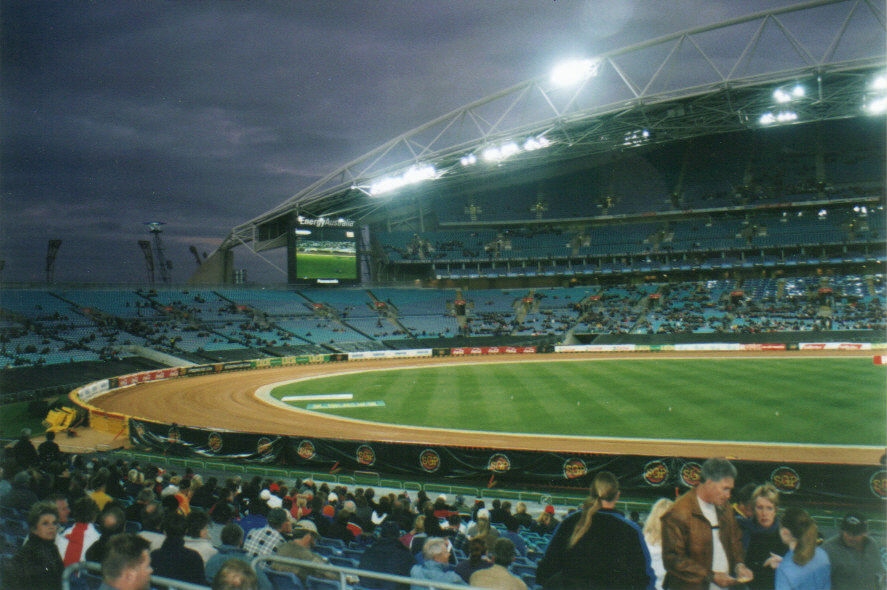 Photo courtesy of Reg Fearman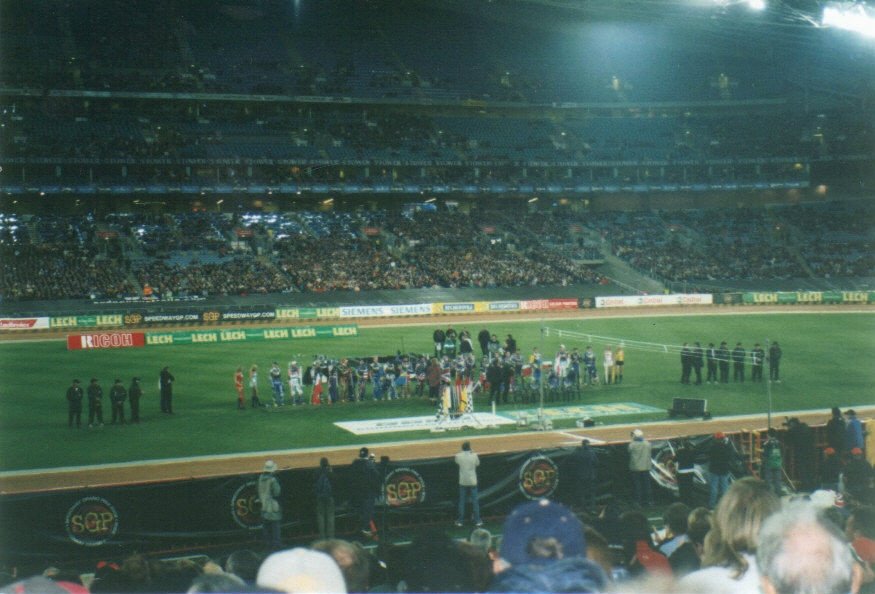 Photo courtesy of Reg Fearman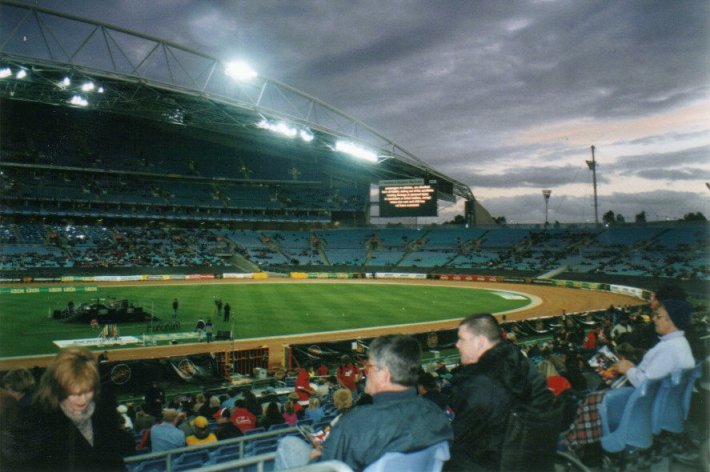 Photo courtesy of Reg Fearman
Sydney October 2002
---
The contents of the site are © and should not be reproduced elsewhere for financial gain. The contributors to this site gave the pictures and information on that understanding. If anyone has any issue or objections to any items on the site please
e-mail
and I will amend or remove the item. Where possible credit has been given to the owner of each item.