---
Norman Jacobs

Page 1
I suppose it could be said that my interest in speedway began the day I was born as I was named after a speedway rider, Norman Parker, then captain of Wimbledon.
My family had been keen speedway supporters since before the War, in particular my uncles Albert and Joe, my father's brothers. Sadly, Uncle Albert died a few years ago, but, at the tender age of 94, my Uncle Joe is still a regular at Lakeside and Kent Kings. Together with a friend of theirs, Joly Parker, they visited most of the London tracks, some weeks managing to fit in a visit every night - Wimbledon on Monday; West Ham, Tuesday, New Cross, Wednesday: Wembley, Thursday; Hackney, Friday and Harringay on Saturday. Those were the days in the capital!
As far as I know my own father didn't go to speedway before the War, but in the late 1940s he, along with my elder brother, John, were regular visitors to Harringay Although they went to Harringay every week, for some reason my brother supported Belle Vue and it was because of this that I got my name, Norman. John's favourite rider was the Belle Vue captain, Jack Parker. Norman was, of course, his brother, so John felt that if it was good enough for his hero to have a brother called Norman he should have one too. So, when I was born, he persuaded my Mum and Dad to do just that.
My earliest memory of speedway is seeing the World Championship Final on television some time in what must have been the early 50s at my grandparents' house and how everyone laughed at the way the commentator pronounced Ronnie Moore's name as Moo-er.
I also knew the names of a number of the leading speedway riders through conversations in the house between my father and brother and I would pretend to be one of them when out on my bike, cycling round our local park, in particular Split Waterman and Aub Lawson, as they sounded very romantic to me.
Sadly, by the time I was deemed old enough to go to speedway, all the London tracks bar Wimbledon had closed down and that was a bit too far away from our Hackney home, so I didn't actually get to see my first meeting until 11 May 1960. The year before, 1959, Johnnie Hoskins had revived New Cross and had put on a series of open meetings. In 1960, New Cross resumed its place in the old National League. On his way home from work every evening, Dad used to buy a copy of the Evening News. On Mondays and Wednesdays they would print details of that evening's meetings at Wimbledon and New Cross, including a complete heat by heat programme
And so it was, that on 11 May 1960, I read about that night's meeting at New Cross, a Britannia Shield match against Norwich. I asked my dad if we could go and, to my great surprise, he said yes.

When we arrived at the track we bought a programme where I saw, to my utter amazement, the first heat brought together my two boyhood heroes, Split Waterman and Aub Lawson.
Right from the start I was enthralled by this sport and we became regulars at New Cross until it closed at the end of the 1961 season. In 1962 we managed to get to a few meetings at Rye House, then in 1963, New Cross re-opened as did Hackney, which was great for me, as the track was only a 15 minute walk from my home. Sadly New Cross folded permanently in 1963, but the following year, West Ham opened and I became a two tracks a week man, visiting Hackney and West Ham regularly. I also started to make the longer trek to Wimbledon when there was anything good on there, so many weeks I went to speedway three times.
I continued going as often as I could and in 1999 I managed to persuade The History Press to publish a book on speedway – Speedway in East Anglia - which is another story in itself that I'll recount separately.
Although I can't get along as regularly these days, my love affair with speedway has continued now for over 50 years as there is no doubt it is the greatest sport in the world.
---
Archie Windmill's Finest Moment
By Norman Jacobs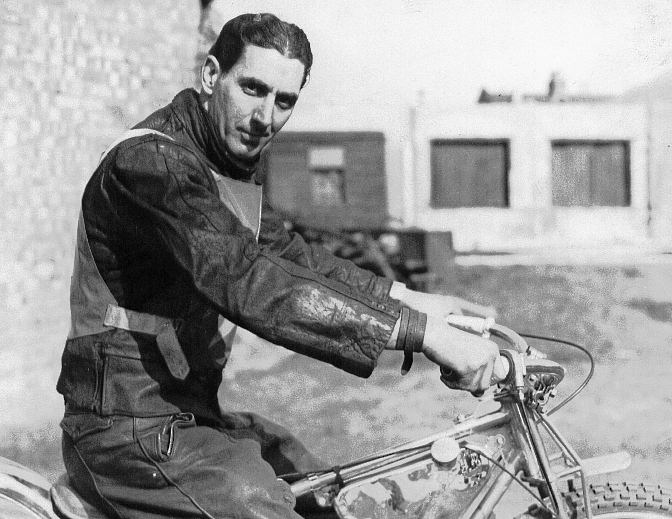 Never one of the top stars, Archie Windmill was always a never give up trier, who helped form the backbone of the Wimbledon team in the late 40s Norman Parker era. He was also one of the tallest riders ever to appear in British speedway and was referred to by speedway journalist, Basil Storey, as the 'long-legged, poker-faced, imperturbable Windmill'.
Archie's greatest moment probably came in the National League match between Wembley and Wimbledon held on 8 May 1947. He was already having a good night, having beaten the Wembley captain, Bill Kitchen, in heat 4 and coming in second behind his partner, Norman Parker, in Heat 9. In spite of Archie's sterling efforts however, the Dons were eight points down after heat 11 with just three heats to go. Archie was due out in two of those heats, 12 and 13, and despite Basil Storey's description of him, Archie said later that he was feeling very perturbed at this point. Out he came in heat 12, once again partnering Parker and once again amazingly recording a 5-1, thus reducing the deficit to four points.
With just a short break he was out again in the next heat, this time up against the great Split Waterman, but with Lloyd Goffe as his partner. Goffe had injured his wrist earlier in the meeting and was not 100% fit. Nevertheless, Archie saw him round to yet another 5-1, drawing level with Wembley. With 11 paid 12 points, Archie had scored an amazing maximum against the team that completely dominated British speedway in the late 40s. Not only that but he had done it in the heart of the Lions' den, the Empire Stadium itself.
With the scores now at 39-39 there was one more heat to come. This saw Wembley's Bob Wells and Bronco Dixon up against the Dons' Cyril Brine and Dick Harris. With Archie cheering his team mates on from the pit rails, this last heat turned out to be rather eventful as Wells fell at the first bend, and then, in his excitement, Harris crossed the white line and was disqualified. This left just Dixon and Brine to battle it out. Brine was in the lead but Dixon was snapping away at his rear tyre the whole way. On the last bend Dixon swept round the outside but Brine just managed to hold him off for the 3 points and a single point victory for the Dons over the mighty Lions.
Although there was no doubt it was a team effort, it was Archie who had won the two vital heats to ensure victory. Eight points behind after heat 11, Archie's two wins provided the chance Cyril Brine took with both hands.
Archie said afterwards that that meeting provided his greatest thrill in speedway
Another Photo of Archie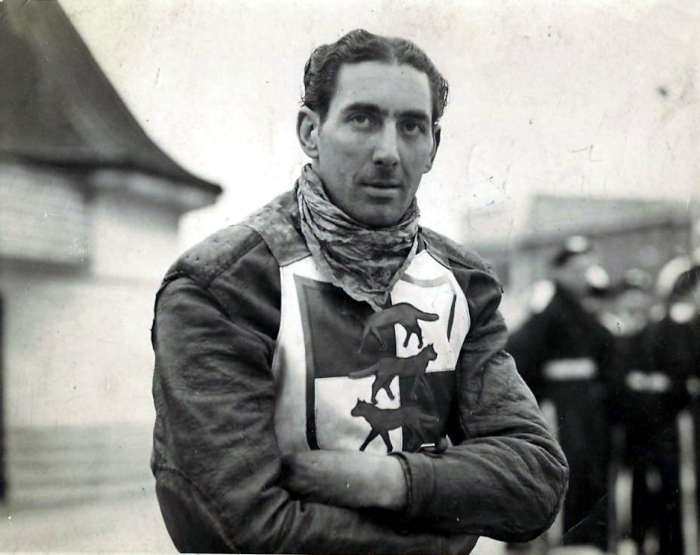 Archie Windmill in Walthamstow Wolves colours - Photo Courtesy of J Spoor
---
An Interview
With The Late
Nobby Stock
By Norman Jacobs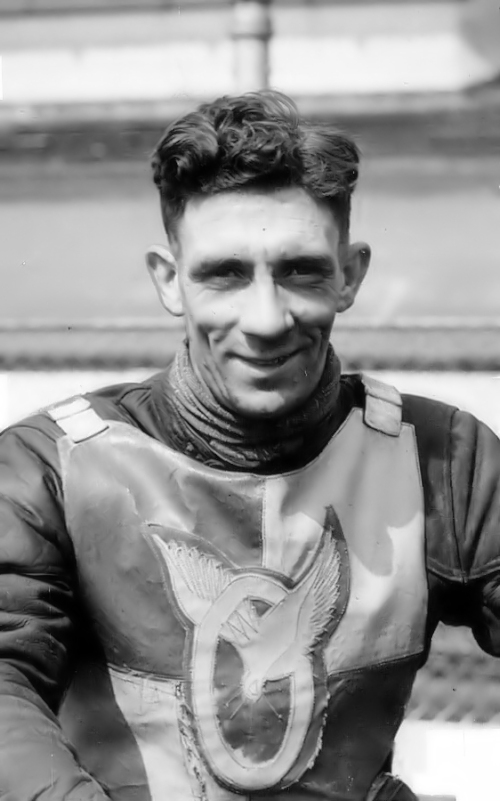 Nobby Stock rode for Hackney and Dagenham before the War and for Harringay, Bristol and Ipswich after. He was never what you might call a superstar but was always a first class team man and an excellent second string; one of the unsung heroes of speedway, without whom the sport could not exist. I once asked a former Harringay supporter who he would select as his all-time 'fantasy' Harringay team. Without hesitation he pencilled in Nobby in the no. 2 position.
When I was carrying out research for my book, Speedway in London, I visited Nobby at his home in Clacton-on-Sea to talk about his days at Harringay. I was hoping that this would be just the first of a number of visits but sadly Nobby died not long after I met him. So, as a tribute to Nobby, although our discussion was only really a preliminary one and not as in depth as it would have

been had I known it was going to be my last chance to speak to him, I thought it would be worth as there are one or two interesting facts and little snippets that had probably not been published before.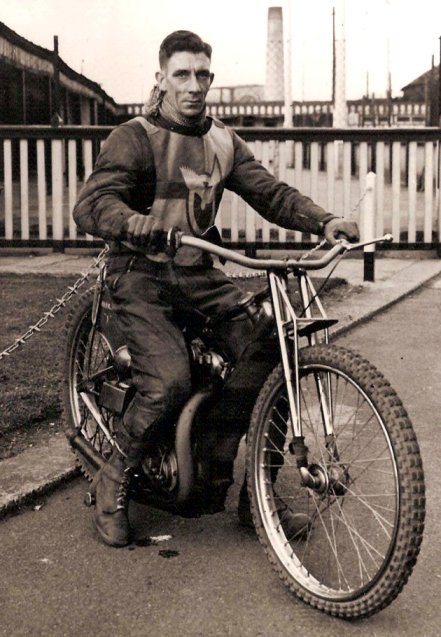 Nobby Stock - Photo Courtesy of J Spoor
NJ: How did you first get in to speedway?
NS: I lived in Rainham in Essex, just round the corner from Frank Hodgson, the Dagenham and Hackney captain. I used to help his mechanic clean his bike. When I was 11 I bought a belt driven Raleigh for 1/- and raced it on the village green at Rainham. Some of the other boys and I made our own track by clearing the grass away and making a cycle speedway circuit. I was also a member of the West Ham Supporters' Club. If you were a member it cost you 7d to get in instead of the normal admission price of 1/2d. Johnnie Hoskins was a great showman of course and made the whole evening worth the money. In the interval he used to arrange camel races, hoop races for kids, horses v. motor cycle races and so on.
NJ: When did you first graduate to the real thing yourself?
NS: When Arthur Warwick started his speedway school at Dagenham I went along to have a go. I spent all my savings on a bike. The bike had originally been Eric Chitty's and I got it for £70. As well as Dagenham I had a few rides at Smallford, Arlington and Rye House. And then in 1938 I signed for Hackney. Of course just as I was starting to make a name for myself the War came along and put a stop to speedway racing in England.
NJ: I believe you managed to race out in Italy during the War.
NS: Yes. I was responsible for organising Army Speedway Racing in Italy and helped build a number of tracks out there. I raced at Trani, Bari, Molfetta and Naples. I won a number of trophies. At one time I held all the track records at Naples except the four lap flying start. One of my fellow racers out there was Split Waterman.
NJ: What happened after you returned to England?
NS: I was demobbed on 4 February 1947 and on the 5 February I received a telegram from Fred Whitehead and Fred Evans, who had promoted speedway at Hackney before the War, asking me if I could turn out for Harringay. I arrived for the opening meeting on Good Friday and there was snow all

over the place. Anyway, I was signed up for the team and told I would be partnering Vic Duggan. Most of the Harringay team at that time were Australian. I felt quite lonely as an English rider! The

following season, 1948, I was loaned out to Bristol. I had one season there. They wanted to keep me but Harringay recalled me for 1949.
NJ: What was it like partnering Vic Duggan?
NS: Well you never asked Vic what starting position he wanted as he always took one or two. He used to say to me, "You get a good start, Nobby, and I'll see you home." But he never did!

But he did use to help out the other riders in the team whenever he could. If there were four Harringay riders in the scratch race final, Vic would inevitably win, but he would always split the prize money

four ways. He was a great rider and it was such a disappointment when he fell in the 1947 British Riders' Final after completely dominating the speedway scene that year. It was unheard of for Vic to fall.
NJ: Were there any other characters in the Harringay team?
NS: Well, of course, Split Waterman was mad just like Bruce Abernethy. I remember once George Kay and Wal Phillips took us to Paris as a reward after we'd won a trophy – I can't remember what at the moment – but Bruce wanted to climb to the top of the Eiffel Tower. Lloyd Goffe was another character. Every time he rode he used to put cotton wool on the cheeks of his backside because he sweated so much!
NJ: You left Harringay for Ipswich in 1953. What did you think of Ipswich?
NS: I wasn't too keen on it because it was a big track. I preferred small tracks. I used to ride better on small tracks or wet tracks as they brought every else down to my speed! The best night I ever had was at Wembley when I got 9 paid 11 out of 12. It was raining that night!
NJ: Thank you Nobby.
---