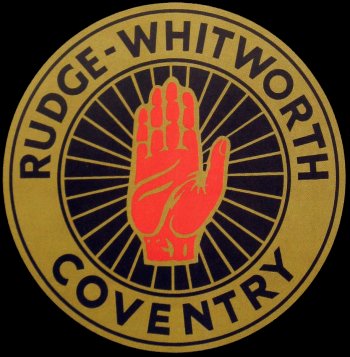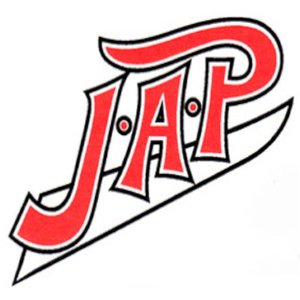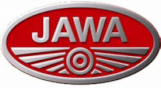 ---
Pre
1928
UK
Speedway
Early Motorcycle Racing & Speedway's Origins
Ashtown Dublin 1902
Detroit 1915
USA Board Track racing early 1920's
Ascot USA 1925
More USA racing Pre 1928
Indian
Deagon Queensland Aus
Sand Racing
Grass Racing
Road Racing/TT
I started this page, in the hope that with your help, we can go back to an era before the Aussies brought speedway to the UK in 1928. To be eligible for this page an item has only to pre date 1928. Items can include oval racing of course but also any type of sand, dirt, board and tarmac racing. So please get behind this and let me have your comments and photos. Maybe, in time this page will explode a few myths I hope, surrounding the origins of Speedway Racing.
---
Winchester Indiana USA
Bill Holder says: John-I am a motorsports writer from Dayton, Ohio and am currently doing an book on Winchester Speedway in Indiana. The famous oval track will celebrate its 100th anniversary in a couple years. I am aware that there was motorcycle racing on the half-mile dirt track which lasted from 1914 and into the 1930s. I have not been able to find anything about those activities. Have you ever heard of any motorcycle dirt track racing during that time period at this track?
John says: I don't know where the following photo came from but I was told it was taken at Indianapolis and judging by the bikes it will be 1910-1920 ish?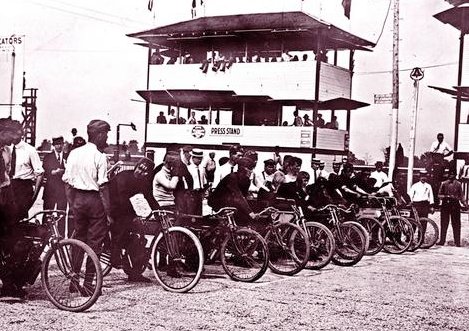 ---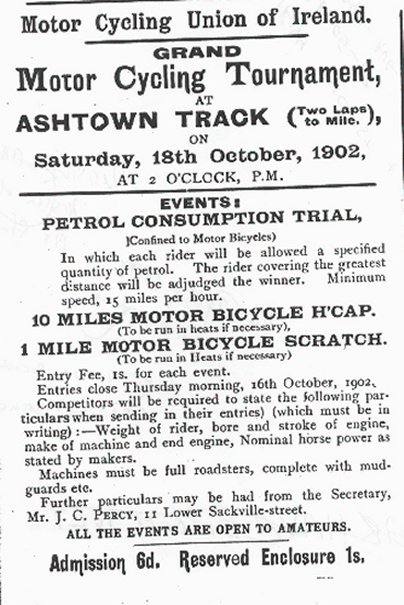 Courtesy George Kearns
George says this was a cinder track.
The organizers of the 1902 Ashtown race the "Motor Cycle Union of Ireland" was no back street affair as its President was none other than the tire magnate Boyd Dunlop. The M.C.U.I was regarded as such a responsible body that it was approached by the organizers of the worlds 4th Gordon Bennett race, which could not take place in Britain because of its speed restrictions, to oversee the race in Ireland.
---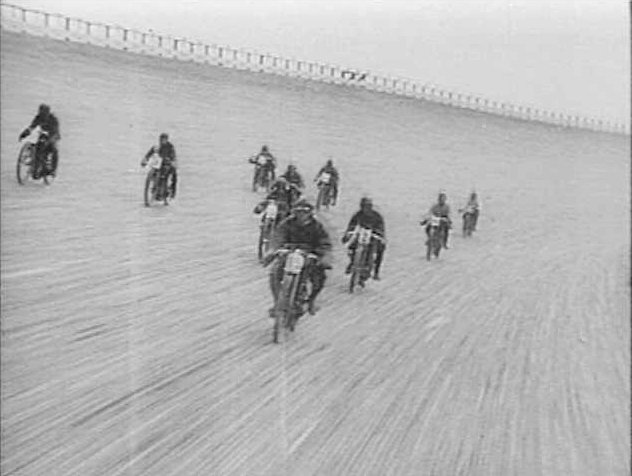 Early 1920's USA: This was maybe More Nascar for bikes than speedway, these bikes were lightened by stripping away all components that weren't necessary including lights, brakes and gearboxes. The machines bore a resemblance to the Dirt Track bikes in use a few years later.
The American "Board Tracks" like the one in the above picture must have used up a small forest of trees in construction, but timber was plentiful in the USA/Canada so it must have been financially viable to make them in the early part of the 20th century. They resembled the modern cycling velodromes but were bigger.
More

USA

Board Racing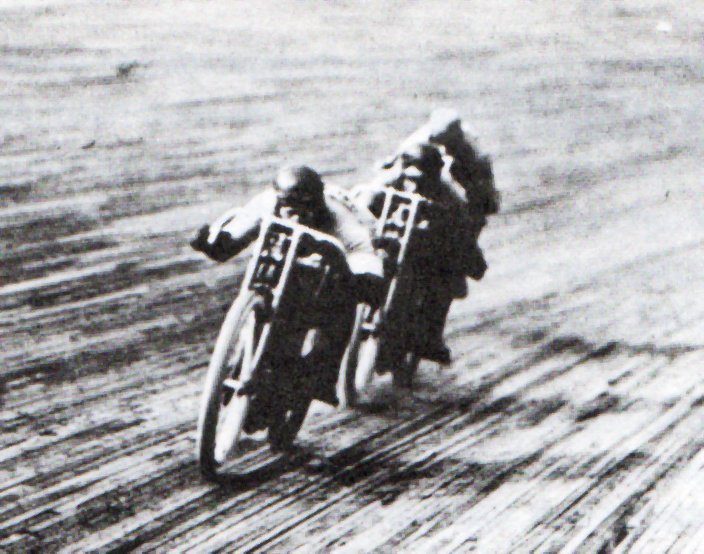 More USA Board Racing. A close look at the handlebars reveals that the bars used later by Dirt Track Harley's and Indians handlebars were identical to those shown above.
1921 Harley Board Racer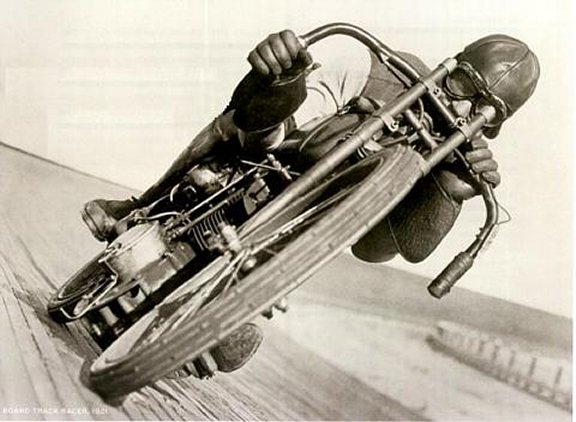 Courtesy of Steve Magro. Check out Steve's website Steve Magro
I think it is quite likely that Speedway actually started in the USA before it got underway in Oz. What are your views John
This close up of the bike shows they had no clutch lever therefore no clutch! I understand moving a board racing bike around, entailed removing the chain first.
Dave Gifford's Board Track Photos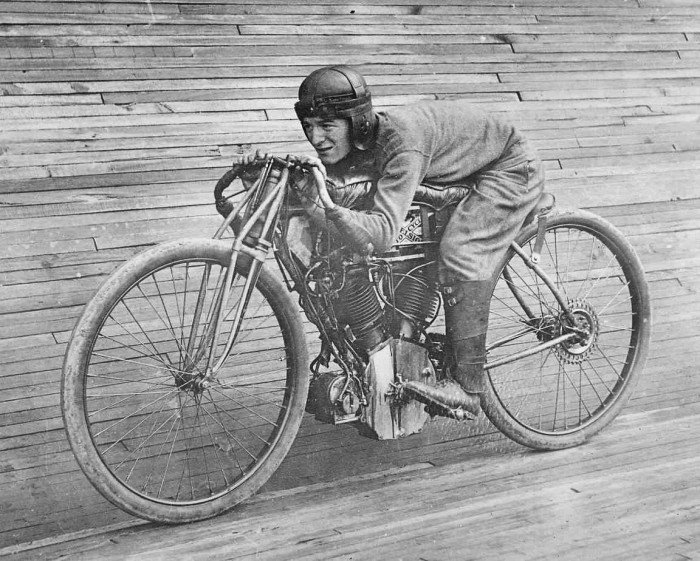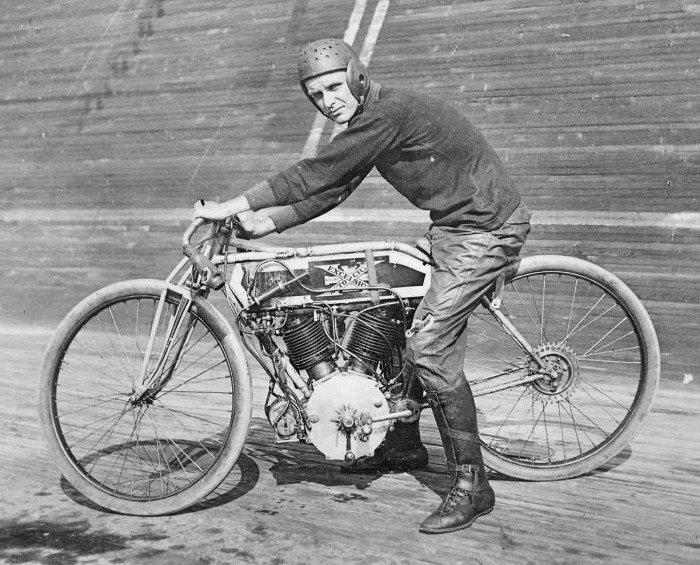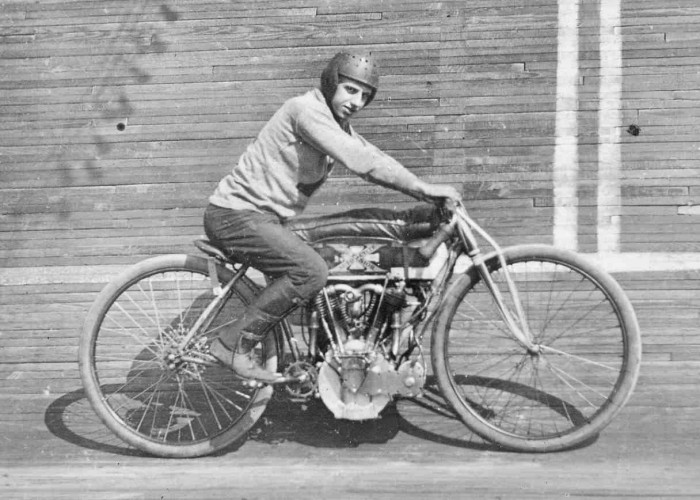 A mighty V Twin but it wouldn't have gone anywhere as it doesn't have a final drive chain! As these bikes had no clutch the only way to push them around easily was to disconnect the engine from the rear wheel by taking the chain off.
Dave Gifford says: I am pretty sure the board track riders name is John Hoefeler. The machine is an Excelsior (or Big X) V Twin of about 980cc, no clutch, no gears, no brakes, no throttle and the carbs locked at wide open and only a de-compressor lever to move and start the bike and an ignition cutout to stop it! I think the photo dates from about 1914. I have attached a couple more pics taken at the same time. giffy
Board racing bikes are so like Dirt Track machines I am sure the riders would have found it relatively easy to move between the two disciplines.
---
Australian
Motorcycle History
Australian Grand Prix, Tourist Trophy and

Dirt Track/

Speedway. Aussie Rob Rowe has been in touch and he has this to say:
When did it Begin?
Australia has a very rich motor sport history, but just when the first significant events were actually conducted has become blurred over the last one hundred years or so.
People's memories, urban myths, exaggerations, missing archives and occasionally just plain lies have meant that the correct dates and places of events have become confused and unreliable over time.
Recorded history is often just the considered opinion of the historian, sometimes flavoured with a bit of parochial bias. Sometimes it is recorded as what the historian thinks should have happened or could have happened if circumstances were just a little bit different.
It now seems that the first Australian Grand Prix for Motorcycles was run and won at Yetholme on the 5
th
October 1914. The winner was Edgar Meller riding a 2 ¾ Douglas In a time of 3 hours 21 min and 48sec
Research by Bob Shannon
T

he first Australian TT for motorcyclists was held in Goulburn on Easter Monday, 1914, it was won by Harry Jenkins 7 hp Indian
Research by Wayne Adams
T
he first Motorcycle Speedway event in Australia was held on New Year's Day, Tuesday, 1st January 1901 at the Sydney Cricket Ground. Advertised as a Night Cycling Carnival with the first race at 6pm and the last race at 10pm the feature race, over 2 miles, was won by J Green in a time of 5min and 2 sec. The four motor cycle competitors all rode tricycles. The fastest push bike event of the carnival was won at a speed of 24mph, slightly faster than the motorcycles.
Note; Federation day, 1st Jan 1901 was the first day of the Commonwealth of Australia, the six States were independent before that date.
Research by David Manson
The Sydney Morning Herald of 11
th
of November 1902 reported on "The first ever race for Motor Bicycles" won by RA Mills adding that "they should look especially well at night carnivals"
T

he Sydney Morning Herald, 6th January 1903 reported on "Racing By Night" with Elliot winning at a speed of 43 mph on his Massey–Harris with 6hp Buchet engine. It was reported that "about 20,000 people assembled at Sydney Cricket Ground---the grounds again presented a brilliant appearance being well illuminated."
he Sydney Morning Herald of 3
rd
June 1905 reported on the meeting run by the Pioneer Motorcycle Club at the New Sports Ground with machines whose names that would become familiar; Motasocoshe, Buchet, Minerva, Knowles-Buchet, Surrey, Sarolea, Clemant Garrad, Marsh, De Dion.
The Referee 23 October 1907 report was headed "Motor Cycling" giving results of
events conducted by the Pioneer Club at the Sports ground.
The Sydney Morning Herald on 11
th
February 1909 that "A novelty in the shape of a motor car race aroused considerable interest" The race was between two Fords ( 15 hp N, S, R, S or SR models not T,s) driven by F and H Natrass.
The Referee reported that Auto Cycle Unions events held on the November 15
th
1909"were held on the cinder track which was rather loose"
The seven furlong grass track at Canterbury Park saw Frank Mellor win an all powers race on his 2 ¾ Douglas on 13
Th
December 1913.
Research by Brian Lear
The Newcastle Morning Herald, 4th November 1905, noted that a Cycling and Motor Carnival would be held on Monday 13
th
November, 1905 at the Rugby Football Ground, with "The Whole of the Track Grounds Beautifully illuminated"
Note, this was a banked velodrome, probably asphalt.
The Newcastle Sun 24
th
Feb 1920 announced that "a meeting would be held at the Automobile Rooms, Bolton-street to discuss the matter of a central ground for Newcastle having a
speedway
for racing contests and motor cycles, motor cars and cycles."
Research by Brian Lear
Johnnie Hoskins is quoted as saying "In mid-summer of 1923 the first "Electric Light Carnival" with "dancing on the green and motorcycle racing" was staged before a huge crowd.
"Soon we changed the name to Speedway and ran weekly."
Research by Brian Darby
A Google search of
John Skinner's
"

Defunct Speedways

" will lead to photographs of Dublin's Ashtown half mile cinders circuit featuring a one mile event for motor bicycles in 1902 and the photos from Detroit clearly show motorcycle "speedway" riding in 1915.
Research by John Skinner
So what does this all mean?
Well it seems that 2014 is the Centenary year of two of the most important Road racing events on the Australian Motorcycling Calendar and Australians generally should be very proud of the contribution that motorcycling has made to this countries sporting culture.
With well over one hundred years of Australian motorcycle racing
history one can only wonder why Australian riders like
the Dugg

a

ns, Van Praag, the Hintons, Brown, Ahearn, the Crumps and Sanders are not household names whose achievements should be part of the everyday conversation like Olympic swimmers, cricketers and tennis players.
Rob Rowe 2014
---
Doug McFarlane's Comments
Hi John,
I have found a few items that might be of interest to you for your site on the early days of speedway
Found details of how to slide a bike round a dirt track, like the US cracks do, in an Australian newspaper some weeks before the first Hoskins meeting at West Maitland. Plus a reference in another paper from Australia calling the technique the 'American Skid', which all seems to confirm that broadsiding came to Australia from the US

Plus I found this interesting piece from Sydney on the origins of track sport in the country from 1938

It states that the sport developed from road racing, but the sport was generally out in the sticks. In Sydney they wanted to bring it closer to the public because at the time few people had transport and public transport was also not good to take spectators to the 'venue'. Applications were made time and again to have roads closed off near Sydney but were always refused by the council. So they asked Victoria Park racecourse if they could use their track and permission was given as long as a share of the proceeds was given to charity. This meeting proved such a success that a second was held. After each meeting the sale of motorcycles increased tremendously. This led to the construction of a dirt track at Penrith on land owned by the railway. It was also a success and on the back of this US riders including Paul Anderson,Paul Remali, etc were invited over. The invitations were made possible by the number of sales by local dealerships. The supply of motorcycles couldn't keep up with demand. The concrete track at Marouba was built and a cinder track at Royal Agricultutal Showground and other tracks followed such as Wentworth Oval, Pratten Park,Newcastle and Maitland.
regards
Doug MacFarlane
---
Johnnie Hoskins 1924 Maitland Programme

Johnnie gave this 1924 Australian programme to Reg Fearman many years ago. It pre-dates speedway in the UK by 4 years. British Speedway fans owe Johnnie a debt for bringing the sport to our shores for us to enjoy.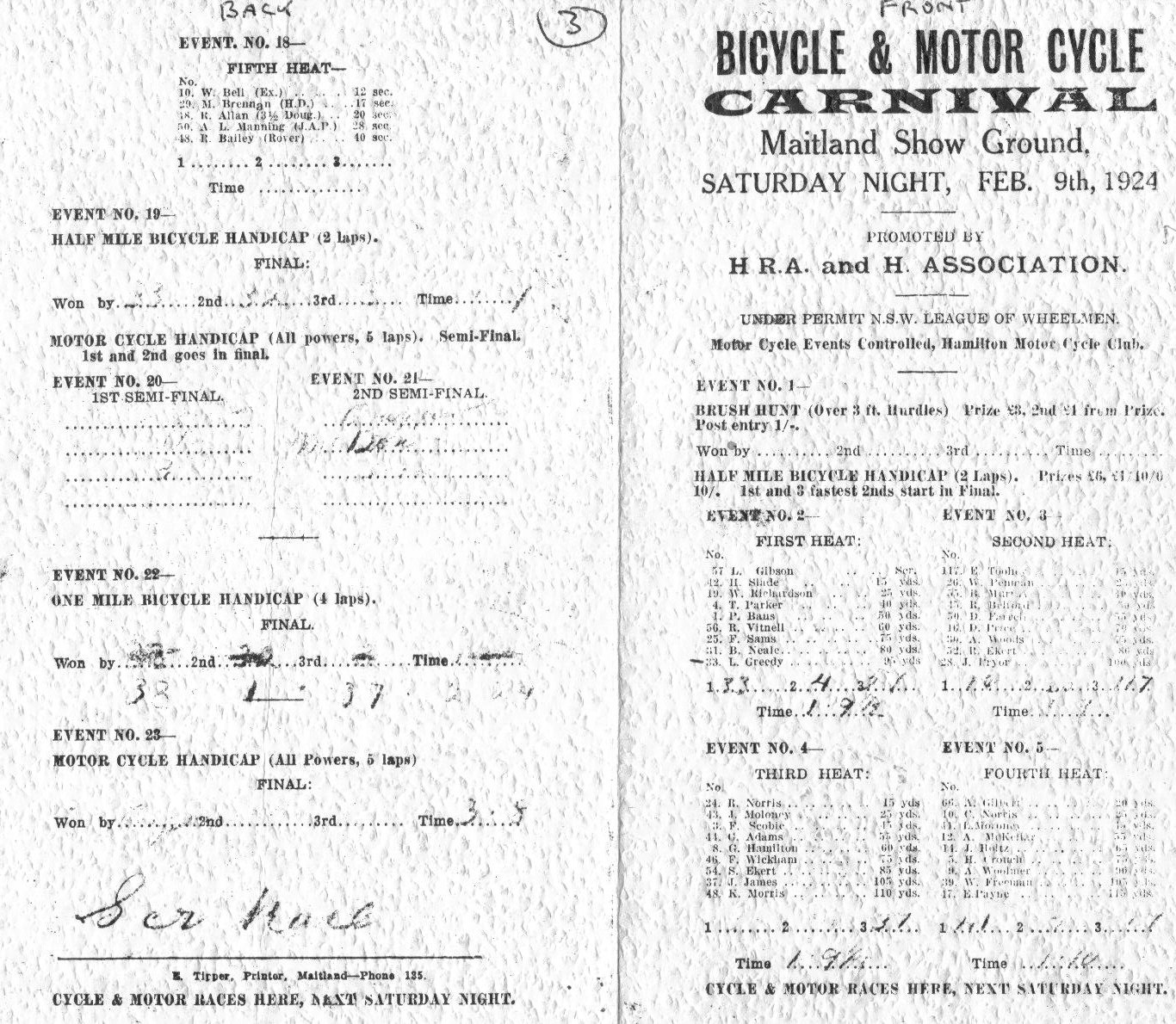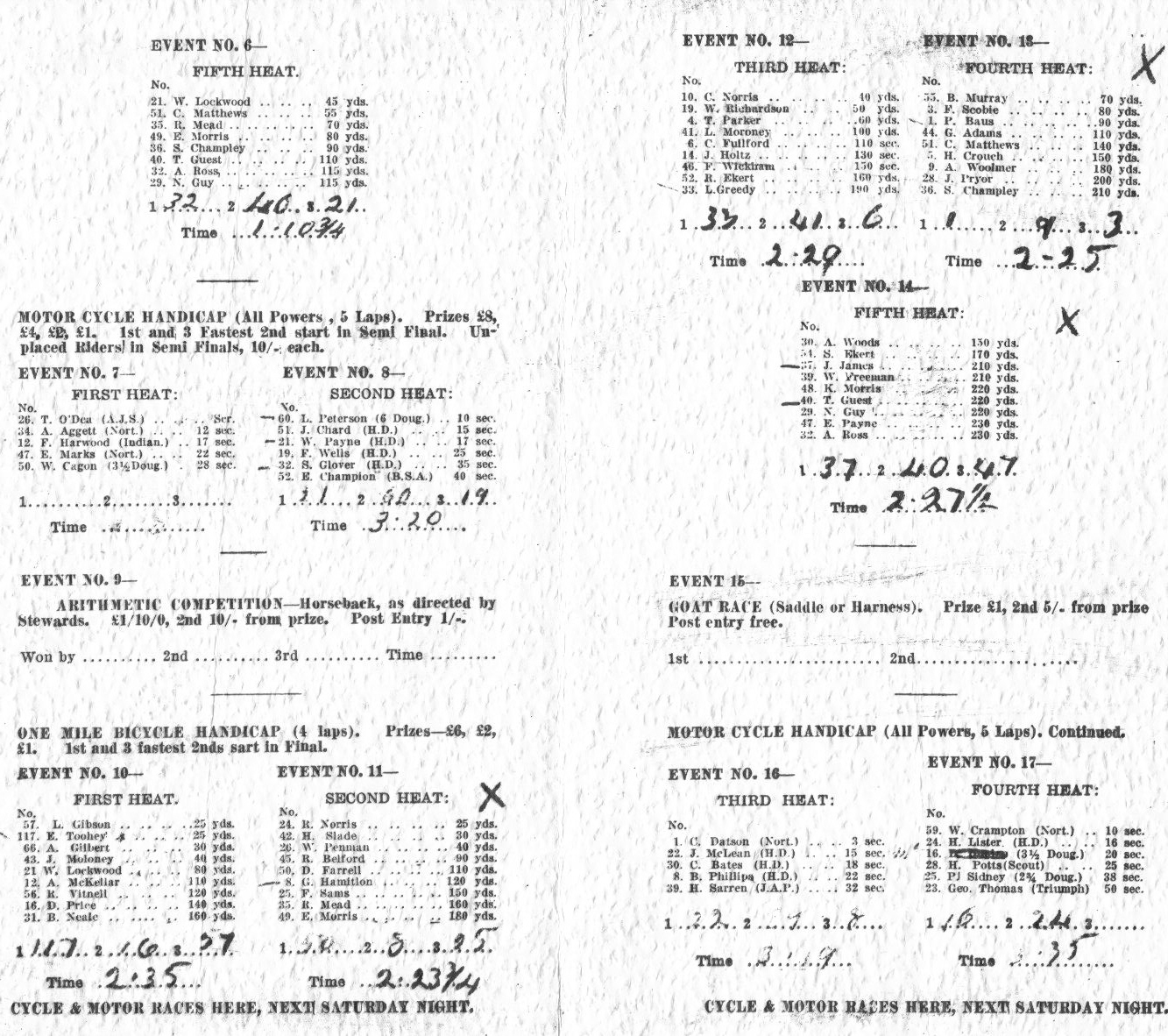 Courtesy of Reg Fearman
The 1924 programme shows bicycle and motorcycle racing. The term "Speedway" had not been coined then from the early days of Australian speedway and when Johnnie arrived in Britain in 1928, the sport was called "Dirt Track Racing".
---
Frank (Tuffy) Jacobs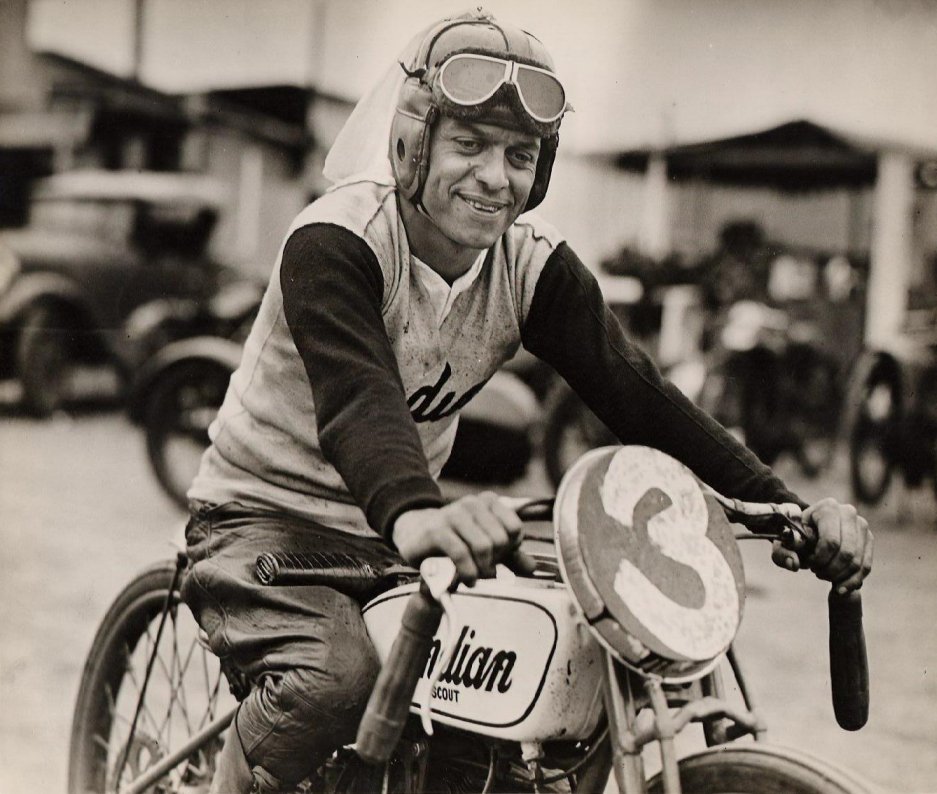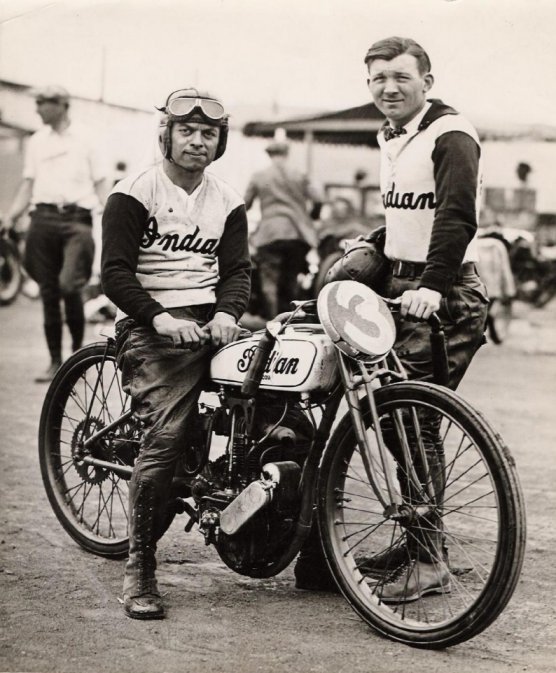 Pictures courtesy of Janice Engle
Janice Engle says: The picture of my Grandfather (Tuffy Jacobs) with Miny Waln was at Ascot Speedway in 1925
The early Indian and Harley Davidson machines favoured the "drop handlebars" I will ask Janice where the "Tuffy" nickname came from
Janice says:
Hi John, Thank you for getting back to me. My Grandfather's Name was (Tuffiek) He took the name Frank to Americanize his name. My Grandmother shortened Tuffiek by removing the K at the end and called him Tuffie. He was full blood Lebanese. He spoke Arabic, English, Spanish and Portuguese. Thank you so much,
Janice
---
More American Racing
Pre

1928
John says: I am interested in showing that dirt track racing may not have started in Australia. It is, in my opinion, more likely that the sports origins lie in the US of A
.
A number of pictures from the USA sent by Cary Cotterman, an American, who has been a good friend to this website. Cary's pics etc follow below: -
Cary says: Dirt track motorcycle racing on oval-shaped tracks began in the U.S. as early as 1901,(says Cary Cotterman), initially on 1/2-mile and 1-mile tracks normally used for horse racing. If Los Angeles wasn't the first place in the world such racing took place, it can certainly lay claim to being among the very earliest. The first riders appear to have negotiated the turns with both feet on the footrests (or pedals) of their relatively low-powered machines, with their wheels in line, but by 1915 or earlier, photographic evidence attests that riders like Dave Kinney and Maldwyn Jones had developed the technique of breaking traction with the rear wheel and broadsiding around the bends. This development was probably the result of riders' experience and experimentation coinciding with the evolution of high-powered motors. U.S. motorcycle manufacturers of the time, led by the giants Harley-Davidson and Indian, encouraged and publicised racing for its advertisement value, and by the early 1920s the sport had grown to national stature. While the steeply cambered board tracks seem to have held first place in the imagination of the public, dirt track racing was a close second.
Did American riders export dirt track racing to Australia in the 1920s? Probably not. It's more likely that early American exponents travelled across the world to investigate a racing scene that had already existed for a short time, albeit on a smaller scale than in the U.S. When they arrived, they made a success of their more advanced experience and techniques, similar to the way Ivan Mauger and Barry Briggs looked in on the nascent speedway revival in California in 1968. The sport probably began in the U.S. and Australia independently because it is simply the nature of industrious, adventurous, curious people to strip down their machines and see what they will do on a race track. However, owing to the proximity and support of the motorcycle manufacturers, the U.S. had the advantage. Dirt track racing started there first, and more than a dozen years before the great Johnnie Hoskins began promoting races in the U.K., American riders had developed a sophisticated technique that included the most distinct attribute of speedway--broadsiding. In contrast to the vast, relatively sparsely populated, and still largely rural settings of both the U.S. and Australia, the geographic compactness and dense population centres of industrialized England in 1928 were probably important factors that led to the almost instantaneous combustion of the sport there into one of the leading mass entertainments of the 1930s.
Thank you Cary. Your views are put most sensibly and America's claim to be the first centre of the sport remains in my opinion to be the case. Maybe Australia and the USA developed their versions alone with a coming together in Britain in 1928 and the sport now known as speedway was as much a British invention as the Brits developed the raw material into a watchable sport. What a debt is owed to the US and Australia for beginning a sport that the British took to their hearts. Speedway was born either in the USA or Australia but has been enjoyed here in Britain since 1928 as if it was our own.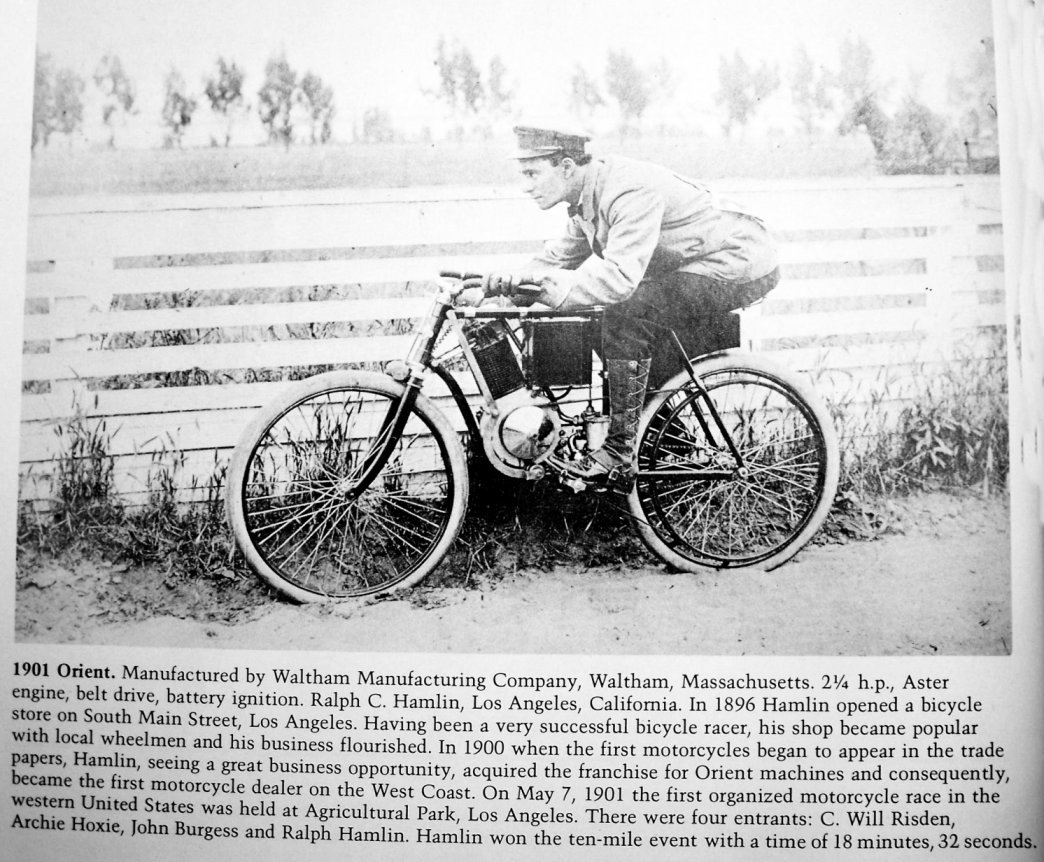 1901 Aster dirt rack racer. This and the following pictures come from the book "American Racer" : 1900-1939. If the items are still subject to copyright I will be happy to amend or remove the items or publicise this great book. Send me an email if you are the owner of these items.
John
Ralph Hamlin is credited with winning the first dirt track race known to be held in the western U.S., on May 7, 1901 at the Agricultural Park in Los Angeles. This 1-mile dirt horse racing track was located at the future site of the L.A. Coliseum, where the 1932 and 1984 Olympic Games, and the 1982 World Speedway Final were held. This is the earliest reference in the book to dirt track racing in the U.S
John says: Was it "Dirt", soil/come grass or was it a specially laid dirt track containing shale or cinders? Does it matter what the track was made of? Dirt is a loose surface like cinders after all. The Americans were racing motorbikes around this oval back in 1901 so does it qualify as the first ever Speedway type racetrack? I cannot imagine these early bikes developing enough power to broadside the corners, that will come later.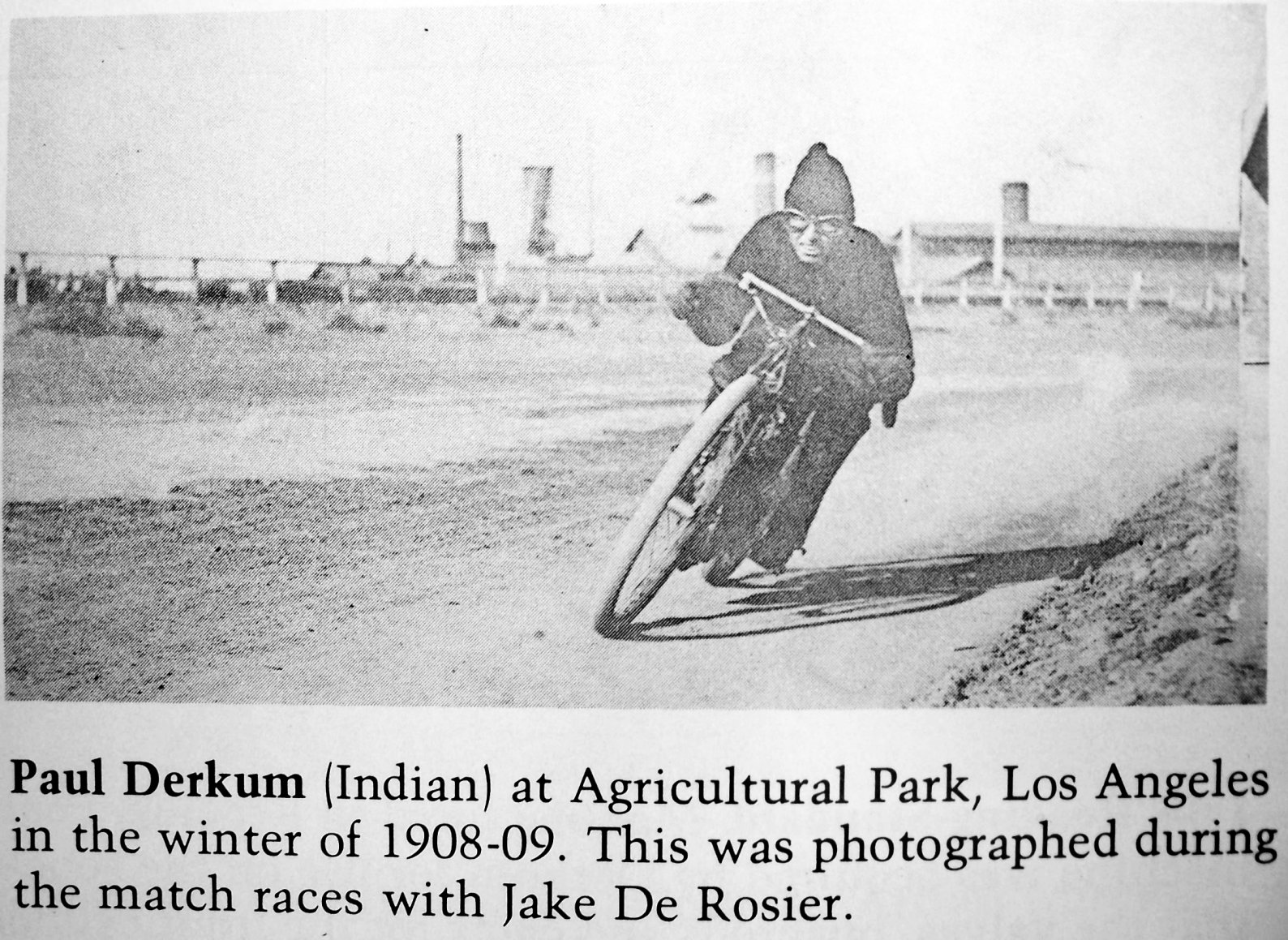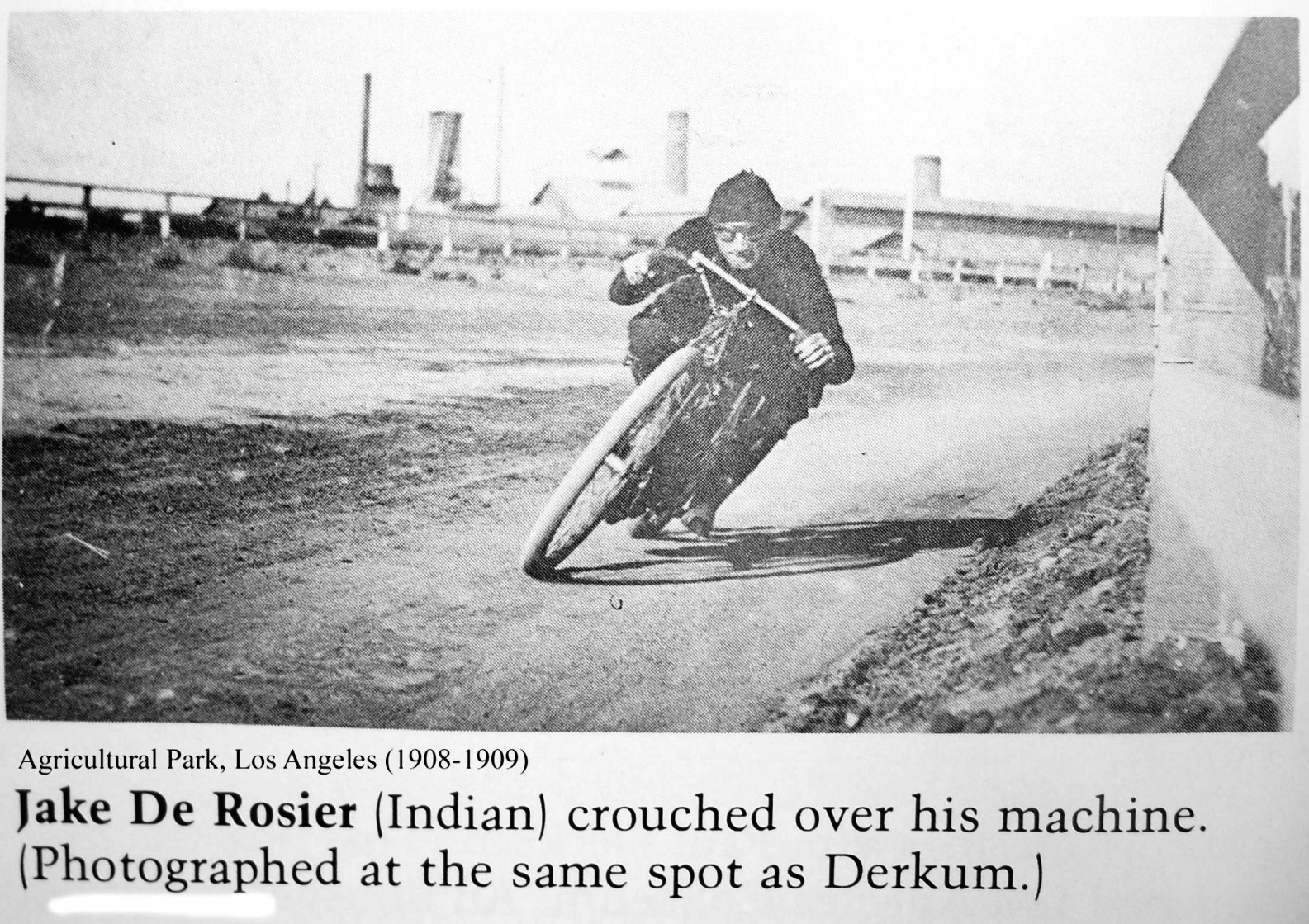 This picture really looks like it depicts dirt track racing although the back wheel is not breaking away. It was taken in LA 1908/09 Maybe Broad sliding had not been possible with the power output of these bikes being so low
---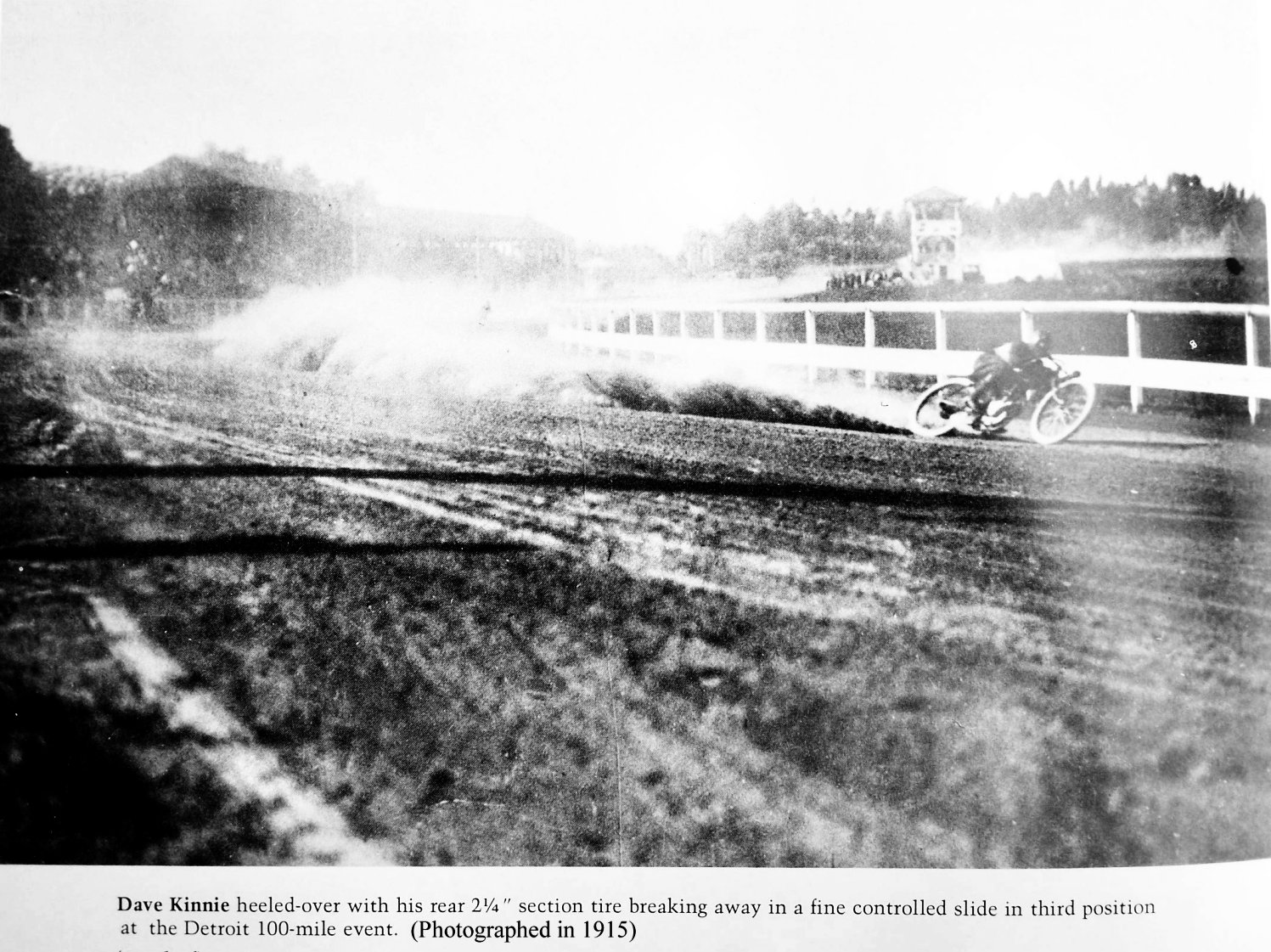 This is Dave Kinnie in Detroit circa 1915 on a corner, riding a Cyclone, a lesser known American bike, with his rear wheel throwing up a plume of dirt, Surely Dave was a "speedway rider" back in 1915? Why not give the US it's due and say that this is early speedway? Where are the earlier photos from Australia, South Africa or Ireland? If you have any send them to me. John USA is my bet for the origins of our sport.
---
Don Johns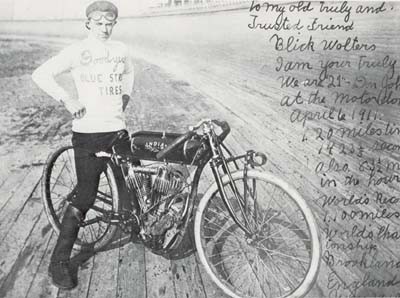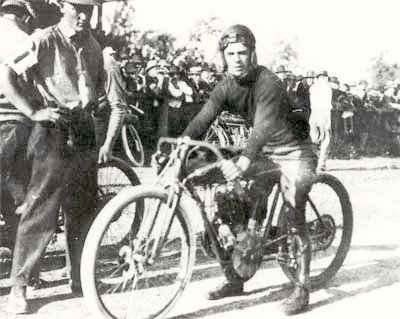 Courtesy of Norman Jacobs
Norman Jacobs says: Don Johns started around 1909 and won the National Dirt Track Championship in Chicago in 1912. He may have been the first proper "speedway" rider. A contemporary description of him says: "Don Johns preferred to barnstorm the 1-mile dirt track circuits of California and the Midwest, gaining experience as well as a reputation as the hardest fighting rider in the no-holds-barred game. By 1914, Johns had improved to such an extent that the Excelsior could not hold him. He would ride the entire race course wide open, throwing great showers of dirt into the air at each turn." How else could you throw great showers of dirt into the air on the bends if not by sliding?

He was followed shortly afterwards by another American called Albert "Shrimp" Burns who was killed in a track crash on 14 August 1921. Part of his obituary written by C.E.B. Clement, which appeared in
Motorcycle and Bicycle Illustrated
reads, "I strolled down the track to watch him take the turns. Here he came with that motor humming a great tune and into the turn he went. Watching him handle that machine in the long slide all the way around, I saw in fancy, the then great battler of the day, Don Johns. For Burns was holding the pole and fighting the rear wheel in a manner that very closely resembled the work of the then known hardest fighter of the racing game."
---
Maldwyn Jones

1916
The "First" Speedway Rider?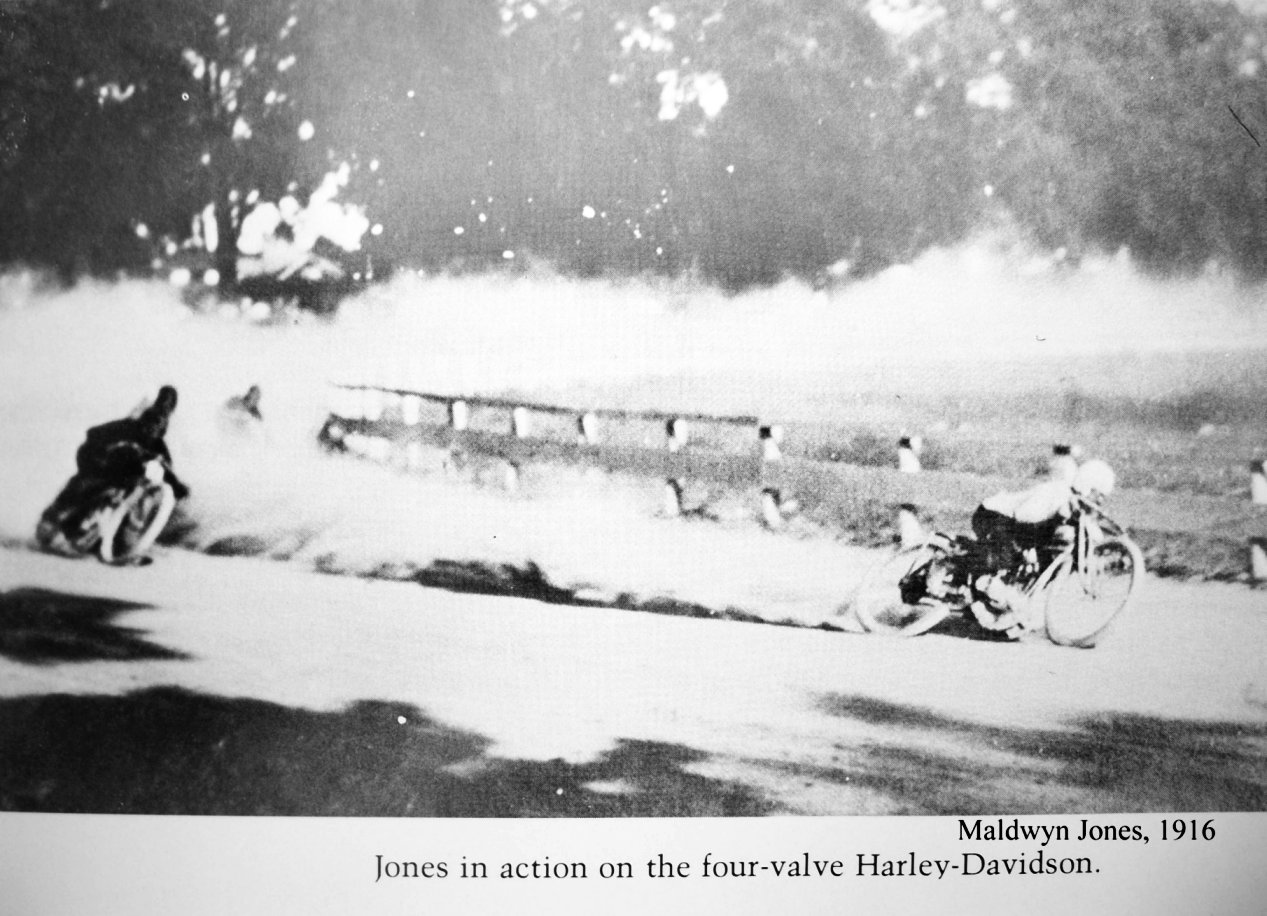 This is Maldwyn Jones 1916 credited with being the first rider to broadside a bike. If this is so maybe Maldwyn was the first real speedway rider. This action shot sure looks like speedway to me. So is this the origin of the sport? 1916 on a Harley Davidson?
Maldwyn Jones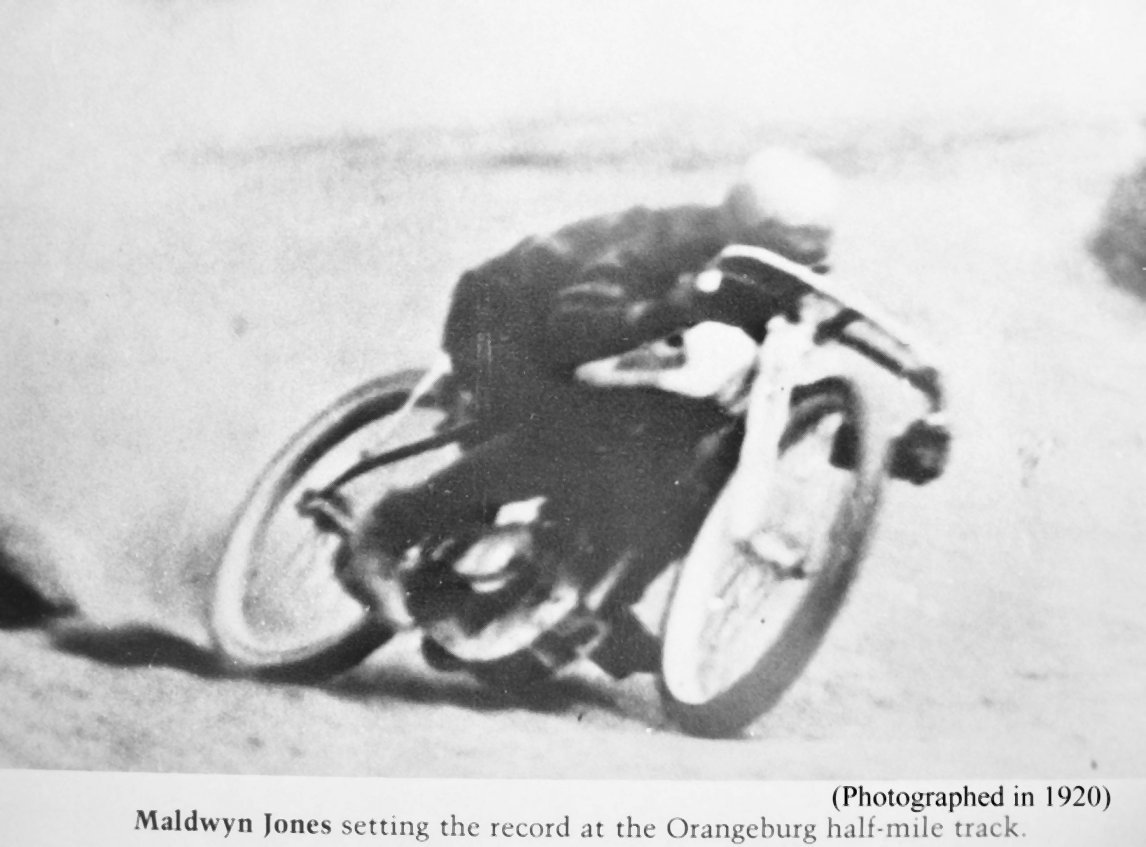 This is 1920 at the Orangeburg race track USA. If this isn't dirt track/speedway racing then what is it? Have I convinced you that speedway started in the US and this guy Maldwyn Jones on his Harley Davidson was the first star of the sport? I am convinced it started in the USA but of course we owe a huge debt to the Australians who with Johnnie Hoskins brought speedway to Britain.
Eddie Brinck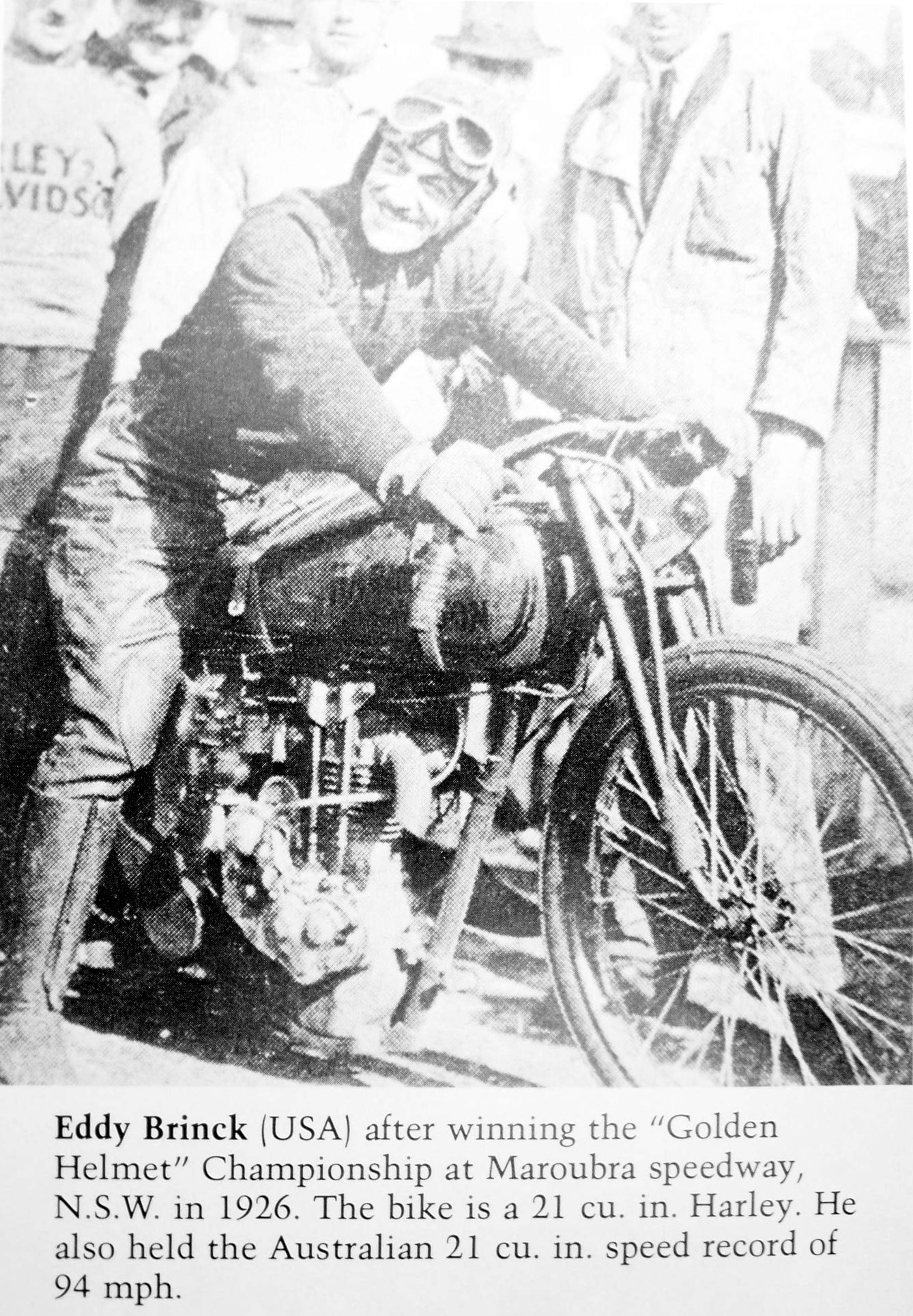 American rider Eddie Brinck visited Australia in 1926 and won many of his races against the Australians another clue that America was ahead of the game in speedways early days. The US riders had great bikes, Harley, Indian and later the Crocker.
Whomever invented speedway and I have to go for the USA, it is obvious that Australia played a major part in bringing the sport to the whole world. The UK became it's main base and then Scandinavia and Poland were hotbeds. The sport needs its roots examining properly and credit given to its founders (USA I say). Let us hope the sport continues long into the future, now that we think we know its roots.
---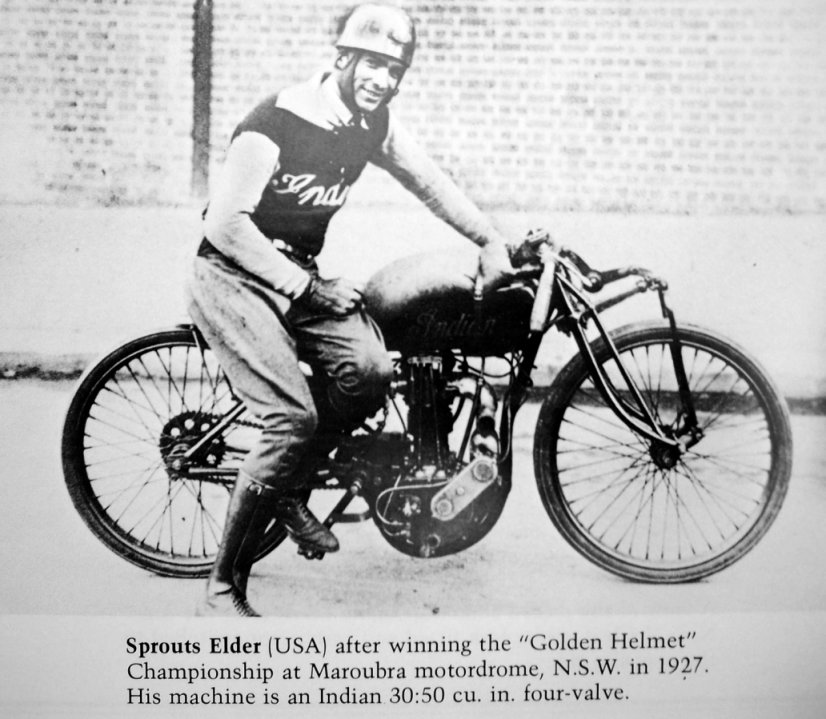 The USA's Sprouts Elder aboard his 1927 Indian dirt track machine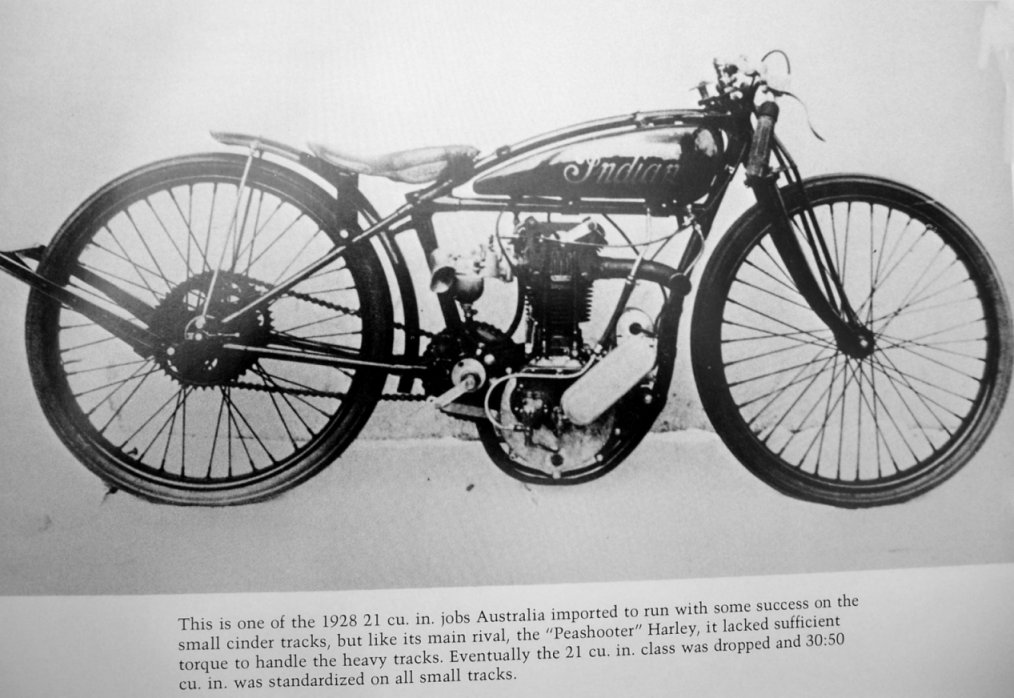 Sprouts bike of choice. This Indian was a very potent machine for its time although is was only 350cc. More evidence that the USA was leading the way in dirt track racing as Harley Davidson and Indian produced big v twins bikes for the home market and smaller single cylinder engines for the dirt track race meetings.
The USA had two bike manufactures Harley Davidson and Indian who were producing machines capable of speedway racing and they had been doing this since the early days of the new century. It is quite easy to imagine the American owners of these powerful machines stripping them down and taking them out onto dirt tracks around Los Angeles and other American cities. Maybe the early attempts in the States weren't organised as well as the 1923 events at West Maitland Australia who had Johnnie Hoskins in charge but the evidence is there that the USA were doing what Johnnie was doing. Who did it first? Who really knows, but my research points across the Atlantic. Speedway began in the USA that is my conclusion. The Aussies organised it and took it to Europe in 1928. You may say "who cares where it started" It was Britain who made it an international sport and was long time the home of Speedway.
I wish I had a time machine and could visit Australian pre 1923 and America earlier than that to watch the pioneers of the sport riding their bikes. To be able to inspect the tracks and the machines would be great. The earlier riders would have been amazed to hear that 120/130 thousand watched a Polish World Final in 1973 and thousands turned out every week for local league matches in Britain, Sweden, Poland etc.
The USA should support the sport it helped to create in 1900- 1923 and maybe that we are now into the 21st century the "Big Country" will. There has always been great American riders although 80 years later we are still awaiting an American promotional ace like Johnnie Hoskins to lead the sport out of the current slump. So come on USA the sport you created needs you to lead it now.
I expect many will disagree with me in my piece above. If you disagree why not have your say here. I will reproduce what you have to say here without amendment Email me John
---
Brisbane Cricket Ground 1904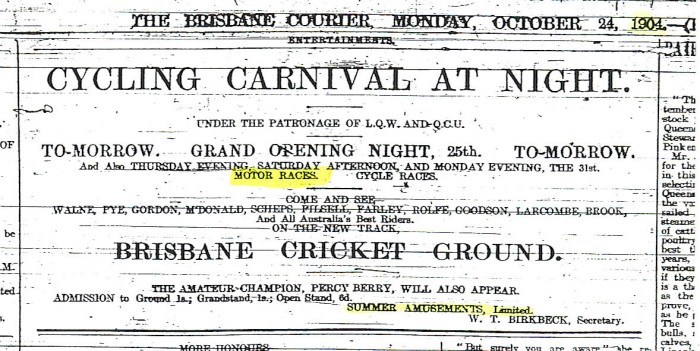 Courtesy of Norman Jacobs
"Evidence" of motorcycle and cycle racing in the Brisbane area. In 1904 I doubt that any of the motorcycle engines would develop enough torque to allow the riders to slide properly but everything has to start somewhere.
---
1916 Townsville

ANA


Show Grounds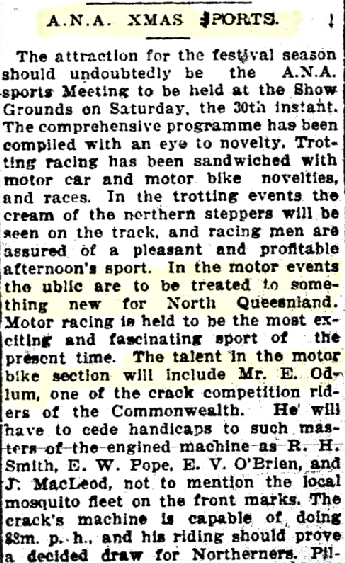 Courtesy of Norman Jacobs
---
Deagon Queensland Australia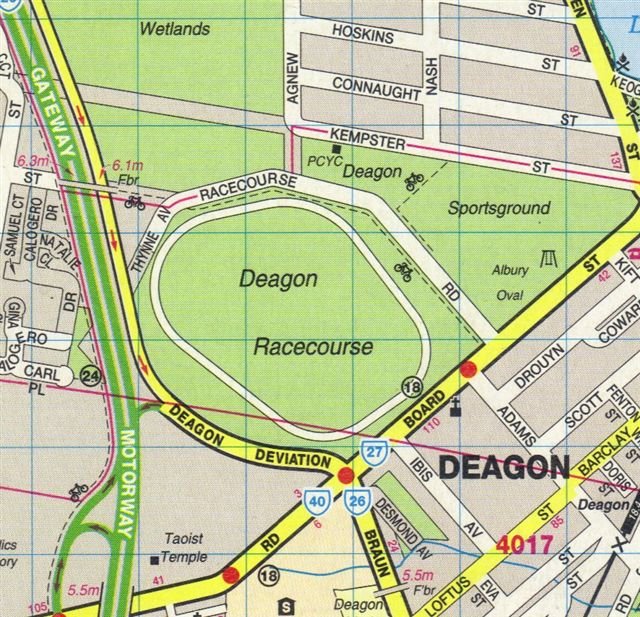 Courtesy of Tony Webb
The following images etc are from Tony Webb in Australia showing very early action on the Australian track at Deagon in Queensland
Tony Webb says: A visit today to the Sandgate Historical Society Museum near Brisbane unearthed an archive of material on the early days of speedway in Queensland. The facts that emerge from the records held in Sandgate, place Queensland as the place where the foundations of speedway were laid. From 1921-1928 no less than 14 State championships and 6 Australian solo championships were held. future stars of the standing of Spencer Stratton, Tommy bBnstead, Charlie Spinks, Arthur Yenson and Stan Lupton are just a few of the names that appear.
the claims from Maitland and other venues cannot be on the same page as Deagon in light of what took place at Deagon. The purists will say Deagon (a suburb of Brisbane in Queensland) was a track too big to be a speedway, well Maitland was too big also.
First Meeting At Deagon
5th November 1921

Courtesy of Tony Webb
John says: The newspaper advert, shown above, is headed "Great Motor Cycle Carnival". Well what would you call it. Remember the descriptive word, "Speedway" had not been coined back in 1921.
Deagon Race Course, a place in speedway history
.
Track racing was introduced on the one mile grass surface at Deagon Race course in Brisbane on November 11 1921.The venue still exists to this day and is close to the Deagon rail station. The first meeting was the Queensland 3 mile and five mile solo Championship and the Queensland 5 mile sidecar championship.
I

t is important to take into account that in the 10 year history of the Deagon track 14 QLD State Championships and six Australian championships were held. The first official ACCA sanction Australian Championship was staged on August 8 1928 won by New Zealander Jack Arnott
.
Eight of the riders in the first meeting at the Ekka on October 16 1926 were Deagon riders.
A
ll classes of racing, solos sidecars and were programmed.
There are at least 20 riders including three New Zealanders who started their careers at Deagon.
I would suggest that considering the above, Deagon has a claim to be the birth place of Australian speedway.
It is also noteworthy that the research has been done by a local history researcher, not a speedway identity.
Press cuttings and photos are available in excess of any other track of that era. Tony Webb
John Says: A great read Tony. It's like discovering the "holy grail" when you find something out, like this! Whether it will shake loose the ever-prevailing "origins" version of Johnnie Hoskin's starting it all at Maitland in 1923 is another matter and what about the USA's pre Hoskins claims?

It is safe to say that Johnnie Hoskins definitely had what it took to promote the fledgling sport properly and without him "cottoning on to it" in Maitland, maybe it would never have reached us in Europe. My thanks to JH for bringing speedway to my home town Newcastle in the UK.
Early Pictures From Deagon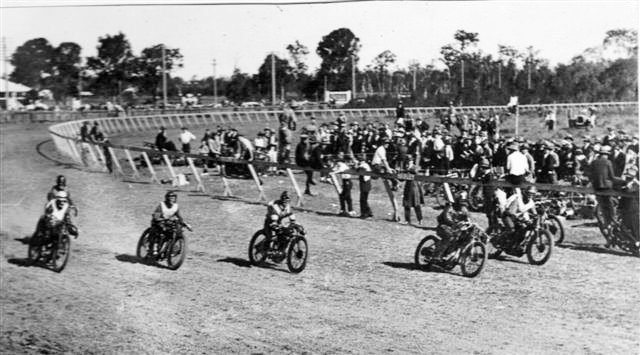 A great picture from the early 1920's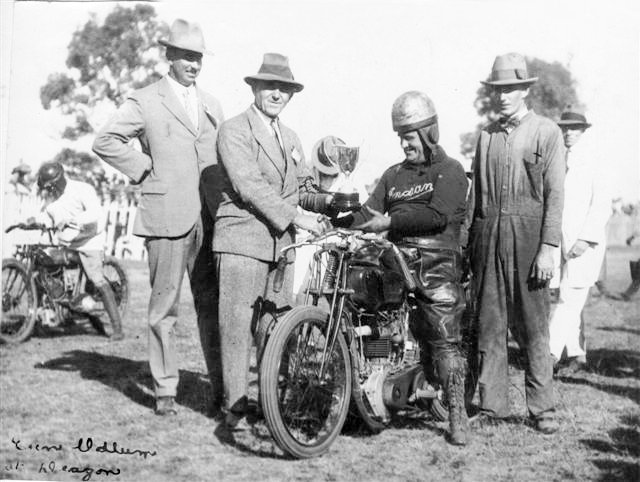 Deagon 1926: Ernie Odlum aboard an American Indian machine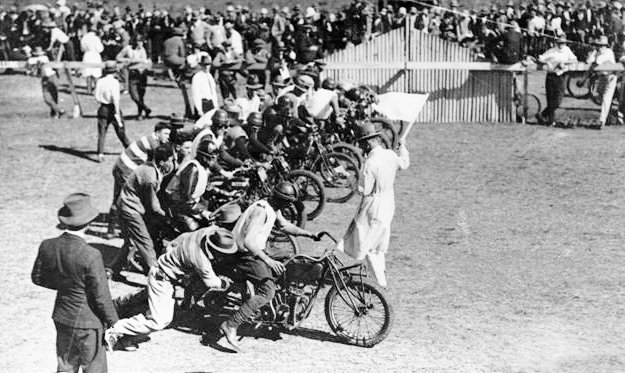 This 1920s picture of a heat start, shows all bikes in need of a push to get underway. I love the handlebars of the bike nearest to the camera. Clutch starts and starting gates came later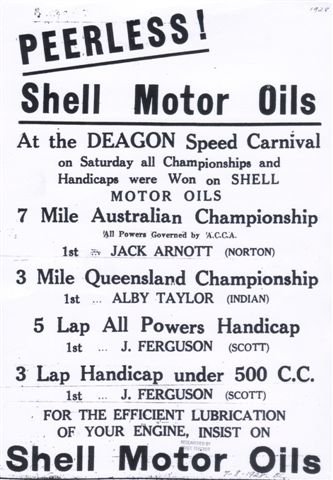 Deagon Arnott Advert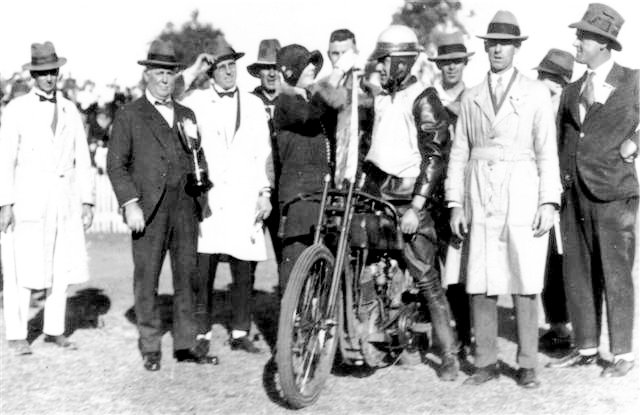 Frank Pearce: surrounded by 9 out of 10 people wearing hats! maybe the guy with a bare head also had his hat in his hand! My apologies to Tony Webb for drawing any attention away from Frank (also wearing a crash HAT) Not sure what make of bike Frank was on but by the shape of the handle bars I would say he was on an American bike a Harley or an Indian. The front forks look different to me to any other bike pic I have seen so maybe the bike was a hybrid of some sort?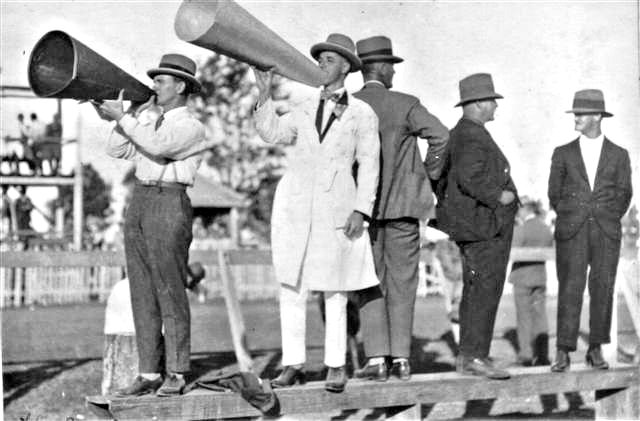 Deagon Announcers before electricity arrived in the suburb of Deagon in Queensland. I have been at many modern tracks where megaphones would probably have been just as good as the stadium's tannoy announcements. These announcers pictured, would have had to wait until any bikes revving up had subsided. I know this picture is already on the website...somewhere? but it fits here so well, I have included it again. Can I just say that hat wearing in them days must have been compulsory!
---
Tony Webb
In

2014

says
My first project for 2014 is a history of Deagon Race course 1921-1931 in conjunction with Sandgate Historical Society.
I consider Deagon to be a forgotten part of motorcycle/ Sidecar /car racing history for the following reasons.
C
onsider the following
: -
24 meetings were held 1921-1931
.
It is important to take into account that in the 10 year history of the Deagon track 14 QLD State Championships and six Australian and Australasian Championships were held. The official status of the early titles are unknown as the first recorded Australian Auto cycle Association sanctioned title was the 7 mile in 1928.
The first official ACCA sanction Australian Championship was staged on August 8 1928 won by New Zealander Jack Arnott
.
Eight of the riders in the first meeting at the Ekka on October 16 1926 were Deagon riders.
All classes of racing, solos sidecar and cars were programmed.
There are at least 20 riders including three New Zealanders who started their careers at Deagon. Frank Pearce, Frank Arthur, Noel Johnson, Stan Lupton, Vic Huxley all started at Deagon.
The first Excelsior jap was raced at Deagon in 1927
.
The organisation by the Indian, Brisbane and Queensland MCC was far advanced on other more publicised venues.
Newspaper reports indicate crowds of 4,000-15,000
I would suggest that considering the above, Deagon has a claim to be the birth place of Australian speedway.
It is also noteworthy that the research has been done by a local history researcher, not a speedway identity.
Press cuttings and photos are available in excess of any other track of that era.
Tony says: If anyone has recollections from stories of their families relating to this period I would like to know
.
John says: send me an email and I will pass it on to Tony
John
For Tony Webb's Books, See The Websites "Books" Page
---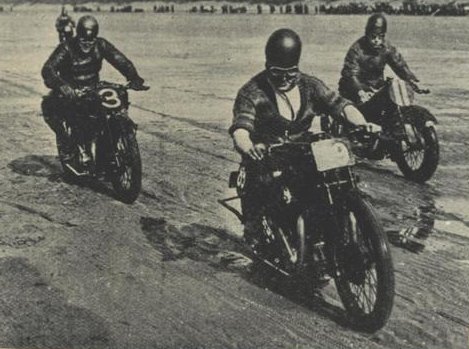 Sand Racing at Southport Merseyside
Sandracing At Saltburn & Redcar

1905

Onwards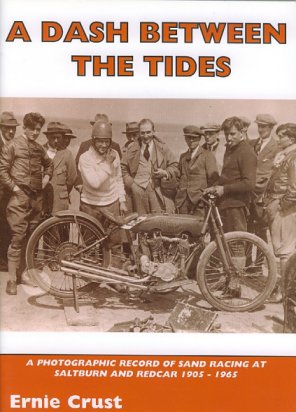 This book (now out of print) features sand racing at Saltburn & Redcar on Teesside. The book spans the period 1905 - 1965. The rider on the cover is Freddie Dixon, the picture was taken in 1921.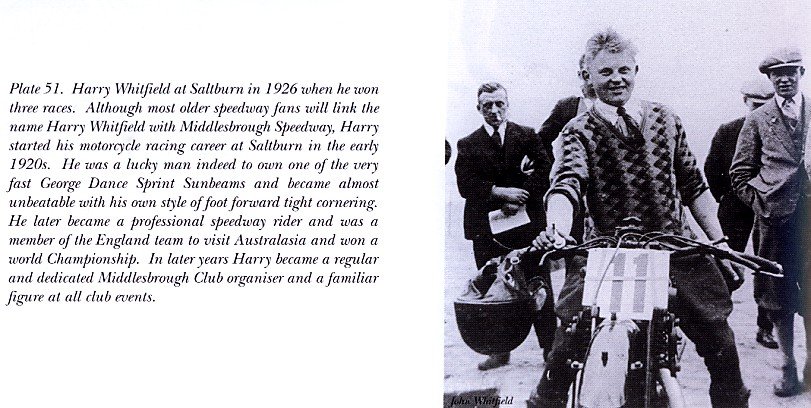 Harry Whitfield on the beach at Saltburn in 1926.
---
Martin JAPs
Pre

1920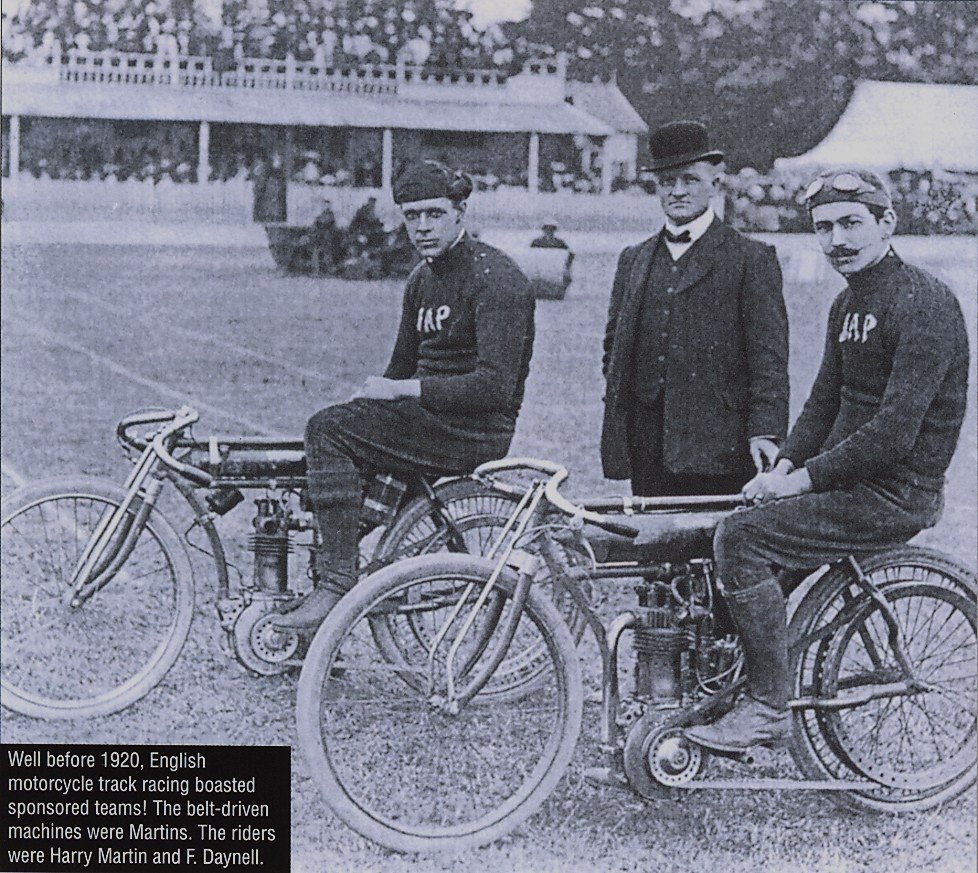 ---
Circa 1909/10 Grasstrack Racers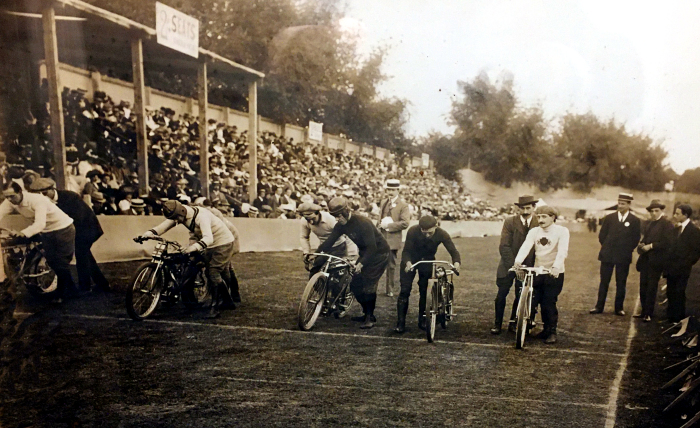 Courtesy of William King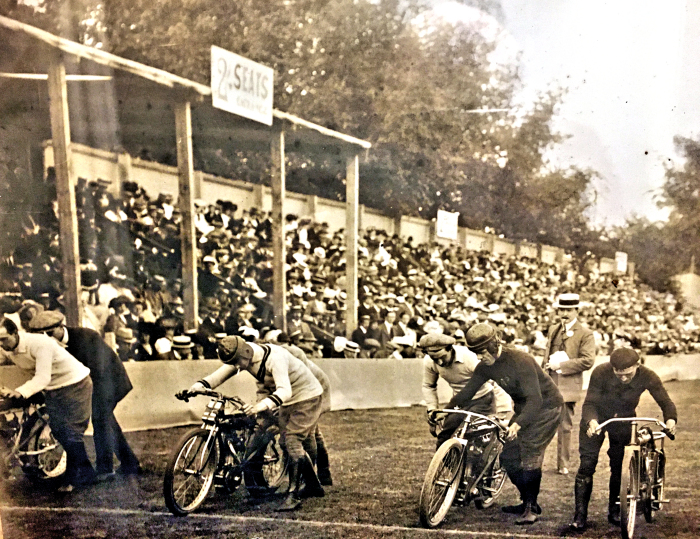 Courtesy of William King
Willam has sent me the 2 pics shown above. He says: Good evening John,
I am wondering if you might be able to help me to identify the location of the grass track being raced on by my Great Grandfather in the white sweater please.
And/or if possible any of the other riders or bikes.
I know nothing except that the white jersey has the badge of the British Motorcycle Racing Club which formed in 1909.
Any help greatly appreciated and many thanks in advance but also appreciate that it may pre date your specific speciality.
William
John says: My thanks to William. His photos are great. The machines are typical from around 2012-2015. They are belt driven and the front forks show the bikes were developed from their "bicycle roots". I think the big rider second from the right is wearing a JAP jersey so presumably his bike is an early belt driven JAP. Another point of interest, the sign on the grandstand says "2 shilling seats," quite a lot for pre Great War patrons to pay. If anyone can throw any light on these photos please email me John
---
Bill Minnick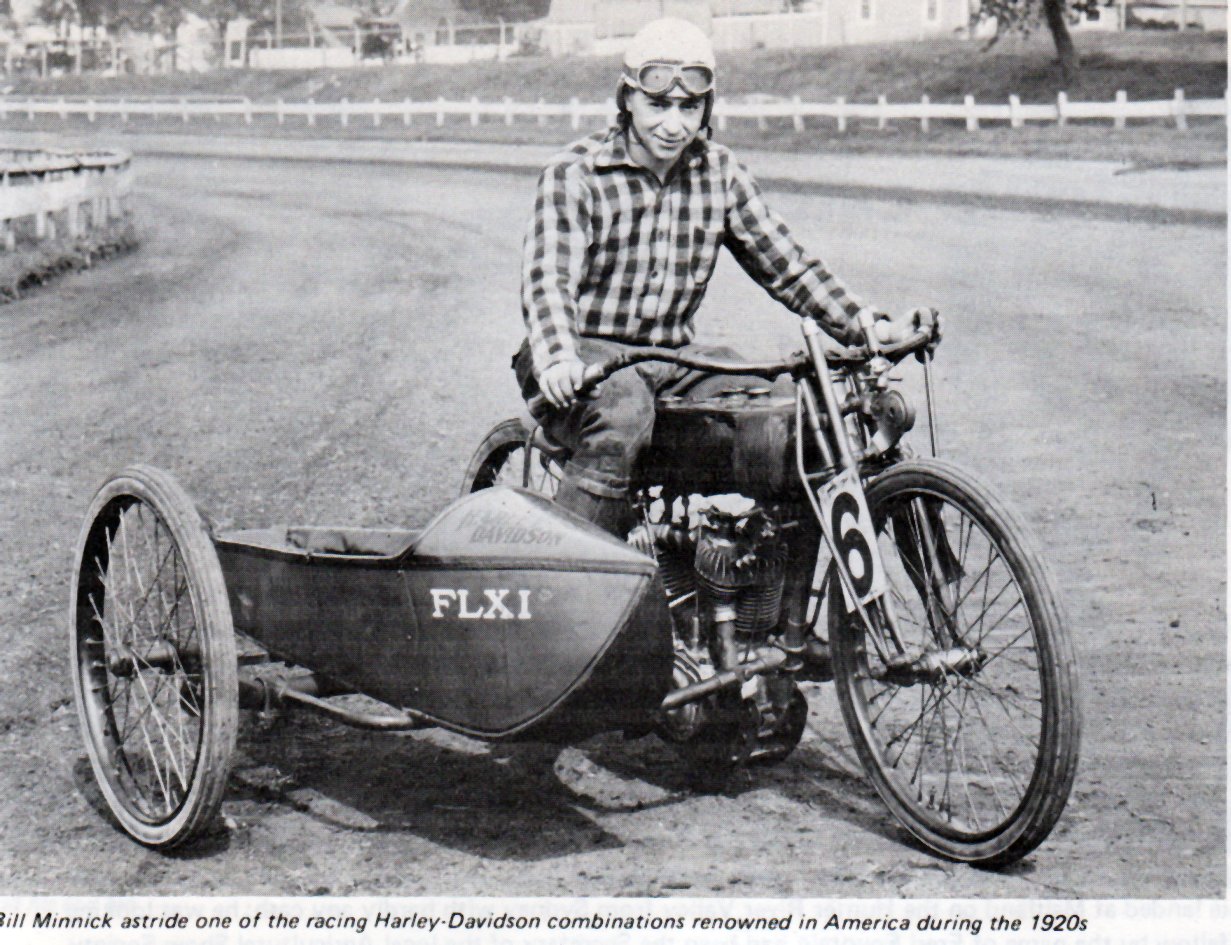 ---
USA (1920) At Dodge City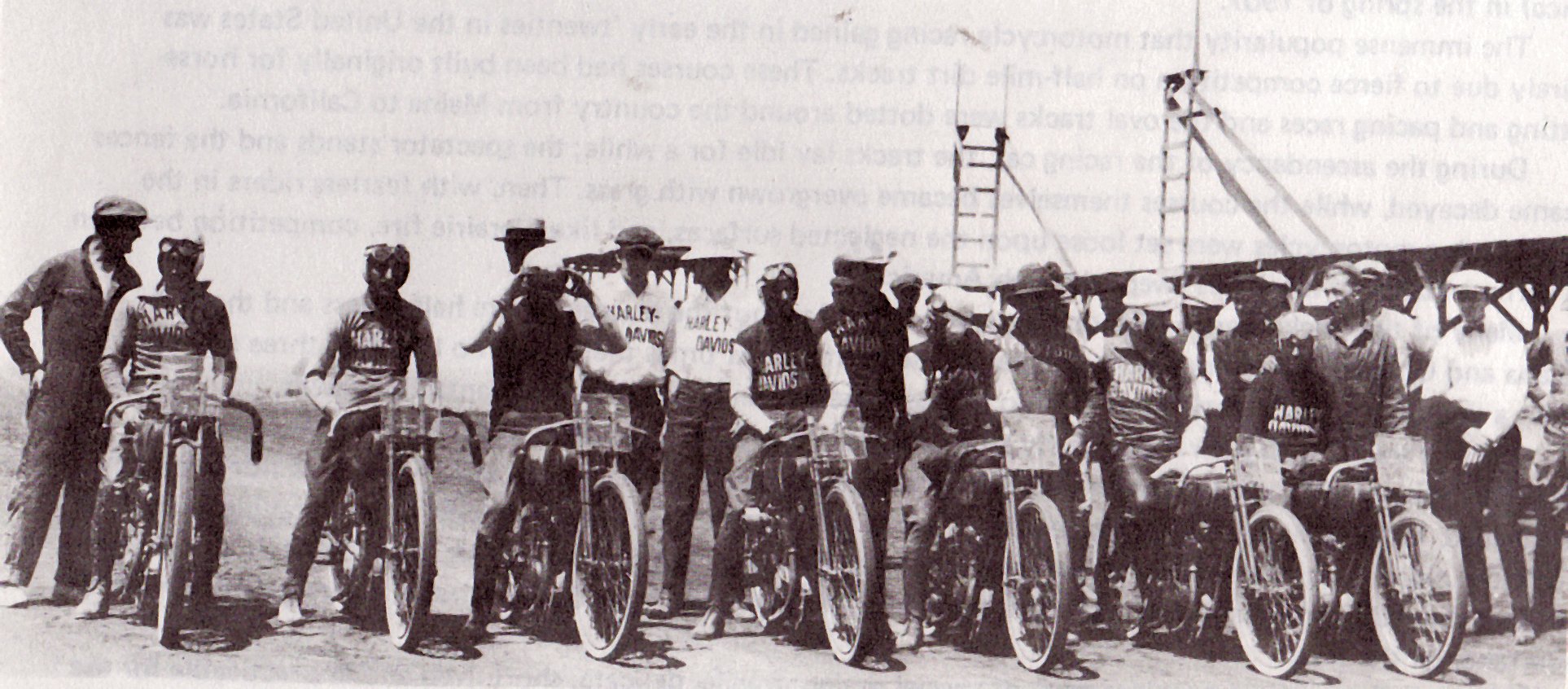 I expect the Dodge City races were held on grass but who really knows? No truth in the rumour that "Wyatt Earp" was in charge of security!
Maldwyn Jones, Fred Ludlow, Ralph Hepburn, Jim Davis, Ray Weishaar, OttoWalker, Walter Higley
Maldwyn Jones is said by some to have been the first to master the art of broadsiding, if so then he must have had a massive advantage over his rivals.
If the date I have is correct (1920) then this stakes an USA claim as inventors of the sport.
---
Grass Tracking In
New Zealand
Giffy says: Here are 16 NZ grass track photos all pre-dating speedway coming to the UK in 1928.
A few pics of early NZ grasstrack racing. giffy
Racing motorcycles on one mile horse tracks was popular in both New Zealand and Australia prior to the second world war. Races were anything up to fifteen miles in length and on the rough and ready tracks a great deal of stamina was required. Throw in the almost rigid frames, the heat and the dust, the scalding oil coming out of the engines and the twelve inch long exhaust pipes bellowing just below the ears it was no game for the feint hearted. The money wasn't too bad though, a successful rider could earn fifty pounds for a days work when I guess the average wage for a tradesman would be two or three pounds a week.
John says: I like the notion that grass trackers added cinders etc to worn parts of their grass tracks and eventually decided that an all cinder/shale etc track could cope with regular racing whereas with grass, the location couldn't be used so often, so grass track racing moved around for fresh tracks, whereas, Dirt Track/Speedway was all about having permanent homes/stadia with floodlights and other amenities to pull in the crowds.
Dave Gifford's Photos

(16)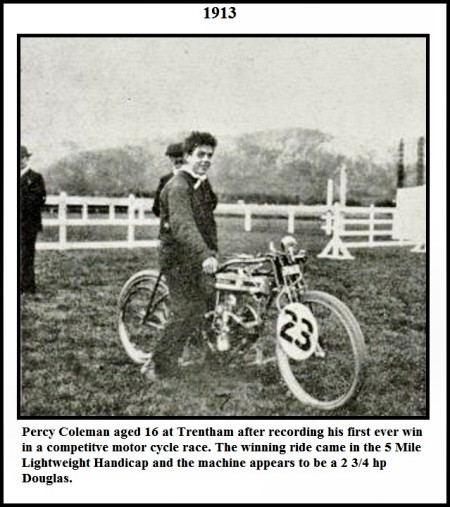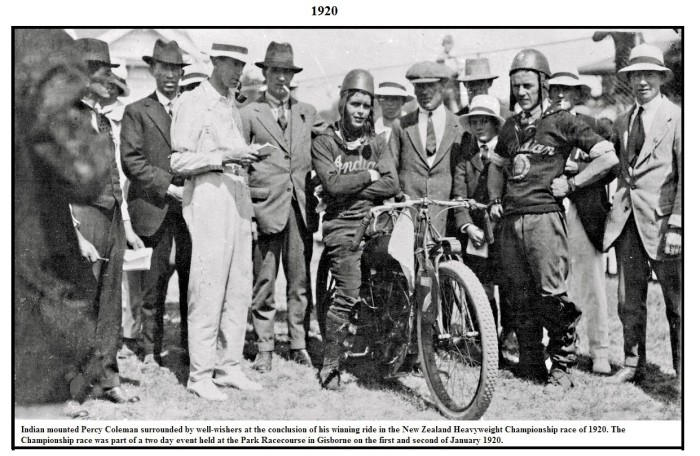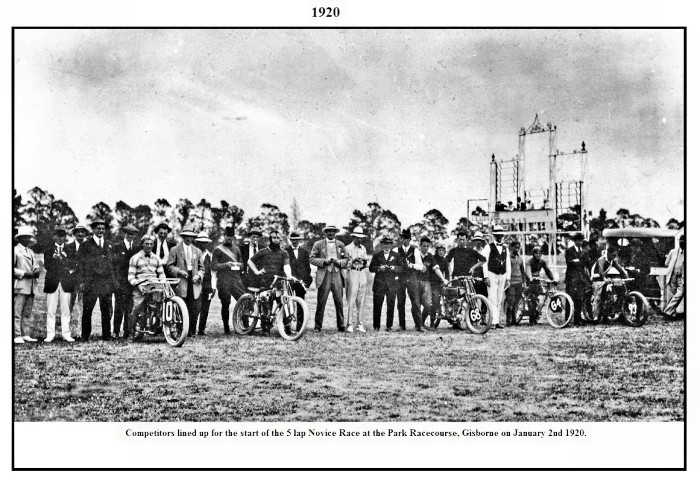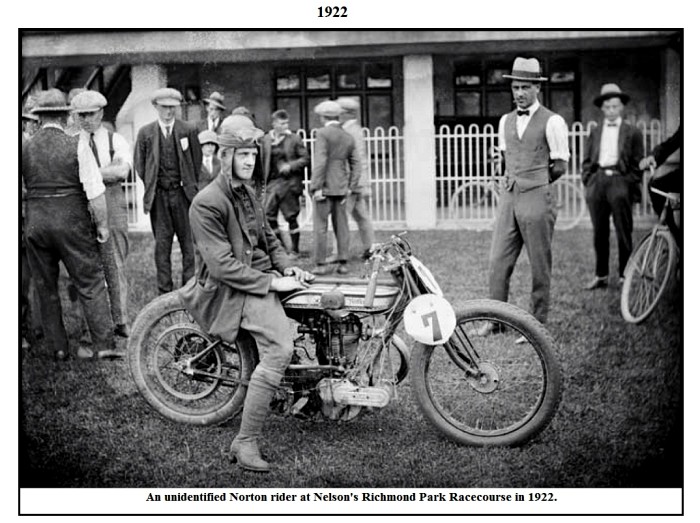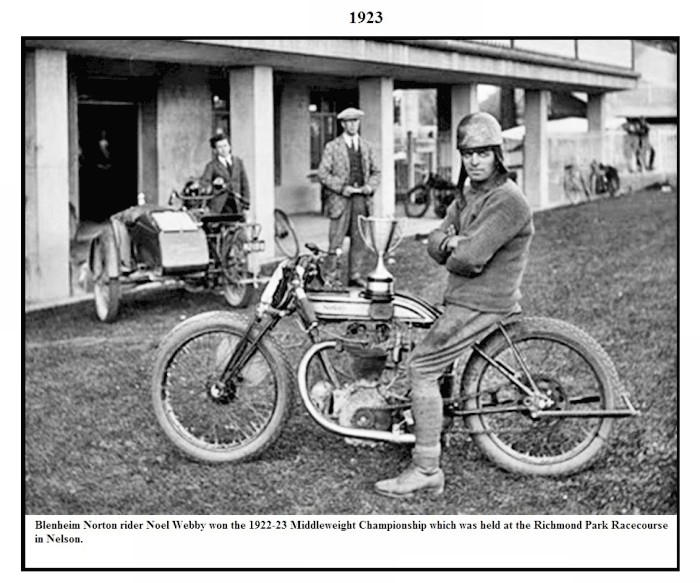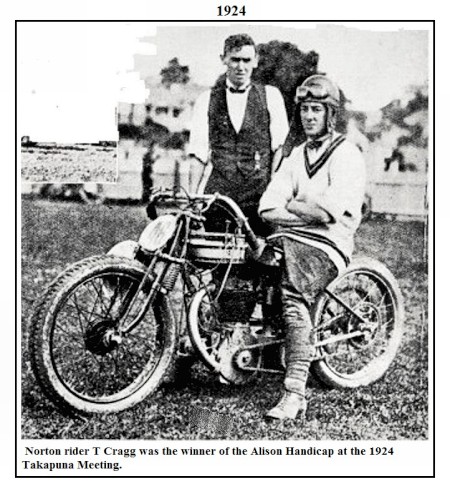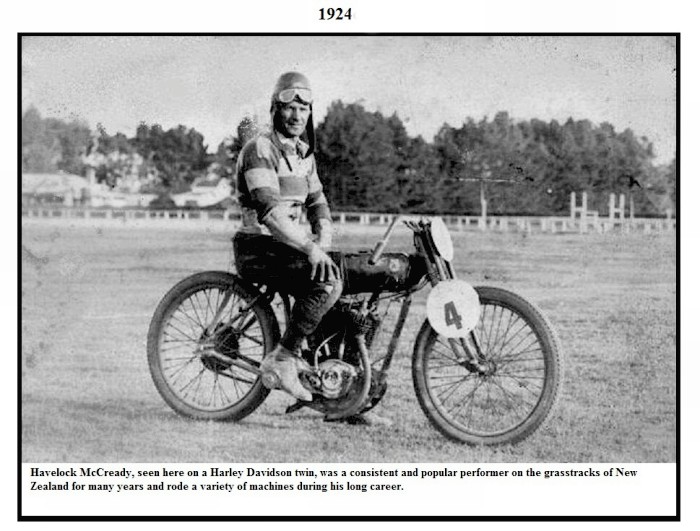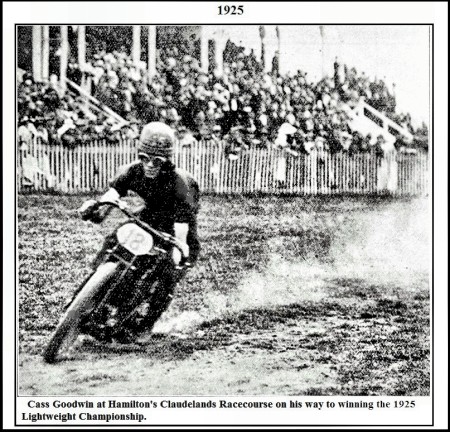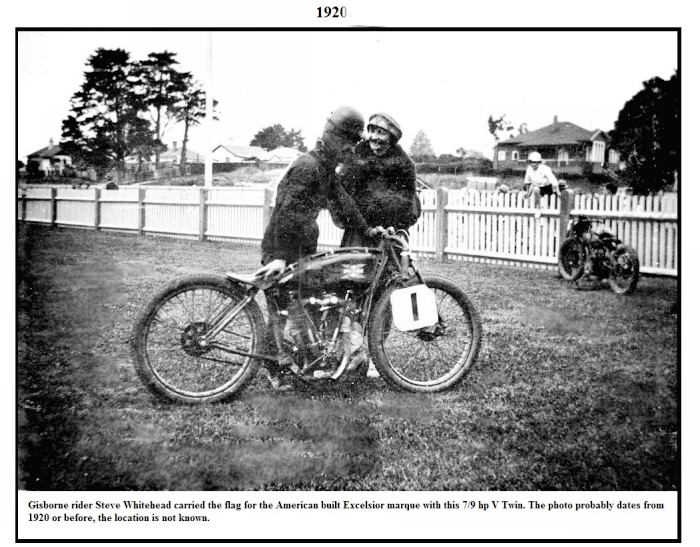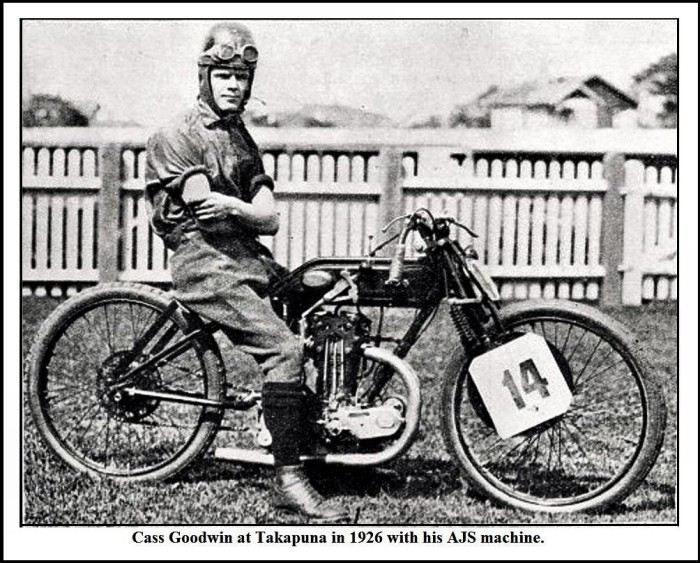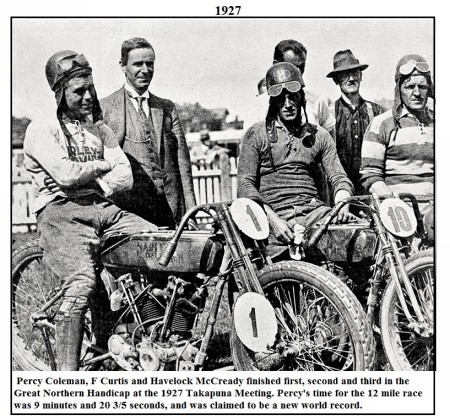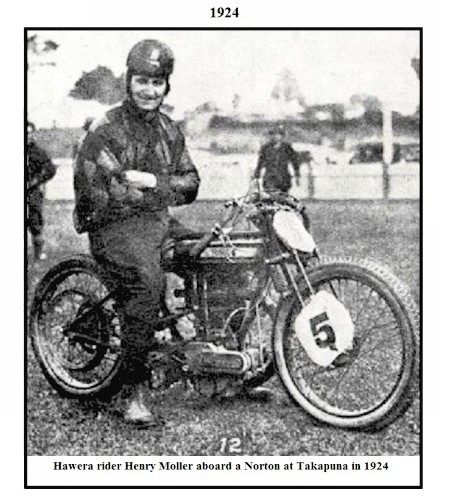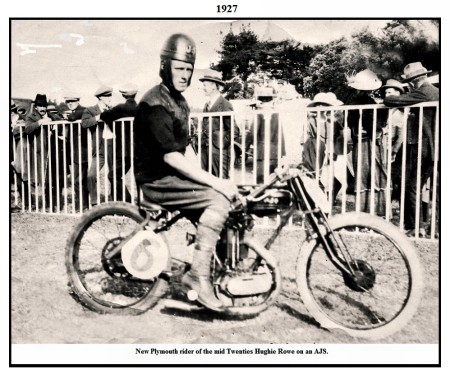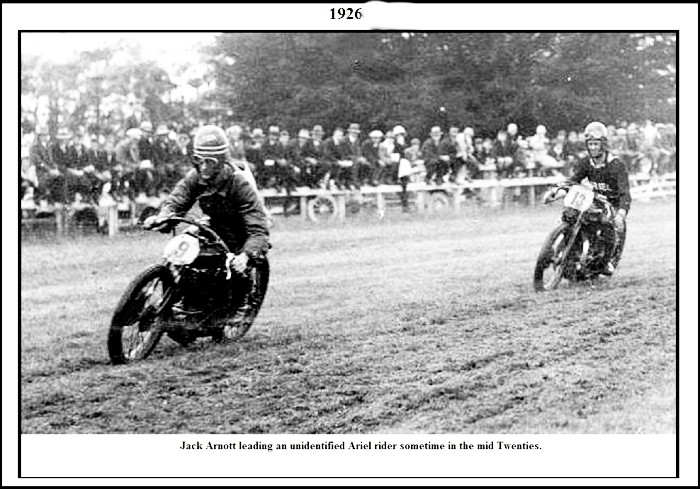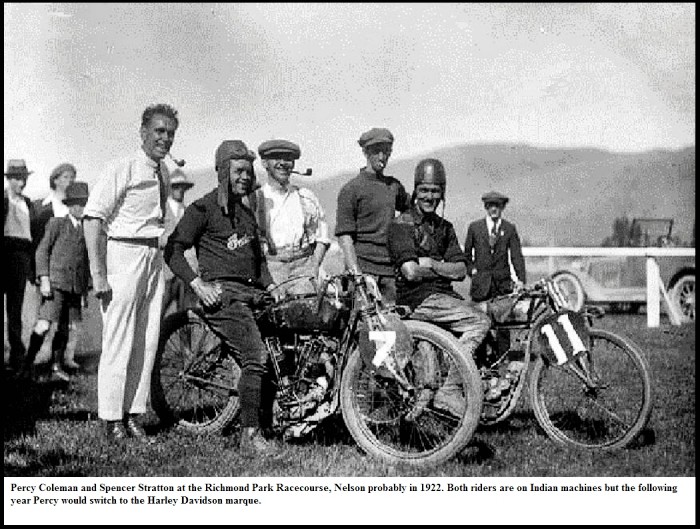 My thank yous to Dave Gifford for the 16 photos shown above. Thumbing through these pictures I set eyes on the AJS pictures. In the middle of the 1920s AJS bikes looked the part more than the other makes.
---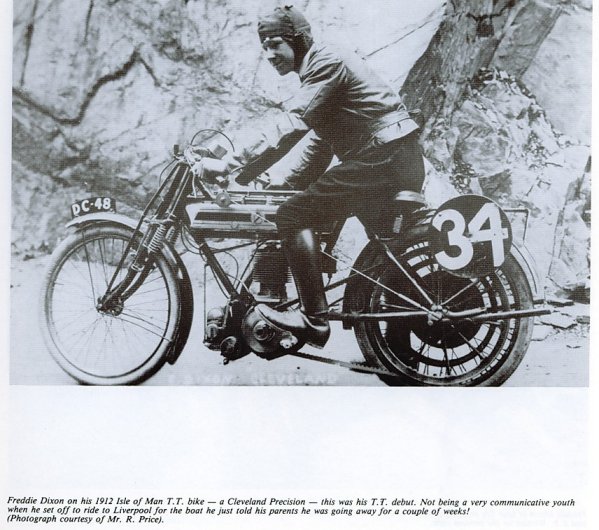 Do you have any comments/photos to share? email me
John
---
The contents of the site are © and should not be reproduced elsewhere for financial gain. The contributors to this site gave the pictures and information on that understanding. If anyone has any issue or objections to any items on the site please
e-mail
and I will amend or remove the item. Where possible credit has been given to the owner of each item.