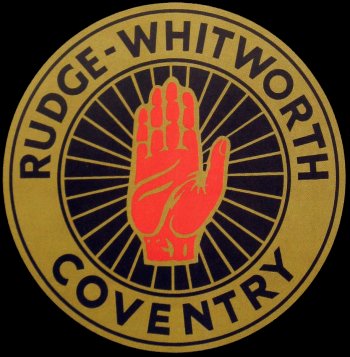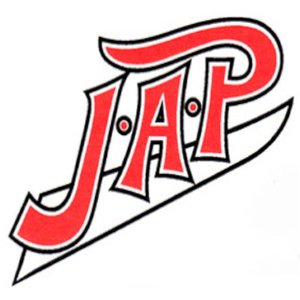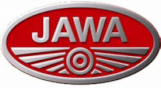 ---
Reg Fearman
Part 5
One of Ronnie's Racing Cars
Banquet of the Stars
13 World Champions
Ronnie and Ivan Receiving the Freedom Of the City Of Christchurch from The Mayor in 2008
Ronnie Moore MBE
Ronnie and I have been pals for almost 60 years, writes Reg Fearman. Our friendship started when his mother, Clarice, wrote to me in January 1950 enclosing the following photographs and cuttings from The 1950 Christchurch Aranui Speedway Programme: -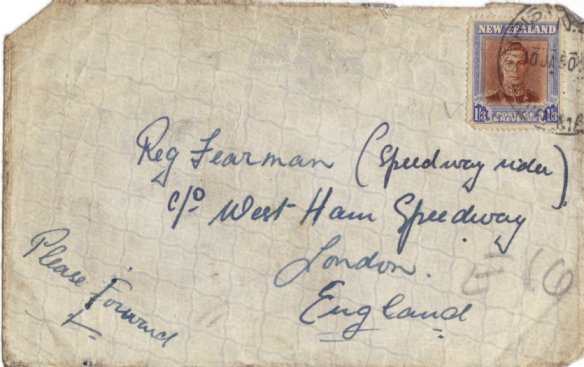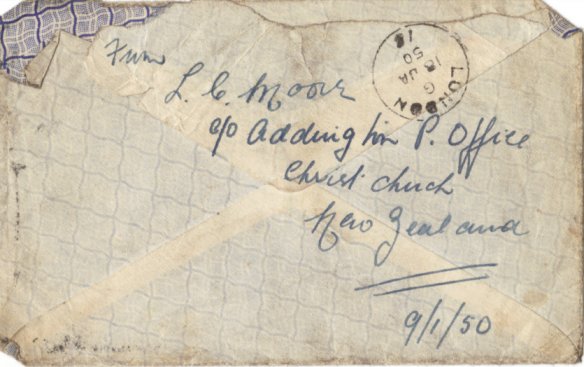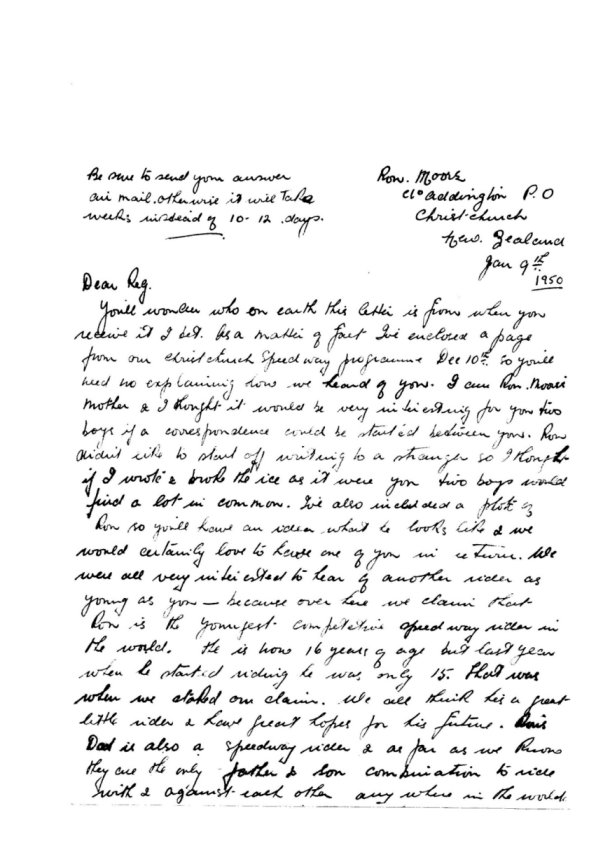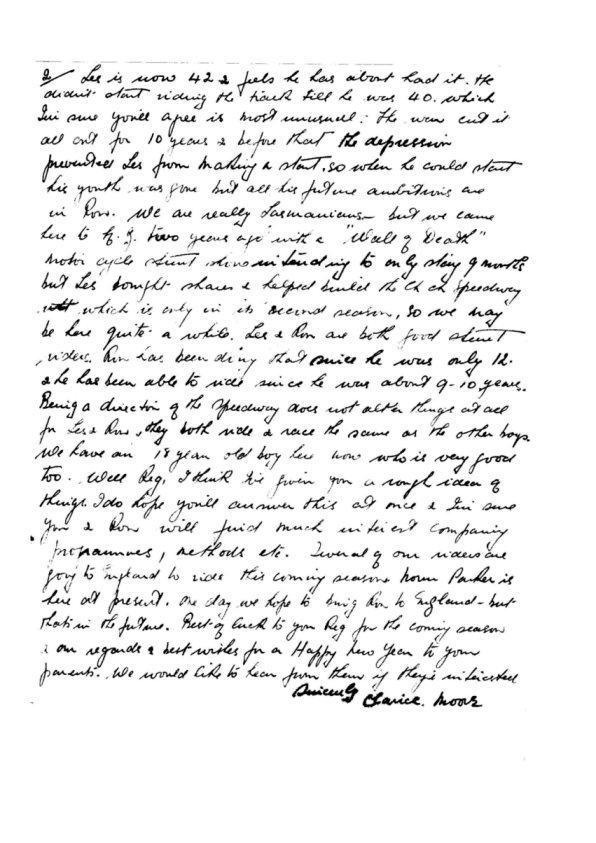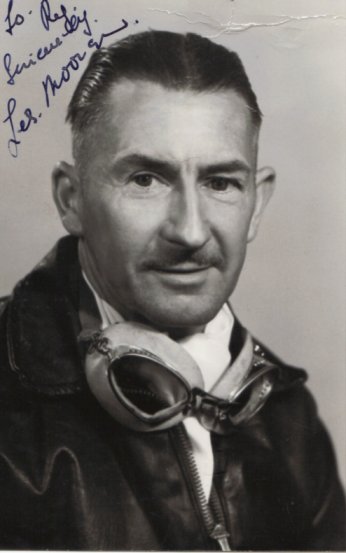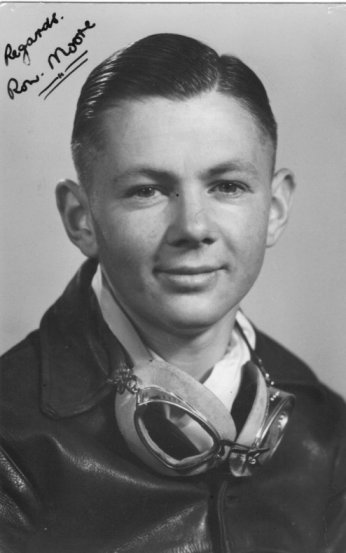 Also a rider, Ronnie's dad Les Moore and an excellent photograph of the 16 yr old Ronnie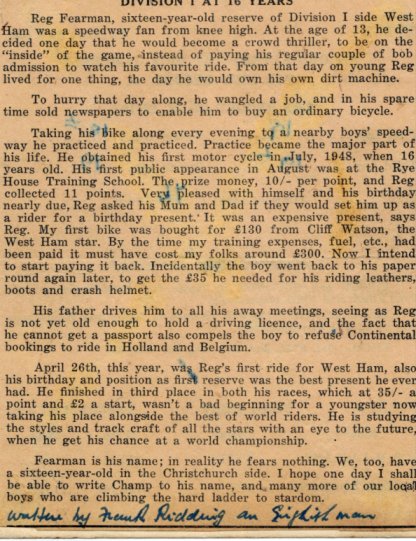 1950 Ronnie Moore With His Dad Les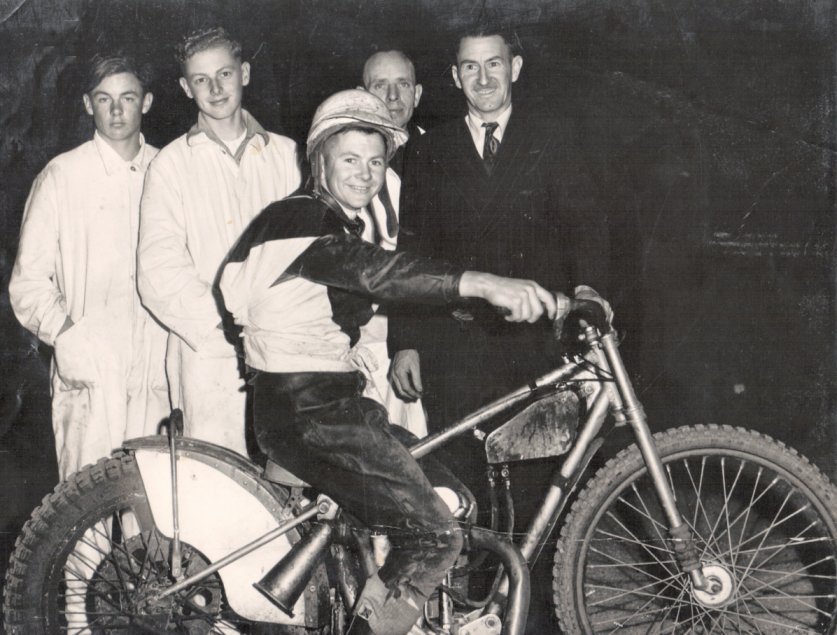 Ross Brown says: The pic of Ronnie from 1950 has in the background two guys I recognize, Maurice Moulton and Rae Hooper. Not that this is of historical importance, yet ... odd that I recall them.

The two chaps I mention are to Ronnie's left. Think they knew him and helped in the pits because they lived in the same suburb and idolised Ronnie - so did half of Christchurch's teenage lasses - but they certainly never attained fame.
Regarding the famous Aranui track in Christchurch, I think it was founded and owned by Alec Pratt, a local entrepeneur. When it folded he must have made a fortune from selling the area for building lots.
Don't think Les Moore had a lot to do with the founding of Aranui speedway. He was a popular and tearaway racer. I also saw him and son in the Globe of Death. Aranui was outstanding, I often biked there 20 kms from home with a lass on the bar and it was heroic to be seated by a bend and get covered in cinders. I always considered Geoff Mardon number one. Recall intensely Jack and Norman Parker, Dick Campbell, Bruce Abernethy, Freddie Williams, Ron Mason, Laurie Holland, Mal and Gil Craven, Ron Johnston, so on.
Regarding ChCh speedway stars it was amazing how the leafy and tranquil suburb of Beckenham produced Trevor Redmond, Craig Jones, Geoff Mardon, Mick Holland. Ronnie lived at Wainoni and moved to Waltham, near Beckenham. Barry came from Halswell - fair distance from the city in the 1950's, yet he biked and walked a lot, like all kids then.
Cheers, Ross Brown, Oslo
---
Ronnie 2002 With Mum Clarice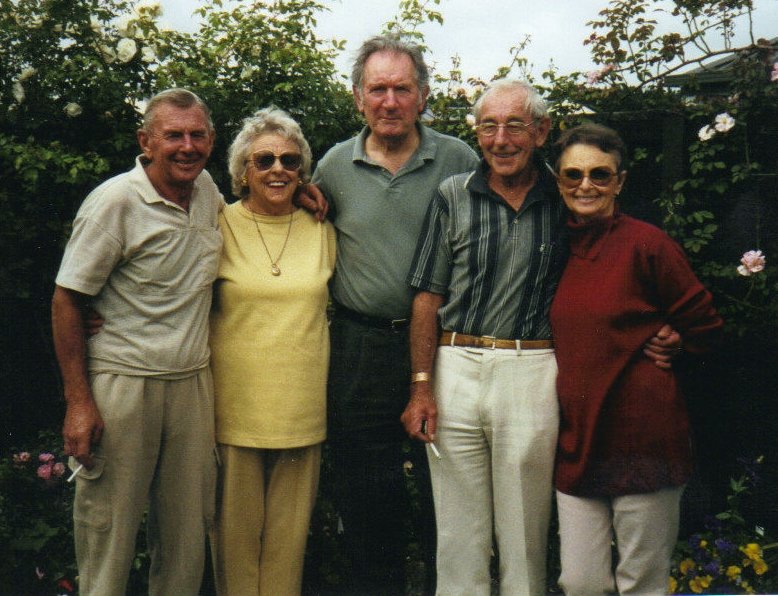 John says: In all of Reg's photographs he towers over most of the other ex riders, being tall in life, has it's advantages but is a drawback for a speedway rider.
Ronnie in 2002 with, his mum Clarice, Reg, Geoff & Val Mardon Christchurch NZ.

Val is Ronnie's sister which makes Geoff, who finished 3rd in the 1953 World Final behind Freddie Williams, Ronnie's brother-in-law.
---
New Zealand
Reg says:
New Zealand is well known for its historical and famous citizens. The population when I lived there between 1954 and 1956 was just two million people. In 2008, the population was just over four million. So many famous people have come from so few – Sir Edmund Hillary, the first man to climb Everest; Ernest Rutherford, for splitting the atom; Russell Crowe, actor; Kiri Te Kanawa, opera singer; Peter Snell, runner and three times Olympic champion; Chris Amon, Grand Prix racing driver; Bert Munroe, The Fastest Indian; Bruce McLaren, Grand Prix racing driver and many, many more. Regarding speedway, Christchurch must be the only city in the world to have produced three multi-times World Speedway Champions – Ronnie Moore, Barry Briggs and Ivan Mauger. Ronnie being the first trail-blazer, was racing before the really big money that came in the time of Barry and Ivan. Their racing careers also lasted much longer and they subsequently progressed into promoting speedway as the World Champions' Troup.
It was Ronnie's father, Les, who built the Aranui Speedway at the request of the speedway promoters in Wellington. Ronnie stormed on to the British speedway scene at Wimbledon in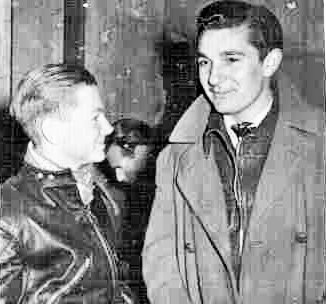 March 1950 at the age of 17 and qualified that year for the World Speedway Championship Final and scored seven points. In 1954, at 21 years of age, he was World Speedway Champion for the first time. His success as a twice World Speedway Champion, team rider and captain are well documented elsewhere. All the superlatives belong to Ronnie – the original Wonder Boy who everyone still loves, super star, giant of the sport, legend in his lifetime. He was a Wall of Death rider, a Grand Prix racing car driver and a gold prospector along with his father and Trevor Redmond. In the winter of 1950, they dived for gold in Skipper's Gorge which is over the snow-
capped mountains from Queenstown. The Gorge is only 20 feet wide and the water flows as a torrent and is extremely cold from snow melting in the mountains. Les wore his home-made diving suit with Ronnie and Trevor manning the air pump and holding the ropes to prevent Les being swept away. They made a number of unsuccessful attempts before giving up. It is said that at that time there was enough gold in the Shotover River to pay off the New Zealand National Debt. It is also said that in the Gold Rush of the late 1800's a dog fell into the River and came out with its fur covered in gold dust.
In 1951, Les and Ronnie bought in London two 1930's Alfa Romeo road-going racing cars from Roy Salvadori, a former Grand Prix driver. (It has been reported elsewhere that one of the cars was a Lagonda). The P3 Alfa won the Italian Grand Prix with Nuvollari at the wheel in the 1930's. The two Alfas were shipped back to New Zealand and won the New Zealand Grand Prix three years in succession. Eventually they were sold. Recently, the P3 Alfa changed hands in Australia for well over £1,000,000. By 1954, both Ronnie and Les were racing Cooper Climax and I saw them both in action at the Ardmore Grand Prix in Auckland. Racing on the same programme were Prince Bira of Siam (now Thailand) and Ken Wharton, Tony Gaze and Jack Brabham. Regrettably, Les lost his life in a racing car crash in 1959. He was just 48 years of age.
Ronnie married Jill in 1958 in London where the twins, Kim and Lea, were born. Shani and Gina were born in Christchurch. Jill died in 1985 from cancer. Ronnie has seven grandchildren who keep him busy with his hobbies of gardening, sailing and driving his 4 x 4 Landrover into the mountains, plus of course overseeing his Junior Speedway Racing Track.
Ronnie took a break from speedway in 1957 and spent two years racing Grand Prix cars and Cooper Climax in particular. He was back to speedway racing in 1959 which saw him win his second World Championship. He retired from speedway in 1963 after a compound fracture of his left leg. After spending the next six years in New Zealand, he was lured back to Wimbledon in 1969 at the age of 36 by Wimbledon Supremo, Ronnie Greene MBE (for services to the Fire Brigade Benevolent Fund). He returned as Captain of "The Dons", qualified for three more World Finals and won his first World Pairs Title with Ivan Mauger in 1970 at Malmo, Sweden. Ronnie finally retired from British League competitive racing in 1972. He raced only for Wimbledon, the team he captained for many years during his racing span of 22 years.
In 1974, Ronnie was coaxed by Ivan and Barry to tour with their World Champions' Troup. It was at Newcastle, New South Wales, that Ronnie (now aged 42) crashed suffering severe head and internal injuries. The surgeon drilled into Ronnie's skull to relieve pressure on his brain and there was a 100 miles' ambulance dash with Police escort to the North Shore Hospital in Sydney. Ronnie was in a coma for a month. It was many weeks before Ronnie could be repatriated to Christchurch for hospitalisation. He had lost the sight of one eye, which did recover, and a total loss of hearing which has only partially recovered in one ear.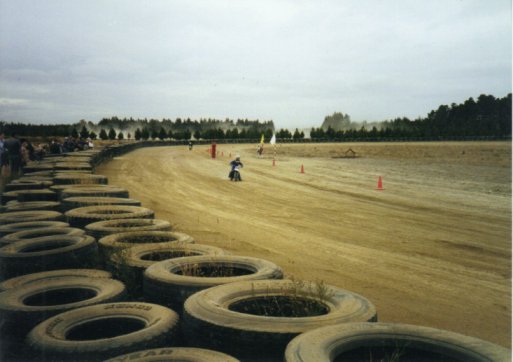 Aranui Speedway was bulldozed more than 30 years ago and a new Speedway built at Ruapuna which was called The Ronnie Moore Stadium. Later, the Speedway moved to a new venue and that is now called Moore Park. Ronnie's Training Track, Moore Park, Christchurch is shown to the left
It was many years since Ronnie had been to England. In 1998, I had the idea of Ronnie coming to the Veteran Speedway Riders' Association Dinner for March 1999 as Guest of Honour. I telephoned Ronnie and asked him if I could arrange it, would he come. He replied that he would be there 'like a shot'. I put the proposal to the VSRA
Committee who agreed providing I could raise the money to pay his return air fare and expenses whilst he was in the UK. I raised the sponsorship from a number of members who were delighted at the chance of seeing Ronnie again and due to their generosity, Ronnie was able to come to England for some three weeks. Ronnie was grateful to Pete Saunders (ex Crewe and Peterborough) for the loan of a car for the whole period he was here. At the Dinner, I Proposed the Toast to Ronnie and, in my speech, I included a message from Ivan Mauger, part of which I quote – "I am sure Ronnie has never realised exactly what an influence he had on my career but I want to reassure everyone present and Ronnie himself that to all the kids in Christchurch, and especially in my district, Ronnie was our idol". "We used to go to Aranui Speedway hours before the gates were due to open just so that we could be on the street corner when Ronnie arrived". "In later life, one of my proudest moments ever was winning the World Pairs Championship at Malmo with Ronnie". "He was the original whiz kid and is still a hero of all the young riders as he was for me and many others".
---
1999 VSRA President Fred Rogers
& Ronnie Moore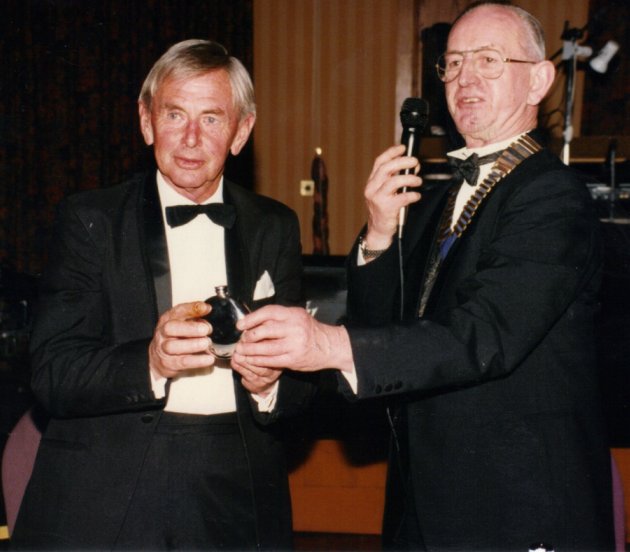 1999 VSRA President Fred Rogers Presents Guest of Honour, Ronnie Moore with a Memento -a hip flask don't drink too much Ronnie
---
1999 VSRA
Guest Of Honour
Ronnie Moore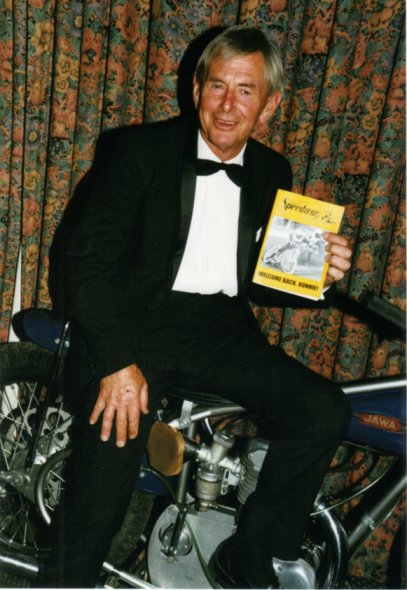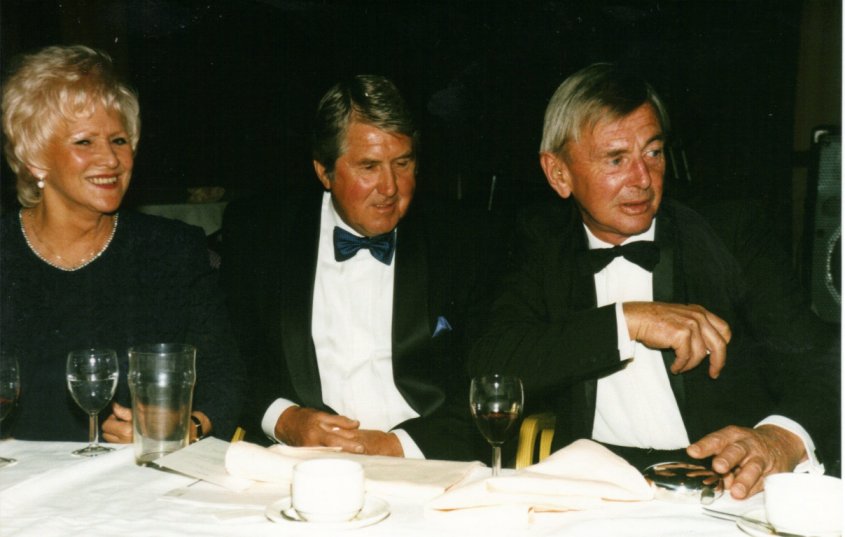 VSRA Dinner 1999 June & Barry Briggs with Honoured Guest Ronnie Moore.
---
March 1999
Bjorn Knutson
Barry Briggs & Ronnie Moore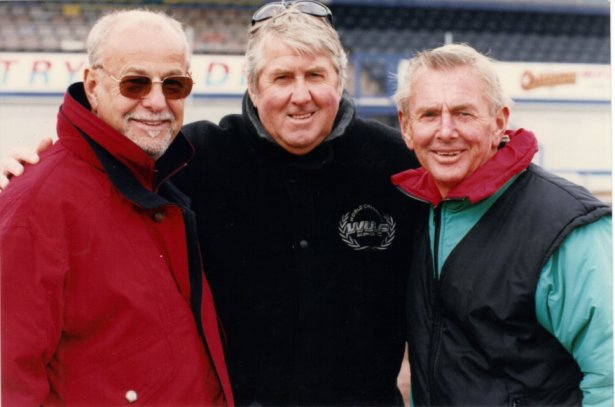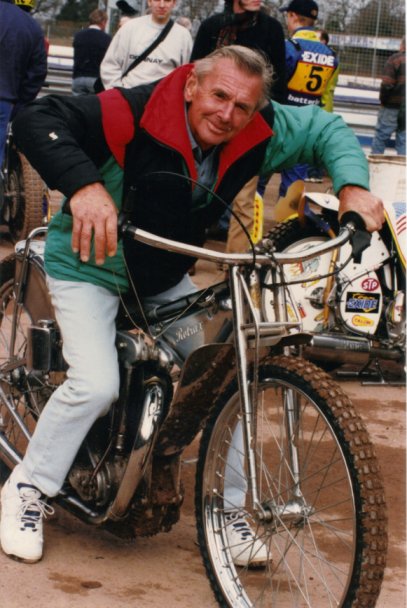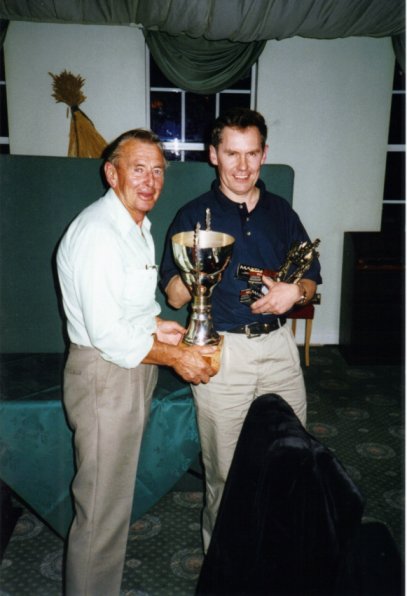 March 1999: Ronnie Moore Tries This Rotrax JAP For Size and Ronnie Presenting The 1999 Rider Cup To Harry Maclean.
---
One of Ronnie's

Midget

Racing Cars.
The "Atom"Car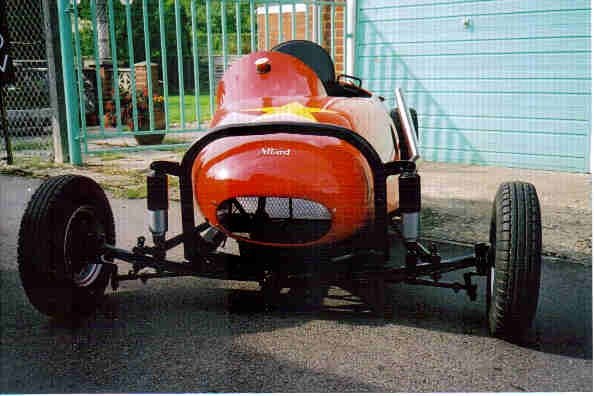 Ronnie With
Jack Taylor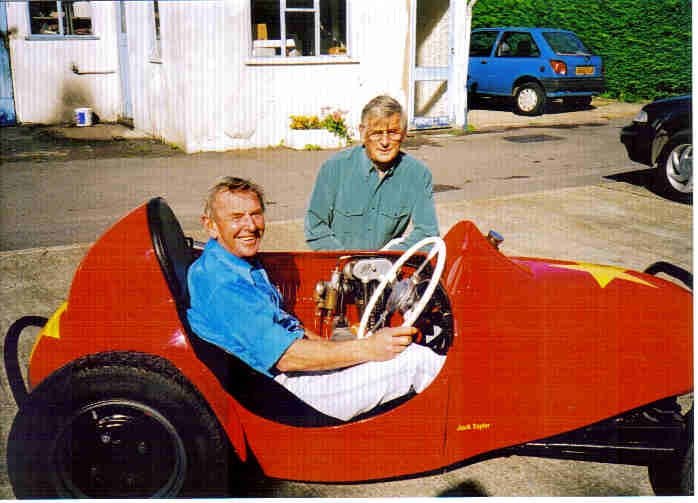 The Midget was made in South London by Sidney Allard of "Allard's" a sports car maker using Ford running gear. The Midget was the brain child of Ronnie Greene MBE. who was a friend of Allard and owned one of his sports cars. Greene's idea was to use the Midget after the main speedway racing using speedway riders --- it never got off the ground, the geometry of the midget itself was all wrong.
This generation of Midget cars were powered by air cooled JAP 500cc motors straight out of a speedway bike. You can see the JAP engine housed inside the drivers compartment. Nice and cosy!
Ronnie was the Test driver for the car at Wimbledon Speedway and during the trials it rolled over in the corner and Ronnie broke his collar bone which put him out of the Wimbledon team for a time. Some years ago Jack Taylor found the car in a garage somewhere in Wiltshire and restored it as a Museum piece. You will have read that Jack contributed towards Ronnie's fare and part of the deal was that I would take Ronnie to Jack's garage for an inspection of the car he had not seen for nearly 50 years and have a photo shoot.
---
Banquet Of The Stars
The End Of An Era
Wembley Stadium
16th September 2000
Promoted By Barry Briggs &
The Veteran Speedway Riders' Association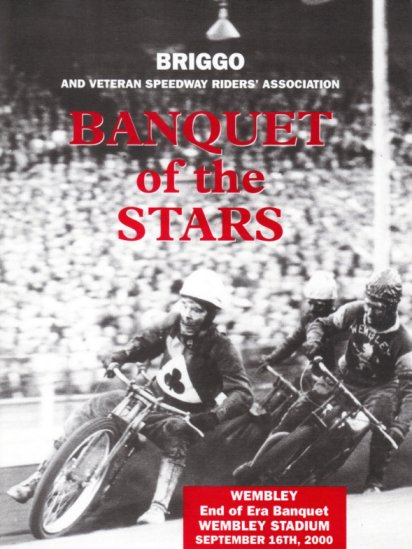 Wembley Stadium held a number of farewell banquets of sporting stars who had graced Wembley Stadium over many decades. It was Barry Briggs who was first contacted regarding such an event for speedway racing. Barry decided to involve the VSRA and I assisted along with others in the preparation and actual evening participation. It was hoped that as many World Champions as possible would attend and a part of my remit was to organise their attendance including hotel accommodation. Unfortunately, there was a fuel strike at this time which precluded the travel of Hans Neilsen and Eric Gundersen from Denmark and Anders Michanek from Sweden.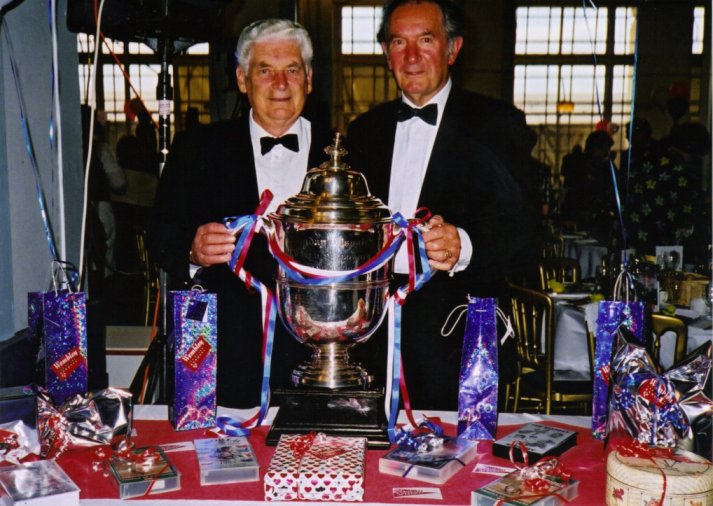 Wembley September 16 2000 Alan Quinn & Reg Fearman with Sunday Dispatch World Championship Trophy.
The Sunday Dispatch sponsored the World Championship Final after the war and gave the trophy to Barry Briggs after he won - I think his 3rd World Title in 1958 afterwards the Mirror Group Sponsored the event and they gave Ivan the Winged Wheel for his triple.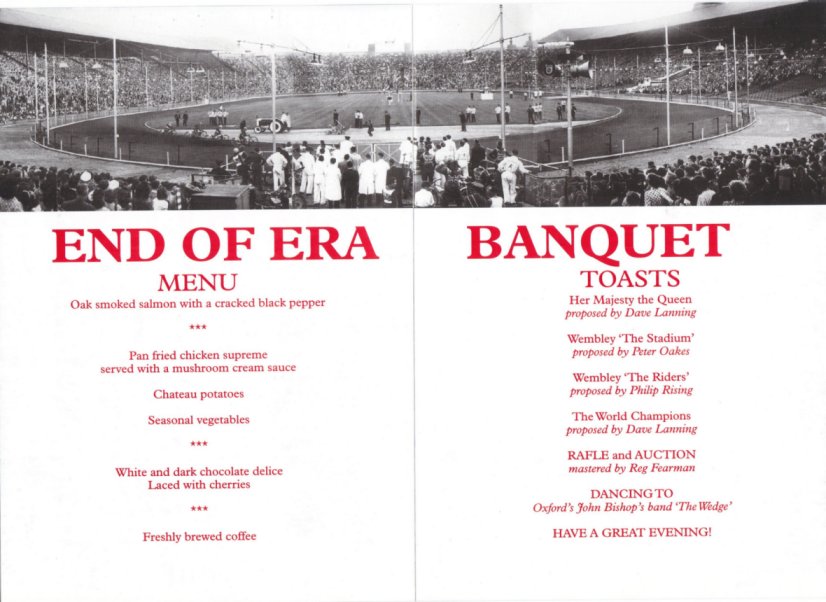 Reg says: But I was fortunate in that John Harrhy, the VSRA host for the 'Rider' Cup at The West Midlands Golf Club, Jack Taylor who restored the Atom Midget Car which Ronnie raced and in which he broke his collar bone at Wimbledon when practising in the mid-1950's, and Pete Saunders sponsored Ronnie for the event.
---
13

World Champions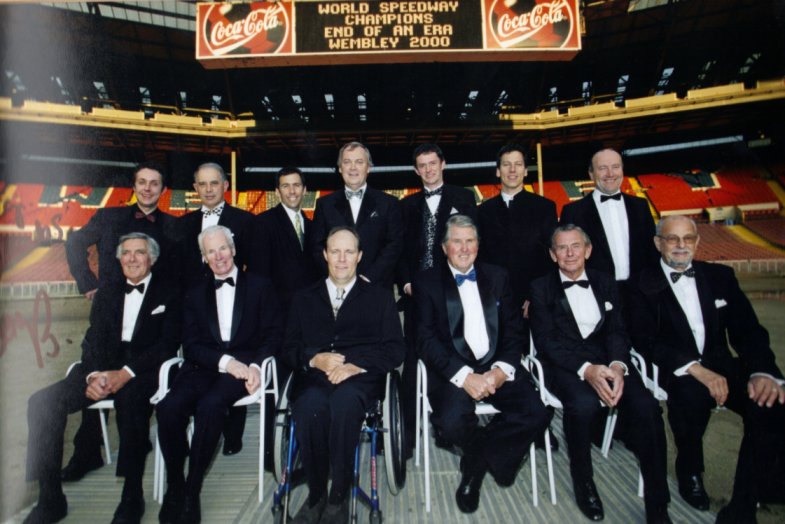 13

World Champions :- Gary Havelock Ivan Mauger Greg Hancock Ole Olsen Michael Lee Sam Ermolenko Peter Collins. Front :- Freddie Williams Ove Fundin Per Jonsson Barry Briggs Ronnie Moore Bjorn Knutson
In all, there were 13 World Champions present, each sitting at a different table and later mingling with some 1,000 guests.
My third and final arrangements to bring Ronnie half way around the world were for him to be President of the Veteran Speedway Riders' Association in March 2003. The date of the Dinner, 7th March, coincided with his 70th birthday. It also coincided with the Guest of Honour who I had arranged – Igor Plechanov. It was a good chance for them both to get together.
---
Russian
Igor Plechanov
& Ronnie Moore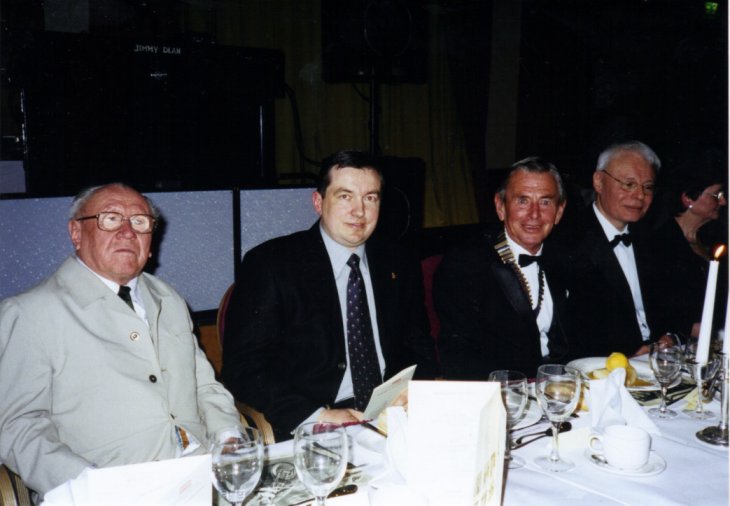 Igor Plechanov, Igor Kalshnik, Ronnie Moore VSRA President 2003.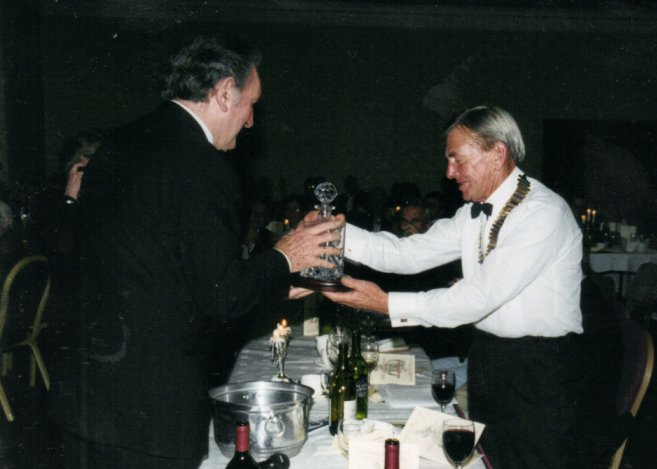 VSRA President 2003 Ronnie Moore Receives a Decanter From Reg Fearman.
It was Ivan and his wife, Raye, who were delighted to sponsor Ronnie's return air fare from New Zealand on this occasion. The Dinner was extremely successful and drew a record attendance of three hundred and thirty four guests.
Reg Fearman
January 2009
---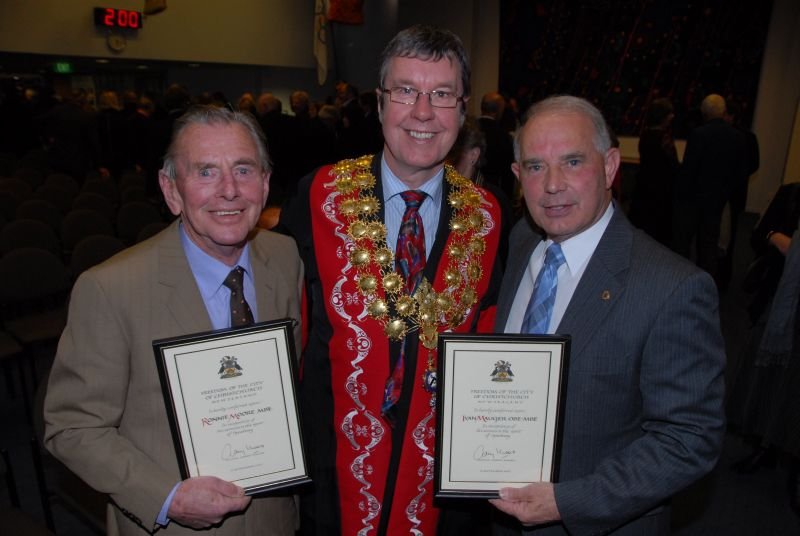 Ronnie and Ivan receiving the Freedom Of The City Of Christchurch from the Mayor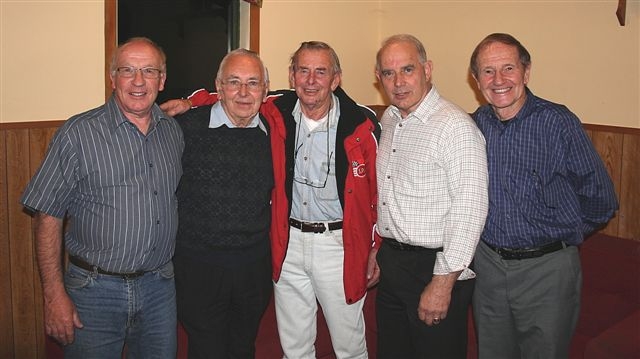 Roy Trigg, Tommy Sweetman, Ronnie Moore, Ivan Mauger, Bob Andrews
---
Ronnie With
Bradley Andrews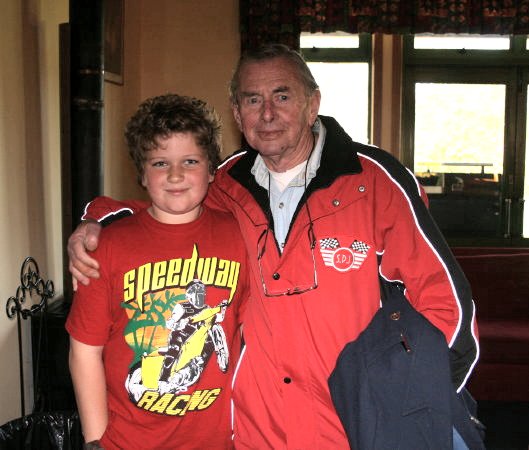 Ronnie with Andrews junior speedway rider. Bob Andrews grandson.
John says: Bob Andrews grandson Bradley has been riding in New Zealand. I hope he will come to the UK when he is ready.
2016 and Bradley has a place in the third tier of UK Speedway. He is riding for Cradley in the 3rd tier National League
Reg Fearman 6
---
The contents of the site are © and should not be reproduced elsewhere for financial gain. The contributors to this site gave the pictures and information on that understanding. If anyone has any issue or objections to any items on the site please
e-mail
and I will amend or remove the item. Where possible credit has been given to the owner of each item.