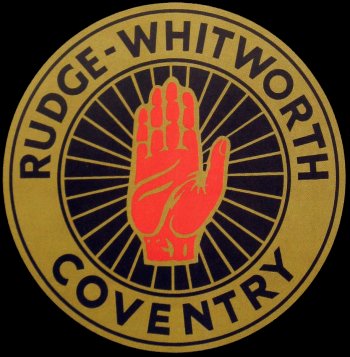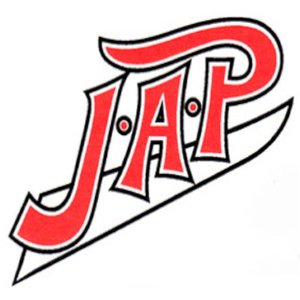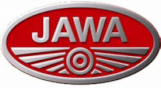 ---
Speedway Books
This page was started 25th February 2013. If you have a speedway book and would like me to advertise it, send me an email
John
and I will put an advert for it on this page. You just need to send me an image and whatever contact method you choose for prospective buyers to contact you, or they can contact me by email here
John
and I will send the request on to you.
Philip Dalling's Books
Philip Dalling has written 5 books, they are available via Amazon as follows: -
Courtesy of Philip Dalling
British speedway in the 1950s experienced some challenging times.
At the start of the decade the sport still enjoyed the fruits of its post World War Two boom, with more than 30 venues from Eastbourne to Edinburgh and annual attendance figures peaking at 11 million.
Dark clouds loomed on the horizon. Punitive entertainment tax, wet summers and the soaring popularity of television saw crowds dwindle and tracks close, leaving a hard core of less than a dozen professional clubs in the elite National League by 1957, with just two surviving in the North of England and none at all in Scotland.
In the South persevering riders and fans kept interest alive through the semi professional Southern Area League, whilst in the North and Scotland speedway survived at venues as varied as the beaches of the Lancashire coast, a track carved out of an ash tip in industrial Manchester and at an agricultural showground owned by a leading Scottish aristocrat.
SAVING SPEEDWAY tells how the road to recovery began when a small group of men of vision re-opened long-closed venues and then, in 1960, formed a new competition, the Provincial League, which doubled the number of speedway venues overnight and eventually led to a new Golden Age for the sport.
Philip Dalling first watched speedway in 1962, when the Provincial League was the sport's most successful British competition. He has written five books about speedway, countless newspaper and magazine articles, and has visited all but one of the sport's present day venues. He grew up in the former speedway stronghold of Long Eaton, Derbyshire, beginning his career as a journalist on his home town newspaper. He was for 22 years Director of Public Affairs at The University of Nottingham. He now lives in North Devon and writes as a freelance for West Country newspapers and magazines.
John Somerville has an international reputation as a speedway memorabilia collector. Since acquiring the negatives of legendary photographer Wright Wood in 2004, he has established the sport's most extensive and comprehensive archive, whose images appear regularly in speedway publications throughout the world. His fellow enthusiasts and collectors help provide the images with detailed captions. John Somerville collaborated with author John Chaplin on four speedway books and has now joined forces with Philip Dalling to mark the highly significant 60th anniversary of the Provincial League. The images can be freely viewed on his website The John Somerville Collection and are available for purchase.
Imprint: Halsgrove. ISBN 978 0 85704 348 1, hardback, 210x297mm, 160 pages. Published November 2020.
Saving Speedway The Provincial League & The Southern Area League Philip Dalling & John Somerville

There seems to be problems for all publishers at the moment re Amazon, apparently due to a book wholesaler going into liquidation. It is better at present to say that books are available direct from the publishers (Halsgrove).
---
Classic Speedway Venues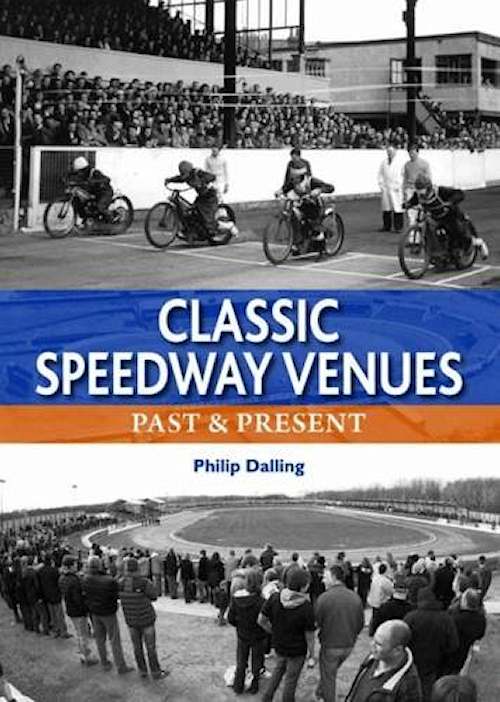 Philip's books are best obtained via the Amazon website
Books at Amazon or direct from the publisher
(Halsgrove).
The Golden Age of Speedway

By Phillip Dalling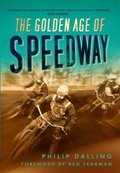 Philip Dalling's The Golden Age of Speedway (The History Press, £14.99). This is now in its second edition.
Nottingham & Long Eaton Speedway 1928-67

By Phillip Dalling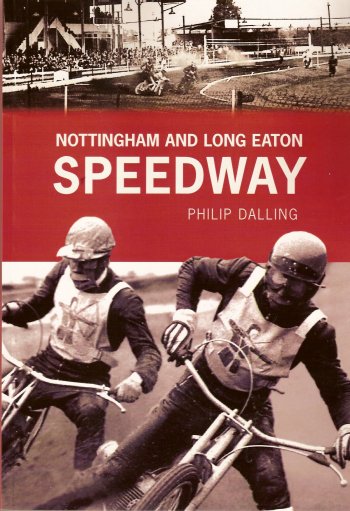 Philip Dalling's The second edition of
Nottingham and Long Eaton Speedway 1928-67 (The History Press, £14.99),
Speedway, The Classic Era

By Phillip Dalling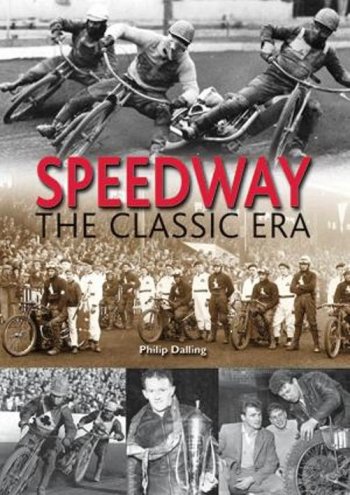 Philip Dalling Speedway The Classic Era (Halsgrove £19.99) has sold out the first edition and is awaiting a reprint. Amazon takes orders delivery when the book is available again.
Philip's books are best obtained via the Amazon website
Books at Amazon
---
Tony Webb's Books
Tony's books can be found on binbooks@iinet.net.au
An A-Z of Speedway Bikes

By Tony Webb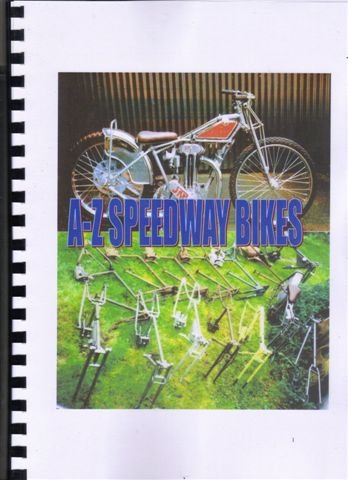 John says: This book is right up my street. An A-Z of speedway bikes. I have emailed Tony to reserve me a copy of his book. If you want to do the same send me an email and I will pass it on to Tony. The front cover of his book shows an Excelsior JAP (I Think) from the era when speedway bikes were beautiful! A great choice of bike for his book cover.
Email me here if you want me to ask Tony to send you a copy John
2010 Garry Hay Story, Wheels Of Fate

By Tony Webb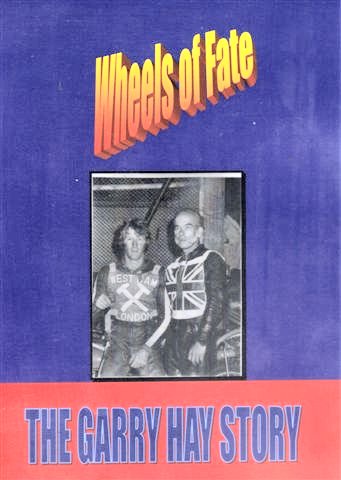 Tony says: The book is on sale Worldwide inc Postage £20.00 GBP Email me here Tony says: The book is on sale Worldwide inc Postage £20.00 GBP Email me here if you want me to ask Tony to send you a copy John if you want me to ask Tony to send you a copy
2012 Garry Middleton Story, Fact v Fiction

By Tony Webb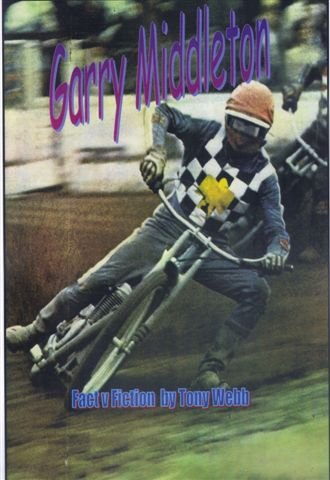 Tony says: The book is on sale at £20.00 GBP. Email me here John if you want me to ask Tony to send you a copy.
Crumbs! The Rusty Rees Story

By Tony Webb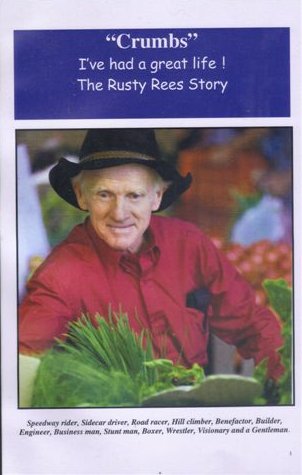 2009 book by Tony Webb £20.00 GBP
Tony says: The book is on sale at £20.00 GBP. Email me here John if you want me to ask Tony to send you a copy.
Speedway Tonight!
The Davies Park Story
By Tony Webb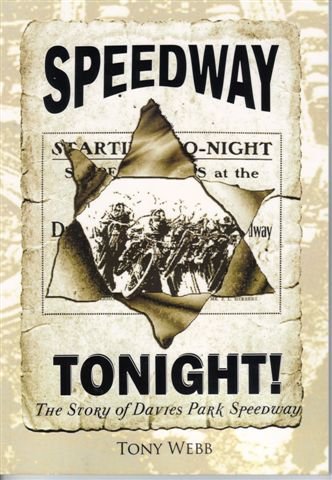 Tony wrote this book in 2010 and it is on sale at £20.00 GBP Email me here John if you want me to ask Tony to send you a copy.
Pioneer Park Speedway
By Tony Webb
The book came out in 2012 and is selling at £20.00 GBP Worldwide.
Email me here John if you want me to ask Tony to send you a copy.
The Danger of Winning


The Graham Warren story by Tony Webb
Published by Clark Mckay Brisbane. 178 pages. 180 photos story and statistics. soft cover Isbn 978 0 646 826613 4
Available from the author, binbooks@iinet.net.au. 15 tranquil street Sunnybank hills Queensland .4109 Australia.phone 0481 990 364 payment paypal to binbooks@iinet.netau or bank transfer by request. price $40 inc post in Australia. Worldwide GBP 25. Trade enquiries welcome
Australian historianTony Webb has added another speedway book to his extensive collection ( writes Australian reviewer Gaven Dall'osto) This book has particular significance as Tony 's 'Huck Fynn' framed machine was significant enough to be included in 'The Motorcycle, Design, Art, Desire' exhibition at the Queensland Art Gallery on the request of co-curator Professor Charles Falco. It was timely for Tony to publish his book about the Aussie rider of the said bike, Graham Warren. Tony used information and photos from Graham's youngest son Mark, the John Somerville photo collection, that of the late Noel Clarke (to whom the book is dedicated as he amassed a large collection as a dedicated fan) and too many others to mention. The book starts with a remarkable anecdote about Tony, at the age of 13 in his native England, watching his grandparent's television and the first ever airing of speedway - the 1953 World final. Little did he know that one day he would own the very bike that Graham Warren was riding. The story includes how the bike was sold to Dick Bennett in Western Australia who rode it a while before it lay abandoned for 30 years on his farm. It made its way to Graham's son Mark and then to Tony.
The main story begins with Graham Warren's early childhood. He was a competitive cyclist, and hobbied model aircraft before becoming an apprentice fitter. He restored old motorcycles to earn money to start speedway riding. The war came and he was in the RAF until 1946. When his Dad died in 1942, he felt responsible for looking after his Mum and sister however his Mum wanted him to follow his dream and helped him buy a competitive speedway machine. He honed his skills on a home-made track and some local mudflats in the Sydney area. He rode successfully in Australia and then decided to go to England in 1947. He paid his own way, freighting his bike and hoping to earn enough money to pay for the freight later. With a letter of introduction, he lobbied the glamorous London clubs without success, then proceeded to the Midlands where he got the opportunity in the 3rd division at Cradley Heath. Here he soon showed his talent and was christened the 'Blonde Bombshell' because of his golden locks and the way he exploded to the highest level in a very short time. He was seconded to the Brummies (Birmingham) team. Tony continues Graham's story chronologically in both his English and Australian seasons including his results, injuries, marriage, births and the many lost companion riders in this dangerous sport. Graham's worst moment was when he suffered a serious triple skull fracture in New Zealand in 1951. Journalists suggested the accident was career ending but Graham was back in action after only 3 months. He won many races and broke numerous track records but he had one curse which Tony uses to title the book – the danger of winning. Tony highlights how he threw away a World Championship and many other garlands in his stubborn determination to risk all to finish in front. His 'ever the racer' attitude however gained him a dedicated following and celebrity status in the sport.
Graham's career spanned two parts, 1947 to 1955 and then after a break he returned for 1959 to 1963. Tony includes how the politics and rules changed over the years. He cites how Graham was loyal to his frame builders, engine tuners, promoters and clubs. There were many quirks to his machines like his foot rest which was actually a ring spanner that could be easily adjusted and especially shaped to suit his size 6 boot. Tony includes information from interviews with many who were close to Graham in those times including the mechanics, journalists etc. The late Jim Shepard summed up Graham's career stating that he wore "the same mantle as racing car driver Stirling Moss, the greatest ever competitor……. never to become world champion".
The Blonde Bombshell passed away peacefully in 2004, aged 79
Copies are available direct from Tony on this email address: binbooks@iinet.net
---
Both Sides Of The Fence
By Reg Fearman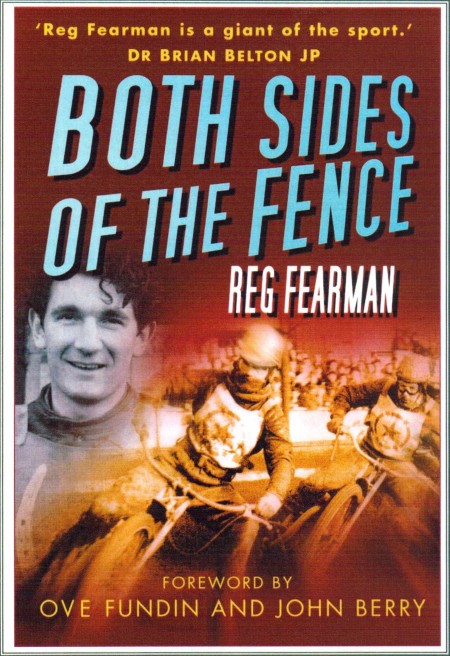 If you want a copy of Reg's book please send me an email and I will put you in touch John
John says: I simply advertise the books on this page. I have not necessarily read them and cannot enter into any discussions about them. I can however pass on comments to the authors.
I make no charge for these book adverts preferring instead to accept any contribution(s) that the author is happy to make (small or large), towards my website fees. If you want to support the Defunct Speedway Website please email me with your cheque book in hand! John