John Hyam
Part 1
My Riding Career
Ernie Baker
Foreign Riders in the UK
Harold MacNaughton
Speedway Magazines
Track Rakers and Riders
George Pepper
Fancy That!
Jack Winstanley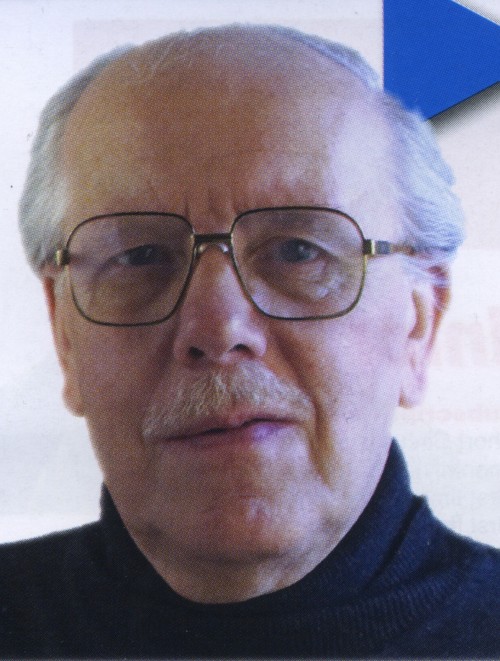 Long-time speedway journalist and photographer John Hyam.
John Skinner says: During the time I have spent developing this website a number of interested parties have come forward naming riders or sending their photos, facts and memories. John Hyam is one of them, he was also a speedway journalist and photographer. I offered John a page of his own, or pages of his own if he sends a lot of items. So here we go with John Hyam page 1: -
John Hyam
Date of Birth: 14th August 1932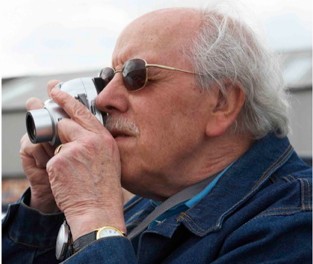 John was sometimes active as a speedway photographer, mainly at Wimbledon. This is him at Wimbledon in 2004.
John Hyam says: -My Involvement with Speedway:

I was 13 when I saw my first speedway meeting at New Cross (v The Rest) on Wednesday April 17 1946. I knew so little about the sport that I thought the race was on when the riders were only cruising round the track from the pits to the starting gate. I was terrified when the race started and they roared into the first bend where I was on the terraces. Ron Johnson (NX) won from team mate Phil Bishop and the visitors Ron Clarke after Jack Parker had engine failure. Johnson's time was 61.8 seconds which compared to 58 second track record for the 262 yard track set by George Newton in 1938. Great riders I saw that night included Johnson, Parker, Clarke, Tommy Price, Oliver Hart, Geoff Pymar.
I was a keen follower of speedway from thereon and used to buy every publication that I could find in regard to speedway. After National Service with the RAF from 1950-52 I started writing letters to the 'Speedway News", then tried a few small articles for the 'Speedway Gazette' then edited by Bruce Valdar. When I started getting postal orders in return, my target was to be a speedway journalist.
Over the years I have written on a freelance basis for most speedway publications - 'Speedway Gazette,' 'Speedway Reporter,' 'Speedway News,' 'Speedway World' and many more. In 1954, when the Southern Area League started I offered to write about the competition for the 'Speedway Star' and they agreed - with the proviso I also organised track sales at the then SAL tracks at California-in-England, Eastbourne, Rye House, Brafield and Aldershot. It was the start of a link that led to me being offered a full-time post at 'Speedway Star' in 1955 when then editor Eric Linden took on the post of features editor at 'TV Times.' I stayed in that post until 1962 when I became the sports editor of the Middlesex-area 'Weekly Post".
In my years at 'Speedway Star" I also tried my hand at riding a speedway bike, mainly practice sessions at California and Eastbourne but never in a competitive race. My nearest chance to 'speedway fame' was when I was among those selected to ride for a proposed Eastbourne junior team the Eastbourne Eaglets in 1956, but they never took part in a match. I was out of speedway journalism for more than 9 years, but resurfaced in 1972 when I was involved as a freelance writer and sub-editor with the 'Speedway Mail' which I ceased links with in 1984.
There came another lengthy period out of speedway until Wimbledon's return as a Conference League track in 2002 when I resumed old links with 'Speedway Star' as the track reporter, also contributing items on overseas speedway.
I have never written a speedway history book but did edit in the early 1960s the first two editions of the annual 'Speedway Digest.' In recent years since about 1998 I have been a contributor to the 'Vintage Speedway Magazine' and more recent times to 'Classic speedway.' The more recent happenings were around my full-time commitment to the 'South London Press' as deputy-chief sub-editor from 1973 until my full-time retirement in 2007.
When did you retire?
I dabbled around speedway in practice sessions from 1955-57, owning two bikes - the second was ex-Maury McDermott. This I sold on to the Belle Vue rider Maurice 'Slant' Payling in 1957 - for £25.
What have you been doing since you retired?
Enjoying myself with involvement on most speedway forums.
Home and family:
My wife of more than 40 years passed away in October 2011, I have two sons - neither interested in speedway. I also have two grandsons and the main interest only one of them has to watch USA speedway crashes on YouTube.
Hobbies and interests:
Acting as a moderator on several speedway forums.
Speedway: Do you have any involvement with the sport?
No active involvement apart from sending overseas news items to 'Speedway Star,' sometimes contributing to the excellent 'Classic Speedway' and providing - dare I say this? - a Stock Car column on racing in Britain for Peter White's 'Australian Speedway World."
John Skinner says: John Hyam is well known on the speedway forums and is on Facebook. He has sent me a some links which I have listed below: -
Old Time Speedway - https://www.facebook.com/groups/oldtimespeedway/?fref=ts
London Speedways - https://www.facebook.com/groups/791873164176119/?fref=ts
The Weird World of Speedway - https://www.facebook.com/groups/285986904908850/?fref=ts
Crystal Palace Motorsport - https://www.facebook.com/groups/241785462673567/?fref=ts
Midget Car Panorama - https://www.facebook.com/groups/274964792668954/?fref=ts
John Hyam - https://www.facebook.com/photo.php?fbid=820398944651083&set=a.531171386907175.124272.100000429544057&type=3&theater
Approval for use of the information on John Hyam has been granted by the forum owner Karl Fiala at
Karl Fiala
https://www.facebook.com/photo.php?fbid=820398944651083&set=t.1242201548&type=3&theater
---
My Riding Career
By John Hyam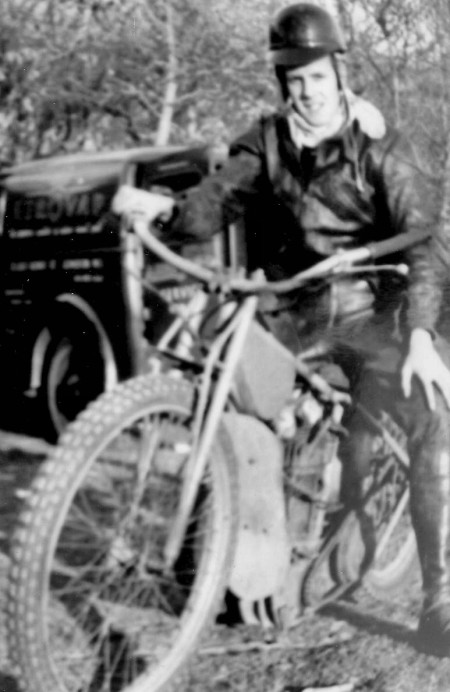 Courtesy of John Hyam
All ready for a practice ride: John Hyam at California-in-England in 1955.
I dabbled around speedway in practice sessions from 1955-57, owning two bikes - the second was ex-Maury McDermott. This I sold on to the Belle Vue rider Maurice 'Slant' Payling in 1957 - for £25.
The first bike, bought late in 1954, had previously been owned by Al Holliday, a protégé and the mechanic to then Rayleigh rider Maury McDermott. Holliday also rode at California in 1954, then had a spell as the machine examiner at Eastbourne.
In 1964, Holliday was involved in the Rayleigh promotion venture with McDermott and Stan Clark, and also made a rather surprising brief return as a rider.
I tried my hand at riding a speedway bike, mainly practice sessions at California and Eastbourne but never in a competitive race.
My nearest chance to 'speedway fame' was when I was among those selected to ride for a proposed Eastbourne junior team the Eastbourne Eaglets in 1956, but they never took part in a match.
The team was to have been captained by Bert Little, who had been a regular in the senior Eagles side at on time. Others included were Reg Davies, Johnny O'Connor, George Cole and Ron Bear.
---
Charlie Dugard's
Eastbourne Eaglets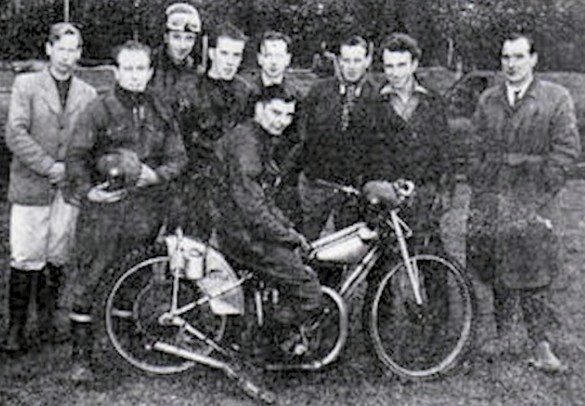 Courtesy of John Hyam - Speedway Star 3rd March 1956
Riders only Left to Right: Johnnie O'Connor, Reg Davies, John Hyam, Ron Bear, and Bert Little on the bike
---
John Hyam,
George Cole & Johnnie O'Connor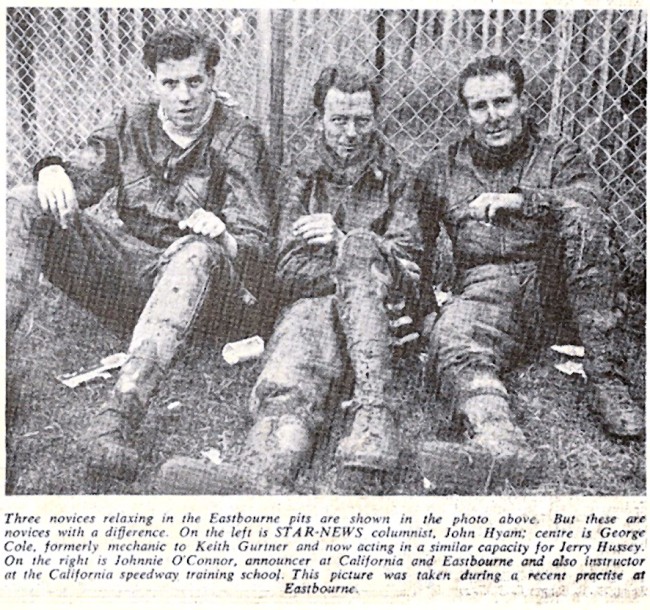 Courtesy of John Hyam - Speedway Star-News
Relaxing in the Eastbourne pits during a 1956 practice session - John Hyam, George Cole & Johnnie O"Connor.
John Hyam continues: I made a hasty retirement decision following a rather frightening practice session at California in 1956. I was practicing starts. In one of them my front wheel reared dramatically upwards. I managed to bring it down but in so doing took the bike charging across the centre green, scattering all in my way and just managing to avoid the track grader.
On I went and with the safety fence looming before me just managed to turn down the throttle and lay down the bike. I escaped any sort of injury but that was the farewell to my riding aspirations.
---
Jack Winstanley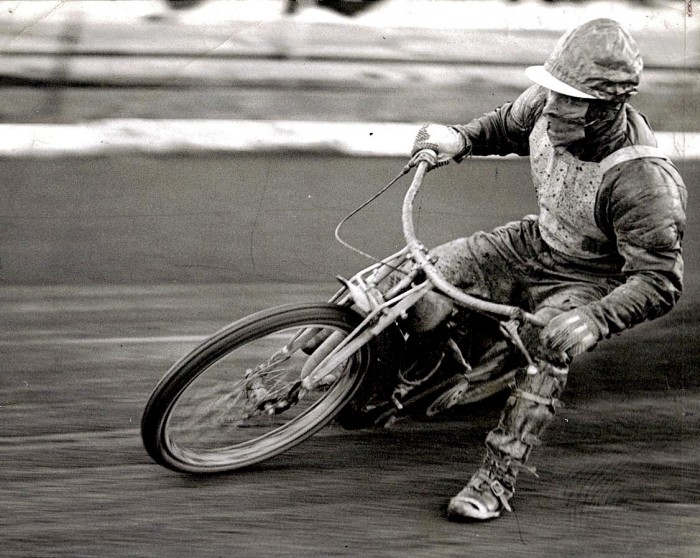 Courtesy of John Hyam
Writer John Hyam says: This article originally appeared in the Vintage Speedway Magazine in 2007. Jack Winstanley passed away a year after the article was written.
JACK WINSTANLEY was what they term in football circles a 'good journeyman.' He spent 22 years racing for many tracks, never a star, but a good honest dedicated trackman. JOHN HYAM gives an insight into the career of one of speedway's most dedicated performers.
When Jack Winstanley went along to former England rider Oliver Hart's speedway training school in the winter of 1946-47 it was to get advice from him on how to tune a motorcycle engine for use in road racing.

"I had no idea that it would lead me to a career in speedway that was to extend for the next 22 years. It was a great and wonderful experience for me," he said.
Winstanley was then just 20 years old. "I had been riding motorcycles since I was 14 and desperately wanted to be a good road racer. Oliver was a renowned local motorcycle racer and I was confident that he could put me in touch with a good engine tuner," Jack recalled.
"Oliver had laid a speedway practice track on his farm at Coppull, which was about four miles from my home in Lancashire. I didn't know anything about this when I saw Oliver at his home, but he invited to go and have a look at his speedway track."
Winstanley added, "When we got there I found a crowd of speedway riders and their bikes. Among them were Jack and Alec Gordon, Cyril Cooper, Eric Blain, Harry Welch, Ernie and Norman Price. Those in charge were Bill Kitchen, Ron Clarke, Oliver and Ron Hart. It was an impressive array of speedway talent."
It was then that Winstanley made the decision that was to change his concept of motor racing. "One of them - I think it was Ron Clarke - persuaded me to try and ride an old speedway Rudge which was there for use by the real beginners," Jack said.
"After watching the other riders and doing a few practice laps, I got the idea of what speedway was all about. I was very keen and became a regular at the practice sessions. I was always impressed when Wembley's Bill Kitchen went out on the track - he rode so smoothly and made it all look so easy, something I admired.
"In March, Oliver confirmed that he was behind plans to introduce speedway at Wigan's Poolstock Stadium and he said that I was good enough to take part in the opening meeting.
"However, I was reluctant to commit myself because I did not own a bike that was up to racing specifications. Oliver then offered me the use of the bike he had raced during the 1946 season at Wimbledon. For his part, Oliver said he was buying a new bike for 1947, when he would be riding for Bradford.
"And he struck a deal with me - I would only pay £50 for his old bike provided I signed a contract for Wigan. It was also agreed that the sale would be on a hire-purchase agreement, with payments taken from my points money.
"This was a wonderful offer and I agreed. So it was, I was included in the line-up for Wigan's opening meeting the Easter Cup on Good Friday, April 4, 1947. I was plunged in at the deep end but took two seconds and a third place. In my first race I was second to Don Houghton but ahead of Cyril Cooper and pre-war England international Bob Harrison. Next time out I came second to Oliver Hart. It was a memorable debut for me and the start of a very happy time in my life.
"Another memorable first season meeting was a best pairs on May 24, when I partnered the renowned England and Wimbledon star Norman Parker. We finished third behind winners Bill Kitchen and Jack Baxter and the runners-up Ron Johnson and Geoff Goodwin. All great stuff for a first season novice."
Over the years, Winstanley became 'a man of many tracks.' From Wigan he moved on the Fleetwood and Wombwell the following season. In 1949 he rode for Newcastle and in 1950 was at Leicester, then became a Long Eaton rider in 1951. After starting the 1952 season at Station Road, Winstanley moved on to for his first spell with Sheffield, riding for them until the end of 1953.
Jack In Leicester Colours In 1950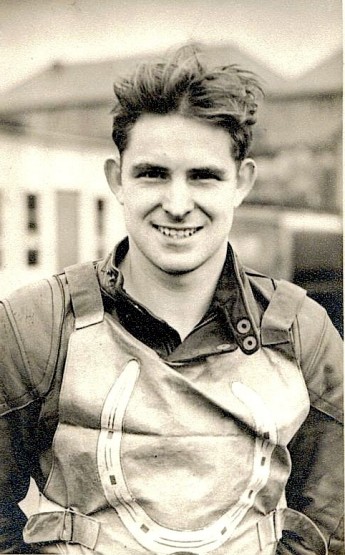 Courtesy of John Hyam
Then speedway went into its decline, tracks closed and many riders were without a club - Winstanley was among them. When the Provincial League started in the early 1960s, Winstanley had another spell in Sheffield's colours, and also rode for the Greenfield Stadium team at Bradford in 1963, besides turning out for Newcastle that season.
"Jack Of Diamonds" 1960s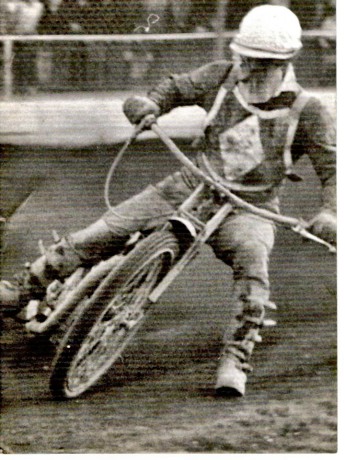 Courtesy of John Hyam
In 1967, Winstanley joined the Nelson club. He recalls, "I really went to Nelson as their coach, but they always seemed to be short of a rider and I was a fairly regular starter in the team. My speedway career ended at the start of the 1969 when I was injured in Nelson's opening meeting."
Apart from his British teams, Winstanley also rode at the Chapelizioid track in Dublin in 1951. The following season he was a member of an international team led by Bill Kitchen which raced at Odense in Denmark.
He said, "Phil Bishop - the original 'king of crash' - was on that tour and I struck up a firm friendship with him. As a result, he took me on many other trips to Europe. In the early 1950s, Holland was very much a stronghold for speedway - the annual 'Golden Helmet' series were always well supported by riders from many different countries.
"I took part in several of these series in the mid-1950s. The nearest I took to winning one was in 1955 at the Olympic Stadium in Amsterdam. I was beaten in a decider by the Australian international Bill Longley."
He was back in Holland in 1957 as a member of the England team beaten 3-1 by the host nation in an unofficial test series.
Winstanley was also in a group of riders that leading 1960s promoter Mike Parker took to Rimini in Italy. "We did the pioneer work then for a country which has since produced some good international class riders," Winstanley said.
Jack In Rimini Italy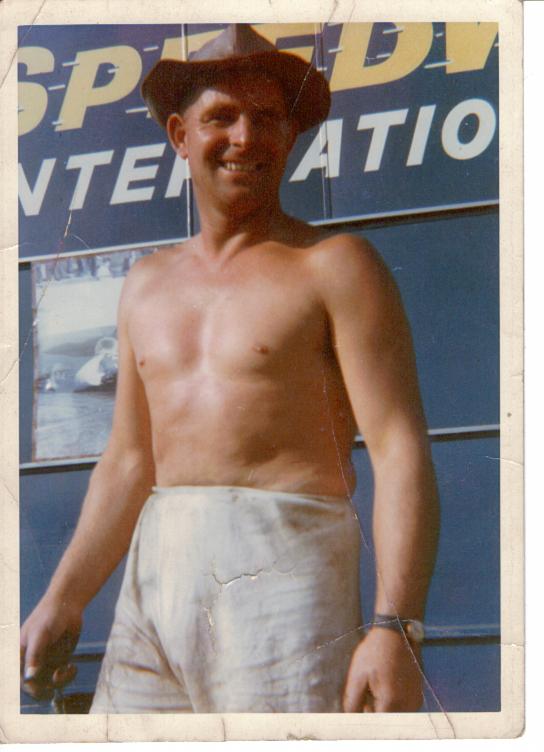 Courtesy of John Spoor
Jack in the Italian sun in front of Mike Parkers tour van
Jack also rode extensively in long-track meetings in Germany and Austria. "On these tours I became very friendly with the Austrian star Josef Kamper. Towards the end of the 1970s, I lost contact with him.
"It was a shock to me when I tried to trace him a couple of years ago and heard that he was killed in a mid-1980s road accident, ironically on the way to a dinner organised by Ove Fundin to mark his achievements in the sport."
As a rider whose career originally embraced the National League, then the Provincial League, Winstanley was quick to debunk theories that in its hey-day the two lower divisions of the National League were stronger competitions than the PL.
He said, "Take it from me, there was no difference in standards. It was equally hard in both of them to score points and earn prize money."
Looking back on his career, Winstanley felt that his happiest time in the sport was the years spent at Long Easton. "And the greatest rider I was team partner to was the legendary Ivan Mauger when we were at Newcastle in the early 1960s," Winstanley commented.
Outside speedway, Winstanley also rode frequently in road race motorcycle meetings in Northern Ireland and the North of England. Winstanley commented, "And I also drove midget cars in some of Mike Parker's 'Cavalcade of Speed' meetings in the mid-1960s. These meetings also featured sidecars and stock-motorcycles. The midgets were fast but easy to drive, but in no way did they generate the same sort of excitement as riding a speedway bike."
---
Ernie Baker
John Hyam says: There's nothing like telling a porkie-pie to help a rider

get

into a team. I must confess that I was involved in such a harmless prank - just once.
It was in the mid-1950s when south Londoner Ernie Baker - who was closely involved with famous New Zealanders Ronnie Moore and Barry Briggs - was trying to break into racing.
Sadly, no tracks seemed to be interested until I turned Ernie into a merchant seaman. I then contacted Dickie Case, who was part of the organisation involved with Rye House in their Southern Area League days. I told him that Baker has been at sea for months, had shown promise as a rider before going away, but now wanted to resume his speedway career. That was enough to tempt the pre-war Aussie test star. So it was arranged for Ernie to have a trial ride at the Hoddesdon track, in which he performed with some success.
Ernie Left With
Clive Hitch Centre
&

Bobby Croombs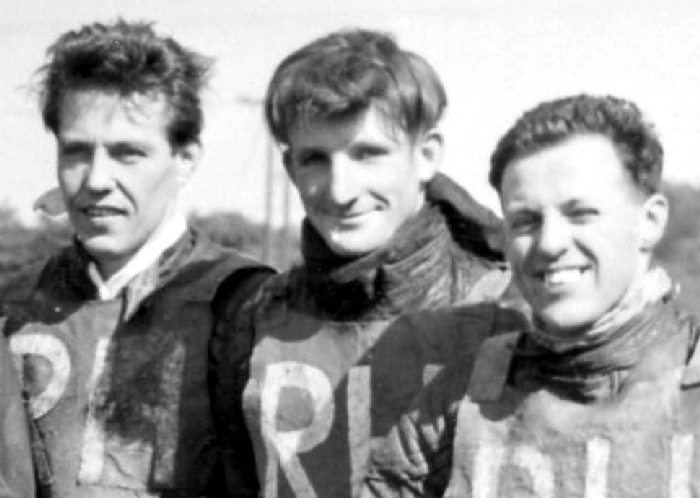 Courtesy of John Hyam
But, before any deal could be made, Ernie became part of the Eastbourne scene. Later, in the early days of the Provincial League in the 1960s, he was one of the section's top stars at a variety of tracks, but especially so with Bristol.
However, what has puzzled me to this day is "why should the fact he was - or may have been - a seaman persuade Rye House boss Dickie Case to give him his initial trials?" I may have indicated, without actually saying so, that Baker had appeared on Australian tracks while sailing round the world. Could this have persuaded pre-World War Two Aussie international Case? No prizes for giving an answer.
---
Foreign Riders
In The UK
Hungarians:
Sandor Levai &
Zeke Zoltan
John Hyam says: In the mid-1950s, Hungary was very much a backwater in speedway. It was with some surprise, therefore, when two of their riders, Sandor Levai and Zeke Zoltan, contacted me at 'Speedway Star' through a third party. Both had arrived in Britain around November 1956, after the Russian army stifled a freedom movement in their native Budapest.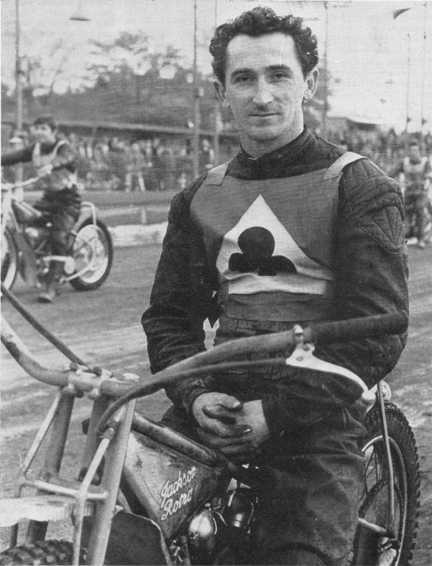 Photo of Sandor Levai courtesy of John Skinner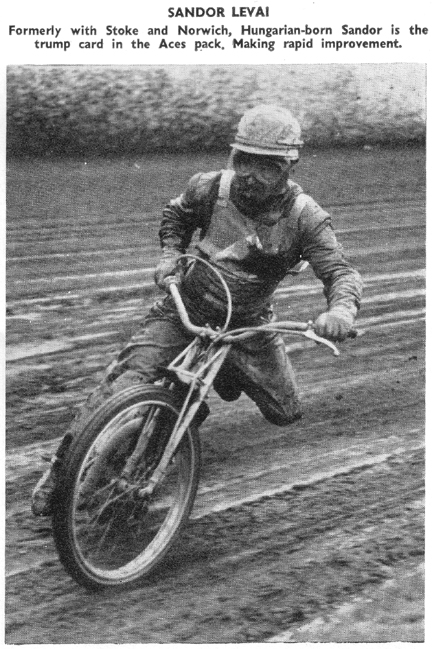 Photo of Sandor Levai courtesy of John Skinner
We do not have a photograph of Zeke Zoltan unfortunately.
John Hyam continues:

As both were staying in Manchester, I didn't get any more involved than passing on their names and addresses to Belle Vue. Sandor battled for some years to get established and ended his career with distinction in British speedway - Stoke, Belle Vue and Newport were all well served by him. Sadly, Zoltan disappeared after a handful of novice races at Belle Vue.
---
Australian/Dutch Rider
Peter Vandenberg
John Hyam goes on to say:

It was also around that time that two young Australians called at my 'Speedway Star' office, then in Cheapside, London, near St Paul's Cathedral. They were Charlie Wallis and Peter van den Berg. I managed to get both of these riders trials at Southampton, where Charlie Knott was the "el supremo". There were no problems regarding Wallis, but a blip hit van den Berg. It appeared he was born of Dutch parents who had settled in Australia and he was traveling on both Dutch and Australian papers.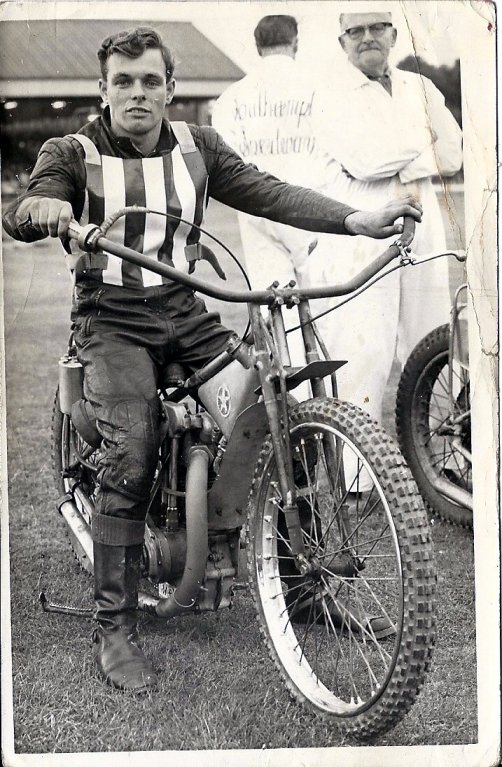 Courtesy of John Skinner
Peter Vandenberg a Southampton rider
John Hyam says: It seemed Peter would be classified as a foreign rider - but in view of his limited experience would not get a work permit to race in British speedway. Then, just as it seemed he would have to ride on the continent, British racing accepted his Australian nationality, He also took on a new image - hence the arrival in British speedway of the very popular and capable "Peter Vandenberg".
John Hyam continues:

Talking of Dutchmen, another who called in at my office in the early part of 1956 was Nico van Gorcum, who did most of his racing in Holland and Germany, He also wanted to get into British speedway, but this time my persuasive powers failed when I contacted both Coventry and Swindon. Nico made his bid to get into British speedway at a time when Swedish and Polish riders were all the vogue.
John Hyam says: Mention of Dutchmen, the first rider from the Land of Windmills to attract the interest of a British club was their 1938 champion Gerrit Kops, who signed for Sheffield in late August 1939. The week he was due to have trials at Owlerton coincided with the outbreak of Word War Two on September 3. Hence no British debut for Mr Kops.
Kops rode twice in Britain in post-war seasons. At Tamworth in 1947 when he was a member of a Dutch team competing in a benefit meeting for dependents of the home side's Jack Ladd who died after a crash at Alkmaar, Holland, earlier that season. His other British track appearance - if you can call it that - ironically was at Sheffield in 1949, He was a starter for a World Championship qualifying round. Sadly, in his first race his bike's engine 'blew up' on the starting grid and he was out of the meeting,
Most of Kops' track work from 1936 into the early 1960s was centered on Holland, Germany and Poland. He raced, as do most Europeans, on speedway, grass and long-tracks.
---
Austrian Rider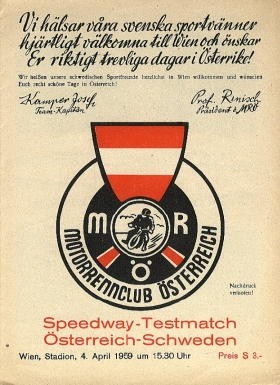 Otto Holoubek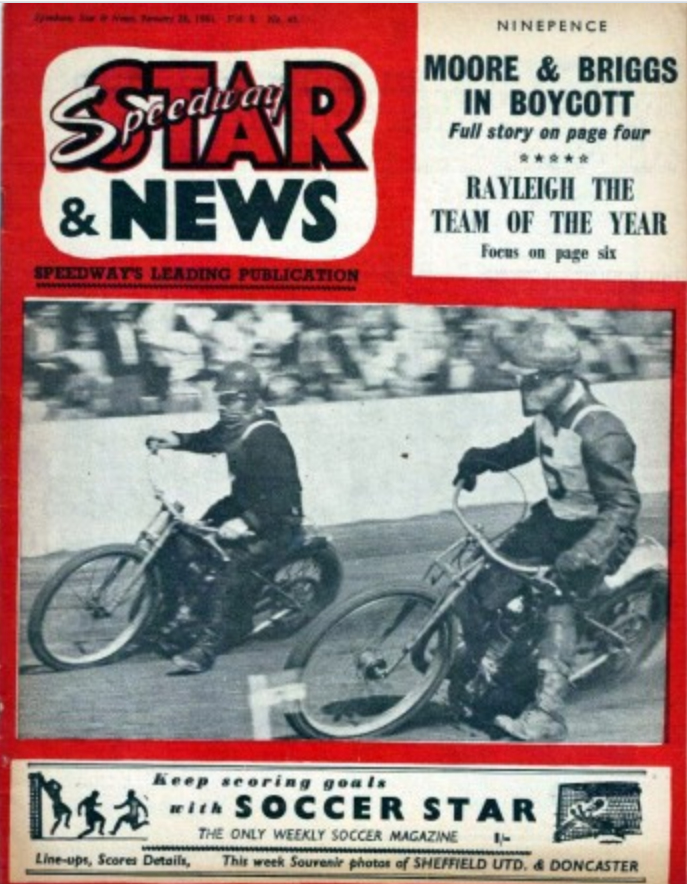 A 1961 edition of 'Speedway Star'. The cover photo shows Otto Holoubek (Austria), left, and Josef Hofmeister (West Germany) racing in South Africa,
John Hyam says:

When I was editing at the 'Speedway Star' in the late 1950s, the name of Austrian rider Otto Holoubek frequently came up in reports from Eastern Europe.
It appeared that Otto was something of a big star - in the old Yugoslavia, Hungary and his native Austria. The results indicated that Holoubek was something of a front-runner in the sport.
Otto established a regular correspondence and pressurised me into trying to get him into British racing. Thus it was that at the start of the 1957 season I passed on the Austrian's details to Arthur Franklyn, then the promoter at Ipswich. Like me, he was impressed with the Austrian's career details. As a result, Otto was signed to ride for the Witches.
W

hen he turned up in England it was without a bike - a matter of a few days before he was due to make his first appearance for Ipswich in a match at Norwich. At the time, Otto was staying at a boarding house in Clapham, and the nearest British riders living in the area were Maury McDermott and his rider-mechanic pal Al Holliday.
I contacted them in the search for a bike for Otto to buy and use. And Maury and Al came up with the goods. Otto liked the bike, he bought it and then announced he also needed to buy a van to travel around the country. Again, the south London duo came up trumps. And we sent Otto on his way.
I spent a worrying weekend wondering just how well Otto would do at Norwich. It was a track in shape and size that suited most European riders. Then came the news - Otto had, to put it mildly, struggled to impress. In fact, he was completely outclassed. And it was much the same when he made his home debut at Foxhall Heath a few days later.
To put it kindly - he didn't have a clue about what was going on. In four rides at Norwich he scored one point, then failed to score in two rides at Ipswich. Subsequently, kind-hearted as he was, Arthur Franklyn suggested to Otto "on yer bike" and the rider went back to his home in Graz.
That, however, was not the last we heard of Otto Holoubek. He persevered and the results featuring him again started to come back from Eastern Europe. And his name appeared regularly in various Austrian international teams into the early 1960s. He even managed to get selected for the Combined Europe team that competed in South Africa in their 1960-61 season.
When his speedway career ended, for many years Holoubek worked as a technician on Austrian TV. He was a likeable enough guy, but I learned an important lesson: never recommend a foreign rider to a British club based on results alone. Always try to see them in action before passing their name on to a promoter.
---
Harold MacNaughton
John Hyam says: The Pilot Field in Hastings had a brief stay in the National League Division Three in 1948 and 1949. The track was laid by Charlie Dugard who staffed the side mainly with the riders who had served him so well at Eastbourne in 1947.
Pete Mold, Bob Sivyer and Eric Dunn were local men who tried with various degrees of success to get into the side. The pre-war Dagenham rider Ken Tidbury was another, while Wally Green, Arthur 'Buddy' Fuller and Jock Grierson were others who made an impact in the 'Saxons' side.
One unlikely starter was a local garage proprietor, Harold MacNaughton. He was starting his speedway career at the age of 38 years, and mainly got second-half rides - as Dugard put it - 'to give local people someone to associate with.'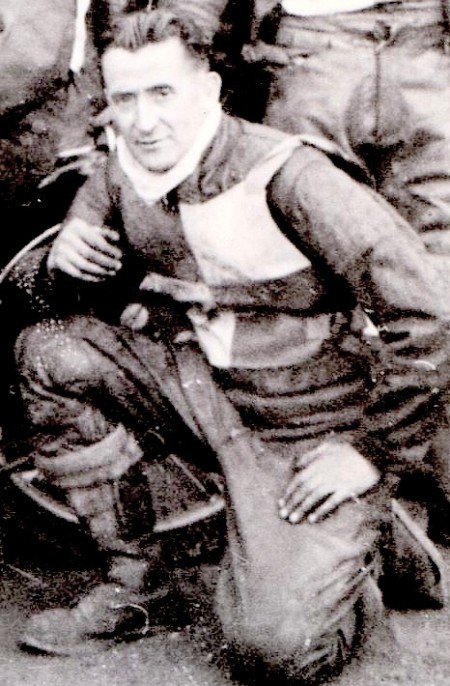 Courtesy of John Hyam
Craggy Harold had other ideas. One night Yarmouth turned up at the Pilot Field with seemingly invincible 17-year-old sensation Billy Bales in their team. He was virtually unbeatable home and away. But that didn't worry Mr MacNaughton. He was in a reserve berth when he clashed with Bales and had the Hastings fans on their toes as he whipped into the lead and defied the Yarmouth man for four laps.
It was one of the big upsets of the 1949 season and after that MacNaughton graduated to a regular place in the Hastings' team until a petition against the track based on planning approval and noise closed it at the end of the season.
Speedway vanished from the Sussex coastal town thanks to 11 residents and the High Court but Harold MacNaughton stayed in speedway.
In the years going into the mid-1950s, Harold rode for Southampton, Ipswich and New Cross and also for England at Second Division level. Life certainly began at 40 in Harold's case! Unfortunately, a heart condition forced MacNaughton out of the sport, but for some years in Eastbourne's late 1950s Southern Area League seasons he was a regular visitor to meetings at Arlington. He passed away aged 82 years.
---
Speedway Magazines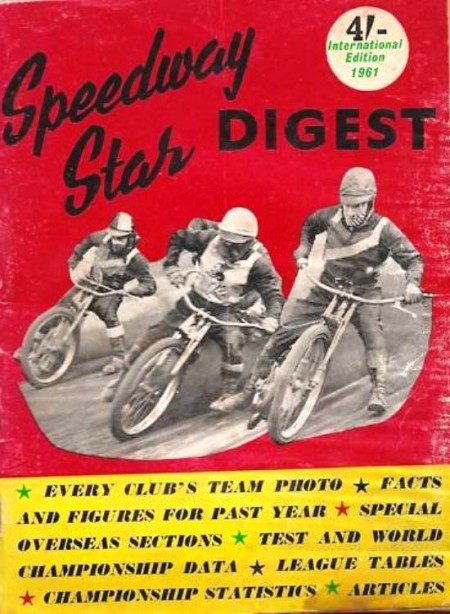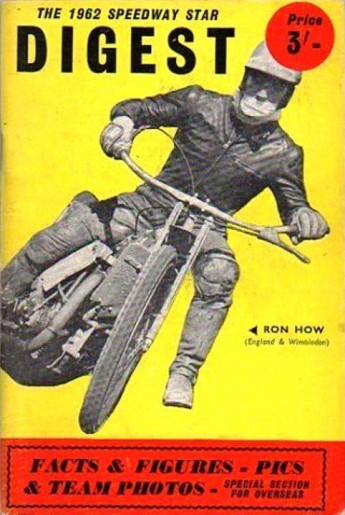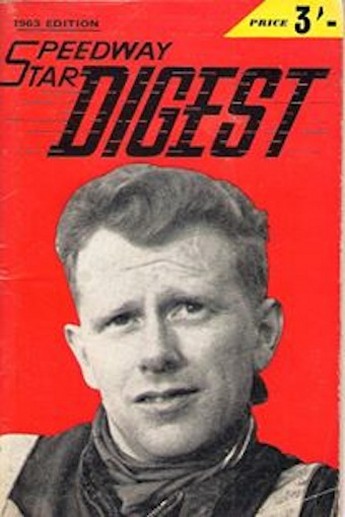 John Hyam says: When I started following speedway in the mid-1940s, I became fascinated with the statistics that surrounded the sport.
My 'bible' from 1946 was the famed, much-respected and still very much a collectors item - 'Stenners Speedway Annual' and, over the following years the supplements that used to accompany them.
The demise of the Stenners Annual in the early 1950s coincided with the massive slump that hit the sport and nearly brought about an end to speedway - of that I have no doubt. But speedway did survive, and in following years it again became supported on the publishing side.
In the 'crash era' of the 1950s, Speedway Star bought the title deeds of Speedway News - and then published for some years as Speedway Star & News.
But many magazines that had been part of the post-war boom year closed. These included Broadsider, Speedway Reporter, Speedway Echo, Speedway Gazette, Speedway World, Monthly Speedway World, Monthly Speedway Star, Monthly Speedway Reporter.
The small signs of a speedway revival came in the mid-1950s when with the backing of Speedway World, a gap in the annual market came with the publication for several years of the Five Star Speedway Annual. It was a solid, informative little publication but lacked many of the features, especially overseas coverage, which had been such a strong point of the much-missed Stenners Speedway Annual.
I

t was towards the end of 1960 that Speedway Star publisher Robert Bolle decided to support an annual publication. Thus was born the Speedway Star Digest, The 1961 edition was not the standard size associated with previous annuals - best to say that it was larger than its predecessors in the field of annual publications but smaller than the speedway magazines of that era.
It was a traditional annual - a preview of the season ahead, a review of various happenings from the 1960 season, and features and photos on the sport in other countries.
For the 1962 season it was decided that the publication would be what was then accepted as the format for annuals - the same size as had been used for the famed Stenners annuals, then for the 1950s successor in the field the Five Star annuals.
In the 1962 Speedway Star Digest more emphasis was given in regard to the sport's history - test match results over the years, major i
ndividual event victors, and data in regard to the main team competitions that had taken place since team racing started in 1929.
There was one more Speedway Star Digest which was devoted to the 1963 season. I had no part in this publication, having moved out of speedway journalism to become the sports editor of the Weekly Post series in Middlesex.
I am uncertain what status the three Speedway Star Digest editions enjoy with speedway historians. They rarely appear either for sale or as items that collectors or historians want. For all that, they did play a role in preserving, in a small way, considerable historical records at a time when speedway was struggling for survival. It was only helped in that battle by the arrival of northern businessman and former midget car driver Mike Parker with what was regarded at the time as a pirate venture - the Provincial League. In my opinion, Parker's competition was the salvation of British speedway racing.
---
Track Rakers
& Riders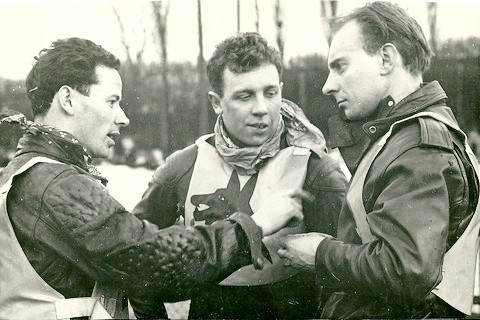 Early 1960s Wolverhampton riders, from left, Jm Chalkley, Bob Warner and Vic Ridgeon
John Hyam says: Track raking staff at Wimbledon in 1954 had some keen racing aspirants in its ranks. Regulars at the between races tidying up were California (Wokingham) junior Al Holliday and Eastbourne aspirants Bob Warner and Dave Freeborn.
Al

Holliday, went on to ride for the Maury McDermott-Stan Clarke regime at Rayleigh in the 1960s, also appeared at Wembley in a 1950s World Final...as part of the Plough Lane track staff who looked after a meeting won by Ove Fundin. Holliday was one of the starting gate marshals.
In the early 1960s, Bob Warner had a spell with Wolverhampton and also had rides for Bradford when the clubs entered the Provincial League, but towards the end of the decade reverted to being a Wimbledon junior. He once guested for Norwich when they turned up a rider short at Plough Lane.
Warner's comment after a race to describe his effort was usually, "I rode like an old plum!"
Oh yes, there was another 1954 Wimbledon track raker. No names, no pack drill. But the by-line to this article reveals his identity!
John Skinner says: It was you Mr Hyam!
---
George Pepper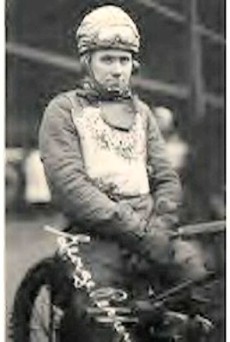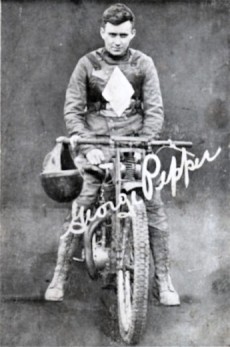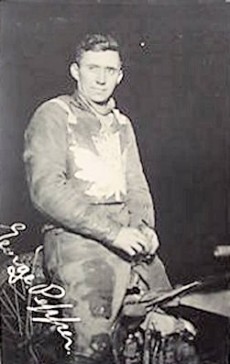 John Hyam says: The record books show that in pre-war seasons the West Ham riders Eric Chitty and Jimmy Gibb were the pick of the Canadian riders competing in Britain. Both were among the Top Twenty riders of the 1938 and 1939 seasons.
There were other Canadian riders who came to Britain in the immediate pre-World War Two seasons. They were Charlie Appleby, Eddie Barker, Bruce Venier, Bob Sparks, Elwood Stillwell and George Pepper.
Undoubtedly the best of the lesser order riders George Pepper, who first turned up at West Ham in 1938, but was posted by the First Division club's promoter Johnnie Hoskins to his newly formed Second Division track at Newcastle.
In 1937, Pepper was on the verge of dropping out of cross-Atlantic speedway to follow a career in road racing, but was persuaded by Chitty and Gibb to try British speedway racing. He actually arrived in Britain in 1938 with the purpose of riding in the Isle of Man TT.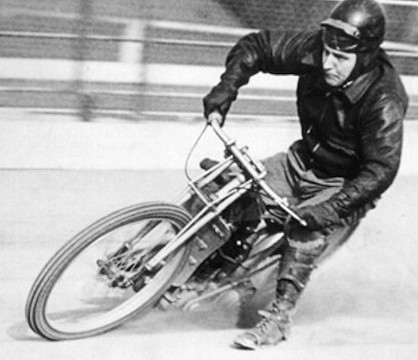 Pepper was an immediate star at Newcastle and became the track record holder, which stood well into the post-war seasons. He developed into one of the Second Division's top riders and many experts predicted that he was destined for the sport's highest honours. Had war not started in 1939, it is certain he would have joined Chitty and Gibb at West Ham for the never held 1940 season.
Jeff Lloyd, who was a post-war star at Newcastle, New Cross and Harringay, had some vivid memories about the hard racing style of Pepper. When racing for Middlesbrough in 1939, Lloyd was going for a maximum against Newcastle when he met Pepper who went on to beat him. Lloyd said of Pepper's tactics: "Considering my inexperience, Pepper was far more aggressive than he need have been in beating me." But that was probably typical of Pepper - as it was of Lloyd. Both wanted to be the best and rode to achieve that.
There have been conflicting views on when Pepper first rode on speedway. A generally accepted opinion is that he did not ride on the speedway until he came to England. However, my records indicate that he did race speedway as far back as 1934.
I quote from 'My Story - Eric Chitty' (Stenners 1946) in reference to the 1934 Canadian Championship at the Ulster Stadium, Toronto. Chitty who looked like missing the meeting because of a hand injury wrote: "Back in Toronto my own doctor successfully treated the injury.
"Then it was arranged to stage the Canadian quarter-mile speedway championship at Ulster Stadium. At the last moment I decided to ride. The hand was by no means healed, as I quickly found out. I could grip the handlebars right enough, but couldn't leave go. After each heat that hand was prised from the bars.
"All the same, I had the good luck to come out on top with maximum points." In the field were Jimmy Gibb, Goldie Restall, Johnny Millett, GEORGE PEPPER, Elwood Stillwell, Bob Sparks, Bruce Venier, all of whom subsequently rode for English league clubs."
Pepper volunteered for war service in September 1939 and after initial pilot training served with the RAF's 29 Squadron, firstly flying Blenheims, then the Bristol Beaufighter. He distinguished himself by shooting down six German aircraft and was awarded the DFC and Bar.
Pepper was 26 years old when he died in a flying accident on November 17, 1942, and is buried in his home town Belleville, Ontario, Canada.
---
By John Hyam
AUSTRALIANS Vic and Ray Duggan and Frank Dolan, along with Cliff Parkinson, made speedway history history by being the first riders to fly from Australia to Britain in 1947. They were joining Harringay, who were reopening after closing on the outbreak of war in September, 1939.
JACK BAXTER, the Australian with Tamworth in 1947 and 1948, married Muriel, the widow of 1938 world champion Arthur 'Bluey' Wilkinson.
RALPH HORNE, who turned to speedway in wartime meetings at Belle Vue in 1944, was previously a jockey. He later rode for Coventry and Sheffield in a career dogged by injuries.
Bob Harrison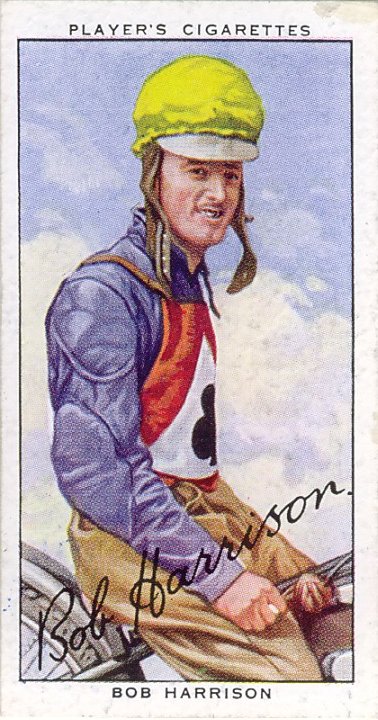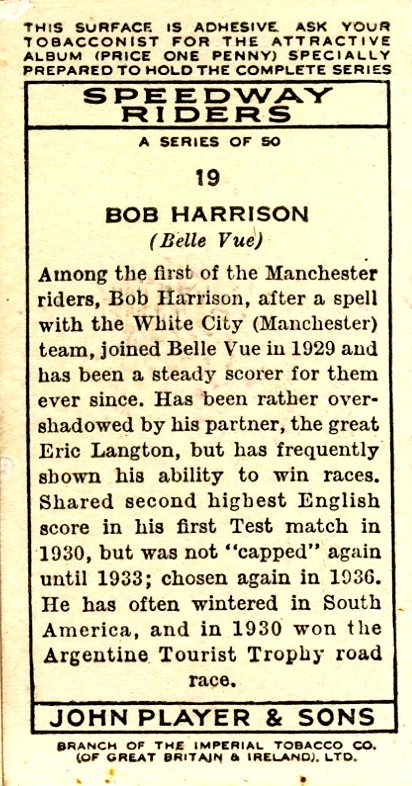 Courtesy of J Spoor
BOB HARRISON, the pre-war Belle Vue rider, used to brew tea on a primus stove in the pits between races. After the war, he rode for West Ham and later rejoined Belle Vue, where he became team manager. Another Bob Harrison - no relation - rode for Aldershot in the early 1950s.
NEW YORKER Bud Reda, the 1946 USA Eastern States champion, was refused permission to race in Britain in 1950 after a trial at Exeter. He later raced at Shelbourne Park, Ireland, and in Holland. Reda promoted in Florida in the 1980s.
Jack & Cordy Milne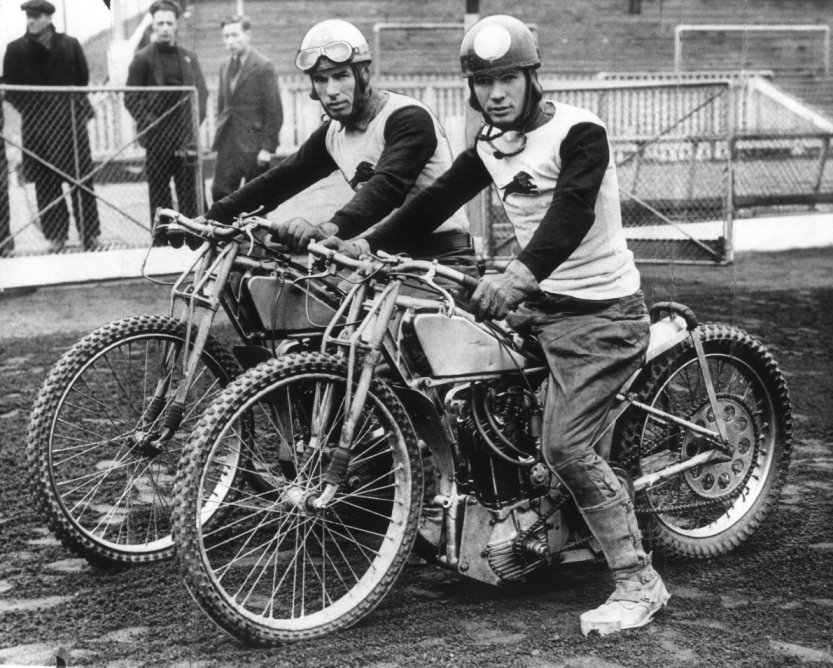 Courtesy of J Spoor
CORDY MILNE, the American who rode for Hackney and Southampton between 1936 and 1939, won the World Midget Car Championship at Hackney in August 1936.
IN 1947, Tamworth had two riders - Ted Gibson and Fred Yates - who wore spectacles while racing.
MANUEL TRUJILLO, billed in Britain between 1936 and 1938 as a Mexican, Argentinean and a Brazilian, was in fact a Texan. He started racing in California in 1935 alongside Jack and Cordy Milne and Wilbur lamoreux. He last raced in Britain in 1951 as a member of the American touring team.
AMERICAN rider Billy Gray, who appeared as Doris Day's younger brother in the 1951 film 'On Moonlight Bay' and later in 'The Day The Earth Stood Still', followed this with appearances as Bud Anderson in the TV series 'Father Knows Best.' After ending his acting career, he spent the years between 1970 and 1993 racing on South Californian speedway tracks.
Alvin "Spike" Rhiando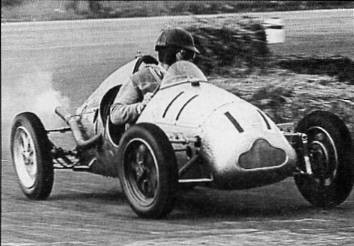 Courtesy of J Spoor
ALVIN 'SPIKE' RHIANDO, the pre-war midget car ace, tried speedway at Dagenham and Rye House in 1937 and 1938. He also raced on bikes at Yarmouth in 1933.
Slider Shuttleworth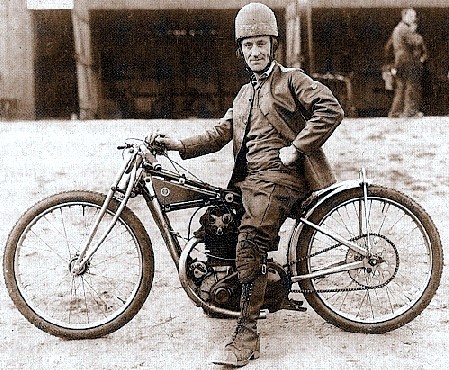 Courtesy of J Spoor
SLIDER SHUTTLEWORTH, who rode at Leicester Super in the late 1920s, used to carry a small sachet of red dye beneath his crash helmet. When he crashed, Slider would burst the sachet to give the impression he had suffered a head injury.
FORMER Southampton, West Ham, Rye House, New Cross and Wolverhampton racer Jim Chalkley appeared as an extra in early 1984 editions of 'EastEnders.'
THE British career of Australian rider Owen Gyles ended on his debut at Bradford in 1948. He reared on the starting gate sustaining a serious neck injury which forced him into retirement.
Pat Flanagan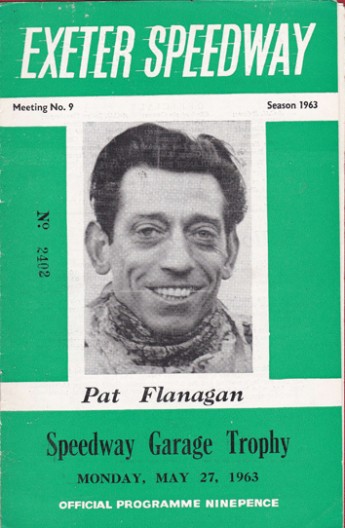 DESPITE his Irish-sounding name, PAT FLANAGAN who rode for Aldershot, Harringay, Newcastle and Exeter in the 1950s and 1960s, was a Londoner. At one time he worked as a porter in London's Covent Garden fruit and vegetable market. Pat was not his first name - it was Ron.
---
Wal Morton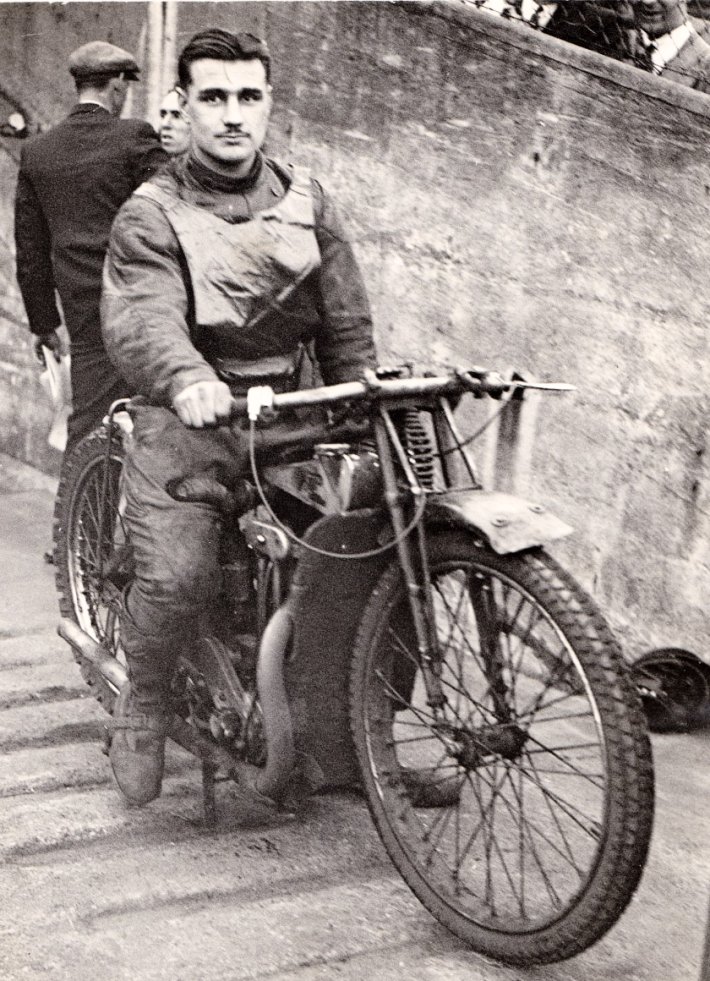 Photo 1936
WAL MORTON rode for 15 teams in a 31-year career between 1933 and 1964. The former amateur boxing champion also rode as a team-mate to such greats as Vic Huxley, Vic Duggan, Jack Young, Ove Fundin and Ronnie Moore.
John Skinner says: Surely Wal was too good looking to have been a boxer!
GEOFF DUKE, Britain's first post-war road motorcycling ace, failed to make the grade on speedway at Middlesbrough in 1947.
STEVE LANGTON, who rode for Walthamstow, Lea Bridge and Birmingham pre-war, and post-war was at Tamworth and Southampton, served as sergeant-major in the Australian army in World War Two.
Dick Geary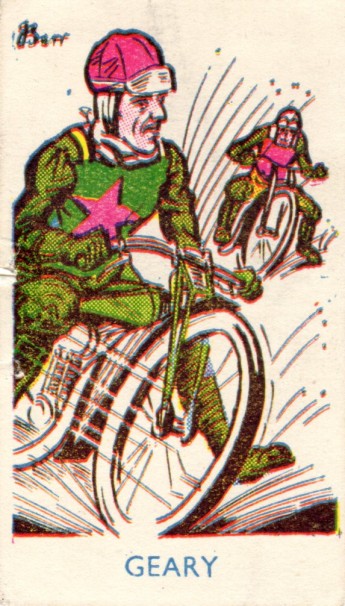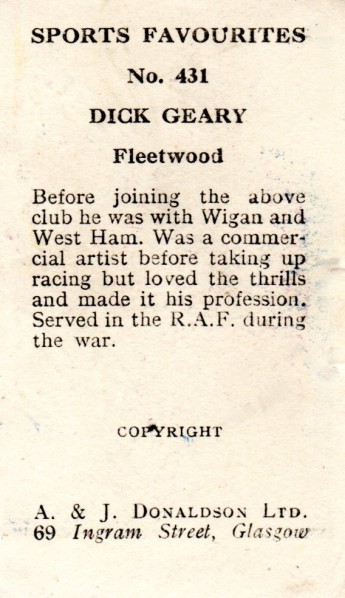 DICK GEARY, the post-war Wigan and Fleetwood star, was a commercial artist before turning to speedway at West Ham in 1937.
ANTTI PAJARI, who rode for Coventry in 1958, was billed as both the Turkish and Egyptian champion champion by sections of the National press. In fact, Pajari was from Finland.
HAROLD McNAUGHTON did not make his speedway debut until he was 38-years-old in 1948. He rode for Hastings, New Cross, Southampton and Ipswich, before retiring through ill-health in the mid-1950s.
IN 1952, Southampton riders Ern Brecknell, Brian McKeown and Mike Tams camped out under the stands between race meetings. They also combined speedway with working on local road construction projects.
BRISTOL rider Mike Beddoe had part of a foot amputated after a 1948 crash. He resumed his career without any major problems.
THERE was a strict rule at the Buffalo Stadium, Paris, France, in 1932. Any rider going off the speedway on to the surrounding concrete cycle track would be docked one place. In a match race, Frank Arthur (Australia) came first but was relegated to second for going off course. Fernand Meynier (France) who finished behind him was relegated to third for the same offence. It meant the two riders were awarded placings in a race without a winner.
AMERICAN rider Charles 'Peewee'Cullum (USA) won the French version of the World Championship in Paris in 1936 - the same year that Lionel van Praag (Australia) won the first official title at Wembley.
NORWEGIAN Leif 'Basse' Hveem is credited as being the first rider to lap a British track at more than 50mph. He achieved the feat at West Ham in 1953.
BRITISH riders Wally Lloyd and Wal Morton had spells as rider-manager of the track at Belfast, Northern Ireland, in the late 1940s
A TEAM of Spanish riders raced at Wembley in the early 1930s, while a French side appeared at New Cross in 1935.
---
John Skinner says: This is the first of 4 pages featuring John Hyam's journalistic items. My thanks to John H for deciding to use my website as a vehicle for his very interesting articles.
---
The contents of the site are © and should not be reproduced elsewhere for financial gain. The contributors to this site gave the pictures and information on that understanding. If anyone has any issue or objections to any items on the site please
e-mail
and I will amend or remove the item. Where possible credit has been given to the owner of each item.