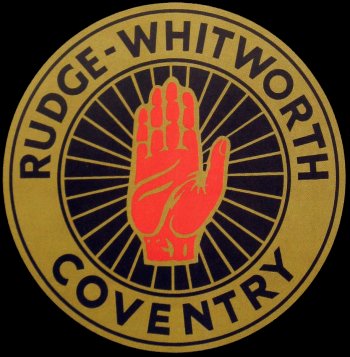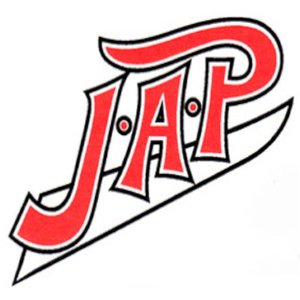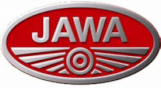 ---
Ivan Mauger
Part 2
Ivan in the UK aged 17
Ivan with son Kym Mauger
Six of the Best
Ivans 5 English Clubs
Ivan's Gold Plated Bike
John says: The greatest rider speedway has ever known. With all due respect to the great riders who came along after Ivan's time. He headed the averages in the toughest leagues, broke track records and won many many trophies.
This is a statement released to the press regarding Ivan's ill-health.
Mauger Family Statement -

2015
Former world speedway and long track champion Ivan Mauger

OBE MBE is being treated for cognitive aphasia, a communication disorder.
The Mauger family are issuing this statement detailing the situation and will be making no further comment.
I
van, who won six speedway titles between 1968 and 1979, and long track crowns in 1971, 1972 and 1976, announced his retirement from public life two years ago.
He is receiving daily treatment at a Gold Coast nursing home, but still manages to enjoy time with wife Raye, their three children,Julie, Kym and Debbie, and longstanding friends and associates from within motorcycling and the wider community.
Meanwhile, collectors are warned to be wary of items of Ivan's equipment and memorabilia being offered for sale.
It has come to our notice that some unauthorised and unscrupulous people have been making false representations so please take every care to ensure any such offers are genuine and being made by authentic sellers," said Raye.
---
John says: Ivan (pre-illness 2015) and I became friends. He has been kind enough to supply me with some of his personal photographs for inclusion on his web-pages on this website. Let me remind you that they are copyrighted. My thanks go to Ivan on behalf of his many, many fans, which I am one. You will be seeing some of Ivan's photos here for the first time on the internet. As a Newcastle regular in the 1960's Ivan, I was privileged to witness your skill, day in and day out, in league matches etc., as well as your world championship successes. Ivan's consistency over so many years would have brought him many Grand Prix successes too. That I am certain of. The greatest rider of all time? No doubt, Ivan Mauger.
Ivan In The UK
Aged

17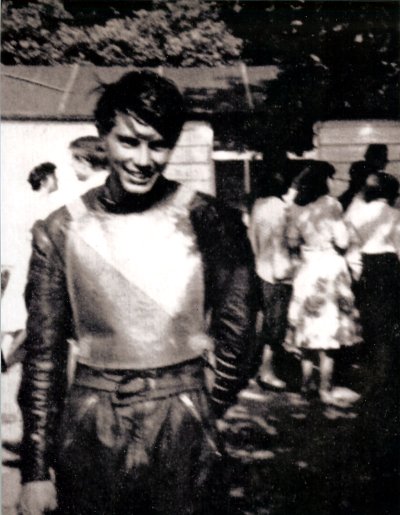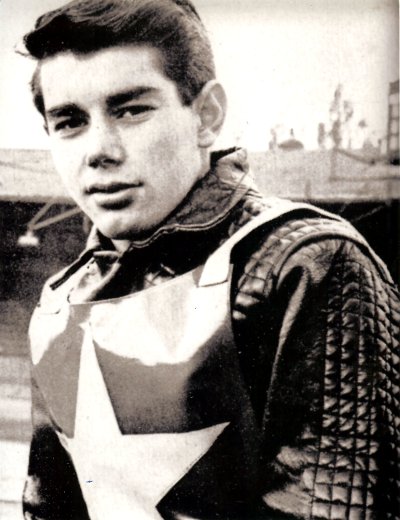 At Eastbourne At Wimbledon
---
Newcastle Ball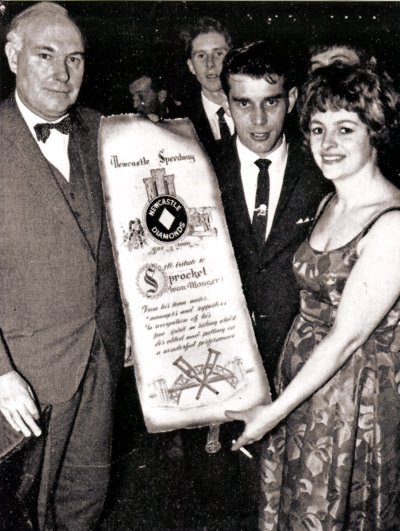 We were presented with the scroll at the Newcastle Ball. Raye gave up cigarettes when she saw that photo!!
---
Ivan & Son Kym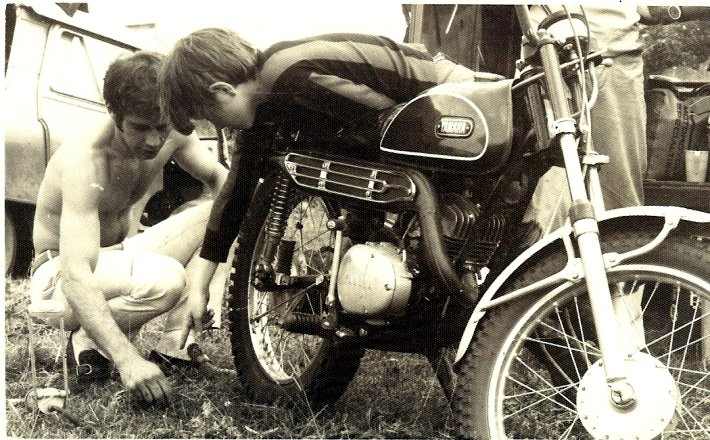 Hi John. This must have been a hot day when I was helping my son, Kym at a Moto Cross track. Cheers Ivan
---
Ivan & Bobby Schwartz
1985 World Long Track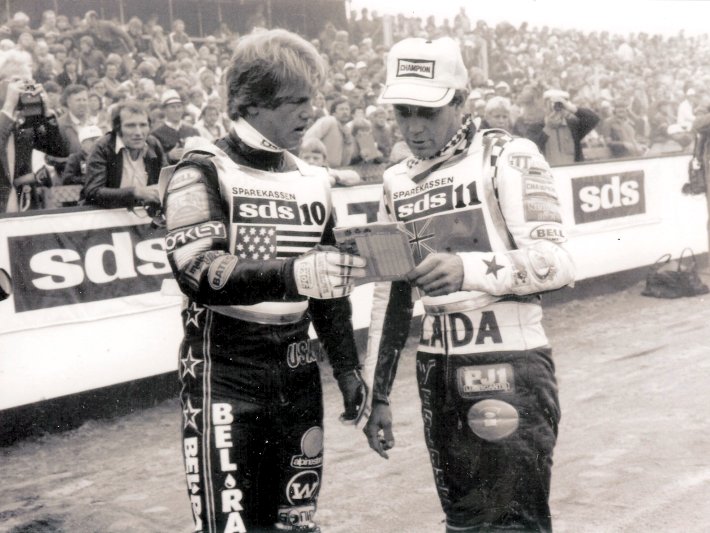 This w
as taken at my last ever World Long Track. Bobby Schwartz was number 10 and I was number 11. At Eskberg Denmark on 15th September 1985
T says: Hello there! I was having a look at your Ivan Mauger snaps and one of them is labeled incorrectly. Its the one of Ivan and Bobby Schwartz at the '1985' World Long Track Final. That's wrong. The snap comes from the 1982 World Longtrack Final, 19 September, Korsko, Denmark. Bobby is number 10 and Ivan number 11. In the 1985 Final which was also at Korsko, Bobby was number 3 and Ivan at number 11. I have the programmes and 'Bahnsport Aktuall' snaps and reports to back it up. There is an action snap from that 1982 Final in Ivan's latest book. Number 12 is Hans Nielsen, Ivan 11, Bobby 10 and Chrisroph Betzl is number 8. I hope this of help to you.
John says: Thanks T. I will inform Ivan
Ivan says:
Hi John. Bobby was number 10 and I was number 11. That was my last ever World Long Track Final at Esberg Denmark .15th September 1985. It say's in my book on page 332.They called it Esberg or Korsko I hope this clears that up? Cheers. Ivan
John says: I am showing below the picture of Ivan and Bobby from Ivan's book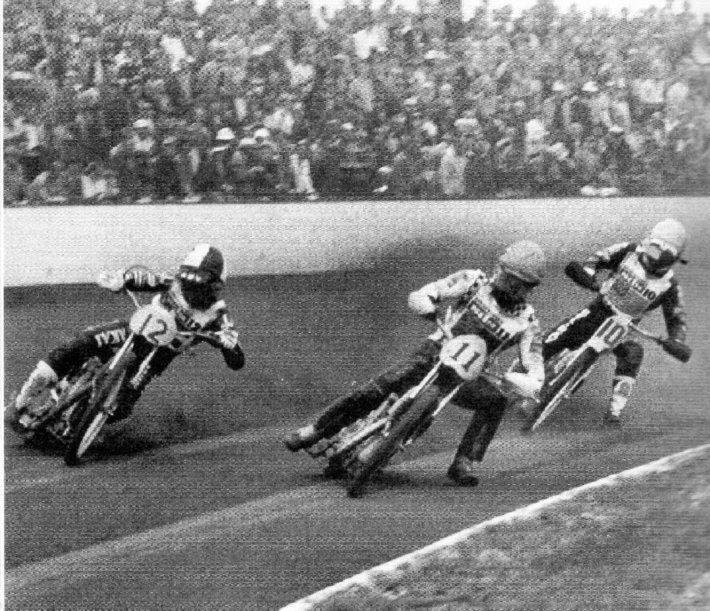 ---
The

NZ


"All Blacks" Flag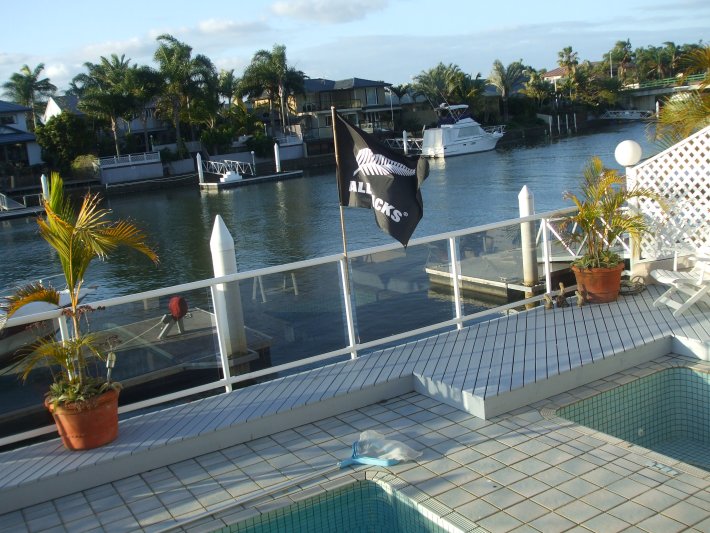 This is Ivan's House flying the flag for the All Blacks. He is a rugby fan. He puts it out

every time the All Blacks play
The New Zealand Rugby Team
With My Gold Bike & World ChampionshipTrophy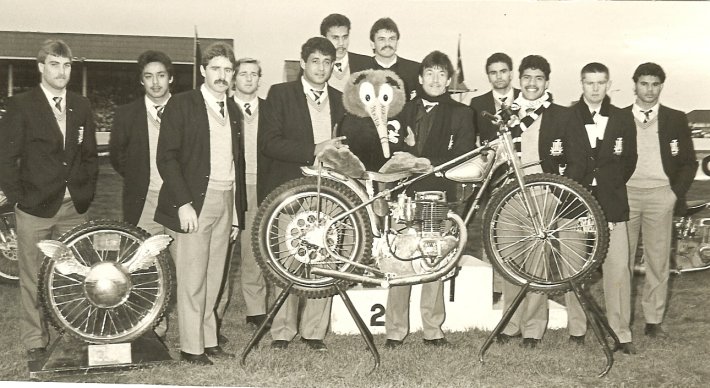 No that isn't Ivan with the goggly eyes and long snout!! As an Englishman I would guess the creature is a Kiwi! Ivan has told me a few times that he is a NZ rugby supporter so he would have felt honoured by this photo
He says:

Hi John. This is the New Zealand Rugby team at my farewell to UK standing at the back of my Gold Bike on 3rd November 1985.
---
The Freedom Of Gniesno Poland
6th October 1985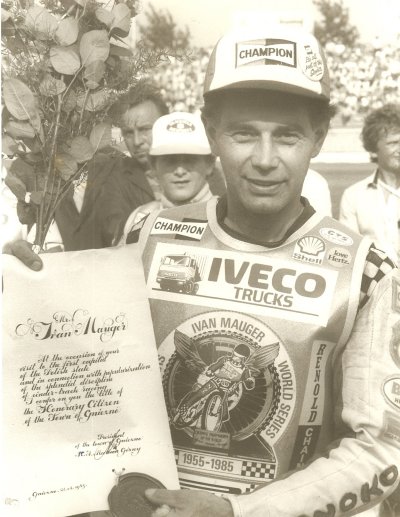 ---
Six Of The Best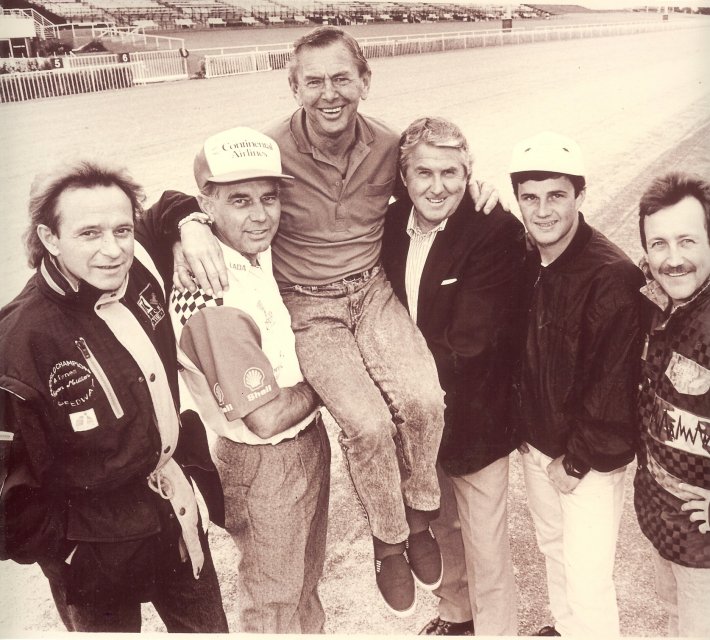 Egon Muller -Ivan- Ronnie-Barry-Gerd Riss- Shawn Moran.
---
My

ESO

Speedway/Longtrack Machine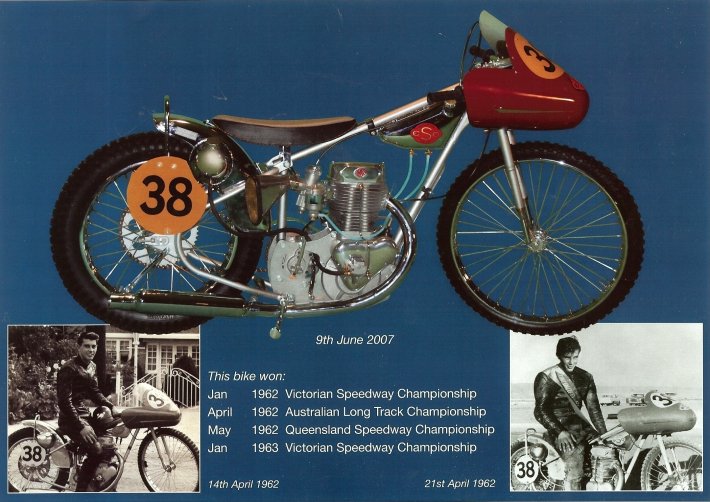 Ivan says: This is my Bike that I bought back from the guy I sold it to in June 2006 (I did not want to take it to the UK in 1963 but I should have done that!!) It took me until the following June to finish it off? Raye always says that it was my favourite bike. I won the 4 Championships on it.
---
Jack Young & Ivan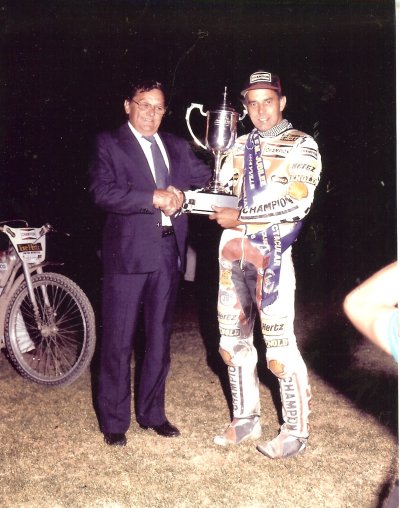 Hi again John'
This was when Jack Young presented to me my last win in Adelaide.
It was the 150 year Jubilee of South Australia in Adelaide on 1st Feb 1986.
This my all time hero Jack Young?
---
Prime Minister!
Honour: A Farewell by the NZ Prime Minster David Lange at Western Springs
---
The Late 1960s
Ole Olsen Receiving Tuition From Ivan At A Hyde Road Speedway School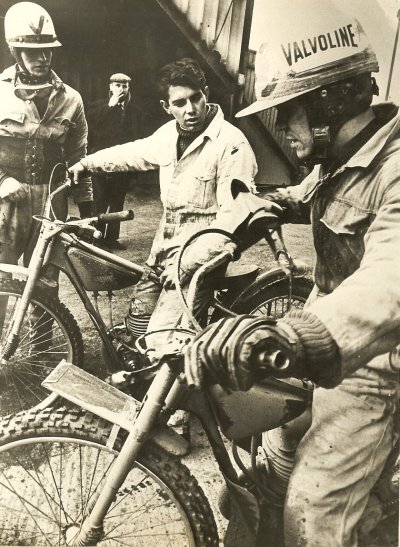 Ivan Says: This is my Newcastle teammate Ole Olsen when I taught him at Belle Vue Hyde Road. I took him back to our place, he spoke perfect English and he was with Raye and I for 4 days. I told Mike Parker about Ole and Parker signed him for Newcastle. The rest is history. Ole was to become a future world champion 3 times.
---
Ivan's 5
English Clubs
1st

Club Wimbledon
Wimbledon 1958. Wimbledon have joined the ranks of the Defunct Tracks
2nd

Club Newcastle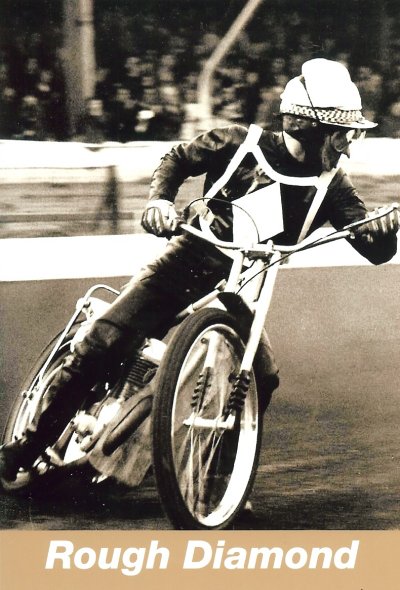 Ivan says: My second club Newcastle Diamonds. I still look for Newcastle's results when I get my speedway star
3rd

Club
Belle Vue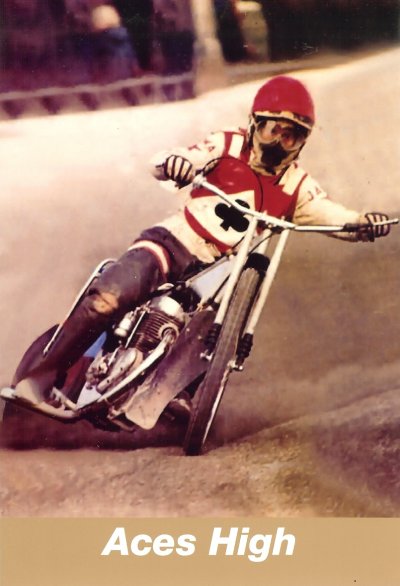 Ivan says: I look for BV results after checking on Newcastle's
4th

Club
Exeter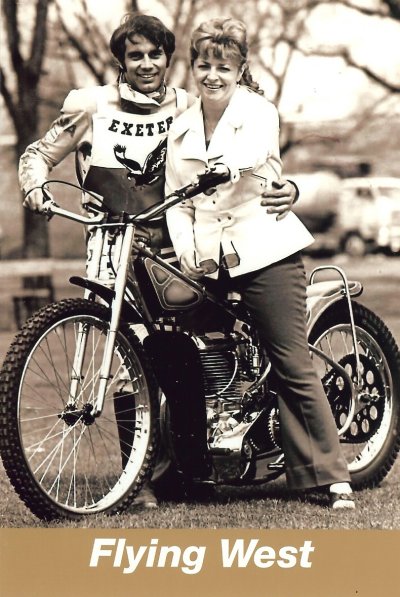 Ivan the Falcon. John says: He cannot check out Exeter's results as they are now a defunct speedway and as so are now included in this websites A-Z of

Defunct Tracks
5th

Club
Hull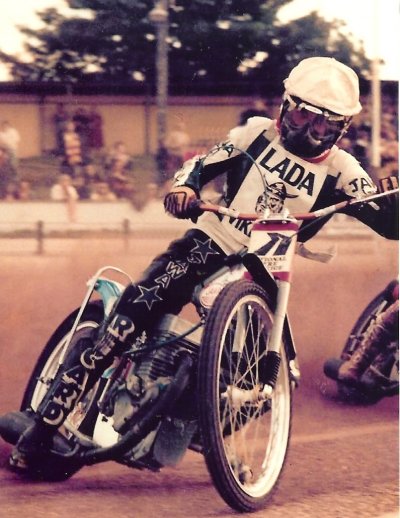 Ivan finished his British career riding for Hull who are also defunct and covered in the websites A-Z of Defunct Tracks
---
The Hall Of Fame
Hi John. I was inducted into the National Motorcycling Hall of Fame on Saturday 1st September 2007.
John says: I hope being "inducted" didn't hurt mate!
---
President Of The
"World Speedway Riders Association"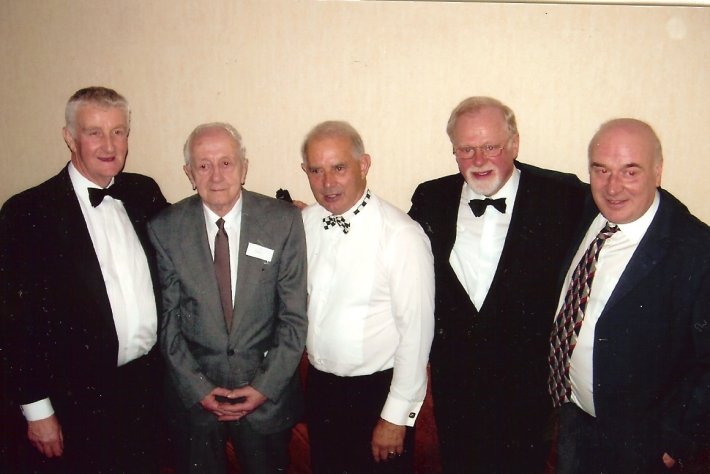 The World Speedway Riders Association when I was the President. From L to R.-Gordon Stobbs, my friend and main mechanic. Guy Allott my tuner for all the World Championships that I won. Wilfried Drygala my European Manager since 1967 and Norrie Allan
---
My Gold Plated Bike
The prize for winning three world championships in a row, 1968, 1969 & 1970. A gold plated bike, (see next 4 pics from Ivan's collection). Second to the Winged Wheels, this is Ivan's most cherished possession. The 17 yr old from New Zealand rode at Wimbledon then impressed first at Newcastle where he scored his first success. His career took off at Belle Vue with 2 more titles leading to his triple crown and the gold plated bike, then wins as an Exeter Falcon and Hull Viking World speedway champion 1968, 1969, 1970, 1972, 1977 and 1979. Ivan won other championships but is remembered here for his 6 world speedway titles.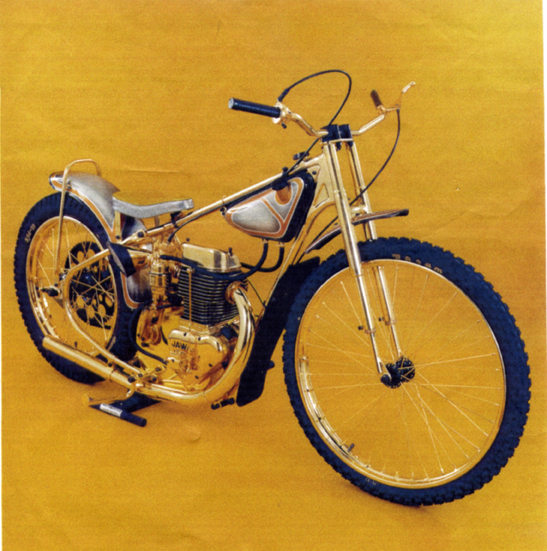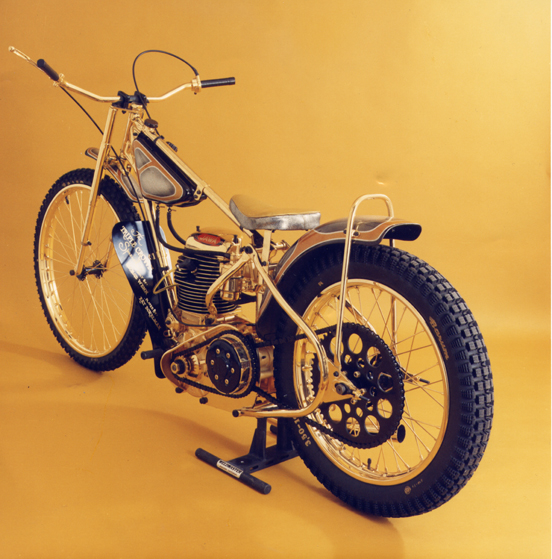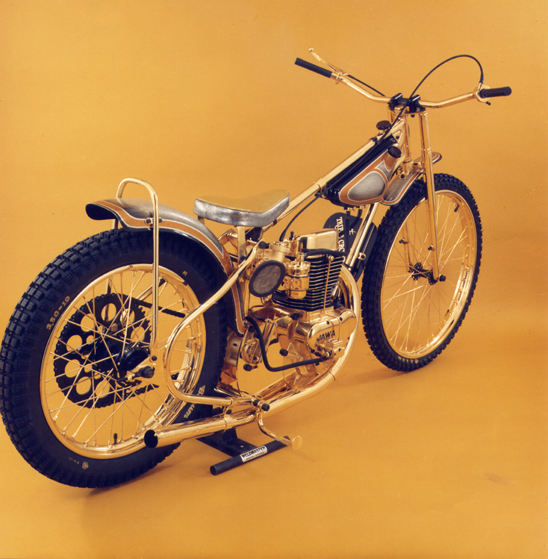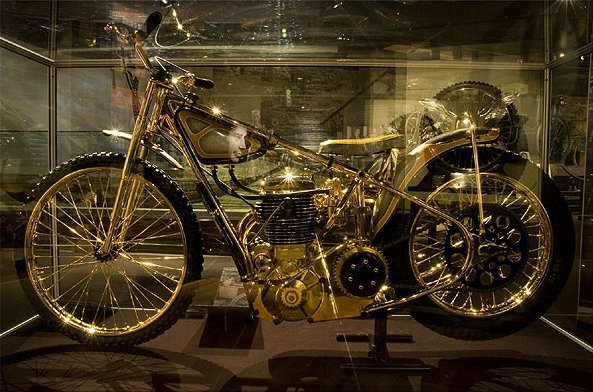 The most beautiful bike in the world? Maybe? In my opinion, Rotrax Japs look great too but this Jawa has history and is gold plated. Is that Ivan's face reflected in the fuel tank? Yes well the bike does belong to the maestro. Thanks for the memories Ivan.
2016 My Golden Bike Sold To NZ's Canterbury Museum
Ivan is of course a New Zealander and when it was decided to sell his most valuable item the "Gold Bike" the sale was won by the New Zealand Canterbury Museum. The Museum says: The story of the world's greatest speedway rider Ivan Mauger continues today (August 2016) with the Canterbury Museum purchasing his 24 carrot gold-plated motorbike and other memorabilia.
John says: I believe Ivan's bike plus memorabilia realised 1.7 million NZ Dollars which I have translated to around £900,000 pounds sterling, (I hope my math's are right). The items may have reached more in an open auction but the Mauger family were keen for the items to stay in New Zealand.
Canterbury Museum's chairman Michael McEvedy said the Mauger Family have generously sold the collection to us "For much less than they may have received on the open market" Ivan's "Triple Crown Special motorbike, which he used to win his third consecutive World Speedway Championship in 1970 was gold plated as a bet between some speedway entrepreneurs. They agreed to gold plate Ivan's bike if he won the triple crown which he did and so his bike was gold plated. The bike will now be preserved for ever by the Canterbury Museum.
Mauger's glittering "Triple Crown Special" Jawa Speedway bike which he rode to his 3rd consecutive World Championship Title 46 yrs ago as I type, His 3rd win was in 1970. The bike was afterwards Gold-Plated as the result of a bet. His Friend in the USA George Wenn had an associate Ray Bekelman who owned an electro-plating company. The legend goes that they would gold plate his bike if he won the World title for the 3rd time, the rest is history. Ivan kept all of his world title winning machines and has sent me photos of them which are on my two websites this one www.newcastlespeedwayhistory.co.uk and www.defunctspeedway.co.uk
---
1968 First World Championship Success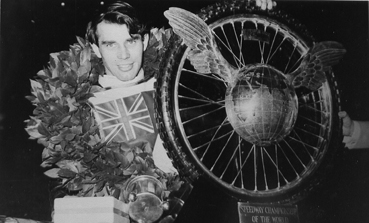 Ivan's first world championship win, 1968 in Gothenburg. Sweden witnesses the beginning of an era. Ivan Mauger has arrived on the world scene. The Newcastle Diamond wins the world crown and becomes New Zealand's third great. Ivan is following in the footsteps of Barry Briggs and Ronnie Moore. How did this small country New Zealand come to dominate world speedway? Ivan was in the shadow of his countrymen for a while but by 1970 had taken over as New Zealand's top sportsman ever.
---
My

5

th World Championship Win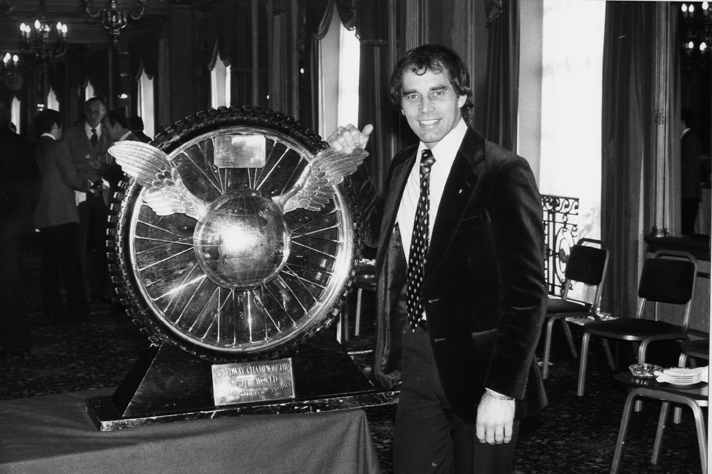 Ivan says: the Daily Mirror picture was when the Sunday Mirror presented it to me to keep after my 5th Win. It took them 7 years to do it as after I won at Wembley they announced that If I can win it 3 times in a row they will give to me to keep.
You did that Ivan. so it is yours to keep. No other rider has had that honour, so well done mate. How much does Raye spend each week on polishes to keep your trophies sparkling!
---
1979

World Title in Poland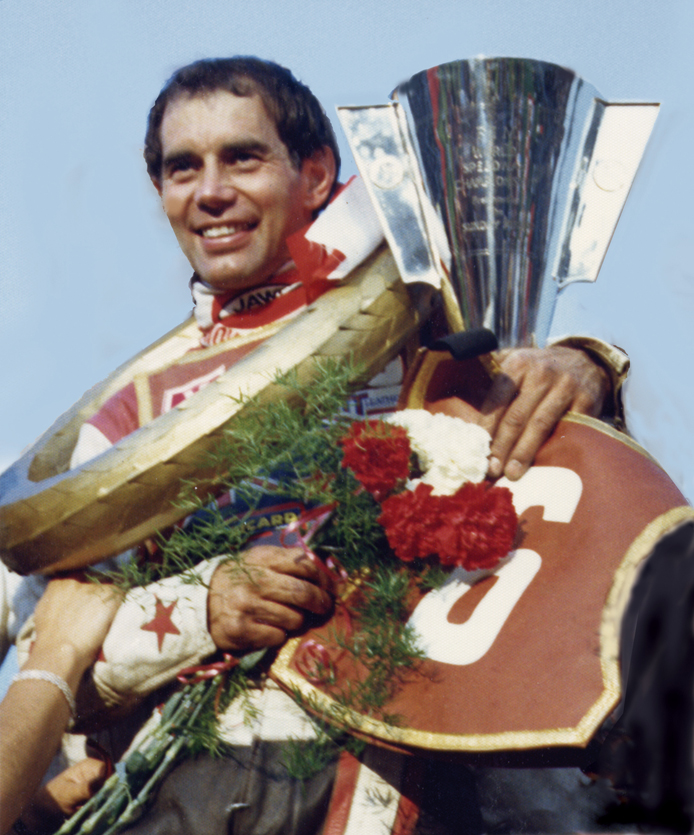 Ivan says: The 79 trophy was at Katowice Poland after the 1979 Final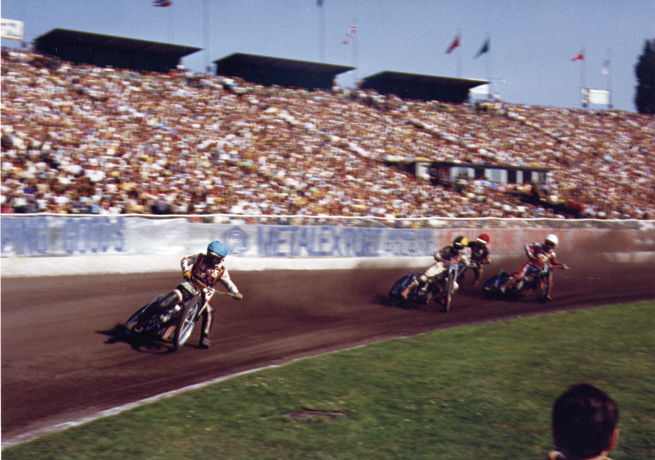 Ivan says: me leading in the 1979 world final at Katowice, Poland
---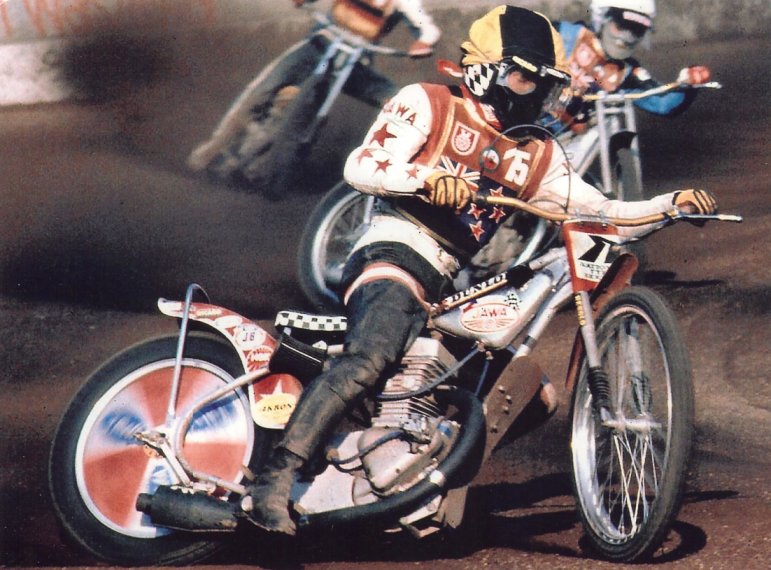 ---
Ivan's World Record Bike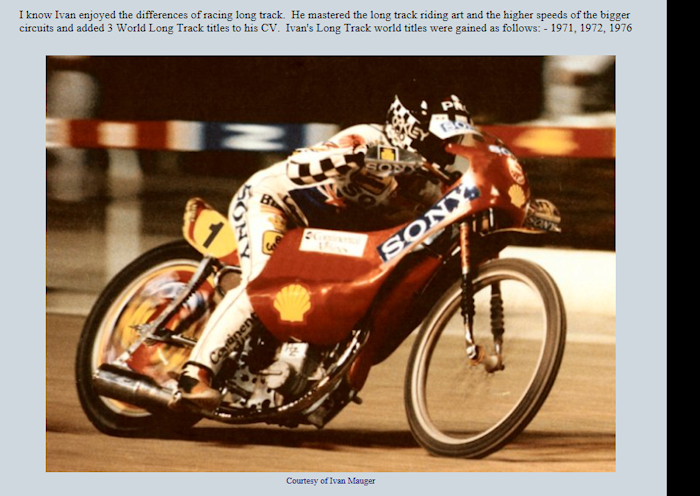 John Skinner says: The actual World Record Bike with the red faring reached 144.666

MPH not bad for a single cylinder 500cc speedway/longtrack bike without the benefit of conventional gears and dare I say it " with no brakes!"
---
Ivan's Hero Aussie Jack Young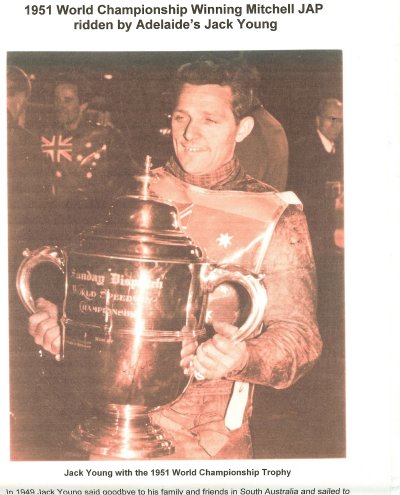 Ivan says: This is Jack Young my all time idol. I have ridden his bike at Gillman in 2009 and at Broadford Bike Bonanza Easter in Victoria near to Melbourne. I went to there as A Sports Ambassador for New Zealand .
Sports Ambassador For New Zealand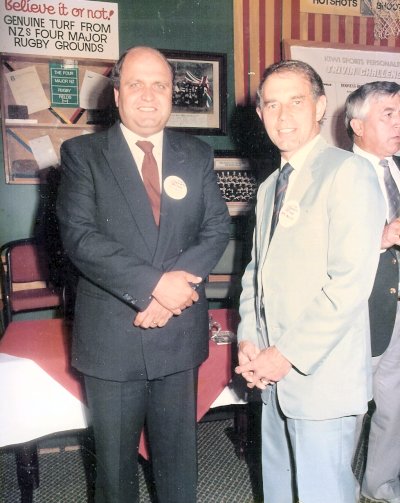 Ivan says: I am still the Sports Ambassador and I do that all over the World.
---
Back Now to 1966: -
Grass-Tracking Near Buxton In

1966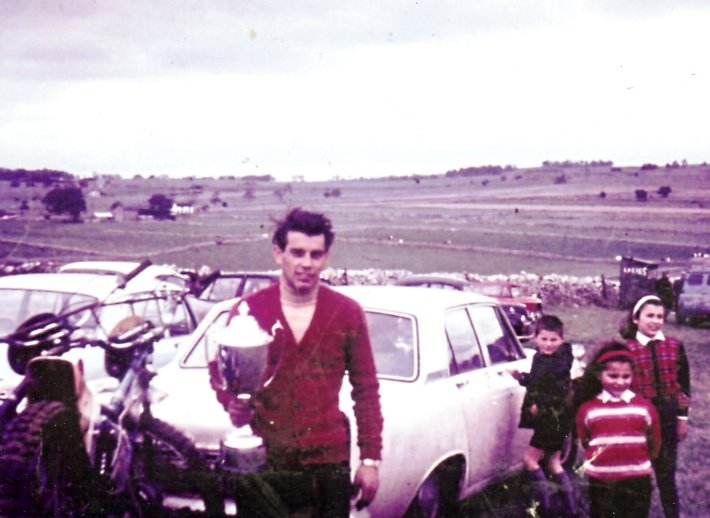 I had the kids with me!
---
Powderhall Edinburgh
20th September 1985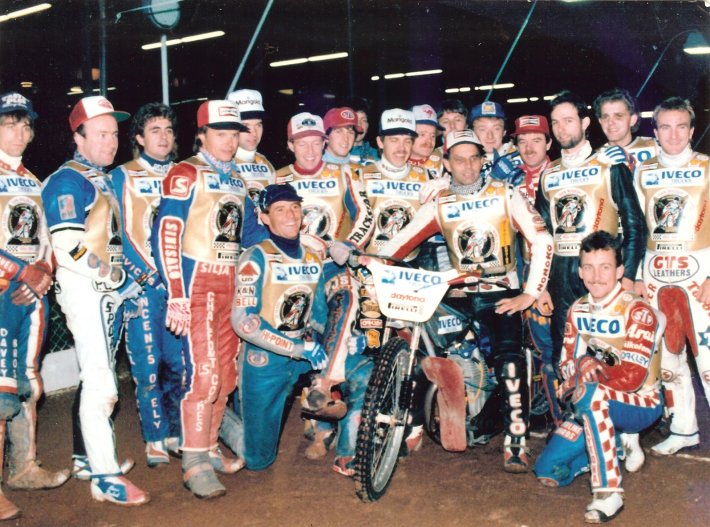 From L to R-Jeremy Doncaster-Peter Collins-Richard Knight-Kai Niemi-Finn Jensen-John Cook kneeling-Chris Morton-Simon Cross-Barrie Dixon-Erik Gundersen-Brett Saunders-Steve Finch-Ivan Mauger on the bike-Billy Burton-Bobby Beaton-Eddie Ingles-Shawn Moran Kneeling-Scott Lamb-Phil Collins.
---
Belle Vue
3rd November 1985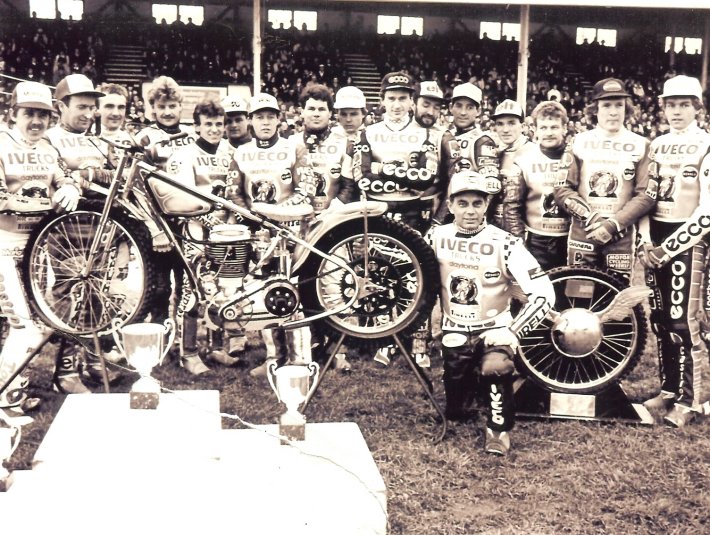 From L to R-Neil Everts-Erik Gundersen-Peter Collins-Phil Collins-Carl Blackbird-Jan O Pedersen-Andy Smith-Chris Morton-Larry Ross-Kai Niemi-Hans Neilsen-Les Collins-John Cook-Ivan Mauger-Stephen Collins-Neil Collins-Preben Ericksen-Tommy Knudsen-Simon Wigg. I had all the Collins brother's riding in that meeting. They have not been before and not since!!
---
Back to 1969: -
My

1969

World Speedway
Winning Machines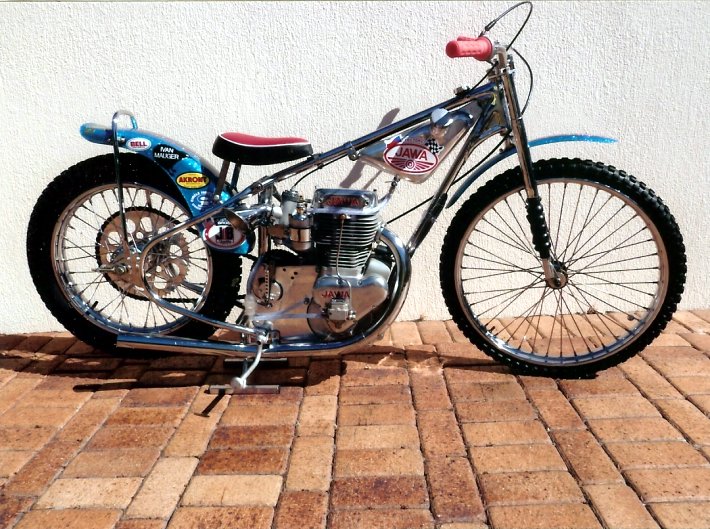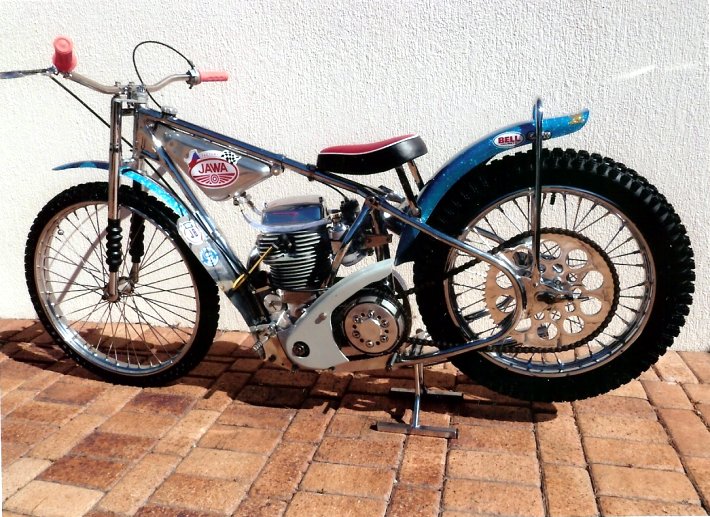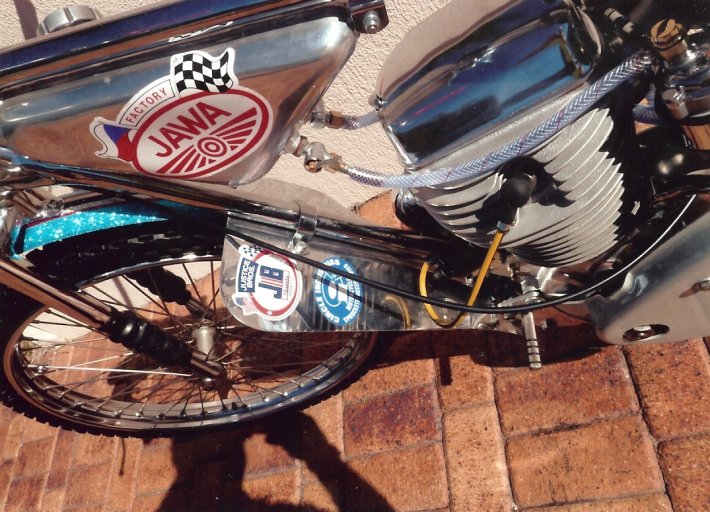 Is that the shadow of Ivan Mauger?
Ivan says: Hi John. These are my 3 Bikes from the Wembley World Final in 1969. Don Clarke and George Casey told me the would give me the Winged Wheel trophy, if I won it 3 times on the trot. They never ever expected me to win it a third time. That was the best I have ever ridden and I will not do it again. But it was not until I won it for the fifth time that that they gave it to me.
---
My

1971

World
Long Track
Winning Bike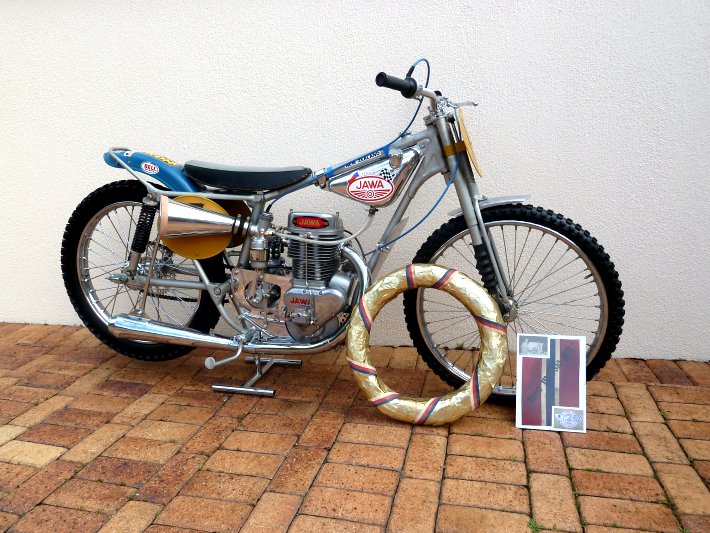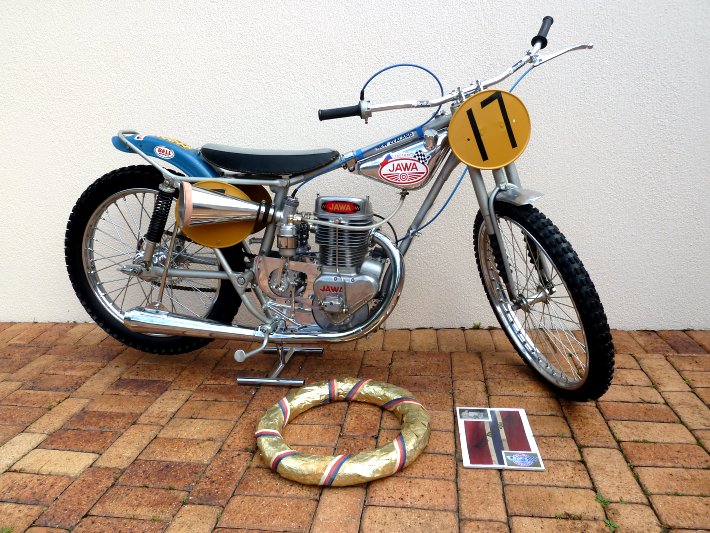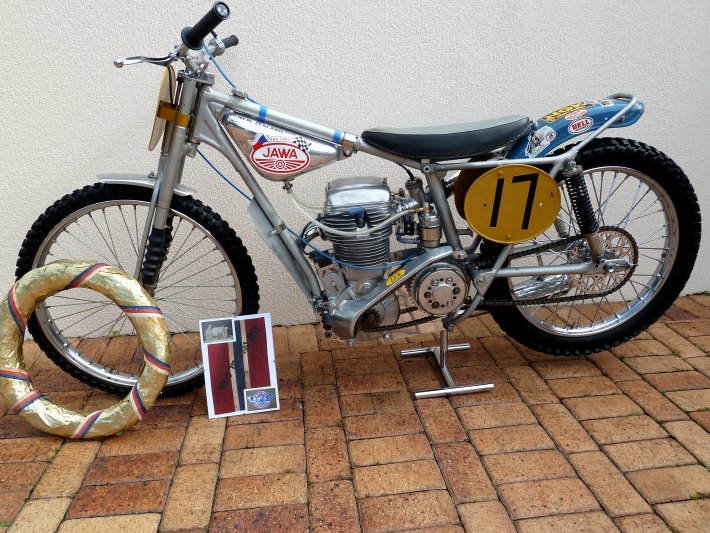 Ivan Says:
Hi John. This is my Bike from Oslo in 1971. I won the 1971 world Longtrack title on it. I won the world title again at Muldorf in 1972. I wanted to do it 3 times on the trot as I had done with the Speedway world title.
But when we were in Maranske Lazne up near East Germany at the top of Czecho. I won my first two races and broke the track record both times. So I had 16 points and was leading at that stage. But in my next two races I seized my LONG STROKE JAWA both times. The Jawa's had a tendency to do that as they had very thick cylinder walls. The JAWA people made a thinner cylinder after that episode. I had 16 points and the others 17 points or more so I did not get into the final. I won all my other Long tracks and Grass tracks in 1973. I restored the bike myself.

Cheers Ivan.
John says: Such a pity that the engine problems robbed you of another triple crown mate!
Lesley of Scott Leathers says: Hello John, I have just come across your site and enjoyed reading about Ivan Mauger, I made Ivan's race leathers for many of the years that appear in your photos, all hand cut then. If you have contact with Ivan pass on our regards Lesley and Jim Aird from TT Leathers. Many thanks. Lesley
John says: Thank you Ivan for sharing all of this via the website. I am proud to say we became friends. I hope you have good spells in your illness and can read the website. My regards to you and your family.

---
Ivan
Mauger
Born: 4 October 1939 Died:

16 April 2018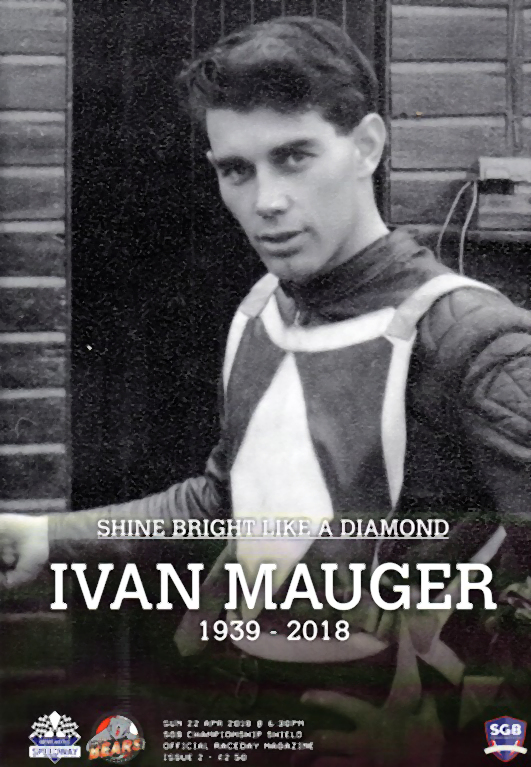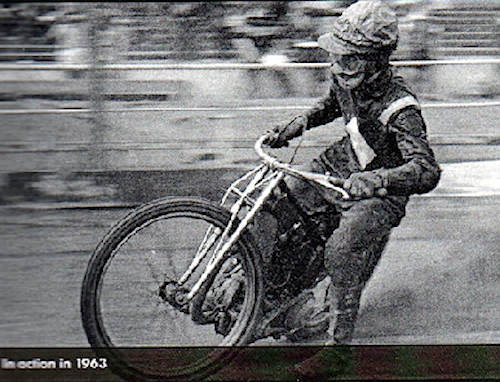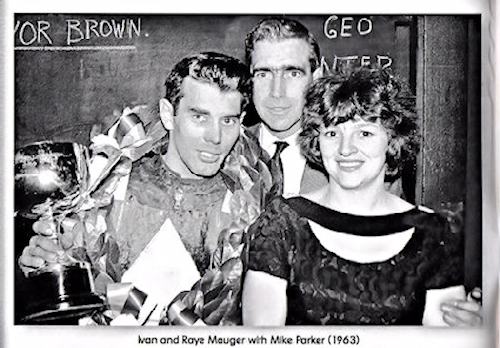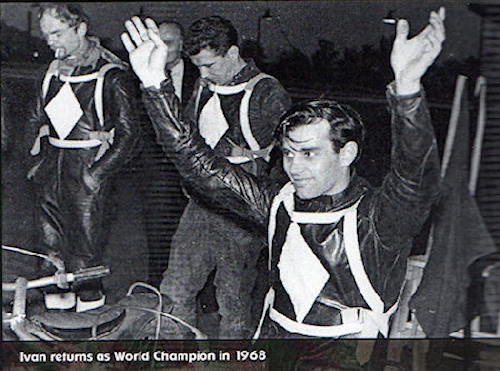 All the above photographs are courtesy of the Newcastle

souvenir

programme dated 22nd April 2018.
---
The contents of the site are © and should not be reproduced elsewhere for financial gain. The contributors to this site gave the pictures and information on that understanding. If anyone has any issue or objections to any items on the site please
e-mail
and I will amend or remove the item. Where possible credit has been given to the owner of each item.