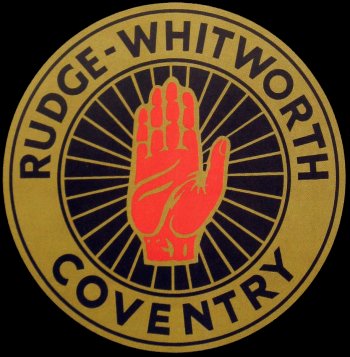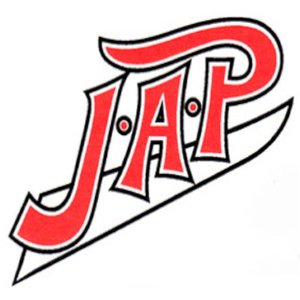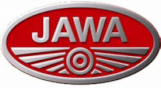 ---
Reg Fearman
Part 3
Wembley
Guide Dogs For The Blind
14th October 1996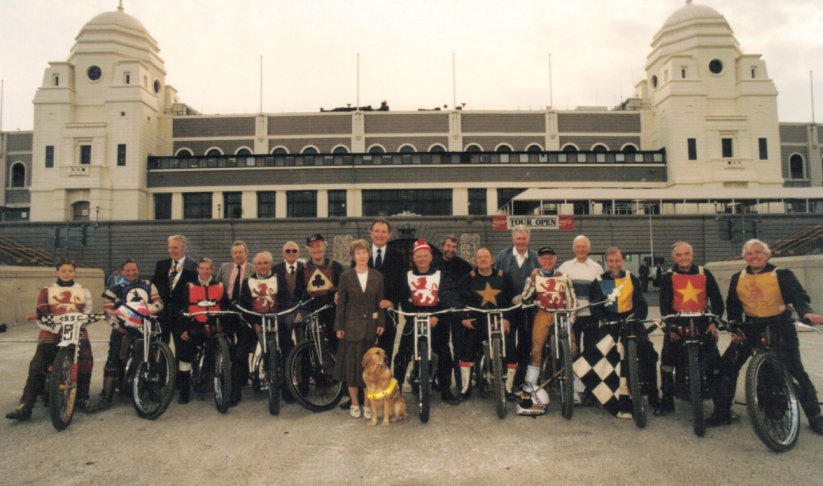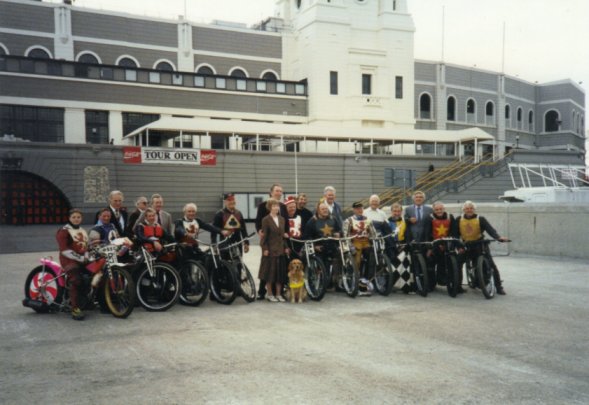 Anne Thair and guide dog Helena with Reg Fearman and members of the VSRA
14th October 1996 was the date that speedway machines roared inside the Wembley Stadium for the last time.
I joined forces with Allan Wilson of Edinburgh - whose idea it was - to promote awareness for " The Guide Dogs for the Blind Association". We contacted the Operations Manager at Wembley who was most helpful and gave permission, subject to certain conditions, for the speedway machines to be ridden around the sand greyhound track.
From " The Guide Dogs for the Blind Association " - a registered charity - came the Regional Fund Raising Manager, Anne Thair, with her guide dog Helena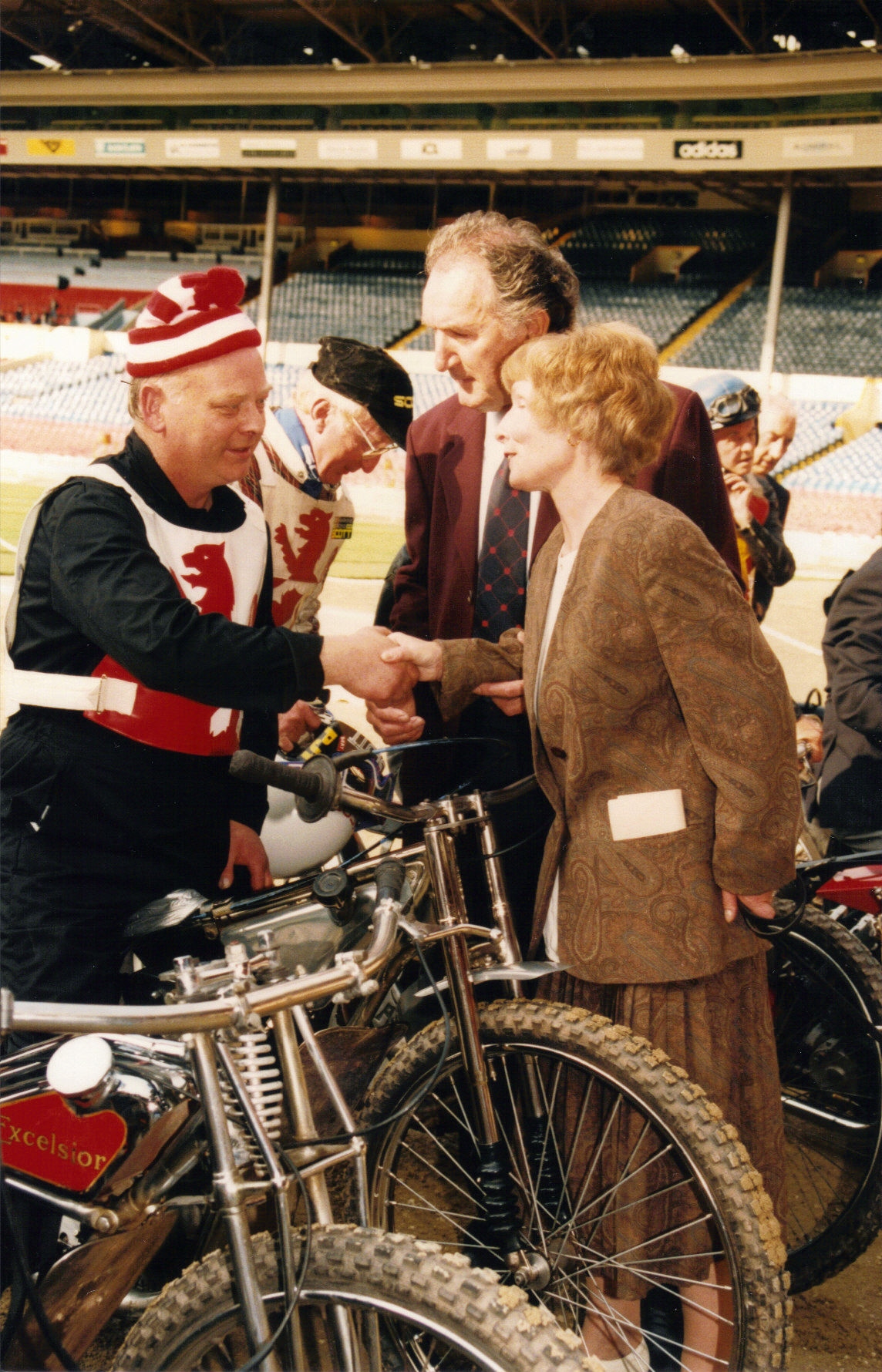 Allan Wilson Reg Fearman Anne Thair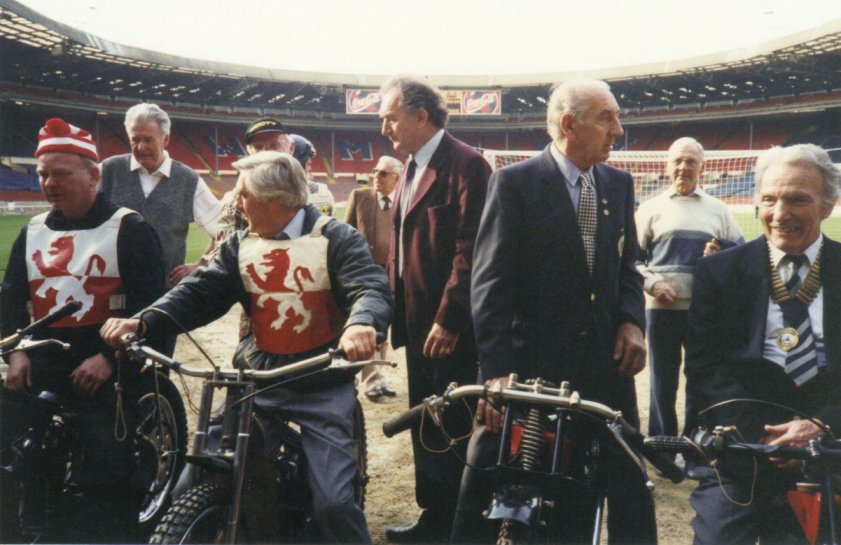 Allan Wilson, Freddie Williams, Reg Fearman, Archie Windmill, Vic White, Vic Gooden
There was a good turnout from the media including BBC Radio. I contacted the speedway fraternity who turned out in force including Freddie Williams Wembley, Bert Harkins Wembley, Brian Brett Newcastle, Danny Dunton Harringay, Colin Pratt Hackney, Dingle Brown Stoke, Vic Gooden Rayleigh and the VSRA President at the time, Pete Saunders Peterborough, Vic White Leicester, Terry Stone Rayleigh, Jim Gregory Oxford, Archie Windmill Wimbledon, Stan Stevens West Ham, Roy Peacock Liverpool, Len Tuplin Sheffield, Chum Taylor Southampton and Australia, Fred Rogers Norwich, Ross Gilbertson Poole and many more.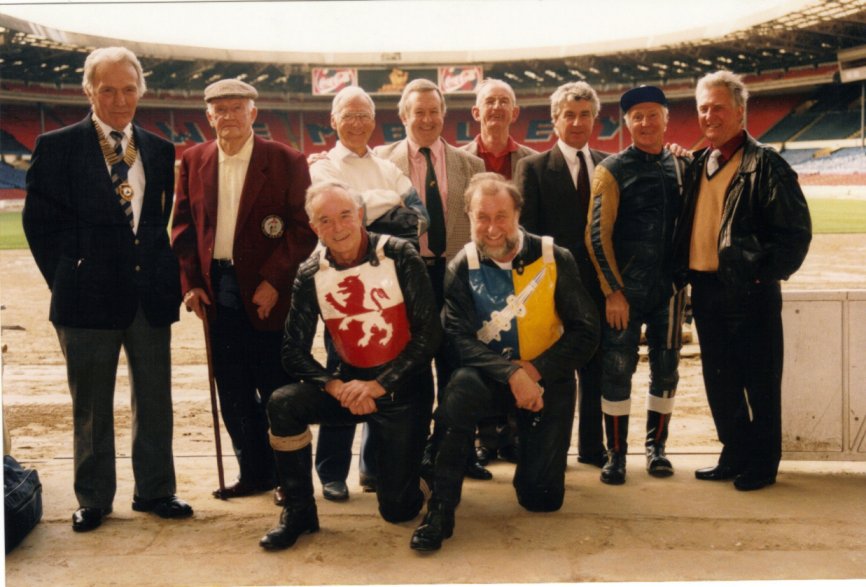 The whole day was a huge success. We all had a great day and our objective was achieved by all joining in and making aware the needs of "The Guide Dogs for the Blind Association".
The photographs tell the story.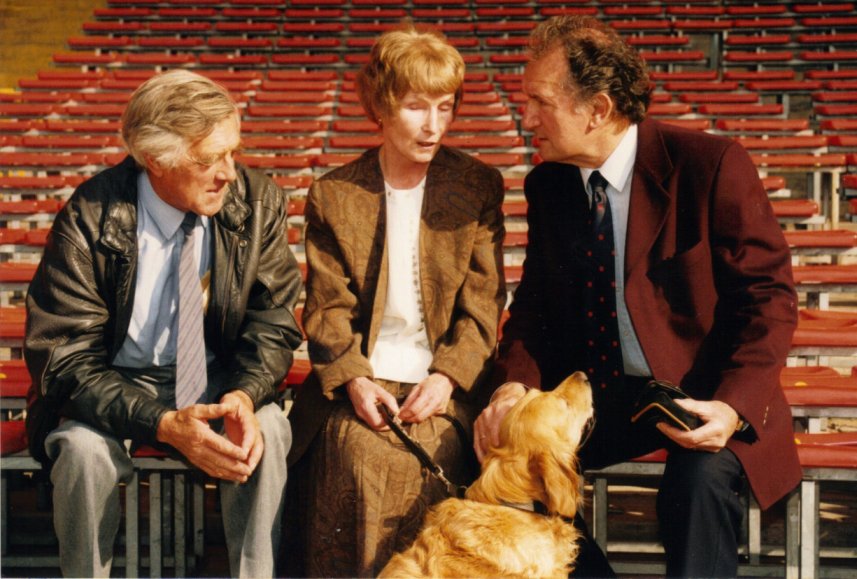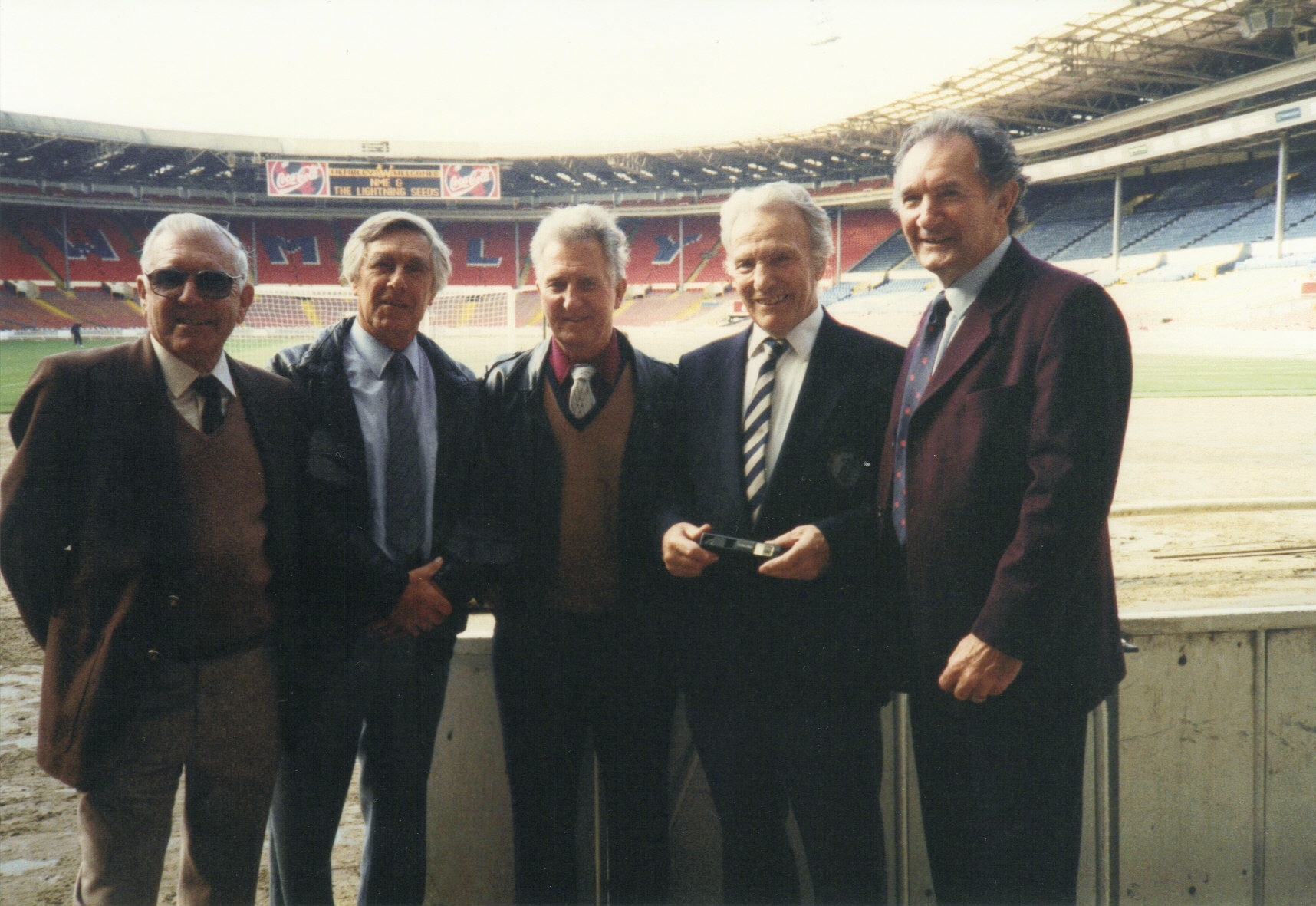 Chum Taylor Freddie Williams Danny Dunton Vic Gooden Reg Fearman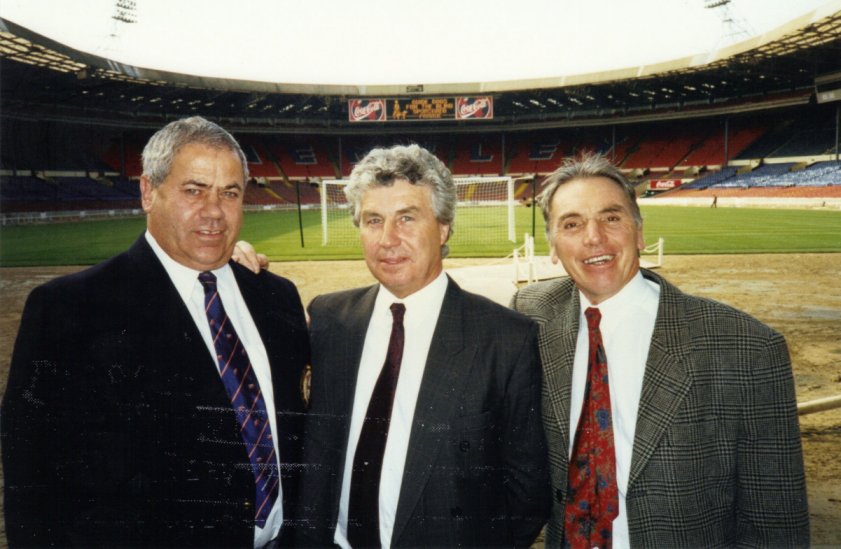 Colin Pratt Dingle Brown Brian Brett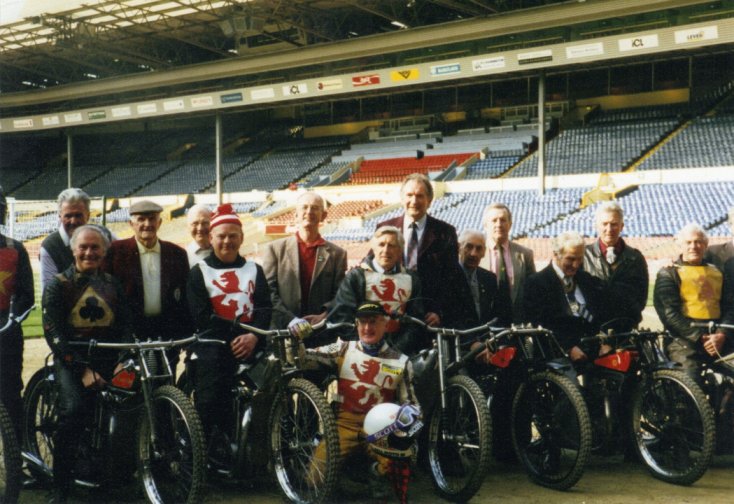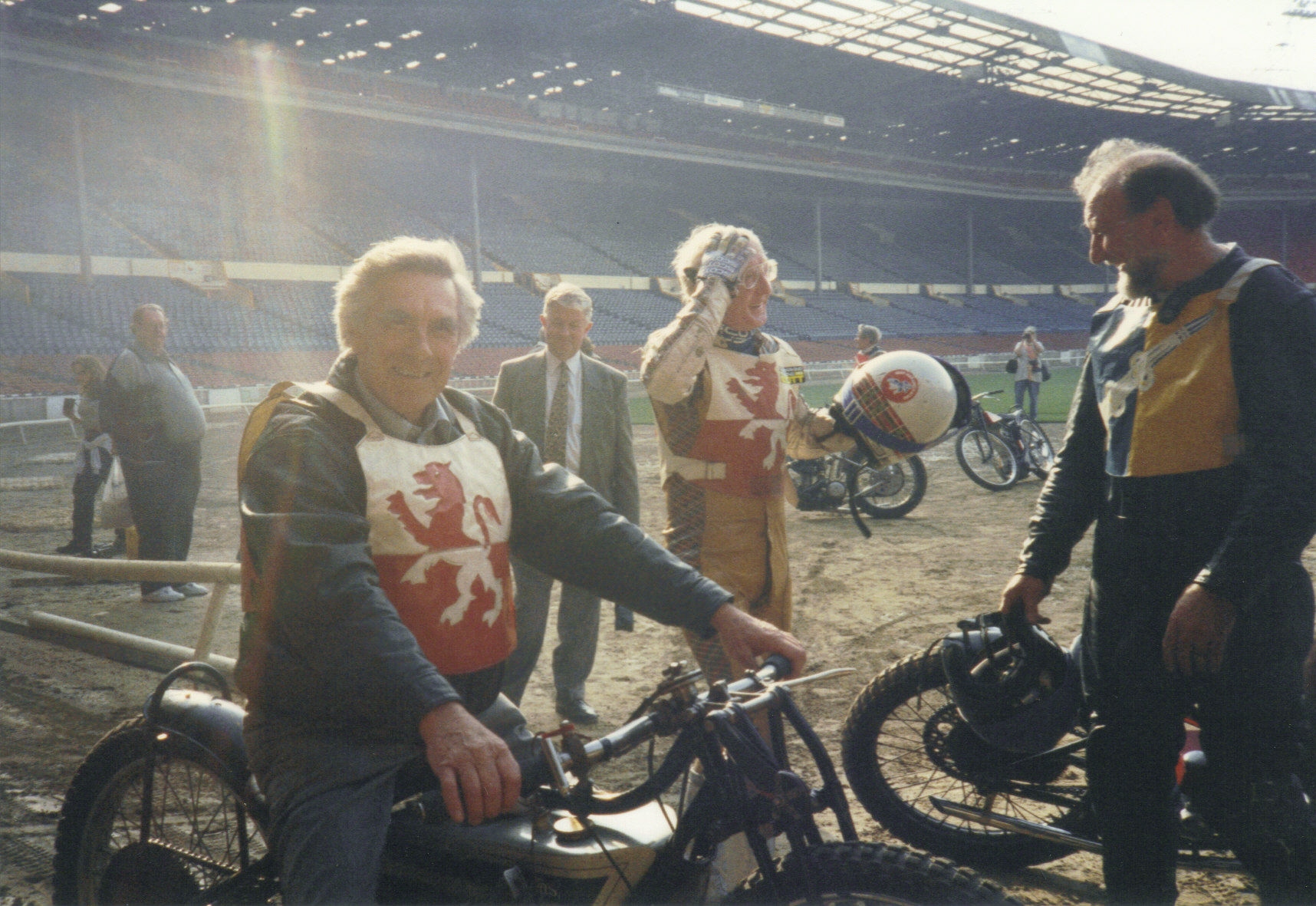 Freddie Williams, Bert Harkins and Terry Stone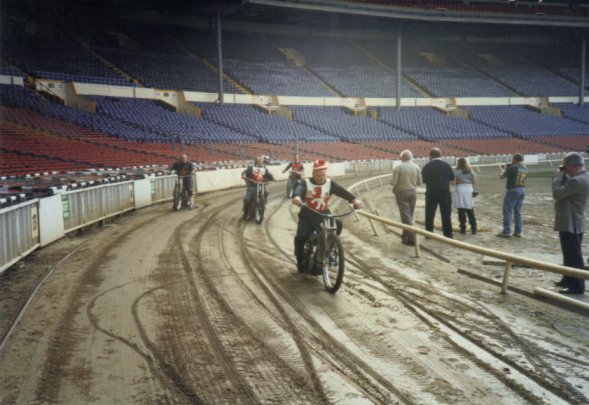 The last ever ride at Wembley
---
So many of us ex riders have lived their dreams and seen them fulfilled. Spare a thought for Russell Paine and partner Claire Evans. Their dream started back in 2003 in that they would purchase some land and build their own speedway track in Spain. They found the land south of Murcia, just off the motorway not too far from Almeria and Mojacer at Huercal Overa. They bought the land and through their agent applied for planning permission. Their agent in time told them the permission was in place and to go ahead. They brought in earth moving equipment ,shaped the track, built an outer fence and so much more. They had already driven from England in an artic. with about 25 speedway machines, dozens of pairs of riding boots and leathers and Kevlar's for the proposed training school.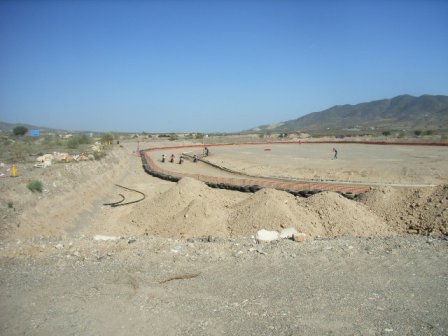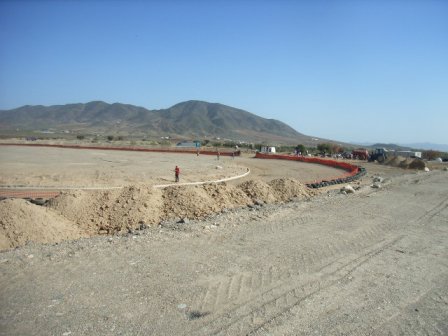 An almost panoramic view of the entire track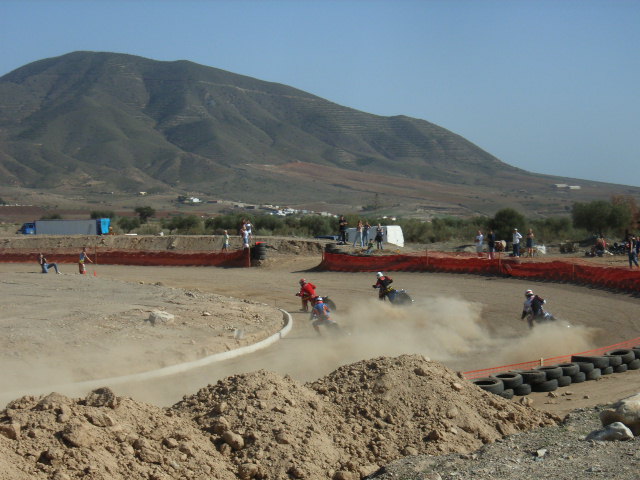 The Training Track in use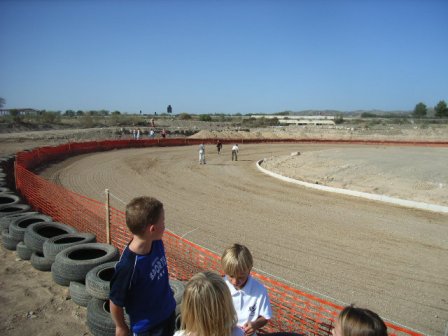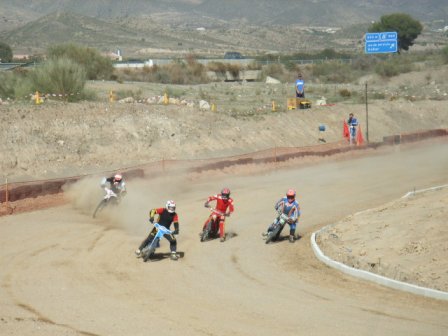 Many months later - it was in fact the weekend of 29/30 October 2005 when "The Amigos" (we in the south of France are kindly included) which is a social gathering of ex pats. formed by Alan Brett and John Chaplin, were invited to the "pseudo" opening of the track for the benefit of the cameras for the BBC TV programme "Living In The Sun" (what wonderful publicity) a programme due to go out the following January. The tape was cut for the "Opening" and a few races took place for the cameras. Many of us attended as you will see by the photographs.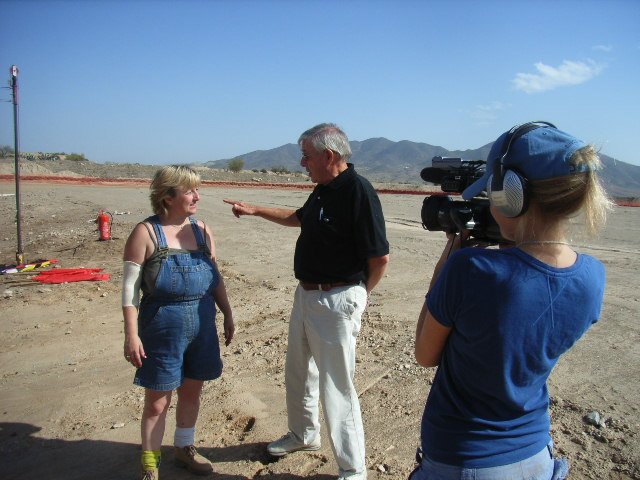 John Chaplin interviews co-owner, Claire Evans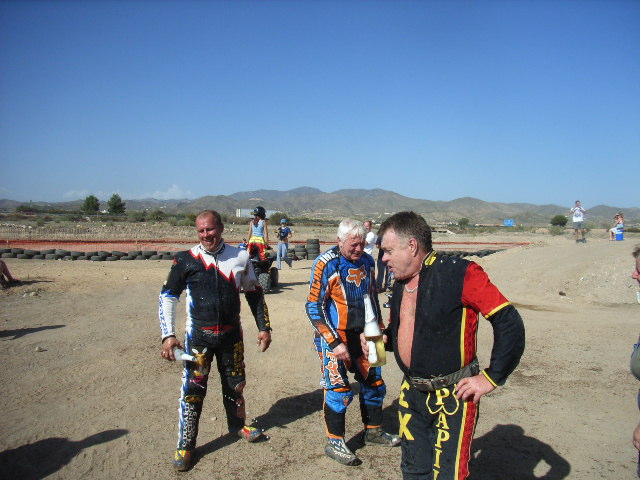 Russell Paine (co-owner) on the left and Bob Coles
Russell and Claire had done a fantastic job of turning a wilderness into a first class shaped speedway track with banking on the outside for spectators. Their long term aim is to encourage the motorcycle mad Spanish to take up speedway racing. In the short term to offer training facilities to all speedway riders for training and testing and to operate their own training school. What could be better with over 300 days of Spanish sunshine a year.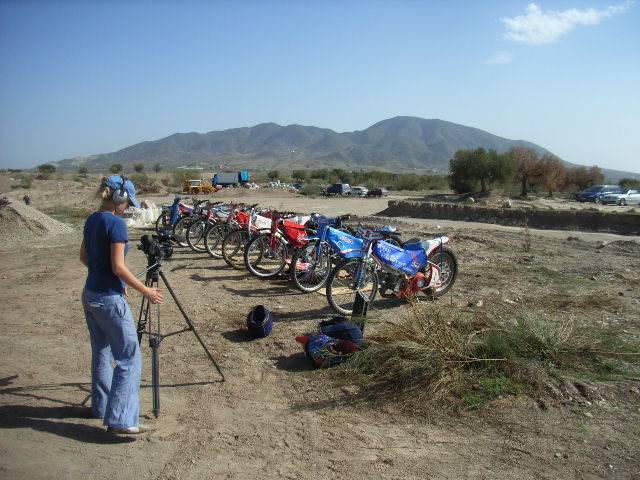 Machines lined up for the BBC Camera
Shortly after that wonderful weekend that we had spent with so much hope for the future and good wishes for Russell and Claire, they were served with a stop notice which meant a cessation of all work. They were told that they did not have certain permissions in order. They stopped the physical work and ever since have been working on trying to get the "right" permission, complete with rubber stamp.. Anyone who knows anything about the Spanish hierarchy will know that can be very difficult. I know both Russell and Clare are indebted to their families and friends for their support through this harrowing period of their lives. The financial cost has been enormous and the strain of living under this cloud is immeasurable. Hopefully their "Dream" will come true - sooner rather than later. Let's wish them luck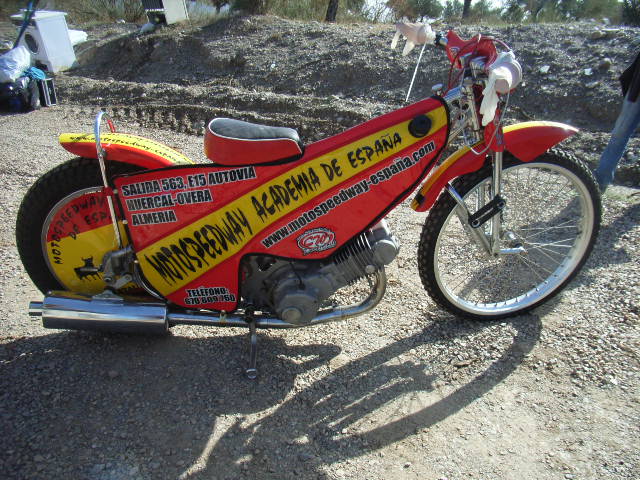 One of Russell & Claire's training school machines advertising the Academy and website
A Major Task Of Logistics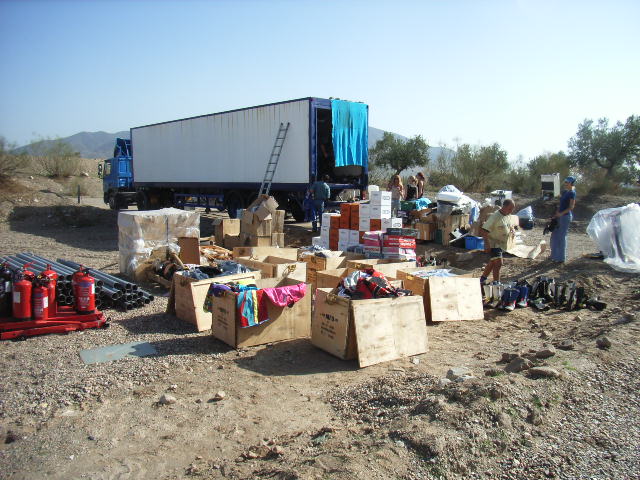 The articulated lorry referred to in paragraph 1. A major piece of logistics.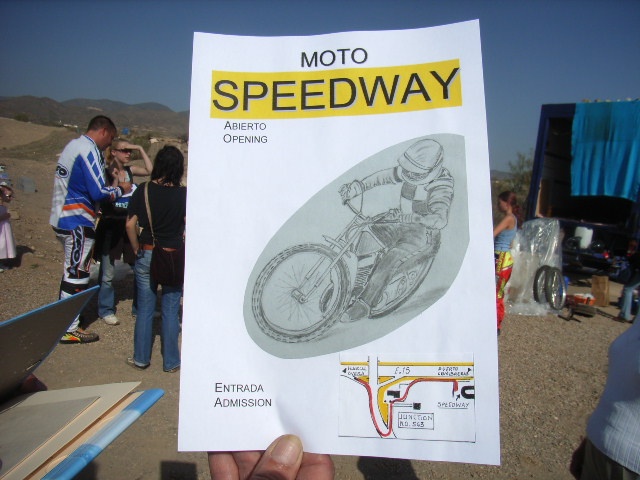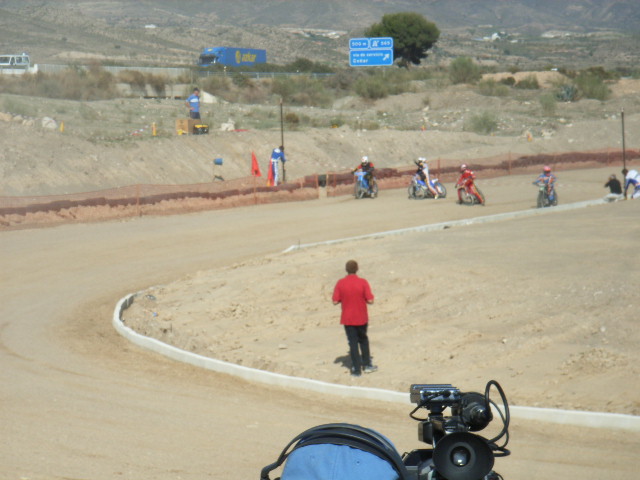 A shot of the starting gate, appears to be wider that most UK tracks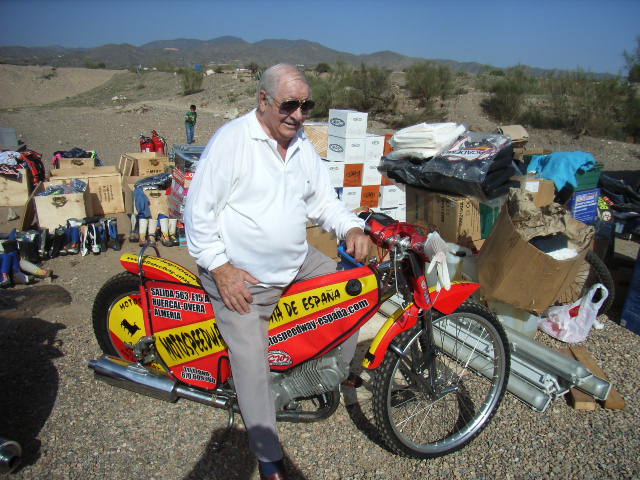 Split Waterman posing with an Academy bike with some of the contents of the artic. arranged around him.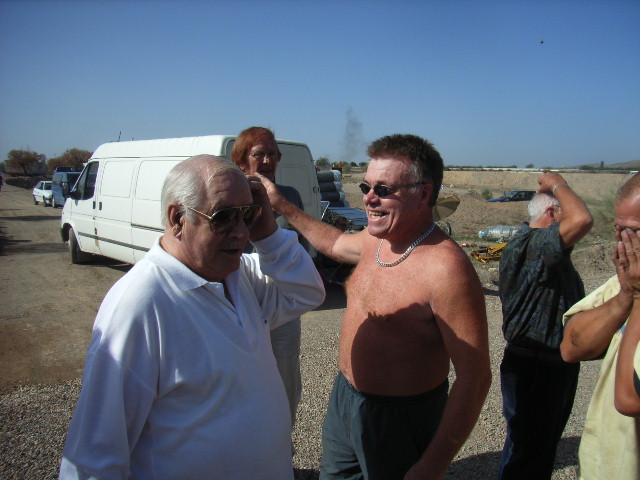 Split Waterman and Bob Coles (Discussing where the nearest bar is, maybe!)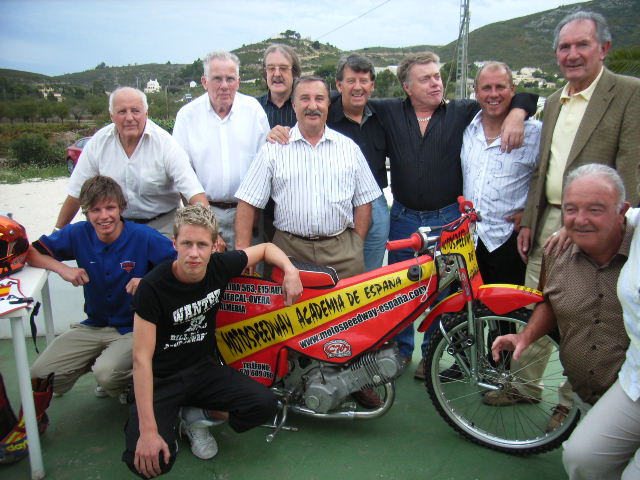 The Group outside the Amigos Restaurant
Back row: Bobby Croombs, John Leggett, John Bishop, Dan Forsberg, John Wilson, Bob Cole, Russell Payne , Reg Fearman. Kneeling : Young Swedish rider friend of Billy Forsberg name unknown, Billy Forsberg, Alan Brett
---
The "Amigos" was formed in 2004 by Alan Brett (Wimbledon early 1950s) and speedway historian John Chaplin. There are as many ex riders living on the coast between Valencia and Marbella as there are ex pats who used to go to speedway, or who did a job at their local track. John Chaplin keeps them all informed by his regular Speedway News Radio show which is transmitted from near Benidorm.
The "Amigos" normally meet twice a year for lunch in the Alicante area.
The photos are of the early "Amigos" lunches with some memorabilia on display. Bobby Croombs had the biggest trophy on display won by his dad, Tommy, in the 1930s.
In the "
Team
" photo call can be seen on the back row, Ove Fundin, John Chaplin, the late Roy Farndon (son of Tom the Star Champion of the 1930's who was killed in the same period at New Cross Speedway),
Reg Fearman - front row, Bob Coles, Phil Mountford, Danny Forsberg, Jim Chalkley, Bobby Croombs and
Alan Brett.
Reg Fearman
November 2008
All the pictures that follow, are courtesy of Speedway Amigo Reg Fearman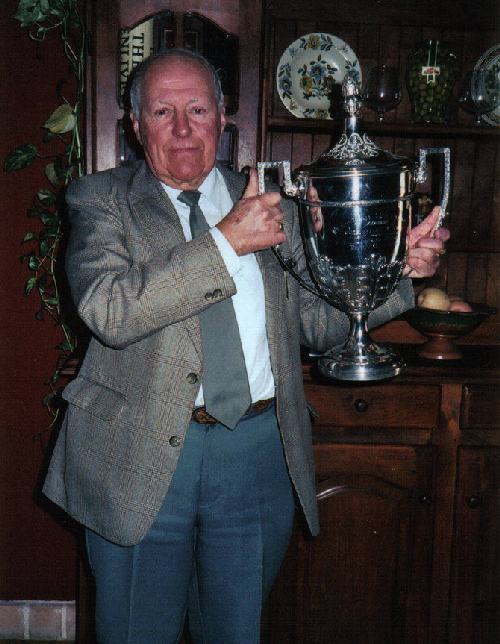 Bobby Croombs with Tommy (his Dad's), Trophy.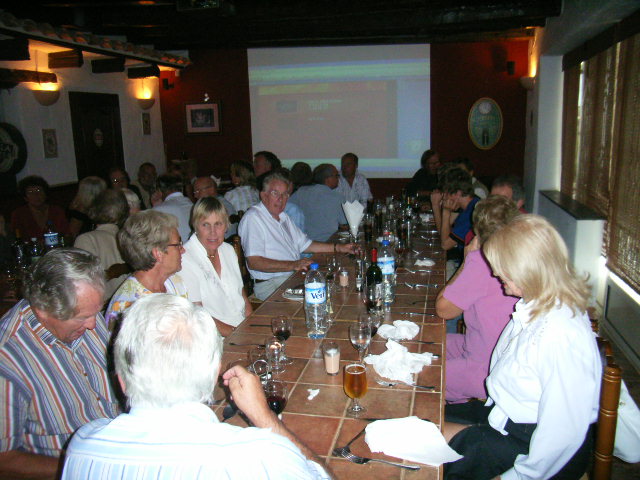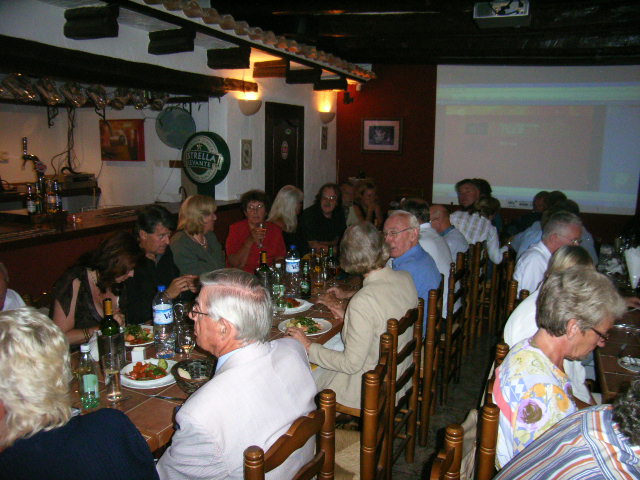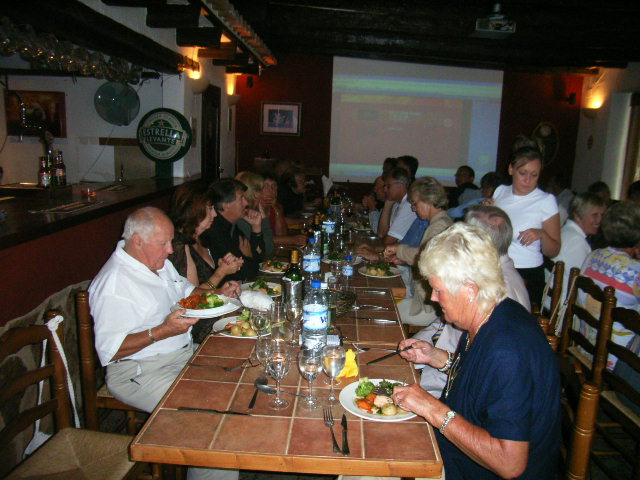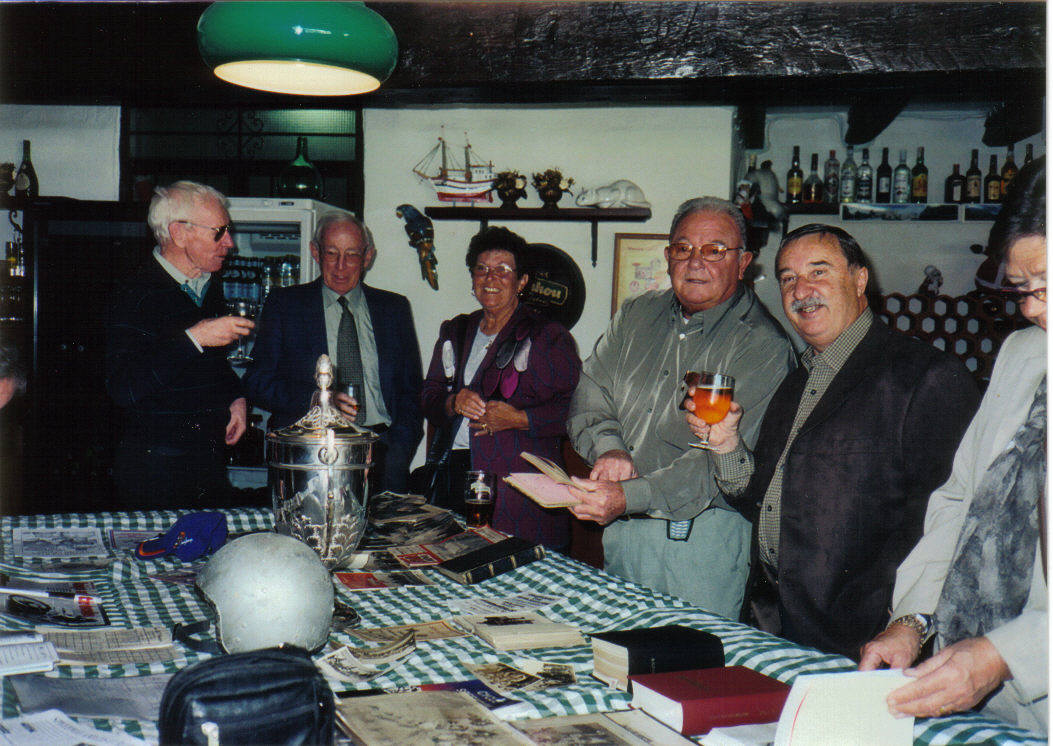 Amigos" lunch Lliber 11 02 05 - looking at the memorabilia are Ove Fundin, Roy Farndon, Betty Farndon,
Alan Brett and Danny Forsberg.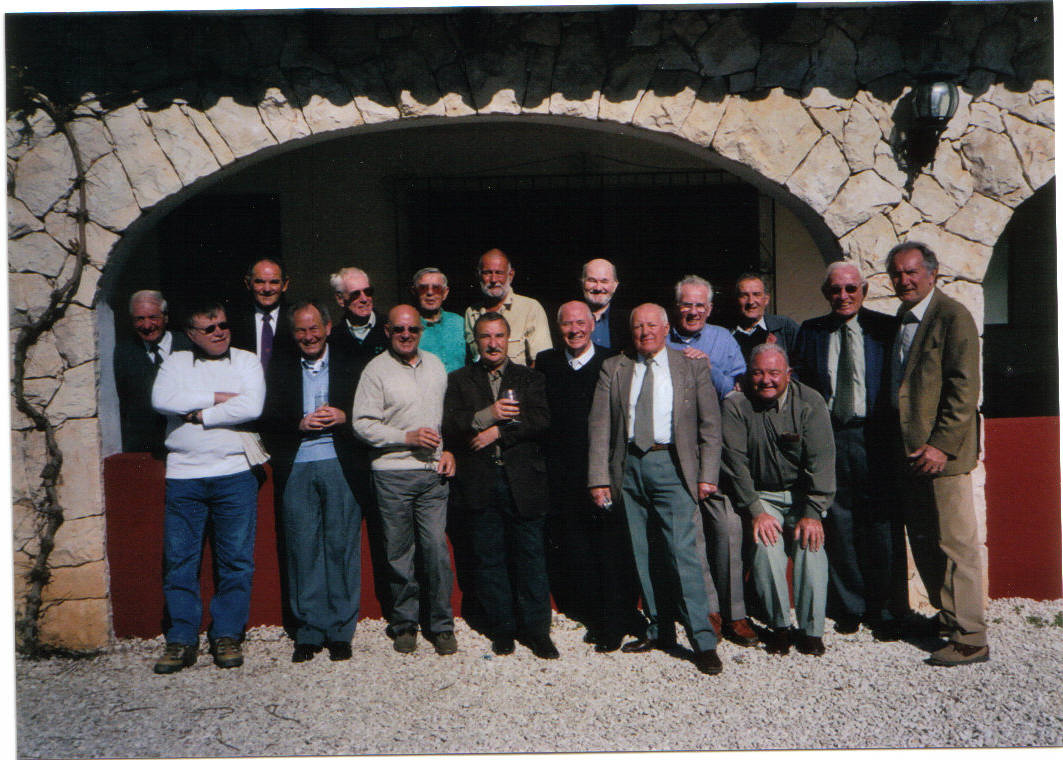 Back row: "Fan", Phil Lock, Ove Fundin, John Chaplin, "Fan", "Fan", John Leggett, "Fan", Roy Farndon, Reg Fearman, Front row: Bob Cole, Phil Mountford, Rusell Payne's Dad, Dan Forsberg, Jim Chalkley, Bobby Croombs, Alan Brett
---
Peter Craven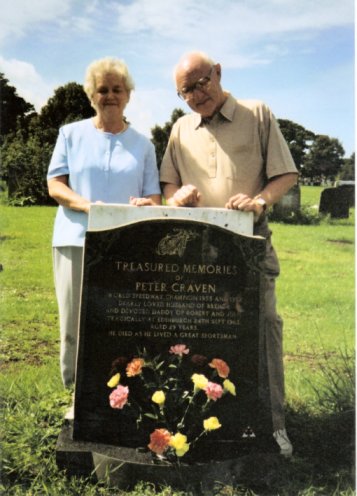 PC Remembered
It is 38 years this month, September 2001, that one of England's - perhaps England's best ever - post-war speedway riders lost his life at Edinburgh Speedway. Peter Craven, twice World Champion, is buried in West Derby Cemetery, Liverpool.
Pictured here at Peter's headstone is Brenda and Leon Leat. Leon was good friend, mechanic and driver to Peter throughout his Belle Vue career and was at Edinburgh on that fateful night.
Brenda and Peter were married in 1956 and spent their honeymoon racing in South Africa. Brenda and Peter had two children, Robert now aged 44 and Julie, aged 40. Julie lives with her family in Brenda and Peter's old house in West Derby. Liverpool is full of
blue plaques
on houses where famous sons of Liverpool have lived. An application for a
blue plaque
has been applied for.
Leon originates from North Devon and actually met his future wife, Sheila, when she was on holiday. He followed her back to her home near Liverpool and never returned to North Devon. When Leon and his wife, Sheila, married they spent their honeymoon travelling with Peter and Brenda, racing in Vienna and other Austrian cities and from thereon were life-long friends. Leon and Sheila had two daughters. Sheila died of a heart attack in 1987.
After so many years of close friendship, Brenda and Leon were married in 1992 and now live in Ashton-in-Makerfield, some 15 miles from Liverpool centre. Leon will retire shortly after which he and Brenda hope to do some travelling and take in some of the Veteran Riders' functions.
The ashes of Peter's brother, Brian, who died of a heart attack, are scattered on Peter's grave. Brian raced for Liverpool, Belle Vue, Stoke and Newcastle.
Reg Fearman
4th September 2001
PC The Wizard Of Balance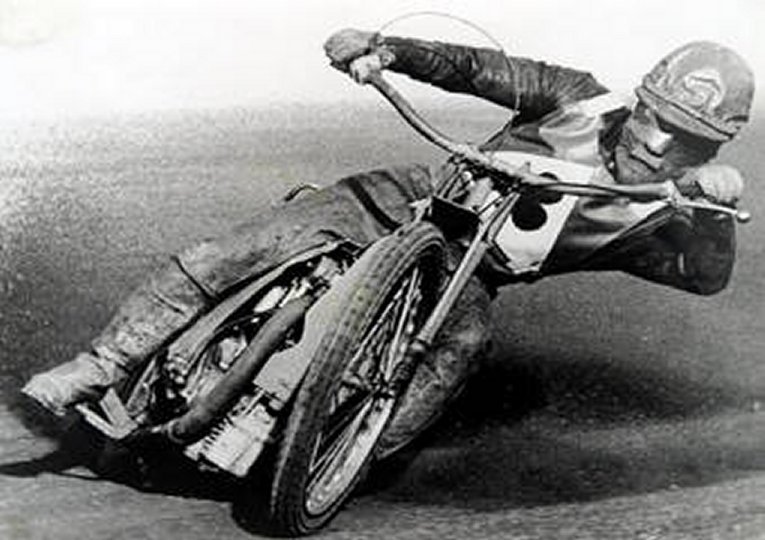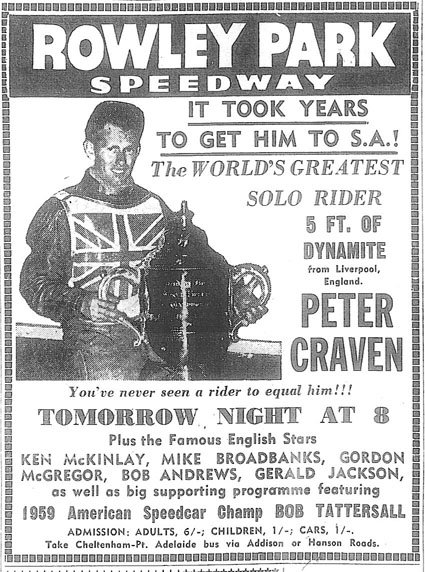 Peter Craven Memorial Plaque
Meadowbank Stadium
Saturday
, 7th March 1998
It was Allan Wilson's idea in 1997 that it would be nice if a plaque to the memory of Peter could be affixed to the Hall at Meadowbank Stadium. To this end, Allan worked extremely hard to obtain the permission from all the Authorities, including the Edinburgh City Council. My part was to arrange for Peter's family and as many former riders as possible to attend and also to act as M.C. The old Meadowbank Stadium was bulldozed to make way for the new Stadium for the Commonwealth Games built on the site of the old Speedway track.
My Introduction was as follows :- Ladies and Gentlemen, it is my privilege to open this afternoon's proceedings. We are gathered here today at Meadowbank from all parts of the world to honour Peter Craven, a family man, friend, colleague and fellow racer and to witness Brenda unveil the Commemorative Plaque in Peter's memory.
Peter, a husband, father and twice World Speedway Champion and an inspiration to many, lost his life aged 29 here in Edinburgh thirty four and a half years ago. May we have a few moments silence in Peter's memory and for all other speedway riders - more than 170 world wide - who have paid the ultimate price. Thank you.
We are honoured to have with us Brenda Craven - Leat, Brenda and Peter's daughter Julie, Peter's sisters Sheila, Sylvia, and Pat also sister in law Joan Craven. Unfortunately son Robert is unable to be with us. May I please ask Brenda to step forward and unveil the Plaque.
There was a good attendance of former riders including :- Willie Templeton, Jimmy Tannock, Brian Collins, Freddie Williams, Bert Harkins, Peter Collins, Merv Hannam, Harry Maclean, Roni Ferguson, Norrie Isbister, Fred Rogers, Ove Fundin, Gordon Mitchell and many more.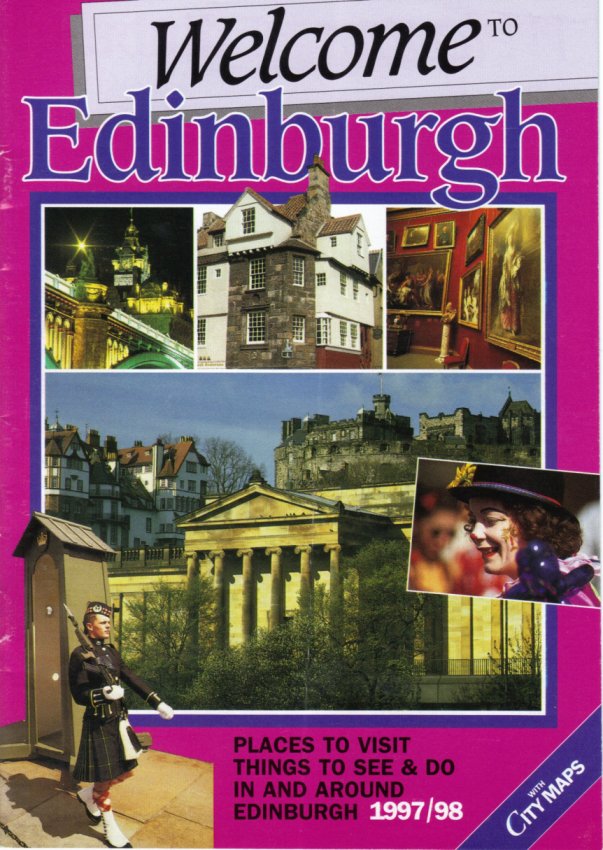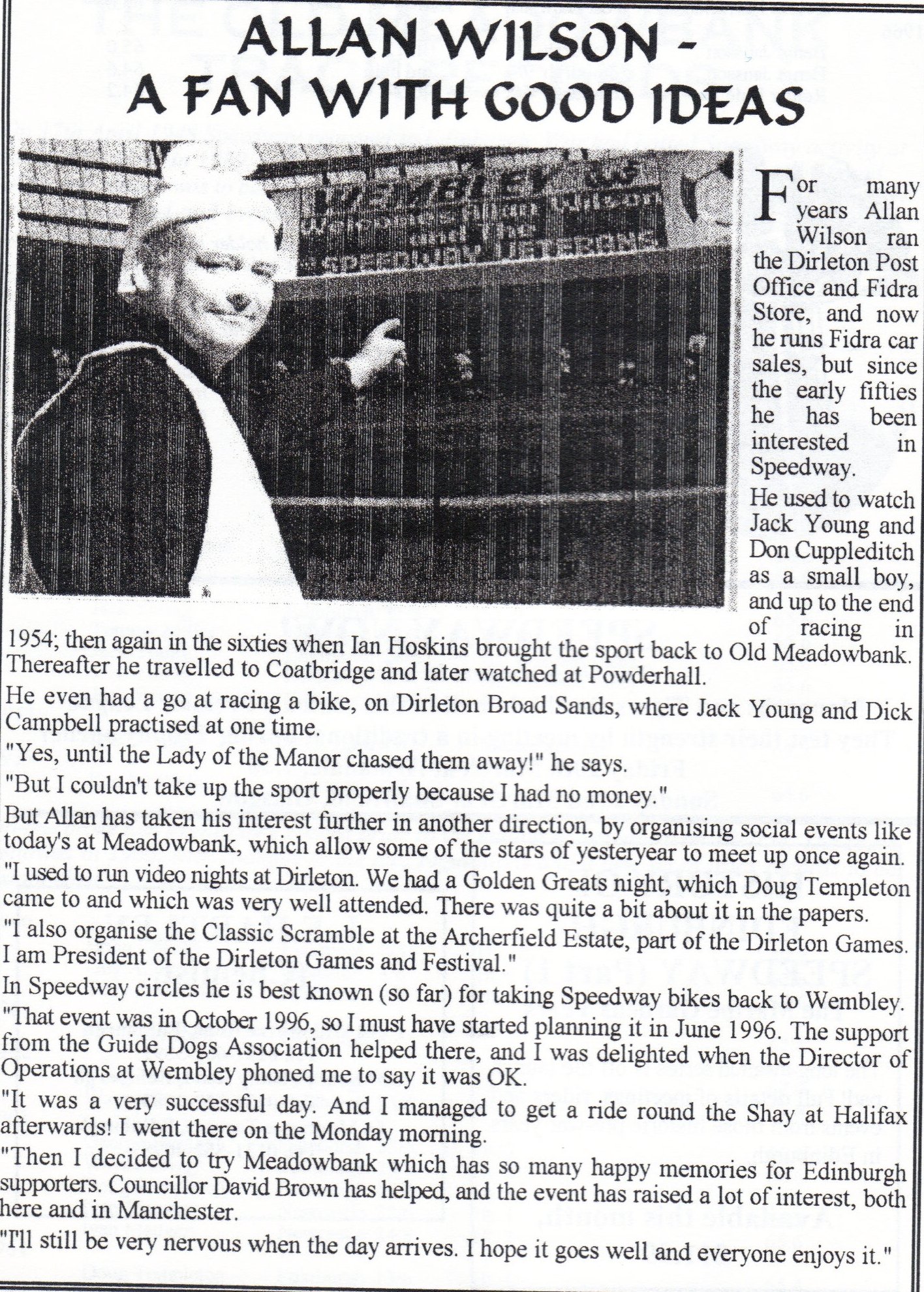 Reg Fearman (M.C.)
Making His Speech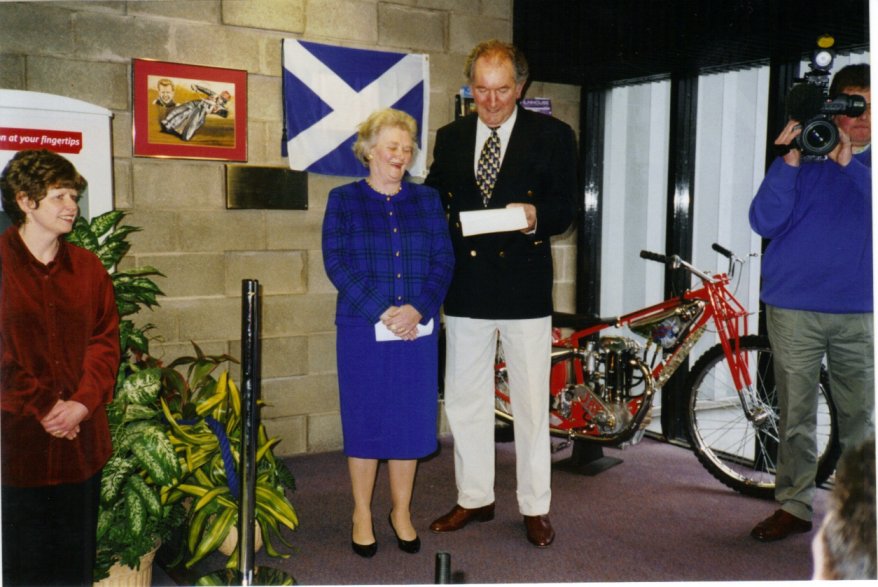 Brenda Unveiling The Plaque
Edinburgh 7th March 1998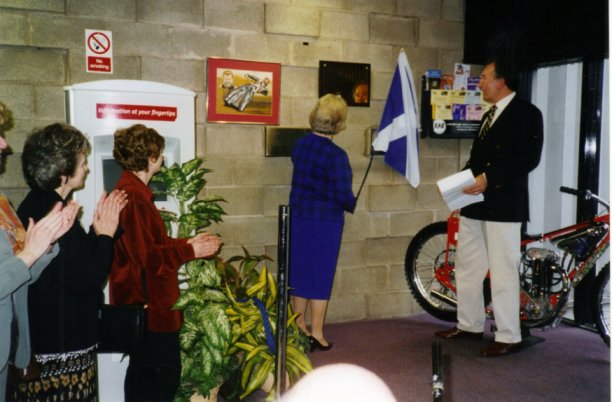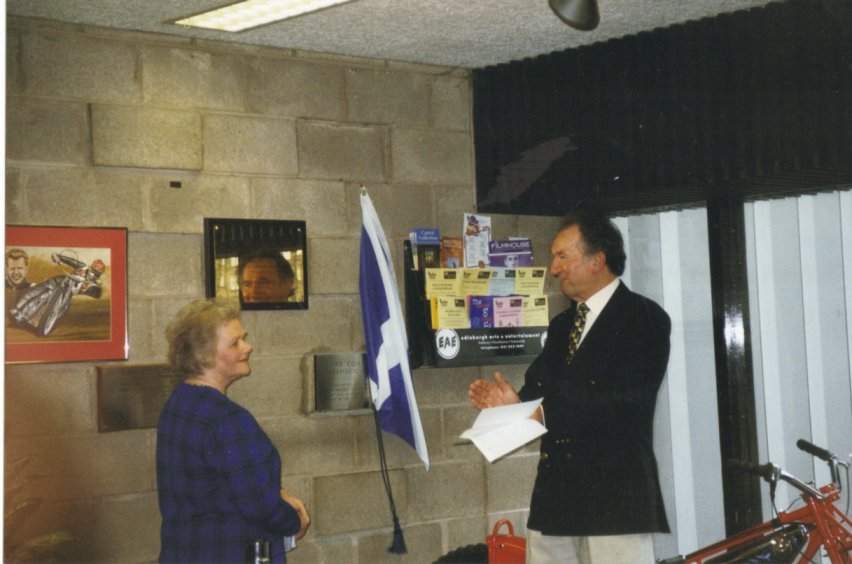 Brenda Making Her Speech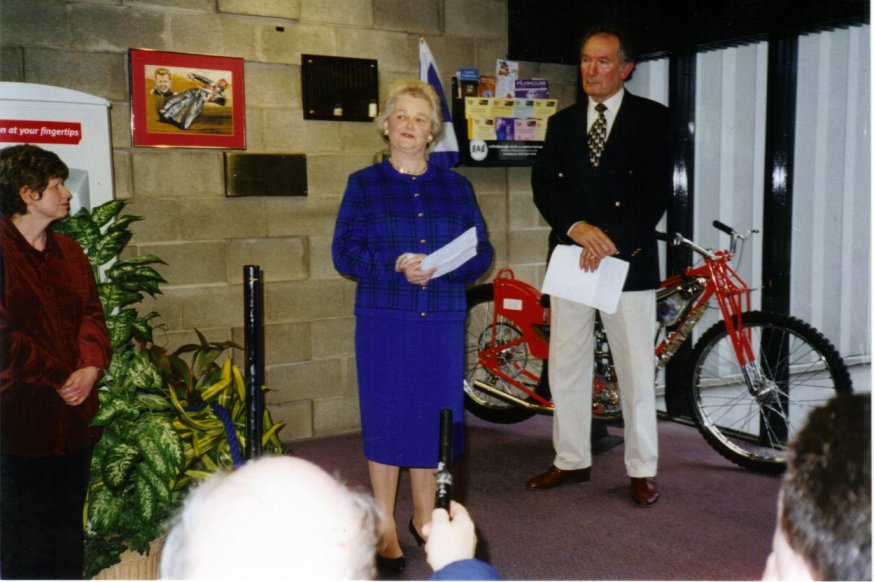 Brenda Receiving
A Bouquet From Organiser
Allan Wilson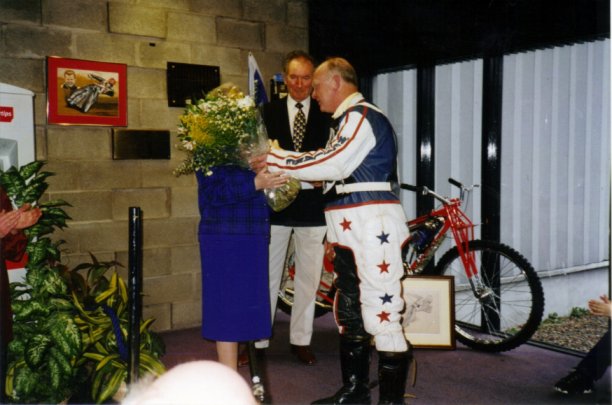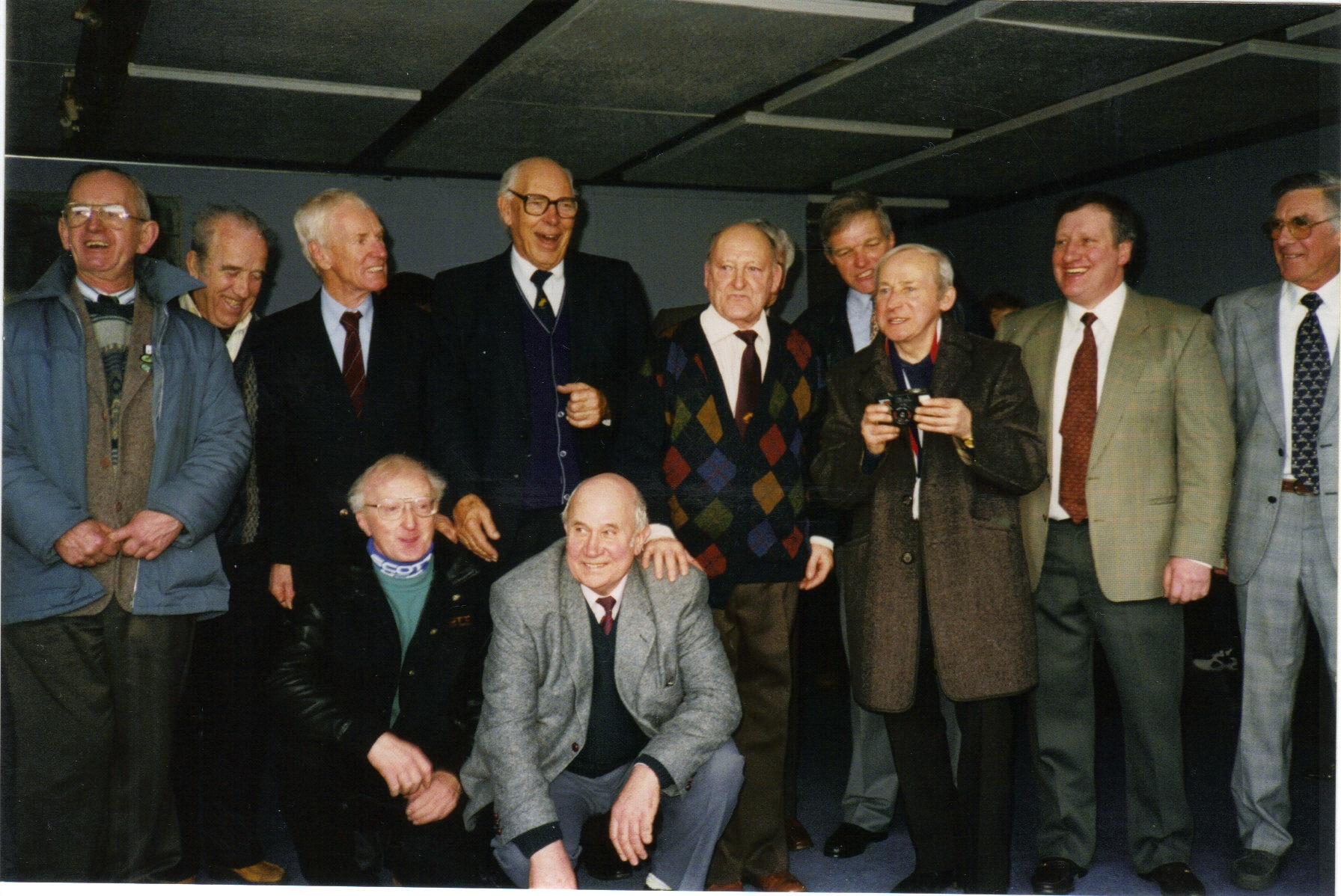 Fred Rogers Merv Hannam Ove Fundin Ian Hoskins Jimmy Tannock ? ? Brian Collins Freddie Williams
Kneeling Bert Harkins Gordon Mitchell
Norrie Isbister Fred Rogers Merv Hannam Ove Fundin Willie Templeton Bert Harkins
Brenda & Reg With Ian Hoskins
Ex Edinburgh & Newcastle Promoter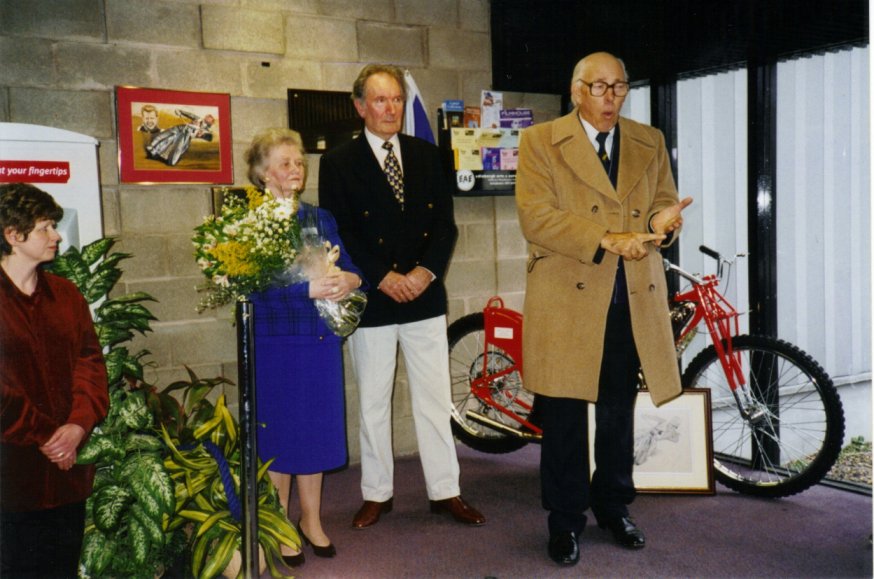 Brenda With The Bouquet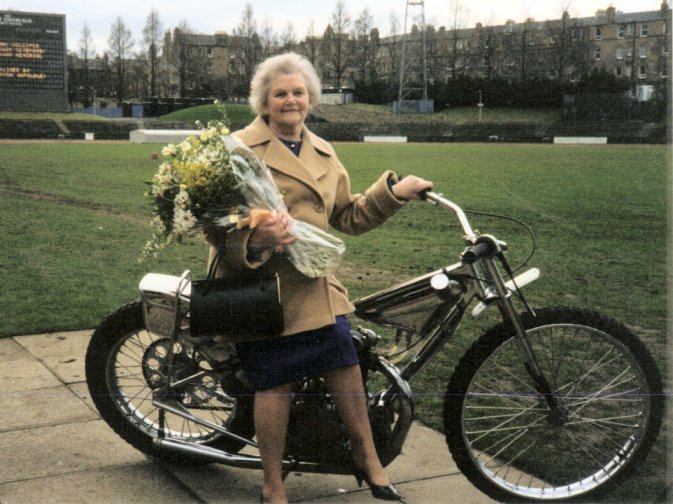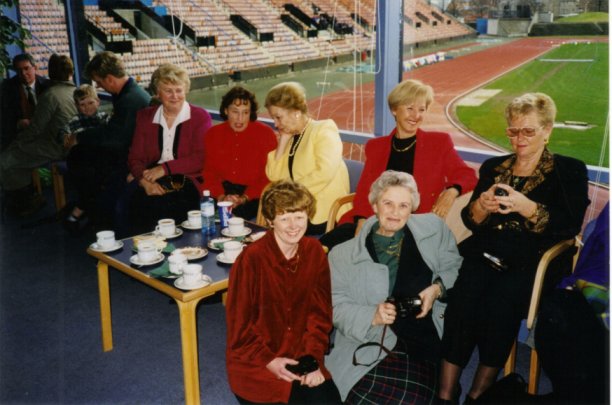 Joan Craven, Pat Williams, Joan Fearman, Joanna Fundin, Sheila Hannam, Sheila and Julie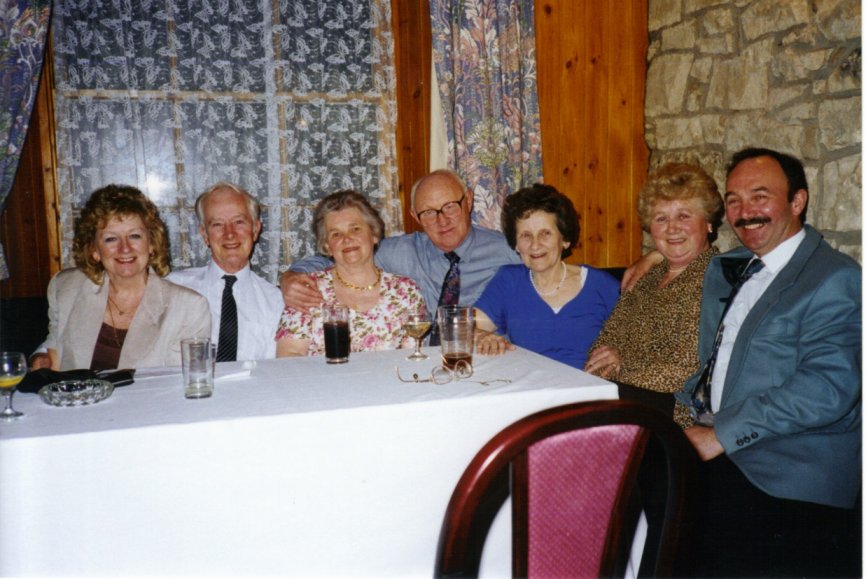 Sylvia and husband, Brenda and husband Leon, Pat, Joan Craven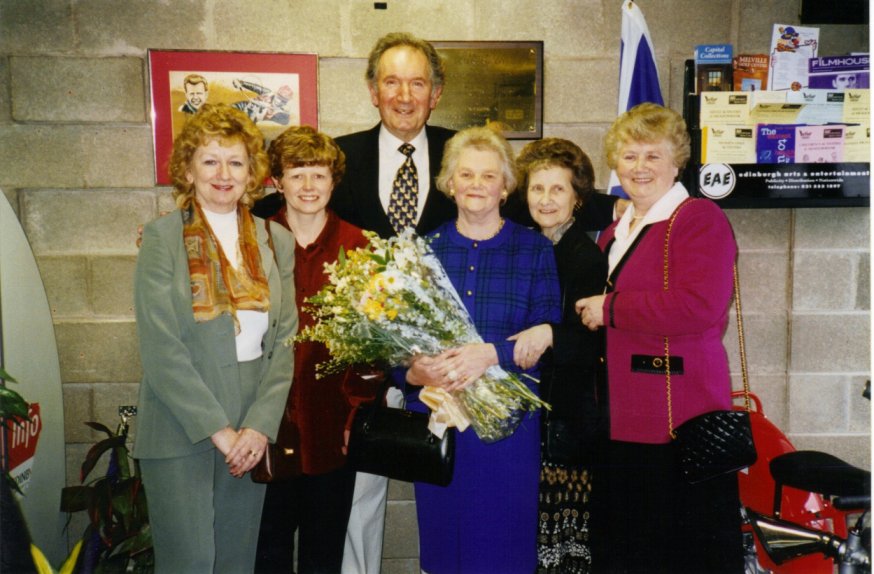 Sylvia sister, Julie daughter, Reg, Brenda, Pat sister, Joan Brian Craven's widow.
The "New" Meadowbank Stadium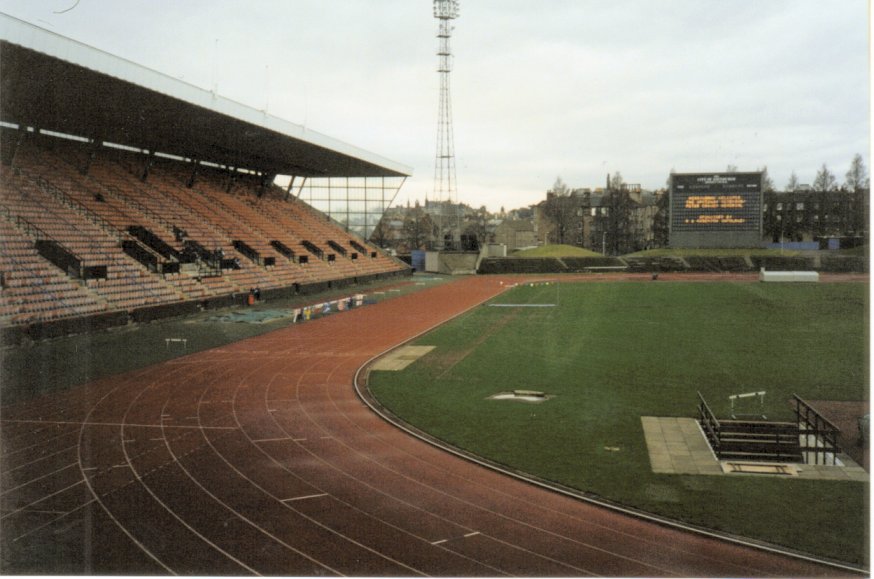 Meadowbank 7th March 1998 no place for speedway now at this location.
---
Pictures Of Peter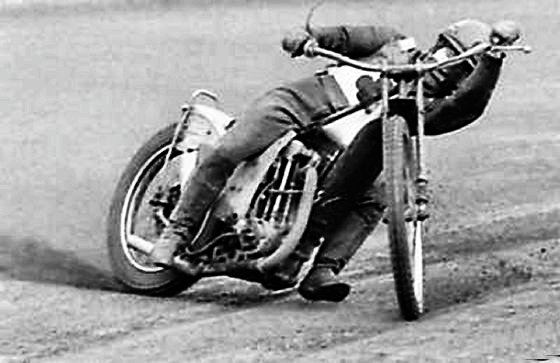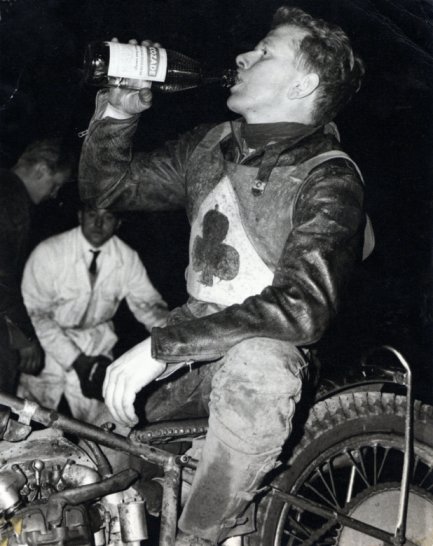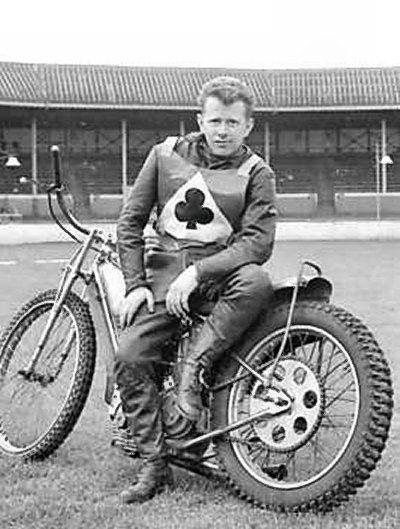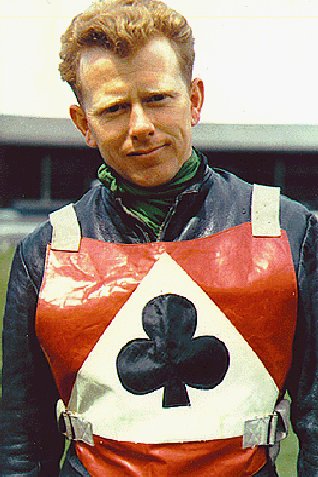 ---
Many years ago, I was told, (writes Reg Fearman), that there were only two things certain in this life and those were that the Inland Revenue will always be on your back and that we would all pass over to the other side when our time was up. (The Inland Revenue will also be there then). I have been asked many times the sort of attendance there is at funerals of past favourites in the speedway fraternity. I can say that they are usually well-attended. I have attended many. I have taken my camera along and what follows records some of those events and some of the well known names who have attended
Howdy Byford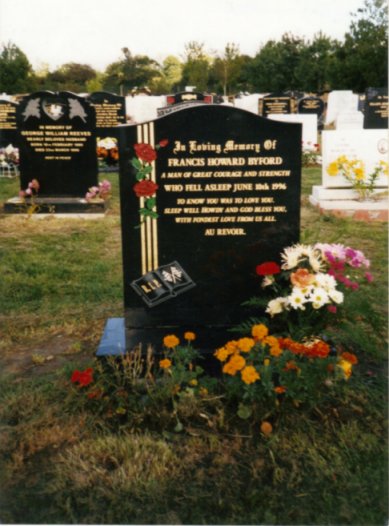 Howdy Byford
:- A prisoner of war at the hands of the Japanese, he worked on the infamous Burmese Railway. In 1947 he joined West Ham Speedway. He was Baptised, sang in the choir, married and his funeral service all took place in the little village Church at Rainham Essex.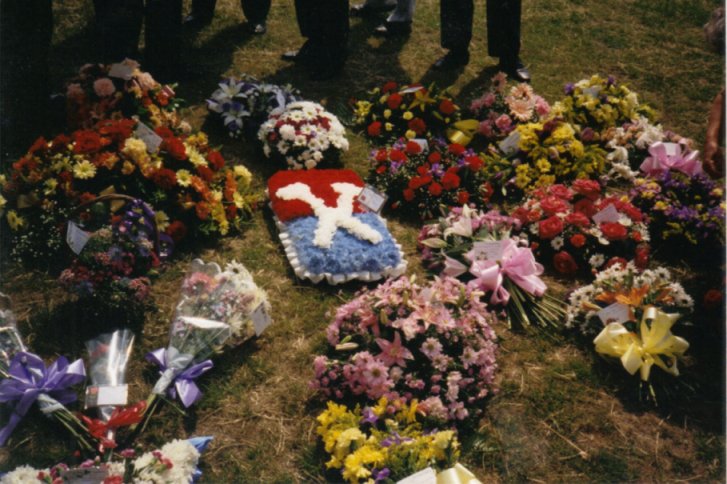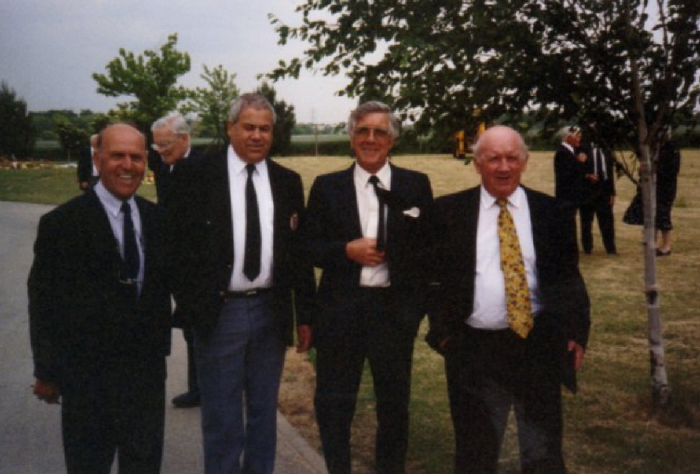 Brian Crutcher, Colin Pratt, Freddie Williams and Trevor Redmond.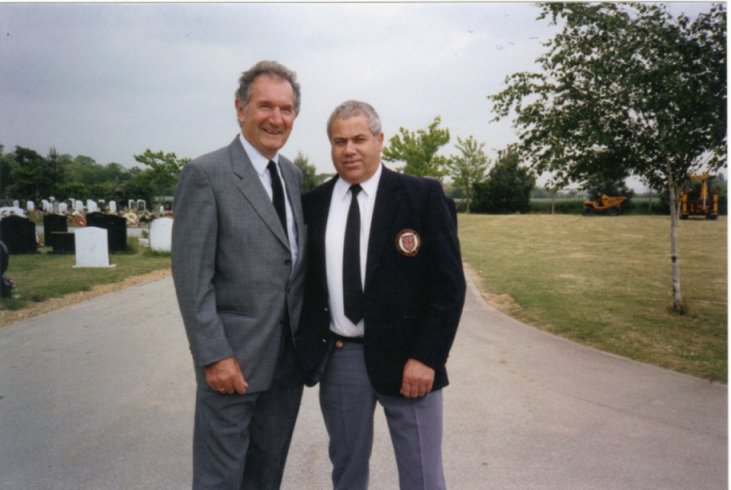 Reg Fearman and Colin Pratt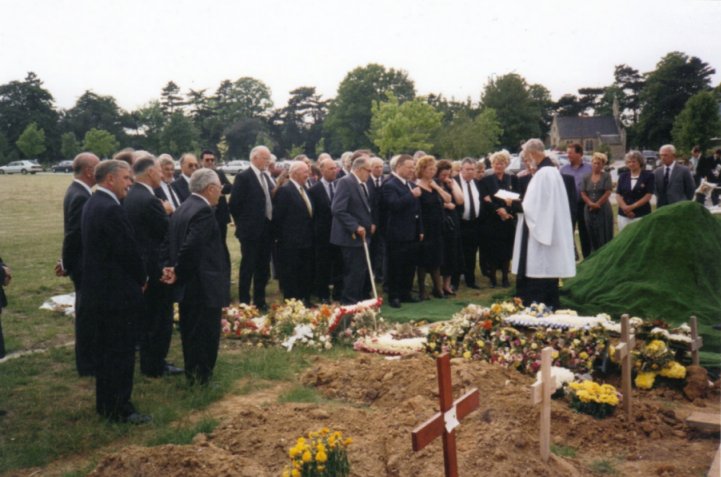 A magnificent turn out at Howdy's funeral.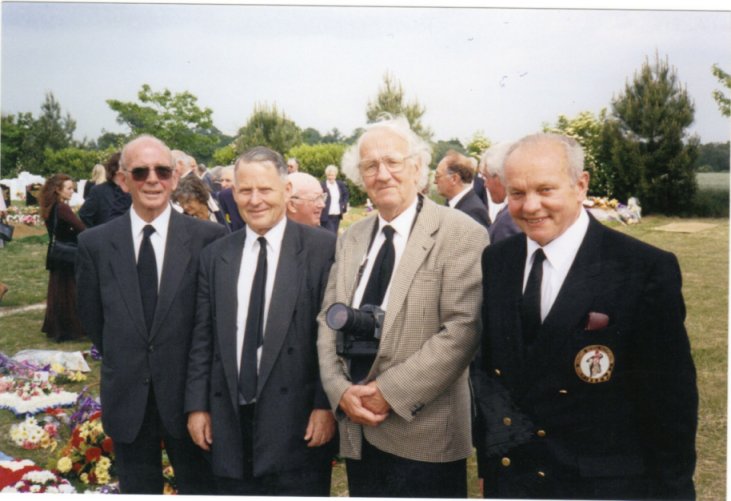 Wally Mawdlsey, Lionel Hoskins, Alf Weedon and Tom O'Connor.
Johnnie Hoskins
Johnnie S. Hoskins :- A New Zealander, recognised as the Father of Speedway Racing, he brought the sport from Australia to England in 1928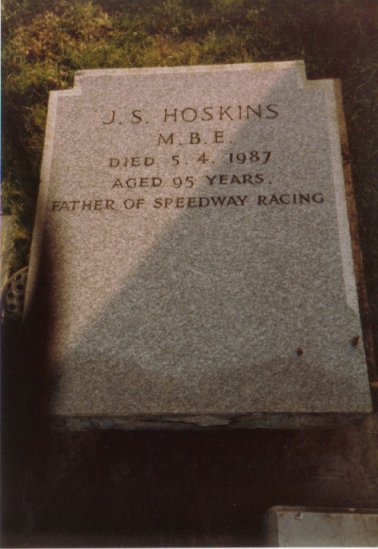 Johnnie Hoskins Headstone 1892-1987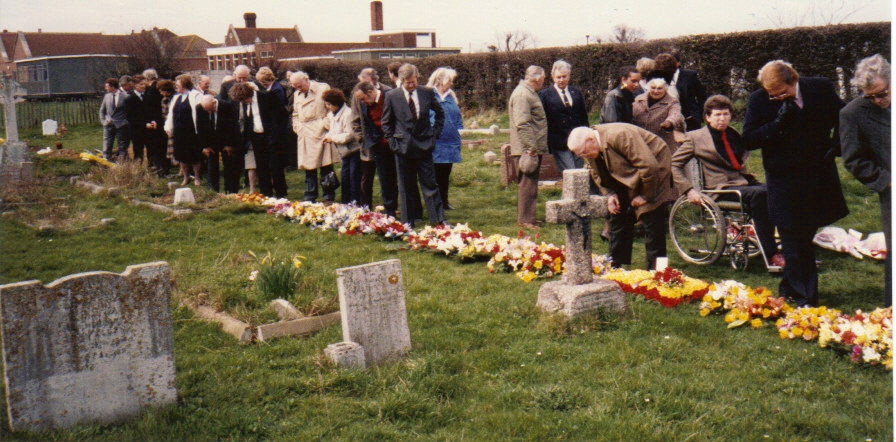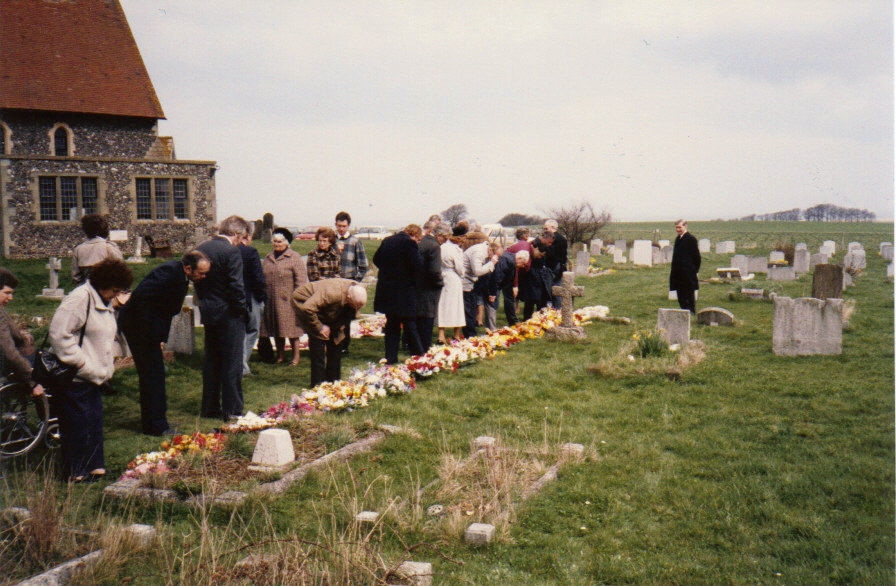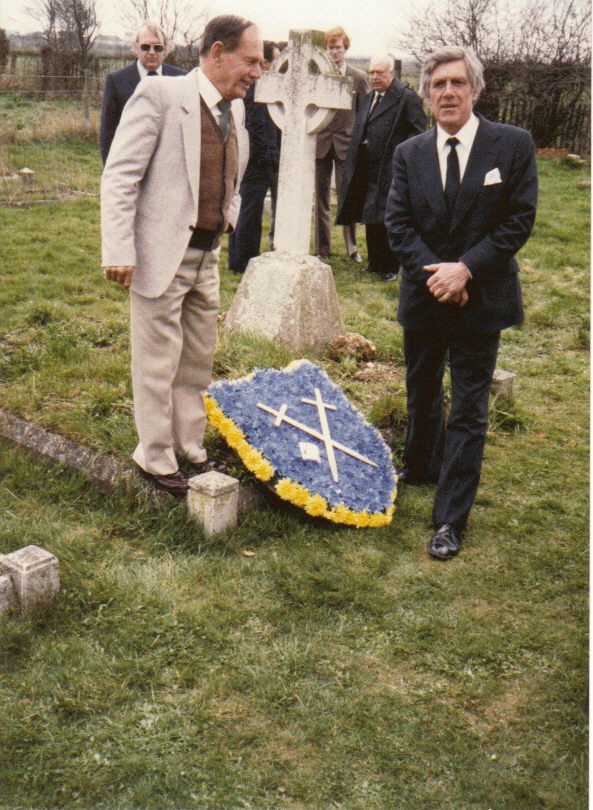 Johnnie Hoskins Funeral 1987 Les Hewitt, Freddie Williams and the Canterbury Crusaders wreath.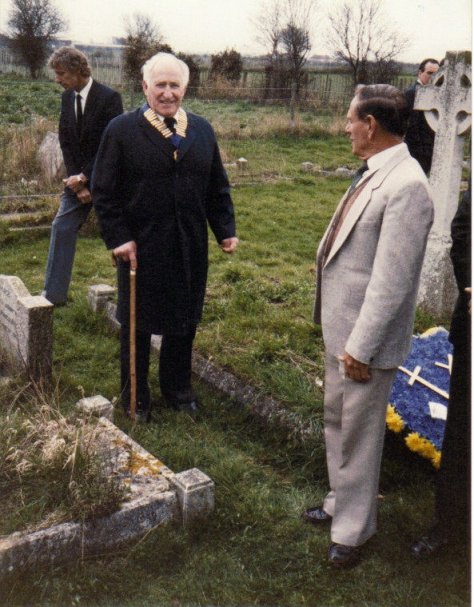 Johnnie Hoskins Funeral Howdy Byford 1987 VSRA President Les Hewitt.
Audrey Hoskins
Wife Of Johnnie &
Mother Of Ian, Lionel & Jack.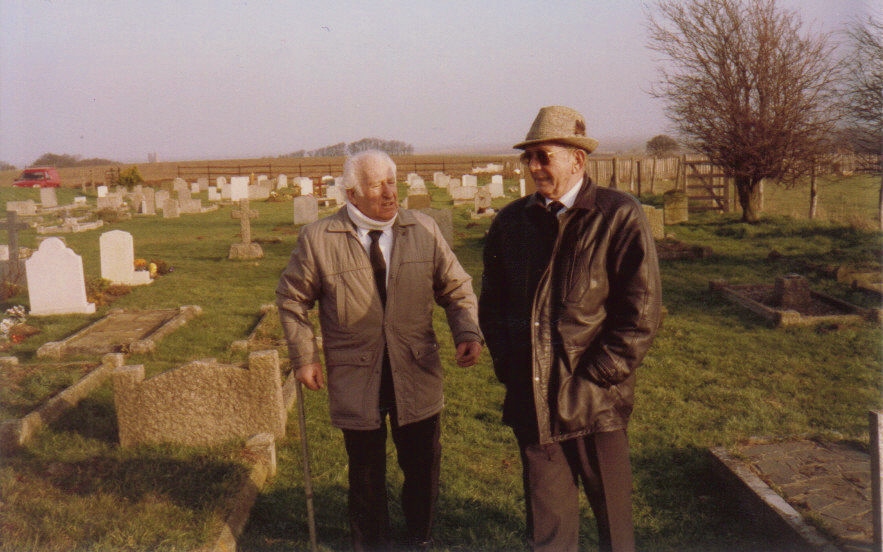 Audrey Hoskins Funeral aged 97, Howdy Byford Wally Mawdsley.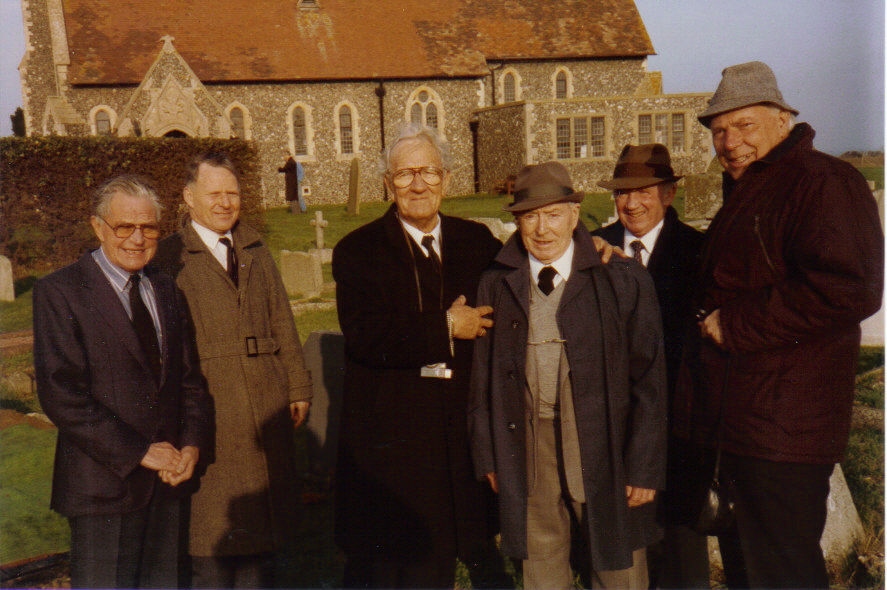 Audrey Hoskins' Funeral Jan 1992 Jeff Lloyd, Lionel Hoskins, Alf Weedon, Bill Kitchen, Trevor Redmond and Audrey's son Ian Hoskins.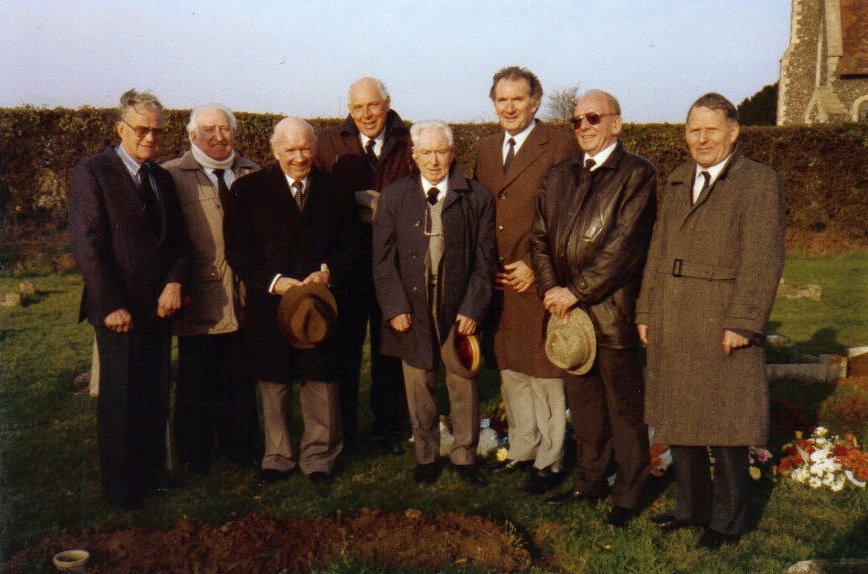 Audrey Hoskins' funeral Jeff Lloyd Howdy Byford Trevor Redmond Ian Hoskins Bill Kitchen Reg Fearman Wally Mawdsley Lionel Hoskins.
Charles Ochiltree
Started his speedway career at Hackney in the late 1930s. Charles became the C.O. of Coventry after the war of 1939-1945 having served in the forces. His promoting skills were second to none.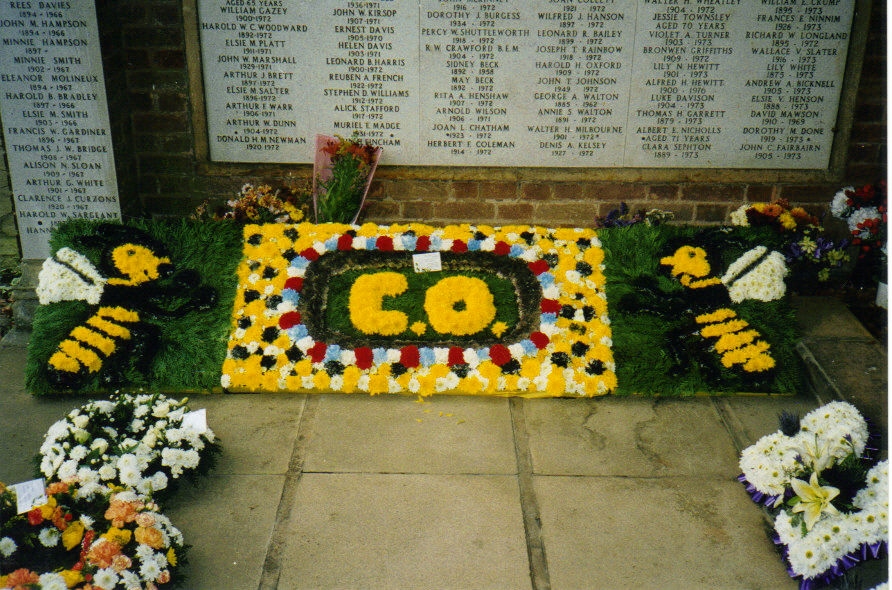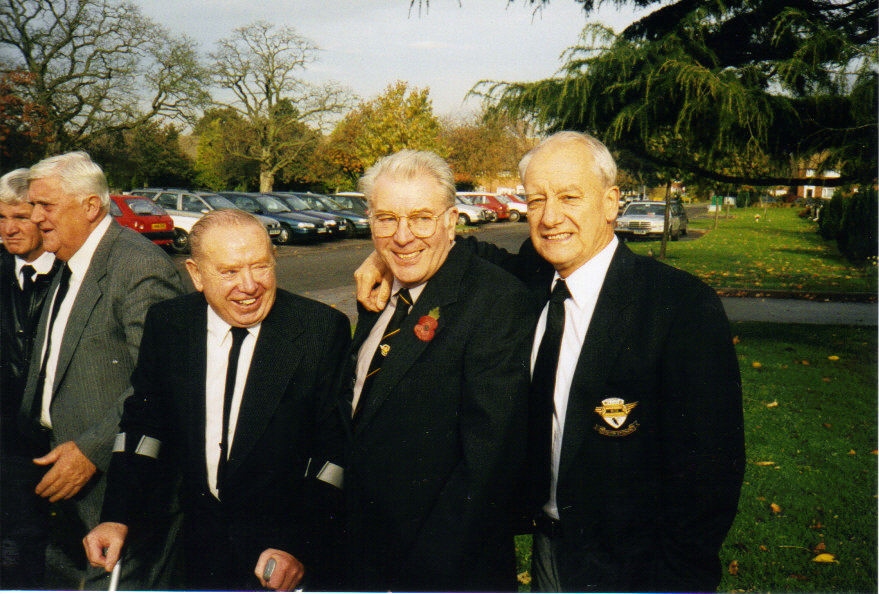 Rick France, Johnnie Reason and Mick Blackburn Peter Brough.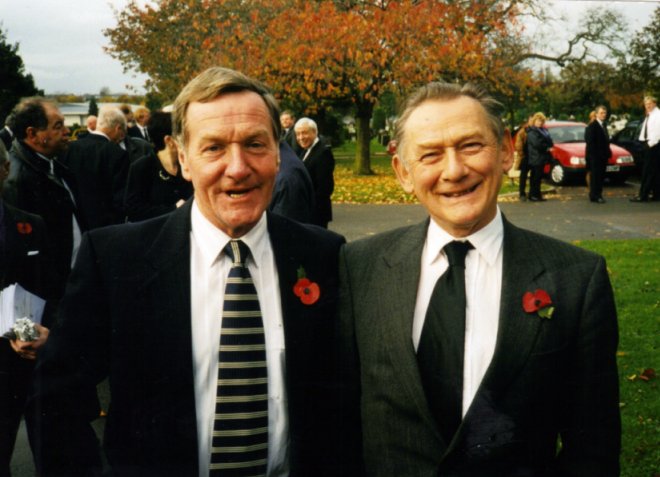 Eric Boocock Tony Mole. Paying their respects to the C.O.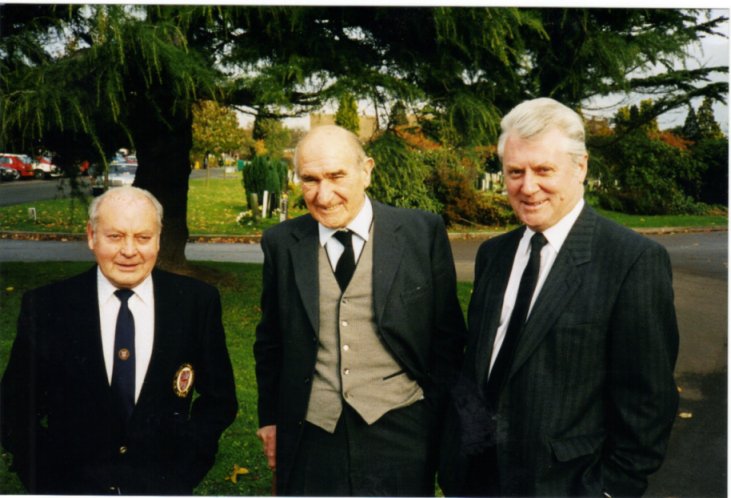 Eric Boothroyd, Howard Jacobi (Writer) Peter Morrish (Announcer).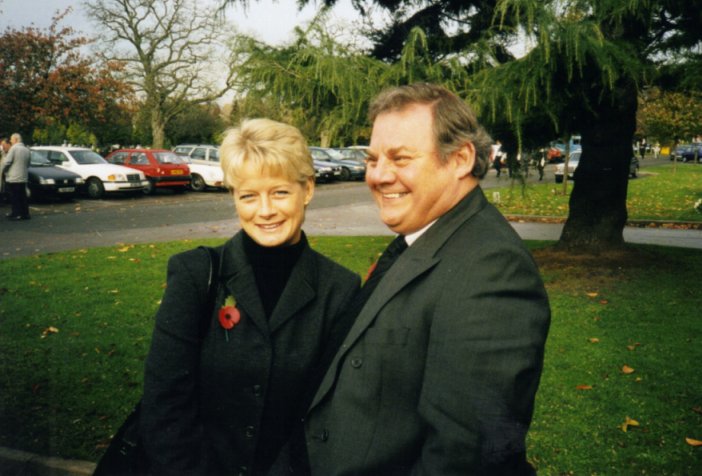 Peter Oakes Promoter and Journalist With His Daughter Sarah.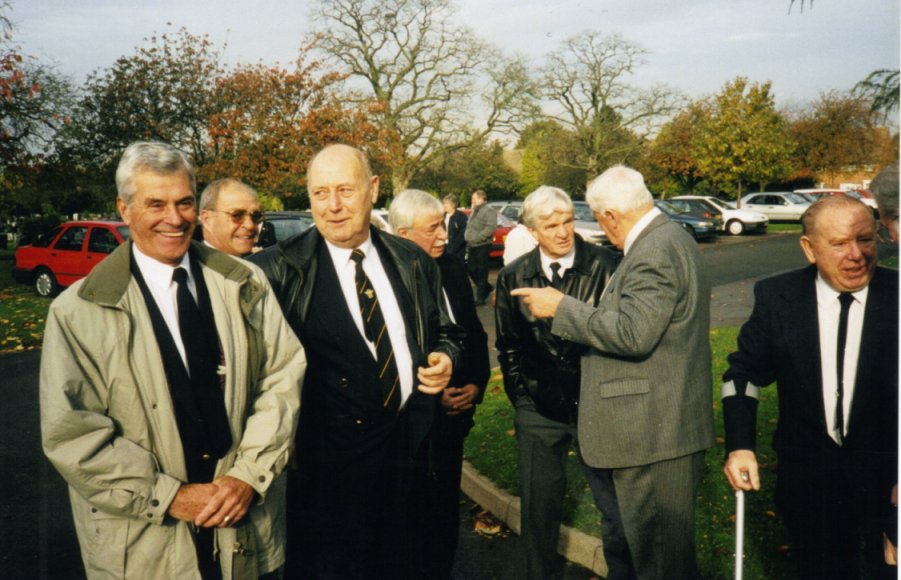 Jim Lightfoot, Derek Tailby, Rick France Talks to Johnny Reason.
Jack Parker
Jack Parker born 1907 died 1990. A true legend he earned almost 100 International Caps for England during a period of 25 years racing. Jack made his track debut at High Beech in 1928 and at one time had no equal. He dominated British speedway in the late 1940s and early 1950s. He considered the The British Match Race Championship Golden Helmet as his own. He defended it no less than 19 times and it became known as "Parkers Pension". Jack appeared in numerous World Finals at Wembley, the best result he had was in 1949 when he was second to Tommy Price dropping his only point to Tommy. He was probably best known as the Captain of the famous Belle Vue Aces, but also raced for Southampton, Clapton, Coventry and Harringay. Jack Parker was feared on the Australian Tours and won no less than four Major Titles in that country.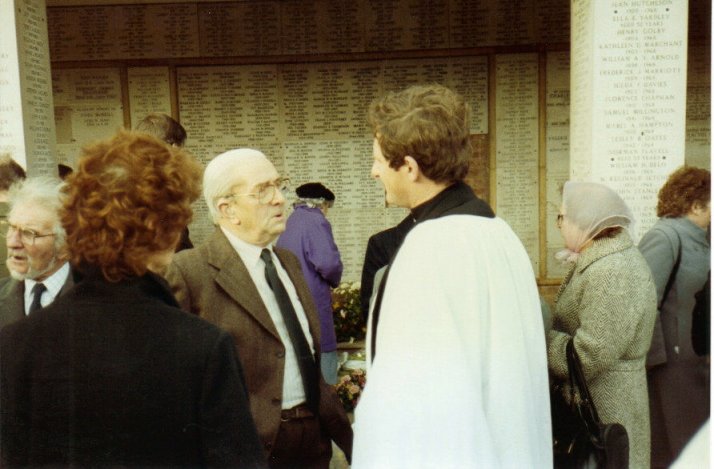 Jack Parker's Funeral. Jack's brother Norman Parker with the Vicar.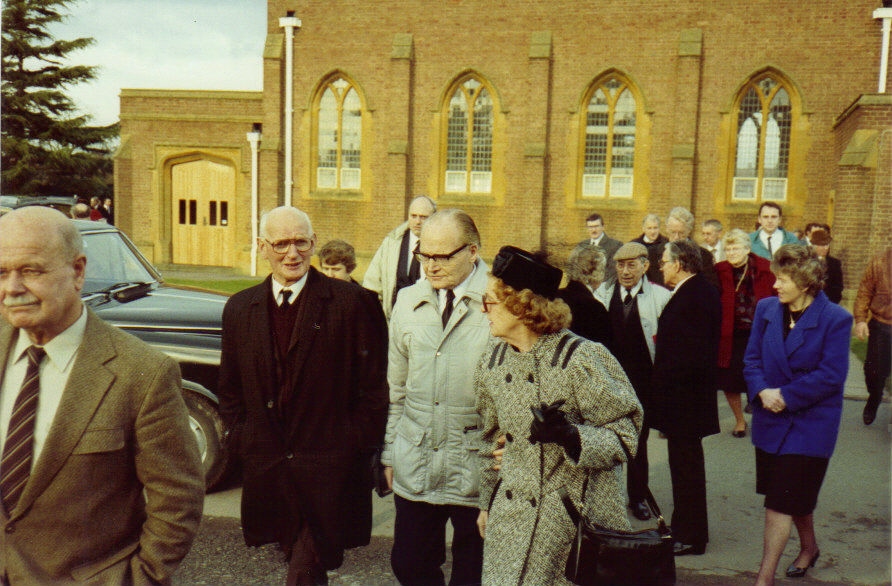 Jack Parker's Funeral Squib Burton Charles & Linda Ochiltree.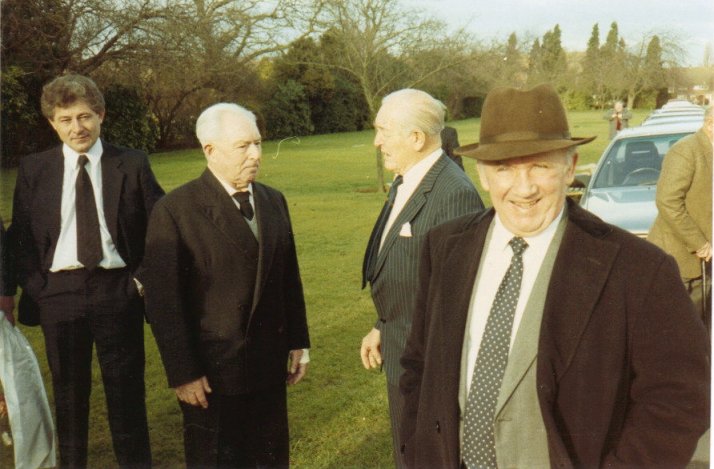 Jack Parker's Funeral Peter York, Bill Kitchen Tiger Hart & Trevor Redmond.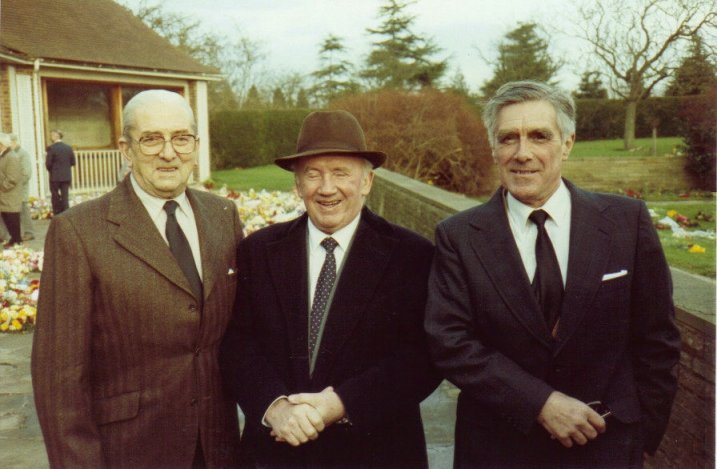 Jack Parker's Funeral Norman Parker Trevor Redmond & Freddie Williams.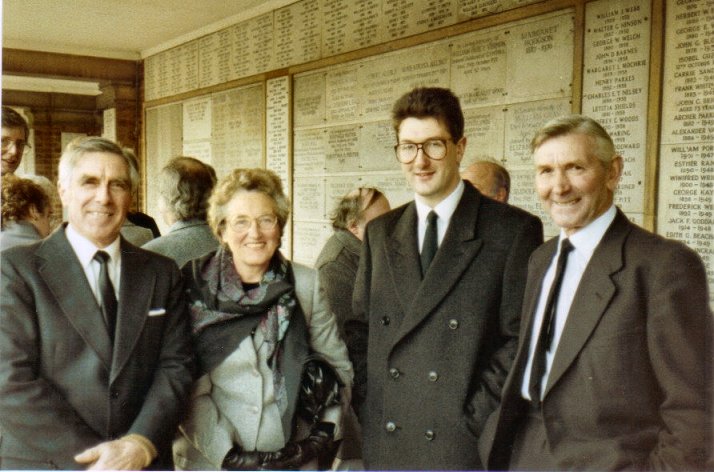 Jack Parker's Funeral Freddie Williams, Dennis & Peggy Parker and son.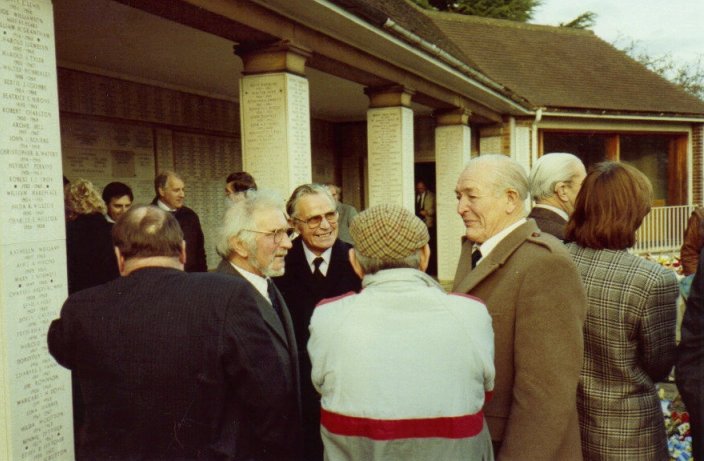 Jeff Lloyd centre - ex Newcastle - Bob Lovell his back to us and on the right is Tiger Hart, I can't place the chap with the beard !!
Ron Mountford
Ron Mountford Died in 1993. He started his speedway career at Birmingham in 1950 and had his first first of many racing engagements in Australia in the1951/52 season and later also toured New Zealand. Ron was a part of the Birmingham team that toured South Africa in the 1954 close season and who were subsequently banned for racing on unlicenced tracks. Birmingham closed their doors and Ron moved over to Coventry where he scored almost 3000 points for the "Bees" in a long career. His spectacular style of racing was seriously affected when he lost the sight of an eye in a workshop accident. Ron formed a close bond with Rick France at Coventry and they opened a garage together in Walsall. They famously missed a meeting for Coventry at Long Eaton believing the race date was Wednesday and not Tuesday. They were notoriously late arrivals for matches. When Coventry promoter Charles Ochiltree telephoned their workshop when they had not arrived at 7.30pm, he was surprised to hear Ron answer the telephone and to say they were working on their machines ready for Long Eaton the next night. I was the Long Eaton promoter at the time and I thought the CO would explode. Long Eaton won the match, which I believe was the only time in their history against Coventry.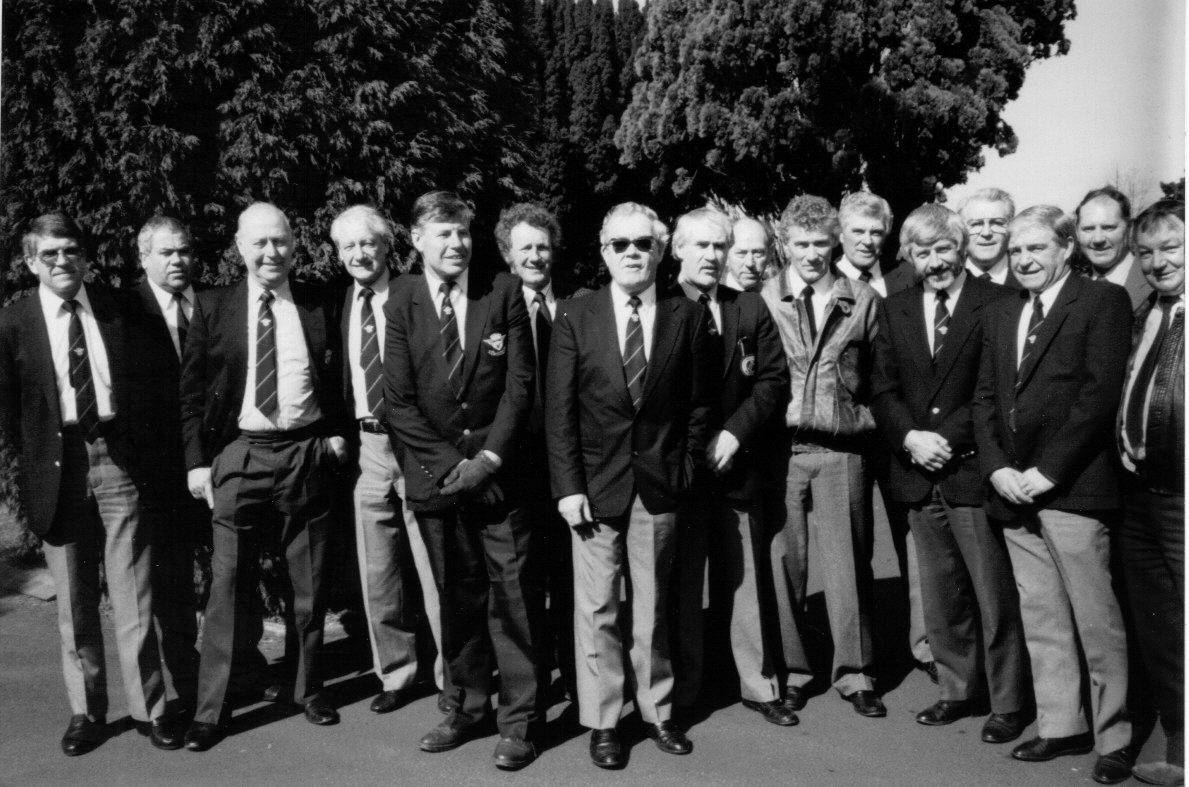 Some of the many former Coventry riders pictured include Tony Lomas Derek Tailby Les Owen Peter Brough Jim Lightfoot Colin Smith Mick Blackburn also Colin Pratt mechanic Roy Adams and others.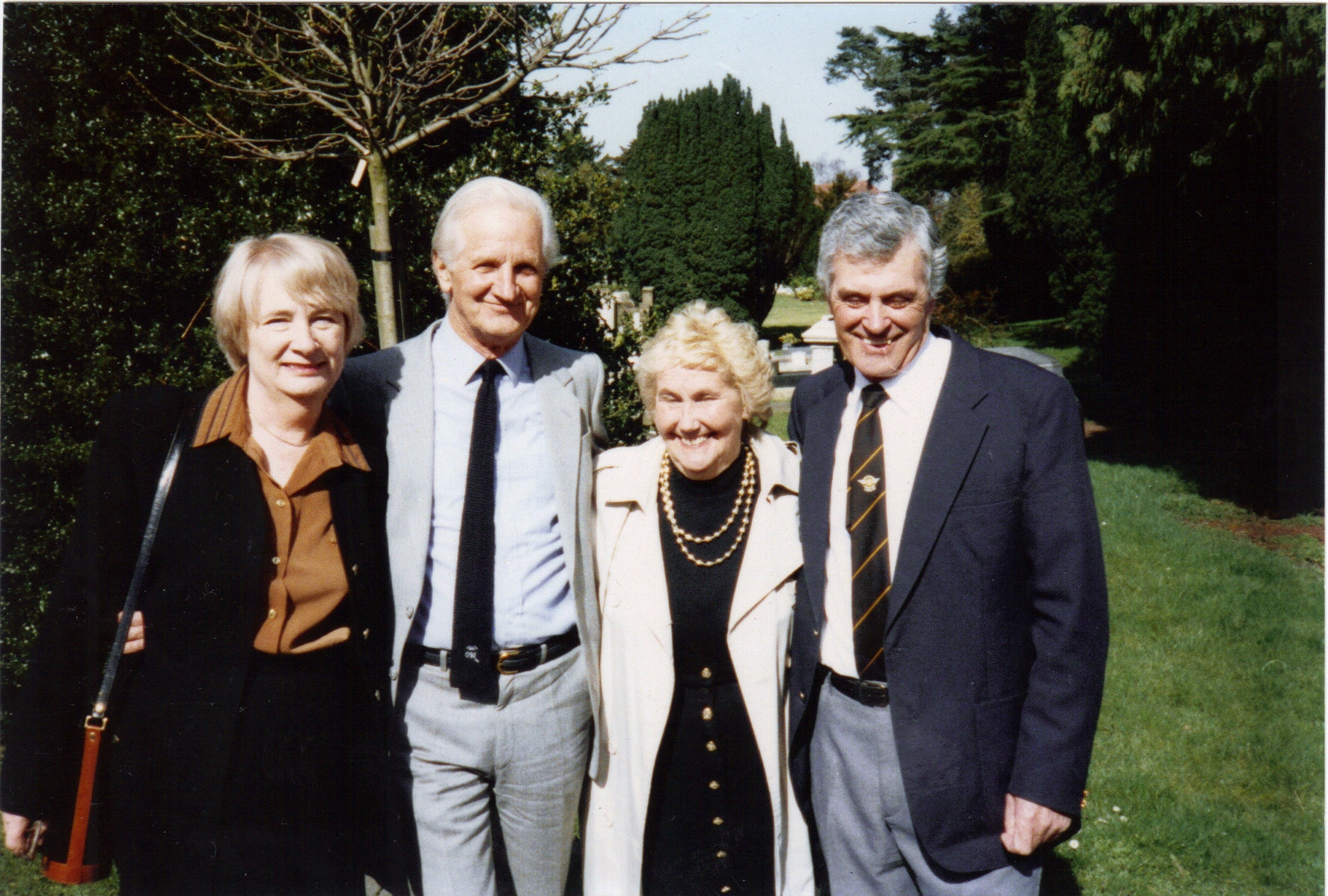 Huck Fynn and his wife, Eve Hunt widow of Alan Hunt and Jim Lightfoot
---
Ken McKinlay
Ken McKinlay Born in Scotland 1928 died in Leicester 2003. writes Reg Fearman.
Ken started his racing career with Glasgow Tigers at the White City Stadium in 1949, he quickly became a prolific point scorer. Nicknamed Hurri-Ken by promoter Johnnie Hoskins, Ken had five seasons with the Tigers until their closure. He moved to Leicester in 1954 and had eight seasons with the Hunters. When they closed he moved just the short distance to Coventry for three seasons and then moved to West Ham for five seasons. Ken had a short spell with Oxford and again with Coventry before moving to Scunthorpe as Rider Coach. He retired from racing at the age of 47 having qualified for 12 Individual World Finals, which shows what a prolific scorer he was in a career spanning some 27 years. He was a regular performer in Australia and captained the British Lions on numerous occasions.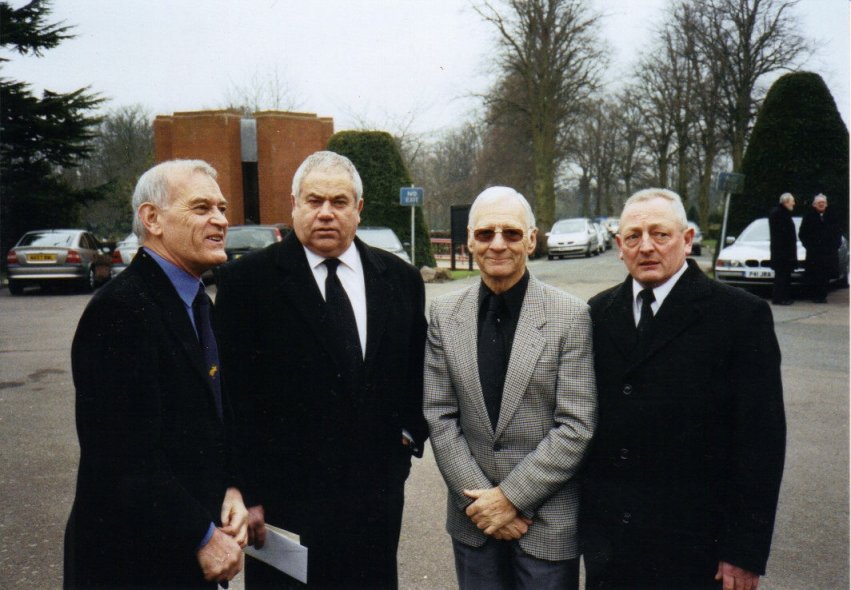 John Hart, Colin Pratt, Vic White & Jim McMillan.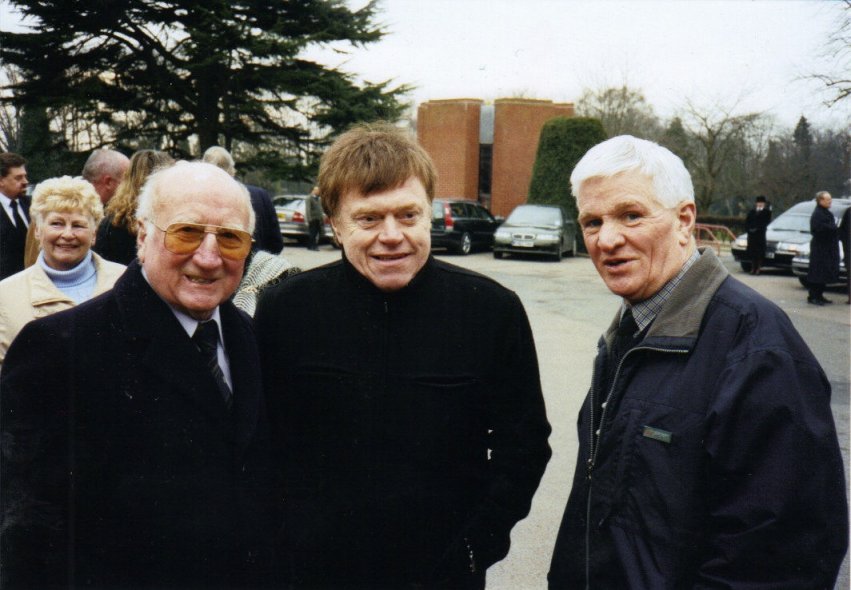 Jack Geran, Bob Coles & Rick France.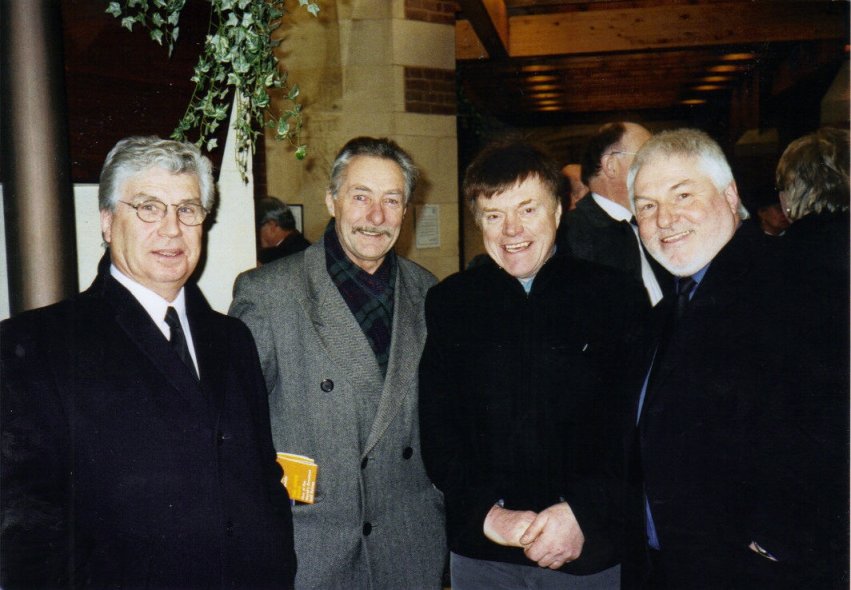 Dingle Brown, Norman Hunter, Bob Coles & Ray Wilson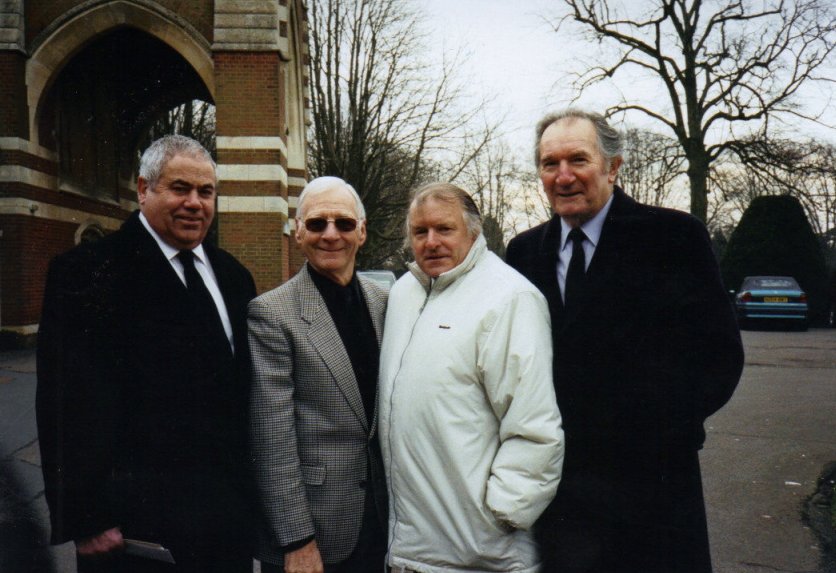 Colin Pratt, Vic White, John Harrhy, and Reg Fearman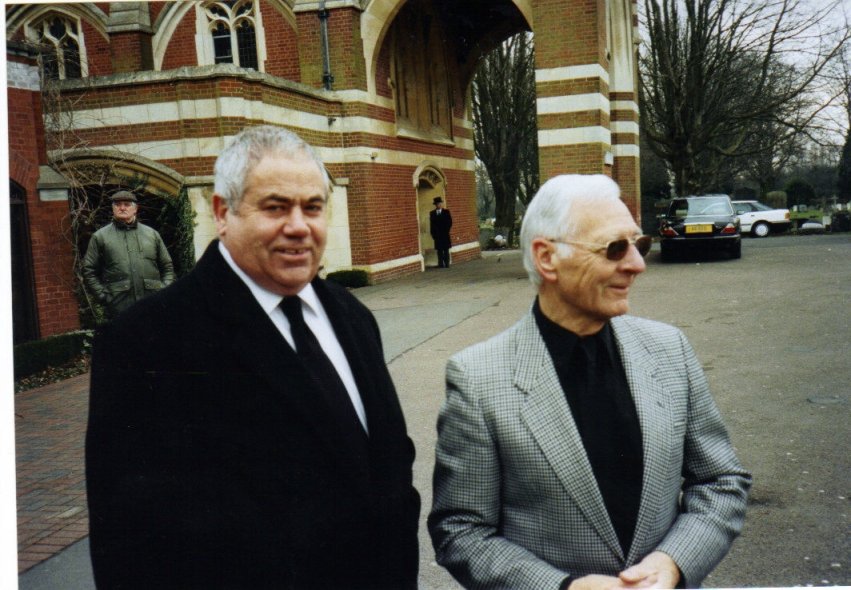 Colin Pratt Vic White.
Ron Johnson
Ron Johnson was born in Scotland in 1907 and was taken to Perth. West Australia as a child by his parents. He died in Perth in 1983 aged 75. He came to race in England with the first batch of riders from Australia in 1928. Johnno spent most of his racing career with New Cross whom he joined in 1934. He proved to be one of Australia's top riders winning many individual titles and representing Australia in many test matches. He was involved in some serious track crashes including the one at New Cross when England's top man of the day, Tom Farndon, was killed. In his career, Ron Johnson suffered serious arm injuries, he lost a toe and the top of two fingers but the most serious crash was in 1949 when he suffered a fractured skull when Cyril Brine ran into him. Johnno had an easy, immaculate style that I enjoyed watching but he never recovered the form that he had before that crash. His fare back to Australia was paid for by friends. Unbelievably he made two unsuccessful comebacks, one in 1959 and the other in 1963 but he was a shadow of his former self. In 1968 he was involved in a road accident which left him in a wheelchair until his death. His grave stone in the colours of New Cross was erected just a few years ago by public subscription. Until then only a marker marked where he lay in Karakata cemetery. It is said that the film "Once A Jolly Swagman" was based on his life. In 2006 Ron Johnson was voted "West Australia's Greatest Ever Motor Sport Star". Con Migro received the award and I was asked to place the plaque in commemoration on his grave which I was honoured to do.
Reg Fearman
March 2009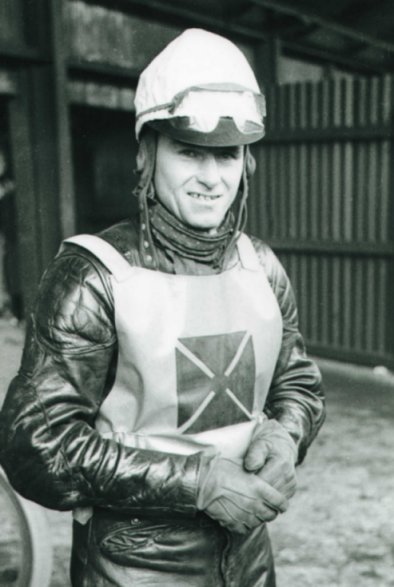 Ron Johnson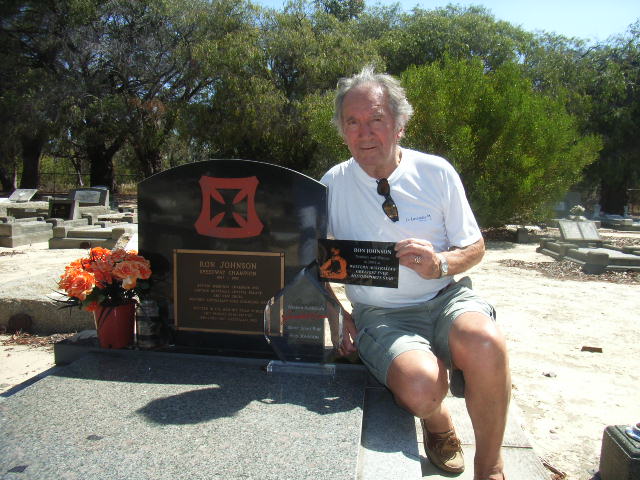 Reg placing the commemorative plaque on Ron's grave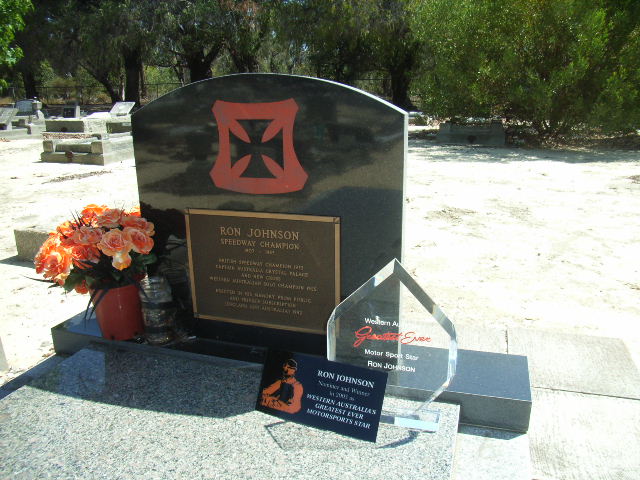 Aub Lawson
Reg says: Whenever I am in West Australia I visit the grave of my mentor Aub Lawson at Karakata Cemetery. He was born in New South Wales in April 1914. Aub raced at Sydney in the late 1930s. He came to England for the 1939 season, he raced for Middlesbrough and Wembley and qualified for his first of 10 World Finals at Wembley. His best place was 3rd in 1958 behind the winner Barry Briggs and second placed Ove Fundin. After the hostilities he joined West Ham in 1947 and raced for them until 1951. He later joined Norwich and raced for them from 1953 to1960. He retired from racing to concentrate on his farm in W.A. and as promoter of Claremont Speedway. Aub died in January 1977 aged 62.
Reg Fearman
March 2009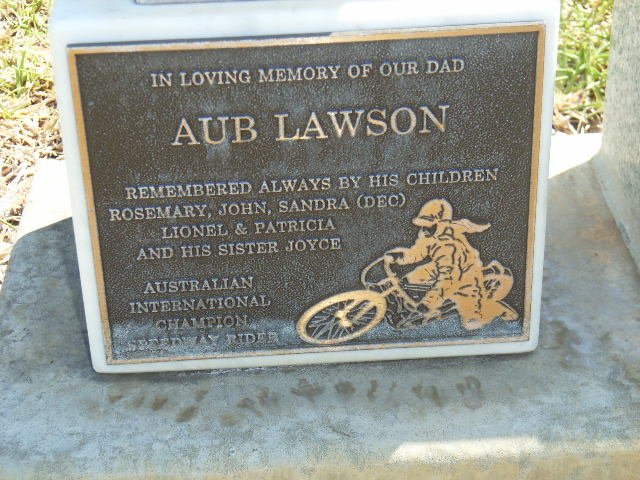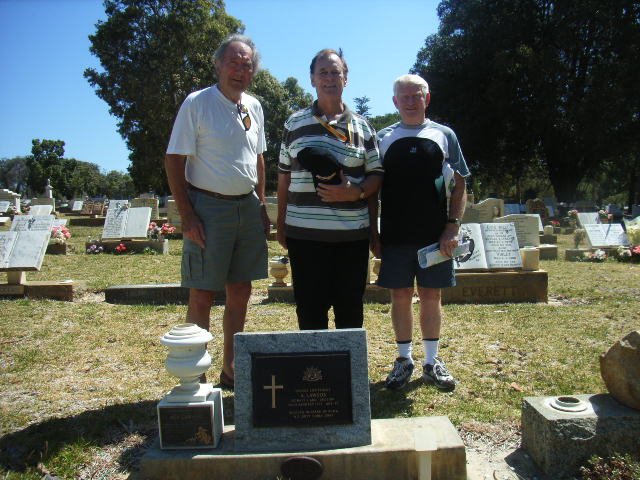 Reg Fearman Con Migro and Colin McKee. Con was Aub Lawson's successor as promoter at Claremont Speedway Perth W.A., Colin raced in the U.K. for several seasons for speedway tracks including Hackney and Halifax.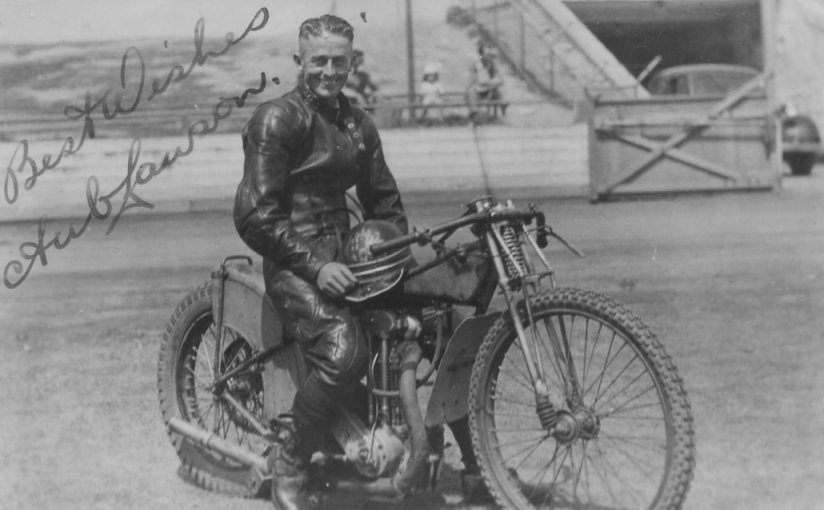 Aub Lawson at the Sydney Sportsground 1946.
---
Reg Fearman page 4
---
The contents of the site are © and should not be reproduced elsewhere for financial gain. The contributors to this site gave the pictures and information on that understanding. If anyone has any issue or objections to any items on the site please
e-mail
and I will amend or remove the item. Where possible credit has been given to the owner of each item.