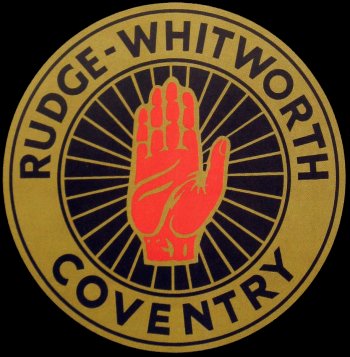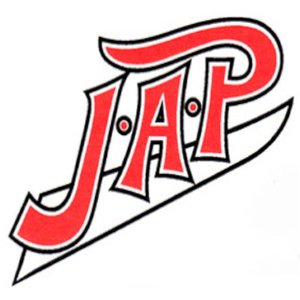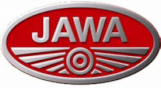 ---
Ivan Mauger
Part 1
---
Ivan Gerald Mauger
OBE
Born: 4 October 1939 Died:

16 April 2018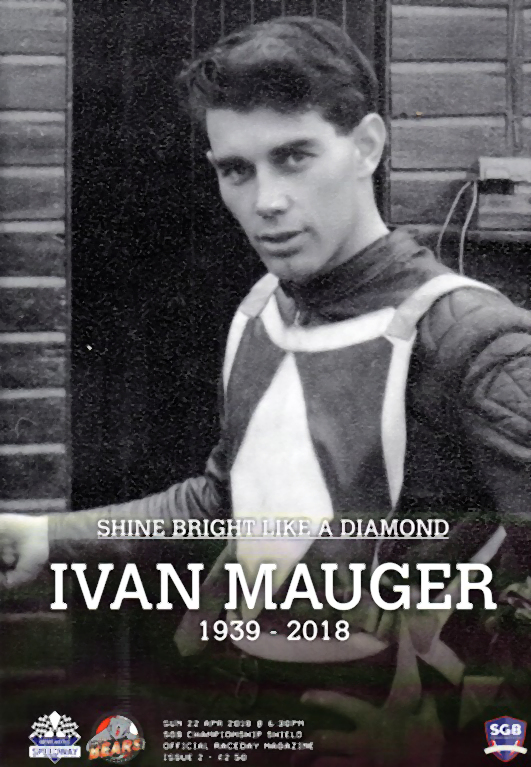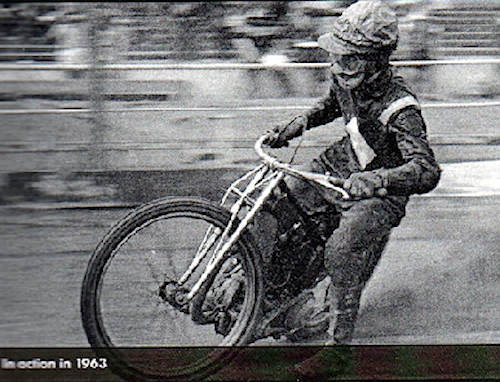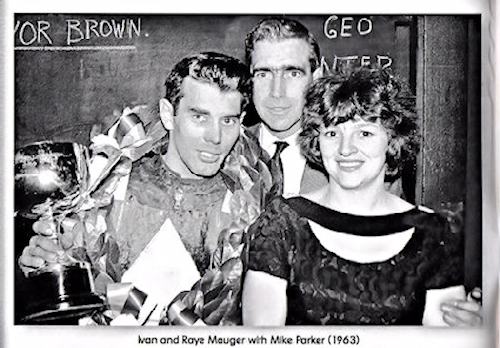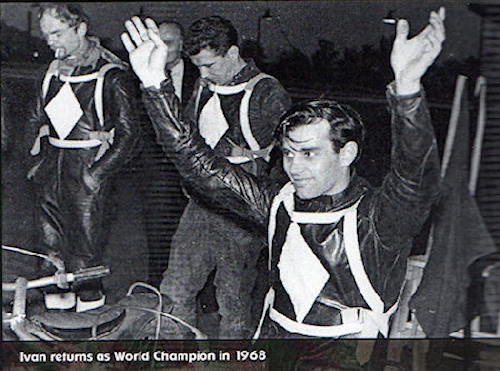 All the above photographs are courtesy of the Newcastle souvenir programme dated 22nd April 2018.
---
Mauger Family Statement

- 2015
The Mauger family say: This is a statement we released to the press today (March 2015) regarding Ivan. Former world speedway and long track champion Ivan Mauger

OBE MBE is being treated for cognitive aphasia, a communication disorder.
The Mauger family are issuing this statement detailing the situation and will be making no further comment. Ivan, who won six speedway titles between 1968 and 1979, and long track crowns in 1971, 1972 and 1976, announced his retirement from public life two years ago. He is receiving daily treatment at a Gold Coast (Australia) nursing home, but still manages to enjoy time with wife Raye, their three children, Julie, Kym and Debbie, and longstanding friends and associates from within motorcycling and the wider community.
Meanwhile, collectors are warned to be wary of items of Ivan's equipment and memorabilia being offered for sale.
"It has come to our notice that some unauthorised and unscrupulous people have been making false representations so please take every care to ensure any such offers are genuine and being made by authentic sellers," said Raye.
---
Ivan Gerald Mauger
OBE
& MBE
Born 4 October 1939, in Christchurch, New Zealand
The Diamond
The Ace
The Falcon
The Viking
Long Track
The Bikes
World Champion
The Will to Win/Rough Diamond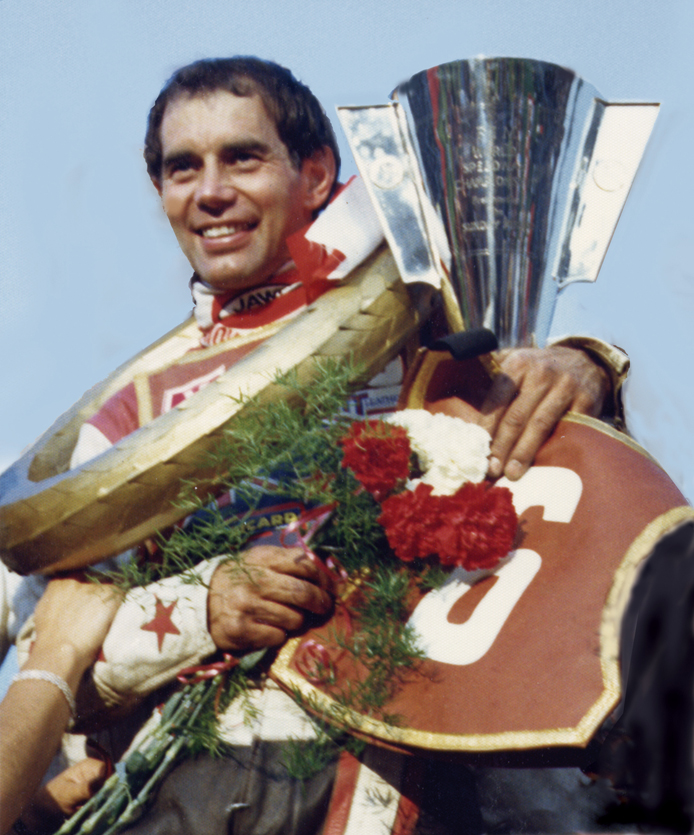 Ivan won speedways highest honour, the World Individual Championship title 6 times. His championship winning finals were 1968, 1969, 1970, 1972, 1977, 1979
He was also World Long Track Champion in 1971, 1972, 1976
Many of the pictures on this page have been "borrowed" with Ivan's approval from his NZ Museum page on his personal website. Other items, photos and text are from the many emails exchanged between myself (John Skinner) and Ivan Mauger before he became ill in 2013. His family endorse my Ivan Mauger pages. So let us celebrate his life time achievements on these webpages.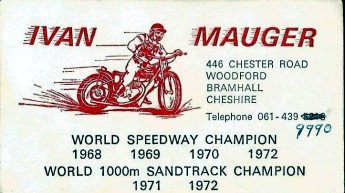 ---
The Beginning In Christchurch

1953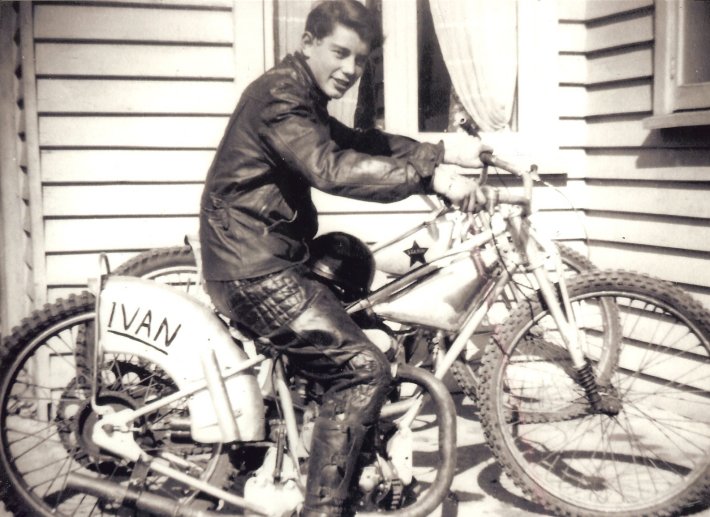 John says: Ivan and I exchanged many emails for a number of years. The website is unique as Ivan willingly sent me photos etc for it from his own private collection, which I am sharing herewith on his behalf with the Speedway Fraternity. The comments (mostly) with each picture are in Ivan's own words
Ivan says: This 1953 photo was taken at Windy Rees' house at 28 Burke Street in the suburbs of Christchurch. I was only 14 at the time.
---
Ivan's Road Bike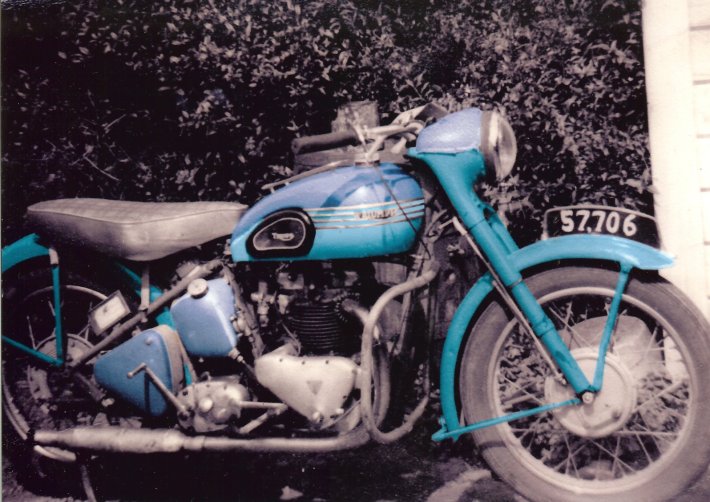 This was Ivan's first road bike. After passing his test he bought this Triumph 650. He says, It was painted in my old school colors light Blue and dark blue. I got the bike when I was 15 after I passed my test on Brother Trevor's 350cc motor bike.
---
I
n The Pits At
Aranui NZ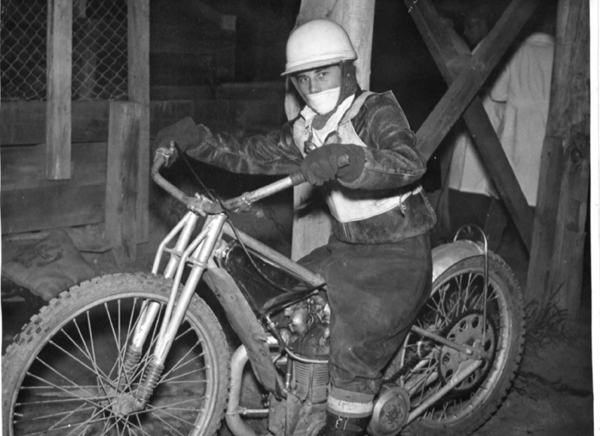 This photo was taken in the pits at Aranui. I told the Steward I was 16. You had to be 16 then to get a license for Speedway. I have told fibs to stewards my entire career.
Ivan says this picture was taken in 1957

Aranui,

Christchurch NZ
a couple weeks before he went to England to ride at Wimbledon. Wimbledon never realised the guys potential. It took another 6 years and Ivan's arrival on Tyneside in 1963 for him to hit the top.
---
Ivan With Ronnie Moore In

1958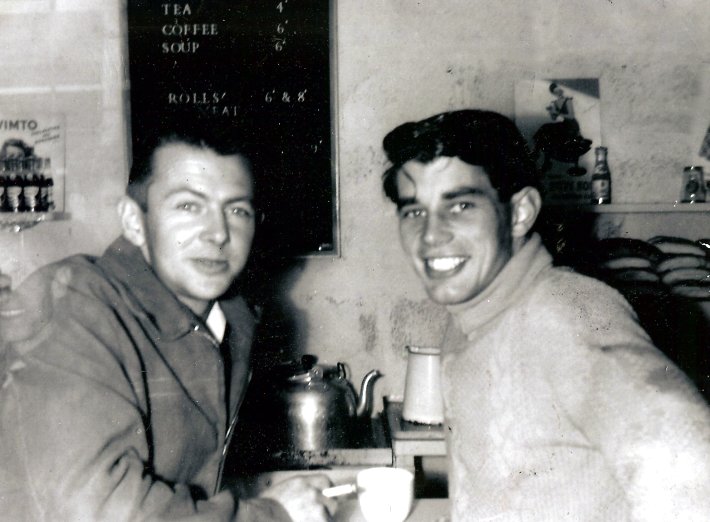 Ivan says: This is my favorite photo of Ronnie Moore. Taken on the way back from a meeting at Swindon in 1958
---
Ivan Aged 17 At Eastbourne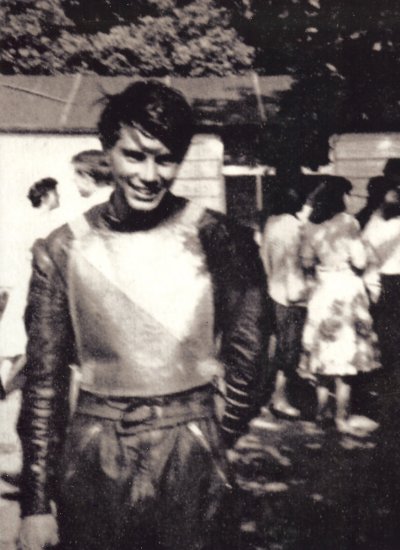 ---
Ivan With Rod Laver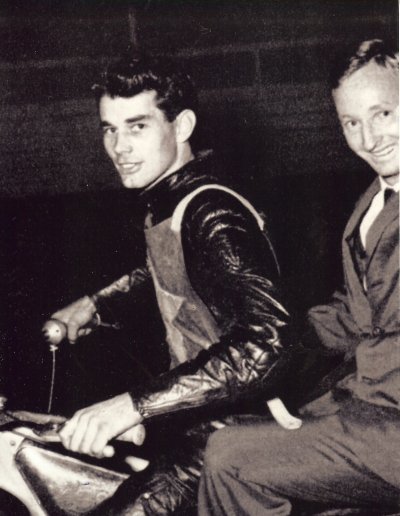 Ivan says: This photo is of the greatest Tennis Player in History when I took Rod Laver on the back of my Bike at Rockhampton in Queensland.
---
Ivan About To Kiss "Sabrina"
At Middlesbrough In 1964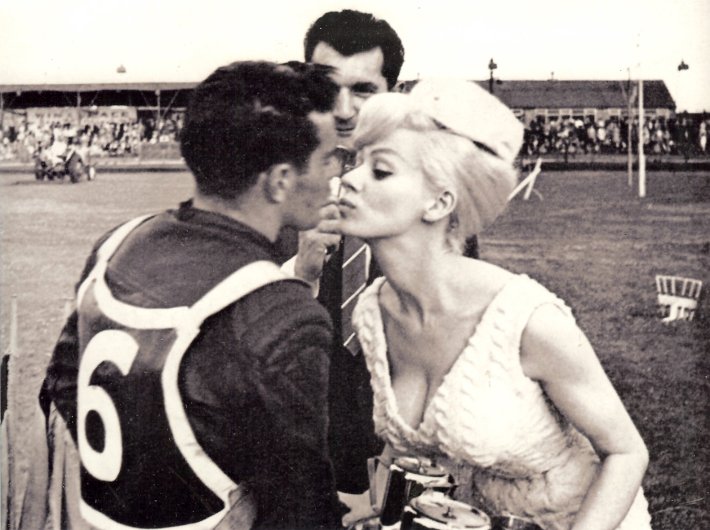 Ivan says: This is from when I won the Sabrina Trophy at Middlesbrough in 1964. Reg Fearman watching closely! Looking for tips on wooing ladies!
John says: Ivan's talent was immense even as far back as 1964 which was some 4 years before he won his first world final in his beloved Newcastle days.
---
Deep In Concentration
At Wembley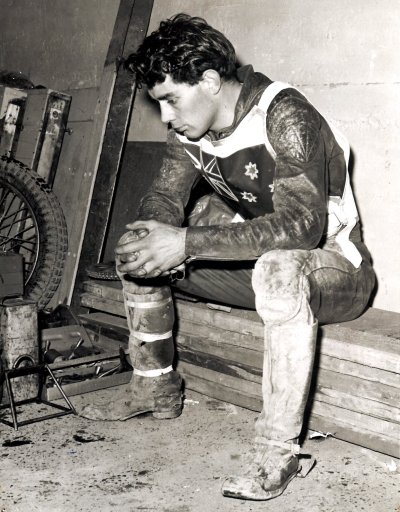 This photo shows Ivan's right boot taped up due to a leg injury, he rode on through the pain barrier for most of the season.
---
My Manchester Base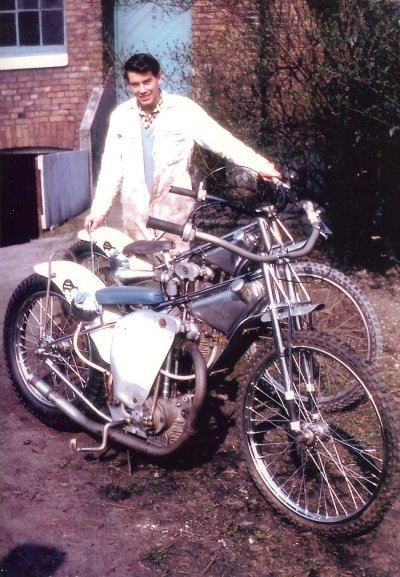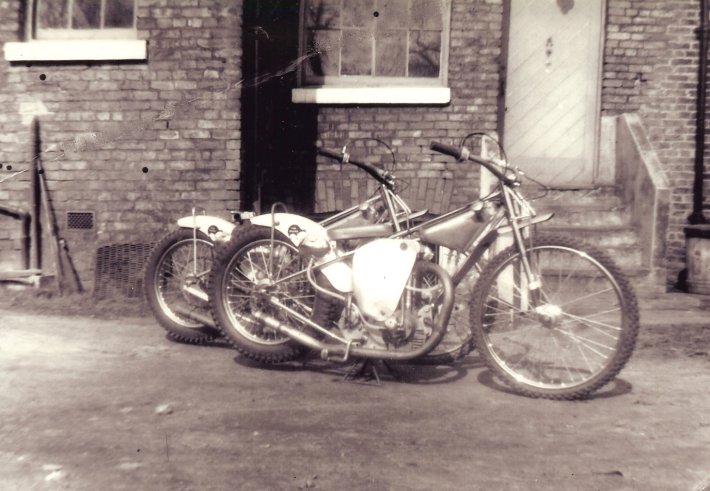 Ivan says: These were my two Bikes ( both JAPS) at the back of 81 Upper Chorlton Road, Manchester, when I had my bikes there at that time. I was 24 then.
---
Ivan On Crutches!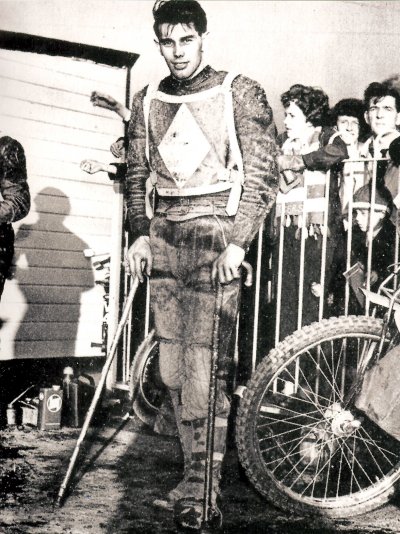 Taken in the pits at Glasgow
---
British Champion

1968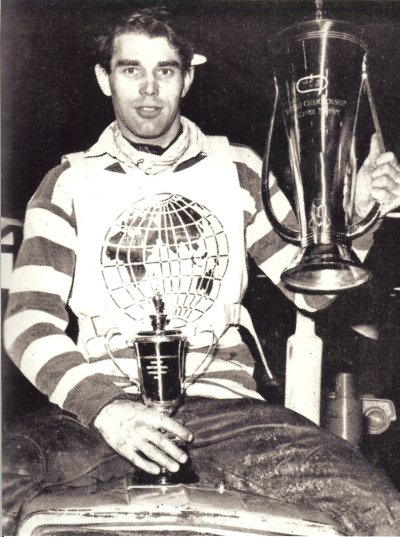 Ivan says: This is me when I won the British Championship at Wimbledon in 1968 and I have got the Newcastle football Jersey on.
John says: Ivan's success as a Newcastle Diamond in the British Final at Plough Lane was shortly to be eclipsed by his first World Title in Gothenburg
Barry, Ole & Ivan


1968

Gothenburg Sweden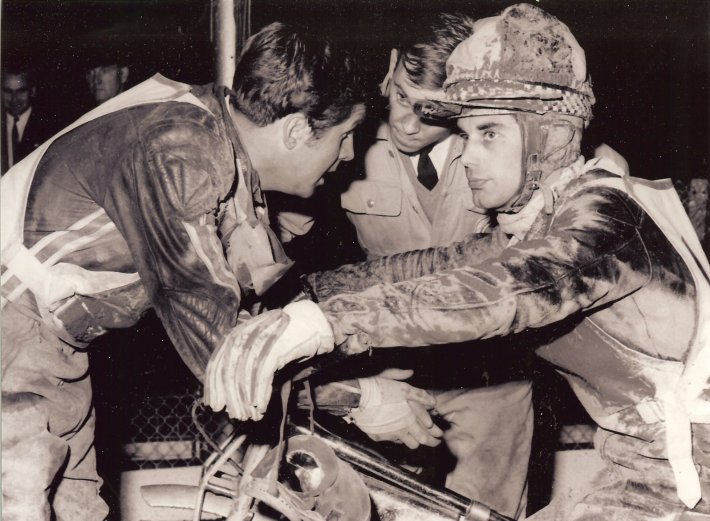 A far cry from winning the weekly rider of the night final at Newcastle's Brough Park. This picture shows Ivan on his way to the world title in Sweden.
Barry Briggs, Ole Olsen and Ivan Mauger. Ole was helping his Newcastle team mate and mentor Ivan in the pits during the 1968 Ullevi Stadium Gothenburg world final.
Ivan says: Ole was wearing a tie borrowed from me. Ivan looks to be dealing with the pressure. He won the title with a 15 point maximum
---
The

1968

Celebrations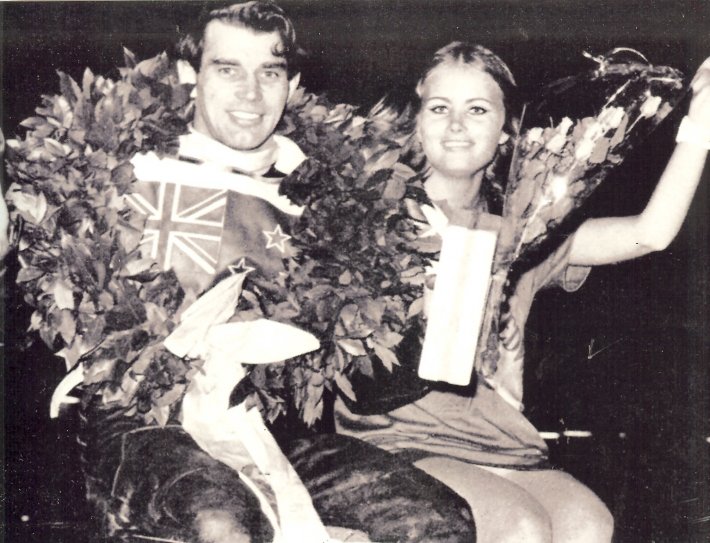 Ivan says: This is me with Miss Sweden when I won my first World Championship at Gothenburg in 1968
John says: It was great when we got to welcome back to Newcastle Ivan Mauger the 1968 world champion
---
Ivan Riding A 1929 Douglas 1970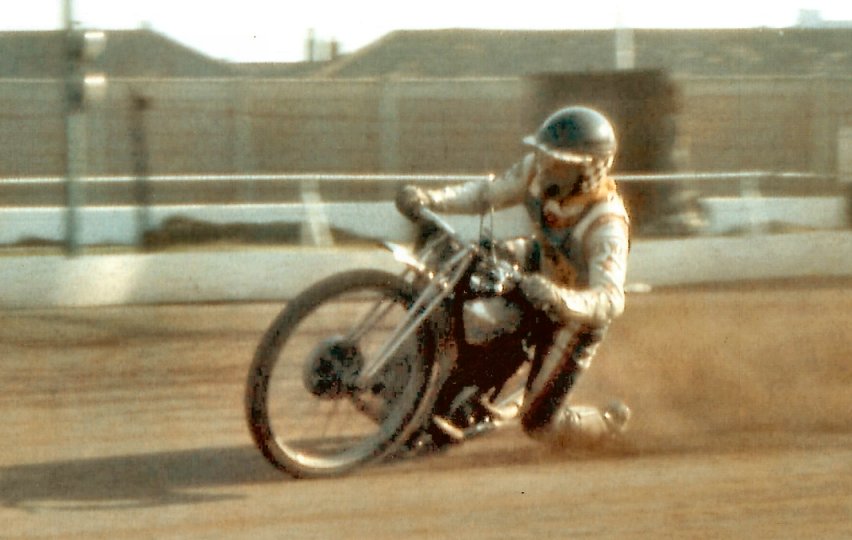 A leg trailing Ivan says: The Douglas I rode at the Lokeren benefit meeting at West Ham in Oct 1970. The bike would be around 40 yrs old
---
Ivan Riding A
1000cc
Vincent V-Twin
Combination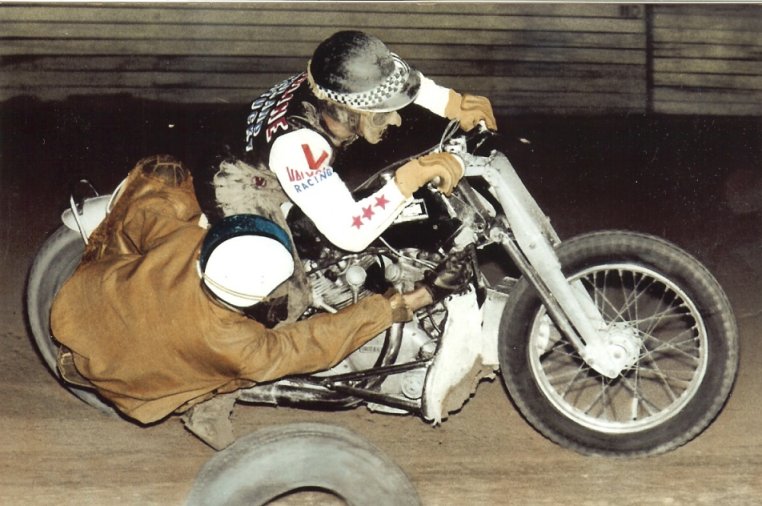 Courtesy of Ivan Mauger
Ivan says:
The 1000ccV-Twin Vincent sidecar I rode at Brisbane in Nov 1969. It was the only time I have ever ridden a sidecar. I done one race and won it so retired undefeated from sidecar racing!
---
1st

Prize A Jawa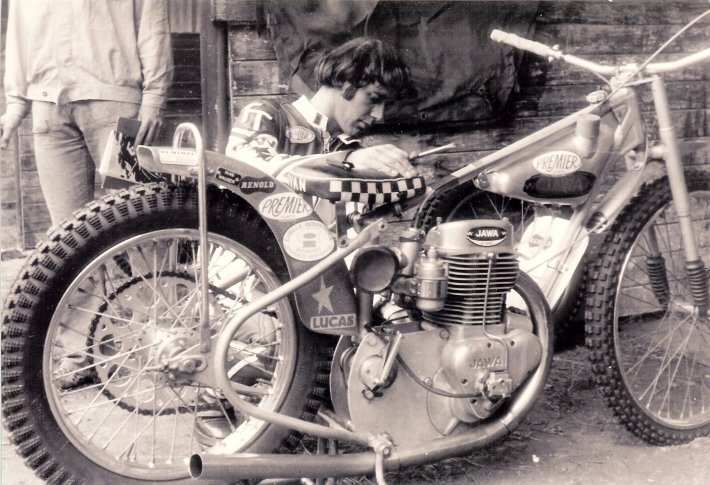 Ivan says: W
orking on my bike that I won in a run off with Bernt Persson. I do not think that was at Wembley but some other track
.
John says: Ivan won so many things, his lapse of memory about winning the bike is understandable. If you know the meeting where Ivan beat Bernie to win the bike please let me know

John
---
Christchurch NZ

24th January 1974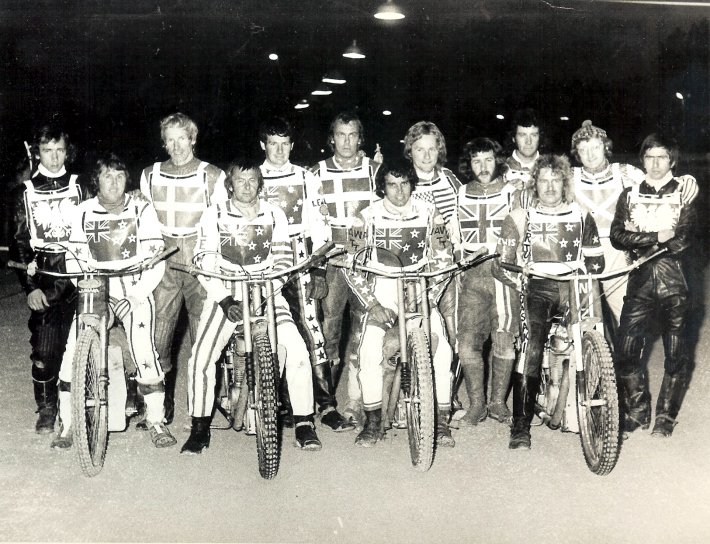 Ivan says: From L to R. Zenon Plech-Barry Briggs-Ove Fundin- Ronnie Moore -Gary Middleton-Ole Olsen-Ivan Mauger- Scott Autrey -Chris Pusey-Roger Wright-Graeme Stapleton-Bert Harkins-Edward Jancarz. WHAT A LINE UP!!!! That was the first meeting that I and Barry put on at Christchurch in 24th January 1974
.
We had to get Bert Harkins race suit from Barnard Castle that I paid for. Then we took Zenon Plech to the Houston Astrodome. We wanted to take Edward but the PZM told us no!!!!
---
Powderhall Edinburgh
21st September 1985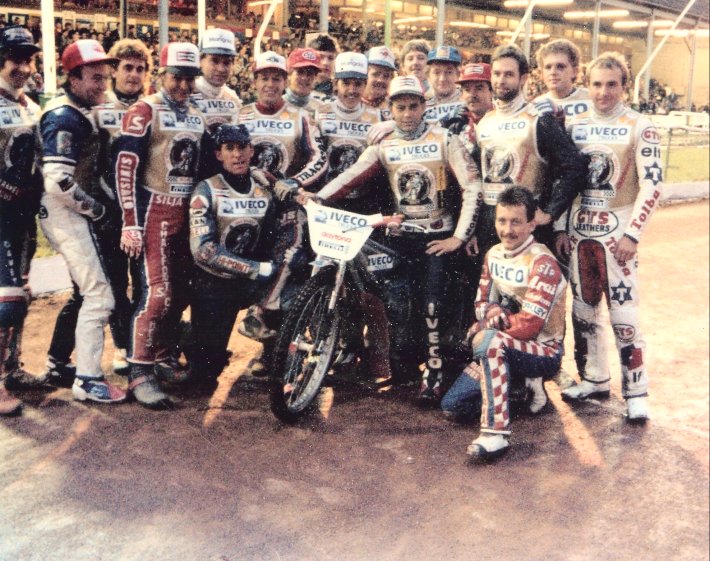 Ivan says: From L to R. Jeremy Doncaster-Peter Collins-Richard Knight-Kai Niemi-Finn Jensen-John Cook (kneeling)-Chris Morton-Simon Cross- Barrie Dixon -Erik Gunderson Brett Saunders-Steve Finch-me on the bike-Billy Burton -Bobby Beaton-Eddie Ingels-Shaun Moran (kneeling)-Scott Lamb- Phil Collins.
---
Farewell To England

1985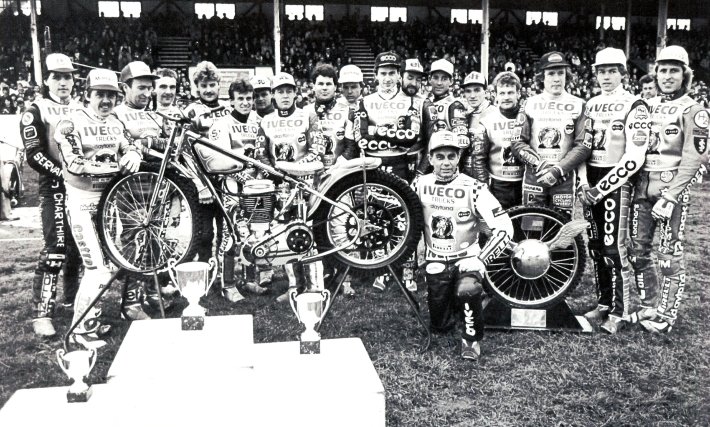 Ivan says:
Farewell to England at Belle Vue on 3rd November 1985. Form L to R. Neil Evitts-Erik Gundersen-Peter Collins- Phil Collins -Carl Blackbird-Jan O Pedersen-Andy Smith-Chris Morton- Larry Ross -Hans Neilson-Les Collins-IvanMauger-Stephen Collins-Neil Collins-Preben Erikson-Tommy Knudsen-Simon Wigg. I had all the Collins Brother's at the meeting.
---
John Skinner Says
Ivan was my speedway hero and later became my friend, we exchanged lots of ideas etc by email. I am honoured that he has given me permission to show all of his info on my websites, on this site and on my Newcastle Speedway History website. www.newcastlespeedwayhistory.co.uk
After collecting many photos and stories shown on this webpage, about Ivan's time with Newcastle as well as his other teams. Ivan has been in constant touch and has agreed that I can show the entire Newcastle chapter from his Autobiography "The Will To Win". The book is a great read and you should buy it. I am delighted to reproduce the chapter from the book under the heading: "Rough Diamond", with Ivan's permission. The book extract is copyrighted It belongs to Ivan and should not be reproduced elsewhere for financial gain:-
(Book Extract)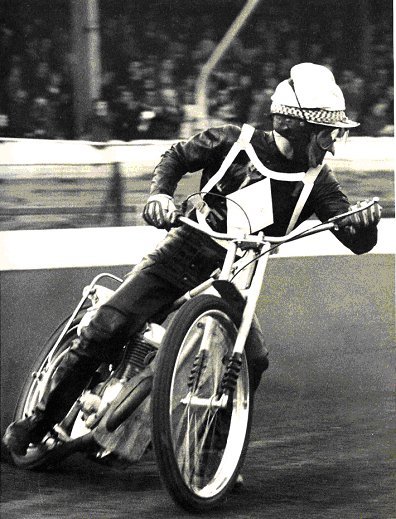 After Wimbledon and its plush stadium, such an eye-opener for a teenaged arrival in 1957, Newcastle was something of a culture shock for a new signing in 1963. The London we first encountered was still recovering from the damage caused by the war years but in our view it was the most exciting, vibrant city in the world. Newcastle upon Tyne, my new speedway base and Manchester, where we set up home, were traditionally industrial northern cities- only a couple of hundred miles or so from London but they may has well have been light years removed.
Newcastle's Brough Park had history. It was one of the first tracks to operate and the incomparable Johnnie Hoskins ran the place before and after the war. However, it has always been basic rather than beautiful, a bit like the city itself which for years had a reputation as being hard edged and predominantly working class. At first sight it seemed a grey, unforgiving sort of place and bear in mind during 1957 and 1958 I rarely travelled further north than Coventry! The north east people though, are the salt of the earth and once they have accepted you- and you have managed to understand the distinctive dialect of the region-the Geordies are great. We have fond memories of a six season association with the Diamonds which, after a few early irritations had been ironed out, began so promisingly, and produced some great occasions for the team and for me as an individual. It is a pity it ended acrimoniously, thanks to a falling-out with the man who got me there in the first place Mike Parker.
The fact I left Newcastle in 1968 as a world champion, in my opinion, was as much in spite of Mike Parker as it was because of him. In the end the place was not big enough for both of us, although from the distance of time it is easy to think I possibly was a part of the problem as he was. Raye and I will always be grateful to him for bringing us and our family to England and Newcastle. When we were last in the UK in 1958 nobody in speedway had heard of him, but in the years we were away he had made a big impact. Originally a midget car driver, Mike opened several tracks in 1959 to run composite speedway and car meetings, and was a leading light in the foundations of the Provincial League the following year. The man helped change the landscape of British speedway, and as such was one of the architects of a revival which could not have been better timed from my point of view. Very much due to his powerful influence and that of a few others- Trevor Redmond and Reg Fearman among them-the number of British tracks doubled virtually overnight, and signaled the start of speedways long journey back into the sunshine.
P

arker was the new leagues chairman and operated at Liverpool, Stoke, Middlesbrough and Bradford in 1960. His interests continued to expand, among them Wolverhampton and Newcastle, whose 1962 team included Gil Goldfinch one of my former Plough Lane colleagues, and Ivan Crozier an old friend from Christchurch with whom I had ridden in Adelaide. It was Ivan (Crozier) who encouraged me to contact Mike Parker and at the same time Ivan encourage Mike to give me a go.
New tracks meant fresh opportunities and a whole new blast of enthusiasm was running through the sport, especially at this level. All was not so good with the National League, with the traditional big track promoters doggedly clinging to past glories but seemingly challenged when it came to finding a new formula to invigorate a competition which by 1963 was down from the 10 teams of 1958 to just 7. The league was still being dominated by most of the big stars who were around 5 years earlier. By contrast the Provincial League contained plenty of names I remembered and recognised, although a few of them I thought would have improved to such an extent that I couldn't live with them.
The Provincial League had 13 tracks. The Diamonds, after finishing bottom in their comeback year 1961, had climbed to ninth in 1962 and the locals were hanging out for further improvement. It was against this background that our family unit, now five strong, undertook the boat trip via the Italian ship Castle Felice to Southampton. We took the overnight sleeper train from Adelaide to Melbourne to board the ship. With three active youngsters in tow barely old enough to understand what was happening but inevitably caught up in the excitement of it all, we were reading for a new beginning.
Before getting to meet Mike Parker in person, we were met off the boat in Southampton by Eddie Glennon (Eddie died in a car accident in July1968, returning north after a meeting at Newport where he held the promoting reins on behalf of the Mike Parker organisation.) Eddie was Mike's right hand man. He managed various Mike Parker teams and was a very popular and generous personality. Eddies first connection with Mike Parker was as secretary of the Manchester Midget car club. Over time we were to discover that Eddie was a great foil for Parker, who was widely regarded as a tough operator and often gruff with it.
The Parker base was in Manchester, he owned a lot of property in Whalley Range, and had accommodation for us to rent. Even though it was so far north of London and the people and places with whom we had become familiar on our first visit, and was about a three and a half hour drive to Newcastle, the distance was not something we considered a drama. But when we finally arrived at 101 Upper Chorlton Road, most of the arrangements he had laid on were less than ideal. The flat turned out to be a tip, an ex-GPO van provided in the deal obviously had seen better days and a promised bike wouldn't pull the skin off a rice pudding. Still the big one was that Mike Parker had offered a team place and coughed up all the expenses for Raye and I and the three kids to get to England. For that I agreed to ride for him for a minimum of two seasons on whatever the normal start and points money was in Provincial League.
Because I had signed a contract with Wimbledon for both 1957 and 1958 I was officially on their retained list. When I started to win quite a few championships in Australia and there was occasional publicity in the speedway magazines that I wanted to go back to England, that probably was the only reason Ronnie Greene kept me on the Wimbledon retained list. Mike Parker had quite a battle with the Speedway Control Board over who owned my contract. But he had a much stronger personality and level of determination than any of those guys at Belgrave Square. They were no match for his powers of persuasion so he got me released without any problem.
We were on a high, just getting a chance to come back. The accommodation was something which could be fixed up. Being located in Manchester was fine as there was reasonable access to all of the tracks. And while the bike he provided was extremely second-hand – Bill Andrew had used it the previous year – I was so grateful he brought us to England, that situation didn't bother me too much. We didn't really have too many bad words over the car and bike except to tell him that if he wanted me to actually arrive at the track and start scoring maximums I couldn't do either using the bike or the car he provided, so I soon gave them back to him.
My first appearance for Newcastle was at Middlesbrough on Thursday, April 11, and the Bears were all over us, winning 51-26 with Eric Boothroyd scoring a maximum and Johnny Fitzpatrick, another rider I remembered from Wimbledon second halves, 10. After three scoreless rides, my first points came in Heat 11 when I ran a second to the 18-year-old Eric Boocock, with Ivan Crozier third.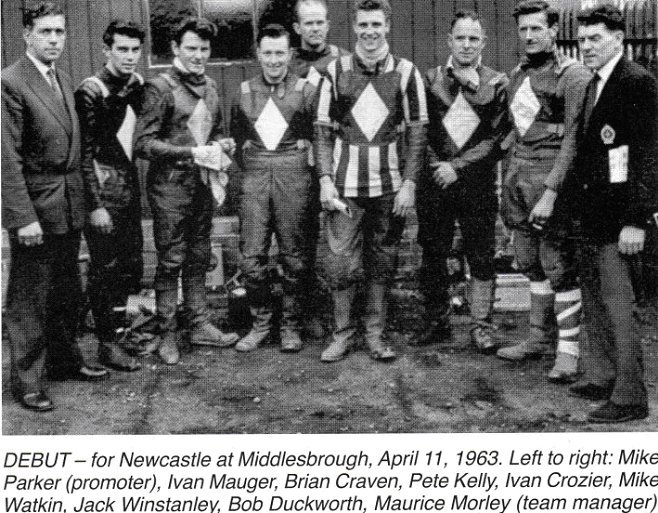 My home debut was four days later, against Wolverhampton. It was my first sight of the 361-yard Brough Park circuit and at a quick glance it resembled the shape of Wembley, my recurring theatre of dreams. No dream started here though, as the bike packed up in my first ride and next time out I trailed in behind Tommy Sweetman, another one-time Wimbledon second half opponent. Then things got better and two heat wins later I was starting to feel more confident. Newcastle picked up their first victory of the season and it was clear to me that on proper equipment the way forward was going to be better still. Long-term, the biggest plus on that initial home meeting was within the first half-hour when I met Gordon Stobbs, who was a track raker. He and his wife Margaret started going to away meetings on their 500 BSA and Gordon later became my full-time mechanic – he was with me until I retired at the end of 1985. They became great friends of all our family and have visited us on the Gold Coast in Australia. Raye and I stay with them when we are on our UK northern trips and even in recent times Gordon has come to help out at some of my training academies. Over many years Gordon was absolutely the most loyal mechanic in speedway. He knew my moods, likes and dislikes and he got to know if I was going to win a meeting or just do some experimenting for future meetings.
We could go to a track in Europe for the first time and he would attend to the gear ratio, the wheel base, ignition settings and other details which were accurate 9 times out of 10. Gordon usually got to those cities several hours before me and one of his jobs was to make sure we got rooms on the quiet side of the hotels. All of this was way in the future though, and at this early stage I needed a good machine before I needed a good mechanic. I asked a few people including Ted Brine at Wimbledon if they knew where there were any good bikes for sale. Ted said his brother Cyril had retired and he was selling his bike.
That was enough for me. With Rolf Von Dor Borch I jumped into my newly purchased £100.00 Bedford Dormobile- It had 3 rows of seats and space behind for a couple of bikes, tool boxes and all the other gear- and went down to Wimbledon to buy the bike for £125.00. The payback was immediate. Next Monday I got a maximum, Newcastle disposed of Edinburgh in the Northern Trophy and my heat 5 win over Wayne Briggs was in a new track record time. A decent machine meant I could start doing the business on track, and there was another boost for the family (especially Raye) when we moved next door to 103 Upper Chorlton Road, where the accommodation was bigger and better. We stayed there until we went to New Zealand at the end of the 1968 season.
When the league matches started, my form just kept on improving, and for most of the next few months I was around the top of the averages. At Brough Park in particular I had the measure of most riders and no less pleasing was finding the ability to go to away tracks and win races on a regular basis. In 24 league meetings there were 13 maximums and an average of 10.80. This was enough for me to be top of the Provincial League averages in my first season. I held the Silver Sash match race title for a couple of months. The team improved steadily too. In the end 6th place was the best we could do, although just one more win and we would have finished in second spot behind champions Wolverhampton.
Given the lack of interest from National League promoters when I made it know that I wanted to come back to England, It was quite funny to have several of the scrambling to use me as a fill in rider- Oxford, 4 times, Southampton twice and even Wimbledon on a couple of occasions- and then fielding suggestions they would like to take me on board the following year. I took great delight in telling them all to get stuffed. In those 8 National League and KO Cup appearances I scored 59 points at an average of 7.37 including 11 for Wimbledon at Swindon where Peter Moore beat me in my last race to spoil my chance of a maximum.
Every man and his dog it seemed wanted to have a say about whether I should be allowed to ride. It was the same sort of argument and debate repeated years later when riders like John Louis, and most recently young Australian prospect Darcy Ward, were top of the pile in the lower division and scoring big points as a rent-a-guest for a succession of teams in the top flight. Several additional opportunities came my way in Provincial League select teams booked to ride on National League tracks. I even beat Peter Craven in my first race at Hyde Road. The Belle Vue riders were handicapped and started 10 yards back but that could be an advantage as it carried more momentum at the first corner. Peter was beside me at the first turn but I found better grip on the exit and rode away from him to win a fraction of a second outside his track record. A few weeks later I scored paid 7 from 4 rides to help Oxford beat the Aces, a result that threatened to spoil their charge for championship honours.
In another source of controversy, not that any of us took that much notice of it at the time, Mike Parker was starting to flex his muscles in what would prove a long running battle with officialdom. He was warring with his fellow Provincial League promoters over his signing for Wolverhampton of Rick France from Coventry.
There was increasing talk of operating outside the jurisdiction of the Speedway Control Board, threats of a breakaway. Most riders were aware of some of it, but few had any idea how the relationship between promoters and the governing body was about to fracture so dramatically. Of course I kept an eye on what was happening in the National League, and was sad when Ronnie Moore broke his leg in a crash at Plough Lane. Ronnie was one of the "big five" – Briggo, Peter Craven, Bjorn Knutsson and Ove Fundin – were the others who were doing it the hard way starting every race of a handicap at that stage. Ronnie's accident occurred in a last heat decider in May when Bob Andrews and Swindon's Martin Ashby came off in front of him as he was trying to make his way through the traffic. Before the season was over Ronnie had announced his retirement, for the second but not the final time.
The worst accident of the year (1963) though, was a fatal one – Peter Craven, riding for Belle Vue at Edinburgh in a challenge match in September, collided with the safety fence trying to avoid the fallen George Hunter. He never regained consciousness and died four days later in hospital. It rammed home the dangers riders face every time they get on a bike. Everybody accepts speedway is dangerous and there is always the potential to get hurt. But little Pete against whom I had raced in Adelaide only a few months before, in an inter-league event at Hyde Road in April and at Middlesbrough later in that season, was such a huge star, and yet such a good bloke, it was shocking to think he had gone.
The Provincial League Riders Final at Belle Vue on September 28
th
started with a 2 minute silence for Peter who had died 4 days earlier. It was a sombre way to go into one of the biggest meetings of the year. For weeks I had been building myself up to prove I could do the business in the league's showpiece occasion. Normally I was as healthy as any young bloke, and fitter than most because I took physical training and conditioning pretty seriously. But in the days leading up to the PLRC I was feeling very ordinary, suffering bad headaches for the first time in my life. I put that down to some kind of tension going into the big meeting. The last thing I needed on the night was a mini-riot, stirred up by riders who took exception to the 24 heat formula. The traditional 16 rider, 20 heat world championship format was ditched and instead 2 dozen riders contested the meeting taking 4 rides a piece, with the top 4 scorers qualifying for a grand final.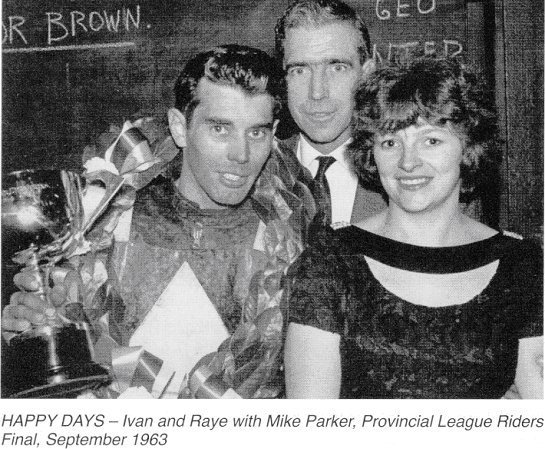 Nothing revolutionary about the format in more recent times, but it was an innovation which did not please the purists and threatened to go pear-shaped when 5 riders tied on 9 points. Jack Kitchen of Sheffield and I were safely through to the decider with 11 points each from our 4 rides. George Hunter, Ross Gilbertson, Ray Cresp, Clive Featherby and Maury Mattingley were locked together. After a lengthy delay it was decided to put all 5 into a run-off – At least Hyde Road was big enough and plenty wide enough for an extra rider at the starting gate. Gilbertson and Hunter duly joined us in the final, and my chances looked shot when I drew the worst gate. However, it was Hunter who turned out to be the unlucky one. He made the start but packed-up at the beginning of the second lap, allowing me to take the lead which I held to the chequered flag. Many people in the full stadium gave me the reception that often goes the way of a fortunate winner, but the massed ranks of Newcastle fans didn't care and nor did I. It was in all respects a champion feeling.
A couple of hours later I was much the worse for wear, and not because of any celebration. After the meeting a group of us went back to a pub in Bolton where the owner was a friend of Newcastle rider Jack Winstanley. Mike Parker, Eddie Glennon and most of my Diamonds team mates along with our wives. I had an extra strong headache by the time Raye and I arrived and the owners took us through into their lounge where I lay on a couch and was not involved in any of the celebrations out in the bar. The owner called a doctor but before he bothered to come out to see me he'd had a few beers in the bar so obviously he didn't think there was anyone seriously wrong. Raye was sitting in a chair next to the couch and he looked at her and asked "does he take any drugs". Raye said "The only thing he takes is Glucose in the orange juice I mix up for him at the tracks and then he takes vitamin tablets that you buy from the chemist". Anyway the doc was convinced I was on some kind of drugs and he left us and went out to the bar and started drinking a few more beers.
When we got home I was in a bad way. Raye has always had medical books and when she looked up my symptoms she decided I had meningitis. First thing in the morning she walked down to Dr Friedlander, our family doctor who was a couple of blocks away. Fortunately he came to see me immediately and called for an ambulance to take me to the Monsall Hospital in the middle of Manchester. They promptly put me in an isolation ward and I was there for over a month, missing all of the remaining meetings of the 1963 season. It cost me a lot of money, a KO cup final appearance against Cradley Heath and more besides. For several weeks I was so far out of things it was not until later that the full impact of it all hit home.
Dr Friedlander and the doctors at the hospital told Raye it would take up to a year to get rid of the symptoms and that she should never let me get tired. By this time it was mid November and Raye made me go to bed about 9pm every night. It was winter anyway and it was not until well into the New Year (1964) I was able to go into the workshop and tinker around with my bikes for a few hours at a time. Fortunately Guy Allot, who had been forced to retire after suffering serious injuries when he fell off the tractor/grader during a victory parade at Sheffield, was getting into engine preparation and tuning. It was reassuring to know he was working hard to get my motors prepared for season '64.
I started on my recovery, training and running at the Manchester YMCA where the facilities included and indoor track. It took a long time before my health was anywhere close to what it had been, and a night in the pub with Rolf did not speed my rehabilitation. He thought he was doing the right thing by getting me out of the house to unwind, but a couple of beers knocked me flat again. Raye was not at all amused. With the season a few weeks away, there was another huge cloud on the horizon. The Speedway Control Board (SCB) tried to coerce Mike Parker into moving Wolverhampton into the National League, accelerating a long-running dispute into open war. There was talk of strike action, the Provincial League promoters voted to operate outside the official channels, and the SCB warned riders they would be suspended if they rode on unlicensed tracks.
Most of the Provincial tracks were attracting excellent crowds and there was great racing because most of the boys had a lot of ambitions, whereas the National League numbers had been on the slippery slope for several years. West Ham moved up to the NL, replacing Southampton, but in spite of the quality in the top division the quantity still wasn't there. They simply did not have enough tracks or offer sufficient meetings to appeal to a lot of riders. The bottom line is that Mike and the other PL promoters had a meeting with the leagues top guys at Cradley Heath a couple of weeks before the start of the 1964 season to tell us they were going to run "black" and without being licensed by the SCB. That meant we would not have licenses. But, they assured us that it would all blow over before that season's world championship qualifying rounds. I wanted to believe what we were being told. I told Mike that I owed my loyalty to him because he had brought me over while there had been no contact or response from the NL promoters such as Ronnie Greene at Wimbledon and Charles Ochiltree at Coventry, who had never even answered my letters. To shore up the arrangement Mike voluntarily offered what was at that time quite a good guaranteed prize money arrangement for each meeting which I accepted and gave him my word for two seasons. Later we realised there was very little intention of linking up with the SCB. The PL promoters were doing well financially without paying license or permit fees and did not have anyone outside their group telling them what they could or could not do.
The first year Mike would often drop in to see me. He rented the upper floor at 81 Upper Chorlton Road, he (and Eddie Glennon) had offices on the ground floor and my workshop was out the back. He knew I had tea on most of the day. But from about May 1964 he rarely looked in – The promised truce had not materialised and he knew I was angry after being misled. Nevertheless I had a great time in 1964 starting with 10 maximums in 11 Northern League matches; only a fall at Glasgow cost me a perfect record. I was top of the PL averages, defended the Silver Sash against all comers from May to September and again won the PLRC at Belle Vue at the end of the season.
What very few people knew was quite often I had to have a sleep in the afternoon. I left home a couple of hours early to go to Newcastle each Monday and had an hour or so flat out on the couch in the speedway office before just about every home meeting. There were a few changes in the PL with Stoke, St Austell and Rayleigh all gone from the previous year, but new teams Sunderland, Glasgow and Newport. The arrival of Sunderland promised a fresh local derby rivalry but the Saints, who signed new Aussies Jim Airey and Gordon Guasco, operated for just a few weeks before closing down. The two Aussies went on to Wolverhampton who immediately became a serious threat, bracketed with ourselves and Hackney – who had Colin Pratt and Roy Trigg – as likely honours challengers.
As far as we were concerned, Newcastle would be the team to beat. Brian Craven had retired, but the returning Bill Andrew, the jockey turned racer from Palmerston North, was a decent replacement, Goog Allan was another recruit from New Zealand, and the signing of veteran Ken Sharples after Sunderland closed gave us an added edge in the second half of season 1964.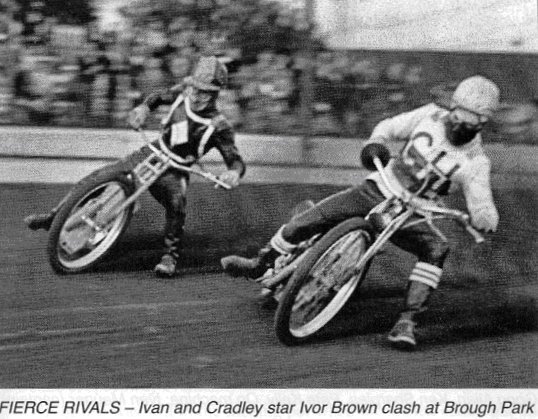 Fans who had been watching for years reckoned these Diamonds had enough about them to bring a league title to the club for the first time. I hardly put a foot wrong, although there was one memorable time when Ivor Brown, who dished it out but appeared to regard himself as untouchable, did get the better of me and hung me out to dry when Cradley Heath came to visit Brough Park in June 1964. He was my challenger for the silver sash but hardly put in any effort. In the second half final I warned Mike Watkin and Bill Andrews to stay out of the way in the first corner. Ivor ended up going through the pit gates. From a personal viewpoint my league and KO Cup results could not have been much better – 293 points from 23 matches, an average of 11.49 and 15 maximum scores.
Newcastle was an unforgiving circuit, usually on the rough side, and we made the most of it as a home track. We also had the ability to win six out of 11 away from home, finally clinching the championship with a 49-29 home win against Edinburgh. In the end we had a three-point margin over Hackney with the rest way behind. Celebrations in the north-east went on for days and at the end of the week, winning the individual title at Hyde Road for the second year in a row was another highlight. After dropping a point to Roy Trigg in my first race, and another to former Adelaide rival Charlie Monk (Glasgow) in Heat 12, I finished on 13 and needed to beat Charlie in a run-off for the championship. As we were the only riders with a figure above 11 for the season, it seemed a fitting result. I would have been disappointed with anything less, but it was a tough night. Belle Vue was packed, the meeting attracting more fans than any other at Hyde Road that year. The atmosphere was brilliant, although by all accounts thousands of fans were angry when programmes sold out an hour before the start. The point was not lost on those who were following the continual split between the 'official' National League and the 'black' Provincials. The Speedway Control Board suspended Belle Vue's licence after they staged the PLRC, but relented a few days later, shortly before all parties were to meet in the first step towards reconciliation.
It took many weeks in the off season, a great deal of wheeling and dealing. When everybody had given their input the Shawcross Report into the state of speedway eventually brought together all the feuding factions. All of this was still in the melting point when the season ended but this time I was determined not to let anything get in the way of my preparations for the following year and my world championship ambitions. Raye and I and the kids again stayed in England that winter. Julie and Kym were established at school and doing well and we wanted to have five or six months quality time in one base during the winter to get really organised for the following season. In addition I had made the conscious decision to start my year's preparations on January 1 – an ideal time to start a new campaign – and I have always kept to that plan even today.
I was in my workshop for a few hours most days during November and December, just cleaning things up and starting to make a plan with Guy Allott as to what we should do with engines and so forth the following year.
Not being able to ride in the championship rounds had occupied a lot of my thoughts in the weeks after the end of the season. When Mike Parker eventually got around to coming in to see me shortly before Christmas it probably was the first time he and I ever had hard words. He was a very strong-willed person and so was I and that made it inevitable we would have our problems sooner or later. He started off by telling me his plans for the formation of the British League, which meant the National League and Provincial League amalgamation was going to happen. He was keen to talk about a new deal but I wasn't ready. It was good to know the two competitions were coming together but I had fulfilled the two years agreed. He and I both fully understood that there was no loyalty now after his lies in 1964.
Mike was such a visionary for speedway and one of the first people who could see a league join up had to happen. He was more forceful and had a stronger personality than any of the other promoters and that was a huge factor in how the British League (BL) got started. – Just as he was one of the first group who had a vision for the Provincial League (PL) a few years before. But I knew that I was coming from a strong bargaining position. I told him that as one of the hot properties in British speedway, after cleaning up the PL in 1963 and 1964, I figured I could ride for just about anyone I wanted to. By staying loyal to Mike and the PL I had wasted a year of world championship rounds. In that instant I could not have cared less whether I rode for Mike again or not. Discussion stalled at that point so I locked my workshop door and went home.
Raye and I discussed everything for a week or two. We had made many friends up at Newcastle and we loved all the people; they were great supporters and very friendly, as they are today. I really wanted to stay there but on my own conditions. We decided upon exactly what I wanted no matter who I rode for in 1965, Newcastle or anybody else: good guaranteed money, better transport vehicles, better bikes and better accommodation. Only then did I go back to the workshop. When Mike next came in he asked me if I had calmed down and asked if I still wanted to ride for Newcastle. I said "yes, lets go up to your office and I will tell you what the deal is.
I started by telling him to make the tea and provide the chocolate biscuits.We sat in exactly the same place as we had done 10 months before when he called me in to tell me that the PL promoters and riders were going "black" and offered me the financial guarantee to continue with him in the PL that year. I told him I could not forget how all his reassurances about the dispute being settled quickly had been shown to be false. I again said I could ride for whoever I wanted to and in particular Belle Vue, who had made no great secret about wanting to get me to Hyde Road from the first time I had been on their track. After I had outlined all the conditions Raye and I had worked out he was silent for quite a long time and I was determined not to speak until he did. People in Newcastle had told me Mike was desperate for me to ride there particularly in the first season of his brainchild the BL. I also knew he had done some deals with other promoters when he was trying to get the new BL started, and Maurice Marshall, the Chief Executive Officer of the entire Belle Vue complex, was top of his list.
It followed that Mike did not want to get into a fight with Belle Vue over me so I told him I would ride for Newcastle home and away and open meetings for a guaranteed £100.00 a meeting plus double travel money. Any challenge matches I could negotiate with the promoters for a higher guarantee. Any individual meeting at home I kept whatever prize money I got plus the guarantee.
That was good money in them days. Briggo, who was world champion in1964, only got £35.00 for open meetings. But I didn't have any doubt I was worth that sort of money to Mike Parker- not that I expected him to immediately agree. Anyway, after a while he said that was too much and no club in the UK would pay that much and also he wouldn't give me a transfer to another club.
I was wise enough to know at that stage that Mike's ambitions of being the chairman of The British Speedway Promoters Associations (BSPA) or the number one promoter in the British League with several tracks would play a part in his thinking. All the other promoters wanted me to be in it and Mike had upset so many people any arbitration court in the RAC would defeat him. I gambled on the fact that his ego would not allow him to be publicly defeated so I was confident that he would come up with my requests. After about an other half an hour of silence during which time Mike made more teas, he said he thought I was completely ungrateful after he had brought my family over in 1963 and I should reconsider. My reply was that I had fulfilled my loyalty in riding two seasons for him which when I made the agreement and committed to that loyalty never included never included being excluded from the world championship for one of those seasons (1964).
Mike could sense I was determined and also at that time I thought he was figuring out he was going to tell the people at Newcastle that I was leaving. After a while he told me to come back the next day. When we got together again we haggled and compromised a bit, part of which I didn't get any travelling money at all! But obviously he had cleared his thoughts overnight and done his sums because we did the deal there and then. The prospect of earning £100.00 several nights a week was quite attractive as the average UK wage was in the region of £13.00 and petrol was less than two bob a gallon. As with every deal I made with Mike, all it took was a handshake and he paid every penny.
As the start of speedway's new era dawned and everybody in the UK was getting very excited about the formation of the British League, I was as jazzed up as anybody. For two years in the Provincial League things had gone extremely well for me. My results were consistently good, my confidence was high. The drama of meningitis behind me – although never forgotten – I felt I was ready for the challenge. Plenty of people had doubts about how the former Provincial League guys would fare up against the gun riders who had been stars in the National League. Among them were those who seemed to take a delight in reminding anybody who would take notice that Ivan Mauger and all the rest of them had everything to prove, because none of them had cut it in the big time. And it was true. But thanks to several years of increasingly tough competition, to a greater or lesser degree all of us were now serious contenders. If the biggest criticism to be levelled against us was that we lacked experience, well now was the time to bring it on! At least I'd had the benefit of racing against some of the star names before coming back to England and handling myself more than adequately. I knew too that I was a far better all-round rider than say, two years before when the Newcastle adventure kicked off.
My analysis of the teams for the new British League was that the overall strength would not be that much greater than the Provincial League had been. Of course the big stars like Briggo, Nigel Boocock and company would present a whole new challenge but they were only one man in a seven-man team. What remained to be seen was whether good domestic form could be carried over into the world championship rounds. After being dudded out of the opportunity to compete in 1964, this was a high priority.
It was good to be able to get into detailed planning for the months to come, although it was not the case for all the riders who were going to be involved in the new set-up. There were pay disputes, threats of tracks shutting down and various other loose ends to be resolved before the new British League lurched into action.
When all the talking and argument was over, Coventry, one of the traditional big guns, met Cradley Heath, one of the ex PL-clubs, and 14,000 people turned out at Brandon to give the bold new era a fantastic start. Newcastle were one of the later-starting tracks but we had a challenge match at Sheffield and I kicked off my season with 13 points. Then there was a gap of more than a week before Newcastle were due at Wolverhampton on Good Friday.
In between times I had a very bad bout of flu which put me in bed for a few days. But of course Mike Parker wanted me to ride at Monmore Green – another of his tracks – so against my better judgment, I got out of bed and went. You can ride with injury, and put up with the pain, but I wasn't thinking clearly because of the flu. In my second ride I rode a lazy first corner, came down, and Gordon Guasco ran over my left foot and broke my ankle and leg really badly. It wasn't Gordon's fault and you couldn't say directly that it was Mike Parkers fault, but the bottom line was for the second year in a row it looked as if my world championship hopes were in huge trouble through trying to help out.
There was so much more besides. As holder of the silver sash, which I had successfully defended for weeks in 1964, I was keen to hang on to it for a while. There was talk of my being nominated to challenge Briggo for the golden helmet, the most prestigious match race championship in speedway There was a test match series coming up against The USSR, history to be made and I fancied my chances of getting a run in the series too.
As a speedway rider you have to accept there is a possibility all the best laid plans can be wrecked through injury. All forms of racing have that element of risk attached, which can be minimised by engaging the brain before twisting the throttle. But by its very nature, motor sport is dangerous, as the warnings in all the programmes and posters used to say. That is precisely when injuries made a mess of my 1965 season. Doing myself serious damage was shattering in more ways than one. In over 8 years I had never had worse than a bit of concussion in 1957 and broken ribs in 1958, but this was something else. The most immediate single consequence was the way it made a mess of my hopes in the 1965 world championships. Carlo Biagi speedways miracle doctor did patch me up any number of times over the next few months to help me through the qualifying rounds, then the British Semi-Final but my hopes of getting through to a Wembley final was pretty much doomed.
Carlo had almost legendary status because of his work at Peel Hospital, near Galashiels. In 1982 he was awarded an honorary fellowship at the Royal College of Surgeons a tribute normally reserved for distinguished international visiting surgeons and almost unheard of for a surgeon at a small hospital such as Peel. In 1990, he was presented with a MBE at Buckingham Palace for his services to Orthopedic surgery.
After missing 16 meetings in the first couple of months of the season, I managed to get some reasonable results but the BL proved to be tougher for the Diamonds than might have been imagined. Newcastle were good enough to win 14 and draw 1 at home but managed only 2 away wins in 17 road trips, at Edinburgh and Long Eaton in my first few weeks back in action.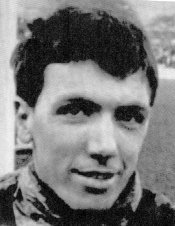 Bill Andrew had gone from 1964 replaced by the returning Brian Craven. After my Good Friday crash, Mike Parker talked Brian Brett out of a short-lived retirement, and then had to battle other tracks to hold onto him after I was fit to come back.
Mike won that fight and for a spell with Brett and myself in the team the team strung together some consistent results before injuries struck again. In the end 12th place in a British League of 18 teams was the best we could do and seven of the teams who finished behind us in 1964 now jumped ahead of us in the table. Former National League clubs West Ham, Wimbledon and Coventry made the running for the big prizes.
I managed to be 0.01 ahead of Bretty in the averages when the line up was announced for the first (1965) BLRC which was allocated to Belle Vue after their earlier success with the PLRC.This was the one last chance I had to salvage something from the year and my only time at Hyde Road in 1965. It also was the start of a sequence of tremendous occasions which signalled the end of the UK season 1965.
Most riders loved the space and speed of the track, they enjoyed the atmosphere of the old Zoological Gardens which for so long were a massive attraction in the north west of England, and the buzz created when a full house packed into the stadium was very special. I hoped for something good with which to sign off, and won my first race, but fell next time out, again aggravating the ankle and collected 5 points from my last three rides. Briggo blasted through the field with 14 points collecting his first of what turned out to be six consecutive titles and my mid table scoring just about summed up my year.
In spite of all that, everyone in Newcastle was complimentary about the way we had tackled that first British League campaign. At the end of season function at the Newcastle Mayfair Ballroom (Now demolished) 1600 turned up and made my night by presenting me with an illuminated scroll to acknowledge my efforts. I even managed to have a civilised end of season conversation with Mike Parker. The speedy upshot was an agreement on another two year deal with improved terms and built in price indexes rises.
For the first time in more than 2 and a half eventful years, our family set off for a trip to New Zealand – our first by plane. We flew via San Francisco and Fiji. I hadn't intended to ride much, but those intentions lasted only a few days. Promoter Russell Lang persuaded me to ride on the Saturday night programme at Templeton. I was keen to build up my fitness and just as a kid years before, went off to Rapaki Hills to do some running. But after a few sessions I was getting terrific pain from the ankle.
It turned out that I had been pushing myself so hard that the screws in my ankle had bent over and were rubbing against the bones. Dr McFarlane, a specialist in Papanui Road Christchurch told me it was best to have the screws removed and that turned out to be a painless and simple operation. Within a fortnight I was back in action and building up for our return. After falling sick (meningitis) at the end of my first season with Newcastle, struggling for fitness the following year, and having 1965 bighted by injury, it was desperately important for me to go through and entire English season with a clean bill of health. At last in 1966 I managed that. In the British League 1966 I upped my average by Half a point from 8.93 to 9.46, I scored my first 7 ride maximum of 21 points at Poole in a KO cup match, and it was a much improved year for Newcastle. Only one home defeat, some decent results on the road, with Peter Kelly and Brian Brett – despite some injury problems- doing a good job and a hard-working supporting cast, helped us pin down 5th place.
It was no accident that my good form in the BL, and selection for the World Team Cup and GB teams, also coincided with the first consistently successful world championship campaign. Winning the European Final at my first meeting at Wembley, and qualifying for my first world final, were achievements I would happily have settled for going into that year. At last I felt I belonged and proved that I could go well in the very highest company. It had been years in the making, and everything started to fall into place. Good for me and good for Newcastle. But it also provoked another argument with Mike Parker. While the disappointment and deception of 1964 still rankled, this was the beginning of a bigger rift which ultimately meant a parting of the ways would be inevitable.
John says: This is the end of the chapter of Ivan's book.
There now follows my take on Ivan the team man: -
---
1963-1968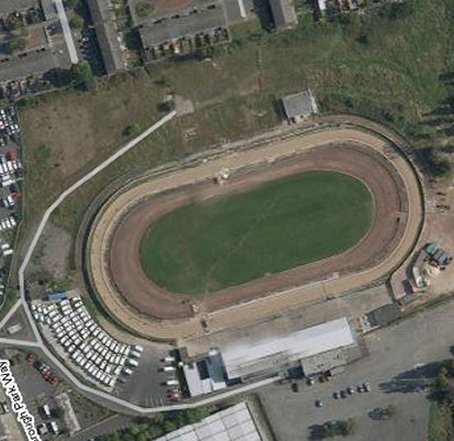 John says: Brough Park: tight corners and fast straights. Ivan has told me that mastering Brough Park served him well for the remainder of his career, throttle control around the track's tight bends and dealing with its fast straights were an education. I remember Ivan shutting off the throttle much later on the straights than other riders and he would throw his bike into a slide whilst still on the end of the straight going into the bends sideways. In my 50 yrs a Newcastle supporter I have watched many great riders, Newcastle have had 4 world champions but only Ivan rode the track this way.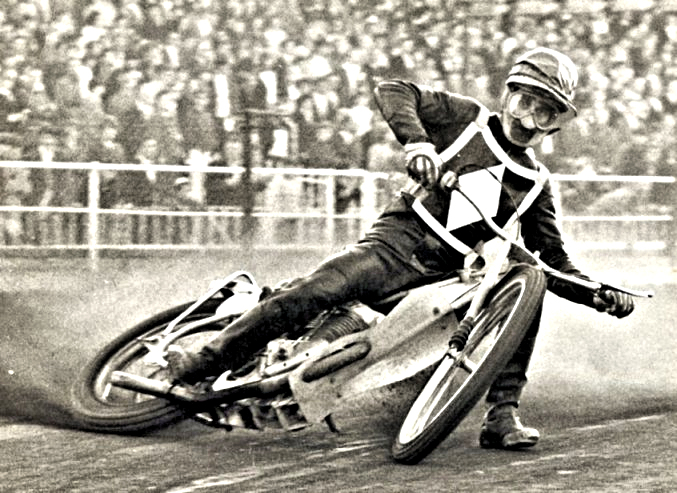 A great R Spencer Oliver shot, showing a packed Brough Park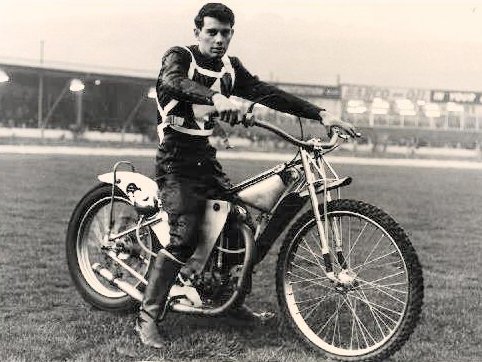 Ivan taken at Sheffield
Mauger 1963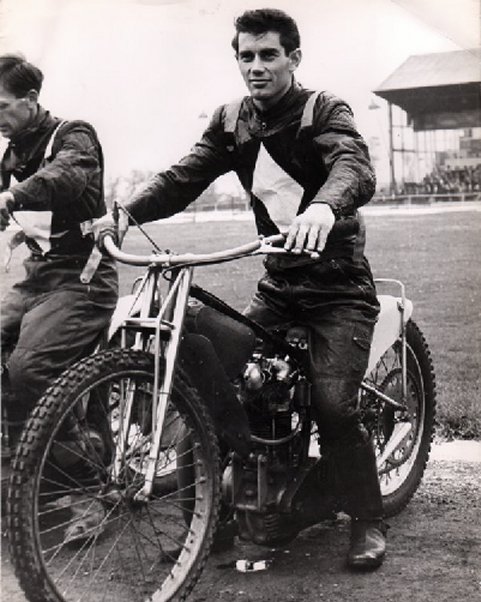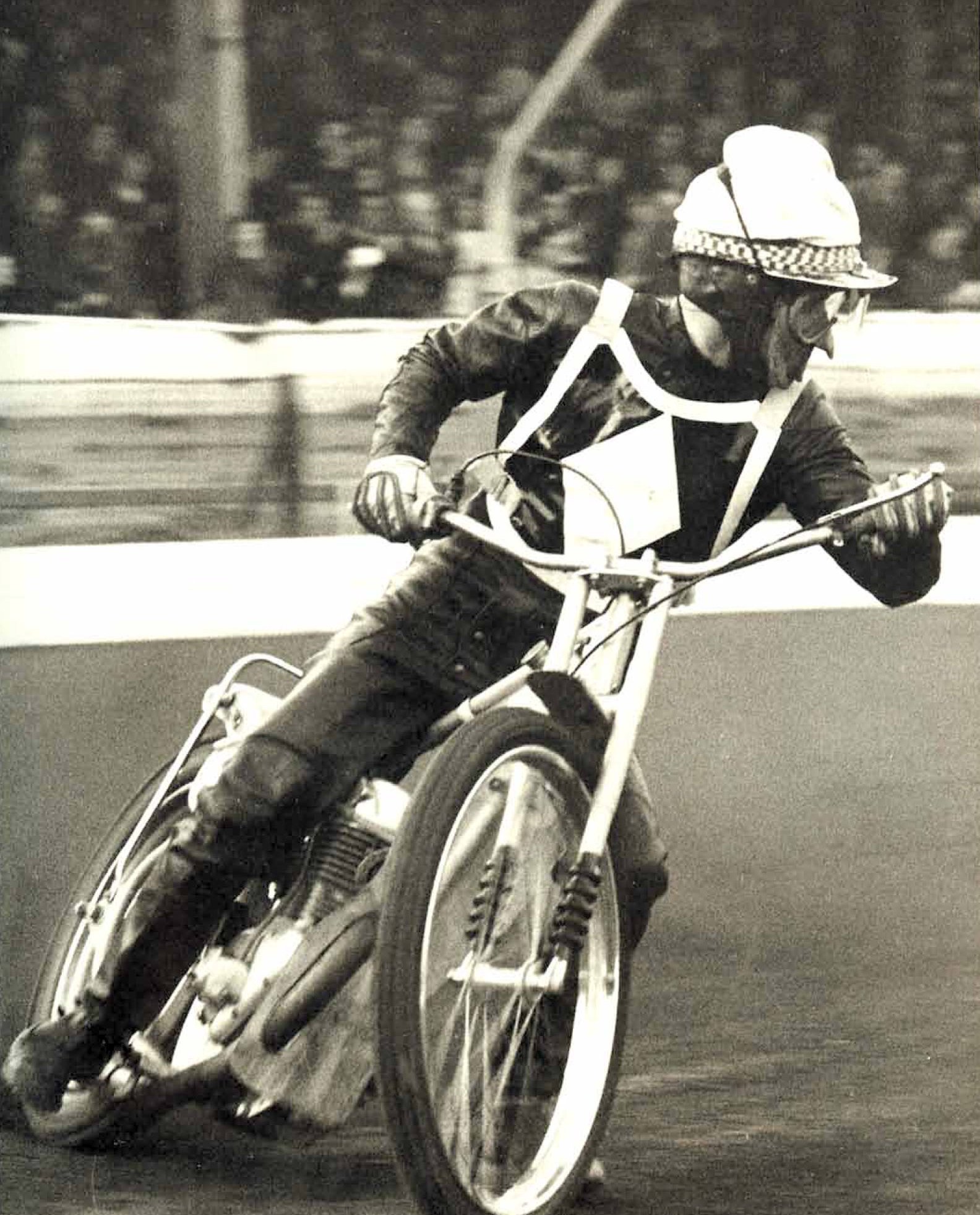 Courtesy of Ivan Mauger. Ivan has supplied most of these photos for us from his own collection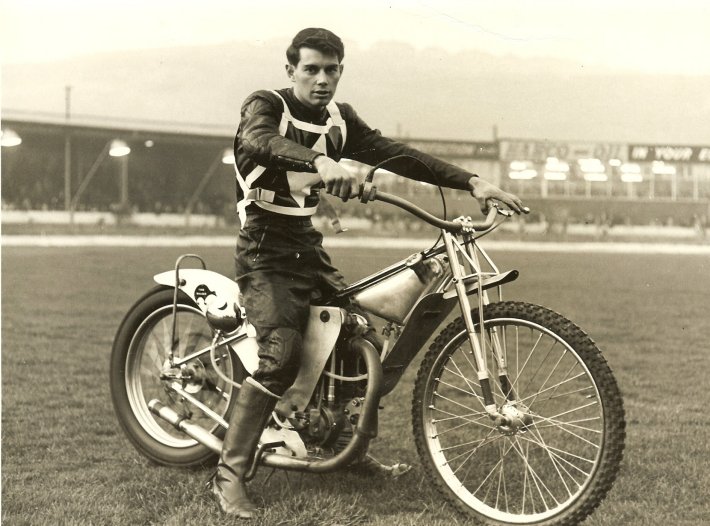 John says: He is posing on the centre green but why is the engine going? The back wheel is revolving as the clutch is out.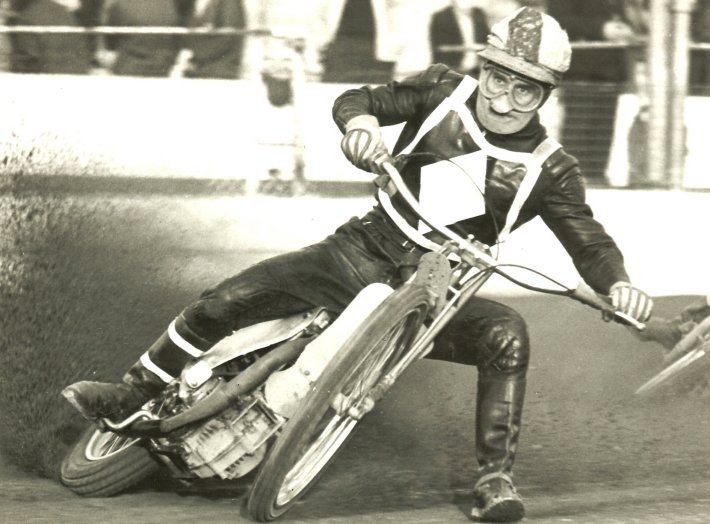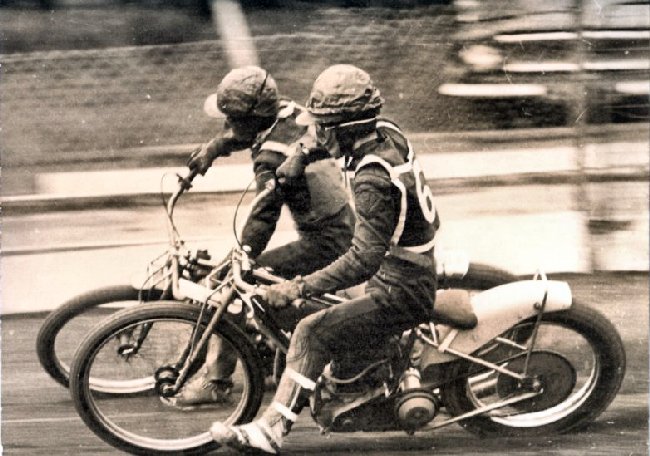 Ivan says: This 1965 photo is when I rode with my leg in plaster to do the World Champ qualifying rounds in 1965. I did not have a boot on, only the plaster and we made an oversize steel shoe to go over the plaster. It hurt a lot in the three rounds and semi-final but I was young and ambitious then. In the photo I am having a bit of a struggle with Dick Fisher from Belle Vue.
John Skinner says: An excellent photo which shows the plaster clearly. I remember going home after watching you ride with it and told my dad. We had a big argument about whether you were mad or not!!! But you survived. Big shame about that injury as you may have landed your first world title that year. Who knows what might have been? Modern regs. would not have allowed it I suspect.
Ivan Mauger says: Hi John, I was not mad, just young and ambitious and ready to put up with pain!! You are correct in modern times the boys are not even allowed an Aspirin if they have a headache before a meeting as it is deemed an outside assistance. I had lots of pain killing injections while riding in plaster. I also would not have won both Speedway and Long track World Champs in 1972 as I had broken scaphoid in my left wrist and broken bones in my right wrist and before and during both Finals I gave myself pain killing injections between my fingers on both hands. My Doc, who was the Belle Vue Doc showed me how and gave me a bag with syringes, etc. in 1965 and again in 1972.
John says: Well as the years go by the rules change and probably for the best reasons but what guts the earlier riders displayed.
Ivan was happy at Newcastle despite a stormy relationship with Promoter Mike Parker. Sprouts won the world title whilst still a Diamond but he had to move on depriving us fans of his presence for 1969. If Ivan had to go anywhere then his choice Belle Vue was acceptable to the Diamonds faithful. We shrugged our shoulders saying good bye Ivan so come on Ole Olsen and what a great replacement he was.
---
1969 -1972
Ivan moved on to Manchester, He became a member of Belle Vue Aces and went from strength to strength winning two more world titles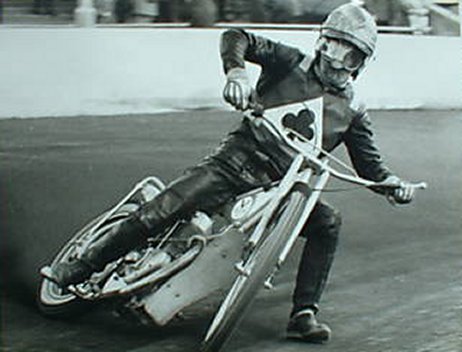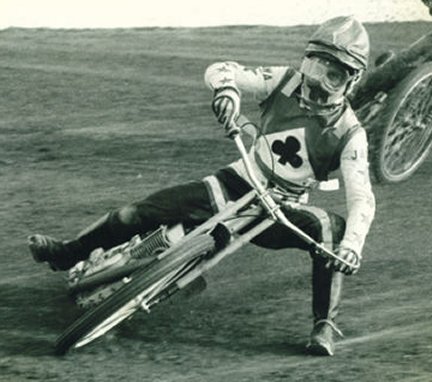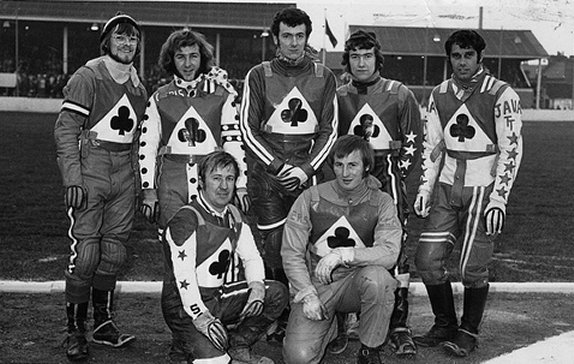 Ken Eyre, Chris Pusey, Eric Broadbelt, Peter Collins, Ivan Mauger, (front row) Soren Sjosten, Alan Wilkinson.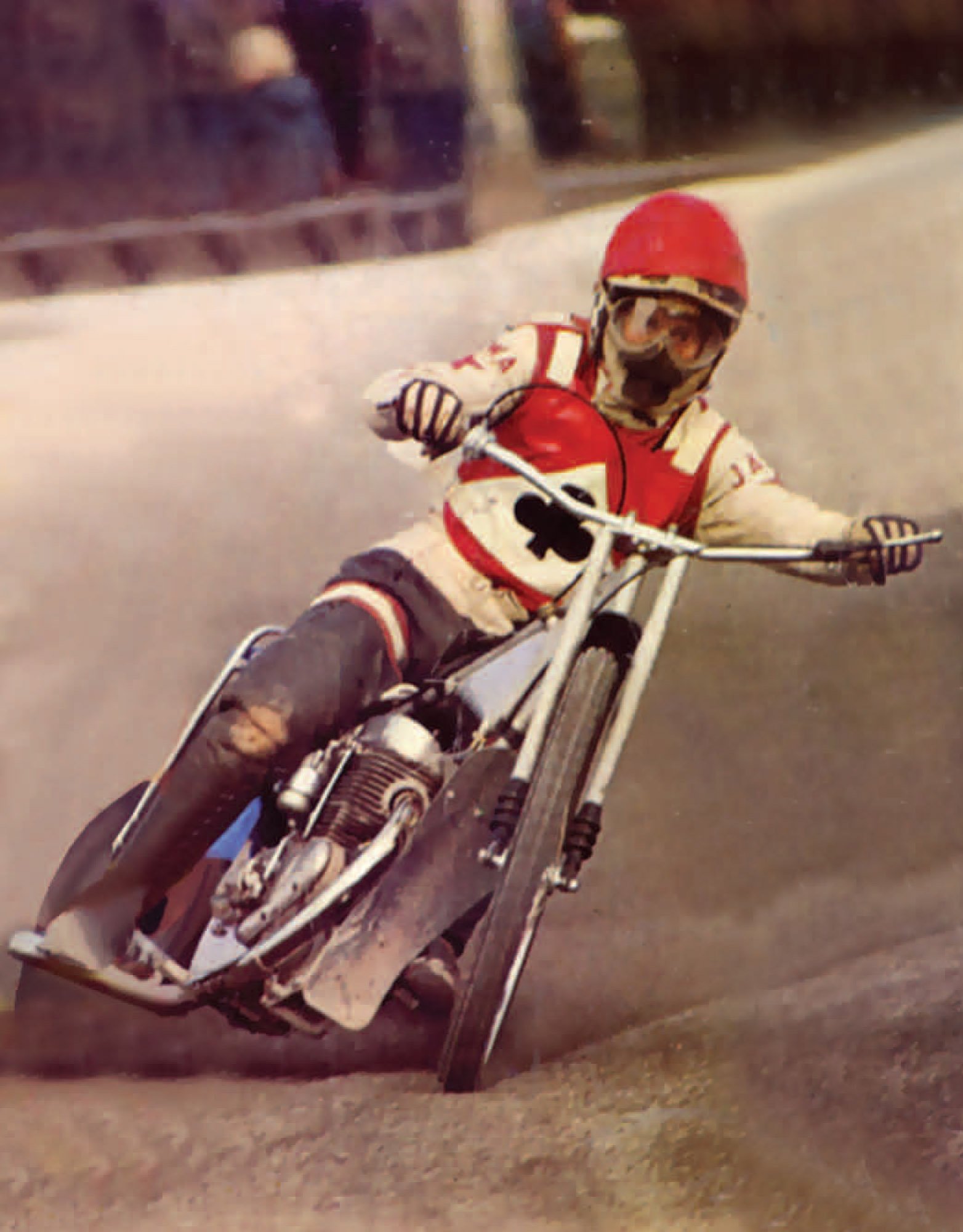 Courtesy of Ivan Mauger
---
1973-1977 &
1984 (Home Matches Only)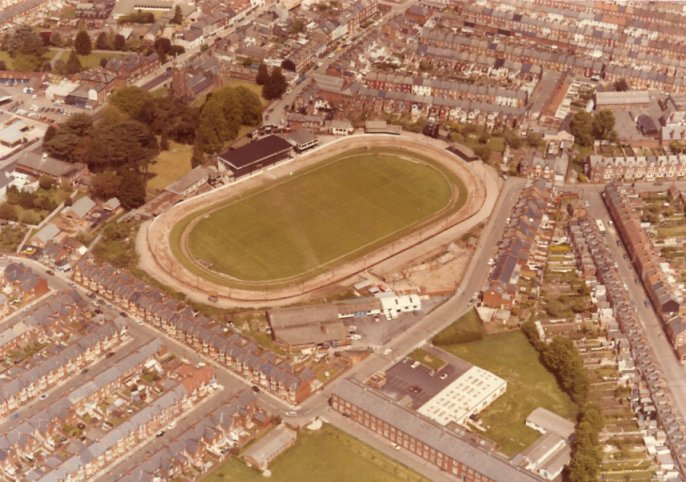 The County Ground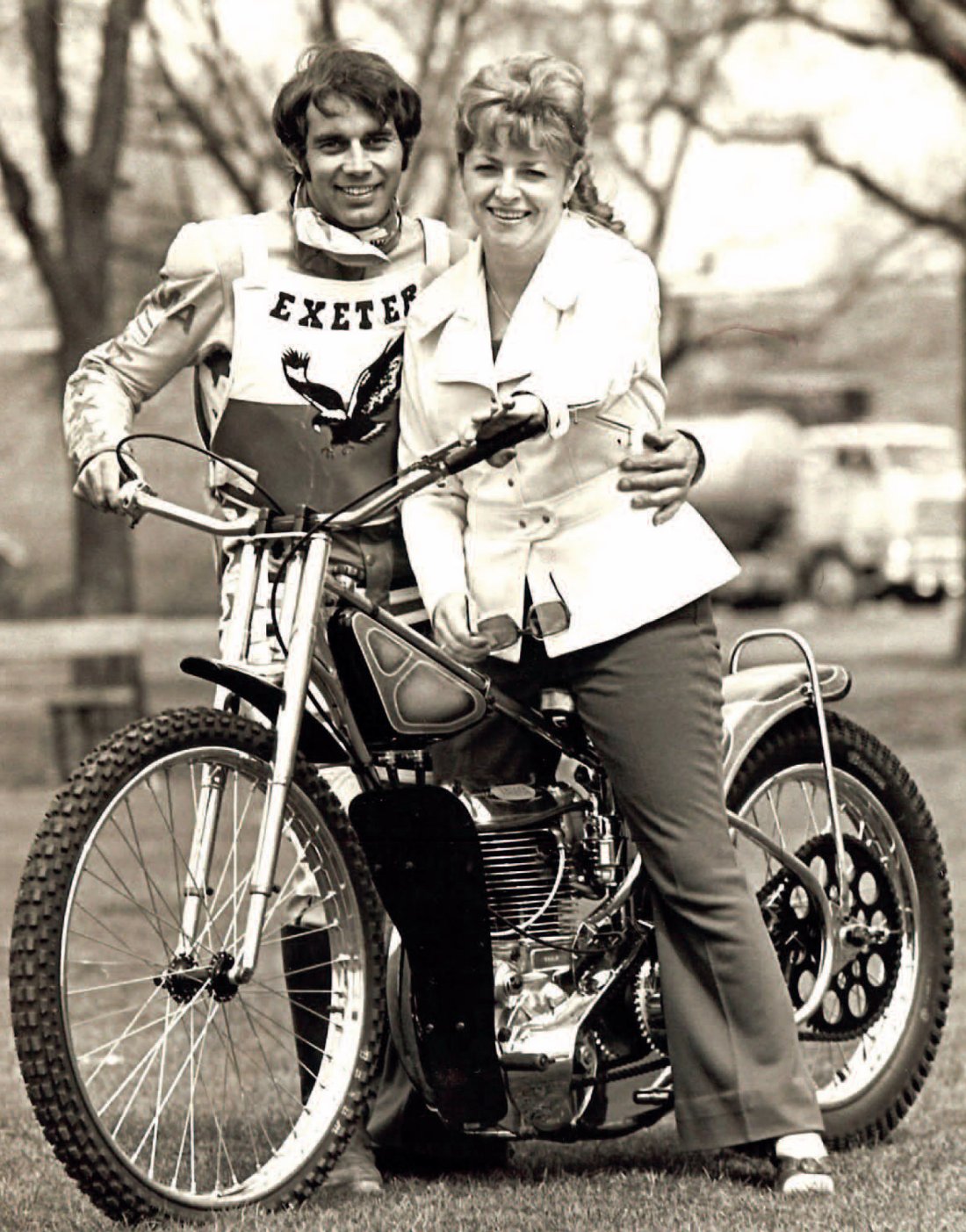 Courtesy of Ivan Mauger
Ivan spent many happy seasons at Exeter. Perhaps an Exeter fan will email me a few photos of Ivan's spell as a Falcon
John
---
1978 - 1981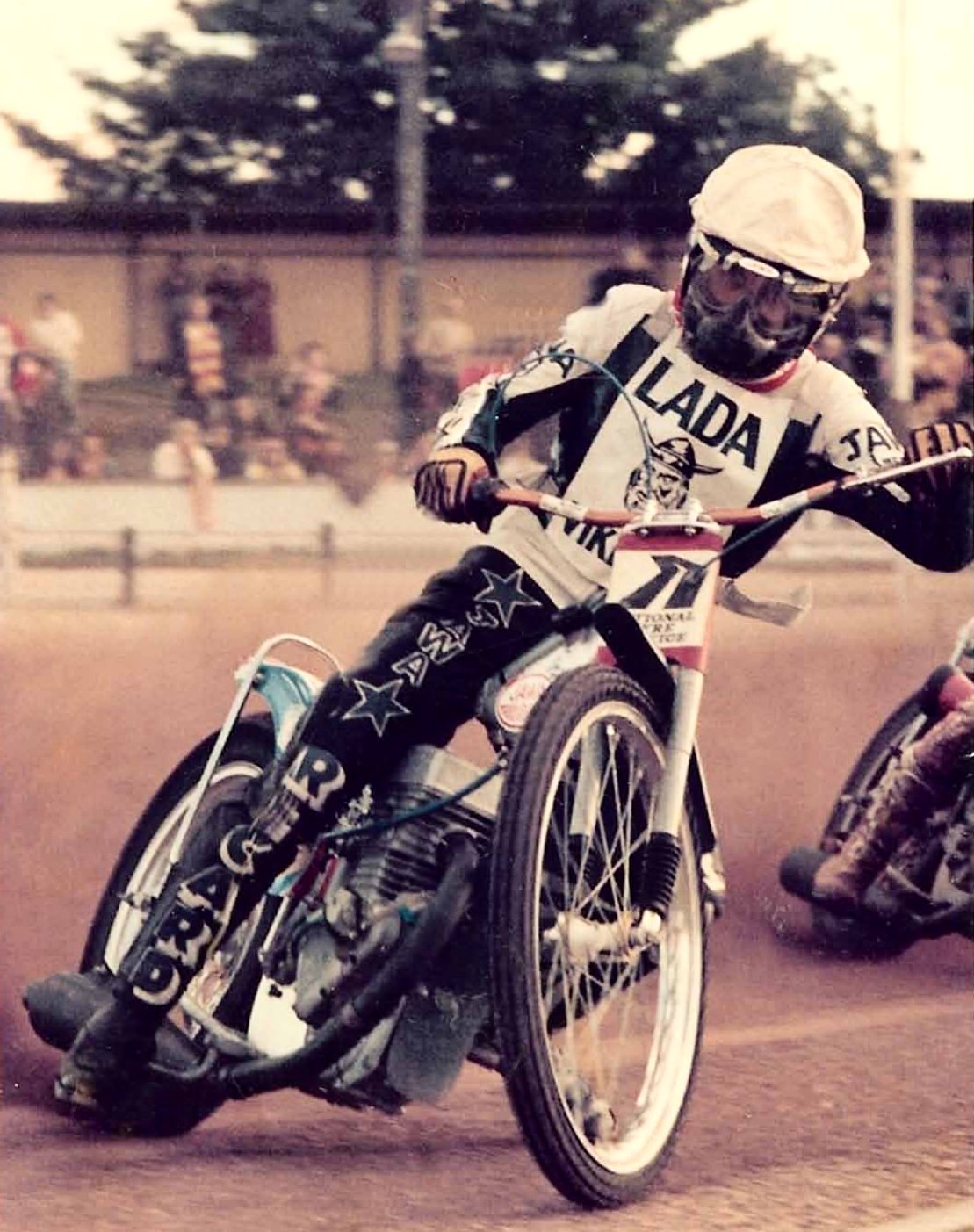 Courtesy of Ivan Mauger
Calling Hull fans if you can supply me with scans of pictures of Ivan's spell with the Vikings I would love to include them in this section
---
I know Ivan enjoyed the differences of racing long track. He mastered the long track riding art and the higher speeds of the bigger circuits and added 3 World Long Track titles to his CV. Ivan's Long Track world titles were gained as follows: - 1971, 1972, 1976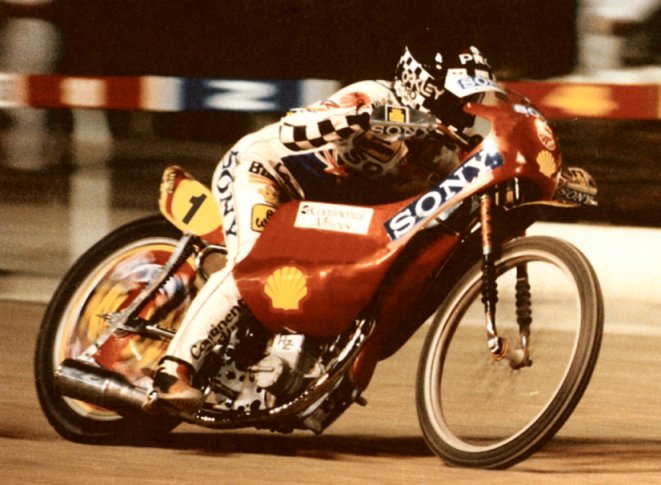 Courtesy of Ivan Mauger
I set the World Long track Record,144.666 Kph average converts to 89.89mph at Alexandra Park Auckland NZ in Feb 1986. The timing was electronic from the trotting club. This record still stands 23 years later. This bike as it came off the track and same with my leathers boots, helmet, gloves etc are in my NZ Museum in my home town Christchurch.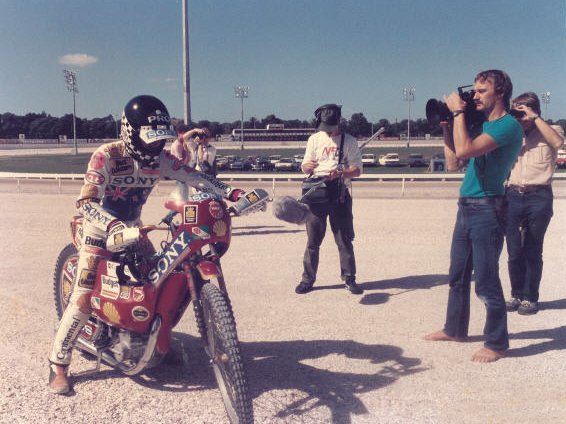 1986: Practice for the World Record. Ivan spent most of his career just a few yards from camera lenses!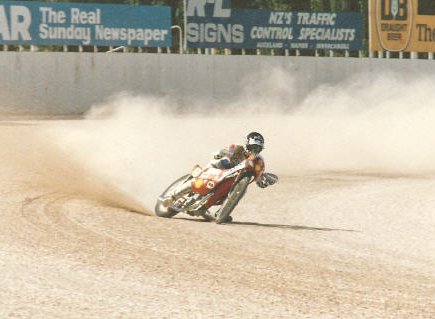 1986: Practice for the world record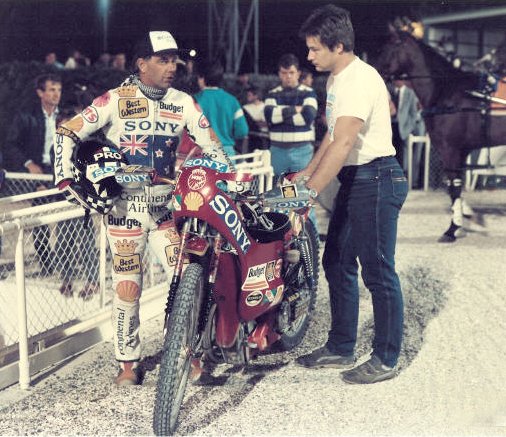 Before World Record, February 1986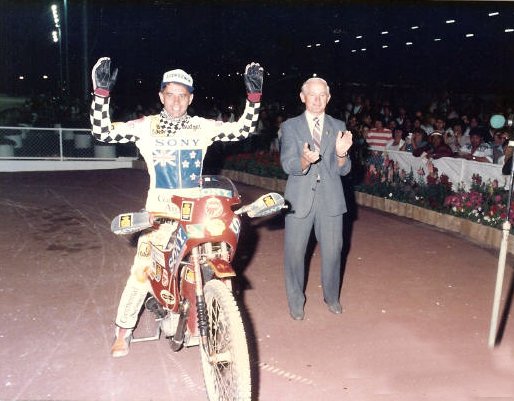 Ivan claiming the Long Track record in 1986
---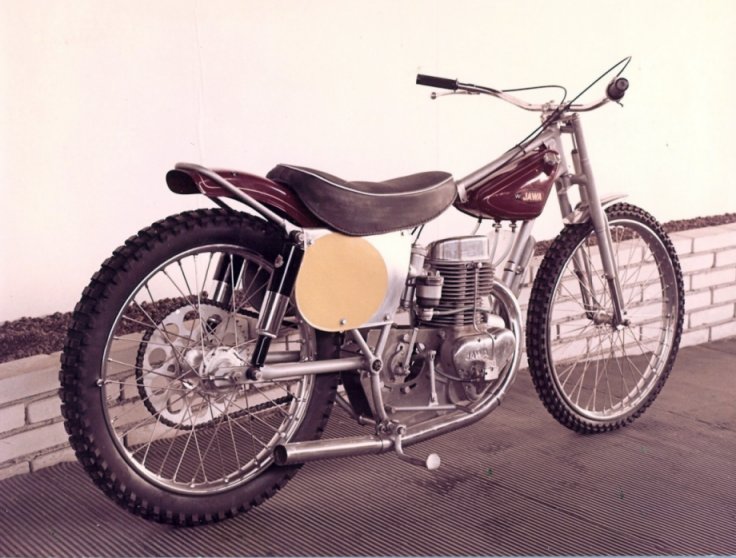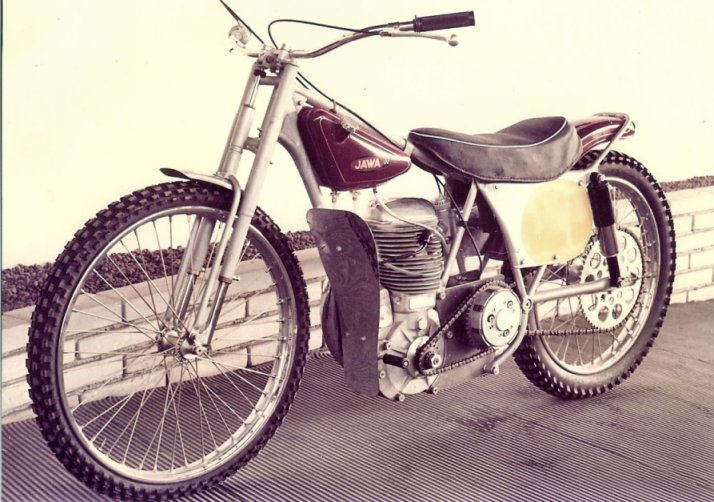 The two photos of my 1971 World Long Track Championship Factory Jawa. I won that LT Championship in Oslo. The Bike is now in my European manager's Bar in Bremen , Germany .
John says: I think Long Track bikes look better than speedway machines and I can see why Ivan has so many good memories of riding round the big tracks 100mph that's why.
---
Street / Tighe
(4 Valve Conversions)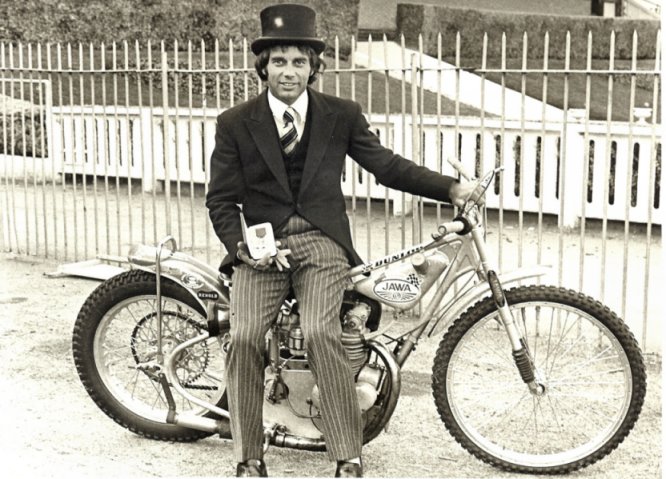 Ivan Mauger MBE 1976 with the "Street Conversion" and his medal from Buckingham Palace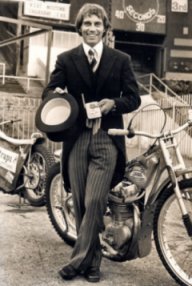 I asked Ivan if he owned any Street 4 valve engines. This was his reply: - Neil Street would not sell his conversions to me as he thought I would take it to Jawa to copy. So I contacted Ivan Tighe in Brisbane who helped Streety to make them in the first place. My Engines were not Streetys. They were made by Ivan Tighe in Brisbane. Ivan told me to send an Engine to him and he would do it. I sent him an 890 Speedway Engine and an 892 Longtrack Engine. Couple weeks later he sent them back. Jawa were not happy that I had them but they did not care much. They were not interested in them as they were developing their own 4 Valve Engine. I only used them occasionally but Won the Erterna Watch Trophy at White City on 28th July 1976. The day I received my MBE from the Queen at Buckingham Palace that's why the MBE Medal came to be on the seat. I still have both Engines.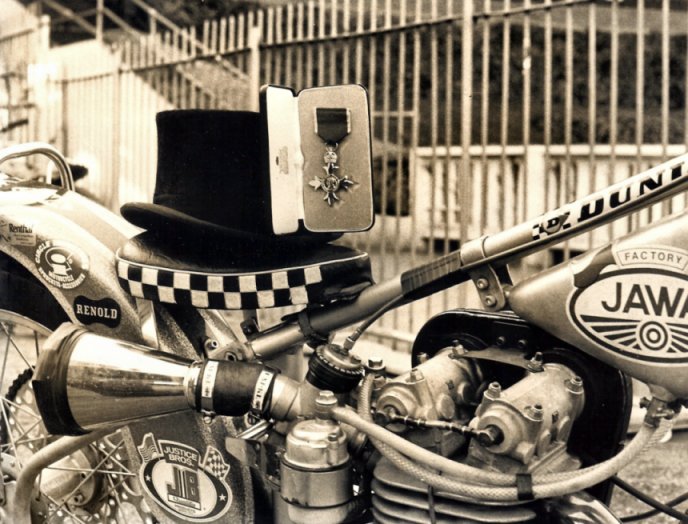 Andy Green says: Hi John, Recently found your site and I find it fascinating. I was looking through the bikes section and it jogged my memory about a bike Reg Wilson used to ride in the 70's for Sheffield. As far as I can remember it was a Jawa Street Conversion. It had a chrome plate on the left hand side of the engine (as you sit on the bike) and was devised by Neil Street I believe. I haven't seen one since and wondered if any still exist.
Giffy says : Hi John mate, yes I did have a Street motor, in fact I had two, a mark 1 and a mark 2. The mark 1 was as your correspondent stated, it had the drive chain for the overhead cams situated on the left side and the chain was in an aluminium sheet case. The mark 2 had the cam drive on the right and was a much neater set up. My mark 2 seized the first time I rode it and I chucked it under a bench and never used it again or even took it apart. At the time I was working on a Scottish trawler and simply never had time to work on my gear properly. My sponsor bought one or two 4 valve Jawas for me and I stopped riding the Street mark 1, they were quick though. I do have photos and will try and send them. Sorry to see the Maggies went down, unbelievable, and to make it worse bloody Sunderland stayed up. Many suicides?
Peace, giffy
Yes Tyneside is the suicide capital of the UK as the moment
---
Ivan's Record Breaking Bikes
The following bike pics are shown with Ivan's permission. They are part of the Ivan Mauger Australian Museum which you can visit here www.ivanmauger.com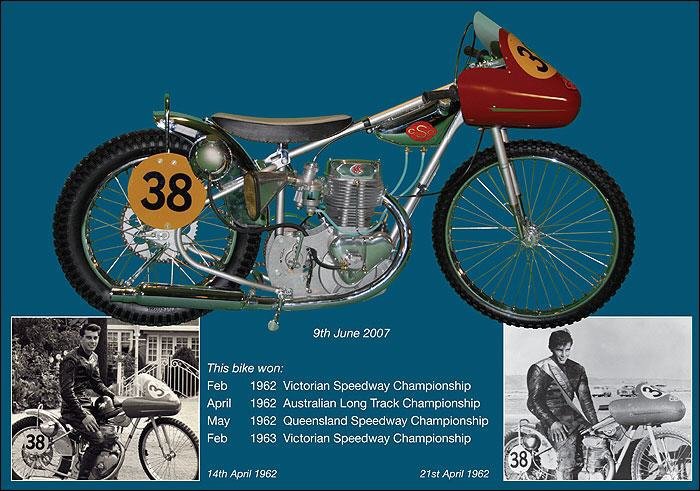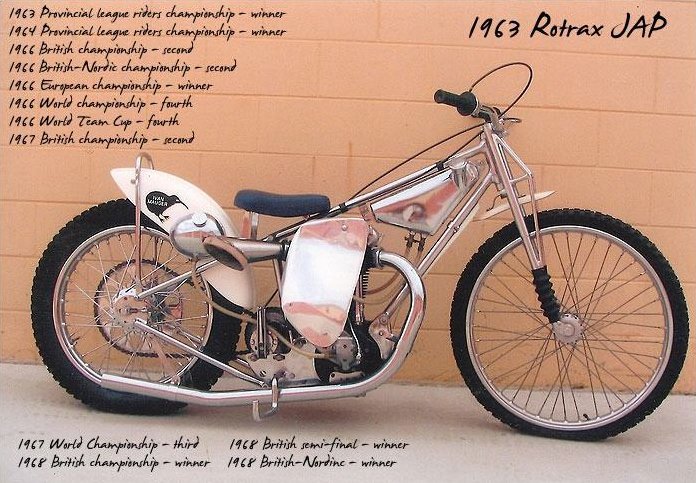 As a Newcastle fan. I remember this bike well. The rear mudguard with the Kiwi was a design classic and the Rotrax Jap was probably the greatest looking speedway bike of all time.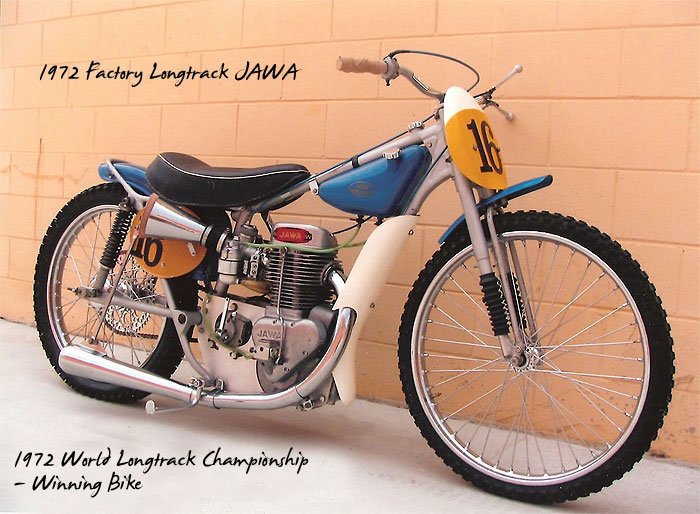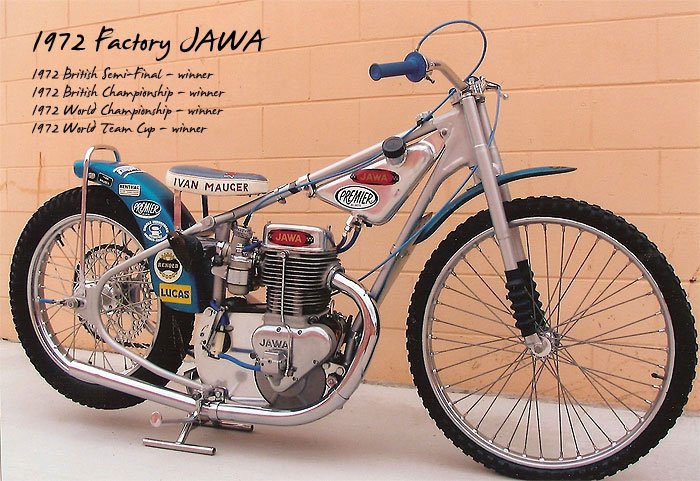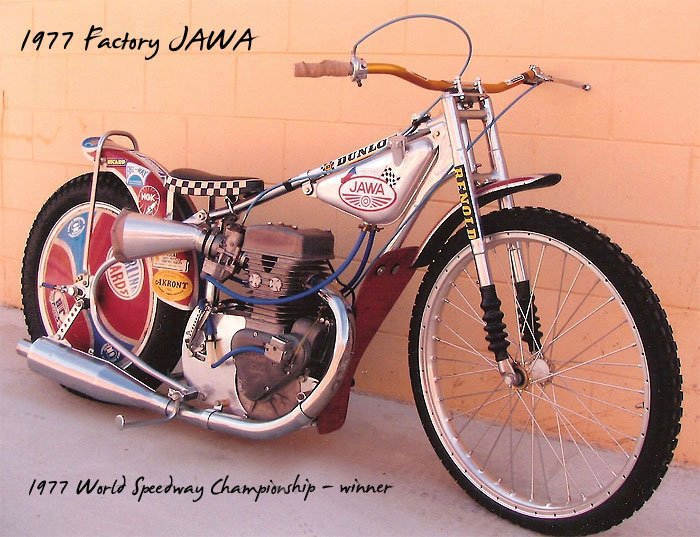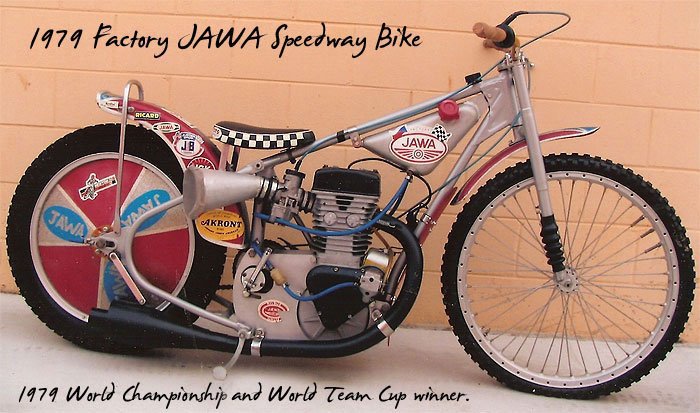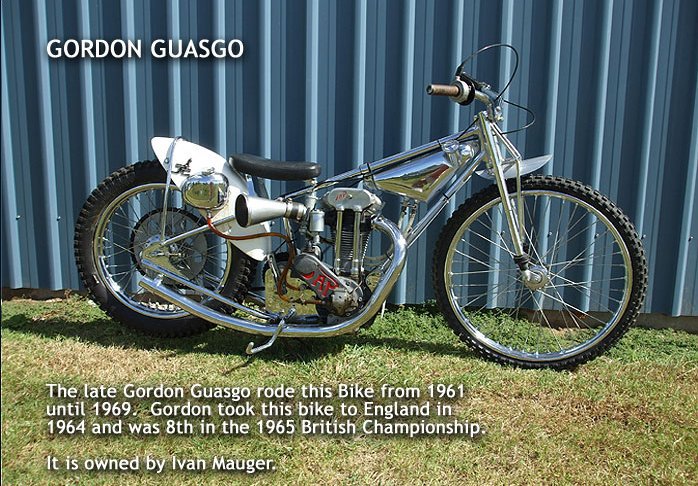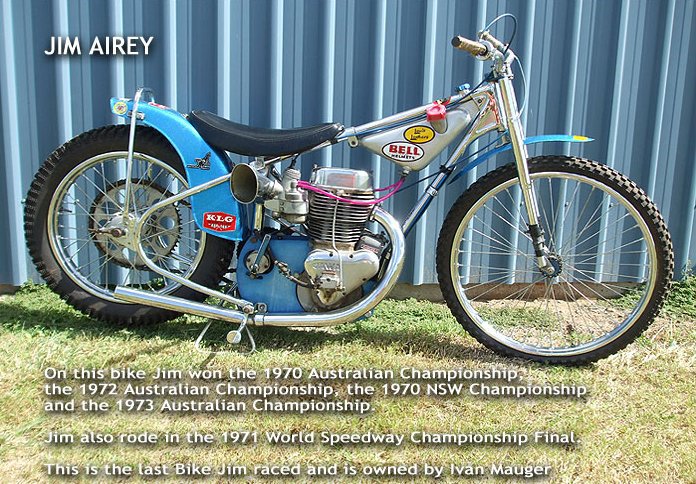 Godden LT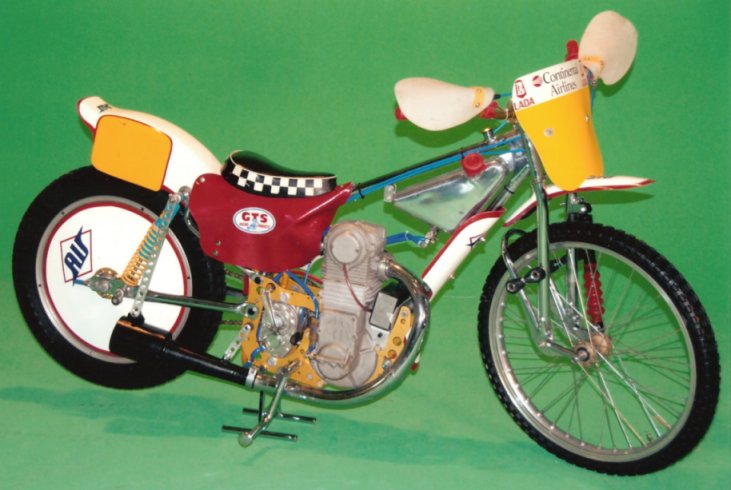 The Bike I got the Long track World Record on was one of my three HZ Long Track Bikes from my last ever long Track World Final at Esbjerg Denmark on 15th Sept.1985. I still have the other two. The Godden in the photo in your defunct tracks website is the one Kym won the NZ LT Championship on in 1995. The attached photo is another one of that.
---
Jet Ski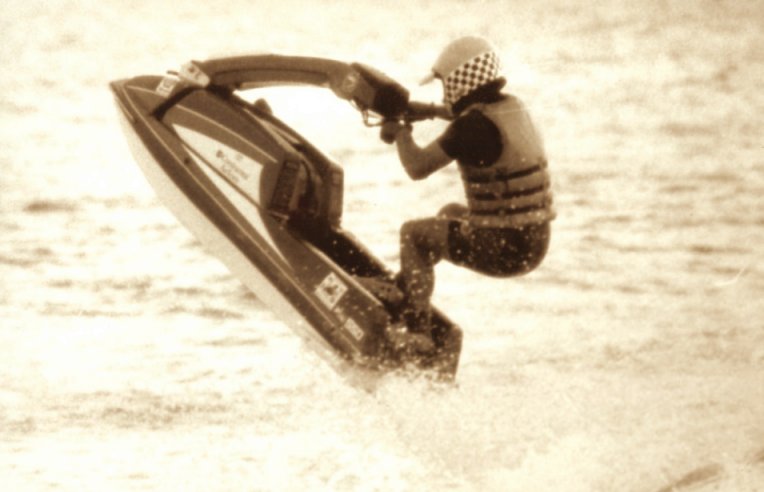 Courtesy of Ivan Mauger
Jumping over the waves at Surfers Paradise on my Jet Ski. Hi again John, I was on my Jet ski having fun on the Broadwater a few mile's from our house. You can look on the Gold Pages for our House at Runway Bay .
---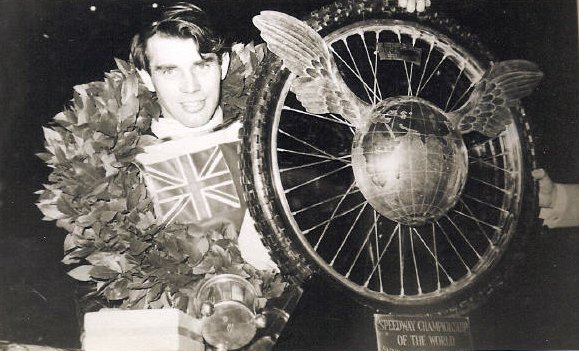 Ivan Mauger World Speedway Champion 1968. His first World Final success.
---
Gold Plated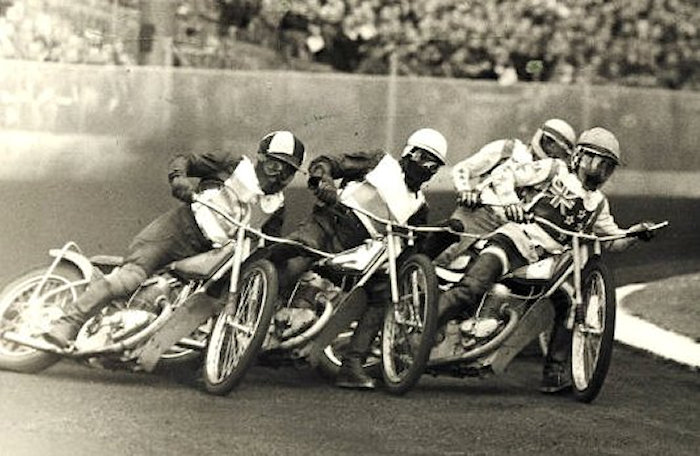 Ivan says: 1970 Triple World Championship. My Jawa shortly on its way to being "Gold Plated"
John says: I presume this photo was taking at the second bend of the opening lap? What a great photograph!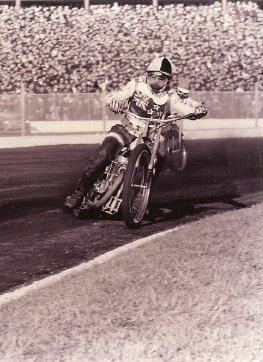 Half a lap from being gold plated in 1970
The Triple Crown Special Machine My Golden Jawa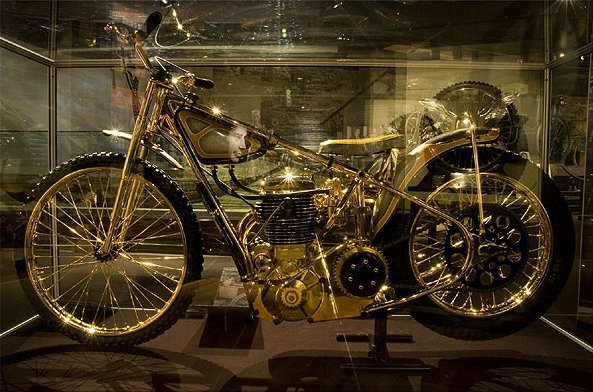 The Golden Bike 1970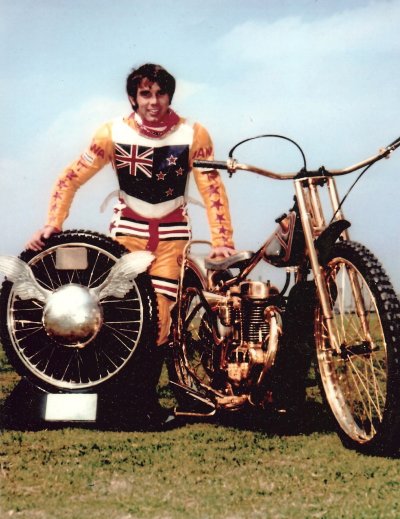 My picture of my Gold Bike that was taken outside Wormwood Scrubs Prison. I had my bike down in the Vaults to do the Blue Peter Show that I did most weeks.
John says: Ivan won the world title in 1968 and 1969 and was looking for a record breaking triple success in 1970. He was promised a gold plated bike if he could do the triple! Ivan won the title again that year and later received his famous Gold Bike for the triple crown.
2016
My

Gold-Plated Bike
Sold To
NZ's
Canterbury Museum!
Ivan is of course a New Zealander and when it was decided to sell his most valuable item the "Gold Bike" the sale was won by the New Zealand Canterbury Museum. The Museum says: The story of the world's greatest speedway rider Ivan Mauger continues today (August 2016) with the Canterbury Museum purchasing his 24 carrot gold-plated motorbike and other memorabilia.
John says: I believe Ivan's bike plus memorabilia realised 1.7 million NZ Dollars which I have translated to around £900,000 pounds sterling, (I hope my math's are right). The items may have reached more in an open auction but the Mauger family were keen for the items to stay in New Zealand.
Canterbury Museum's chairman Michael McEvedy said the Mauger Family have generously sold the collection to us "For much less than they may have received on the open market" Ivan's "Triple Crown Special motorbike, which he used to win his third consecutive World Speedway Championship in 1970 was gold plated as a bet between some speedway entrepreneurs. They agreed to gold plate Ivan's bike if he won the triple crown which he did and so his bike was gold plated. The bike will now be preserved for ever by the Canterbury Museum.
Mauger's glittering "Triple Crown Special" Jawa Speedway bike which he rode to his 3rd consecutive World Championship Title 46 yrs ago as I type, His 3rd win was in 1970. The bike was afterwards Gold-Plated as the result of a bet. His Friend in the USA George Wenn had an associate Ray Bekelman who owned an electro-plating company. The legend goes that they would gold plate his bike if he won the World title for the 3rd time, the rest is history. Ivan kept all of his world title winning machines and has sent me photos of them which are on my two websites this one www.newcastlespeedwayhistory.co.uk and www.defunctspeedway.co.uk
---
World Champion Again

1979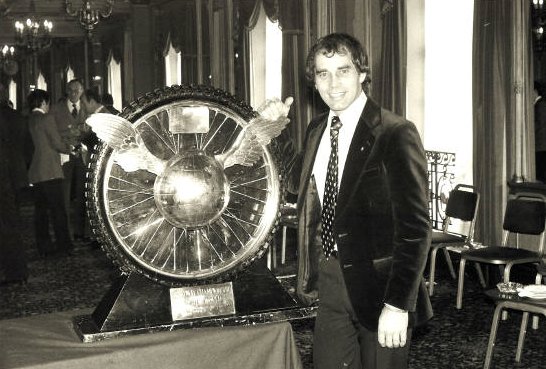 Ivan's last World Speedway Final success and record breaking too.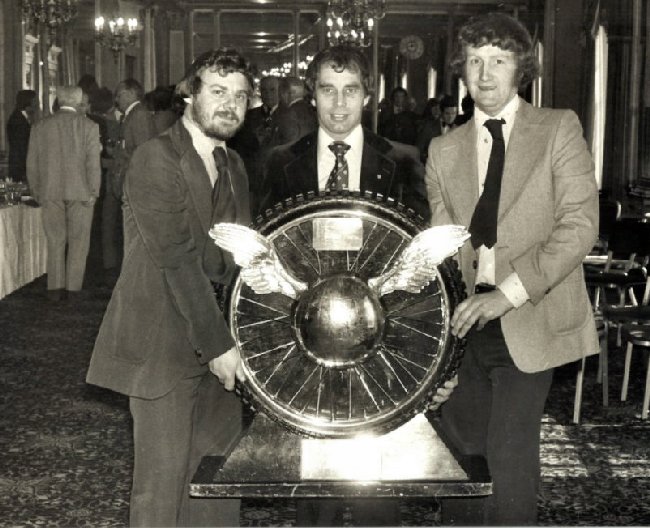 Gordon Stobbs (right) and my UK manager Peter Oakes at a function at the Sportsman club in London in Nov 1977 when the Sunday Mirror presented me with the World Championship Winged Wheel to keep to mark my 5
th
World Championship
---
Christchurch

2004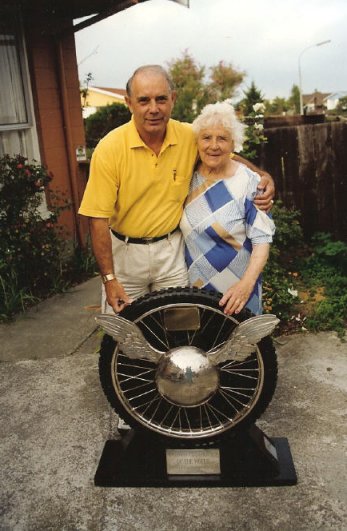 Courtesy Ivan Mauger
With my Mum - The first time I took the Winged Wheel back home to Christchurch, 2004
---
Ivan With
His Hero
Jack Young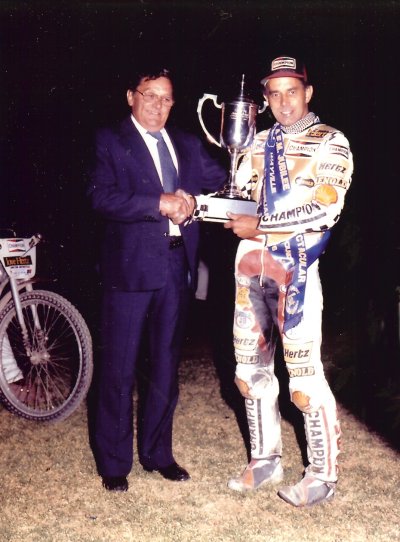 Ivan says: This is my all time favourite photo of Jack Young when he presented to me the 150 year Jubilee trophy at Adelaide in Feb 2008.That was my last ever meeting in Adelaide .
Barry Whiffin says: Hello John

Just a small point re your website. The picture of Ivan being presented with the Jubilee Trophy gives the date as 2008, is this not a mistype as Jack Young died, I think, in 1987. Kind regards Barry Whiffin
John says: Yes Barry, 2008 was the date Ivan supplied when he sent me the pic and I didn't notice the error when I put the piece on the website. So can anyone supply the year when Jack presented Ivan with the trophy. John
Barry Whiffin says: Hello John, I have looked into this and think the year was 1986.
---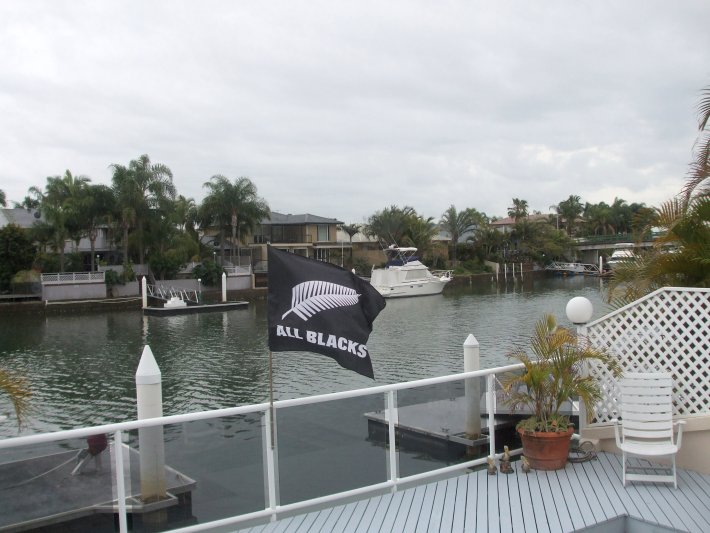 I know Ivan is a passionate supporter of NZ All Blacks. He flies the Rugby flag here at the rear of his Australian home
Ivan Mauger Part Two
---
The contents of the site are © and should not be reproduced elsewhere for financial gain. The contributors to this site gave the pictures and information on that understanding. If anyone has any issue or objections to any items on the site please
e-mail
and I will amend or remove the item. Where possible credit has been given to the owner of each item.