John Hyam

Part 2
The Atom Car
Briggo
Finland's_Antti_Pajari
Southampton's Boys From The Black Stuff
Midget Car Carnage
Wimbledon Speedway
Keith Harvey
Split Waterman/1952 Golden Helmet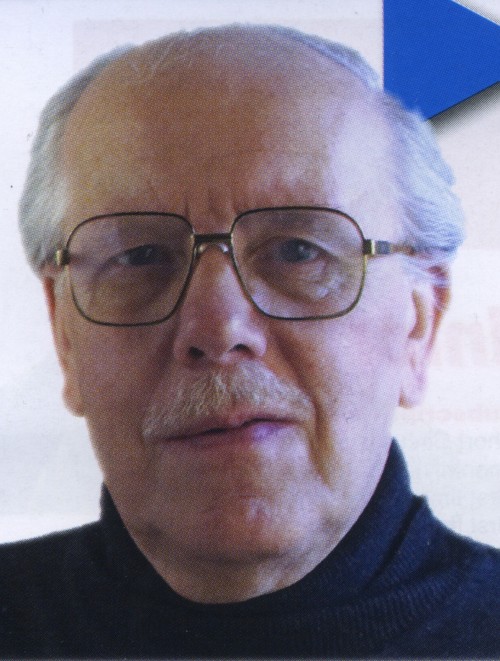 Long-time speedway journalist and photographer John Hyam.
---
Split Waterman
& The
1
952
Golden Helmet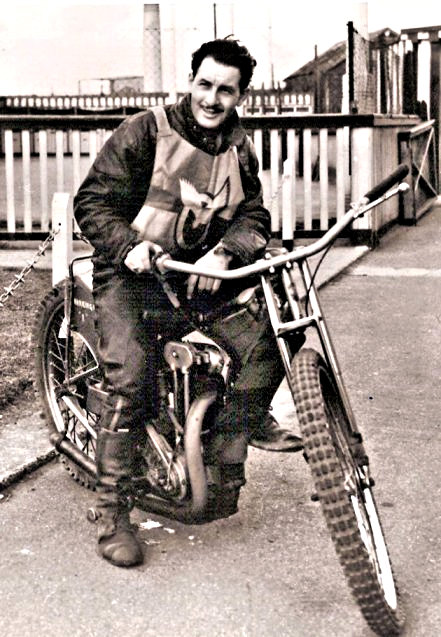 John Hyam says:-
PEDESTRIANS outside the Royal Automobile Club's offices in London's Pall Mall were forced to move aside on a sunny afternoon in July 1952 by four Harringay supporters carrying placards reading "Fair Play for Split Waterman."
It was part of Waterman's protest at what he regarded was unfair treatment in regard to the 'Golden Helmet' match race championship, then the biggest prize in British speedway after the world championship.
The hearing on July 8 1952 eventually found against Waterman, who was legally represented, for refusing to race against Jack Young after falling in the first heat of their challenge at West Ham on June 24. It had been a controversial championship event. In the first race, Waterman fell when Young went inside him. In the rerun Waterman was an easy winner.
Then, to the amazement of Waterman and an 18,000 crowd, it was announced that there would be a third race to decide the leg - the first race having been awarded to Young because of Waterman falling. Waterman refused to accept this decision and withdrew from the challenge. For this he was reported to the Control Board and severely reprimanded.
However, the fracas at Custom House was all part of a long-running saga involving Waterman and the 'Golden Helmet' going back to him winning the championship from the holder Belle Vue's Jack Parker in August 1951 and subsequently beating his first 1951 challenger Aub Lawson of West Ham.
The problems came the following season. In April, Waterman made a successful defence against Young, and the following month was due to defend against Wimbledon's Ronnie Moore. However, Waterman was forced to withdraw from the tie and the championship was declared vacant. This was in accordance with a Control Board rule that if a champion was unable to defend within four weeks of his previous defence the title would be declared vacant.
The crucial dates were that Waterman had defeated Young in the second leg on April 25 and was set to face Moore for the first time on May 26. He asked for dispensation of one week to recover from injury. He then went on to meet Young for the vacant title in June which resulted in the controversy. An appeal by Waterman and Harringay about what happened at West Ham was rejected by the Control Board. The subsequent Board hearing, at which Waterman engaged the placard supporting Harringay fans, found him guilty and he was 'severely reprimanded and warned as to his future conduct.'
The passing of the years, however, endorses the fact that Waterman was harshly treated and should, in all probability, have won his appeal. It is now known that an announcement was made to the crowd that the first heat between Waterman and Young would be rerun, whereas the referee had already made a decision to award the race to Young.
When the race was restaged, both riders started off the same gates as they had in the unfinished heat. If the restaging had in fact been a bona-fide second race both riders, according to he rules, should have started off alternate grids.
The award of the race to Young brought to light more conflict in regard to the referee's action. Under the rules, if the race had been stopped because it was felt a rider was in danger it should have been restarted, while if Waterman was the cause of the stoppage he should have been excluded from the restart.
Over the years, the evidence makes it clear that Waterman was unfairly treated. For its part, the Control Board seemingly ignored what evidence there was in Waterman's favour, and it looks substantial, making a decision that, to put it mildly, very harshly treated the Harringay star.
---
The Atom Car
Allard Midget Cars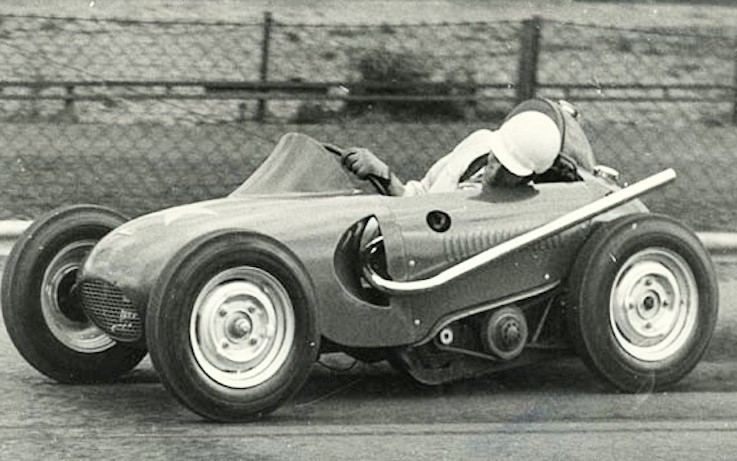 Courtesy of John Hyam
Cyril Brine at Rayleigh testing the 1955 Atom Car
John Hyam writes:

In the mid-1950s, stemming from Wimbledon speedway, there was an effort to popularise midget car racing as a part of the second-half of speedway meetings.
Former Eastbourne and Wimbledon rider Alan Brett, who was involved in the venture, recalls what happened in regard to what were known as the Allard Midget Cars. He said, "I remember them well and world speedway champion Ronnie Moore turning one over at practice one Tuesday morning and breaking his collar-bone.
"At the time, I lived in a flat at Wimbledon that had previously been the home of Trevor Redmond, who was also keen on midgets as well as his own speedway career. The main developers of the Allard car were Stanley Allard and Charles Batson."
Years later, Chris Humberstone of Allard Motorsport said, "A meeting between Stanley Allard and riders and management was held at Wimbledon to discuss the possibility of building a small car for use on the dirt.
"The popularity of speedway racing was waning at that time and it was thought that, perhaps, car racing would bring back the crowds. Mr Gill Jepson was called in and working from a few pencil sketches by Sydney, he built up a chassis, using light channel-selection steel. It had a 3ft front track and a straight tube axle mounted with two quarter-eliptic springs and radius rods, while the rear was unsprung, using an axle-tune mounted between thrust races on each side of the frame."
Humberstone explained, "The rear track measured 2ft 9in, and the tiny wheelbarrow wheels were driven from the centrally mounted engine by chain and sprockets. As with the speedway bikes, there was no gearbox, but a final-drive shaft sprocket was designed for easy removal to permit quick changes of ratio.
"The wheelbase was 4ft 6ins and the completed car and it light aluminium body weighed just 278lb. Painted in bright colours and named "The Atom", it was put on a raised dias at a Wimbledon speedway meeting, and shortly in October 1955 after was tested on an empty track by speedway star Ronnie Moore.
"It went quite well, though suffering from insufficient head of petrol from the tail-mounted gravity-feeding tank. A pump was fitted, driven off the axle shaft and performance was much improved,. But after several laps Moore overdid things on one corner and the car overturned with him breaking his collar bone."
Humberstone concluded, "Not surprisingly, his interest waned a little after that and as further tests at Rayleigh with another Dons' rider Cyril Brine driving showed that passing would be difficult and the first man away would usually win, the idea was dropped."
Gil Jepson, who played a major role in designing 'The Atom' added, "It was fitted with a JAP speedway-type engine, but the problem was with the springs which were similar to those used in the Frazer-Nash racing sports car. Even on the straights these tended to cause a sideways movement.
"Ronnie Moore had problems when testing the car and generally we decided that the project was not suitable and the venture was abandoned."
In 2002, thanks to the efforts of Reg Fearman, Ronnie Moore was reunited with 'The Atom' when he was taken to meet its owner, the former Aldershot and Eastbourne rider Jack Taylor.
As a footnote, in the same period as the Atom Car trials were being held at Wimbledon, other tests were taking place at Rayleigh where Dons' captain Cyril Brine was the driver while his brother Ted looked after the mechanical side.
Ronnie Moore
In The Atom Car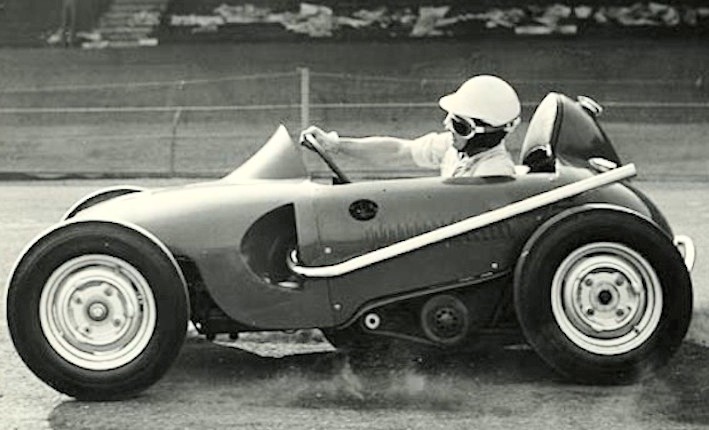 Courtesy of John Hyam
Ronnie Moore Reunited With The Atom Car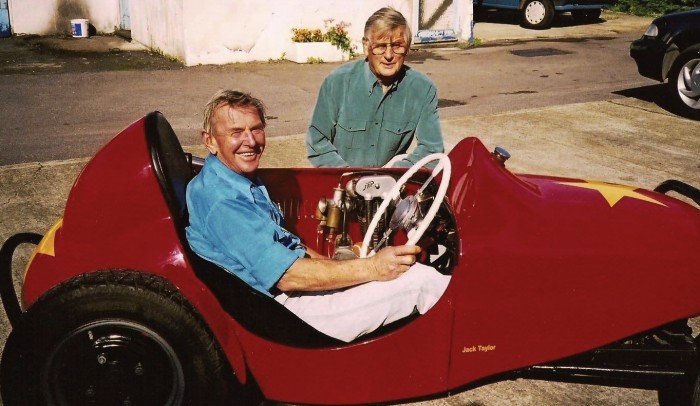 Ronnie Moore is reunited with the Atom Car. Also seen is the car's owner, former Aldershot and Eastbourne rider Jack Taylor. The photo was taken by Reg Fearman.
John Skinner says: A great photo showing the JAP engine mounted in the centre of the car alongside the driver. Health & Safety would probably rule this out in modern times.
---
Barry Briggs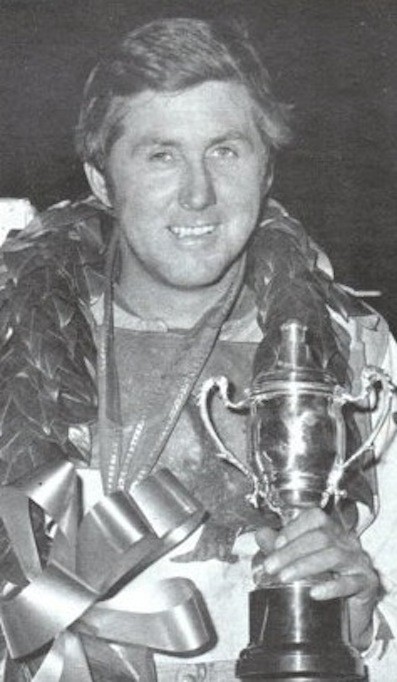 Barry Briggs in 1969
It is amazing the topics that come up for discussion when you are traveling home from a speedway meeting.
A case that often springs to mind was a journey from Oxford to London with Barry Briggs. I cannot remember much talk taking place about speedway, but I still recall the passionate interest we both had at that time in the American nuclear-powered submarine USS Nautilus.
It was in October 1958, and we were both enthralled at the bravery of the crew and their exploits earlier that year. Just to refresh the topic: the submarine left its Pacific Ocean base at Pearl Harbour in Hawaii on July 28 1958. It then went through the Bering Straight and under the Arctic ice to arrive at the geographic North Pole on August 3. From there, the submarine continued its journey to Portland on the south coast.
At the time, I was collaborator with Briggo on a series of articles that appeared under his name in 'Speedway Star'. Often, I needed to share a topic with him, but I am certain that our chat about the Nautilus never got an airing.
I first became deeply involved with Briggo in 1956, when he opened a record shop in Mitcham and part of the deal for his article was a contra-advert in the 'Speedway Star.' In those days, rider-articles were a popular part of speedway journalism and 'first person' articles were greatly loved by the Star's readers.
Others who I worked with in a similar capacity included the Swindon riders Neil Street (a really wonderful man) and Ian Williams, as well as the Ipswich rider Bert Edwards. In the latter 1950s, I also co-operated with that great old-timer Phil Bishop on a series about his pre-war memories.
I doubt very much if modern speedway fans would have much interest in works of this type. But the world was then a very different place. On reflection, I think that, in many ways, the speedway of the 1950s and early 1960s was a much different sport to that presented in these modern times.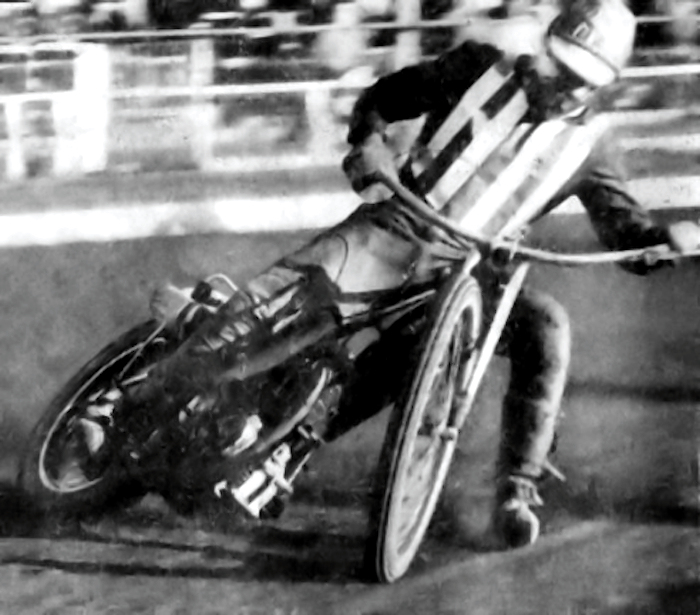 Briggo riding for Southampton
---
Keith Harvey
South African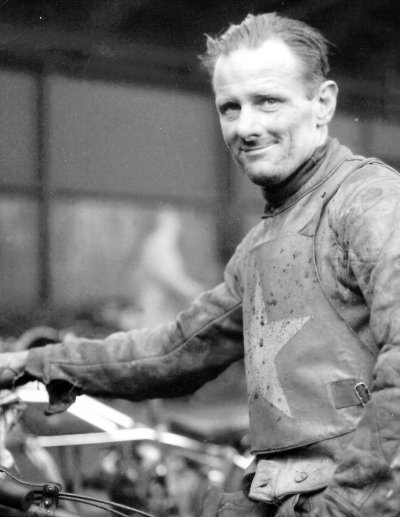 Courtesy of J Spoor
BY JOHN HYAM
I became interested in Keith Harvey in May 1946, the year that I discovered speedway. He was signed by New Cross and the item by Jim Stenner in the London 'Evening News' surprised me. It said Harvey, the pre-war captain of the 1939 Crystal Palace team, was to make a come-back for New Cross at the aged of 50 years. I was then 13 years old and my father was just 44 - I could not believe there was a speedway rider anywhere older than that!
Harvey was a South African who started riding speedway when he arrived in England in 1928. He was a well-known motorcycle rider in his homeland - he took part in a 500-mile race sometime in the early 1920s and was among the finishers in a snowstorm.
I next read an item on Harvey in a book by Eric Linden. This said he did not get on to a speedway bike until he was 32 years old, but in the sport's early days had been 'one of the showmen legtrailers' at Stamford Bridge. Pre-war he also rode for teams including West Ham, Wimbledon and Birmingham.
In 1939 he rode for Crystal Palace in their brief spell in the National League Division Two. When they closed in mid-season he signed for Norwich, to whom he was allocated in the post-war rider pooling in 1946 but never rode for the Stars. In 1946, as a New Cross rider Harvey varied between being the first reserve and sometimes in the full-team, where most times he was partner to Ron Johnson. Harvey started the 1947 season as a New Cross rider, but the advent of younger riders like Ray Moore, Jeff Lloyd, Ken le Breton, saw him drop down to the second-half. He made his last appearance before retiring in June that year.
Eventually, Harvey returned to South Africa and lived in Durban, where he was a frequent visitor to the pits of the famous Durban Hornets. In pre-war years he was probably South Africa's best known speedway rider. Ironically, Harvey never raced on a speedway in his homeland.
Keith Harvey died in 1972 and was buried in his home town at Verulaam.
---
Antti Pajari
Finland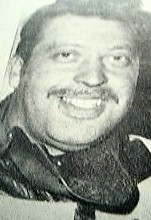 On a dramatic night when he made his first London appearance in early 1959, Finnish rider Antti Pajari gave new meaning to the phrase 'spectacle.'
To say that his trackwork was 'wild and wooly' is putting it mildly. Pajari just wrapped on the throttle and kept going at full-blast. He had just been signed by Coventry and they chose to parade him before Wimbledon's discerning fans.
The older Plough Lane spectators had not seen anything like the Finn's 'scrape the safety fence' style of riding since the early post-war seasons when Oliver Hart and Lloyd Goffe had given them a taste of 'hold-on-for-dear-life' riding.
He was the first Finnish rider to appear on a British track, and actually was Coventry promoter Charles Ochitree's second choice of taking a rider from this speedway outpost. First in line had been Timo Laine who. in the 1957 and 1958 seasons, had emerged as a leading performer in European racing.
Laine was not a 'no hope' foreigner but a performer of great style and ability. The legendary Australian rider Jack Young once summed Laine up to me as 'a really class act.' But, like so many Scandinavians, Laine was also heavily involved in the lucrative European long-track scene. And the money to be made there was more than could be gained from just concentrating on speedway.
For some months during the 1958-59 winter, I was an "unofficial go-between" for Ochiltree with Laine's agent. When his asking price to join the Bees was not met, up came the name of Antti Pajari. I was told, "He's not such a smooth rider as Laine, but you'll find he is fast and fearless." As was subsequently proved after he finally settled for a deal to race a full season for the Bees, that was something of an under statement. Fear when on the track didn't seem to be part of the Pajari scheme of things when racing.
He arrived in England at Easter 1959, on the back of a reputation of being his country's national champion in the 1956, 1957 and 1958 seasons. That didn't mean a lot, because there was no yardstick to assess Finland's race standards against those in Britain. But, with the opinion of Coventry's one-time Swedish Peo Soderman also singing his praises, Pajari was a new kid on the block for the 1959 season.
When he turned out for the Bees at Plough Lane and demonstrated his fence-scraping despite not scoring a point, Pajari made the headlines in several daily newspapers the next day. The Fleet Street brigade however made one glaring error - they described Pajari as 'the Turkish speedway champion. Perhaps it should have been 'The Flying Finn'!
Off the track, Pajari was a colourful, hard drinking character. His special love was vodka - and it didn't seem to affect him, no matter how many he downed! At Coventry, Pajari became an adequate and ever-improving second string rider with the ability on some nights to be among the top scorers.
When the end of the season arrived, Pajari had done enough with a near five points average to convince promoter Ochiltree he was a must for the 1960 season. But Pajari's British reputation had preceded him to the continent, and the lure of big money earnings on the long tracks - which over the years deprived British speedway of stars like Norway's legendary Basse Hveem and the German aces Josef Hofmeister and Egon Muller - also attracted Pajari.
Pajari held out for terms that Coventry declined to meet. It meant that the Finn slipped out of the Coventry scheme as a one-season wonder with a budding talent that was not to be seen again on a British raceway. Some experts went so far as to say the rider's decision to stay out of British speedway prevented him from probably claiming the honour of eventually being the first Finnish rider to appear in a World Championship final.
In Europe, Pajari increasingly contested the big long-track and grass track meetings with their high pay rates. In the early years of the 1960s, speedway became a second-fiddle to his motorcycle activities. His name, however, appeared regularly as one of his country's leading riders in both world championship and World Team Cup meetings until 1965, when he retired to join fellow countryman Timo Laine in the spectacular world of power boat racing.
Pajari's departure from British speedway came at a time when the sport was very much in recession and was in dire need of riders with his breath-taking and forceful style to keep the turnstiles clicking.
---
The "Boys
From The


Black Stuff

"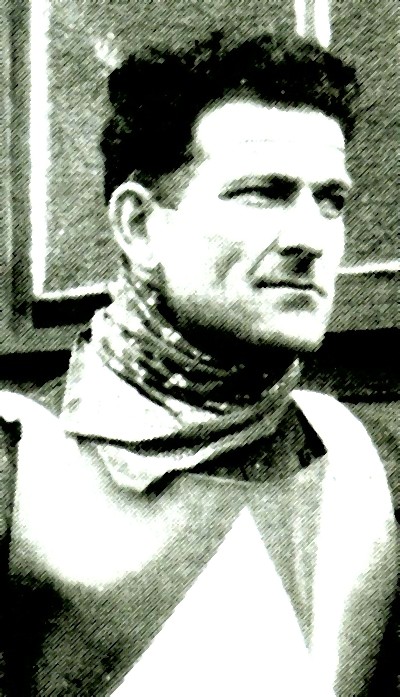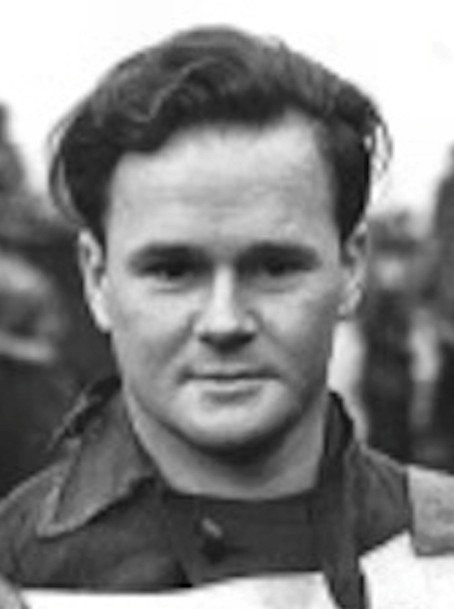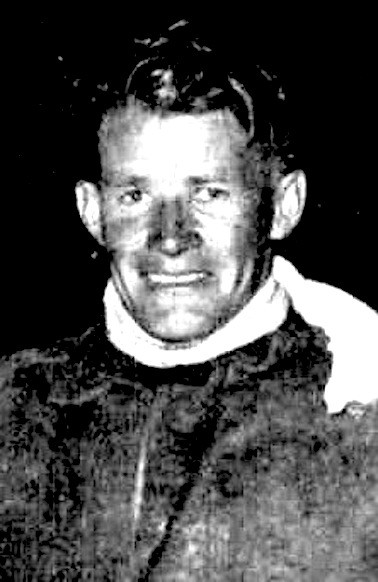 Courtesy of John Hyam
Mike Tams in Newcastle Diamonds Race Jacket, Ern Brecknell centre and

Brian McKeown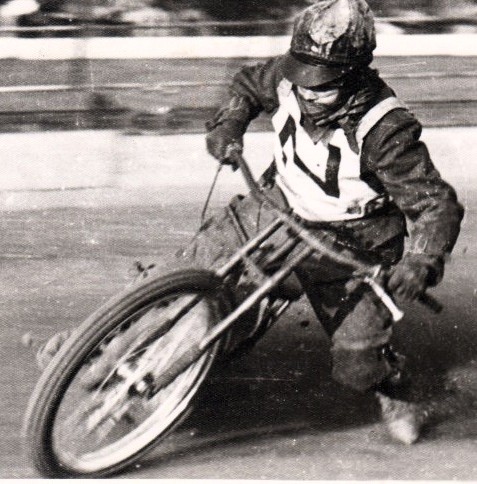 Australian Ern Brecknell pictured in Newcastle Magpies livery
They don't make 'em like this anymore! And that's a pity!

Three of the most colourful perormers for Southampton in 1952 and 1953 were Ern Brecknell (Australia), Mike Tams (Canada) and Brian McKeown (New Zealand).
When they weren't on track scoring points for the Saints, the trio worked part-time laying tarmac on various road building schemes in the south of England. Off-track, they were a hard living but kindly trio and enjoyed something of a folklore reputation with Baninister Court fans
One anecdote I like about them is that, to help defray the cost of paying rents, in the warmer summer months they would 'camp out' under the Southampton grandstand. When the colder autumn and winter months arrived they decided to "go indoors".
This was done by them buying a small garden shed and erecting it as their living quarters in a far corner of the Southampton car park. It was not a venture fully approved of by their promoter and stadium owner Charlie Knott. But he never gave them an eviction notice.
---
Midget Car Carnage
Gerry Hussey & Jack Parker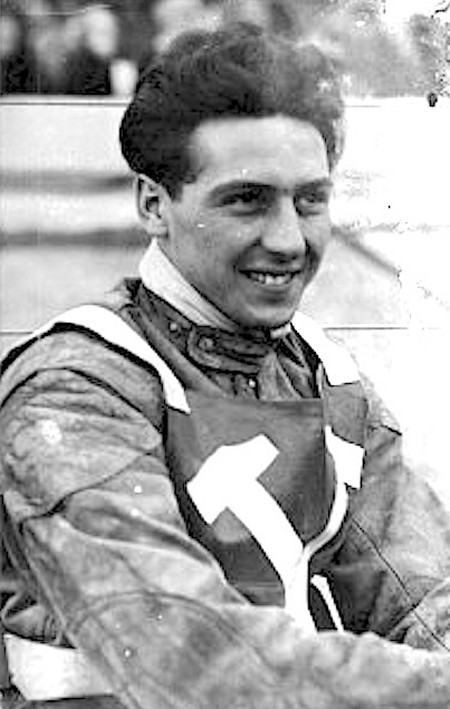 Courtesy of John Hyam
West Ham's Gerry Hussey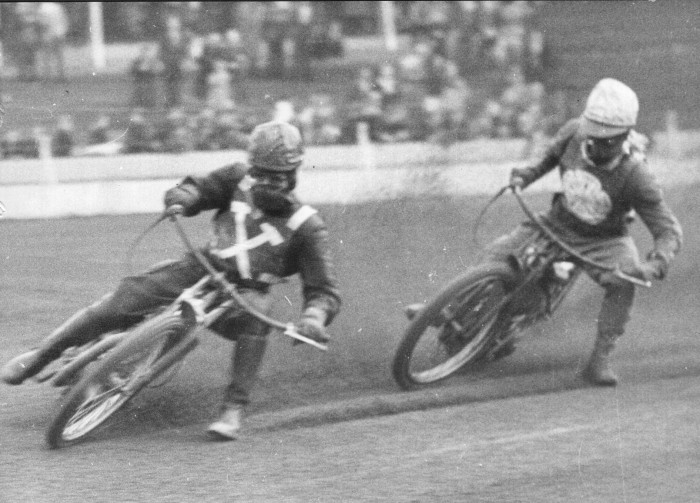 Courtesy of John Spoor
Gerry Hussey leading Arthur Forrest on two wheels, but Gerry was bitten by the four-wheeled bug too.
John Hyam says:

Speedway riders have long had a grim fascination with midget cars. And for two riders there were serious repercussions.
Gerry Hussey, then just 26 years old and hailed as being speedway's greatest find of the 1950s, died racing a midget car at Rowley Park Speedway in South Australia on March 6 1959. In the crash, Hussey was pinned under his car and died from his injuries the next day. His nearest rivals in the race were programmed as L Inwood and R Talbot. Before that, in December 1957 Hussey had his first major speedway accident at Rowley Park, sustaining concussion and a back injury.
Hussey was an English international who had ridden for West Ham, Norwich and Leicester. Although racing in the British season, Hussey had moved to Australia at the end of 1956 season and planned to switch from solo riding to midget car racing. Hussey had burst on the British speedway scene in 1953 when, after a serious of top performances at junior track Rye House, he signed for West Ham. His first match for the Hammers was in a 42-42 drawn challenge match at Leicester on October 2. He won his first race and had two second places, but fell in his last outing.
Fatal midget car accidents were not unknown at Rowley Park. A few weeks before Hussey died, two other drivers lost their lives there in 1959. Steve Howman died in a crash on January 2, then on January 23 Arn Sunstrom lost his life in a midget car pile-up.
Besides his love of speedway bikes and midget cars, Hussey also rode in the 'Globe of Death' at Australian fair grounds wearing his England international race jacket.
Seven years before Hussey's fatal crash, the legendary Jack Parker sustained serious injuries when he ploughed Frank 'Satan' Brewer's midget into the safety fence at the Sydney Sports Ground in New South Wales - a track Parker once described as "the best speedway track I have ever raced on."
Hussey was a charismatic personality, who soon endeared himself to the fans. With his handsome looks, he was the speedway pin-up of the mid-1950s.
When West Ham closed, Hussey moved on to Leicester and was equally a big favourite with home and opposing supporters. To put it frankly, you just could not help but like him. At West Ham, he came very much under the influence of twice world champion Jack Young, while another who helped him on the road to fame was veteran Leicester rider Jock Grierson.
Young and Grierson were influential in taking Hussey to race at Kym Bonython's Rowley Park. He soon struck up a friendship with Bonython who, besides holding the promotional reins was also one of Australia's top midget car drivers. Hussey was fascinated by the powerful four wheel racers and made it clear that his ultimate intention was to switch permanently from to two to four wheel racing.
Gerry Hussey
Midget Car Fatality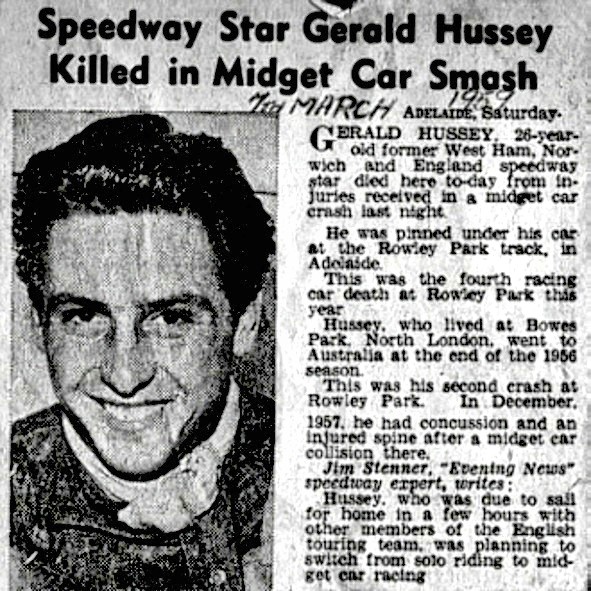 Courtesy of John Hyam

---
Jack Parker

Midget Car Driver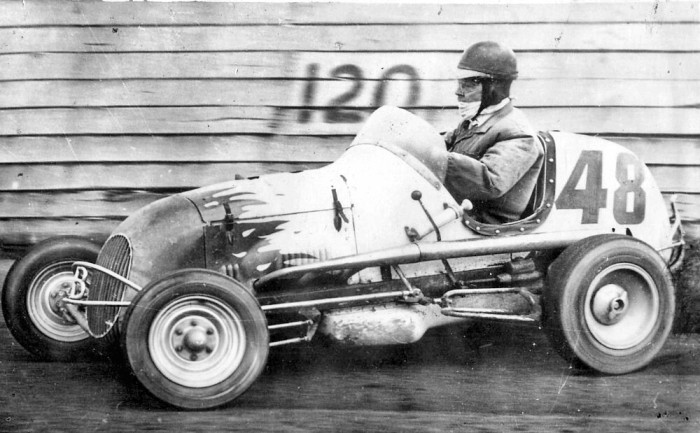 Courtesy of John Hyam
Jack Parker driving the legendary Frank 'Satan' Brewer's midget car in Sydney.
Jack Parker had been fascinated by midget cars since pre-World War Two years, and was a regular visitor to Coventry when meetings were staged on the Brandon oval between 1937-39. But he always resisted the temptation to get behind the wheel of one until February 13 1952.
Then, Parker got into what was probably the fastest car in midget car racing at that time. It was a Ford V860 owned and raced by Frank Brewer, was a top performer not only in his native New Zealand but Australia, the USA and England. Brewer was also a keen speedway bike race fan. He knew Parker especially well from the post-war Australian seasons when meetings featured races - separately - for bikes, sidecars and midgets,
Parker eventually bowed to temptation and decided to try his hand in a midget car when offered the chance to compete in a match race against leading driver 'Bronco' Bill Reynolds. Brewer agreed to help Parker prepare for the event. It ended in a crash that nearly cost Parker his life. Australian historian Brian Dalby gave me these details of Parker's ill-fated crash at the Sportsground.
Dalby said, "The crash happened during a test run. There was a momentary lapse of concentration by Parker and it caused the V8 powered midget to pitch into a series of rolls and end up buried in the fence with the driver still behind the wheel, but seriously injured.
"Parker was expected to die and remained critical for some time afterwards. The inadequate helmet of the times left him with a fractured skull as well as a badly broken arm and scalding from the burst radiator."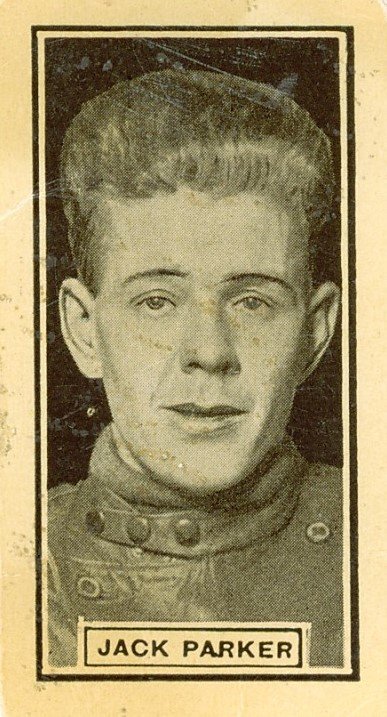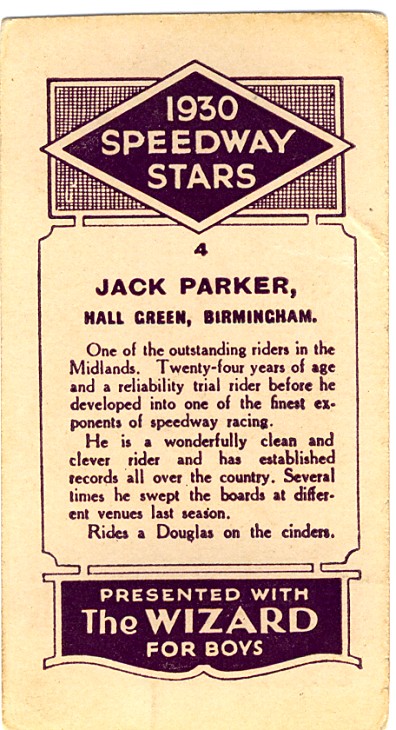 Cigarette Card scans courtesy of John Spoor . Jack was one of the pioneers of speedway
Darby added, "In time, Parker recovered and returned for three more seasons at Hyde Road in 1953 and 1954 but his edge had finally been blunted and he retired at the end of the 1954 season. Hardly surprising really for a man approaching 50 in such a physical sport."
Another speedway rider who had a serious accident driving a midget car was Wimbledon and New Zealand star Ronnie Moore. He overturned a midget during a practice run at Wimbledon in October 1955, and suffered a broken collar-bone.
---
Wimbledon Speedway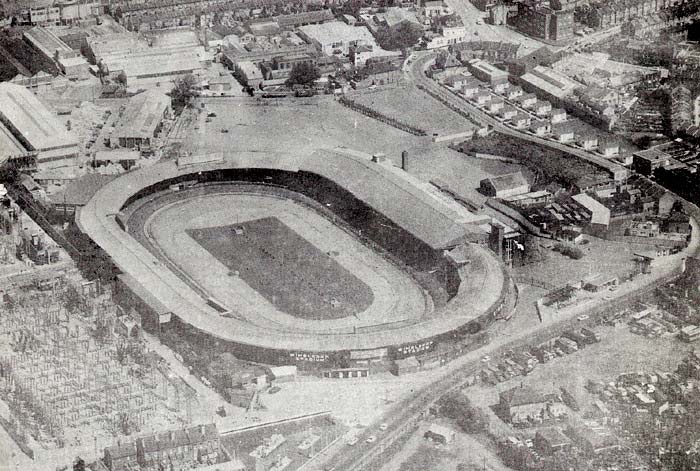 Courtesy of John Spoor
This article, the first of two parts, was published in the South London Press on Friday June 7, 1991 to coincide with the closure of Wimbledon Speedway.

Wimbledon Feature Part 1

The headlines read:

Small crowds and huge losses mean that for Wimbledon Speedway it is the...

End of the Roar!

Wimbledon Stadium staged its final speedway meeting this week - after a colourful history which stretches back 63 years. In today's South London Press John Hyam - who went to his first speedway meeting in 1946 - looks back at the magical moments which helped make Wimbledon one of speedway's top clubs.

The final part of his special feature will be in Tuesday's paper.

THE lights dimmed on a south London sporting tradition this week when Wimbledon staged its last speedway race.

After 63 years - interrupted on by World War Two between 1939 and 1945 - the tapes have risen for the last time at Plough Lane.

Wimbledon was the sport's oldest surviving speedway stadium - although fittingly perhaps last Wednesday's visitors Belle Vue are speedway's oldest club.

Both teams can trace their origins back to 1928, when the sport which started in Australia, then spread to this country. But although Belle Vue started a few months before Wimbledon, they moved to a new stadium in Manchester a couple of years ago.

During the 1980s Wimbledon's future was threatened on a handful of occasions, but the sport survived.

This time though there is no knight in shining armour poised to bring a speedway salvation at Plough Lane.

At the end of the month, the club will start racing on either Fridays or Sundays at Eastbourne - a track owned by 1960s Dons' rider Bobby Dugard.

The Dugards have had links with Wimbledon since 1946, when Bobby's father Charlie had a brief spell in Dons' colours.

Ironically, Charlie's Wimbledon career ended when he crashed with West Ham rider George Bason. The accident left both men with broken legs and happened only after they had been involved in an exchange transfer deal. For a couple of days before being sent home, they were in adjoining beds at nearby St George's Hospital.

In the late 1970s, Bobby's younger brother Eric had a brief spell in Wimbledon colours - on loan from Eastbourne, which had been bought freehold by Charlie in 1947.

Bobby has given Dons a special low rent to continue operations at the Sussex track and they will be known as 'Wimbledon at Eastbourne' until the end of the season.

The long term future of the club depends on how things work out during the next few months.

Wimbledon's current troubles are a long way from the many years of speedway that has thrilled, delighted and amazed followers of the sport.

Some will say the rot at Plough Lane set in when spectacular young Swede Tommy Jansson was killed while competing in his homeland in a mid-1970s World Championship qualifying round.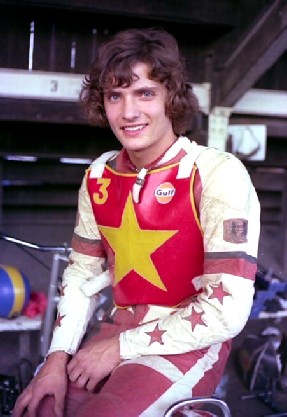 Courtesy John Spoor

Tommy was a real personality who drew the fans, and after his death much of the magic and attendances went out of meetings at Plough Lane.

There are others who will see speedway's decline on the decision to switch from the high standard British League, with its colourful international stars, to the more domesticated National League in the mid-1980s.

On the other hand, had the club not lowered its standards then, there may not have been a further six seasons of racing at Plough Lane.

Tommy Jansson's death though was, in my opinion, the beginning of the end for speedway at Wimbledon - even if it took some 15 more seasons for the end to finally arrive.

Tommy is not the only Wimbledon rider to have been killed on the track. Back in 1937 Reg Vigor, who had been on loan to Wimbledon's nursery track at Bristol, died in a horrific smash and in 1952, Italian-American Ernie Roccio, a great crowd pleaser was killed at West Ham.

Wimbledon have had links with American speedway riders since the mid-1930s, when Miny Waln and Byrd McKinney briefly raced for them in 1937. Then came the legendary Wilbur Lamoreaux, one of the sport's all-time greats. He was later joined by New Yorker Benny Kaufmann - who could race as fast as he could talk!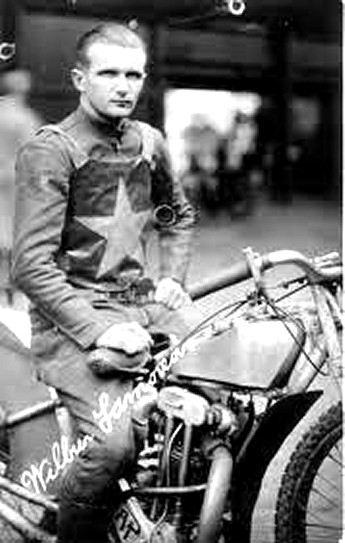 Also another familiar figure around Plough Lane in the late 1930s was the dapper little Texan with the Spanish-sounding name Manuel Trujillo, who is still regarded as one of speedway's most spectacular ever riders and, unlike his fellow North Americans who pioneered the now conventional foot-forward style, Trujillo leg-trailed more spectacularly than anyone else.

When speedway restarted in 1946 after the war, riders were pooled and Wimbledon were allocated Oliver Hart, whose leg-trailing broadsiding skill was enough to lift one's heart into the mouth.

Lloyd Goffe was another of the great, spectacular leg-trailers who carved a niche in Wimbledon colours in the post-war seasons, before moving on for spells with Harringay and St Austell.

In 1947, Hart moved on to Bradford in a three-way transfer that took Australian Bill Longley back to his pre-war club New Cross and their star Les Wotton to Wimbledon.
End of part 1
---
The Well Respected Wimbledon Promoter Ronnie Greene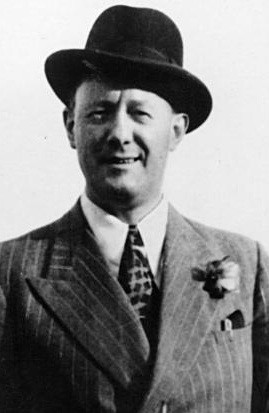 Courtesy John Hyam
---
Originally published in the South London Press, on Tuesday June 11, 1991:

Wimbledon Feature Part 2

By John Hyam. The headlines read:

End of the Roar!

John Hyam takes a final look back at the personalities who have graced the Dons' track

In its 63 years at Wimbledon Stadium, speedway produced many colourful personalities - some were big stars, others just honest-to-goodness personalities.

One such personality was post-war Dons' rider Phil 'Tiger' Hart, who was born in nearby Balham and went on to become a millionaire.

In 1926, aged 16, he emigrated to Australia, saw speedway and took up the sport. He was with the first wave of Australians to arrive in Britain in 1928, and when England versus Australia tests started in the 1930s, Hart was selected for Australia - until somebody pointed out that he was an Englishman.

His spell at Plough Lane was brief, and he spent most of the pre-war years racing for tracks in the Midlands.

In 1948, Wimbledon paid Birmingham £1,000 for his transfer, but tragically in his first race back at Plough Lane, Hart crashed, broke his leg and retired from the sport.

Vic Duggan was an Australian who many claim was his country's greatest ever rider, although he never won the World Championship. While his greatest triumphs were at another departed London track, Harringay in the mid-1940s, he started his British career with Wimbledon in the immediate pre-war seasons.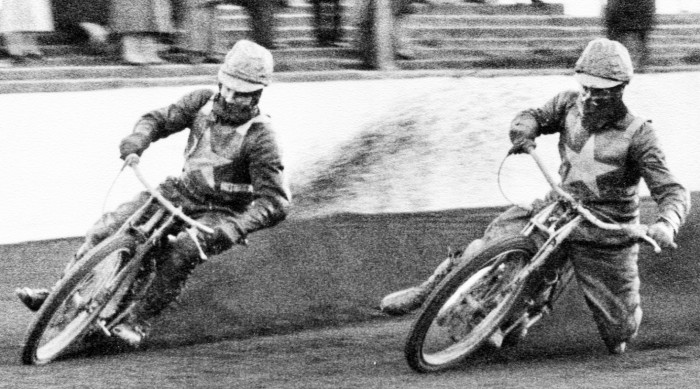 This is Wal Morton and Geoff Pymar in 1957

Ivan Mauger was another of the sport's greats who started at Wimbledon as a 16-year-old in 1956.

It was only six years later when Mauger returned to ride for Newcastle that he started showing the form which was to make him one of speedway's great world champions.

Ronnie Moore was another New Zealander who won the world championship. He came to England in 1950 with his father Les, also a rider. Les failed to impress in trials at Plough Lane, but Ronnie became the club's first world champion and one of Wimbledon's best-loved stars.

While Les failed to get a Wimbledon place, he did form a unique team partnership with Ronnie at Shelbourne, on the outskirts of Dublin, which was Dons nursery track in the 1950s.

It was from there that Wimbledon found an outstanding Irish star in Dominic Perry - who quickly became known as Don Perry.

Shelbourne was also the training ground for another young New Zealander, Barry Briggs in the 1950s. Like Moore and Mauger, he also became one of speedway's great world champions.

Another New Zealander who made a terrific impact on the sport in this period was Geoff Mardon - fittingly described as an 'uncrowned world champion.'

In pre-war years - from 1929 to 1939 - in what was then the National League, Wimbledon made little impact on main events and only won the title once.

But in the 1950s and 1960s came their greatest run with seven championships over an eight season period.

Wimbledon's move to Eastbourne in early 1991 has a parallel to 1948, when their own track temporarily based a 'foreign team.'

It was the year of the Olympic Games, and for six weeks Wembley raced their home matches at Plough Lane.

In the heady post-war years, London derbies sustained speedway and Dons, who raced on Mondays, had regular away matches at West Ham (Tuesday), New Cross (Wednesday), Wembley (Thursday) and Harringay (Friday). The only 'out of town' matches were on Saturday, either at Belle Vue (Manchester) or Bradford.

Americans have always been popular at Wimbledon. In later pre-war years it was Wilbur Lamoreaux and Benny Kaufmann. In post-war seasons there was Ernie Roccio, Brad Oxley, Gene Woods and Bobby Ott. And pre-war came Canadians Goldie Restall and Crocky Rawding, while their fellow countryman the formidable Jimmy Gibb was a Don in 1949 and 1951.

Mind you, there have also been great English riders of world standard at Wimbledon. Post-war favourite Norman Parker for instance who in 1939 had been at Harringay with his brother Jack.

The latter was the big post-war star at Belle Vue and his tussles with Norman in the early post-war match race championship races were epic, no-quarter given events.

Stylish Midlander Alex Statham, another pre-war Harringay star, the Buckinghamshire farmer and publican Ron How who won his laurels in the 1950s, coupled with Bobby Andrews, Cyril Brine, Split Waterman and Dave Jessup are others accepted as top stars.
The website's John Skinner says: I am a Northerner (a Newcastle Diamonds fan) but have always enjoyed watching Wimbledon starting in the 1960s and followed their results and articles in the speedway press because they always had attractive riders. My thanks to John Hyam for sending me this two piece article about the Dons. John (Hyam) reviewed a book on the Dons which I have been able to reproduce below
WIMBLEDON DONS
The story of Wimbledon Speedway
Edited by Howard Jones
106 pages, More than 200 photos
£15.99 (post free) from (cheques/postal orders only)
Speed-Away Promotions, 19, Arundel Road,
Lytham St. Annes, Lancashire FY8 1AF.
This book on the Dons by Howard Jones, which I reviewed as far back as 2008, is an invaluable item for die-hard Dons' fans to add their collection. This is how I reviewed the book at the time of its publication. On the other hand, if you have a copy of Howard Jones' book what is your opinion of the work?
John Hyam says:

MY beginnings with speedway at Wimbledon are unique. The first match I saw at Plough Lane on Thursday April 29 1948 actually featured Wembley Lions beating Belle Vue 52-31 in a National League match. This was because Wembley were based at Plough Lane for six weeks while the Empire Stadium was in use for that year's Olympic Games. But I had seen the Dons in action many times when they were visitors to my first speedway love, the now gone but not forgotten New Cross team. Their exploits were chronicled earlier this year in the intriguing 'Out Of The Frying Pan' (Norman Jacobs).
Over my formative speedway years in the late 1940s, New Cross were often compared with the Dons - and for most of the time until their closure in early 1953, New Cross held sway over their south London rivals, as they had also done in the pre-war seasons between 1929-39.
Unlike Norman Jacobs' work, the new Wimbledon book deviates from a subjective chroniclesiation of the sport's history at Plough Lane. Rather it concentrates on a period from the 1950s through until the demise of top class racing at Plough Lane on June 5 1991. This is largely in statistical and pictorial format.
Many Wimbledon supporters blamed the stadium bosses the Greyhound Racing Association for the end of speedway at Plough Lane in 2005, But speedway had been in decline for some years before that, and there were fears as far back as 1986 that the sport would fold.
On a happier note, in regard to the book: it has a bright modern feel, and there are many great team photos capturing sides as far back as 1931, encapsulating such great names as Vic Huxley and Ray Tauser. There were also photos of the two riders who I regard as being the most spectacular in post-war years to have worn the club's race-jacket, that great legtrail-style rider Oliver Hart and the hustle-bustle thrillmaker Lloyd 'Cowboy' Goffe. In the days when tracks were deep cinder surfaces rather than the shale of modern times, their spectacle has never been reciprocated on the more modern slick shaleways.
In analysis, I found the 'Wimbledon Dons' book absorbing, especially the interviews with the great 1950s stars Ronnie Moore and Ron How, and also with multi-world champion Ivan Mauger, who briefly flirted with a Plough Lane career in the late 1950s. For lovers of Wimbledon speedway - and I brand myself as one of them - "Wimbledon Dons' is an essential addition to a speedway library. It has a modern feel about and brilliantly itemises statistics and facts about a golden era not only for Wimbledon Speedway, but British speedway generally.

It gives an insight from the days when speedway was a mainstream sport through to the lesser dimensions of the present decade with the ill-fated venture into Conference League racing between 2004-05. The book gripped my attention and joins a growing batch of speedway books in my bookcase. Deservedly so, too.
---
The contents of the site are © and should not be reproduced elsewhere for financial gain. The contributors to this site gave the pictures and information on that understanding. If anyone has any issue or objections to any items on the site please
e-mail
and I will amend or remove the item. Where possible credit has been given to the owner of each item.