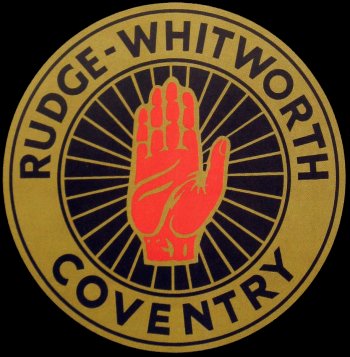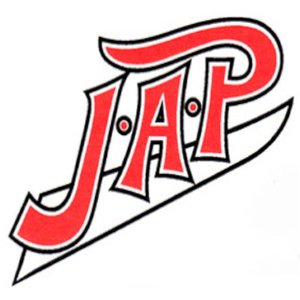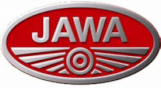 ---
Name The Rider
Part 2
---
The Bogy Man!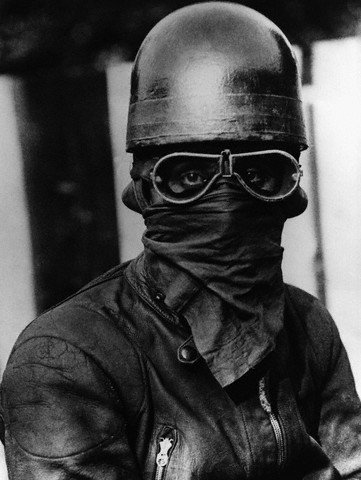 Courtesy of J Spoor
No! the following photos on my Name The Rider Pages are not as difficult to name as this one!
The man in black. George Charlton says: Hello John, I came across this photo on your Defunct Tracks website and found it very interesting I have a good pal Ivan Stevenson who has some of his photos on your website, we came across this topic, the man in black! Ivan has a large collection of photos from the 1920 era, he found a one very similar and thinks it is of Les Blakebrough who rode for Stamford Bridge and Coventry in the 1930s he died in 1933 I hope this helps on this matter.
John says: I don't know the identity of the man in black. When I put this picture on my name the rider pages, I never thought anyone would name him or even hazard a guess! You and Ivan could be right but I would like to see Ivan's photo of Les Blakebrough send me an image by email please John
The Bogy Man is:-
Les Blakebrough!

David Pipes has supplied "proof" of the identity of the man in black he is Les Blakebrough.
David Pipes says: The rider on the Name the Rider section on your website is named as Les Blakebrough. I was looking through the old issues of the Daily Mirror and came across a picture of Les headed "The Bogy Man" in the paper dated 18 May 1928. I am attaching a photo from the paper (see above) and I think that you will agree that this does confirm that the mystery rider is indeed Les Blakebrough (1907-1978) although the paper did misspell his surname.
I am also enclosing a photo (see below) of Les in action and another (see below) with Les and his Douglas with "ball tyre" – probably good on deep cinder tracks but not a very useful tyre on present day slick track surfaces !!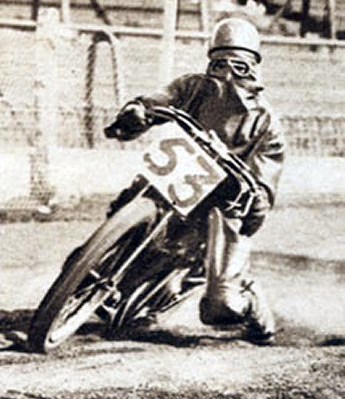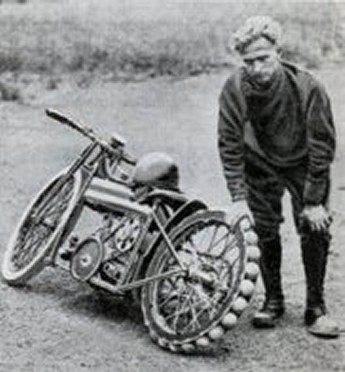 Photo's courtesy of David Pipes
---
ZZ Top! No! Too Many Of Them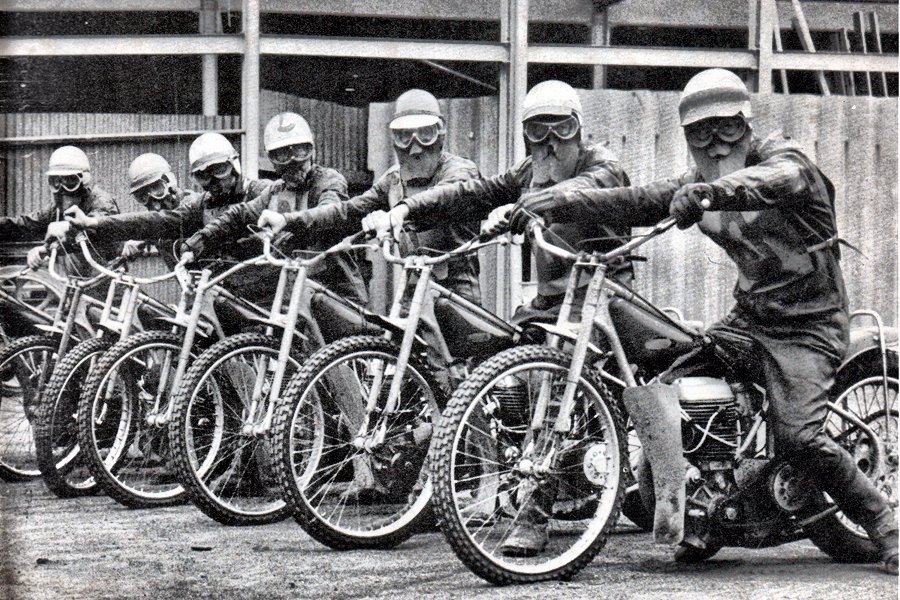 Courtesy of J Spoor
In the same vein do you recognise the guys in this team photo, personally I am not even sure they are human!
Doug Neath says: Hi John

,

Can't help you with the single rider, but I believe the team photo was taken at Belle Vue in 1968 and is of the Russian side Leningrad Auto Club who rode there in a challenge match on 27th July. Their team consisted of: Ivan Andeev, Yuri Lomdotski, Gennardy Vyonov, Anatoli Belkin, Viktor Katyuzanski, Genrikh Lemberg and Vladimir Kannunikov, though I have no idea who is who in the picture. Hope this helps

Doug
John says: Well Doug you weren't supposed to be able to identify either the single rider in black or the Russians behind the masks but thank you for the names of the Leningrad team
---
Another
Bogy Man Pic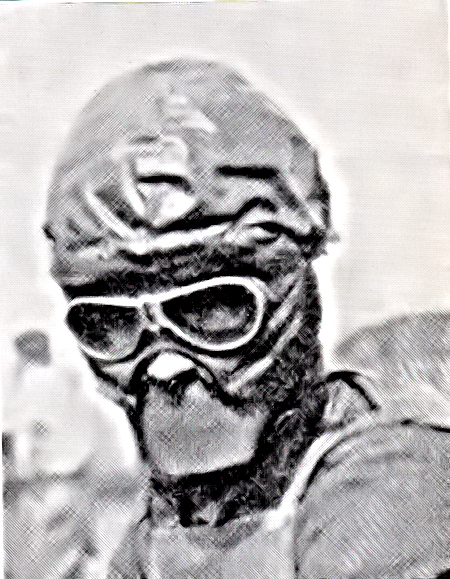 Courtesy of John Spoor
Another almost impossible to name rider, unless you recognise the tip of his nose that is! if you can name him please send me an email John
---
Another Bogy Man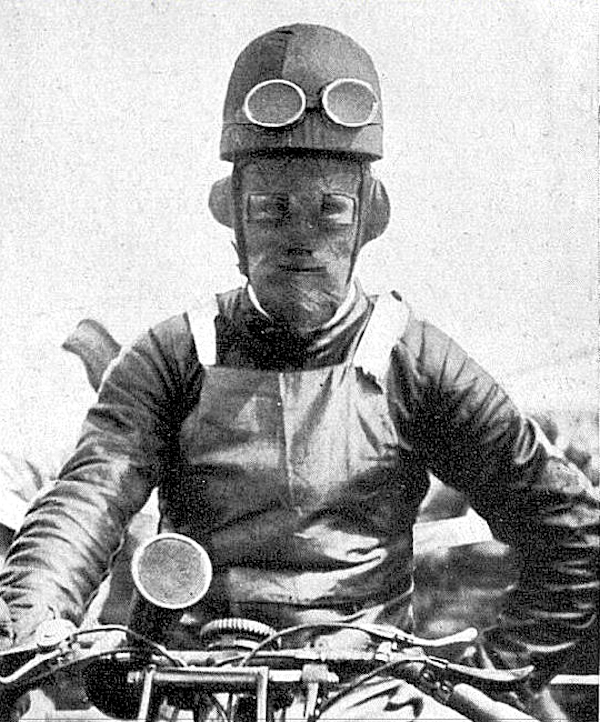 Courtesy of David Pipes
David Pipes says: Hello John, I recently came across this picture of a speedway rider and thought that you might like to include it in your "Name the rider" section of your website.
So can anyone id this rider John
John Spoor says: This is Les Barker in 1928 at the opening of Brighton Speedway
---
John says: I get pictures and questions sent to me where the sender doesn't know the name of the rider or wants information concerning our sports past and I don't have the answers! Any help is appreciated because it would be wrong not to include historical items just because we have no idea what the subject is about!
Can you name these tracks, year and rider's? send me an email if you can supply an answer or want to make any points.
John
When a rider has been named the picture will eventually be transferred to the appropriate team page along with your name and comment.
If you have any items: photos or otherwise and would like to know names and other info then please email me and I will put it on the website.
---
Hackney Rider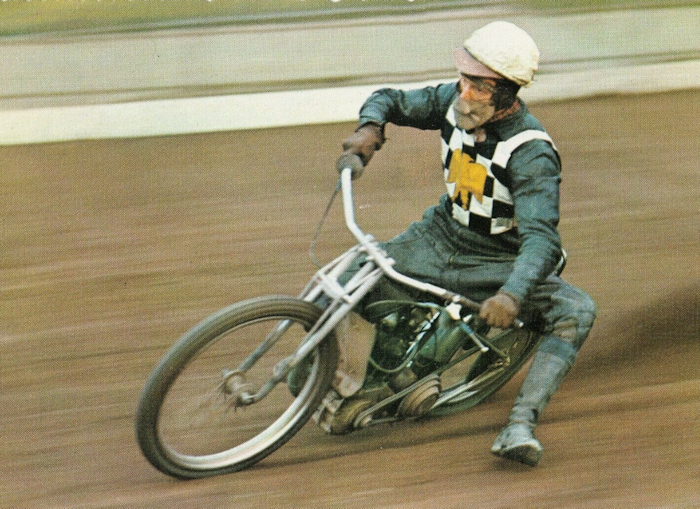 Courtesy of Nigel
Steve Baker says: Les McGillivray of Hackney, I would say from 1970 (he rode for the Hawks from 67 to 70).
---
Eastbourne 1950s Pic 1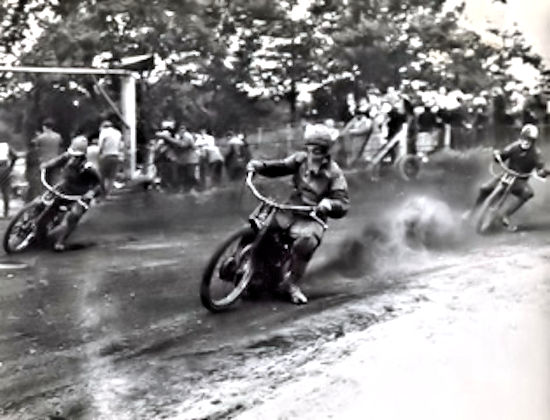 Eastbourne 1950s Pic 2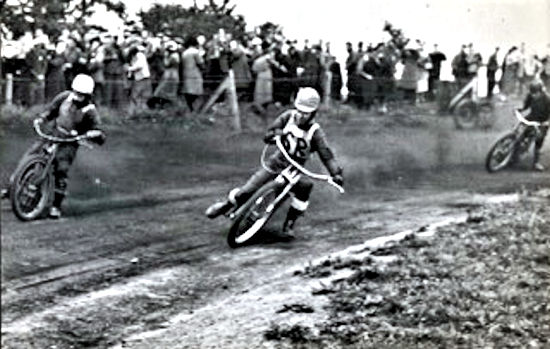 These two pics belong to Mike Kemp. Six riders, no names! Can you help please? John
---
Who Is
Ray Terry?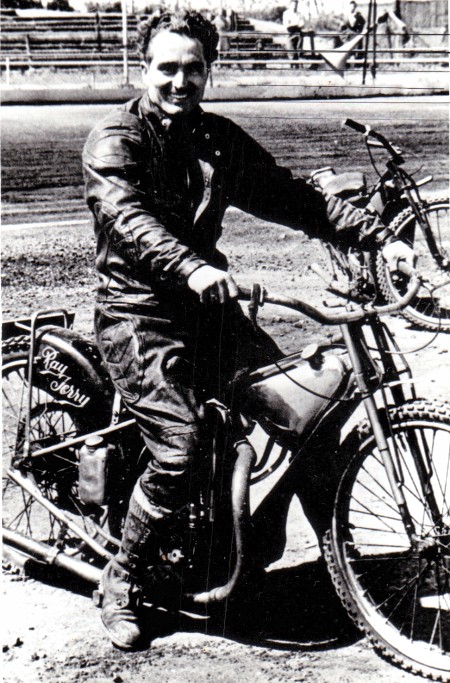 My friend Col Greenwell says: I recently acquired this photograph. It has on the back Frank Hodgson. It certainly looks like Frank. What has me stuck is there is a name on the mudguard Ray Terry. Who is Ray Terry I am wondering ?
John says: I would put my shirt on this being Frank Hodgson. Did Frank borrow Ray's bike or was Frank asked to pose for the picture on a bike and Ray's machine was nearest the cameraman!
If you can throw any light on this picture please email me John
Col Greenwell says: Hi John. Pic I sent to you is not Frank Hodgson. It is Ray Parry an Eastbourne junior, early 1950's. So that's sorted.
Colin Sackman says: Quite by accident I stumbled across " Who is Ray Terry? " and the photo on the Defunct Speedway Tracks site Name the Rider Part 2. It really intrigued me beacuse the Ray Terry in question is my old mates dad. I remember seeing that photo in his house when I was a kid. I don't know a great deal more about him other than he was voted " Most Handsome Rider " in one of the Speedway Mags. I remember his son Ron proudly showing the Mag to us at the time.......
---
Jim Henry's Photos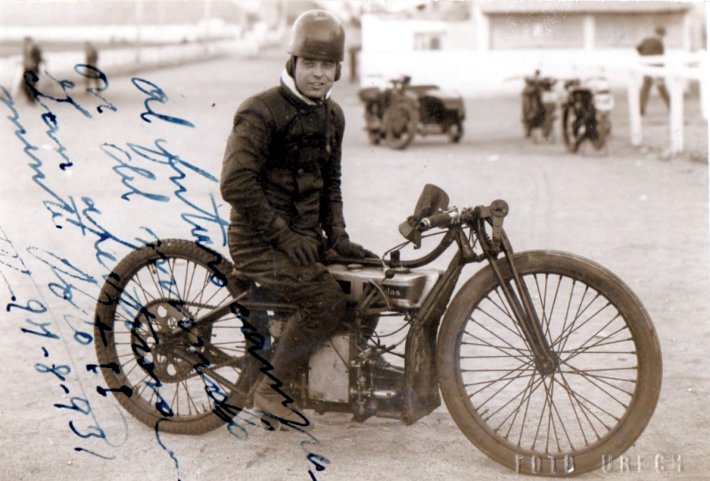 Jim says: The writing on photo 1 is in Spanish but where it was taken I don't know.
John says: Can anyone identify the rider on the Douglas?
John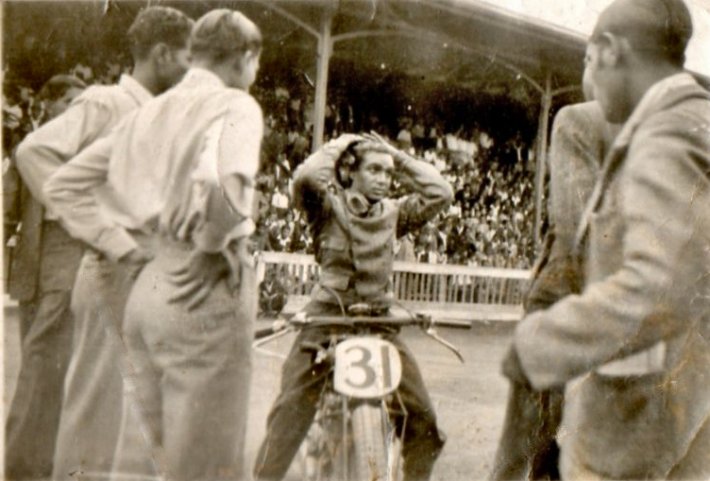 Jim Henry says: I haven't a clue where photo 2 was taken - abroad maybe ?
John says: So your homework for the weekend is: Can you name either rider and say where the pics were taken? John
Gary Thompson says: Hi John, at a guess the two photo's could be of the same rider and maybe they could have been taken in Argentina at the Hurricane Speedway during the late twenties about the time Frank Varey and others took a touring team to the country
C
ol Greenwell has sent the following scans from an old book he has: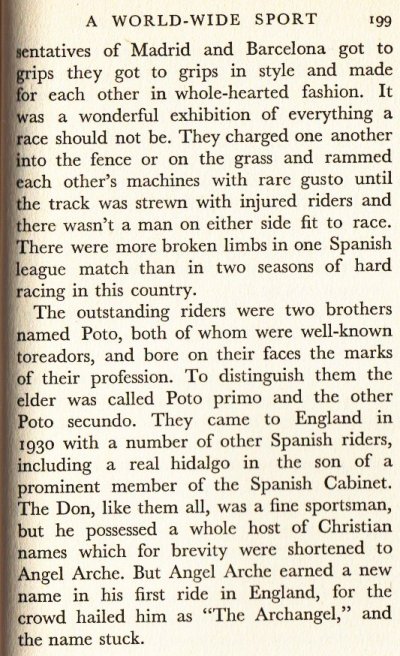 John says: I like the idea that we could be looking at pictures of the Spaniard Poto brothers known as Primo and Secundo who were Toreadors before riding speedway.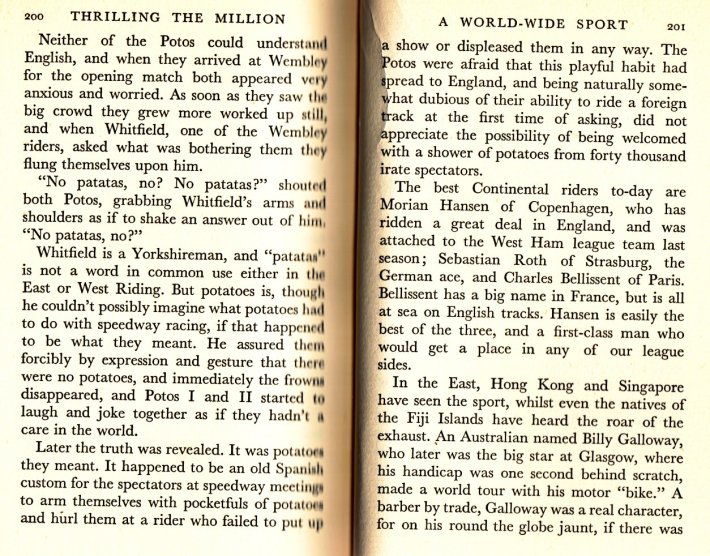 So are the photos of one, or both of the Toreador Poto brothers? or is this a load of "Bull"! If you can help in naming the rider in the photos or have info about these photos, please email me John
---
Sonic Communications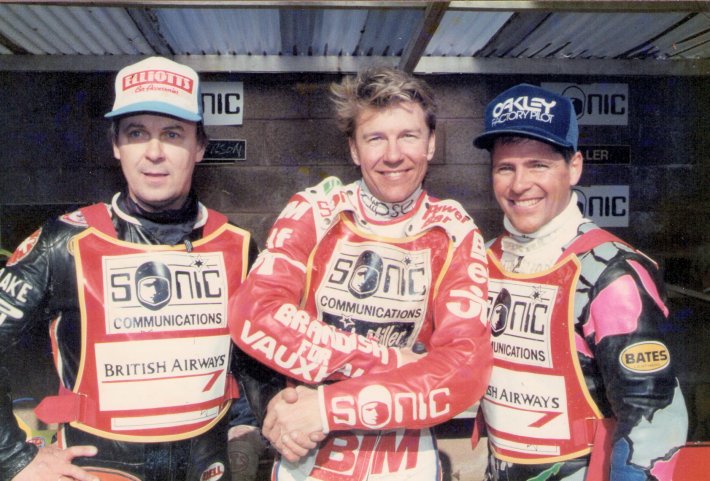 John says, It's Ole Olsen on the left and I think it is Billy Hamill on the right (I'm not so sure), but who is that in the middle and can you confirm it is Billy on the right?
John
Steve Baker says: Ole Olsen, Rick Miller and Bruce Penhall. The picture was taken at Ricks testimonial meeting held on April 12 1991. Sonic Communications were Ricks main sponsor and they sponsored this meeting. Ole and Bruce rode in a series of match races, which Ole won 2-1
John says: Doesn't look like Bruce Penhall to me, I think it is Billy Hamill, but I bow to your phenomenal memory Steve. When Bruce quit to become a Hollywood star I watched CHIPS every week but never saw our guy in an episode. Did anyone actually see Bruce in a TV show or film. Maybe he should have continued riding? John
---
British Speedway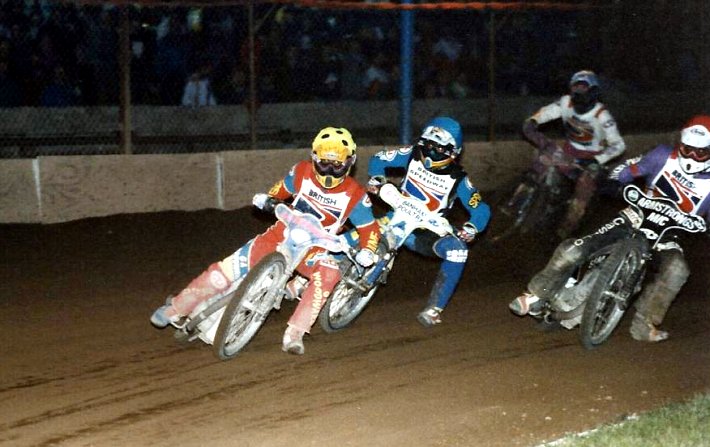 Steve Baker says: Can only name Savalas Clouting in y/b and Stuart Robson in red
John says: Was this a British Final? What track and can you name the riders? John
Steve Baker says: Pic headed British Speedway, which I have already named Sal Clouting and Stuart Robson, I can now confirm as heat 18 of the 1996 British Under 21 Final at Swindon, the other two riders are Scott Nicholls in blue and Stewart McDonald in white.
John says: if you have a photo without names please email it to me and I will put it on one of the "Name The Rider" pages John
---
The contents of the site are © and should not be reproduced elsewhere for financial gain. The contributors to this site gave the pictures and information on that understanding. If anyone has any issue or objections to any items on the site please
e-mail
and I will amend or remove the item. Where possible credit has been given to the owner of each item.