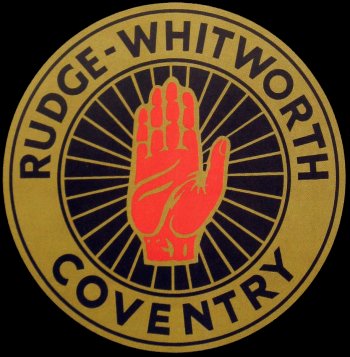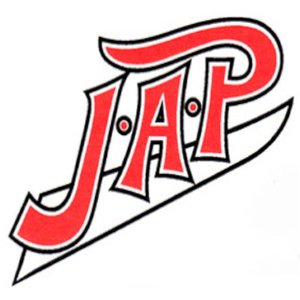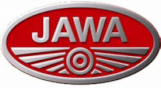 ---
Ivan Stevenson's
Photographic Collection
Ivan is a much respected speedway historian, Newcastle fan and collector. He was also Pits Marshall at Brough Park Newcastle for many years. Ivan has decided to share some images of his photographic collection with us on this page. Thank you very much Ivan. I know you don't use the Internet so an even bigger thank you for sharing some of your photos with fans on the net. Some of the photos are of speedway's lesser lights which are unlikely to appear anywhere else on the internet.
Tommy Landley
Harry Whitfield
Charlie May
1930 Coventry Riders
Alec Peel
Bert Gerrish & Dog!
Geoff Wilson
J Ward
Bert Round
Stan Dell
Syd Griffiths
Ron Johnson
Roger Frogley
Arthur Buster Frogley
Stan Fairburn
George Lovick
Triss Sharp
Bryan Donkin
Bert Spencer
Norman Broadside Dawson
Frank Varey
Bill Clibbert
Dick Ince USA
West Ham 1940s
Cliff Parkinson
---
Roger Wise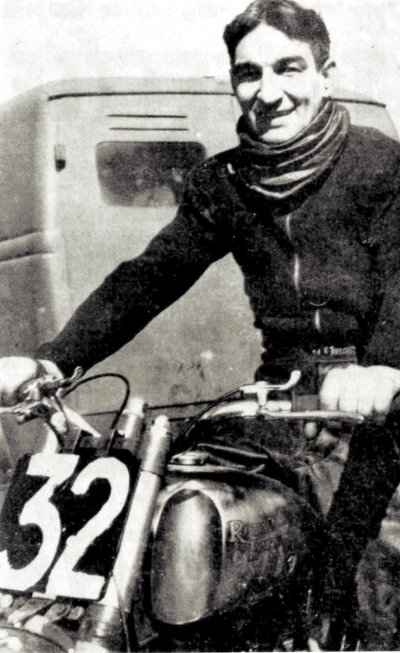 Bristol Bulldogs 1947,1948,1951. Oxford 1951, Bristol 1952.
This photo shows Roger apparently on board a Royal Enfield. The Enfield company dabbled with speedway way back around 1930 but this bike is not a speedway bike. I think it was a Scrambler (That is motor cross to you younger browsers!). Roger was probably an all-round motorcyclist which would explain the photograph
---
Tommy Landley
1928/1929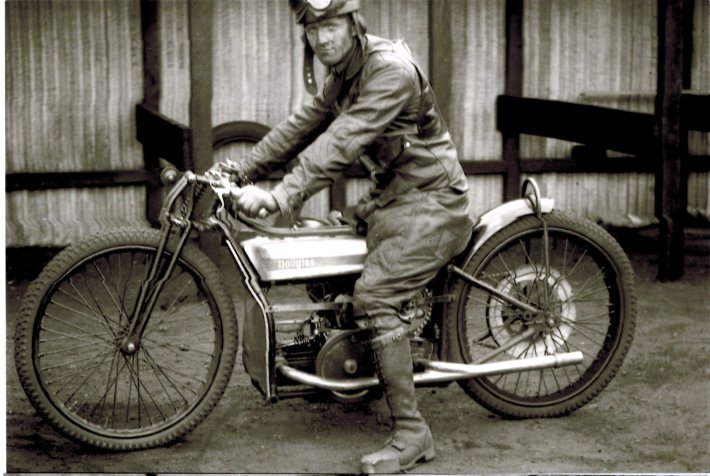 ---
Harry Whitfield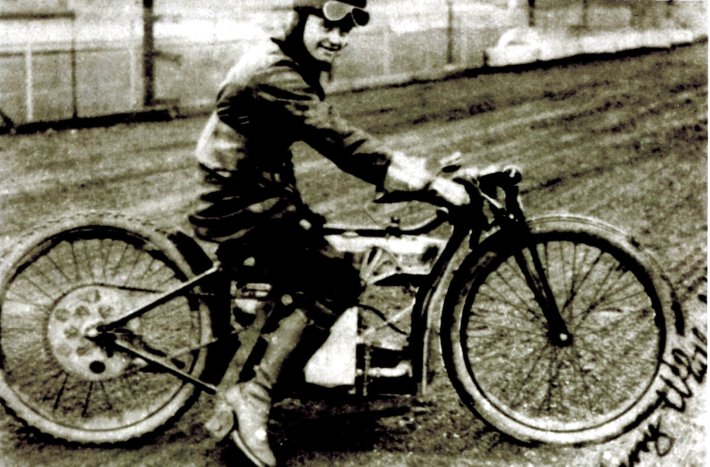 Harry Whitfield, Salford Albion 1929, Middlesbrough 1928, Wembley 1929/1930/1934, Sheffield 1939, Newcastle Magpies team manager 1949
Another picture of a Douglas, this time from the other side, showing the gear change bolted to the fuel tank. Early Machines of other makes did have gears too, but when the JAP came along in approx 1931 they had no gears and that became the norm for speedway bikes.
---
Charlie May
Charlie May Wembley 1946/1947, Walthamstow 1950/1951, Cardiff 1951/1952, Southampton 1956
---
1930

Coventry Team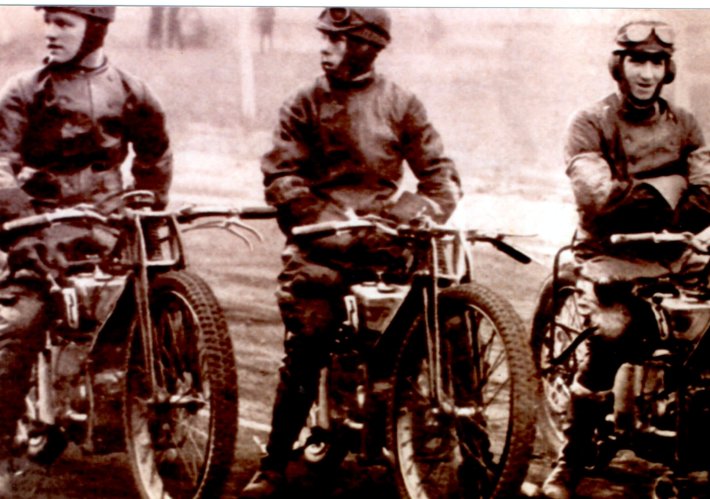 Coventry team 1930 Tom Farndon, G Allbrook, Wilmot Evans. All 3 riders mounted on Douglas machines
---
Alec Peel
Norwich
1937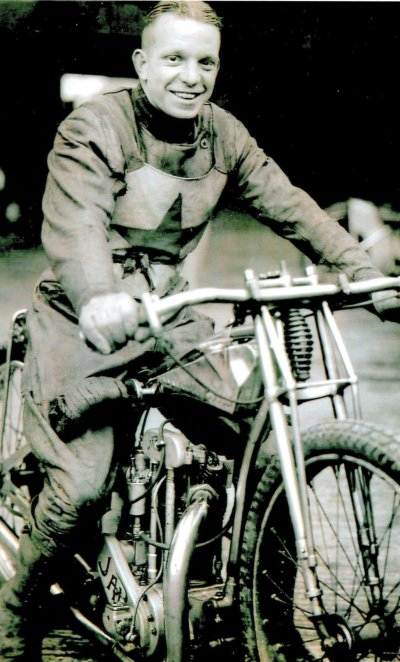 Alec Peel Norwich 1937, Middlesbrough 1929, Leeds 1931 aboard an early JAP machine
---
Bert Gerrish, Harringay

1929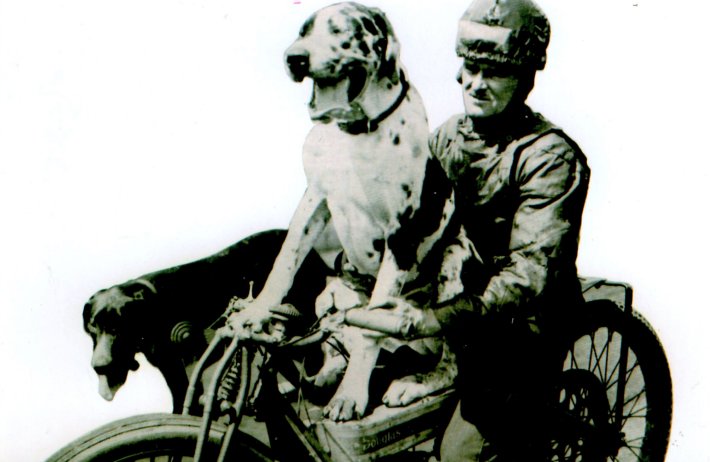 Bert Gerrish Harringay 1929. Dog Tracks have hosted Speedway as landlords at many stadiums over the years but this is the first time I have seen a Dog on a speedway bike!
---
Geoff Wilson, Halifax
1929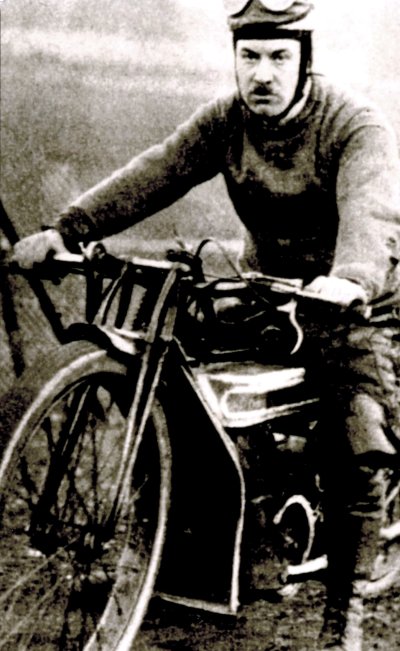 I am strangley drawn to mentioning Geoff''s "Hitler Moustache!" but at least he was sporting the 'tache 10 years before the war.
---
J Ward
Belle Vue
1928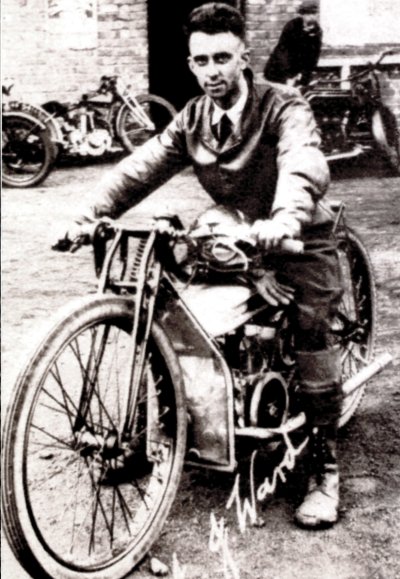 ---
Jack Chapman Australia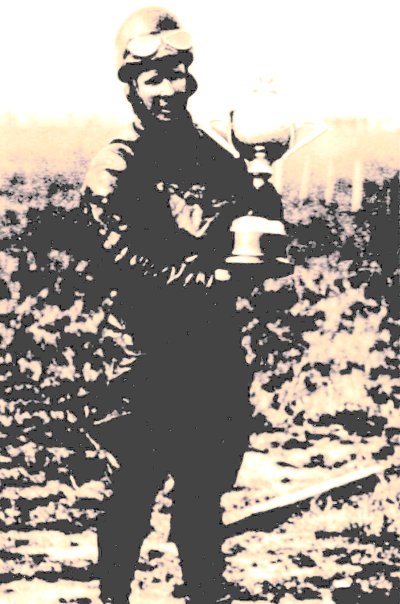 Jack Chapman Australia. 1930 Sheffield, 1930 Belle Vue, 1932 Stamford Bridge, 1933 Nottinghan, 1933 Harringay Tigers, 1934 Birmingham.
---
Bert Round Barnsley
1929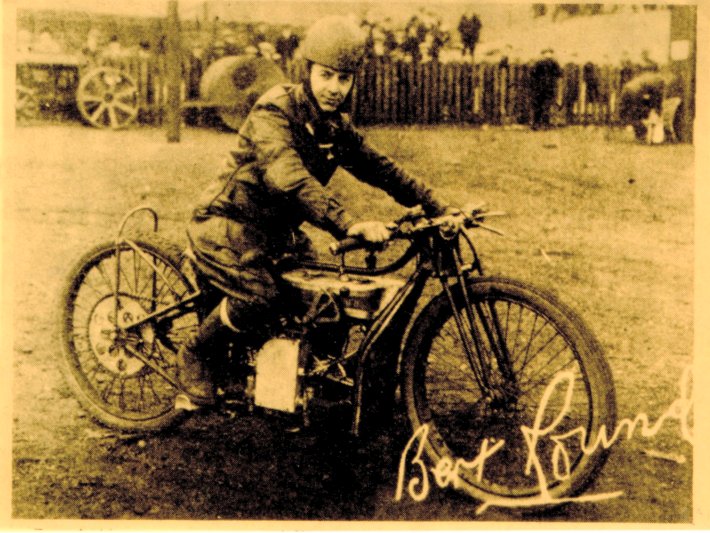 John says: I could have removed the yellow tinting but the photo looks great as it is, so why fix what isn't broken!
---
Stan Dell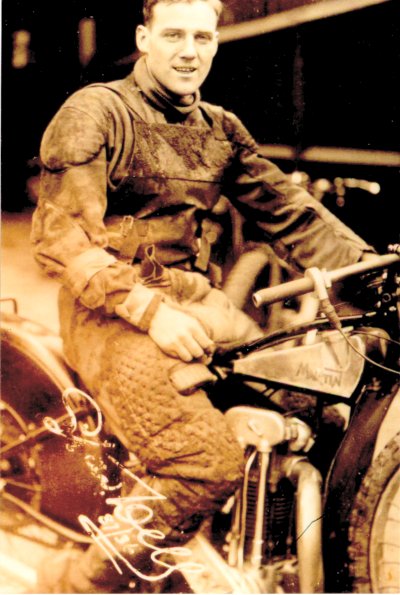 Stan Dell West Ham 1934-1936, Hackney 1937, Nottingham 1938, Birmingham 1948.
---
Syd Griffiths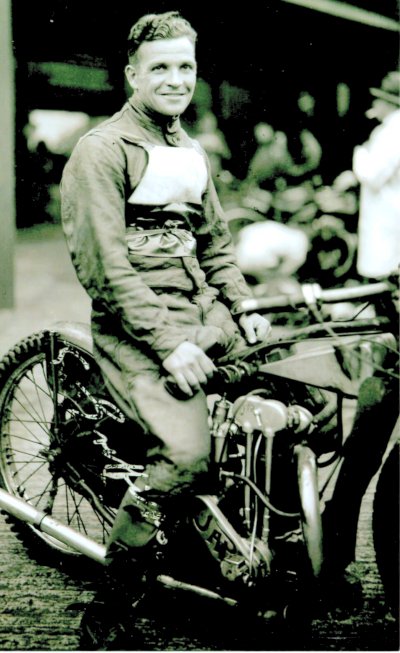 Syd Friffiths or Griffiths? Harringay 1934,1935,1936, Southampton 1937,1938
---
Ron Johnson
New Cross
1
1934-1950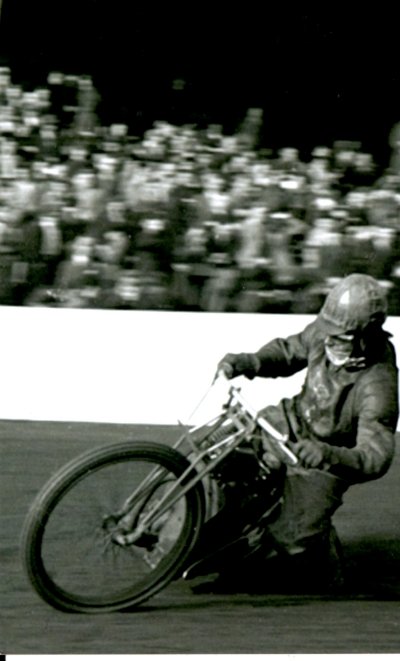 ---
Ron Johnson


New Cross

2
1934-1950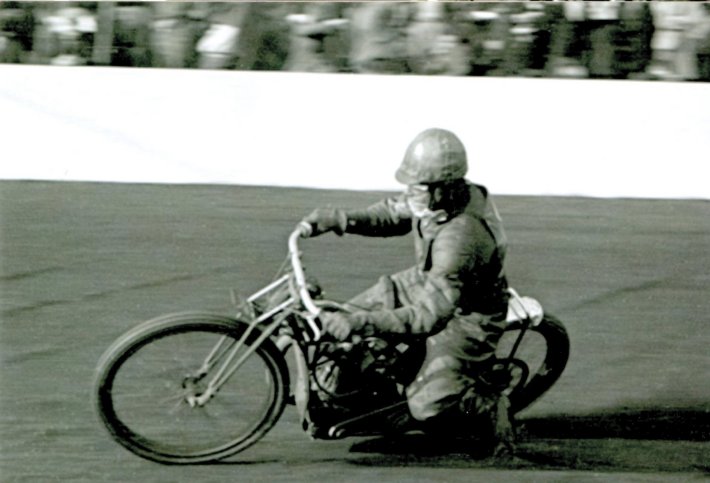 Ron Johnson New Cross 1934-1950. This action shot is a candidate for the best Speedway photo on the website.
---
Roger Frogley
Crystal Palace

1930-1931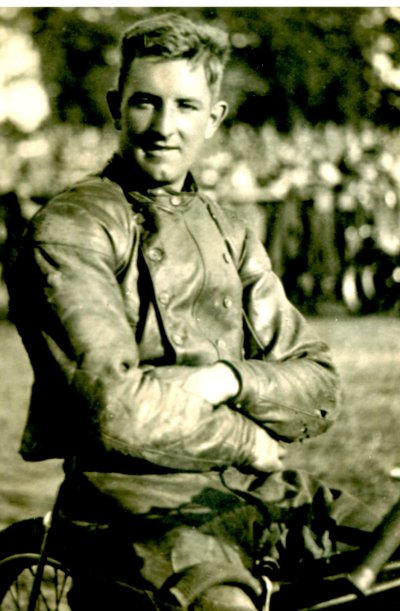 Roger Frogley; Crystal Palace 1930-1931: Look at the hook over the right thigh. This device was in use in the early days but disappeared as the sport developed. If you know why it was necessary then but not now please let me know. John
---
Arthur "Buster" Frogley
Wembley

1929-1931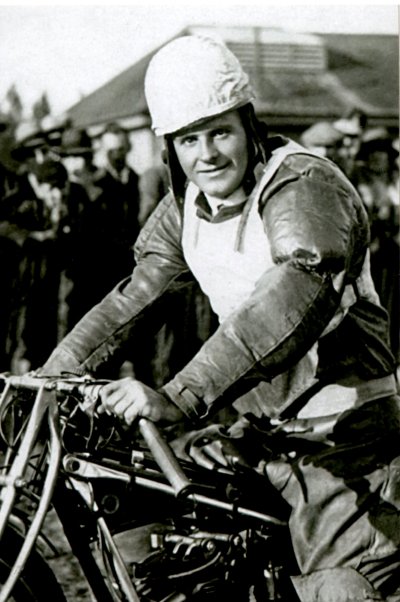 ---
E Young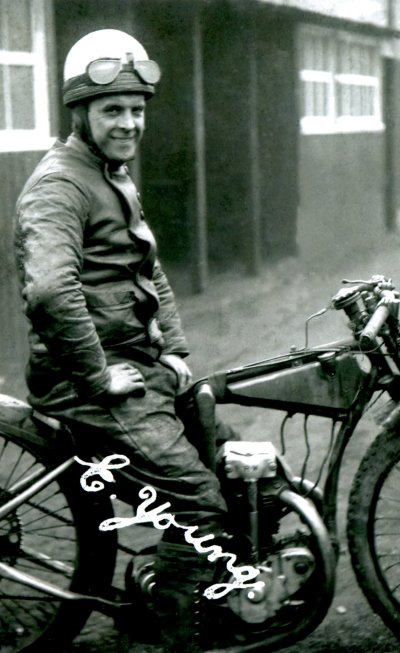 E Young: Do you know his full name, his team and year the picture was taken? John
I don't recognise the engine, do you? It has two exhaust ports and a strange looking cylinder head there is a lot of space between the rocker cover and the lower fuel tank tube. Could be a Rudge as the frame looks like a Rudge or maybe some other engine fitted into a Rudge frame.
---
Stan Fairburn
Lea Bridge
1929-1930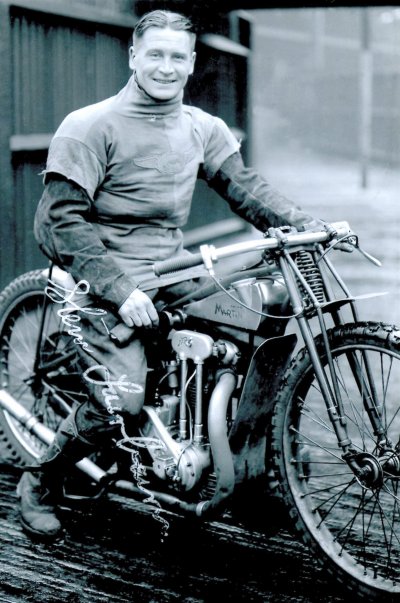 ---
George Lovick
Crystal Palace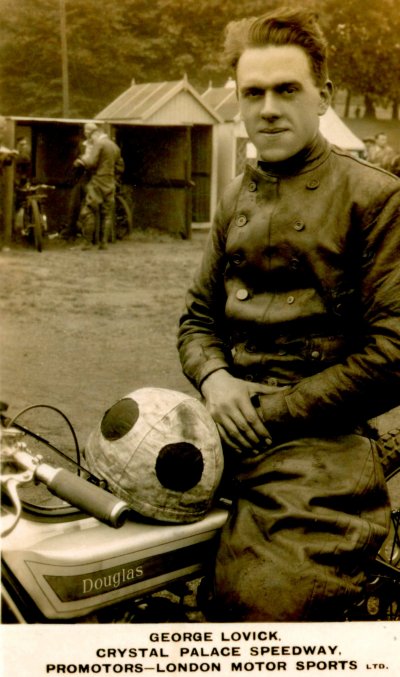 ---
Triss Sharp
Crystal Palace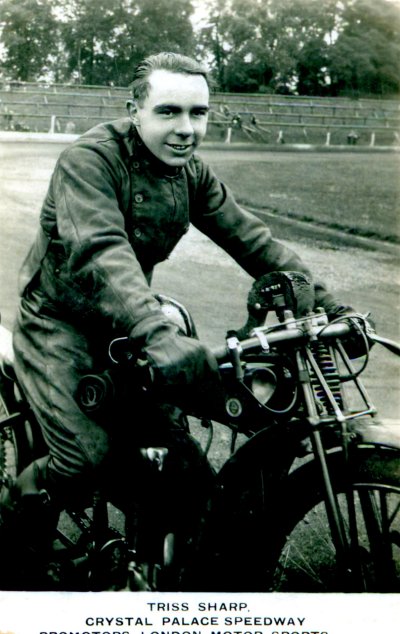 ---
Bryan Donkin
Crystal Palace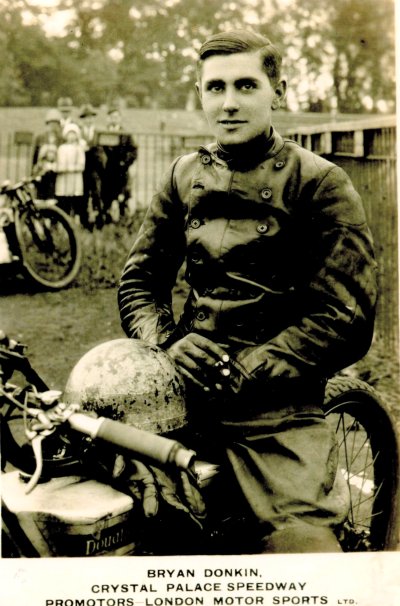 ---
Bert Spencer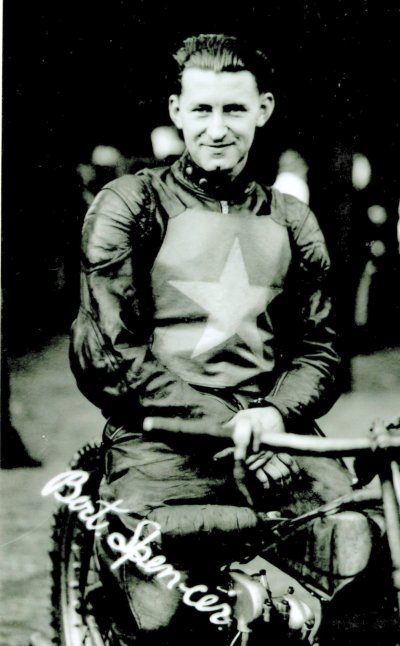 ---
Norman "Broadside" Dawson
White City 1928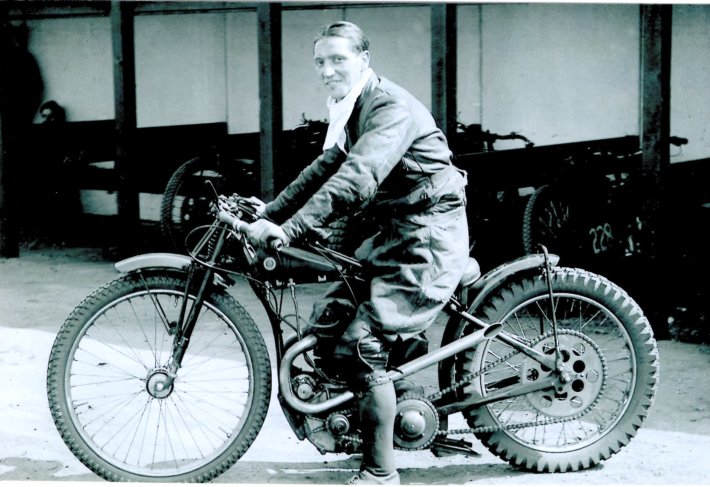 A great photo showing a Rudge machine with the larger diameter wheels . This is Norman "Broadside" Dawson at White City 1928. The Rudge battled it out with the flat twin Douglas and the Harley Davidson Peashooter and eventually became the bike to have until Tottenham's JAP came along in about 1931.
---
Gordon Baxter
Crystal Palace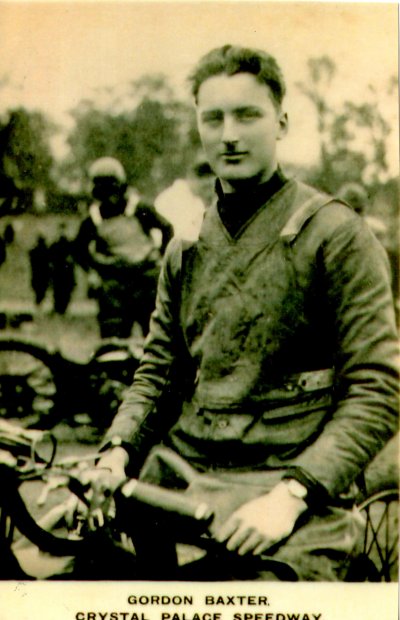 ---
Dickie Wise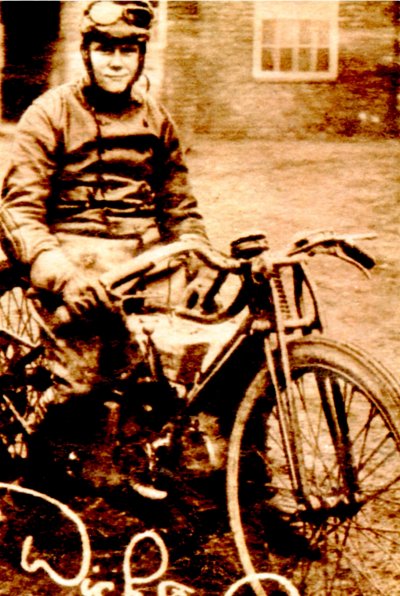 ---
Frank Varey
Belle Vue
1929-1939
The Red Devil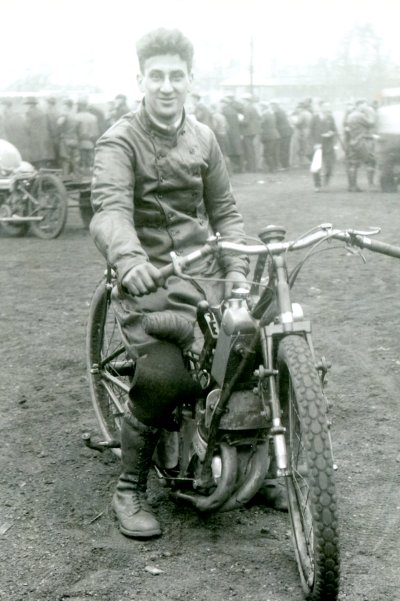 Frank Varey Belle Vue 1929-1939 aboard his 500cc watercooled Scott two stroke. He was the bike makers main rider. Frank may have been the only one who persisted after the others had stopped using the Scott in favour of Douglas and Rudge.
---
1929

Bob Coll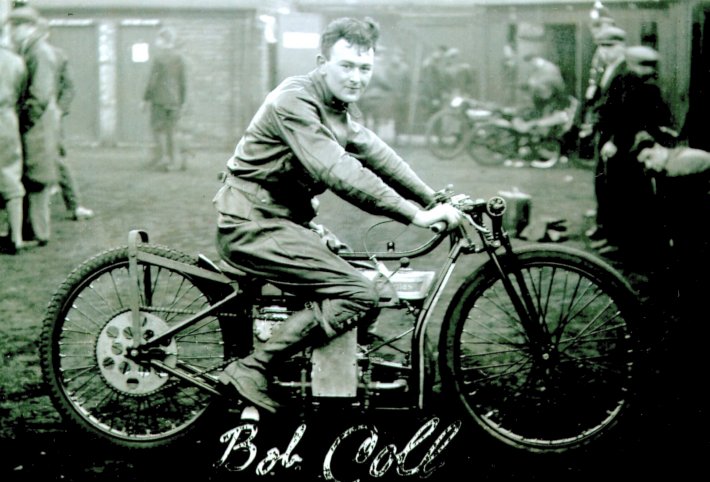 Bob Coll 1929 aboard a Douglas DT machine, the main choice of riders around 1929. The Douglas was a longer wheelbase bike than the other speedway machines, mainly the Rudge and the Harley Davidson.
---
Bill Clibbett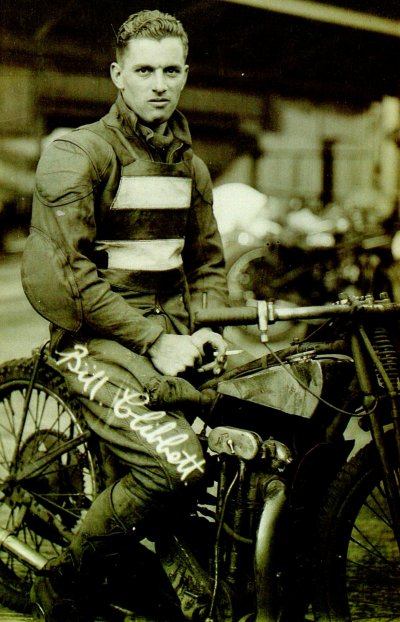 Bill Clibbett 1930 Portsmouth- 1932/33 Harringay- Wimbledon 1931- Plymouth 1933/34-Hackney Wicks 1936/37/38- Bristol 1939. Bill is sitting on a JAP which made its first appearance as a speedway machine around 1930. So this example would have been one of the first JAPS on the speedway scene.
---
Oliver Hart
Outside
Bill Kitchen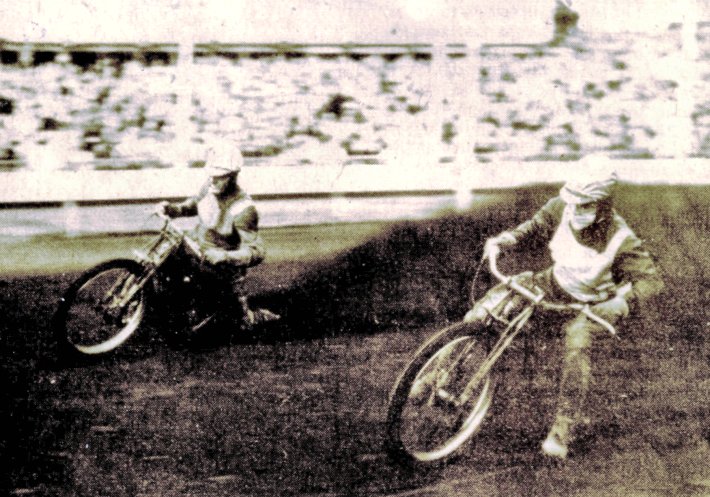 Oliver Hart outside leg trailing rider (Bradford Odsal 1948) & Bill Kitchen (Wembley lions 1948) foot forward rider. Oliver was a great exponent of the leg trailing method of cornering. He was great to watch although not as successful as Bill
---
Billy Rushley Australia
On His Douglas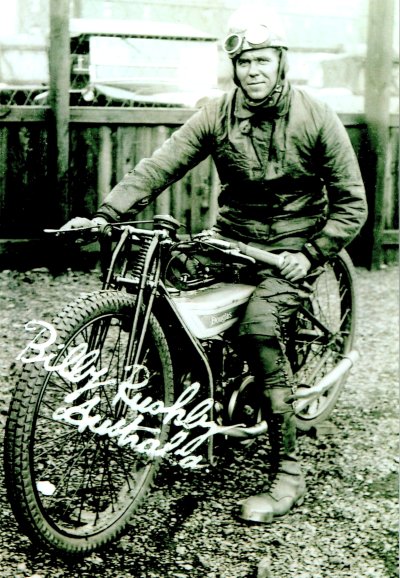 ---
Dick Ince
USA 1930s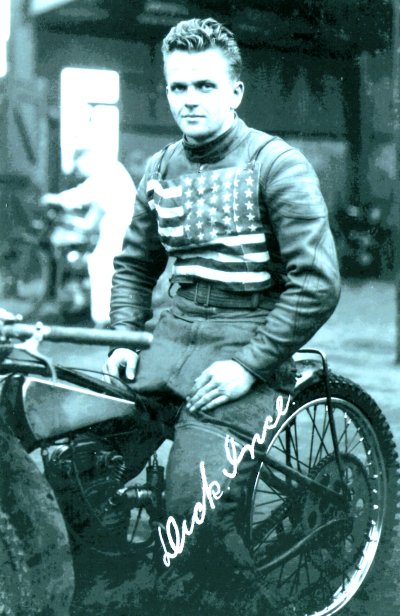 Dick Ince USA 1930's. The USA had two bikes the Harley Davidson Peashooter and the Crocker but Dick appears to be mounted on the British Jap in this picture.
---
Bob Jones
Swindon

1950's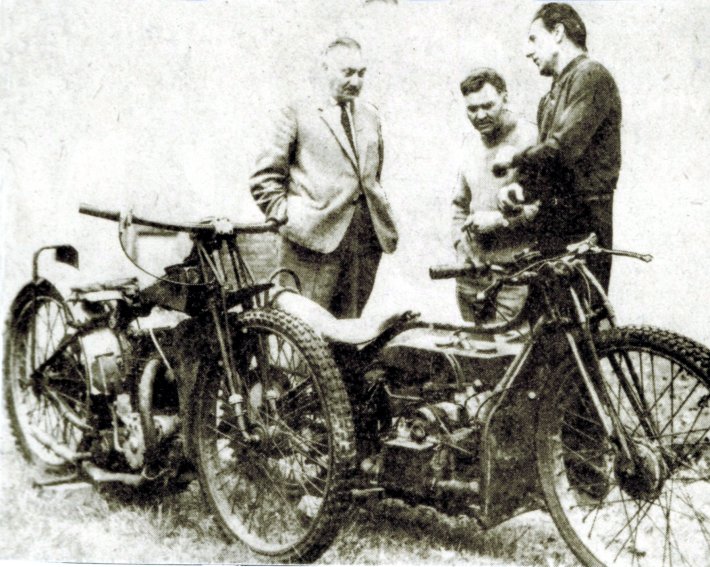 Bob Jones Swindon 1950's Not sure about this picture it looks earlier than the 1950s. Both bikes are old, The bike on the right is a Douglas circa 1929 ish. So maybe it was part of a historical show?
---
West Ham
Late

1940's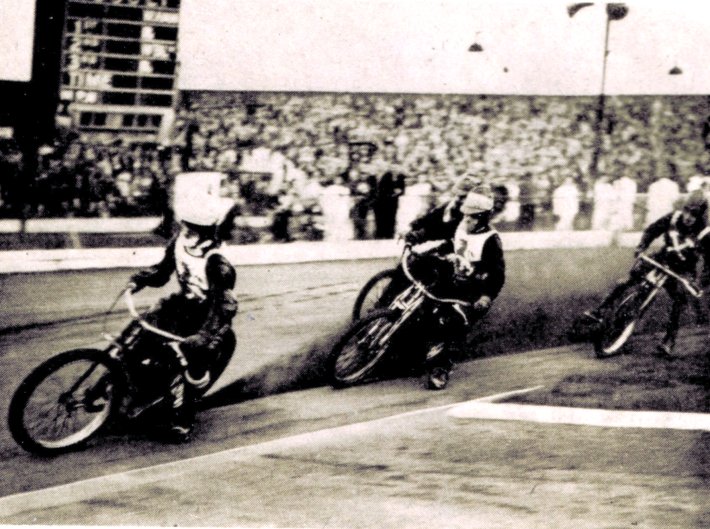 West Ham late 40's Tommy Price Wembley, Eric Williams Wembley, Eric Chitty West Ham, Reg Fearman West Ham. Reg is a friend of mine and has sent me many photos etc which are also shown on the website under his name. He has spent his retirement days meeting up with the speedway fraternity and snapping many a shot of riders in their later years. Check out the Reg Fearman pages via the links at the top of the right hand column
Reg Fearman says: Nah John ! Not me. It is Tommy Price, Freddie Williams, on the outside of him Cliff Watson and Eric Chitty bringing up the rear. I remember it well. Cheers, Reg PS Try me with another !!!!
---
Cliff Parkinson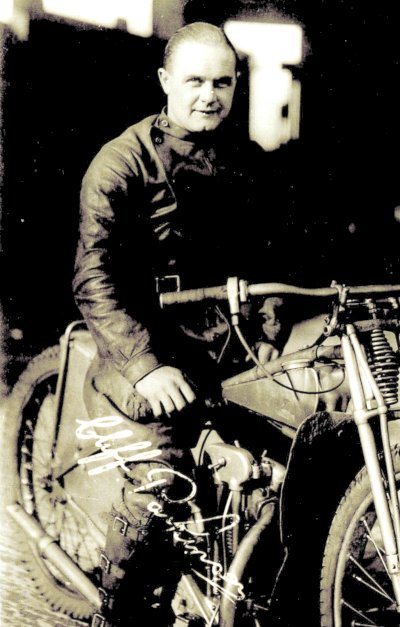 Cliff Parkinson 1931 Wembley, 1935 Hackney Wick, 1934 Harringay Tigers, !933-1936 Wembley, 1937-38 Wembley, 1936 Nottingham, 1947 West Ham
A big thank you to Ivan Stephenson. He is a Newcastle man whose collection of photos is awesome. I hope Ivan decides to send me some more from his huge collection to show on this page. He is always looking to swap some of his photos so if you have similar pics and would like to arrange some swaps with Ivan send me an email John
---
Ivan Stephenson has sent some me some more photo's which I am happy to display below: -
Hastings Not Hackney!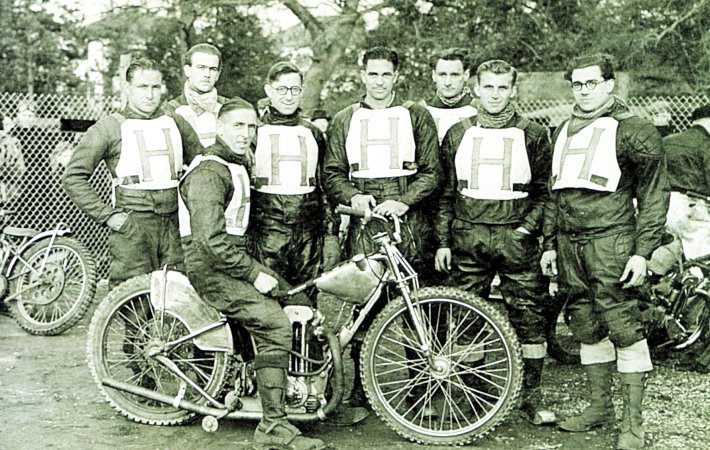 This is Hackney 1949 Jock Grierson and Ken Middleditch. The bike is a Jap and look at the size of the wheels much bigger diameter than modern machines. I think the bigger wheels were replaced by smaller ones in the late 50's don't know why.
Colin Jewes says: The team shot with riders wearing an 'H' race-jacket purporting to be Hackney 1949 is actually HASTINGS of that year. Ken Middleditch is 2nd from Rt, and 4th from Rt. is South African Buddy Fuller.
Bob Andrews says: Hi John, the team with the H on the front in the Ivan Stevensons photos (way down the page.) 4th from left is Ron Clarke ( with glasses) I met him in the 70s. here and his grandson did sidecar racing here in N.Z. a few years ago Bob.
---
Charlie May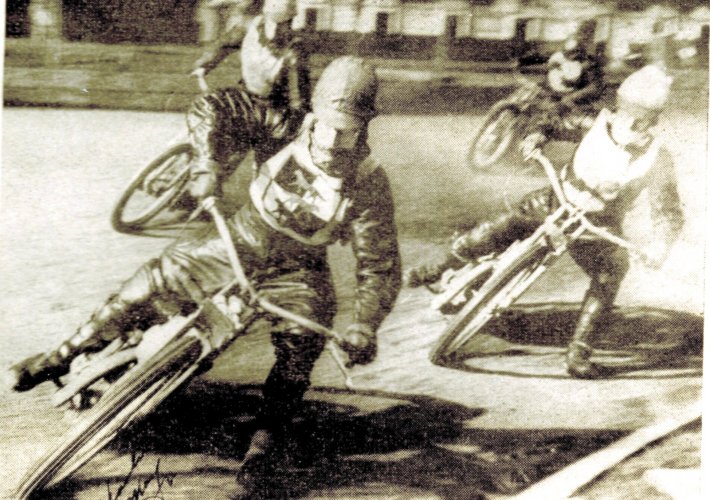 Charlie May..
Wembley 1946 1947 Walthamstow 1949,50,51 - Cardiff 1951-1952 -Southampton 1956
---
1929

Stamford Bridge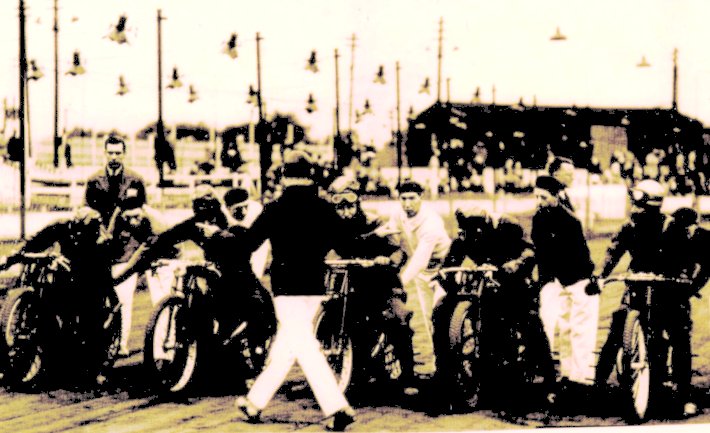 Stamford bridge 1929. The start line looks busy by modern starts. In 1929 speedway operated push starts. I don't know why there are 5 riders in this race but all 5 riders have a trusted pusher behind them.
---
1929

Roger May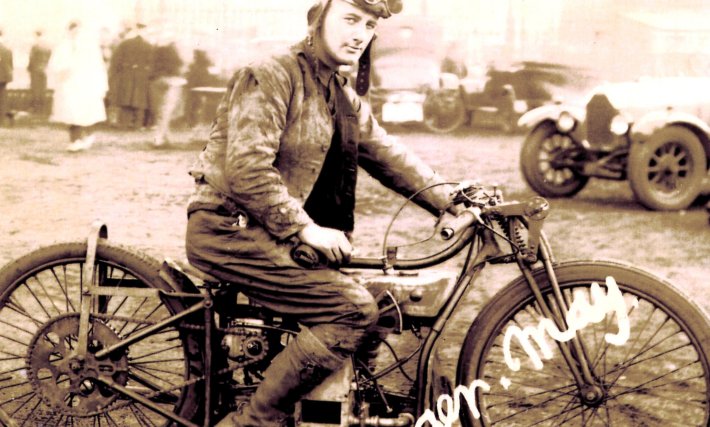 This was White City Manchester. Roger is mounted on a Douglas DT. For the technical fans you will note the engine sprocket which is attached by the final chain to the rear wheel sprocket. The Douglas was a very different machine to the bikes that came after it. Bikes in the Douglas era had massive wheels. On the Dougie the wheels were set wide apart because of the layout of its engine and the bike had a low centre of gravity. Douglas riders found they had to trail their left leg on the track as they cornered lower than the Harley, Rudge and JAP. The JAP replaced the Douglas as the bike to win races on by 1930/31
I like the car in the background it was probably used to transport the Douglas to the next race meeting?
---
Arthur Westwood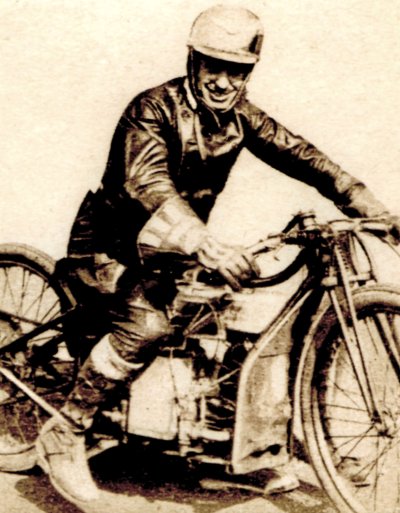 Arthur Westwood 1929-1929 Hall Green Birningham-1929 West Ham-1931 Wimbledon Southampton Clapton Another Douglas rider. 1929 must have been ride a Douglas or get beaten.
---
George Lovick
Crystal Palace

1929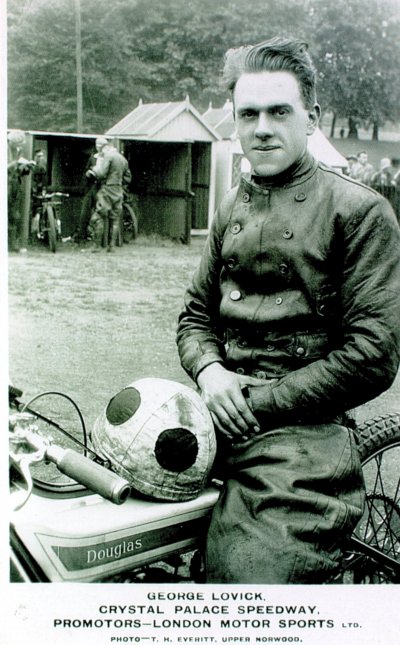 George Lovick Crystal Palace 1929. The tank says it all "Douglas", no better bike in 1929. A pity that the bike company didn't evolve and continue to make more modern machines. Speedway would have been better with a variety of makers. The Douglas made way for another British Company JAP who went on into the 1930s as the main bike maker for speedway until the late 1960's when the Czech made ESO came along.
These photos are the property of Ivan Stevenson, Ivan is interested in swaps for photos of pre-war pictures he would like. If you have pre-war pics you would like to exchange then please let me know and I will put you in touch with Ivan John
---
The contents of the site are © and should not be reproduced elsewhere for financial gain. The contributors to this site gave the pictures and information on that understanding. If anyone has any issue or objections to any items on the site please
e-mail
and I will amend or remove the item. Where possible credit has been given to the owner of each item.