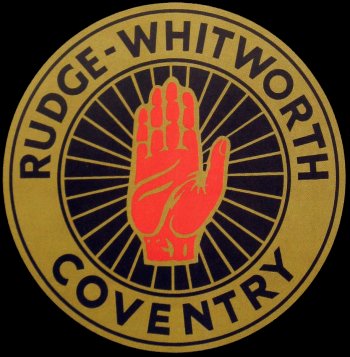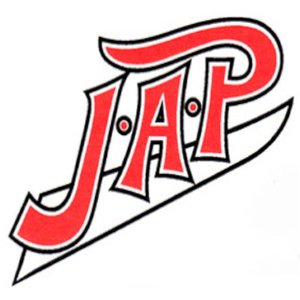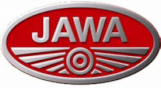 ---
Reg Fearman
Part 1
Amsterdam
Jack Gates' In Memory
Igor Plechanov
Reading Speedway
My Story
By Reg Fearman
1.

I was born in the East End of London in April 1933 and lived there until I was 21 years of age with the exception of doing National Service in the Royal Artillery for 2 years June 1951- June 1953.
2. I rode for three clubs. West Ham 1949,1950,1951, Stoke 1952, 1953 and Leicester 1953, 1954, 1956, Stoke 1960, 1961.
3. I was a promoter at Stoke 1960,61,62,63. Liverpool 1960. Wolverhampton 1961,62,63. Newcastle 1961,62,63, Bradford 1962.
Middlesbrough 1961,62,63,64. Halifax 1965 through to 1986. Reading 1968 to 1978. Poole 1979 to 1984. With Allied Presentations Limited, Directors Maury Littlechild, Len Silver, Ron Wilson, Danny Dunton and Me, 1968 to 1974 Crewe, Teesside, Rayleigh, Sunderland, Peterborough, Newcastle, Rye House.
4. British Lions Team Manager in Australia 1973/1974 and 1977/1978. British Riders Representative in Wold Finals and other events in Sweden, Poland, Denmark and Germany. Ice Racing Team manger in Sweden and Germany.
5. Chairman of Division ll 1968 to 1974 Chairman of the British League 1973 for seven years between 1973 and 1984.
This John is about it. There are things as building Reading Smallmead in 1974 and doing noise tests at Gloucester.
It was a very busy life from 1949 to 1986 including two years as a conscript in Her Majesty's Service as a Soldier in the Royal Artillery.
Reg On The Trigger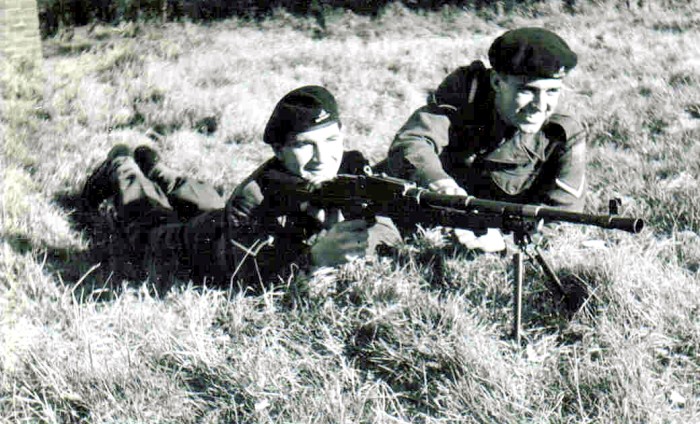 Reg & his friend Bill Bartlett doing their National Service.
---
Reg's Riding Career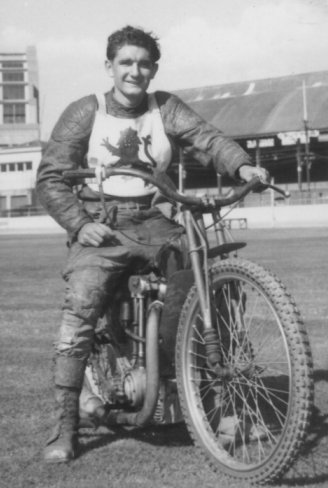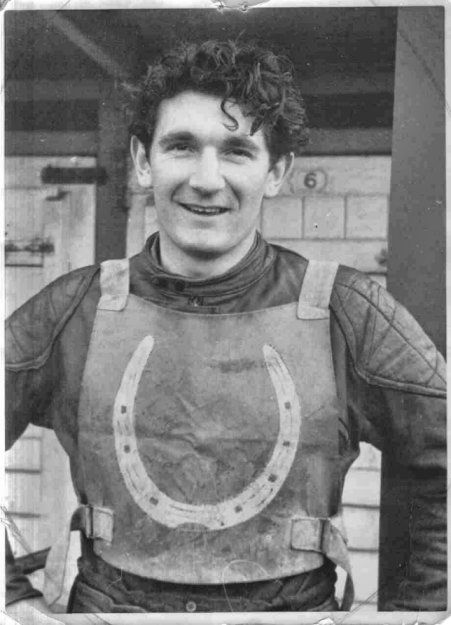 Reg in Sydney Australia in 1950 and 1953 in Leicester colours
The reason I got into speedway was that in 1946 when speedway returned after the World War of 1939 -1945 we were all speedway fans - my parents and sister from pre-1939. We all used to go to West Ham on a Tuesday evening. In March 1947 my parents were asked by the Secretary of the management if an Aussie, Cliff Watson, could stay with the family for a short time until he got sorted out. He came and a few weeks later, he asked if his friend Aub Lawson could also come and stay - he was a late signing for the Hammers. They both stayed for about three years in between going home for the Aussie season. At the end of the 1947 season Aub gave me a 1928 dirt track Douglas to practice on in the winter on the old cycle speedway track at Becton almost in the shadow of West Ham Stadium. In May 1948 my parents bought me one of Cliff Watson's machines and I practiced on that at West Ham's big silver sand track and at Rye House. I had my first public meeting at Rye House on the 1st August 1948 and scored 11 points - not bad for a beginner. The ACU banned me from racing as I was only 15 years old and at that time they laid down that the minimum age be 16 years old, the same age as obtaining a licence to ride a road machine. On Tuesday 26th April 1949 I was presented with my licence at West Ham by the captain Eric Chitty in front of 40,000 speedway fans.
---
Reg West Ham
On The White Line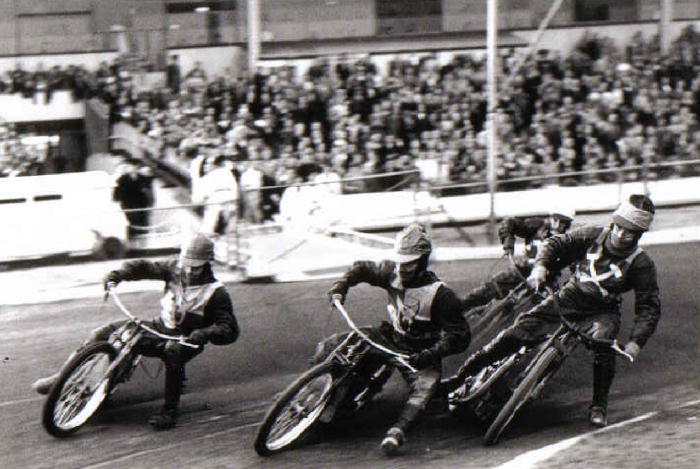 Reg for West Ham, on the white line at Harringay in 1949
Reg says: During my racing career I raced for the Hammers, Stoke Potters and Leicester Hunters. At the end of the 1954 campaign and newly married to Joan, I had a contract to race at Auckland, New Zealand. Speedway in Britain was going through a down turn at that time due to the high entertainment tax of 48% and the coming of television. We decided to go to NZ with an open mind and stay as long as we wished. We returned to England in March 1956, but I raced very little until 1960 when I opened Stoke and other tracks in the new Provincial League with co- promoter Mike Parker. I raced in the 1960 season only as rider coach and for a few meetings in 1961.
---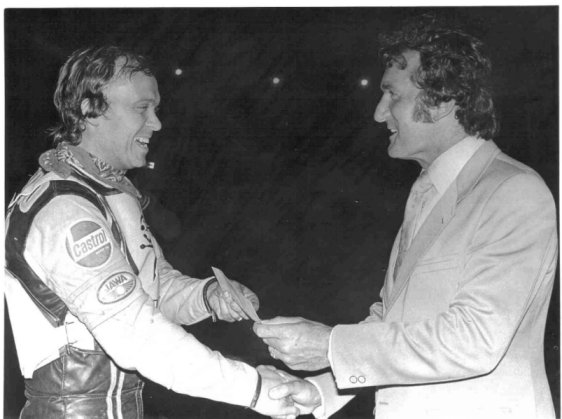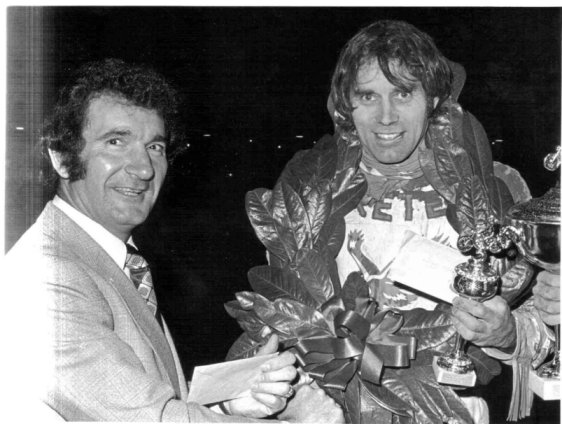 Promoter Reg at Reading, presenting Ole Olsen with a cheque and Ivan Mauger with The Manpower Trophy
My promoting career took off and I promoted and co-promoted at many venues in the UK until I retired in 1986. I also took speedway to Kuwait, Egypt and the United Arab Emirates. At one time I was England World Team Cup and World Team Pairs manager, Great Britain Test Team Manager, England Test Match Rider and as Manager I took an England team to Australia in 1973/74 and 1977/78 on both occasions we brought the Ashes back to the UK. As a promoter I was Chairman of the British Speedway Promoters Association for no less than seven terms and Division Two Chairman for five terms.
---
Amsterdam 1953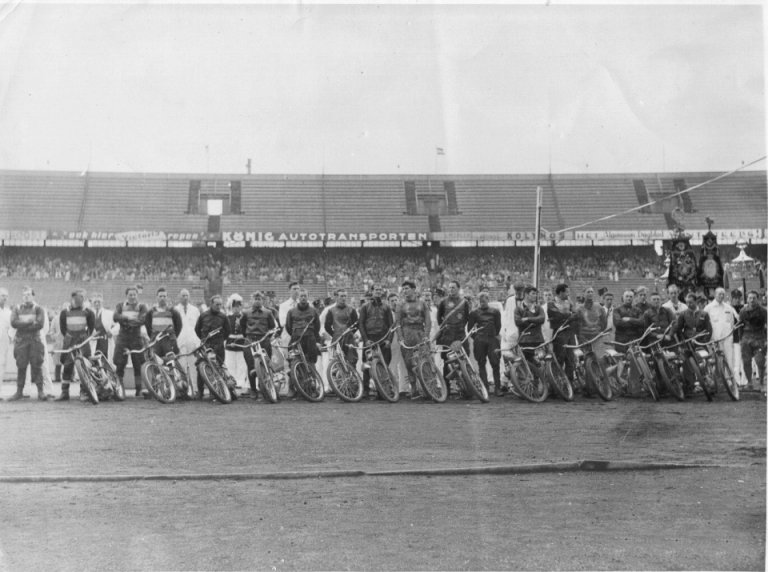 Courtesy of Reg Fearman
Here are some photos of a meeting at the Olympic Stadium Amsterdam in 1953 it was won by Tony Kroeze ( father of Henny ex Halifax ) he is the fourth from the left in the Dutch Colours, 5th left is Alfred Siegl. Extreme right is Jimmy Gooch, 3rd right is Phil Bisop, 4th Roy Craighead, 5th Jock Grierson, 8th Josef Hofmeister and 10th Reg Fearman.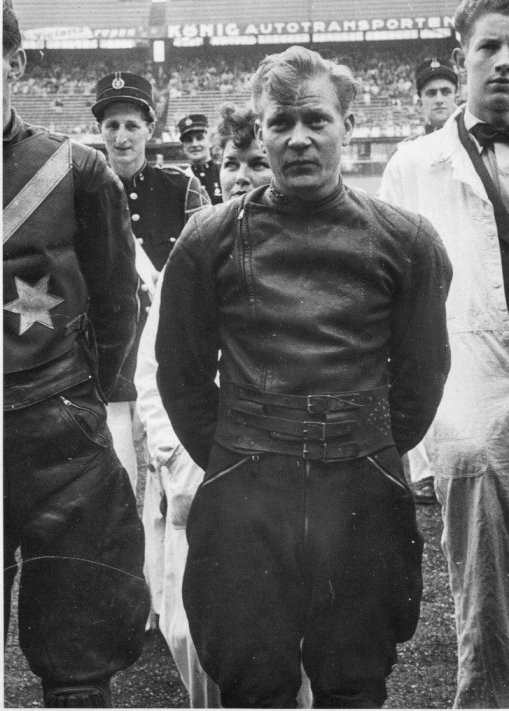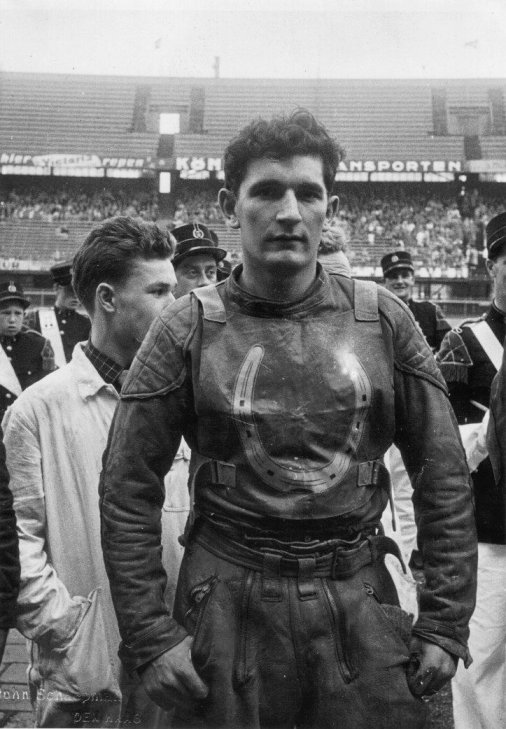 Courtesy of Reg Fearman
Josef Hofmeister & Reg Fearman Amsterdam 1953
Amsterdam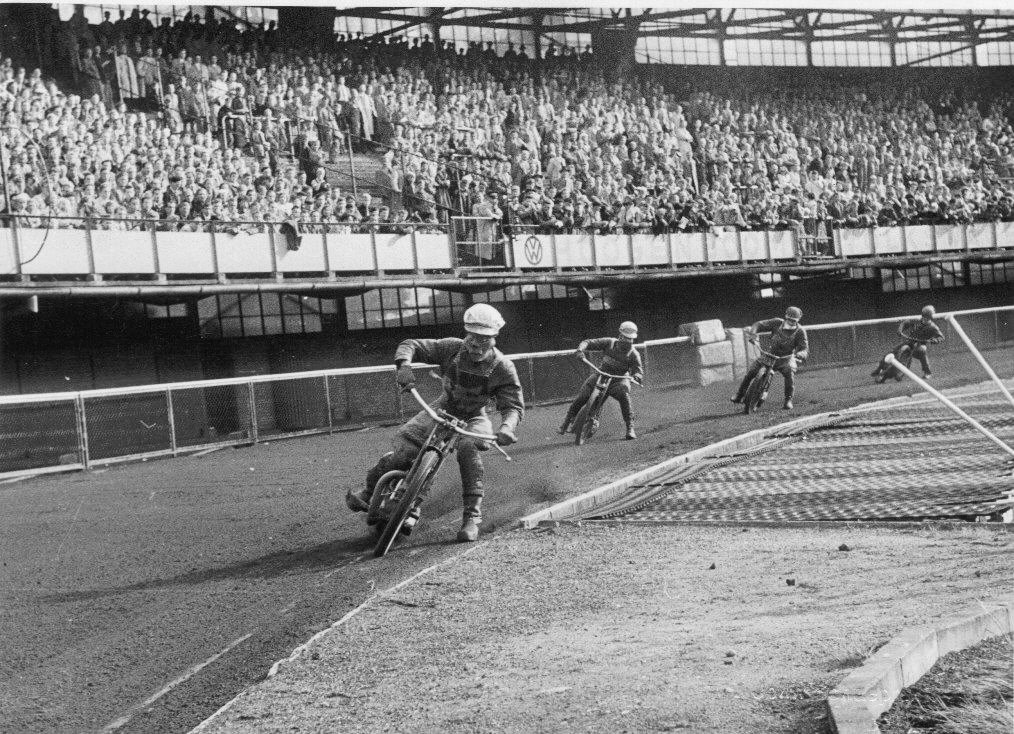 Courtesy of Reg Fearman
Reg is in second place in this fine action shot. A great crowd in Amsterdam
---
Reg Blasting Around
The Outside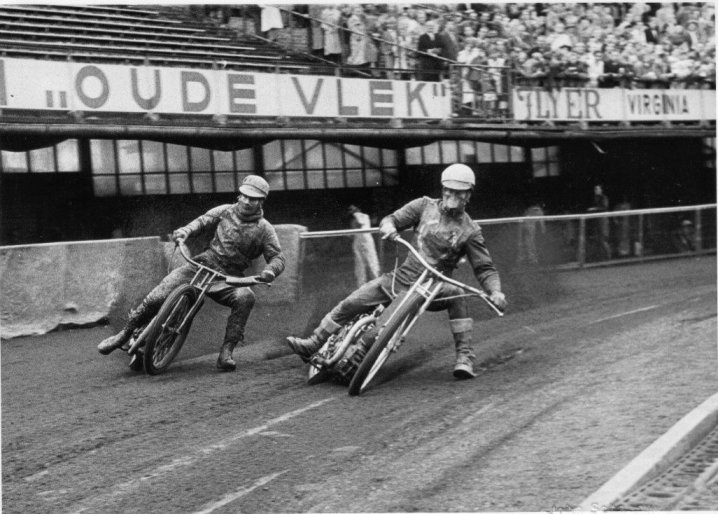 Courtesy of Reg Fearman
Reg on the outside ideally positioned for a blast around the leader
---
Reg Fearman (born 26 April 1933 in London, England) is a former international speedway rider and promoter. Reg started at Rye House until they discovered he was only 15 years old. When he reached 16, his home track (West Ham) had him presented with his racing license by the Hammer's star man Eric Chitty.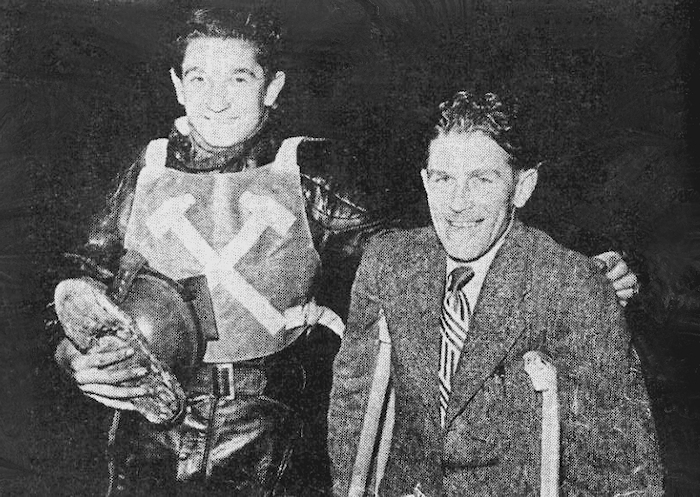 Courtesy of Reg Fearman
Reg says: Thank You To All Who Sent The Good Wishes For My 88th Birthday
Seventy two years ago today (26th April 2021) at West Ham Speedway in front of 40,000 people, Eric Chitty presented me with my official racing license on my 16th birthday. Eric had arrived back from Australia with a broken leg. It was one of many injuries that he suffered.
---
A Recent Picture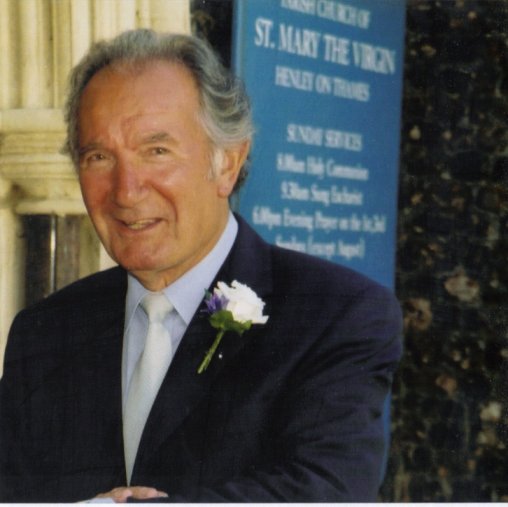 I look forward to sharing some of my speedway life, experiences and photos with you. I hope you enjoy them.



Reg Fearman


28th September 2008
---
Jack Gates
Aussie Jackie Gates came to race in the UK in 1950 and during his time here saw service with Glasgow Ashfield, St Austell and Wembley.
Jack and I became good pals during that time and have never been out of contact for well over 50 years.
Jack would stay with us in West Ham whenever he could and we would visit speedway tracks in London and take the odd trip to Rayleigh - we had heaps of fun. I jumped at the chance when I was invited to race for England in Australia for the 1950-51 season under the captain Jack Parker.
It was there in Sydney that I met Jack's mum, sister Vera and grandpa ( Jack's father had been killed during a gaol break - he was a warder - when Jack was quite young ). I would stay at Randwick - a Sydney suburb - with Jack and the family when time permitted and it was Jack who taught me to surf off Bondi Beach. He also introduced me to my first nudist beach known as Lady Jane which was in a secluded cove. The only access was down an iron rung ladder which I think was a relic from the war years, as an army camp was near by.
We managed the ladder OK and picked our spot to lay out our towels - not too near other people. When I did look around it would seem that the majority of those who had taken their clothes off should really have kept them on. We eventually disrobed and ran into the sea. Swimming close by was a woman who had the most beautiful face and jet black hair. I said to Jack let's wait until she gets out of the water and walks up the beach, I bet she's gorgeous. What a disappointment because she was one of those that should have kept her clothes on.
Jack's 80th Birthday was on 3rd December 2006. Around April of that year I said to my wife Eileen do you think we could organise a secret and surprise birthday lunch for Jack near to his home Burleigh Heads on Queenslands Gold Coast ? She thought we could so we went into action and first contacted Bluey Scott ex rider with Glasgow, Middlesbrough and several other tracks. Bluey lives not far from Jack (who lives on his own) and with his wee wife Scots girl Ann keeps an eye on Jack as he has been suffering a few ailments over the past few years. Bluey sussed out a good waterside restaurant - Elevations - and we took over from there. We looked at Elevations on the web and liked the look of it and its position. We then e-mailed the Manageress to make an open numbers booking for the 3rd December. We obtained several menus and the wine list and made our choice. We then set about e-mailing and telephoning many ex-riders who live on the Gold Coast. There are very few who have not moved from Sydney up to the year-round warm climate found there.
All those invited were sworn to secrecy so that it would be a complete surprise for Jack on the day. We asked Bluey and Ann to tell Jack they wanted to take him out to a nice restaurant for lunch on his 80th. He asked them more than once why they couldn't have a BBQ in their yard as they usually did. The secret was well kept. I spoke to Jack on the telephone two weeks before the event and told him I would talk to him on his birthday. A few days later, Eileen and I left for Australia calling in at Perth where we spent a week with Colin and Trish McKee and catching up with many of my former contracted riders and former Ipswich promoter, John Berry. We flew to Brisbane with a couple of days to spare and were picked up by Bluey and Ann and taken to their home in Burleigh Waters. We had 36 friends of the speedway fraternity sit down for lunch including Ian Hoskins (Jack's former promoter at Glasgow) who flew in from New Zealand, Allan Quinn and some of the Lawson family from Sydney. Also from Sydney, Jim (speedway historian) and Judith Shepherd and, from Mackay which is 600 miles north of Brisbane, Eric Williams, former Wembley team mate of Jack's.
You will see from the photographs the surprise on Jack's face and the good time that was had by all those present. It gave Eileen and me so much pleasure in arranging such a wonderful event, without a hitch, in a very lovely location for such a good pal.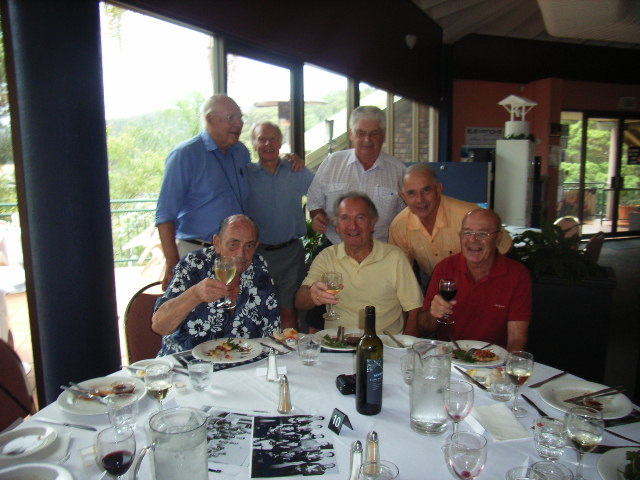 Jack Gate's 80th Birthday party near his home in Queensland. Jack is in the flowery shirt seated next to Reg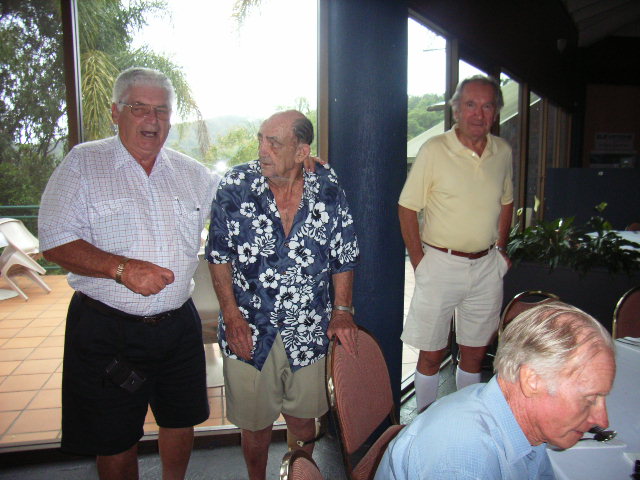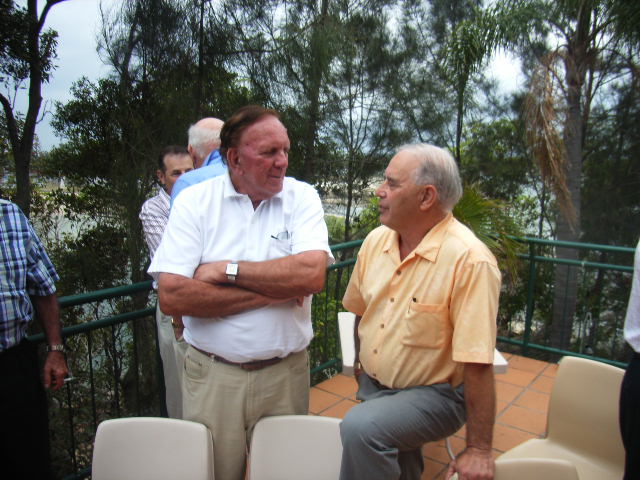 Top Ian Hoskins, Bluey Scott, Allan Quinn, Ivan Mauger, Jackie Gates, Reg Fearman, Eric Williams. Bottom Left: Allan Quinn, Jack Gates, Bluey Scott with Reg Fearman in the background. Bottom right Bill Goode (former Brisbane Promoter) and Ivan Mauger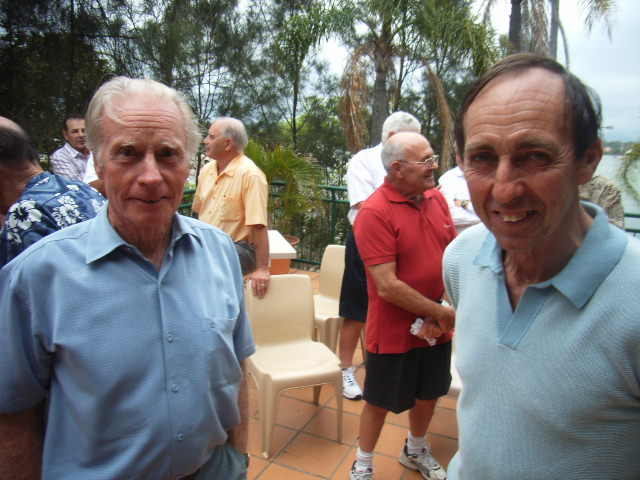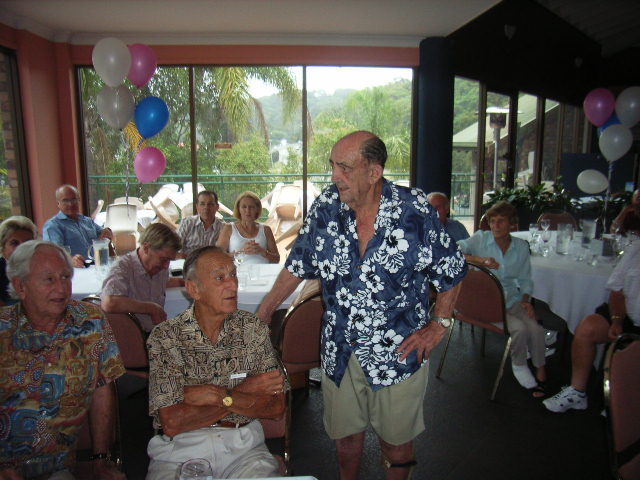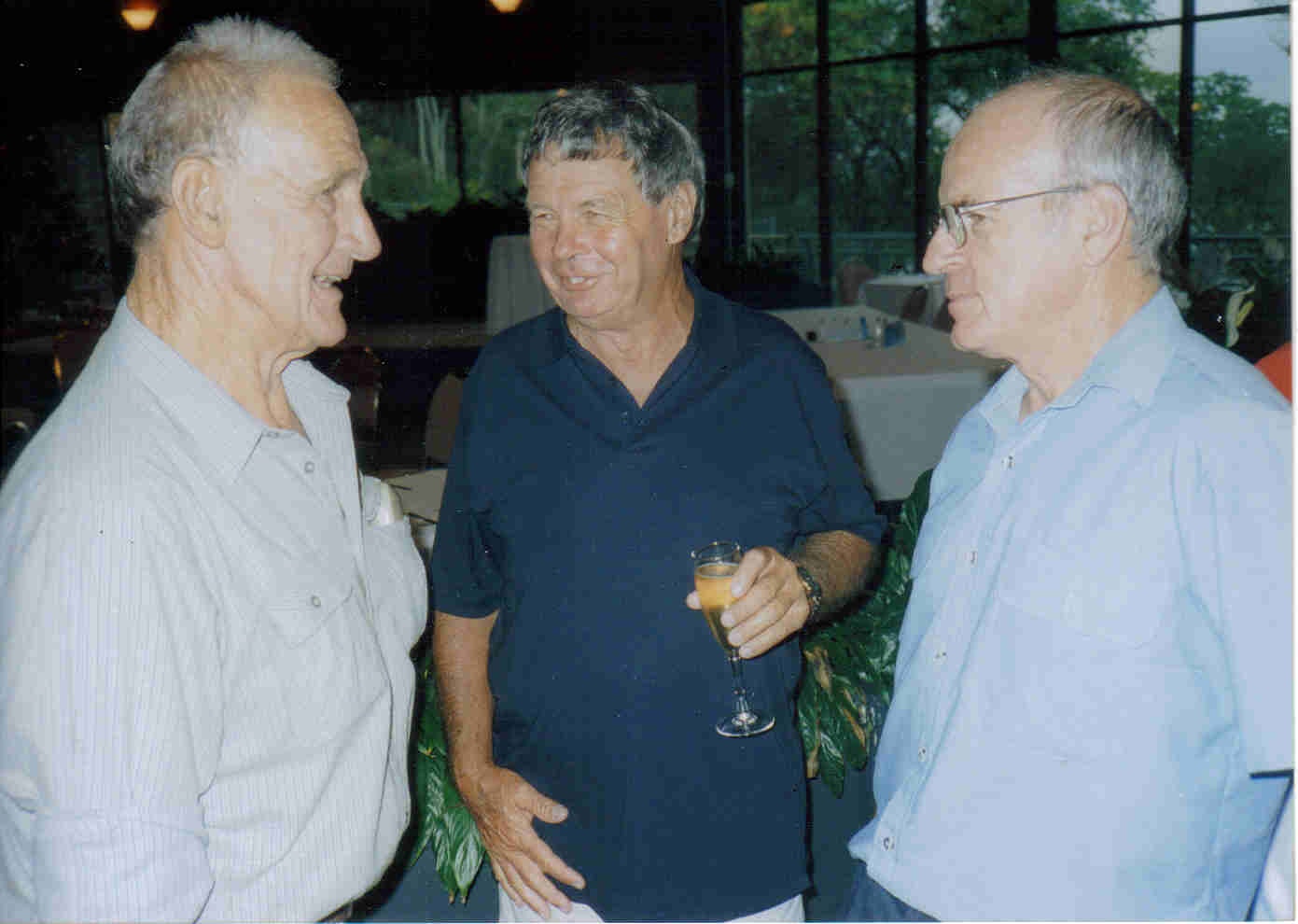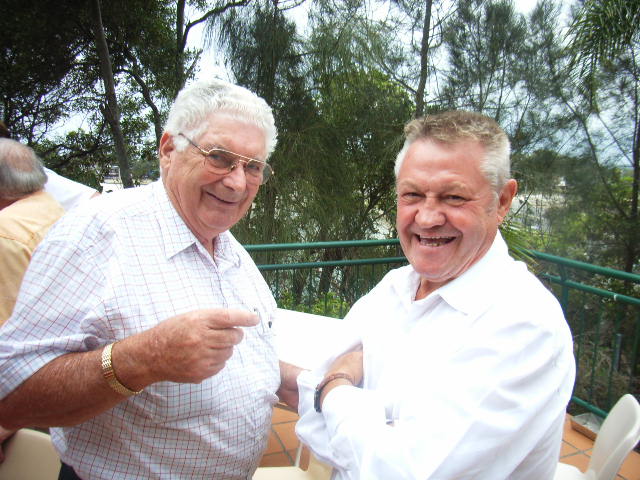 Top left: Bluey Scott with Kevin Torpie with Martin Rogers, Ivan Mauger and Eric Williams in the background. Top right: A loud shirt competition between Bill Bryden, Adrian Guest and Jack Gates. Bottom left: Bob Sharpe, Greg Kentwell and John Titman. Bottom right: Allan Quinn and Nigel Boocock.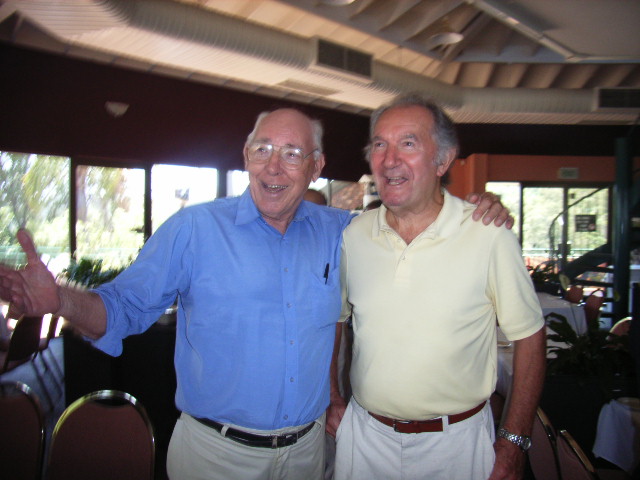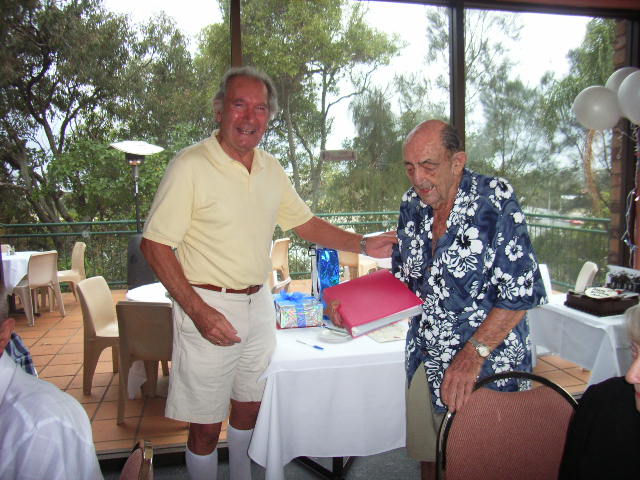 Left: Ian Hoskins and Reg Fearman. Right Reg presents Jack with a "This is your life" book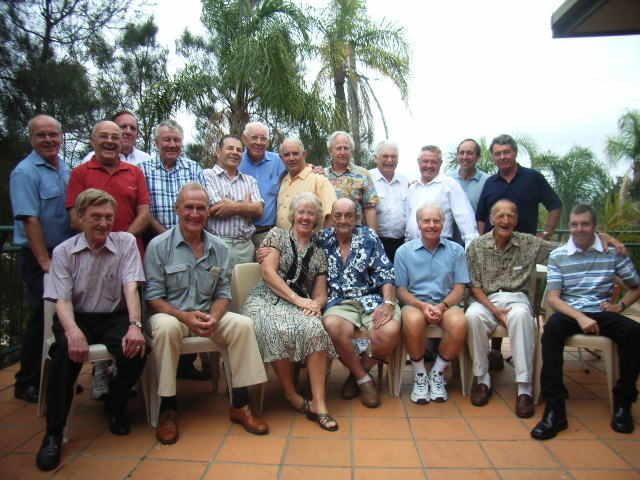 John Titman, Eric Williams, Bill Goode, Bert Kingston, Martin Rogers, Ian Hoskins, Ivan Mauger, Bill Bryden, Allan Quinn, Nigel Boocock, Kevin Torpie, Greg Kentwell. Front Row: Jim Shepherd, Bob Sharpe, Eileen Fearman, Jack Gates, Bluey Scott, Adrian Guest and John Torpie Kevin's son.
*****************
Jack W. Gates

Born: 3rd December 1926
Deceased: 14th May 2012
Reg says: It is with deep sadness that I have to report the passing of my great pal Jackie Gates. Jack passed away at 6.30am Monday 14th May at the Carrara Rehabilitation unit on the Gold Coast, Queensland. We had been good pals since he came to race on the British speedways in 1949. He saw service with Wembley, Glasgow, Leicester and St Austell. Jack represented Australia in Test Matches along side the likes of Aub Lawson, Ken Le Breton, Lionel van Praag, 'Buck' Ryan, Lionel Levy, Jack Arnfield and Dick Seers
It was three months ago that Jack had a major stroke at his home in Burleigh Heads. He lay for ten hours before he was discovered.
I have spoken to Jack frequently on the telephone and at the beginning he was making some progress - his speech recovered but not his mobility. Over the past week he lost the will to live and told his niece Beverley that there was no point in going on and that in a few days he would be gone. Jack was true to his word. His two sisters and mother all died on the 18th May in different years.
Jack, when racing at St Austell, met and married a St Austell girl, Pat. He took her to Sydney and she loved Australia. Jack and Pat divorced in the 1980s and for some years Jack was on his own. He then met a lady named Jetta on the Gold Coast and they were happy for some years until she passed away. Jack had no children.
I last saw Jack in December 2006 in Burleigh Waters when my wife Eileen and I arranged a surprise 80th Birthday party for him at the Elevations Restaurant. Jack was a good pal despite our 12,000 miles apart for most of our lives.
Rest well Jack.
Reg and Eileen.
---
Igor Plechanov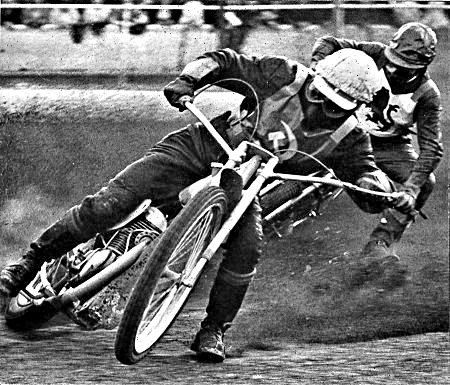 Reg says: During 2002, long-time Russian and World speedway fan, Igor Kalashnik of Kishinev, Moldavia asked Ove Fundin - they had been in touch for some time - if it could be arranged for Plechanov to come to England for the Veteran Speedway Riders Association Dinner which is usually held in March of each year. All expenses would have to be paid as Igor had very little money. Ove discussed it with me and I thought it would be wonderful if we could get him over for the Dinner in 2003 as Guest of Honour.
As a Committee member, at the next Committee meeting I put forward the suggestion. The Committee agreed , the one stumbling block being that the VSRA funds would not stretch to such an expense. I said that I would raise the funds by Igor being sponsored.
The close knit fraternity of the VSRA opened their hearts and wallets as I made phone call after phone call and raised enough money to bring Plechanov, his grandson and Kalashnik, who acted as interpreter, to England for ten days. It took Plechanov three days by train from his home at the base of the Ural Mountains to Moscow to meet up with his grandson and Kalashnik before flying to London.
Eileen and I met them at Heathrow and took them to the Coventry Hilton, the venue of the VSRA Dinner. Plechanov had a tremendous reception from fellow riders and the whole evening was a great success. The day following the Dinner, we took them back to Henley on Thames with us and to the Hotel we had arranged for them. From there it was day trips to the usual London and Home Counties tourist spots for the remaining days of their visit. Eileen and I enjoyed being their guides as much as they enjoyed the sights. I hope you enjoy the photos that tell the tale.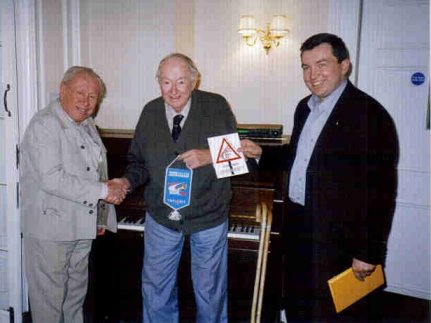 Tony Gyselynck meets Igor Plechanov and Igor Kalasnik at Phyllis Court Henley March 2003
The late Tony Gyselynck was a pre-War and immediate post-war speedway rider, a junior at Coventry.
Reg Fearman
October 2008
Dinner At The Fearmans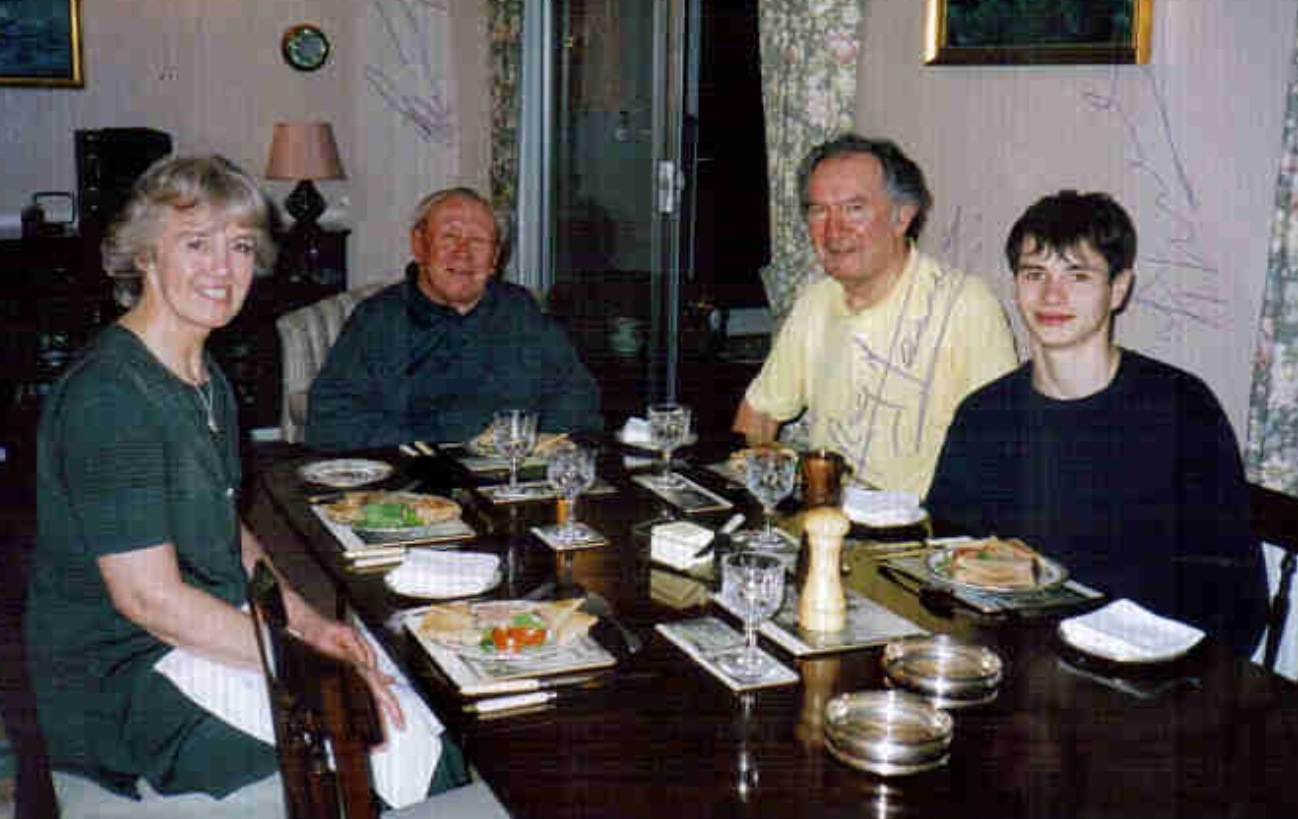 Dinner at the Fearmans. Eileen, Igor, Reg and Krill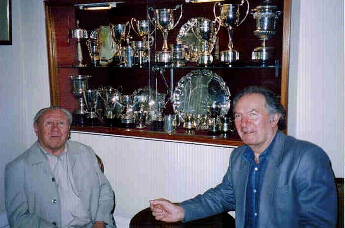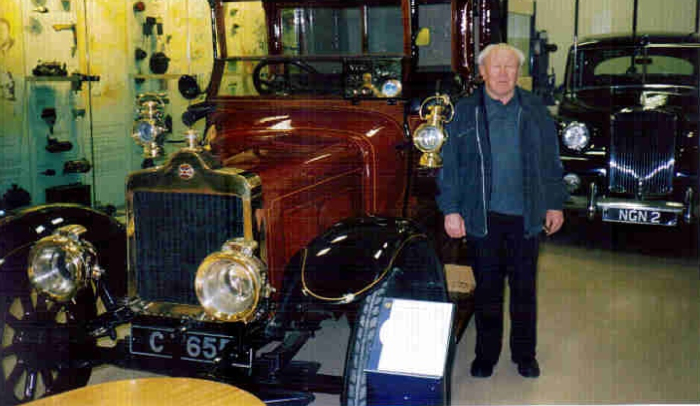 Reg showing Igor the trophies at Phyllis Court Country Club for Rowing etc. and Igor at the National Motor Cycle Museum Birmingham March 2003.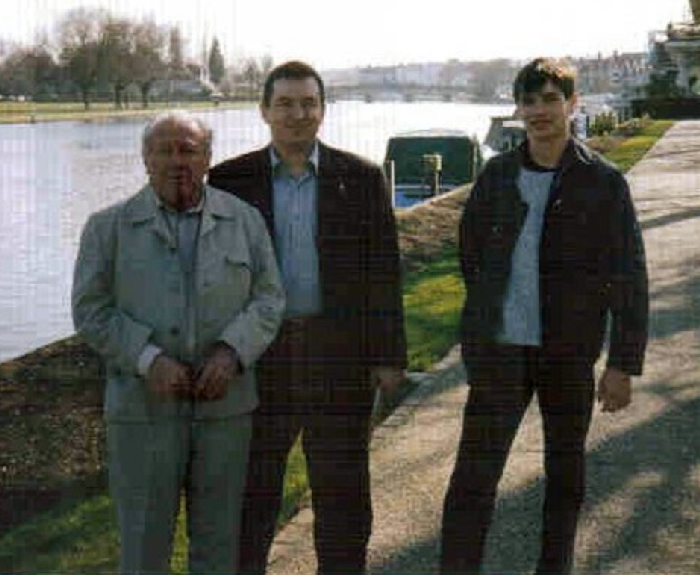 Igor Plechanov, Igor Kashnik and grandson Krill at Henley on Thames 2003
Igor Under Arrest!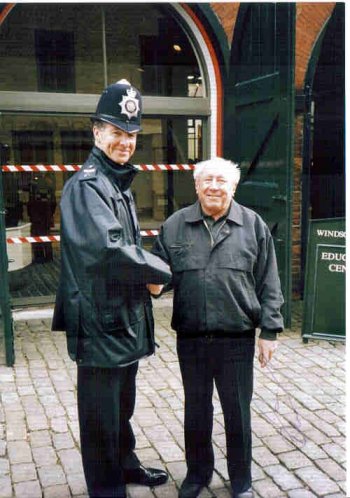 For Beating England's Best In The 1960's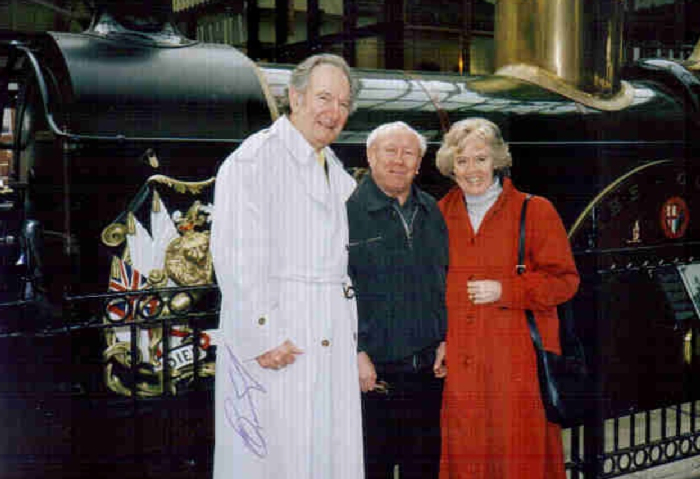 Reg and Eileen were Igor's tour guides, here they show him the Royal Train at Windsor
Igor on the London Eye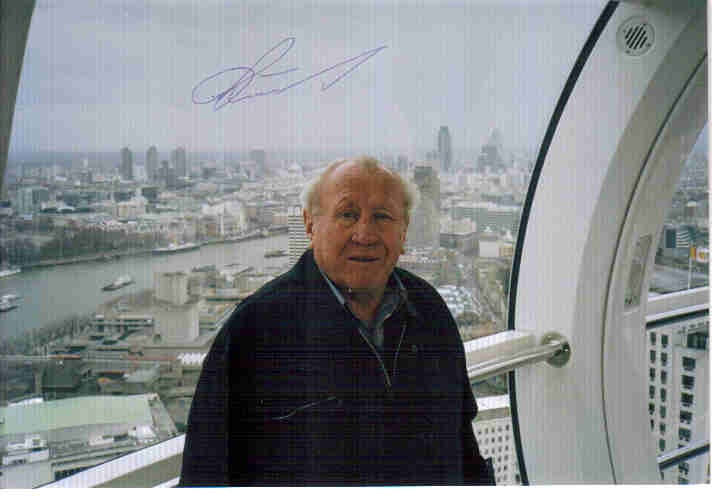 Igor at the British Motor Heritage Museum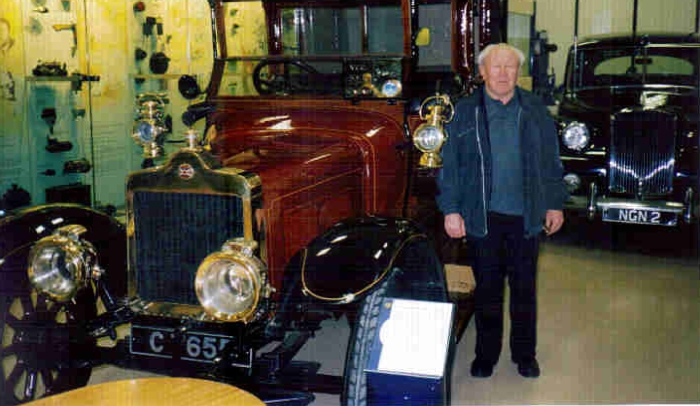 Seeing all the sights, Igor at the British Motor Heritage Museum, Gaydon, March 2003.
Time To Say

Прощай

(

Goodbye)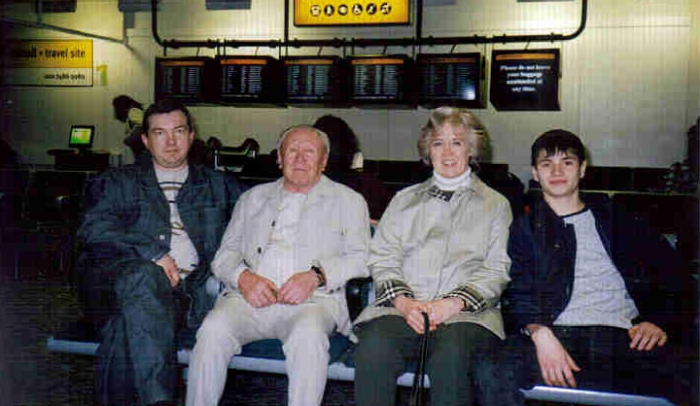 Time to say goodbye, Igor Kashnik, Igor Pleachanov, Eileen Fearman and Krill at Heathrow in March 2003
Igor Is No
Longer
With Us!

This Is His Grave In Russia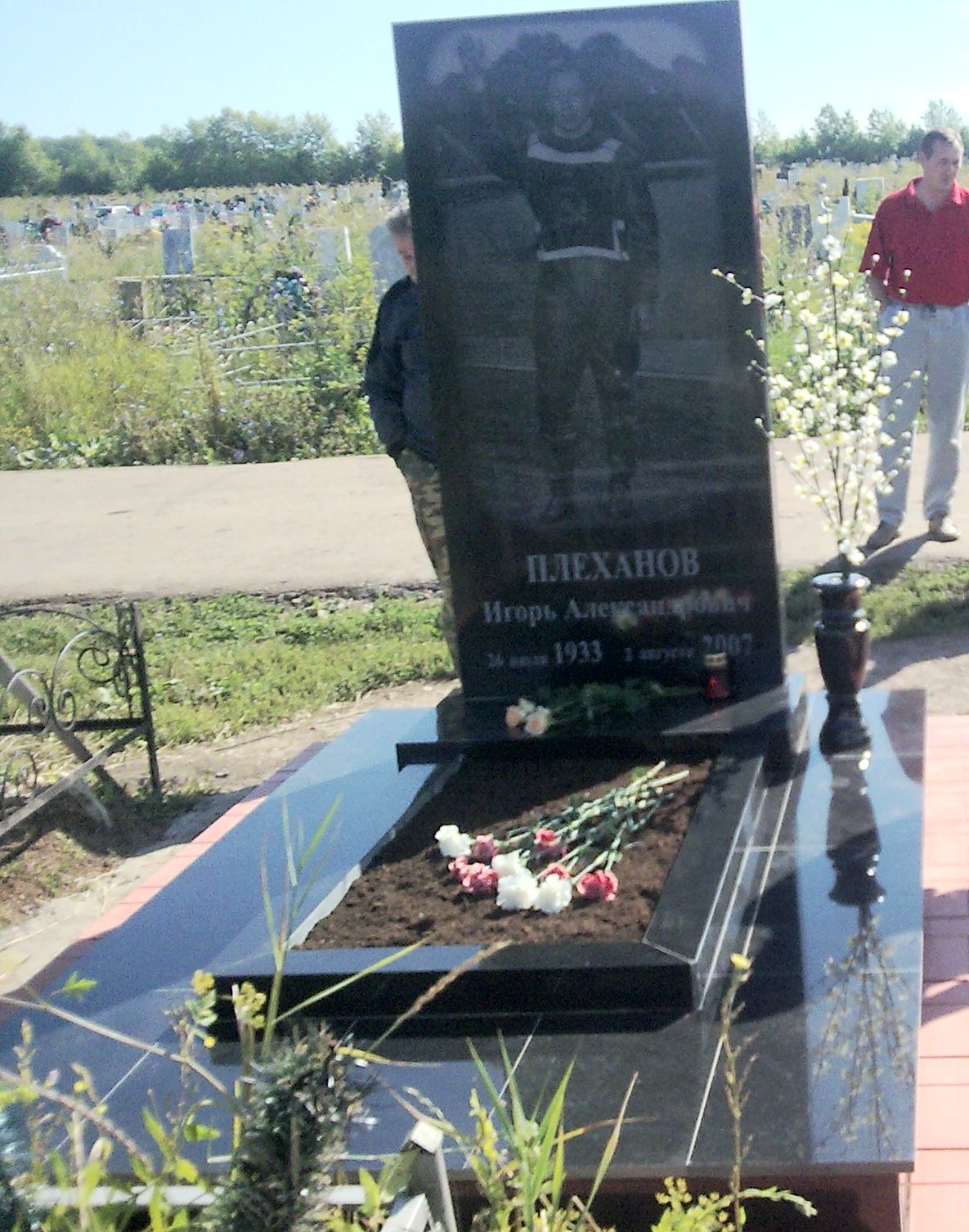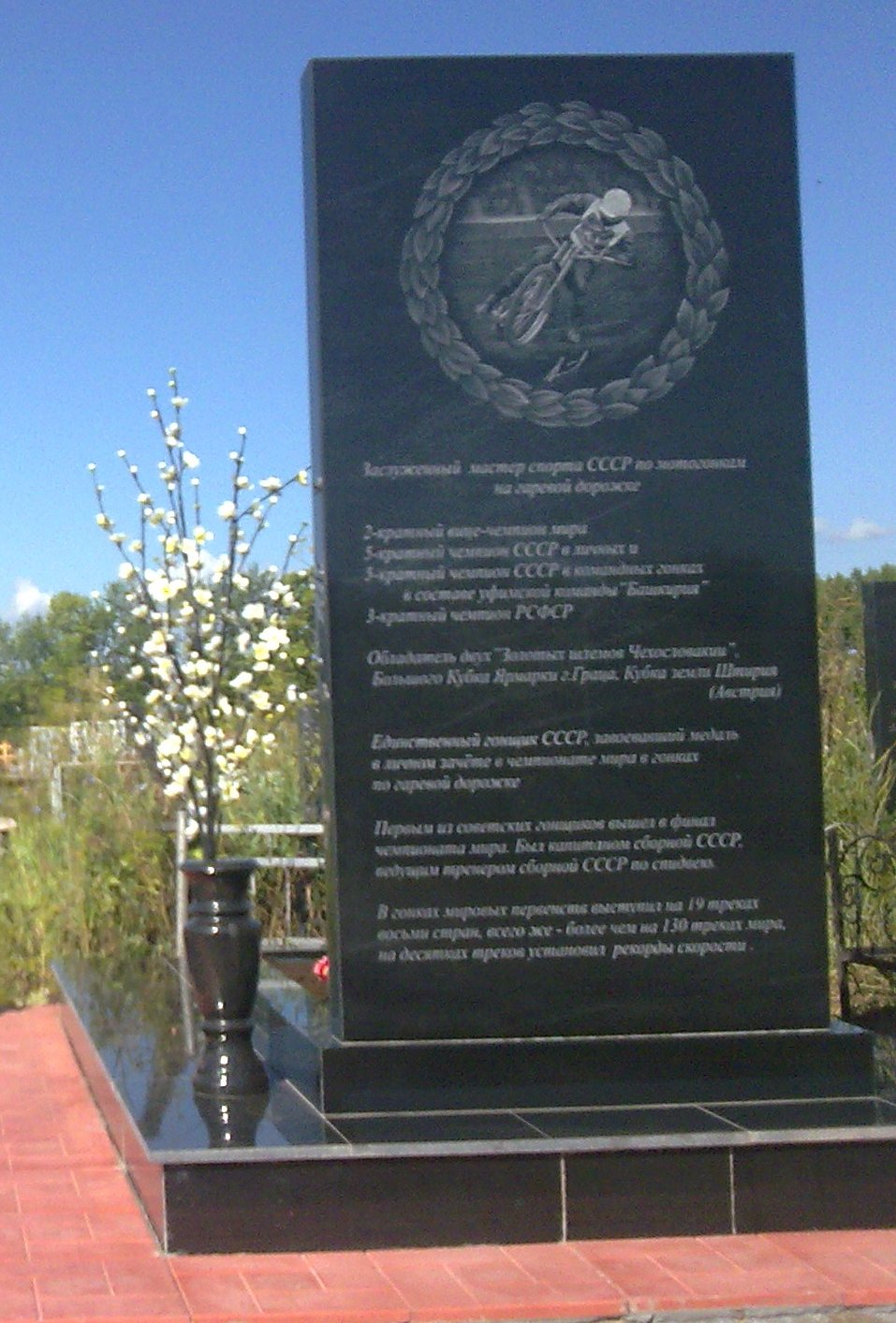 John says: Igor Plechanov rode for USSR at my track Brough Park Newcastle in 1966. The match remains etched into my memory. Igor and his team were great entertainers.
---
Reading Speedway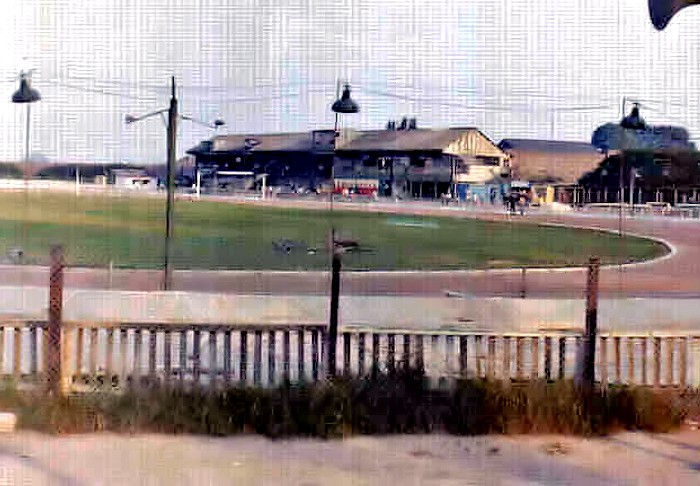 Reading Speedway Tilehurst 1973 closed for re-development 1973
---------------------------------------
Lament For Reading Speedway - Sold Down The Swannee!
Final Meeting October 2008
Bill Dore and his daughter Pat Bliss have a lot to answer for, says Reg Fearman.
Allied Presentations Ltd of which I was a founder member and given by my co-directors the remit for Reading Speedway which proved to be a great success. I promoted on behalf of the company at Tilehurst Stadium from 1968 to 1973 inclusive - the Reading Racers.
At the end of 1973 the Stadium was due for demolition having been sold by the owners of the Greyhound Company. They kindly gave me 12 months' notice and so with the co-operation of the Chairman of the Supporters Club, Mick Smith, and the fans we launched S O S Save our Speedway. I applied to the BSPA for a leave of absence from the British League for one year which was granted. To cut a long story short, in early 1974 I was able to sign on behalf of A.P.L. a 99 year lease with the Reading Borough Council for 25 acres of land known as Smallmead. The drawings and plans had been drawn up by a close business friend John Spratley of John Spratley and Partners, Architects of Abingdon near Oxford, and work started on the virgin site.
Come mid summer of 1974 there was blip in the British economy. Inflation was rising and a four day working week was in place. My co-directors thought we should abandon the Smallmead project but it was my dream and I wanted to see the project through. We parted company amicably and they agreed I could take the company name, Allied Presentations Limited, with me. I asked if any of the directors wished to come with me and Len Silver said he would, so it was Len and me from then on.
Frank Higley had already been on the site for some months with his earth moving machines ( he had sponsored some riders at Tilehurst and was a keen speedway fan ). We offered him a third share in the project which he was delighted to accept. Towards the late autumn an approach was made to us by Bill Dore that he would like to be involved in the project. He was W.H. Dore of the Oxfordshire building and construction firm. He also was most interested in Greyhound Racing being the owner of many greyhounds, racing them at Swindon and other tracks and having his own training track at Shipton under Whychwood. Frank, Len and I discussed the advantage of having Bill involved and agreed to give him a quarter share, which gave each of us a 25% share in the company of Allied Presentations Ltd.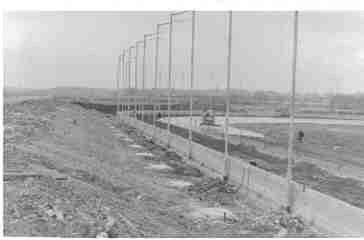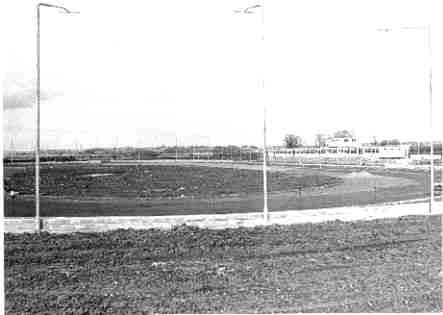 Bill moved men and machines on site and took control as Clerk of Works. The Speedway opened in March 1975 to great acclaim. For many weeks there were queues of traffic stretching back to the M4 Motorway in both directions. We opened for Greyhound racing a few weeks later. All seemed to be going well, each of us had our duties - mine was to promote the speedway. I n 1976 Len Silver said his position had been made untenable by Bill Dore and wished to sell his shares in APL to the three of us. I was sorry to see Len depart - exit Len.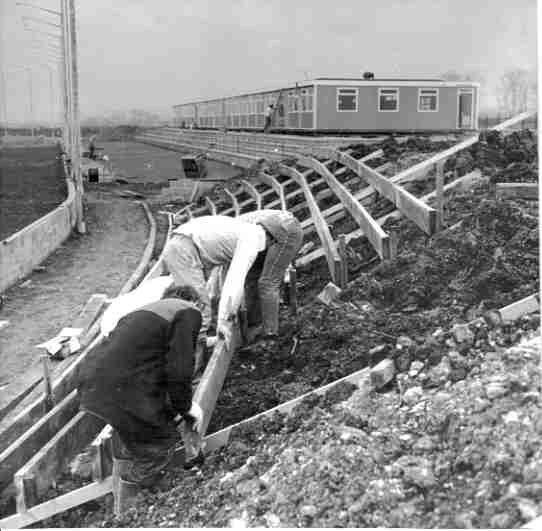 In the winter of 1977 -1978 I had the opportunity to manage the British Team in Australia. I went with the full blessing of not only my wife Joan and son Gary but also with that of Bill Dore and Frank Higley. I returned victorious in March 1978 having beaten the Aussies by 5 matches to 2.
Within a couple of days, at a directors meeting between myself, Bill and Frank, I was presented with a fait a complait. They had decided that none of us should have a day-to-day involvement in running the business. A vote was taken and of course I was outvoted 2 to 1. My protests were of no avail and so eventually It was a case of either I bought them out or they bought me out. They bought me out and I departed after promoting my last speedway meeting at Reading on 17 July 1978 - The Jubilee Trophy.
Bill Dore I am sure always had his eye on the Stadium becoming a family business. He drafted in Brian Constable from his work force ( a former Swindon Speedway supporter ) as Reading Speedway Promoter. He lasted about a year and then Bill Dore's daughter was drafted in and they became Co - Speedway Promoters together. His son had been drafted in as the Greyhound Manager and Greyhound Handicapper. Frank Higley had also been bought out but I know not the circumstances.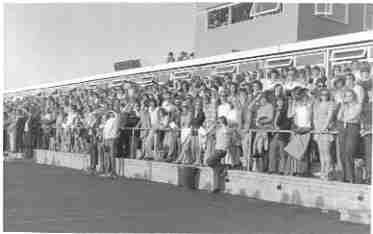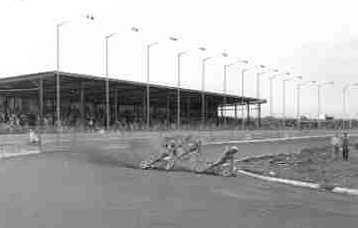 The first Meeting at Smallmead 1975
I understand that come the late 1980s Bill Dore was in discussion with the Reading Borough Council. I know not whether APL were in breach of the lease or if the RBC approached Bill Dore to sell back to them the 99 year lease and some land. The outcome of which was that the 99 year lease which I signed was rescinded and a new lease which expires in October 2008 was signed. So Reading Speedway and Greyhounds which had a safe 99 years were reduced to just 34 years in total. With that renegotiation also went some 10 acres of the land back to the RBC. The Reading Borough Council have in turn sold or leased - at least the part that the Stadium stands upon - to the Prudential Assurance Company who will ( subject to the present economical climate ) move in on the site to demolish the Stadium in November.
Reg In Centre With
Old Time Riders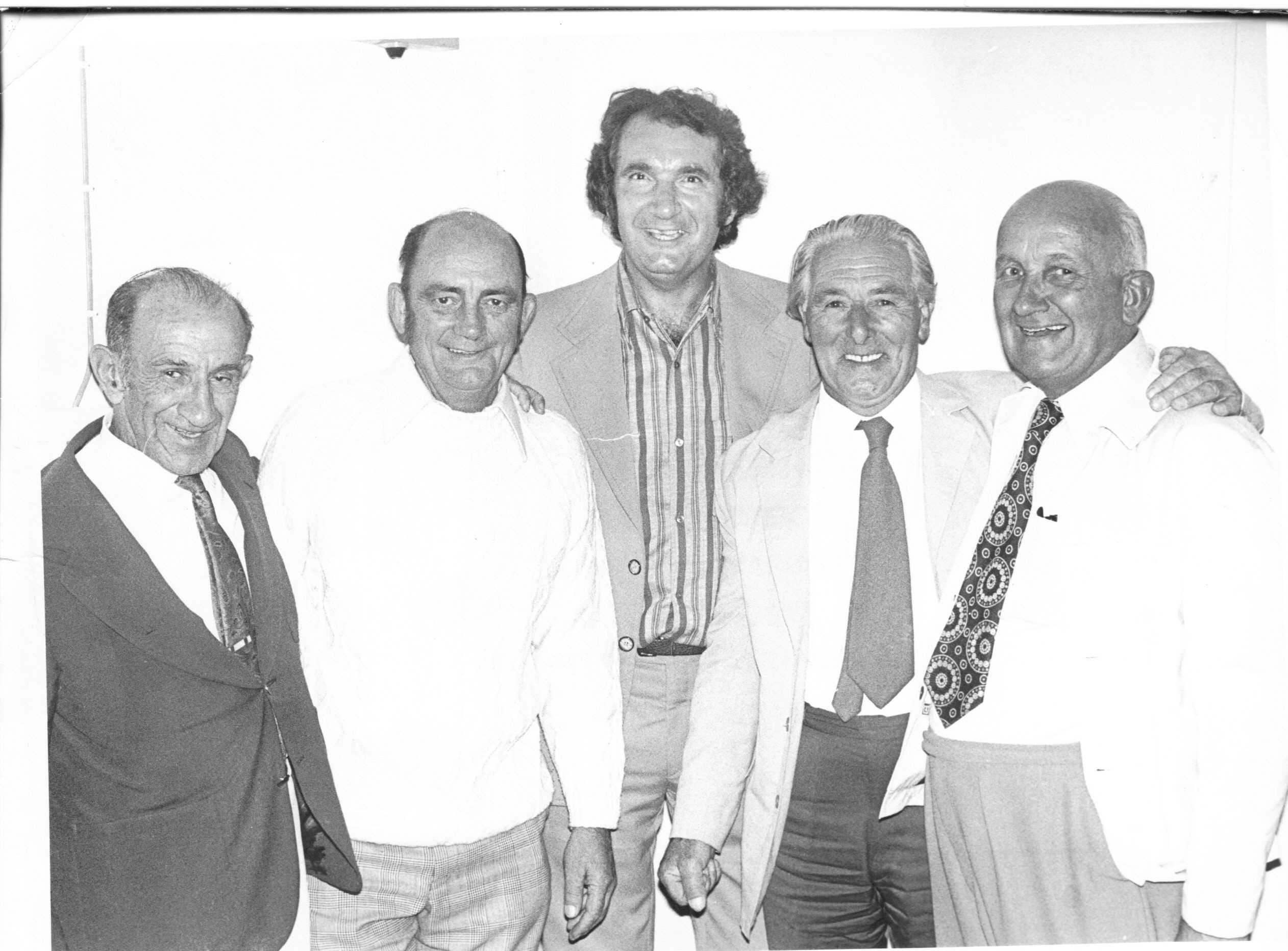 Reg in centre with old time riders, Fred Tracey, Jack Gates and on the right Frank Hodgson and Lloyd Goffe
If that's not enough, more recently, Pat Bliss did a deal with Stadia U K Reading Ltd who took over the remainder of the lease but she continued to promote the Speedway until she sold in 2006 to the Grand Prix entrepreneur, John Postlethwaite, who in his wisdom, having no experience of domestic speedway racing, was going to show everyone how it should be done. Which turned out to be just how it should not be done. I'm sure he alienated the Reading fans on day one when he changed the name Racers to Bulldogs. We had only been Racers since 1968 - yes nearly 40 years - when I named them after the famous Harringay Racers who closed in the mid 1950s. Exit John Postlethwaite after 18 months and £500, 000 the poorer.
Anders Michanek
Reading's
Top Man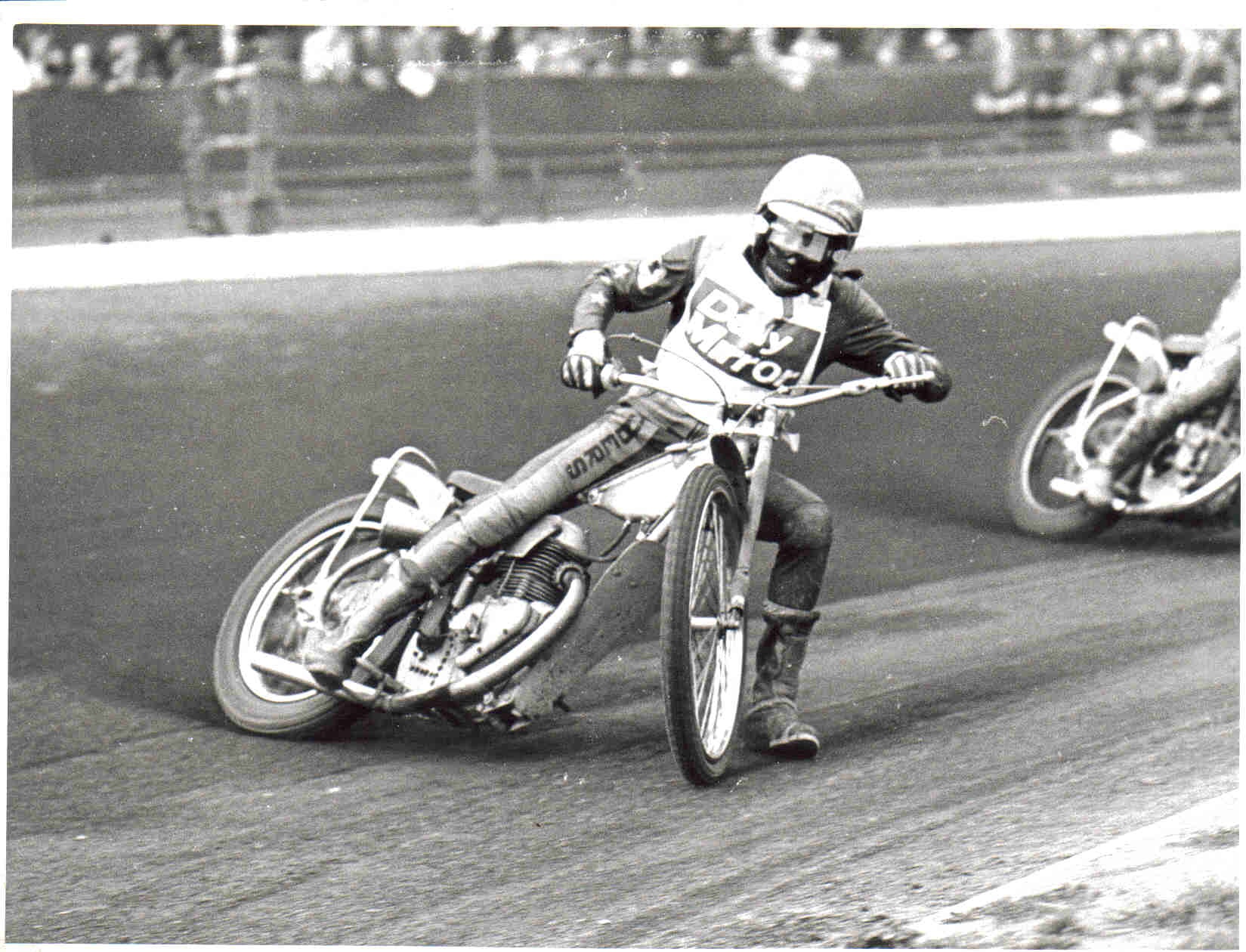 Welcome the Swindon duo of Malcolm Holloway and Mark Legg who hope that a new stadium will be built just up the road from the old site by Stadia U K Reading Ltd but I do believe there has been a problem in getting a Casino Operator on board to make the project of a new Greyhound and Speedway stadium viable. The first casino operator baled out and now hopefully on board are Grosvenor casinos who with Stadia U K intend to spend £ 9 million on developing the new site. They hope to open in the spring of 2010. Stadia U K operate Greyhound Racing at Poole, Swindon and Reading.
Reg says: It's the fans I feel sorry for - short changed of another 65 years of speedway at Smallmead under APL, who were in charge of their own destiny.
Looking back " I Saw And Lived My Dream " , looking at that 25 acres of a former rubbish tip becoming such a household name as Reading Speedway in 1974. Whoever follows in my footsteps I wish them luck.
Reg Fearman
October 2008
The contents of the site are © and should not be reproduced elsewhere for financial gain. The contributors to this site gave the pictures and information on that understanding. If anyone has any issue or objections to any items on the site please
e-mail
and I will amend or remove the item. Where possible credit has been given to the owner of each item.