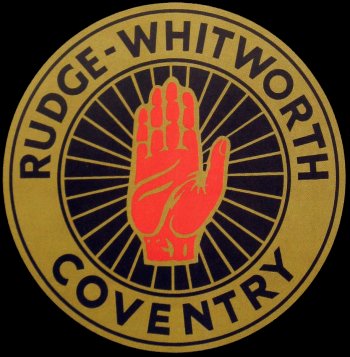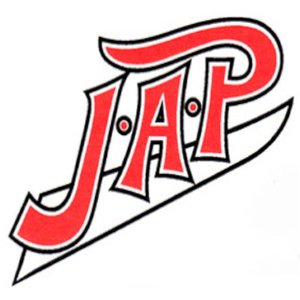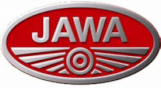 ---
Eric Williams
Born Port Talbot, South Wales, 17 November 1927. Died Mackay, Queensland, 24 July 2009
The Williams Brothers
Eric's Eulogy
Southend with Wembley Supporters 1950
Eric still Clowning Despite_Health_Problems
---
Eric In 2008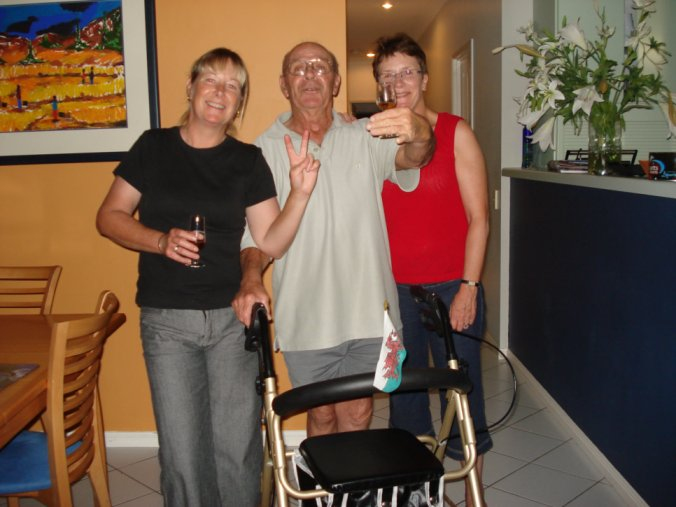 Christmas 2008 Eric with his two daughters Mandy left and Linda right.
---
Christmas At The Green's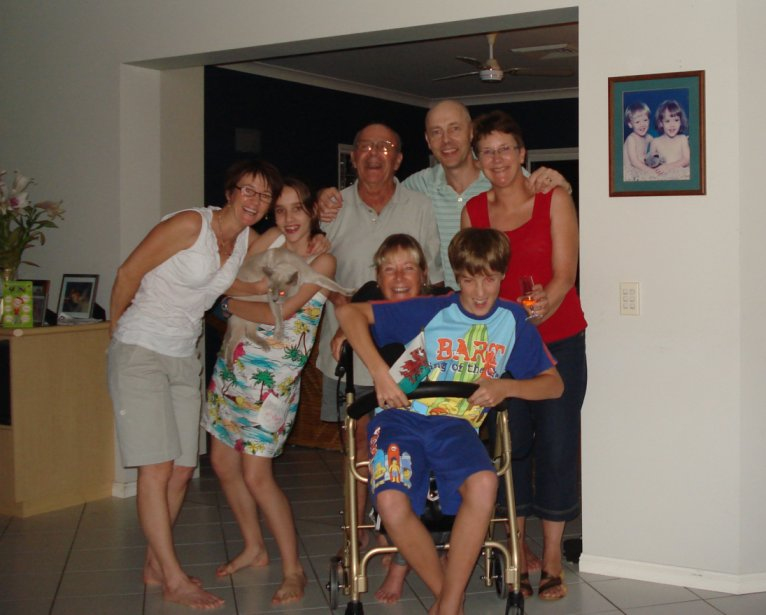 Jenny, Emma with the family cat Milo, Eric, Robert, Linda, Mandy Kneeling and Harry.
Harry Green says: Hello you manage the wonderful website for my grandfather. I am the young boy in the photos, now 23 would enjoy chatting with you about wiggy (William Eric Williams). Cheers, Harry Sent from my iPhone
---
Jackie Gates 80th Birthday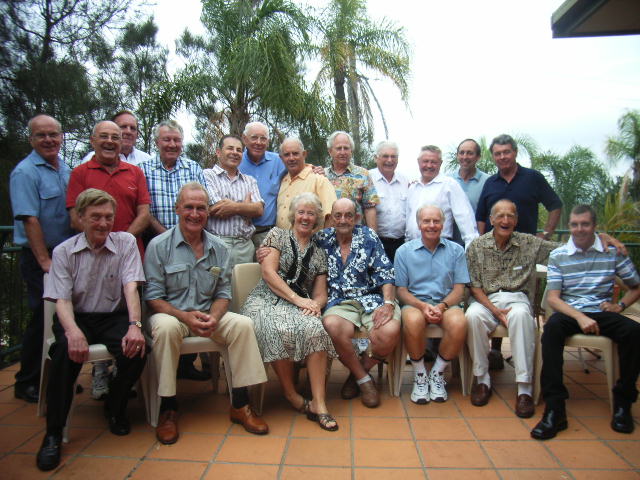 Eric Williams in the red shirt with many of his pals at Jackie Gates 80th Birthday December 2006. Eileen Fearman sits with Jackie Gates in the front row.
---
Eric Williams
Reg Fearman writes: Eric and I raced against each other many times in the late 1940's and early 1950's, he for Wembley and me for West Ham. Both teams were invited to compete in the Olympic Stadium, Stockholm, in October 1950. It was when we returned to England from that match that we both learned we had been chosen to represent England in Australia for their 1950-51 season. We sailed from Tilbury to Sydney on the SS Strathnaver along with the remainder of the team and about 30 other speedway riders heading home to Australia and New Zealand. Eric and I got to know each other pretty well and shared a lot of fun on that four-week trip. Some of the photographs will show the pranks which others had to endure. I went to live in New Zealand in October 1954 until March 1956. Eric went to live in New Zealand in 1955 and left there in 1997 to live in Mackay, Queensland.
Eric and I had been in touch throughout the years and in December 2006, I invited him down to the Gold Coast to celebrate the 80th birthday of his former Wembley team mate, Jackie Gates. From then on, we were e-mailing each other frequently. I was devastated when he told me at Christmas time last year that he had only three months to live. With the help of his very close friends, Dr. Robert and Jenny Green, he survived another four months. Over the past few months, Eric and I had taken to talking on the telephone each Saturday morning and always shared a tremendous amount of laughter. He always reminded me how lucky we had been to have had such an interesting life, being involved with speedway racing, travelling afar and meeting so many wonderful people. Just five days before he died, he told me what a magic day he had had at the Mackay Golf Club, following in a buggy the Pro-Am competition.
During the latter months of his life, Eric bore his sentence - as he called it - with bravery, courage and dignity - an example to us all.
Over the past few months, I have been in touch with Jenny Green and it is with her approval and her family's wish that the following extracts from her letter to me and the Eulogy read by Dr Robert Green together with the memories of Eric by their children, Harry and Emma, be posted on this web site. Eric's daughters, Linda and Mandy, who live in New Zealand, have also given their blessing to this and the photographs which follow.
Reg Fearman
4 August 2009
An extract from the e-mail from Jenny Green to Reg.
Yesterday (
Thursday, 30 July
) went off really well - as far as funerals go. The chapel looked a picture with the beautiful red & white (& green for Wales - "look you") Wembley coloured flower arrangements adorning the alter; the white coffin, resplendent with a massive red & white floral tribute & as a special token to our beloved Little Welshman, a leek. He would have been smiling for sure at that!!!
Harry commenced proceedings by playing "Tango, by Rodriguez, on his guitar, it was a favourite piece of Wiggy's. Emma & Harry then delivered their tributes to the Little Welshman. Em was to go first but was too choked with emotion so Harry recited his memories, both kids supporting each other. Emma then steeled her resolve & delivered a wonderful speech. They both spoke with dignity & devotion to the man they adored. I was immensely proud of them & I'm sure Wiggy would have been too.
Rev Janet conducted a beautiful service that was personal & very appropriate
Rob then delivered his eulogy (I have attached copies of all three. We would be honoured if you were to post these on the website.) which was heartfelt, honest, very touching & with the right degree of humour. Who would have thought there would be that much laughter at a funeral. Wiggy would have heartily approved!!!! I then recited Dylan Thomas's Rage rage against the light. I managed to read it clearly, sombrely & with feeling (so my husband tells me) it's the very least I could have done.
We all then sprinkled red rose petals on top of the coffin, Rev Janet closed & the 5 of us followed the coffin out. We then greeted members of the congregation as they exited & adjourned to our home for refreshments.
We all felt the day was a celebration of Wiggy's wonderful life rather than a mourning of his passing. Our friends all enjoyed reading the tributes, drinking to Wiggy's memory & just getting together.
Jenny
---
Robert Roger's Photos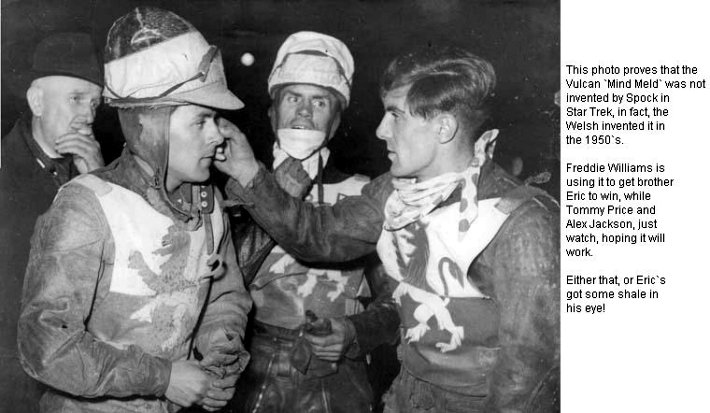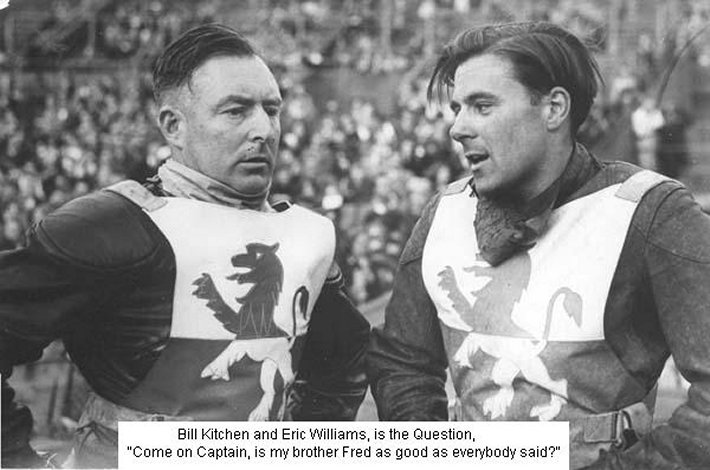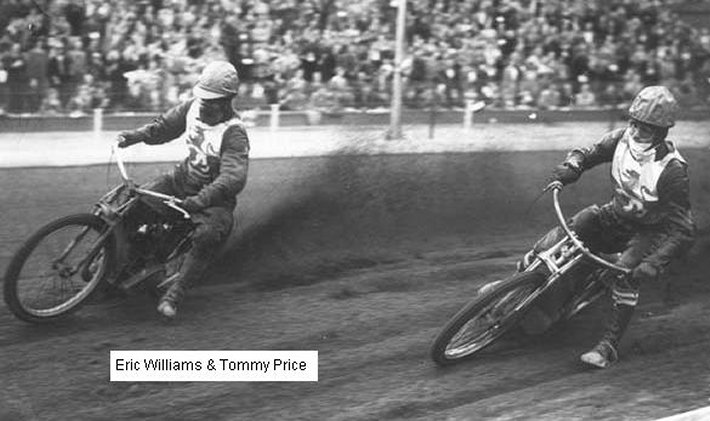 ---
The Williams Brothers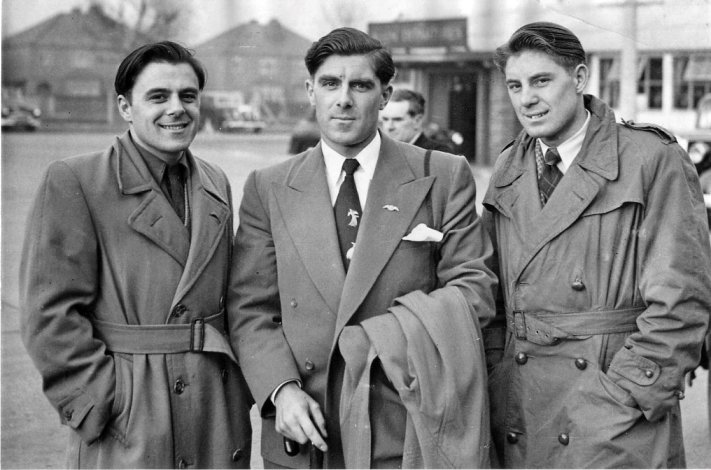 Photo Courtesy of Mike Kemp
The Williams brothers :- Eric, Freddie and Ian, taken at Heathrow Airport London in the 1950s
---
Eric Williams

Mid 1980s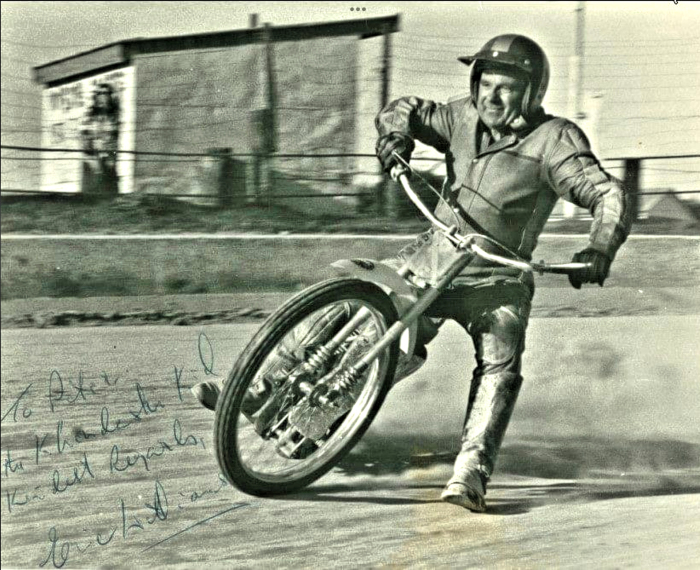 Courtesy of Ben Walch
Ben Walch says: Eric Williams, Meeanee Speedway Hawkes Bay NZ. Circa mid 1980 on a practice day Eric in borrowed leathers showing the lads how it's done, with a smile. Photo credit; Bruce Jenkins.
---
By Dr Robert Green
It is my pleasure and honour to deliver a eulogy for Eric. He was a father figure to me and a great friend. After today's funeral service and cremation Eric's ashes will be sent to his family in New Zealand where a memorial service will be held next week.
Prayers were said for Eric last Sunday in Margam Abbey in South Wales in the United Kingdom, at a service attended by his sister Kate and brothers Freddie and Ian.
Messages of condolence have been streaming in from around the world. Eric was held in high esteem by his speedway racing colleagues and fans. Copies of these messages can be viewed at a social gathering to be held at our home directly after the funeral. The address is 5 James Court Andergrove, off Fernleigh Avenue, and you are all warmly invited to attend.
Eric was born in Taibach near Port Talbot in South Wales 81 years ago. His father was a steelmaker who had a passion for motorbikes which he passed on to his three sons Eric, Freddie and Ian. All three rode in international speedway test match competition. Because there weren't any Welsh or British test teams during the period they raced, the boys all rode for England. Freddie was world champion in 1950 and 1953.
Eric grew up in a loving working class home during the Great Depression years. In 1941 at age 14 he entered an apprenticeship in the Army Technical College. Soon afterwards he contracted tuberculosis of the kidneys and after a prolonged hospitalisation (treatment of tuberculosis in those days required 12 to 18 months in hospital) he was discharged medically unfit from the Army.
Eric always felt that the military had treated him poorly and carried a bitter grudge against the Ministry of Defence. Over the last few years of his life he entered into and, I suspect, rather enjoyed a fairly robust and vitriolic correspondence with the British Ministry of Defence and various British MPs. This came to a dramatic and amusing climax last December when his daughter Mandy was visiting from New Zealand. Two police officers called at the house to question him over a hoax terrorist attack in London. Eric had posted Christmas cards to various British MPs which contained unpleasant messages and liberal quantities of talcum powder. The Whitehall Post Office was closed and evacuated for several hours as authorities suspected an anthrax attack from Moslem extremists. Eric admitted his guilt to the police officers and was put on a good behaviour bond. He was disappointed as he was hoping to be dragged back to Britain and was looking forward to his day in court. I think Mandy was surprised but rather proud that her father was up to such mischief at age 81.
In the late 1940s Eric's passion for motorbikes developed. After initial trials events and grass track racing he took up speedway racing and in 1948 became a professional at the Birmingham track. He suffered a serious injury in his first season but had a successful year in 1949 with the Cradley Heath Club. In 1950 he moved into the big league when he joined the famous Wembley club, who raced at the stadium used for the 1948 Olympic Games. He represented England in home and away tests against Australia and New Zealand between 1950 and 1960. He competed in three world speedway finals with his best finish being fourth in 1955.
After the 1955 season he moved to New Zealand to ride for Hawkes Bay. He returned to the United Kingdom for three seasons in the early 1960s before eventually retiring from professional speedway riding.
He married Helen in 1950; had two daughters Linda and Mandy; and five grandchildren. After leaving speedway he worked in the car and newspaper industries. He became a keen and talented golfer. He played off a single figure handicap for many years, and gained a reputation in Hawkes Bay as a tough opponent with perhaps one or two shots up his sleeve. His love of motorbikes continued and he was an enthusiastic trials bike rider in the 1970s and 80s, competing in amateur events against riders often less than half his age.
Helen died in 1993 and a year or so later Eric got together with Margaret, whose husband Harold had died several years before and had been a good friend of Eric's.
In 1997 they moved to Mackay to be close to Margaret's daughter Jenny and her grandchildren Harry and Emma. Eric soon became a much loved and respected member of our family. He was a wonderful grandfather to the twins and thrilled and entertained them with his silly nonsense for many happy hours. He managed to convince them that his car could fly, and taught them many of his daft sayings.
Eric introduced me to golf 10 years ago and patiently wandered around the Mackay course watching me butcher the ball and getting very angry. He was amazingly indulgent and encouraging. He was very pleased and, I am sure, relieved when I finally managed to break a hundred and obtain a handicap which would allow me to play competition golf and leave him in peace. He held my hand during my first year or so of competition play and remained very competitive himself off an overgenerous handicap of 15. In his 70s he had lost length off the tee but retained an excellent short game and a mercurial touch with the putter. It was a sad day when he finally gave the game away because of increasing arthritis of his hips and knees. He was a stickler for etiquette and at times was an absolute pain to play with or against. A month or so ago he gave me a hideous fairway wood cover complete with a very grumpy face so that I could remember him in years to come whilst playing the game that he loved. As if I could ever forget.
Eric's great passion in his final years was his biography. He was a wonderful storyteller and his memoirs were soon passed around his old speedway mates. This eventually led to his collaboration with Ross Garrigan, a speedway enthusiast and talented author who lives in Brisbane, who so far has edited 21 short chapters and posted them on The Speedway History Forum web site. Ross is up to the mid 1950s and has plenty more of Eric's material to draw upon. The response to these memoirs has been staggering. People who Eric hadn't heard of for years and plenty who he'd never met before started e-mailing and phoning him from around the world. He just loved reminiscing with his speedway mates and his stories brought great joy and moments of nostalgia to his friends, fans & family. Hopefully, Ross will finish off the biography and may even go on to publish the collection.
Eric's last year was marked by his deteriorating health. He refused active treatment for his multiple myeloma but did let me keep him comfortable with painkillers and occasional blood transfusions. He never complained and bore his illness with great dignity. He remained mentally alert until the very end. Several of us here today saw him slowly staggering around the Pro-Am competition at the Mackay Golf Club just a few days before his death. He sat beside the 18th green with a bourbon and Coke in his hand and thoroughly enjoyed the play-off late on Sunday afternoon. As the Irishman, Eddie Barr, missed the putt to keep his hopes alive Eric muttered under his breath "Oh that's a shame".
And so we farewell Eric. In Mackay we have known him for his great sense of fun and mischievous personality. Speedway fans around the world will remember him for his great achievements in the 1940s and 50s. Anyone who has played golf with him is unlikely to forget Eric!
He was a little Welshman but had a huge personality. I am proud to have known him. He will be sorely missed.
Eric chose the piece of music you are about to hear for his funeral. He loved classical music, and particularly baroque and early 19th century composers. His favourites were Vivaldi and Mozart. I was surprised to hear that he picked the famous adagio by Samuel Barber. It must be the only piece of 20th-century classical music that he liked. It's a beautiful piece of music which goes for about five minutes. During this time you might like to reflect upon your memories of Eric, and also perhaps your own life and mortality. Afterwards Jenny will read a famous poem by the great Welshman Dylan Thomas.
Farewell Eric, yachi da.
Robert
---
What I Remember Of Wiggy
By
H
arry
What I remember most about Wiggy was his loving nature & his delightful sense of humour.
I loved the way he would sit down & listen with me as I played guitar for him. He really loved classical music – especially Vivaldi, so we heard it a lot!!!
I enjoyed listening to him talk of his life in Port Talbot as a boy & all the mischief he & his 2 brothers got up to. They gave "sister Kate" a hard time & used to shoot potato pellets at her. Kate got to be a pretty fast runner!!
Wiggy was always interested in my sports & he & Margie would always come to my soccer games – even in the pouring rain. He was always at our cross countries & athletics days cheering for us. He liked to help out too & be involved so he would attend the high jump, & rake the long jump pit.
He meant the world to me.
When we would have sleepovers round Margie & Wiggy's house as children, he would always take us on walks down Lamberts Beach. It was always so much fun.
When Emma & I were 6 years old we 2 would go down to the park at the end of their road & before we crossed Wiggy would always say "look left, look right & look left again," to make sure there was no traffic coming. He always used to say "always be prepared for the unexpected." How those sayings have stuck with us!
When we were really little we used to go to the park & play on the slide. Before Emma & I would go down, he would reach out in front of us & demand a ticket. The first few times we went down, the ticket was "valid", then he would say the ticket was out of date & we weren't allowed to go down. So we would say "look behind you Wigs there is a purple elephant!! He would turn around & take his arm off the slide & we would go down laughing, thinking that we had fooled him – but that was Wiggy just being Wiggy, a loving, caring grandfather that was always there for me. I will never forget him.
My Memories
Of Wiggy

By Emma
When I think of Wiggy many memories come into my head, so when I was asked to think of a few of them, I was faced with a challenge: What memories should I select?
In the end I selected some of my favourites.
The thing I remember most about Wiggy was the funny things he would say, for example whenever Harry or I spilt or dropped something he would say, "Carelessness, carelessness". Of coarse this stuck with us and was often repeated back to him whenever he did something careless.
He would also say Yachi dah and bullytheewitharkwee, which meant various things from Goodbye to Cheers. He told us they were Welsh but whether or not we believed him is a different story.
Another fond memory I have of Wiggy is him telling us that his car could fly. Harry and I didn't believe him at first but then later on he managed to convince us, why would he lie?
Harry and I would aways ask him to fly his car when we were inside, but he would always say something like: " It can only carry me", or " I'm having technical difficulties". Harry
and
I still believed him all the way until we were around ten, when we figured out that Wiggy had had so many technical difficulties that his car simply could not fly.
Wiggy was a great story teller and would often answer my questions with a made-up tale. My favourite was when I asked what happened to his little finger (he didn't have the top part of it), he replied saying that he had been swimming when a lady suddenly got attacked by a Great White shark, he quickly swam over to her and fought off the shark, but the shark bit the top off his finger before it swam away scared. I always wondered how a shark with huge teeth could only take about half a centimetre off the end of a finger.
I later found out that it got caught in a seat adjuster, not quite as dramatic as the first story.
In Grade two we were given a book, selected from the library at random and we had to read it and write about it. I coincidently received a book about speedway that had a picture of Wiggy in it. I was amazed that Wiggy was in a book, so I asked him about speedway, he told me all about it and I realised that MY Grandad was famous! WOW! He even showed me a picture of him signing autographs.
I remember Wiggy always smiling; he was a happy person who I am blessed with having known. He was always a goat around us and was full of fun, but would make sure we behaved ourselves.
I could not have asked for a better Grandad, he was supportive, willing to play with us and would teach us various things from how to dig properly with a shovel to how to fall of your bike with minimal injury- you have to roll by the way. I shall dearly miss him and all the fun times we shared.
---
Sydney

Australia

1950 - 1951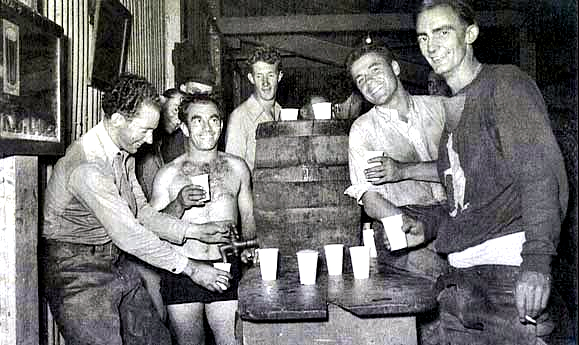 Jack Arnfield Lionel Levy Jim Courtney Eric Williams Jackie Gates around the beer barrel in Sydney

Australia 1950 - 1951
---
Eric Williams,
Barry Briggs &
Split Waterman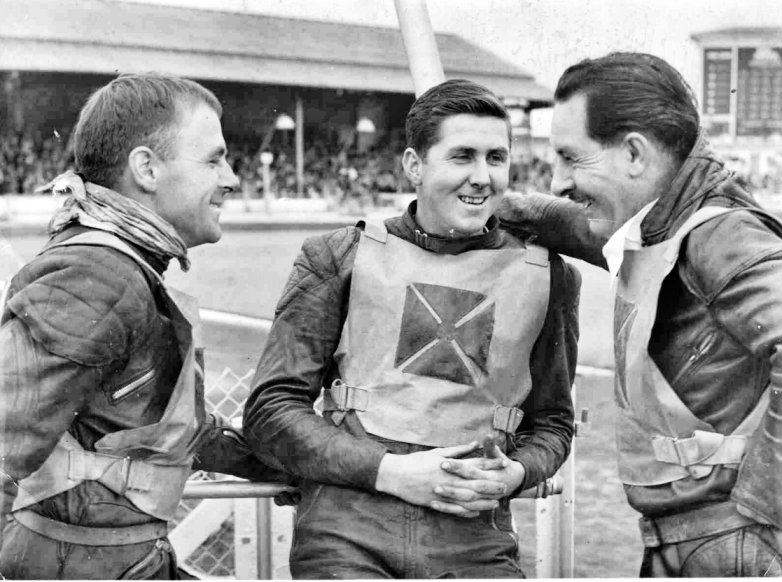 New Cross 1960
---
Freddie Williams, Gerry Hussey
(West Ham) &
Eric Williams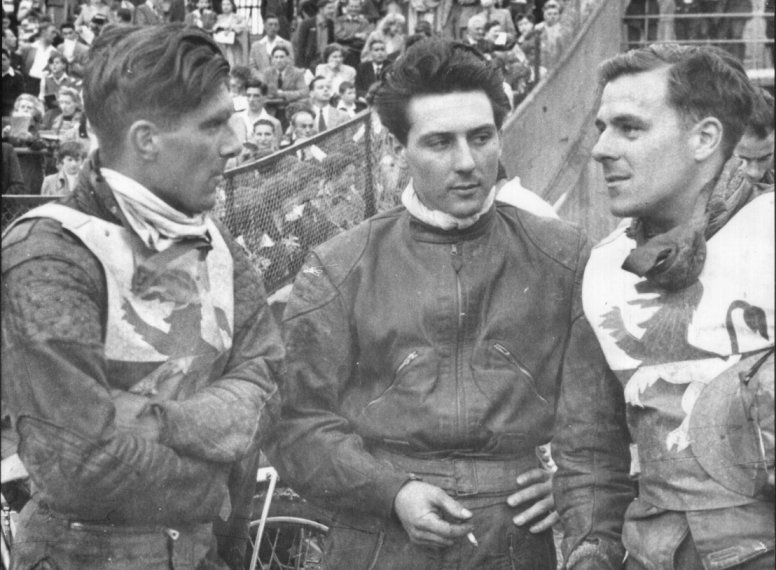 At Wembley 1953
---
Our Transport,


Sydney To Adelaide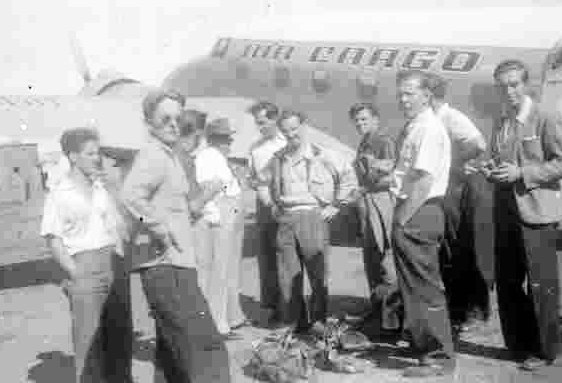 Our transport Sydney to Adelaide Piloted by Lionel van Praag. Left to right Tommy Miller Aub Lawson Bob Fletcher Eric Williams centre Jack Parker Keith Ryan
---
Bob Fletcher, Reg Fearman
Tommy Miller &
Eric Williams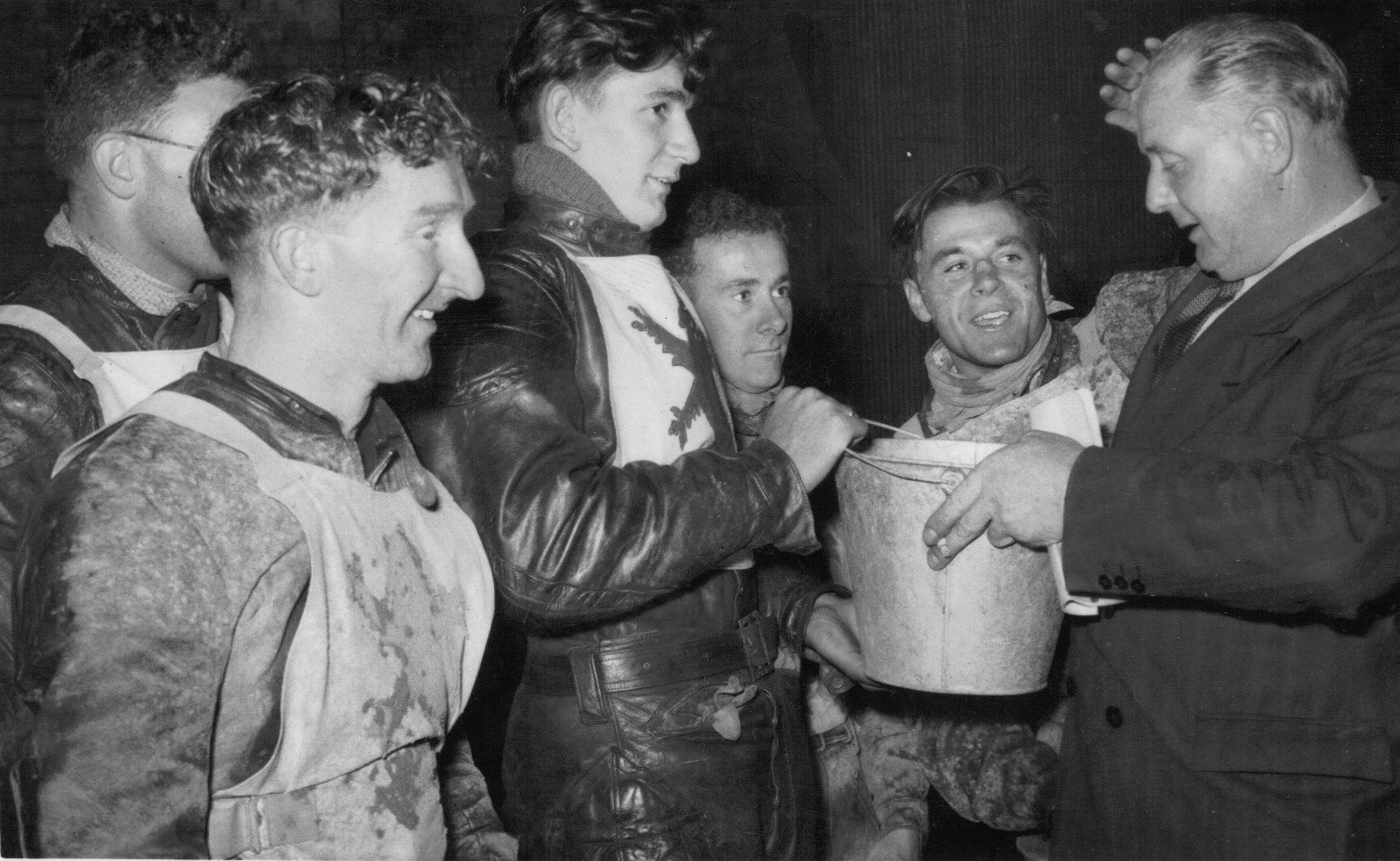 Bob Fletcher, Reg Fearman holds the bucket, Tommy Miller, Eric Williams, our performance enough to make Team Manager Harry Tovey cry.
---
Doreen, Helen,
Reg & Eric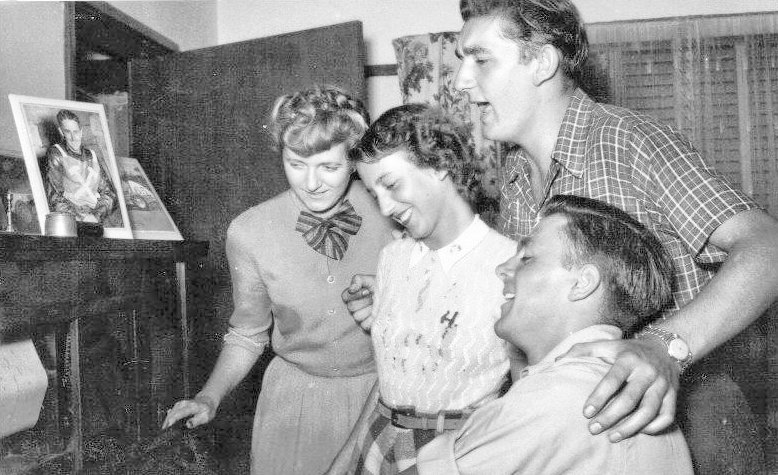 Doreen Helen Reg and Eric around the Pianola at Alan Gerrerd's house 1951 Sydney.
---
Eric Williams,
Bruce Abernathy
& Reg Fearman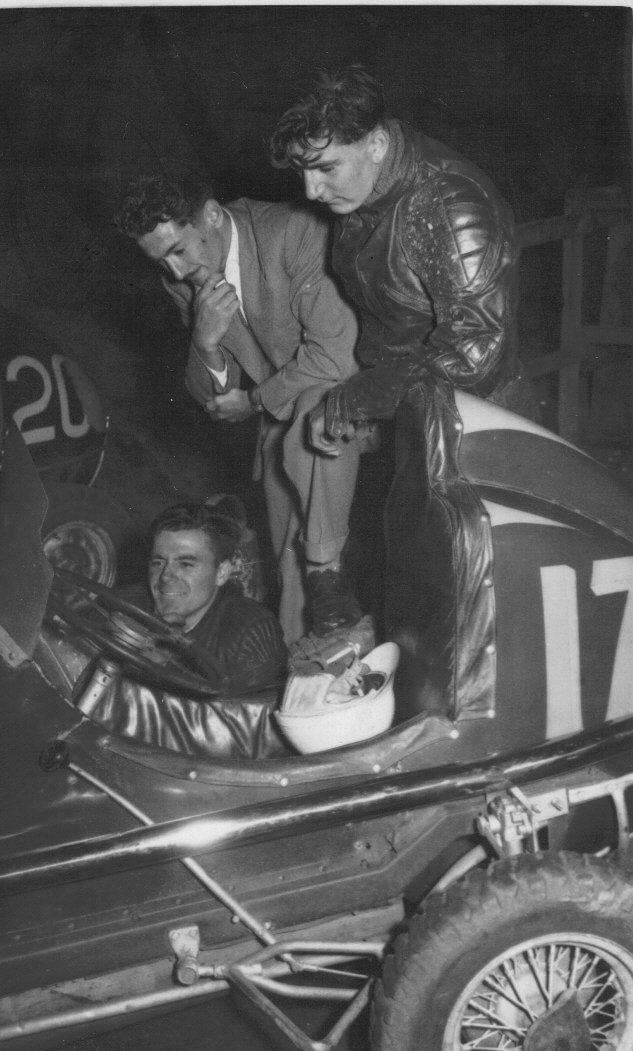 Eric Williams Bruce Abernathy (Wembley & New Zealand) Reg Fearman inspect a Midget Racing Car at Sydney Showground 1950.
---
Eric Williams
In Action
For Great Britain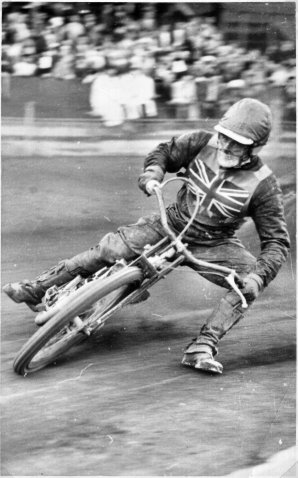 ---
Eric Williams,
Bruce Abernathy
& Reg Fearman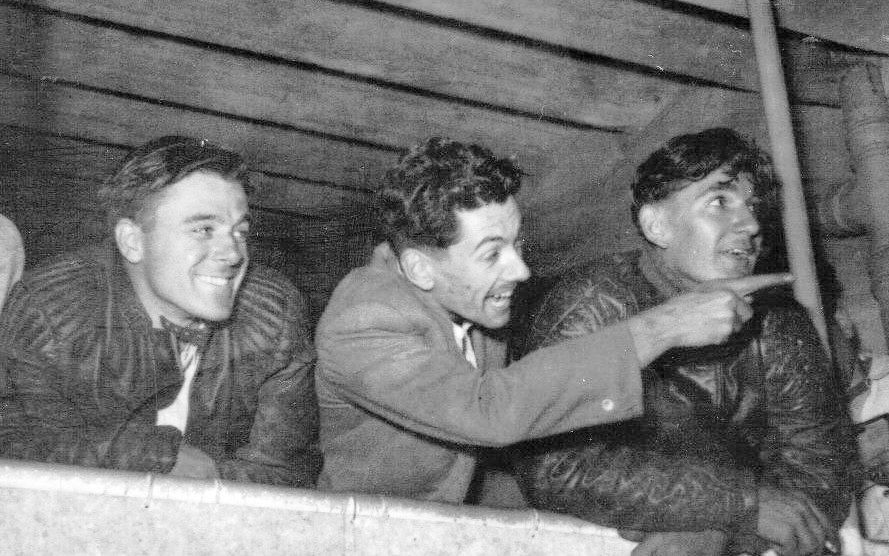 Eric Williams Bruce Abernathy Reg Fearman Sydney Showground 1950-51
---
Eric Williams &
Reg Fearman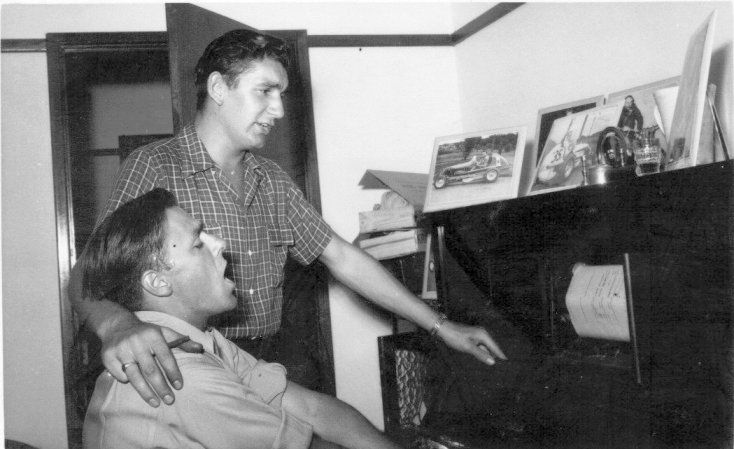 Eric Williams and Reg Fearman in fine voice at the home of photographer Alan Gerard Sydney 1951
---
Eric Williams & Reg Fearman At Bathurst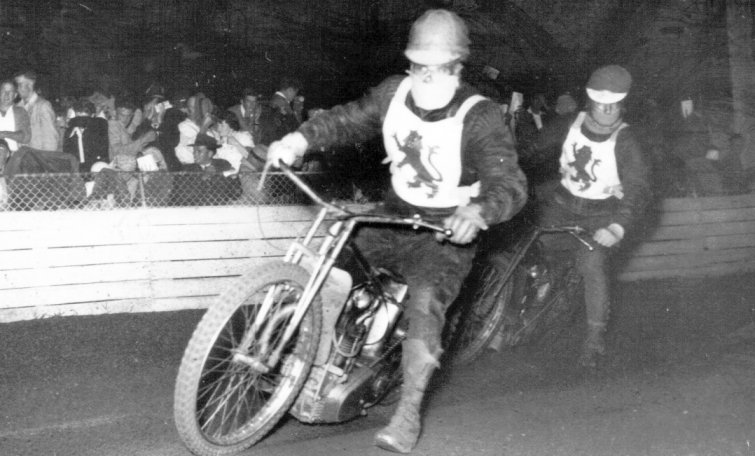 Eric Williams and Reg Fearman in action at the Bathurst speedway in 1951.
---
Carry On Sailing!
Eric Williams
Reg Fearman &
Harold Bull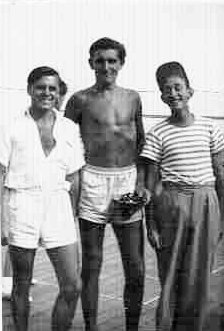 Eric Williams Reg Fearman and Harold Bull, St Austell and Vic Duggan's cousin. On board SS Orcades 1951 bound for London Tilbury from Sydney.
SS Orcades Feb 1951
Bound For London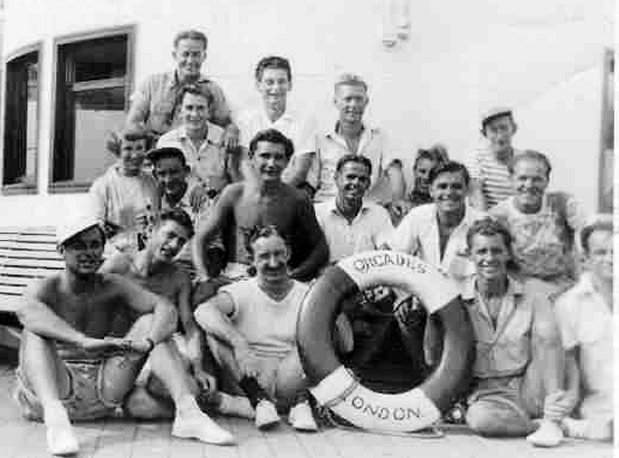 Orcades Feb 1951 Bound for London Tilbury Aub Lawson Allan Quinn Don Prettijohn Harold Bull Bill Jemison Helen Williams Jackie Gates Reg Fearman Noel Watson Eric Williams - behind Eric Bob Leverenz - Vic Sage Mick Callaghan Don Lawson Bob Fletcher Eddie Rigg Frank Malouf
---
SS Oronsay

1951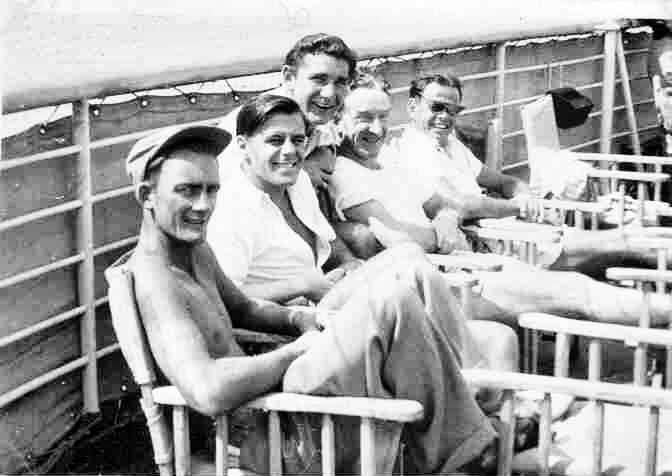 Oronsay 1951 Jackie Gates Eric Williams Reg Fearman Bob Fletcher Noel Watson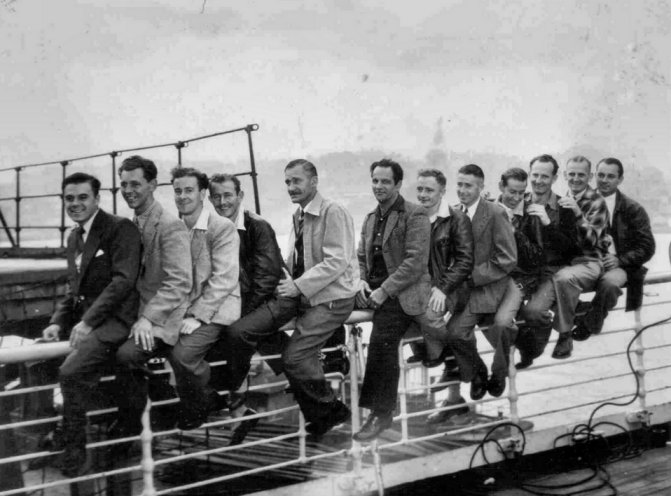 "Carry on sailing"

Oronsay 1951 Eric Williams and others sitting on the ships rail in front of Eddie Rigg Tommy Miller Keith Gurtner Steve Langton Frank Malouf ? Alan Wall Graham Williams Alec Hunter Jack Chignell and Mick Callaghan
---
Sydney Sportsgroun

d




In November 1950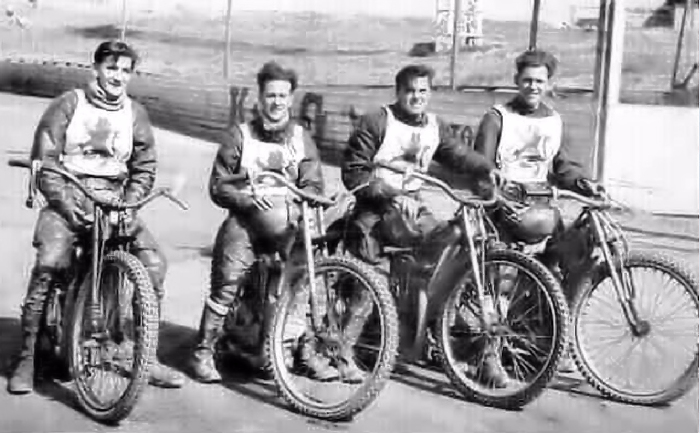 Reg Fearman Tommy Miller Eric Williams Eddie Rigg at practice at the Sydney Sportsgroun

d in November 1950
The Sydney Sports Ground November 1950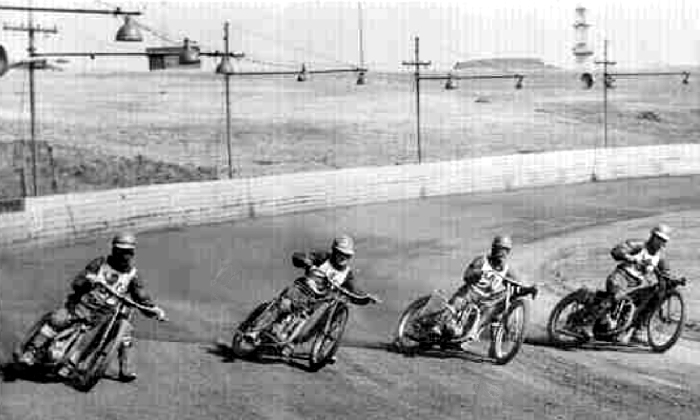 Eddie Rigg Eric Williams Tommy Miller Reg Fearman at practice at the Sydney Sportsground November 1950. Four in a line probably staged for the press.
England Team In Sydney
1950 - 1951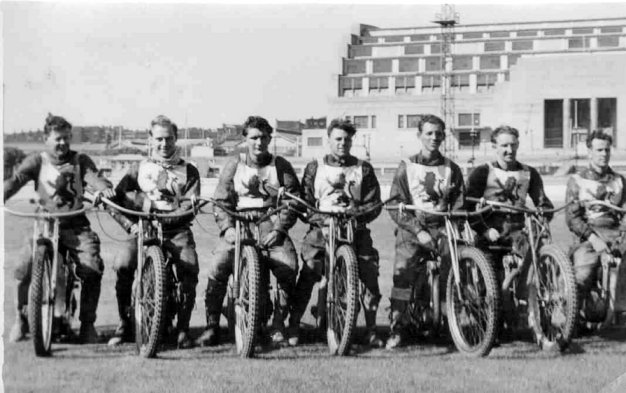 England Team in Sydney 1950 - 1951 At the Showground. Left to Right Jack Parker Derek Tailby Reg Fearman Eric Williams Eddie Rigg Bob Fletcher Tommy Miller
---
Southend With The Wembley
Supporters

1950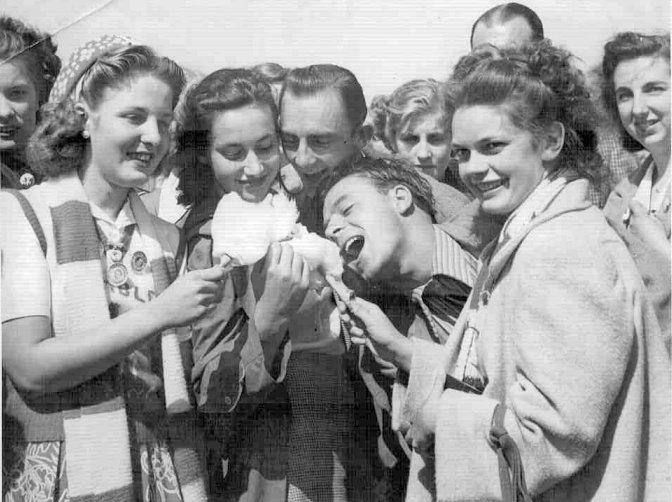 Jackie Gates Eric Williams fun day out at Southend with the Wembley supporters 1950
---
Wembley Lions 1950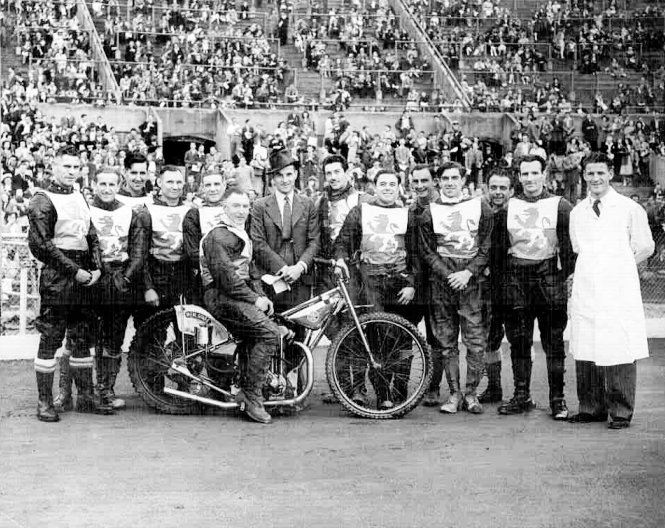 Wembley Lions 1950 Eric Williams stands with his right hand on the handlebar of the machine also in the photo brother Freddie Tommy Price Jimmy Gooch Alf Bottoms George Wilks Bob Wells Bill Kitchen Bruce Abernathy Bill Gilbert Jackie gates Den Cosby Manager in the suit Duncan King and the trainer Tommy in the white coat
---
Speedway Echo
May
1950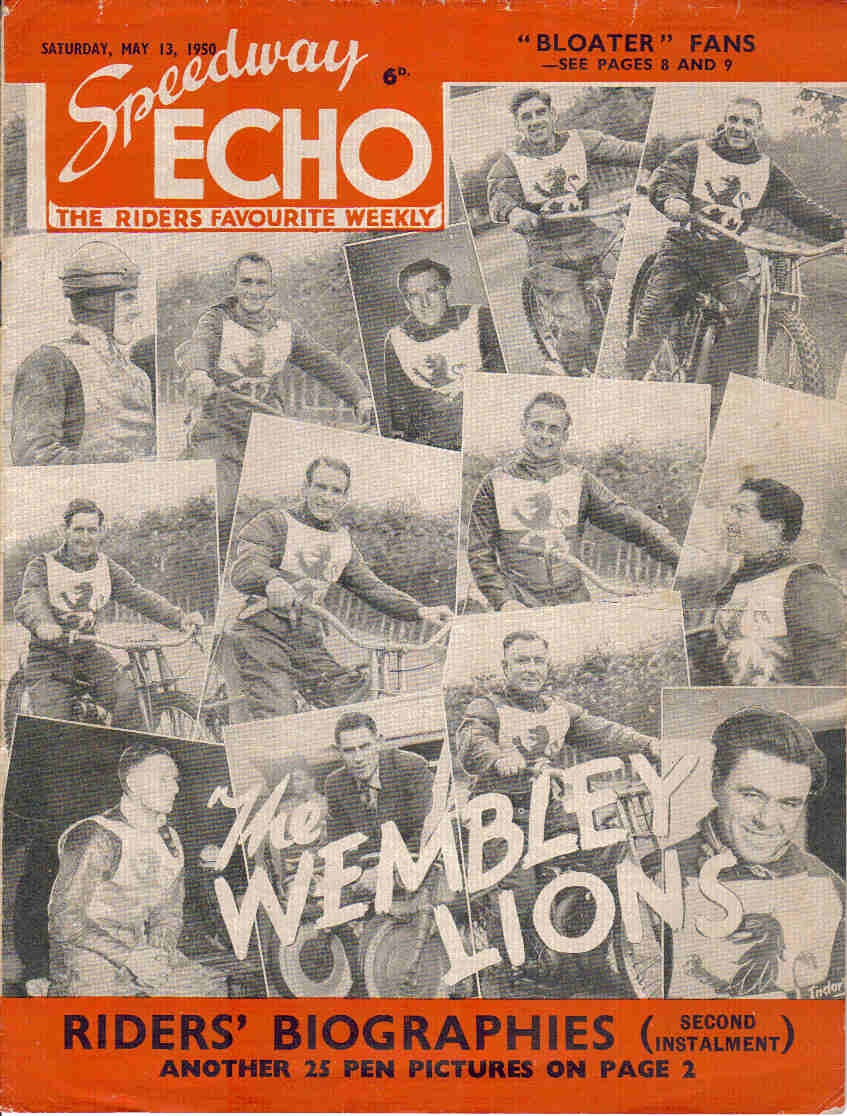 The Speedway Echo May 1950 front page Eric Williams is in the bottom right hand corner
---
Eric Williams
In Action
At Wembley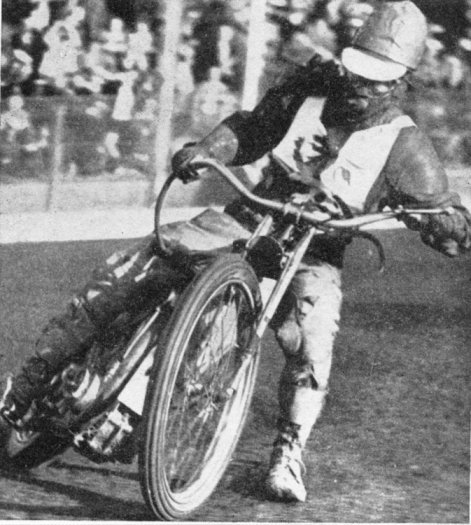 ---
Eric Williams, Raye & Ivan Mauger With Ian Hoskins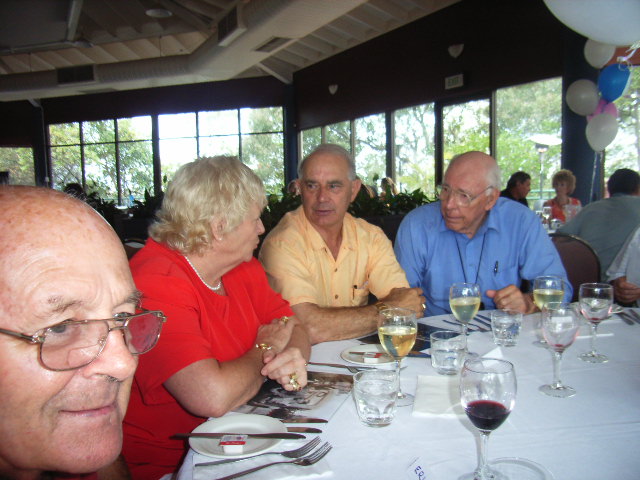 Eric Williams Raye and Ivan Mauger Ian Hoskins at Jackie Gates 80th Birthday December 2006 Burleigh Heads Gold Coast Queensland
---
Jackie, Reg & Eric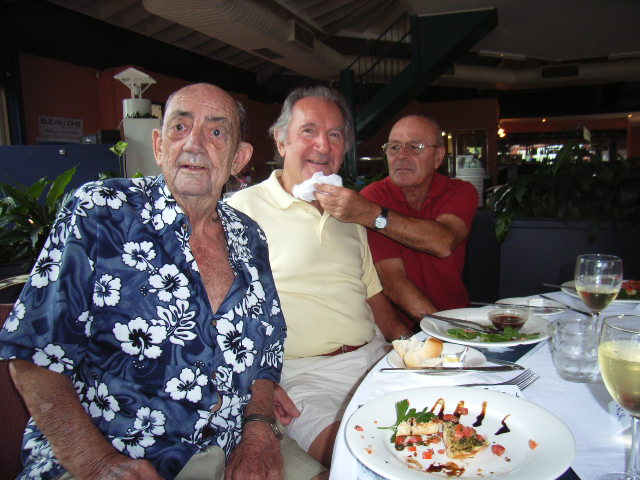 Jackie Gates the 80th Birthday boy, Reg Fearman, Eric Williams gives Reg's chin a wipe !! What was that about Reg? Do you need nursing now old boy?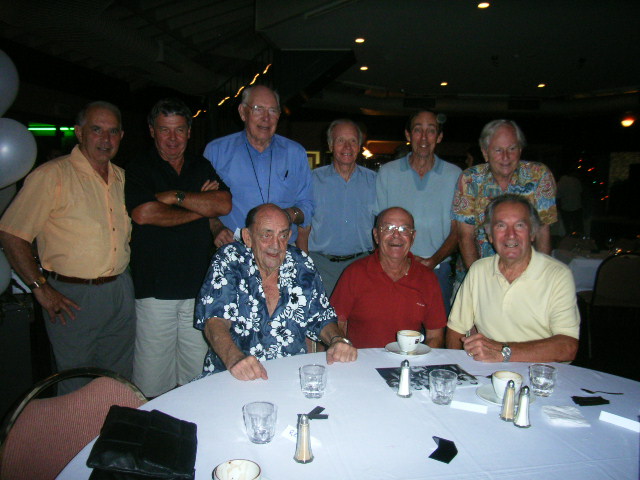 Ivan Mauger Greg Kentwell Ian Hoskins Bluey Scott Kevin Torpie Bill Bryden Front Jackie Gates Eric Williams & Reg Fearman.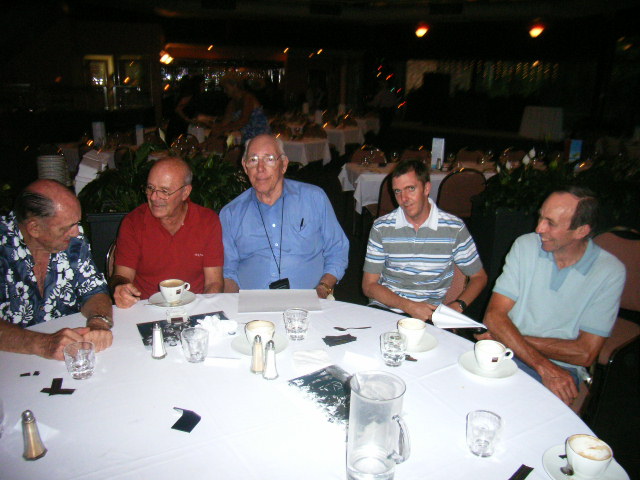 ---
Eric Williams Blows His Nose On Bruce Abernathy's Scarf !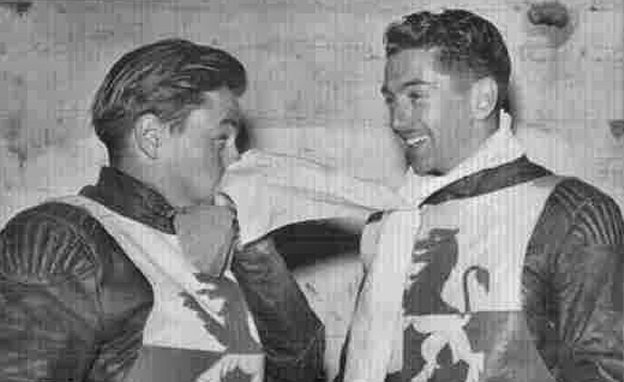 ---
Eric Williams In Perth, Nov 1950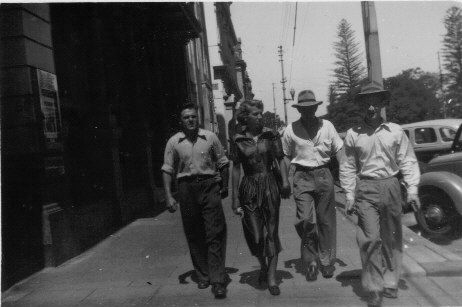 Eric and Helen Williams, Peter Dykes, & Bluey Langtry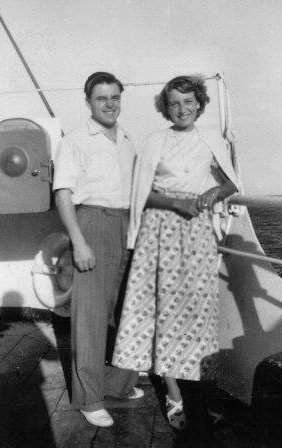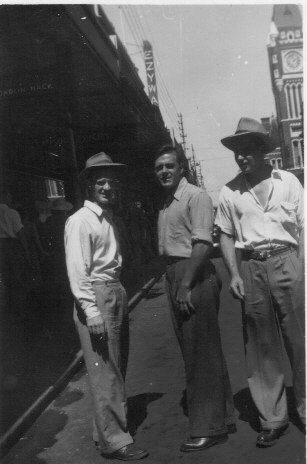 Eric and Helen Williams, Peter Dykes, Eric in middle & Bluey Langtry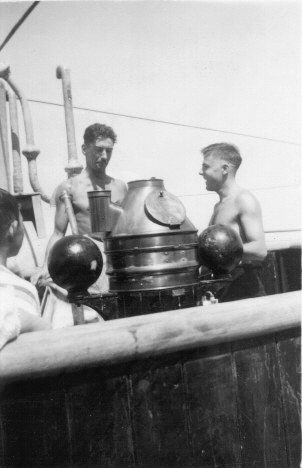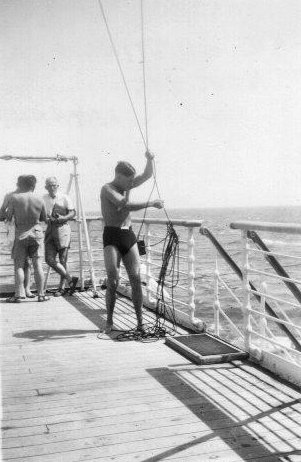 Eric Williams and Bruce Abernathy adjust the ships compass !! Strathnaver Nov 1950 Eric Williams Hoists Helen's Knickers SS Strathnaver Nov 1950
---
Eric (Right) Reg (Left) & Peter Dykes In Perth, Nov 1950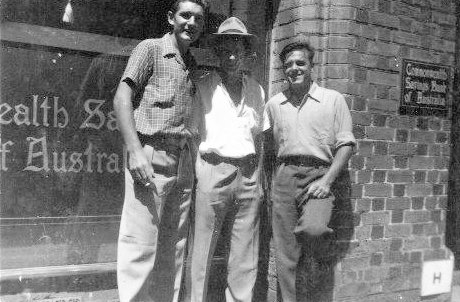 ---
Nov 1950 Group On SS Strathnaver Eric Williams Sitting Second Right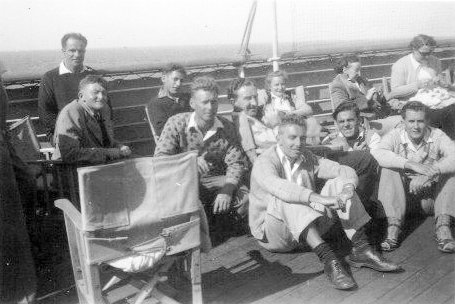 ---
Christmas Day 2008
Eric Williams At The Greens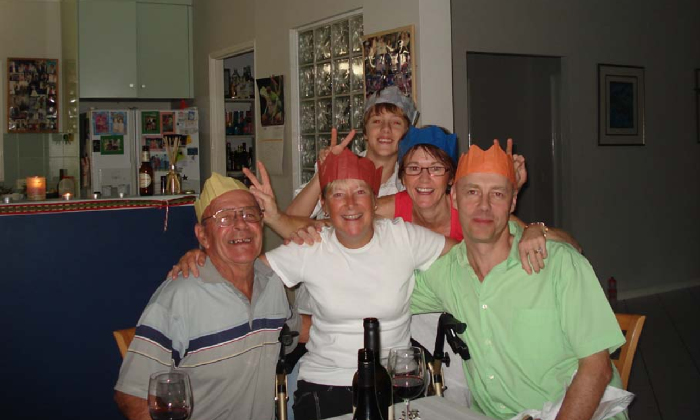 Christmas day 2008 at the Greens. Left Eric Williams, right Dr Robert Green, Eric's daughter Mandy in the red hat, Harry, Robert and Jenny's son at the back in the grey hat and Jenny in the blue hat and specs.
Eric Still Clowning! Despite
Health Problems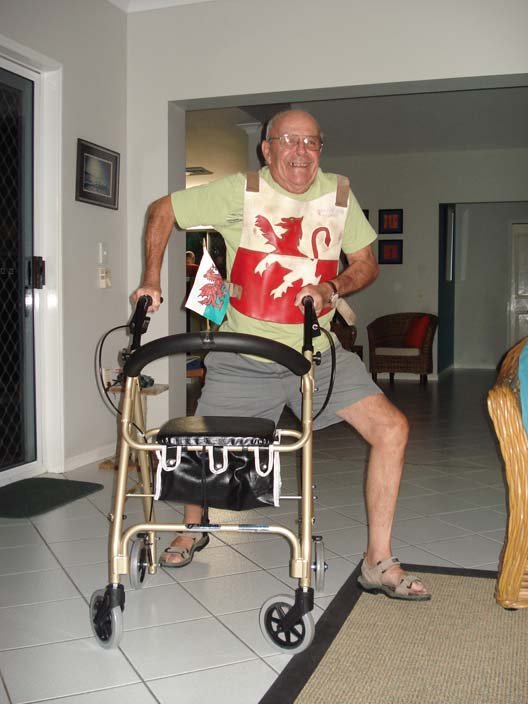 Eric Williams December 2008 out of hospital in time for Christmas after a minor stroke. Left leg out and Wembley colours complete with walker !!!
The contents of the site are © and should not be reproduced elsewhere for financial gain. The contributors to this site gave the pictures and information on that understanding. If anyone has any issue or objections to any items on the site please
e-mail
and I will amend or remove the item. Where possible credit has been given to the owner of each item.