Oval Track Racing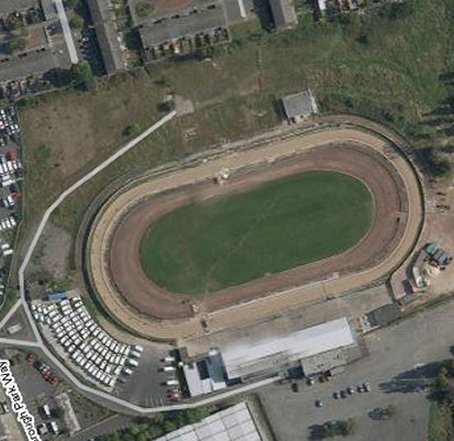 Above picture of an "Oval" track: Brough Park Speedway, home of the Newcastle Diamonds. Brough has longish/fastish straights and its infamous sharp turns make it a great race track for cars or bikes. It has featured all manner of racing on two wheels or four, but speedway remains as Brough's staple diet.
---
Speedway is the best known oval track racing sport but Midget Cars, Stock Cars and other machines have been racing around our short oval tracks. I am hoping that with your help I can build an interesting webpage covering all types of oval track racing. There is no conventional solo speedway on this page. Help me if you can John
Midget Cars
Speedcars
Mini Stocks
UK F1 Stock Cars
Bangers/Destruction Derby
Sidecars Clockwise
Sidecars Anti-Clockwise speedway bikes
Ice Racing
Ice Rink Racing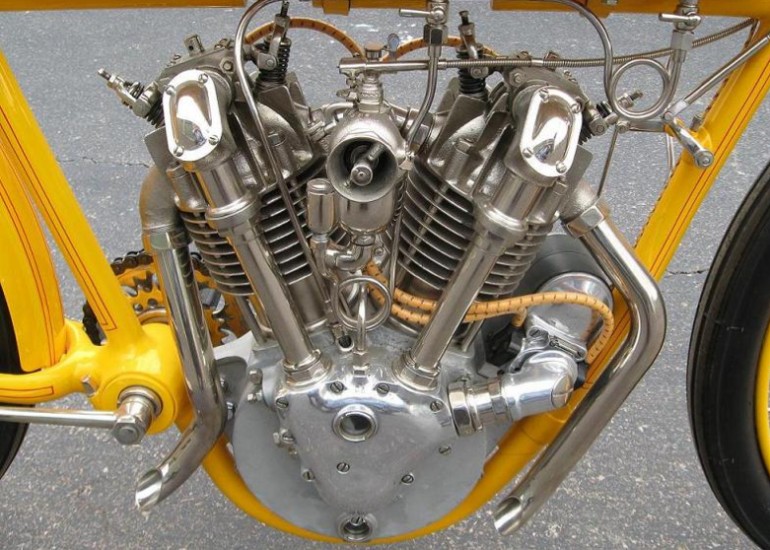 Courtesy of Dave Gifford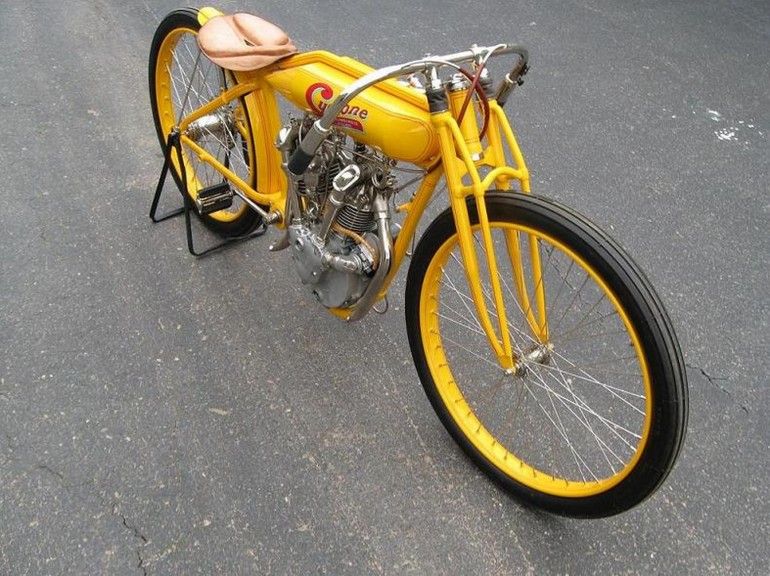 Courtesy of Dave Gifford
Beautifully restored Cyclone dating way back to 1915. One hundred and six years old, surely not? American Cyclone Board Track bike of 1915. V Twin overhead cam with bevel gears and timed at 111 mph in 1915! The most exquisite piece of engineering ever and sold in 2008 for $551,000 US dollars!
We are used to seeing cyclists racing around Velodromes. A Velodrome is usually a wooden, banked oval race track, for cycles, but not suitable for high powered motorcycles. In years gone by USA's motorcycle fans could watch stripped down motorcycles racing around Board Tracks which were similar to the Velodrome but larger and outdoors.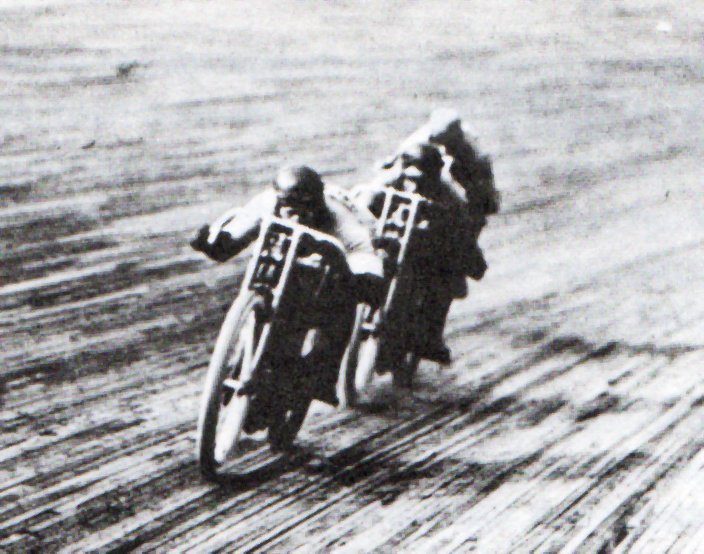 Board
Racing started in the USA in the early1900's. The bikes were mainly Indian and Harley Davidson. Like speedway they had no brakes and a fixed gear so it is a close cousin to speedway. The bikes have been stripped down like Dirt Trackers were a few years later.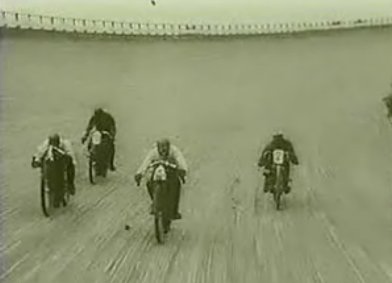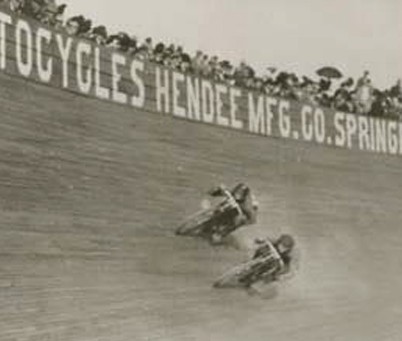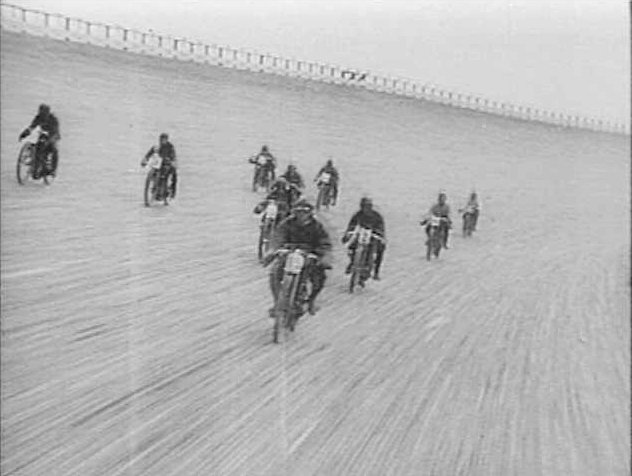 Outdoor board tracks needed the wooden boards replacing after only 4 or 5 years and the high costs involved signaled the end. This form of motorcycle racing only lasted from the 1910s until the 1920s and was an American only spectacular.
---
NASCAR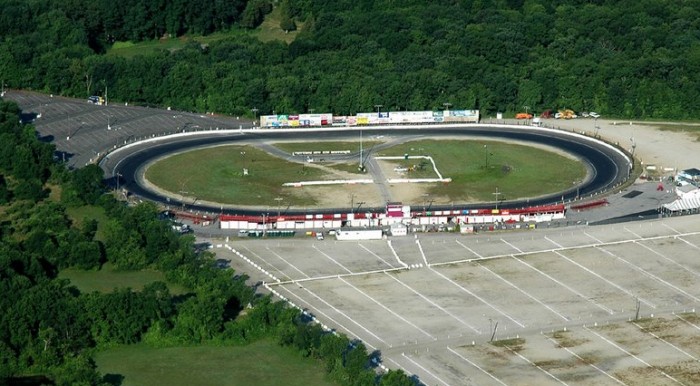 Courtesy of J Spoor
NASCAR stands for National Association Stock Car Auto Racing and is an American institution
Waterford Bowl Speedway (Nascar) in Waterford, CT on Route 85, just north of I-395 (Race Track) - Aerial Photo
The New London-Waterford Speedbowl is a 3/8 mile asphalt oval race track located on CT 85 in Waterford, Connecticut,
A typical UK speedway track measures around 300 metres. The Nascar tracks are much bigger often measured in miles with the typical track measuring 1.5 miles. Car speeds are close to 200mph. The cars are set up to turn left as are speedway bikes.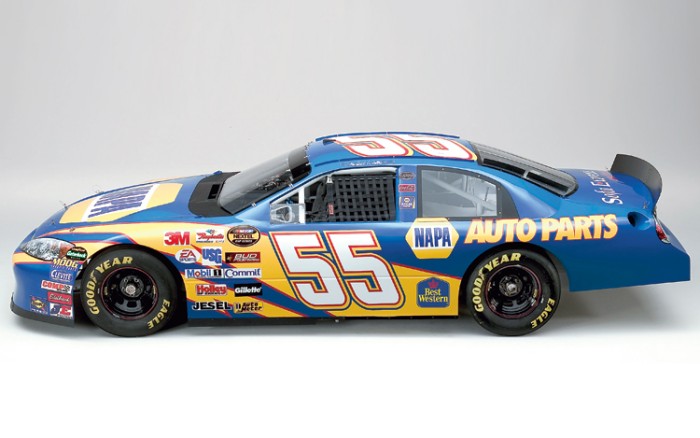 Courtesy of J Spoor
A typical NASCAR machine. These big cars are capable of reaching their 200mph top speed and maintaining it for lap after lap. We have no suitable venue in the UK, mores the pity as a UK track would draw big crowds I think.
---
Midget Cars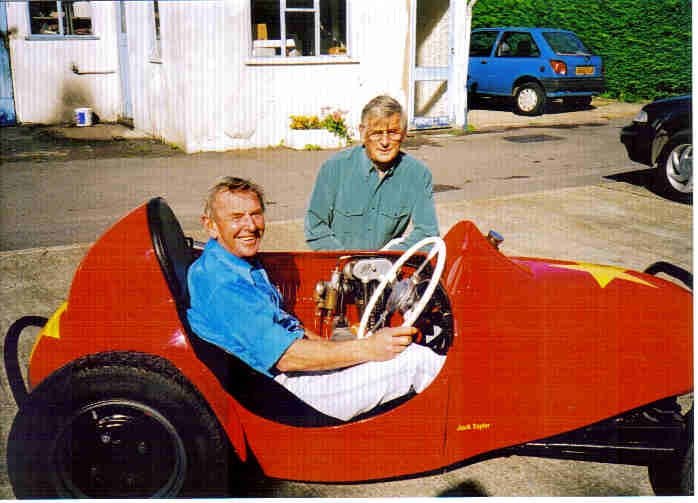 Speedway World Champion Ronnie Moore behind the wheel of his Midget car with Jack Taylor. I believe the little cars were first raced in the USA during the 1930s and this form of Oval Track racing became popular in Australia too. This echoes speedway which was an American/Australian invention and came to UK in 1928/29. You will notice a JAP speedway engine, 500cc air cooled in the cockpit with Ronnie. No sign of the health and safety department then.
British Midget Car Racing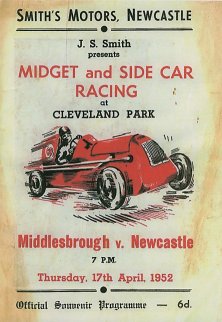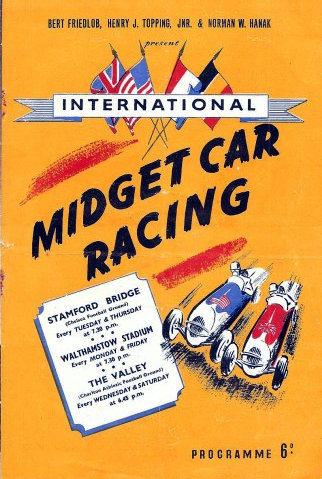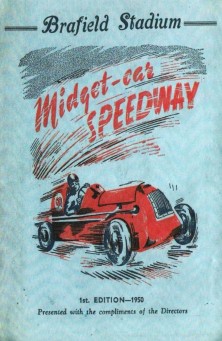 Courtesy of John Spoor
The sport surfaced at Middlesbrough, Stamford Bridge/Walthamstow and Brafield as per the programme covers shown above.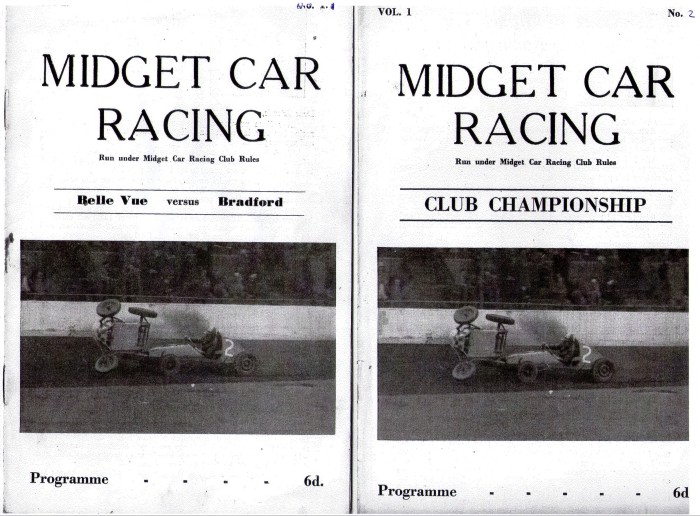 Courtesy of John Spoor
Belle Vue (Hyde Road) staged "Midgets" The above left programme cover shows a team event Belle Vue v Bradford. Pity I have only the programme cover as the match format would be interesting to see.
Midget Car
Book Cover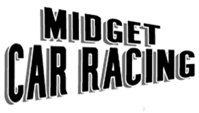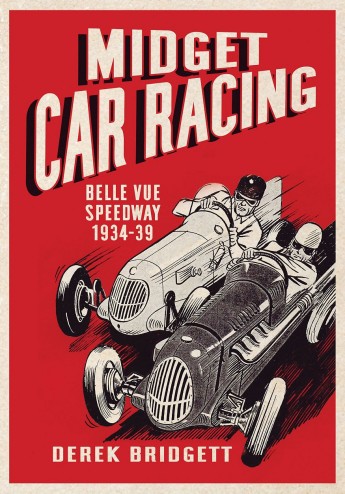 If you have a copy of Derek Bridgett's book perhaps you can supply us with some of the content, if so email me John
Derek Bridgett says: If you go onto the Amazon book web site you should find my book 9see above). On that particular page you can take a look inside the book and read the first chapter. Take a look at the index and if there is anything there you like the look of let me know and I'll see what I can do. (By the way you can buy a cheap second hand copy!!!) With all the publicity on your site Midget car racing might reach out to a wider audience. I've attached a photo of a scene in the pits at Belle Vue.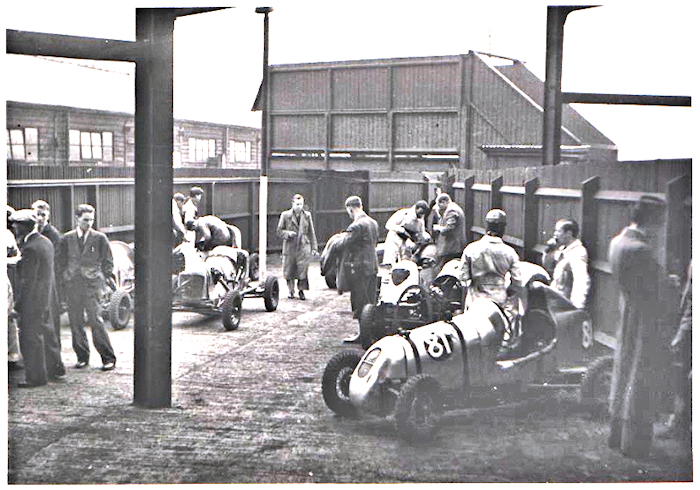 ---
Speedcars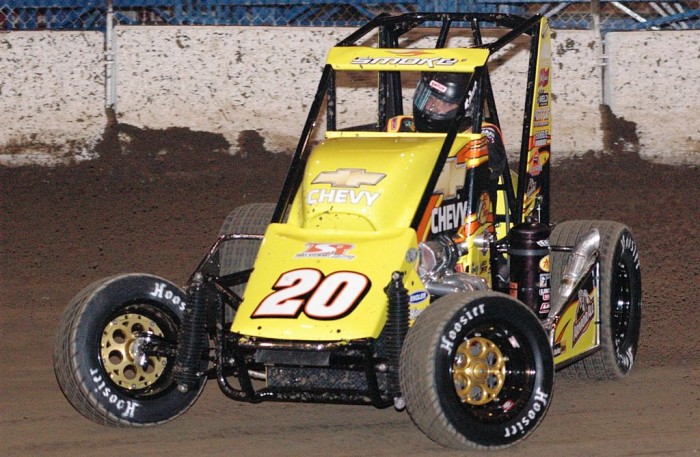 The earlier Midget cars evolved into Speedcars as shown above. This form of oval track racing is very popular in the USA and Australia.
---
British "Stock"Cars
Mini Stox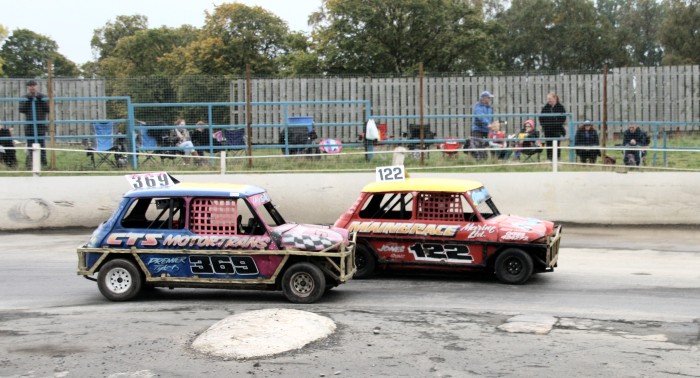 Courtesy of Barford Raceway
Young drivers aspiring to stock car racing usually start in their teens with Mini Stox. The minis are fast and furious although not as fast as the other categories of Stock Car racing but just as furious
UK

Formula

1
Stock Cars
The young Mini Stox drivers hope they can progress to the top of the sport behind the wheel of the brutal formula 1 stocks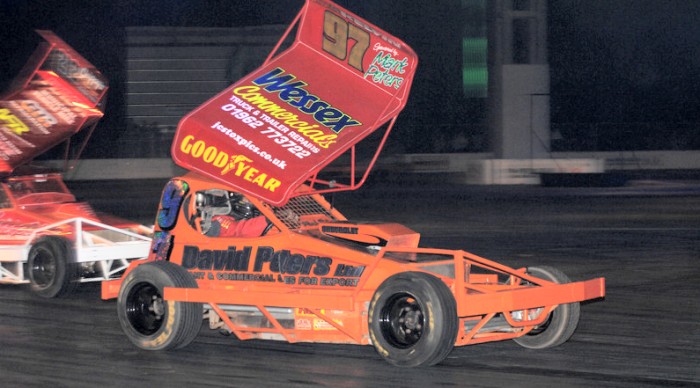 Banger Racing & Destruction Derby
Stock car purists are miles away from this popular form of "Racing" ! but as a spectator sport this form of oval track action is quite popular too with recognisable road going cars painted in a variety of colours and fitted out to make them safe-ish!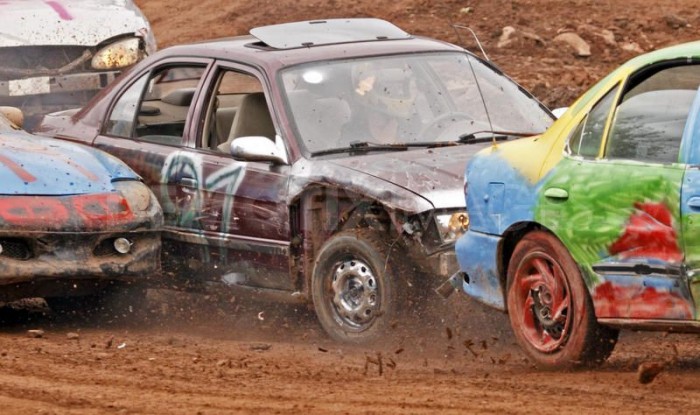 We all have owned cars that gave us trouble and we would have loved to smash them on the race track. My pet hate is a Fiat I had in the 1970s it cost me a packet to keep it running. I would have loved to have entered it into a demotion derby and I would have enjoyed letting the other drivers smash it to pieces but no! I paid for it to be towed away leaving an oil slick behind it to a breakers yard. I really hope no one took any parts off it to fit on their car as
MY
Fiat's bits would have let them down like they did me. Never had another Fiat since!
---
John says: I am a speedway fan but with an interest in Midget/Stock Cars/Sidecars etc which is why I have added this page to my website, hopefully like minded browsers will be able to help me with this page. I will add to it frequently but really I need some help. If you can help please email me John
---
Side Cars

Clockwise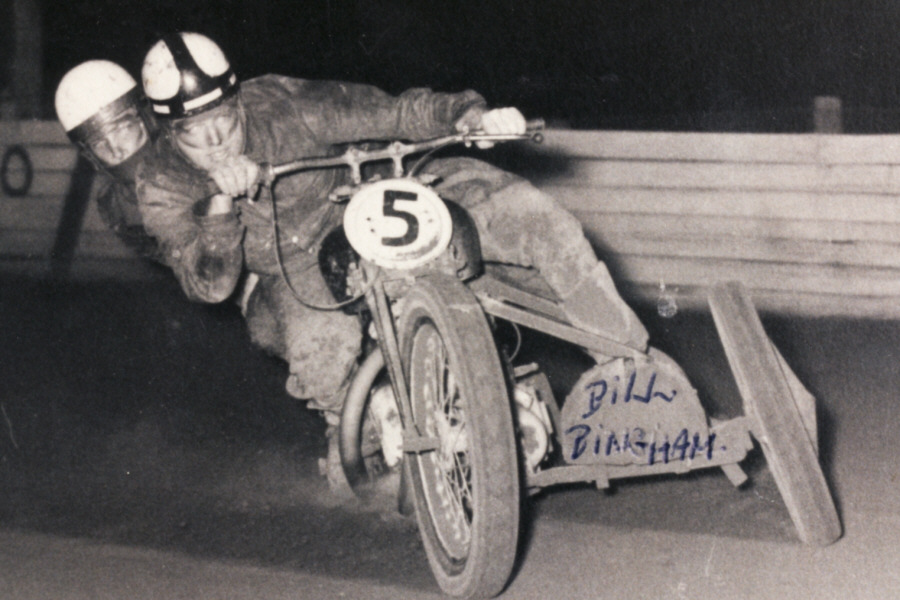 The above pictured combinations have the "Chair" on the left of the bike so they need to run the "other way" around the oval track. The engines are much bigger than a speedway bikes 500cc engine. Typically these combinations are fitted with 1000cc engines
---
Side Cars
Anti-Clockwise
Speedway Bike Based Machines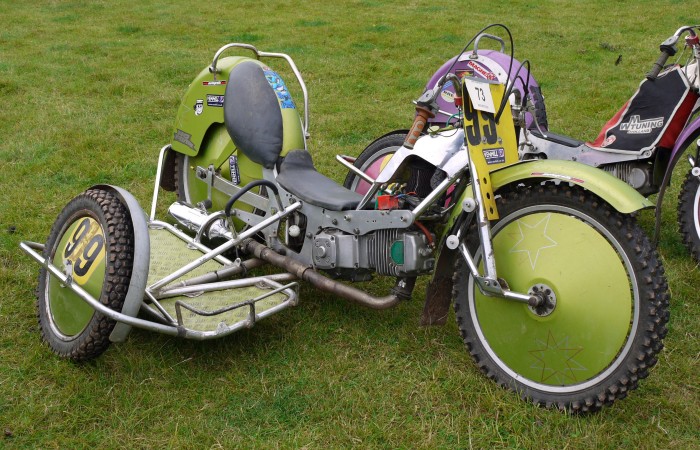 The above machine differs greatly from the bike shown above it, the black and white picture of a combination are not of speedway machines and race usually on other circuits, grass mainly. The "green machine" number 99 is based on a 500cc speedway bike modified to take a "chair". The chair is on the right hand side so these combos travel in the same direction as solo speedway.
---
Ice Racing (Outdoor)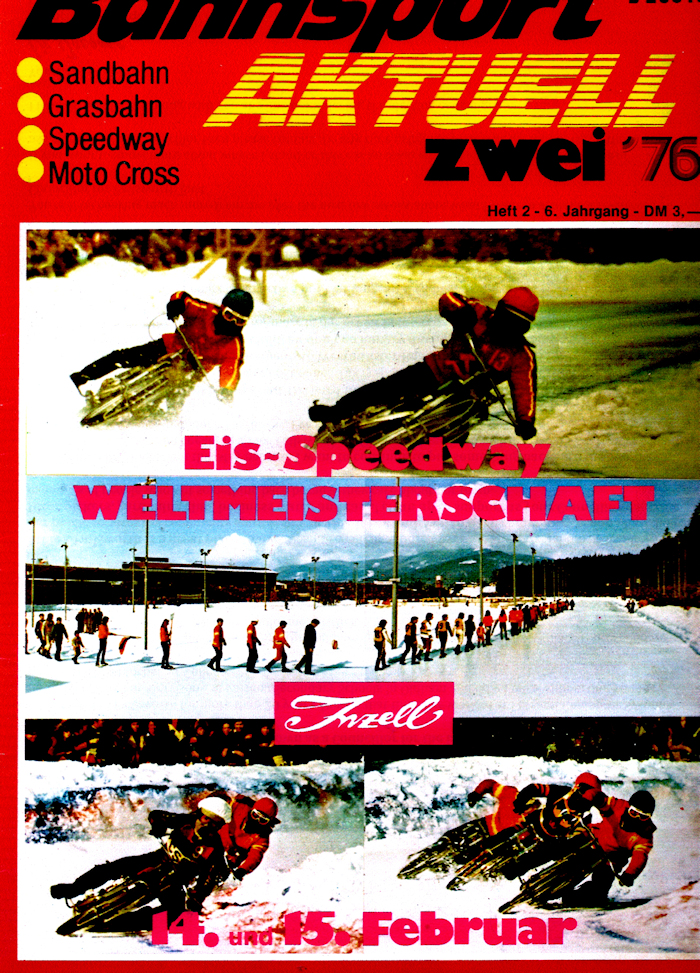 Courtesy of J Spoor
Ice Racing Bike's "Business End"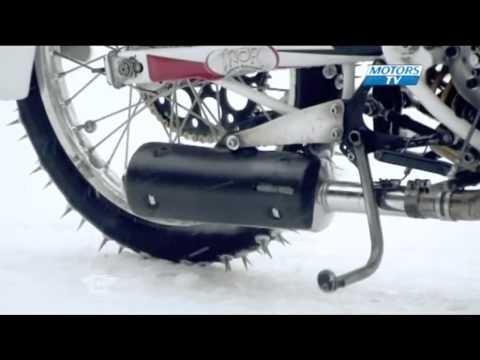 Courtesy of Motors TV
The above picture of an ice racing bike's back wheel indicates how these bikes can race on ice, the front tyre is spiked also. The steel spikes give the ice machines an incredible amount of grip. More so than a speedway bike on shale. Speedway riders want the back wheel to break away on corners whereas Ice Racers hope their back tyres will keep their grip. Ice Bikes are really fast despite them having engines that do not rev as high as Speedway Machines. Typically as I write in 2015, Speedway bikes are 4 valve laydowns whereas Ice bikes are using the older engines uprights and two valvers
Gerrit Schukken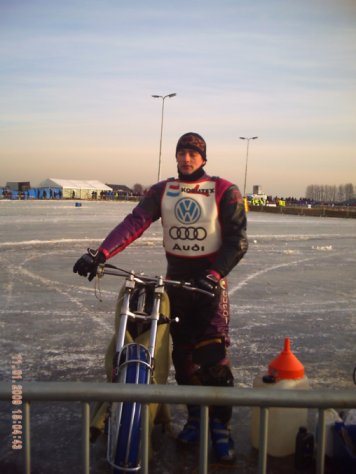 Courtesy of Gerrit Schukken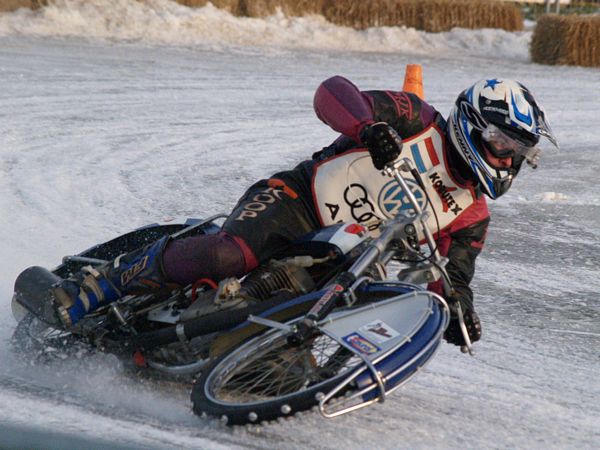 Courtesy of Gerrit Schukken
Gerrit's crazy angle is commonplace, no! he is not falling off! Ice bike tyres have metal spikes which grip the ice and permit these crazy angles on the corners.
John says: Ice Speedway racing takes place in Russia, Scandinavia and Holland (Not sure why Holland?). If you can add to this shortlist and/or say why Holland has the weather conditions suitable for ice speedway please let me know.
John
Gerrit Schukken (pictured above) says: Hi John, I'm from Holland. in the north. Comparing the speedway bike with an ice bike: I think only the wheel hubs and transmission are the same ( maybe accept the ratio ). the frame is special, wheels are front 23" rear 21"
Gerrit continues to say: M

y ice bike has no rear suspension. The engine is a 500cc 4 stroke, 2 valve Jawa, 2 valve is max in ice race methanol powered about 55 ps, no titanium allowed on bike. and the minimum weight is 115 kg ( changes sometimes a bit ) interesting to know in about 1990 my friend Tjitte Bootsma, Dutch GP rider than started to improve the java frames. he than came with a own frame with rear suspension, every one laugh at him. but soon they learn that it was the new evolution of ice racing.
J

ava also came with a rear suspension but it was not perfect. A few years later they copied his frame ( almost exact ) but still it wasn't super. This "tibo" frame also was copied by Russian mechanic due to lower quality steel and poor welding also this frames aren't very good. I think 90% of the drivers now in GP drive on this frames, and if there would be ( like F1 GP) a constructors title he would have it for many years now. This is a bit advertising :) the most used engine is still the Jawa 4 stroke 2 valve methanol powered engine.
But still, I just started ( I hope to improve ) ice racing last year. Set to learn it on an "oldtimer" Jawa. it is a money issue. I think its a super interesting sport and hope to continue it. Don't know if your interest goes to the sport or only to the bikes but anyway mine is both!
Well if you want to learn more about it I can help you I think, maybe ask some specific questions, if I don't forget I will send you some pictures of my bike, the pics i sent is me on Tjittes old competition bike on which he started.
Greetings Gerrit Schukken from Holland
John says: Hi Gerrit, I am fascinated by Ice Racing and would love to see your pictures. The sport looks much faster than dirt track speedway despite the older engines

John

. If I was wealthier I would make frequent winter trips to watch the sport.
Gerrit says:
Maybe this will attract some sponsors for me! You want to know why Holland has ice racing. Well in early days there was bit more strong winters and we have a lot of lakes, you do the math! and of course we have a lot of crazy ( read fanatic ) speedway riders. there not a lot of riders left, now about 3 of 4 active riders, if we get more winters it will be more. Assen, ( place from TT) has a organisation who organizes a world championship every year still, and the riders who are active are very driven to ride it.
Also check
www.renestellingwerf.nl
site of friend of me who, has a good chance qualifying for GP this year
greets Gerrit
John says: Ok Gerrit, I would be pleased to hear you have a sponsor after putting your piece on the website. Best wishes to your friend on reaching the GP...John
---
Ice Rink Racing (Indoor)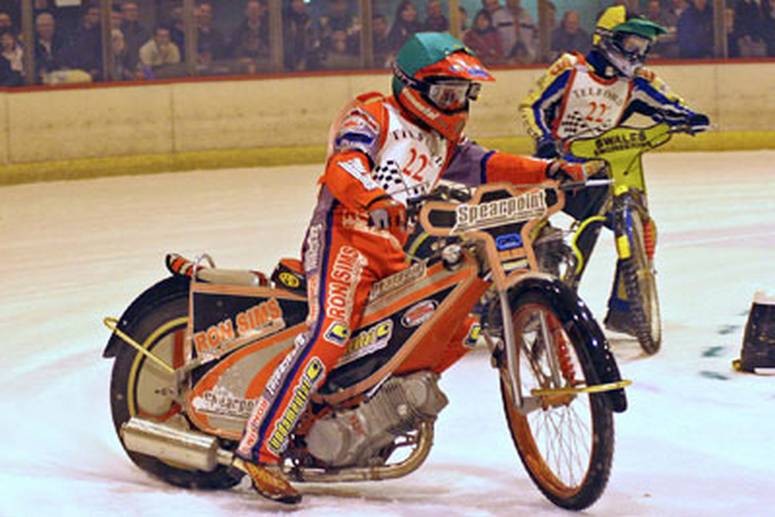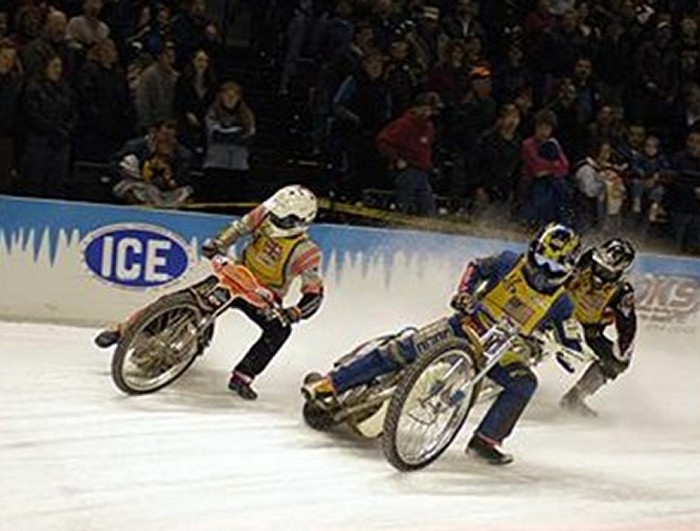 Telford ice rink is the best known venue for indoor ice speedway. Telford in Shropshire is about 30 miles from Birmingham. The "track" was quite small and demanded riders that had good throttle control.
---
I am always on the lookout for interesting items/pictures so please get in touch if you can help John
If you can scan any of your Oval Track pictures, programmes or badges send me an email John
---
The contents of the site are © and should not be reproduced elsewhere for financial gain. The contributors to this site gave the pictures and information on that understanding. If anyone has any issue or objections to any items on the site please
e-mail
and I will amend or remove the item. Where possible credit has been given to the owner of each item.