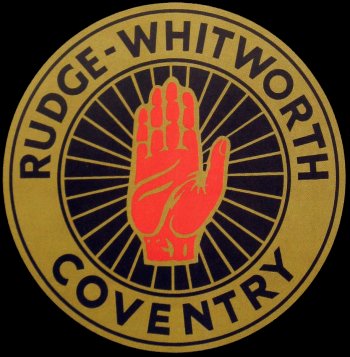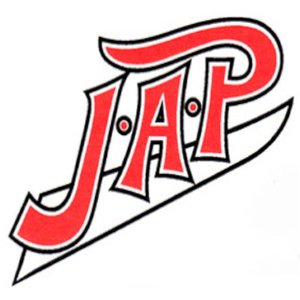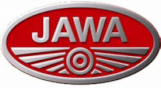 ---
Reg Fearman
Part 2
Reg Fearman In
New Zealand
Reg Fearman says:
Newly married, my wife Joan and I sailed for New Zealand in October 1954 with me having a contract to race at Western Springs Auckland. I had a fairly successful 1954 / 1955 season at the Springs. We stayed the winter in Auckland but had ideas of returning to England in March 1956. Come the 1955 / 1956 season we decided to do a tour of the South Island which we had been told was very beautiful and Glaciated. The North Island is Volcanic. The Auckland Promoter arranged for me to have two meetings at Aranui Speedway Christchurch.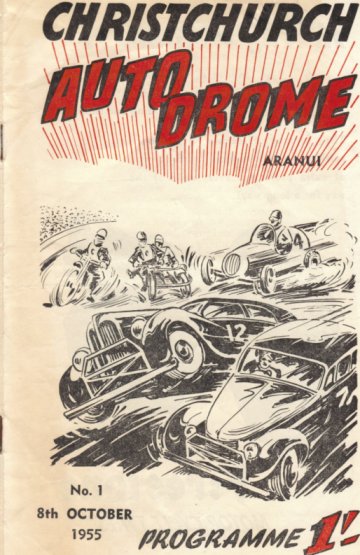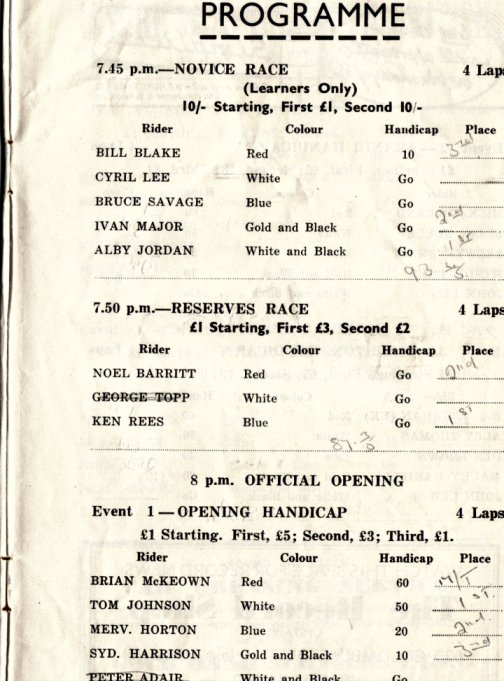 1955 Christchurch Programme, notice Ivan Mauger (mispelt Major), in a novice race.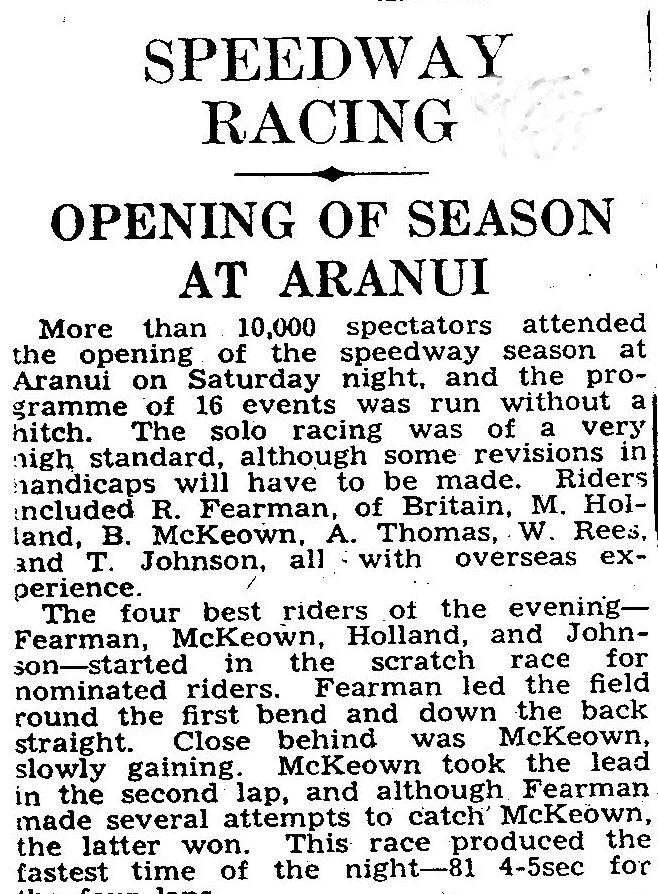 The first meeting was on the 8th October 1955. Being English and as they termed an "import" they gave me top billing. I had a very good meeting winning a couple of races off the back mark in the handicap events and narrowly lost the scratch race final to Brian McKeown - who raced for Southampton in England. Brian was to race for me some years later at Middlesbrough.
At that very first meeting of the season there was a 16 year old having his first speedway race in public. It was the very first race on the programme and he must have been quite nervous riding out of the pits in front of 10,000 speedway fans. His name was Ivan Mauger but the programme compiler had spelt his name wrongly as Major -- it was corrected the following week. In that race billed as :- 7.45pm Novice Race (Learners Only) 10/- Starting, First £1, Second 10/- the finishing order was Alby Jordan 1st Ivan "Major" 2nd Bill Blake 3rd and Cyril Lee 4th. That was the first of thousands of races that Ivan was to undertake. Ivan has told me that he had the cheque from that first race for £1 framed and is hanging on the wall at his Runaway Bay home on the Gold Coast of Queensland.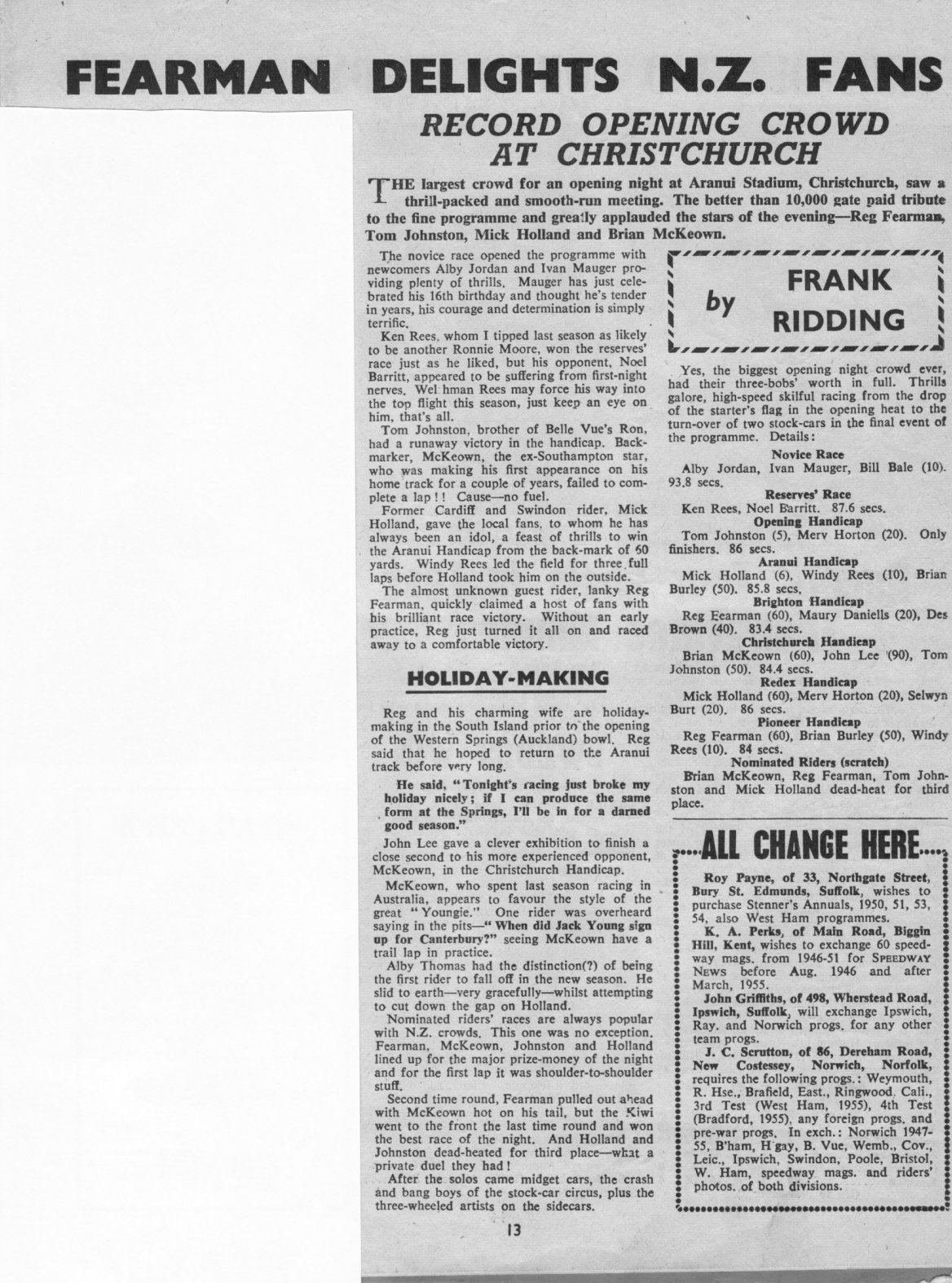 ---
Reg & Ivan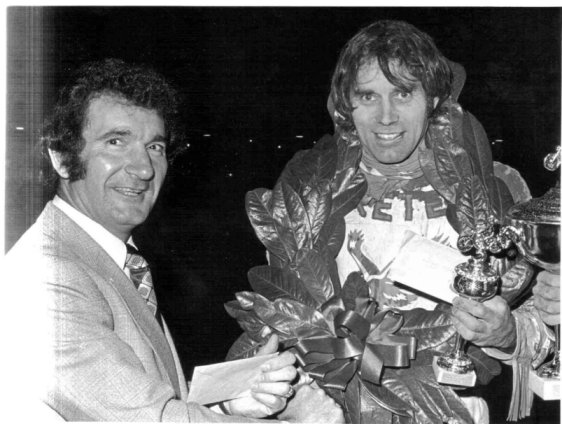 Little did we know then the direction that Speedway Racing would take us over the next 30 years. Ivan first to Newcastle in 1963 and later his first of many World Titles, Individual, Pairs and Team. Me becoming a multi Speedway Stadium promoter from that first step I took in 1960 with Mike Parker -- and that's another story.
---
Ivan Mauger
Newcastle Diamond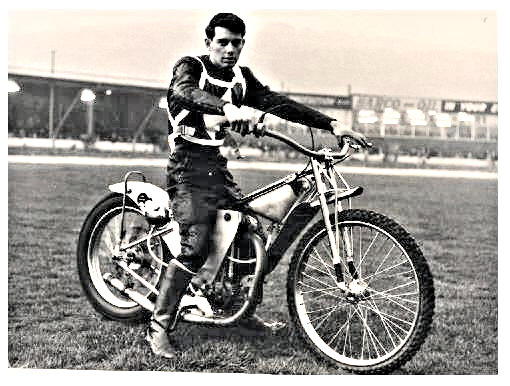 Ivan wearing the Newcastle Diamond with a Kiwi emblem on his rear mudgard
---
National Team Manager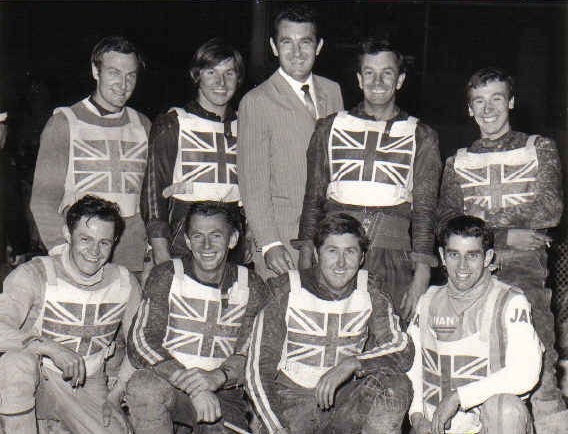 GB v Rest of the World at Reading 1972
An incredibly strong GB side: Rear; Eric Boocock, Ray Wilson Reg Fearman (Manager), Reg Luckhurst Trevor Hedge. Front Nigel Boocock, Ronnie Moore, Barry Briggs and Ivan Mauger. This team should have been unbeatable.
---
Con Migro,
Reg Fearman,
Ivan Mauger & Anders Michanek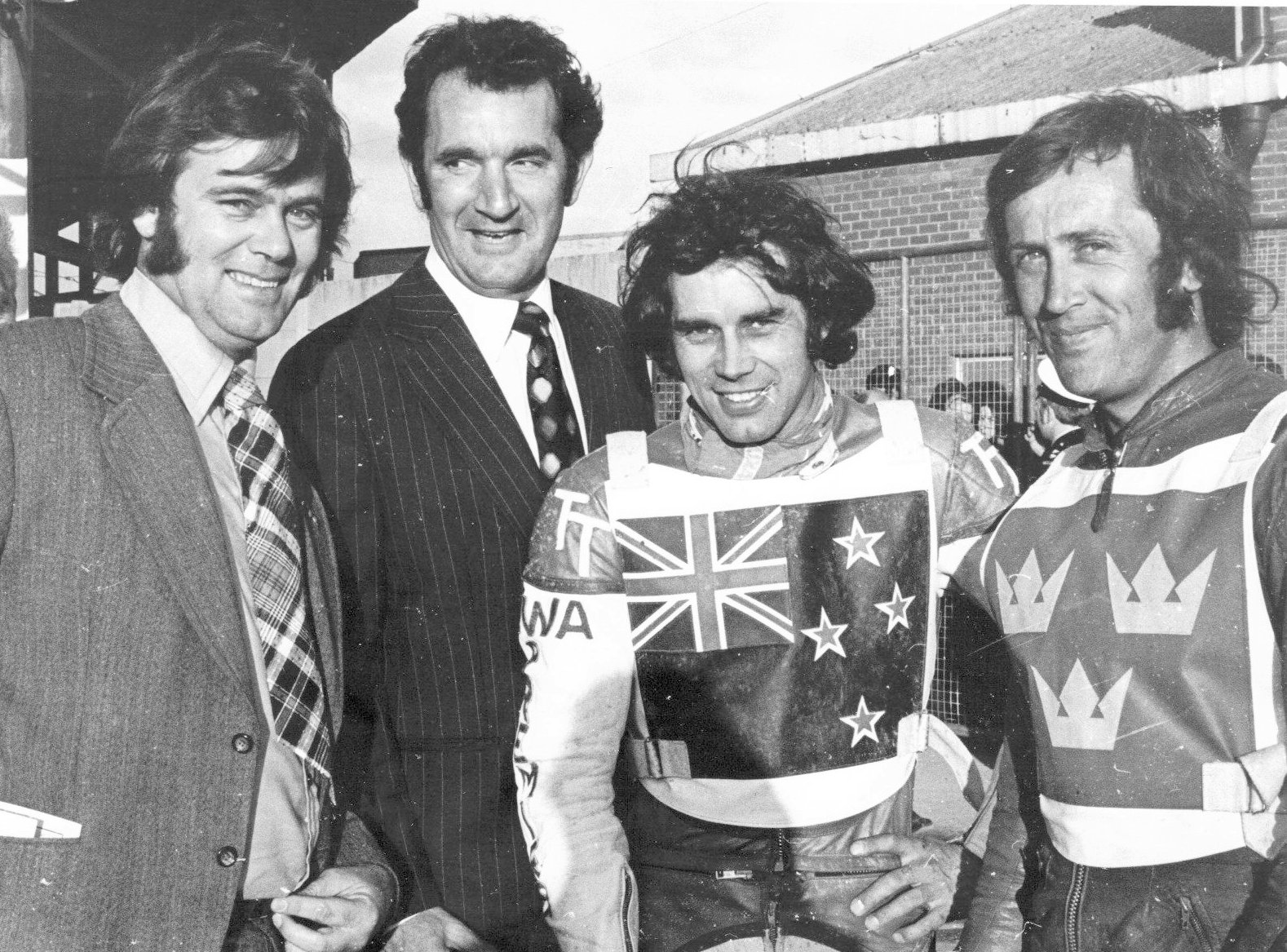 ---
Bob, Sue & Ivan
At A VSRA Dinner In 2006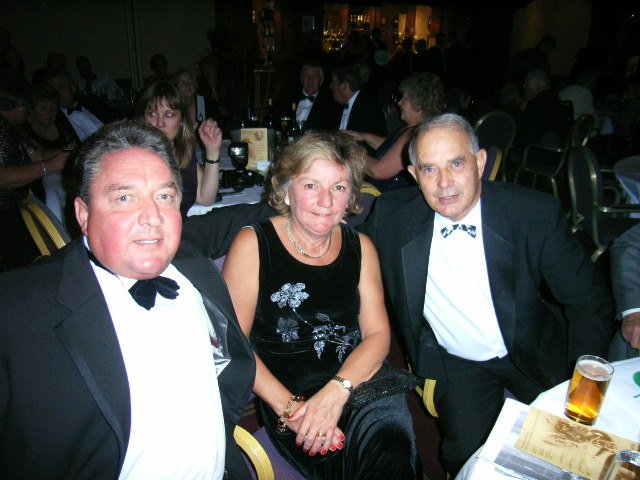 ---
Ivan With My Friends Michael & Cyril At A Veterans Dinner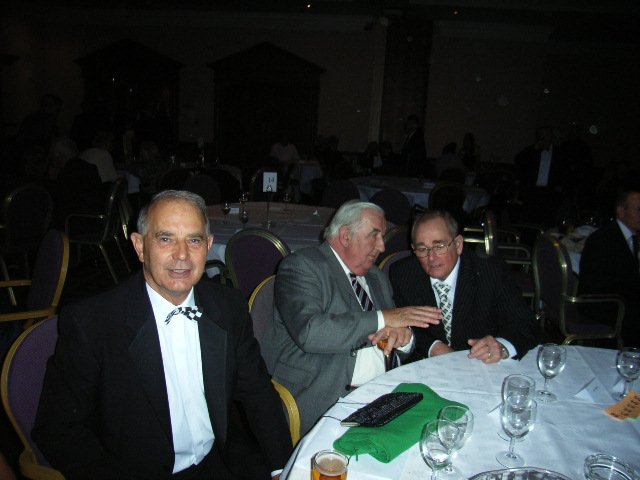 ---
Ivan &
Guy Allott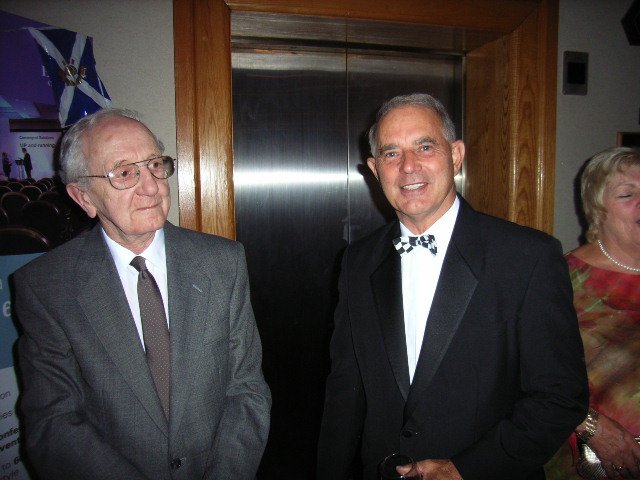 Ivan and Guy Allott who was Ivan's engine tuner at one time and helped him to more than one World Title
---
NZ Veterans Reunion
At Rotorua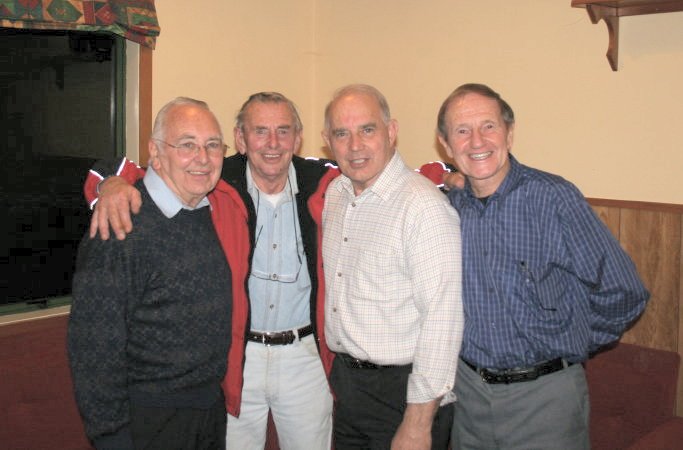 NZ vets reunion at Rotorua Tommy Sweetman Ronnie Moore Ivan Mauger and Bob Andrews
---
Ronnie Moore & Ivan Mauger
Receiving The Keys To The City From The Mayor Of Christchurch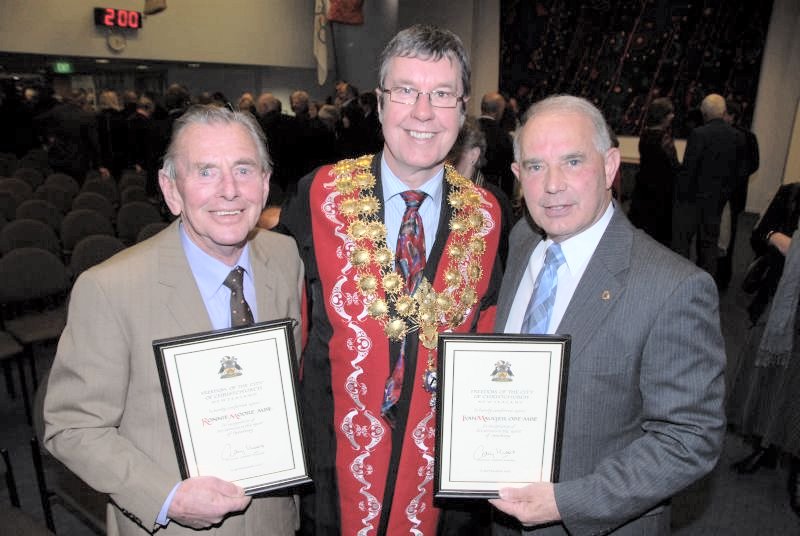 ---
Pete Saunders Ronnie Moore
& Reg Fearman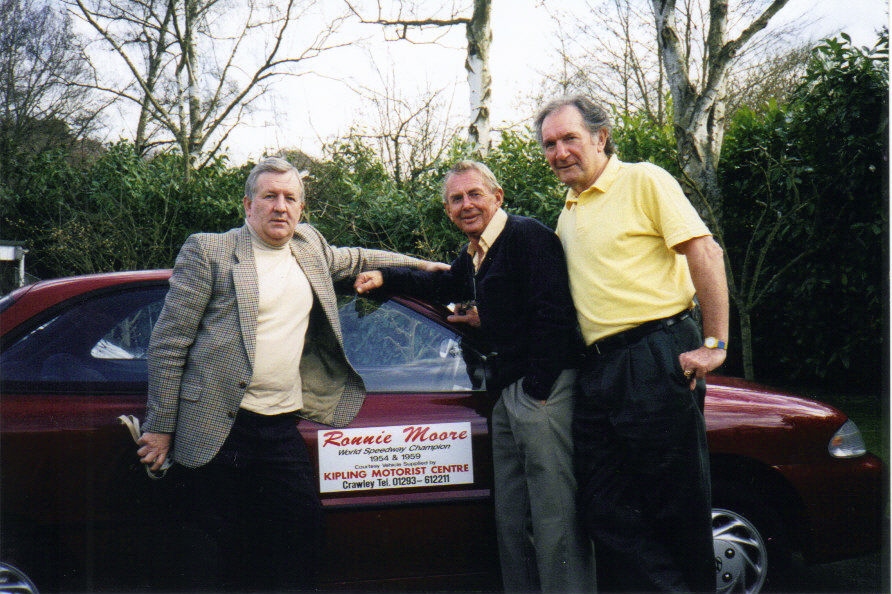 ---
Ronnie & Sponsored Vehicle
Supplied By Pete Saunders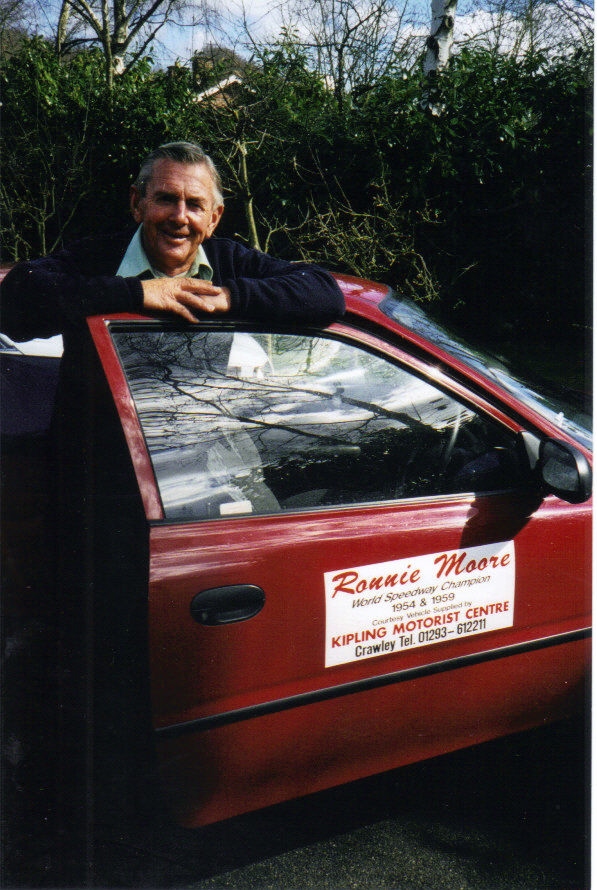 ---
Two Ex - Newcastle Diamonds
Don Lawson & Ivan Mauger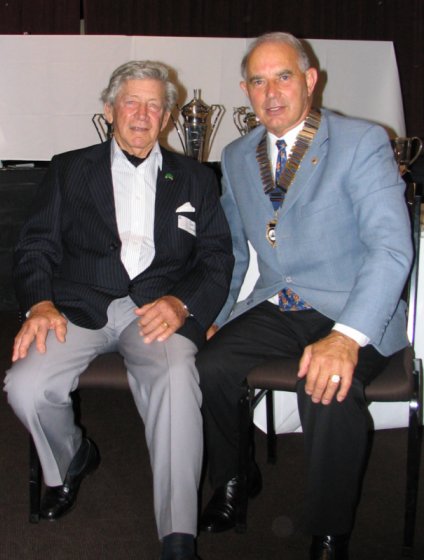 Ivan Ex Newcastle Diamond 1963-1968 handing over the reins of the Aussie Veterans association to Ex 1949 Newcastle Magpie Don Lawson
---
New Zealand's
South Island
Reg says: I said the South Island is beautiful and a couple of years ago my wife Eileen and I did a tour. Here are a few photos showing just how beautiful it is.
Lake Wanaka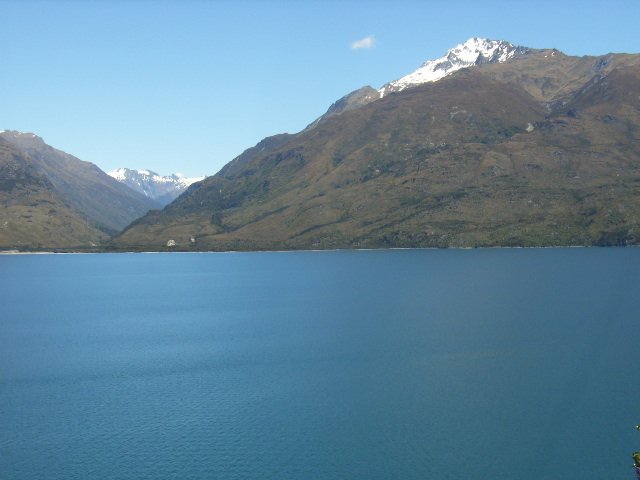 Fox Glacier & Blowhole 2
At Pancake Rocks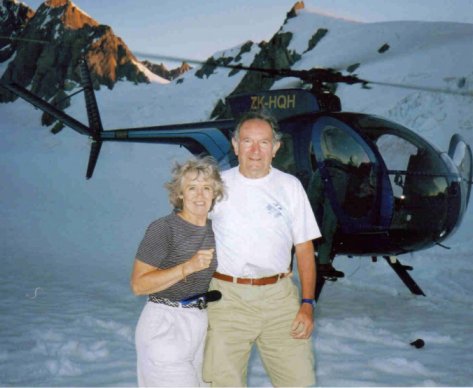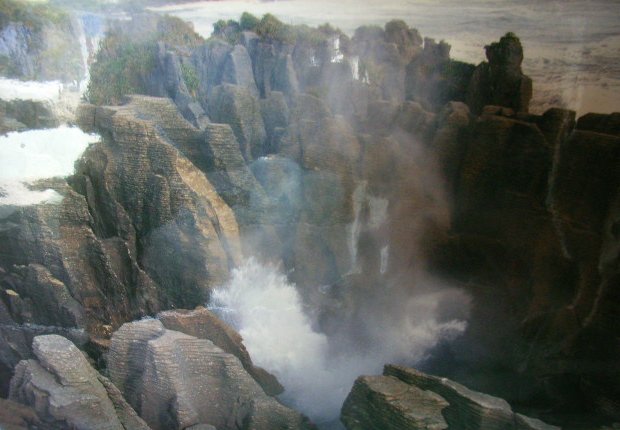 Milford Sound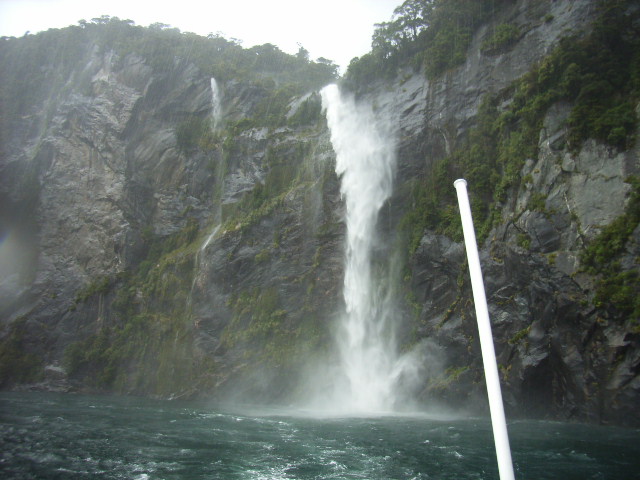 ---
Alf Weedon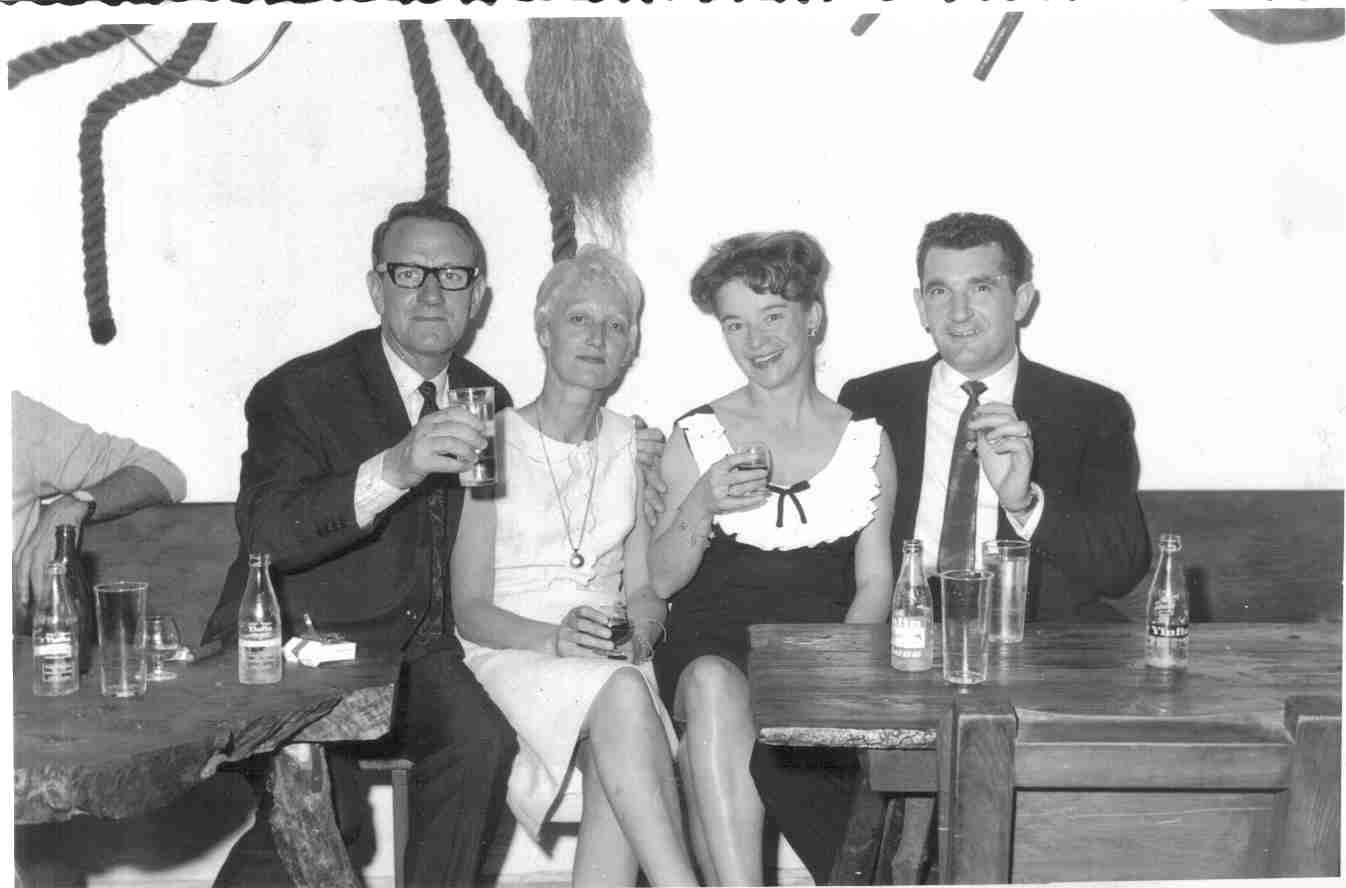 Alf and Dot Weedon with the Fearmans in Majorca 1965
Alf Weedon Photographer

(Est: 1947)
Alf Weedon is probably as well known world wide as most speedway riders. Over a period of 60 years he has snapped them all. Alf is still a regular at Lakeside (formerly Arena Essex) and is now 88 years old. He was born in the East End of London and during the War was bombed out. He and the family were rehoused in a prefab which was, for so many years, open house to all speedway riders passing through London. Sometime later, he moved to Essex.
Alf has been the main photographer for The Broad Sider, Speedway News, Speedway Gazette, Speedway Star and his own publication Speedway Mail. Today of course there is only one weekly publication. Alf is now restricted to lesser duties than taking photos due to a knee transplant that went wrong - he has a stiff knee and leg, otherwise to be sure he would still be in the pits and on the centre green taking the best of photographs.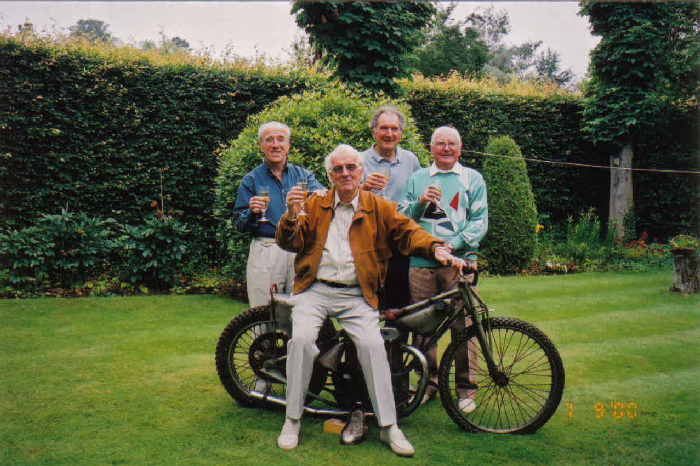 Toasting Alf. Merv, Alf, Reg and Wally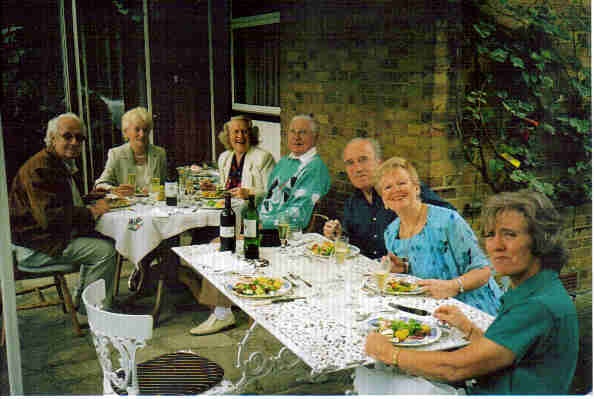 Alf, Lynn, Hazel, Wally, Merv, Sheila and Eileen.
Having known Alf since 1948 and knowing his 80th birthday was approaching in June of 2000, Eileen and I decided to put on a small celebration lunch at my home in Henley on Thames for Alf and Lynn. Wally and Hazel Green came along and Merv and Sheila Hannam -- they had known Alf as long as I had. Wally raced at Hastings and West Ham and finished second in the World at Wembley in 1950 behind Freddie Williams and in front of Graham Warren who was third. Merv raced at Southampton and Wembley.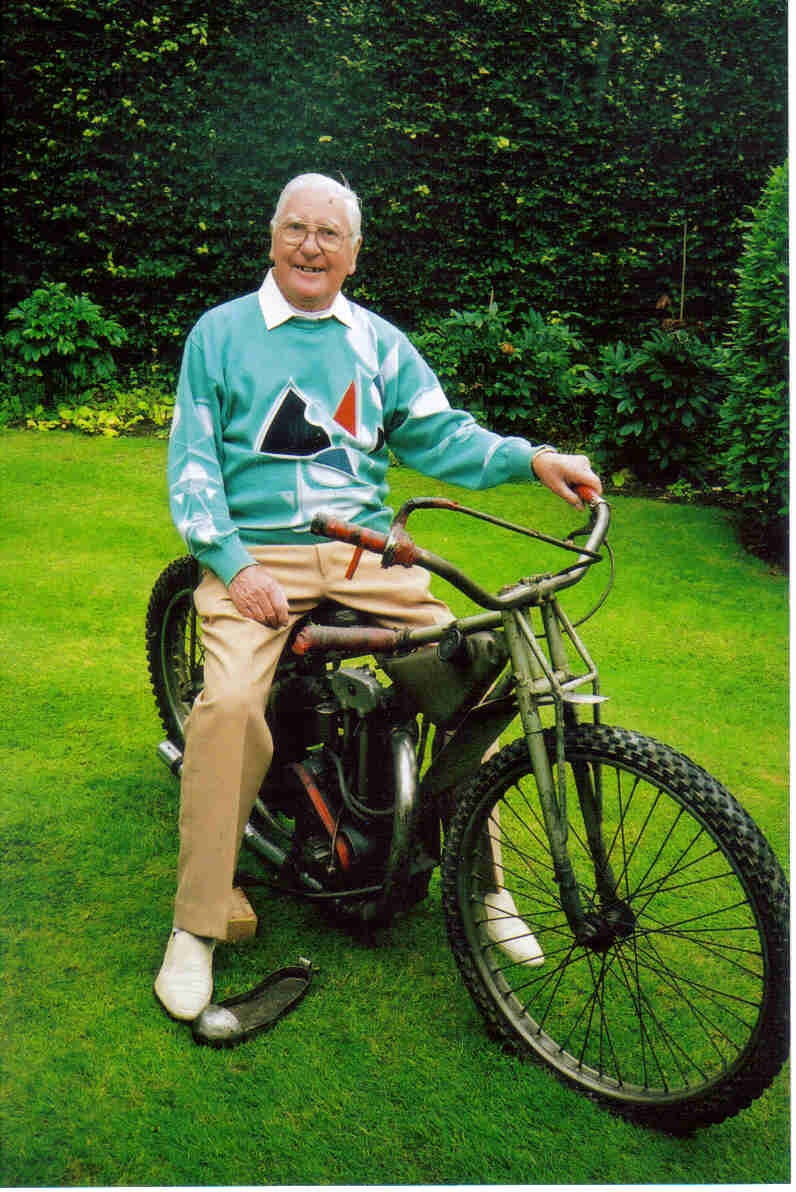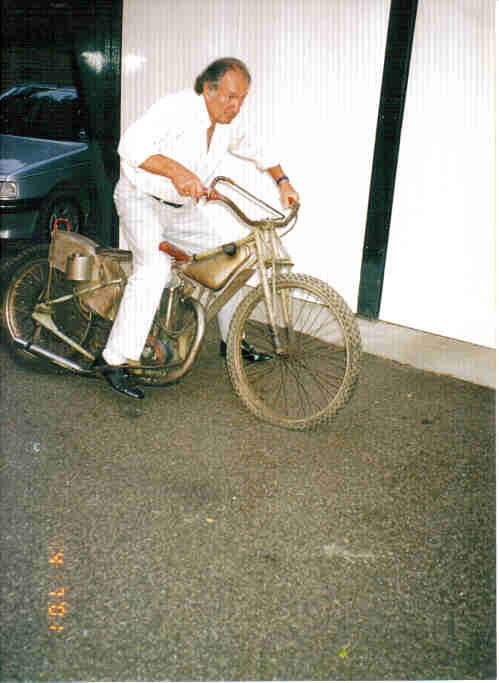 above left: Wally Green and above right Reg Fearman demonstrating how it was done on a JAP!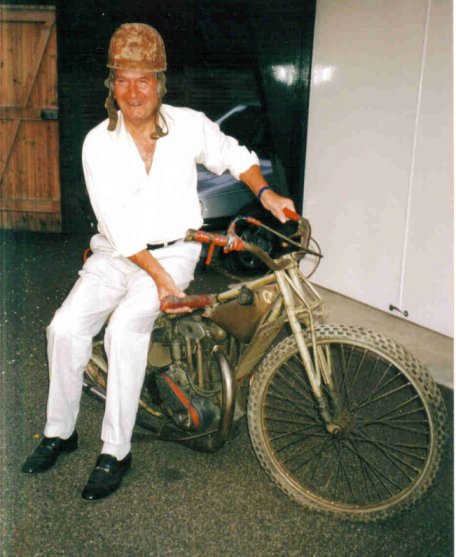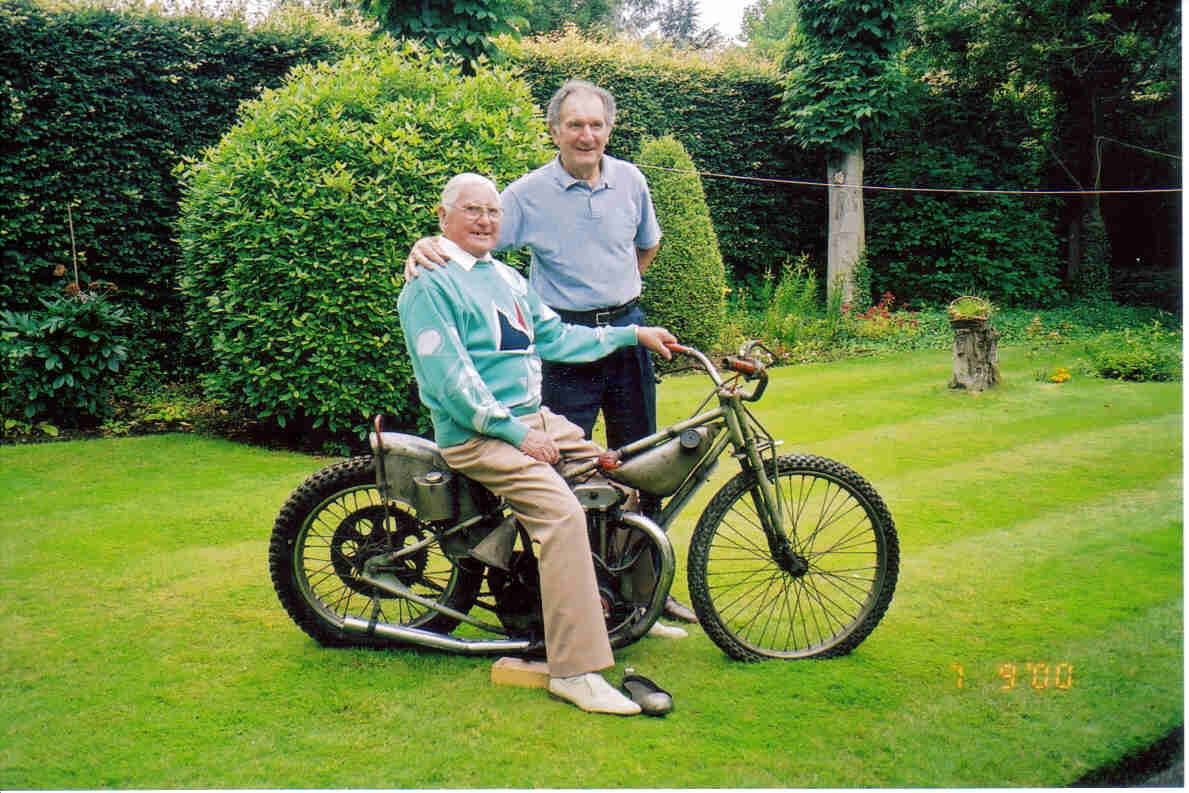 Reg says: The speedway machine in the above photographs is of interest. It is a 500cc 4 stud J.A.P. engine as used by all speedway riders in the 1940s, 50s and most of the 60s. The frame is a Martin Mitchell, designed and made by Australian Clem Mitchell based in Edinburgh in the late '40 and 1950s. It was ridden by Australian, Jack Young of Edinburgh Speedway to his two World Titles in 1951 and 1952. After that success Clem sold the copyright to Victor Martin and Co; of Tottenham, London, who at that time could not could not keep up with the riders' demands. Nearly every rider wanted a copy of Jack Young's frame. Victor Martin also supplied engines, spares and a tuning service. This particular speedway machine -- I don't call them bikes or motor cycles as they are manufactured as a special machine for speedway racing only. This one was owned by Alan Smith who raced at Rayleigh, Exeter and West Ham. I had often admired this machine in Alan's Garage, just as he had got off it from his last race, and often asked him to sell it to me. The reply was always the same " I like to start it up now and again to smell the Castrol "R" oil being burned with the Methanol ". When he died his widow Audrey, offered it to me and I was pleased to purchase it. Unfortunately, the machine along with a lot of other of my memorabilia had to be disposed of when I moved to the South of France. I sold the machine to Peter Saunders - a former Oxford, Crewe and Peterborough rider - who has placed it in the Speedway Museum at Paradise Wildlife Park, near Rye House Speedway, Hertfordshire.
You may have noticed the knee hook on this old bike? Knee hooks were attachments used in the 1930s and in the late 1940s to stop the rider moving forward up the machine, as most of them were leg trailers. It all ended when Vic Duggan burst upon the scene with his very different lightweight machine, minus the knee hook. Leg trailing was out and foot forward was the fast style and one was required to move forward up the machine to break traction and to allow the rear wheel to slide out. After the war the tyres gave much more grip, track surfaces also changed. So here we have a knee hook on Alan's machine which was very unusual.
Reg Fearman
October 2008

---

Eric Chitty

Eric with his maple leaf helmet

---

Eric on Crutches

After Breaking His Leg In Australia

Eric Chitty the West Ham Captain presented me with my racing licence on my 16th birthday on 26 April 1949 in front of 40,000 West Ham Speedway fans - what a thrill.

Eric had returned in March from Australia on crutches,. He had suffered a badly broken leg at the Brisbane Exhibition Ground just before he was due to leave for England.

---

Eric & Jeannie With
Baby Carol Ann
He was born In Toronto, Canada and raced in several different types of motorcycle disciplines before coming to race at West Ham in 1935. He made his base in the London area with his wife Jeannie (Eugenie), daughter Carol Ann and son Raymond - who was born in London. I knew the family from 1948 onwards. Carol Ann died prematurely in 1983 at the age of 48, Jeannie in 1999 at 87.
Eric was forced to retire from racing in 1952 after he fell from his horse in Epping Forest and again badly broke his leg. During his career he fractured some 44 bones. At the beginning of the war the family went to Canada (as did so many British Evacuees for the duration of the War). Eric stayed in England doing War work. Towards the end of the War he joined ENSA ( Entertainments National Service Association - formed in 1939 ) and entertained the troops in BAOR ( British Army Of the Rhine) During the War he managed to race at Belle Vue - like so many others - and won many "Unofficial" Titles. The family returned to London in 1947.

As happens in life sometimes you lose contact with people and the Chitty's and I lost contact until March 2005.

It was then that Raymond was looking via the West Ham web site for information about his father's racing career -- he and Eric had become estranged and Ray was looking for some photographs. We were put in touch and the reminiscing has been joyful ever since.

Ray left England for Canada in 1957 to join the Royal Canadian Airforce, in which he made his career, retiring in 1985

1949: Jeannie's letter to Reg

---

1950 Eric Chitty, Ray, Carol Ann & Jeannie

With a Rather Surprised Looking Cat!




Coincidence and life are strange. Eileen and I had already booked a holiday in Canada which started in Toronto in May 2005, which is before the contact between myself and Ray. To cut a long story short we arranged to meet up at our hotel. We had a marvellous three days with Ray and his wife Traudl showing us the sights of Toronto including Niagara Falls.




Eileen Fearman at Niagara Falls.

When we returned to the UK I telephoned an old pal, Cyril Hill, from school days who also went to West Ham speedway in the 1946, 7, 8, 9 era. I told him that I had met up with Ray Chitty in Toronto. He couldn't believe the coincidence as just a couple of days before he was clearing his attic and found a record made by Eric just after the War - a 78 rpm.

Eric Chitty made two singing records and had a ready made market with West Ham's 40 thousand fans. Sometimes Eric would sing to the fans during the speedway interval. In the late 1930s Eric would supplement his racing income by singing in London clubs - he was quite a crooner.

My pal Cyril had several CD's made from the record and I sent a couple to Ray who was emotionally surprised at hearing his fathers voice again after such a long time. The songs were " Was it Rain That Fell Or Was It Tears" and "Moon at Sea". We have a copy and it is compulsory listening along with the story for anyone visiting our home for the first time.
Cyril gave me the record and Eileen and I had it framed in gold. Ray and Traudl spend 3 months of the year in Portugal, escaping the worst of Canada's weather . The next plan was for Eileen and me to drive to the Algarve and present the record to Ray as a surprise - which we did in February 2006.

Eric's Son Ray Chitty & Reg With Eric Chitty's 78rpm Record

Ray & Traudl Chitty in Portugal with Eileen Fearman. The photographs tell the story.

Reg Fearman

October 2008




Reg's Photos Of Eric

Eric Chitty & Mechanic at West Ham in 1930's



Eric mounted on a beautiful late 1940's example of a JAP. note the footrest, designed to avoid catching on chain link safety fences and the mounting flange for a knee hook.




Eric in Canada's colours with his Daughter Carol Ann and right: Eric in West Ham colours in 1949




Eric Chitty at West Ham, note the silver sand track top dressing.




Howdy Byford and Eric Chitty




John says: Two photos of the right hand side of Eric's machine show a bar from the bottom of the frame to the outer edge of the footrest. Many tracks had chain link mesh safety fences and some injuries had happened as a result of the right hand side footrest becoming caught in fences. Eric's bike would appear to have been modified to save him from this particular accident type.

---

1

925 - 1987




John says: This is 1961 and pictured are Reg Fearman Eric Hockaday and Mike Parker. I am not sure what was going on but the 2 co promoters appear to be sneaking Eric into a Stoke race jacket against his wishes!

Mike Parker With

Newcastle Number1 Ivan Mauger

Reg says: It was through Dave Anderson (the Captain of Hanley Speedway (Stoke) in the late 1940's), who popped into my garage in October 1959 asking if I was interested in racing again at Stoke as Mike Parker was negotiating to run speedway there, that I met Parker in the winter of 1959/60 at his office and flat which was above his hardware store in Moss Side, Manchester, an extremely run-down area which some years ago was completely demolished. I told him of my background in speedway and of my racing career at Stoke in particular so we came to a deal to promote on a 50/50 basis.

I then installed at Stoke all the necessary equipment to stage speedway racing including the floodlights. I didn't know at the time that he was on the way to becoming the Rachman of the North. You could buy a whole street of run-down terrace houses in that area for about £100 each. Parker would convert the ones he bought into bed-sits.

I actually accompanied him one day (without knowing it) on one of his evictions. He broke down the door, threw all the contents out into the street and put hasps and padlocks on the doors. (This gives one an insight into his character). It was this ruthlessness that he carried forward into his speedway and stock car promoting career. When Parker came into speedway promoting in 1960, his knowledge of speedway racing was just about zero. My belief was, as far as he was concerned, that it was business with no feel for the sport of speedway racing or its history. I used to feed him all the information at Promoters' meetings and along the way he picked up a lot of knowledge from the other promoters. I believe he saw, through speedway racing, a means of making money and then eventually also going into promoting Stock Car Racing.

It was an advertisement and write up in the Speedway Press that brought interested parties to the inaugural Provincial League meetings which were held that winter in his flat above his shop. John Wick, Editor of Speedway World, became our Secretary and some of those at the inaugural meetings were Trevor Redmond (St Austell), Ian Hoskins (Edinburgh), Frank Varey (Sheffield), Alan Martin, Captain and Maurice Jephcott (all Cradley Heath), Charlie Foot and Charlie Knott (both Poole) Charlie Dugard (Arlington - Eastbourne) and Wally Mawdsley and Pete Lansdale (Rayleigh). Parker told me that he had spent some time in the Merchant Navy and was then doing property repairs as a jobbing builder.
There were a number of midget cars around Lancashire in the late 1950's which used to race at Belle Vue. He was one of the drivers. I believe most of the cars belonged to one man but Parker managed to take over all the cars. They were very unreliable and it was hard to keep them going for four laps. I understand that the Belle Vue speedway riders became fed up with the track being cut up and so Parker went off to Liverpool and Bradford where he staged pirate Cavalcade of Speed meetings – side car racing which was organised by Harold Hill from the Birmingham area, a grass track man, and Parker's midgets. There were many junior speedway riders around who were willing to race in these unlicenced meetings which would normally be licensed by the Speedway Control Board and Auto Cycle Union.
A committee of the prospective speedway promoters for 1960 met the Speedway Control Board which agreed to sanction the new Provincial League.

---

Reg & Mike
With Their
Stoke Team

1960: Reg Fearman stands shoulder to shoulder with his new promoting partner Mike Parker

1960 saw Parker run Liverpool and me Stoke under Northern Speedways Ltd, a company which we formed. Stoke was extremely successful but Liverpool, although having staged several Cavalcade of Speed meetings in 1959, failed to draw a paying crowd for Provincial League speedway. We dropped Liverpool in 1961 and opened Newcastle and Wolverhampton Speedways – both tracks had closed in the 1950's with the downturn at that time in the sport. Both stadiums were owned by the same Greyhound Company, The Midland Greyhound Racing Company Ltd. The return of speedway to those two venues was extremely successful. At the same time, we opened Middlesbrough.

1961 Stoke team flanked by promoter's Parker and Fearman

---

Bill Bridgett, Mike Parker & Reg

Fearman

At the end of the 1961 season, Charles Ochiltree closed Leicester in the National League due to falling attendances and offered it to Parker and me in the Provincial League for 1962. The CO said he had closed the speedway with an attendance of 3,000 plus people on average and thought the figures would not go lower in the Provincial League. We took it on and the figures plummeted. 1200 people and less were the norm and it haemorrhaged money. As we had so many tracks, I suggested that we took Bill Bridgett in for a third share in Wolverhampton. I knew him as a junior rider at Stoke, an enthusiast and a business man having inherited the fish and game shop in Newcastle-under-Lyme.
At the end of the 1962 season, I went on holiday abroad around October time and when I returned, Parker was very cool on the telephone so I went up from my Stoke on Trent base to Manchester to learn that he did not want "to do business with me" anymore and that he had negotiated a new lease for Newcastle and Wolverhampton in his own name and, thank you very much, I could have Stoke and Middlesbrough. We parted acrimoniously.
That winter of 1962/63 saw the start of my litigation against Parker. He got involved with Newport, South Wales with Charles Foot and the Knotts and I got involved with Long Eaton (both venues to prepare for the 1963 season). At the January 1963 Annual General Meeting of the promoters at the Harbour Heights Hotel, Poole, (remember Parker was the Chairman of the Provincial League 1960/61/62). I got up on the floor at the beginning of that meeting and addressed the assembly to say that I had a statement to make that Mike Parker was dishonest and a thief. He had stolen the Wolverhampton and Newcastle speedway leases from our companies into his own name and was not fit to be a Chairman of that Association. Well, you can imagine, the balloon went up and Charles Foot proposed that, for the sake of the meeting, Parker should be removed from the Chair for that Conference. Long Eaton and Newport were accepted as members of the Provincial League which gave Parker and me three tracks each out of about 14. I had read the Memorandum and Articles of Association of Limited Companies and told my lawyers that a Director of such a company was there to protect the company's interests and not to divert its assets to one's own personal benefit, which Parker had done. In February, Major W W Fearnley, the Secretary of the Speedway Control Board, notified Parker, myself and the Provincial Promoters' Association that it would not licence those six tracks until the litigation was resolved. I was suing Parker for a considerable amount of money and those words from the Speedway Control Board brought the litigation to a swift conclusion with our barristers at Lincolns Inn, City of London. The outcome was a financial settlement to myself which took Parker about two-and-a-half years to pay in instalments. After that, I would not have p…ed on him if he had been lying in the gutter and on fire.
The vendetta continued for many years until his death. After he finished with speedway and stock car racing, he ran a restaurant business in Lancaster. He died in November 1987 comparatively young aged 62 following a cancer-related illness. He lived most of his life in the Blackpool area and Manchester.
In 1964, the Provincial League ran black outside the jurisdiction of the Speedway Control Board and ACU. A row ensued between the SCB and the Provincial League promoters when the SCB decided that it would elevate Wolverhampton and one other track, which they never named, to the National League for the 1964 season. The Provincial League promoters protested as they did not wish to lose any one of their teams and the Wolverhampton promotion had no wish to be elevated. Due to the conflict with the Speedway Control Board. The Royal Automobile Club which is the governing body of all motor sport in Great Britain, decided that an Inquiry should be held into the running of speedway racing. That was when Lord Shawcross was appointed to carry out a full investigation. His report was completed in the winter of 1964/65, the outcome being the amalgamation of the two leagues. After a joint meeting between members of the National and Provincial Leagues, the British League and the British Speedway Promoters' Association were formed. Several heads rolled in the make-up of the Speedway Control Board following the Inquiry.
After the 1963 episode with Parker, I decided that eventually I would have to have him removed as Chairman of the Association but Charles Foot always said to me (he proved to be right) that if we left Parker where he was, we would know where he was but in the late 1960's, I decided a coup d'etat should take place. Charles Ochiltree was at this time in conflict with Parker over the Stock Car World Final. (By this time, Parker had branched out with Bridget into promoting stock car racing). So, the CO was the obvious choice to take the Chair. He agreed and I did the lobbying which was all quite secret and, at the British Speedway Promoters' Association Annual Conference at Chesford Grange Hotel, Warwickshire, the bomb dropped. Parker's face was ashen as Charles Ochiltree was sworn in as Chairman of the British Speedway Promoters' Association for 1970 which saw him carry those duties through to the end of 1972 when I was appointed British Speedway Promoters' Association Chairman in 1973. The inaugural Second Division took place in 1968 and I was Chairman of that Division through to the end of 1972. In all, I was Chairman of Division Two for five sessions and Division One for seven sessions. Parker had other partners in Len Silver at Hackney but there was soon a parting of the ways with Len Silver taking control of Hackney. The relationship between Parker, Foot and the Knotts at Newport lasted only a short period of time before they fell out with Parker taking control.
At one time, Parker and Bridget signed Rick France for Wolverhampton without the consent of the Rider Control Committee and was threatened with expulsion from the League. Parker – a maverick and at times a law unto himself.
The only person who remained with Parker throughout was Bill Bridget . In 2002, I heard that Bridget was not very well and offered him the olive branch via phone call to his home and I invited him to become a member of the Veteran Speedway Riders' Association to enjoy the fellowship and news bulletins. He declined saying that his life was spent within his own four walls, watching football – his first love - on television at every opportunity and that he had blown out to 20 stone and could just about hobble across the room. Harold (Bill) Bridget died in Stoke on Trent in 2004 aged 76 from a cancer-related illness.

1967 Promoter's AGM At Manchester

Picture courtesy of Reg Fearman. 1967 Promoter's AGM at Manchester

Charles Foot proved to be correct because for years after Parker was removed from the Chair, at promoters meetings, Parker accompanied by Bridget would waste as much time as possible on the smallest items on the agenda, filibustering and then, at 2.00 pm, leave the meeting to catch his train home to Manchester. The rest of us remained until 6.00 pm doing the rest of the business.
In 1975, the Rider Control Committee allocated Bengt Jansson to Reading from Wolverhampton. The RCC consisted of the Management Committee of five members. Len Silver and I were two of the members of the RCC. The Wolverhampton Speedway Programme and Press Bulletin named Len Silver and myself as being associated with the Mafia. Len Silver and I took legal action against Mike Parker, Bill Bridget and Michael Beale, the Press Officer, an Action which we won in the High Court and received unreserved apologies and retraction in the Wolverhampton Speedway Programme and Press Bulletins.
I always remember Parker turning up for the first meeting at Stoke Speedway on Good Friday 1960. That winter, I had written down all the things I could remember about the promotion at West Ham and Leicester in particular. One thing that stood out in my mind was that the promoters and managers always wore suits so I was there at Stoke in my Sunday best and to my embarrassment, Parker turned up in jeans and a blue shirt with sleeves rolled up. He really had no idea at that time of presentation.

Parker also became a tremendous thorn in the world of stock cars and in particular to Charles Ochiltree a Gentleman, who was such a docile man. The C.O. once swore a bad word to me in describing Parker and that was really saying something.

Reg Fearman
November 2008

---

The contents of the site are © and should not be reproduced elsewhere for financial gain. The contributors to this site gave the pictures and information on that understanding. If anyone has any issue or objections to any items on the site please

e-mail

and I will amend or remove the item. Where possible credit has been given to the owner of each item.