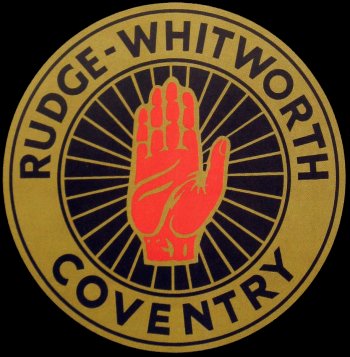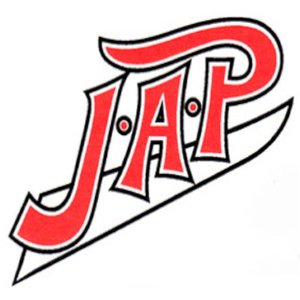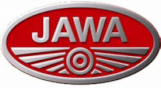 ---
Reg Fearman
Part 7
Former Halifax Dukes
Ron Johnson- Plaque
Ian Hoskins
Ove Fundin and Family
The Split Waterman Story
Huck Fynn
Merv Hannam
Meeting Up With The Speedway Fraternity
Part 2
2006/07 Australia
& New Zealand
We arrived in Valcros on Sunday eveninig 25 February 2007 after 14 weeks away. Our first stop was Singapore for three nights where we did a tour of the island and visited what was Changi Japanese PoW prison.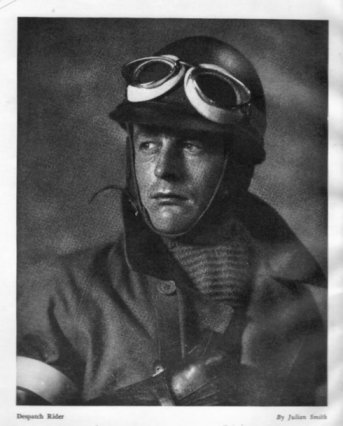 My mentor Aub Lawson was in Singapore as a despatch rider with the Royal Australian Signals when it was overrun by the Japanese in 1941. He was lucky to escape by troop ship with hours to spare for it only to receive a direct hit by enemy aircraft. The prison had been built in the 1930s to hold 600 civilians, The Japanese put 6000 in there, among them British and Australian troops. We paid our respects to the fallen at the model of the prison church and left a message. We had been recommended to visit Sentosa Island which we did. We went up in the corkscrew lift to the top of the tower from where there were magnificent views over Singapore.



Despatch rider Aub Lawson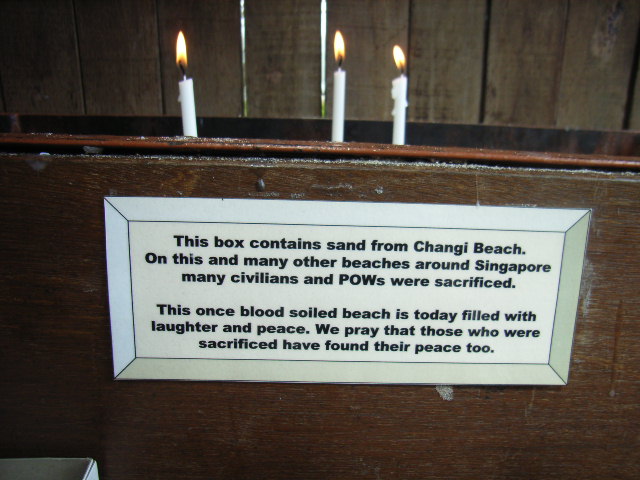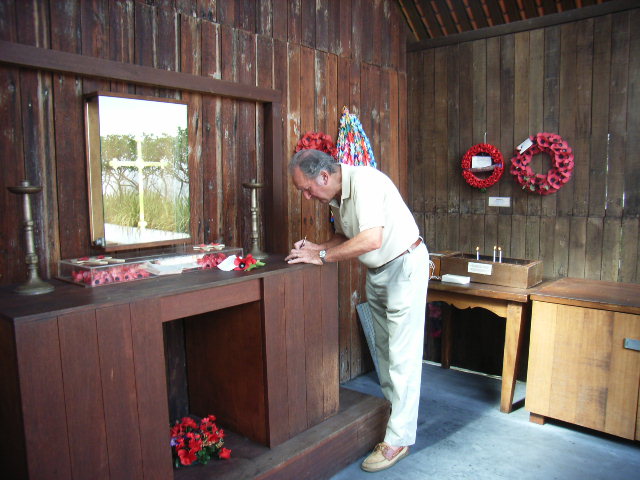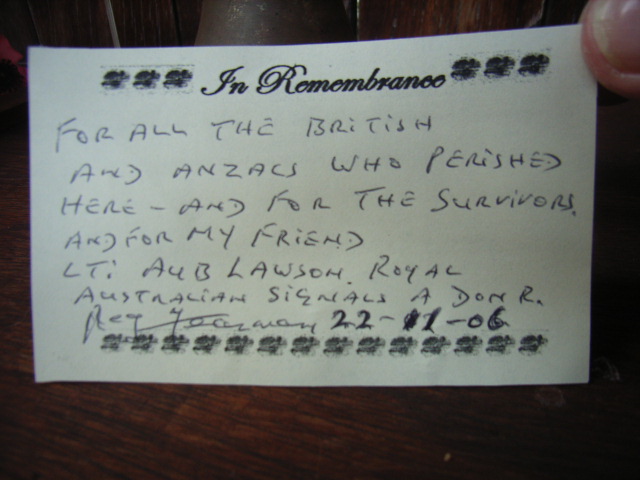 We had a marvelous trip catching up with a lot of ex riders, most of whom raced for me at one time or another.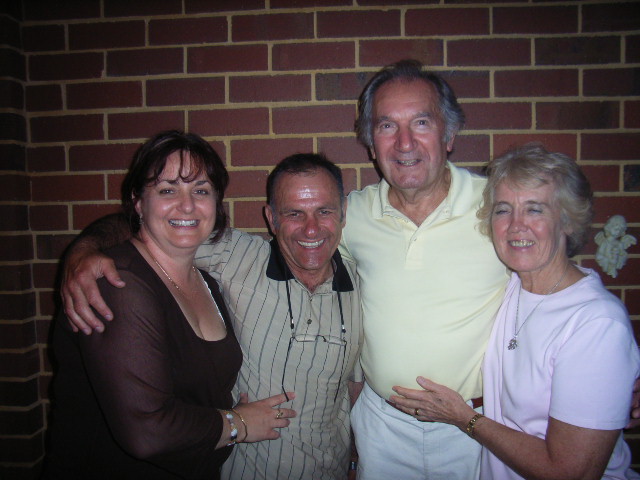 The BBQ hosts Mick McKeon and his charming wife Sue with Reg and Eileen Fearman

. Mick McKeon put on a BBQ for us in Perth to which about 9 or 10 ex-riders came with their wives.
The Group At The
McKeon's BBQ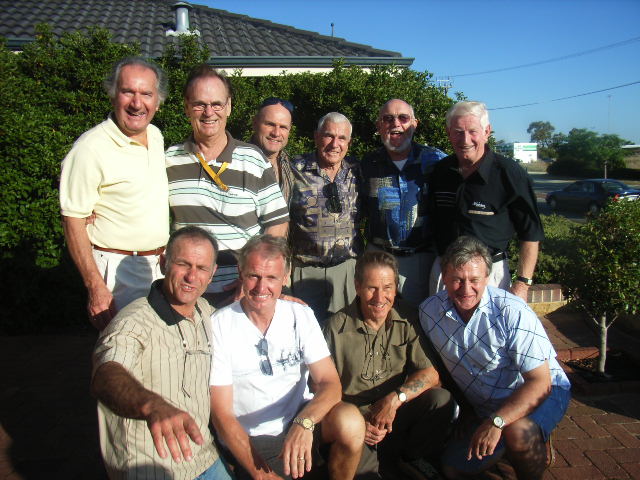 The group at the McKeon's BBQ Reg Fearman Con Migro Mick ? Nev Riseley Colin McKee Kneeling Mick McKeon Craig Pendlebury Bob Humphries Doug McKeon
---
Huck Fynn
Reg says: Good morning John,

Yesterday Eileen and I travelled the 80 miles to Stratford on Avon to spend the day with one of my old speedway friends, Huck Fynn and his wife of more than 60 years Thelma. Huck is now 99, the 100th birthday will be on 28 April next year, 2022, just 7 months away. Huck is looking forward to a telegram from the Queen! he is bright as a button and still working a few days a week in the farm implement business he started many years ago, his son has run the business for some time.
Some of you may remember Huck coming from Australia in 1948 to race for Wimbledon, he was spotted by Norman Parker at the time in OZ. He raced for several different tracks before going into building speedway frames and famous at the time the 'tandem front forks' used today but in a different concept - photo below 'Huck Fynn Forks and Frame'. Later he went into the motor trade in the Birmingham area and built a thriving business before moving into property development. Huck and Thelma are well travelled especially back and forth to Australia and New Zealand. Cheers, Reg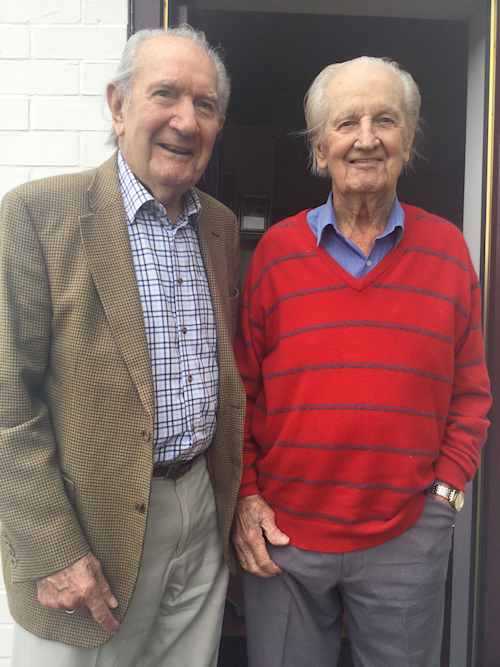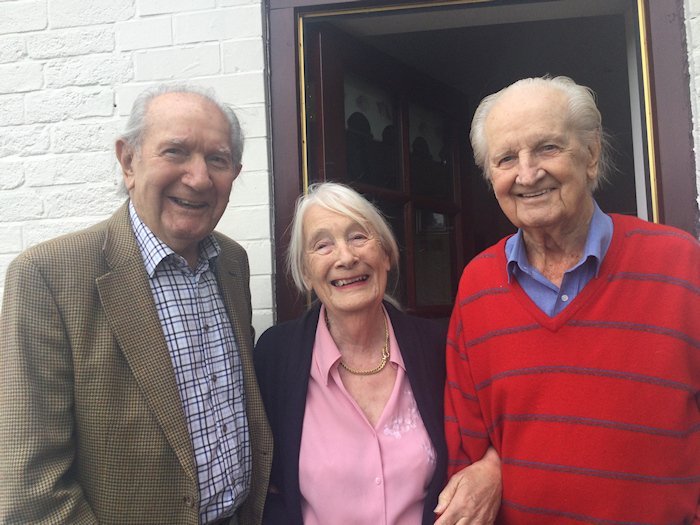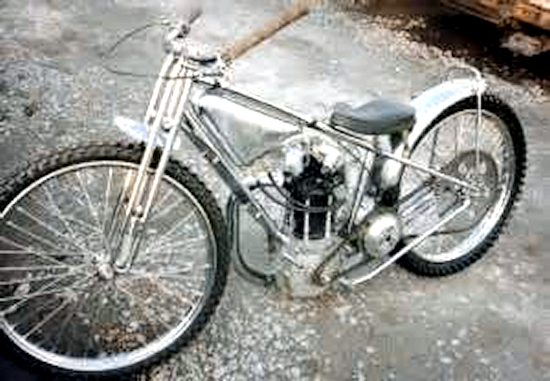 ---
Merv Hannam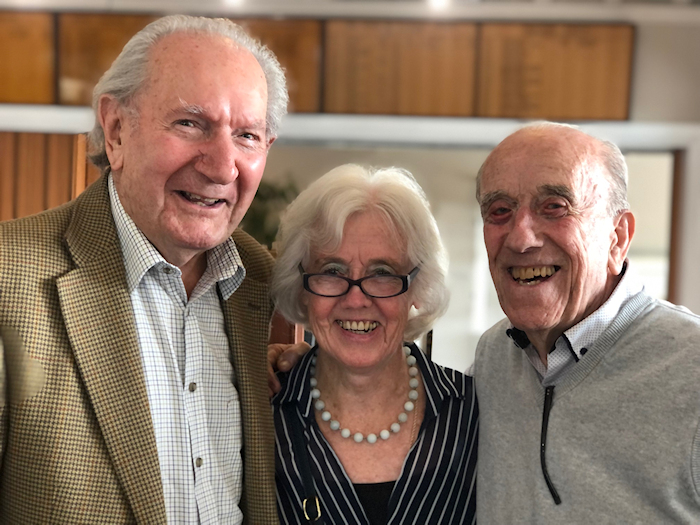 Good morning John, Yesterday (5th September 2021) Eileen and I, along with many of his friends went to the 90th Birthday Bash of Merv Hannam in Bournemouth/Poole. Merv's son Ashley and wife Colette put on the fine lunch at Parkstone Golf Club. Many of you will know that after speedway Merv moved into the Motor Car Trade, a business that Ashley now directs and over sees. The more "senior readers" of this will remember Merv racing at Southampton, Eastbourne in1955 where he broke and held the track record, before he moved to the Wembley 'Lions' in 1956. Merv was in great form surrounded by the many friends he has made over the past years. Photo taken by Ashley. Cheers Reg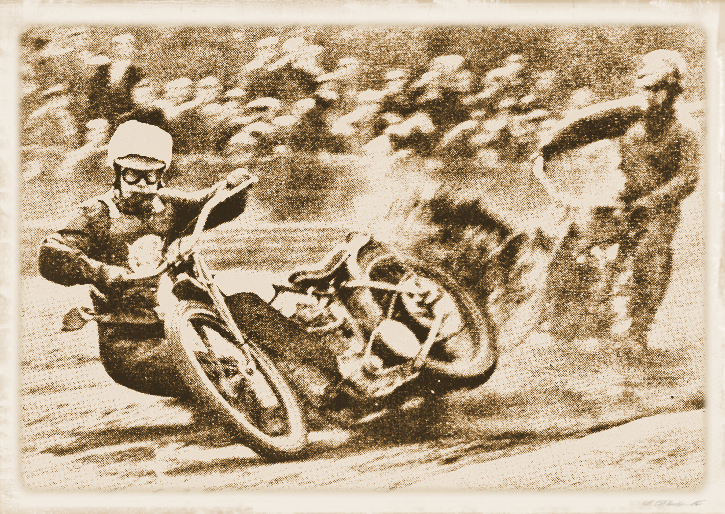 John says: I searched my archive for pictures of Merv and came up with this one
---
Reg & George Craig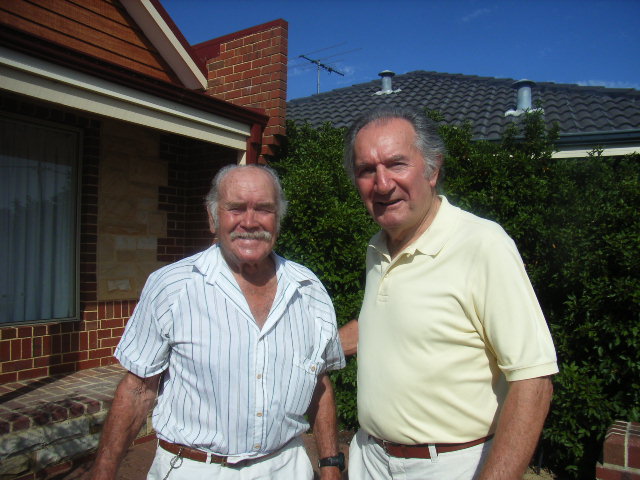 Reg with George Craig - George raced at Dagenham pre war and after at New Cross, Bristol and Plymouth before emigrating to Perth. He looked good for a 90 year old. George died in May 2009
---
Reg With Ex Ipswich Promoter John Berry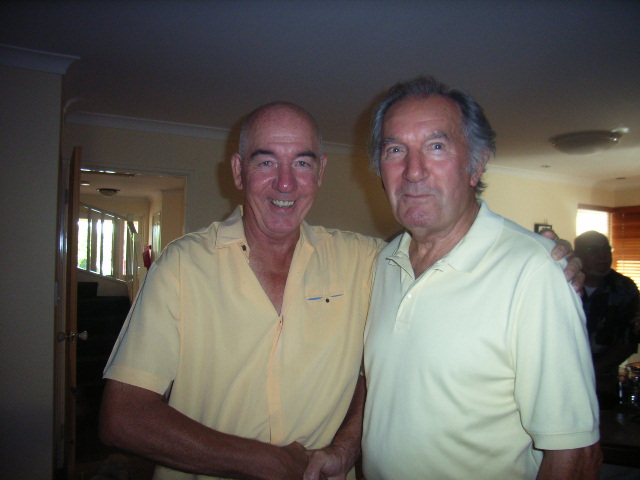 Reg with former Ipswich Promoter John Berry who emigrated to Perth in the late 1980s
---
Reg, Colin McKee & Craig Pendlebury,
Former Halifax Dukes
---
Reg &
Bob Humphries,
A Former Reading Racer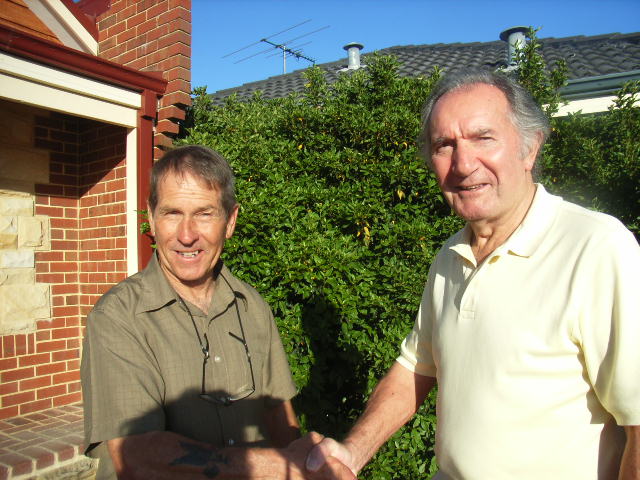 ---
Colin & Trish McKee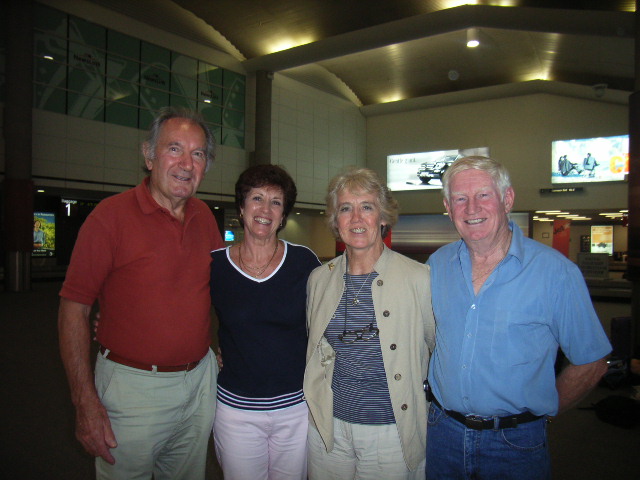 Colin and Trish McKee whom we stayed with, took us to Kwinana Speedway with all its different disciplines of car racing.
---
Colin McKee,
Reg Fearman
& Chum Taylor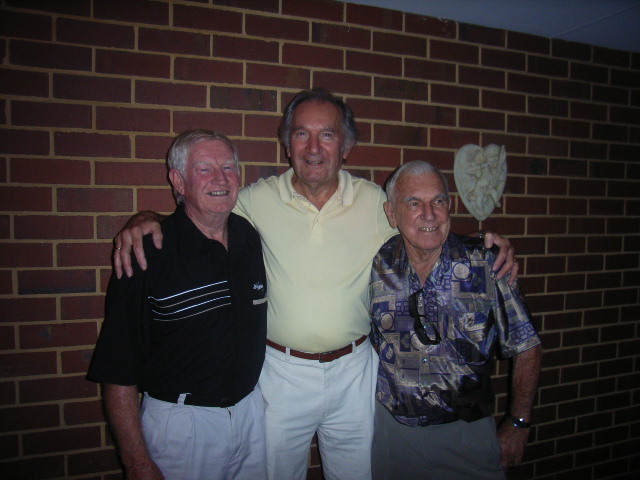 ---
Chum Taylor &
Colin McKee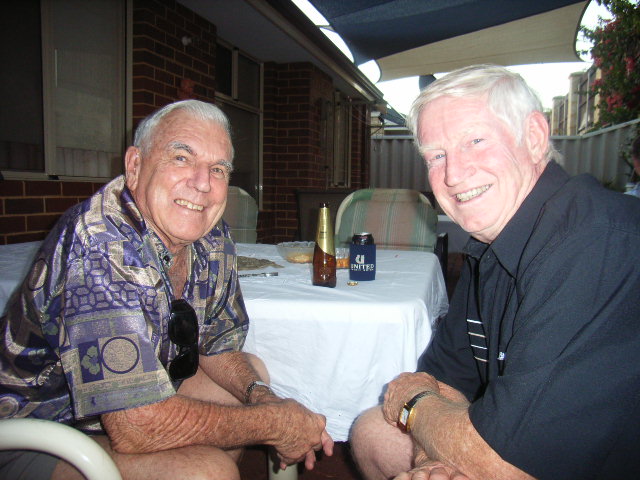 Chum Taylor Aussie International: "The Claremont Express" and ex Southampton with Colin McKee
---
Reg says: Last year, Ron Johnson was voted by the West Australian public their most successful sportsman ever. To this effect, a plaque was presented to former Claremont and Kwinana Speedway Promoter, Con Migro. I was proud to be asked to place this on Ron's grave in Karrakatta Cemetery which I did on behalf of all Speedway fans.
---
Little, Johnson, Duggan,Parkinson.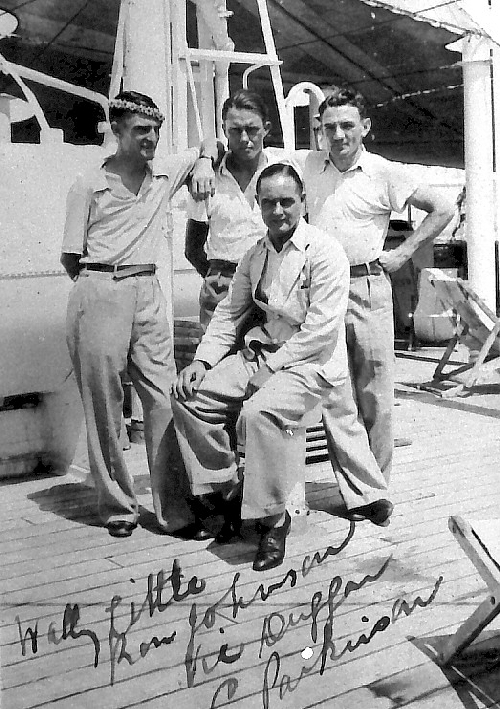 Reg Fearman says: Hello John, I wish to share this photo with you of a time long gone, as have the four gentlemen in the photograph. Obviously on board ship either on the way to England or to Australia. They are Wally Little, Ron Johnson, Vic Duggan and Cliff Parkinson. Could be 1937 or 1947. Cheers, Reg
---
John Boulger
In Adelaide, we stayed with John and Jackie Boulger. John arranged a reunion in a very nice fish restaurant, to which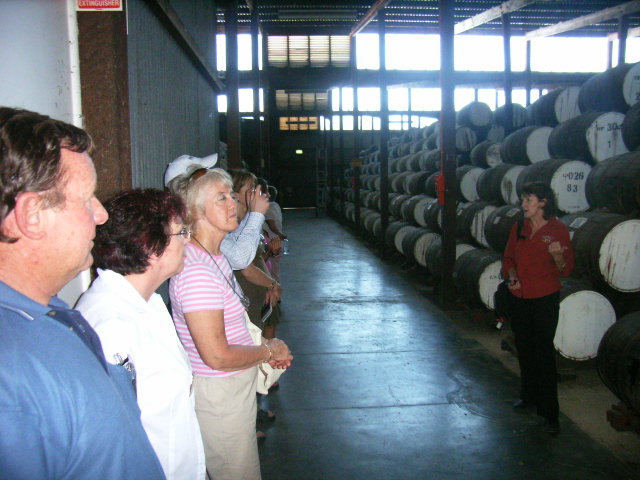 about 20 including riders wives were invited. We were very interested in the old houses in Adelaide. John and Jackie took us to Mount Lofty which gave beautiful views all over the City. They also took us out to the wine growing country in the Barossa Valley. We had a tour of one vineyard, Seppelts, which specialises in Port. They have one hundred year old at £1000 per bottle which started coming on stream a few years ago. We were allowed to sniff it in a very small bottle but no tasting. We bought a bottle of 20 year old and drank that in Sydney over the Christmas and New Year period.
John and Jackie Boulger and Eileen listen intently to the story of laying down of the Port.
---
Ray Cresp met us in Melbourne and had us stay with him and his wife, Marion. Ray took us to Phillip Island to see
the 12 inch tall penguins come ashore at dusk. There were about a thousand of them. They waddle up the beach and make for their burrows. I just do not know how they know which burrow belongs to who. He also took us to the Superbikes race circuit and to a Koala reserve.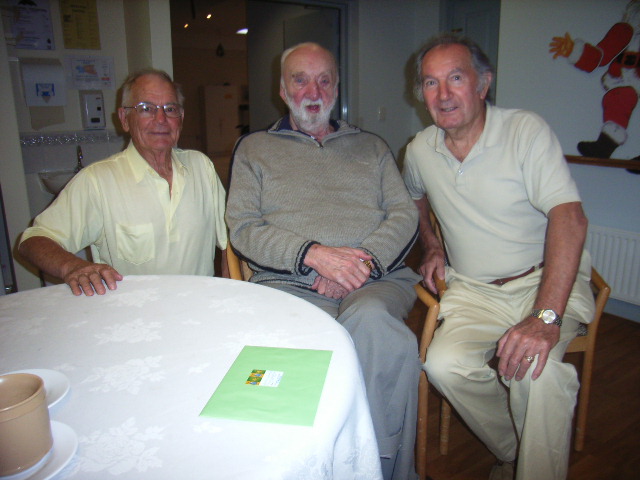 Ray Cresp ex racer for New Cross Long Eaton and Wembley and Reg Fearman with centre Albert Mitchell a junior at Stoke in the 1950s. Albert emigrated to Melbourne in the 1980s, he died shortly after our visit. Ray kindly drove Eileen and me out to the Clinic in a Melbourne suburb.
---
Sydney Harbour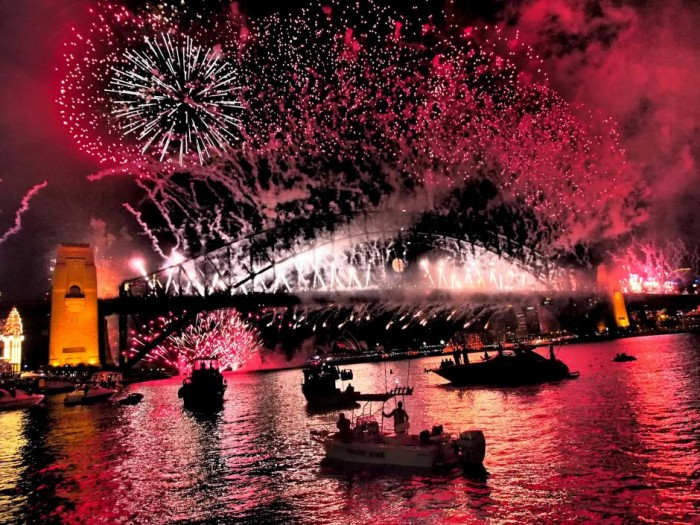 On New Years Eve we booked dinner on a Harbour cruise boat and saw the Harbour Bridge firework display at midnight on the water, a truly magnificent spectacle. A couple of days before New Year, we hosted a drinks party at the Manly Pacific Hotel for eight ex-riders and their wives.
---
Jim Shepherd
Jim and Judith Shepherd very kindly invited us for a traditional Christmas dinner at their home - roast turkey and all the trimmings plus Christmas pud. They were perfect hosts to their 16 guests. Allan Quinn kindly gave us a tour of some of the places we had not been to before in the Sydney area finishing up for a nice lunch at the famous Doyle's Restaurant at Watsons' Bay. We appreciated so very much him meeting us at Sydney Airport and taking us to our hotel in Manly as well as doing the trip in reverse order when it was time for us to leave for NZ.
---
Jackie Gates

80th Birthday Lunch
The 80th Birthday lunch on 3 December for my old pal Jackie Gates which we hosted on the Gold Coast was a huge success. It was kept as a secret and surprise for over eight months of organising from France. All the invited turned up before 12.30 pm and were in place for Jack's entrance accompanied by Bluey and Ann Scott. He just couldn't believe it. I had spoken to him on the phone just two weeks before from Henley. We have some wonderful photos of the event.( See Page ! ) The Album of This Is Your Life contained 150 photos and a few write ups of his career. He wondered how I managed to get them ----- the web and e-mails are a wonderful thing. A 'Thank You' page was included from those who had contributed. Thirty Six of us including wives sat down for lunch, 2.30pm to 6. 30 pm, including six times World Champion, Ivan Mauger, and his wife Raye. It gave us as much pleasure organising the event over the eight months as it did Jack being on the receiving end and we were most appreciative of the support from all those invited. Later in the week, Greg Kentwell gave us a tour up the coast to Sanctuary Cove where the seriously rich people live.
Jackie On
"The Flyer"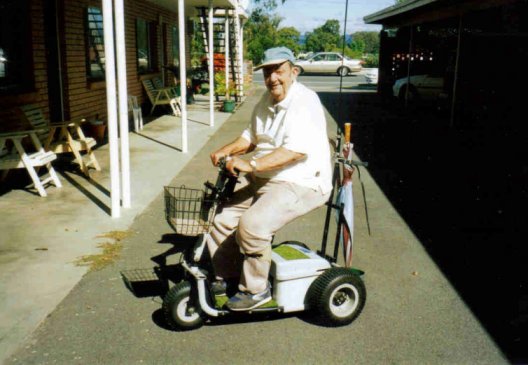 Jackie Gates on the flyer. He had a lift by Bluey and Ann Scott to his surprise 80th on 3rd December 2006
Bluey & Ann Scott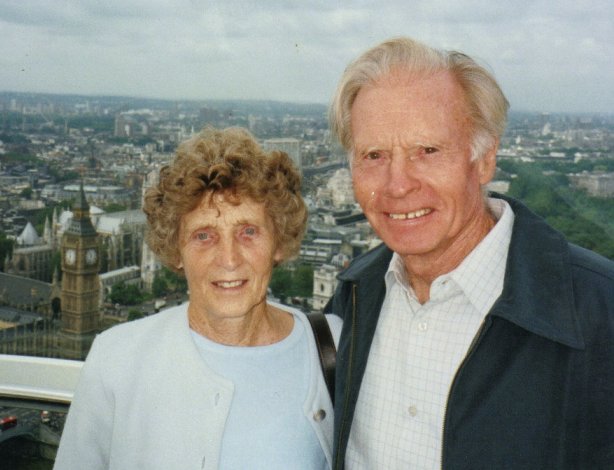 Bluey & Ann Scott on London Eye. In on the secret 80th for Jackie Gates
We had over 5 weeks in OZ and managed to do Darwin, Kakadu, Katherine, Alice and Ayers Rock. We visited the Flying Doctor station --- the original -- and also the learning by wireless and computer for the children who live on cattle stations 300/ 400 kms away. We learned much including the bombing of Darwin by the Japanese in 1941 where over 250 people were killed in the bombings.
We are indebted to Colin and Trish McKee, Bluey and Ann Scott, John and Jackie Boulger, Ray and Marion Cresp, and Bob and Lynda Andrews who shared their homes with us and turned on the hospitality, we thank them all so much.
It

was a wonderful trip and wonderful to meet up with so many of our old friends and colleagues.
---
"Squire"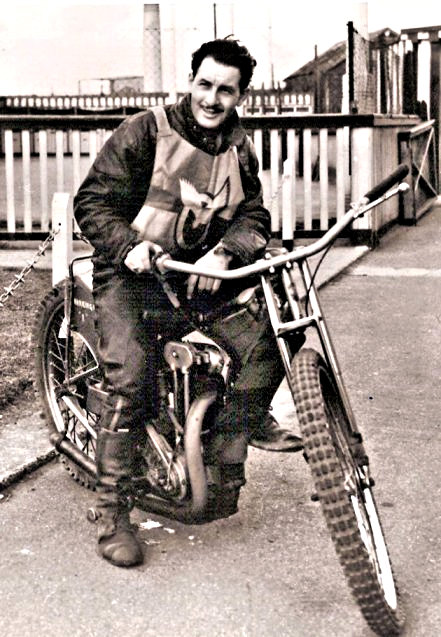 The Split Francis Waterman Story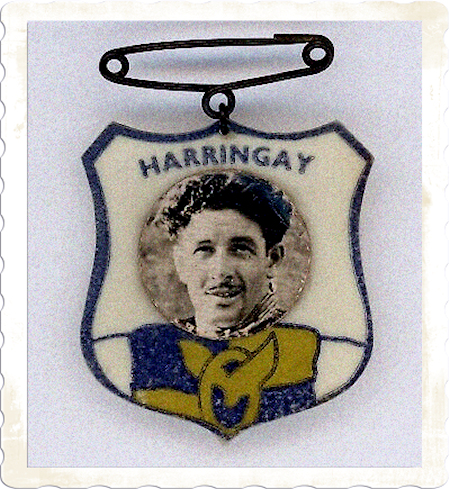 Hi John

,

Plenty has been written about Split over the years - as requested a few lines from me.

Cheers Reg.

Squire Francis Waterman.

Known as 'Split' Waterman he was much more than a speedway rider of the 1940s and 1950s. Split was born at New Malden Surrey in July 1923 and passed away in October 2019 at his home near Malaga in Spain, he was 96 years of age. Split and his wife Avril had lived in Spain for many years.
Where does one start to write about Split Waterman, so much has been written about him over many years.
I had known Squire since 1949 when I raced for West Ham and he for Wembley. He along with Freddie Williams was subpoenaed to appear in a Manchester Court in 1950 when I was accused of being the father of a child born to a local girl. They both denied the charge and I was found guilty (the full story is in my Autobiography Both Sides Of The Fence). Several years before he passed on Split told me the name of the person he claimed to have been the father of that child.
The life that Split had you could not make up. He was a wartime soldier in WW11 and saw service in North Africa and Italy where he was wounded. It was also in Italy where he started to race on a dirt track on stripped down Army motorcycles. From there it was to Wembley in 1947 and a most successful career as a professional speedway rider. He qualified for five World Finals between 1950 and 1954 all staged at Wembley. Split's best performance was in 1951 when he was second to Jack Young and 1953 when he was second to Freddie Williams. He became a racing nomad which saw him race for no less than eight clubs, five of them in London, during his career 1947 to 1962.
Squire married Avril Priston in 1970 at Caxton Hall in London, by then they had been together for a number of years.
One will never know the reason why Split resorted to criminal activity. Was it the thrill of overstepping the law, easy money or mixing with the 'the other world'. Whatever, he paid the penalty on several occasions with prison sentences for smuggling Gold Bullion and counterfeit money. When the police raided Avril's house at Bedfordshire in 1968 they found rifles and automatic machine guns that Split 'had stored'. He was also named as an associate of the infamous Kray twins when it is said he showed them an attaché case that could be used with a hypodermic needle protruding from it containing poison.
All that is far from the Split Waterman that I knew. When Eileen and I lived in the South of France it was an easy drive down to Malaga to visit Squire and Avril for a few days. We would talk on various topics and have lunch or dinner at one or another of his favourite restaurants.
In 2000 I suggested to the WSRA that we invite Split as Guest of Honour to the Dinner. He and Avril duly attended. During the afternoon Split kept everyone in the lounge bar enthralled with his tales of life outside of speedway racing, he was a most popular guest.
Squire & "The Firm"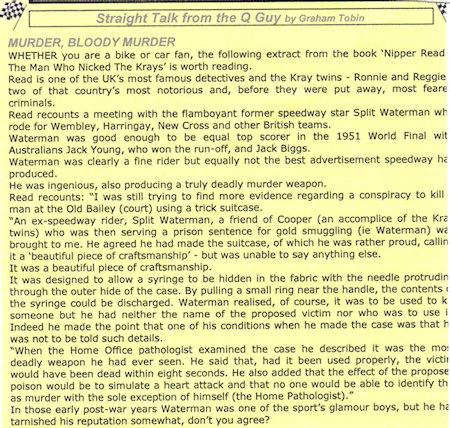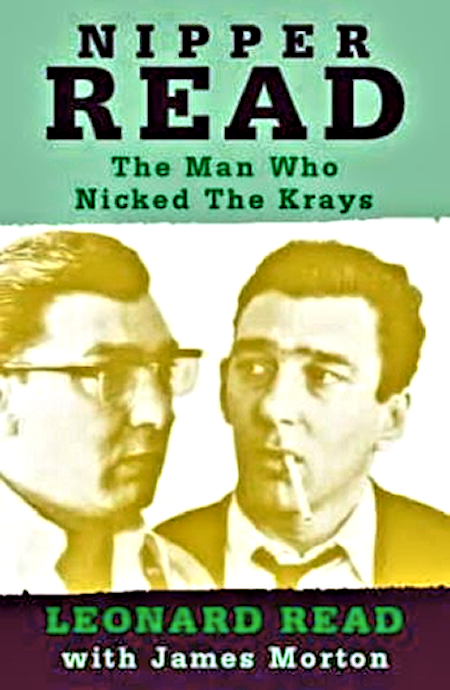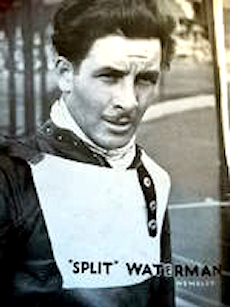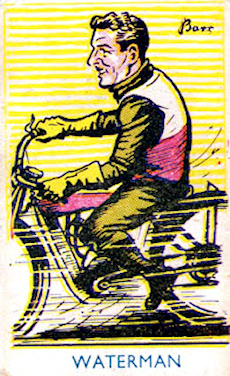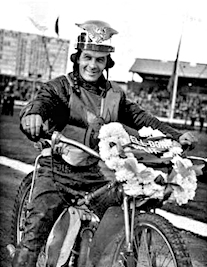 Reg continues: Having lived life to the full Split passed away in his sleep on the 8th October 2019. I remember on one visit to Squire I mentioned that at one time I had a motorboat. He said that could be good news as he could pick up 'a bit of business' in North Africa. Could I take a boat across the Straights of Gibraltar to Tangier. I replied not likely on two counts, 1. I wouldn't want to spend 'time' in Tangier and 2. I have never sailed more than a mile off the coast at any one time. He told me that at one time he was 'gun running' in Africa and was lucky to escape with his life when discovered by the State Security Police.
Split &
Jack Young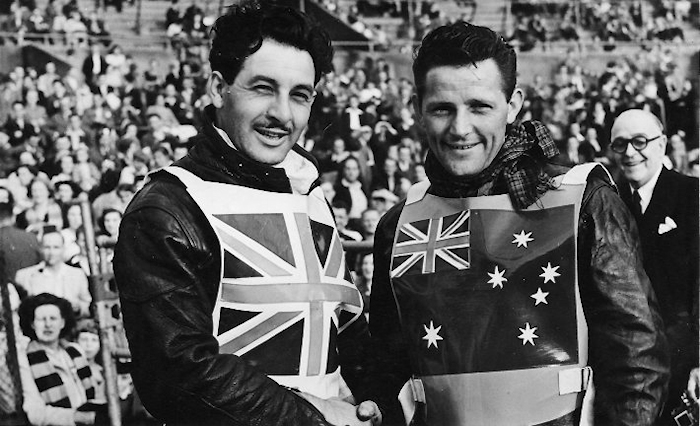 Courtesy of Reg Fearman
Split & Reg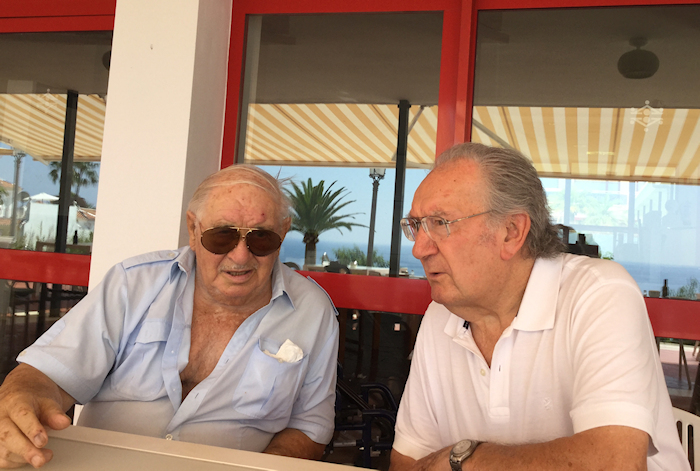 Courtesy of Reg Fearman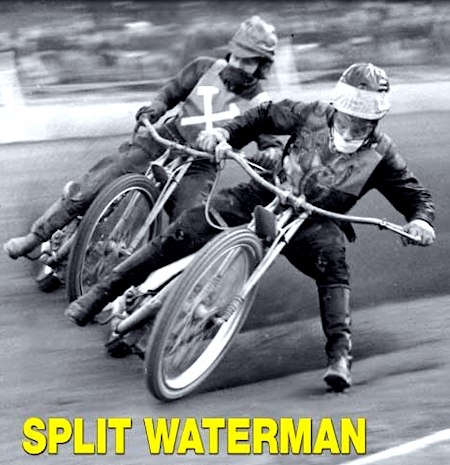 There is no doubt that Squire Francis Waterman lived life to the full, I am pleased to have known him for no less than 70 years.
Regards: Reg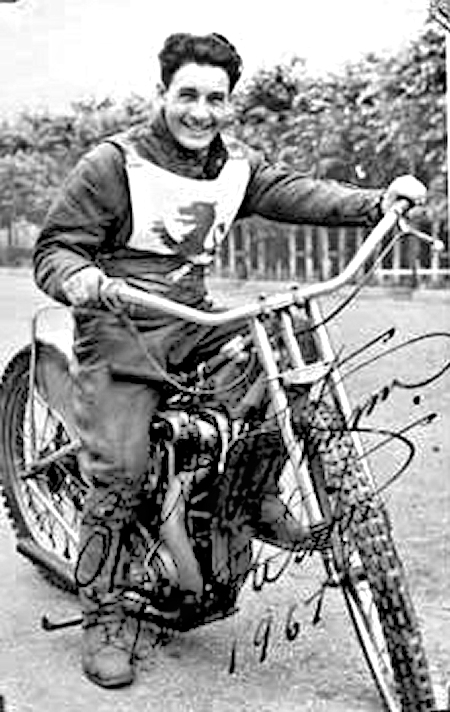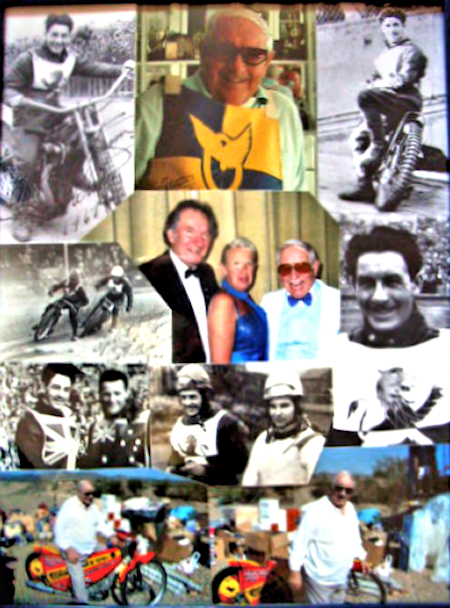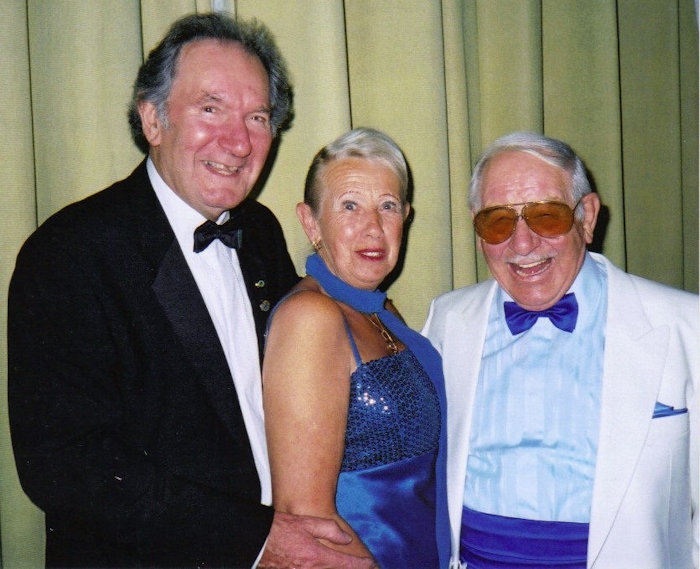 Split and Avril Waterman VSRA Honoured Guest 2002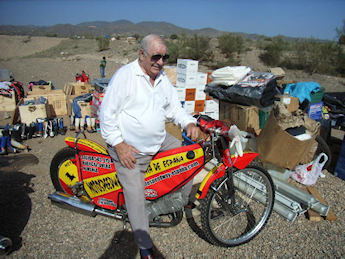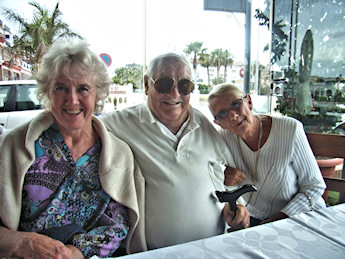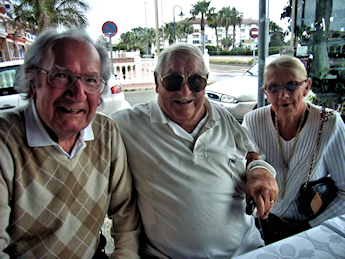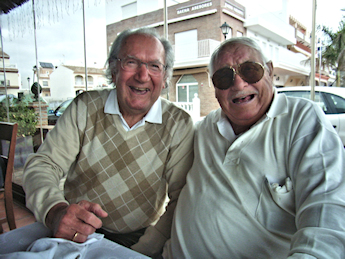 Split and Avril entertaining the Fearman's in Spain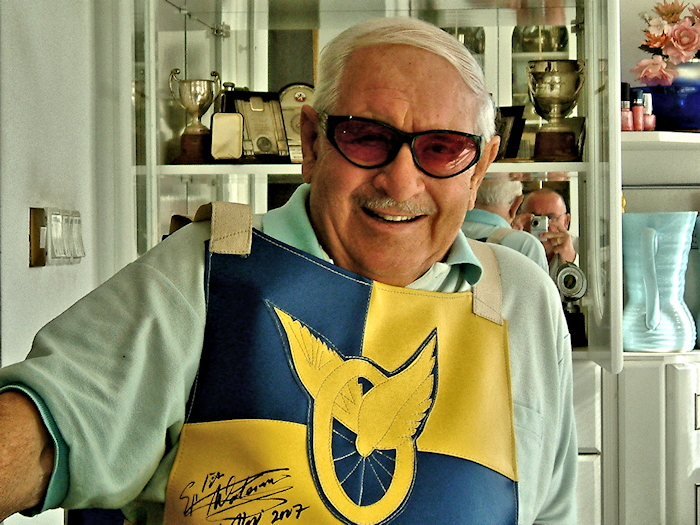 Split with a Harringay race jacket
---
Ronnie Moore,
Geoff Mardon
Ian Hoskins &
Bob Andrews
After New Year we moved on to N.Z. for three weeks flying into Christchurch where we met up with Ronnie Moore, his mum and Geoff and Val Mardon. Val put on a super dinner for the six of us. We drove down to Dunedin and met up with Ron and Josie Johnstone. We did some of the places we had not been to before in the South Island and then drove up to the North Island calling in on the way to Ian Hoskins at Waitara, near New Plymouth. Ian took us to see the house in which his father Johnnie was born - Johnnie the father of speedway racing. In Auckland, we stayed with Bob and Lynda Andrews. Bob put on a reception for us at the Auckland Returned Soldiers Club. Another 20 ex-speedway riders turned up, some I raced against and some who raced for me. Some of the wives came along too.
---
Adelaide, Melbourne
2006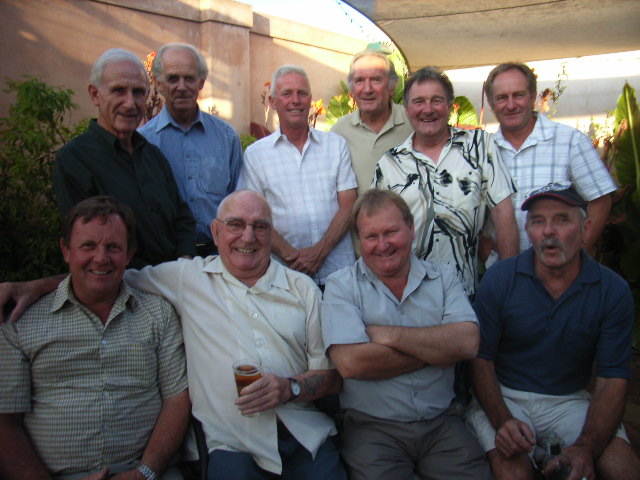 Geoff Mudge Charlie Monk ? Reg Fearman Dennis Gavros Robin Admundson John Boulger Brian Elliott Dene Davis Kym Admundson
Malcolm Mackay says: I am the person shown as the question mark next to Charlie Monk
"WAGS" Of The Above Riders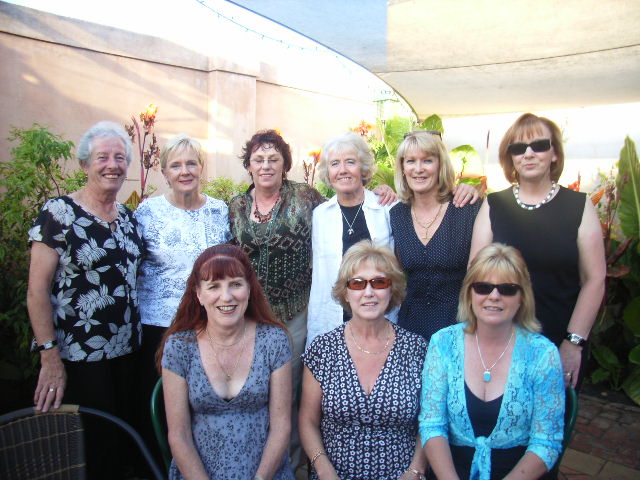 ---
Geoff & Pam Mudge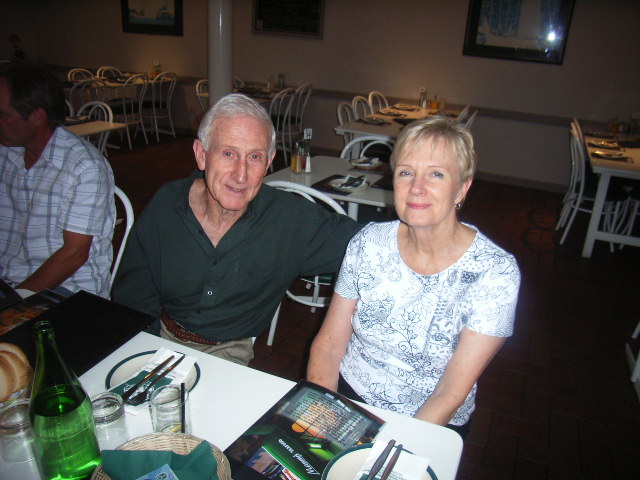 Charlie Monk &
Sue Gavros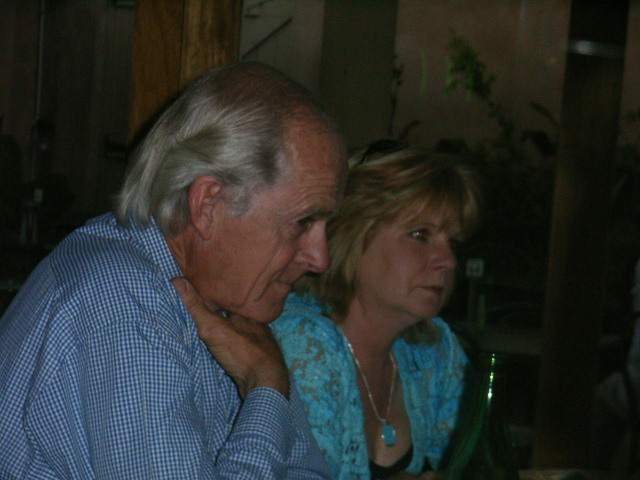 Dennis & Sue Gavros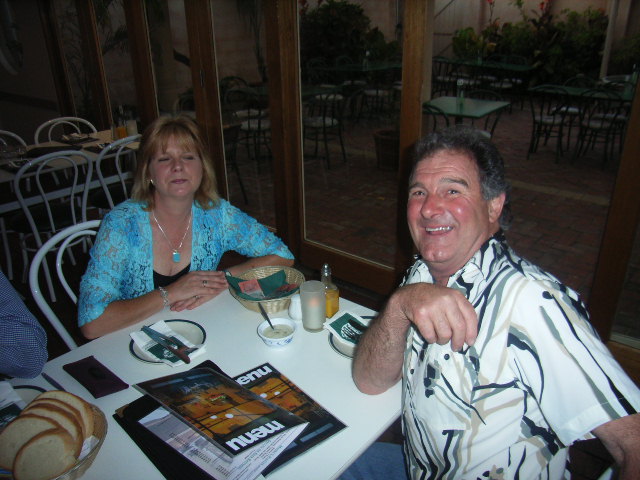 John & Jackie Boulger,
Eileen Fearman & Father Christmas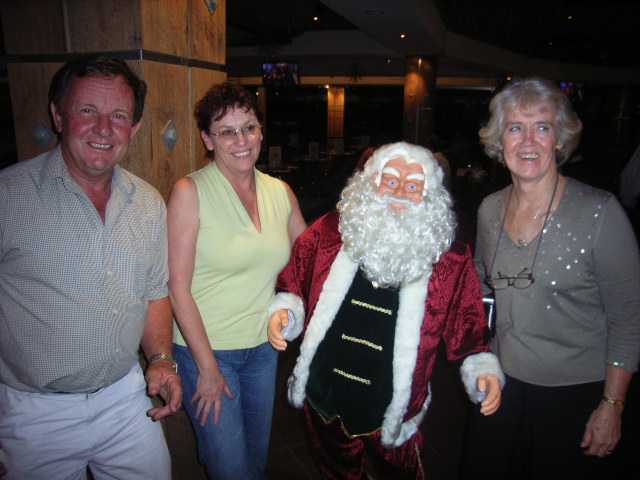 Eileen With The Little Penguins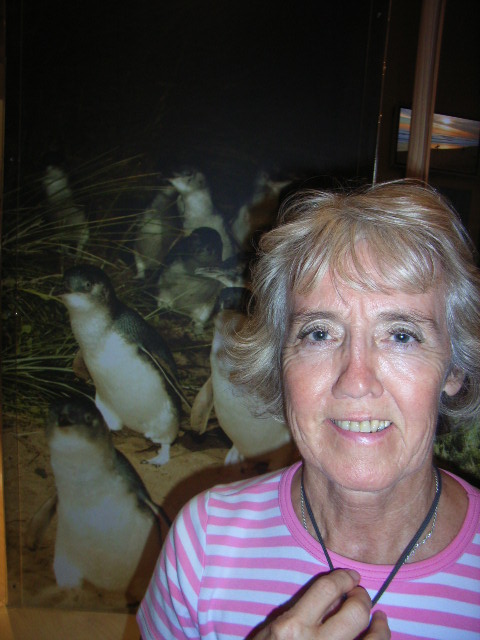 Ray Cresp & Eileen Fearman With Sleeping Koalas In The Tree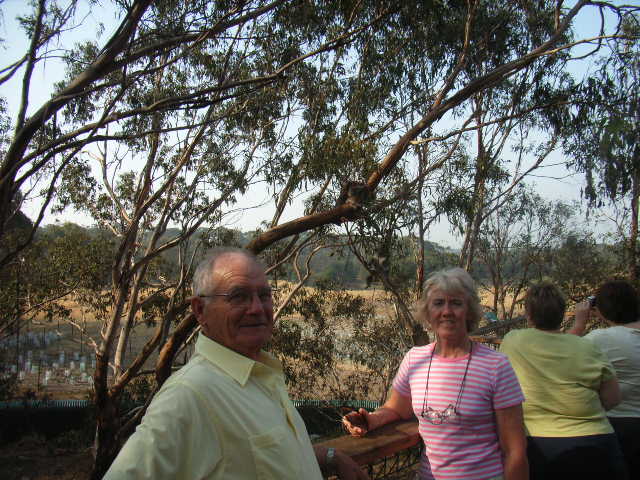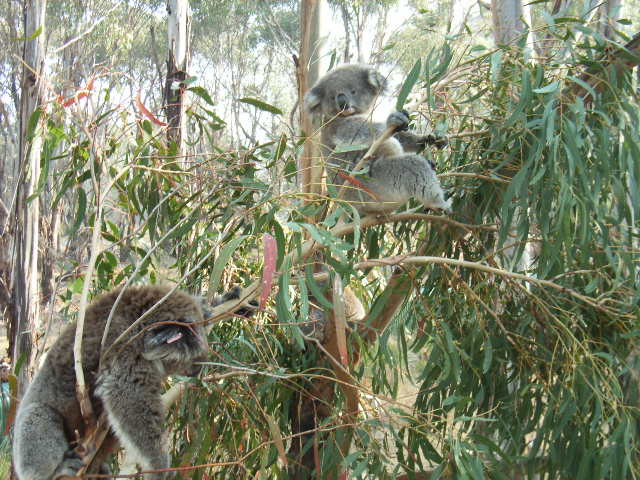 A better shot of the sleeping Koalas the little fella on the left looks like he has had a night on the Fosters
---
Manly Hotel, Sydney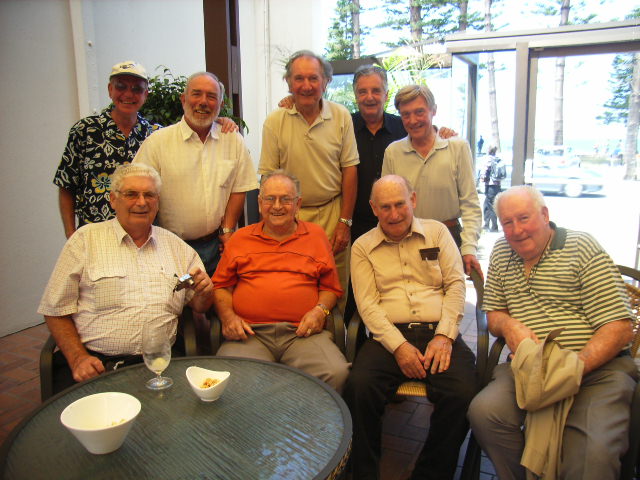 Peter White Editor and owner of the Australian Speedway World, Howard Cole who emigrated to Sydney having had an excellent career in British speedway, he is now retired from being a lecturer and school master, Reg Fearman, Colin Quinn brother of Allan and husband of Aub Lawson's daughter Rosemary, Jim Shepherd owner of the "Phantom" comic and Australian speedway historian, Front row :- Allan Quinn ex St Austell and Harringay, Peter Speerin a champion sidecar racer, Lionel Benson formerly with the Leicester Hunters at Blackbird Road in the 1950s Jack Helbeck another exponent of three wheel racing.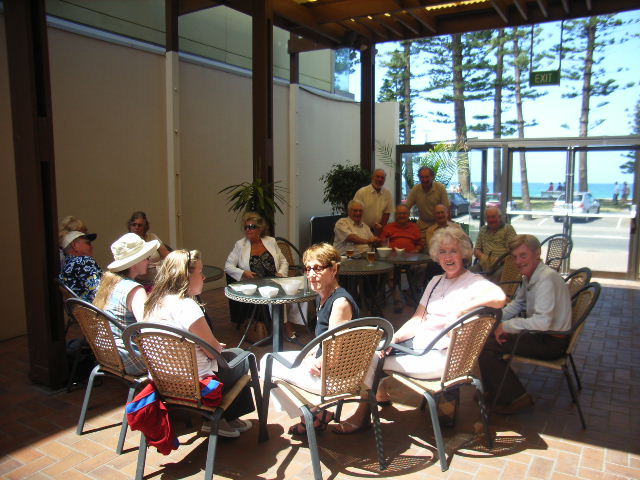 The whole group at the Manley Hotel reunion just days before Christmas 2006. It would seem that most former speedway riders from Sydney, when they retire they move up to Queensland to the Gold and Sunshine Coasts.
---
Queensland
Bert Kingston, Reg, & Nigel Boocock
On The Gold Coast, Queensland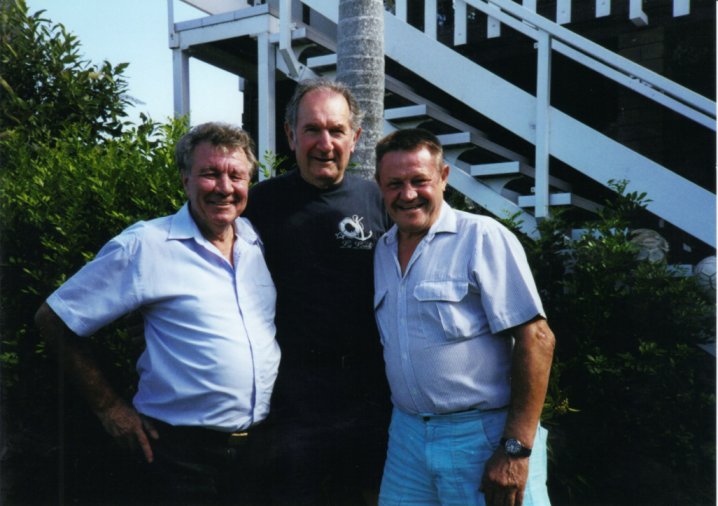 Dinner At
Moreton Bay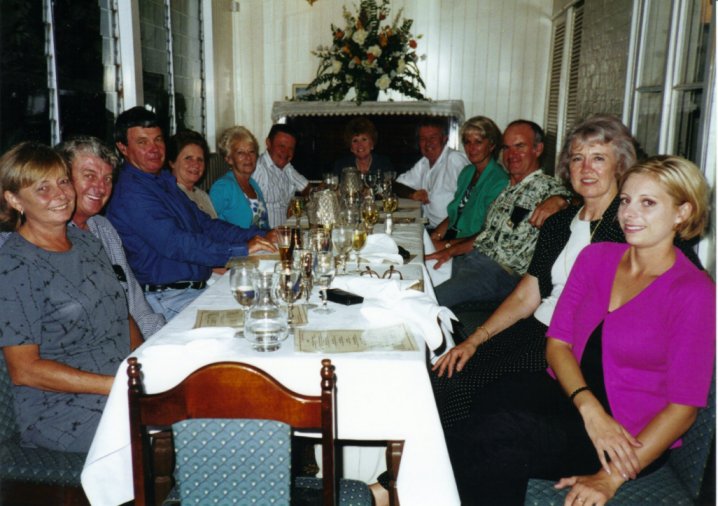 Dinner at Moreton Bay "The Boys" with wives. John Lawson son of Aub, Greg Kentwell, Nigel Boocock Bert Kingston John Titman Eileen Fearman, John and Daphne Lawson's daughter Sasha.
"The Girls" At The
Moreton Bay Dinner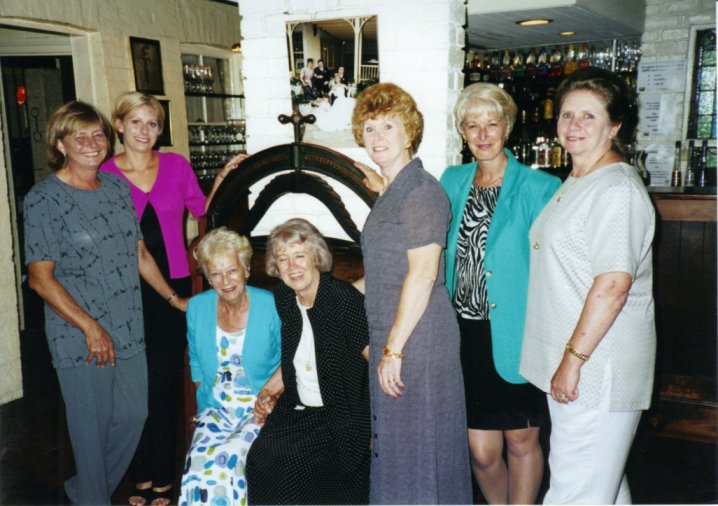 "The Girls" at the Moreton Bay Dinner: Daphne & Sasha Lawson Cynthia Boocock Eileen Fearman Lynette Kingston Anne Titman Claire Kentwell Moreton Bay.
Eileen Fearman, Bert & Wife Lynette Kingston,
Nigel & Cynthia Boocock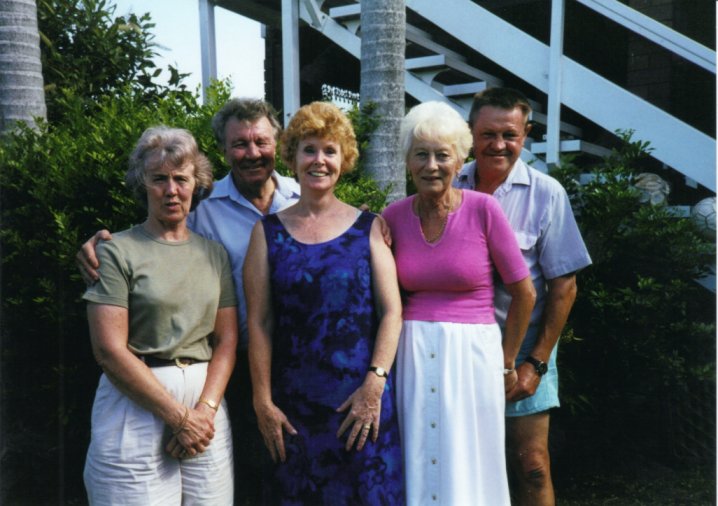 Greg Kentwell &
Eileen Fearman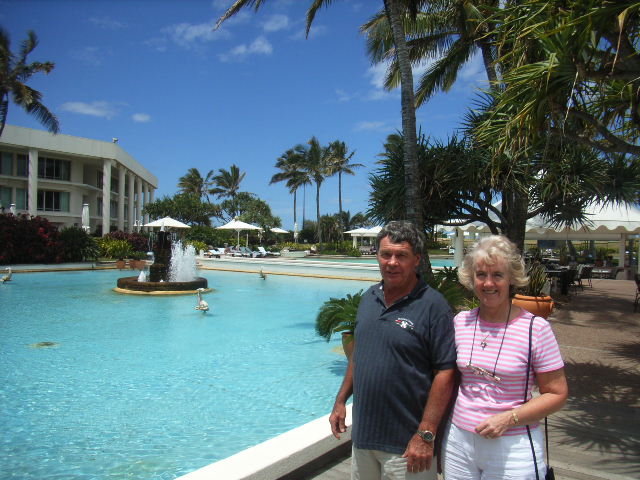 Greg Kentwell and Eileen Fearman. Greg who raced for me at Halifax kindly took us on a tour of Sanctuary Cove on the Sunshine Coast, where he says the seriously rich people live. Greg has three Dredgers working along the coast, pumping sand back on to the residents private beaches after the Typhoons pass.
Greg Kentwell
At Home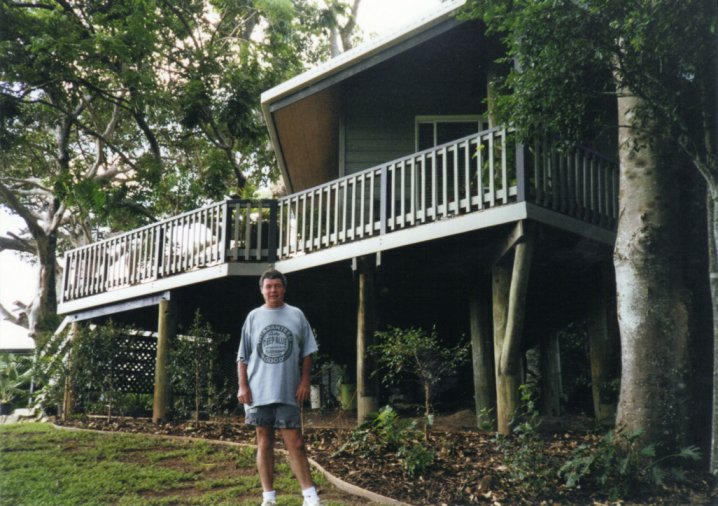 Greg Kentwell at home. Greg stands outside his Pole House at Noosa Sunshine Coast. A Pole house Is constructed by the tree trunks being inserted in the ground and then the house being built on the top some eight feet above ground. The space underneath keeps the house cool and is handy for storage and keeping the car out of the sun.
Greg Kentwell & Eileen Fearman
On The Trip To Sanctuary Cove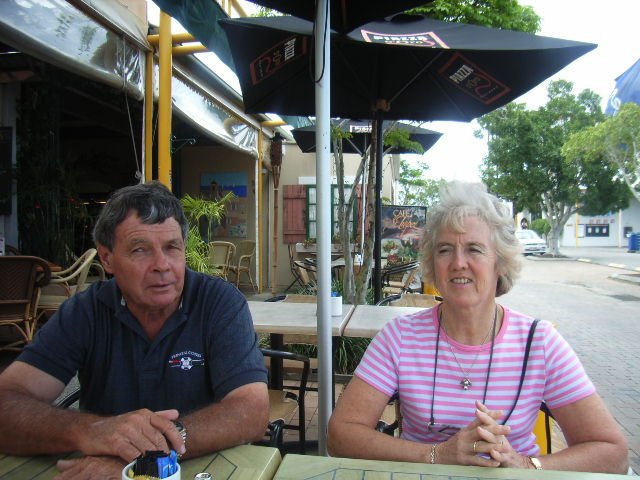 ---
New Zealand
Bob Andrews, Len Perry Speedway & Road Racer,
With Reg Fearman In Auckland NZ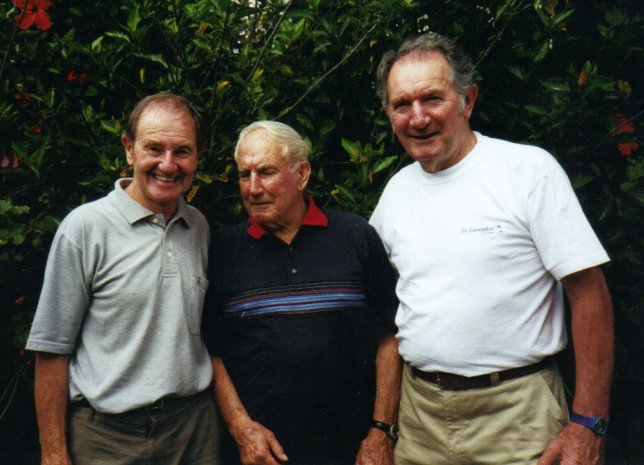 Bob Andrews Len Perry Speedway & Road Racer International Reg Fearman Auckland Bob Andrews is secretary of the New Zealand Veterans Association. The late Len Perry an International speedway rider and an Isle Of Man T.T. racer he also sponsored many riders from his Auckland Motor Cycle Showrooms.
Bob Andrews &
Roy Trigg,
Auckland NZ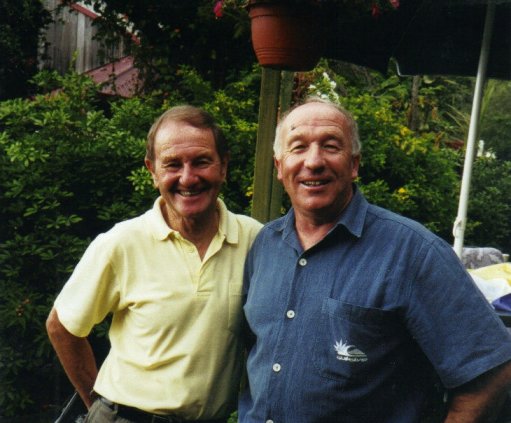 Bob Andrews Roy Trigg Auckland. Roy Trigg raced for Hackney Oxford and Wimbledon with great success, he emigrated to NZ in the 1980s
Bob Duckworth,
Reg Fearman &
Bob Andrews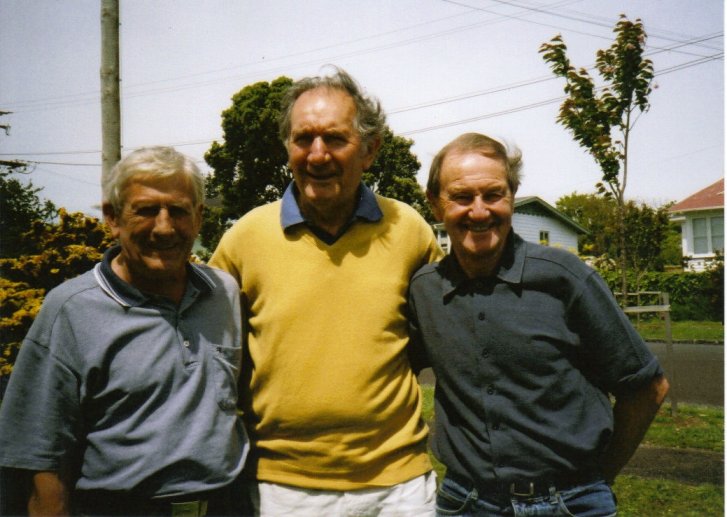 Bob Duckworth raced for Belle Vue for most of his career, although he did serve a spell further north at Newcastle. It was at Southampton that he was involved in a big accident and sailed through the chain link wire fence. The heel of his foot caught on something sharp which sliced off the heel of his boot and the heel of his foot. The track doctor was Doctor Biaggi (an accomplished surgeon) who found Bob's heel on the greyhound track and travelled with him to hospital, took him into the operating theatre and made an excellent job of replacing the heel. From then on Carlo was known as the "miracle" Doctor and up until his death in Scotland in recent times, hundreds of speedway riders travelled from all over Britain to be treated by him.
---
Eileen Fearman With
Ron & Josie Johnston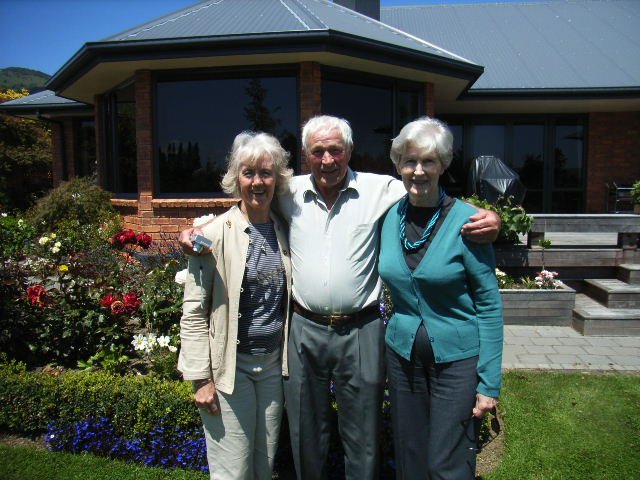 Eileen Fearman Ron and Josie Johnston. Ron a Kiwi International known as the "hard" man spent his racing career with Belle Vue. Ron in July 2009 has underwent major stomach surgery. He ran a very successful transport business in England before retuning home and raising sheep.
---
Johnny & Son
Ian Hoskins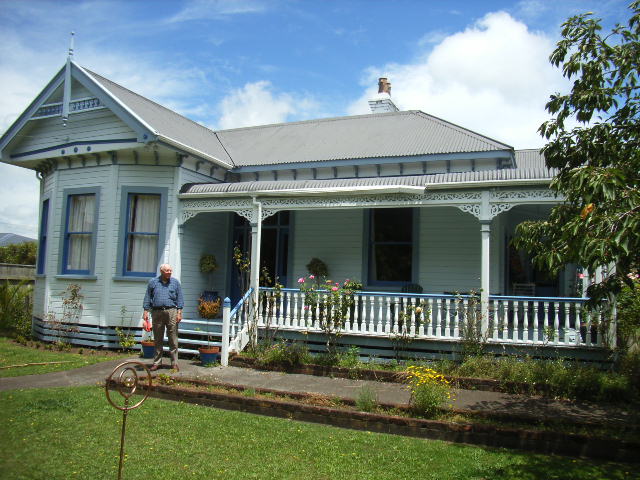 Ian Hoskins with Ian's father Johnnie Hoskins' home in the background
Ian was born in Australia and never had British naturalization. Ian went to live in his fathers home town in New Zealand, Waitara, which is in the South Western part of the North Island. We called to see Ian on our drive North and he took us to see the house where his father, Johnnie Stark (not many speedway pundits know JSH's middle name) Hoskins was born in 1892. The house built of Kauri timber is as good today as it was in the day it was built. I thought it was a part of speedway history and should be photographed and placed on record. When Johnnie went to Australia as a young man he only returned once to his former home.
---
Reg With Ian Hoskins In 2007
At Ian's Home In Waitara NZ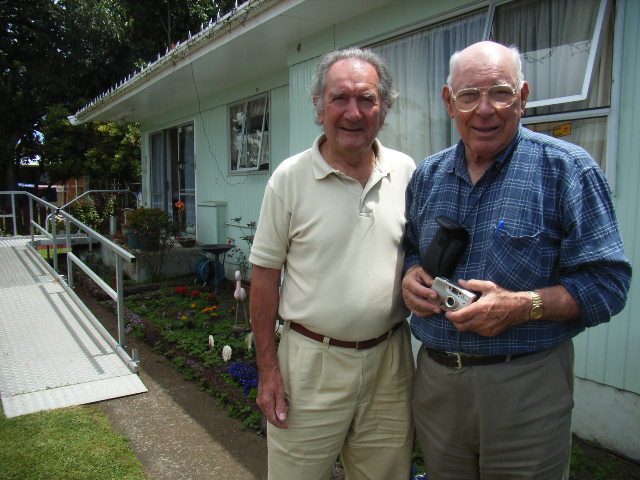 Reg with Ian Hoskins in 2007 at his home in Waitara New Zealand in January 2007
Reg Ian & Eileen
NZ 2018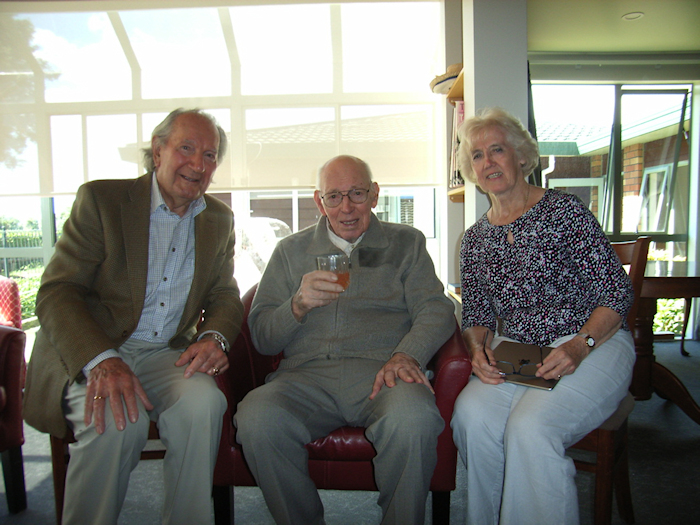 A Younger Ian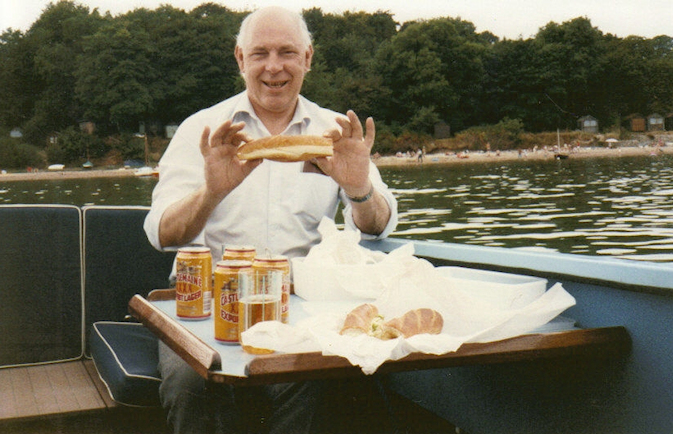 Ian & Reg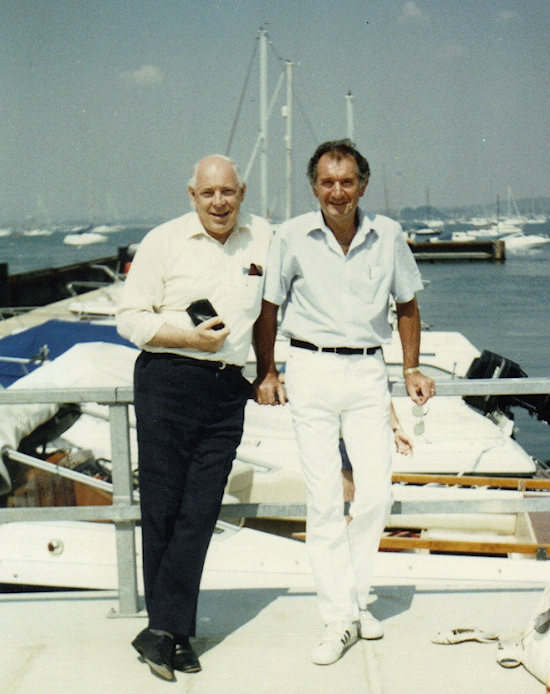 Dave Gifford Joe Hicks Ian Hoskins &
Reg Fearman
2018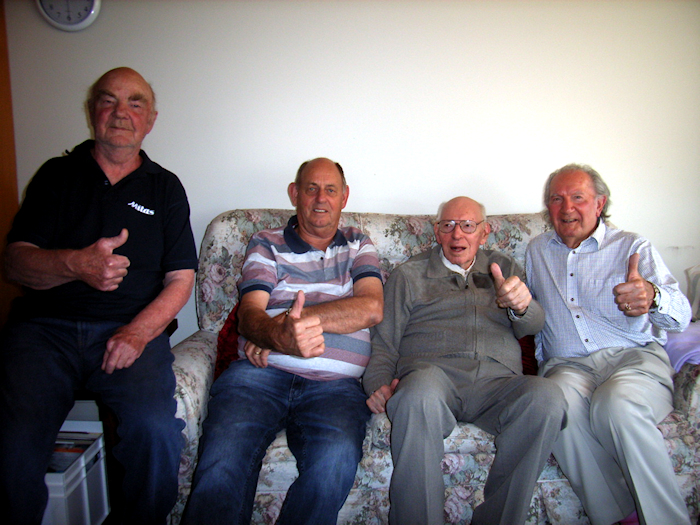 Ian RIP 2021
Good morning John, Sad news this morning, a telephone call from Joe Hicks in New Plymouth New Zealand to say:-
Ian Hoskins passed away today at 6.15 pm NZ time 7th September. Ian was 97 last May 23rd. Ian went to live in New Plymouth several years ago having lived in Zimbabwe for several years and before that the UK.
Ian will be remembered globally not only as a speedway promoter but as an actor of some repute in Repertory, he also was a prolific writer and penned many articles for speedway and theatre, he also wrote two books on 'The Hoskins'. Ian R.I.P. Reg Fearman 10th September 2021.
---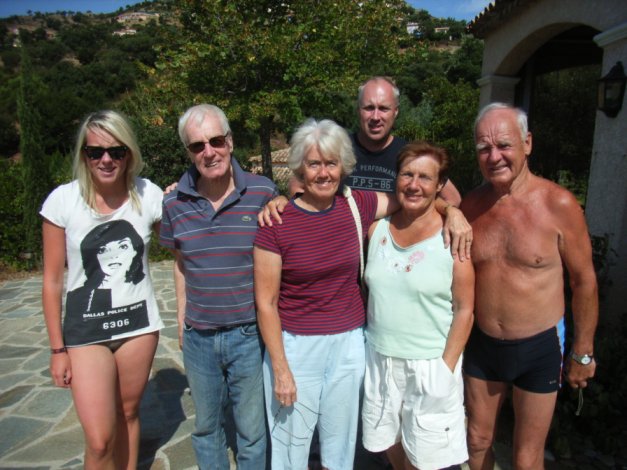 Anna, Ove Fundin, Eileen Fearman, Stefan son of Anne Marie and Totte Fundin
---
Eileen Fearman,
Ove & Brother
Totte Fundin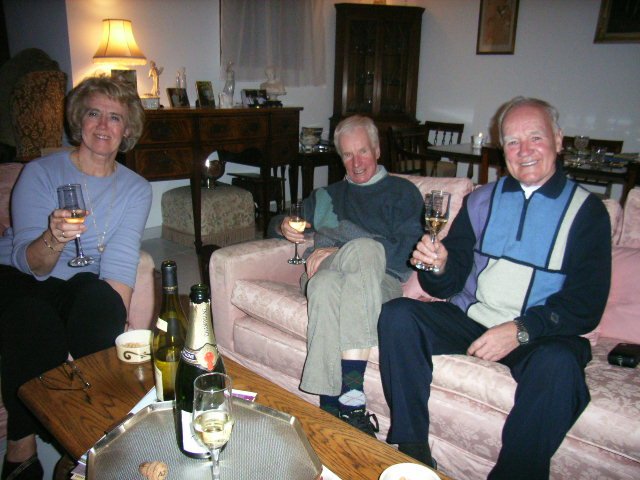 Some of the Fundin family :- Torsten known as Totte is Ove's brother and a year younger. It is he who in the early days of Ove's career used to drive all over the Continent transporting Ove's Speedway, Grass Track and Long Track machines from their home in Tranas, Sweden to Marmande in France, Lonigo in Italy and many other racing venues. Ove would arrive at the nearest airport usually from England on a Sunday morning having raced at Norwich the previous night.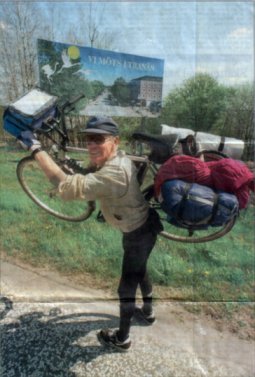 Ove has always been keen to retain his fitness and plays golf most days and thinks nothing of walking the five miles to our nearest village to post a letter !! For his 65th birthday in 1998 he decided to cycle from La Londe in the South of France to the Fundin's family home of Tranas some 2,200 kilometres distant. The trip took him just 21 days. He arrived to a large welcoming party in the centre of the town led by Joanna who had flown from the South of France to be there on his arrival.
For his 70th birthday Ove decided to walk a part of the way from La Londe to Tranas so took the train from Toulon to Lille and then started walking to Tranas which has a population of 13,700 people and a history that can be traced back 4000 years. The small country town is situated between Jonkoping and Linkoping. Tranas used to be the centre of the fur trade and the Fundin family business was as furriers. The "walk" was some 1,000 kilometres which took 21 days to complete.
Totte, Anne Marie
& Eileen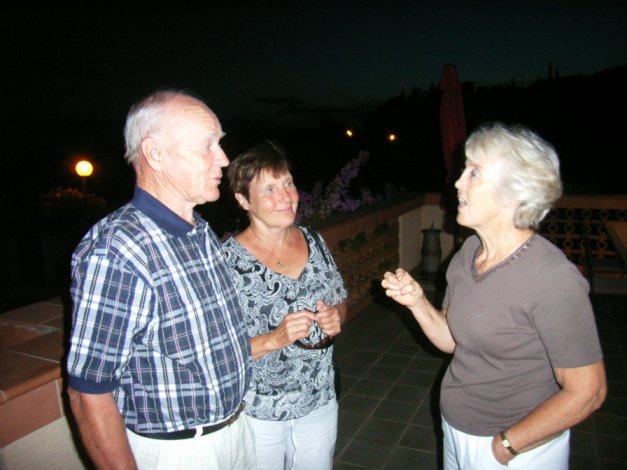 Totte, Anne Marie and Eileen (Good night Eileen) Sorry that's "Goodnight Irene, Good Night Irene I'll see you in my
dreams". - Just an old song sung by Eric Chitty.
Ove Fundin
5kr Postage Stamp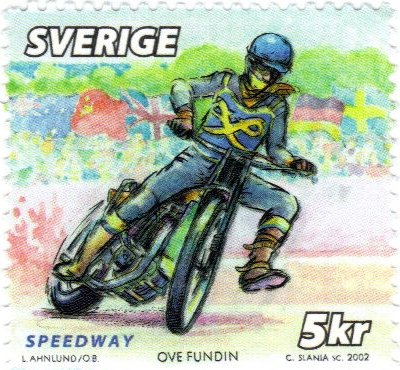 Ove Fundin 5kr stamp Issued in 2002, which was several years before that of Ivan Mauger's in New Zealand.
Helen & Ove's Son Niclas Fundin,
Eileen & Reg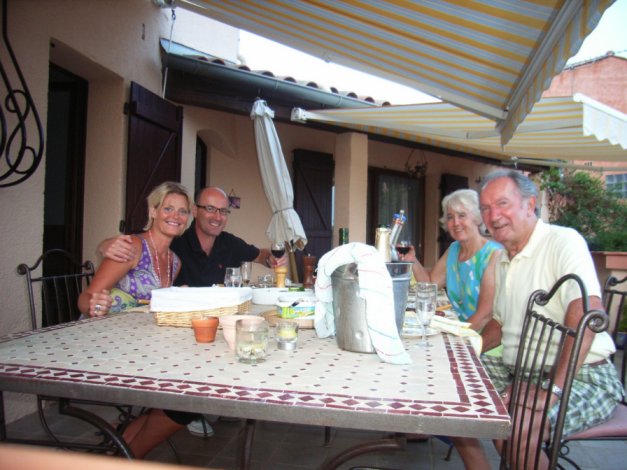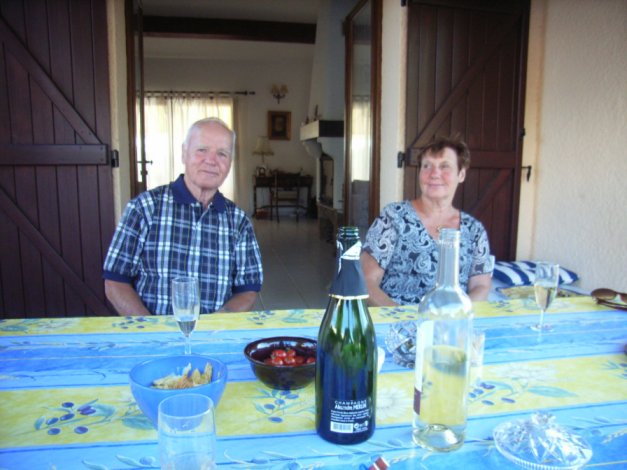 Totte (Torsten) and Anne Marie Fundin
Reg Fearman 8
---
The contents of the site are © and should not be reproduced elsewhere for financial gain. The contributors to this site gave the pictures and information on that understanding. If anyone has any issue or objections to any items on the site please
e-mail
and I will amend or remove the item. Where possible credit has been given to the owner of each item.