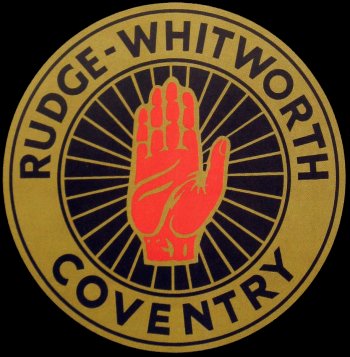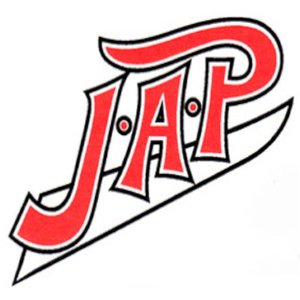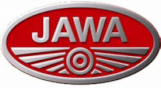 ---
Newton Aycliffe
Race Track
Aycliffe Stadium, Aycliffe Trading Estate, Near Darlington, Co Durham. Speedway practice and training took place here 1948 & 1952. Management of what should have been a viable speedway track was left to a lady who knew nothing about speedway and the track was lost forever, becoming a stock car stronghold from 1956 onwards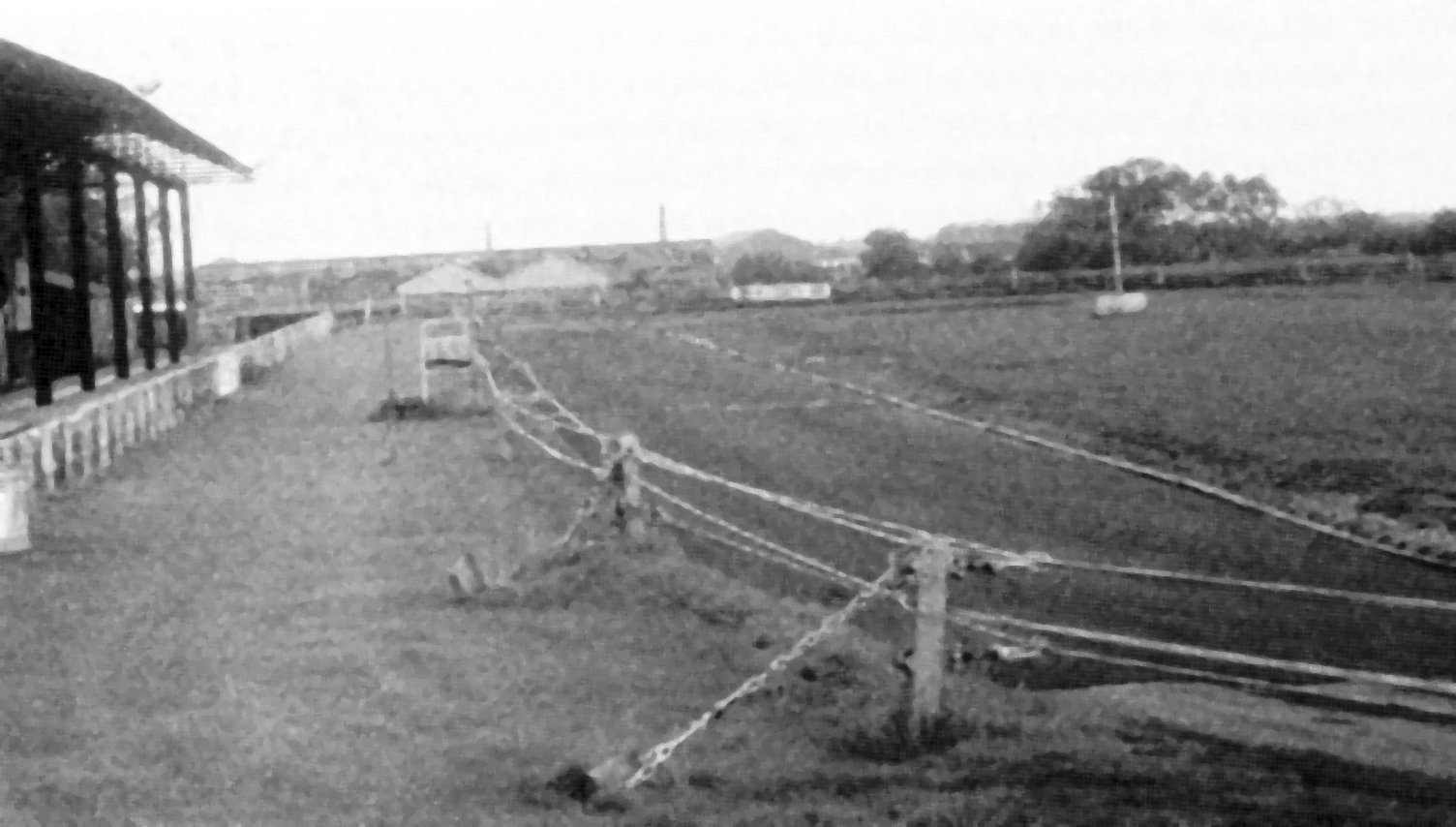 Courtesy of Peter Bell
---
Steve Harland says: Hi John, I have a little book with some info on this place. I will have to dig it out. One fact I do recollect was that the original surface was ash that was supplied by a local power station in Darlington.
Steve says: I lived in Newton Aycliffe between June 1975 to Dec 1977 and went occasionally to watch the stock car racing there. There was nothing else much to do in such a dull town. The track was tarmacked over by then and full of pot holes. It was also very small and was quite a sight to see Formula One stock car racing taking place there. Before a race started the cars would be two abreast and covered three quarters of the track. I can still remember some of the drivers who competed like Frankie Wainman, Mike Close, Rod Falding, Stuart Smith, Willie Harrison and John Toulson, who was a haulage contractor from Middleton in Teesdale. The stand in the photograph was still there in the 1970s though the stock car track I'm sure was closer to where the fans stood. There were no seats, it was just a stand set back with a farm trailer underneath it! If you stood on the back straight it was really narrow and the safety fence was the dodgiest you've ever seen, just like it is portrayed on the home straight in the photograph by Peter Bell.
I think a guy called Tony Neal ran it when I was going. The meetings were always well attended but usually by fans of the drivers competing, most of whom appeared to live in the Yorkshire/Lancashire corridor. If you stood on the back straight you would always arrive home with your shirt collar black as the ace of spades. You really were that close to the action.
It's a real shame neither Middlesbrough or Newcastle took advantage of it to use it for training facilities. I used to have all the programmes from meetings I attended but I gave them away to a lad I worked with in the 1980s who was fanatical about stock car racing. They are probably worth a few bob nowadays.
John says: Steve has been back in touch his comments follow this: -
Steve Harland says: Hi John, I've dug out a book on stock car racing called Barney Reilly's Stock Car by Johnnie Hoskins. I've no idea what year it was published because it has some pages missing but looking at the handful of pics inside it looks like mid-1960s to me. Here is the info on AYCLIFFE STOCK CAR TRACK as promised :
The track was 370 yards long and the surface was tarmac. Ron Dean was the manager and the promoters were APEX PROMOTIONS Ltd. Meetings took place on Sundays at 3pm and also occasional Bank Holiday Mondays at the same time. I'm sure the Dean Family were still involved in the 1970s when I started going to the occasional meeting.
Some other trivia from the same book: Chick Woodroffe was the manager of stock car racing at King's Lynn alongside Doug Wardropper, whom I'm sure raced the cars himself. Woodroffe was the man who later masterminded the track at Arena-Essex (Lakeside). He also was the manager at Rayleigh too.
Lots of speedway and stock car tracks sharing the same stadium including: Belle Vue, Coventry, King's Lynn, Long Eaton, Plymouth, Rayleigh, St. Austell and Swindon. A couple of odd ones include Brands Hatch in Kent - a tarmac track of some 533 yards and Cadwell Park in Lincolnshire, another tarmac track but this time even longer at 602 yards.
Former speedway rider turned promoter Trevor Redmond was a busy man running stock car racing as the manager for Auto Speed Circuits at both Newton Abbott a 330-yard circuit made of tarmac and St.Austell.
F
ormer speedway tracks where stock car racing had taken over included: Brafield, Harringay, Ringwood & Walthamstow - all had been tarmacked over.
I
f I can I will try and dig some more info up about the earlier years at Aycliffe when it was used for speedway training and the surface was ash. Regards Steve Harland
John says: Thanks Steve. Many speedway fans and officials hate stockcars and I would too if speedway and stocks were operating at the same venue. However there is a connection with short oval tracks like Aycliffe and Barford as both venues would have liked to run stocks AND speedway, but alas it didn't happen.
---
Ex-Driver
Dave Turnbull's Memories Of Aycliffe
Dave Turnbull says: Hi John, Picked up your email via Facebook here in New Zealand, I used to race Bangers at Aycliffe in the early 70's when the track was indeed run by Ron and cissy Dean of Apex Promotions. I remember The Geldards father Fred and his son and the track crew.
I have a collection of photos ranging from Early Tony Neal, young Stuart Smith and of course my favorite Destruction racing, I have also many programmes from that era
I would be happy to send copies if you would like them.
My son Stewart Turnbull has now taken the reigns these days having recently gained second place in points championship at our local Baypark Track in NZ.
Regards Dave
John says: I have asked Dave for some stocks pictures for this page. Stock Cars like Speedway need help to continue so my Aycliffe page is turning into an advert for 4 wheels around an oval circuit