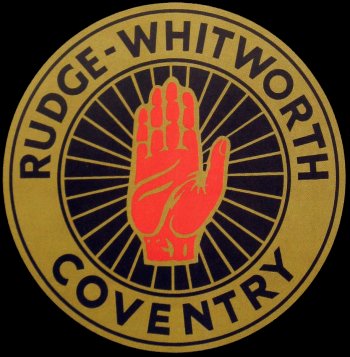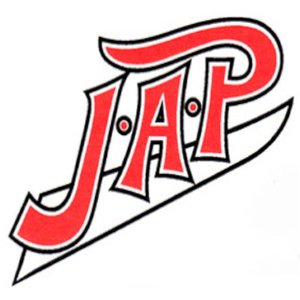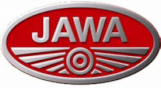 ---
The Tony Webb
Photographic Collection
Tony is a much respected Australian speedway historian, Author and collector. He has decided to share some of his photographic collection with us on this page. Thank you very much Tony.
John says: I am really pleased that my website gets hits from all around the world and you cannot get further away than Australia
---
Toowoomba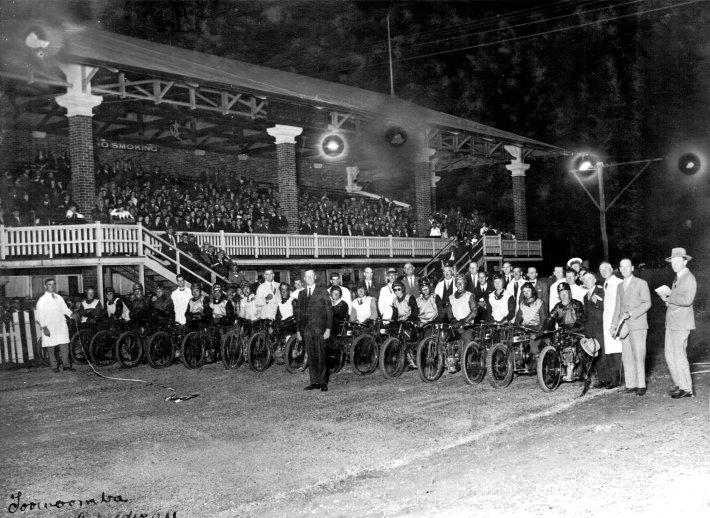 Toowoomba Speedway 1927
Toowoomba (nicknamed 'The Garden City') is a city in Southern Queensland, Australia. It is located 127 km (79 mi) west of Queensland's capital city, Brisbane. With an estimated district population of 131,258, Toowoomba is Australia's second most populous inland city and the most populous non-capital inland city.
An University and Cathedral City, Toowoomba hosts the Australian Carnival of Flowers each September, and Easterfest is held annually over the Easter weekend. There are more than 150 public parks and gardens in Toowoomba. It has developed into a regional centre for business and government services.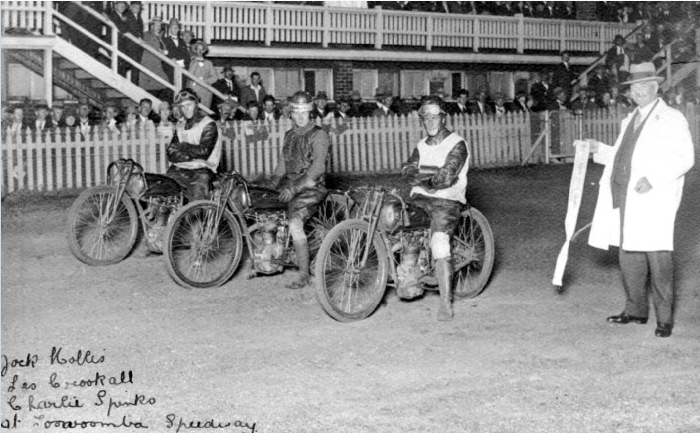 Toowoomba Speedway 1927 Jack Hollis, Les Crookall and Charlie Spinks. The guys are mounted on identical Harley Davidson Peashooters. These bikes were best up to 1928 when British bike the Douglas DT came along.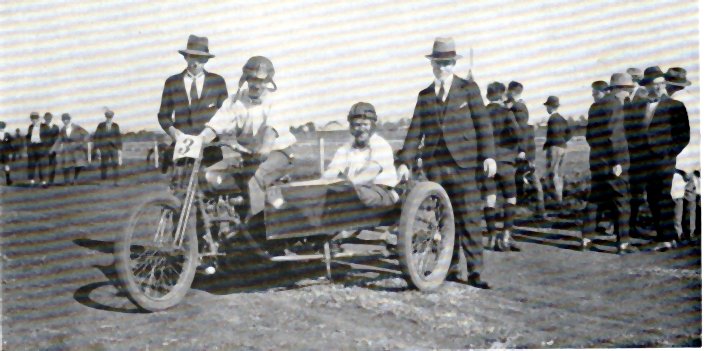 Toowoomba Sidecar 1927
Barry Forsyth's
1927 Newspaper Scans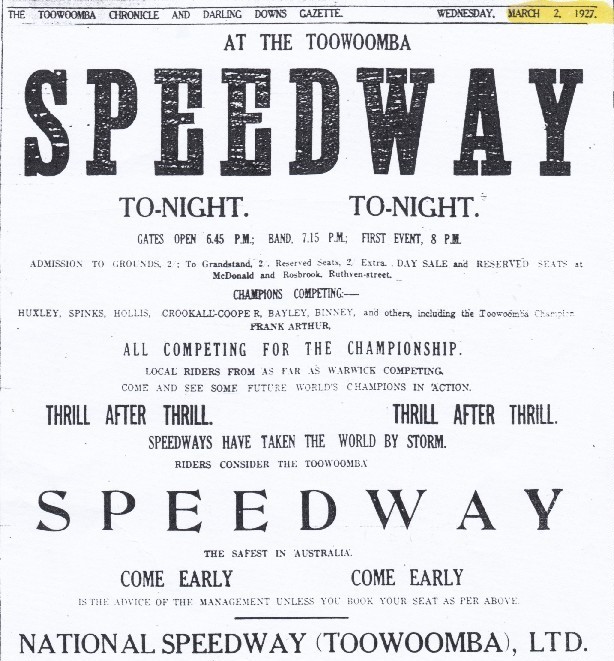 Courtesy of Barry Forsyth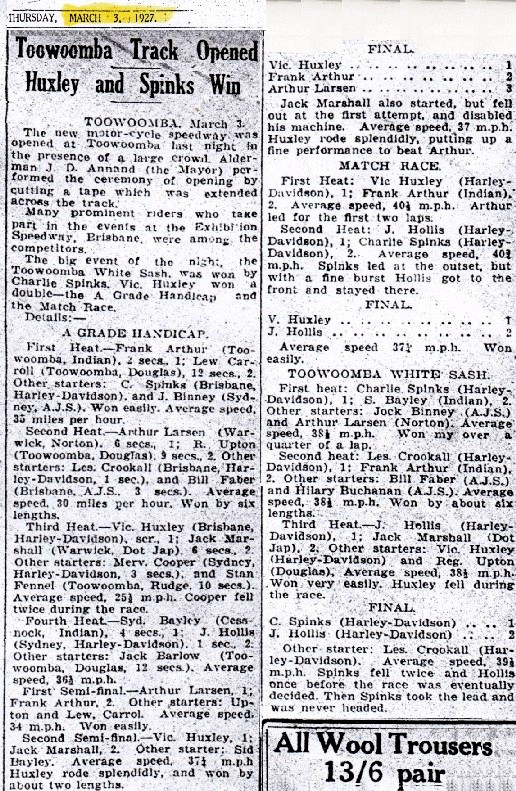 Courtesy of Barry Forsyth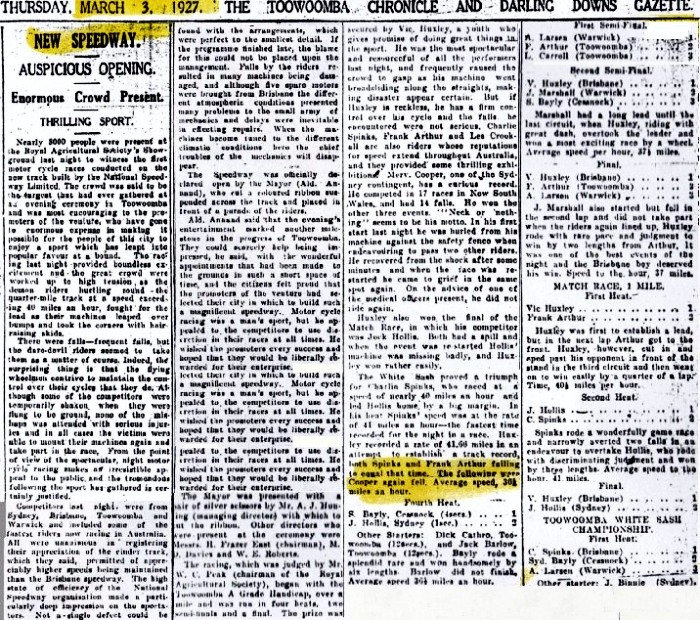 Courtesy of Barry Forsyth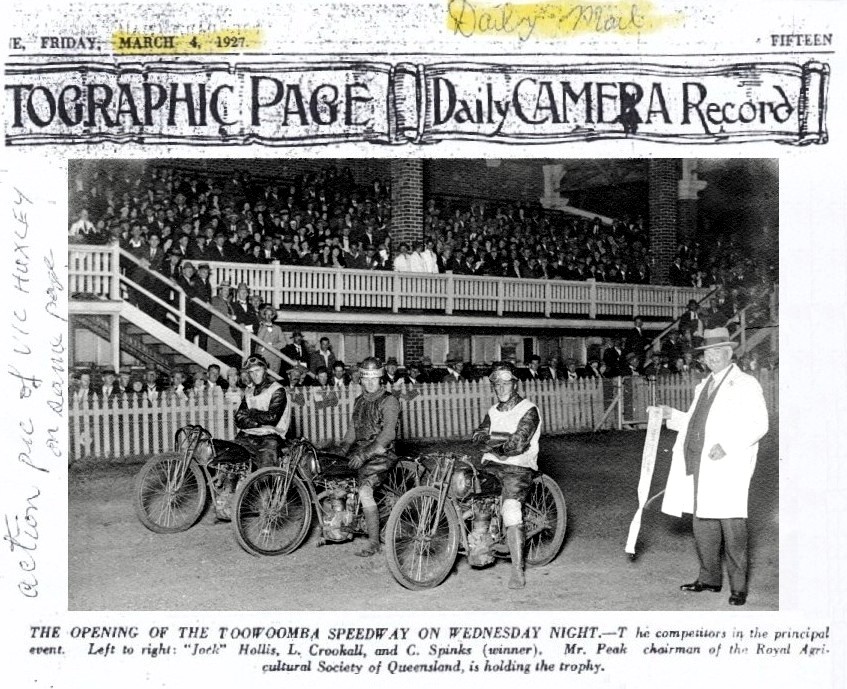 Courtesy of Barry Forsyth
John says: My thanks To Steve Magro and Barry for these 4 Newspaper scans of Toowoomba's opening in1927. Try as I might, I have been unable to see the "chairman Mr Peak holding the trophy!" Just the guy in the white coat but he appears to be holding a toilet roll not a trophy!
---
Coorparoo Brisbane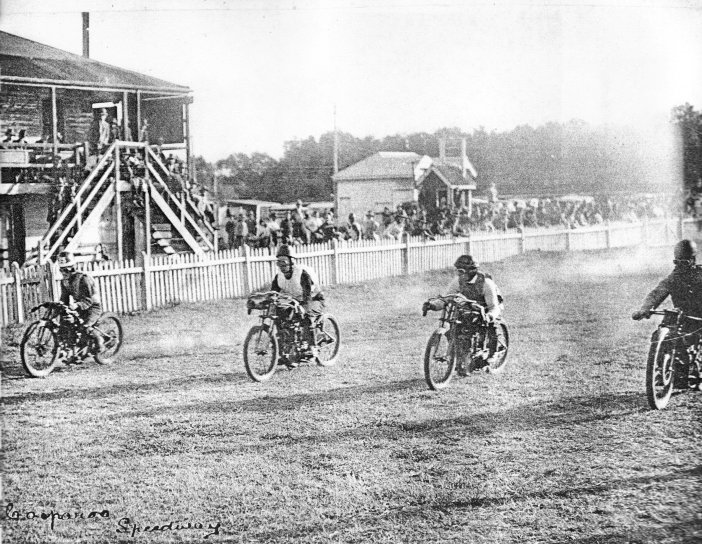 Coorparoo is a southern suburb of Brisbane, Queensland, Australia, located approximately four kilometres from the city. I wonder how early this photo is?

Tony Webb says: Coorparoo Racecourse was a grasstrack/speedway that was organised by a riders co-operative. it ran from may 1927 to July 1927 between the closure of the Ekka and the opening of Davies park. Almost all of the top riders of the time raced there, Spencer Stratton, Lionel Van Praag, Jock Hollis, Frank Pearce, Dicky Smith, Arthur Yenson etc.
Evan Findlay's Aerial Photograph Of Coorparoo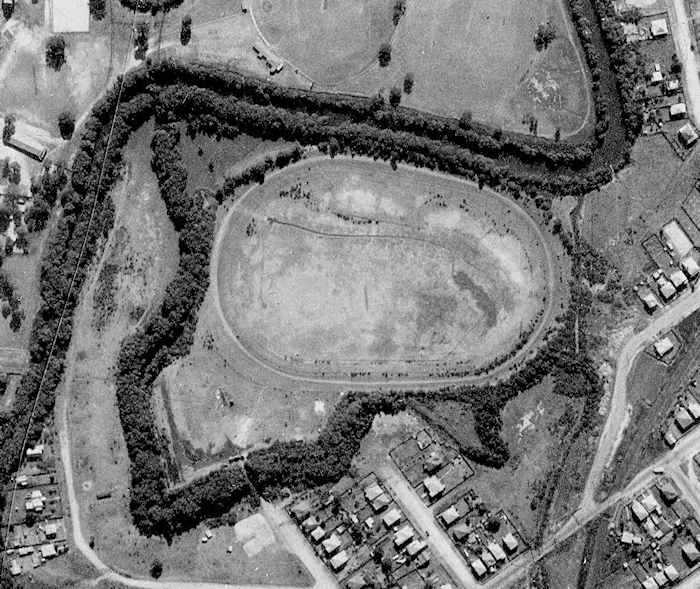 Courtesy of Evan Findlay
Evan Findlay says: Gday John, My name is Evan Findlay and I have been researching the history of the Coorparoo Football Club in Queensland, Australia, for the past five years. Through my research, I have discovered that the football ovals were initially a racecourse for horse racing, before a Royal Commission into unregistered racing shut the course down. After that they allowed bike racing for approximately 6 months.
I would like to use the image, supplied by Tony Webb, of the Coorparoo Speedway in my upcoming book. I have photo's of the area as a refuse tip in 1949, I have an aerial photo, which I have attached to this email, taken by an American Bomber plane in 1946. What I don't have is a photo of the speedway.
I have been unable to track down Tony Webb to ask him for permission to use the image. I was hoping you may have some contact details you could pass on to me. I have tried his email address
binbooks@iinet.au
, with no luck. Hoping you can assist me in this matter. Cheers Evan.
John says: Thank you for the aerial photo Evan, I am sending you an alternative email address for Tony by email.
---
Lionel Van Praag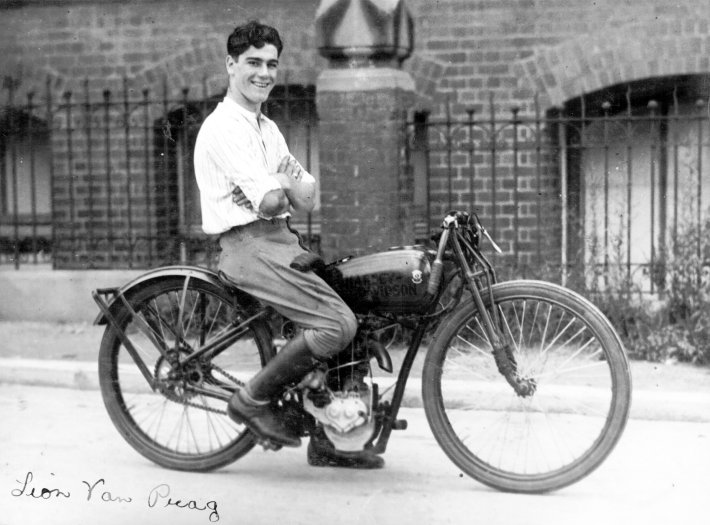 This is Lionel Van Praag aboard a Harley Davidson Peashooter: 1927
---
1927 Jack Hollis, Lionel Van Praag, Frank Pearce
& Charlie Spinks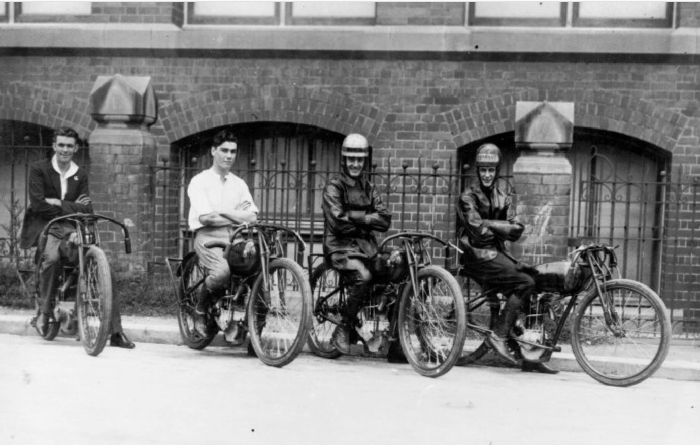 Jack Hollis, Lionel Van Praag, Frank Pearce and Charlie Spinks: 1927. Lionel is wearing the same gear as the photo above this one so I presume the photos were taken on the same day in 1927. All 4 riders appear to be on Harley Davidsons
---
Moore Park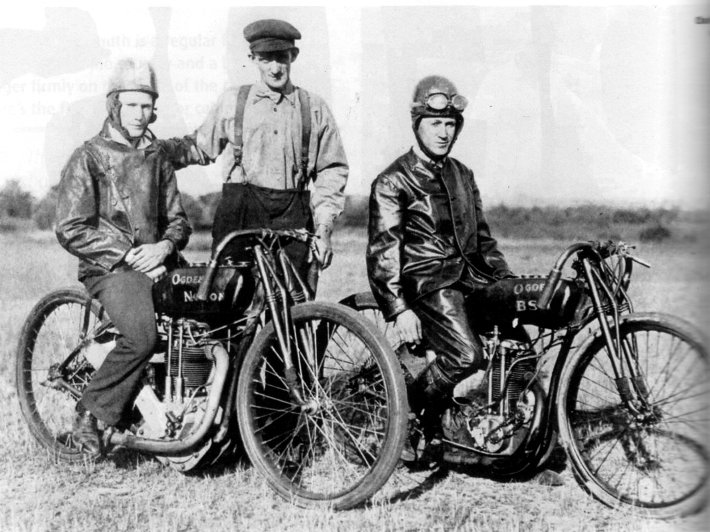 Ogden, Charlie Moore Park 1926. The bikes appear to be a Norton (on the left) and a BSA. I guess both engines are housed in Harley frames.
---
Cunnamulla
Club Hotel
1926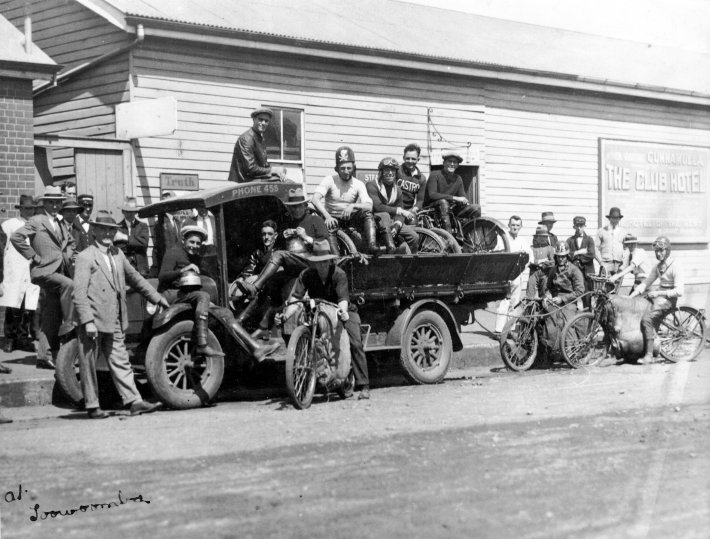 Interestingly the two bikes at the rear of the truck appear to have tow ropes attached. and the tailboard of the truck is carrying a number of bikes. Health and Safety hadn't been invented then!
---
Motorcycle Pacemaker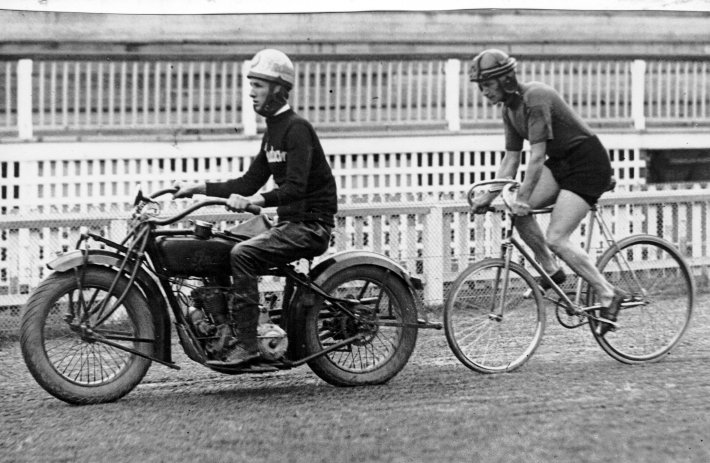 The Indian being used to "pace" the cyclist. Frank Arthur and Jack King 1926 what fantastic handlebars on the pace setting motorbike. The motorbike does not have a front brake. I believe they were pictured on a speedway track in Queensland. The cycle has a larger back wheel!
---
Frank Arthur
1926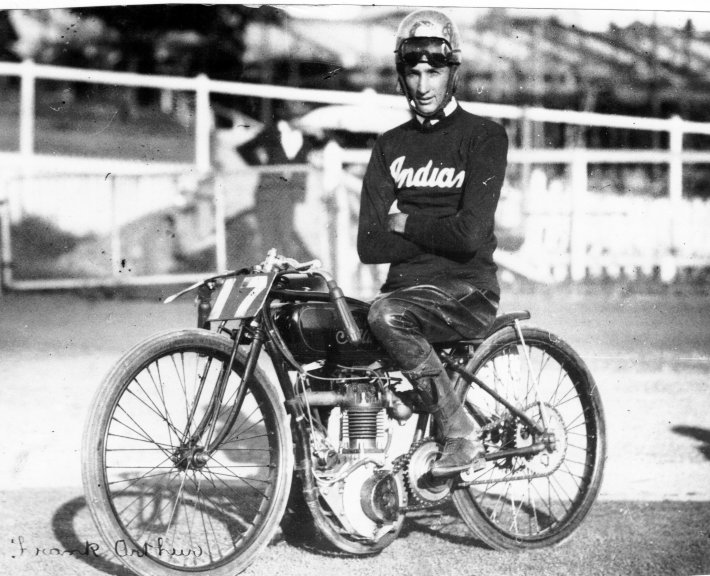 Frank Arthur 1926. Frank is sitting on an Indian, America's second bike maker after Harley Davidson. The engine cylinder looks small so maybe this bike is a 350cc, mind you it is more likely to be a 500 if it was to be able to compete with the rest. The skinny tyres and front forks show the pedal bike pedigree of an early motorcycle
---
Deagon Track Announcers.
1926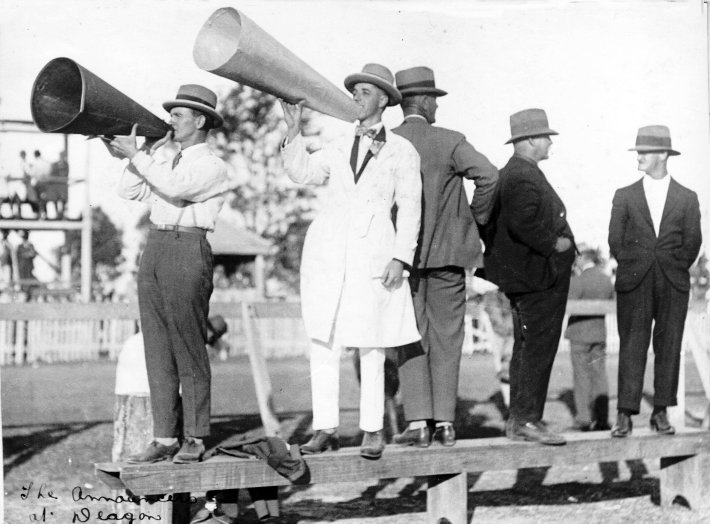 Deagon 1926 announcers. It is likely that there was no electricity at most tracks in the 1920s or maybe just no early loudspeaker systems? so sights like this must have been commonplace. I often fail to hear announcements now so it would have been very difficult for me in the 1920s! I think the 3 guys in the dark suits were spotters passing info to the "Announcers"
---
Frank Pearce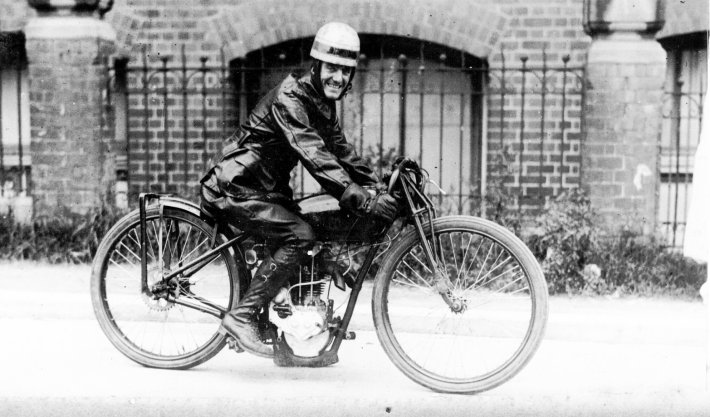 Frank Pearce aboard A Harley Davidson Peashooter. It was the bike to have in Australia pre UK Speedway in 1928
---
Arthur Yensen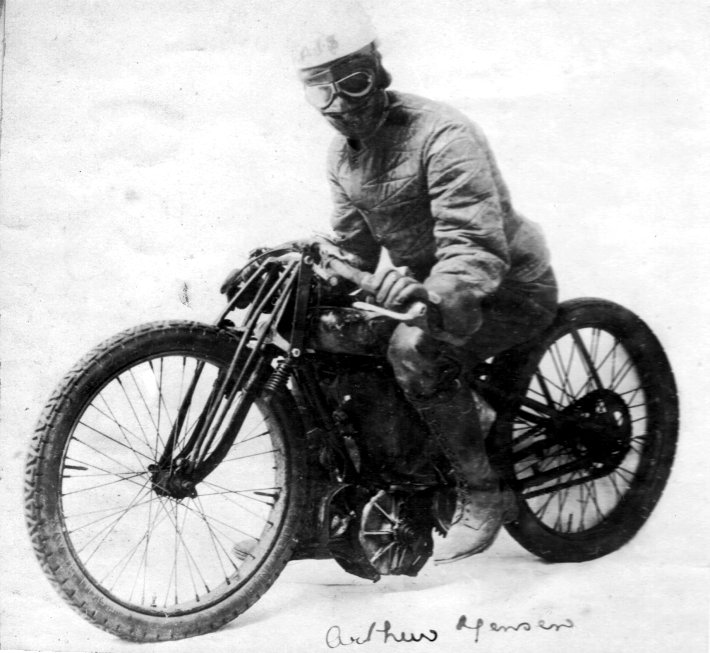 Tony says: Arthur Yensen was from the North of England, he emigrated to Australia and rode in NSW before coming to Brisbane in 1926 he rode at Davies park 1927
---
EKKA Practice
Note The Headlight & Horn!
1926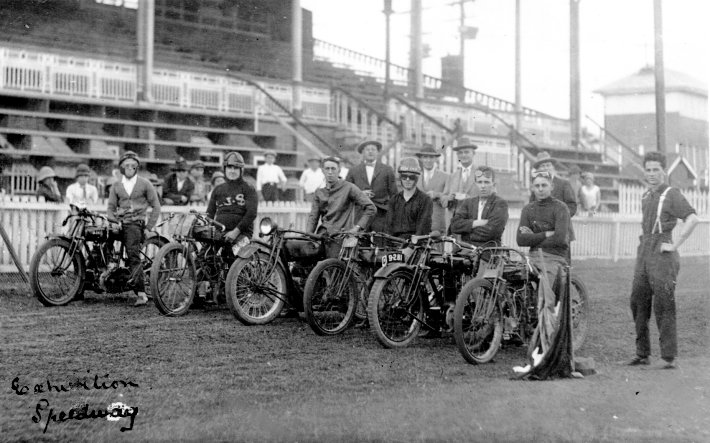 Ekka October
Opening Meeting
1926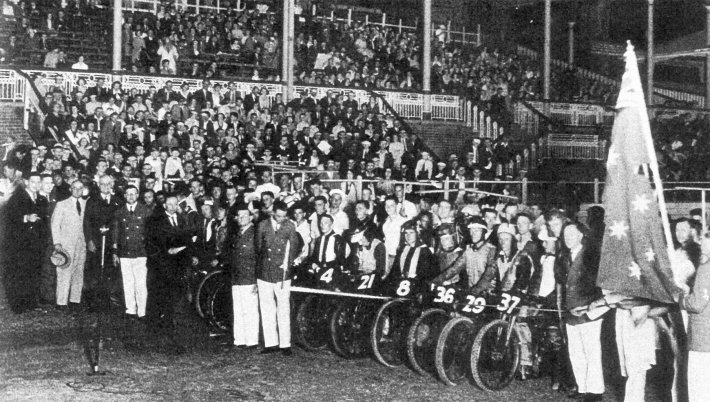 ---
Eagle Farm December 1926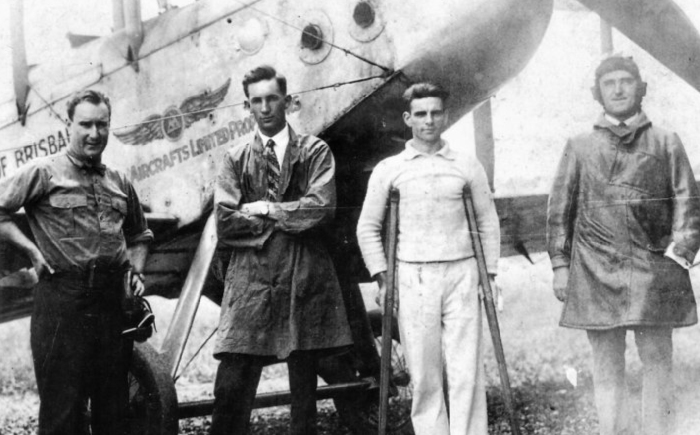 Eagle farm December 1926 Pilot Ron Adair, Frank Arthur, Tommy Marr and Frank Hunting
---
Bluey Wilkinson
1931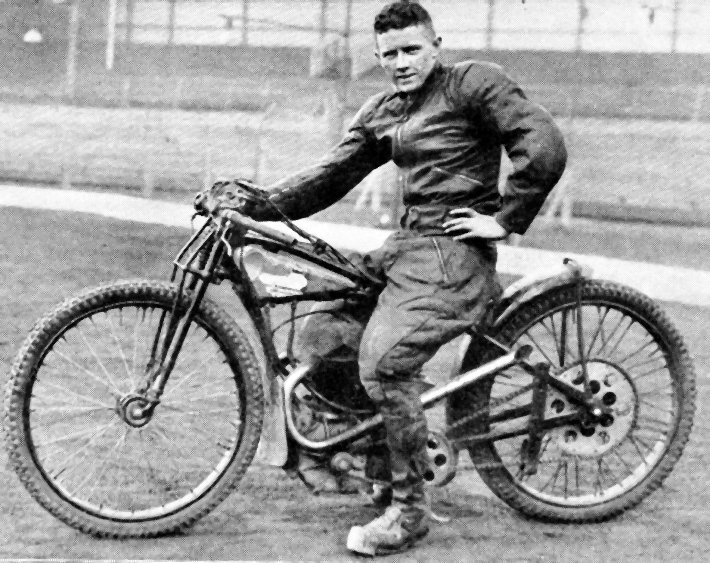 Bluey Wilkinson 1931 aboard a Rudge with the distinctive upswept exhaust to avoid the track when broadsiding around the bends
---
Wild Bill Rodgers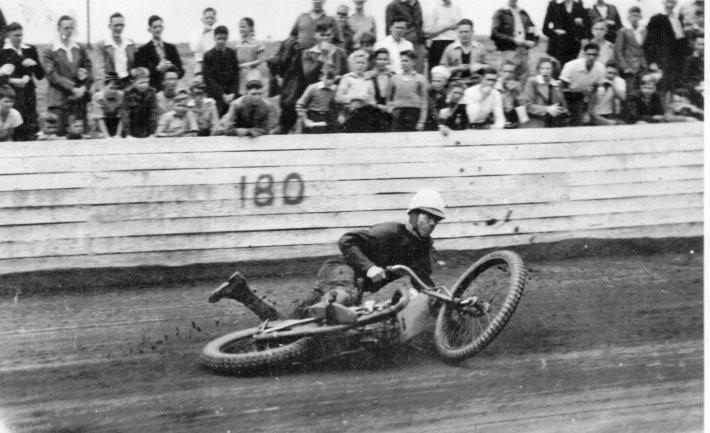 Wild Bill Rodgers. The sign behind says: 180 and Bill has turned 180 degrees on the track !
---
---
Bill Fitters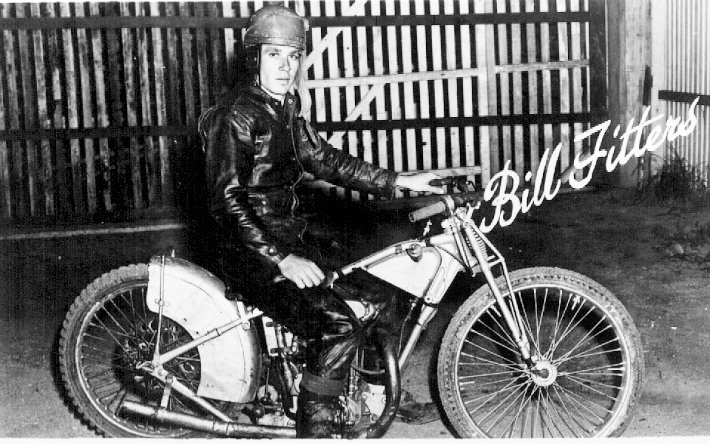 ---
Davies Park, Keith Cox
On The Bike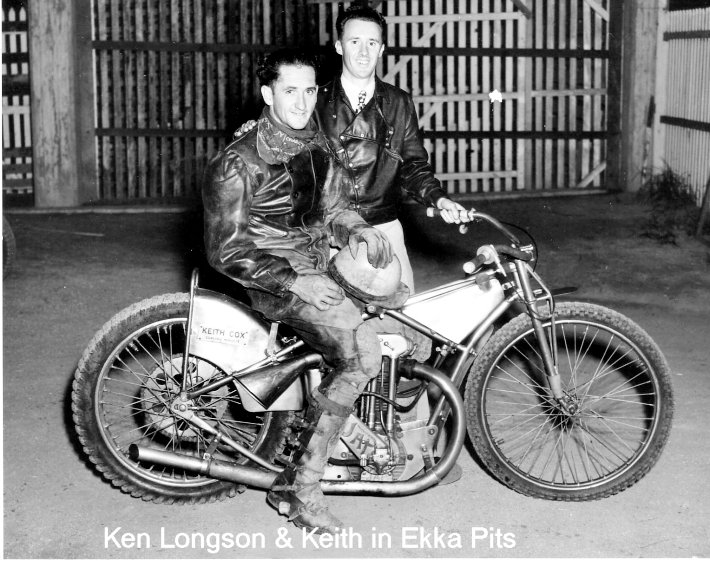 Photo courtesy of the Keith Cox collection
Davies Park Keith Cox on the bike
---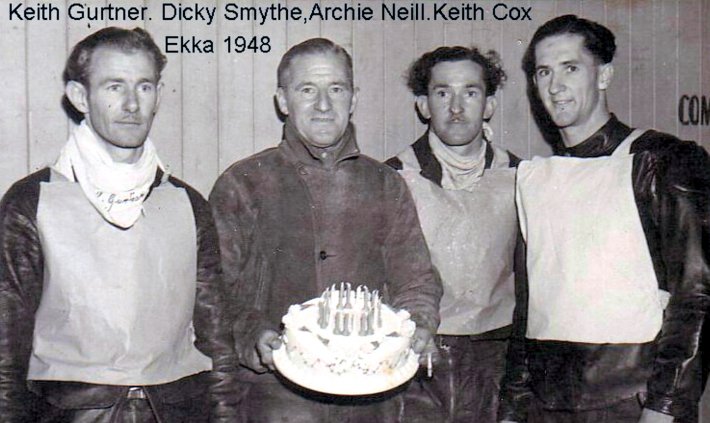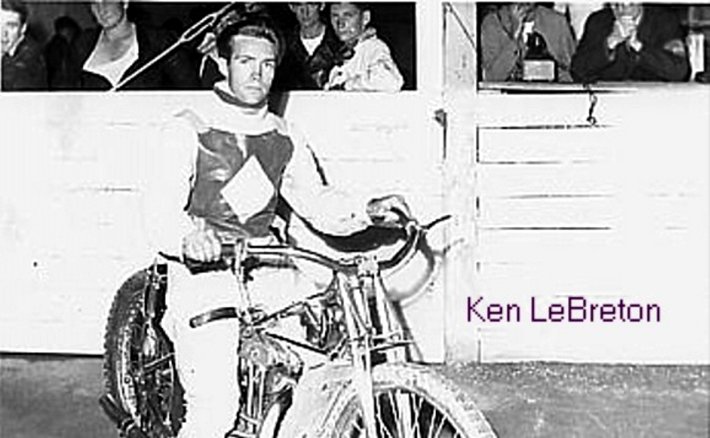 Ken Le Breton who rode during the 1940s, in the UK for Newcastle Diamonds hence the race jacket he is wearing. Ken was killed in a track incident in Australia
---
Keith Blicaski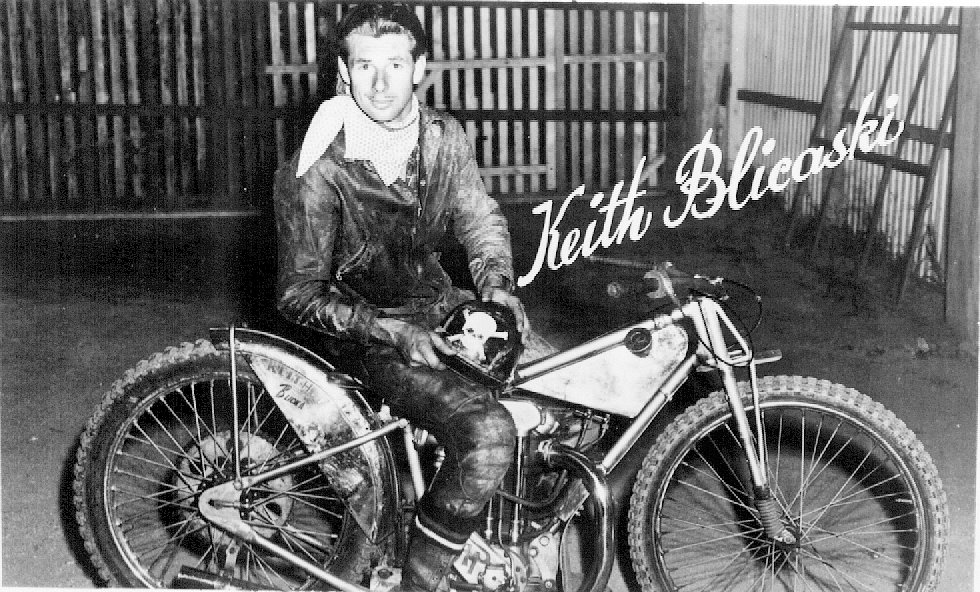 ---
Aub Lawson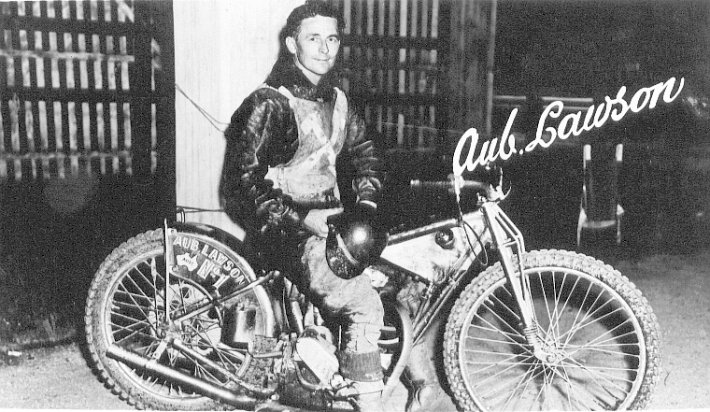 ---
Jack Parker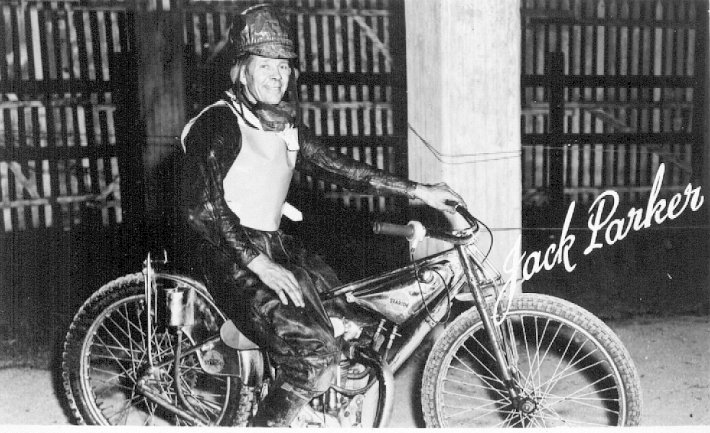 ---
Alec Morrows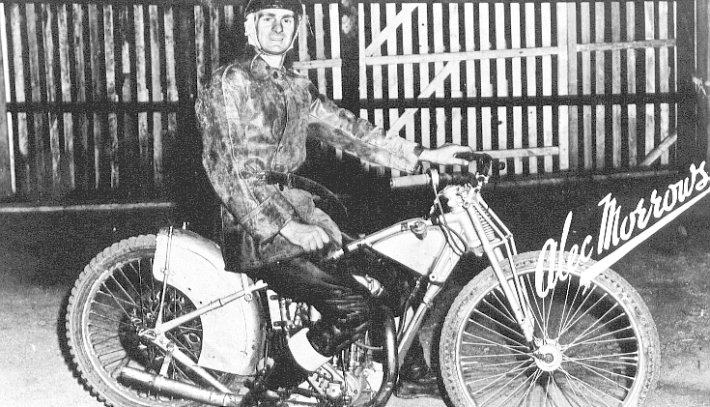 ---
Steve Langton
Speedway Pioneer & Gold Prospector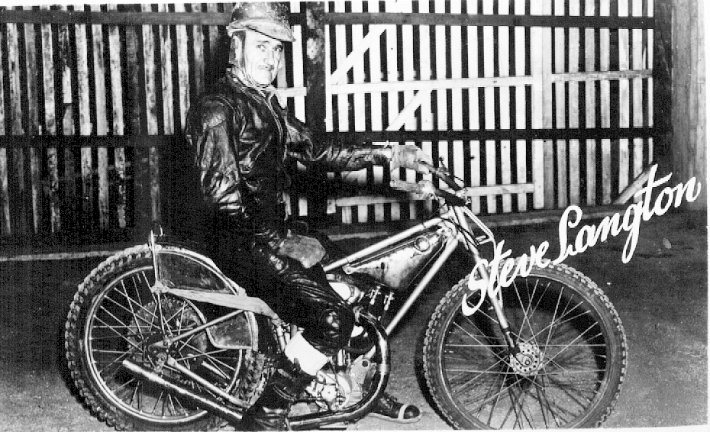 Tony Webb writes: Steve Langton. One of the pioneer Australians had a long racing career from 1928 –1953. Born in Gowrie mining camp between Oakey and Toowoomba Queensland 3-9-1909. His father was named as Joseph Steven, miner, and his mother Nellie Gertrude nee Mason. Steve first rode at Toowoomba Showground 1928/29 where he met up with Tiger Hart. He went to UK 1930 with Tiger and raced at Portsmouth. Joined Lea Bridge and Southampton in 1931.The following year he moved to Clapton. Returned to Australia with the Johnnie Hoskins Australian team 1932/33 Rode in first test [unofficial] in Perth 10/12/1932. 1 point and 7th test at the Sydney Showground 11/3/1933 scoring 4 points. He returned to Brisbane for remainder of the 1933 season. Steve was reported as importing a Scott Squirrel speedway machine to Queensland in 1931
Returned to England 1934 after missing 1933 season and joined Lea Bridge again, they were taken over by Walthamstow mid season where he remained until the end the season Returned to Australia for the 1936/7 season and rode in one test match in Sydney 12/12/1936 but failed to score. He Joined Birmingham in 1937 and 1938 seasons.
Enlisted in 2/4 Australian Armed Regiment as number NX422650 in NSW on August 12 1941, rose to rank of Warrant Officer Class 2 and was discharged on December 21 1945.
Returned to England in 1947 and joined Tamworth Hounds where his old mate Tiger Hart was the team manager; he stayed with the Hounds for 3 seasons. Steve's last club was Southampton Saints in 1950. Rode a total of 11 seasons total in England, the best year was 1949 .He had ridden in Brisbane for the 1948/49 season winning the Vic Huxley points score. Selected for Australian team in Brisbane on 2/2 1952 at the age of 43 he was one of the oldest riders in an International match. Sold his bike to Keith Blicharski of Toowoomba and retired in 1953. Steve raced for 9 British clubs in a 23 year career.
Gold prospecting was his hobby it was said he always carried a gold nugget which he considered to be an insurance against hard times. The Langton/ McCafferty family ran a bus service from Toowooomba to Gympie, on his retirement from racing Steve set up a service station which was a logical location for the buses. at Woombye off the Bruce Highway north of Brisbane. His cousin George Stephen Langton [b.22/10/1910] ran a mechanical workshop nearby. Steve prospected and around the Gympie area often going bush for long periods. He always bought his supplies at the same local store. Steve moved to Victoria after his first wife Constance passed away. Steve died at Gaffneys Creek Ballarat Victoria. Another story was that Constance always carried a port which contained all the programs and press cuttings of Steve's speedway events.
Steve had a nephew, Bonnie, son of Cousin George, who rode at the Exhibition grounds 1950-1956.
Legend has that Steve's ancestor Stephen Langton was a signatory to the Magna Charter in 1215. As will be noted the Christian name Stephen was carried by the male line to the present day. A nightmare for researchers, however Steve's nephew Bonnie chose to ride under his name of Bonnie therefore breaking a tradition.
| | | | | | |
| --- | --- | --- | --- | --- | --- |
| 1930 | Portsmouth | Open meets | | | |
| 1931 | Lea Bridge | | | | |
| 1931 | Southampton | 10-24-2.4 | Southern L. | | |
| 1932 | Clapton | 13-28-2.3 | NL | | |
| 1934-35 | Wal/Lea B. | 12-3 | NL | | |
| 1937 | Nottingham | 5-14- 2.80 | | | |
| 1937 | Birmingham | 11-80-7.27 | | | |
| 1938 | Birmingham | 13-102- 7.8 | | | |
| 1947 | Tamworth | 209 | | | |
| 1948 | Tamworth | 45-277-6-15 | | | |
| 1949 | Tamworth | 22-227-5.95 | | | |
| 1950 | Southamptn | 28-162-5.78 | | | |
| 1932/33 | Australia | England | 2-5 | PER. SYD | |
| 1936/37 | Australia | England | 1-0 | SYD | |
| 1951/52 | Australia | England | 1-0 | BNE | |
| 1937 | Australia | England | 1-6 | Birmingham | |
| | | | | | |
| | | | | | |
| | | | | | |
| | | | | | |
| | | | | | |
---
Keith "Buck" Ryan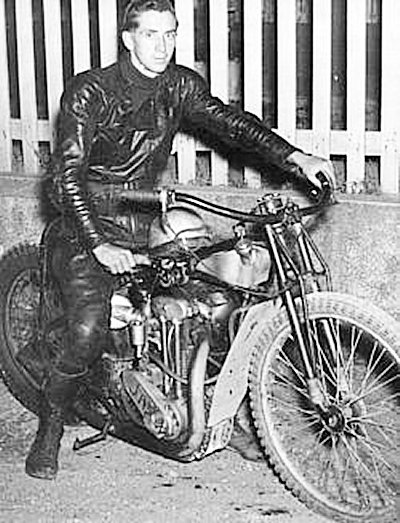 Keith Buck Ryan who rode for Glasgow 1947-1949. Keith lives in Sydney.
---
Cyril Romaine
1947
Junior Champ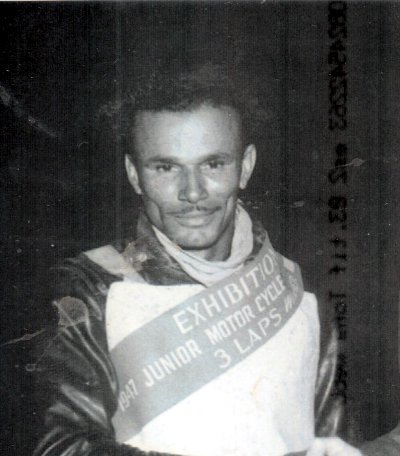 ---
Vic Huxley's Trophies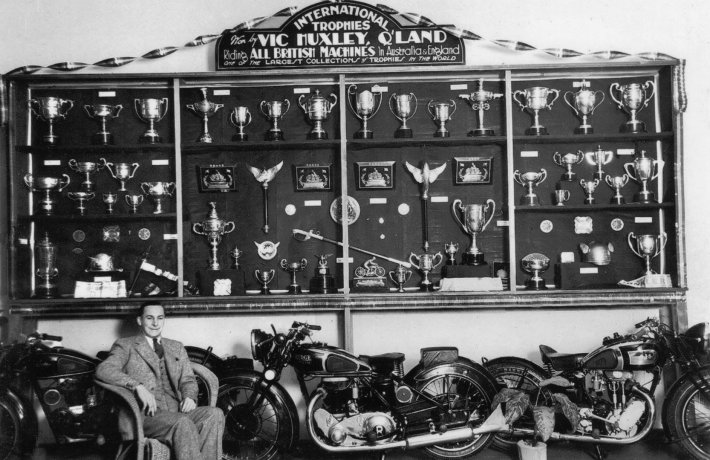 ---
The Hunting Brothers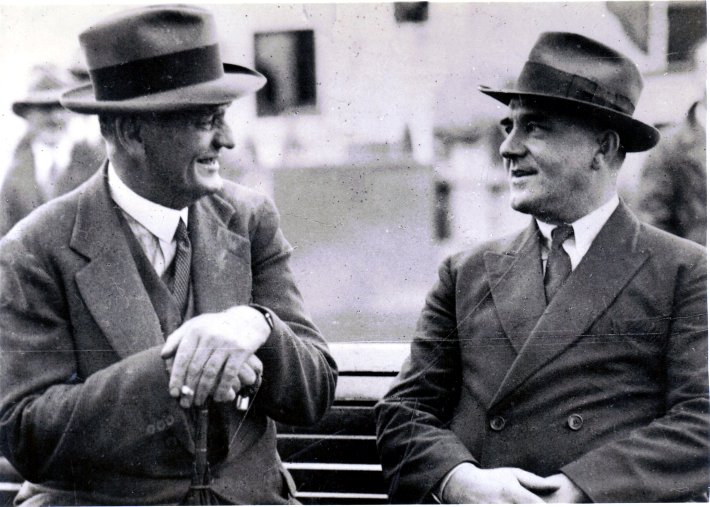 Tony Webb says: Australian born Albert and Frank Hunting were the true speedway pioneers, among their achievements:-
They initiated the Golden Helmet at Sydney August 1925. They opened tracks at Maroubra, Oxley, Ekka, Toowoomba, Ipswich, Davies Park during1925-1927. They started the first Speedway magazine, The Speedway News, in 1926. Discovered/ gave first speedway rides to: Frank Arthur, Frank Pearce, Max Grosskreutz, Bert Spencer, Dicky Smythe, Jack Bishop, Ben Unwin, Hilary Buchanan, Noel Johnson, Bruce McCullam, Charlie Spinks, Vic Huxley, Dicky Case, Steve Langton, Harold Stevens, Lionel van Praag to name a few.
They ran the first Grand Prix in 1929, Were responsible for the first 10 Australians to England in1928 They Initiated the Speedway Coat of arms and motto. They developed speedway at seven UK tracks, Wimbledon, Stamford Bridge, Harringay, Birmingham, Manchester, White City, Portsmouth, three in South America and five Australian venues. There were also attempts at several other venues. Revived speedway at Davies park 1931, Ekka 1937/1938. In fact AJ floated a total of nineteen different companies. The claims of other pioneer promoters pale into insignificance in comparison.

John Skinner says: Tony Webb is the official Hunting family biographer. All this information is backed with references to programmes and company records. John says: Thank you for this insight into the careers of these Australian Entrepaneurs. In the UK we give credit to Johnny Hoskins as the main man and obviously we are guilty of overlooking the others.
---
Les Todd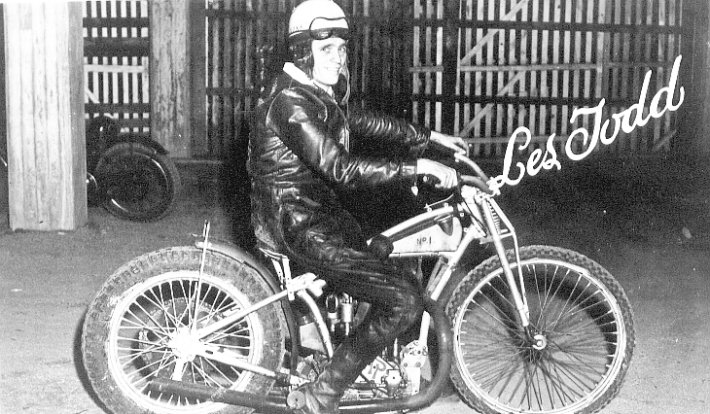 Les Todd aboard my favourite bike, the JAP, younger fans would be amazed to hear 14 JAPS warming up in the pits and the smell of Castrol R oil added to the fuel, did so much to add to the atmosphere of a speedway meeting.
---
Ray Todd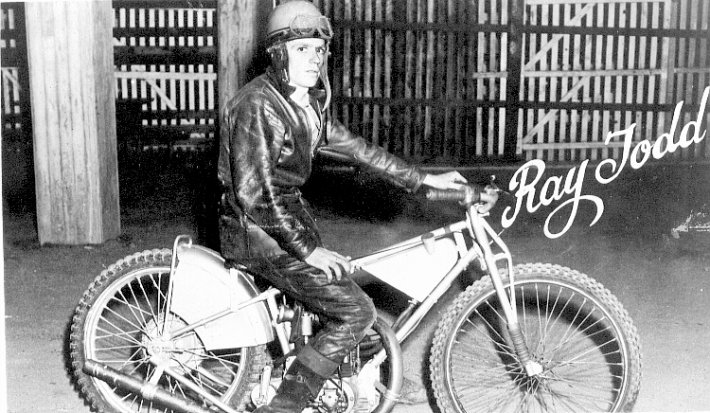 Were Ray and Les Todd brothers?
---
Keith Cox An Original Edinburgh Monarch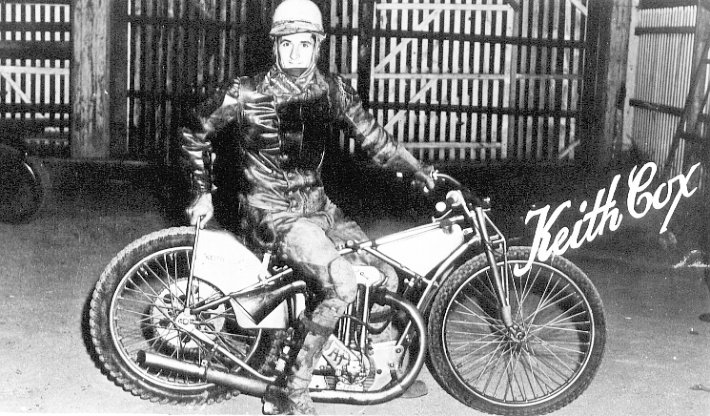 Tony Webb writes: -Keith Cox was a member of the original Edinburgh team of 1948. One question often asked by Monarchs fans, and which I put to Keith before he passed away last year, "why did you not return after such a promising debut year "? The answer was quite simple he had a wife and family in Brisbane to consider , he was then offered a good job with the PMG when he returned to home in late 1948, it was too good to pass up. He stayed with the department for 33 years. The offers from British speedway promoters still came in for several years but the temptation was resisted. He was able to work full time, ride interstate when the chances came, go fishing and enjoy his speedway and most of all his family. It was an ideal lifestyle.

Keith rode with the famous Ulysses motor cycle club of which was is a past President. His memories Meadowbank remained over the years, he recalled the warmth and hospitality of the folk in Scotland and his promoter Ian Hoskins and Frank Varey. He was originally earmarked for the Newcastle team, but instead joined the Monarchs where he had his first outing on April 24 1948. He remembered a workshop he shared under the Meadowbank stadium with Clem Mitchell and his team partners Dick Campbell, Dennis Parker, Eddie Lack. Bill Baird, Bill Maddern and Danny Lee. Keith had a good mechanical background from his mentor the former Sheffield star Andy Menzies. He proved to be a good team man scoring several bonus points. He rated Sheffield as being his favorite away track and recalled his amazment at his first sighting of the tiny Bristol circuit of 260 yards. In that first season he rode 24 league meetings scoring 52 points. His highlights were a second place in a Best pairs meeting at Edinburgh with his lifelong mate Keith Gurtner, a guest booking at the famous Wembley stadium and a personal best of 8 points from three rides in the Edinburgh win over Middlesboro in May 1948 when he capped a memorable night by winning the scratch final. His final UK meeting was at Fleetwood in October. His courage and determination was confirmed when he attempted an outside pass on wild man 'Farmer' Alec Grant, however what Keith did not know that 'Farmer' was blind in the right eye and that outside passes were not recommended and definitely not on his home track at Newcastle.

Keith was born in Pomano in Queensland in 1923, began speedway in Brisbane in 1946. As an all round motorcyclist he competed in several motorcycle sports throughout his career.

In Brisbane the exploits of the two Keiths, Gurtner and Cox are legendary speedway folklore, close friends off track, they even had adjoining homes on the fishing paradise of Moreton Island, but they were deadly rivals once the tapes rose. Keith retired in 1958. He represented Australia in 5 official test matches with an average that puts him second in the all time list of Australian test riders.

Although credited with only one Queensland state championship against arch rival Gurtie's 7 he is quick to point out that Gurtie won 5 of those after he [Keith] retired!! Keith returned to the track in Brisbane on his 70 th birthday aboard a Godden to set a time of 19 seconds, which was only 2 seconds below his times when he was at his peak.

Keith shared a passion with many Queenslanders for a greater recognition of Queensland's role in world speedway history which we hope will be addressed in time.

It was both an honour and a privilege to share some of speedways past with a speedway legend.
Rest in peace Keith
---
Dickie Smythe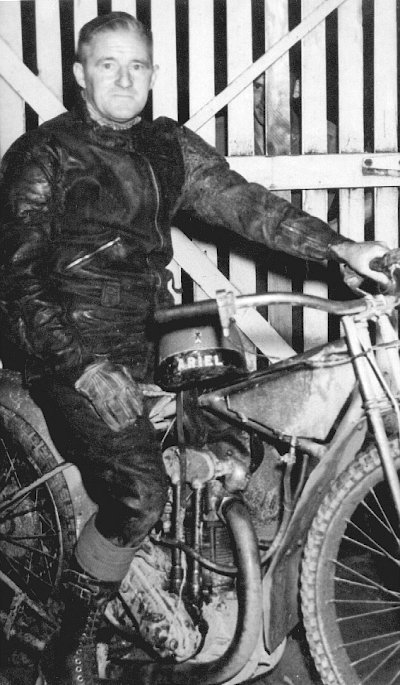 Dickie Smythe on a JAP so why does his helmet say Ariel, Ariel was another British bike company maybe he had an Ariel too?
Flying Dick Smythe
Tony Webb writes: Ekka favourite Dick Smythe was one of the original Queenslanders to travel to England in 1928, twenty years later he was still thrilling the crowds in Brisbane recording his best ever Test score in 1947/1948 season.
Dick was born at Ashgrove in Brisbane's West on 17/8/1907. The chief interest during his boyhood was not motorcycles, but horses, it was his firm intention to be a professional jockey. He was related to the famous Epsom trainer Victor Smythe Dick was an excellent horseman, his lightness coupled with unusual strength for his weight, would have stood him in good stead to be a jockey. His family were not in favour and it was into the family garage business he was guided. However the Smythe garage was used by all the speedway riders around Brisbane to tune and service their machines, therefore it was not long before the young Dick was looking to a career on the cinders.
By the time AJ Hunting had opened the Ekka in 1926 Dick had an AJS and along with his pal Vic Huxley he was ready to go. When speedway moved to the Davies Park track after a year, Dick was really showing some great form. He signed for International Speedways Ltd. and travelled to England with AJ Huntings party on the S.S.Oransay in March 1928.
By the time AJ Hunting had opened the Ekka in 1926 Dick had an AJS and along with his pal Vic Huxley he was ready to go. When speedway moved to the Davies Park track after a year, Dick was really showing some great form. He signed for International Speedways Ltd. and travelled to England with AJ Huntings party on the S.S.Oransay in March 1928.
Dick rode at the first ever meeting at White City on May 19, the next month he broke Frank Arthur's one lap record at the White City track, going on to claim the same record at Wimbledon and Kings Oak. By this time he was racing a Douglas machine instead of his old AJS, he returned to Brisbane to race where he remained until March 1931, during that period he also raced his fathers trotting horses as well as speedway.
In 1931 with his wife and brother as mechanic he boarded the S.S. Morreton Bay to return to England for a second season. He signed for Stamford Bridge remaining there until the end of 1932. He represented Australia twice in 1931 and every match of the five meeting series in 1932, the last match at Wembley drew a 70,000 attendance..Travelling back to Australia in the end of 1932 Dick rode in the Test matches at Claremont Perth, Adelaide, Melbourne and Sydney before reaching his home town.
Missing out the English 1933 season, his third voyage in 1935 saw him link up with the famous Wembley Lions, which was following by two years with the Harringay Racers, throughout his overseas career he was based with London clubs. The last two seasons saw him gain another two Australia caps at West Ham in 1936 and Southampton in 1937.
Returning to Australia he rode for Frank Arthur at the Sydney Royale, and at the Ekka meetings which were few and far between up till the out break of World War Two.
When speedway resumed in 1947 Dick was once more in action winning the coveted golden helmet and gaining selection for two matches in the 1947/1948 test matches. He scored his best ever tally of 12 points in the home team victory of 57-47 in Brisbane December 6. His final test appearance was 1949 series, finally hanging up his leathers in 1951
Dick worked for Australia Post after his retirement from racing in 1953 residing at Normanby, Brisbane. Away from racing his hobbies were reported as keeping goldfish and birds. He passed away suddenly in Brisbane 27/2/1967.age 59 leaving a wife and a daughter. He also left a lot of memories, as a one who thrilled his fans for many seasons and is a true pioneer of speedway.
---
Sig Schlam
At Claremont
1929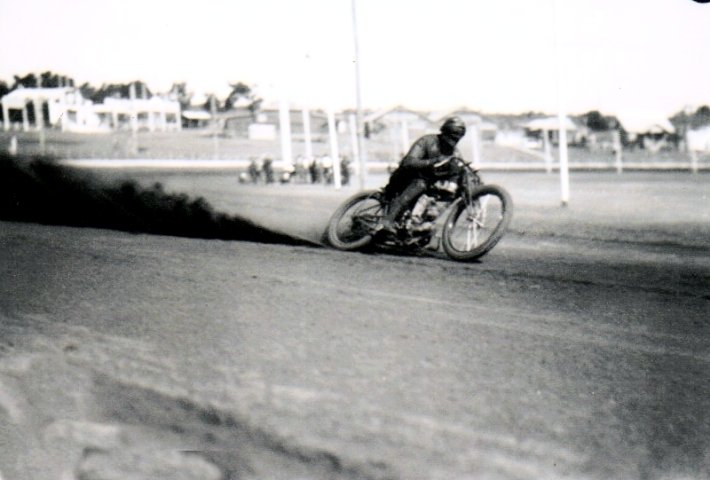 Sig Schlam at Claremont 1929. I have seen his forename spelt Cig. What a great photo, whether his name is sig or cig. The plume of dirt kicked up from the back wheel is amazing and is probably why modern bikes have dirt deflectors!
---
The Waddells
Jack Waddell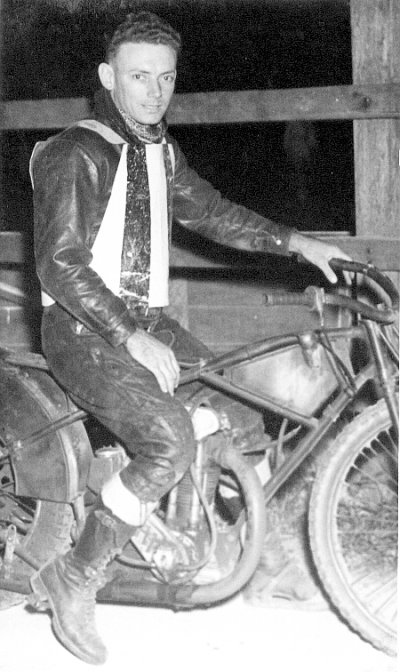 Bonnie Waddell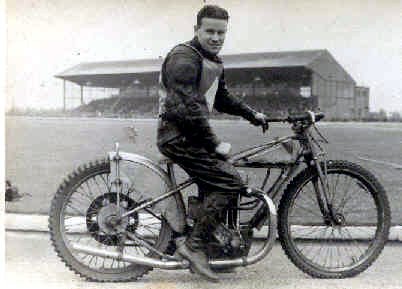 Bonnie Waddell the Newcastle Diamond at Brough Park
Jack & Bonnie Waddell
Jack and his brother Bonnie were two riders who played a great part in the establishment of speedway in Queensland in the post war period. The early programs spelt the surname Wardell and later it was changed to Waddell. They both started riding in the 1938/39 season at the Exhibition ground under A J Hunting. Originally from Toowoomba ,a town that produced many great speedway riders, the brothers rode until the mid 1950s. Bonnie went to UK in 1947 where he raced for three seasons and Jack spent most of his racing days in Queensland and New Zealand where he was a member of an Australian test team who toured New Zealand in 1949 scoring 6 points in the three match series
Jack Waddell commenced riding in the 1938/39 at Brisbane Exhibition ground he was an all round sportsman playing rugby league for Toowoomba on Sundays after racing at the EKKA the night before. Jack also rode in TT events at Kingston, Strathpine and Bardon with Keith Cox and the Braund brothers. In a tragic night at the Ekka on the first of May 1953 he received severe concussion when he was flung into the safety fence. Earlier in the evening Speedcar driver Curly Rylands of Maryborough lost his life when he was thrown from his car. Jack made a full recovery and achieved one of his career highlights the next season when he took out the 1954 Queensland Best pairs with Keith Cox Retirement came at the end of the 1958/1959 season on May 23 to be exact Jack passed away in February 2003
Bonnie Waddell's career followed a similar pattern to his brother Jack for the first season in 1946. Bonnie was also from Toowoomba, born in 1922, a motor mechanic by trade during the early part of 1947 he rode in Sydney with Keith Cox but had limited success. He was spotted by pioneer Brisbane rider Charlie Spinks who was contracted to the English Second Division team Newcastle Diamonds. Charlie signed Bonnie up for the legendary promoter Johnnie S Hoskins who was the boss man at the Newcastle track. Late in the 1946 season Bonnie had been a Telegraph Blue, a prestigious award by the popular Brisbane newspaper for services to motorcycling. Not only was Bonnie a very good motorcyclist and mechanic, he was also very dedicated to personal fitness and was active in many sports. Bonnie left Sydney in March 1947 aboard the Asturios, a former troop carrier, it was not first class travel, but in the company of Bat Byrnes, Ken le Breton, Keth Buck Ryan, Junior Bainbridge, Arthur Payne, Bill Harris, Mal Hodgson, Jack Baxter and Reg Challenger a great time was had by all. On arrival at Tilbury, Bonnie straightaway made the long journey up to the north east of England to join his team the Diamonds. Within 24 hours of arrival he was on the track for the match against Wigan Warriors, this was the 28th of April. In his first ride he finished last, then a third and finally an engine failure put paid to his debut. As he was on the track spare it was a creditable start
Mounted on his own machine he scored 4 at the tiny Bristol track the following week and then 2 at Birmingham the next evening

.

He went on to ride 26 meetings for the Diamonds in that first season; racing on 8 different tracks the length and breadth of England. His final score was 65 points and 12 bonus points, which are paid when you follow your partner home in 2nd or 3rd position.
The best meeting Bonnie had was a 7 paid 8 at home to Norwich stars who included fellow Queenslander Bert Spencer in their team Bonnies team mates for the season included the veteran Australian Doug McLachlan and the White Ghost Ken le Breton. After the long voyage home on the Strathden to Sydney and then by train to Brisbane, Bonnie commenced the 1947/48 Brisbane season. He represented Queensland in the match against an overseas select on November 22 scoring 3 in a Queensland's lowly 13 against a rampant overseas team 33. He was called up for the Test against England at the Ekka on December 6 scoring 3 points in the Australian 57-47 defeat of the Lions
Returning to England in April 1948 he was dismayed that his Newcastle promoter Johnny Hoskins had transferred him to Exeter in exchange for fellow Queenslander Keith Gurtner. Worse was to come as Exeter could not give him a team place. He was then loaned to West Country rivals the Plymouth Devils in the third division under Jimmy Baxters helm. Jimmy was to feature later in the year. On his debut at Pennycross he scored a handy 4 paid 6.
Team mates in that 1948 side included Pete Lansdale, grass tracker Ivan Kessel and fellow Brisbane based rider and frame maker Dave Hynes. A Speedway News report in May 1948 stated Bonnie had acquired one of the new Hynes speedway frames
In the next few months Bonnie rode at several tracks that were new to him, including Yarmouth, Wombell, Hastings, Tamworth, Hull and Cradley Heath. In July injury hit Exeter recalled him to the County ground. After two meetings for the Falcons drama struck when he turned up at Jimmy Baxters other track Southampton to ride for Exeter.
A heated exchange took place between Bonnie and Jimmy with the result that Bonnie loaded his bike and left the stadium. Press reports of the day state that he was paid not to ride and the matter was reported to the speedway control board. Reconciliation must have taken place as two days later he was back at the Southampton track once again in the Plymouth team. Then he scored a valuable 4 points for the Devils. Bonnie rode in all the Devil's fixtures up to the season's end on October 28. This was his best season with a total of 45 meetings.
Bonnie braved the British winter of 1948, working as a motor mechanic. He was prepared and ready for the tapes to go up on his third season in UK. He was back in Plymouth for the meeting of April 1st against Exeter. The team included George Wall, Alan Smith and Pete Robinson. Niggling injuries were too playing havoc with this last season in England and after 21 meetings he appeared no more in the Plymouth colours following the match at Tamworth on July 27. Prior to this he had only scored 1 point in his last 4 meetings.
There are reports that he won a Grasstrack championship after he finished at Plymouth but I have found no official confirmation of that. There are also reports that he rode at Long Eaton but as the Archers only held un-official meetings, again no evidence.
Back home again, his motorcycle business in Ann Street, Fortitude Valley became his primary interest, but he still continued to ride at the Ekka until 1956/57 season
In 1949 both Bonnie and Jack were members of a Queensland team that travelled to New South Wales for a series of matches. On October 28 they met a Royale team losing 10-38, Bonnie scoring 4 Jack 3. The next meeting at Parramatta resulted in a draw. The final match back at the Royale on November 4 the Queenslanders met a NSW side losing 13-35. Bonnie scored 1 Jack 2.
Bonnie received a cap for the Australian team at the Ekka on February 2 1952 when he contributed 3 points in the Australian side's 66-41 victory over the Lions

.

In 1953 he was centre of a Speedway riders strike for better pay, in his role as secretary of the Speedway Riders Group. This disrupted the 1953/54 season in Brisbane.
Bonnie is considered by some Exhibition ground observers as a very shrewd rider who would play the handicappers at their own game. He was careful, when his handicap was reduced not to take too much advantage with improved performances straightaway which would see him moved back again. He had the system worked out so at the end of the season his total points score was up with the best with the minimum of risk. Had he persevered in England he would possibly have emulated the careers of other great Queensland riders. Bonnie is believed to have passed away in the late 1980's
| | | | | |
| --- | --- | --- | --- | --- |
| Bonnie Waddell | | | | |
| 1947 | Newcastle | Division 2 | 26-65+12bp | |
| 1948 | Plymouth | | 43-124+24 | |
| 1948 | Exeter | Division 3 | 3-1 | |
| 1949 | Plymouth | | 25-39+ 5 bp | |
| 1951/52 | Australia | England | 1-3 | Brisbane |
| 1946 | Queensland | Title | 3rd | Brisbane |
| | | | | |
| | | | | |
| Jack Waddell | | | | |
| 1949 | Australia | N Z | 3-6pts | In N Z |
| 1953/54 | Queensland | Best pairs | 1st | Keith Cox |
| 1952/53 | Queensland | Best pairs | 3rd | C. Watson |
| | | | | |
---
Bill Jemison
1949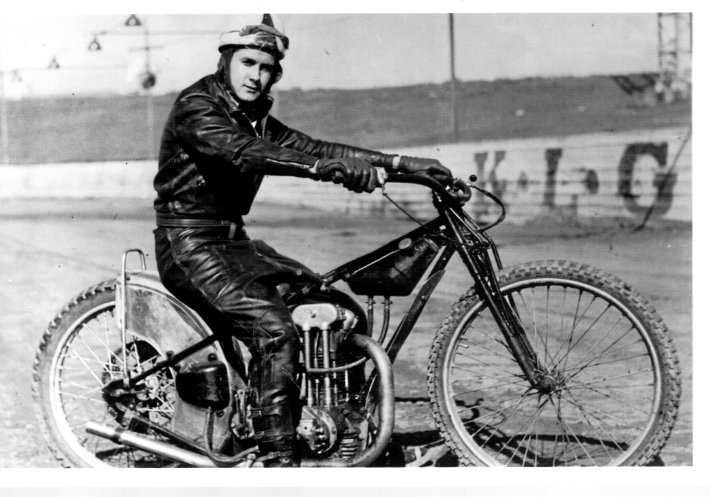 ---
Charlie Datson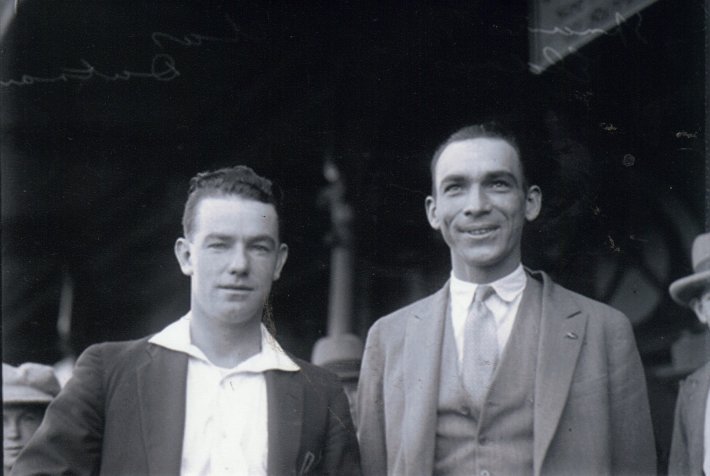 ---
Geordie Farmer
Alec Grant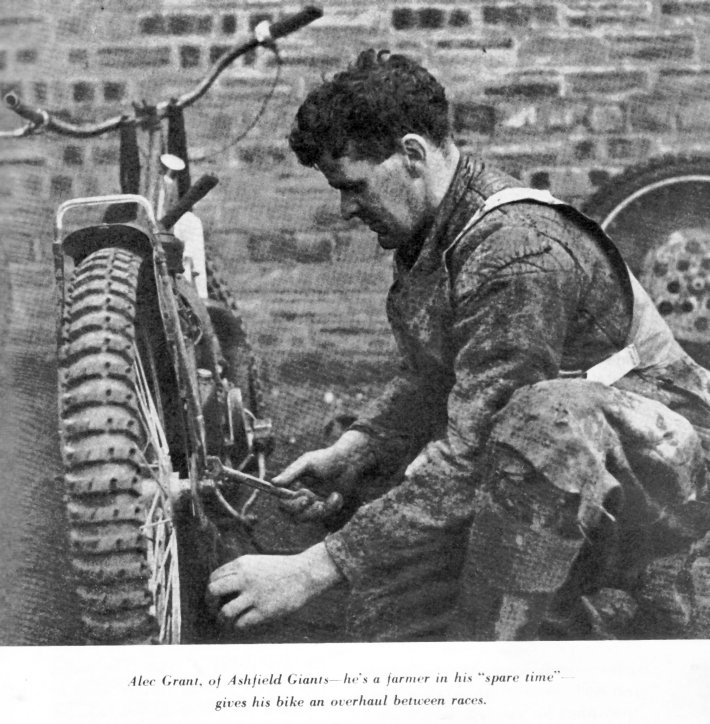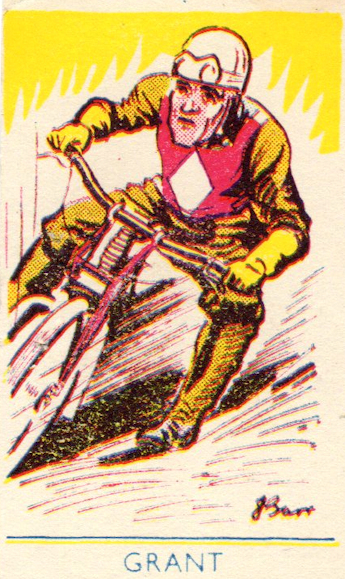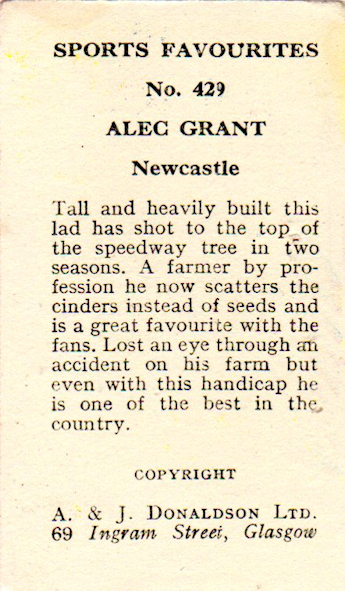 ---
Kevin Torpie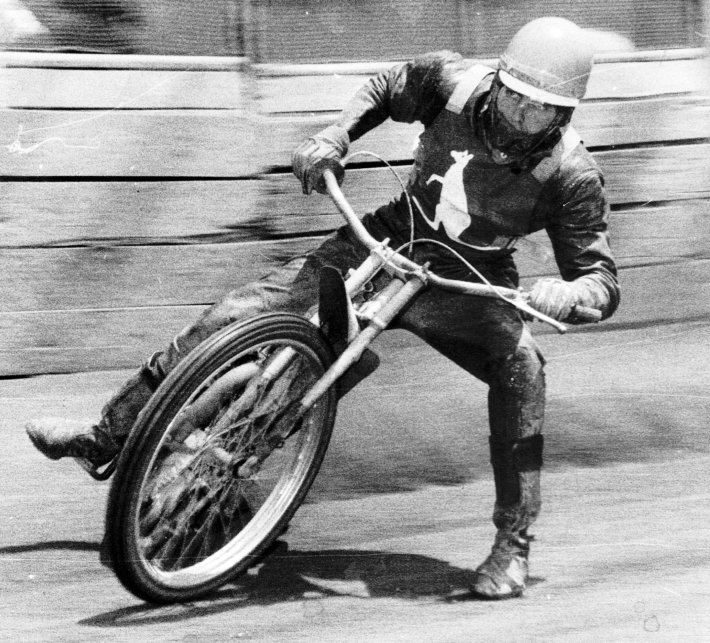 Kevin Torpie
---
John says: I asked Tony about the bikes used in Australia prior to Douglas and Rudge taking over.

Tony Webb says: Prior to the Douglas the AJS, Indian, Velocette, were all used around 1928. I am just looking at a 1926 programme the AJS was the most popular.
I have a book the A-Z of speedway bikes with details of over 80 bikes, I can supply photos of any make you need.
John says: I think we would all be interested to hear about the older bikes used on the 1920s dirt tracks. So Tony if you can tell us what bikes the Aussie pioneers were using please get in touch.
---
The contents of the site are © and should not be reproduced elsewhere for financial gain. The contributors to this site gave the pictures and information on that understanding. If anyone has any issue or objections to any items on the site please e-mail and I will amend or remove the item. Where possible credit has been given to the owner of each item.