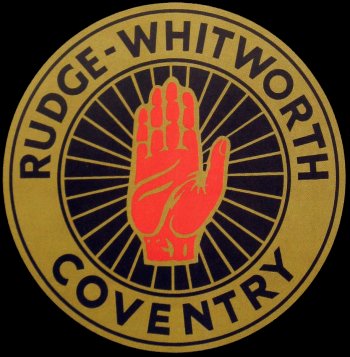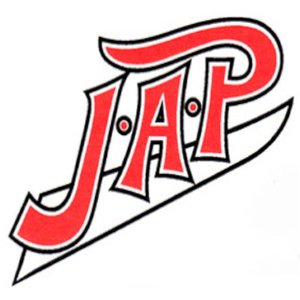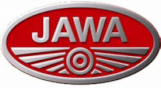 ---
Rye House

Speedway
Rye House Track 1: Hoddesdon Stadium, Rye Road, Hoddesdon, Hertfordshire. Action took place here between 1934-1957 although most meetings were sporadic "open" affairs usually for juniors. After the war, Australian rider Dicky Case ran most of what went on at Rye. He was the manager of a pub next door so he could keep an eye on the track.
This stadium (Track 1) became a popular go kart circuit. Rye House Kart Circuit is a kart circuit, in Hoddesdon, Hertfordshire, England, and is adjacent to the Rye House Stadium. The circuit is one of the oldest in the country, and has been used by drivers including Jenson Button, Anthony Davidson and Lewis Hamilton.
The Rye House Roosters
1955
Whilst wading through a pile of clippings which I thought were all going to be concerning Rye House Track 2, I came across this one: -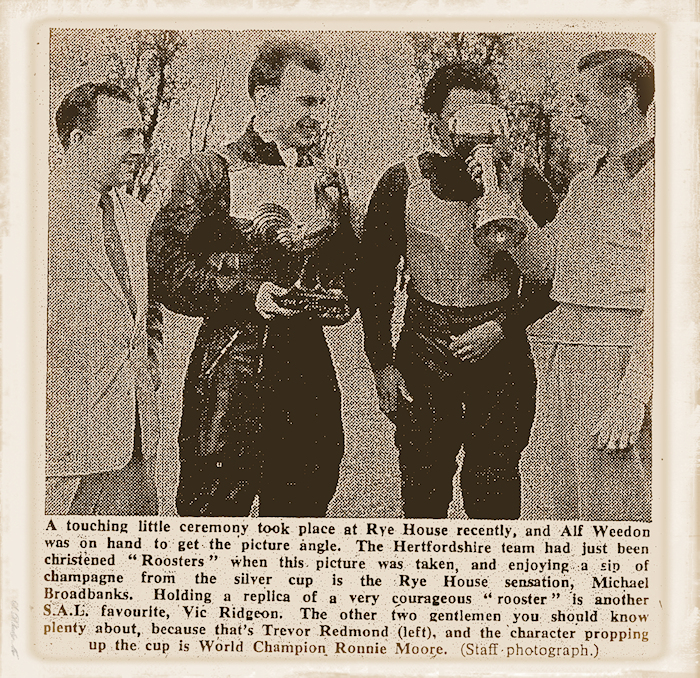 Courtesy of Graham Gleave
Rye House had the Roosters nickname in 1955, at their first venue and the photo caption says "Ronnie Moore was world champion" (He won the title in 1954 and 1959) so it appears this photo was taken in 1955 and so it becomes the only Rye House Track 1 item I have so far, unless some of the following items are from Track 1 also. So if you can put me right please email me here John
---
Dicky Case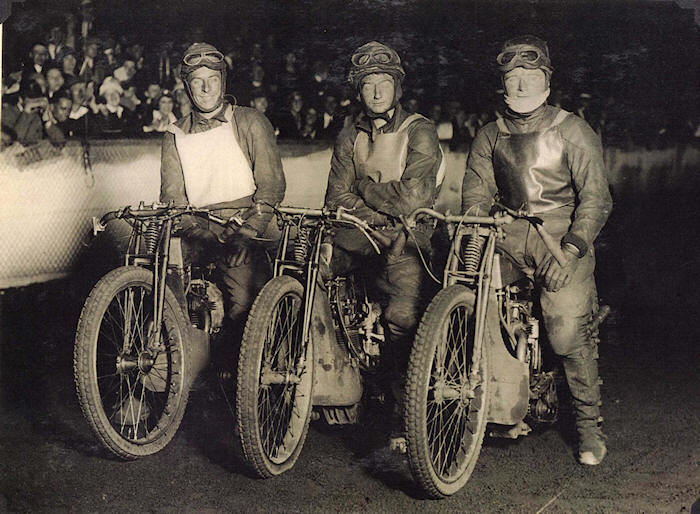 Courtesy of Reg Fearman
Vic Huxley, Dicky Case and Ray Tauser
Reg Fearman says: Another old photo of three very successful speedway riders in their day. Vic Huxley died 1982 age 76 and Dickie Case died 1980 aged 70 both from Queensland Australia and Ray Tauser Portland USA died 1981 aged 74. The photo is from the early years, probably 1932. Note the dropped handlebars with maybe an advance and retard lever, two machines have the exhaust pipe on the left side, all three upright engines. Note the thick left knee pad. Just before WW11 Dickie Case bought and went on to run the pub at Rye House and the original training track that produced many riders in the 1940s and 1950s, he died in Queensland.
John says: I blew up the photo a little and we can now read the fuel tank badges

Courtesy of John Skinner
If we can believe what we are seeing here, Huxley and Case are mounted on JAPs and Tauser is on a Rudge which explains his exhaust pipe on the left side. Although I am reasonably certain the photo features 2 JAPs and a Rudge it is possible that the tank badges are mis-leading us, engine swap overs were as common in the early 30s as they are today
---
Rye House Track 2:

Rye House Stadium, Rye Road, Hoddesdon, Hertfordshire, EN11 0EH. Following on from the closure of the first track in 1957, the second cicuit, (built over a stock car track) opened in 1958 and ran until 2018.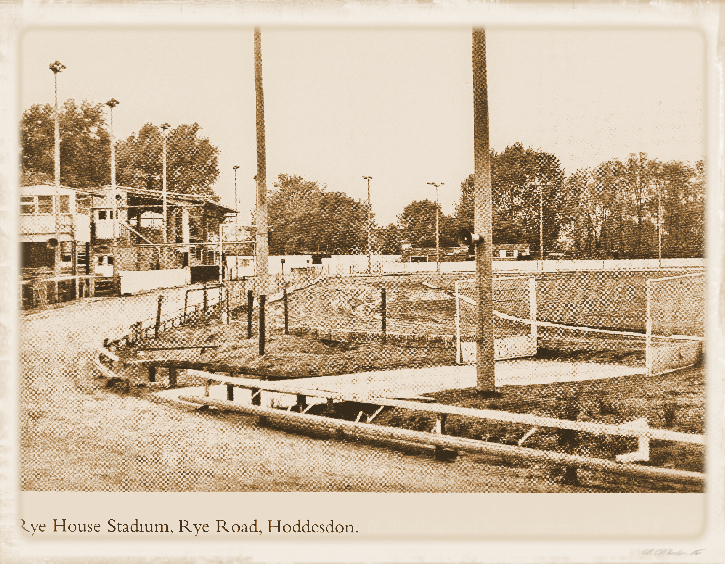 Courtesy of John Spoor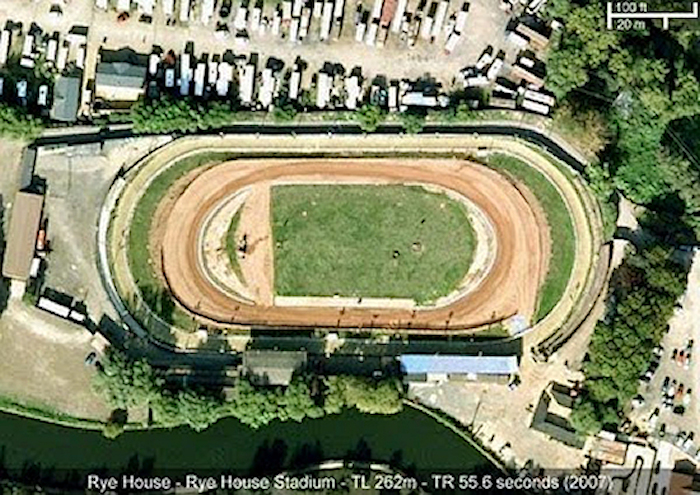 Courtesy of John Spoor
1959

Team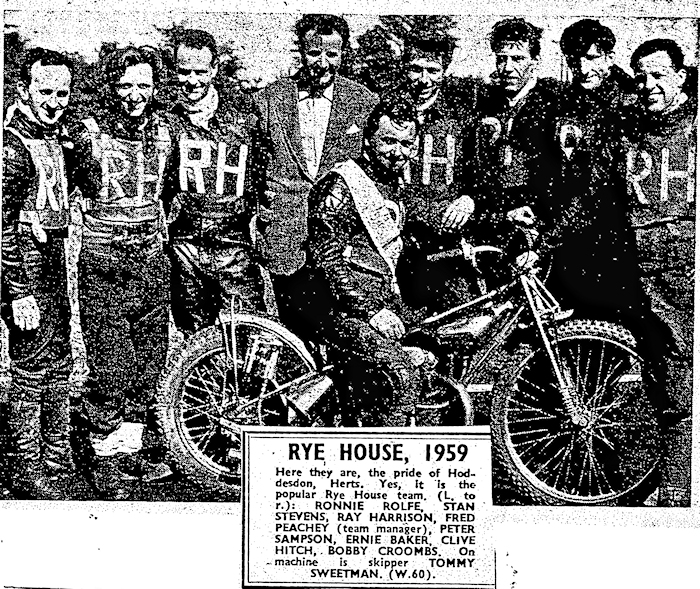 Courtesy of Graham Gleave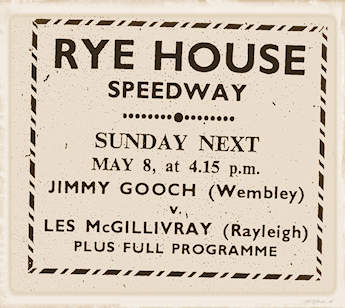 Courtesy of Graham Gleave
Another Early RH Line up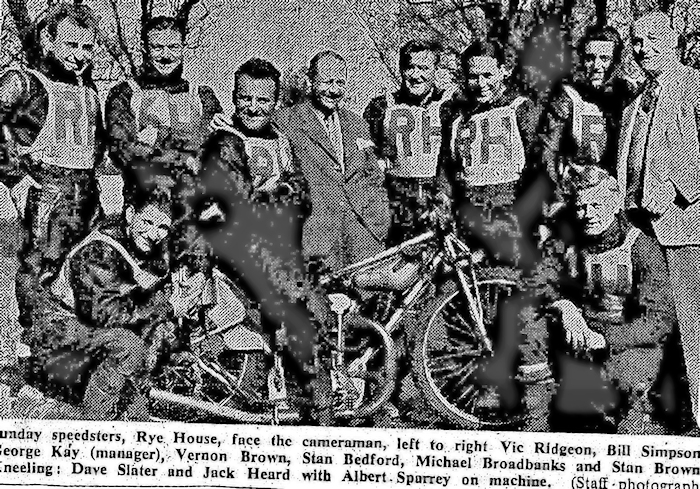 Courtesy of Graham Gleave
Michael Broadbanks 2nd from right was better known later on as Mike Broadbanks the red devil
---
The RH Red Devils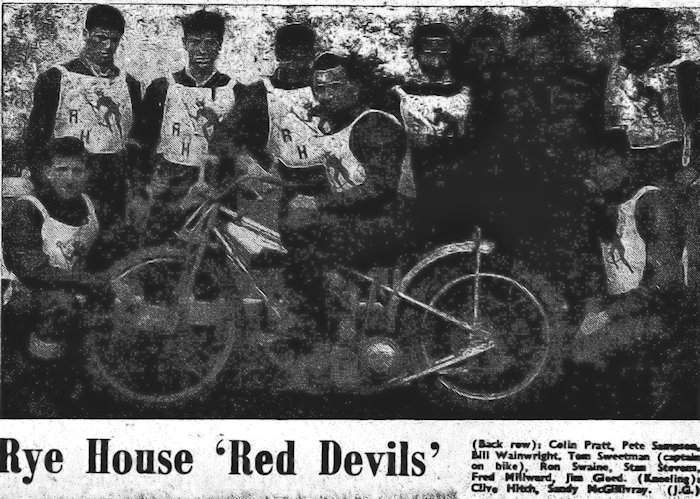 Courtesy of Graham Gleave
The team became "The Red Devils" in 1960 and changed to "The Rockets" from 1974
---
SAL Riders Championship Final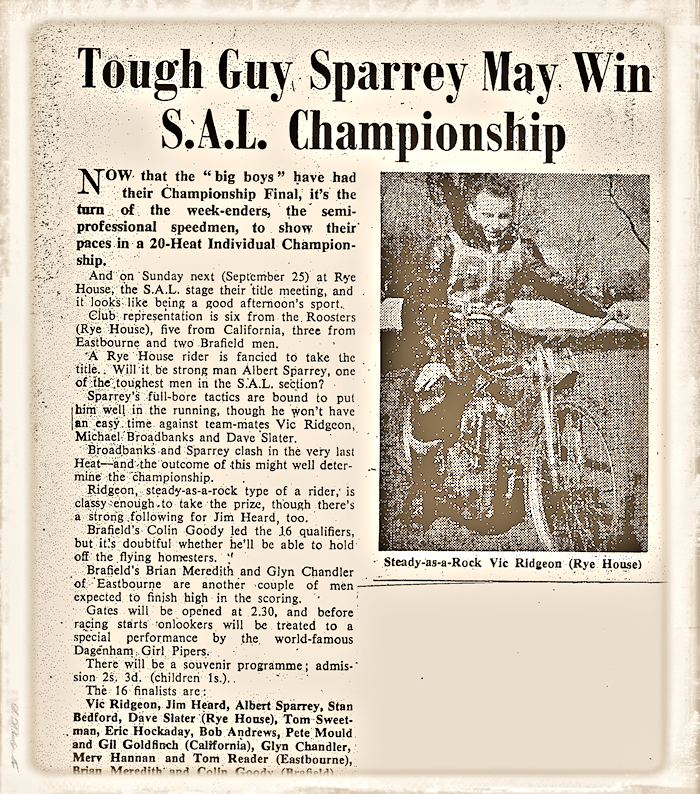 Courtesy of Graham Gleave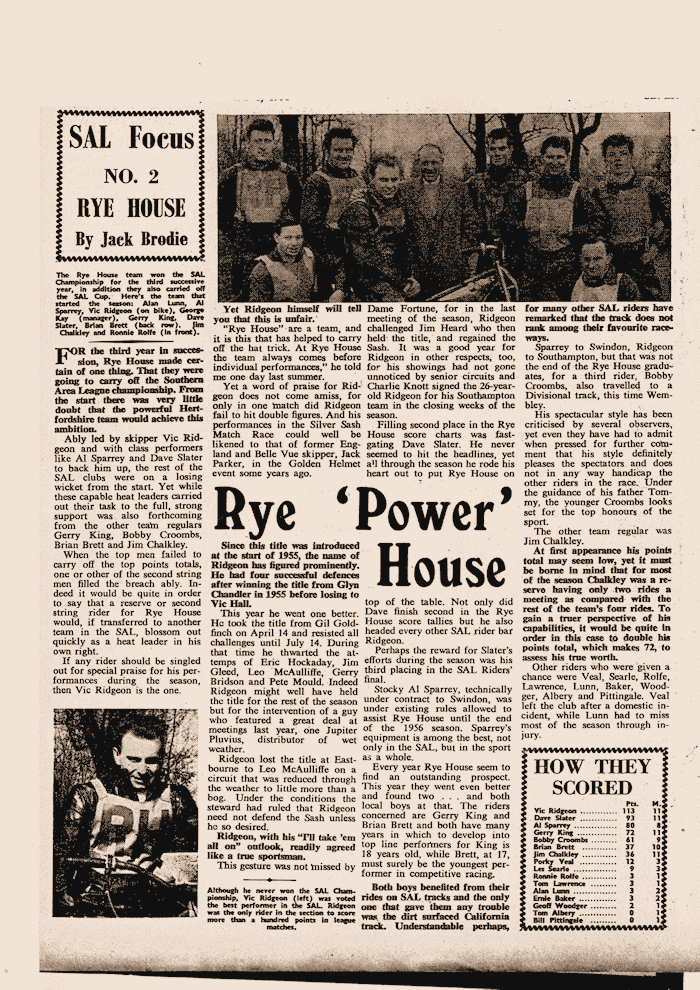 Courtesy of Graham Gleave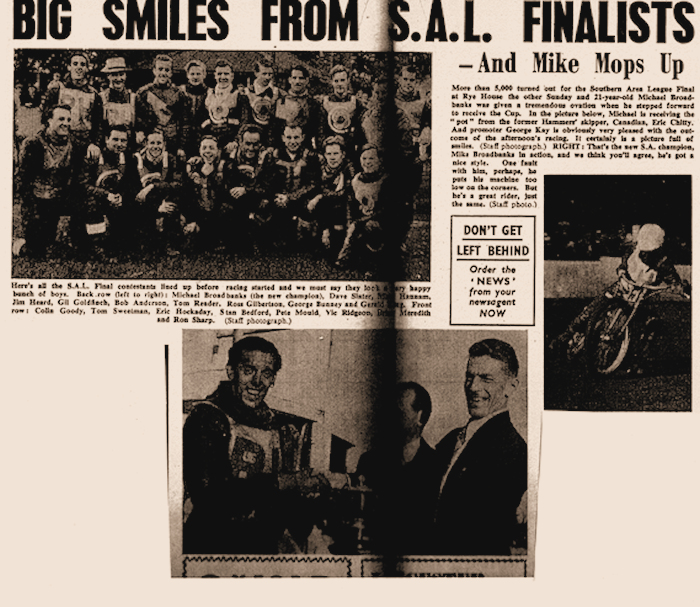 Courtesy of Graham Gleave
---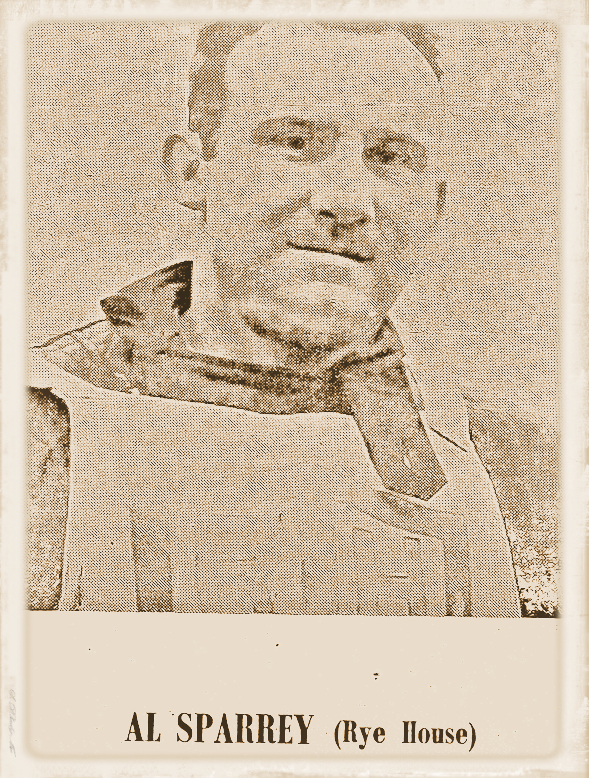 Courtesy of Graham Gleave
---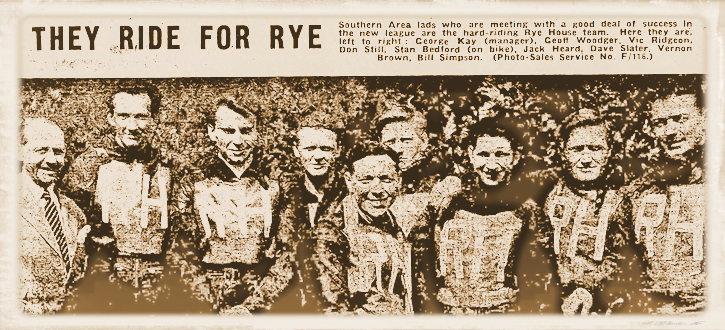 Courtesy of Graham Gleave
---
Rye House Match Reports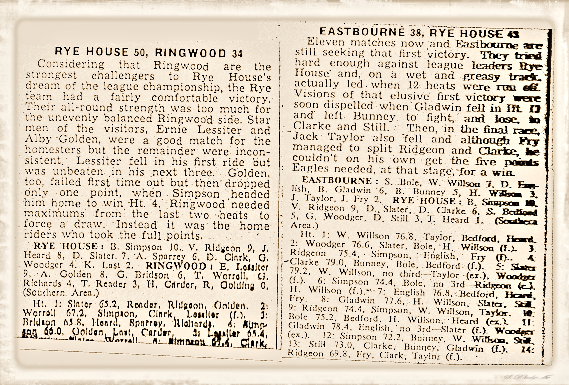 Courtesy of Graham Gleave
---
Another Rye House Team Photo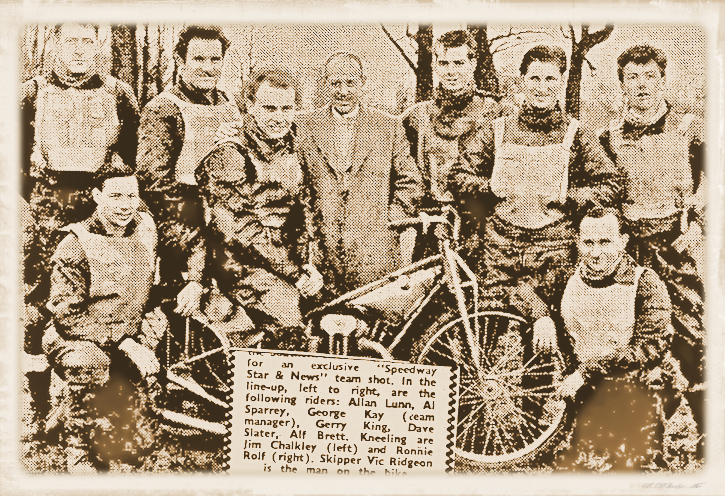 Courtesy of Graham Gleave
Looking for scans of items from 1934 to 2018 John I will then split the page between the two tracks
---
The contents of the site are © and should not be reproduced elsewhere for financial gain. The contributors to this site gave the pictures and information on that understanding. If anyone has any issue or objections to any items on the site please
e-mail
and I will amend or remove the item. Where possible credit has been given to the owner of each item