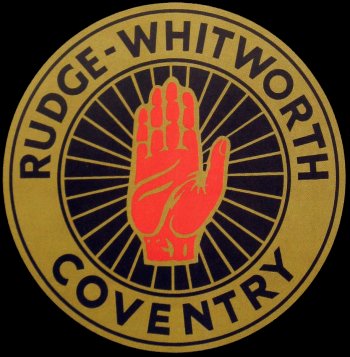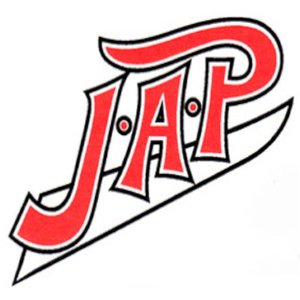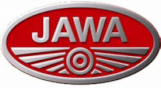 ---
Ringwood Speedway
(Matchams Park)
Matchams Park, Hurn Road, Ringwood, Hampshire.
Ringwood actually had 3 different circuits within Matchams Park they operated off and on between 1937 and 1993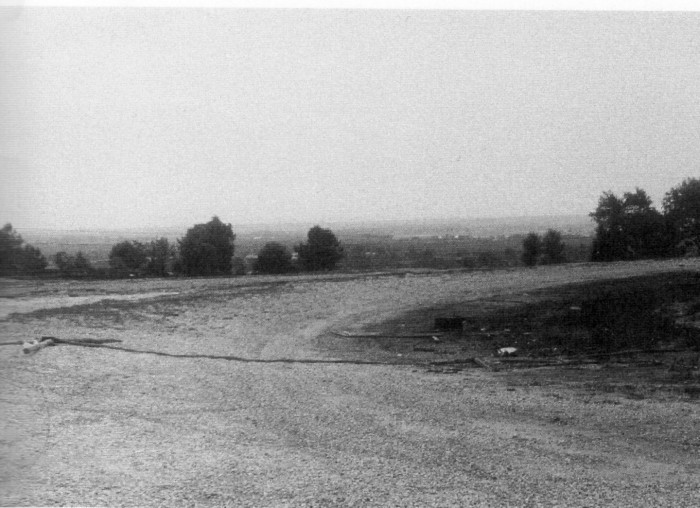 Courtesy of John Spoor
Ringwood circuit 1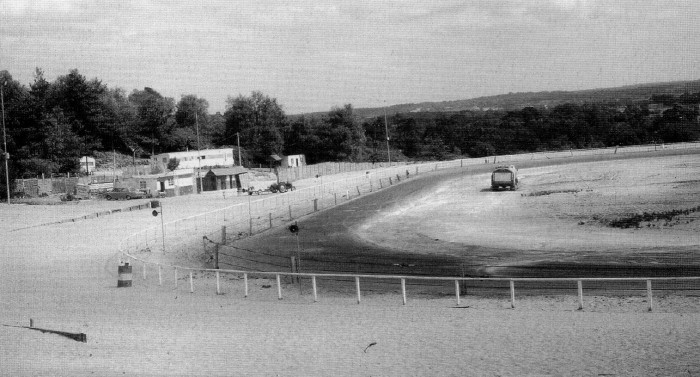 Courtesy of John Spoor
Ringwood circuit 2
John Skinner says: If you have any photos or memories of speedway/long track at Matchams Park please email me here: John
Ringwood Turfs Programme
1954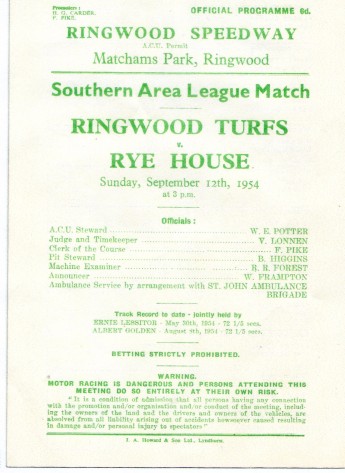 Courtesy of Graham Gleave
---
Ringwood Turfs Year Unknown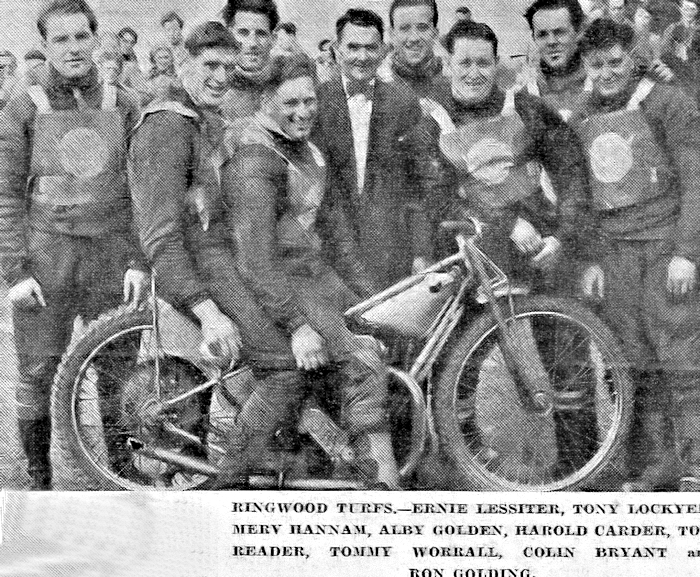 Courtesy of Graham Gleave
---
Ringwood Turfs
1954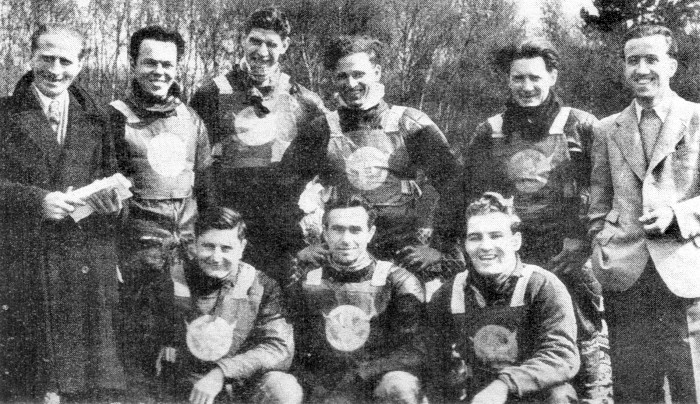 Courtesy of Graham Gleave and Speedway Star December 1954
Graham Gleave says: Rear: Colin Bryant, Tony Lockyear, Alby Golden, Ted Lewis and Merv Hannan Front row: Ron Golding, Gill Graham and Ernie Lessiter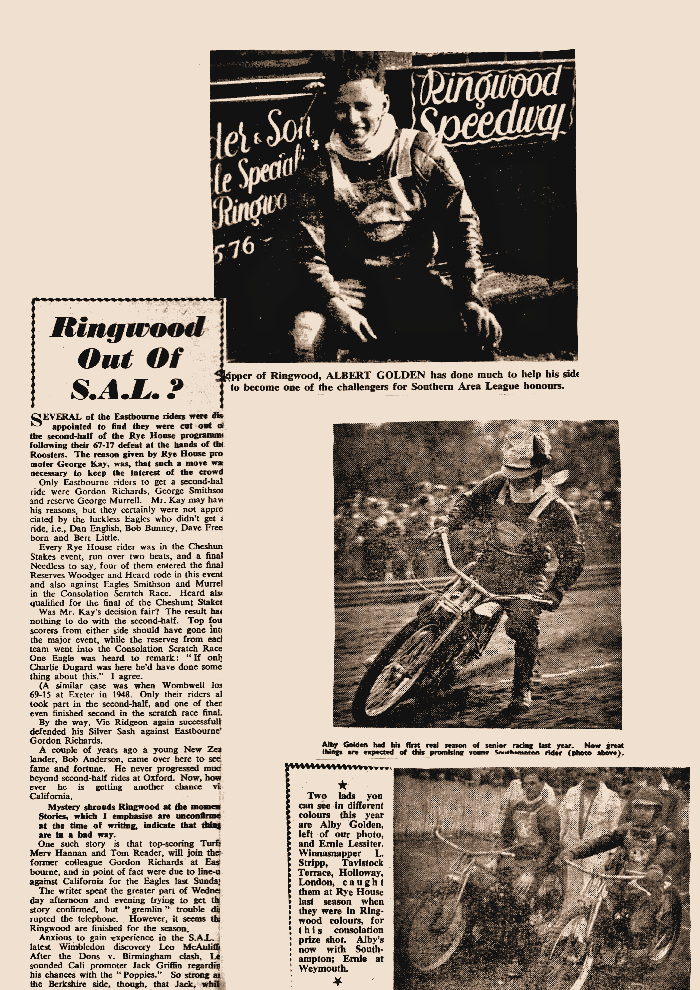 ---
Merv Hannan
Falling Gracefully!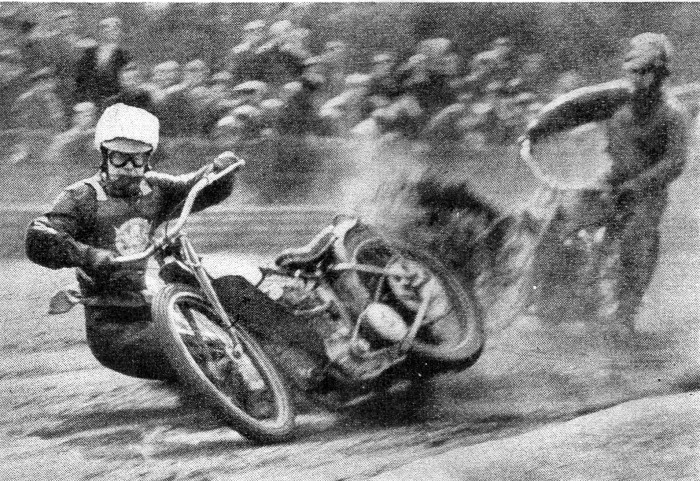 ---
Lee Dunton Says
Hi John,
Information about the Ringwood Speedway track or perhaps we should say tracks as it seems there were three different ones constructed at this venue known as Matchams Park after, it is said, the original Matchams House built by the brother in law of Viscount Horatio Nelson.
In chronological order -
In operation from 1937 to 1939 when the operation was closed for the duration of World War II and when hostilities ended Ringwood opened again in 1947 only to close for the final time at the end of 1947. During these two periods of speedway both open and training took place. It is thought that this track was behind an already existing stadium although to the best of my knowledge this stadium was not used for speedway at this time.
This track (number 2) was in operation for an extended period, opening in 1950 and not finally closing until 1993, although there was a protracted period of silence between 1956 and 1971. This track was constructed of red shale with a concrete starting grid and modern starting gate by Alf Elliott, the responsibility for speedway being in the hands of John Crutcher.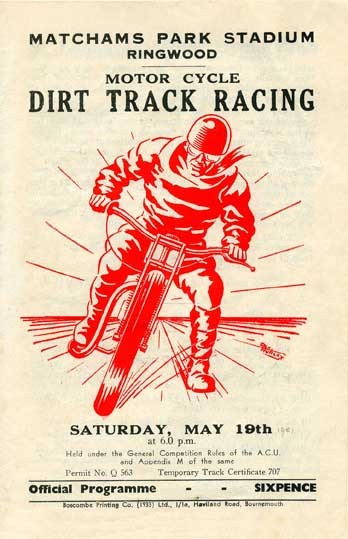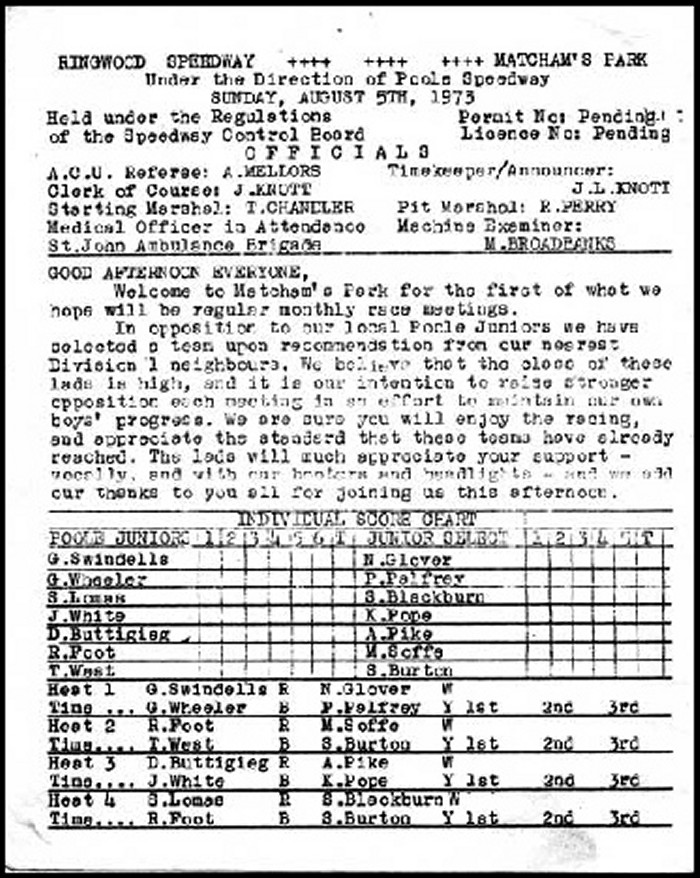 For some reason the sign at the end of the impressive long shrub lined drive leading to the venue stated that St Leonard's Training School lay this way. In August of 1950 the first midget car meeting was held, followed on Boxing Day by a speedway training session held, not by St Leonard as far as I know but I do know that a certain Brian Crutcher was one of those taking advantage of the track and the training at the very beginning of their careers.
Onto the speedway season of 1951 and the first meeting was held on May the 5
th
it was for the St. Leonard's Novices' Championship Training which was run under an open licence and open meeting continued until the end of the 1953 season. In 1954 a team from Ringwood, known as the Turfs, was entered in the Southern Area League, they completed that season and started the next in 1955 however after just 8 meetings they withdrew from the league, the last home meeting being held on the 22 May following this meeting the track was covered in tarmac and became the home to stock car racing. Do not know if this was cause or effect - did the track go to stock cars because the speedway withdrew or was it the other way round.
A speedway training track was laid within the stock car circuit in 1972 with schooling under the watchful and helpful eye of Mike Broadbent - meetings took place at the venue until 1974 most it seems were for juniors and novices and pupils from the speedway training school. The track was due to be opened again for the next 1974 season but the plan had to be dropped due to stadium redevelopment that was apparently outside the control of those concerned with the speedway.
The insert on the programme shown above, well sort of, it dates from the 5th August 1973 and is for a meeting run for the benefit of juniors and/or novices. The paragraph in the middle of the page explains the idea and reads -
GOOD AFTERNOON EVERYONE

Welcome to Matchams Park for the first of what we hope will be regular monthly race meetings. In opposition to our local Poole Juniors we have selected a team upon recommendation from our nearest Division 1 neighbours. We believe that the class of these lads is high, and it is our intention to raise stronger opposition each meeting in an effort to maintain our own boys' progress. We are sure you will enjoy the racing, and appreciate the standard that these teams have already reached, The lads will much appreciate your support - vocally, and with car hooters and headlights - and we add our thanks to you all for joining us this afternoon.
The riders for the Poole Juniors were - G Swindelle, G Wheeler, S Lomes, J White, D Buttigieg, R Foot and T West and the Junior Select Team - N Glover, P Pelfrey, S Blackburn, K Pope, A Pike, W Soffe and S Burton - how many do you recognise?
In 1988 Poole Speedway showed an interest in Matchams Park when representatives from Poole rebuilt the track for training purposes, Jeremy Doncaster ran a successful school at the venue during 1989 and 1990 and again on at least one occasion in 1993, this was the last time it was used, unless you know better?
A mini Long- Track appeared at Matchams Park in 1988, it was constructed with a sand surface and built outside the still existing stock car circuit. The opening meeting was held on the 23 June that year. Long- track meetings continued during this and the following four years until at the start of the 1993 season when the first meeting on the 13 March which was to have been between the Matchams and Rye House was cancelled following a tragic accident during a pre- match sidecar practice when passenger Peter Lain was fatally injured. The inner fence was blamed for this untimely death, whether by the coroner or hearsay I do not know but there was no further speedway at Matchams Park.
John says: Thank you Lee for this informative piece
---
If you can scan any pictures, programmes or badges send me an email John
---
The contents of the site are © and should not be reproduced elsewhere for financial gain. The contributors to this site gave the pictures and information on that understanding. If anyone has any issue or objections to any items on the site please
e-mail
and I will amend or remove the item. Where possible credit has been given to the owner of each item.