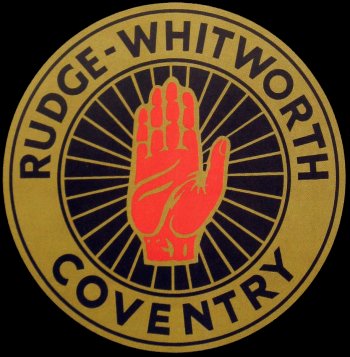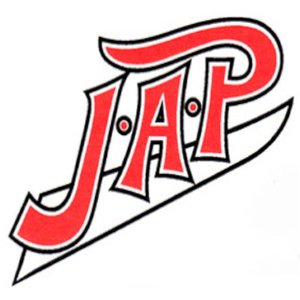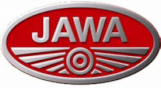 ---
Lea Bridge Speedway
Lea Bridge Stadium, Lea Bridge Road, Leyton, London. Operated between 1928 and 1939

John Hyam says: Clapton (Please refer to Lea Bridge). Clapton was an alternate name used by the team for some seasons in the early 1930s. There was also a Clapton Stadium but this only staged greyhound racing.
Clapton Orient Football Club played at the Lea Bridge Stadium between 1930 and 1937 before moving to Brisbane Road.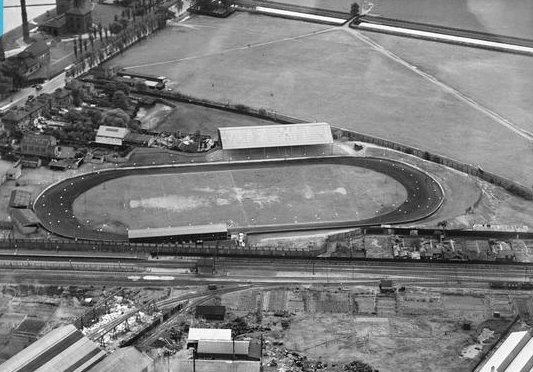 ---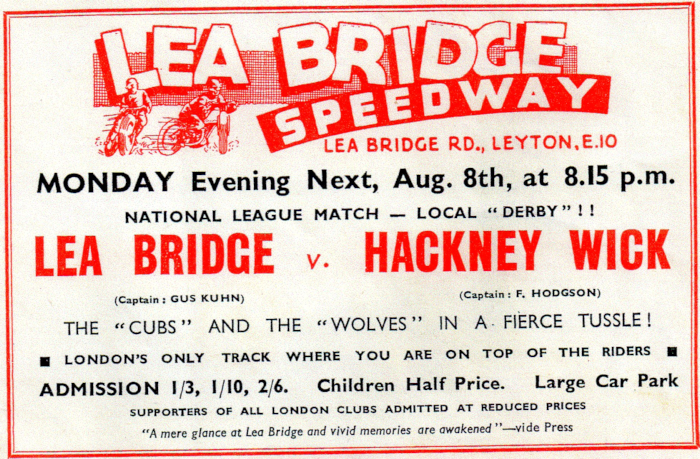 Courtesy of Graham Gleave
---
Jack Hughes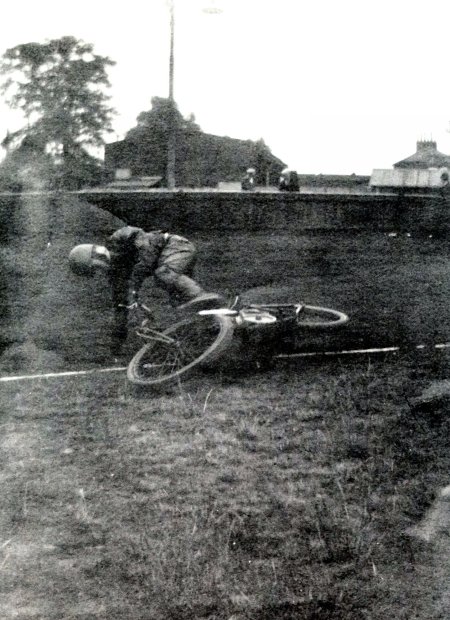 Courtesy of John Hughes
John Hughes has sent the above photograph he says: This is my Dad (Jack Hughes) falling off in May 1929 during practice at the Lea Bridge track. Unfortunately, I don't have any details of my Dads racing partner, Bill Hughes and I must find the programme showing a complete race meeting (with results). I cannot think it has been thrown away because it was one of the very few items that were precious to me so I have to find it. As I mentioned, I still have his helmet and goggles. Probably the helmet he was wearing when he came off. Dad was also known to ride the wall of death for the money!!.
John says: In the first half of the 20th century many speedway riders doubled their earnings by touring with the wall and loop of death fairground sideshows please see my Miscellaneous page 5 for pics of speedway riders riding the wall of death.
---
Jack & Alf Hughes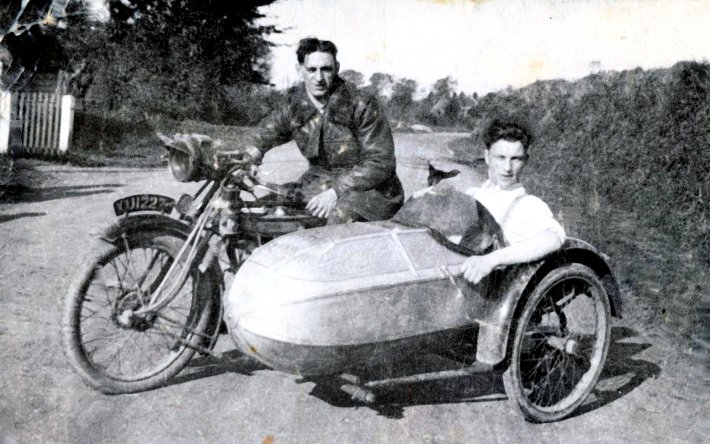 John Hughes says: Here is a picture of my Dad (Jack Hughes) and his brother Alf, taken in 1924. Think the dogs name was Rover!!!!. How much would the Norton be worth today?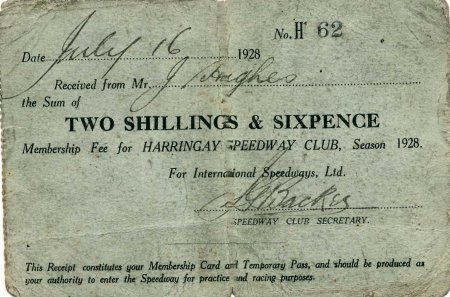 John Hughes says: This is a practice and race pass issued by Harringay to my Dad in 1928.
---
Phil Bishop &
Roger Frogley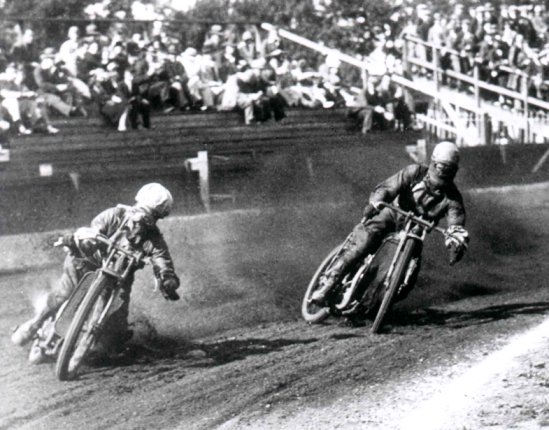 Courtesy of John Chaplin
---
Lea Bridge

Team

1931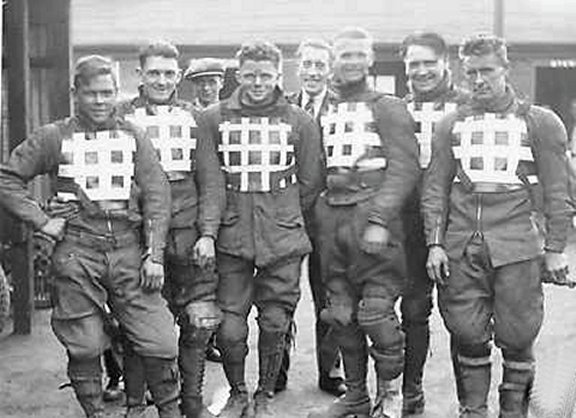 Lea Bridge 1931 can anyone name the riders?
John
.
The team was named The Saints and later the Cubs, so I am puzzled by the race jacket. It looks like a waffle!
Colin Greenwell has been in touch, he says: Wally Lloyd, Steve Langton, Dusty Haigh, Reg Stanley, Billy Lamont and Charlie Spinks. Thanks to the book. Speedway League Tables, Volume 2, by Maurice Jones
---
Clapton

1932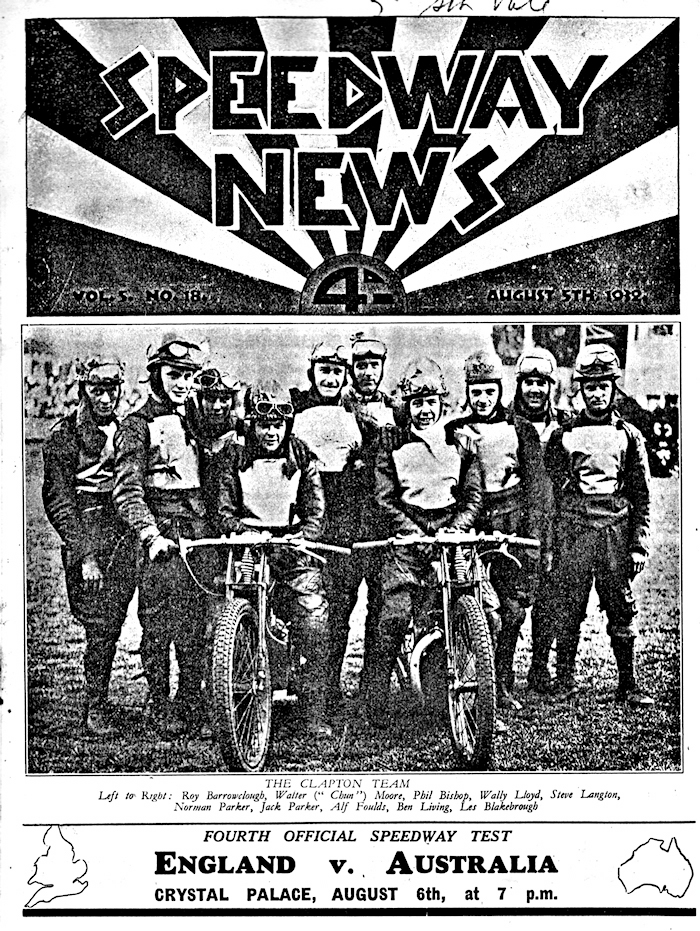 ---
Lea Bridge

1934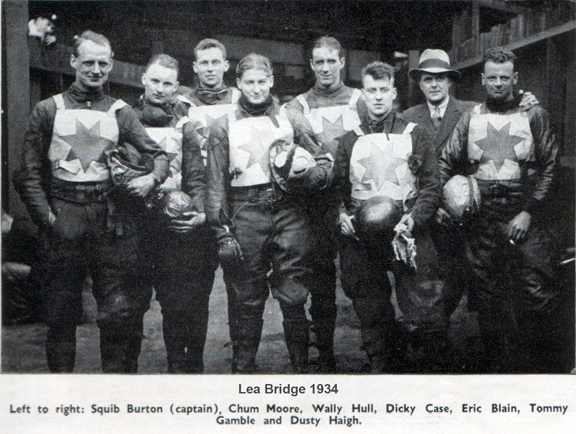 Another London track which staged midget cars as well as speedway and another team with a star motif on their race jackets, I know Lea Bridge were also called the saints and the cubs, so why the star?
---
Memories
Dear Mr Skinner, (John says: no need to be so formal). By chance I ran across the entry on Lea Bridge speedway. I was a great fan of Walthamstow Wolves during the 1950 season. I lived in nearby Leyton. During the summer that year I acquired my first bicycle and explored my immediate area. I remember tracking down the old Lea Bridge Stadium. There was still a lot to be seen. The cinder track was clearly visible all round and I walked on it. There were towers which had originally supported floodlights over the circuit which I estimated on my cycle speedometer to have been app 330 yards, the ruined pits area and terraces which were in a crumbling state. It was all very sad and depressing and I stayed for some time trying to imagine what it must have been like on a race night. It could never have been an attractive venue -totally unlike the Walthamstow Stadium. I read later that the track at Lea Bridge had last been used in September 1938 and the field in the centre had been used by Clapton Orient FC for some seasons until 1937-38 when the club removed to Brisbane Road. Speedway and football had subsidised each other at the Lea Bridge Stadium until the break up and when the football left, speedway soon petered out after one season. The parents of several boys in my class, also speedway fans, had memories of attending matches at Lea Bridge. Sometimes there were two fixtures in one evening ! One lad, Eric Long, produced a pile of Lea Bridge programmes, duly written up with heat results. Though some of the riders' names were familiar to us because they were still active on the track, I can't at this stage remember any of them. I don't think Lea Bridge were in Division One. I also rode out to High Beech and climbed trees to watch the racing which took place on Saturdays only. I think it was used for training and by amateurs by then.
Yours ever, Lionel King
More Memories: -
Hi John,
Delighted to receive your reply. Unfortunately and with shame, growing up almost in the stadium I do not have any material at all, only good memories. My Grandmother and Mother owned a café at the entrance to the ground. We had free admission to the track whenever, and when not at school I spent time in the pits running for tea for the riders and their mechanics,with their billy cans for a pennyworth of tea. If you recall the Greyhound pub was adjacent to the block of houses where we lived. I recall the film being made there with Gordon Harker " Britannia of Billingsgate"
When the Speedway ceased Harry Skirrow moved in with his midget cars. My Father then became the track foreman. I knew Harry quite well, and most of the drivers. One of our neighbours was also associated with Harringay as a result we knew many of the riders there, like the Parkers and Phil Bishop and others. At that time Clapton Orient played there also, when they left for Brisbane Road, Leyton Amateurs football club moved in. I became a ball boy, and recall cleaning the boots of Trevor Bailey and Sonny Amery who played for Essex and England.
When the track closed we were given the keys for more or less care. During the war 4 bombs landed in the stadium,two quite large and many incendiaries,which I recall with the local warden charging across the football pitch to extinguish.
When our house was bombed we moved to Walthamstow , and eventually to Hatfield. Venturing back to Lea Bridge road many years later I was shocked to find the stadium area completely changed to an industrial site.
So sorry I cannot be of any help for your web site in providing any photos.
If I can be of any further help please do not hesitate to contact me.
But your photo of the track thrilled me immensely for which I am truly grateful.
Pity my Brother is no longer with us, because he may have had some materials to interest you.
I now live in Finland at a ripe old age of 89, so the memory is a bit shaky .However thanks for bringing back childhood memories.
Best Regards
Freddie Brown
More Memories
My name is Peter Jackson and I was born at 481 Lea Bridge road in 1930. My grandparents had a builders yard at number 56 Lea Bridge Road at the time Beside the yard was a cinder path that led up to the speedway track When I was six years old I used to go up to the speedway and talk to the riders during practice. My nan would charge the spectators a penny for them to leave their bikes in the yard where I used to look after them. We visited Lea Bridge Road last week , it had certainly change from when I knew it and brought back many memories.
---
1934

Programme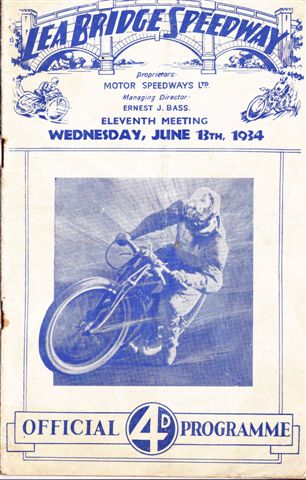 ---
Lea Bridge In Modern Times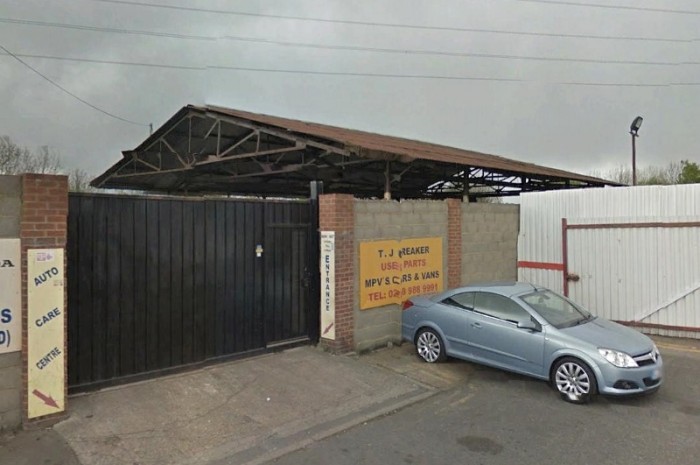 Courtesy of Rob McCaffrey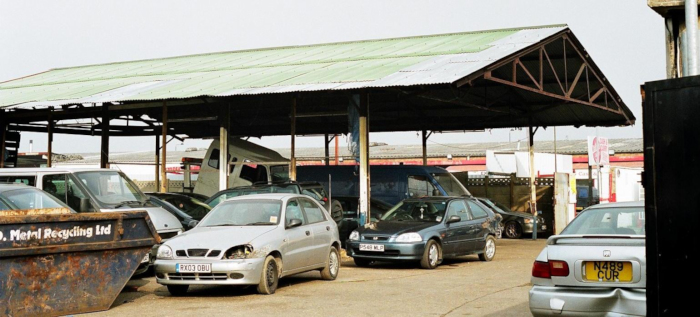 Courtesy of Garry Graham
This picture is of the other side of the gates shown in Rob Mccaffrey's photo. Lea Bridge speedway had become a breaker's yard
---
The Old Track Circa

1947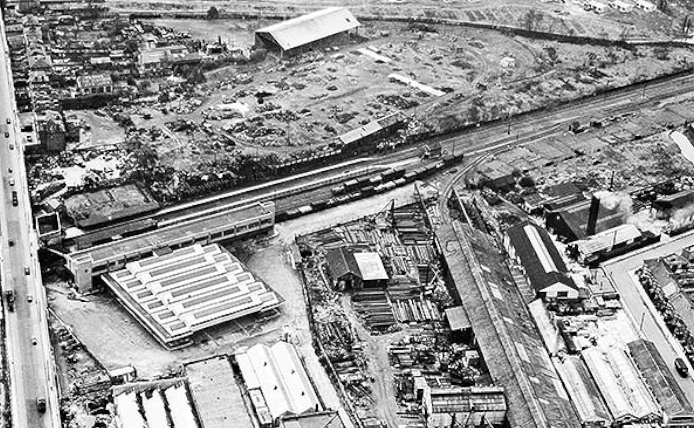 Courtesy of Garry Graham
The building at the top of the picture is the Lea Bridge grandstand which is there on the other but earlier, aerial shot at the head of this Lea Bridge page. Lea Bridge closed as a speedway track in 1939 and this photo was, I believe taken in 1947. You should be able to make out the faded oval outline between the grandstand and the railway line which cuts the photo in two
If you can scan any pictures, programmes or badges send me an email
John
---
The contents of the site are © and should not be reproduced elsewhere for financial gain. The contributors to this site gave the pictures and information on that understanding. If anyone has any issue or objections to any items on the site please
e-mail
and I will amend or remove the item. Where possible credit has been given to the owner of each item.