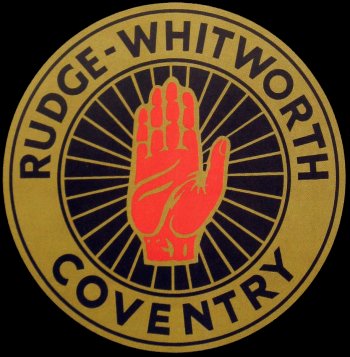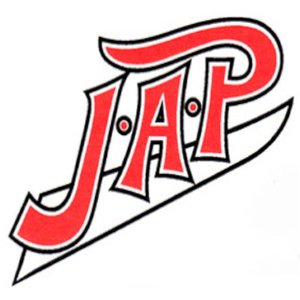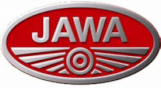 ---
Fleetwood Speedway
Highbury Avenue, Fleetwood, Lancashire operated 1948-1952. Fleetwood is just a few miles from Blackpool. I wonder how many Blackpool holiday patrons took the short ride to watch the Fleetwood speedway action?
Fleetwood's
Car Parking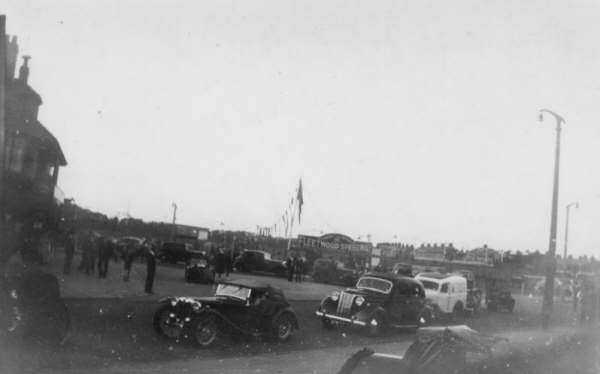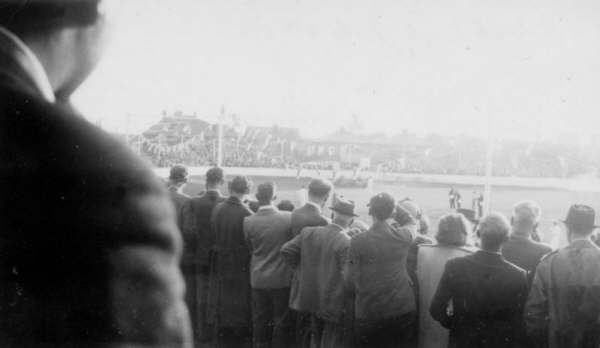 2 photographs courtesy of Custom House Kid.
2 pictures from Fleetwood taken between 1948 and 1952. The venue was short-lived. The top photo shows a very busy track entrance and what about those cars? They would be worth a fortune now.
The second photo shows steeply banked bends indicating fast and furious racing. Unfortunately the image was of too low resolution to enlarge and make out the riders. However, I hope you will agree that both pictures are worthy of inclusion on the site and show Fleetwood in a good light. The centre hasn't seen speedway since 1952 so come on someone make enquiries.
---
First Match
Fleetwood v Edinburgh
13th April 1948
Fleetwood's opener was a match against Edinburgh, programme below (courtesy of Mike Moseley) shows the riders taking part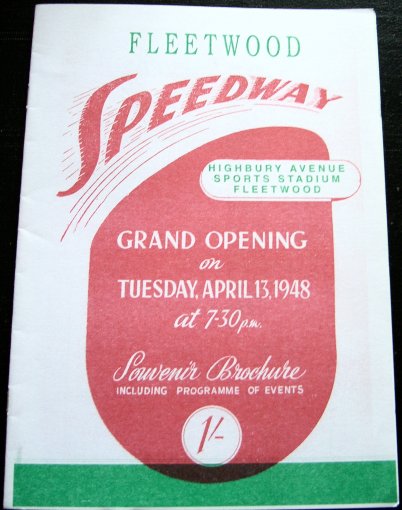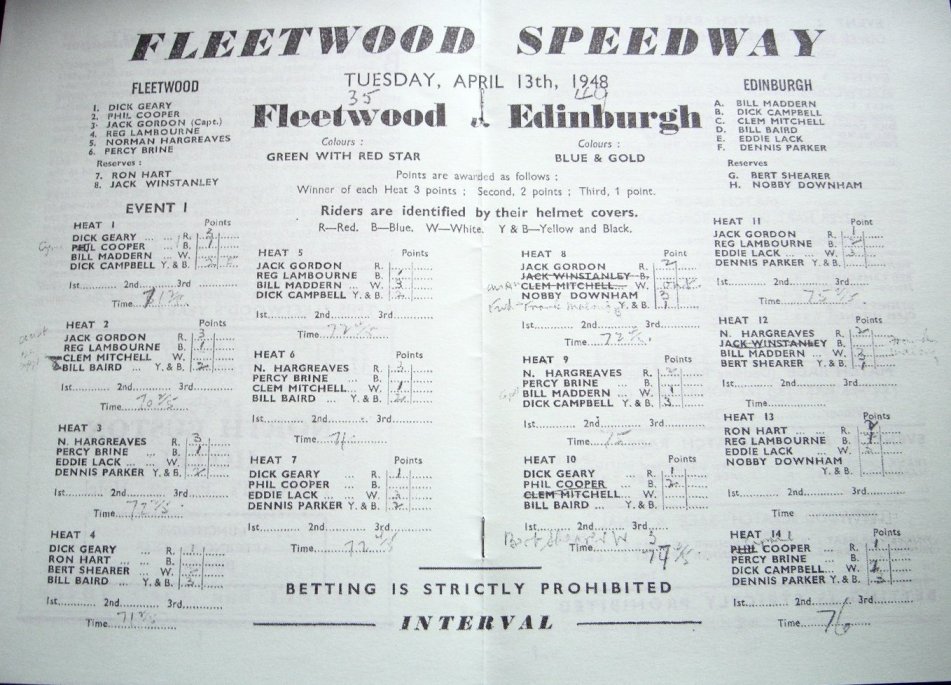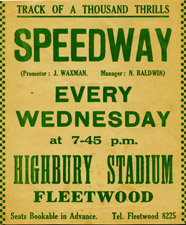 A Poster that appeared around the town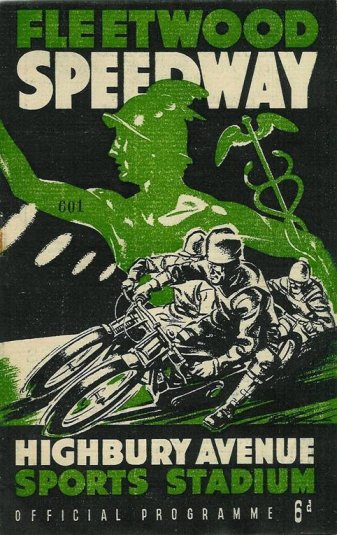 Courtesy of
Del Carruthers
---
Fleetwood Postcards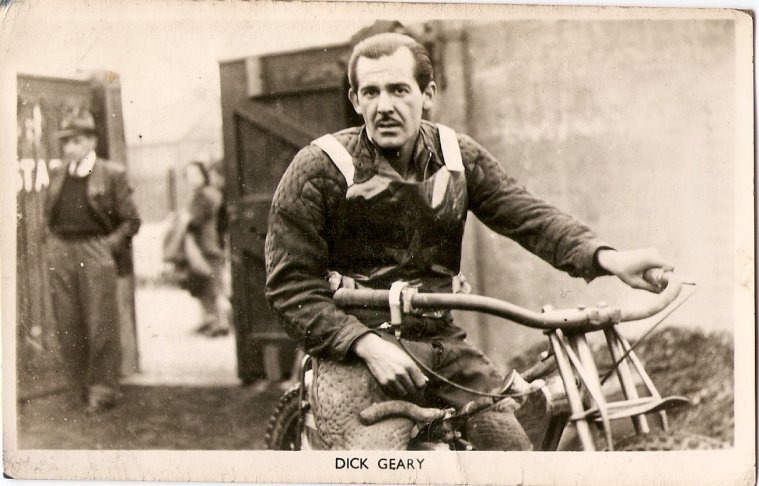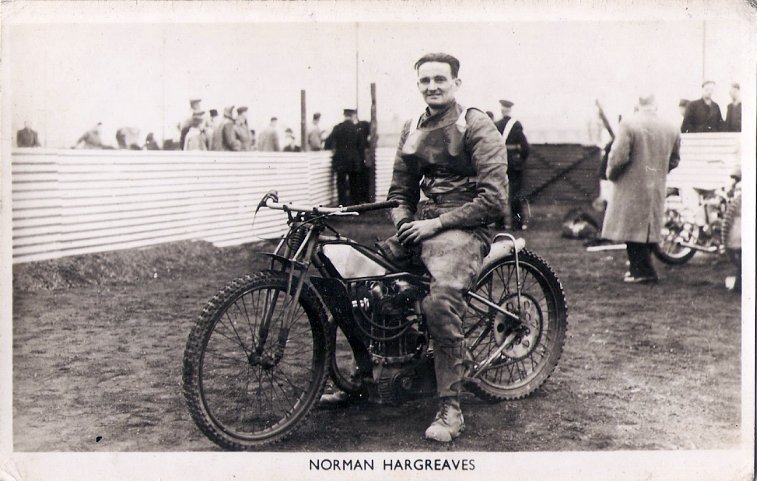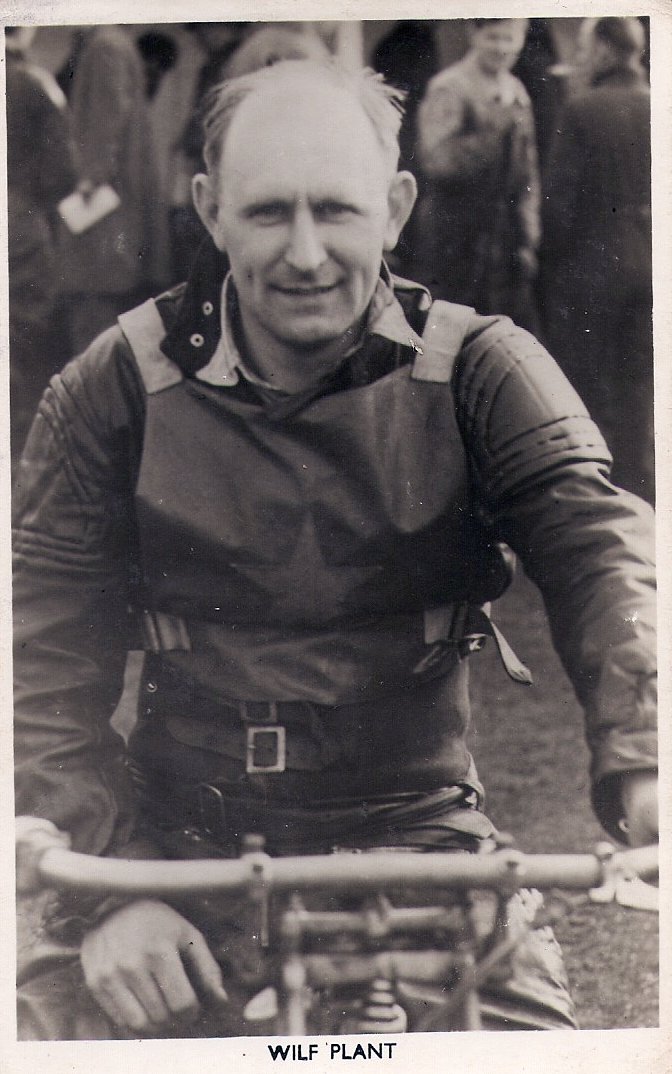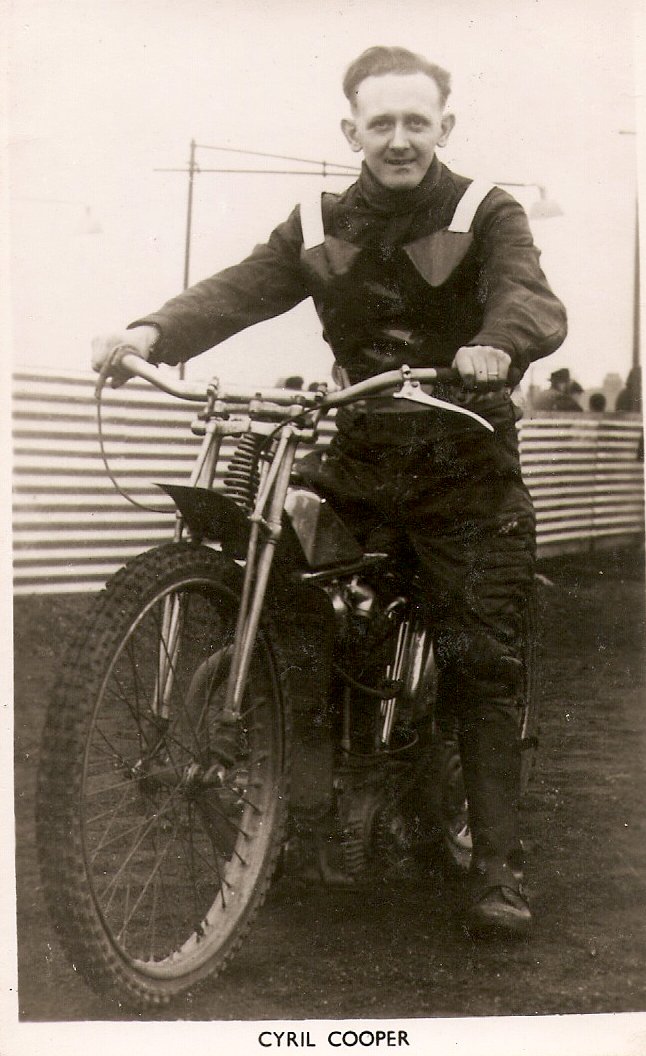 The above pictures (4) were sent by Ian Ormrod
---
The Speedway Reporter
1949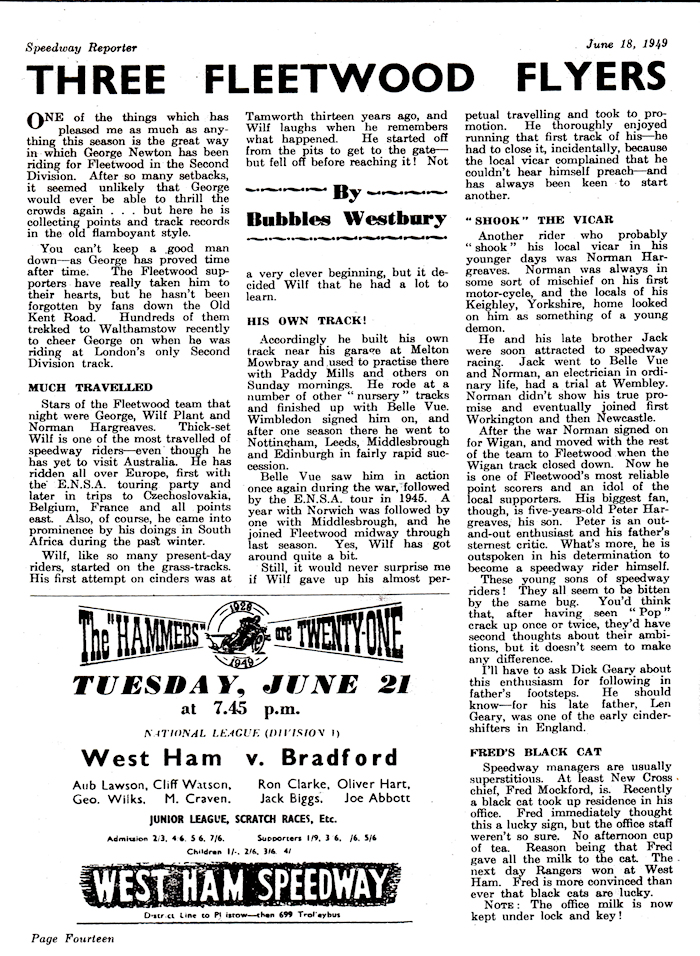 Courtesy of Graham Gleave
---
Fleetwood v Bristol

1949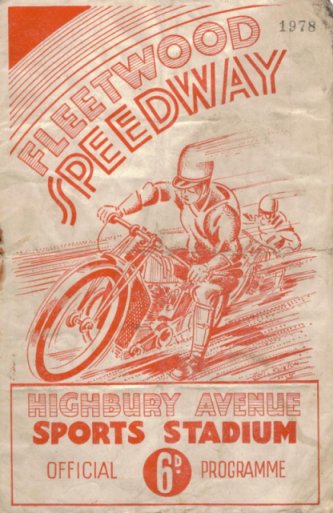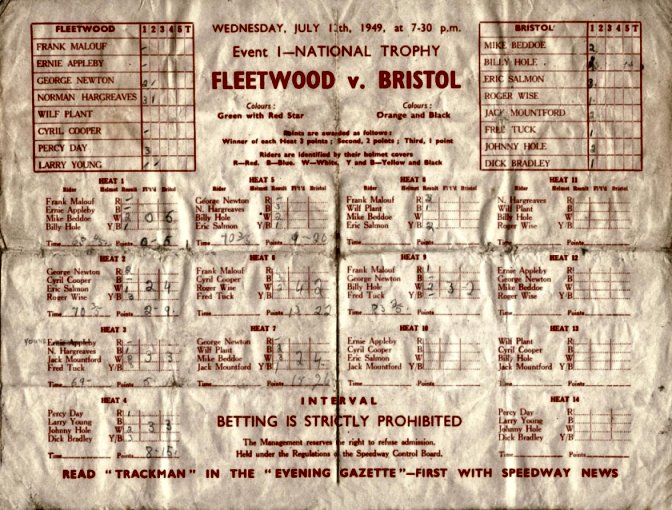 ---
Was It Fleetwood & Was It
Peter Craven?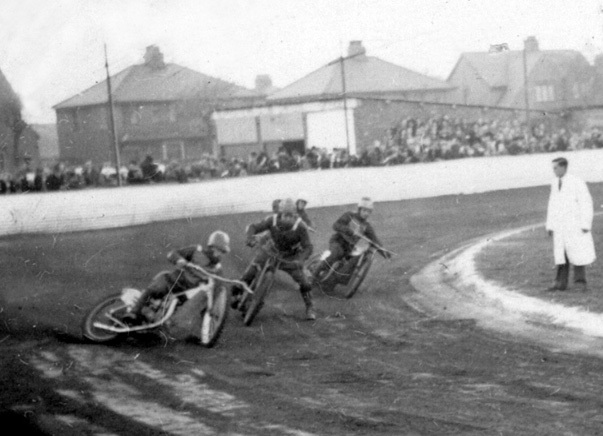 John says: Action from Fleetwood. Is this Peter Craven on the outside? Does anyone know the riders involved?
John
Jeff Crawford says: That is positively Cyril Cooper going round the outside and I'm 99% sure It's Don Potter in the centre. Reason I know, I took the Pic at the 2nd bend of the Fleetwood Track .in 1949
Jim Blanchard says: The rider going around the boards in this shot is almost certainly Peter Craven. He rode for Liverpool in 1951 and 1952. I am not sure if the track is Fleetwood or Liverpool as I am not familiar with either of them to be fair so it could be Fleetwood.
John says: I can see why you think the guy on the outside is the spectacular Peter Craven. That is what I thought when I first saw the photo. The heat appears to be a home 5-1 so maybe it is at Liverpool and not Fleetwood. Will we ever know for certain?
Reg Fearman says:- The track is not Liverpool as Liverpool had a chain link fence and I am sure that it is not Peter Craven on the outside.
*******
Jim Blanchard has been back in touch saying: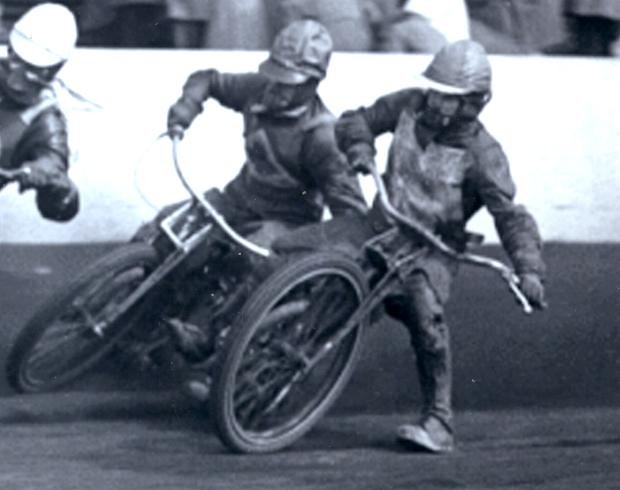 I noticed that in 'your name the rider' section Reg Fearman does not think that the rider on the outside at Fleetwood is Peter Craven. I recently came across this photo which is definitely Peter Craven at Hyde Road. If you look at all the various reference points; The size of the rider, helmet, scarf, size and shape of the handlebars, leathers etc its very much similar to the rider in question.
What race jacket PC has on in this shot though is difficult to ascertain as its clearly Hyde Road - so it must be Belle Vue he is riding for.
********
John says: So any other bids on whether this is PC or not. Reg is very knowledgeable but not infallible (who is)
Alan Jay has been in touch, he says: I believe that the rider who you believe to be Peter Craven at Fleetwood on the outside is actually my father Wilf Jay, due to riding style.

John says: Cannot disagree with you Alan. Your dad had a spectacular riding style as did Peter

Alan Goodman says: also more on the Peter Craven picture. I think it is PC riding for Fleetwood. The home colours of red and green looked plain in black and white photography. The track is Fleetwood - I went there once and I think the opposition was Sheffield as the rider on the inside looks very much like Len Williams.
---
Speedway Echo

1950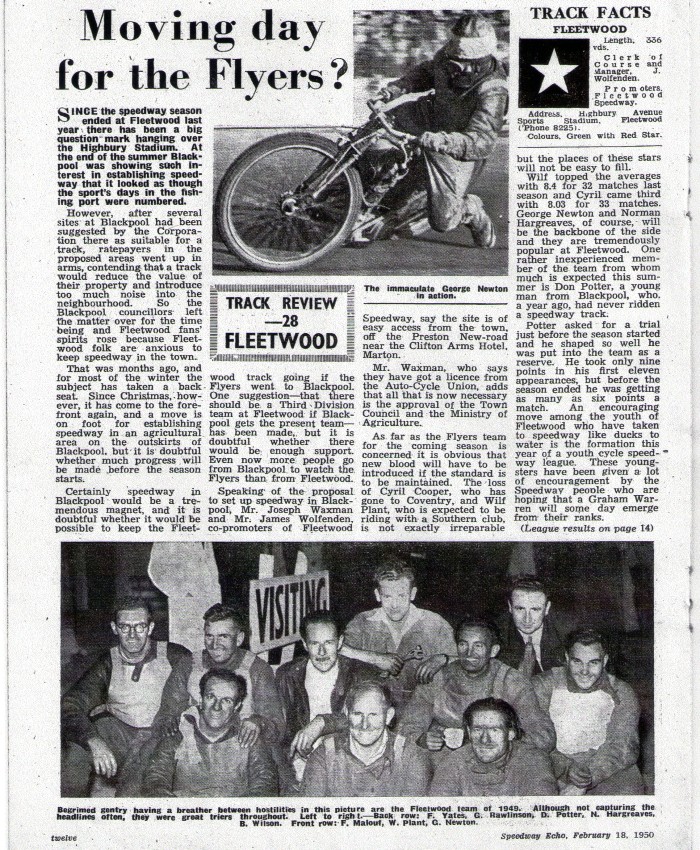 Courtesy of Graham Gleave
---
Don Potter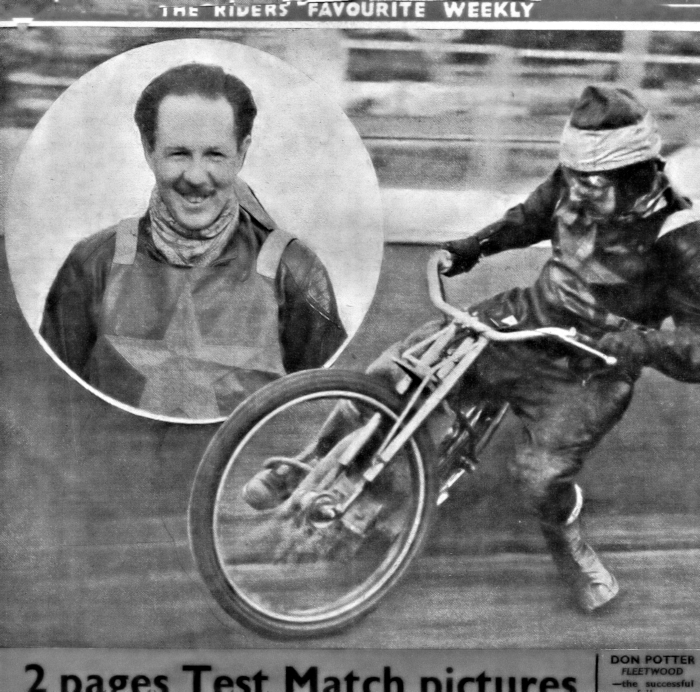 ---
Fleetwood Match Reports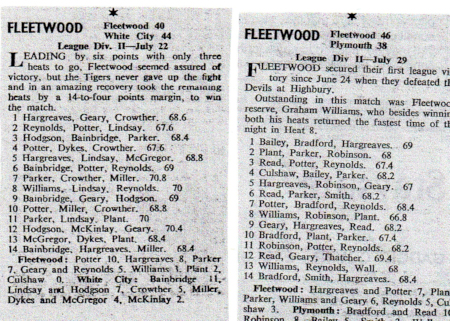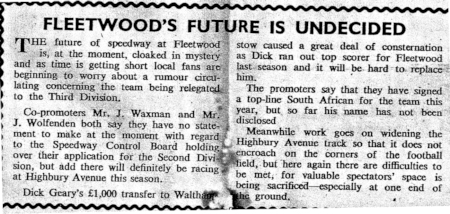 ---
Fleetwood Flyers

1951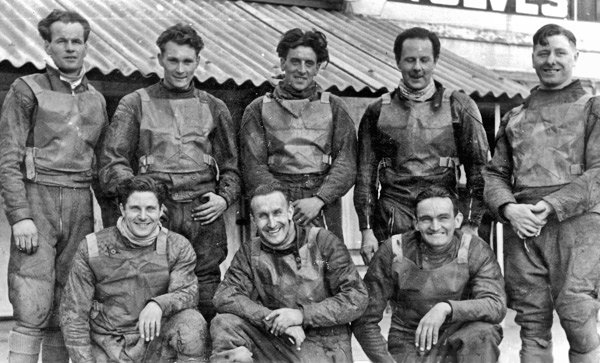 1951 Fleetwood Flyers. Back row. Angus McGuire, Russ Pursehouse, Ray Harker, Don Potter, Alf Parker.
Front Row. Jeff Crawford, Wilf Jay, Norm Hargreaves. Fleetwood had two nicknames "The Flyers" and "The Knights" so how come the race jackets shown above have stars on them? Ray Harker centre back has a great hairstyle for 1951
---
Russ Pursehouse
Wall of Death & Speedway
Kathryn Danzey (nee Pursehouse) sent me some pics of her dad: - Russ Pursehouse. He rode speedway at Fleetwood Lancs and was also a top Wall of Death rider. Kathryn has sent me 8 pictures of her dad, which I am happy to show below. As a boy I was fascinated by the wall of death when it appeared once a year, in my home town, Newcastle upon Tyne. The "Show" that came to Newcastle every year during my childhood had two old bikes, Red 1920s Indians, I think?
So here we go with pics of Russ Pursehouse (Kathryn's dad)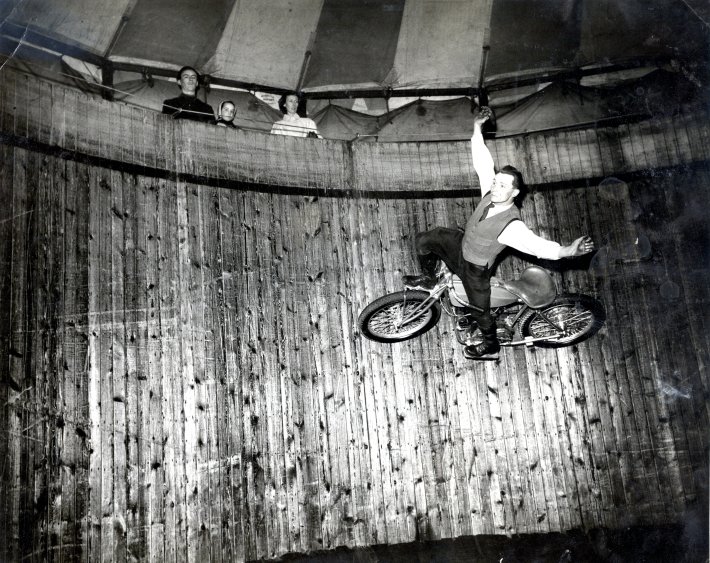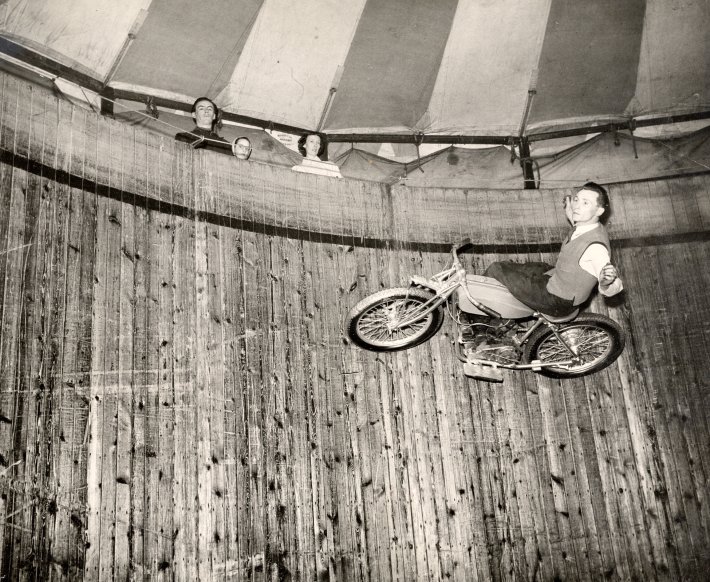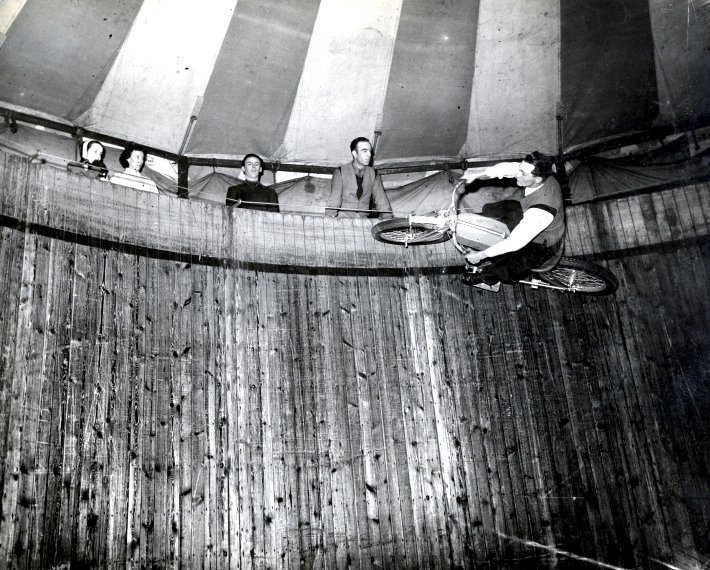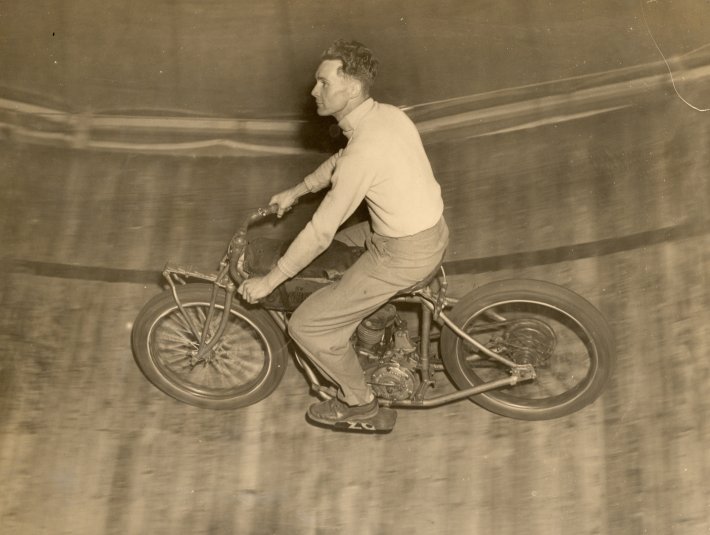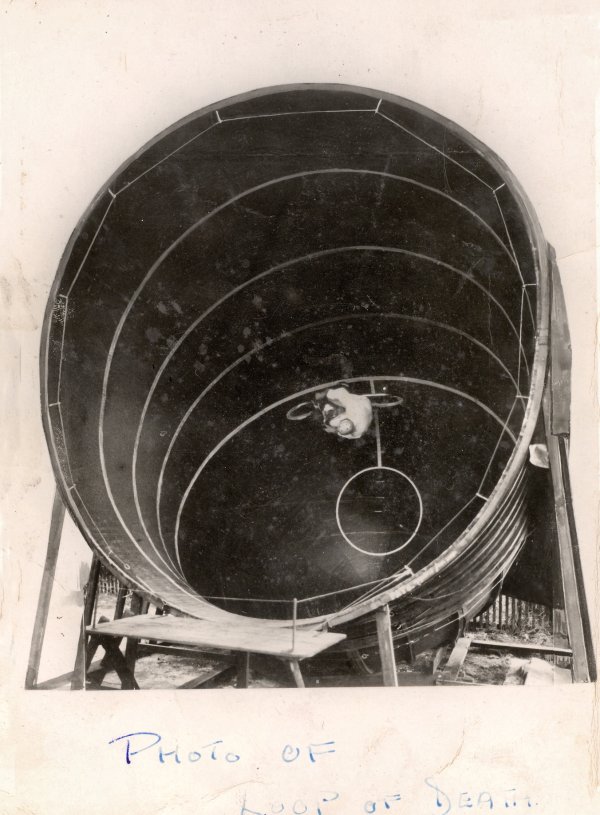 Russ was obviously a daredevil, hats off to him for doing the wall and the loop as well as riding speedway: below are pics of Russ at Fleetwood Speedway.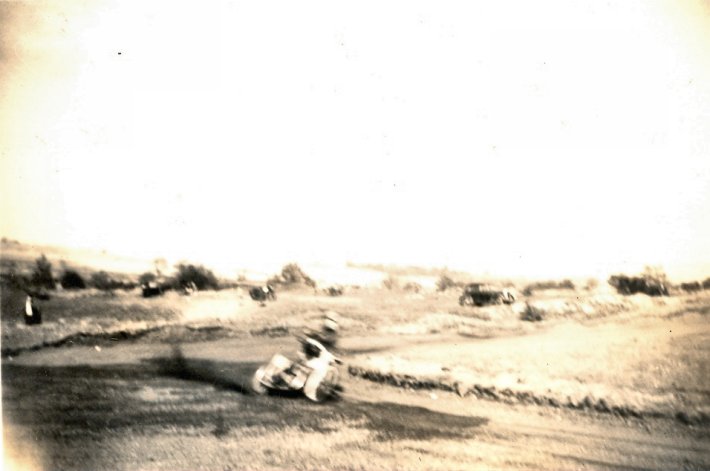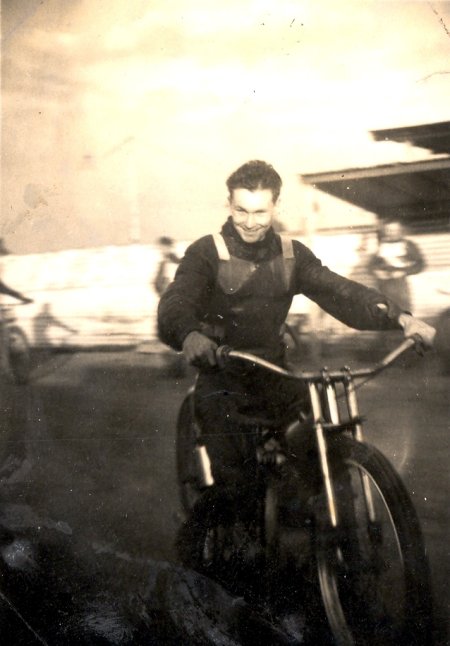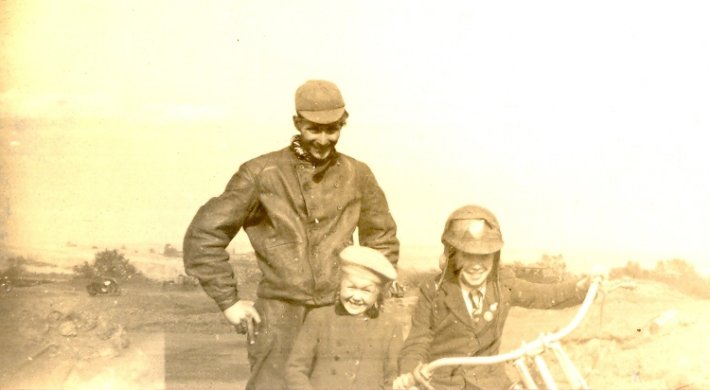 John says: Thank you Kathryn. Is that you in the above picture?
---
Graham Gleave's
Fleetwood Images
Percy Brine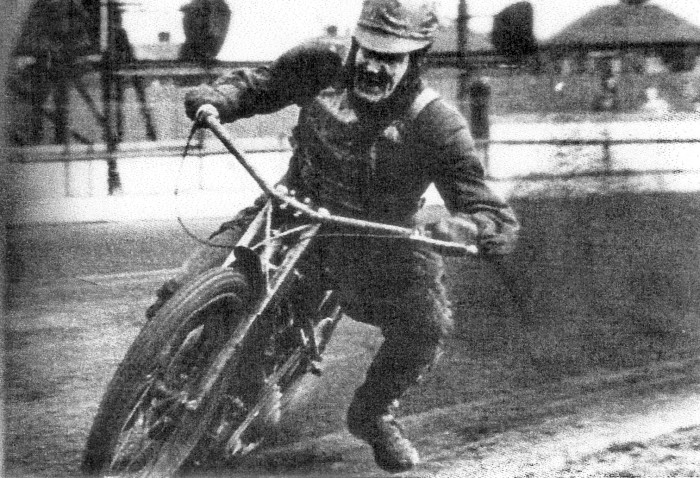 This is Percy Brine took to speedway after a career as a movie stunt rider. The above picture of Percy was taken after he joined Fleetwood circa 1948
Norman Hargreaves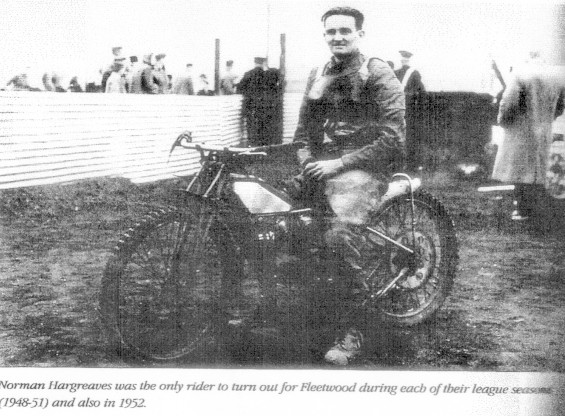 Fleetwood Knights

1952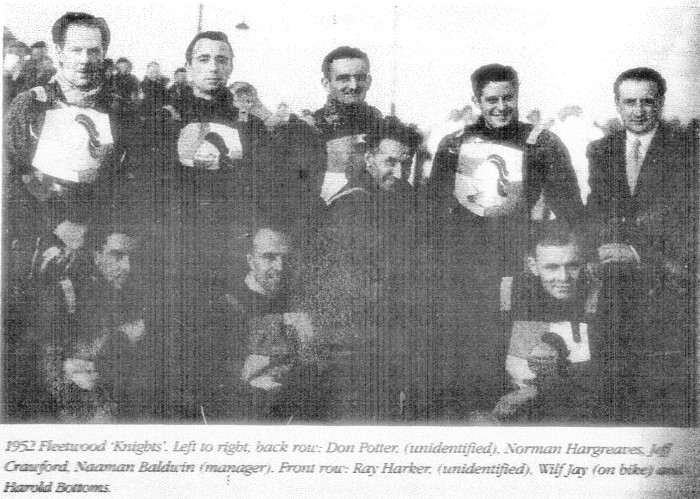 Wilf Jay

1952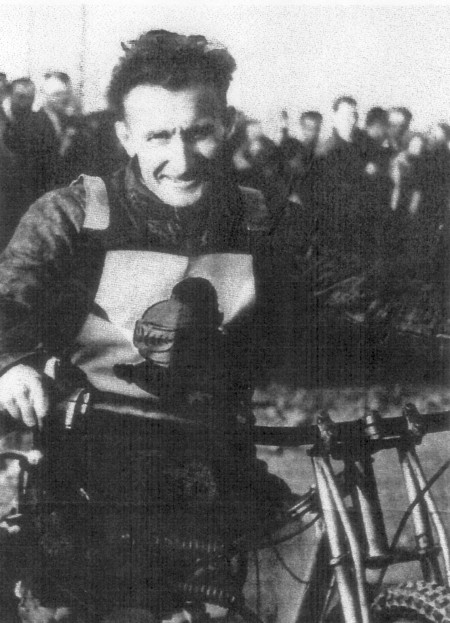 Graham Williams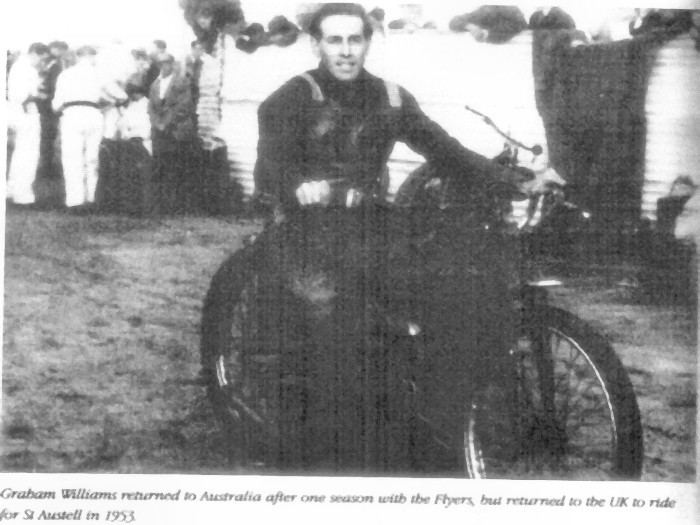 George Newton Top
& Percy Day Below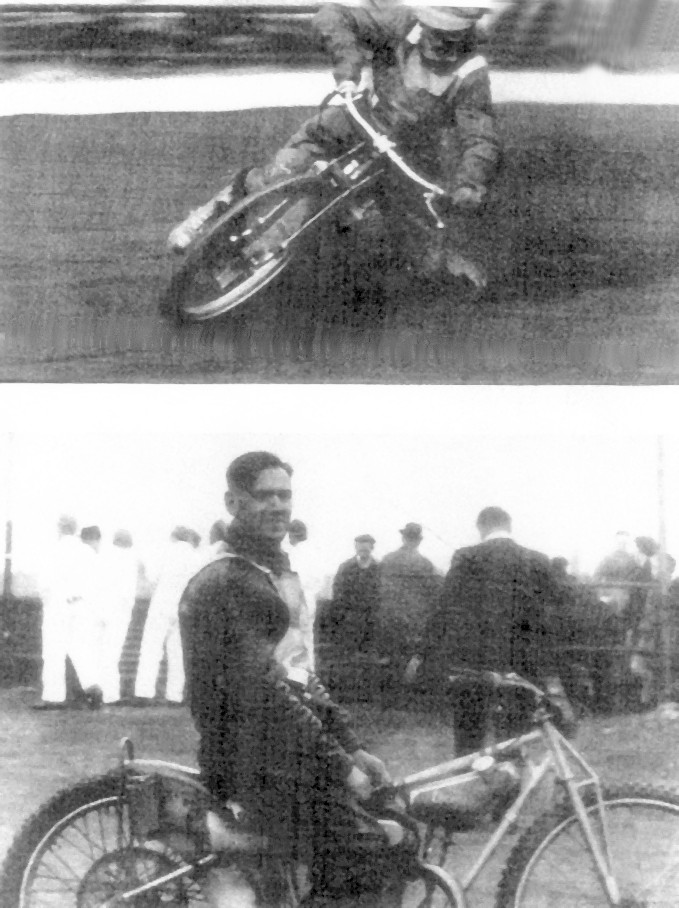 ---
Jeff The Fleetwood Knight
Well (Not Quite)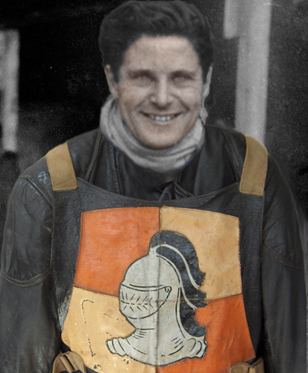 Jeff Crawford says: Hi John, In your Fleetwood Defunct Track you mention The Flyers of course "But who were the Knights" The photo attached is obviously not a 1952 pic. I still have my Knights race jacket and my leathers from when I raced in Canada 1959 so I slipped the Race jacket over the Leather jacket and took the photo. I added my head, cropped in Photoshop from an old 1952 photo. You can use it as is or crop it again and just use the jacket, your choice.
If anyone wants to see more about the Knights there's plenty in the "Flyers Remembered" book published a few months ago.
Ok Jeff, The picture is a bit suspect of you with the Fleetwood team! Perhaps you can add to this caption? John Oh yes by the way I was taken in by the old photo of the Loch Ness monster only to find 40 yrs later it was a fake Your pic shown above is a pretty good fake too!
---
Fleetwood v Ashfield

1952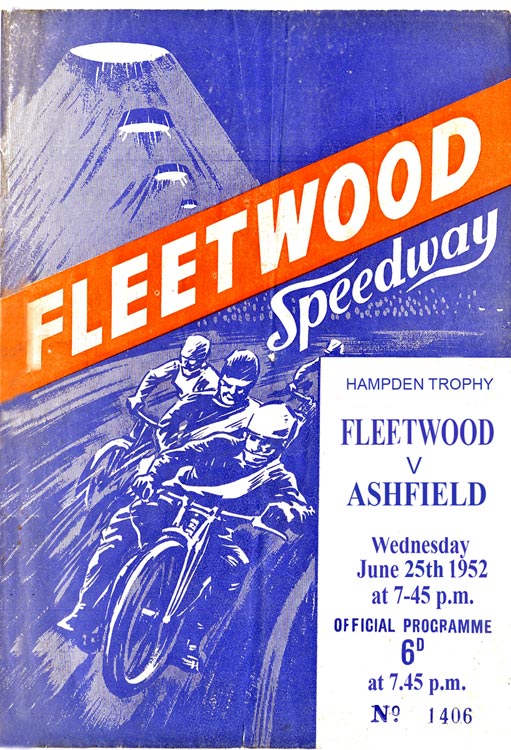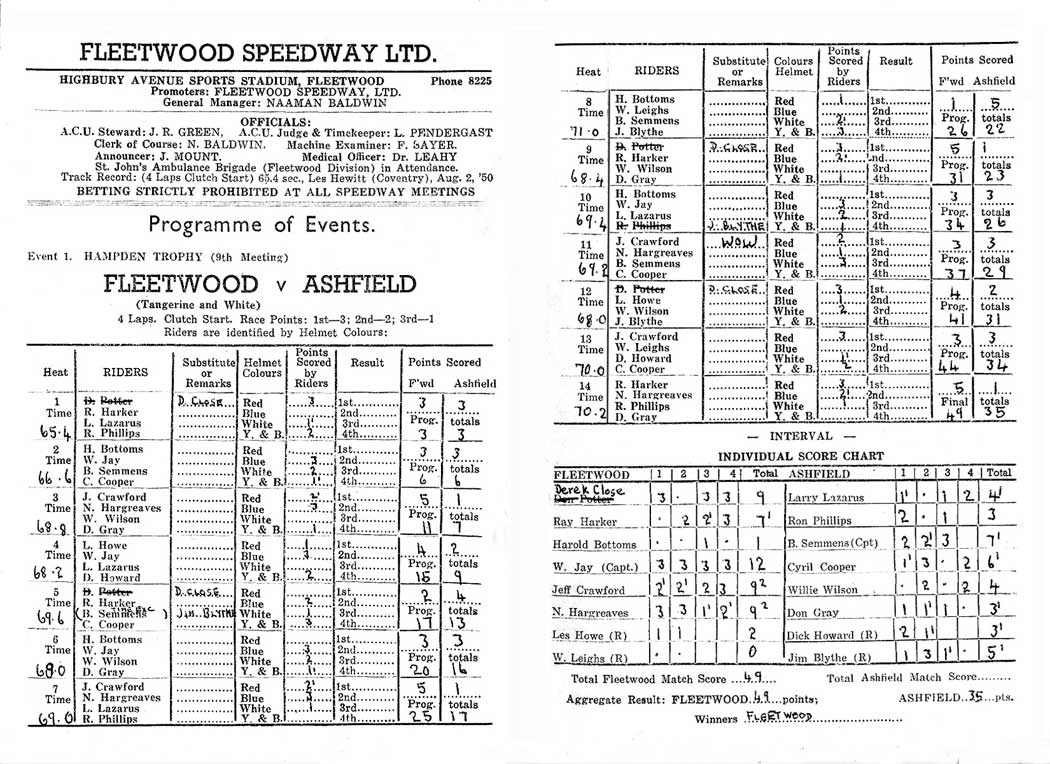 A great programme cover design from the towns last ever season 1952. I'll bet the club closed down despite drawing crowds a modern club can only dream of. All the Fleetwood programme covers shown on this webpage are excellent artworks.
---
Fleetwood Closure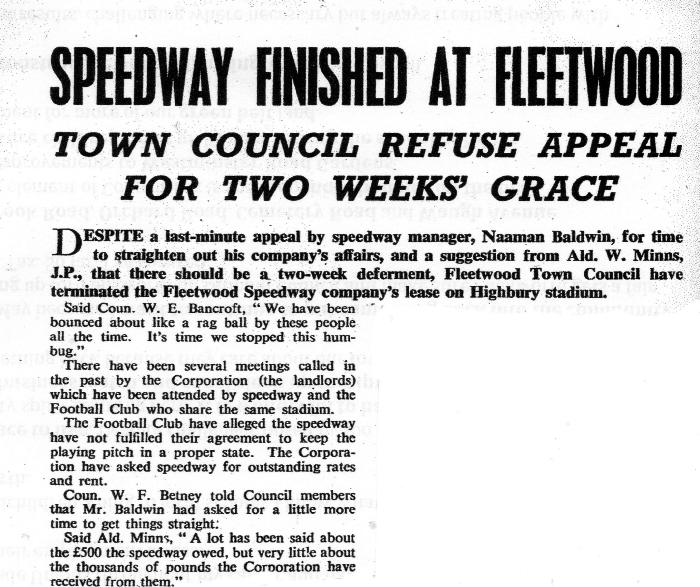 Courtesy of Graham Gleave
If you can scan any pictures, programmes or badges send me an email
John
---
The contents of the site are © and should not be reproduced elsewhere for financial gain. The contributors to this site gave the pictures and information on that understanding. If anyone has any issue or objections to any items on the site please
e-mail
and I will amend or remove the item. Where possible credit has been given to the owner of each item.