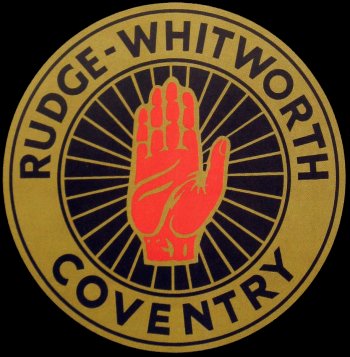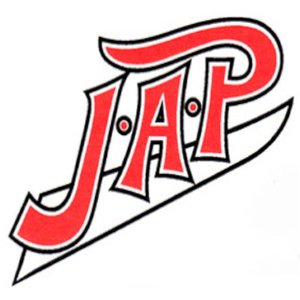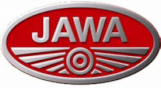 ---
Crystal Palace Speedway
Crystal Palace Exhibition Grounds, Sydenham, South London, 1928 to 1940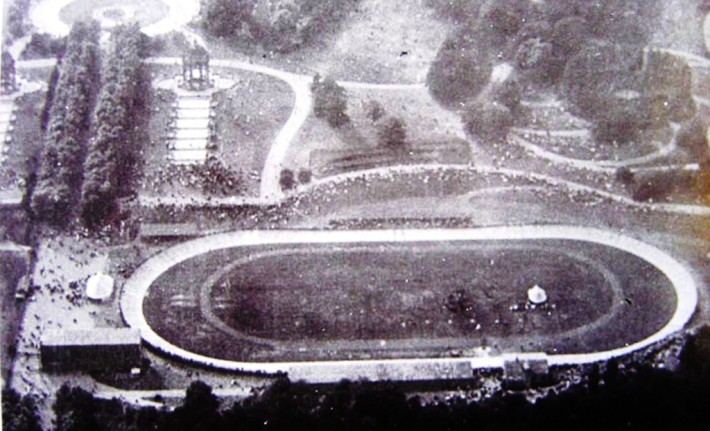 Courtesy Norman Jacobs
---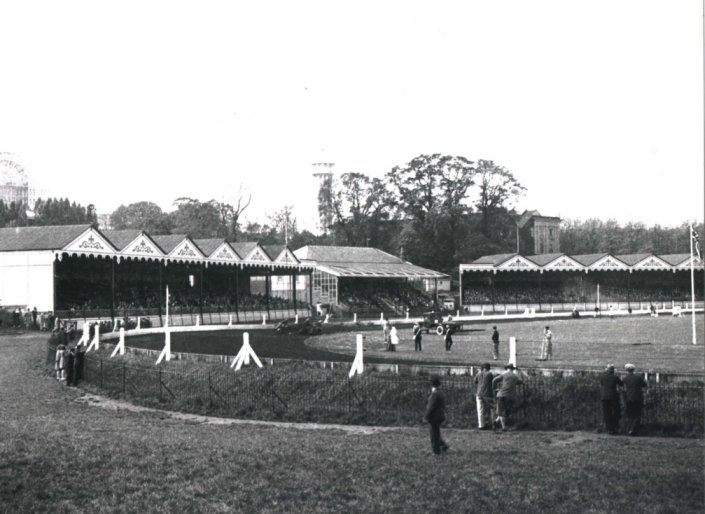 Courtesy of John Chaplin
---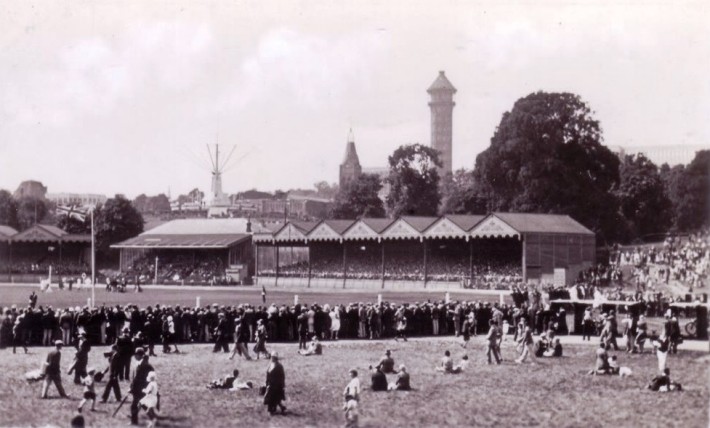 Courtesy Norman Jacobs
---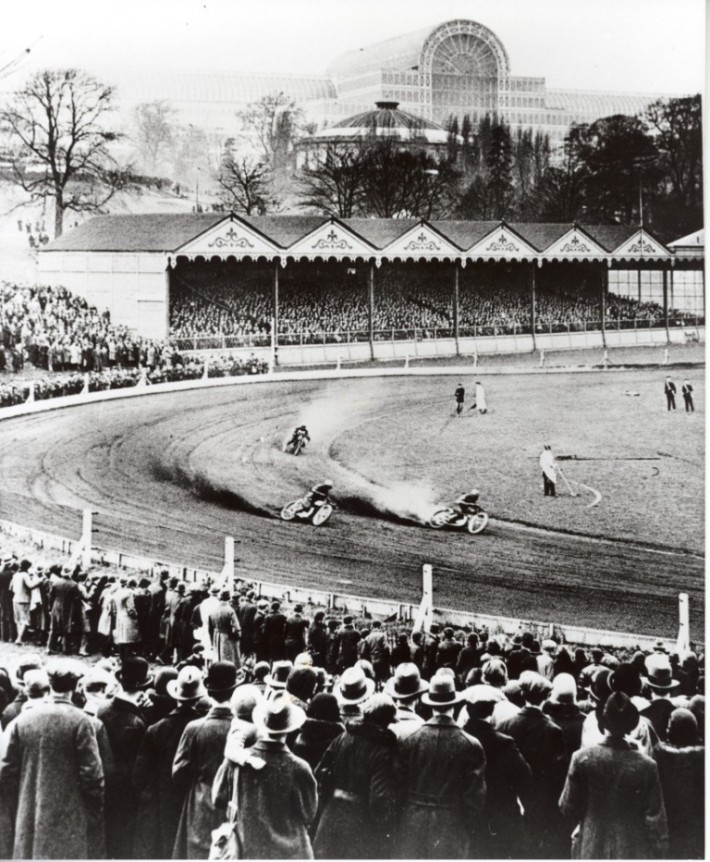 Courtesy Norman Jacobs
Novel views of a neat looking Crystal Palace. The British Stadiums staging speedway in the first half of the 20th century would all have been fairly new venues, whereas in the later half of the century many of the now old stadiums had fallen into a state of decay.
---
Triss Sharp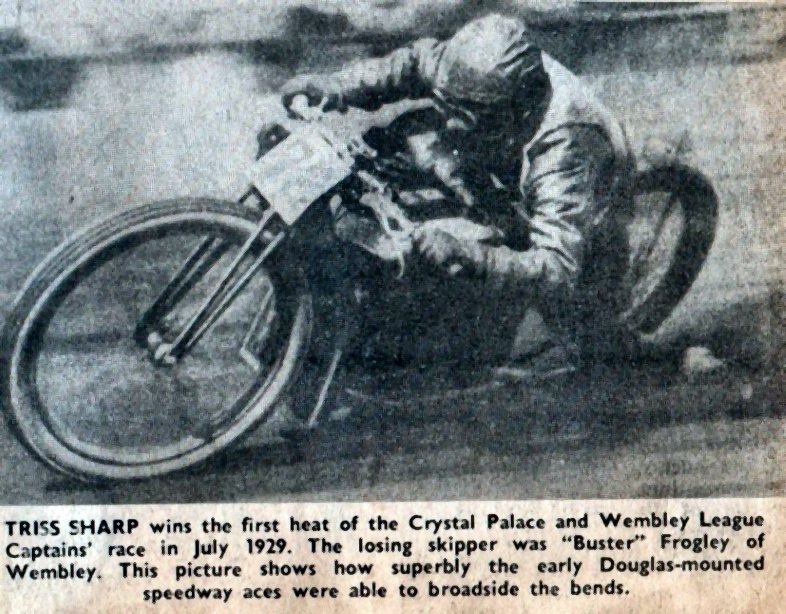 Courtesy Ted Hearn
---
Crystal Palace

7th September 1929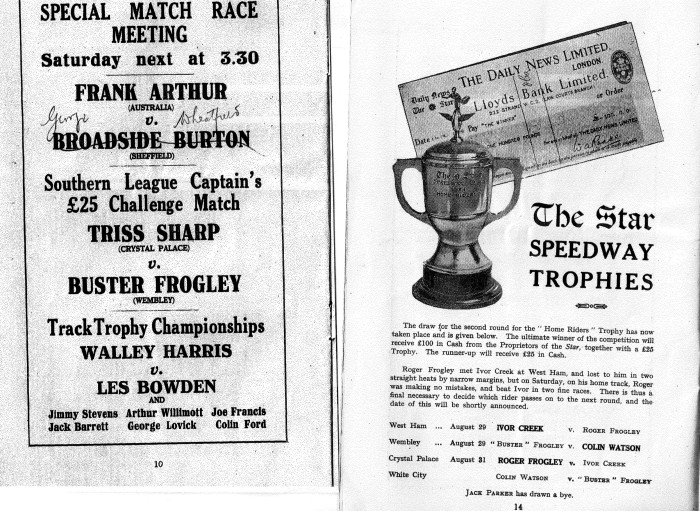 Courtesy of Graham Gleave
---
Crystal Palace

1931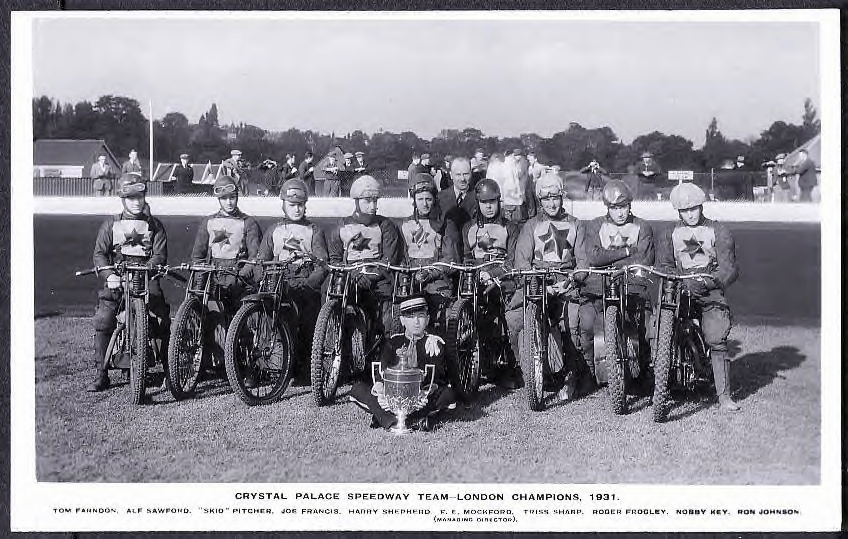 1931 Team Tom Farndon, Alf Sawford, Skid Pitcher, Joe Francis, Harry Shepherd, F E Mockford (managing director), Triss Sharp, Roger Frogley, Nobby Key, Ron Johnson
Phil Lancaster says: Hi John: I have just been on to your site showing old pictures of Crystal Palace, in the team photo of 1931 the mascot sitting in the front holding the cup was my Dad, Arthur Lancaster who was born in 1918. and would have been 13 years old at that time. That picture was on the wall in his office when we had a guest house in Westgate, I still have the original card with my Dad's signature on it. Thank you for rekindling the memory. Regards
---
Les Gregory

1932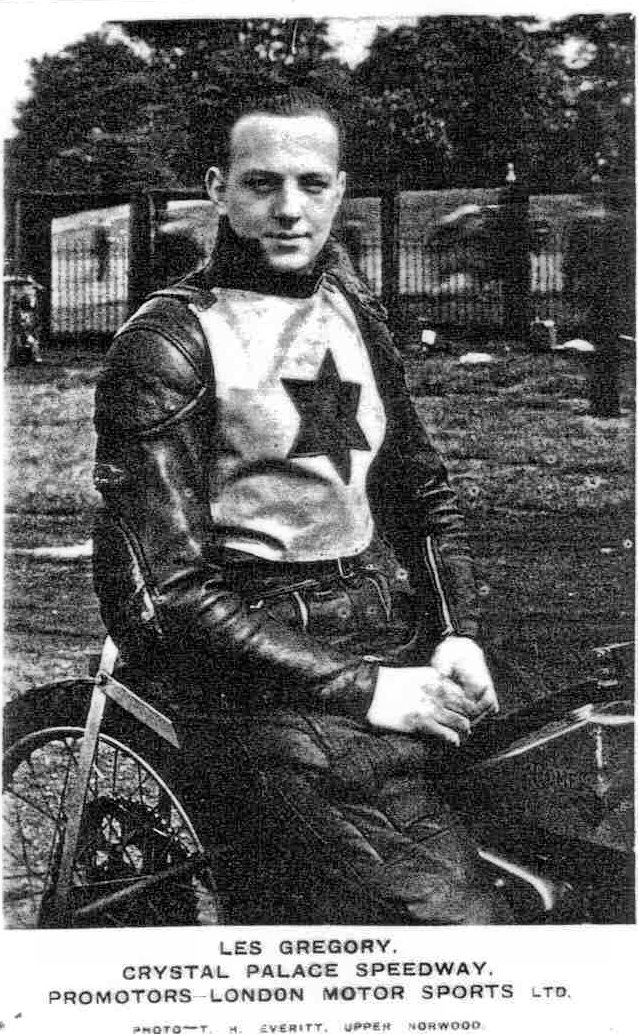 ---
Norman Jacob's Photographs
Tommy Hall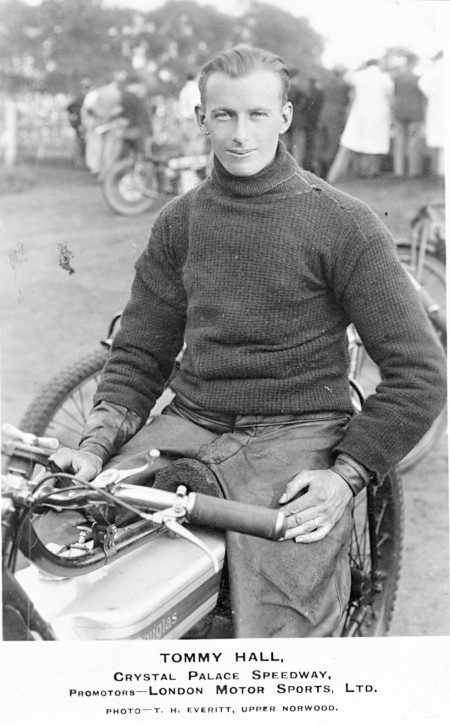 Wally Lloyd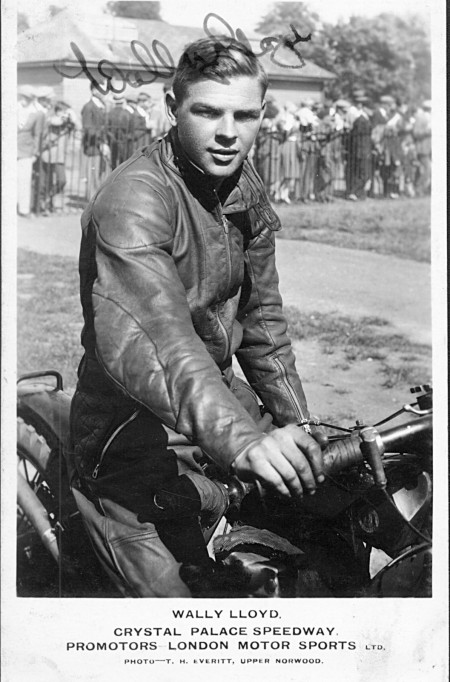 Alan Reeve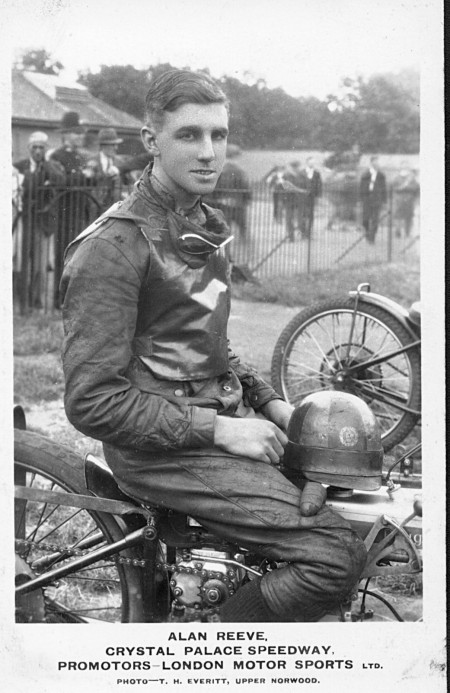 Not much tread on Alan's back wheel!
Joe Francis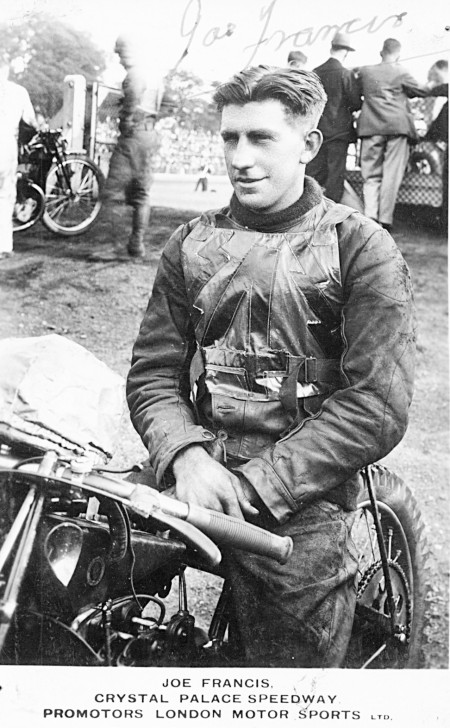 Joe's Trophies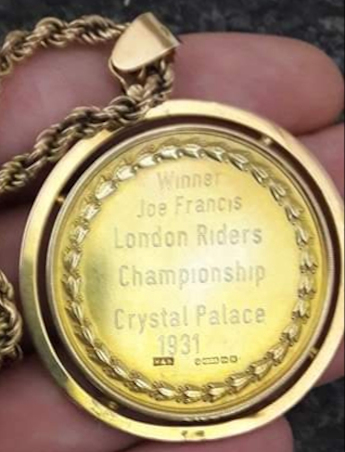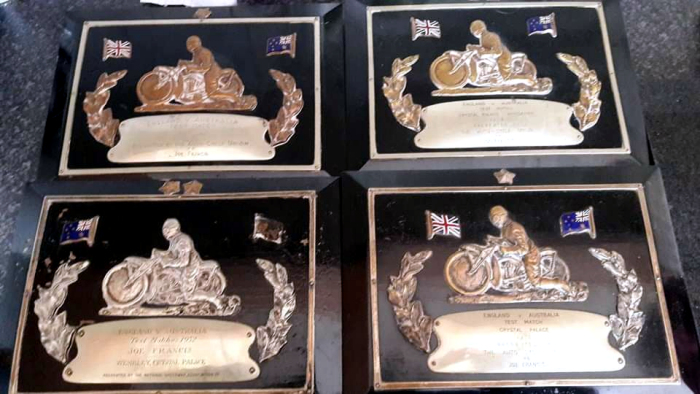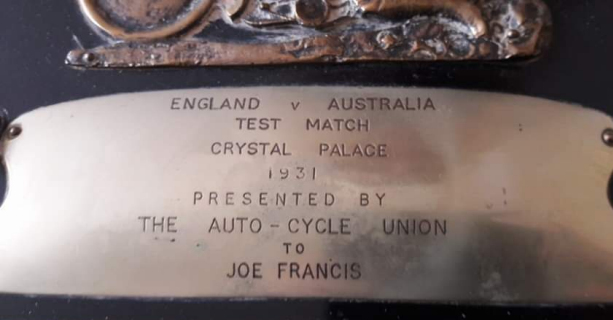 Kevin Pennington says: Hi John, I came across these pictures (see above), posted on another site by Joe's Great Grandson Warren Atkinson. Been chatting with him on Facebook. Thought you might be interested.
Kevin Pennington says: It seems he rode for England 6 times, but not sure where the other 2 medals are. All of his cups were stolen when he moved to the IOM. I visited Joe and my aunt Bobbie in the sixties before they moved. They built a home in 1948 Cosy Nook near Otford Kent.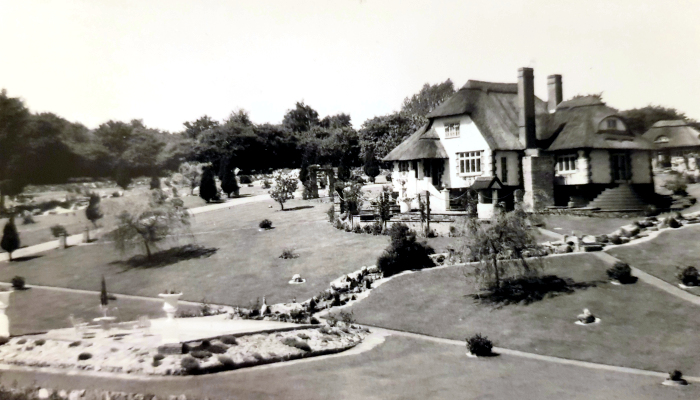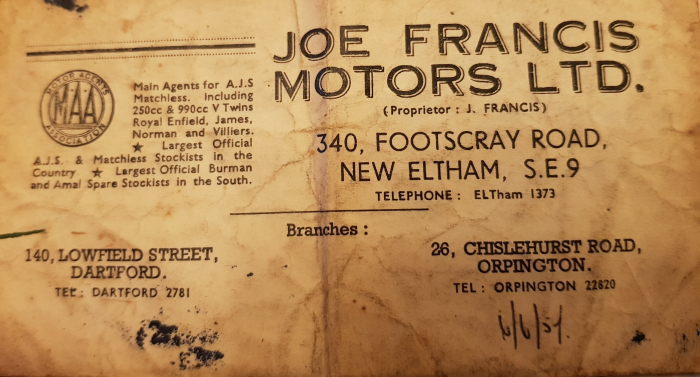 John says: Thank you Kevin for the images. Trophies medals etc from that era look so good, pass on my gratitude to Warren
Kevin adds: My uncle Jack Pennington took over at least one of the bike shops, I remember Barry Sheen's brother and sister attended his funeral, as he sponsored Barry at the start of his racing. Jack was a dispatch rider in Burma during the war, and would not sell Japanese Bikes and sold up. I believe there is still a shop running under the name Joe Francis but no family connection now.
---
Roger Frogley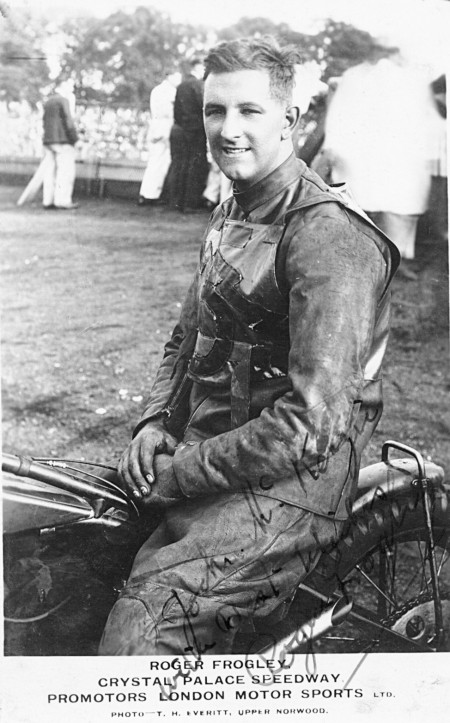 Clem Mitchell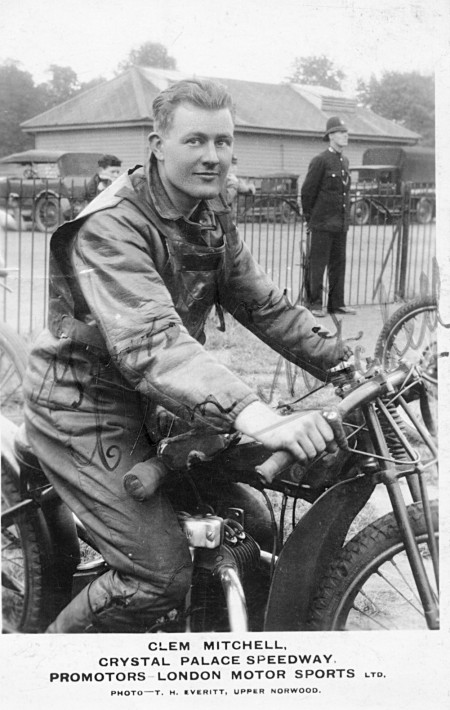 Jack Barrett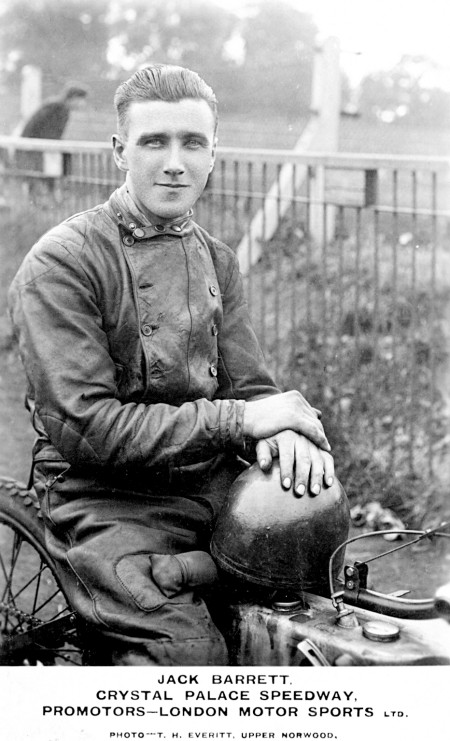 George Lovick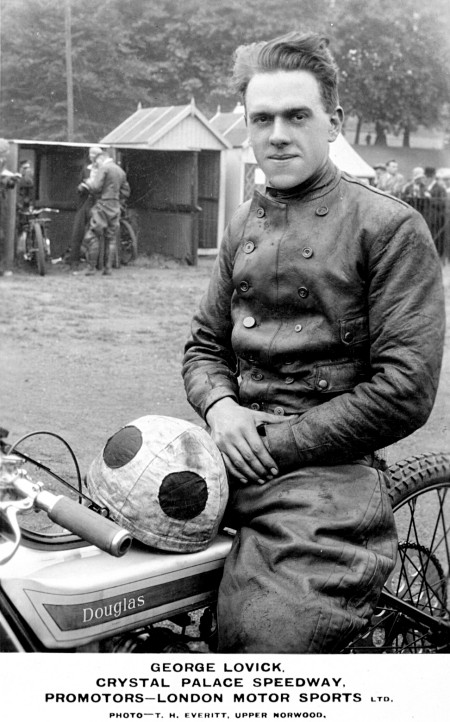 Buster Frogley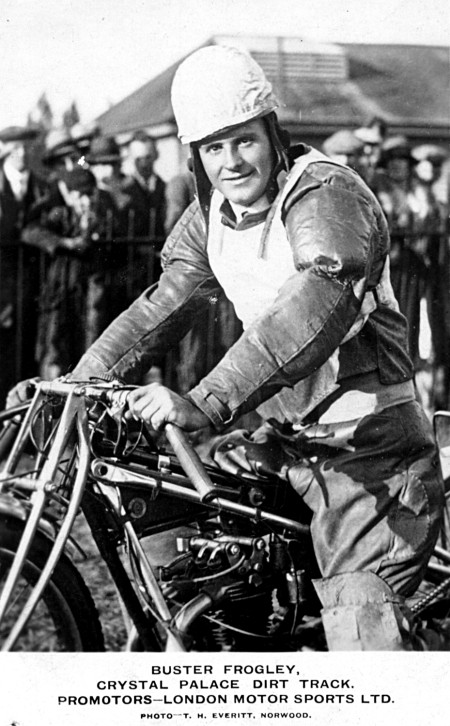 Steve Pullen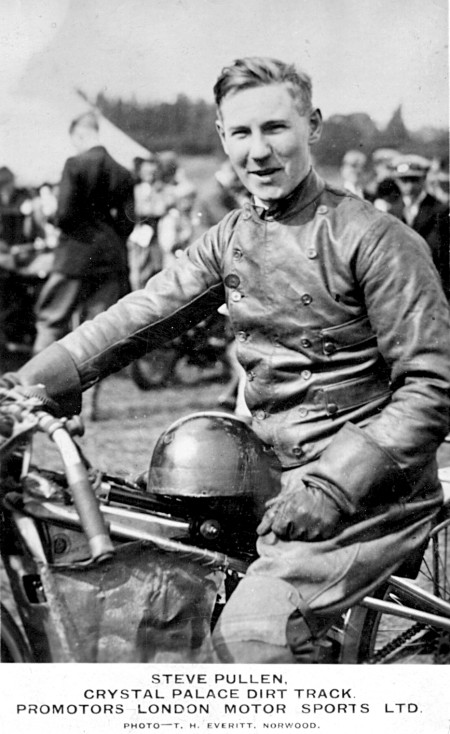 Gordon Baxter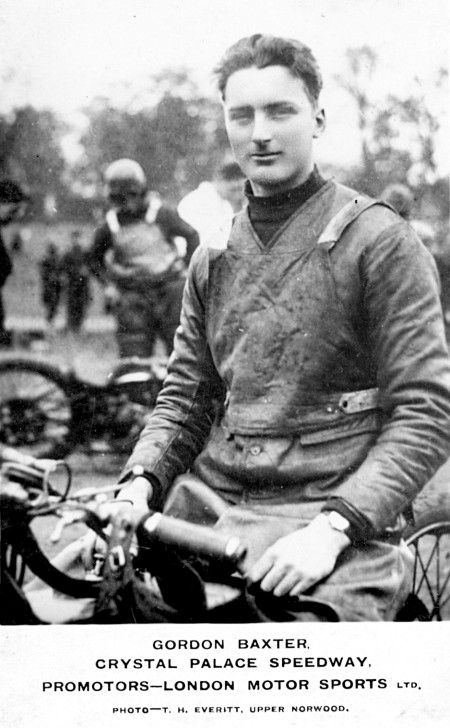 Walter Harris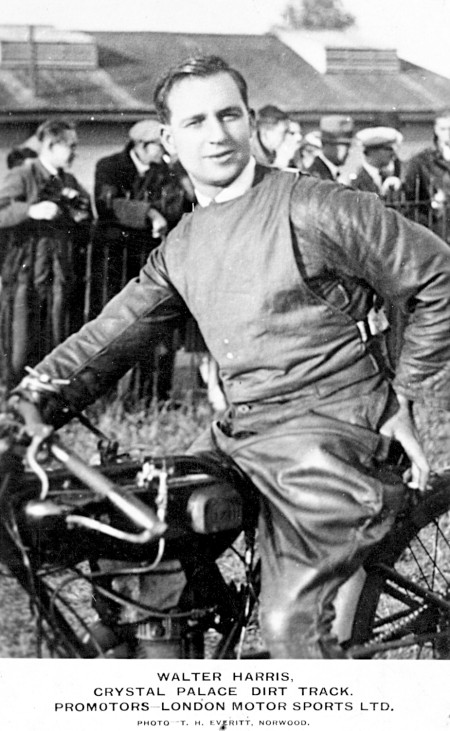 Arthur Willimott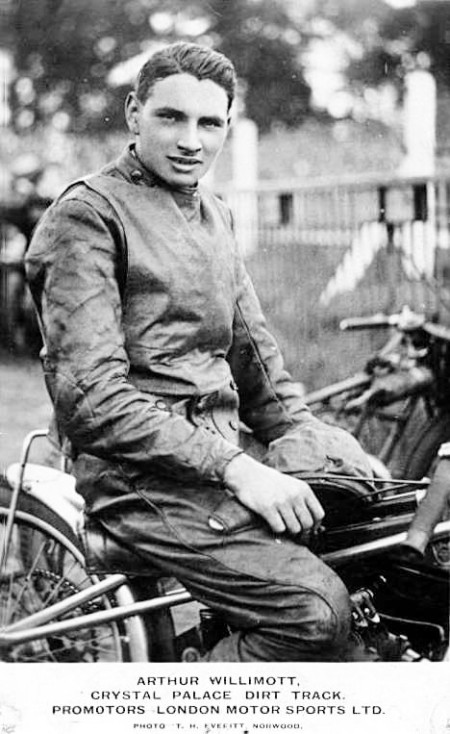 Bryan Donkin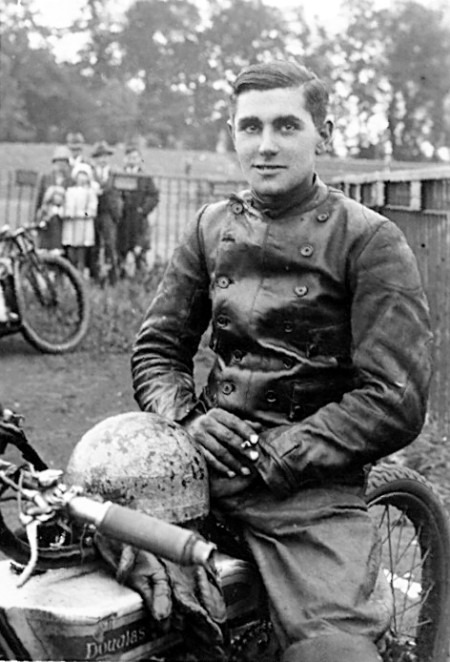 ---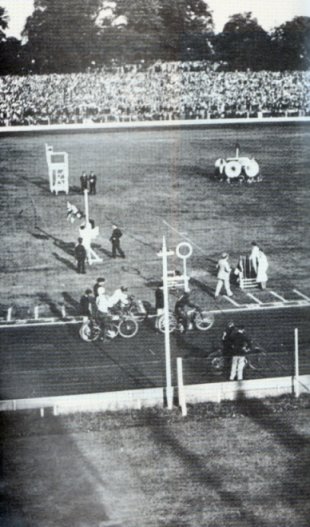 Courtesy of Niall Strudwick
---
The Palace

1932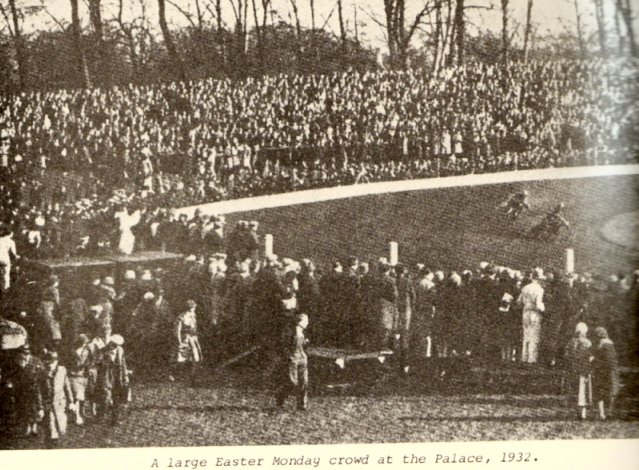 Courtesy of Niall Strudwick
---
Speedway News


1932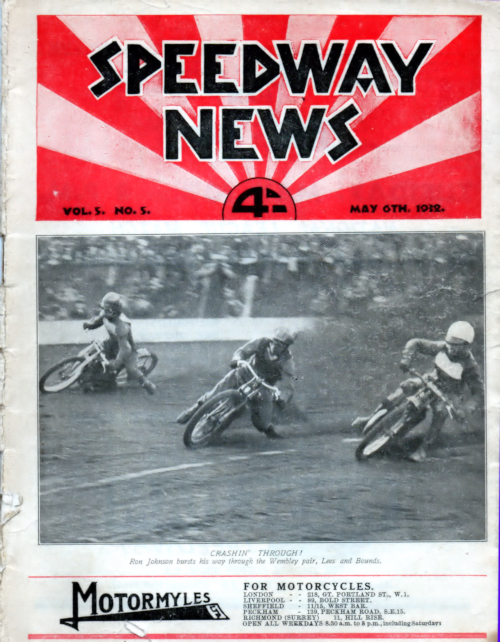 Courtesy John Skinner
The Speedway News was a very collectable 30 odd paged speedway magazine pre-dating the Speedway Star. I have 7 issues from 1932. If you would like to buy them please send me an email so we can discuss. John
---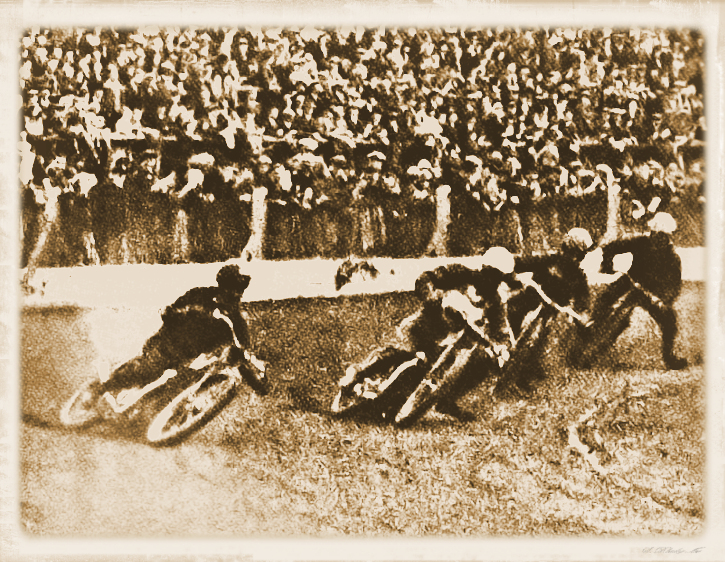 Courtesy of Niall Strudwick
John says: This poor quality picture is 'never the less' one of the best photos on my website
---
Crystal Palace v
Wimbledon
1933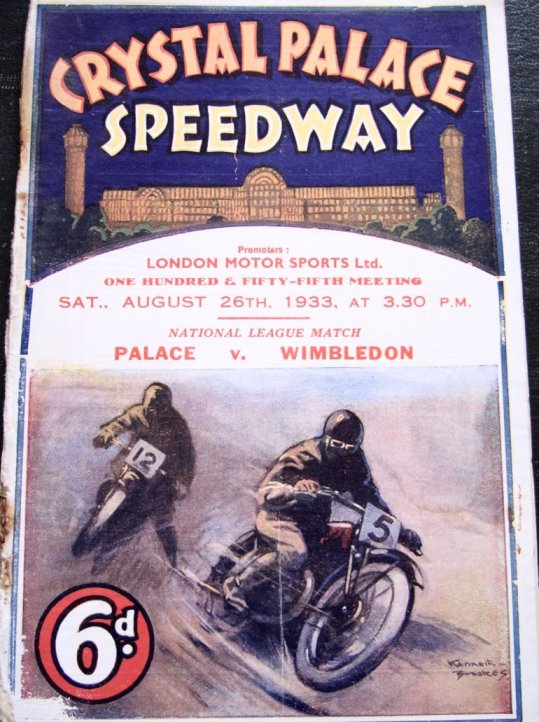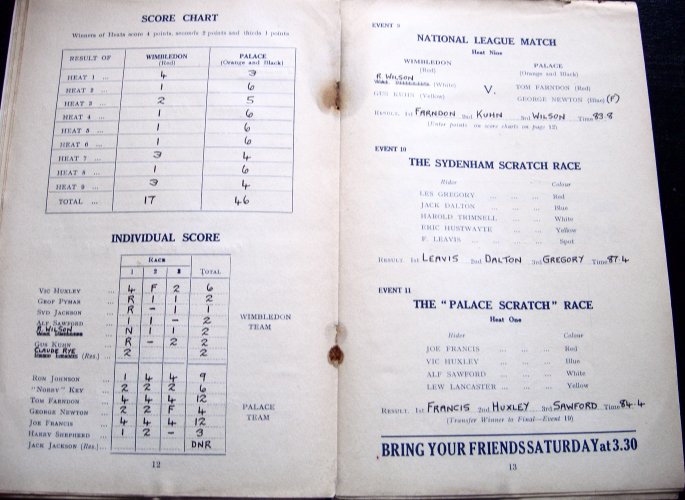 ---
Crystal Palace

1933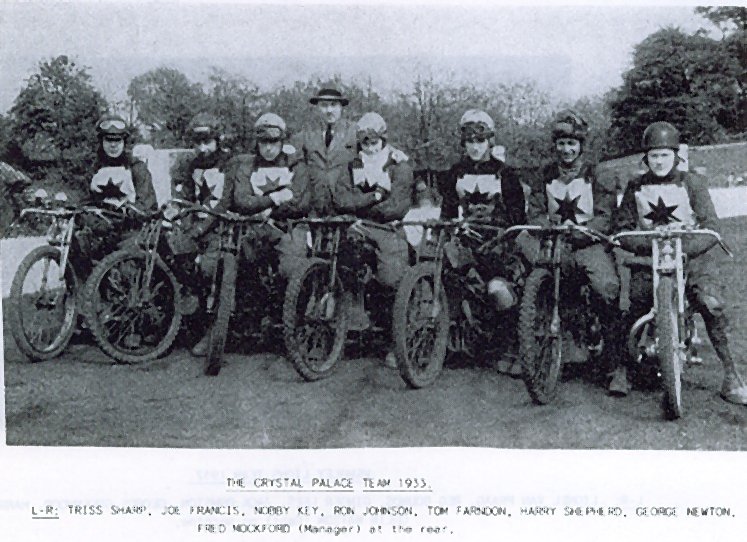 ---
Special Match Race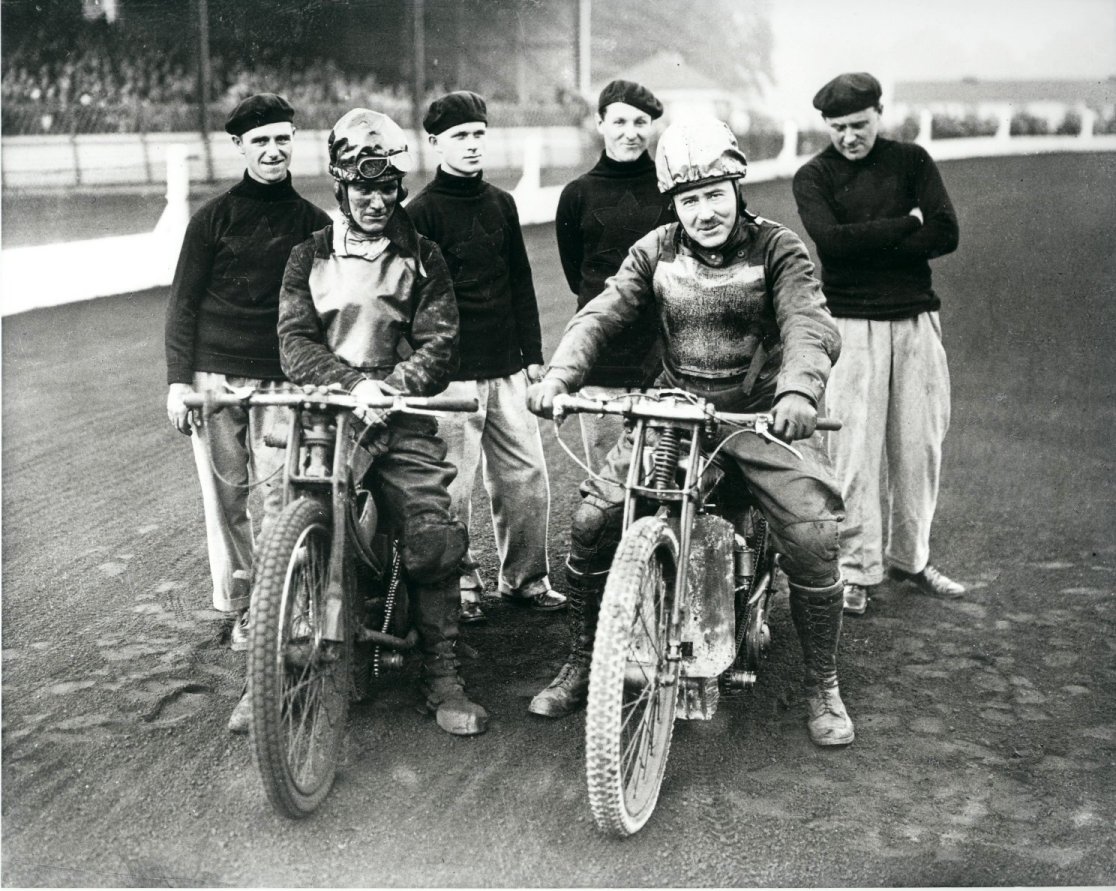 The above picture shows, I think, Tom Farndon on the left and

Norman Evans

. possibly 1931. Not Norman Evans See below

This blow up shows a star on the track staffs jersey and Tom Farndon appears to be the home rider So what's the track, year and teams?
John
Keith Green has been in touch he says:
Hi John, The photo you have on your website of Tom Farndon and Pansy Evans? is wrong. It's Tom and Fred Mockford his promoter taken at Crystal Palace in 1933 as a publicity stunt. I have the original photo as I am a Tom Farndon fan and collect all his programmes, by the way Tom gave his promoter 3 laps start
John says: Thanks Keith (it did look like Norman Evans)
Keith has been back in touch adding: -Did some research last night and the picture in question appeared in speedway news edition on 13.10.1933 so the picture and race took place on the 7th Oct 1933.The caption says it is Tom and Fred Mockford Regarding the track staff jerseys John I've checked 1931/1933 Crystal Palace and the riders had the same star on their bibs. The only explanation I can think of is the Crystal Palace stars had 6 prongs on the star and Wimbledon had 5.
---
Keith Harvey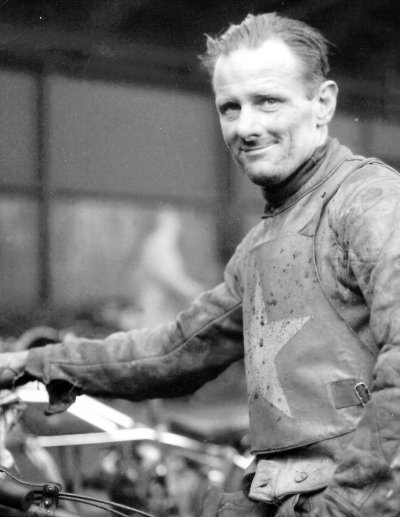 Courtesy of John Hyam
Keith Harvey, captain of Crystal Palace in 1939.
---
War Time Meetings
By John Hyam
TWO war time speedway meetings took place at Crystal Palace in 1940, the last time racing took place there.
On Easter Sunday, March 25, Arthur Atkinson (West Ham) won the Holiday Cup, heading Colin Watson (West Ham) and Keith Harvey (Norwich) in a top scorers final. The known points scorers (each had three qualifying rides) were: Harvey 9, Phil Bishop (West Ham) 7, Watson 7, Atkinson 6, Wally Lloyd (Harringay) 6. Other starters were Harold 'Tiger' Stevenson (West Ham) and Arch Windmill (Hackney). In heat two, Harvey set the meeting's fastest time and a new track record of 79.8 seconds.
In the programme notes, spectators were advised: "In the event of an air raid warning, all visitors living within five minutes walk are advised to go home." They were also told that air raid shelters were provided "under the centre steps."
On May 13, another Holiday Cup meeting was held. This was over 12 heats with two semi-finals and a final. The qualifying scorers were: Phil 'Tiger' Hart (Hackney) 9, Archie Windmill (Hackney) 8, Bill Longley (New Cross) 7, Ron Johnson (New Cross) 6, Mick Mitchell (Crystal Palace) 5, Charlie Page (Hackney) 5, Fred 'Friar' Tuck 5, Ken Brett (West Ham) 4, George Craig (Bristol) 4, Ron Howes (West Ham) 3, Bob Hall 2, George Gower (Crystal Palace) 2, Vic Weir (Norwich) 2, Les Trim (Crystal Palace) 1, Alex Gray (Wimbledon) 1, Keith Harvey (Crystal Palace) 0. FINAL: Hart, Windmill, Tuck, Johnson (no finish).
Programme changes were Langley (not Longley) for Charlie Appleby (Crystal Palace), Page replaced Wally Lloyd (Harringay), Gower replaced Jeff Lloyd (Newcastle).
The 'South London Press' (May 15 1940) reported that New Cross and Australia star Ron Johnson was leading the final by five yards when he ground to a halt with a puncture. This let Phil 'Tiger' Hart clear to win by two lengths from Arch Windmill. An early posting lists Fred 'Friar' Tuck as the other finalist - it would be interesting to know if he finished the race".
There remains one major query on the qualifying scorers which were not given in the South London Press. I t concerns Bill Longley who on a scribbled list of scorers is actually given as LANGLEY. Indications are that it could not have been Longley as West Ham were staging a meeting at the same time and Longley was racing there. One possibility is that as Phil Hart was at Crystal Palace, it have been his pal the Australian rider Steve Langton? Who knows? More importantly - will we ever know?
---
National Sports Centre
The following athletics track photos show the very fine athletics facility built on the site of the old speedway track, another great venue is lost forever to speedway.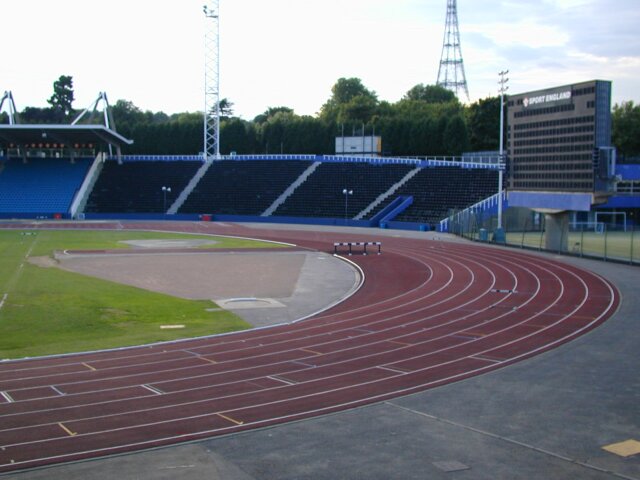 Courtesy of Niall Strudwick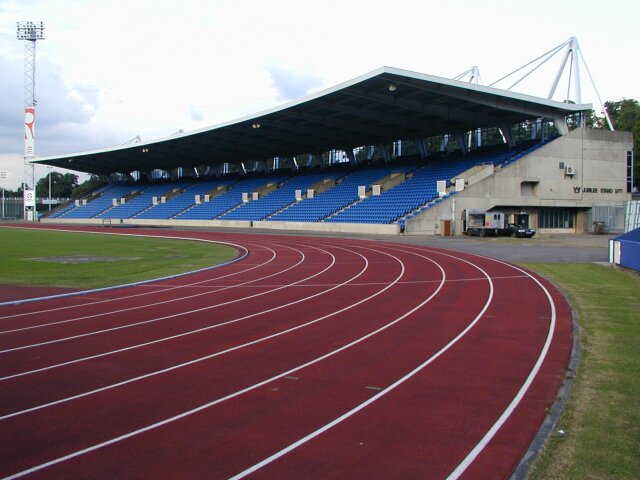 Courtesy of Niall Strudwick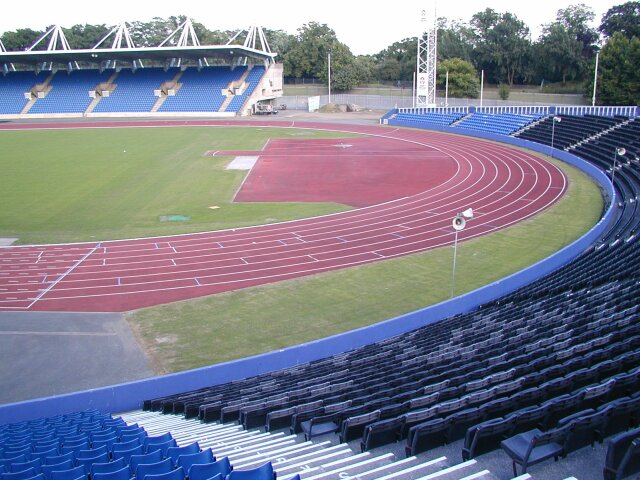 Courtesy of Niall Strudwick
John Hyam says: The last three photos sent by Niall Strudwick are, of course, the present National Sports Centre which is on the site of the great old speedway track. I live fairly close by, and whenever I look at the athletics virtually always get a mental feedback 'the home of the old Palace speedway track.' Such is nostalgia I guess?
John Skinner says: Please stop the tearful nostalgia cos I am filling up!
If you can scan any pictures, programmes or badges for the Crystal Palace page, send me an email John
---
The contents of the site are © and should not be reproduced elsewhere for financial gain. The contributors to this site gave the pictures and information on that understanding. If anyone has any issue or objections to any items on the site please
e-mail
and I will amend or remove the item. Where possible credit has been given to the owner of each item.