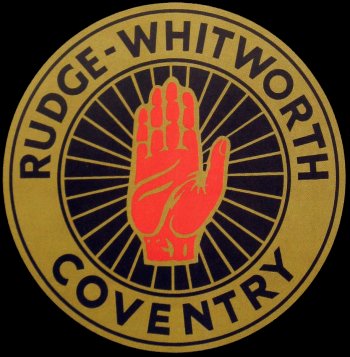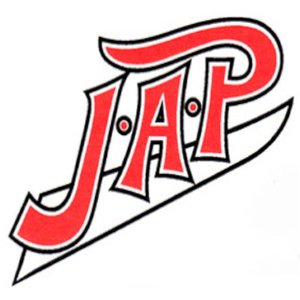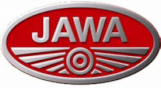 ---
Cardiff Speedway
Penarth Road Stadium, Penarth Road, Cardiff, South Glamorgan. Action took place between 1950 (training) and 1953
---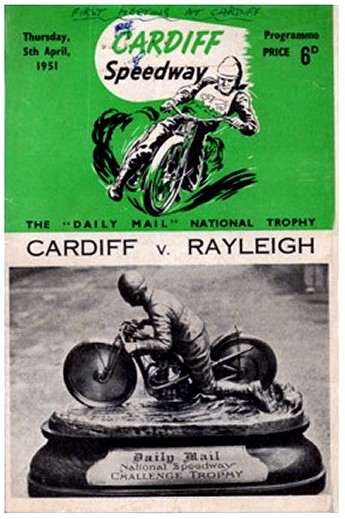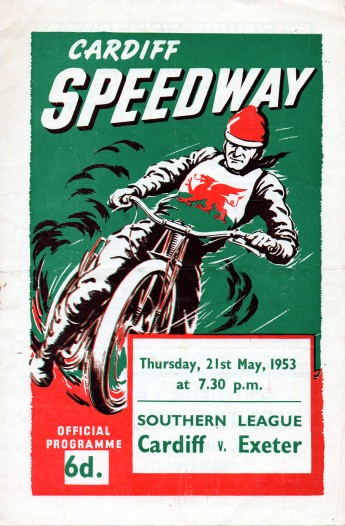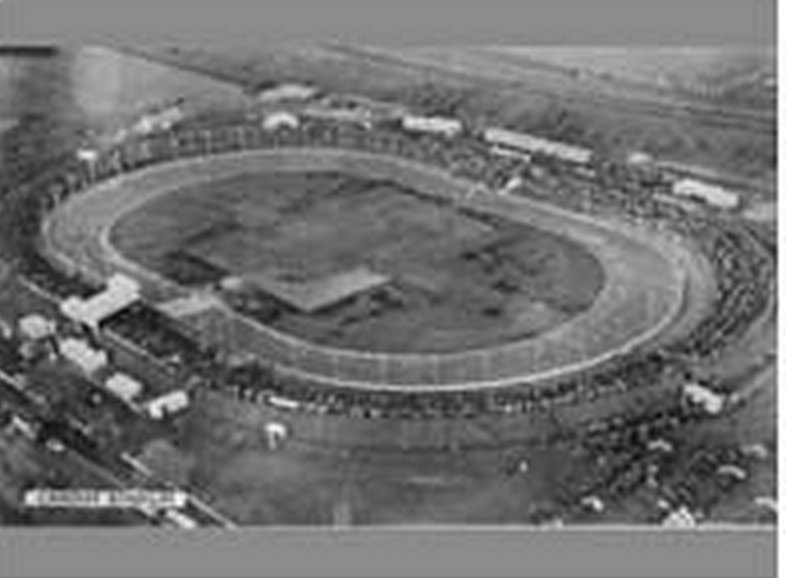 Do you have any photos to share? email me
John
Pete Gregory of Newport answered my call for photos of Cardiff. He sent the pic shown below:-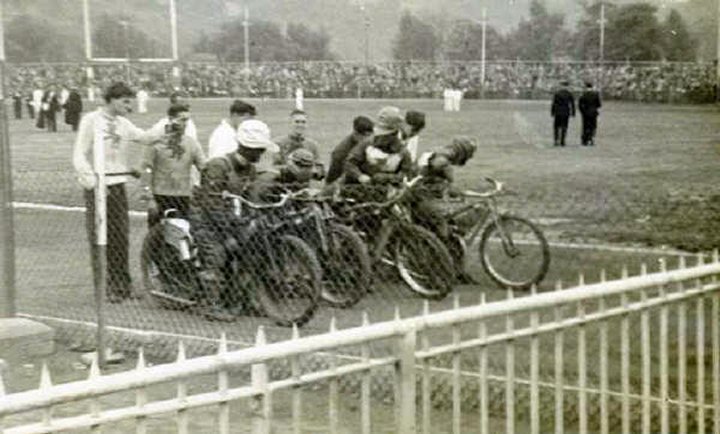 Can anyone name any of these riders and say what year it was. It has to have been taken between 1950 - 1953
John
Dominic Hayden says: Hi there, I have been going through some pages on your defunct speedway pages and seen one on Cardiff where my father Kevin Hayden rode in the early 50's. I note he is in a photo you are asking names for. The photo he is in, is where the bikes are on the starting line with pushers in the Cardiff jerseys behind them. Kevin is second from the left and in a darker dragons jersey. Sadly dad passed away last month (2018) 3 months short of his 90th birthday. His passing has caused me to trawl the net getting more info on his racing as we were so proud of his story. I have many photos of his racing at both Cardiff and Plymouth where he went to after Cardiff dropped out of the league. My brother scattered some of his ashes at a Plymouth Devils meeting while he was in the UK the week after dads funereal. Nice work on the history pages too. Regards Dominic Hayden
---
Tom Garvey & Gerald Pugh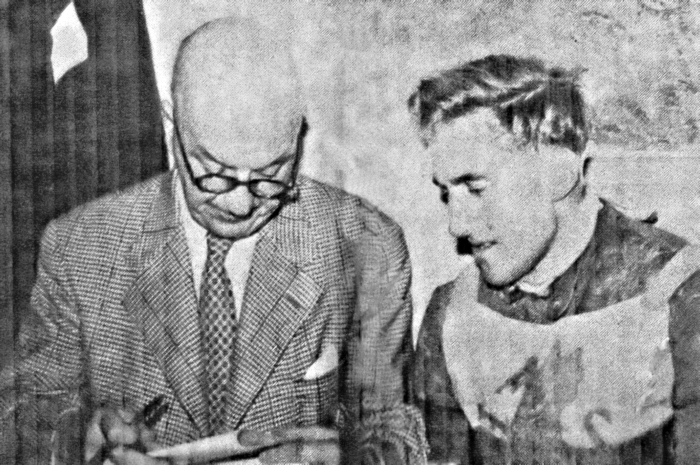 Courtesy of Graham Gleave
---
1952

Cardiff Dragons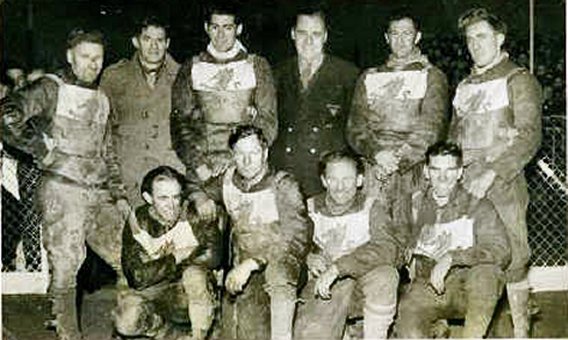 Back row: J Wright, M Holland, P Best, F Johnson, G Pugh: Front row: B Royale, C May (Cap) H Geddes and C Taylor
Nigel says: Hi John. This team photo includes Frank Johnson who had a reputation for going over the safety fence when crashing at Swindon whenever Cardiff visited ! I seem to remember him achieving this undesirable feat THREE times ! I think he retired [ with double vision ! ] when the Cardiff track closed down. Cheers, Nigel B.
---
England in Cardiff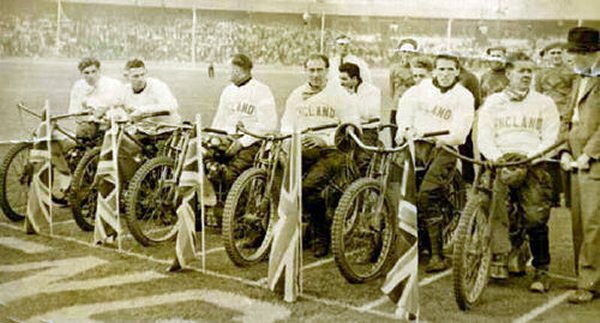 Can anyone name any of these riders and say what year it was. It has to have been taken between 1950 - 1953
John
Bob Bath says: Re the riders wearing England team jerseys on the Cardiff page, I think I recognise some of them. Left to right., Fred Williams, Tommy Price, unknown, unknown, Cyril Roger, Jack Parker. Perhaps other people can add to this. Cheers mate, Bob Bath
Speedway Researcher Jim Henry says: Hi John, Suggest it is 6.61950 @ West Ham. If you look at the track staff in the background they are wearing tops with the Hammers logo. Also if you look at the back of the line up you'll see Split Waterman and Louis Lawson who were reserves in this meeting. Have a look a Brian Collins excellent web site to confirm my thoughts. Jim.
Nigel says: Hi John, Could the unidentified rider facing away from the cameraman be Alan Hunt ? Cheers, Nigel
---
Other Cardiff Line Ups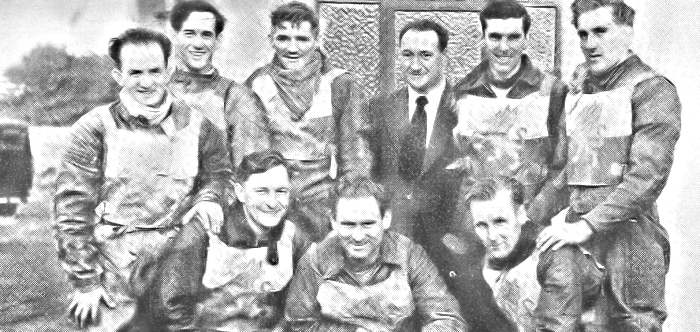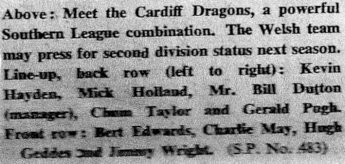 Courtesy of Graham Gleave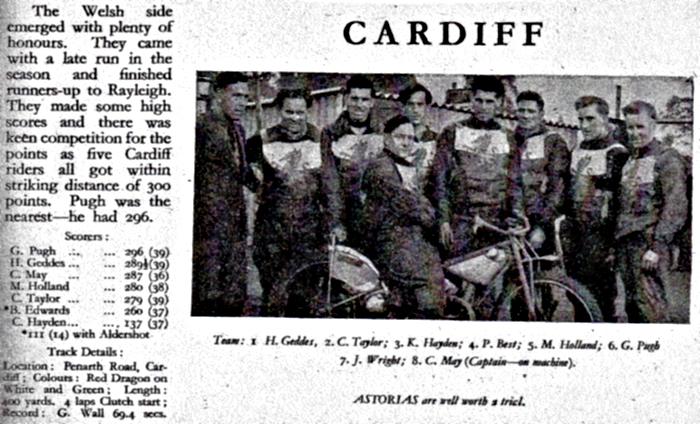 Courtesy of Graham Gleave
Mick Holland & Hugh Geddes
Nigel says: Hi John. Both Mick Holland and Hugh Geddes rode for Swindon Robins in later years. Referring to attached scan, Hugh obviously had a finger missing on his throttle hand – presumably the result of a track mishap. I THINK this determined rider had two missing when he was at Swindon ! Even if he only had eight or nine fingers he could still scorch round the Swindon track in respectable times ! Cheers, Nigel B
---
Cardiff Museum Pieces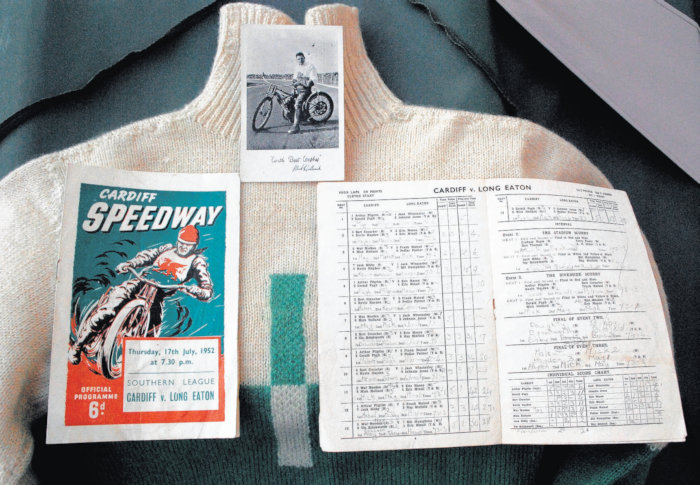 Courtesy of Dina Preece
Memorabilia All The Way From
New Zealand
THIS letter is a follow-up from an article in the Echo on March 1, 2011, by Tony Woolway and a photograph of Cardiff Dragons speedway riders.
I have since talked to my wife's uncle in New Zealand (Don Preece), originally from

Lansdowne Road, Canton, about the article because he was part of the Cardiff Dragons team.

In the 1950s he emigrated to New Zealand, with speedway and motorbikes as one of his interests, which persuaded him to make the big move to Christchurch on South Island.
Many months ago, before the article was written, he asked if I was interested to have or if a local museum would be interested to have the Cardiff Dragons Captain's Jersey, which he took to New Zealand all those years ago.
I went on a few websites 18 months ago. But I could not find a museum that might offer a home for this valuable and original Cardiff item of clothing, and a part of our Cardiff heritage.
It has taken him some time since March of this year to send, because of the problems

related to the terrible earthquakes in Christchurch, while at the same time trying to obtain more original items from other ex-Cardiff Dragons racers in New Zealand.

It has been worth the wait because now I also have two programmes with the hand-written results of all the

races, which have been kindly donated by Gordon Holland, the son of Mick Holland who

was one of the captains of the Dragons team and represented England "C" against the Swedish Touring Team on July 23, 1952 (Mick was captain on the night).
Gordon has also sent a postcard photo of his dad on the track in racing gear, and the jersey looks very familiar.

I remember the track at Penarth Road and expect many others in Cardiff do as well.
I have spoken to the Cardiff museum and promised that these items will be donated

and hopefully accepted by the museum for future generations to see.

It would be a wonderful

gesture if others have any old photographs or items from this short period when Cardiff

speedway was on Penarth Road to add and donate direct to this collection to the Cardiff Museum.
Tony Martin
Rumney, Cardiff
---
Bert Edwards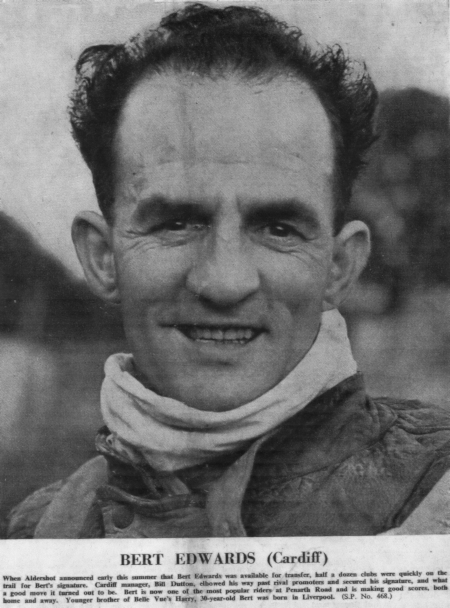 Courtesy of Graham Gleave
If you have any photos etc please email them to me John
---
The contents of the site are © and should not be reproduced elsewhere for financial gain. The contributors to this site gave the pictures and information on that understanding. If anyone has any issue or objections to any items on the site please
e-mail
and I will amend or remove the item. Where possible credit has been given to the owner of each item.