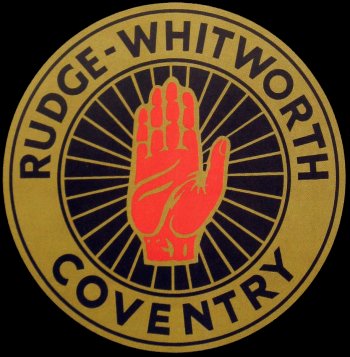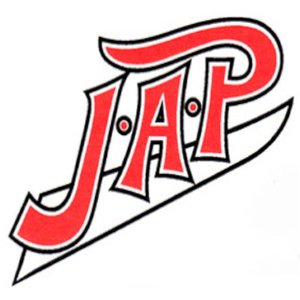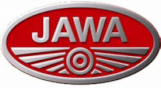 ---
Card Set 7a
Senior Service
(J A Pattreiouex)
[A 1930 series of 54 Cigarette Cards]
The Pattreiouex Tobacco Company advertises their Trawler Critic Club Member cigarettes on these cards.
My thanks to David Pipes for supplying his set of cards from 1930. Senior Service used an artist for their 1929 set but for 1930 they used photographs of the riders. The photographs have fogged out all the backgrounds which although it scores for artistic merit it has lost us unique historical record of what was going on in the pits etc.
---
Card 1 British
Jack Barber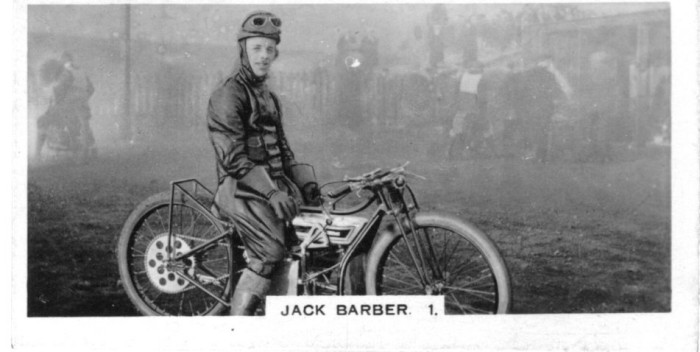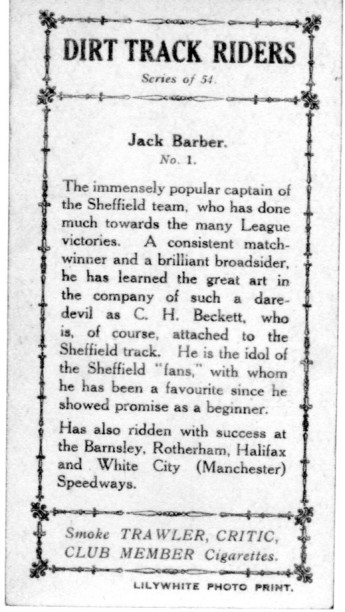 The bike picture shows the Douglas had a gear lever mounted on the fuel tank. Speedway bikes in later years did not have gear boxes. I understand Douglas riders selected 2nd gear and never changed gear at all in a race. They must have been slower in starting a race than the Rudge but appear to have had more power around the bends
---
Card 2 British
Broncho Dixon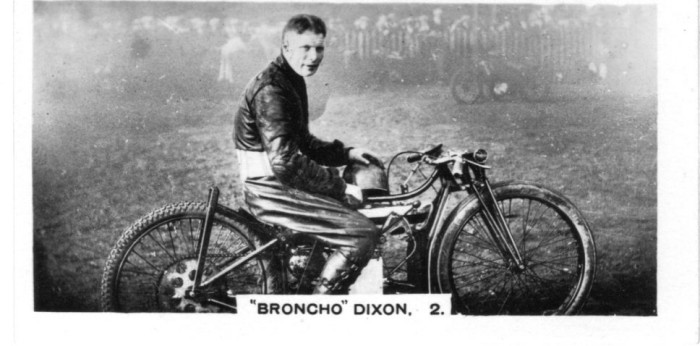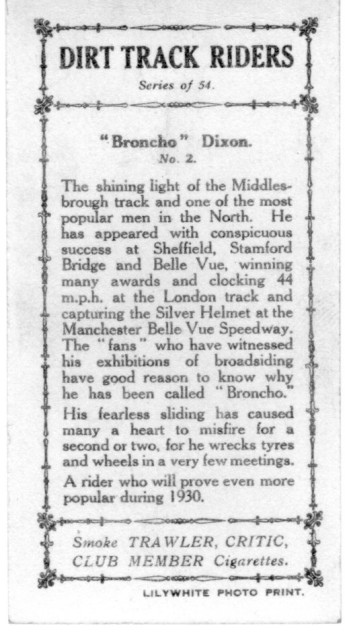 ---
Card 3 British
George Greenwood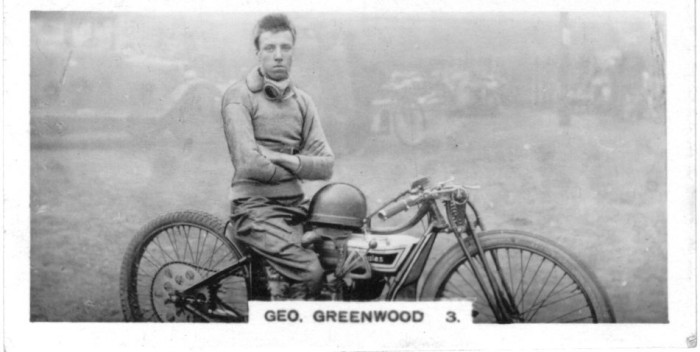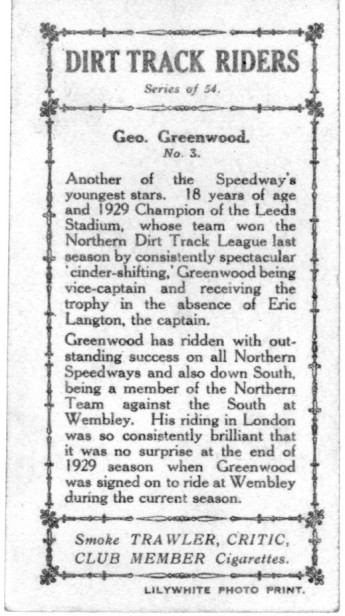 ---
Card 4 British
Frank Charles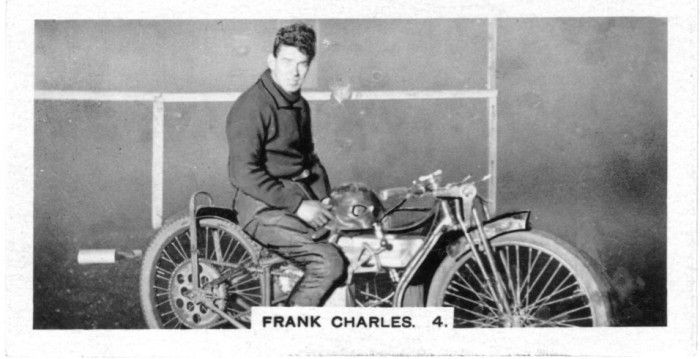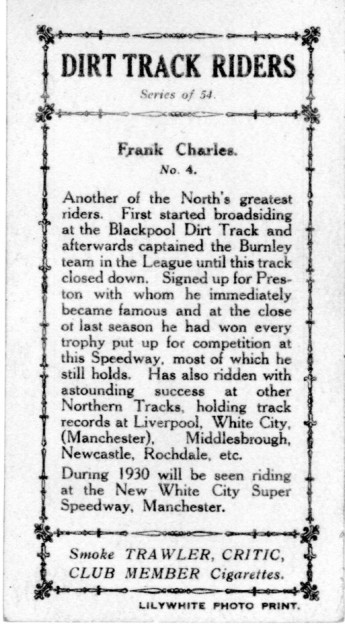 ---
Card 5 British
Ham Burrill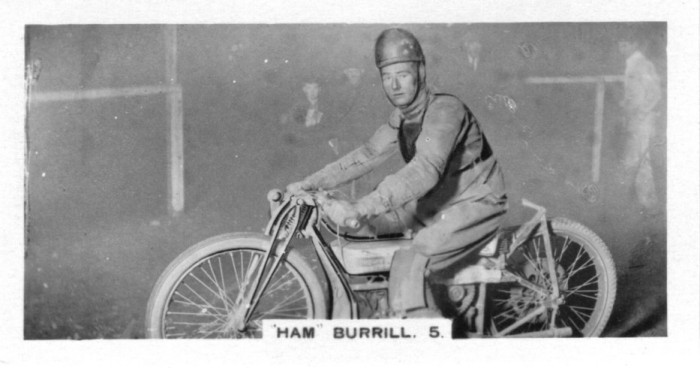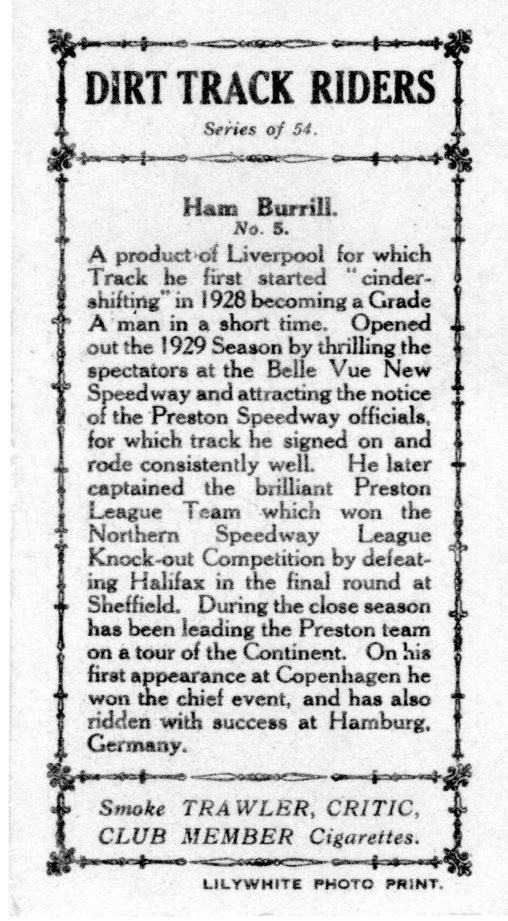 ---
Card 6 British
W E Platts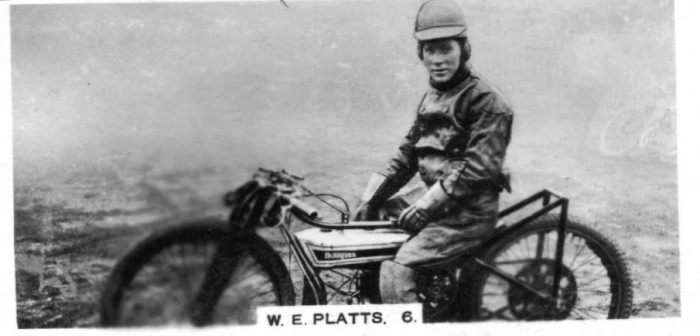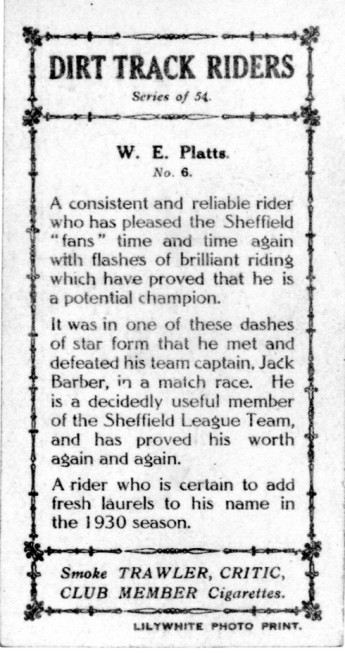 ---
Card 7 British
Squib Burton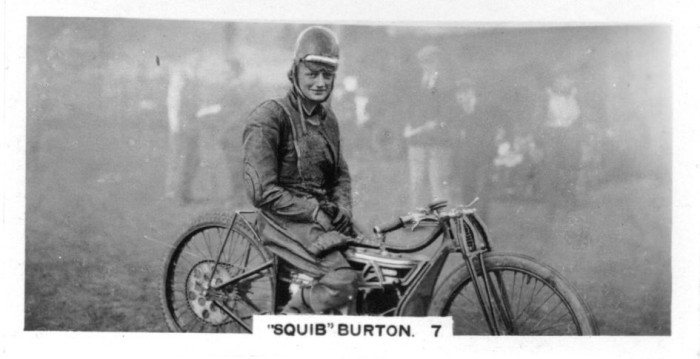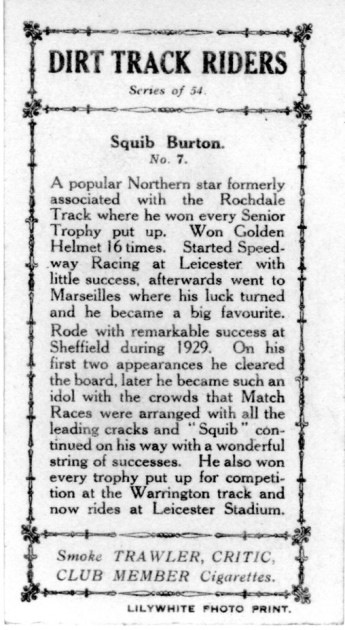 ---
Card 8 British
Syd Jackson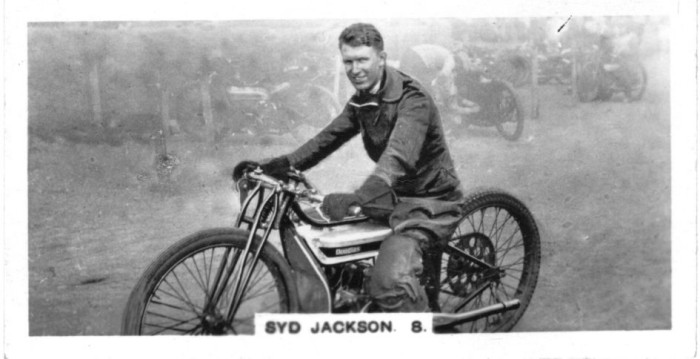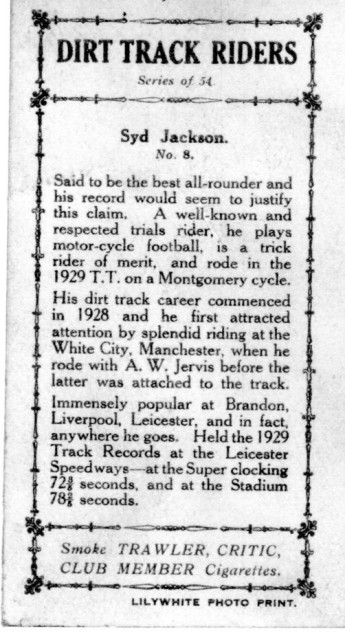 ---
Card 9 Australian
Syd Parsons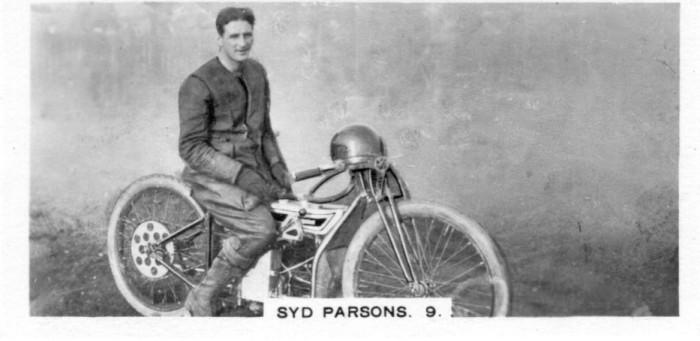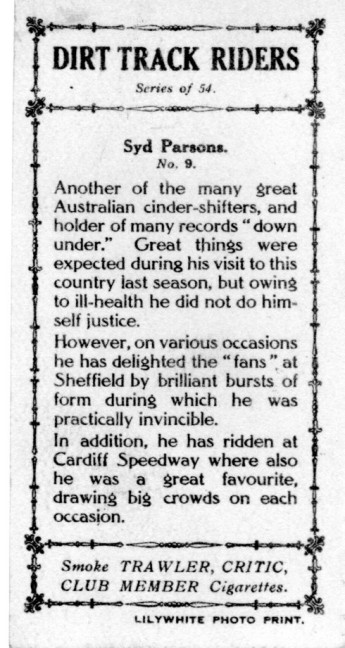 ---
Card 10 British
Eric K Langton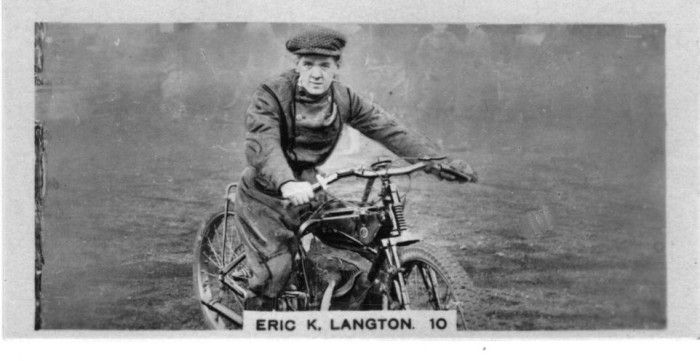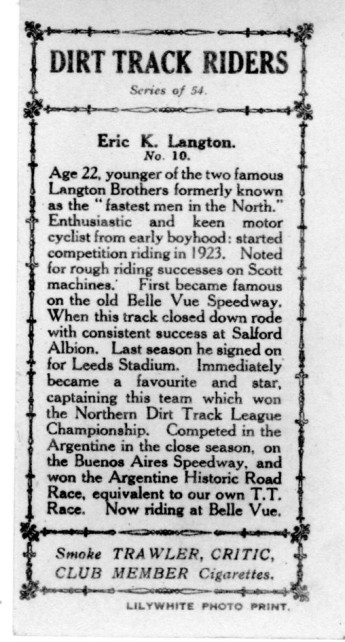 ---
Card 11 Australian
Jack Chapman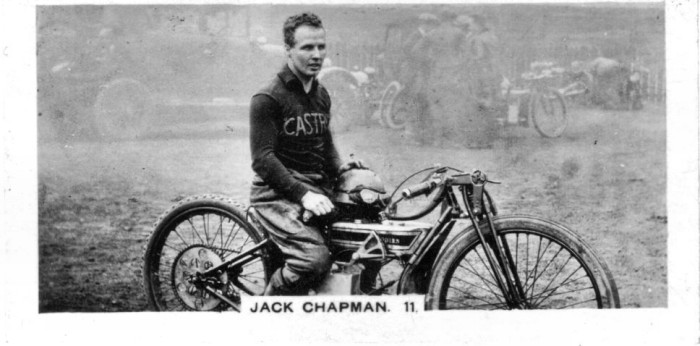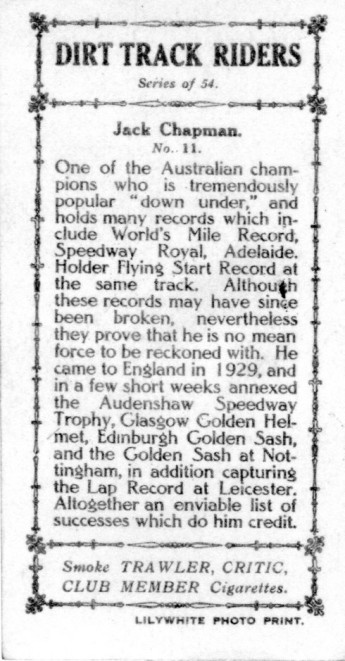 ---
Card 12 British
Arthur Sherlock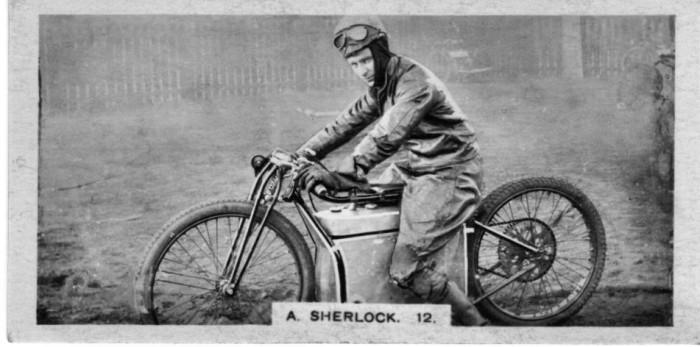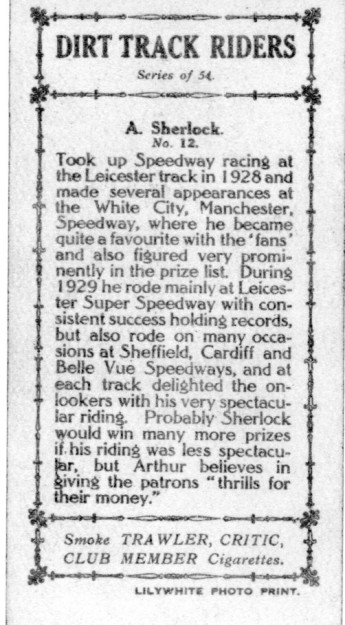 ---
Card 13 British
Joe P Abbott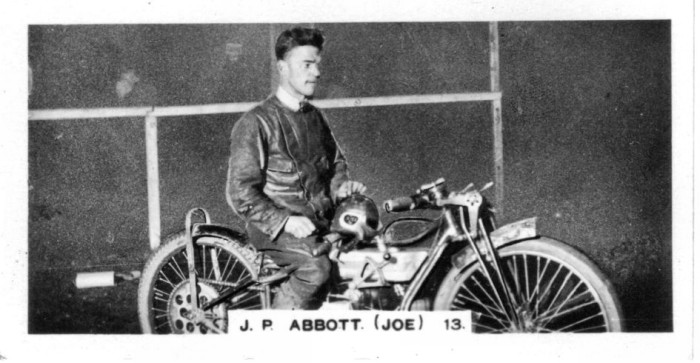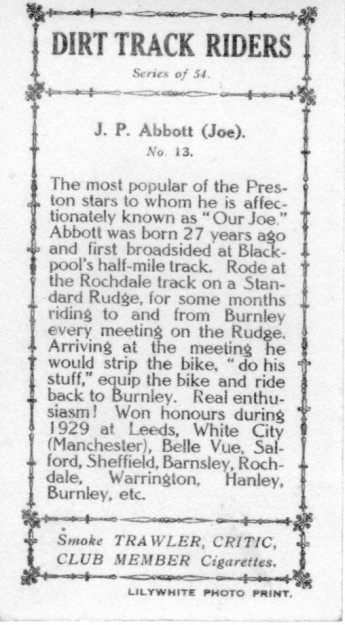 ---
Card 14 British
G B Crawshaw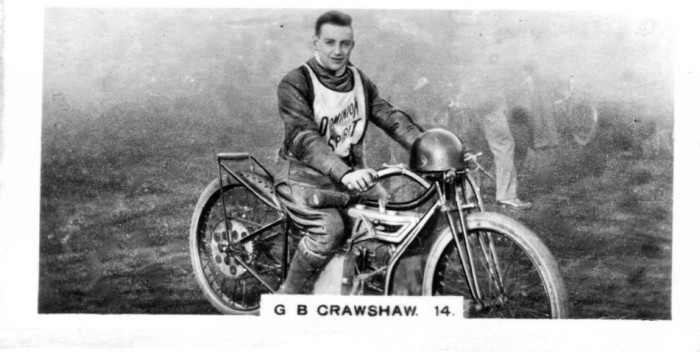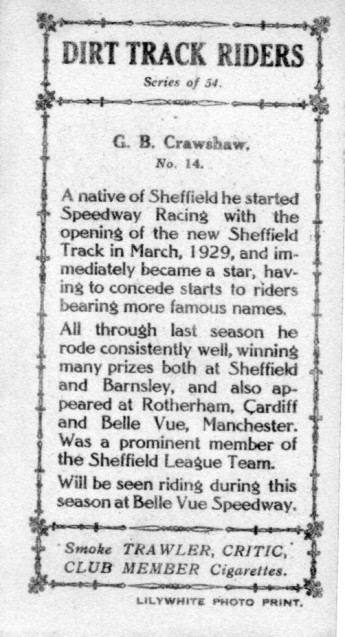 ---
Card 15 British
George Wigfield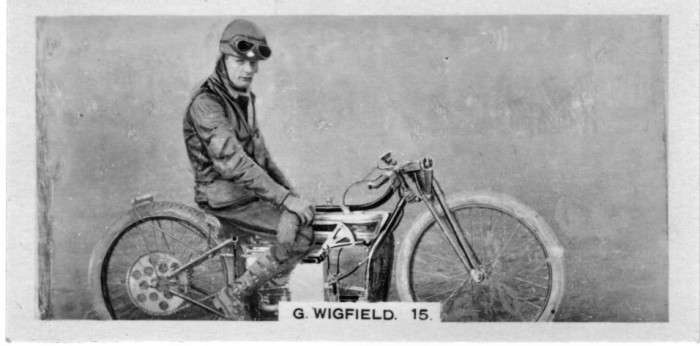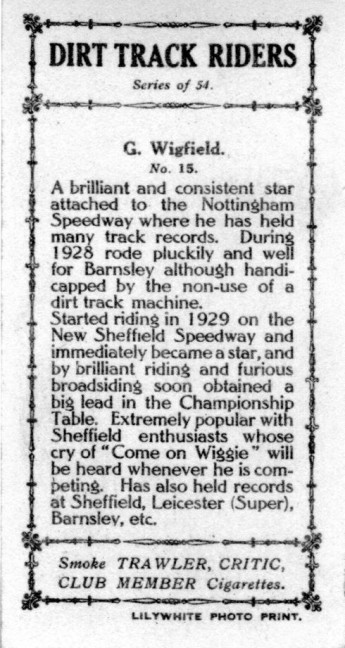 ---
Card 16 British
Arthur Atkinson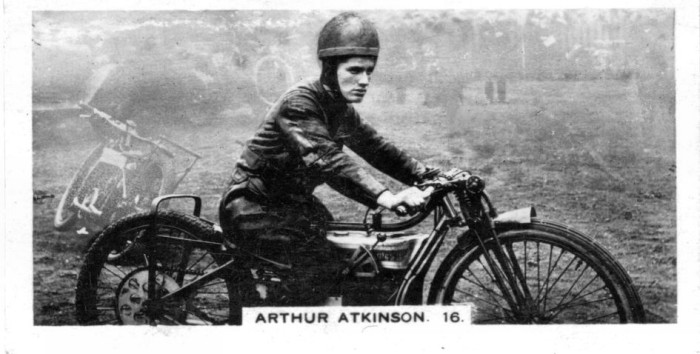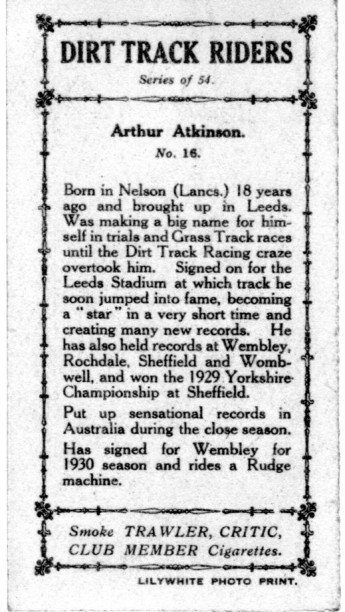 ---
Card 17
"Put Your Feet Up"!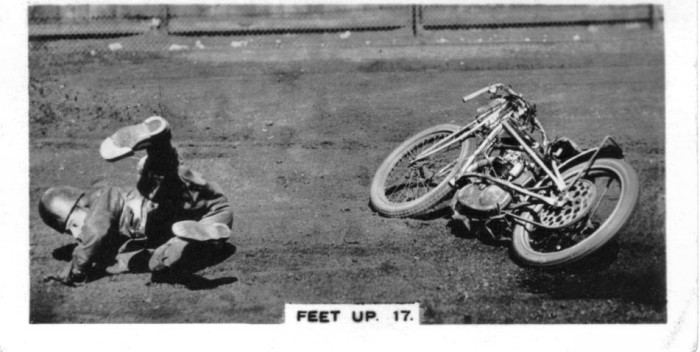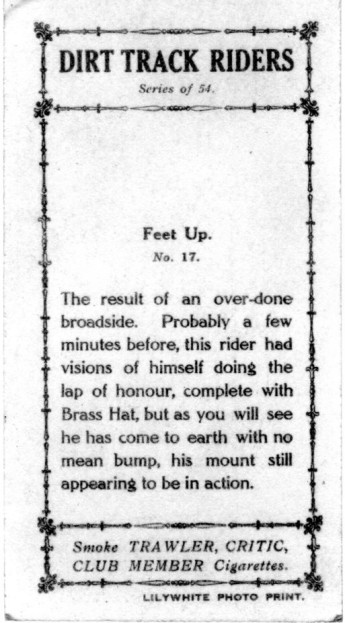 ---
Card 18
"Can You Do This"!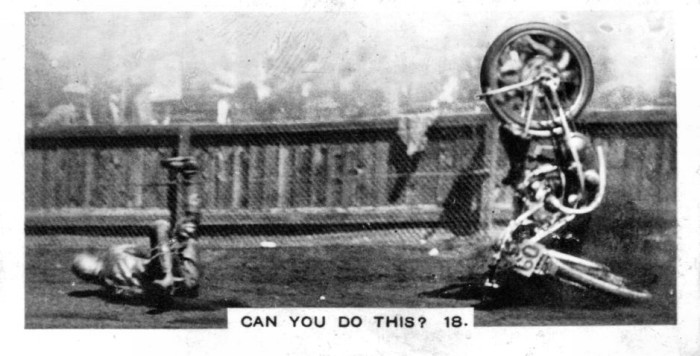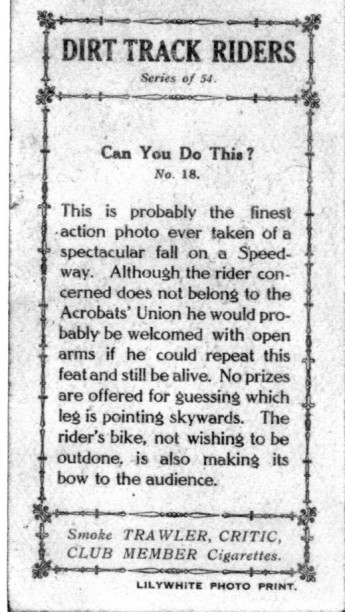 ---
Card 19
"Laying Her Over"!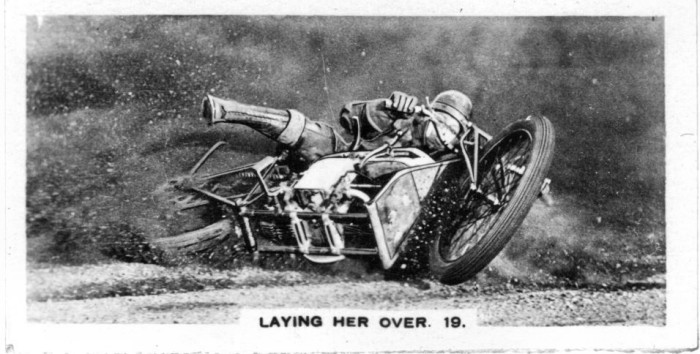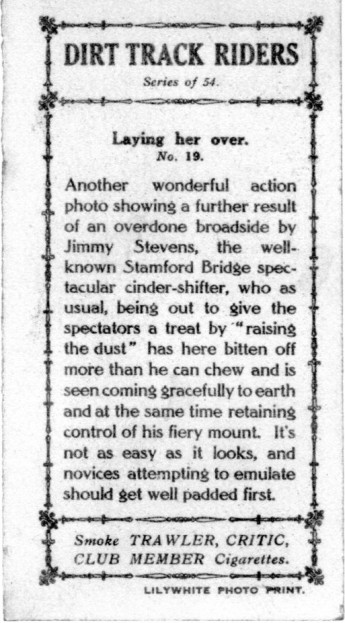 ---
Card 20
"Down But Not Out"!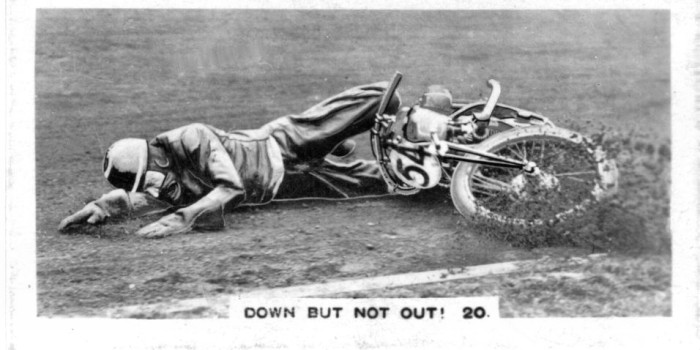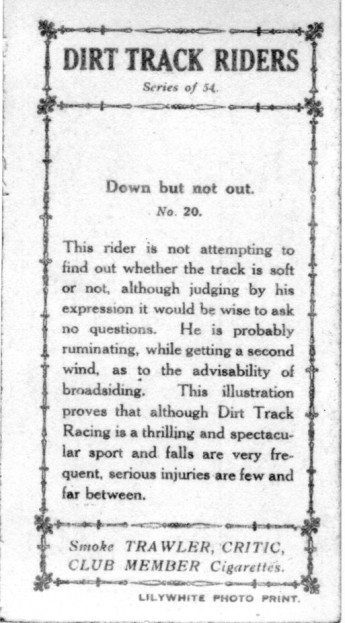 ---
Card 21


"How Did That Happen"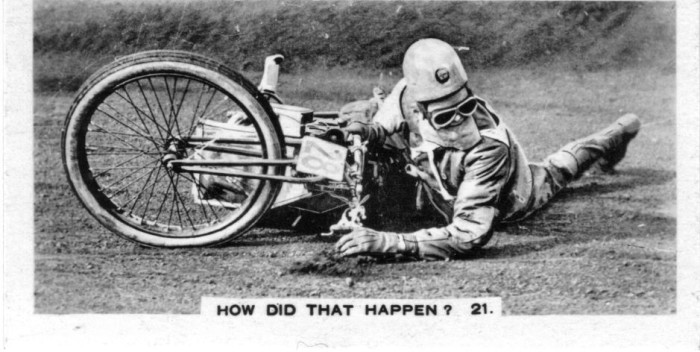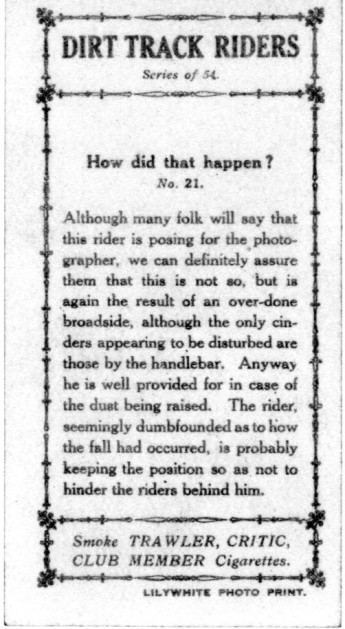 ---
Card 22 British
Jack Barnet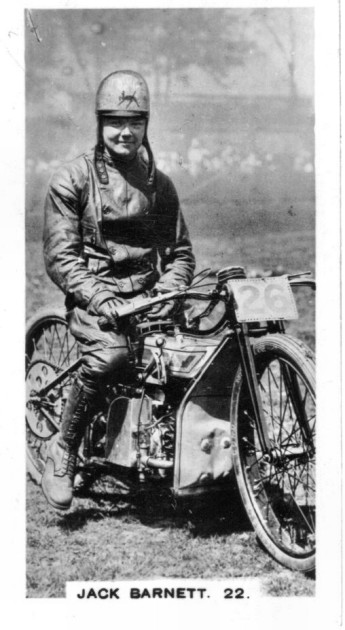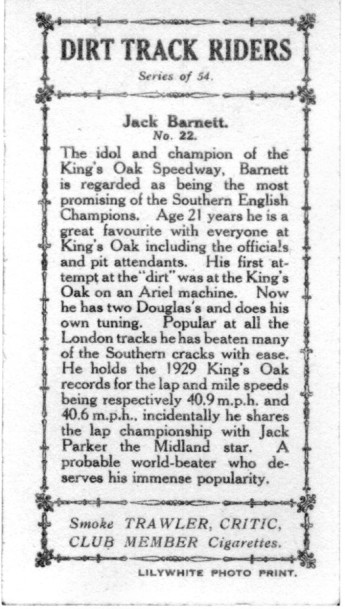 ---
Card 23 Irish
Fay Taylour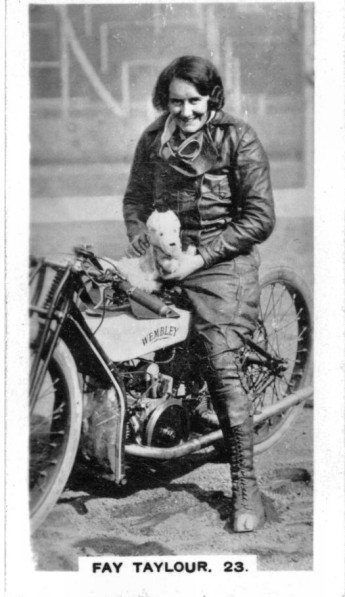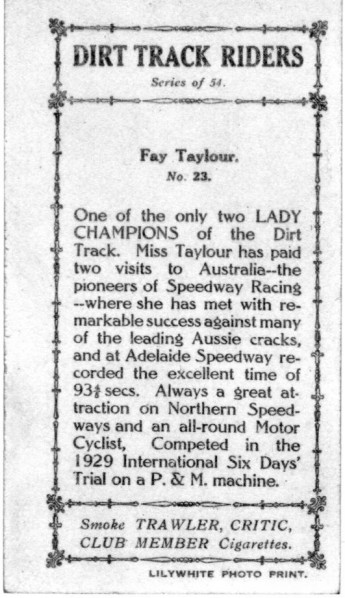 ---
Card 24 British
"Buster" Frogley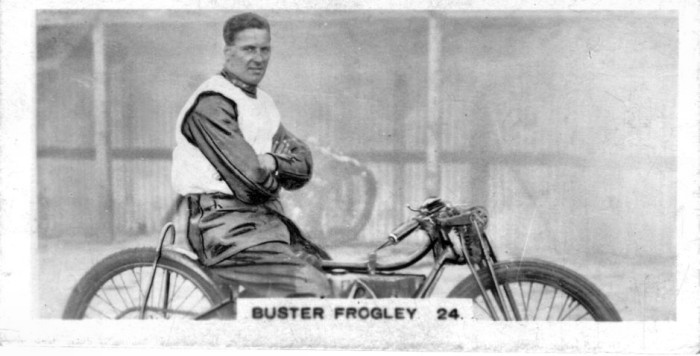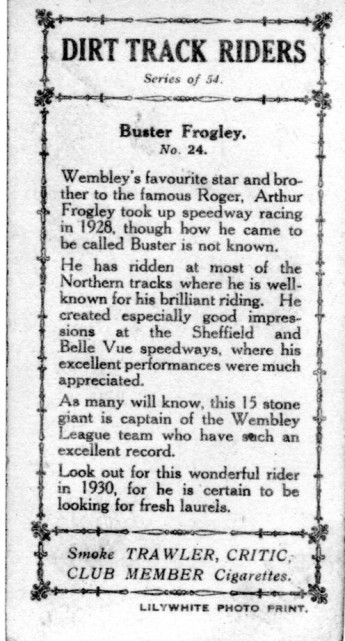 At 15 stone Buster would be too heavy in the modern sport. I presume that as he was successful in 1930 that his Douglas had plenty low down torque to get him moving with the lighter riders
---
Card 25 British
Eva Askwith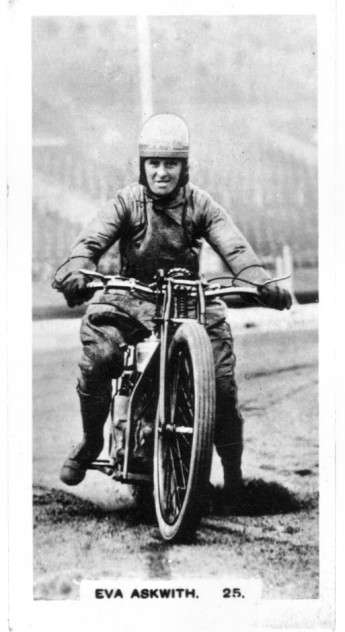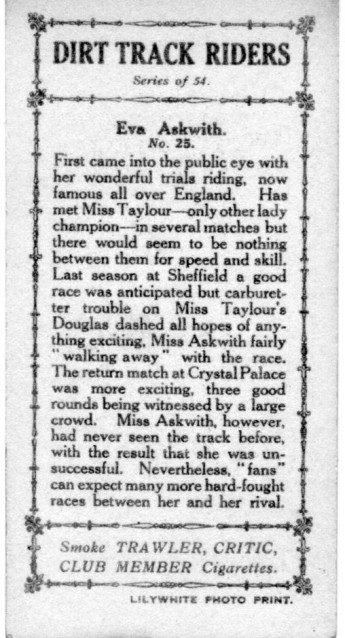 ---
Card 26 British
Roger Frogley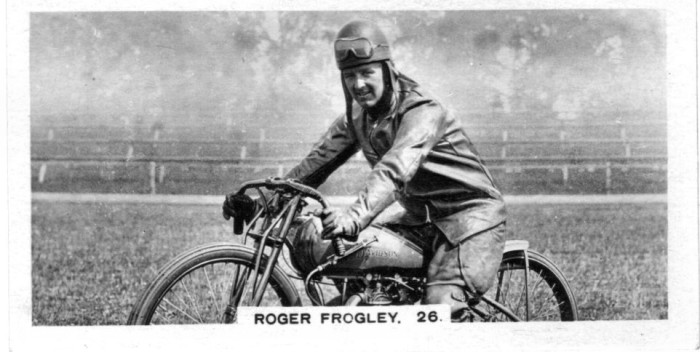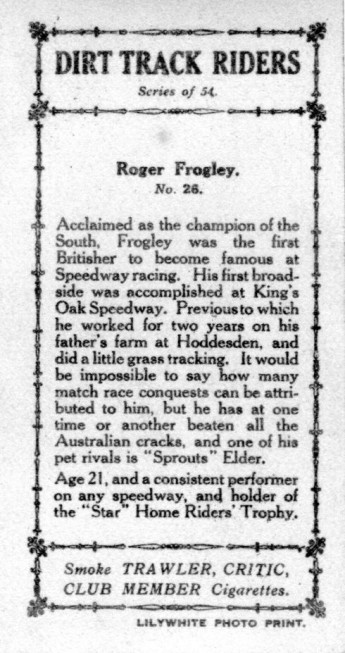 ---
Card 27 British
Colin Watson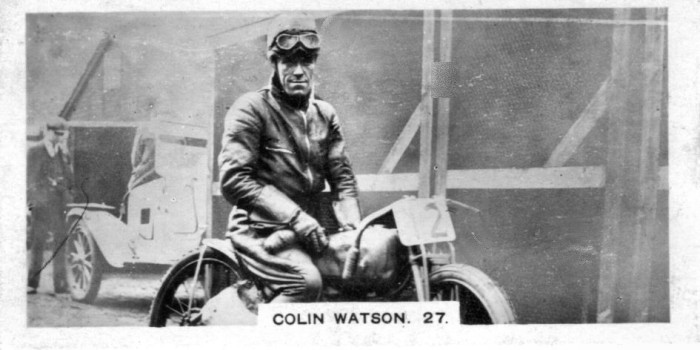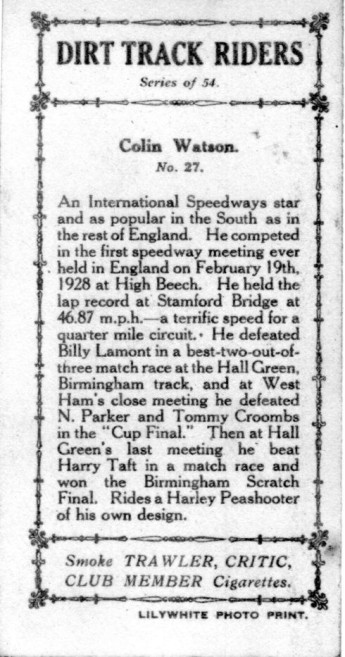 ---
Card 28 British
Eric Spencer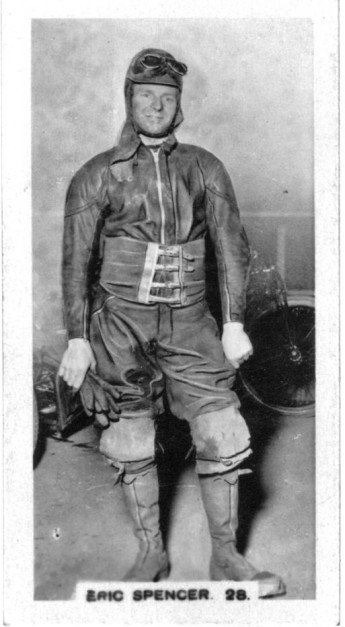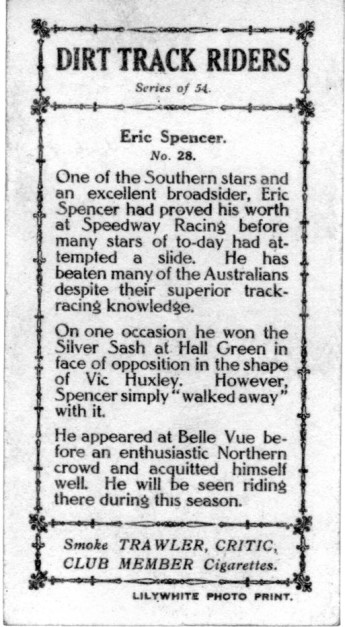 ---
Card 29 Australian
Billy Galloway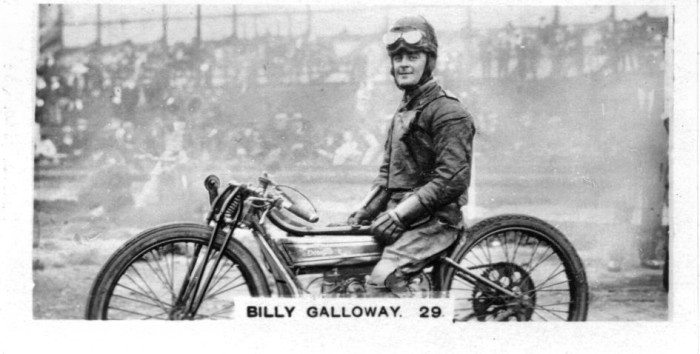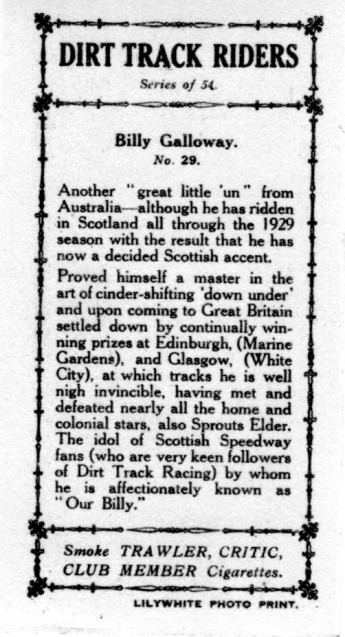 ---
Card 30 Australian
Frank Arthur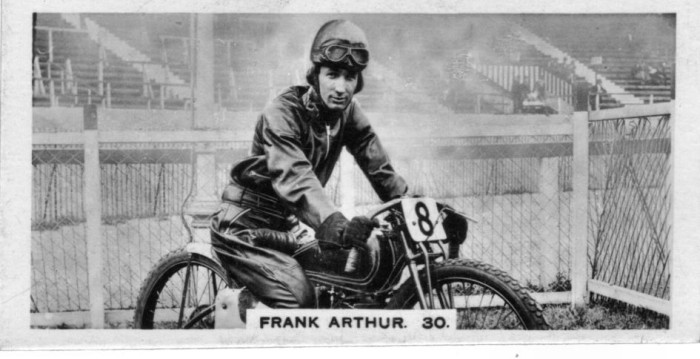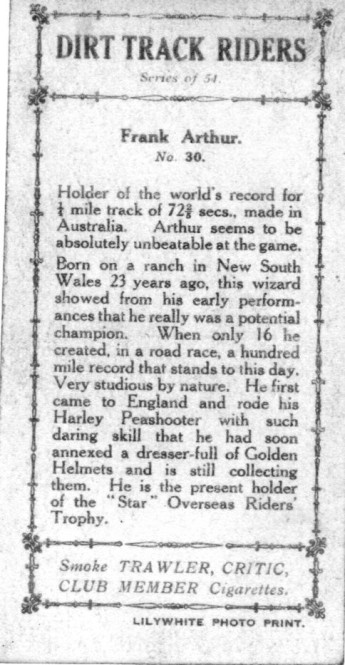 ---
Card 31 Australian


Cyclone Billy Lamont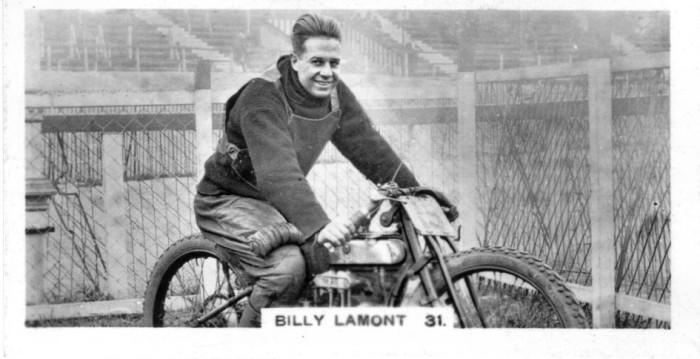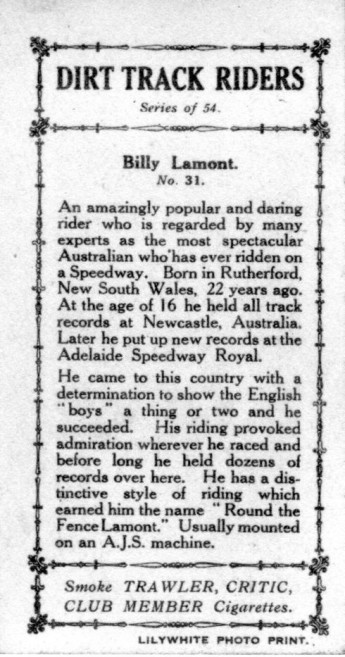 Round The Fence Lamont would have been my kind of rider. The card says he is usually mounted on an AJS. AJS's were used in the mid 1920s in Australia but surely by 1930 the AJ had been pushed out by Douglas and Rudge machines in the UK.
---
Card 32 Australian
Vic Huxley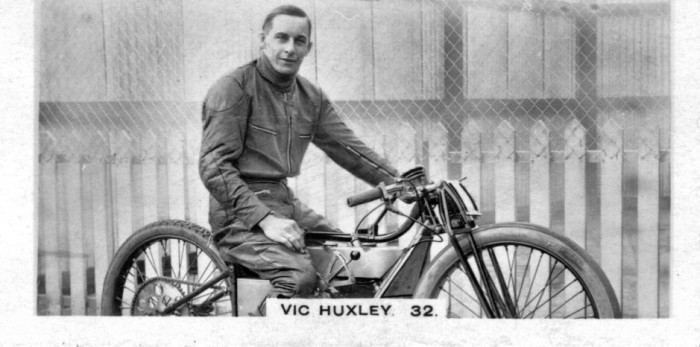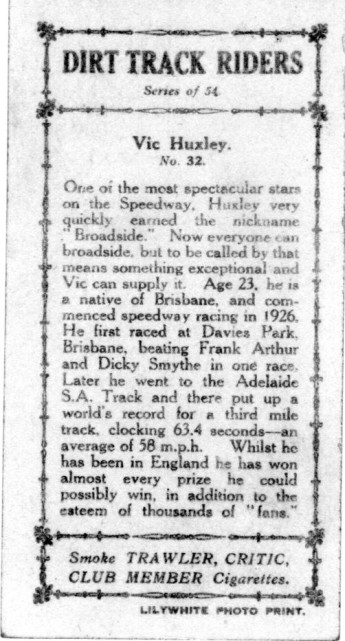 ---
Card 33 Australian
Max Grosskreutz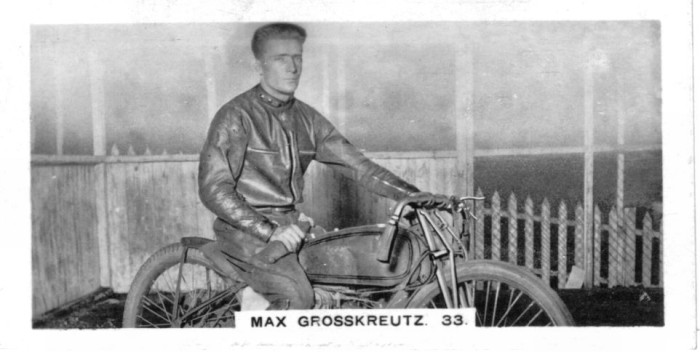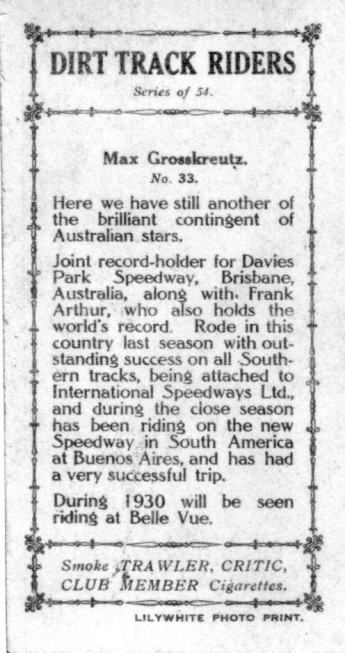 ---
Card 34 American


Lloyd "Sprouts" Elder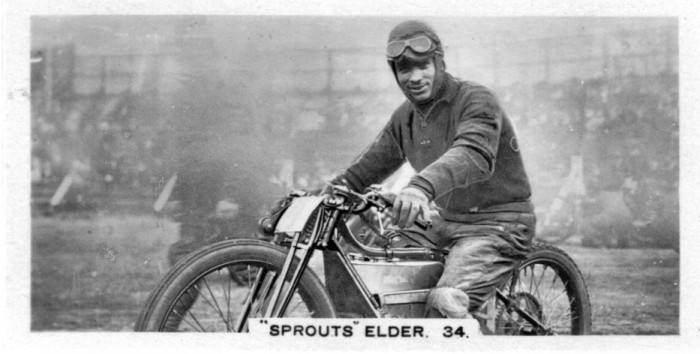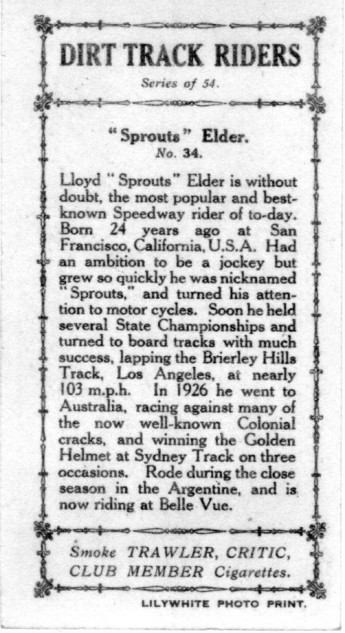 ---
Card 35 British
Ivor Creek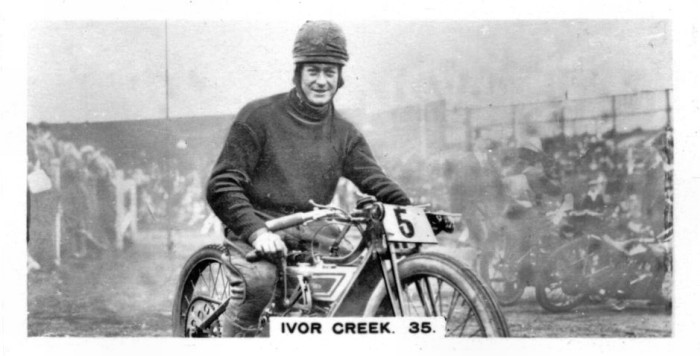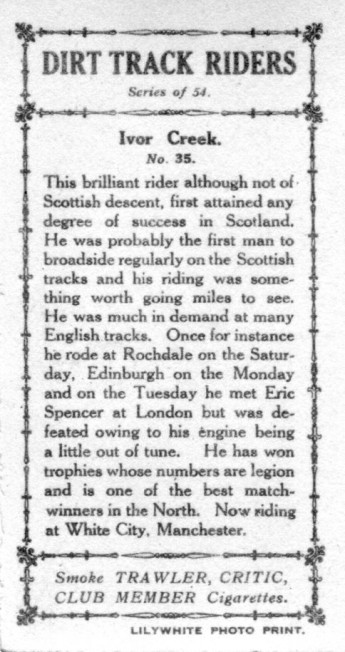 ---
Card 36 British
Billy Dallison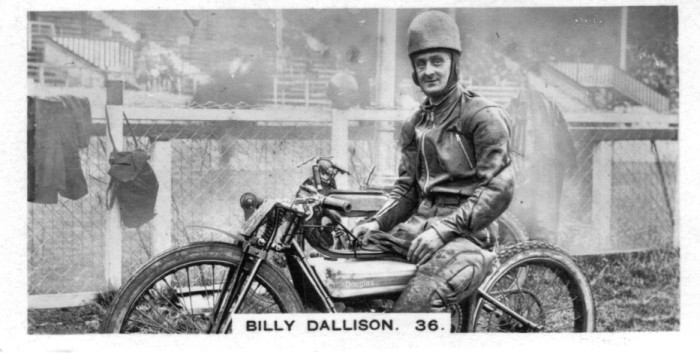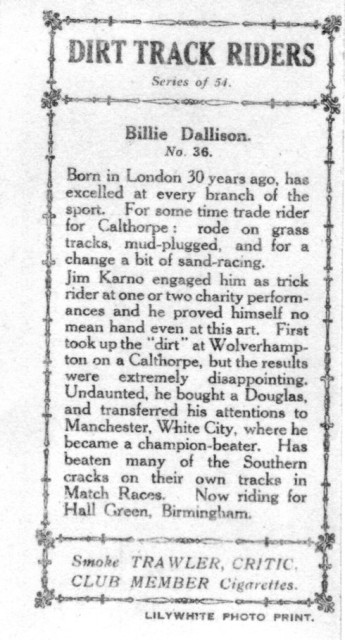 ---
Card 37 British
Jim Kempster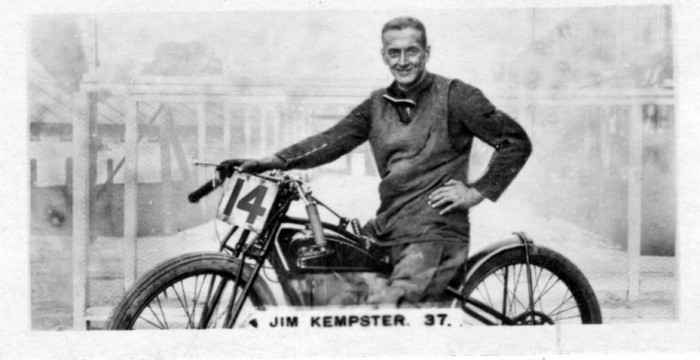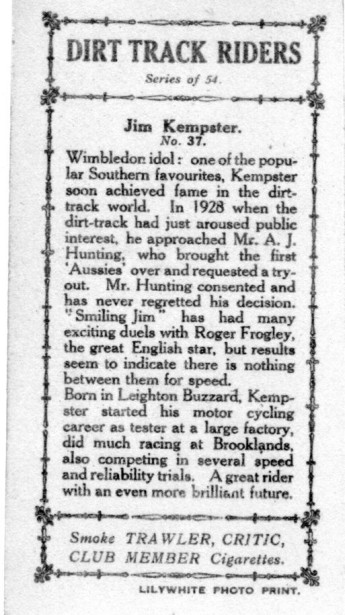 ---
Card 38 British
Skid Skinner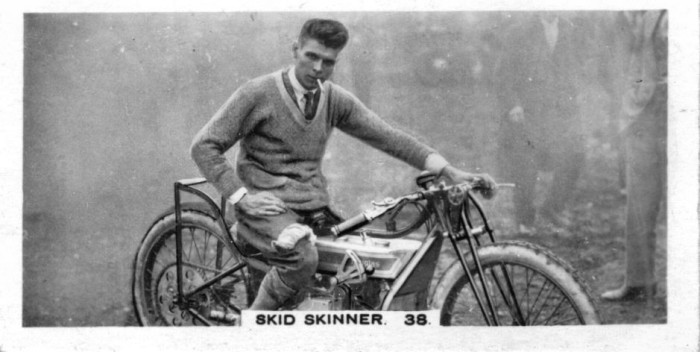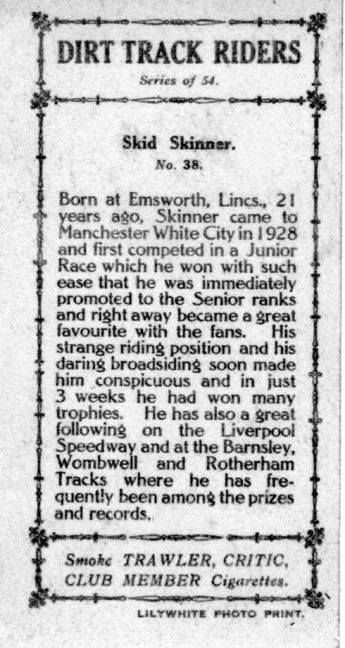 John Skinner says: My namesake Skid Skinner, although no-one has ever called me "Skid" ! I pushed a pen in the civil service whilst Skid also rode Wall of Death!
---
Card 39 British
Del Forster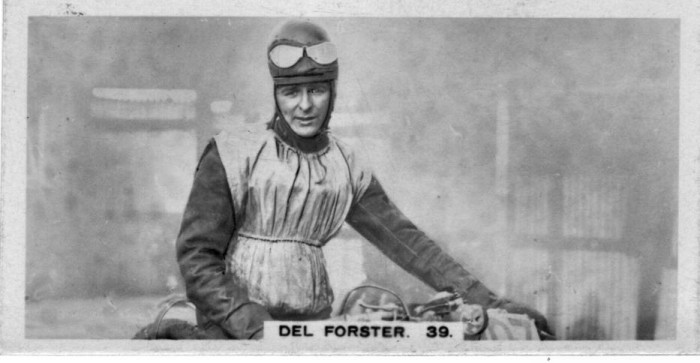 ---
Card 40 British
Tommy Hatch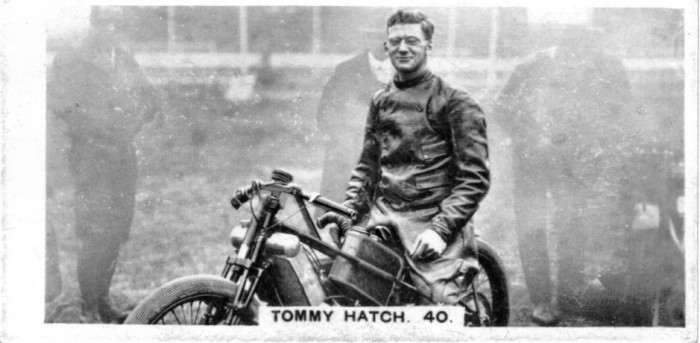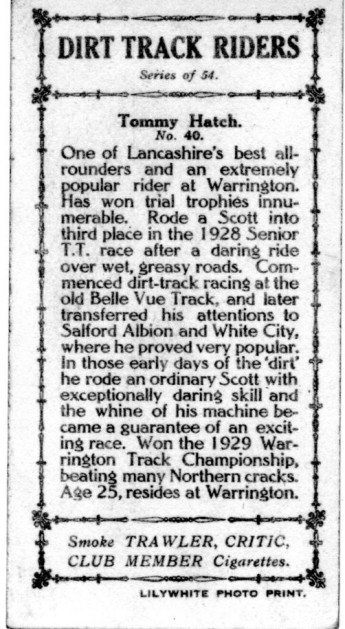 Tommy was a devotee of Scott motorcycles. You can see from his photocard the top half of his bike. Scotts were water cooled two-strokes and a race between four of them would have been deafening
---
Card 41 Australian
Charlie Spinks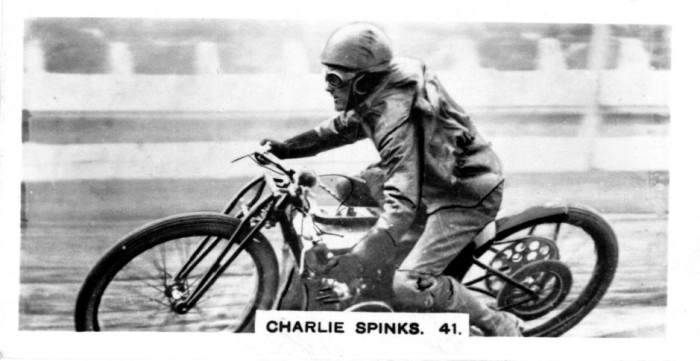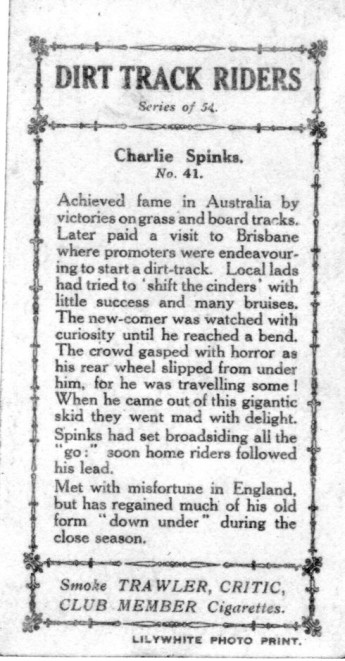 ---
Card 42 New Zealander
"Stewie" St George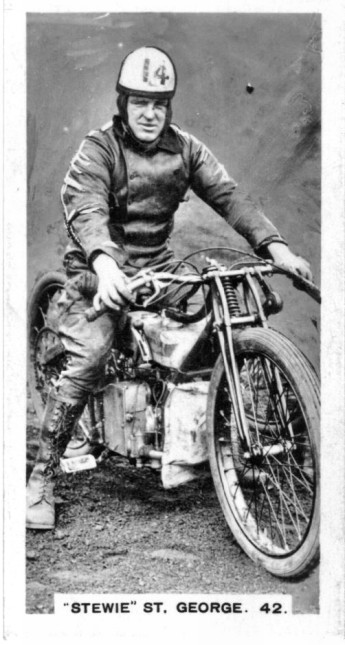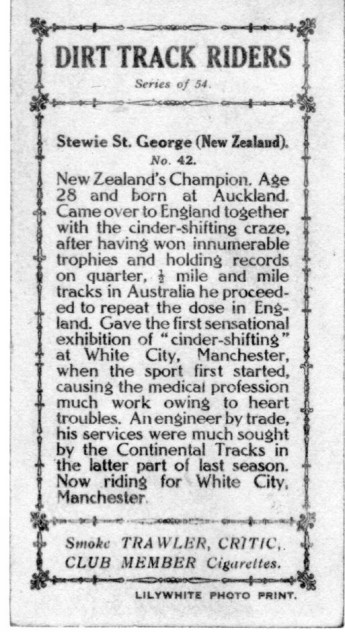 ---
Card 43 British
Alec Jackson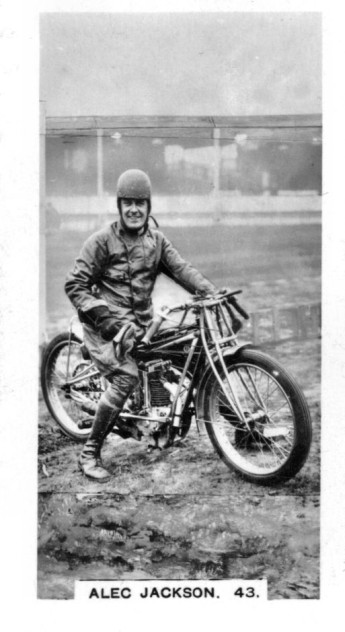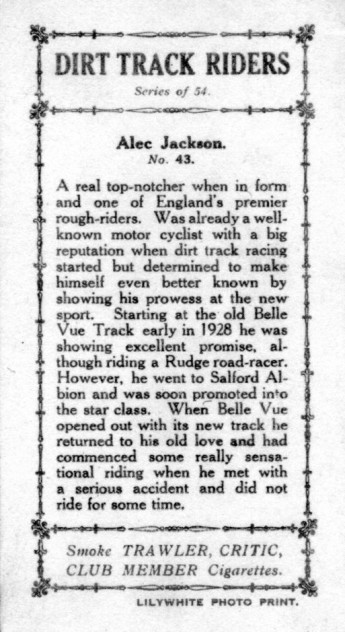 ---
Card 44
Jack Parker (British)
Ron Johnson
Australian)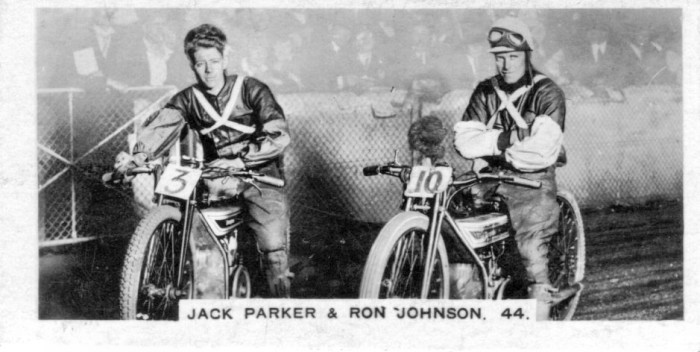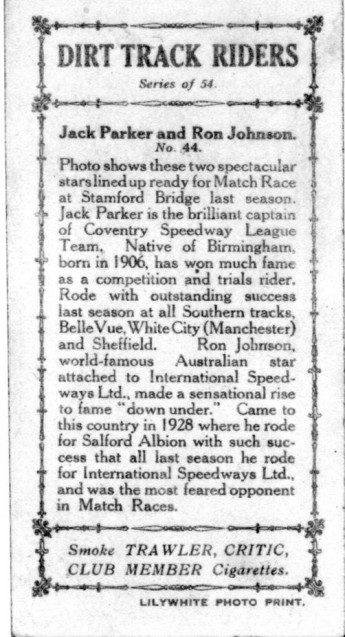 ---
Card 45 British
"Ginger" Lees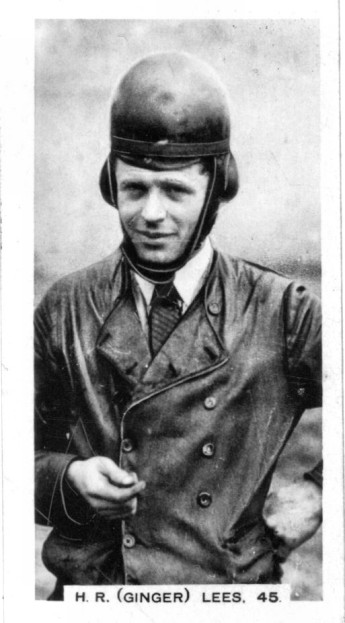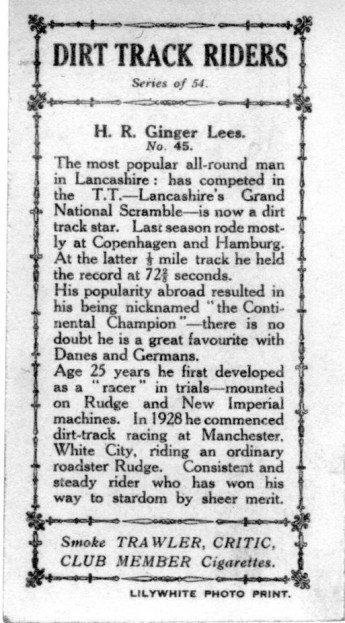 Here we see Ginger modeling the best race wear available in 1930. His Leathers looked stylish but wouldn't have protected him much in a crash and the pudding basin helmet wouldn't protect the face or back of the head. This was before the age of plastics his helmet was made of cork.
---
Card 46 British
Arthur Franklin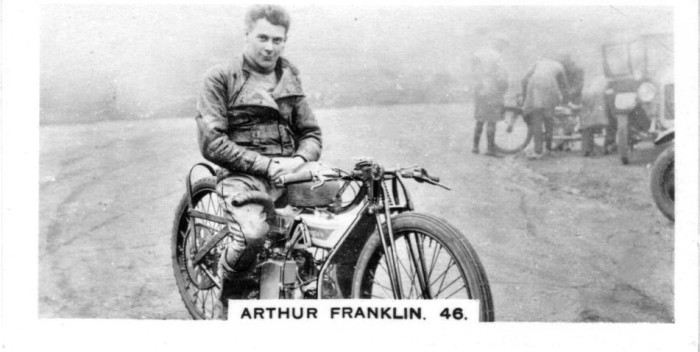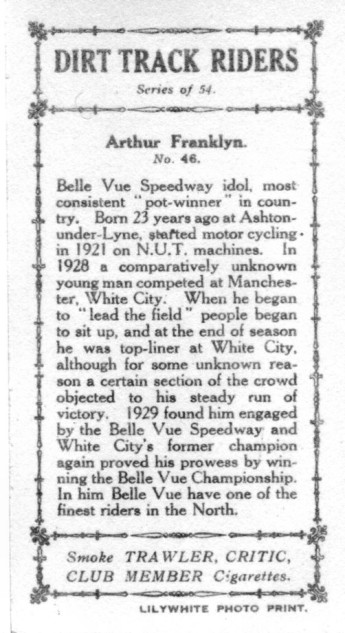 ---
Card 47 British


Eric & Oliver Langton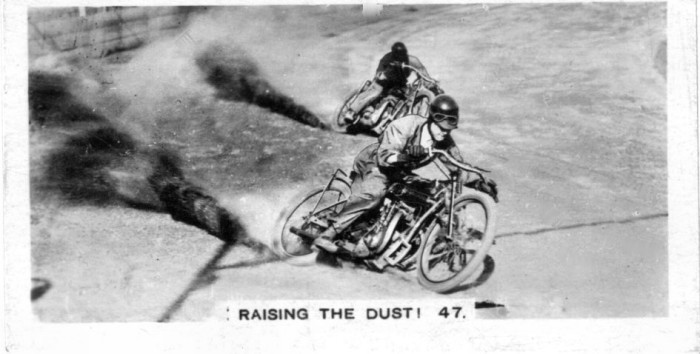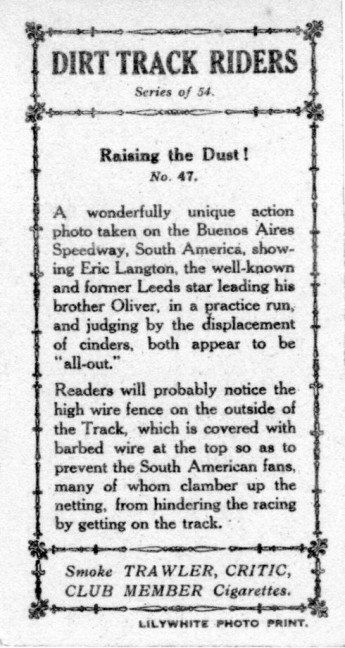 Argentina has been involved in speedway since the beginning and we still see the odd Argentinian rider in the UK today
---
Card 48 British
A W Jervis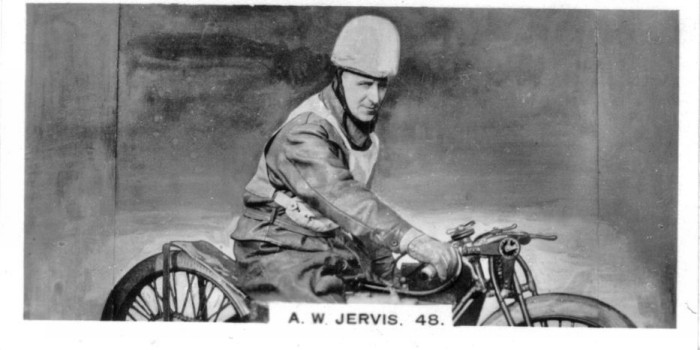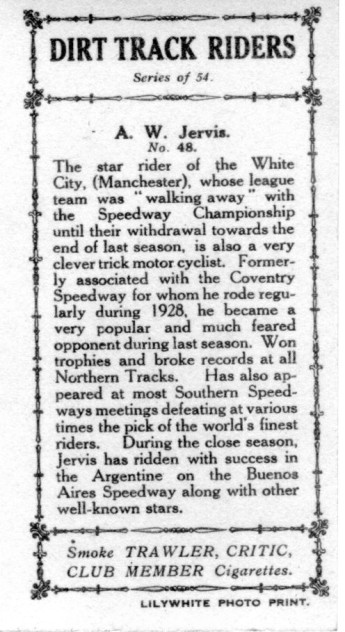 ---
Card 49 British
Dusty Haigh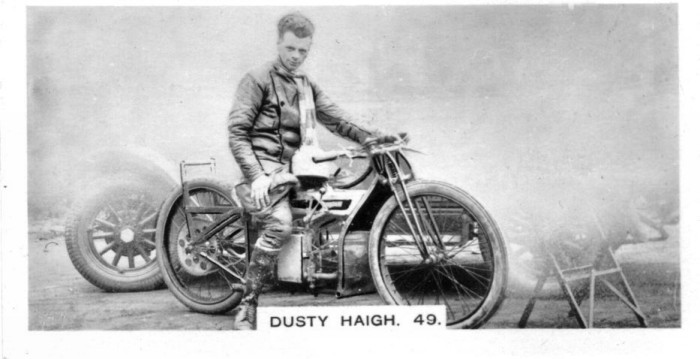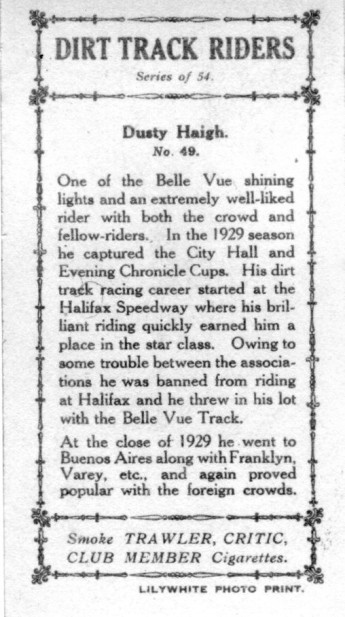 ---
Card 50 Australian
Dicky Wise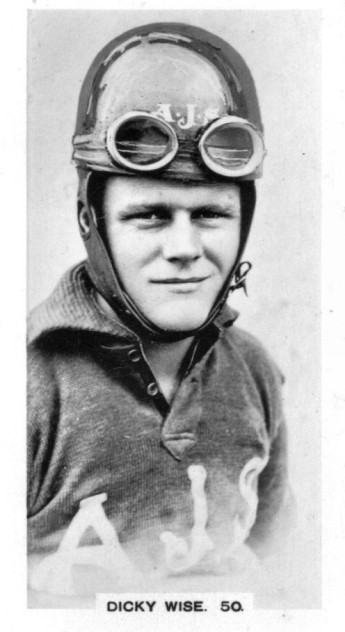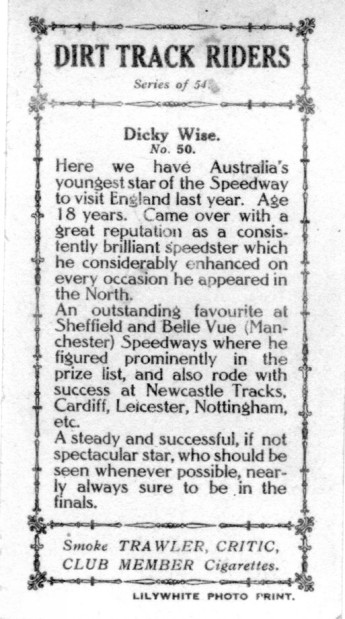 ---
Card 51 British
Frank Varey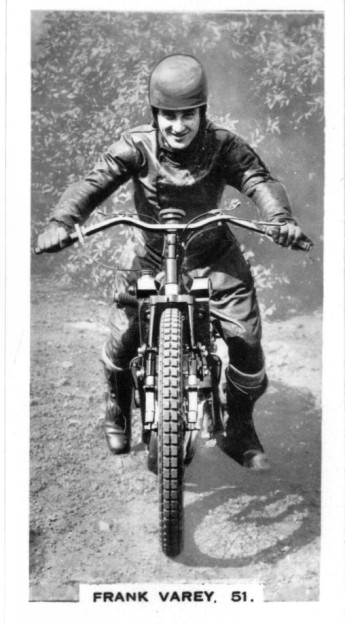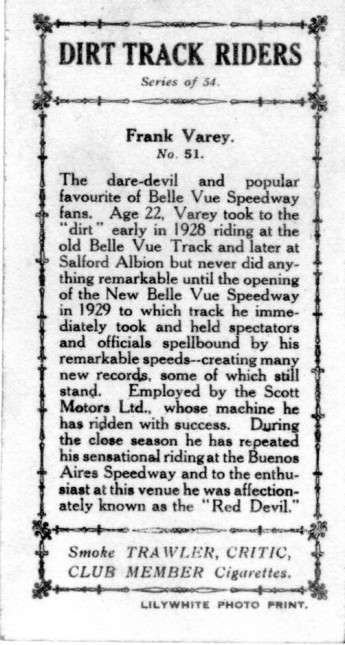 Another devotee of the water cooled two-stroke Scott. Frank was a Scott "Works" rider before the term was coined. The Scott was red and Frank rode in Argentina in a red jersey. The Argentinian fans called him

"

el

diablo rojo

" the Red Devil
---
Card 52 British
Clem Beckett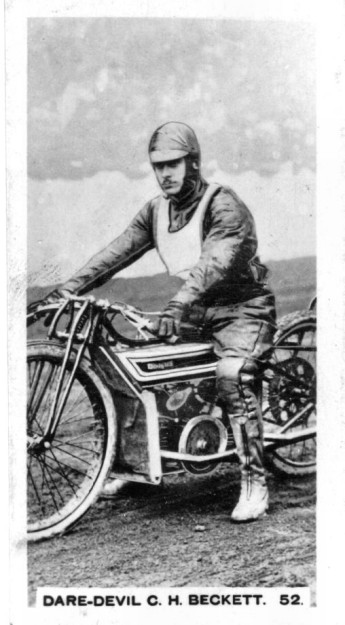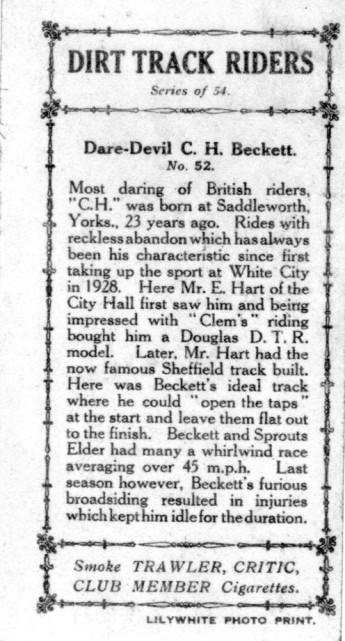 Clem joined a fairly large group of UK nationals that in the later part of the 1930s volunteered their services to fight in the Spanish Civil War. He was killed in action as if speedway wasn't dangerous enough for him.
---
Card 53 British


Walter Hackney Hull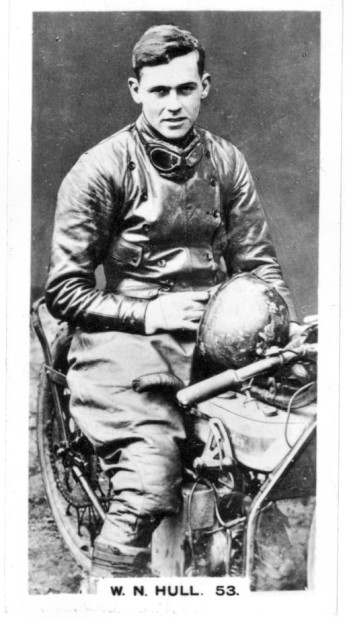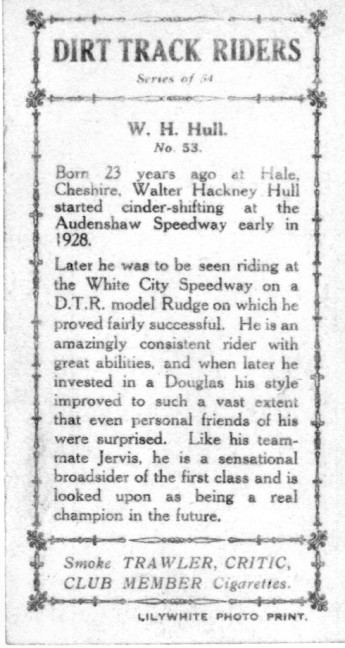 The write up on Walter's card praised him but as often is the case a rider fails to achieve what he should have done.
---
Card 54 British
Chun Moore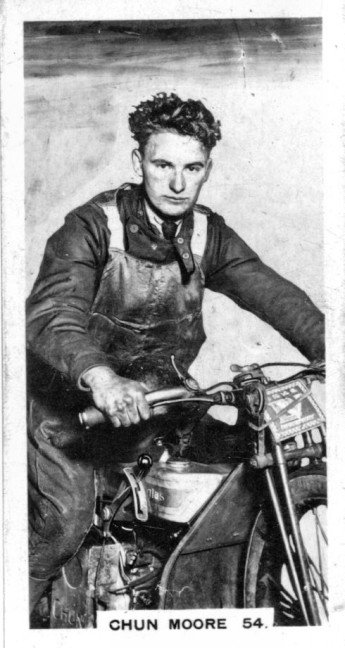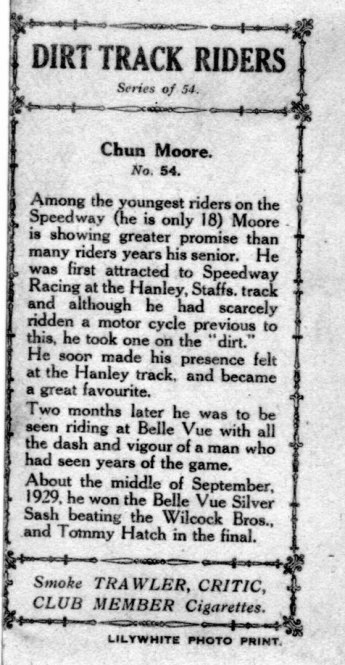 An excellent set of 54 cards from 1930. Some famous names and some not famous. My thanks to David Pipes for sending me these scans. I think cigarette cards like these are an excellent source of information from their era and I am really pleased that so many card owners have sent me their card sets for display on the website
---
The contents of the site are © and should not be reproduced elsewhere for financial gain. The contributors to this site gave the pictures and information on that understanding. If anyone has any issue or objections to any items on the site please
e-mail
and I will amend or remove the item. Where possible credit has been given to the owner of each item