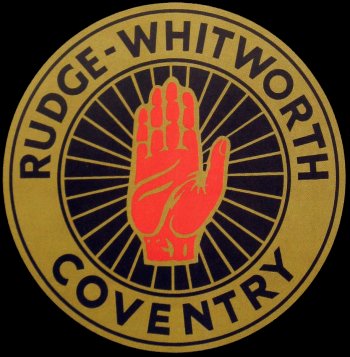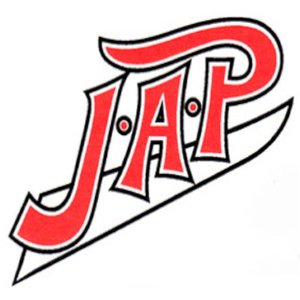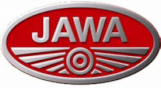 ---
Card Set 7
Senior Service
(J A Pattreiouex)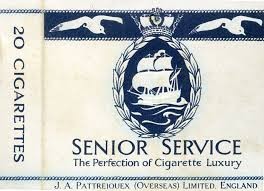 A 1929 Series Of 50
Cigarette Cards
I received an incomplete set of scans of these cards from Rodger Stubbings, which were on the website for quite a while then another set, but this time complete set (from David Pipes) was received. Due thanks and respect to Rodger as I have chosen to show David's cards for this page.
---
Card 1 British
Arthur Franklyn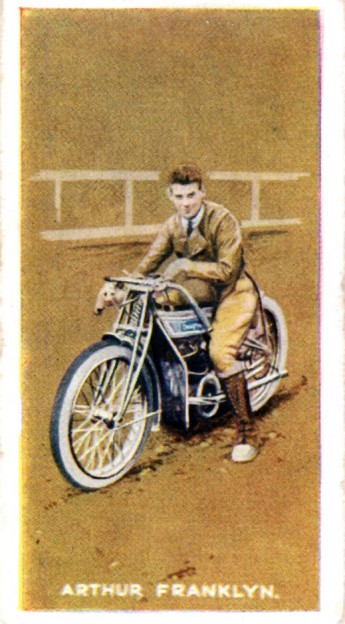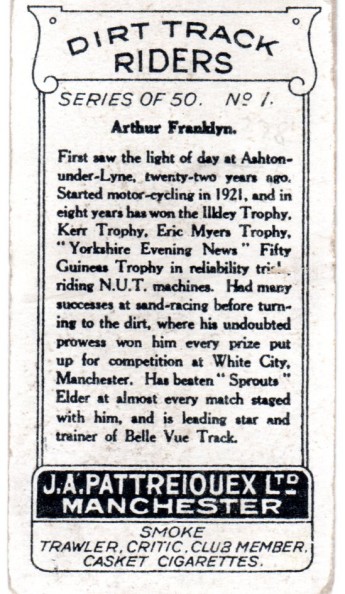 The N.U.T. machines referred to above got their name NUT from the city they were manufactured in, Newcastle Upon Tyne
---
Card 2 British
"Skid" Skinner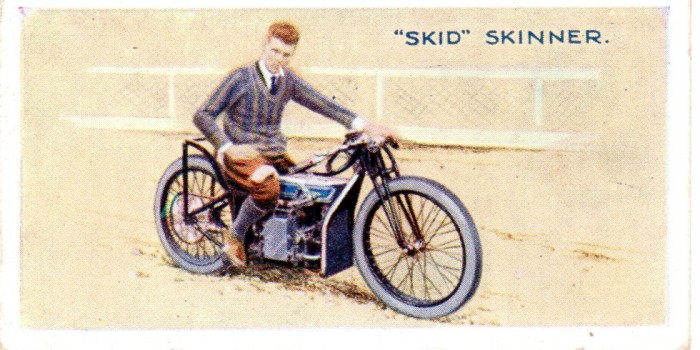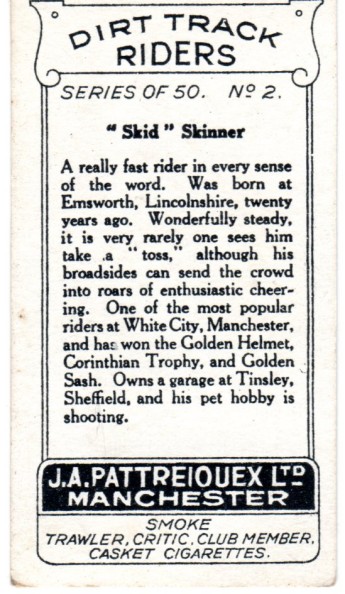 ---
Card 3 British
Jim Kempster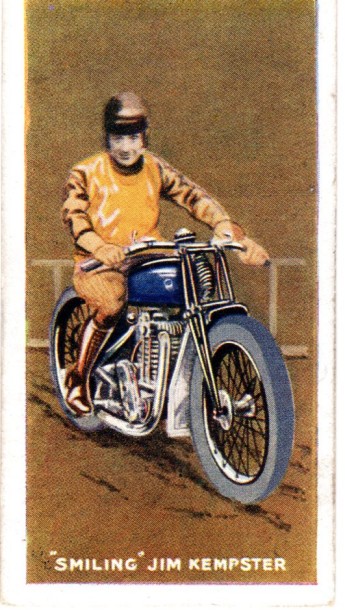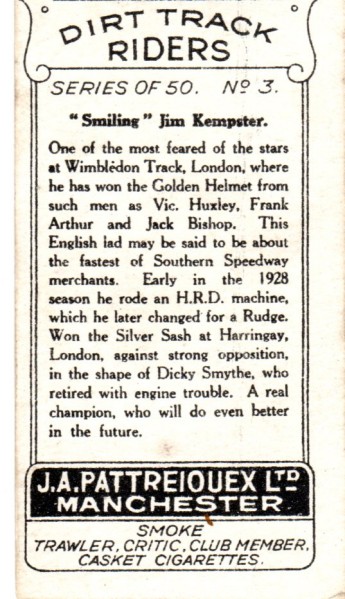 ---
Card 4 British
Dick Hayman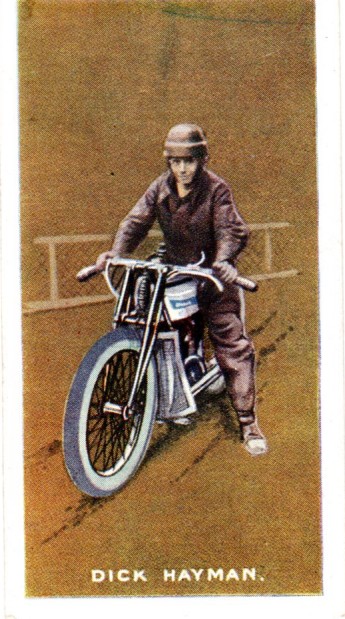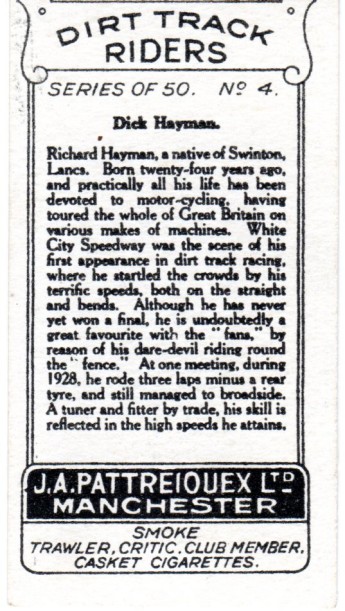 ---
Card 5
Irish/British?
AB Drew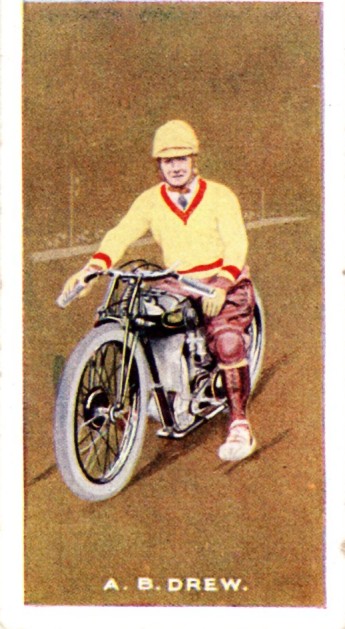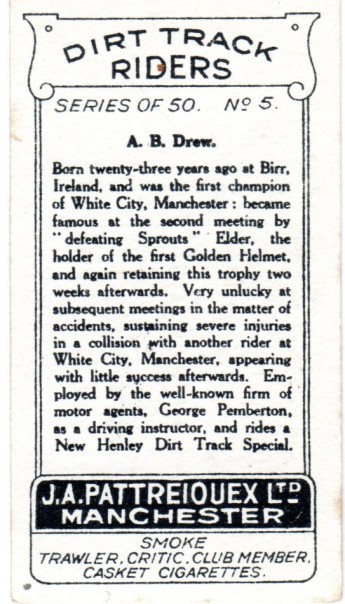 ---
Card 6 Australian
Ron Johnson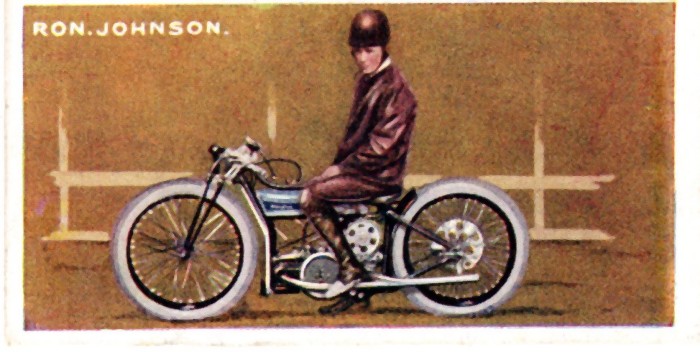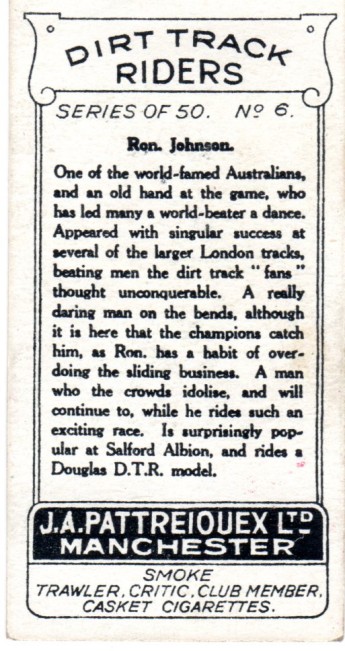 ---
Card 7 Australian
Charlie Spinks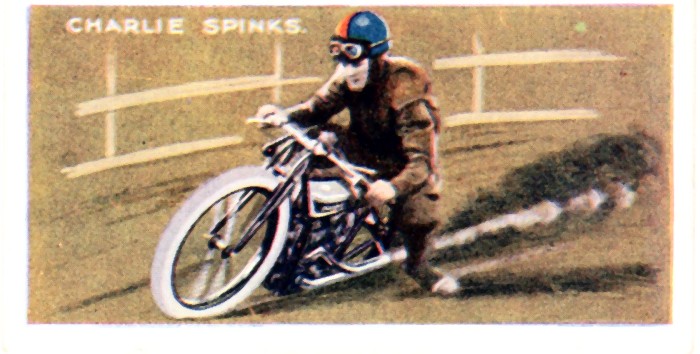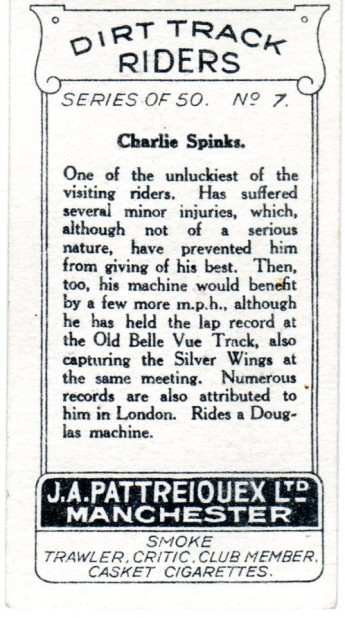 ---
Card 8 Australian
Sig or Cig Schlam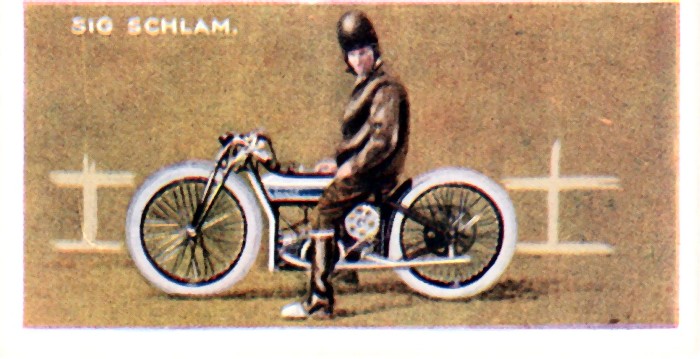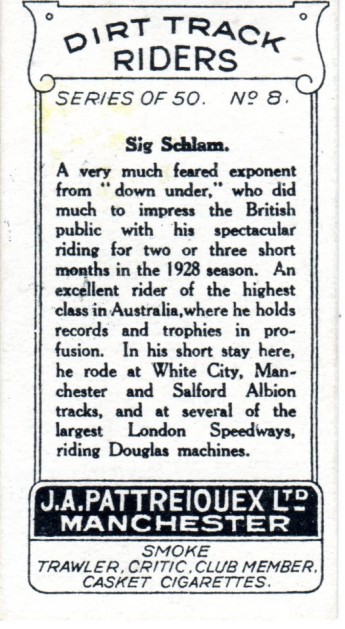 ---
Card 9 British
Tommy Hatch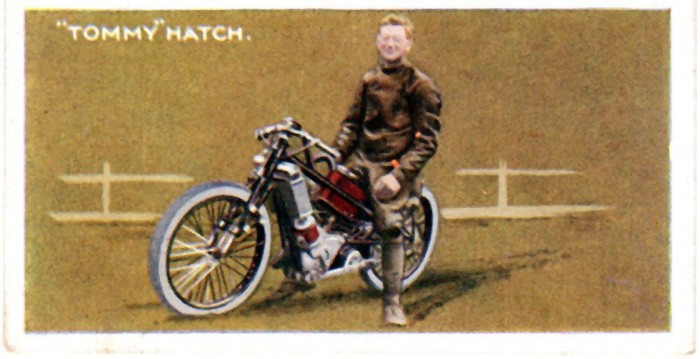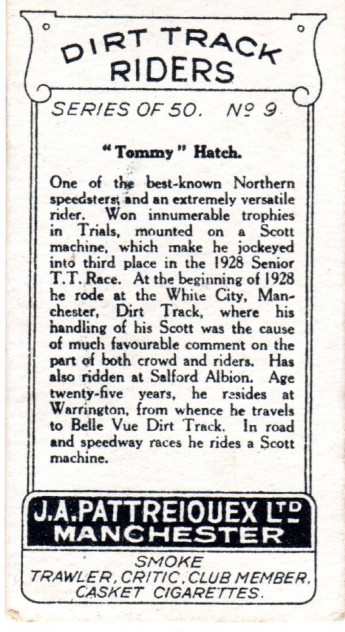 The artwork shows a likeness of a Scott Machine. The Scott engine was unique in speedway. A single cylinder 500cc water-cooled 2-stroke. A big two stroke like this must have howled at full throttle.
---
Card 10 American


Lloyd "Sprouts" Elder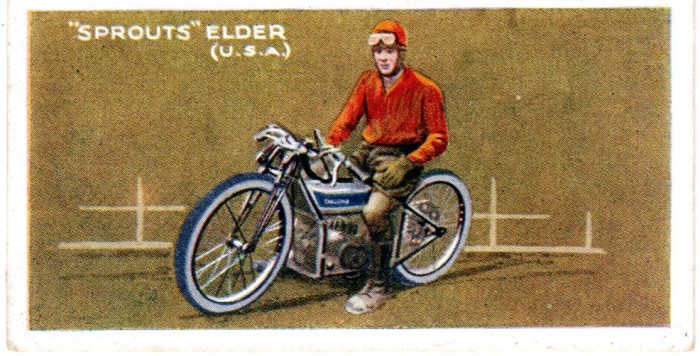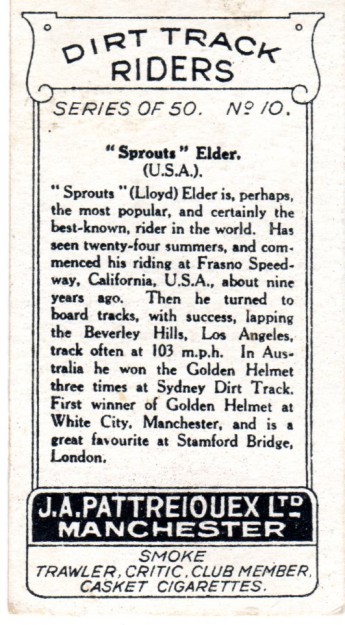 The card says Sprouts rode "Board Tracks" This form of motorcycle racing originated in the USA and I have yet to see any evidence of Board Tracking anywhere else in the world.
---
Card 11 British
E R Greenall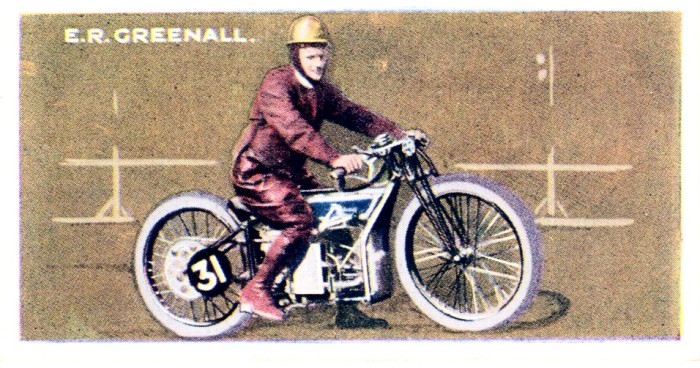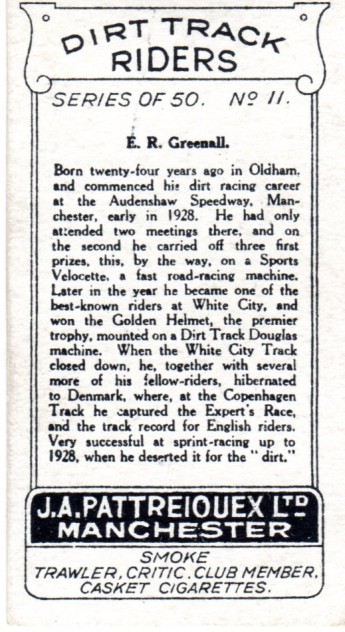 If you are old enough you may remember a British Bike the Velocette. Greenall started on a "Velo" before switching to a Douglas machine
---
Card 12 British
George Emsley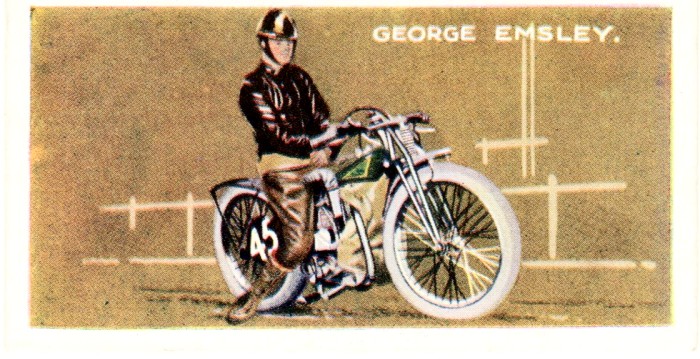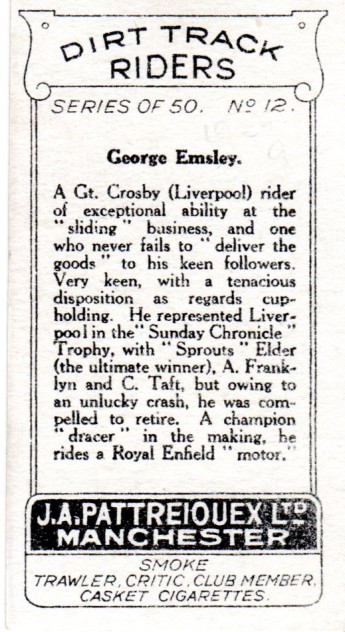 George a British rider started with a British bike "Royal Enfield" Enfields were common on our roads until the 1970s.
---
Card 13 Australian
Vic Huxley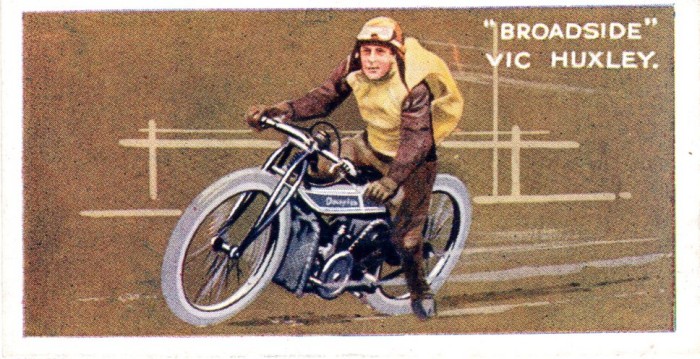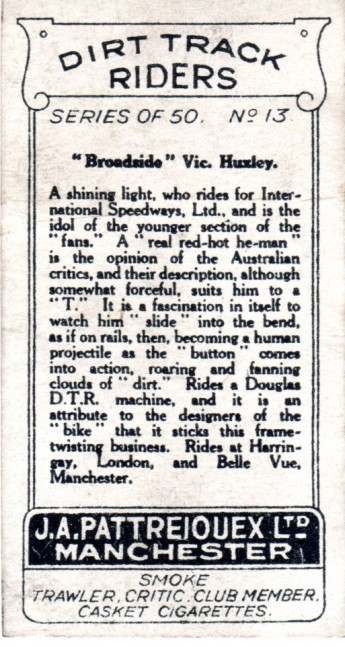 ---
Card 14 British
Norman Dawson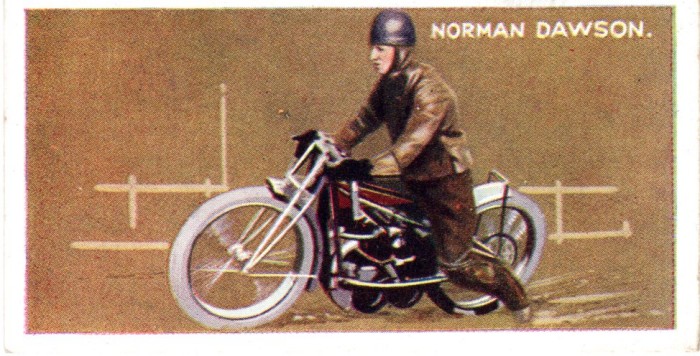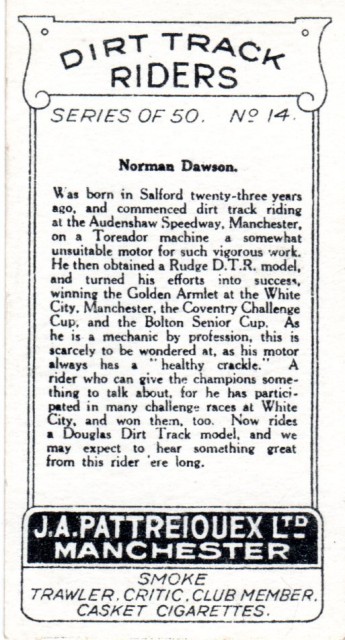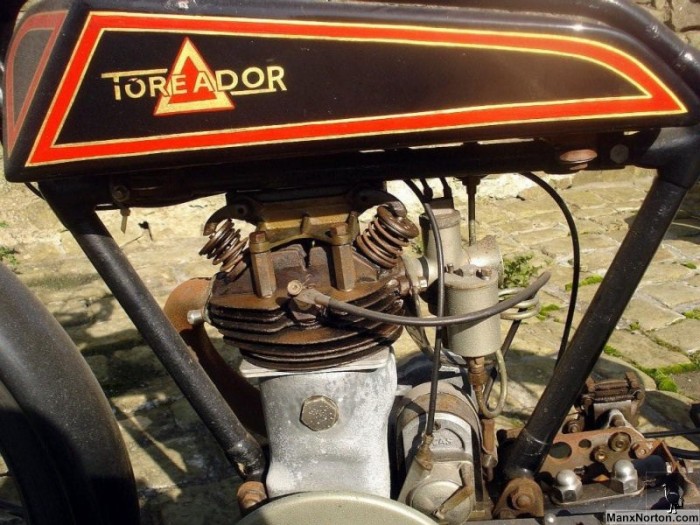 I wonder if a Toreador engine like the one shown above was used by Norman Dawson? The cig card says Norman's Toreador was unsuitable for speedway and this specimen doesn't look very robust. So the Douglas, Rudge and JAP were not challenged by the Toreador which has time-slipped almost into obscurity.
---
Card 15 British
Alec Jackson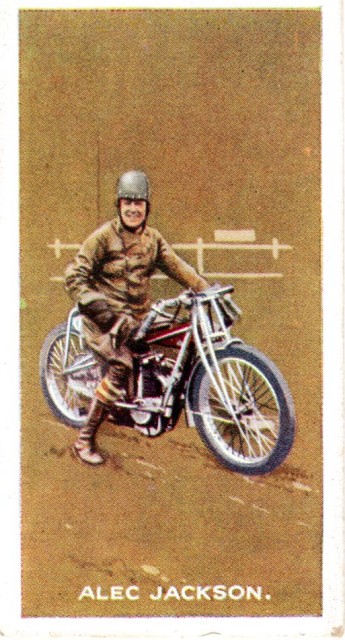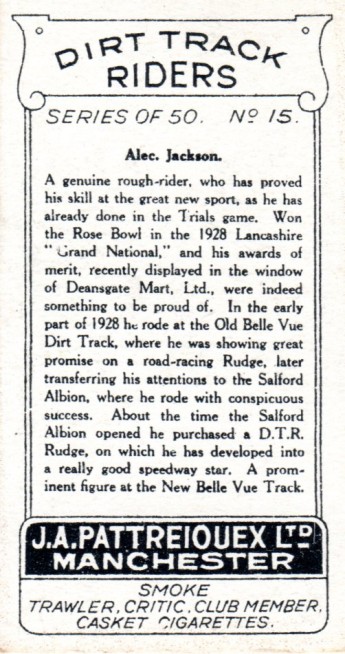 ---
Card 16 British
CH (Clem) Beckett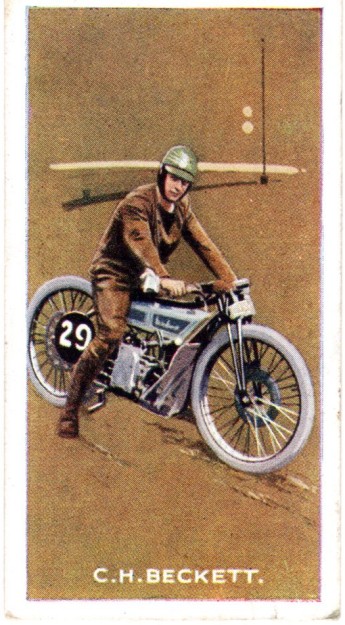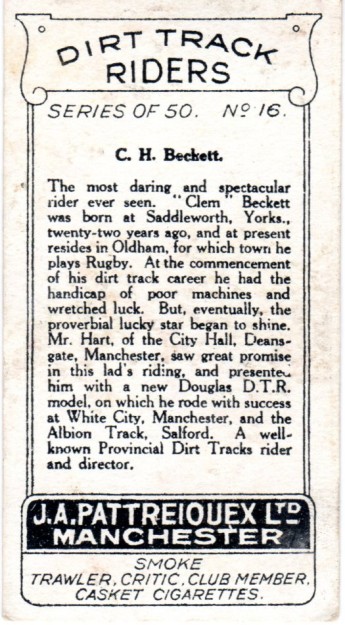 Clem was a communist and he joined the International Brigade and was subsequently murdered by fascists when he became involved in the Spanish Civil War. Clem also played a major part in setting up a union for speedway/dirt track riders who were being exploited by unscrupulous stadium owners who were encouraging young inexperienced kids to ride these bikes which resulted in deaths and serious injury. If his life wasn't dangerous enough he also rode on the Wall of Death.
---
Card 17 British
Mark Sheldon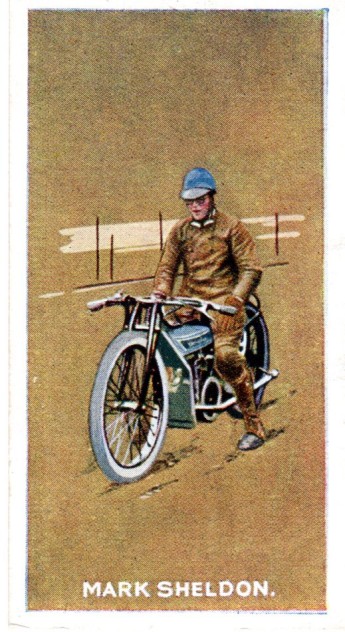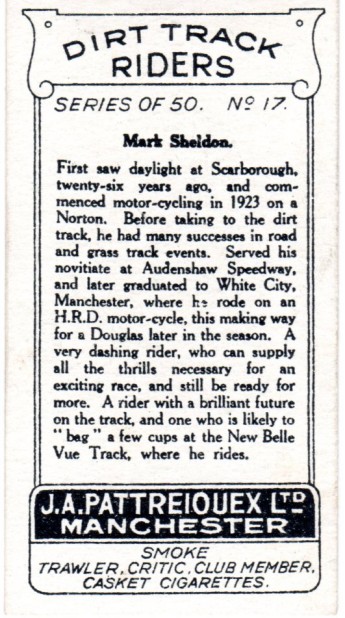 Mark started with a HRD bike. HRD made Vincent's. He wisely moved to Douglas on the dirt tracks
---
Card 18 British
Ron Chadwick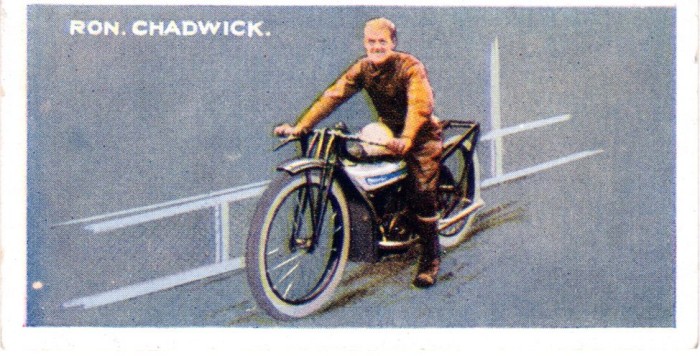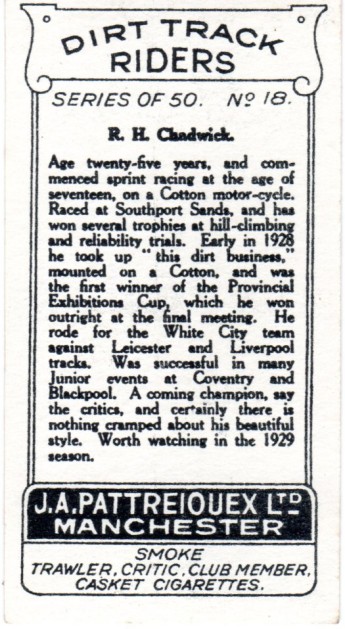 Ron started on a Cotton machine but is pictured on a Douglas.
---
Card 19 British
Bunny Wilcox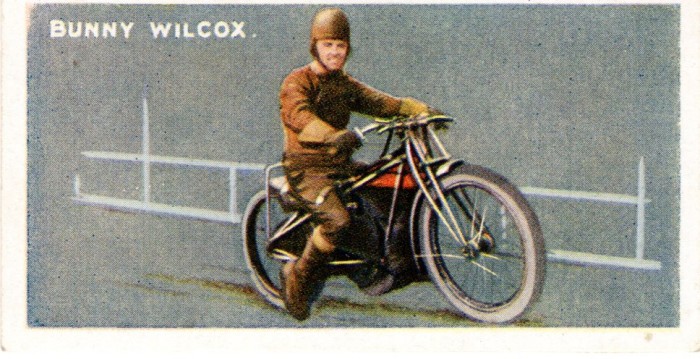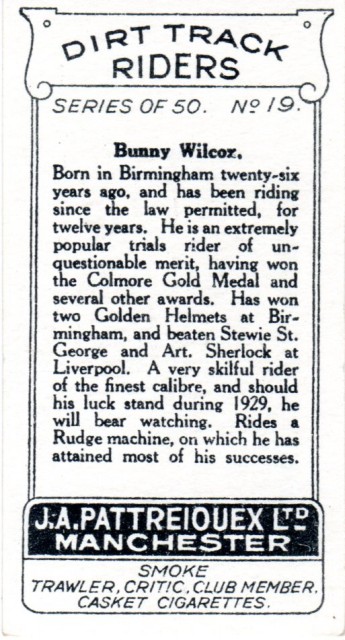 ---
Card 20 Irish/British?
C A Drew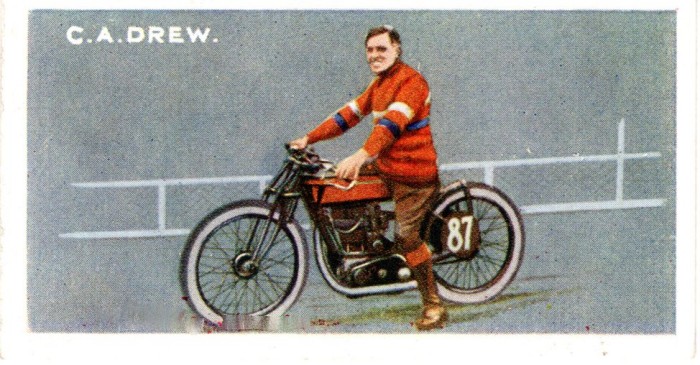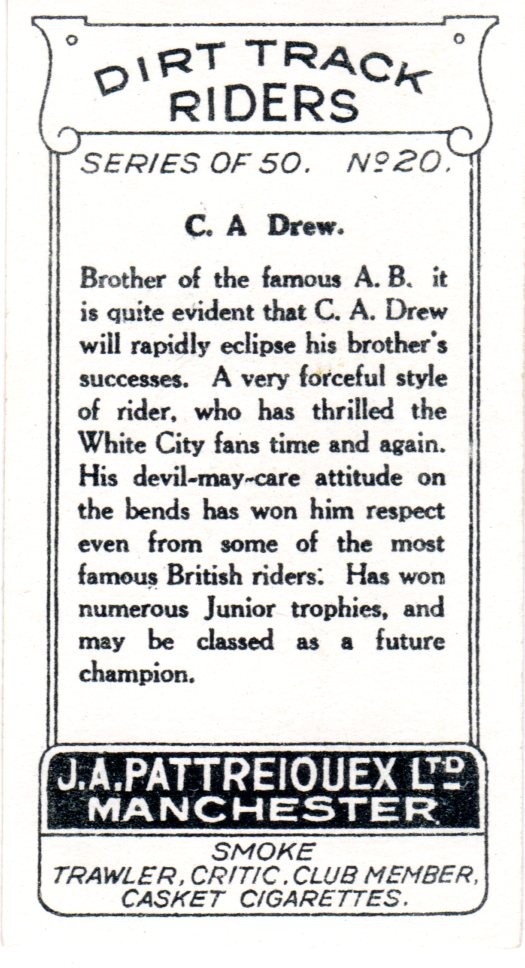 I have puzzled over the artists image of Drews bike but cannot decide what make it is. It looks more like a big cylinder road going engine than a speedway machine. I think the artist who drew the bike just filled in details of the machinery whilst concentrating on the rider. If you can say what make his pictured machine is then please send me an email
John
---
Card 21
British

C Taft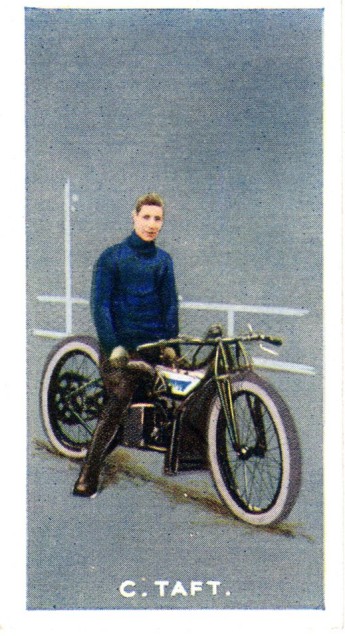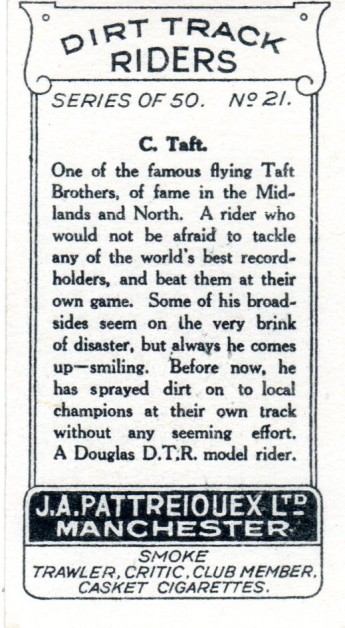 ---
Card 22 Australian
Paddy Dean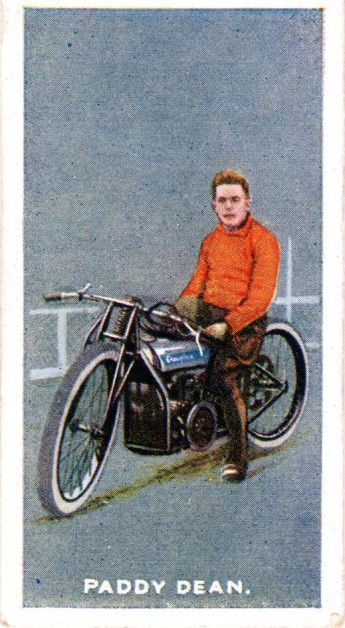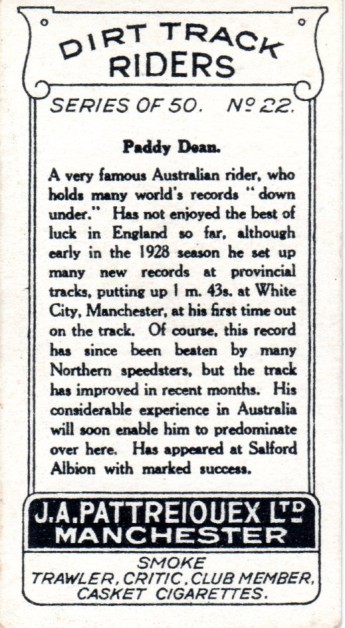 ---
Card 23
Australian

Spencer Smoky Stratton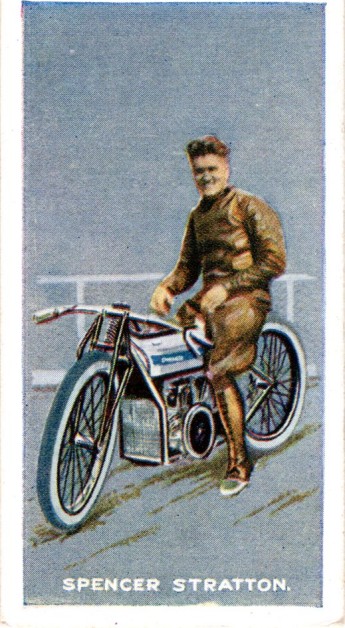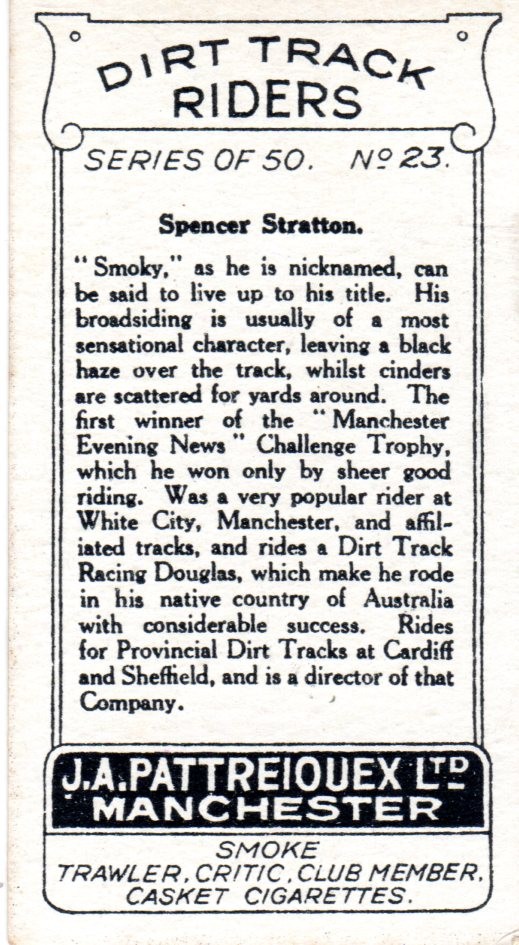 John says: The cigarette card says Spencer was an Australian. I always thought he was a New Zealander!
He was team manager of the Newcastle Diamonds pre war and on the way back from Newcastle's away match at Workington he lost his life in a road traffic accident!
---
Card 24 British
Arnold Moore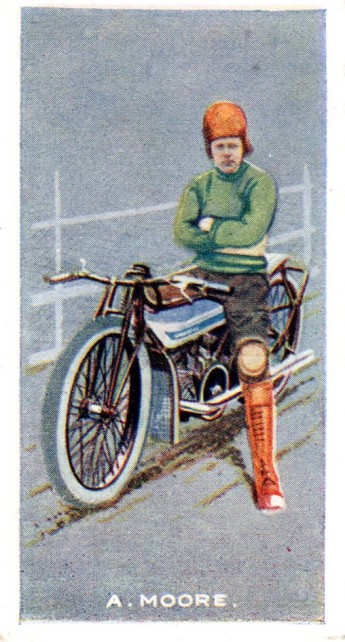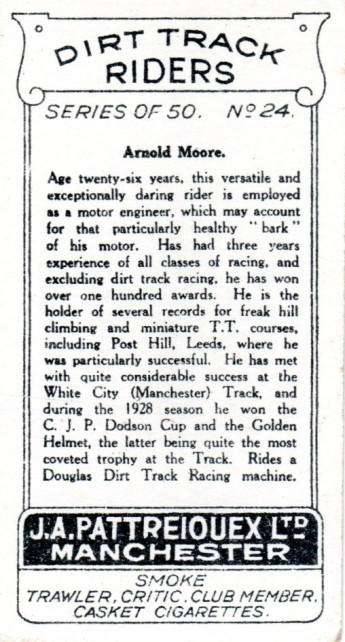 ---
Card 25 British
William James Dallison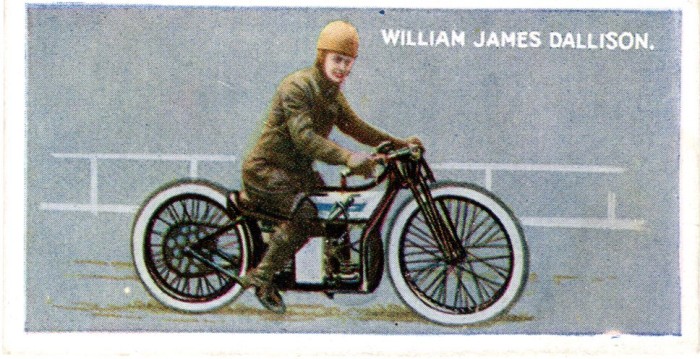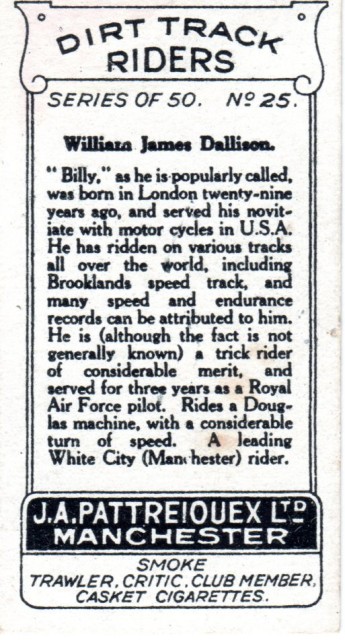 ---
Card 26 British
Rex Kirby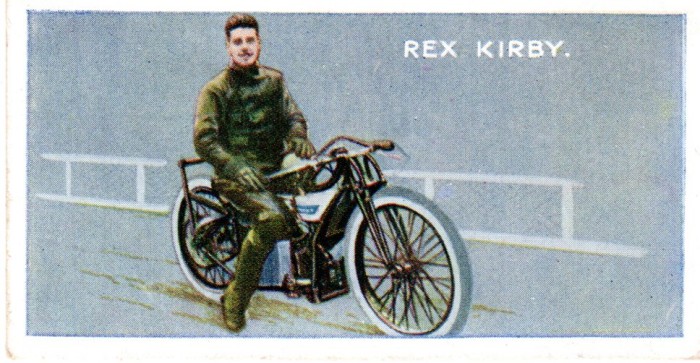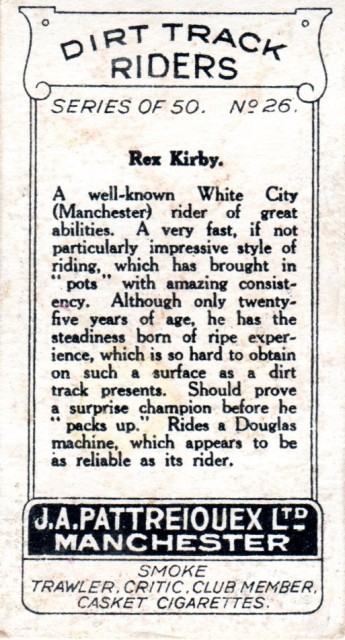 ---
Card 27 British
AW Jervis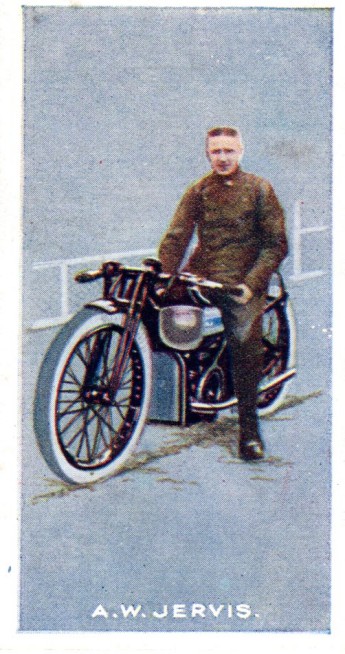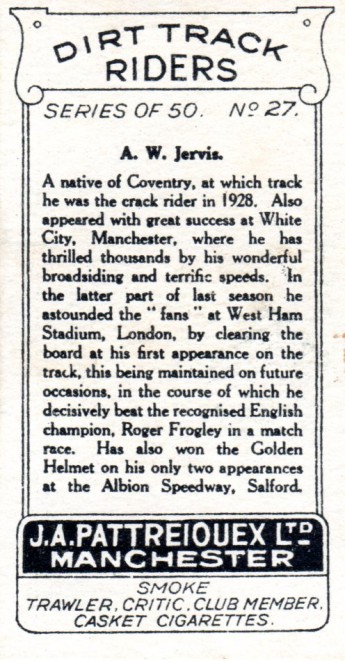 ---
Card 28 Irish
Larry Coffey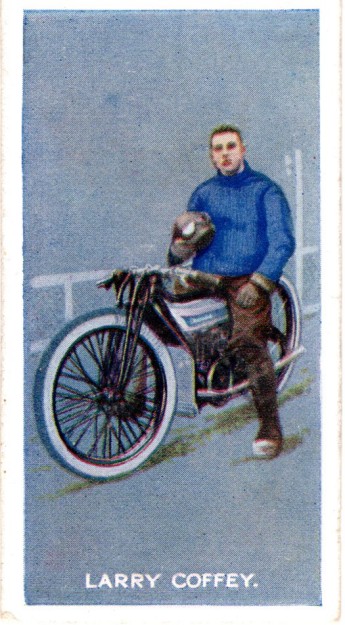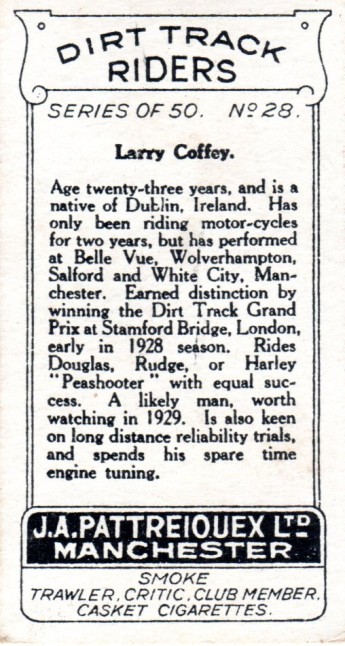 Larry was successful on Harley Peashooters, Rudges and Douglasses. He never quite made the grade to be a famous early rider despite his versatility on different machines.
---
Card 29 British
LH Boulton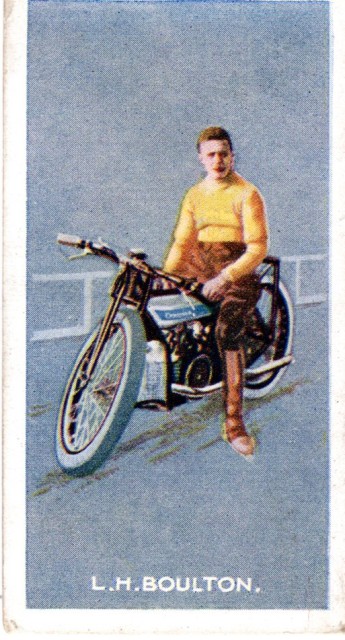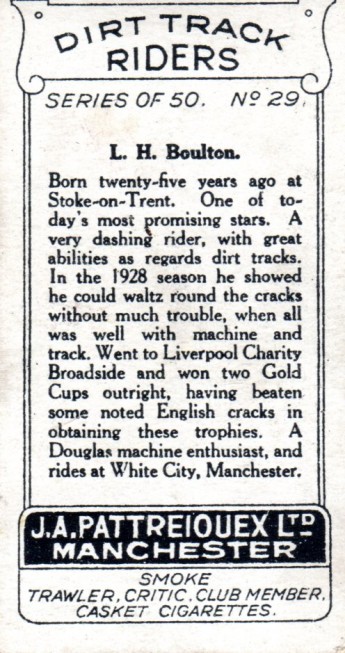 ---
Card 30 British
"Ginger" Lees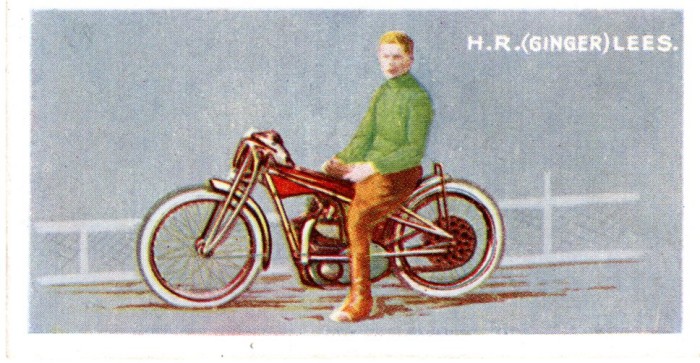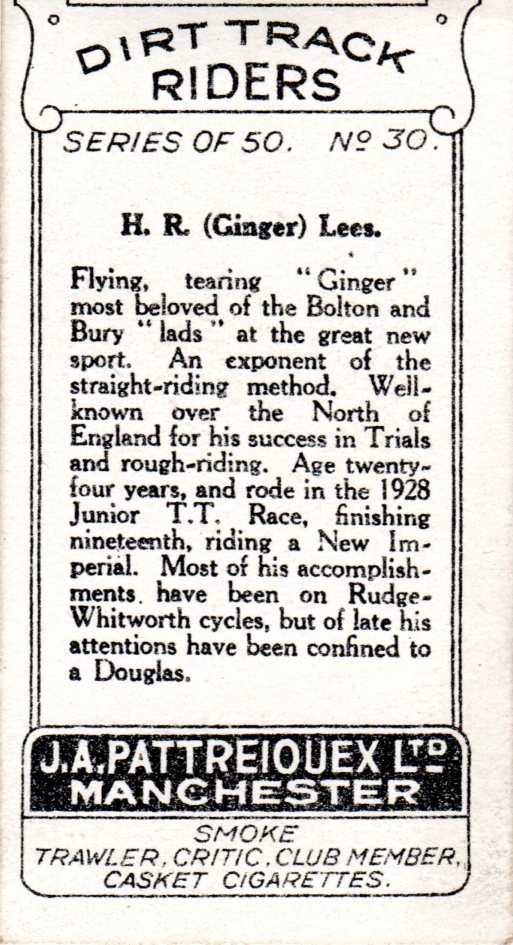 Ginger was a Rudge rider as shown on his card but switched to the Douglas and had greater success. He rode in various motorcycle sports but was most successful in speedway. I believe the Rudge suffered from flexing of the frame. The factory strove to correct this and Rudge's are recognisable for their red tank, upswept exhaust and strengthening struts as can be seen on Ginger's bike. If they had invested in designing a better frame perhaps the JAP may have had a British competitor which would have been great for British speedway. Rudge didn't invest and soon went out of business.
---
Card 31 Irish
Miss Fay Taylour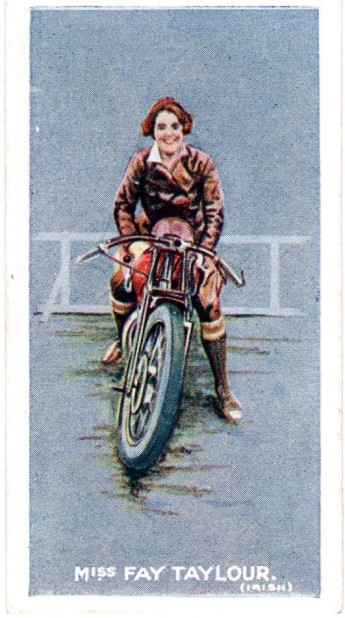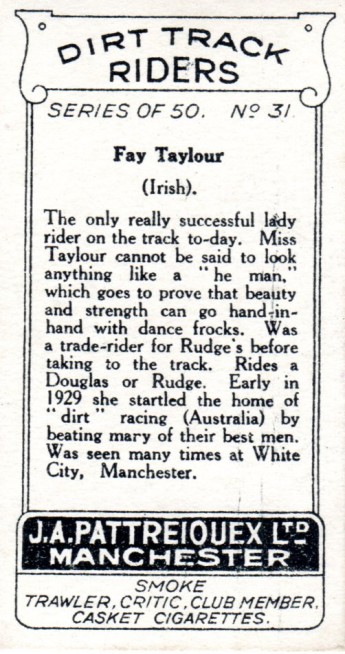 My only comment. A lady rider who competed against a male dominated sport. There were other lady riders but Fay was the pick.
---
Card 32 Australian
Frank Arthur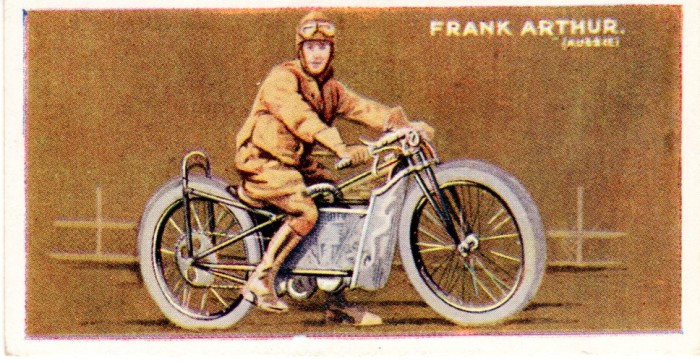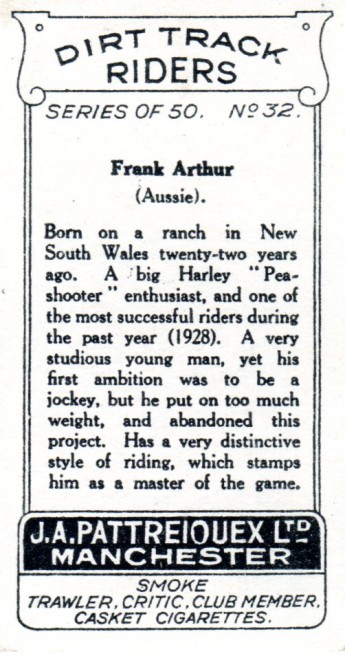 Franks card says he was a Harley Peashooter man. The artistic picture shows engine Guards which makes it difficult for me to say what machine he was seated upon! The petrol tank maybe a Rudge but artists on these cards often get the bikes wrong. All I can say is the bike is not the most common of 1929 a Douglass. Maybe Frank had a Peashooter and fitted the shields to protect his machine?
---
Card 33 Australian
Charlie Datson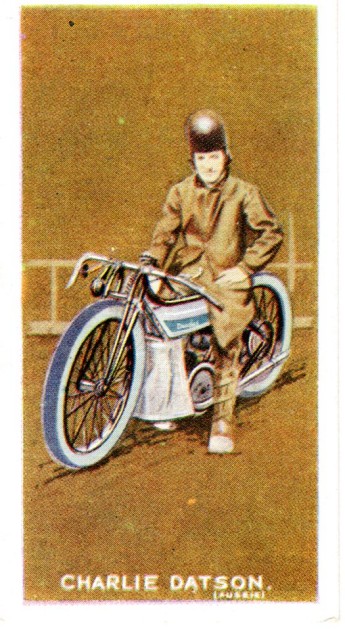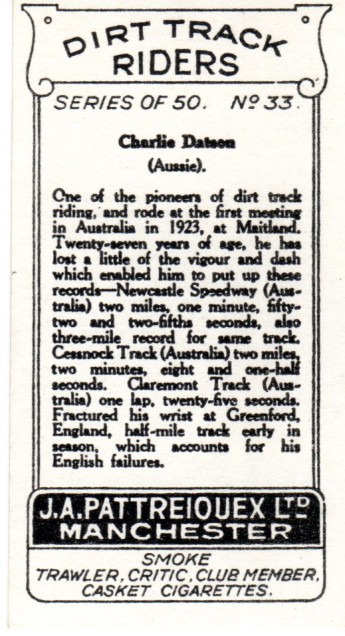 Charlie was in at the beginning of speedway in 1923 at West Maitland, Australia when Johnnie Hoskins famously started speedway
---
Card 34
New Zealander

Stewie St. George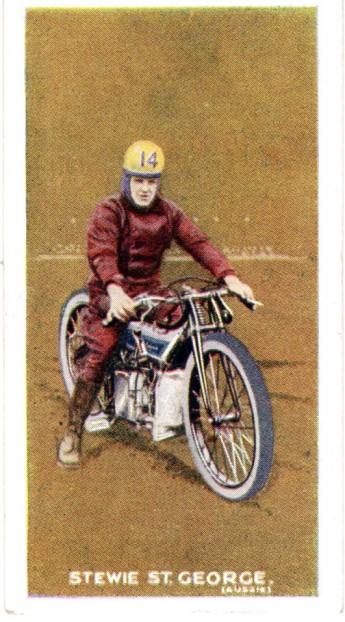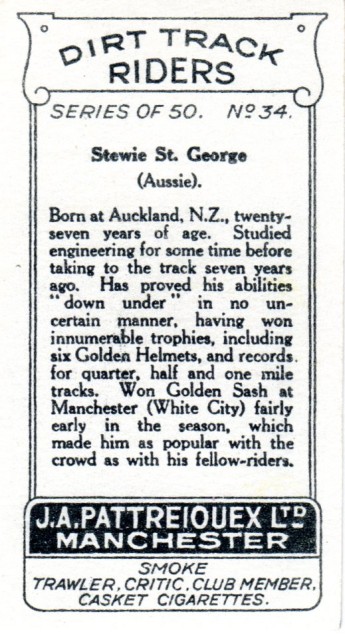 ---
Card 35 British
Johnnie Broughton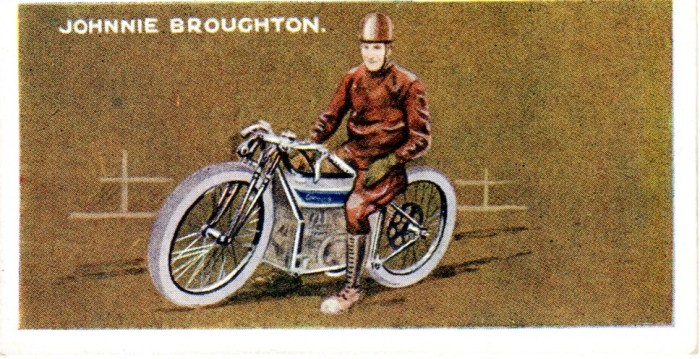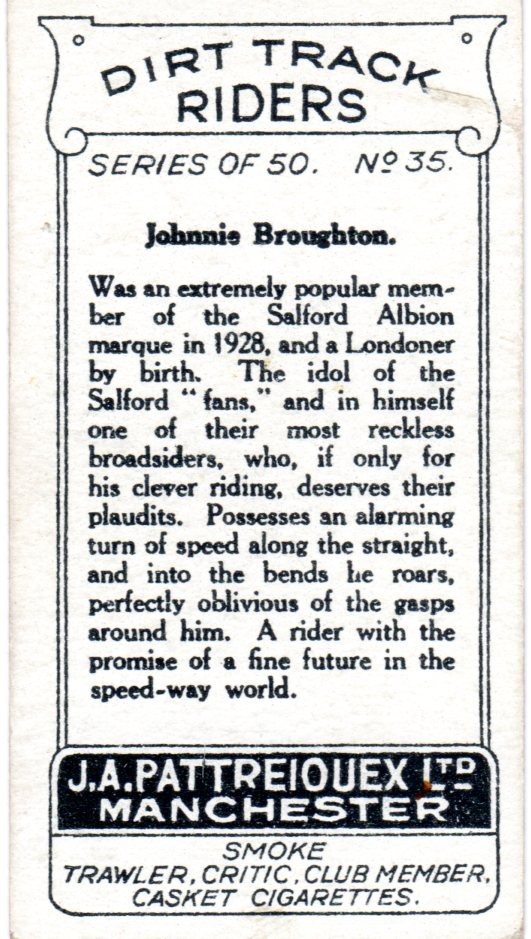 ---
Card 36 British
H Taft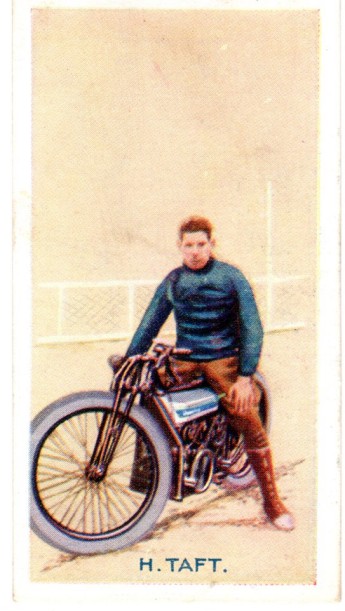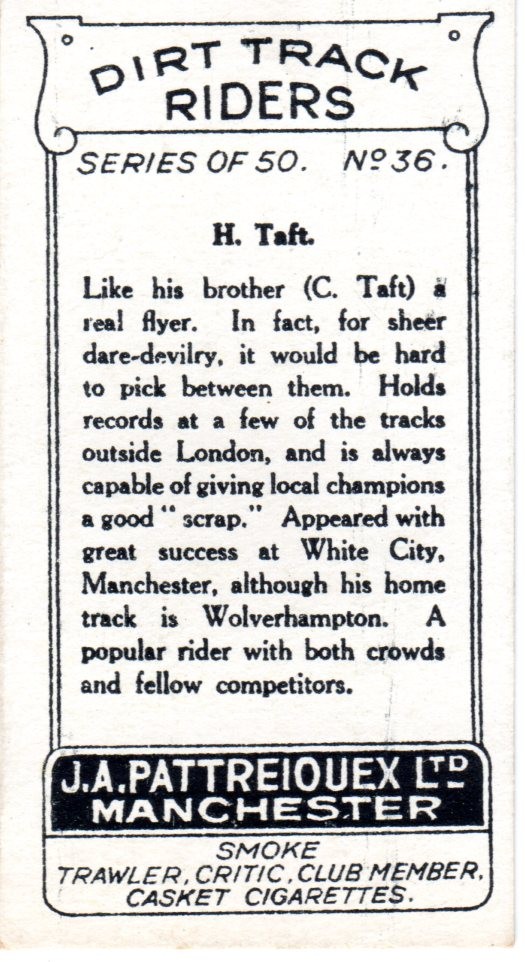 ---
Card 37 Scottish
Syd Newiss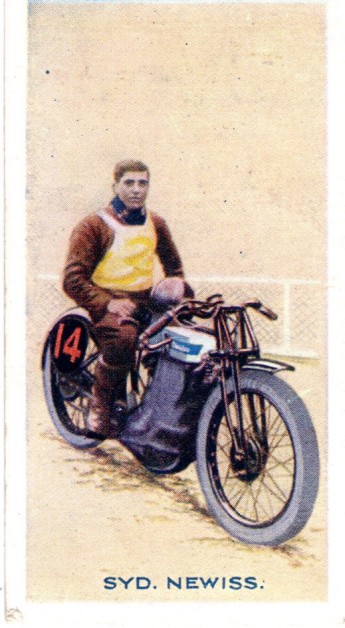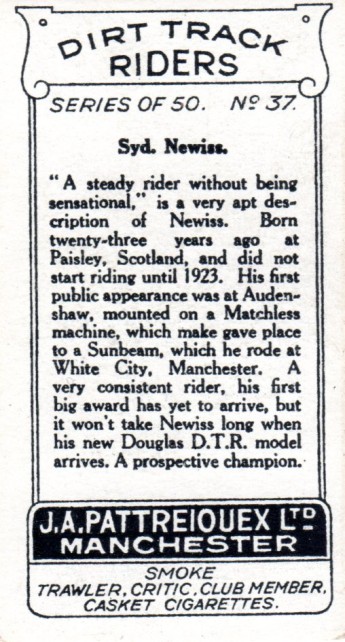 A British bike rider Syd started with a Matchless then rode a Sunbeam before turning to the best machine of its era the Douglas
---
Card 38 British
William Simpson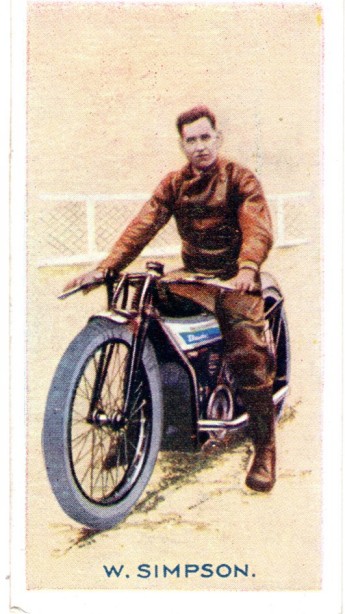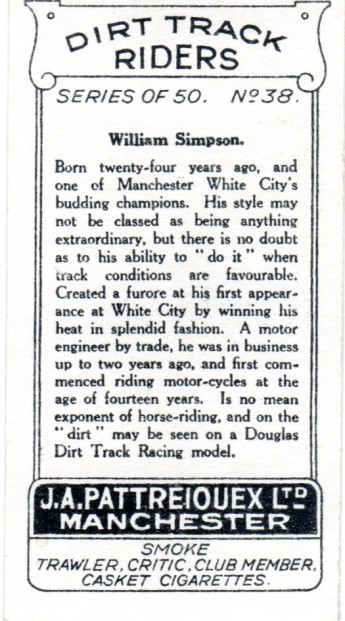 ---
Card 39 British
G.A. Drew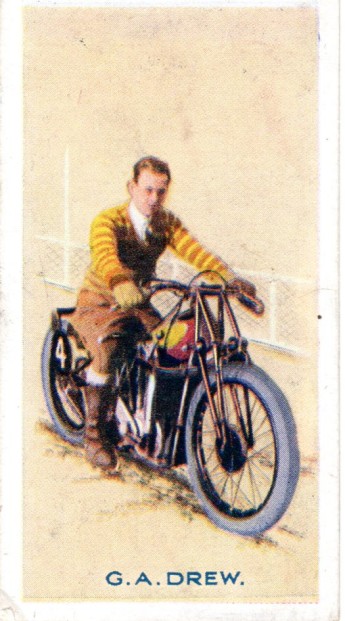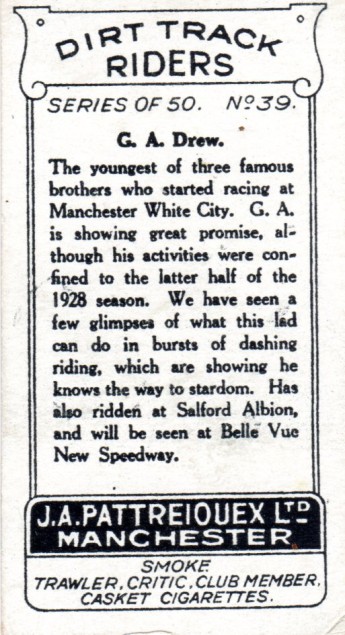 I cannot identify the bike GA Drew is sitting on. It appears to have a hand change gear lever like a Douglas but that isn't a Douglas engine or frame. Perhaps this is a lesson in artistic license. Maybe the bike only existed in the imagination of the artist. If you can identify the bike send me an email
John
---
Card 40 British
T Withington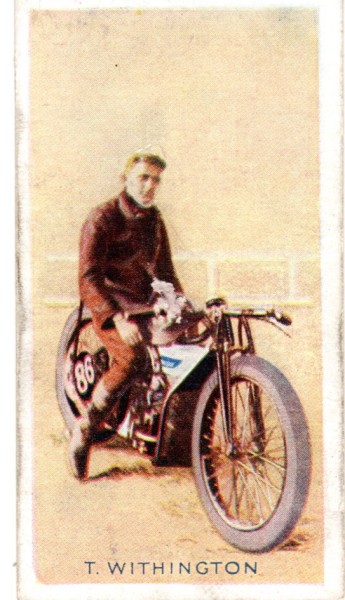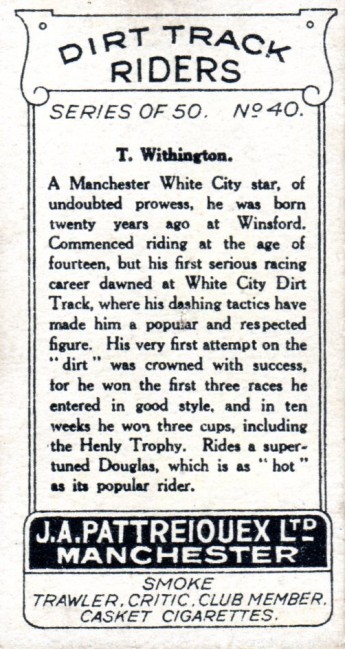 ---
Card 41British
Stanley "Acorn" Dobson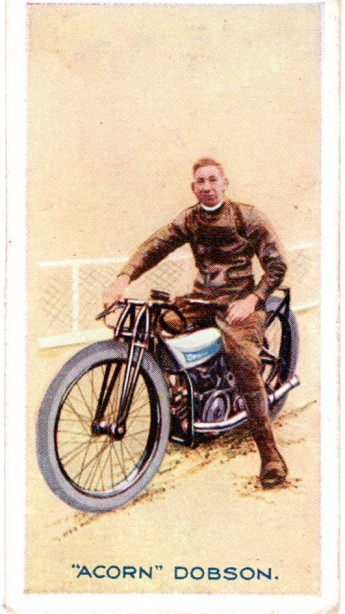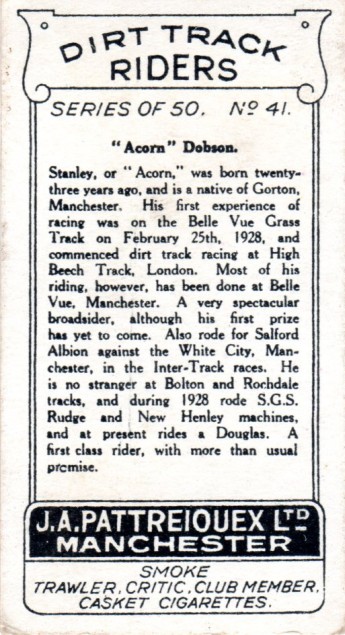 Stan got his "Acorn" nickname because some writers thought his head was shaped like an acorn!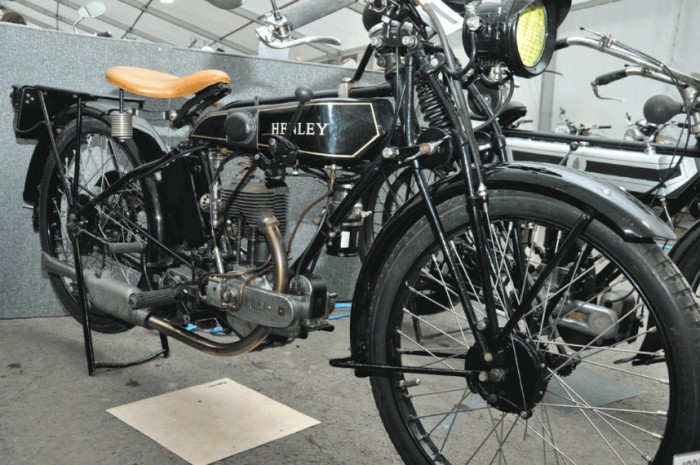 Acorn rode Rudges, Douglasses and a new machine to my knowledge the "New Henley", pictured above. The bike pictured is a road going machine but I think Acorn rode a similar machine on the dirt and cinder tracks
---
Card 42 British
Walter Norbury Hull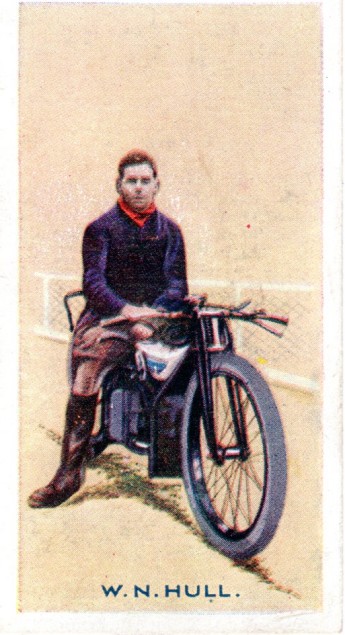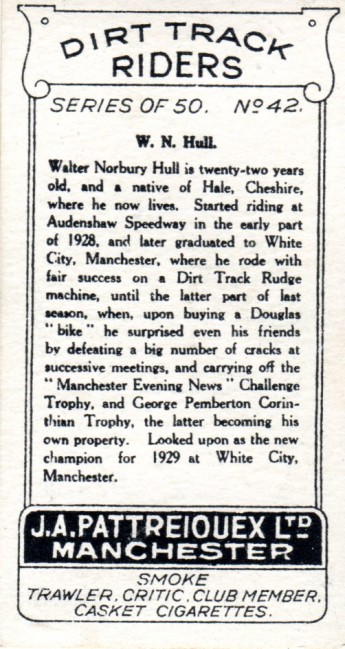 ---
Card 43 British
Ian Ritchings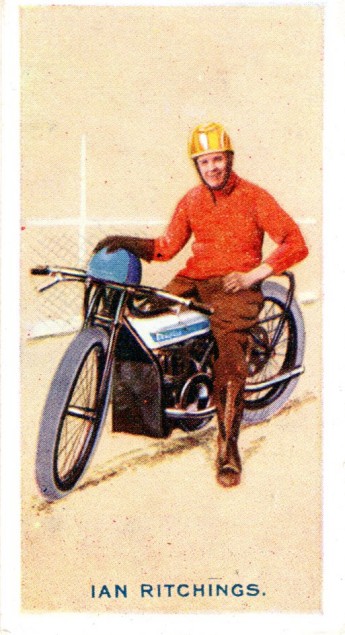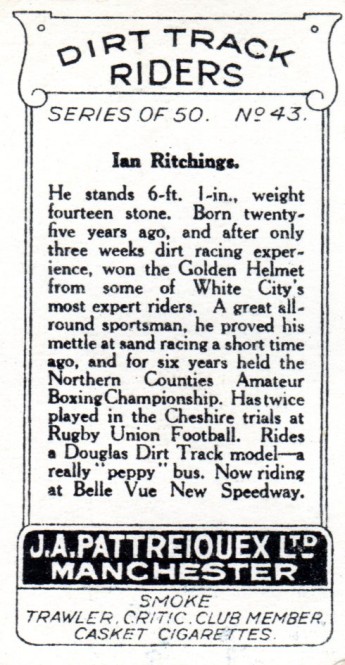 Ian was a big guy at 6'1" and 14 stone. He boxed and played rugby. Although he was bigger than the average speedway rider his height 6'1" was nothing compared to the tallest ever rider namely Newcastle Gosforth's Harry Huntly who was either 6'6" or 6'8" according to reports from 1929/30
---
Card 44 British
Eric Blatherwick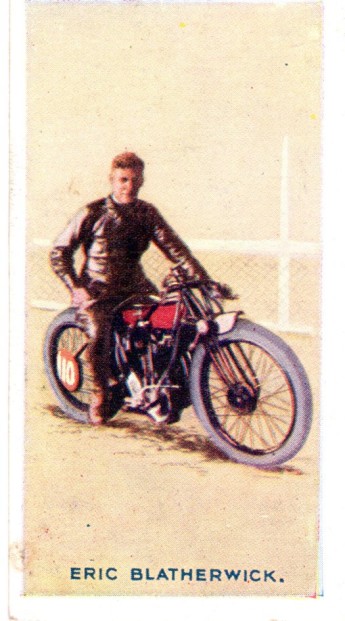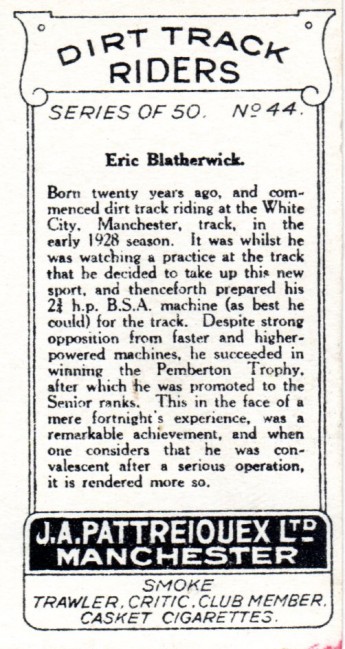 ---
Card 45 British
G Hazard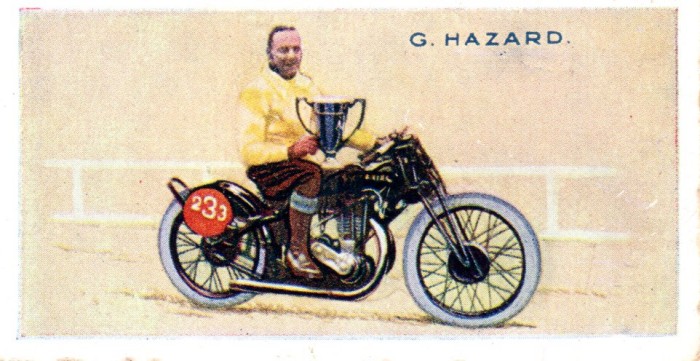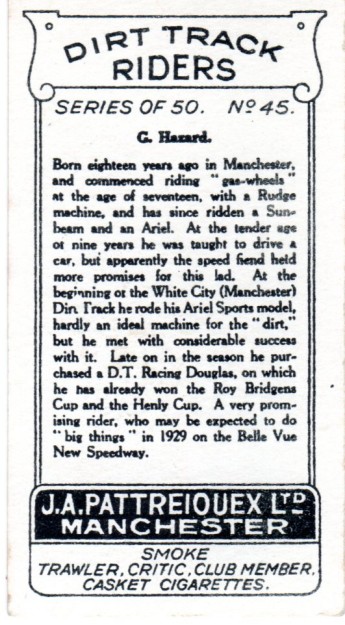 ---
Card 46 British
Bob Harrison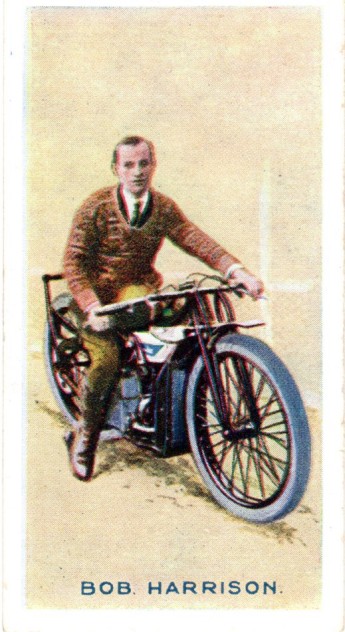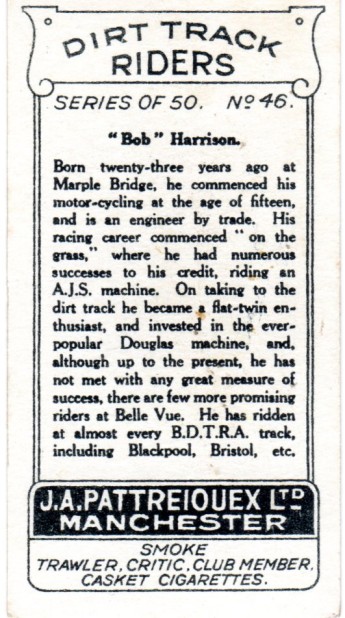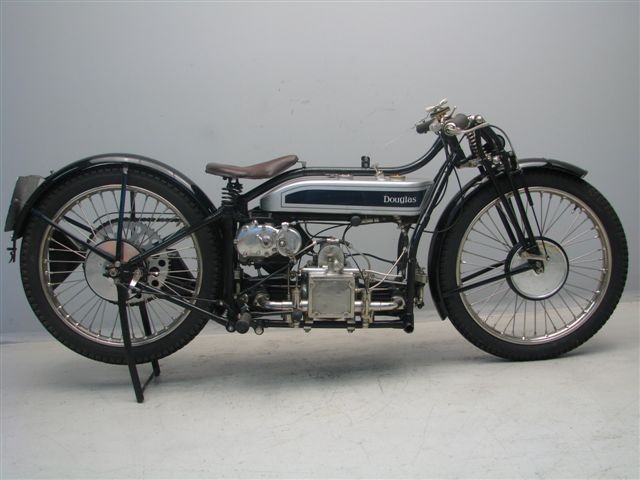 Bob (and the majority of UK riders) rode a Douglas Flat Twin like this one. The Douglas was a twin cylinder machine when its opposition were all single cylinder bikes. The Dougies cylinders fitted the frame from front to back increasing the wheel base of the bike. These bikes had all the weight at the bottom of the frame. The configurement of the Douglas gave rise to the leg trailing style of its riders.
---
Card 47 British
Arthur Firth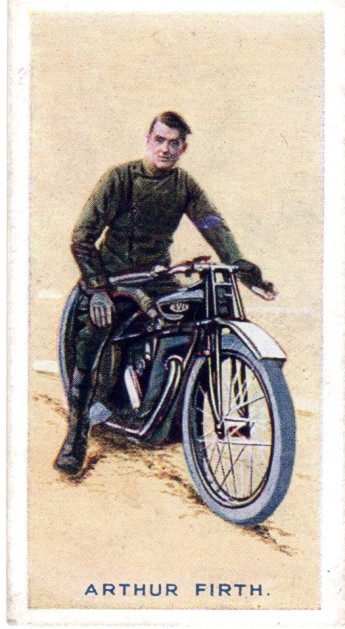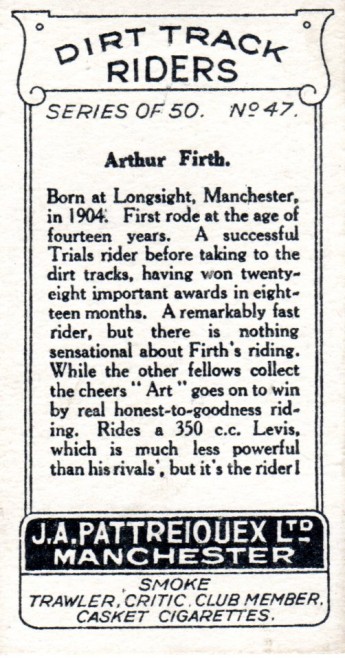 In the early years a number of riders rode 350cc machines against the usual 500cc bikes. Harley, AJS and Velocette spring to mind as 350cc bikes Velocette also made a 400cc machine that was raced against 500cc Douglas, Rudge etc. Arthur's Levis machine is pretty rare now so I cannot find a picture of one.
---
Card 48 British
Geoff Taylor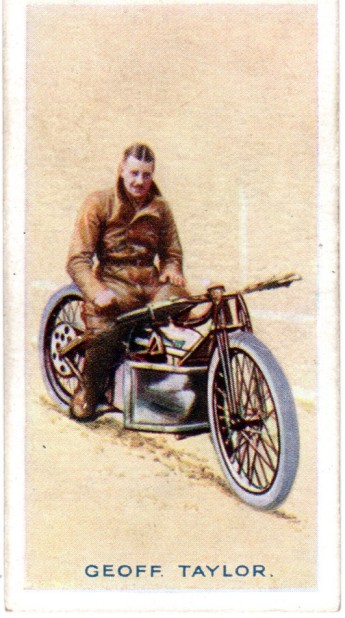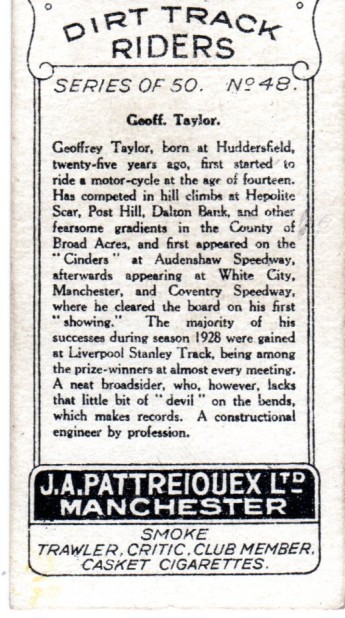 ---
Card 49 British


H "Blank" aka Pollitt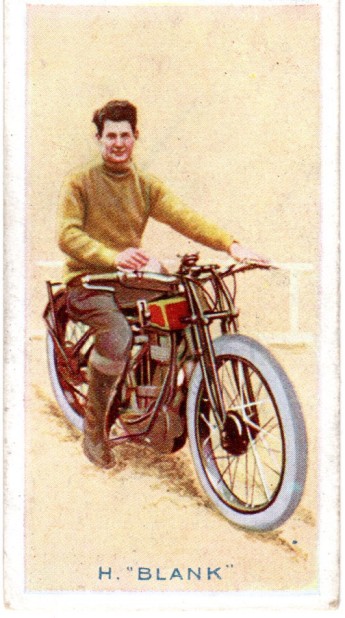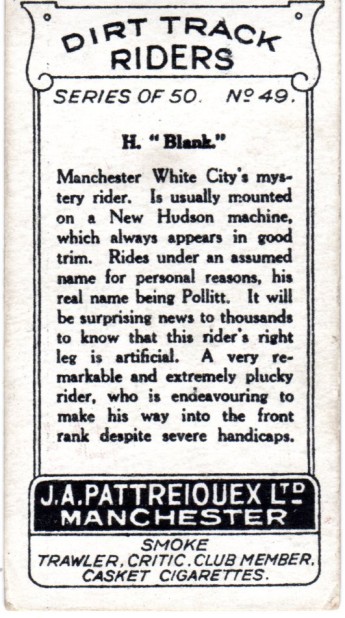 A strange rider going under the name "Blank" He also had an artificial leg. Mr Blank never reached the heights but with a 1920s artificial limb who could blame him for not being competitive.
---
Card 50 British
Wilfred McClure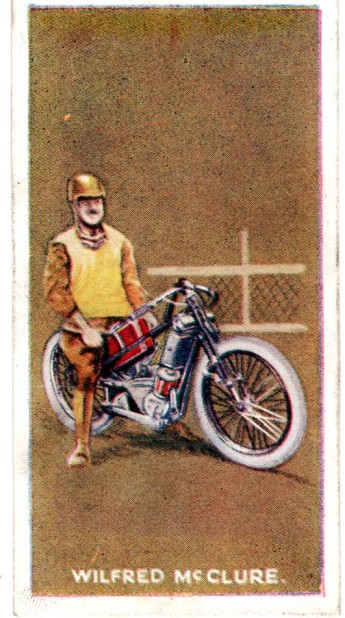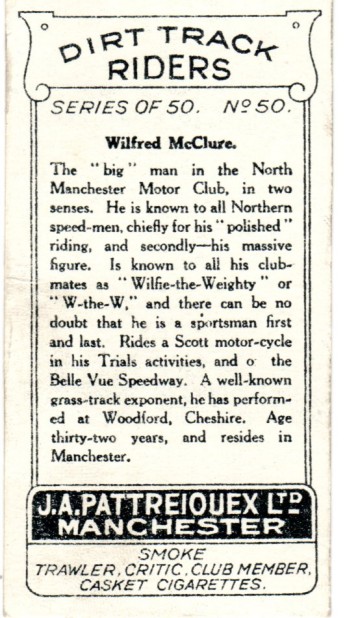 ---
An excellent set of 50 cards from 1929. Some famous names and some not famous. My thanks to David Pipes for sending these scans. I think cigarette cards like these are an excellent source of information from their era
---
The contents of the site are © and should not be reproduced elsewhere for financial gain. The contributors to this site gave the pictures and information on that understanding. If anyone has any issue or objections to any items on the site please
e-mail
and I will amend or remove the item. Where possible credit has been given to the owner of each item