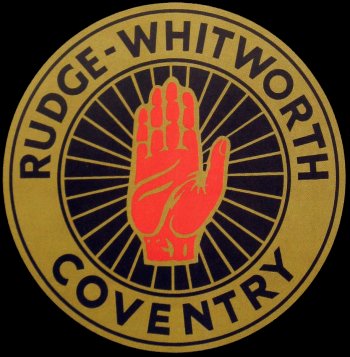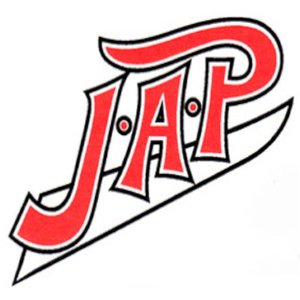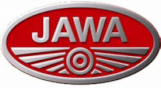 ---
Card Set 5
The Wizard Book
For Boys
Another British comic that passed me by in my childhood as I was a fan of American Marvel comics Fantastic Four, Thor Spiderman etc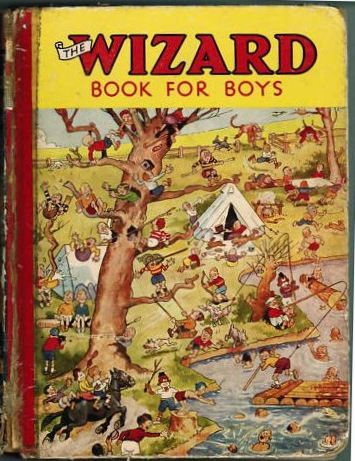 [1930 Speedway Stars]
---
Card 1 British
Roger Frogley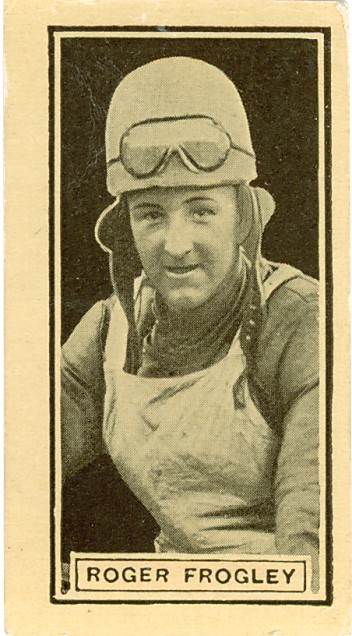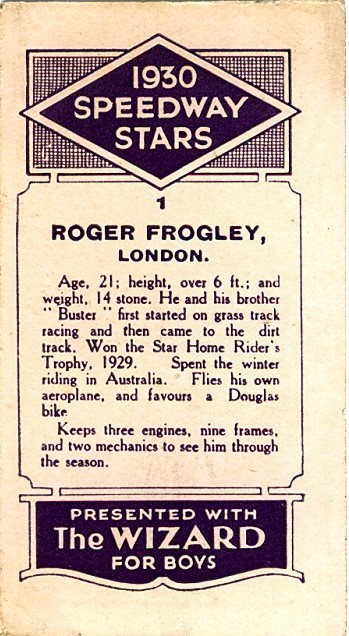 Roger was a big guy. Over 6ft and weighing in at 14 stone he must have been great to watch wrestling on the low strung Douglas machines he owned. Smaller riders than Roger could control a Douglas much easier.
---
Card 2 Australia
Frank Arthur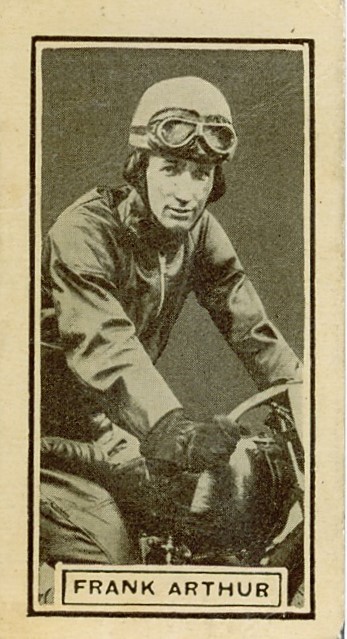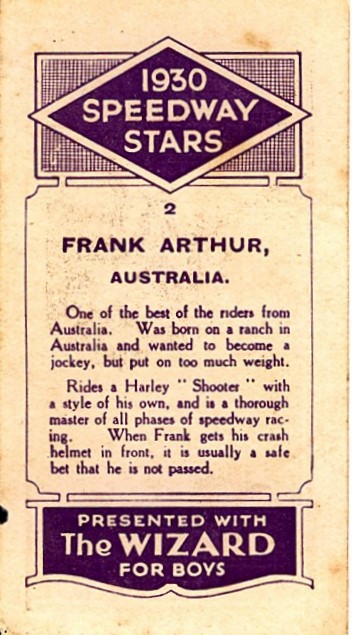 Frank Arthur shown aboard his machine of preference a Harley Peashooter. Too heavy to be a horse jockey Frank took to riding on wheels and accomplished much in speedway.
---
Card 3 British
Frank Varey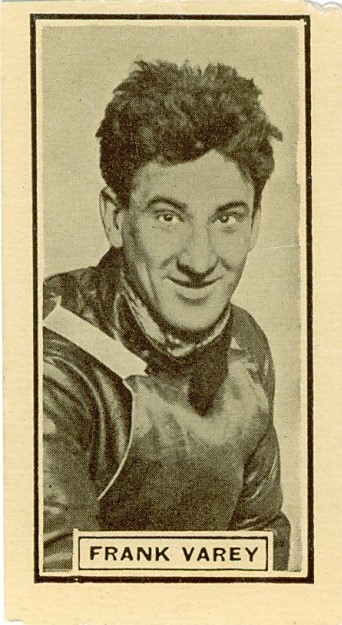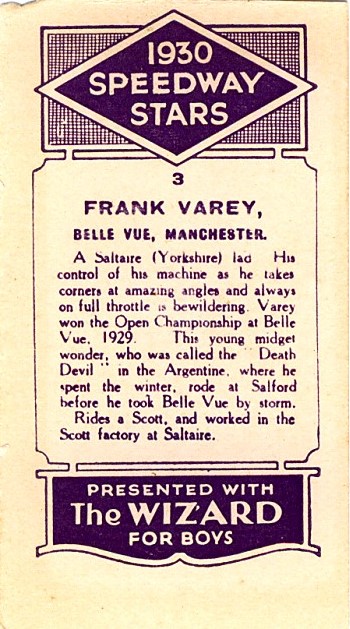 The card says Frank was called the "Death Devil" in Argentina! I don't know about that! He rode a red Scott machine and often wore red clothing he was known as the Red Devil. After turning in his riding gear Frank became a successful British promoter.
---
Card 4 British
Jack Parker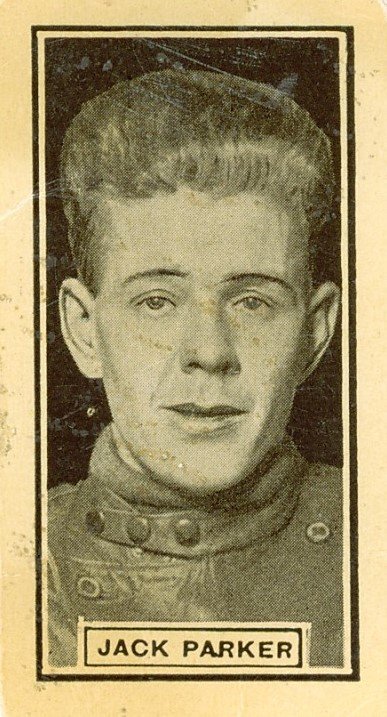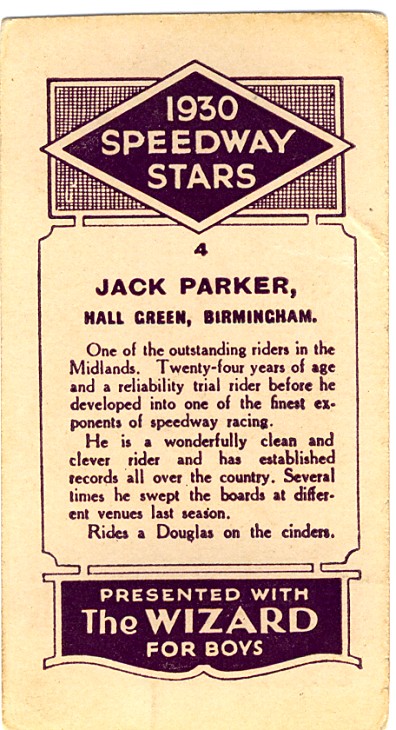 ---
Card 5 British
Frank Charles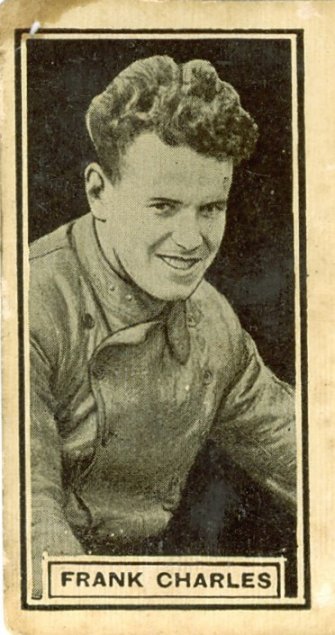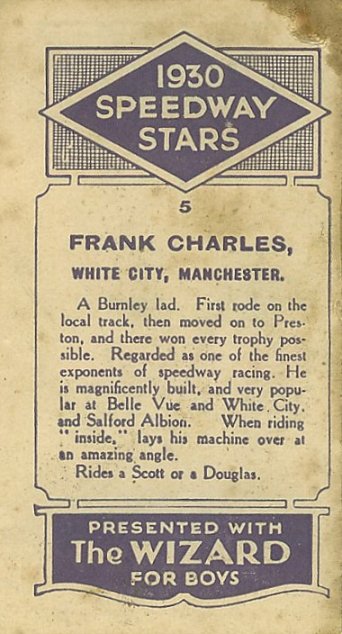 Frank rode both Scott and Douglas machines. Both 500cc machines but the Scott was a two stroke. It would have been great to hear as two stroke engines were noisier than the Douglas and usually two strokes were smaller capacity than the racing 500 Scott.
---
Card 6 British
Jim Kempster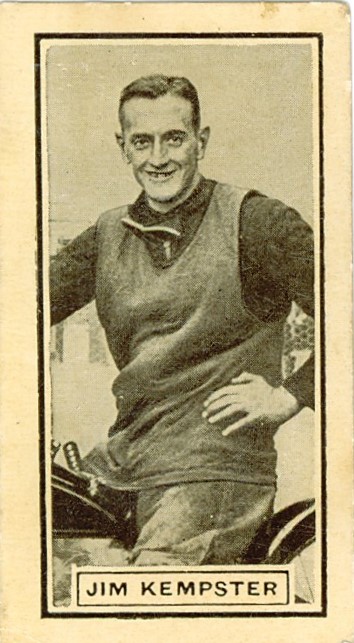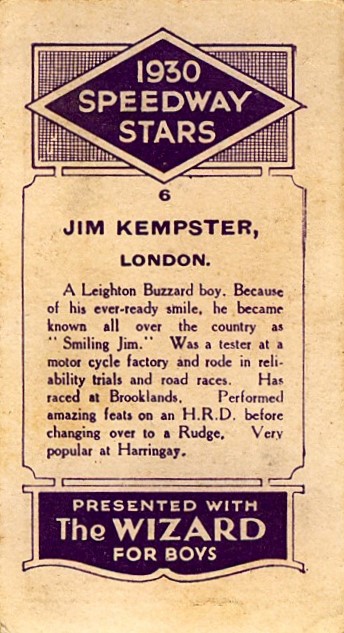 Smiling Jim rode an HRD (They made Vincents). He seems to have sidestepped Douglas machines in favour of the foot forward Rudge
---
Card 7 Australian/Scottish Billy Galloway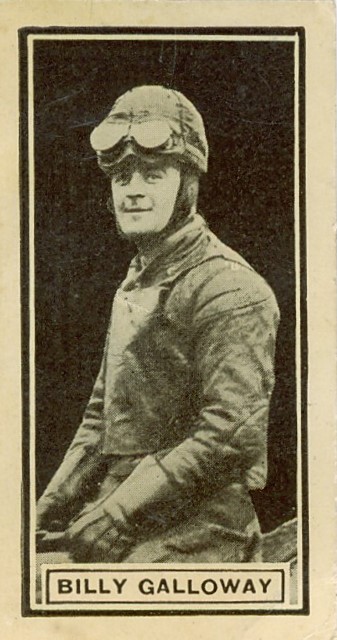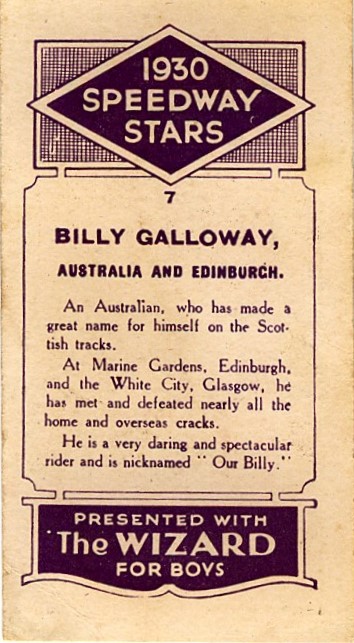 Scottish fans called him "Oor Billy"
---
Card 8 British
George Milton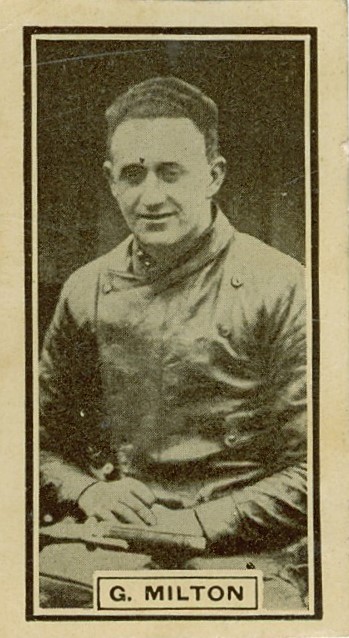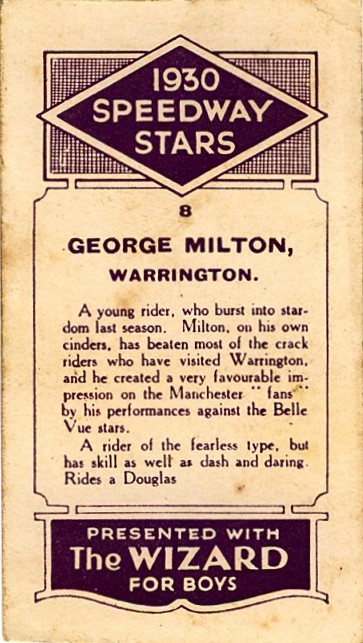 Georges card like many others from 1930 ish refers to "Crack" riders. It's not a term we use now.
---
Card 9 British
Bronco Dixon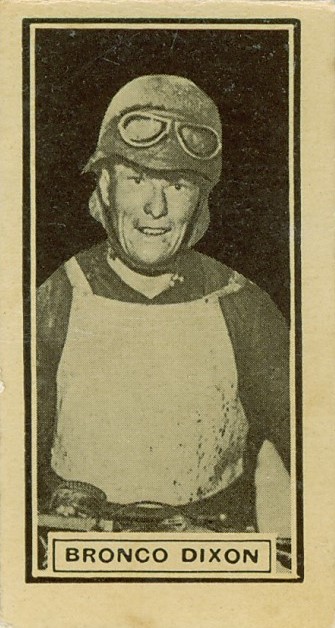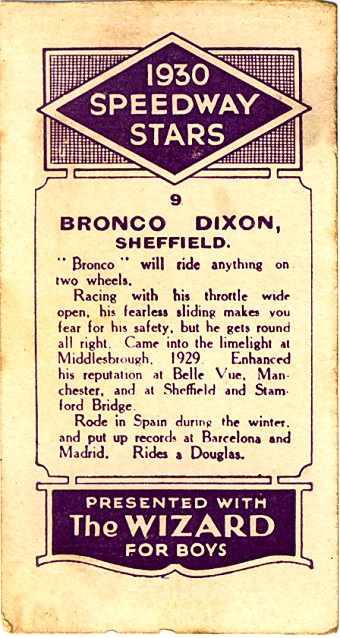 ---
Card 10 Australian
Max Grosskreutz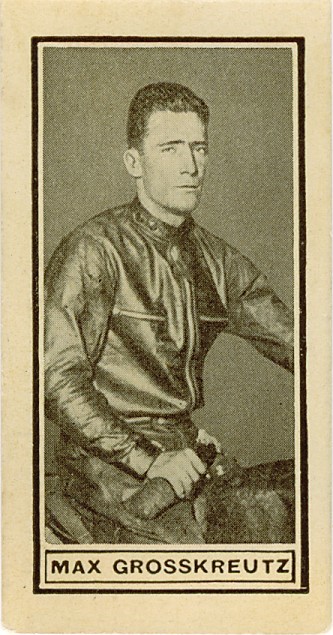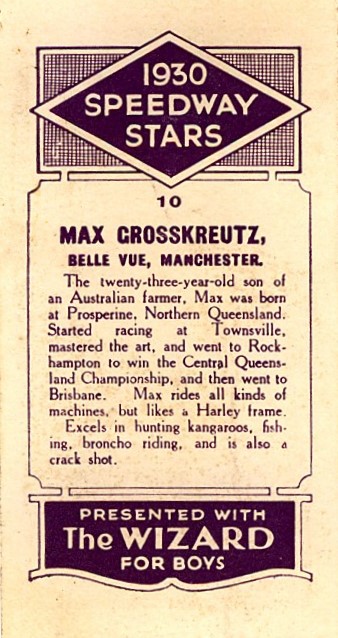 ---
Card 11 British
H Taft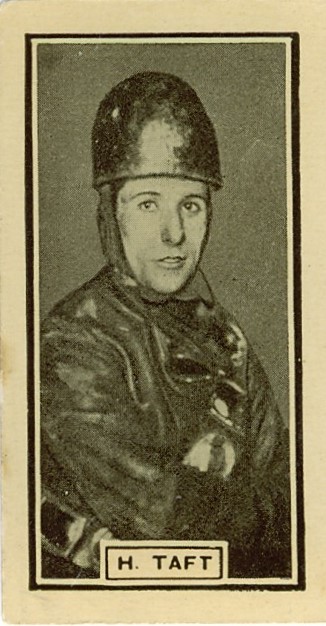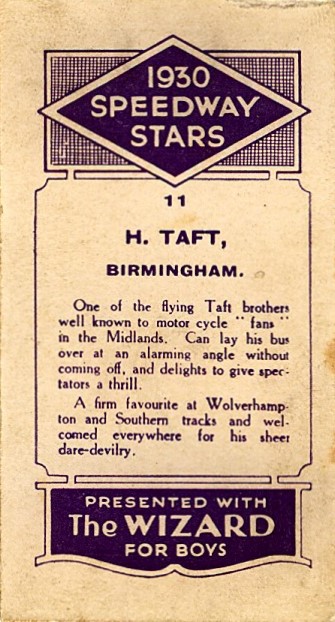 ---
Card 12 British
Oliver Langton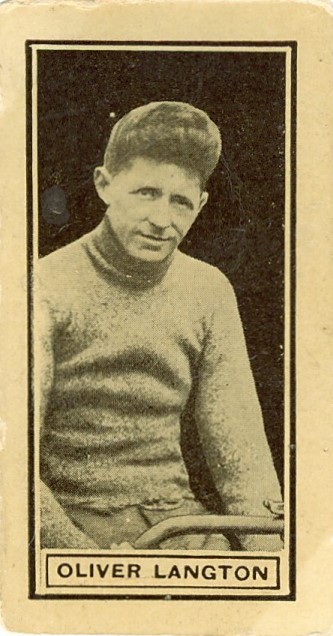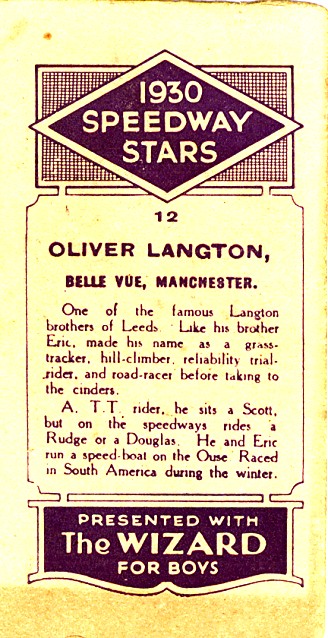 Oliver was the lesser known of the Langton brothers. An all-round biker he and brother Eric also raced a speedboat as if motorcycle racing wasn't dangerous enough!.
---
The contents of the site are © and should not be reproduced elsewhere for financial gain. The contributors to this site gave the pictures and information on that understanding. If anyone has any issue or objections to any items on the site please
e-mail
and I will amend or remove the item. Where possible credit has been given to the owner of each item.