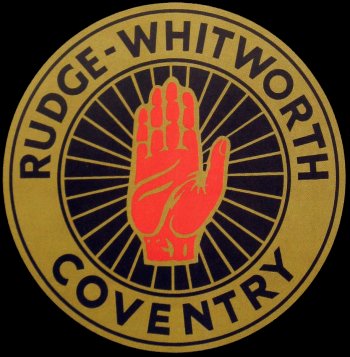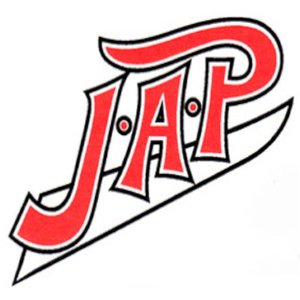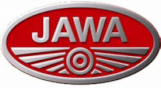 ---
Card Set 4
Adventure Comic
For Boys
Another comic that I never set eyes upon (I am currently 64 yrs old) My interest in comics was in the American Marvel Comics. Fantastic Four, Thor, Spiderman etc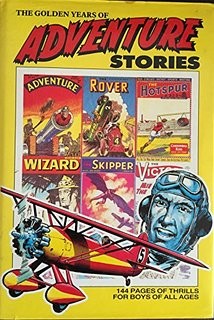 1930
Speedway Stars
Card 1 Australian
Vic Huxley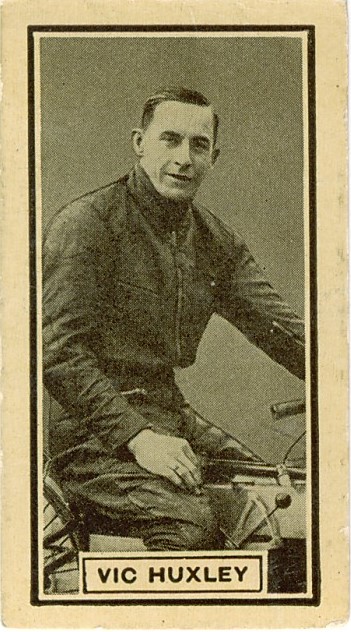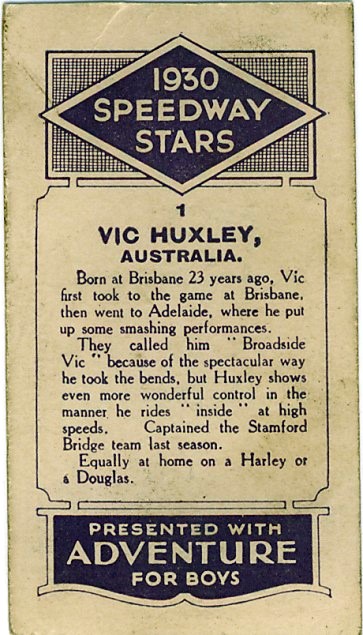 ---
Card 2 British
Arthur Franklin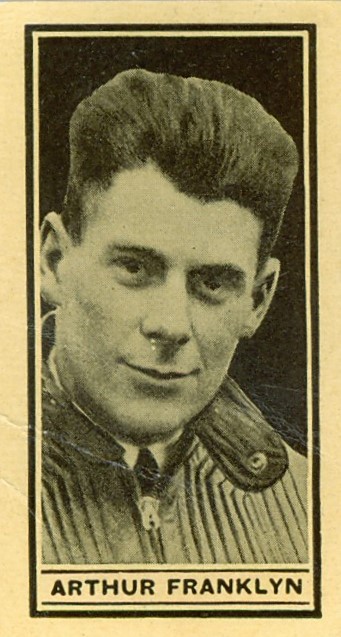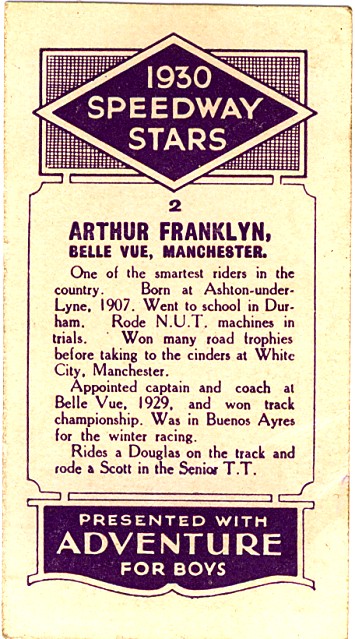 The N.U.T. machines referred to on the above card took the NUT name from Newcastle Upon Tyne where they were made.
---
Card 3 Scottish
Drew McQueen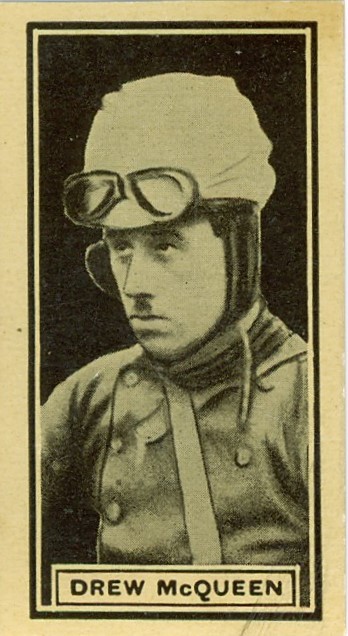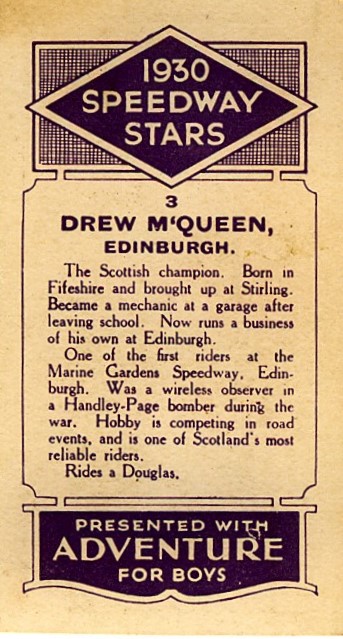 ---
Card 4 British
Eric Langton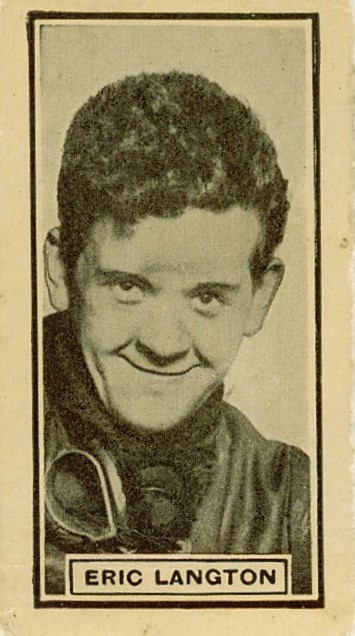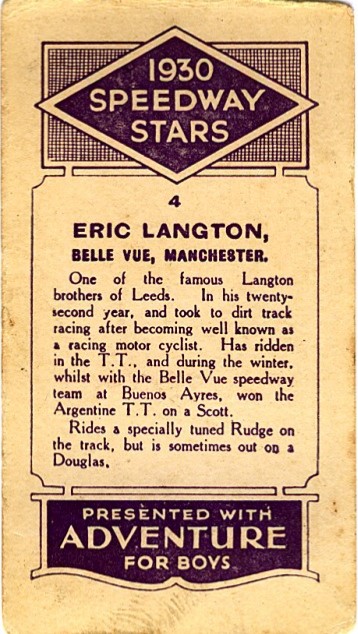 Eric's first choice bike was a Rudge with a Douglas as a backup.
---
Card 5 British
AW (Arthur) Jervis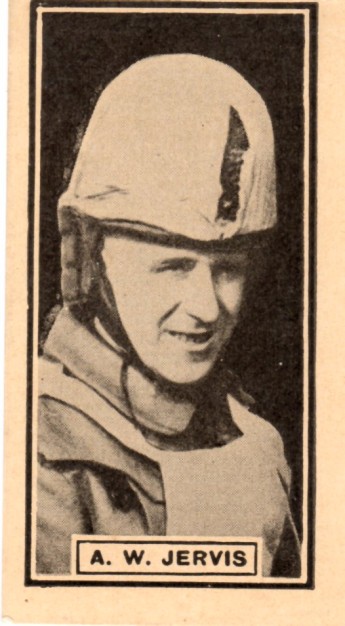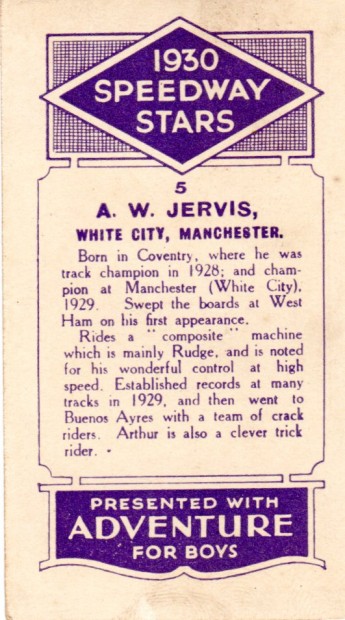 ---
Card 6 British
Ivor Creek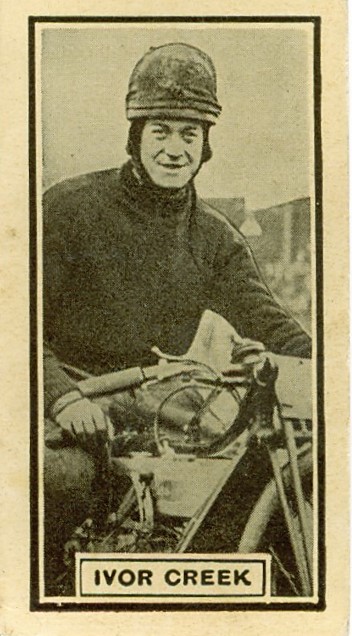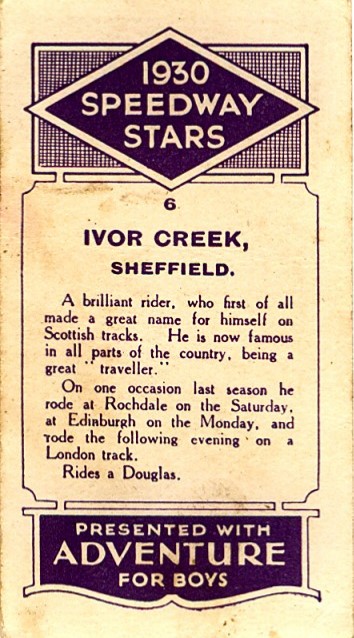 ---
Card 7 British
Billy Dallison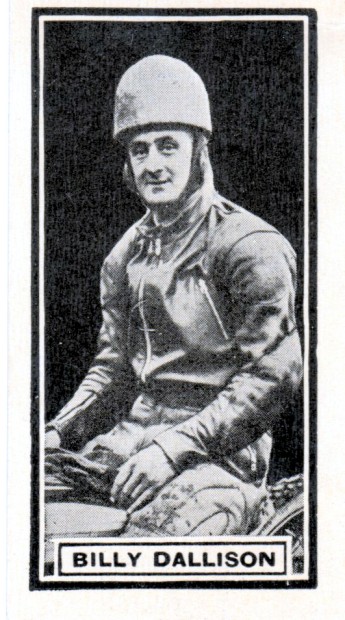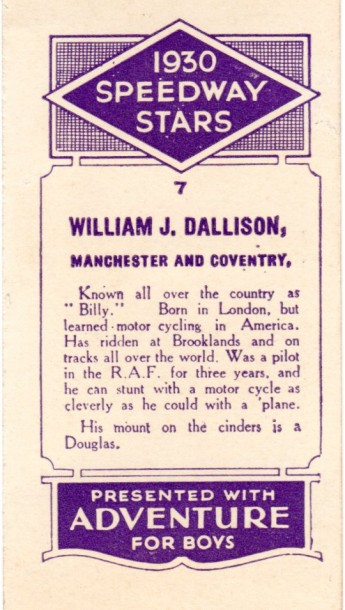 ---
Card 8 Australian
Ron Johnson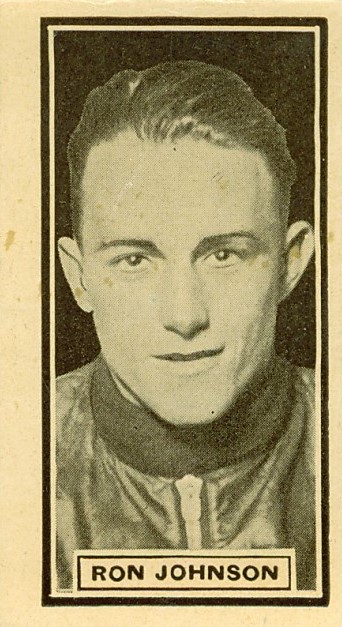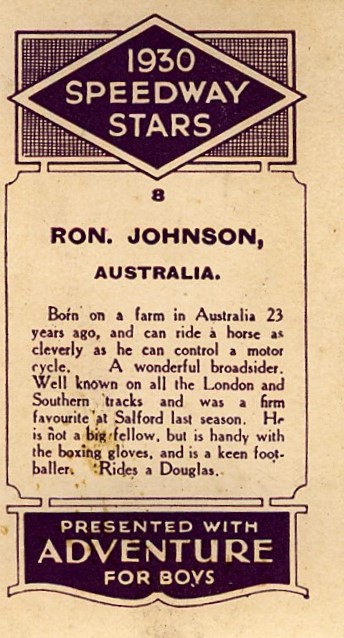 ---
Card 9 British
Johnny Broughton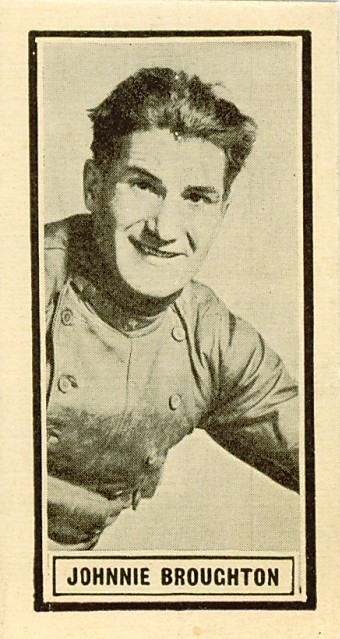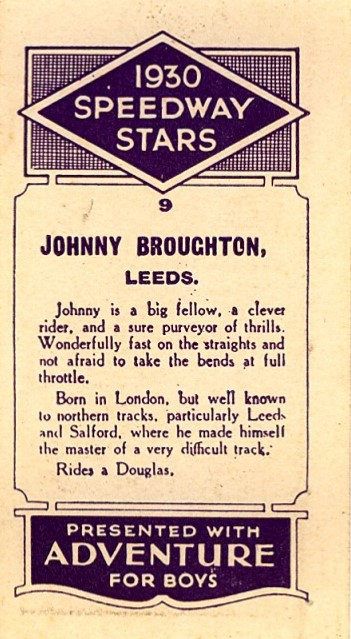 ---
Card 10 British
Arthur Frogley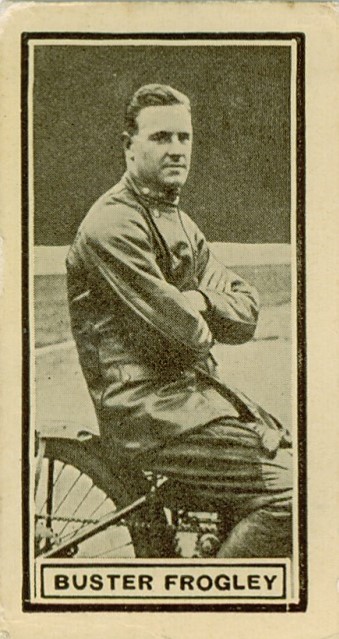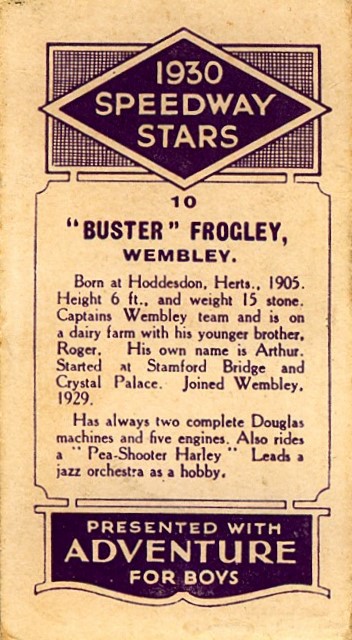 ---
Card 11 British
Sid Jackson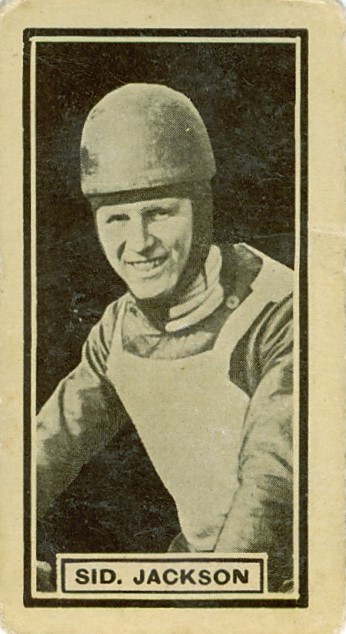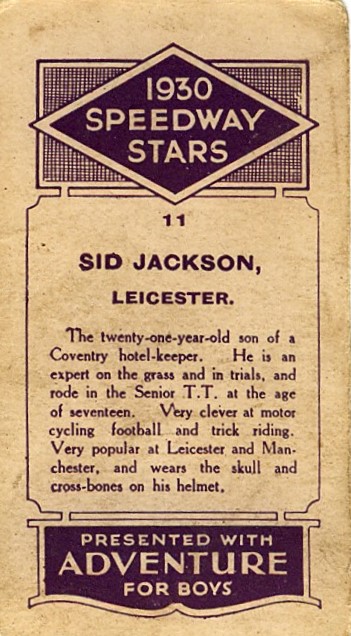 ---
Card 12 British
Tommy Price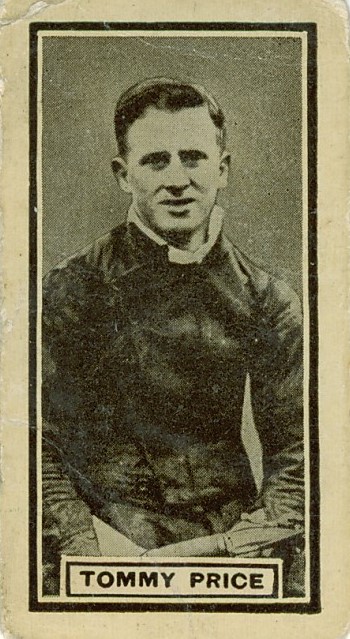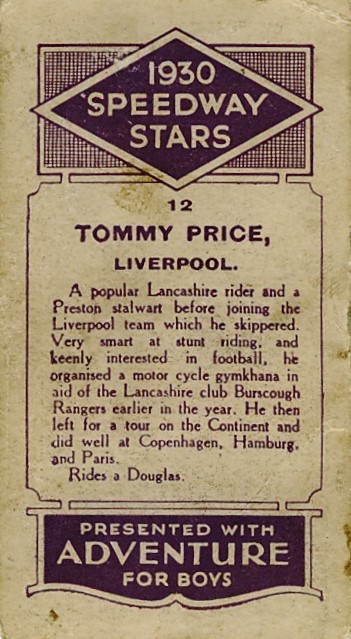 This Tommy Price had a namesake who rode in the south mainly for Wembley. The two Tommy Prices are often confused. The Lancashire Tommy Price shown above was not as successful as his southern counterpart. I tell them apart by their ears! Wembley's Tommy Price had big ears whereas Lancs Tommy did not have big lugs!
---
The contents of the site are © and should not be reproduced elsewhere for financial gain. The contributors to this site gave the pictures and information on that understanding. If anyone has any issue or objections to any items on the site please
e-mail
and I will amend or remove the item. Where possible credit has been given to the owner of each item.